For keen hikers looking for one of the best ultralight backpacking tents on the market, the Nemo Hornet 2-person tent needs to be high on your radar.
With an ever-increasing pool of ultralight backpacking tents to choose from, finding the best ultralight tent that provides high-value performance day after day isn't easy, but the Nemo two person tent sure comes close.
So to help you get to know one of the best ultralight backpacking tents out there, I have assembled this epic Nemo Hornet OSMO review.
In this monster guide I leave no stone unturned. Because while this tent is absolutely PERFECT for some backpackers… it's not ideal for others. By the end of this epic NEMO Hornet OSMO review, you'll know exactly whether it's right for you and your camping style.
Price: $429.95
Weight: 2 lbs. 1 oz
Number of Doors: 2
Design Type: Semi-freestanding
Ultralight: Hell Yes!
Ladies & Gents, It's Time to Step Your GEAR Game Up. 😉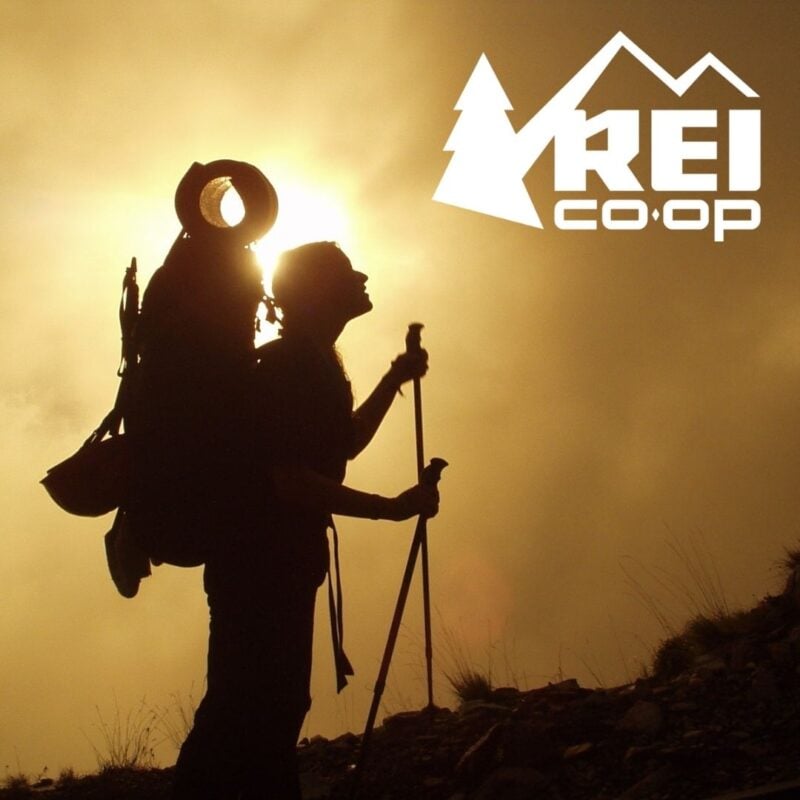 REI is one of America's biggest and most-loved outdoor gear retailers.
Now, for just $30, get a lifetime membership that entitles you to 10% OFF on most items, access to their trade-in scheme and discount rentals.
Join REI Today!
NEMO Hornet OSMO Ultralight 2P Review: Tent Design and Breakdown
To see how the Nemo Hornet compares with our other favourite tents, check out our review of the best backpacking tents.
But for now, let's crack on with our Nemo tent review!
The designers at Nemo really made the effort to offer an ultralight tent with sufficient interior space and durability, while somehow managing to keep the weight down. With any ultralight tent worthy of its salt you will inevitably sacrifice comfort to save weight.
As far as two-person tents go, the Nemo Hornet 2P falls in the middle regarding space. It is not the biggest 2-person tent we've ever tested, nor is it the smallest. Remember it is an ultralight backpacking tent; extra space is not really a thing.
That said, I found it to be very comfortable for one person. It is marketed as a two-person ultralight tent and that it is. Whilst the tent was designed to sleep two people inside, I personally think this Nemo backpacking tent functions better as a spacious one person ultralight tent.
I want to emphasize that for backpacking couples dedicated to ultralight fastpacking and saving ounces, the Nemo Ultralight tent is great. To give you an idea: the Nemo Hornet OSMO 2p can fit a pair of 20-inch-wide sleeping pads.
A big plus is that the Nemo Hornet is the only true ultralight backpacking tent that I have come across which features two doors. Having two access doors is very practical indeed.
If you have ever spent a night in an ultralight tent with one door, you know the inconvenience of having to climb over your partner to go out in the middle of the night.
NEMO Hornet OSMO Ultralight 2P Interior Breakdown and Livability
Inside the Nemo Hornet tent you are working with 28 square feet of interior space. In terms of other ultralight backpacking tents, the Nemo Hornet stacks up roughly the same in terms of space.
Like I said, I'm a big fan of the large side doors offer vestibule space and easy access in and out of the tent. Once you have the tent fully staked out the full breadth of the interior space comes into light. By design, the triangulated, volumizing guy outs increase the interior space when under tension.
The waterproof true tub-floor construction reduces seam construction and seam tape, increasing the longevity of the tent. Taped seams do tend to wear out over time and having less of them is a good thing.
Another cool feature is the inner tent has a built-in privacy panel for extended coverage and security.
Getting the tent lit up is even easier with the well-designed Light Pockets. You can turn your headlamp into a tent lantern, providing a pleasant, even glow through the light-diffusing fabric.
Well-placed storage pockets below the door panel on either side of the tent provide convenient storage to stash your stuff.
Nemo Hornet 2p Vestibules and Gear Storage
With the rain fly on, the Nemo Hornet offers up two exterior vestibules to store your backpack and hiking boots.
Having two vestibules is a big plus for obvious reasons. If you are two people with two backpacks you need storage options. Having your own individual vestibule when you are a couple is excellent for having access to your own pack.
Nemo makes a point of saying that the Hornet tent is the only ultralight tent with two doors and two vestibules. So for that, I have to give the Hornet big points for livability.
Likewise when the rain is pouring down, not having to cram your stuff into one vestibule and pray that it stays dry is a very nice feeling.
Day after day trail life is very demanding. Little design tweaks, comforts, and special features can add subtle boosts of happiness on a daily basis. When you are putting in long days of hiking, entering the tent through your own door with your own vestibule will certainly make for a happy hiker (and a happy couple) in the long-run.
With the Nemo Hornet 2-person tent, you can feel confident that storing and accessing your gear in the vestibule(s) is very practical and convenient.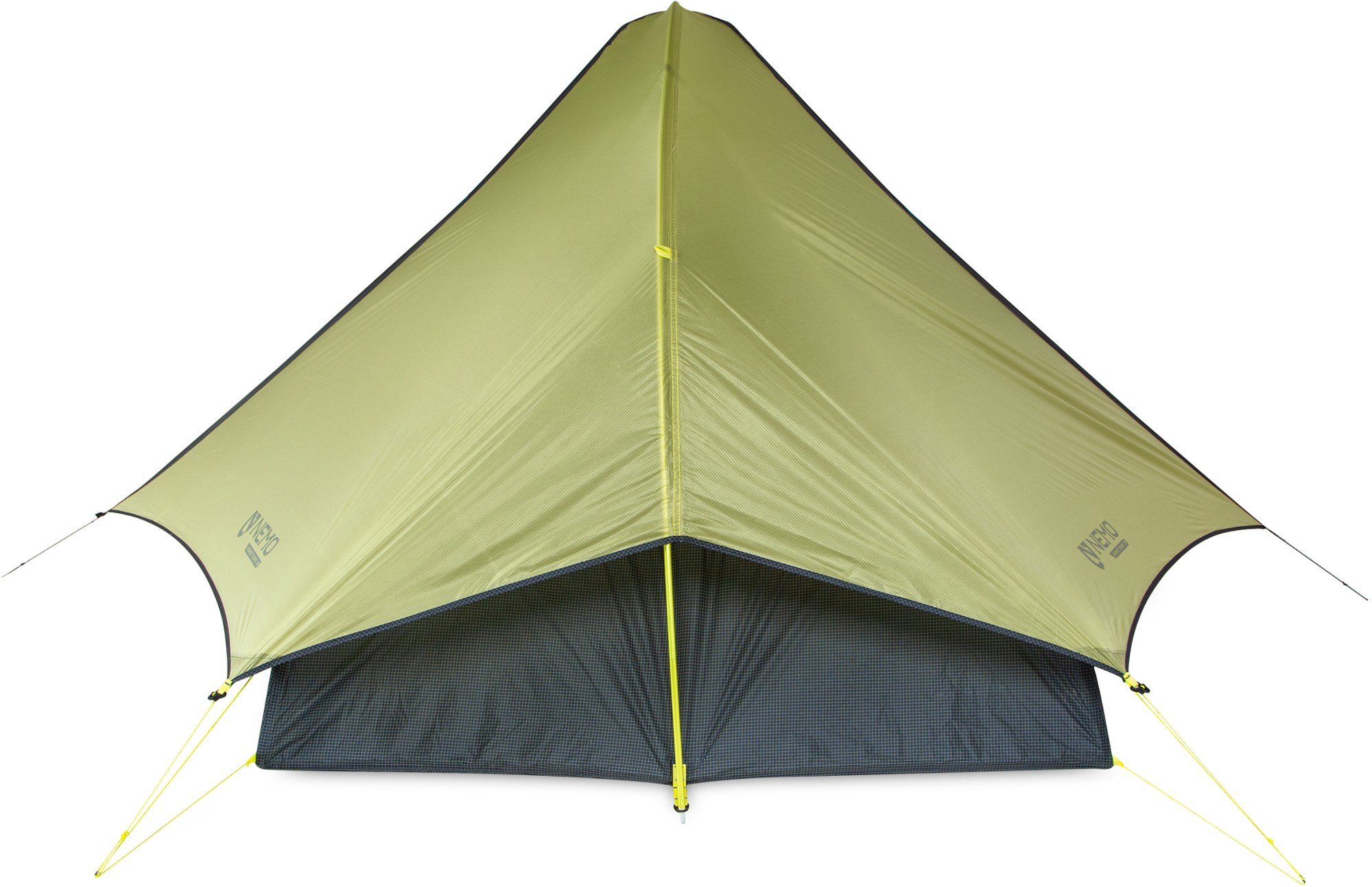 How Much does the Nemo Hornet 2P Cost?
Here at the Broke Backpacker, we are all about cheap backpacking adventures. In fact, we live and breathe round-the-world budget escapades. I personally believe that in order to properly enjoying cheap travel and/or outdoor activities you need to invest in the right gear.
Well really, you need to invest in quality gear that suits your own backpacking style.
Fact is, quality gear is expensive. For the best ultralight tents on the market, the cost can be even higher than the average tent.
Ultralight luxury is just that. For a shelter than you will be sleeping in for weeks on, end you want it to be functional, lightweight, and all around awesome…if an ultralight tent is not all of those things, it is not worth the investment.
Explore the Benefits of Investing in an Ultralight Tent; It's a game-changer!
The NEMO Hornet OSMO 2P is not a super cheap tent. That said, it also not the most expensive ultralight tent out there. The more you dig into gear into the ultralight tent category, the more you will notice your eyes consistently bulging at the price tag.
In the end, there is no denying that the benefits of backpacking with an ultralight tent are huge. You will hardly remember the day when you spent big money on a tent if it is consistently kicking ass for you (without weighing you down) on the trail. With the Nemo Hornet 2P, you can expect that.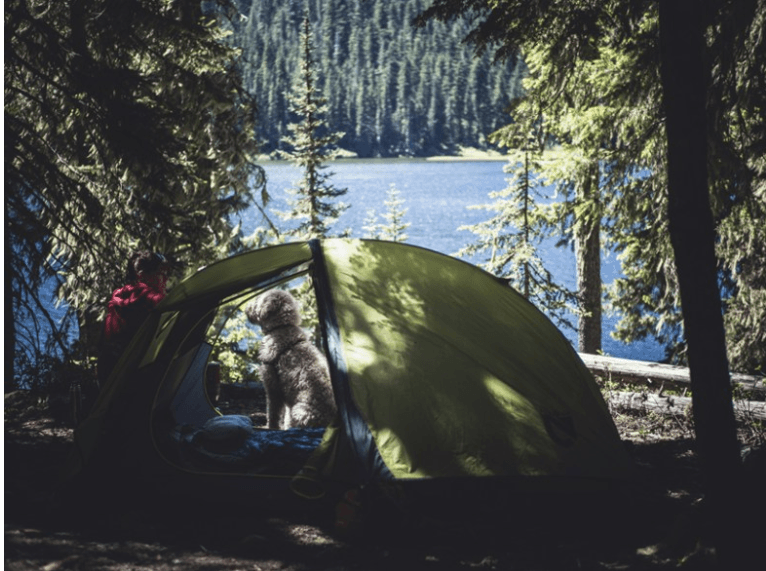 If you are serious about making the transition into the ultralight cult, then you're going to have make an initial investment in a great ultralight tent. Whether it is your first ultralight tent or your 5th, you can be confident that the Nemo Hornet 2P is certainly one of the best ultralight tents in its class.
Furthermore, I believe every backpacker should travel with a backpacking tent and I also believe each long-distance backpacker should travel with the best ultralight tent possible. The choice is yours!
Nemo Hornet 2p Review: Weight
Quick Answer: 2 lbs. 1 oz.
The main attraction for backpackers to the Nemo Hornet 2p is its weight. Very few ultralight tents boast a minimum trail weight of two pounds whilst still being this comfortable.
Two pounds of tent weight is the ideal carry weight for thru-hikers and ultralight flashpackers. What's more is the Divvy Sack dual-stage drawstring stuff sack allows you to easily split the tent between two people on the trail.
If you are two people then neither of you will be carrying more than a pound of tent weight at any given time! That is truly awesome.
It is easy to see why the Nemo Hornet 2p is becoming a favorite among ultralight backpackers.
Far and away the Nemo Hornet is excellent value in terms of weight to performance ratio.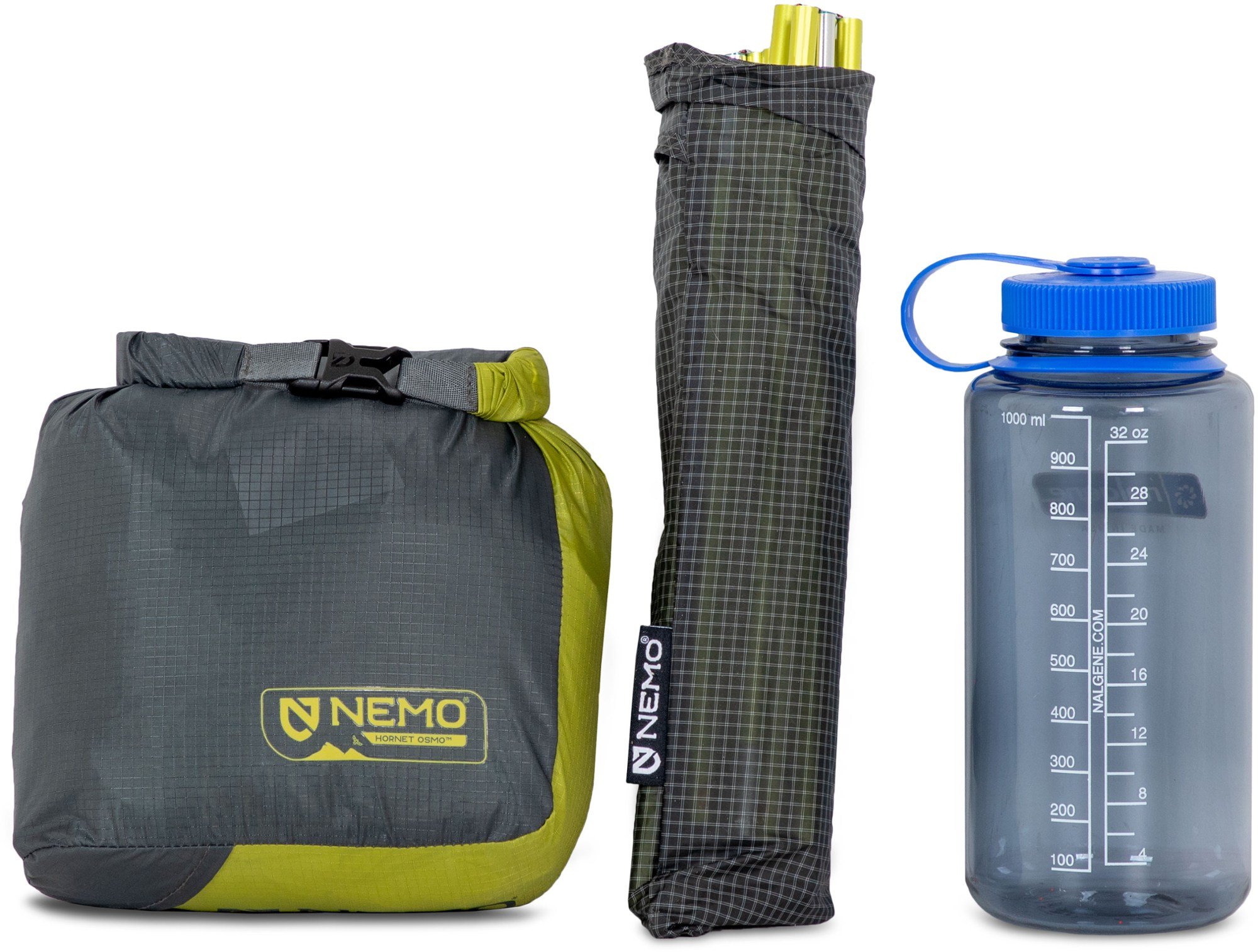 NEMO Hornet OSMO Ultralight 2P Materials and Durability
As a rule, typically ultralight backpacking tents are not as tough as standard backpacking tents? Why? To achieve the miracle that it an ultralight backpacking tent, the designers need to cut a few corners… literally.
There is often a fine line between ultralight and durable. With the Nemo Hornet tent you get a good mix of both.
So what makes the Nemo Hornet tent so ultralight eh? Super thin denier nylon is the short answer.
The tent body is made from 20-denier nylon/mesh. To keep you dry and save ounces the tent floor is 15-denier nylon/mesh. To be clear, 15D nylon is very thin material to be working with. I'd say you should really take extra care not to snag the tent fabric on a wayward branch or rock. That said, the tent was designed for backpackers using the tent day in and day out on the trail.
What the tent may lack in fabric durability it makes up for with its pole design.
A main factor in pushing the Nemo Hornet tent to the top of the ultralight category is its unique and durable pole system. The DAC Featherlite NFL pole system is simply a genius design. Even in strong winds these poles that weight next to nothing perform at a high level.
I'll emphasize again that one needs to treat the Nemo Hornet tent with a bit of care. This tent is not bulletproof. To extend the life of your Nemo Hornet and to prevent the floor from being punctured by sharp stuff I highly recommend that you pair the tent with the Nemo Hornet 2P footprint.
The footprint puts another barrier between the tent's underside and the ground. Footprints are great because they double as both tent protectors as well as another waterproof barrier to combat rain.
Take EXTRA care to not pitch the tent on top of anything sharp (twigs, sharp rocks, pointy sticks, etc).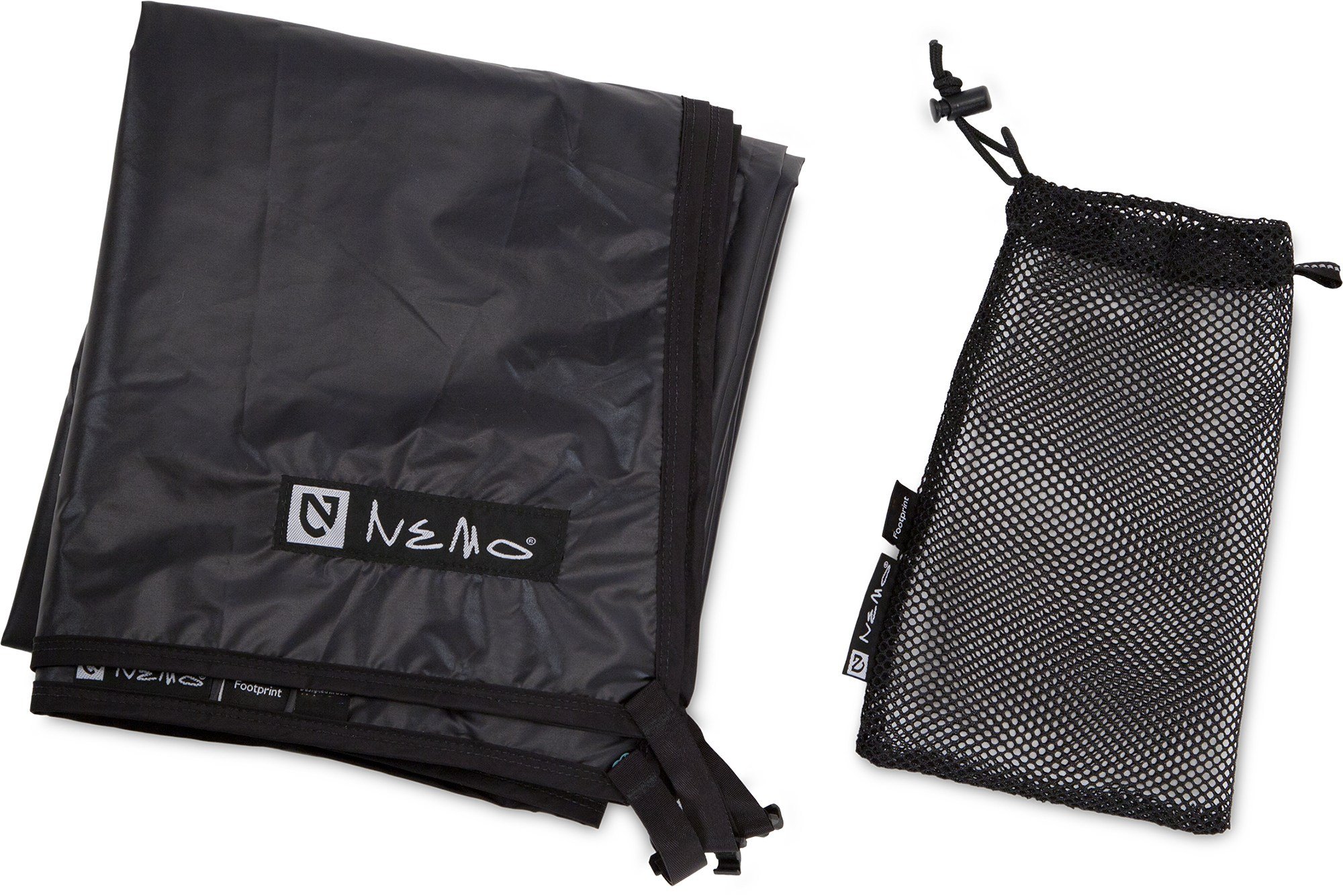 Nemo Hornet 2P Breathability and Ventilation
The upper tent body of the Nemo Hornet is almost entirely made up of mesh bug netting. On clear/warm nights, you can sleep with the rainfly off and catch a great breeze flowing through the tent. Even with the rainfly on the tent breathes relatively well.
Airflow and ventilation are super important as tents can be hot and hikers can be stinky. For breathability points the Nemo Hornet does well. Other tents that have a lot of extra nylon fabric in their upper zones simply don't ventilate as well.
Like the rest of the tent body, the bug netting is rather delicate. I've seen coffee filters that look tougher than the Hornet's bug netting! Take care of it and it will keep the good air flowing whilst preventing the mosquito bastards from eating you alive as you sleep.
I really like that you can roll back the rainfly flaps in fine weather. Certainly, with the flaps rolled up you can feel even the tiniest breeze inside the tent.
If you are camping in a very damp area, the Hornet is not the best in terms of managing moisture build up. Damp mornings inside a tent are sometimes unavoidable if the tent is not ventilated properly.
The best present of all… is CONVENIENCE!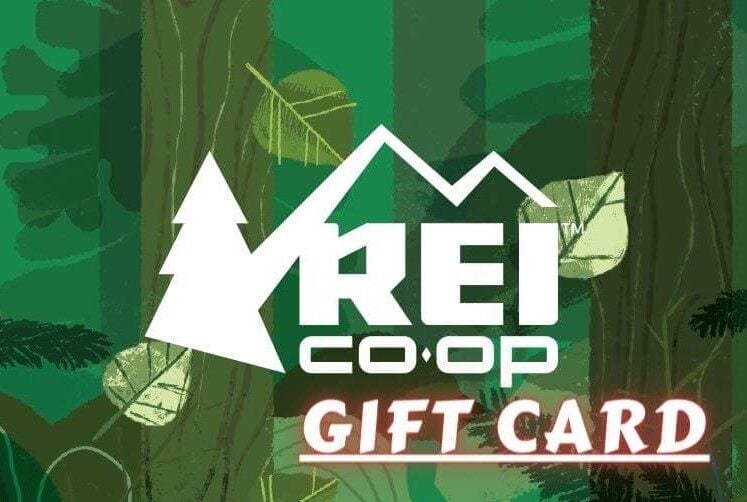 Now, you could spend a fat chunk of $$$ on the WRONG present for someone. Wrong size hiking boots, wrong fit backpack, wrong shape sleeping bag… As any adventurer will tell you, gear is a personal choice.
So give the adventurer in your life the gift of convenience: buy them an REI Co-op gift card! REI is The Broke Backpacker's retailer of choice for ALL things outdoors, and an REI gift card is the perfect present you can buy from them. And then you won't have to keep the receipt. 😉
Buy on REI!
Nemo Hornet Weather Protection: Is it Really Waterproof?
For wet weather performance, the Nemo Hornet tent provides excellent protection in most three-season conditions. The rainfly is made of an even thinner 10D nylon fabric.
I can say that despite its ultralight core, the Nemo Hornet can stand up to high wind and light rain in confidence building fashion. That said, I have not yet weathered a serious all-night deluge in the Nemo Hornet.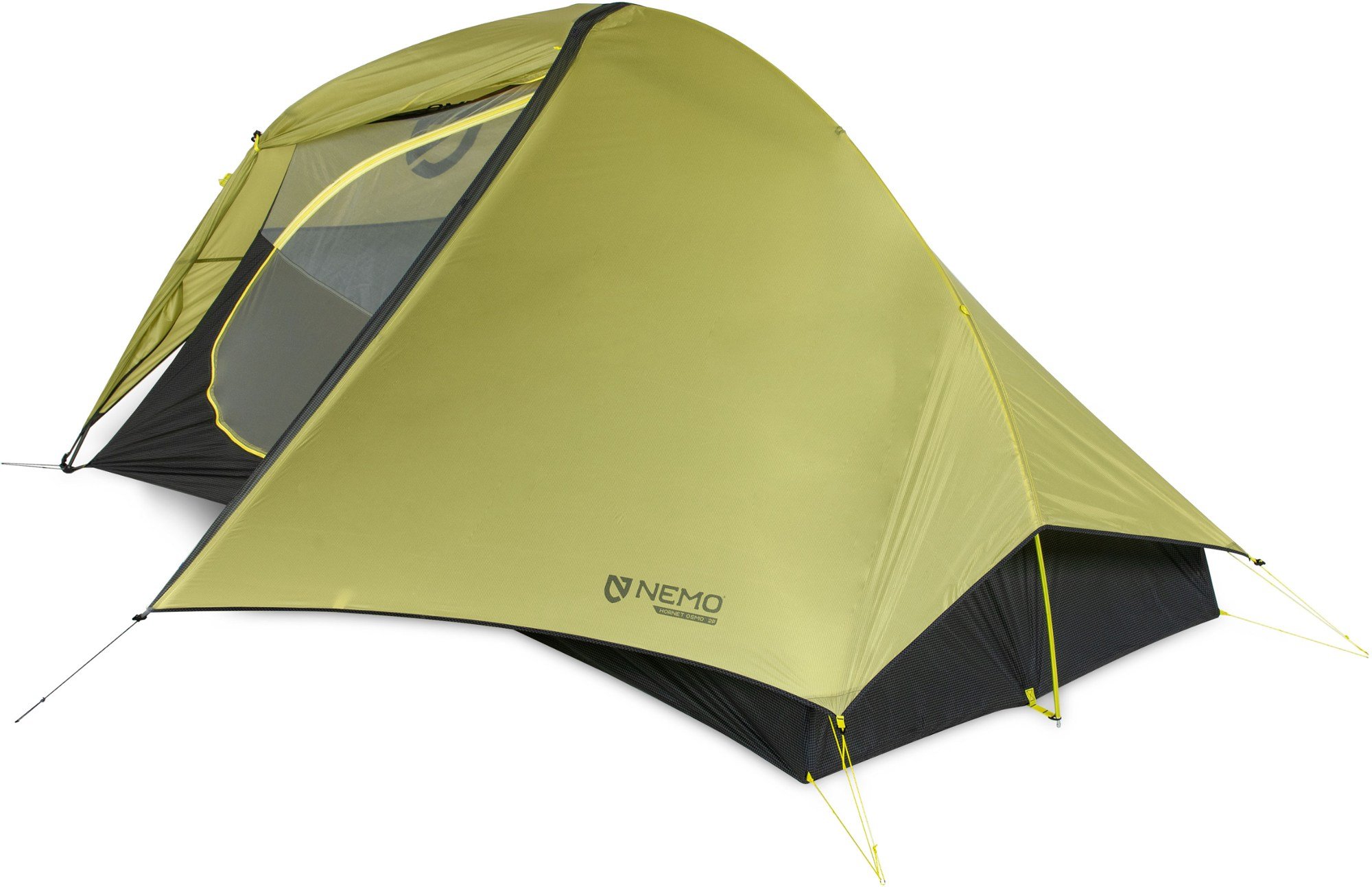 Most people who have used the Nemo Hornet tent have reported good things in terms of waterproofness. However, there have been a few reports who have complained and/or experienced leakage.
Whilst the bathtub floor is seam sealed, the rainfly leaves part of the tent body exposed at one end. It seems obvious that in a super heavy wind/rain storm the exposed tent body would get rather wet.
For me, I can't give the Nemo Hornet tent my complete stamp of approval regarding waterproofness. That said, in moderate conditions, the Hornet does perform just fine. If weight is your top priority, I think the Hornet's shortcomings when it comes to weather protection are offset by the lightweight package.
Nemo Hornet 2p Setup and Breakdown
Next on our Nemo Hornet review, set up and breakdown, super important if you're going to be putting this thing up after hours of hiking!
If you have ever experienced annoyance or frustration during the setup process of a tent, then the Nemo Hornet 2p will come as a breath of fresh air… enter the one hub pole system. The whole set up process couldn't be easier. One person can set up the Nemo Hornet in just a few minutes.
The "Y" shaped aluminum poles attach to the tent through a straightforward ball and socket system. The single end of the pole groves into a grommet at the foot (bottom) end of the tent and the tent canopy is then hung from the pole system. Super easy!
You then stake out the corners and bring the tent taught. Weather pending, you can then attach the rain fly to the Nemo Hornet 2.
I'm a big fan of no-nonsense tent set up. The last thing you want to deal with at the end of a long day is a complicated tent. The Nemo Hornet make things simple for you. Within a few minutes of being at your camping spot, the tent is pitched and all is right with the world.
Nemo Hornet 2P vs the Ultralight World
At this point, you have gotten an in-depth look at what makes the Nemo Hornet 2P such a kickass ultralight tent. Now however it's time for the next part of the Nemo Hornet 2 tent review.
There are, however, several other ultralight backpacking tents that give the Nemo Hornet 2p a run for its money. In fact, as far as budget options, the Nemo Hornet 2p is still one the cheapest.
For a high performing budget (sort of) model, I like the REI Co-op Half Dome SL 2+ ($329.00). I logged about 1000 trail miles in the span of a few months using the REI Quarter Dome 2. Generally, I was pleased with its performance (especially in heavy rain), though I did see and experience signs of wear and tear, even after minimal use. I had to patch the rainfly several times, but besides that it was great and is worthy competition for the Nemo Hornet 2 tent.
For a slightly lighter 1-person option than the Nemo Hornet, the Big Agnes Tiger Wall UL 1 ($399.95) is a fantastic little ultralight tent. The Fly Creek UL 1 definitely performs at a high level, but for livability, and especially for tent accessibility (the Fly Creek only has one door), I'd go with the Nemo Hornet 2P.
Also, the Big Agnes Fly Creek UL 1 is a one-person tent, so it isn't designed to suit two people.
Check out our in-depth review of the similar Big Agnes Tiger Wall UL 1 here.
The MSR Hubba Hubba 2 Tent ($549.95) is probably my favorite all around backpacking tent. It is an ultralight tent technically, though it weighs a full pound more than the Nemo Hornet. For weather protection and livability, the MSR Hubba Hubba is a better choice if you are two people using the tent.
That said, if you are watching your base weight with hawk-like vigilance, the MSR Hubba Hubba isn't going to make the cut in that regard.
Check out our in-depth review of the similar MSR Hubba Hubba 2 tent.
And for good measure, here is another epic tent to check out: Big Agnes Copper Spur UL2 review.
Nemo Hornet 2P vs the Competition Comparison Table

Our GREATEST Travel Secrets…
Pop your email here & get the original Broke Backpacker Bible for FREE.
Alas, we have reached the end of my Nemo Hornet 2P review. You now know everything there is to know about the Nemo Hornet 2P tent!
Choosing the best ultralight backpacking tent to fulfil your own backpacking needs is a big decision. There are many factors one must take into account when making that choice.
Has the Nemo Hornet 2-person tent hit the mark?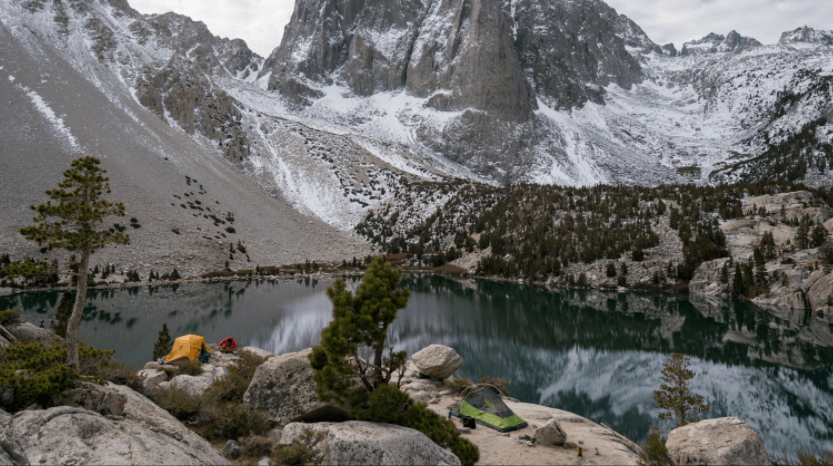 You have now seen the pros and cons of what the Nemo Hornet tent is about. The point being, if you are looking for an ultralight tent with excellent livability, ultralight performance, and decent weather protection—all at a decent price for the ultralight category— look no further than the Nemo Hornet 2P.
Whether you are planning an epic thru-hike or you just want to dip your toes into the ultralight world, the Nemo Hornet 2P makes for a truly solid ultralight tent choice.
I hope you found this Nemo Hornet 2p review to be helpful. Let me know how I did in the comments below! See you down the trail amigos…
---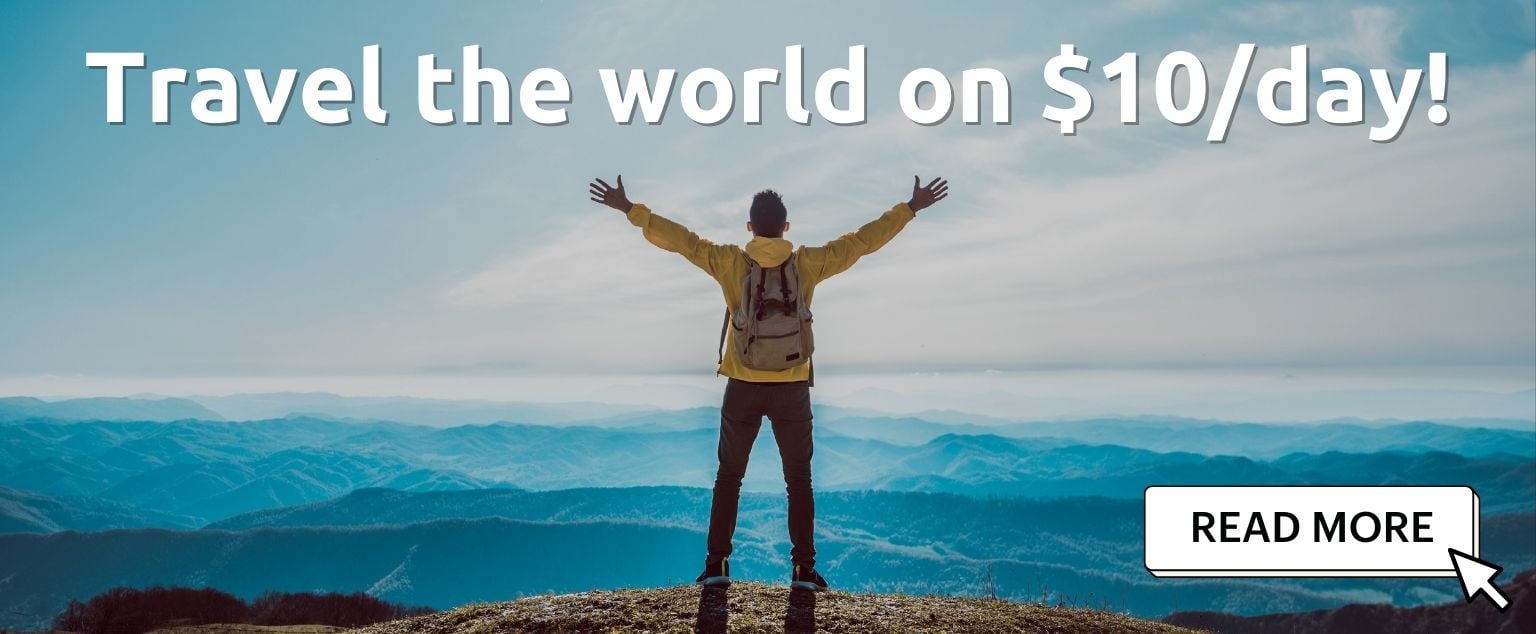 And for transparency's sake, please know that some of the links in our content are affiliate links. That means that if you book your accommodation, buy your gear, or sort your insurance through our link, we earn a small commission (at no extra cost to you). That said, we only link to the gear we trust and never recommend services we don't believe are up to scratch. Again, thank you!