Tents aren't the easiest thing to figure out. Sure, it seems straightforward, but before you know it, there are all kinds of things to consider: how much it weighs, how durable it is, whether or not it's truly waterproof, how expensive it is, and even how easy (or not) it is to set up and tear down. There's a lot to consider.
When I choose a backpacking tent, I am looking for a unit that will deliver high performance in a vast array of conditions, and crucially – a tent that also travels well and packs down small enough for international adventures.
This Big Agnes Copper Spur UL2 review breaks down this exceptional tent from every angle – beacuase there is alot to know about it.
We have been huge fans of Big Agnes products for years now, so it was only a matter of time before we got to go out and do a proper review So let's see how it fared…
Big Agnes makes a wide range of epic tents and other badass backpacking gear, so before you keep reading – make sure that you are interested in learning about a top 2-person backpacking tent.
If the answer is yes – congratulations! You just stumbled across one of the best 2 person tents on the market right now.
Quick Specs:
Price: $449.95
Minimum Trail Weight: 2 lbs. 11 oz.
Interior Space: 29 square feet
Free Standing: Yes
Best Use: 3-Season Backpacking
# of Doors: 2
Footprint Included: No
Sleeping Capacity: 2
Winter is coming… WARM UP!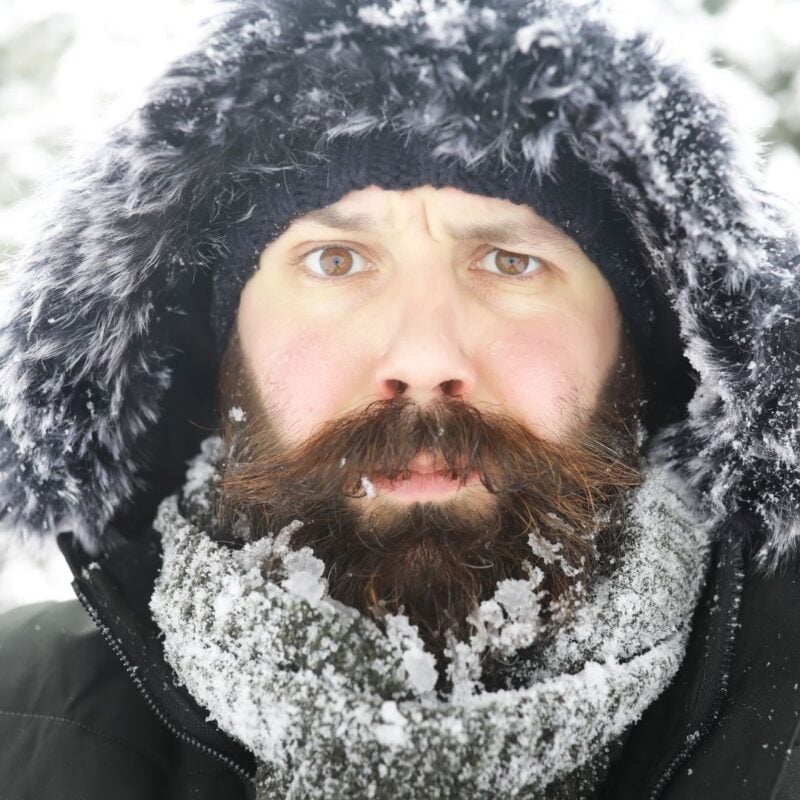 Get up to 50% OFF when shopping gear for the winter on REI.
Warm up for the holidays and SAVE on outdoor gifts all the way through Dec 18!
View on REI
Big Agnes Copper Spur HV UL2 Livability and Interior Specs
The main factor in just about any tent ever is how you can use it. And using a tent is all about being inside it. If a tent just isn't any good to use, it ain't worth your money. Lucky for you, the Big Agnes Copper Spur HV UL2 (try saying that ten times quickly) is definitely a livable tent.
It's not the most spacious tent I've ever experienced, covering a floor space of 29 square feet, but then again, the space feels well used. It's got a height of 40 inches, too, so you can actually sit up and do whatever you do when you're sitting – drink a cup of coffee, read a book, lace your boots up.
Getting in and out of the tent is a breeze thanks to the fact that it has two openings. No more do you have to climb over your partner to get in and out of the tent. Instead, you'll each have your own separate openings.
Further adding to the decent sense of space is the virtually vertical walls of the tent, helped by the tent pole arrangement. It tapers off a little, and headroom decreases at the foot end of the tent, but it's not by much.
However, because of this, you can only really sleep with your head at one end of the tent. No top-and-tailing in this tent. (Also because of that, I'd recommend a mummy-shaped sleeping bag).
Vestibules and Gear Storage
The Big Agnes Copper Spur HV UL2 also comes with vestibules. Located between the entranceways of the inner tent and the rainfly, this adds valuable closet space to the tent. It's where your muddy boots, backpack, and other outdoors kit lives, keeping it outdoors and saving the interior from getting messy.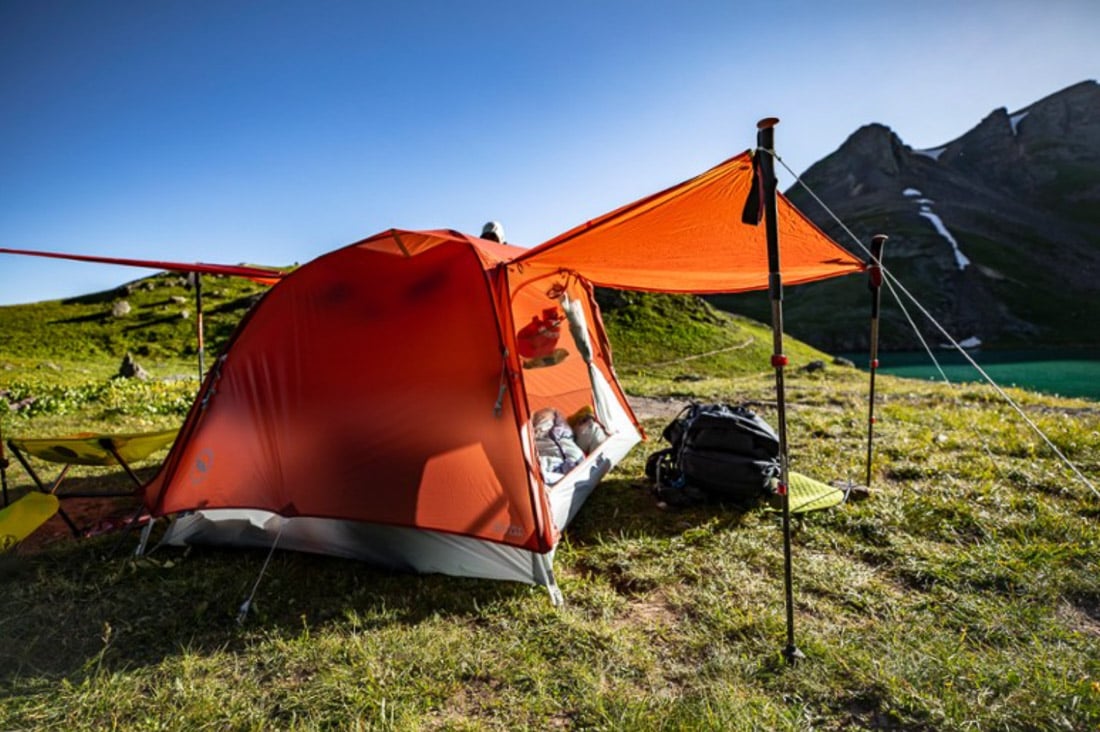 There's room enough where the vestibules are concerned to save you from tripping over backpacks and footwear on your way into the tent, which is always a plus. Livability is strong in this one.
The Interior Nitty Gritty
It might not seem like a big deal when you're looking to buy a tent, but knowing what's happening with the inside is important. The design of a tent's interior, with its pockets and storage, can change up the way you use the space. And, for its size, the Big Agnes Copper Spur HV UL2 has an awesome amount going on in its interiors.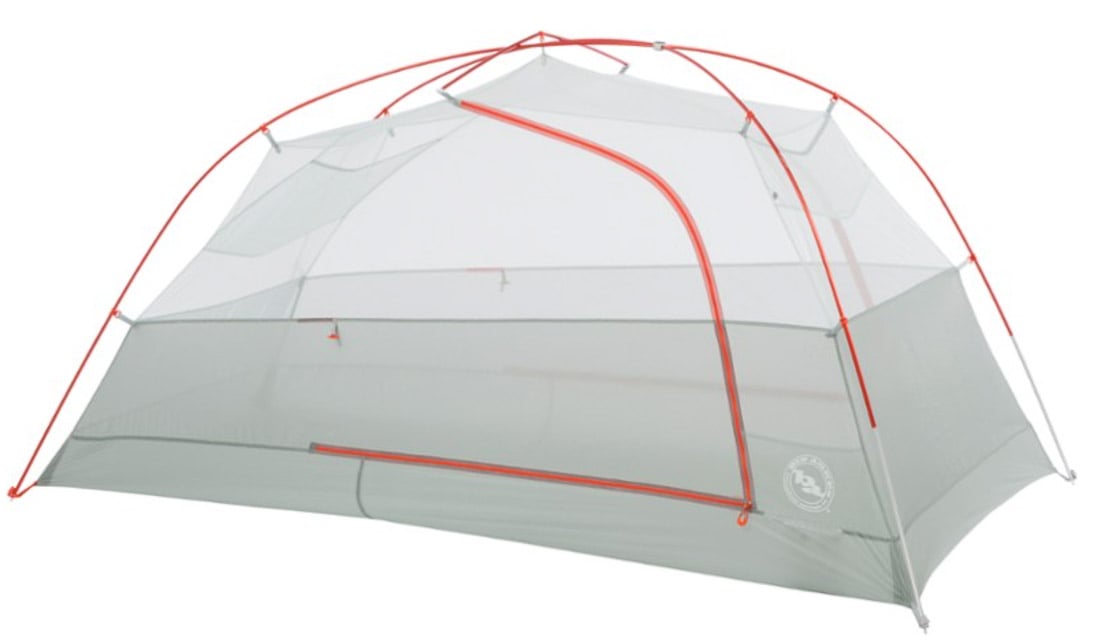 Opening the doors of the Big Agnes Copper Spur HV UL2 and stepping inside, I was pleasantly surprised by the "mezzanine" type floor. Yes, this tent has an actual mezzanine (sort of).
A kind of shelf that is elevated above the ground, the extra space creates an area at the foot of the tent for off-the-floor storage – ideal for stuffing a down jacket or extra layers.
The mezzanine is an example of great design, adding to the space on the ground of the tent where you can actually sleep rather than gear cramping your style. There's even the capacity to be able to sit up inside the tent, which is always a nice bonus.
Pockets and Interior Storage
More useful storage spaces can be found up on the ceiling of the tent. This is the place to stash all your important items that somehow always seem to go missing – keys, wallet and headphones.
The overhead media pockets mean you can safely stash your important gear, and also come with neat earbud cord-routing so you can connect to your phone or tablet easily. No more waking up on top of your electricals. Even though there is space for quite a bit of kit, the pockets never feel like they're bulky or that they intrude into your living area.
There's also a ton of interior gear loops which are always a great feature. Great for hanging a watch or lantern, or other additional accessories, these really add to the functional use of the tent, but are super simple. Can't argue with design like that.
There are also some pretty spacious mesh pockets that add to the storage credentials – great for items like socks and hats. For more storage space (yes: there's more!), there's the awning-style capability of the vestibule doors, which can be used to expand the tent's livable space.
This means you can not only keep your backpack nice and dry, but enjoy some shade when the sun's out. And neatly solving the issue of annoying tent doors flapping around, the doors themselves can be pulled back and stuffed into little pockets when opened. Super handy.
Tent Ventilation: Breathability and Airflow of the Big Agnes Copper Spur HV UL2
How well a tent can breathe and provide airflow is more important than you think. It might even be something you take for granted, which is fair enough because it's not immediately obvious. But look at it this way: bad ventilation where a tent is concerned results in condensation, and condensation can mean waking up damp from your own condensed breath and sweat. Gross and annoying.
That most likely won't be the case with the Big Agnes Copper Spur HV UL2. For starters, much of the inner tent is actually constructed with mesh. That means plenty of air can circulate through and keep moisture at bay.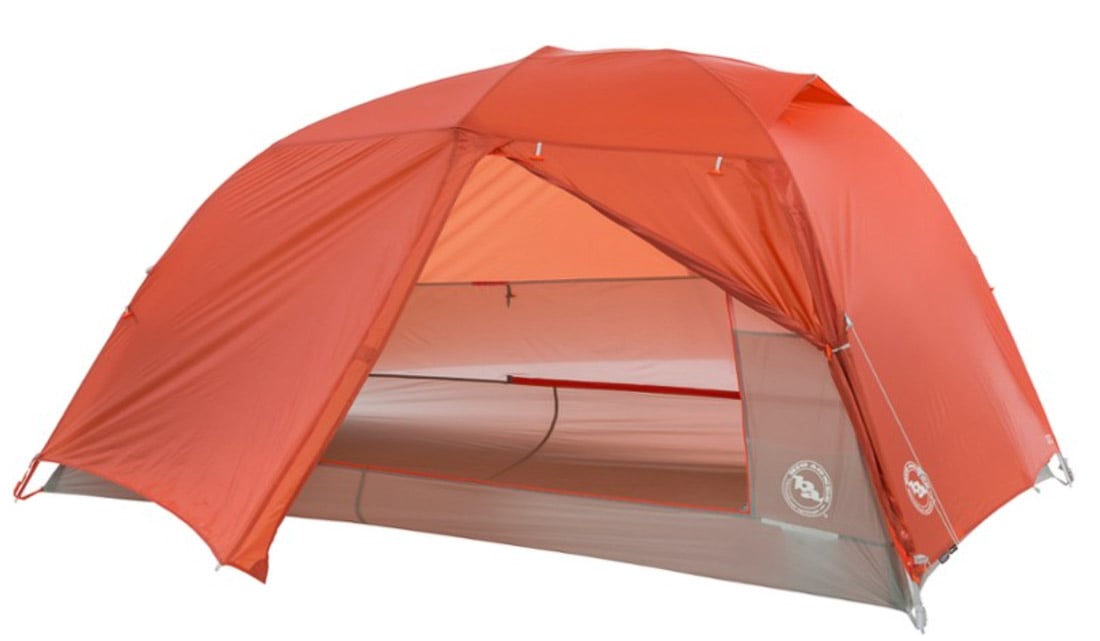 When the rain fly is in use, I noticed there's a decent amount of space between it and the inner tent, which is something that really encourages increased airflow. That was pretty impressive.
The rain fly also comes with a lil' vent that helps things further move around. The only thing is there's only one of these vents in the rain fly. At least one additional vent would have been better, but all around, the ventilation is pretty adequate.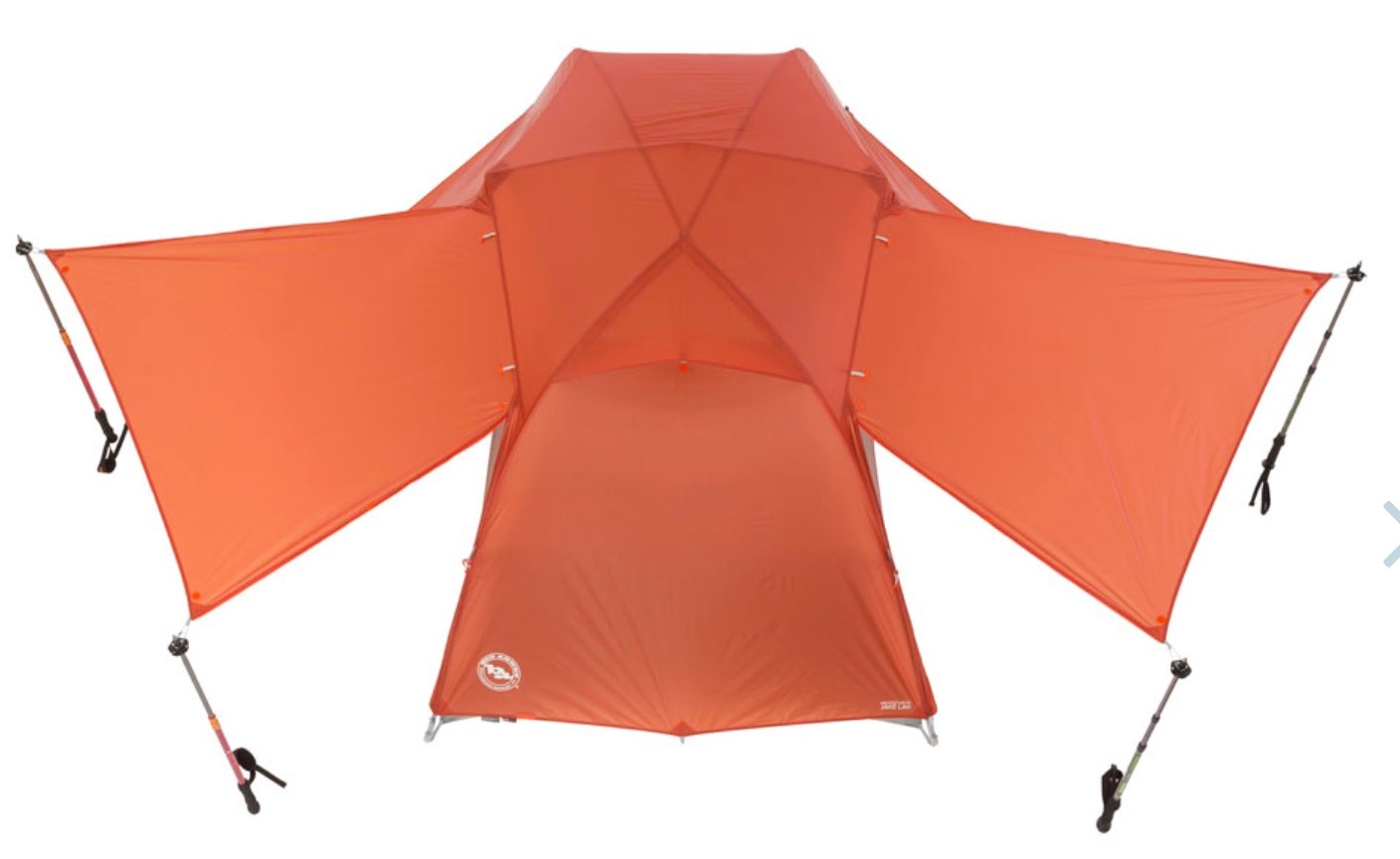 To further add to the airflow credentials of the Big Agnes Copper Spur HV UL2 is that ability to stake out the vestibule doors. This way, you create an awning-esque deal that allows for even more ventilation – especially if you have both doors open.
This is obviously best done only when the weather's fine. Thankfully, you'll be able to get some much-needed breeze on hot days.
Big Agnes Copper Spur HV UL2 Tent Price
Cost: $449.95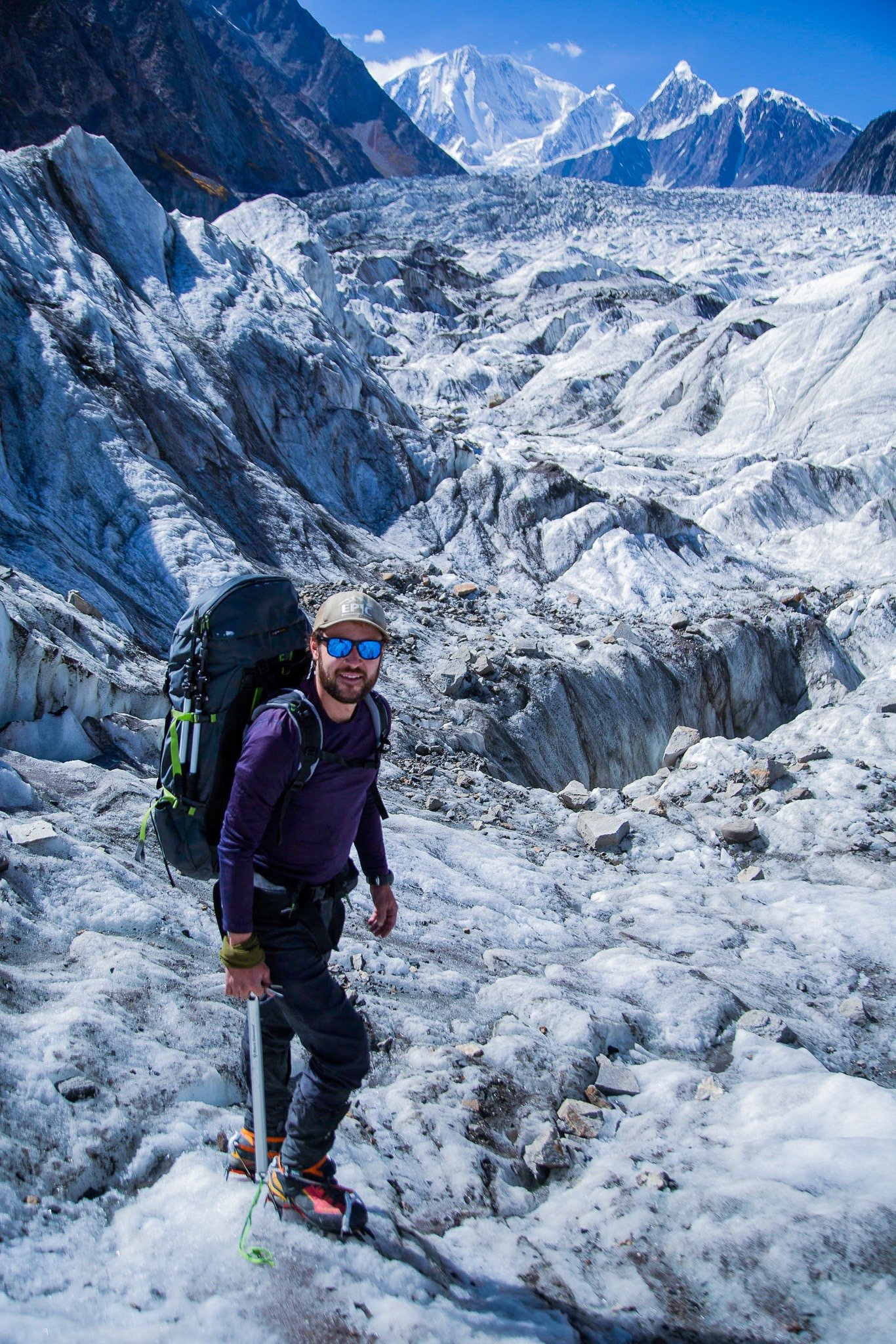 Coming in around $450.00 dollars, it's fair to say that the Copper Spur HV UL2 is unfortunately not a budget tent for backpacking.
If you're shopping for a backpacking tent and have a tight budget, it might not be the one for you. But that's not to say the price should put you off of this tent: we think it's worth the price if you're going to get a good amount of use out of it.
The price point is actually not too bad when you consider what you get for your money.
For one thing, the Big Agnes Copper Spur HV UL2 is ultralight and is literally one of the lightest and best quality tents of its kind out there. You might be paying a little more than other tents in its class, but in return, you get a much lighter tent to carry.
That's the trade-off typically with high-end tents: you pay more and end up carrying less.
Big Agnes Copper Spur HV UL2 Weight: How Heavy is it?
Quick Answer: Packaged Weight: 3 lbs. 2 oz. – Minimum Trail Weight: 2 lbs. 11 oz
Yes, it's all true. The Agnes Copper Spur HV UL2 is very light. Like, super light. Ultralight, in fact. At just over 3lbs packed, it's hard to have anything bad to say about a tent this light. It's actually one of the lightest double-wall freestanding tents you can get. This is a huge bonus for anybody who really wants to streamline their backpacking kit and cut any unnecessary weight that will hold them back on the trail.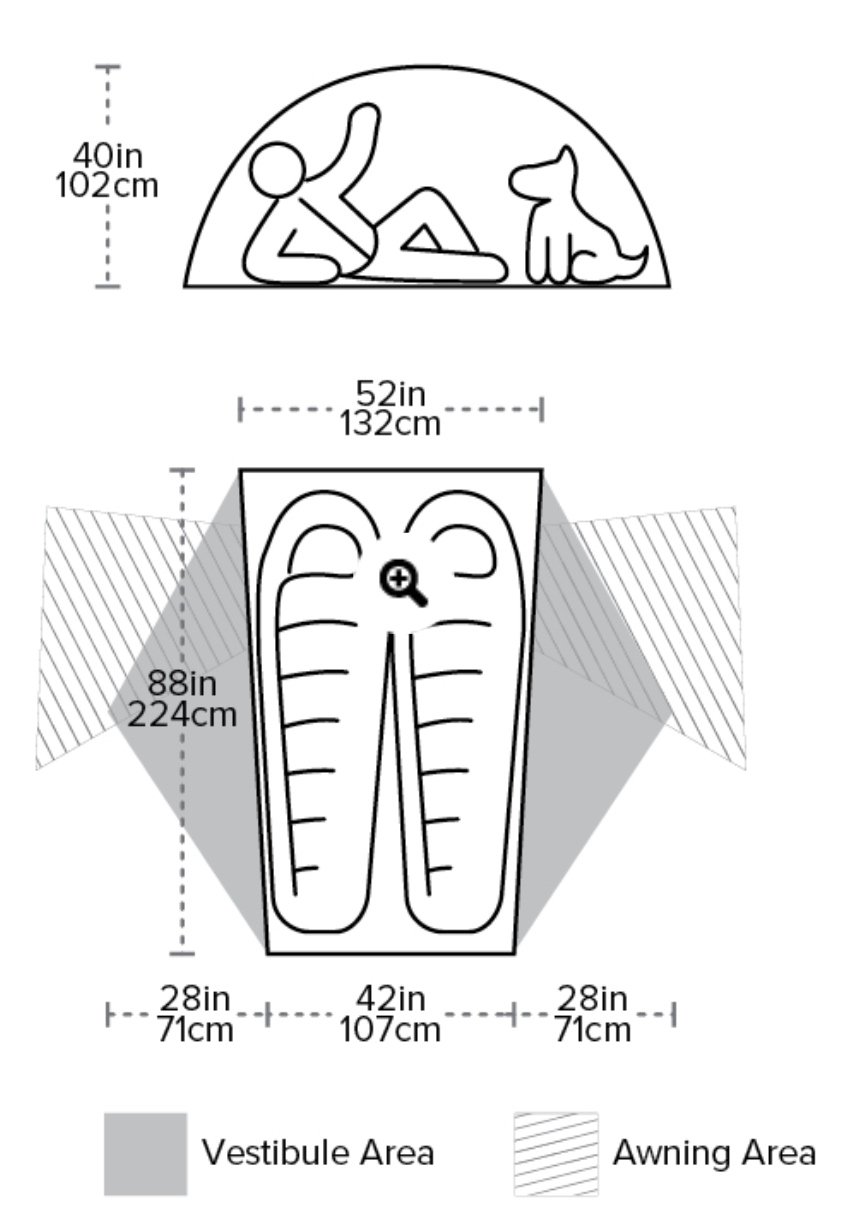 Other lightweight tents on the market are actually quite a bit heavier, like the MSR Hubba Hubba NX, which weighs in at 3 lbs. 14 oz. There are options for lighter tents, but quite often the reduced weight means compromising on space and comfort inside.
The packed weight of the Agnes Copper Spur HV UL2 includes everything, by the way – all the stakes and guy lines. All in all, it's totally light as a feather, especially when you consider that this is a tent meant for two people.
I like the balance between the weight and the added comfort of having enough space to actually enjoy the camping experience, rather than being cramped up in a tent with your buddy and no space to breathe. If you're going out backpacking with a friend or partner, this tent's weight and size totally stacks up against others out there.
And even though it is lightweight, the tent does not scrimp on quality. The materials and hard work that have gone into crafting it mean that the fabric is both lightweight and durable (more on that later).
Big Agnes Copper Spur HV UL2 vs the Weather
When you're on the verge of spending a fairly sizable chunk of money on a tent, you'd expect it to hold up in adverse weather conditions. Well, thankfully, the Big Agnes Copper Spur HV UL2 is up to the task.
This is a three-season tent. That means it'll be able to deal with most weather conditions. Being as ultralightweight as it is though, it's not the best unit to fend off freezing temperatures. And I doubt it could hold up to heavy snowfall; just in case, pick sheltered sites when you're considering where to pitch up.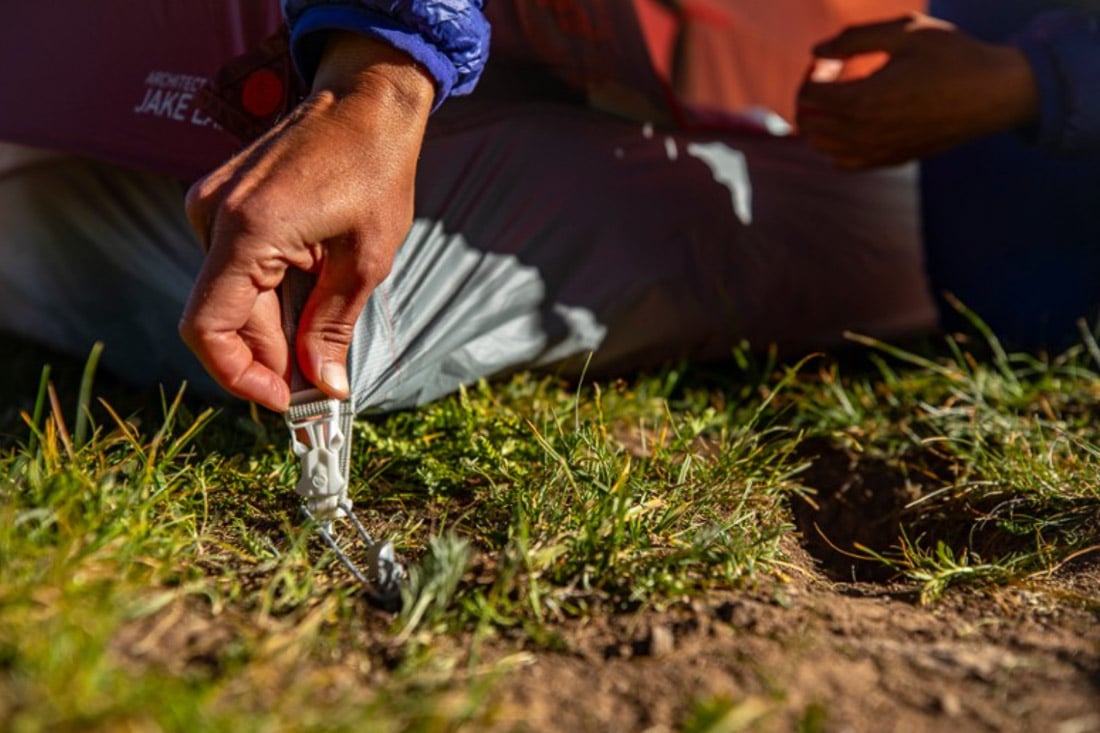 Other than wintry conditions, this Big Agnes tent holds its own in spring, summer and fall conditions – rain, wind, and sunny days. It remains taut and solid in strong winds, but you can make it even stronger with a few additional guy lines you can stake out if needs be.
So not only does the rain fly keep the tent stable, but it also offers up pretty much full coverage from gusts. The rain fly is pretty close to the ground, too, so you won't be affected by splashes in a downpour.
Another facet of the Big Agnes Copper Spur HV UL2 that keeps you nice 'n' dry is the bathtub-style floor. Even if the ground becomes waterlogged, it won't be an issue.
So whether it's persistent rain or windy conditions that just won't calm down, this tent will keep you as sheltered as you'd want to be. Like I said though, it's still a three-season tent, and it's always best to opt for protected campsites where possible. That's not to say it's not capable (it is), it's just best not to tempt fate.
Tent Durability: How Tough is the Agnes Copper Spur HV UL2?
Tent durability might be overlooked when you're shopping for a new model; if you're like me, you may be more easily led by design and cool features. But the durability of a tent could save you a whole lot of money and time in the future.
It's no fun at all finally arriving to set up camp for the night only to discover one of your tent poles has snapped or a zip has got caught. Super not cool.
Because of how light the Agnes Copper Spur HV UL2 is, you could be forgiven for having concerns over the tent's durability.
The thing is, cutting back on the weight doesn't always mean cutting on the quality. The people behind the design of the tent have done a fantastic job of sourcing and creating super-lightweight materials that are both thin and tough. It's the kind of tent that you can use again and again, year after year, and never have any trouble with it.
Getting down to the details of just what the tent is made out of can help you ascertain just how durable it is. Both the floor and the rain fly are made from 20-denier silicone treated ripstop nylon.
The denier is a little bit thinner than you'd get in regular weight tents, but it's still thicker than similar lightweight tents on the market (these are closer to 10 denier or less). The tent body itself is coated with 1200mm waterproof polyurethane, which means you won't be getting any surprise leaks. Always a bonus.
Even though the denier measurements are relatively thin on the Big Agnes Copper Spur HV UL 2, it doesn't mean they aren't built to last. A lot of work has gone into the fabric technologies to create a substantial tent that will stand up against the elements. The fabrics feel soft and very high quality.
The thing with lightweight tents is that they are generally more susceptible to rips and tears; that's just what happens with thinner fabrics. But extra layers of denier have been added to areas of the tent that might be more vulnerable to damage.
You might need a little bit of extra care and attention when it comes to putting up the tent and usage over time, but that's the same with pretty much all lightweight tents out there.
Set Up and Breakdown: How to Set Up the Big Agnes Copper Spur HV UL2 Tent
The Big Agnes Copper Spur HV UL2 has cleaver storage solutions, it holds up in inclement weather, it's ultralightweight, and it's durable. But all of that kind of doesn't matter if the tent is so dang annoying to set up and tear down that you don't bother using it. Real talk here.
So it's a very, very good thing that this tent is uber simple to put up. It might actually be one of the most logical tents I've ever had to set up. It just works.
It's even easy to write down, so I'll do that now: stake out the four corners, slot the poles into the corresponding grommets, clip them on; then throw the rain fly over and secure it with the handy buckles. Stake out the fly and boom – you're done.
Taking it down is just as easy, if not more easy. Both the set up and the teardown shouldn't take you longer than a few minutes each with two people helping the process along – even on the first try. It's pretty simple to pitch in windy weather as well (within reason, like, hurricanes aside).
You can tell the whole thing has been designed by someone who's thought, 'Right, how can I make setting up a tent not awful?' It's that simple. The buckles for the rain fly, the extra velcro to pull the poles and guy lines taut… And interestingly, since it's not a symmetrical tent, it's almost impossible to put the tent poles in the wrong places. Almost.
Big Agnes Copper Spur HV UL2 vs. the Competition
Let's face it; there are so many tents you could choose from that settling on the right one for you can be a big pain. Not only do you have various factors to consider, but you also have a ton of reviews and other people's opinions to think about.
But all you really need to know is simply how well the Big Agnes Copper Spur HV UL2 stacks up against its competition – and if it fits with the type of tent you are looking for.
Hopefully by now, you've got a pretty good insight into the specifics of the Big Agnes Copper Spur HV UL2. Specs and technical words, makes and models – all this can seem a bit overwhelming after a while. There are a few simple things for you to consider if you're wondering if a tent is right for you, i.e. does it tick the right boxes?
If you're looking for a tent that packs light and will help reduce the load while you're doing something like ultralight backpacking, this is probably a great tent for you. This is a tent that will give you a little added space and comfort for nights spent under the stars, but it also won't make your back ache when you carry it.
Like I said earlier, there are lighter backpacking tents out there for you to take a look at. For example, The Big Agnes Fly Creek HV UL2 is a minuscule 2 lbs. 5 oz. and the Nemo Hornet 2 is a little heavier at 2 lbs. 6 oz, but both of these tents lack a little comfort when in use. When you consider the weight and size of the Big Agnes Copper Spur HV UL2, you really get an excellent balance.
Considering Cost
Another significant deciding factor when it comes to making the plunge and actually buying a new tent is how much it costs. If you have a tight budget, the Big Agnes Copper Spur HV UL2 just might not be right for you. The $450 price tag is pretty high, especially if you don't know how much use you are going to get out of it.
A solid budget alternative is the North Face Storm Break 2 if you can't be bothered to drop a load of cash on a tent.
Then again, the Copper Spur HV UL2 is fairly competitively priced when compared to other lightweight tents out there. And what you get for your hard-earned cash is a strong tent that you can use again and again. If it sounds like it fits what you're looking for, then why not go for it?
For more tent options for backpacking and travelling in general, check out our review of the best backpacking tents.
Learn more about the tents featured below:
Tent Comparison Chart
MSR
MSR
MSR Hubba Hubba 2
Price > $549.95
Packaged Weight > 3 lbs. 4 oz.
Square Feet > 29
Number of Doors > 2
Floor Material > 20D
MSR
MSR
MSR Elixir 2P
Price > $249.95
Packaged Weight > 6 lbs.
Square Feet > 29
Number of Doors > 2
Floor Material > 70D
REI Co-op
REI Co-op
REI Half Dome 2 Plus
Price > $329
Packaged Weight > 4 lbs. 11.5 oz.
Square Feet > 33.75
Number of Doors > 2
Floor Material > 40D
MSR
MSR
MSR Elixir 2
Price > $319.95
Packaged Weight > 6 lbs.
Square Feet > 33
Number of Doors > 2
Floor Material > 70D
Pros and Cons of the Big Agnes Copper Spur HV UL2
By now, I hope you have a good idea about what the Big Agnes Copper Spur HV UL2 is all about. You know how it compares to the competition, and all the details about its materials and interiors.
Nothing is perfect, however, so let's take a quick look at all that is good and some things that are not so good about this lightweight hiking tent.
Pros:
Ultralightweight tent, weighing only 3 lbs. 2 oz at packed weight
Amazing amount of interior pockets to help with organisation when in use
Useful two-door vestibule access means you can move in and out of the tent easily; you can stake these up like awnings, too
There's a good amount of space inside to comfortably sleep two people
There's a large vent at the top of the rain fly (and a whole lot of mesh on the main tent besides), which helps with ventilation
Super straightforward and quick to pitch/take down
A good amount of headroom so you don't feel cramped
It's waterproof but is still breathable
You won't have any problems in strong winds
The cool mezzanine floor design allows for even more storage inside the tent
Cons:
The zipper on the rain fly can also get stuck on the fabric sometimes
The price is fairly high when compared to other tents in its class (but I think it's worth it for what you get)
Because of the tapered way the tent is constructed, there's only one option for sleeping direction
It will also be very tricky to fit two double sleeping mats inside
Could do with another vent in the rain fly for extra airflow
You are going to need to purchase a footprint camping at most campsites to protect the floor of the tent
The stakes could be made of stronger materials
It's not possible to adjust the loops for the corner stakes, which means it's harder to get the stakes in.

Our GREATEST Travel Secrets…
Pop your email here & get the original Broke Backpacker Bible for FREE.
Final Thoughts on this Big Agnes Copper Spur HV UL2 Review
Well, well, well… the Big Agnes Copper Spur HV UL2 is packing some pretty nifty features, isn't it? Hopefully, you're now totally up to speed with what this tent is all about: I'm talking about that featherlight packed weight, the high-quality materials, and all that space!
It's an ideal tent for hikers who want to head out on a multi-day trek carrying as little weight as possible. Seriously, who really wants to carry more weight than they need to on their back? More weight makes hiking a much harder slog than it needs to be.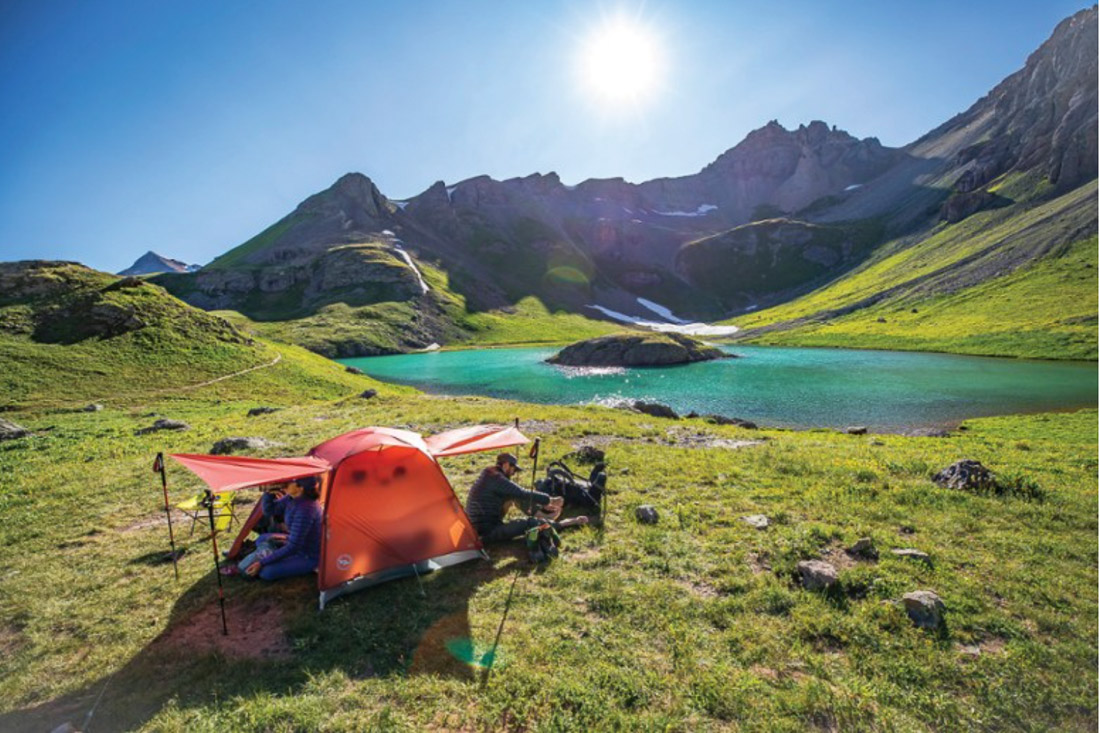 The price of the tent might be a little more than others out there, but that's the price you pay for the top quality materials and the engineering it takes to make a tent so lightweight. The good thing is you can trust Big Agnes to serve up reliable products that aren't made in a hurry.
A lot of thought has gone into the design of the tent to make it as user-friendly as possible. Elements such as the ease (and speed) of setup and teardown all add up to make this a winning tent for me.
If you're still left wondering about whether or not to click buy on the Big Agnes Copper Spur HV UL2, well, I think you should go for it. For one thing, you'll be covered by the Big Agnes 100% Guarantee – this means if the tent doesn't live up to your expectation, the company will help with fixing the issue.
There are cheaper tents out there, of course, and some of them might be more lightweight, but a little more money means you have a reliable tent from a reliable brand that will last.
So, let me know your thoughts. What do you think about the Big Agnes Copper Spur HV UL2 tent? If I forgot anything, let us know in the comments below.
Like this tent? Check out the Big Agnes Fly Creek UL1 too.
What is our final score for the Big Agnes Copper Spur HV UL2? We give it a rating of 4.7 out 5 stars!

---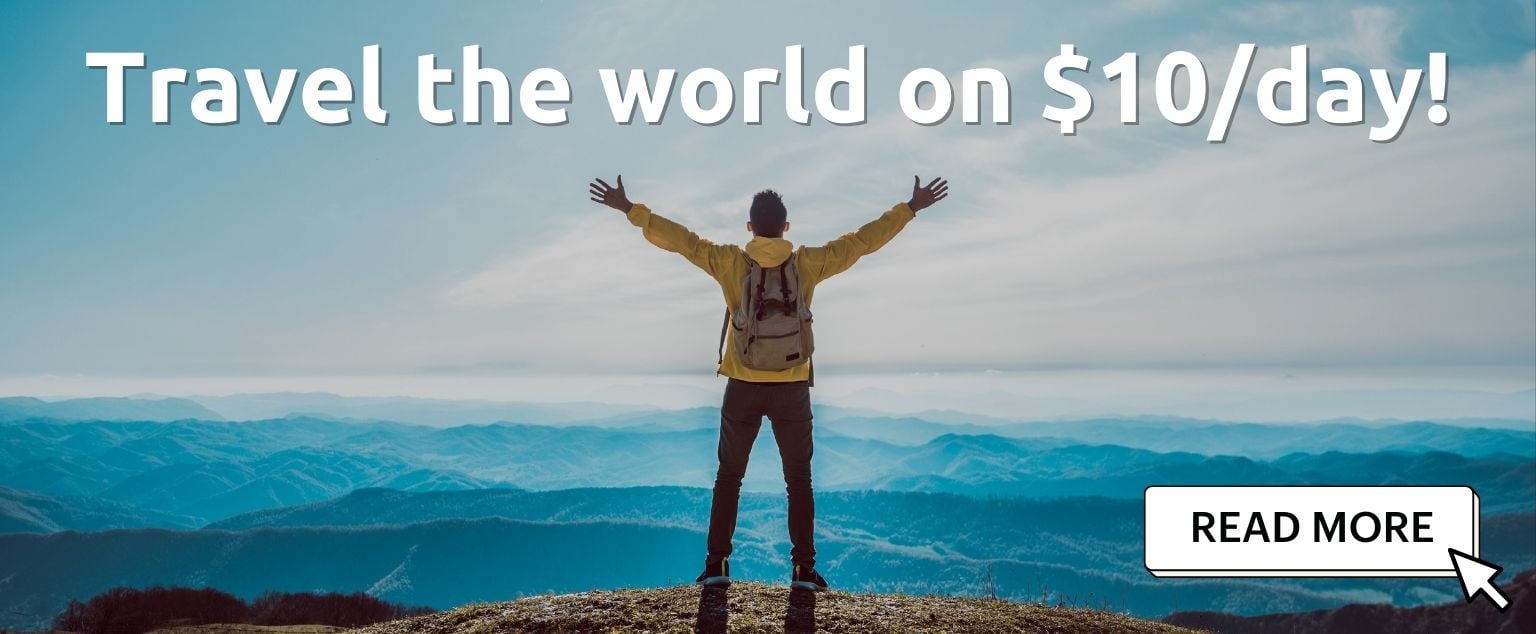 And for transparency's sake, please know that some of the links in our content are affiliate links. That means that if you book your accommodation, buy your gear, or sort your insurance through our link, we earn a small commission (at no extra cost to you). That said, we only link to the gear we trust and never recommend services we don't believe are up to scratch. Again, thank you!