What a great time to be alive my friends…
Why is that?
Well because we are living in a golden age of outdoor gear, ultralight backpacks have never been better! Gear-nerds unite!
Ultralight backpacks have changed the hiking and travelling game considerably. Backpackers can now travel way lighter with the help of some brilliantly designed ultralight backpacks.
But with an influx of great backpacks, has also come an influx of bad backpacks, and knowing which one to spend your money on can be tough. Especially when an ultralight pack usually isn't cheap!
So to help, I've put together this epic guide to the best ultralight packs for backpackers.
As a former Appalachian Trail thru-hiker, I can attest to the importance of having a truly badass ultralight backpack and lightweight gear in general. By the end of this guide you will be able to crush your travels and outdoor backpacking adventures like never before with the perfect ultralight backpacking pack for you!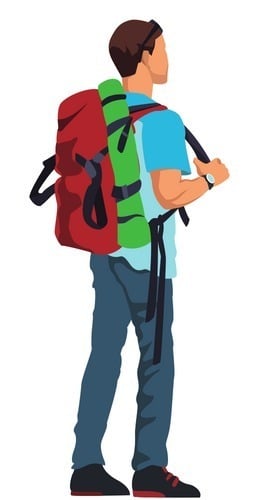 Quick Answer: The Top Ultralight Backpacks of 2023
BEST OVERALL ULTRALIGHT BACKPACK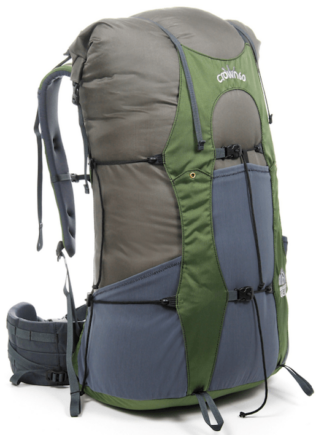 BEST OVERALL ULTRALIGHT BACKPACK
Granite Gear CrownC3 60
Price > $$
Weight > 2 lbs. 9.3 oz.
Liters > 60
BEST WOMEN'S ULTRALIGHT BACKPACK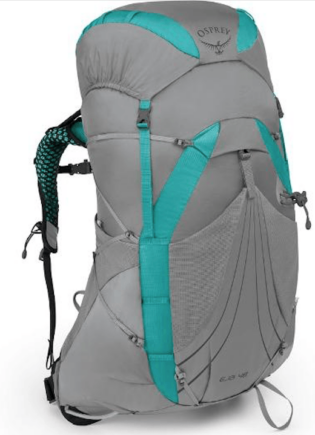 BEST WOMEN'S ULTRALIGHT BACKPACK
Osprey Eja 48
Price > $$
Weight > 2 lbs. 12 oz.
Liters > 48
BEST LIGHTWEIGHT BACKPACK FOR TRAVEL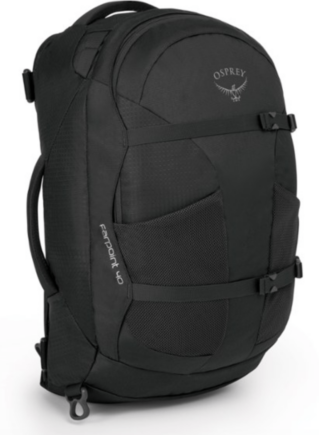 BEST LIGHTWEIGHT BACKPACK FOR TRAVEL
Osprey Farpoint 40
Price > $$
Weight > 3 lbs. 8 oz.
Liters > 40
BEST DAY HIKING BACKPACK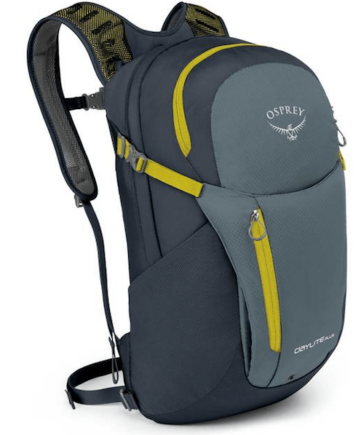 BEST DAY HIKING BACKPACK
Osprey Daylite Plus
Price > $
Weight > 1 lb. 5 oz.
Liters > 20
BEST BUDGET ULTRALIGHT BACKPACK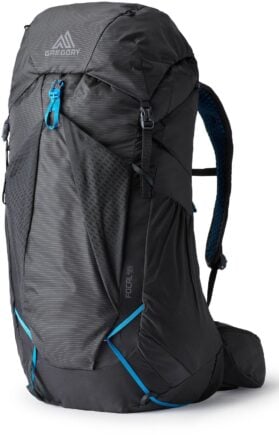 BEST BUDGET ULTRALIGHT BACKPACK
Gregory Focal 48
Price > $$
Weight > 2.5 lbs.
Liters > 48
BEST ULTRALIGHT WATERPROOF BACKPACK
BEST ULTRALIGHT WATERPROOF BACKPACK
Sea to Summit Hydraulic 35
Price > $$
Weight > 2 lbs. 7 oz.
Liters > 35
BEST ULTRALIGHT BAG FOR THRU-HIKERS
BEST ULTRALIGHT BAG FOR THRU-HIKERS
Gossamer Gear Gorilla 40
Price > $$$
Weight > 1 lb. 14 oz.
Liters > 40
BEST ULTRALIGHT BAG FOR THRU-HIKERS (RUNNER UP)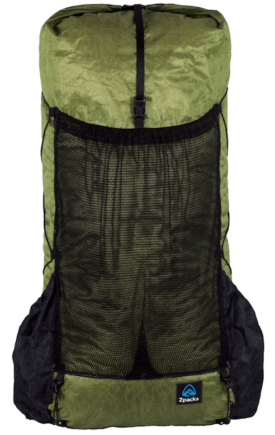 BEST ULTRALIGHT BAG FOR THRU-HIKERS (RUNNER UP)
ZPacks Arc Blast
Price > $$$$
Weight > 1 lb. 5 oz.
Liters > 55
Best Ultralight Backpacks: Performance Breakdowns
To make choosing the right ultralight backpack for yourself even easier, I have broken down my top picks into different categories. That way, you can base your next ultralight backpack purchase on your own specific needs.
As I cover the performance of each ultralight backpack on my list, I break down things like weight, price, specs, carrying capacity, comfort, fit, and much more. You'll want to consider if you need a frameless pack or shoulder pockets, do you want a roll top closure, a removable hip belt or front mesh pocket? There's a lot more these ultralight packs than you might think!
These reviews offer up near-complete pictures of the absolute top ultralight backpacks on the market today.
Here are my top picks for the top ultralight backpacks in 2023:
Best Overall Ultralight Backpack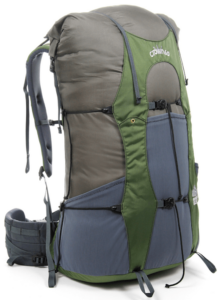 Specs
Price: $239.95
Weight: 2 lbs. 9.3 oz.
Volume: 60 Liter
Maximum Comfortable Load: 35 lbs
The Granite Gear Crown3 60 is my overall top pick for the best ultralight backpack.
Some ultralight backpackers might cringe at the size of my top pick for ultralight backpacks. The Granite Gear CrownC3 60 is a 60-litre backpack. Typically, ultralight backpacks tend to have a smaller volume and carrying capacity (to reduce weight). That said, the Granite Gear Crown had won my top honours for several reasons.
Whilst being weight conscious is my top priority when assessing an ultralight backpack, in the end, it has to be comfortable too. When selecting ultralight backpacking gear there are often compromises when it comes to things like padded shoulder straps and might not include things like a removable hip belt that can make all the difference.
The Granite Gear Crown 60 kills it in that department. The removable hip belt and shoulder straps feature dual-density padding and narrow webbing straps to help you achieve the perfect fit.
Now the maximum load capacity of 35 lbs is a guideline, not a base weight you should be striving for. The good news is you have plenty of space for all of your important backpacking gear and food.
For organisation and pack access, the top-loading design features a secure roll top closure that provides easy access to the main compartment. The pack exterior sports light and effective LineLoc compression, a massive front mesh pocket as well as stretch-mesh side pockets for keeping all your exterior gear secure.
By design, ultralight backpacks are not known for being super tough or durable (you will hear this repeated many times). The Granite Gear Crown 60 does make an effort in that regard. It is made with a 100-denier silk-nylon hybrid body and 210-denier Cordura reinforcements for extra strength in key areas.
Keep in mind though that ultralight backpacks need to be treated with a little care. If you abuse this in excess they will break or tear eventually.
Cons
Large for an ultralight backpack.
Not as light as some of its competitors
Ladies & Gents, It's Time to Step Your GEAR Game Up. 😉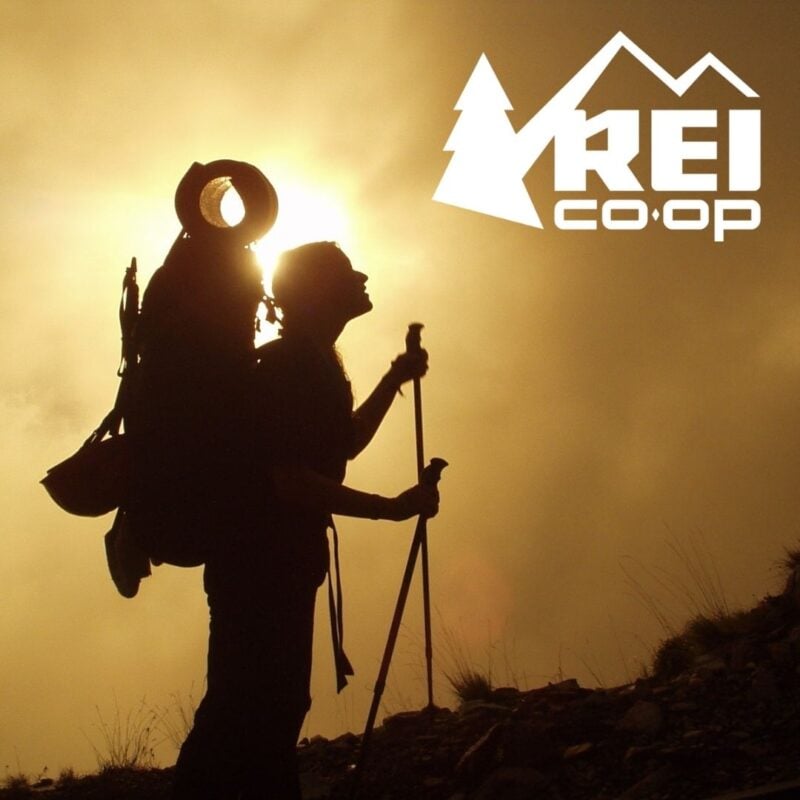 REI is one of America's biggest and most-loved outdoor gear retailers.
Now, for just $30, get a lifetime membership that entitles you to 10% OFF on most items, access to their trade-in scheme and discount rentals.
Join REI Today!
Best Women's Ultralight Backpack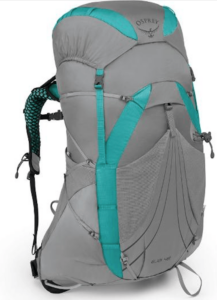 Specs
Price: $240.00
Weight: 2 lbs. 12 oz.
Volume: 48 Liter
Maximum Comfortable Load: 35-40 lbs
The Osprey Eja 58 is an ultralight backpack specifically designed with ladies in mind. From all reports, the Eja 48 wins out as the best ultralight bag for women because it is light, very comfortable, and also super practical.
The Osprey Eja 48 is walking the line of being ultralight in weight, but I dig its toughness. Also, I love it because it delivers a super comfy fit in an ultralight frame. It allows backpackers to carry everything they need without sacrificing comfort.
The Eja 48 features an ExoFoam harness and AirSpeed ventilated suspension system that distributes load weight and offers a supportive fit for those long days on the trail. It's also got super comfy shoulder straps too. When it comes to lightweight packs, this blows the other packs out of the water for comfort!
For storage, the Eja 48 has dual-access fabric side pockets with a removable compression cord for water bottles or smaller items. The internal main compartment has a compression strap that helps you maximize the pack's volume and keeps everything locked into place.
For even more storage solutions, the (removable) top lid cord loop attachment provides multiple options for affixing gear to the exterior of your pack making it ideal for an ultralight backpacking trip. There's also a handy mesh pocket on the front.
The Osprey Eja 48 is the full package and certainly one of the finest ultralight backpacks I have come across. Whilst it might be slightly on the large side for a day pack, it also holds it's own amongst the best lightweight hiking backpacks too.
Check out the men's Osprey Exos 48.
Check out my in-depth review of the slightly larger Osprey Exos 58 if you're looking for backpacking packs with a bit of extra room!
Cons
Pack weight is heavier than its competition as it's not a frameless pack.
I really don't like the lack of hip belt pockets and shoulder pockets.
Best Lightweight Backpack for Travel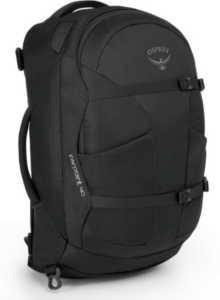 Specs
Price: $185.00
Weight: 3 lbs. 8 oz. (S/M Size)
Volume: 40 Liter
Maximum Comfortable Load: 25-30 lbs
For backpackers visiting warm, tropical regions like Southeast Asia, or South or Central America, having an awesome lightweight backpack for travel is key.
Enter the Osprey Farpoint 40. The Farpoint 40 is the perfect backpack for those travellers looking to travel light. If you are the type of minimalist traveller who doesn't need to bring a ton of stuff along for a trip, the Osprey Farpoint 40 will serve you very well indeed for ultralight backpacking trips. It's one of the best bits of backpacking gear on the market.
The Farpoint features a large zippered panel that gives access to the main compartment. The zippers have lockable sliders too for added security. It's worth noting that this bag is pretty simplistic and there isn't an external mesh pocket which would have been great. However the detachable day pack could offer a similar solution.
There are three different ways you can carry the Osprey Farpoint 40. The standard padded shoulder straps, the padded top and side handles for hand carrying, and the detachable messenger-style shoulder strap. One thing I will say is that the shoulder straps could be a little more padded for my liking!
An important point to make is that the Osprey Farpoint 40 can be carried on planes. 99% of airlines will let you use this bag as a carry on, which over your travels will save you a ton of time and money which is exactly what you want when it comes to lightweight packs! #gamechanger.
By going with an ultralight backpacking bag like the Osprey Farpoint 40, you'll be able to keep all of your valuables with you and save a ton of money (which pays for the bag ten times over!).
Check out my in-depth Osprey Farpoint 40 review.
Cons
Not a hiking backpack.
Lacks the space for travellers with lots of gear needs.
Best Day Hiking Backpack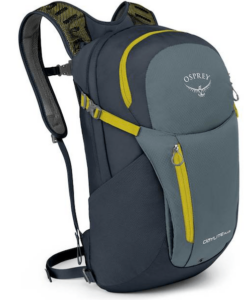 Specs
Price: $75.00
Weight: 1 lb. 5 oz.
Volume: 20 Liter
Maximum Comfortable Load: 15-25 lbs. (estimate)
I know I am veering off the ultralight backpacking packs path a bit but stay with me here.
Every backpacker needs a good day hiking backpack. For those quick weekend missions to the mountains or a big city requires that you pack a few essentials along for the journey. The Osprey Daylite Plus is one of the best lightweight hiking backpacks on the market.
The large main compartment features a padded interior sleeve for safely packing a tablet or other electronics which could easily double as an internal hydration sleeve. A zippered mesh pocket has a key fob in the smaller main compartment, which is handy. Everyone has keys!
Onto ventilation. The mesh-covered back panel has slotted foam for excellent ventilation and breathability. The dreaded swamp-back blues can be a very inconvenient reality with other daypacks. Backpacks that feature only fabric where your back meets the backpack are serving up a recipe for a super sweaty back. The shoulder straps too features a ventilation system to keep you feeling fresh.
A great addition to the Daylite Plus is the open-topped stash pocket for jackets or other quick-use items. To top it off a small front zip pocket allows you to store items you use frequently in their own zone.
The point being, that the Osprey Daylite Plus is a great value day backpack for the money ($75). Osprey Daylite Plus for the win. The pack weight to begin with compared to other packs is super light so you know you're not dragging along extra grams and it's one of the reasons we've rated it amonst the top ultralight packs.
Check out my in-depth Osprey Daylite Plus review here.
Cons
Not an overnight backpacking backpack.
Limited gear storage for big items.
Best Budget Ultralight Backpack
Specs
Price: $229.95
Weight: 2 lbs. 9.6 oz (M size)
Volume: 48 Liter
Maximum Comfortable Load: 40 lbs.
Ultralight gear in general can get expensive. Once you throw in an ultralight tent, sleeping bag, and backpack, you just suddenly spent a ton of money.
Now they aren't giving away the Gregory Focal 48. But for $229.95, I feel like it is the best ultralight hiking backpack for the money.
The Focal 48 is a great budget option for thru-hikers too. The backpack features a well-ventilated, suspended mesh back panel which features the Gregory FreeFloat dynamic ComfortCradle lower back system. That's a lot of words for, it's bloody comfy!
I really love all of the little details of this pack. From the convenient water bottle pockets to the Removable, floating top pocket to the sunglasses storage zone; the designers at Gregory should get a good Christmas bonus this year. All of your little bits and pieces have their home somewhere inside the Focal 48.
For even more storage the Focal 48 features dual-zippered hip belt pockets that provide secure, easy-to-access zones for snacks or your phone. The Focal 48 bests the Eja 48 for storage options, simply because Gregory has included hip belt pockets!
The Gregory Focal 48 is a great ultralight backpack for long-distance hikers on a budget.
Cons
I have questions about the durability of the front mesh pocket.
The damn water bottle pockets don't make it easy to get your bottle in or out.

Do You Want to Travel FOREVER??
Pop your email in below to get a FREE copy of 'How to Travel the World on $10 a Day!'.
Best Ultralight Waterproof Backpack
Specs
Price: $169.95
Weight: 2 lbs. 7 oz.
Volume: 50 Liter
Maximum Comfortable Load: 20-25 lbs.
Sea to Summit is not super famous for its backpacks. In recent years though, they are making an obvious and concerted effort to improve their reputation in that regard (they do, however, make awesome dry bags among many other fine products). They have certainly found their niche here with the Sea to Summit Big River Drypack.
The Sea to Summit Big River Dry Pack is a full-sized hiking backpack. But is can also be used as a day hiking backpack when you need more gear. Ideally, it is a great bag for river guides, kayakers, travellers or city folks who live or travel in wet regions.
The Sea to Summit Big River Dry Pack is great at what it does. It is 100% waterproof, surprisingly lightweight, and packs plenty of gear storage to hold your laptop, snacks, water bottle, and a few layers.
This backpack features a fully adjustable, low-profile padded shoulder harness and a removable waistbelt for maximizing carrying comfort. I'm a big fan of the deep stretchy mesh exterior side pockets.
Also, if you spend a lot of time in the water (kayaking, river guide, fisherman, scuba divers, etc) the Sea to Summit Big River Dry Pack is fully submersible. Not many backpacks out there can survive (I mean not get wet inside) a full-on river plunge.
The Sea to Summit Big River Dry Pack is a great piece of adventure gear!
Pros
Fully waterproof
Sea to Summit includes lifetime warranty
Cons
Not a proper hiking backpack.
Best Ultralight Bag for Thru-Hikers
Specs
Price: $215.00
Weight: 1 lb. 14  oz.
Volume: 40 Liter
Maximum Comfortable Load: 35 lbs.

For serious ultralight thru-hikers looking to crush big miles with the fewest weight restrictions possible, the Gossamer Gear Gorilla 40 is where it's at. This ultralight backpack was designed specifically with thru-hikers in mind and makes a top camping backpack.
All of the adjustable hip belt and shoulder straps come together to bring you a comfortable fit. One unique feature of the Gorilla 40 is the SitLight pad. The SitLight is a removable back pad that doubles as a seat when you arrive at camp. Who doesn't want to rest a tired bum on something other than a pointy rock?
The aluminium frame is at the core of what makes this backpack so light, yet it gets the job done in terms of providing support.
If you decide to go with the Gossamer Gear Gorilla 40, keep in mind that you will need to fully embrace the ultralight program. What I mean is, that 40 litres isn't an eternity of space to work with. You'll need ultralight, ultra-small, minimalist everything to make it work.
That said, going totally ultralight is great. You can really cover some serious miles day in and day out when your backpack doesn't way 30 pounds+.
Cons
I have questions about the mesh pockets' durability.
They make you pay extra for hip pockets! Damn them!
Best Ultralight Bag for Thru-Hikers (Runner up)
Specs
Price: $325.00
Weight: 1 lb. 5 oz.
Volume: 55 Liter
Maximum Comfortable Load: 30 lbs
To put things in perspective the Zpacks Arc Blast weighs about as much as a block of cheddar cheese. The Arc Blast is ridiculously lightweight and is my top pick for the lightest backpack on my list.
Zpacks is a small company that makes the backpacks themselves in the USA as the orders come in. They are now so popular amongst the ultralight thru-hiking community that the wait times for the Zpacks backpacks can be months (but usually it's about 5 weeks+).
Apart from a solid mesh back panel ventilation system, the adjustable torso straps really help you dial in the backpack for a custom fit. The standard model of the Zpacks Arc Blast is pretty barebones. The pack is listed at 55 liers, though in reality, it feels as though it shares the same capacity as a 40 or 45-liter backpack, and that's being generous.
Keep in mind that if you want hip belt pockets, trekking pole straps, and internal pouches they are not included. You have to request them and of course, they cost more money to add.
The fabric of the backpack is made out of a unique DCF which really helps to keep the pack water-resistant (not waterproof).
If you are a thru-hiker looking for the absolute minimum base weight the Zpacks Arc Blast will be your new best mate.
Pros
Lightweight doesnt sacrifice quality
Cons
Expensive.
It's a pain in the ass that you have to pay extra for pockets. I guess when you make everything yourself as Zpacks does, you need to charge for the extra work adding pockets involves.
The best present of all… is CONVENIENCE!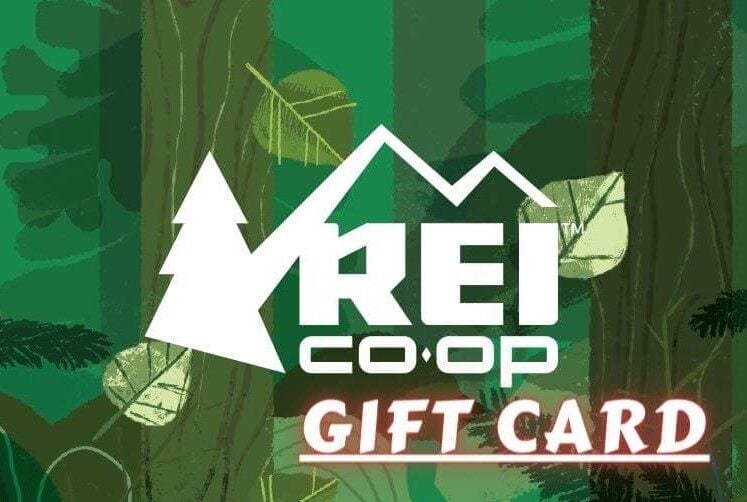 Now, you could spend a fat chunk of $$$ on the WRONG present for someone. Wrong size hiking boots, wrong fit backpack, wrong shape sleeping bag… As any adventurer will tell you, gear is a personal choice.
So give the adventurer in your life the gift of convenience: buy them an REI Co-op gift card! REI is The Broke Backpacker's retailer of choice for ALL things outdoors, and an REI gift card is the perfect present you can buy from them. And then you won't have to keep the receipt. 😉
Buy on REI!
Bonus: Best Lightweight Travel Bag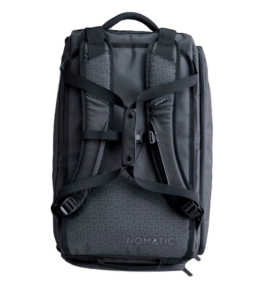 Specs
Price: $229.00/279.00
Weight: 4 lbs.
Volume: 40 Liters
Maximum Comfortable Load: 20-30 lbs. (estimate)
The Nomatic Travel Bag is indeed not an ultralight backpack or a hiking backpack of any kind. In fact, it is a whole other species of backpack completely, but, it rates as one of our top travel backpacks for a reason!
For travellers on the move, a new travel bag is taking the internet (and the travel world) by storm. The Nomatic Travel Bag is one sweet unit. In fact, it is such a badass travel bag that it found its way onto my ultralight backpacks list. Go figure.
Basically, if ever there was a travel bag to cover ALL of your short term travel needs, the Nomatic Travel Bag would be at the very top of the list.
The Nomatic Travel Bag comes with an insane amount of brilliantly thought out pockets, compartments, and gear storage options. It even comes with a mesh laundry bag. No more cramming those dirty socks in the front pocket of your backpack eh?
From start to finish the Nomatic Travel Bag features one sleek design after another. My favourite features include the fleece-lined valuables pocket, the laptop pocket, the high-quality water-resistant materials they used, and the specific compartment for your shoes (there is one for socks/underwear too)!
Remember, the Nomatic Travel Bag is one of the best carry on bags for travellers as well. Well done, Nomatic, well done.
Check out my in-depth Nomatic Travel Bag review.
Pros
Compact and slick aesthetics
Thoughtful design
Cons
Expensive
You'll need to pay extra if you want the travel bag plus all of the accessories.
best ultralight backpacks

| Name | Weight | Capacity | Price |
| --- | --- | --- | --- |
| Granite Gear CrownC3 60 | 2 lbs. 9.3 oz. | 60 L | $239.95 |
| Osprey Eja 48 | 2 lbs. 12 oz. | 48 L | $240 |
| Osprey Farpoint 40 | 3 lbs. 8 oz. (S/M Size) | 40 L | $185 |
| Osprey Daylite Plus | 1 lb. 5 oz. | 20 L | $75 |
| Gregory Focal 48 | 2 lbs. 9.6 oz (M size) | 48 L | $229.95 |
| Sea to Summit Big River Dry Pack | 1 lbs. 10.7 oz. | 50 L | $169.95 |
| Gossamer Gear Gorilla 40 | 1 lb. 14 oz. | 40 L | $215 |
| ZPacks Arc Blast | 1 lb. 5 oz. | 55 L | $325 |
| Nomatic Travel Bag | 4 lbs. | 40 L | $279 |
Picking an Ultralight Bag
As you have now seen, Ultralight backpacks are all over the place in terms of style, design, weight, capacity, and price. Choosing the right ultralight backpack for your personal needs is very important.
The three most important questions you need to ask yourself:
What is the best weight to performance ratio that is best for me?
How many litres is sufficient for my needs?
How much am I willing to spend on an ultralight backpack?
Below, I breakdown all of the important aspects of an ultralight backpack.
To make the important decision regarding which ultralight backpack you should buy, you first need the complete picture of what makes an ultralight backpack awesome in the first place.
Ultralight Backpack Weight
Because you have dipped your toes in the great ultralight backpack ocean I am thinking that you are concerned with backpack weight. Or at least going ultralight as much as you can.
If you go with an extreme ultralight backpack like the ZPacks Arc Blast you will certainly be in possession of one of the lightest ultralight hiking backpacks that have ever existed. That said, the lighter the backpack is, the less tough (and possibly less comfortable) it will be. Also weight (or lack thereof) is directly linked to price.
In order to get the backpack weights down as low as possible, manufacturers use bare-bones materials that break down in the long run. It is the same across the entire ultralight world. Sleeping bags, down jackets, trekking poles, etc… the lighter they are the less durable they are, period.
I recommend trying to find a sweet balance between light and tough. With the Gregory Focal 48, you get the best of both worlds.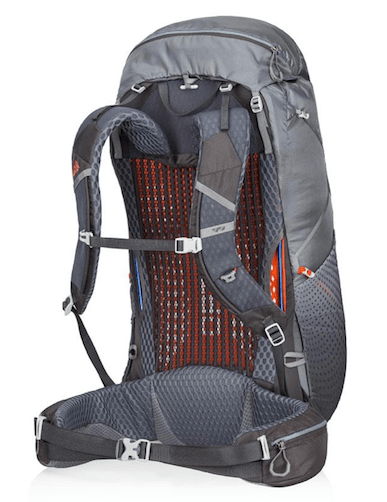 Ultralight Backpack Price
Like I said, with outdoor gear generally, the more ultralight something is the more expensive it will be. You can see that the most expensive backpack on my list is also the lightest.
How much you will use this ultralight backpack of yours should also factor into how much you are willing to pay for it. Are you planning a major thru-hike? Going to travel around Europe? Just looking for an awesome day pack?
Each of those scenarios will require a different price point. If you are planning on hiking thousands of miles in a single shot, you'll probably want to invest in a very ultralight backpack like the Granite Gear Crown 60. Likewise, if you are planning on backpacking Europe, the Osprey Eja 48 would be the way to go.
Bottom line: the price of ultralight backpacks is very dependent on what their intended use is. Figure out what you will be doing and find the appropriate price point from there.
Ultralight Backpack Fit/Comfort
When compared to full-sized bulked out hiking backpacks, ultralight backpacks are certainly not as comfortable. All of that padding found in heavier backpacks is significantly reduced in ultralight backpacks.
Really I am amazed that the ultralight backpack companies are able to make reasonably comfy backpacks given they are trying to strip them down as much as possible. That said, most ultralight backpacks are devoid of any sort of suspension system.
Here is our reoccurring theme: the lighter you go, the less comfortable your backpack (is likely) to be. Ultralight backpacks are minimalist units. What you don't get in padding, you enjoy in lightness.
The backpacks featured on my list are all generally quite comfortable, with slight variations of course. I highly recommend that you measure your waist and torso BEFORE ordering an ultralight backpack online. That way, you'll be certain to get the perfect fit.
Ultralight Backpack Ventilation/Breathability
Breathability is another aspect of the backpack that you should study and take seriously. You sweat a lot when you are trekking. Ideally, your backpack should provide a bit of airflow and ventilation to allow for all that back heat to escape.
The Osprey Eja 48 features a good example of a properly ventilated back panel. The mesh holes and gaps between the back panel and the frame allow for a healthy amount of breathability to combat moisture stagnation.
A properly designed ultralight backpack will always allow for some air flow to occur.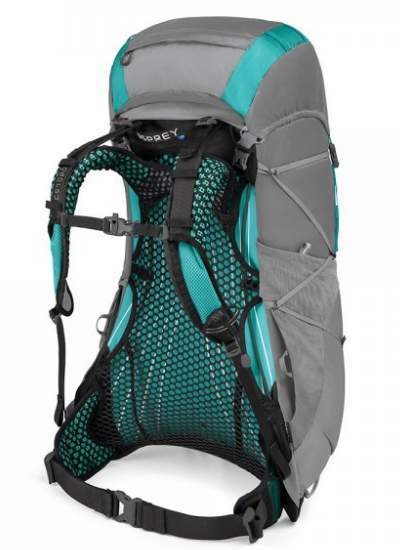 Ultralight Backpack Volume/Carry Capacity
The idea in buying an ultralight backpack is that you should— in theory— be carrying less gear. If you're keen to haul 50-pounds in a backpack weighing two pounds, I'm sorry to tell you that it won't be pleasant.
By design, ultralight backpacks kind of force the user to cut out anything unnecessary to any given trip. There simply isn't the luxury of extra space in an ultralight backpack.
Likewise, ultralight backpacks were not designed to bear heavy loads. If you overload your ultralight backpack it will either break on you, or it will be very, very uncomfortable to hike with. The Granite Gear Crown 60 offers up a decent volume (60 liters) in a lightweight package.
Though, if you are serious about joining the ultralight cult, simply plan on becoming more of a minimalist backpacker.
Ultralight Backpack Design
Deciding on which sort of design to go with is more of a personal preference thing. Ultralight backpacks are designed to be practical and efficient whilst eliminating everything that is unnecessary. Day packs for example are light, to begin with, so designers have more freedom to add in more design features.
Moreover less though, ultralight backpacks are designed to perform at very high levels of use. They are intended for you to be able to pack all of your gear in a reasonable, organized way.
I am a big fan of the way the Gregory Focal 48 features many practical organizational solutions for backpackers. After cost, weight, and volume, design is probably the next most important thing for you to consider.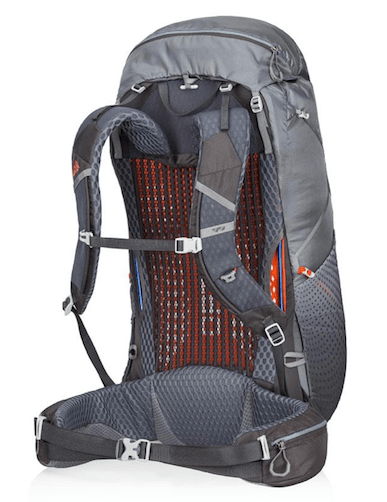 Ultralight Backpack Material/Durability
Ultralight backpacks are not the toughest cookies in the bakery. What I mean is you can't treat your ultralight gear in the same way you would a normal hiking backpack.
Slamming it on the ground, dragging it across the floor, leaning it against a cactus plant, knocking it against thorny blackberry bushes… all of those scenarios could spell a a major tear (and resulting disappointment) or puncture for the delicate ultralight fabric.
Again—say it with me now— the lighter a backpack is, the less tough it is likely to be.
That said, a majority of ultralight backpacks can take a fair bit of abuse.
Usually, ultralight backpacks are made from one of two materials: Ripstop Nylon or Dyneema Composite Fabric (formerly cuben fibre). Both are fairly water-resistant and can manage to survive a few decent snags.
Just be a little more careful with your backpack than you normally would and you should be fine.
Want something more durable? Have a look at the best heavy duty backpacks for the other end of the scale!
FAQ about the Best Ultralight Backpacks
Still have some questions? No problem! We've listed and answered the most commonly asked questions below. Here's what people usually want to know:

Our GREATEST Travel Secrets…
Pop your email here & get the original Broke Backpacker Bible for FREE.
Final Thoughts
Alas, you have made it to the end of my review. Well done! You are now ready to drink the ultralight cool aid and join in all of the lightweight fun.
Choosing the best ultralight pack for yourself is a challenge. The last thing you want is to be disappointed with a backpack you were so excited about.
After reading this review, you are now armed with all of the important information needed to buy a truly badass ultralight backpack for your adventures.
Not sure which one is for you still? When in doubt, go with my favorite ultralight pack: the Granite Gear Crown V.C. 60.
Best Ultralight bag for women? That's the Osprey Eja 48.
Just want a pack to go on radical day hikes with your partner? Consider the Osprey Daylite Plus.
Welcome to the ultralight backpack cult: the most comfortable group of backpackers you will ever meet. Good luck!
---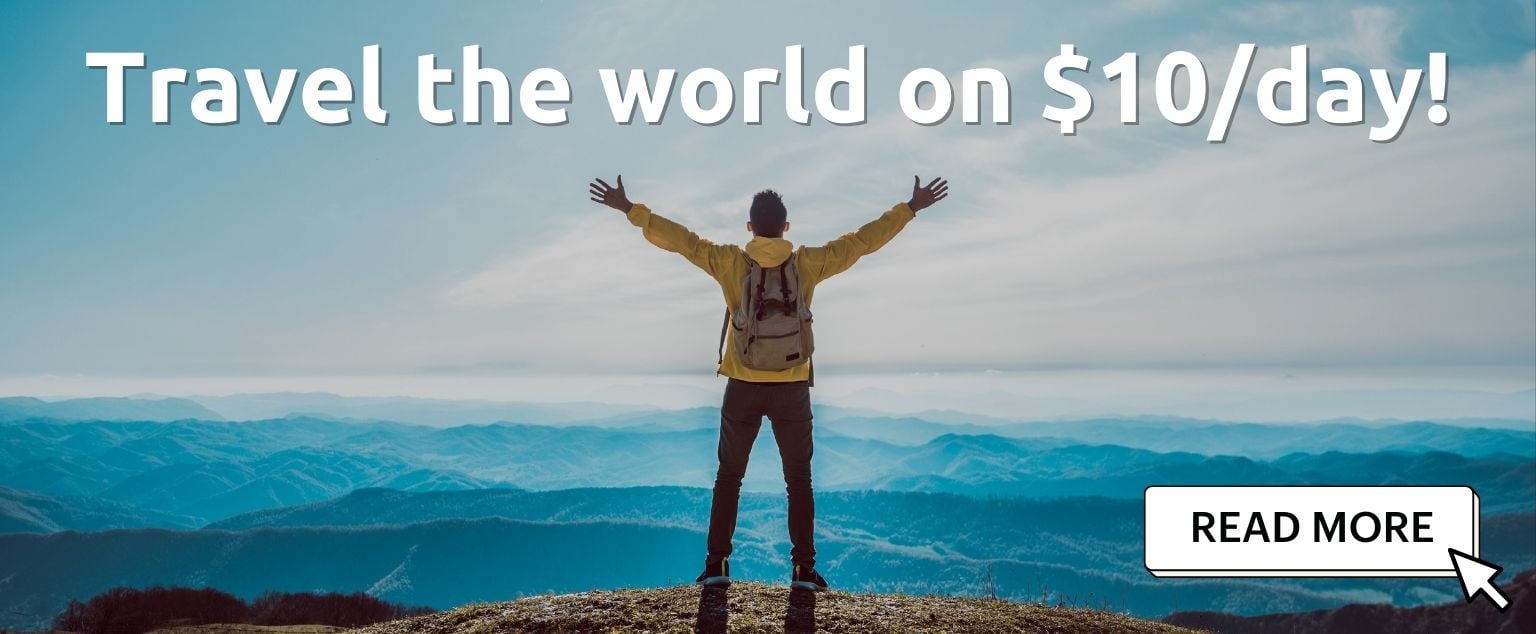 And for transparency's sake, please know that some of the links in our content are affiliate links. That means that if you book your accommodation, buy your gear, or sort your insurance through our link, we earn a small commission (at no extra cost to you). That said, we only link to the gear we trust and never recommend services we don't believe are up to scratch. Again, thank you!