Welcome to what is without a doubt the best (and most brutally honest) Nomatic Travel Bag review on the web.
Firstly, we don't mind telling you that the Nomatic Travel Bag is one of the best bags on the market today…. BUT – we only recommend this bag for certain types of travelers. The Nomatic Travel Bag is ideal for some travelers but NOT ideal for others.
So to help you, we (figuratively) tore this bag apart, leaving no stone unturned so you can be 100% certain whether this is the bag for YOU.
By the end of this Nomatic travel bag review, you'll know everything you need to know about this modern travel companion, and you'll know whether or not it's the bag that fits your travel style.
The Nomatic Travel Bag is perfect for you if are after a modern, well-designed bag. This bag is sleek and sexy. Many Nomads are ditching traditional backpacking bags in favor of more sleek and modern bags like this Nomatic.
The Nomatic Travel Bag is perfect for you if you are looking to pack LIGHT, or are only traveling for a week (or so) at a time
The Nomatic Travel Bag is perfect for you if you are a Digital Nomad that doesn't carry too much gear
The Nomatic Travel Bag is perfect for you if you are after a cabin-approved carry-on bag
Overall this bag is great for anyone who likes its design, efficiency, and organization. It's easily one of the best minimalist bags on the market. A lot of Nomatic reviews out there say the same thing.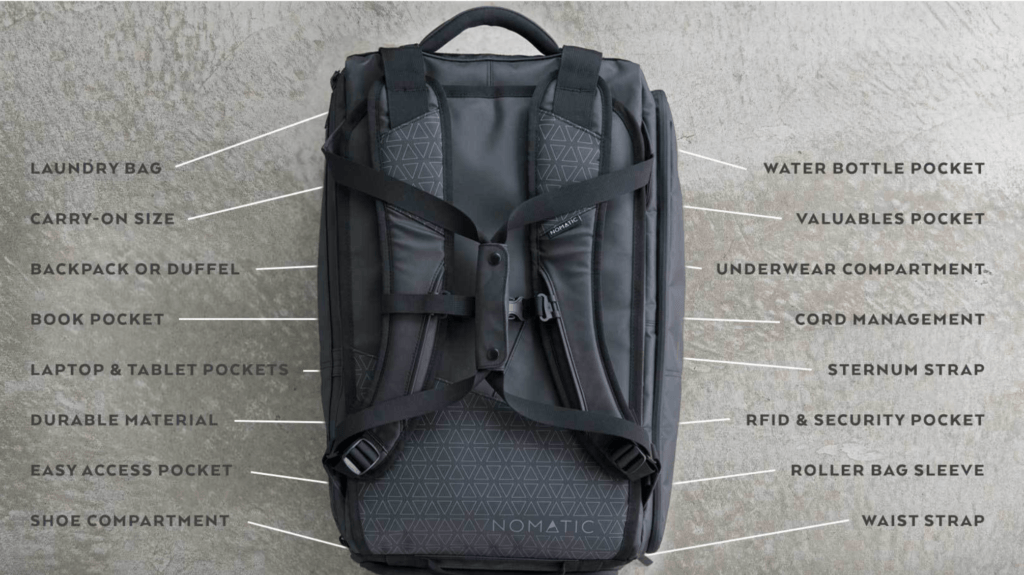 But you have to be someone who likes to travel light.
Let me tell you why…
This bag was designed for 3-7 day trips and is only 40L. Granted some full-time travelers can make a 40L work, others will be hard-struck to make a bag sustainable for longer trips, especially if having your laundry done isn't an option for you.
If you are going on a long trip or bringing a lot of gear, then the Nomatic cannot compare to some of the larger packs on the market. Nomatic do make larger bags if this is what you need.
Ladies & Gents, It's Time to Step Your GEAR Game Up. 😉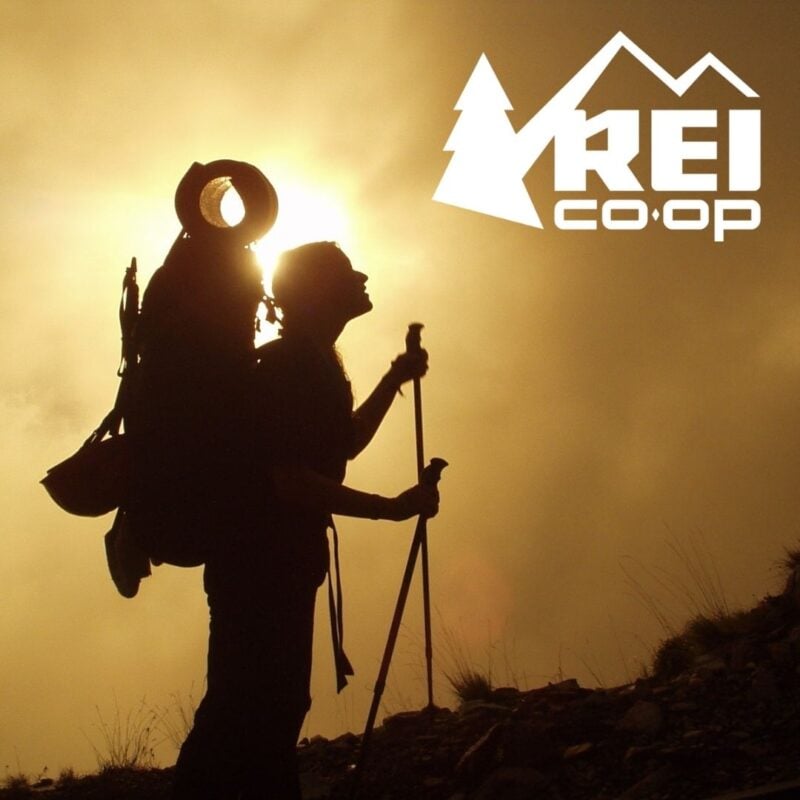 REI is one of America's biggest and most-loved outdoor gear retailers.
Now, for just $30, get a lifetime membership that entitles you to 10% OFF on most items, access to their trade-in scheme and discount rentals.
Join REI Today!
You're a hiker. The Nomatic Travel Bag can handle some light hiking, but if you wanted something more appropriate for getting outdoors we'd suggest the Osprey Farpoint 40.
The Nomatic Travel Bag is NOT for you if you travel heavy. This is only a 40L bag! (Try the Osprey Aether 70 instead).
The Nomatic Bag is NOT for you if you are planning on doing an epic trip. It was designed for 3-7 day trips (Check out the Tortuga Outbreaker for a bigger, but still modern bag).
If you are considering the bag, you are probably drawn to it's sleek, modern design, and like the idea of Nomatic's ultimate efficiency and next-level organization.
So if you are unsure if this bag is for you, it comes down to one really important question.
Is it the right size for you?
Still unsure?
Don't worry. Let's dive deeper into the Nomatic Travel Bag, and truly get a feel for if it is the perfect bag for you.
Who Are Nomatic?
Nomatic has come out of nowhere to become one of the most respected bag-making companies on the market. Nomatic develops a wide range of products like watches, wallets, and notebooks, and their commitment to quality has enabled them to raise an enormous amount of money on Kickstarter and IndieGoGo.
How much did they raise? $3 million! And that was just for the backpacks.
Nomatic's mission is to create quality products that are functional and versatile, and this bag is no exception to that mission and is a testament to why they were able to raise so much money. Our Nomatic bag review will tell you all about this.
This review mostly focuses on one product: the Nomatic Travel Bag.
However, Nomatic currently offers several different types of backpacks. In this review, we will take a quick look at 2 other of their products – the Nomatic Backpack, Nomatic Travel Pack, and Nomatic Travel Bag. Whilst they share some similarities – aside from their confusingly similar names – they are meant for very different types of travelers.
The Nomatic Backpack and the Nomatic Travel Pack are very alike. They share a similar design, the ability to expand, and have amazing internal organization. Whilst their similarities are compelling, their differences are VERY important.
Meet the The Nomatic BACKPACK
The biggest difference is the size of the backpacks. The Nomatic Backpack is the smallest backpack from Nomatic. It's 20L (but it can expand to 24L) and is recommended for everyday use. This is a brilliant little backpack, but because of its size, it should not be considered for long-term traveling and is more of a day bag.
The Nomatic Backpack is also made of durable, waterproof materials and zippers.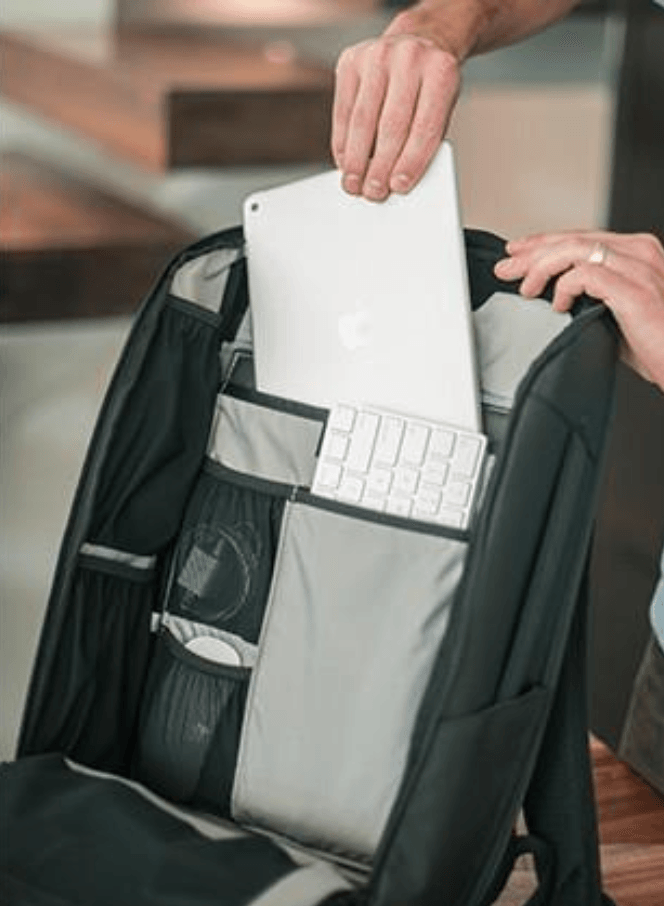 It also has some super-nifty features like the ability to tuck the straps making it into a duffel, and a cool magnetic water bottle holder.
Like all Nomatic products, this backpack has tons of pockets and compartments for next-level organization. Whether you are running to the coffee shop to get some work done, or catching a plane for an overnight journey – there are enough compartments to keep you and your gear happily organized.
One of the last cool features of the Nomatic Backpack is its removable panel. This panel is designed to hold electronic gear (keyboards, wires, chargers, etc) but no matter what gear you travel with, this panel can likely handle it.
This cool feature will give you the option of packing however you need to pack.
Heading to a co-working space to get some work done? Hitting up the library for a late-night study session? Add the panel!
But let's say you are going for a quick overnight trip, or just hitting a night on the town and don't need all your electronic gear – simply remove the panel and BOOM! You'll shed a few ounces and be able to pack the bag the way you need it packed.
Super, super cool.
Some other noteworthy features of the Nomatic Backpack…
RFID safe pockets – These will keep your electronic gear safe from hackers, which is getting exponentially more important by the year
Hidden money pocket – Very, very useful to have
Retractable key leash – Again, super useful, a great way to keep your keys safe and easily accessible
Roller bag sleeve – Nomatic loves to make products for travelers. If you travel with a roller suitcase, this backpack will perfectly slip over the top of the retracted handle
Cord pass throughs – This backpack has strategically designed holes throughout that enable you to pass cords throughout the backpack (great for when you need a quick charge!)
Removable shell for glasses – Another nifty feature, the glasses case is durable and fits snugly into the backpack
Notebook pocket – If you are a notebook user then your special book will have a special place in the Nomatic backpack
Meet The Nomatic TRAVEL PACK
So if the Nomatic Backpack is the smallest in the Nomatic arsenal, the Nomatic Travel Pack is the mid-sized option in the family.
As mentioned, the Nomatic Backpack and the Nomatic Travel Pack are extremely similar. They are so similar, that everything that I just listed about the Nomatic Backpack ALSO applies to the Nomatic Travel Pack.
The Nomatic Travel Pack takes everything the Nomatic Backpack – but then adds on a few more awesome features.
Let's look over the differences below…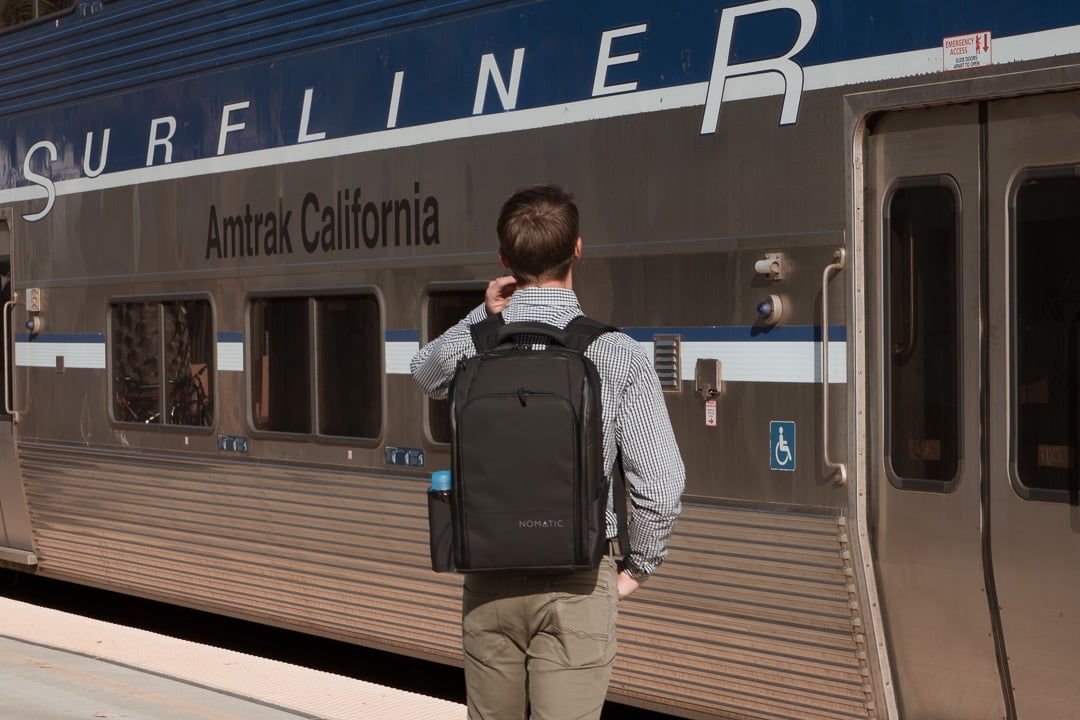 The biggest difference is the size – The Travel Pack is a 20L, but has a nifty expansion feature that can increase its size to 30L.
This drastic expansion ability is one of the biggest reasons we adore this backpack. 20 and 30-liter backpacks are very different, and the ability to switch between the two is probably one of the coolest features ever made on a backpack.
This feature means you are going to have some amazing versatility. At 20 liters it is a light, everyday backpack. Whether you are in college, working from your laptop, or just need a sleek backpack to head around town in – the 20 liters set is perfect.
But let's say you want to unleash the extra packing power of the Nomatic Travel Pack and unzip it to a 30 liter. 30 liters are large enough for 1-4 days trips, making this one of the best business backpacks on the market.
Some differences between this pack and the Nomatic Backpack…
TSA ready – When going through airport security you can quickly unzip the laptop compartment without having to take your laptop out
Tablet pocket – If you travel with an iPad or Kindle the Nomatic Travel Bag has a special pocket that will keep it safe and cozy
Mesh dividing wall – Unlike the Nomatic Backpack, the Travel Bag does NOT have a removable panel. Instead, it utilizes a mesh wall in the main compartment which is great for organizing clothes for shorter trips
Compression packing cubes – well designed and a great feature, these guys are great for socks/underwear/etc. It also has two compartments, so you can keep your clean and dirty clothes separated
Back to the Nomatic TRAVEL BAG Review
Overall, the two aforementioned Nomatic products are amazing… but none of them can handle the needs of a long-term traveler.
That's where we are now, with this Nomatic Travel Bag review.
This is the bag we are reviewing now. This is the largest of all Nomatic packs at a sturdy 40L. Nomatic recommends this bag for 3-7 day trips, but as someone who traveled for years with just a 40L (and a day bag), I can vouch that a 40L is capable of much more… if you don't mind traveling minimalist and making some sacrifices.
Meet The Peak Design Capture Clip…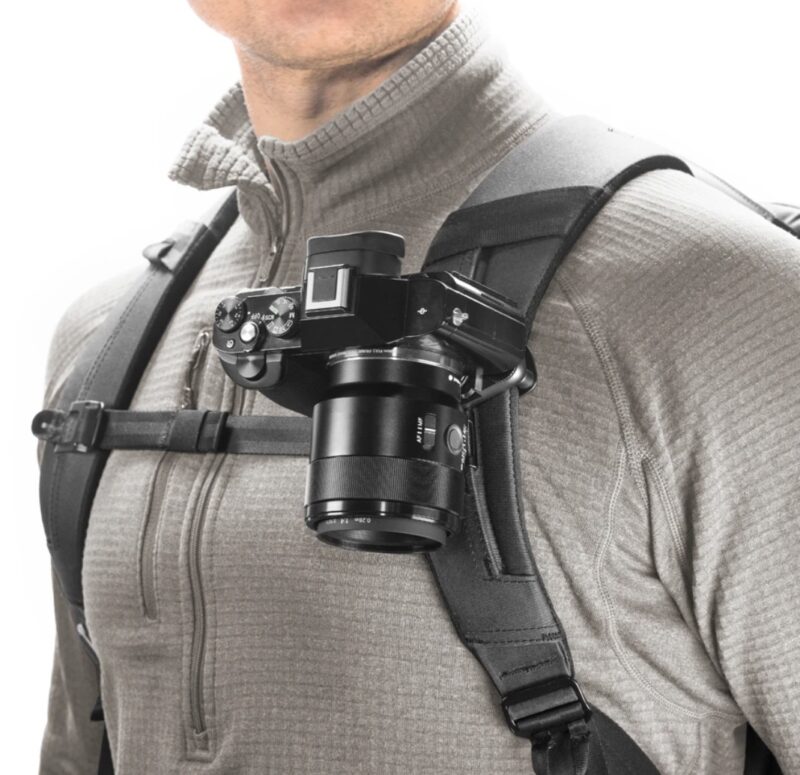 Before we go any further, I need to drop some knowledge on you. The Peak Design Capture Clip is a cheap, game-changing tool for adventure photographers that lets you keep your camera within arm's reach when hiking or moving about a city, without the camera ever getting in the way when you are not taking photos.
Clip it in, clip it out in one quick motion. Boom.
Investing in one of these is probably the best small adjustment you can make to your adventure photography setup. Just sayin'.
Check on Peak Design
Check out the above video review for a super in-depth look at the Nomatic Travel Bag.
Because the Nomatic Travel bag has a s**t ton of features, this is going to be a long section.
But don't worry – it's a great thing!
This is a bag that took a few years and a dozen prototypes to design, and it shows! The designers of this bag did a tremendous job of maximizing every bit of space available.
We think this bag is a work of art. Let's show you why…
Size of the Nomatic Travel Bag
This is the single most important feature of the Travel Bag. The reason being, depending on your travel style this bag might be the perfect size for you… but it also might be way too small for you.
The reason being is it's only a 40L. As mentioned, many professional travelers (including yours truly) have traveled the world for years on end with nothing but a 40L bag. The sense of freedom is intoxicating.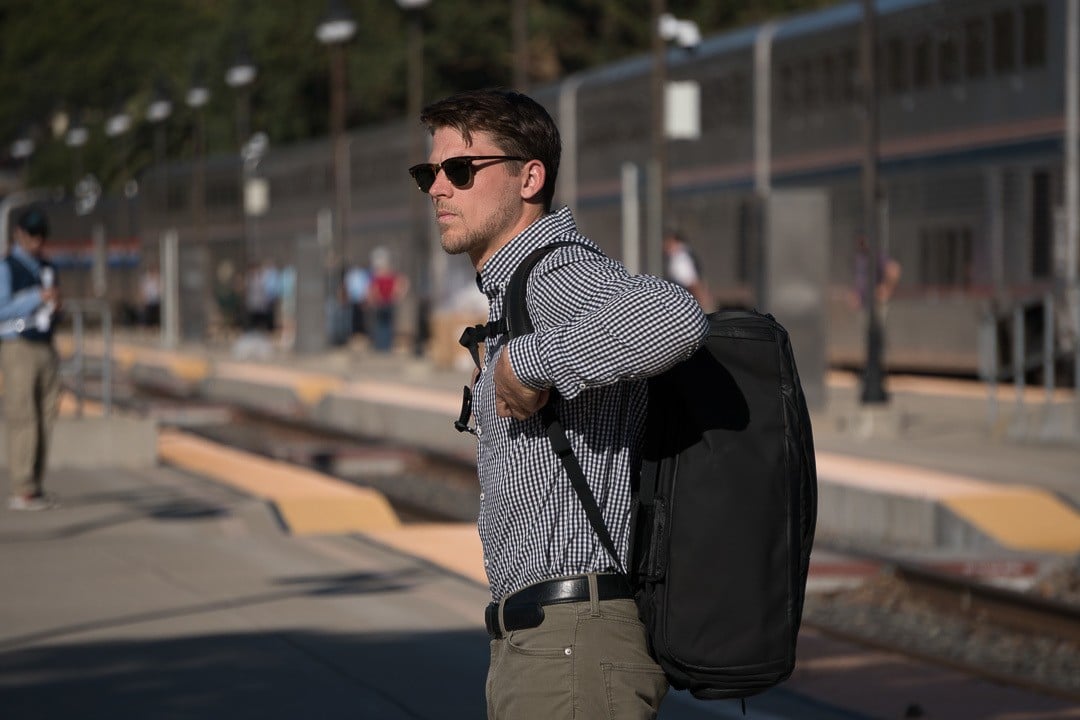 But having said that, traveling the world with a 40L bag is definitely not for everyone. Most long term travellers opt for 60 – 70L.
If you aren't sure if you want to pack light or pack heavy, read the 'Great Backpacker Debate' in our breakdown of the top travel backpacks. It'll give you everything you need to know about whether traveling ultralight or traveling with more stuff is better for you and your style.
Is the Nomatic Travel Bag a Carry on?
In the eternal argument of 40L vs 60L bags is one important caveat – 99 times out of 100, the Nomatic Travel Bag is going to be allowed as a carry-on.
This is huge.
Sure, Ryanair or other zealous budget airlines might try and charge you, or if you overpack your bag it might exceed it's carry on weight limits… but if you pack like a semi-normal traveler and smile, this bag is USUALLY allowed as a carry-on.
Traveling with a carry-on bag can be a game-changer. Not only will you have the peace of mind of knowing where your valuables are at all times, but it will ease the stress on your back, as well as ease the cost of your trip (checked bags add up quickly!).
At 21″ x 14″ x 9″, you can rest soundly knowing that your bag will be with you for your entire flight – Nomatic is custom made for Carry on.
So if you are looking for one of the best carry on bags – you may have just hit the jackpot.
Nomatic Travel Bag as a Backpack OR Duffel Bag
One of our favorite features of the Nomatic Travel Bag is the fact that it can be used as a backpack or switch into an excellent travel duffel bag too.
As seen in the picture above, this is because of some pretty ingenious engineering.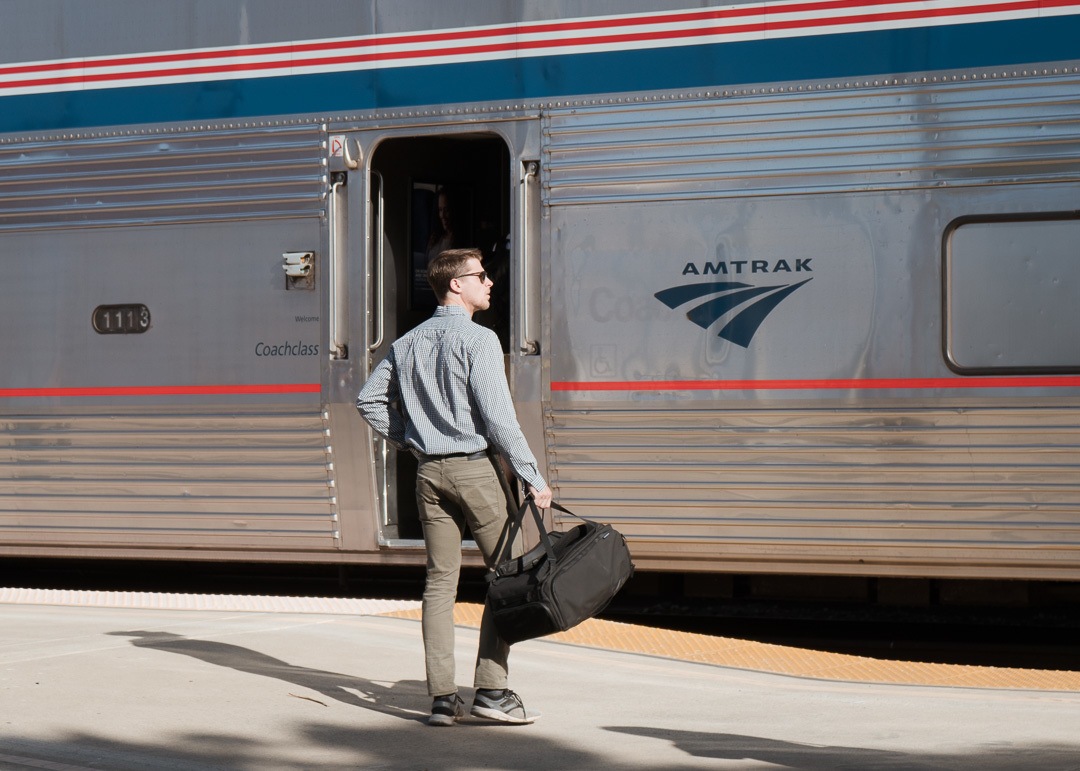 This feature is incredibly useful and simple to use.
Other bags have implemented a duffel bag or shoulder strap feature, but we can confidently say that no one has done it as seamlessly as Nomatic has with the Travel Bag. Watch the video above for a demonstration (it's quite smooth).
Laundry Bag
Another one of our favorite features is the laundry bag.
It's a super simple addition, but one that we are wondering why other bags haven't included thus far? It's genius!
Laundry is easily one of the most agitating aspects of traveling, especially if you are traveling light. Traveling light means you'll have a limited amount of clothes, so it will be important to keep the dirty clothes separate from your clean ones.
Enter the Nomatic laundry bag.
Simply take it out from the top of your bag, and hang it from the nearest hook or doorknob. And once you are ready to pack, you can easily put the laundry bag in the main compartment of your Nomatic Travel Bag.
This simple addition brings an enormous amount of convenience to travelers and should not be underestimated. Sure, you could purchase your travel laundry bag (there are tons on Amazon), but it won't fit as seamlessly into your Travel Bag (plus it'll cost you extra money!).
Laundry Bag Notes
The laundry bag is made of mesh, which has its pros and cons. Pro? Super light and see-through! Cons? Your dirty laundry might stink up your bag. We recommend bringing a trash bag or something to cover your laundry bag when you are traveling with a full dirty load of clothes.
Believe me, you'll thank us later 🙂
Weather Resistant Material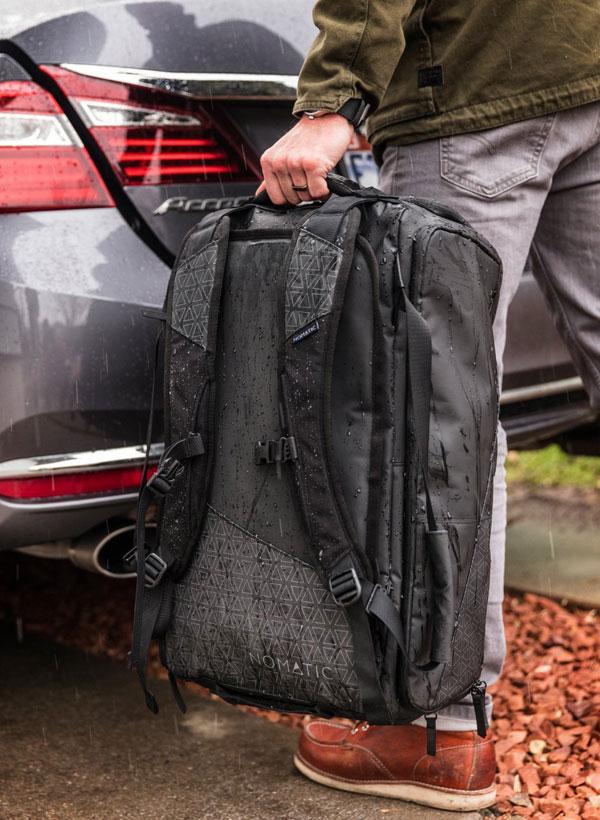 When traveling it's quite common to get caught in the snow or rain.
So, Nomatic has taken measures to ensure that no matter the weather, your stuff stays safe.
The exterior of the Nomatic Travel Bag is 100% waterproof tarpaulin material.
In our experience we found it to be very durable. We wouldn't recommend submerging the bag in a pool, but if you are caught in a semi-heavy rainstorm, you can rest easy knowing that your stuff is going to stay dry.
The zippers are also water-resistant, which means that they won't rust in case you do find yourself getting caught in a rainstorm.
Overall, when it comes to the Nomatic Travel Bag, the last thing you need to worry about is the material. This is a bag made with love. The stitching is reinforced, and the bag feels and looks incredibly durable.
Water Resistant Water Pocket
We were initially torn on the water compartment but eventually came to be quite fond of it.
Here's why.
The water compartment allows you to do many things…
Produce less waste (and save the environment)
Save more money (by only having to refill your bottle instead of buying new ones)
Not worry about spillage (it's waterproof!)
Still have extra space (in case you want to put something else in the compartment)
We really love that the compartment IS water-resistant, so in a worst-case scenario if your water DOES spill, it will not soak any other parts of your bag.
The material is solid. NOT water resistant, but water PROOF.
Water Bag Notes
The water bottle pocket becomes very crowded as the bag fills, and if you have a very full bag it gets increasingly difficult to fit your bottle in.
Disclaimer – Water bottle not included.
Detachable Wait Straps
We get it – some people don't like waist straps!
If that sounds like you, then rejoice, you can leave 'em behind!
We think the detachable waist straps are cool for those it matters for. We'd recommend detaching the waist straps if you prefer to use your Nomatic Travel Bag as a duffel bag (which many, many people do!).
But if you do like the Nomatic as a backpack, we recommend leaving them on. Back support rocks.
Shoe Compartment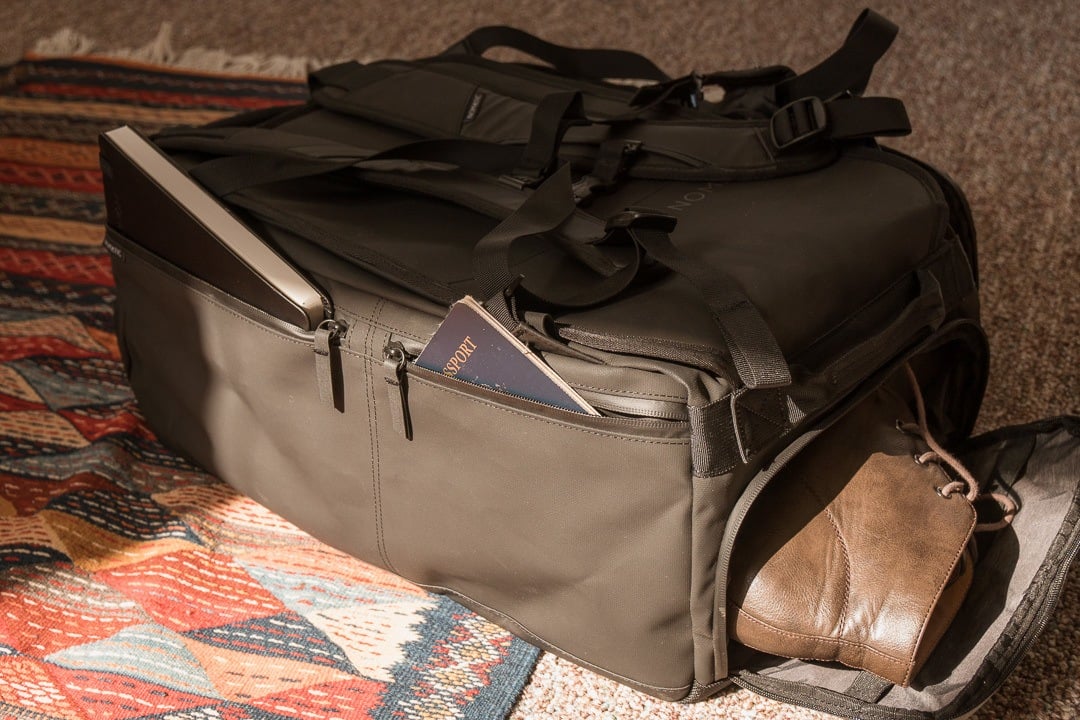 Another feature you don't see in a lot of travel bags. Sure, all bags have compartments that shoes can fit in, but we haven't seen many bags that make compartments specifically fit for shoes.
This is a cool pocket and while it might look small, actually packs a nice punch and can fit whatever pair of shoes you'd like – sneakers, dress shoes, sandals, crocs (no judgments).
Anything but a pair of boots should be fine.
If you really want to utilize the shoe compartment but don't want to bring extra shoes – you can still use the space! Pack a jacket, light sweater, or another article of clothing that is compressible. Then you will be performing at maximum-packing-efficiency.
Shoe Compartment Notes
Simply put – you might find it difficult to fit BOTH a pair of shoes and a water bottle.
You'll notice that as you pack your goods in certain compartments, space will shrink in other compartments. This is travel-packing-101 and one of the largest obstacles if you are traveling with a 40L bag.
Roller Pack Sleeve
In the situation that you travel with a roller suitcase – like the Nomatic Carry On Pro – you are going to love this.
The Nomatic Travel Bag has a roller pack sleeve built into it.
This means that you can easily slide your bag directly over top of the handle of your luggage.
Then you can send your luggage to check-in, and take your Nomatic bag with you on your flight.
This is a feature that will only affect a small portion of you – but it's worth mentioning.
Laptop/Tablet Slot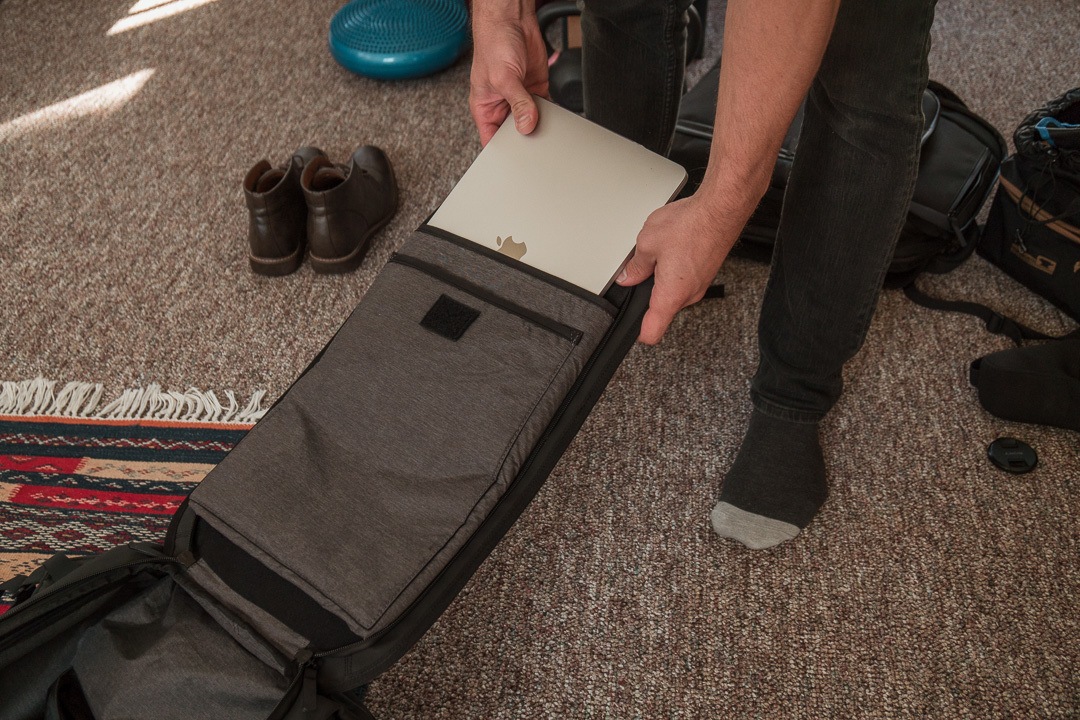 Laptop sleeves are essential, and one of the biggest reasons we recommend modern bags like Nomatic and Tortuga for digital nomads and traveling professionals.
Old school travel bags like Osprey and REI can't give your tech-specs the same love. If you travel with a laptop, you should have something special. Case closed.
The laptop/tablet sleeve compartments are fairly standard in their design, similar to Tortuga. The laptop sleeve can hold up to a 15″ laptop, and the tablet sleeve is great for an iPad, Kindle, or if you have neither it works nicely as a sleeve to fit documents or papers you might be traveling with.
Laptop Compartment Notes
If you have larger than a 15″ laptop it will not fit in this bag.
RFID Safe Pocket (Plus some awesome tech-management stuff)
This is where Nomatic's features come on full display.
Most travel bags are designed fairly similarly. Large central compartments filled with smaller compartments. But not Nomatic.
As opposed to other bags, Nomatic has put nifty side compartments on the Nomatic Travel Bag – and the results are fairly kick-ass.
The first side compartment is meant for all your tech gear. Here you can easily fit your laptop charger, phone charger, plus any other wires and chords you may be traveling with.
These pockets are well designed, and most importantly they are easily accessible. Other 'modern' travel bags lack this sort of tech-accessibility, making it one of our favorite features of the bag.
Finally, this side-compartment also has an RFID safe pocket (shown above where the person is putting the money).
RFID is a technology that can help you stay safe from electronic pickpockets, and while the technology can be a bit controversial, we think it's cool to have!
This pocket is meant to hold your compact security items. Think passport, cash, credit cards, and government IDs. You can be extra comfortable knowing that this pocket comes with the lock, so your goods will be safe from electronic and real pickpockets.
Take that, thieves.
Easy Access Notebook Side-Pocket
If you don't read or write in a notebook, you can skip to the next part.
For your readers or moleskin-ers – you'll love this.
This is a basic sleeve for a book or notebook, but what makes it particularly awesome is its convenience. No more digging deep into your bag to find the book. No more creating your improv-book-slots.
Nomatic gives you a nice size sleeve, and its easy accessibility makes it a great feature.
Lifetime Warranty
Nomatic offers a 100% customer satisfaction guarantee, and will also fix any defects of their responsibility-free of charge.
Simple and effective.
The best present of all… is CONVENIENCE!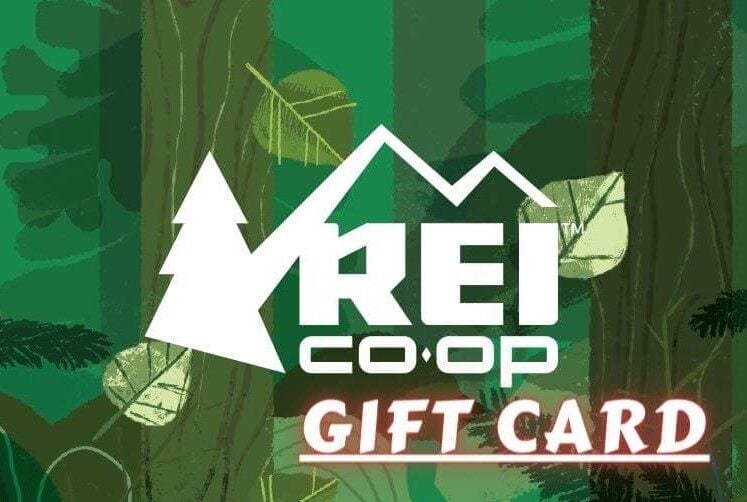 Now, you could spend a fat chunk of $$$ on the WRONG present for someone. Wrong size hiking boots, wrong fit backpack, wrong shape sleeping bag… As any adventurer will tell you, gear is a personal choice.
So give the adventurer in your life the gift of convenience: buy them an REI Co-op gift card! REI is The Broke Backpacker's retailer of choice for ALL things outdoors, and an REI gift card is the perfect present you can buy from them. And then you won't have to keep the receipt. 😉
Buy on REI!
So we've basically gone through all of the noteworthy Nomatic Travel Bag features.
Everything mentioned before this point was included in the price.
These travel accessories are not. Take a look at some of the coolest Nomatic travel accessories.
Alternatives To The Nomatic Travel Bag
So what do Nomatics competitors have to say about this? How does the bag compare to other bags on the market? Let's tale a look at some other bags that you may you like.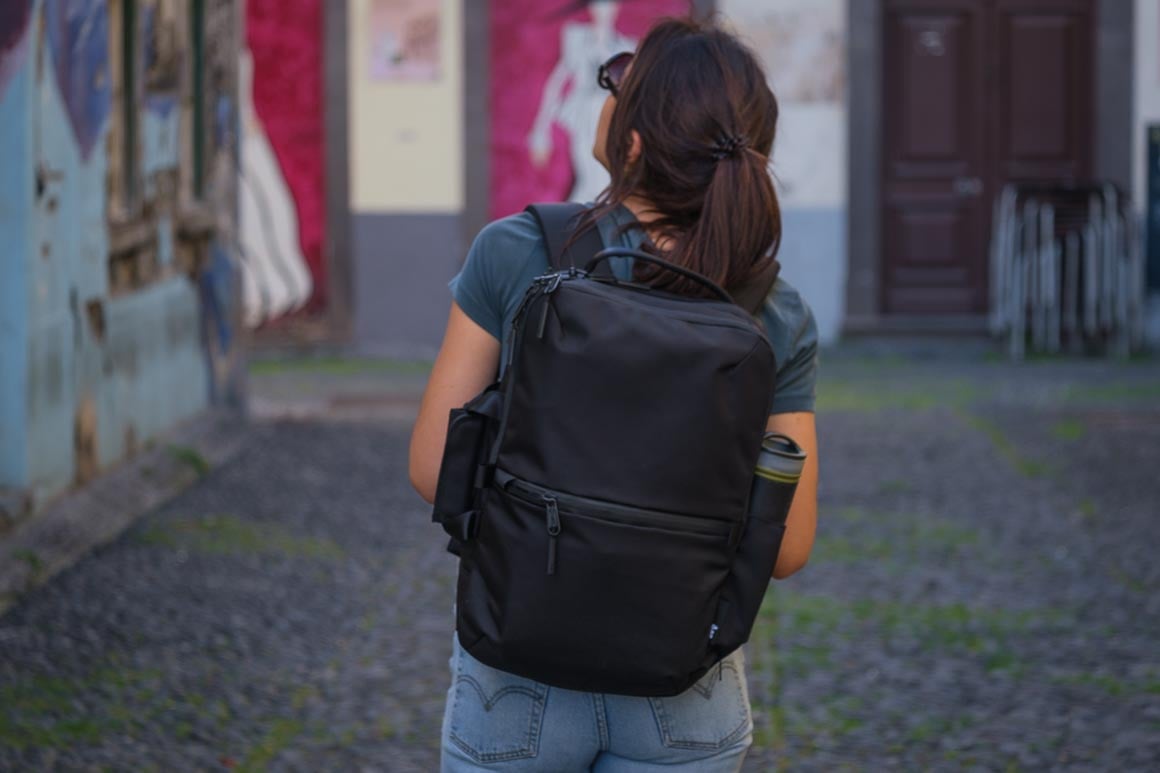 A similar option to the Nomatic Travel Pack is the AER Flight pack. It has a very similar design, build and capacity. The AER is also carry on ready and can also be used as backpack, or carried like a briefcase.
In terms of how the AER Flight Pack differs from the Nomatic, I guess the most apparent difference is the build material. It's sleek, it's cool, it's organisation-lover's dream, and yes: it will slide right underneath the seat in front of you on any plane, so you can easily get to your stuff when you need it.
Nomatic Travel Pack Vs Aer Flight Pack
Nomatic Travel Pack
Dimensions – 21? x 14? x 9?
Capacity – 40L
Outer Material –
Carry on Approved – Yes
AER Travel Pack
Dimensions – 21.5" x 13.5" x 8.5
Capacity – 33L
Outer Material –
Carry on Approved – Yes

Our GREATEST Travel Secrets…
Pop your email here & get the original Broke Backpacker Bible for FREE.
Final Thoughts on the Nomatic Travel Bag
Really, it's quite simple.
If you like the sleek design and calculated efficiency, you are going to love the Nomatic Travel Bag.
You just need to ask yourself that one question- is it too big or too small for you?
If you like the sleek design and are attracted to these kinds of bags, but the Nomatic is too small for you – check out our behind the scenes guide to the Tortuga Outbreaker. If it's too big for you, definitely check out the Tortuga Setout Laptop Backpack.
Ultimately, we're giving the Nomatic Travel Bag a score of 5/5 stars – which is a rating we don't give lightly.
Total Score
What do you think? Did our Nomatic backpack review answer all of your questions? If you have any more, let us know in the comments below!
---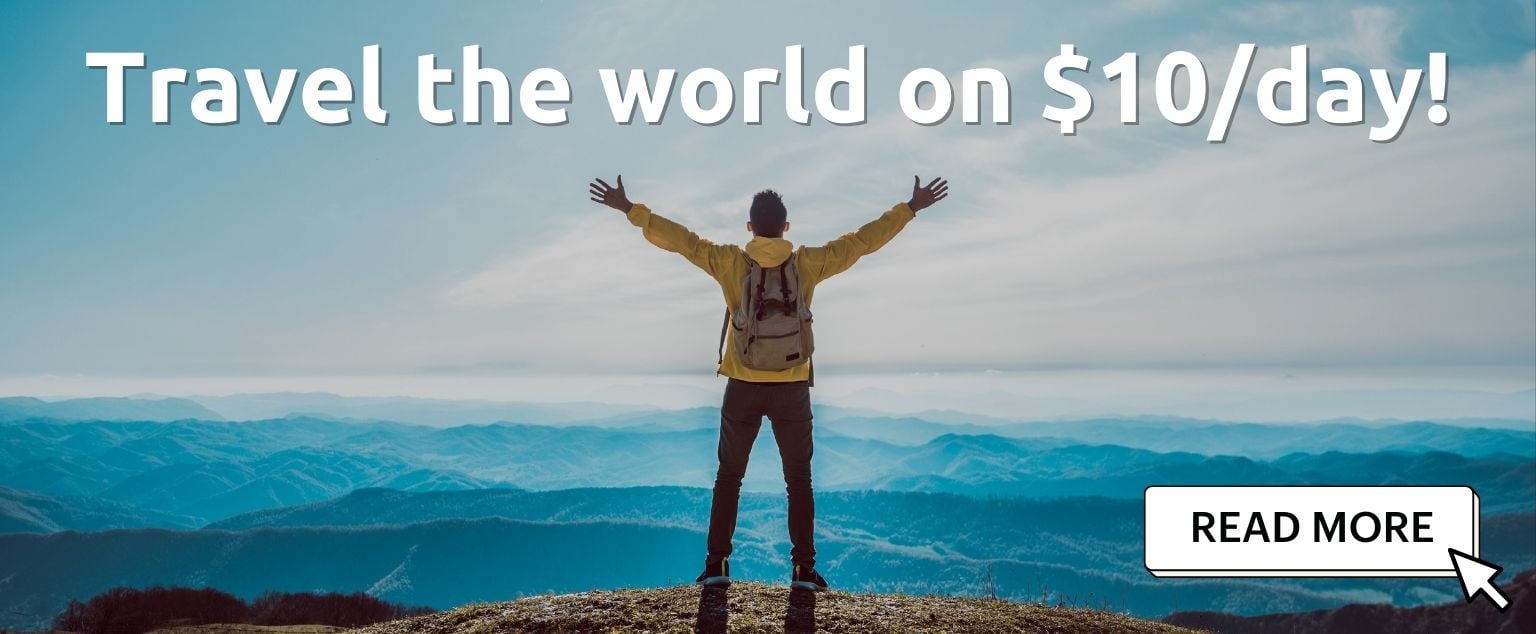 And for transparency's sake, please know that some of the links in our content are affiliate links. That means that if you book your accommodation, buy your gear, or sort your insurance through our link, we earn a small commission (at no extra cost to you). That said, we only link to the gear we trust and never recommend services we don't believe are up to scratch. Again, thank you!