When it comes to travel backpacks – I've tried them all, and the Tortuga Outbreaker is absolutely one of my all time favorites.
The build is great, the features are loaded, and it's arguably the most durable backpack ever created.
But the real questions… does this bag beat it's rival, the AER Travel Pack? And is it the right bag for you?
Well, that's were this kickass Tortuga Outbreaker review comes in, we've got all the important information for you to make the most informed decision.
Because while the Tortuga Outbreaker is one of my favorite travel backpacks – it is not for everybody! Which is exactly why I wrote this next-level Tortuga Outbreaker review.
I mean, we're confident this guide is going to blow any of the other Tortuga backpack reviews out of the bloody window!
In this brutally honest guide, I break down everything you need to know about the Tortuga Outbreaker. By the end of this epic review, you'll know everything you need to know about the Tortuga Outbreaker, and you'll easily be able to decide whether it's the Outbreaker backpack is the right bag for you and your travels.
Let's jump into the best Tortuga Outbreaker review on the web, a few of the things in here will definitely surprise you…
Quick Answers
The Tortuga Outbreaker is a great, durable bag that allows you to travel semi-light
The Tortuga 35l / 45l bag is not as versatile as some of the other top backpacks we've reviewed
The Tortuga Outbreaker travel backpack is for urban use – look elsewhere for a hiking bag
Ladies & Gents, It's Time to Step Your GEAR Game Up. 😉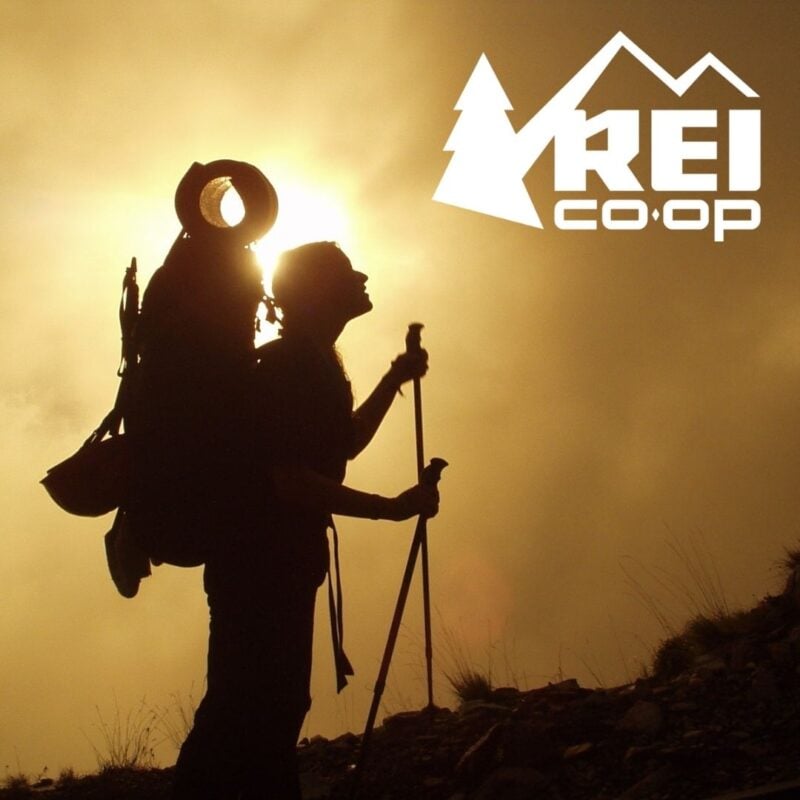 REI is one of America's biggest and most-loved outdoor gear retailers.
Now, for just $30, get a lifetime membership that entitles you to 10% OFF on most items, access to their trade-in scheme and discount rentals.
Join REI Today!
Is the Tortuga Outbreaker the perfect bag for you?
With so many Tortuga backpacks to choose from, it can be difficult to know which one is the best investment for you and your travel style.
Let's get something out of the way first, while I love the Tortuga Outbreaker backpack, it is NOT ideal for everyone.
The Tortuga Outbreaker is NOT for you if…
You want a backpack with great aesthetics. If you want a bag that packs big and looks sexy, you should also consider one of the best backpacks on the market – the AER Travel Pack 2.
This is primarily an urban bag that is great for world travel but, while you could certainly manage a few day hikes carrying some camera gear and snacks – this bag was not intended to be used as a serious multi-day hiking pack.
You want to travel super heavy. This bag comes in 35L and 45L, and while it packs a lot, is not ideal for someone who travels with a 60L+
You want a classic backpacker-style backpack. The Tortuga Outbreaker has a different build and is more of a modern look
You want a bag that has wheels or rolling capacity. Check out the Osprey Sojourn instead.
Ultimately the Tortuga Outbreakers is an exceptional backpack for travelers who want to travel light and have no intention of hiking or trekking. If you are more the outdoorsy type and like to travel light, check out the Osprey Farpoint 40. If you want to hike and trek and like to travel a bit more prepared/heavy, then give the Osprey Exos 58 a look.
Do none of the above 'types' refer to you?
Then read on traveler…
You may have just found the bag of your dreams
The Tortuga Outbreaker IS perfect for you if…
The Tortuga Outbreaker IS for you if you want to light, with a bag that will be considered carry on on most airlines (but not all)
The Tortuga Outbreaker IS for you if you are looking for a modern, efficient bag that can pack a ton of stuff
The Tortuga Outbreaker IS for you if you are a Digital Nomad. This bag can carry all of your gear with room to spare
The above reasons are why the Tortuga Outbreaker is one of the best minimalist backpacks on the market. It is specifically tailored for urban, modern travelers.
For someone like me, this bag is exactly what I need. I rarely hike, and I'm not an avid camper. I am a world traveler and a Digital Nomad. I have a ton of gear, but love to travel light and travel efficiently.
And that's exactly what the Tortuga Outbreaker does best. It's a bag that offers next-level organization and travel efficiency.
Let's break down this bag so you can be 100% certain if it's the best travel backpack for your travel style.
Founded by a pair of world travelers, Tortuga is a new backpack company – but they came onto the scene making quite a splash. And now they are universally considered one of the best travel backpack companies on the market.
And this is immediately obvious once you look at all of the awesome features the Tortuga Outbreaker has.
This is a bag with one goal in mind – efficient travel.
Sizes (Tortuga Outbreaker 35L vs 45L)
Before we go too far, I should mention that there are two Tortuga Outbreaker sizes currently available.
The smaller and less popular 35L
And the larger and more popular 45L
I have the 45L, so this review and the accompanying pictures will reflect that.
But something important to note is that the two bags are basically mirror copies of one another. They each have the same features as the other. The only difference between the two bags is the 10 liters size difference.
This should make it easier for you to pick between the two. Simply ask yourself – do you need more space from your travel bag? Or are you trying to travel ultralight?
For some people, the 35L might be great. If you are looking for something to use for ultralight travel and require a bag that is 100% carry on compliant – go with the 35L. No questions.
But not everyone can travel on 35L.
Even for me, a proud ultra-light traveler… the 35L is just too small.
Which is why for most travelers, I would recommend going with the 45L.
If you are a world traveler, Digital Nomad, or are just looking for the better of the two options, I think the 45L makes more sense. The Tortuga Outbreaker 45L is a bit more practical and at only $30 more expensive, I think it will give you a lot more bang for your buck.
Tortuga Warranty (Common Decency Guarantee)
Tortuga doesn't have an official warranty, but they do offer what they call a 'common decency guarantee'. This means that if your bag has a problem, and that problem is the fault of Tortuga, they'll gladly fix it for you!
Otherwise, they ask to be respectful of the fact that they are a small company and they do not have the resources to fix problems they are not responsible for.
Understandable, and it's nice to have the support in the situation that something is wrong or defective with your bag. You can check out the warranty details here.
Tortuga Outbreaker Weight
The Tortuga Outbreaker comes in two sizes.
The smaller of the two (35L) weighs in at 4.6 lbs (2.08 kg).
The larger of the two (45L) weighs in at 5.1 lbs (2.31 kg).
This is yet another reason I recommend the 45L. You get the extra 10 liters of storage space, and it only weighs .5 lbs (.22 kg) more.
If you are used to traveling on the lighter side (40L), the Tortuga Outbreaker might seem a bit larger than what you are used to.
This was the case for me. I have recently traveled with the Osprey Farpoint 40, and in comparison, the Tortuga Outbreaker 45L felt much bigger.
This is for a few reasons.
The Tortuga Outbreaker 45L has a very impressive design and can fit a ton of shit in it. It's outrageous. My backpack ended up being much bigger and heavier because it turned out I had lots more space to use – and I used it!
The Tortuga has a more square-like shape and resembles traditional luggage in that sense. Old school backpacker bags have a more round-esque top, which results in a cooler look, but with less space.
Here are the specific specs for the sizes of both Tortuga Outbreakers.
Tortuga Outbreaker Dimensions and Sizing Specs
35 Liter
20.3″ x 12.9″ x 8.2"
Laptop: up to 15"
Tablet: up to 13"
Fit: 16-19" torsos
45 Liter
22″ x 14″ x 9"
Laptop: up to 17"
Tablet: up to 13"
Fit: 16-20" torsos
As you can see that most of the Tortuga Outbreaker dimensions and specs are similar, but the 45L is obviously much bigger and because of Tortuga's awesome design, can fit a ton more stuff.
Is the Tortuga Outbreaker a Carry On?
Unfortunately, this isn't a black and white situation, as it will depend on the size of bag, as well as the airline you are flying on.
As per Tortuga's website, you can basically guarantee that you'll be able to carry on the 35L on just about every plane.
I say just about every plane because there are budget airlines that will measure as well as weigh your carry on (like a recent journey I took on HKExpress). So if you carry a ton of gear, you might still get screwed if your bag is on the heavier side.
Having said that, it's most likely that the 35L is good to go in about every situation.
The 45L… that's a different story.
The Tortuga Outbreaker 45L is technically larger than some budget airlines allow. If you are flying on a lot of budget airlines, I'd say you have a 25% chance they'll make you check the bag.
Pro Tip – Don't want to pay for checked baggage? Don't pack too much stuff! The Tortuga Outbreaker really expands with the amount of stuff you pack. If you travel light and use the compression straps, the backpack will appear a bit smaller… kind of… Check out our best travel carry on bags for more info.
Tortuga Outbreaker Size Guide
These bags are designed to universally fit most anyone.
If you are concerned about how to fit your Outbreaker, check this video out…
The Tortuga Outbreaker's real perks are in its design. The design does two amazing things in particular.
It has tons of pockets/compartments. This is amazing for organization, and a godsend for a serious traveler with a ton of stuff (like myself).
It packs huge. The design will leave you fairly impressed with how much stuff it can fit.
Let's look at this bag compartment by compartment…
Main Compartment (It's HUGE)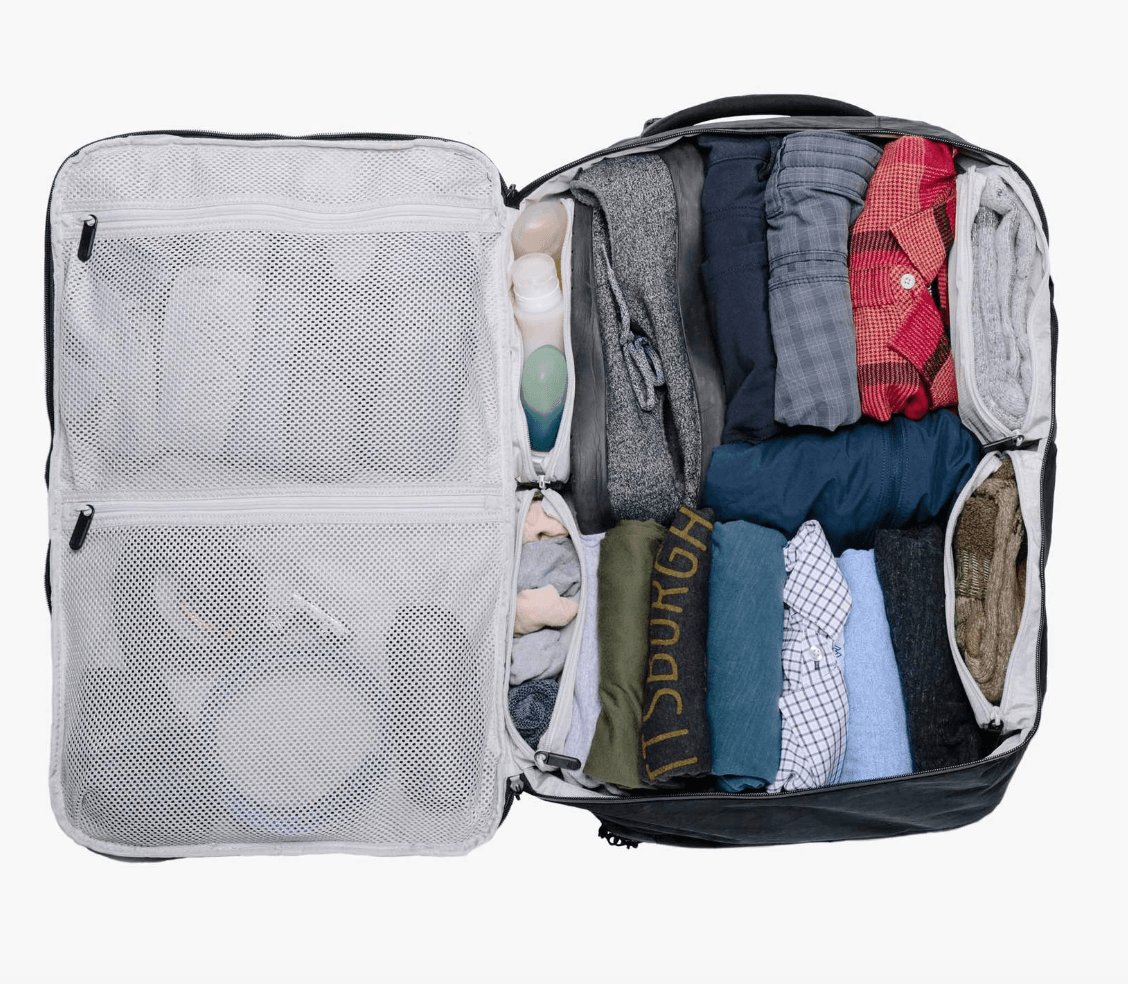 The first thing I noticed when packing my new Tortuga Outbreaker, was just how massive the main compartment was. It has the capacity to carry a ton of clothes. If you are a word traveler this is great, because it means you have to do less laundry (score!).
The Outbreaker's design enables its the main compartment to be opened like a suitcase – which is 10 x's more convenient than a traditional backpackers backpack. Reaching my stuff was simple, and because of the organization of the compartments, it was easy to know what was where.
Inside the main compartment are six smaller compartments. The first four smaller compartments are enclosed within the main compartment.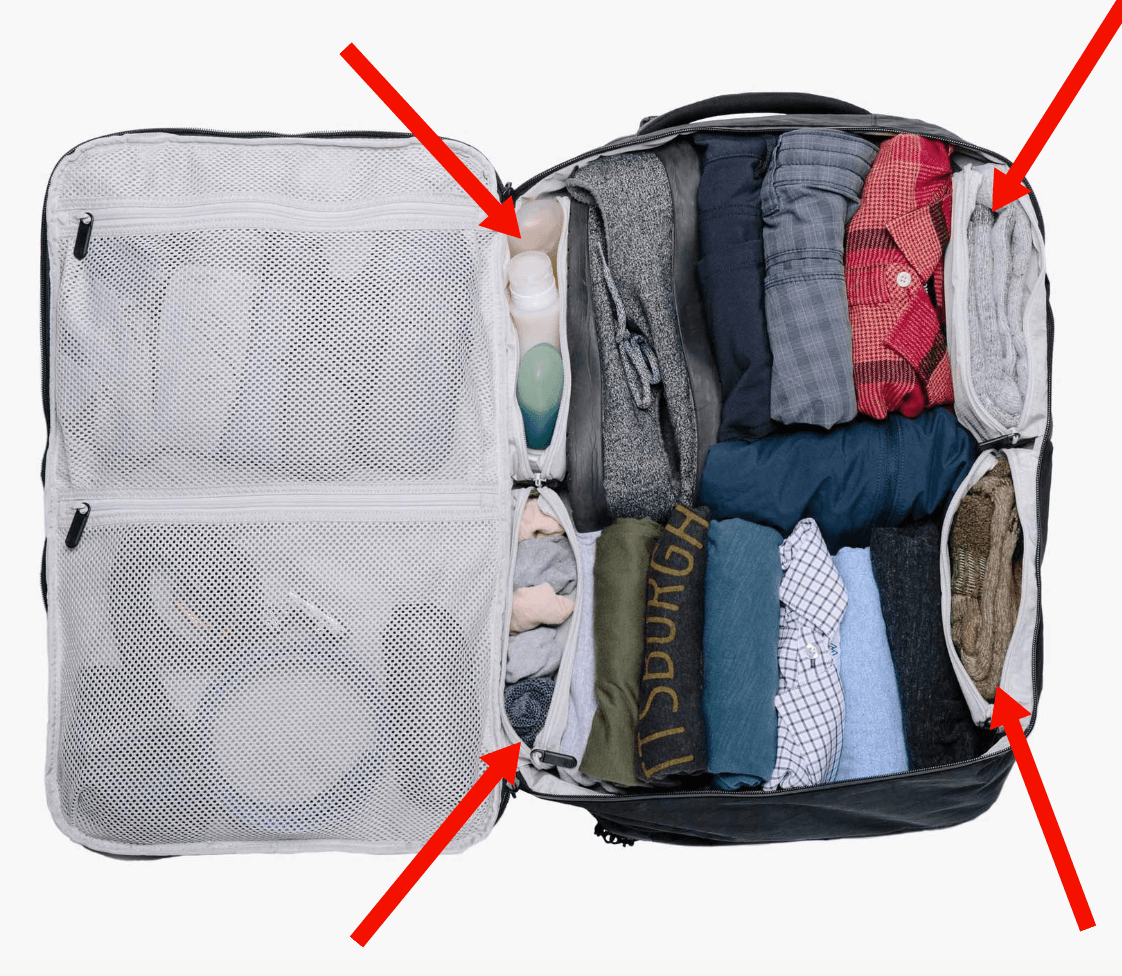 These pockets are extremely convenient, and as you can see in the picture, work really well for storing socks, underwear, and shampoo.
This is because these have a tendency to be bulkier items, so the design of the pockets enables them to have a space of their own that is easily separated and accessible.
Personally, I found these pockets to also work really well for anything fragile. These pockets are well supported and surrounded by soft clothes, so I put an extra pair of shades in there. Worked like a charm.
As for the other two compartments…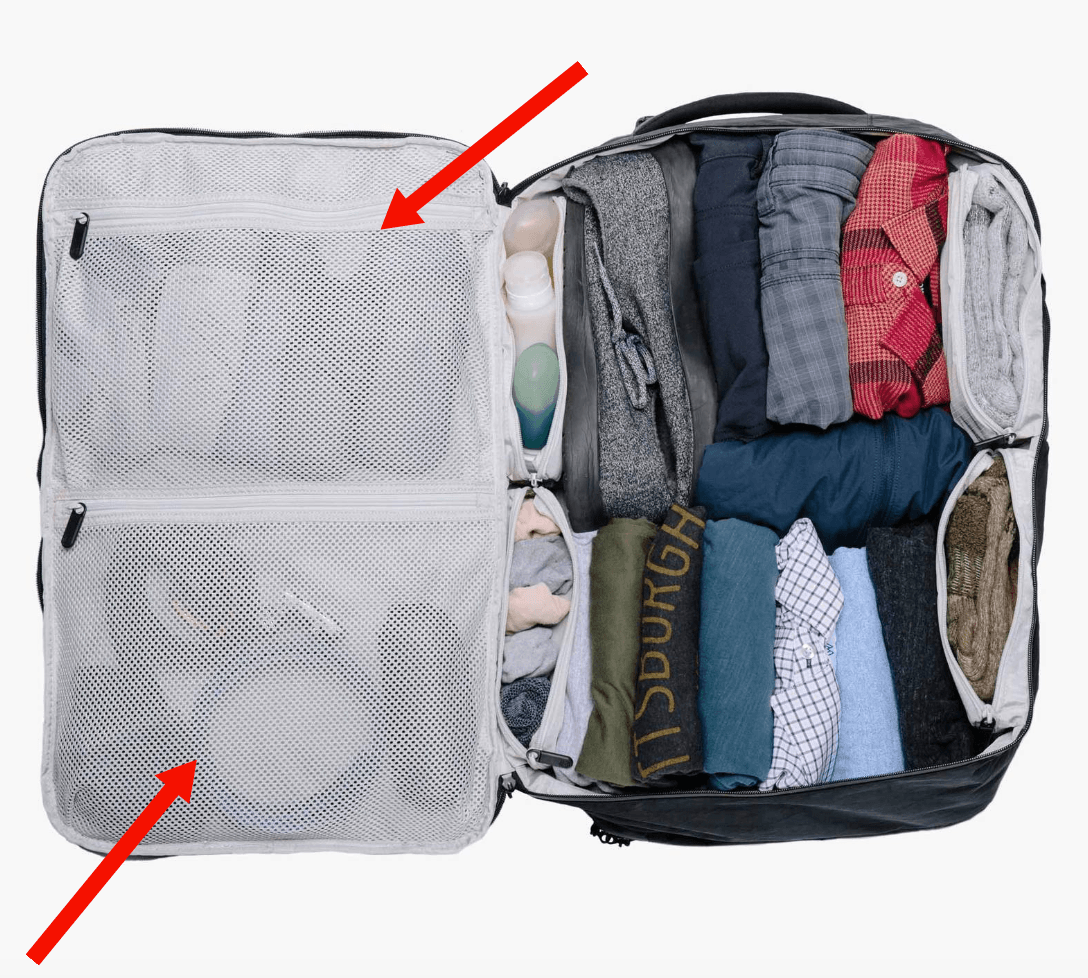 These are fantastic for additional clothes – but don't store anything too bulky! Wires and electronics can also go here. I used the top mesh pocket for my rain jacket, and the bottom mesh pocket for my travel towel. Both were perfect fits.
Secondary Compartment
The secondary compartment packs a lot of punch, and as a Digital Nomad who carries a ton of gear, is the part of the bag I appreciate the most.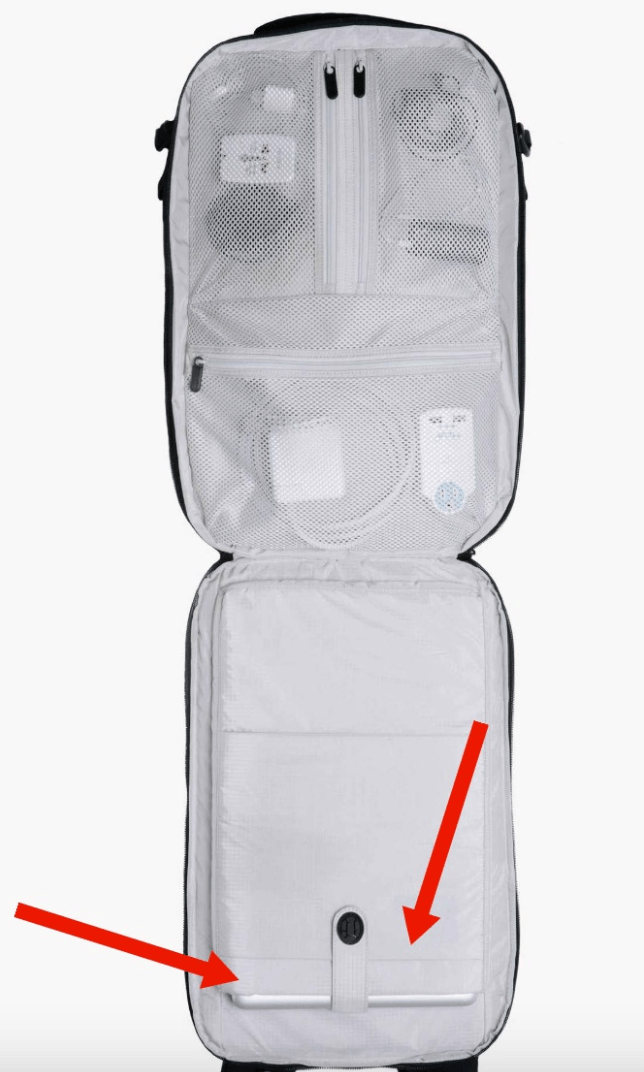 The main compartment is for a laptop (up to 17″ for the 45L and up to 15″ for the 35L), and just below it is a tablet sleeve.
I like these sleeves for more than this though. Sometimes I travel with important paper documents, and these well-protected sleeves enabled me to carry these documents with peace of mind.
This is because these sections are laced with a very nice, soft padding, that gives any of your belongings that little extra love.
I don't travel with a tablet, so I've been keeping the tablet sleeve to give my laptop the extra padding without anything additional bumping up against it.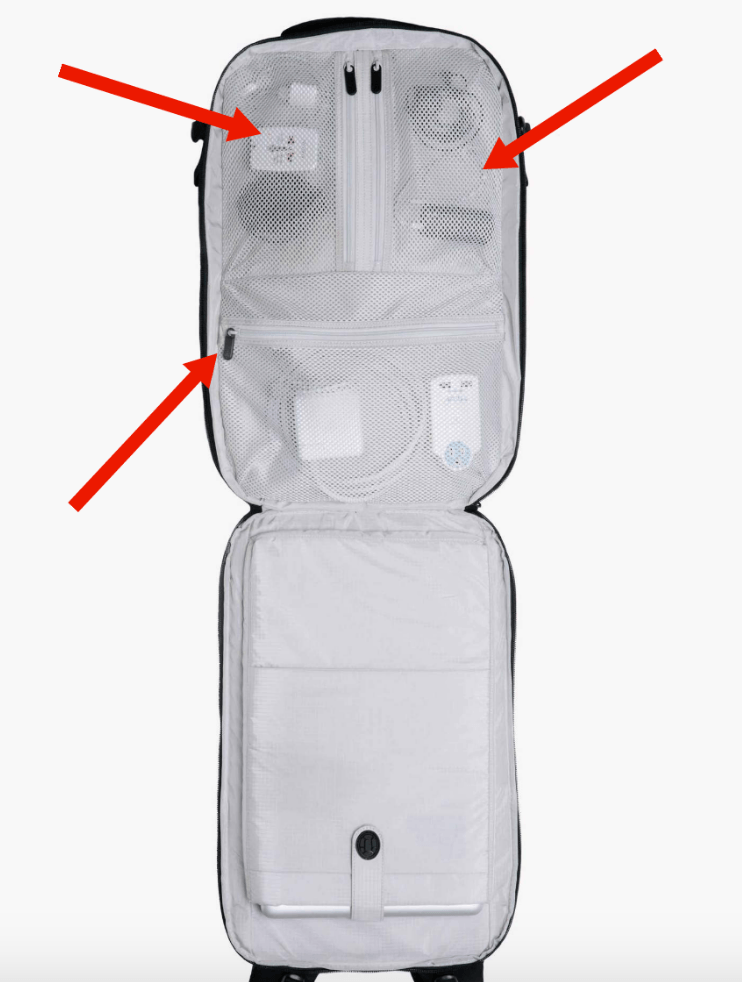 I use these sections for my chargers, adapters, toiletries bag, electric shaver, and medicine bag. I was also able to squeeze in my Roost laptop stand.
Overall this compartment is pretty straightforward, but having it is a game-changer. In my Osprey travel days, I would have to store all of my goods in plastic bags and shove them at the bottom of my pack.
Now, they each have their own tidy area, and I know exactly where they are at all times.
One thing to keep an eye out for…
The only danger for the main two compartments is you over-packing your Outbreaker. This bag can handle a lot and really seems to expand as you put more and more stuff in it.
Just be careful not to overpack. It's too easy to keep trying to fit more and more stuff.
Third Compartment
The final main area of the Tortuga Outbreaker is the front-pocket. But it's a bit larger than just a pocket, and has a ton of storing/organizational capacity.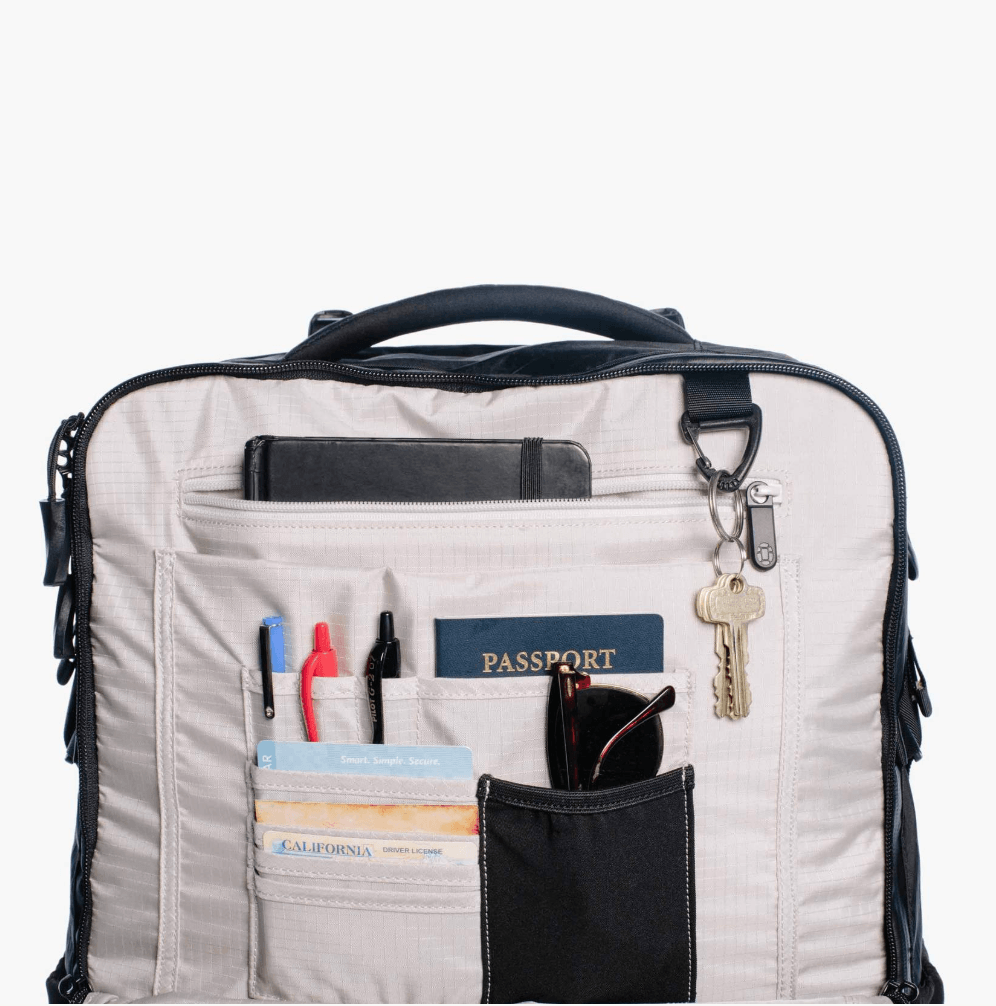 As you can see, this pocket doesn't have a ton of space. Don't try and squeeze any books in here. This is more of a wallet-in-your-bag and will enable you to organize some of your most important documents, and also have a nice spot for your pens, keys, and shades.
Again, the main compartment (with the notebook in it) is padded in the same way that the laptop sleeve in the second compartment is. This makes it ideal to for your cell phone, or possibly another tablet… if you travel with two tablets that is.
Tortuga Outbreaker Suspension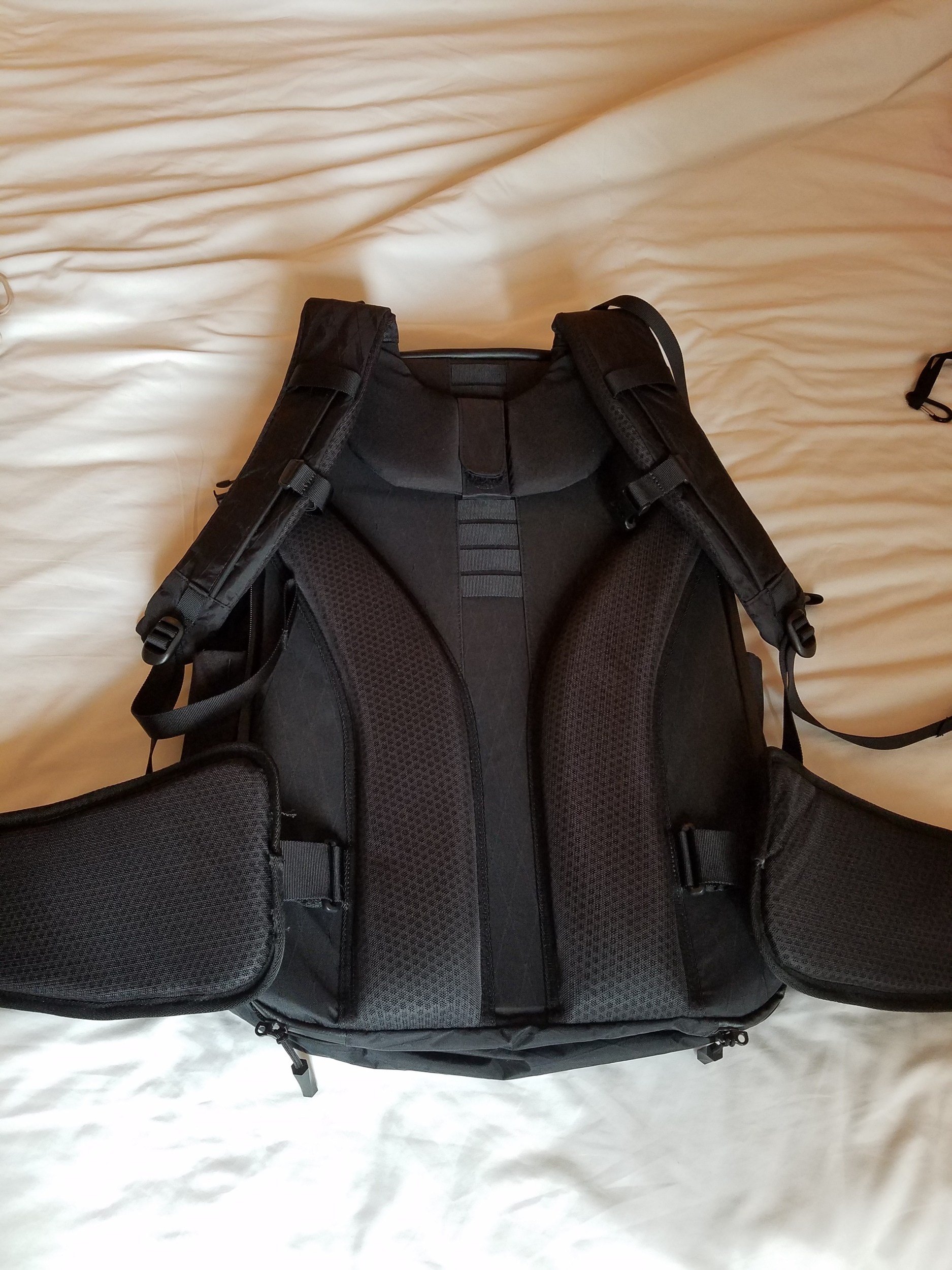 While the suspension system isn't quite as intricate as an Osprey pack – the Tortuga doesn't need to be.
Ospreys (and other traditional backpacks) are designed for trekking and hiking – aka wearing a very heavy backpack for hours at a time.
With the Tortuga Outbreaker, you won't be wearing it hiking through the Himalayas. Just hiking through Airports and train stations – which the suspension is perfect for.
The hip belt is great, very comfortable and adjustable. The straps are similarly comfy and can be adjusted to your perfect personal coordinates.
Hip Belt
The hip belt is very adjustable, and also has two pockets, one on each side.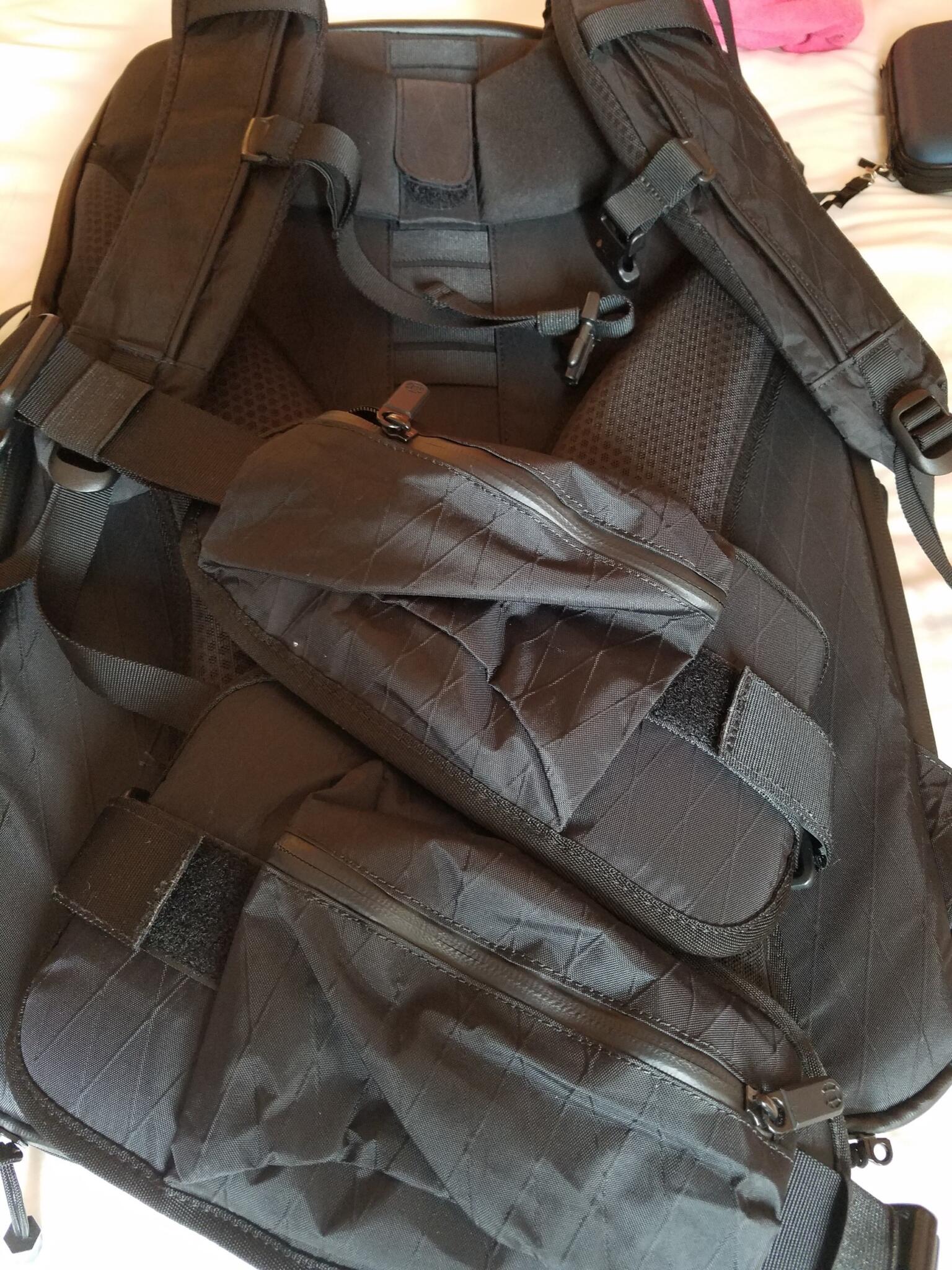 Honestly, I always forget that these pockets exist, so I haven't found a use for them aside from my extra pens and some mints. So if you find an awesome use for these bad boys, please give me some ideas in the comments below.
Finally, worth noting, these pockets, in particular, are very durable, and can definitely handle something more fragile if need be.
The best present of all… is CONVENIENCE!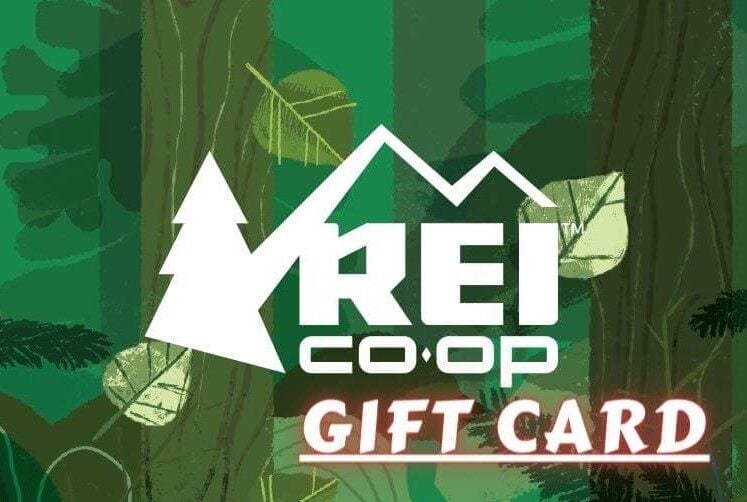 Now, you could spend a fat chunk of $$$ on the WRONG present for someone. Wrong size hiking boots, wrong fit backpack, wrong shape sleeping bag… As any adventurer will tell you, gear is a personal choice.
So give the adventurer in your life the gift of convenience: buy them an REI Co-op gift card! REI is The Broke Backpacker's retailer of choice for ALL things outdoors, and an REI gift card is the perfect present you can buy from them. And then you won't have to keep the receipt. 😉
Buy on REI!
So as much as I love this bag, I've been very keen to point out that it's not for everyone, and even though this is my new favorite bag, there are a few things I wish were different.
My Biggest Issue – I want a 40L!
I know. They make a 35L and a 45L – I'm getting greedy.
Or am I?
Truth be told, this is the largest negative for me. I am an ultra-light world traveler. This means I only travel with bags that are carry-ons.
Traveling ultra-light comes with its downsides, but it's my preference. I despise checking bags with a passion. There is nothing worse than paying $50 to have my personal belongings ripped away from me, then to have to wait in front of the carousel, praying to god my bag wasn't accidentally shipped on the other side of the planet.
No thank you.
But unfortunately, if you like to travel light like me, this bag is not 100% carry on compliant, and if you fly enough, you will have to check it.
Which sucks.
The good news is that you'll probably be good on around 75% of your flights. It's really only the budget airlines you'll have to be careful for.
But if you travel on a lot of budget airlines, and want a simple carry on solution… this might not be your bag.
Which is why I wish Tortuga made a 40L instead of a 45L. This bag feels like it's just barely too big, and that the airlines just barely notice. But they still notice.
A 4oL seems like it would have been a better option, as the 35L is just a bit too small for anyone who is a world traveler.
But that's just one man's opinion. I'm still early with my travels with this bag. As I get into more airports with this bag, I'll update this article to reflect my experiences.
If you are looking for a sleek 40L bag – definitely check out our kick-ass Aer Travel Pack 2 review.
But that's it for cons!
Like I said, this bag is perfect for my travel light, Digital Nomad lifestyle. I wish it were just a smidgen smaller, but aside from that, I couldn't complain about a thing!
This is a serious bag and will make any serious traveler very happy.
These two bags are very similar. Both are sleek, well designed, and market themselves to modern travelers.
AER's bag is arguably sleeker, better designed, and looks sexy.
For that reason – even though I LOVE this backpack – I recommend the AER Travel Pack 2 more.
Tortuga Outbreaker vs Osprey Farpoint
This is definitely a difficult one.
I loved my Osprey Farpoint 40, and had some great travels with it.
When it comes to the Tortuga Outbreaker vs Osprey Farpoint, there are a few things the Osprey Farpoint 40 wins at.
Osprey Farpoint 40 Pros
Looks much, much cooler
Has a very useful shoulder carrying strap
Can be used for hiking
Smaller and 40L, therefore 95% of airlines will allow you to check this bag
Tortuga Outbreaker Pros
Everything else
The Tortuga Outbreaker 45l has 5 extra l of space and storage, obviously!
Ultimately, I loved my Osprey Farpoint 40. But at the end of the day, the Tortuga beats it in most ways. The Tortuga is a bag designed for modern, urban travelers. Osprey is a bag designed to help hikers and travelers. And as much as I love to hike, I am much more of a modern, urban traveler.
For me, Tortuga Outbreaker clearly wins, but I can see why it's a tough choice for some.
In a battle between two backpacks designed by the same company, check out our full comparison on the Tortuga Outbreaker vs Setout here.

Our GREATEST Travel Secrets…
Pop your email here & get the original Broke Backpacker Bible for FREE.
Final Thoughts on the Tortuga Outbreaker Review
While there might be some gray area on the size of this bag and how many times I'll actually have to pay to check it, the Tortuga Outbreaker is still without a doubt one of the best backpacks on the market.
It's quality build, intuitive design, fantastic organization, and smaller size make it the perfect bag for anyone who wants to travel light, but travel in style. Whether you go for the Tortuga Outbreaker 35l or 45l, you'll have a fantastic pack for your trip.
Did you enjoy our Tortuga backpack review? Let us know below.
What is our final score for the Tortuga Outbreaker? We give it a rating of 4.7 out 5 stars!

Let me know in the comments if you guys have any questions or thoughts about the Tortuga Outbreaker. Thanks guys!
---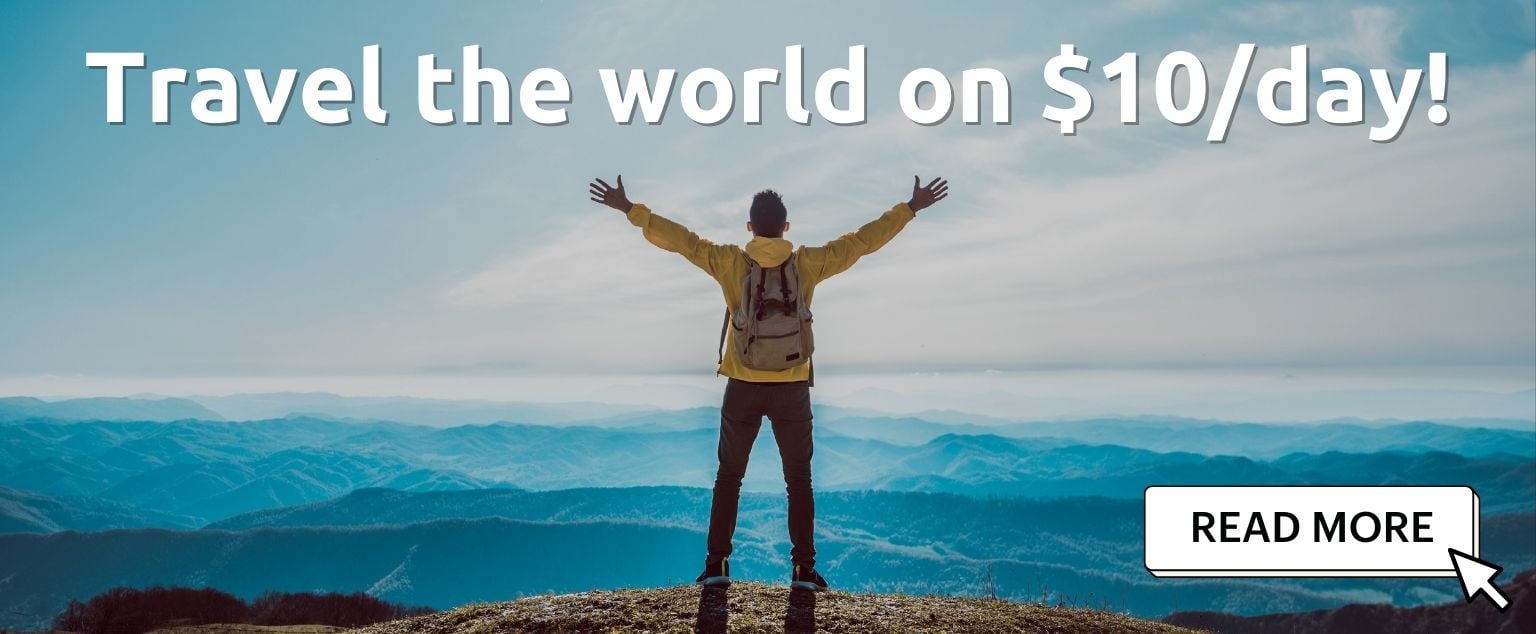 And for transparency's sake, please know that some of the links in our content are affiliate links. That means that if you book your accommodation, buy your gear, or sort your insurance through our link, we earn a small commission (at no extra cost to you). That said, we only link to the gear we trust and never recommend services we don't believe are up to scratch. Again, thank you!