If you are looking for an amazing daypack, I've got both good news and bad news.
The good news? There are TONS of options.
The bad news? A lot of them suck.
Which is exactly why we are here reviewing the Tortuga Setout Laptop Daypack!
In a world filled so many options, we want to show you everything about this backpack, so you can decide whether it's the right fit for you.
To do this, we've put together this epic review and left no stone unturned. We show you exactly if this bag fits your needs and if it's perfect for you.
And if this isn't the bag for you – don't worry, we'll show you exactly which bag is perfect for you.
Let's jump into the best Setout Laptop Backpack review on the web!
The Tortuga Setout Laptop Backpack is PERFECT for anyone looking for a daypack that is well designed and handles electronics well
This is NOT a bag for hikers or campers – try Osprey instead
This backpack is not large enough for a big trip – try Nomatic instead
Do You Want to Travel FOREVER??
Then pop your email address in below and we'll send you a FREE copy of 'How to Travel the World on $10 a Day!' – make travel your LIFE.
Tortuga Daypack Overview
Maybe you are a Digital Nomad looking for a daypack to keep your gear safe, or maybe you are a world traveler in need of a durable daypack, or maybe you are just looking for an awesome backpack for everyday use.
Whatever your needs, the Tortuga Setout Laptop Backpack is one of the best day-bags on the market.
Here's why.
This daypack packs a serious punch. It's durable, sleek and although it is a bit pricey, the price is justified because it will last you years upon years.
But! While we love this backpack, we admit that it's NOT for everyone. Let's dive deeper into this bag to see if it's a perfect fit for you.
#1 – The Tortuga Setout Laptop Backpack is PERFECT for you if you need an everyday use laptop backpack
This one is pretty obvious – the Setout Laptop Backpack is great for…. laptops!
But seriously, if you are looking for a sturdy pack to carry your laptop around – look no further, this bad boy is as good as it gets.
This is for a few reasons.
First off – Tortuga Backpacks are possibly some of the most well designed and durable backpacks on the market. We've reviewed tons of their products and they all have an incredible amount of detail to them, and are made of the highest quality materials.
High quality/durable materials (900D polyester) = your precious laptop will be safe and sound.
Second off – To make the world's greatest laptop backpack, Tortuga put a lot of time and effort into the laptop-features of this backpack.
Simply put? This backpack has tons of organization features, all of which are designed specifically for laptops. Notice in the pictures above and below, that this bag is loaded with ways to keep your gear safe, and very organized.
#2 – The Tortuga Setout Laptop Backpack is PERFECT for you if you need a functional and stylish daypack
While this bag does cater to laptops – it's not an end-all.
In fact, this bag is so well designed, that even if you never travel with a laptop, this could still be the daypack of your dreams.
Why?
Simply put – Tortuga only makes badass products. This bag is incredibly durable, has incredible organization to it, all while looking very sleek and very cool.
All of these things matter to anyone looking for a backpack – not just people with laptops.
#3 – The Tortuga Setout Laptop Backpack is PERFECT for you if you travel on airplanes a lot
Tortuga markets this bag as an "organized daypack for air travel" – and it's certainly true!
The design and features of this backpack make it perfect for air travel. Whether it's the sleek laptop sleeve, the easy to lock zippers, the luggage handle pass through or the hideaway shoulder straps – this bag thrives in airports and airplanes.
Whether you are a road warrior looking for an upgraded carry on backpack, or you just love to travel the world – this is the backpack that will make your life easier and stress free while traveling via air.
But like we said, this backpack is NOT for everyone… let's take a look at who this backpack is not for, and show you some better options depending on your needs.
#1 – The Tortuga Setout Laptop Backpack is NOT for you if you are looking for a hiking/camping daypack
While this should be fairly obvious, it's worth highlighting.
Tortuga Bags are designed for urban use – not for camping in the freaking jungle.
If you are looking for a camping or hiking daypack it's hard to beat the Osprey Daylite or the Osprey Stratos 24.
#2 – The Tortuga Setout Laptop Backpack is NOT for you if you are looking for a full time travel backpack
Again, this should be fairly obvious, but this is a daypack and is does not have the capacity to be a full time travel backpack.
The Tortuga LAptop Daypack weighs in at 25 liters. We think this is perfect for a daypack, as it is small enough to carry around, but large enough to fit a day or two's worth of stuff if you need.
But that's it. A day or two – MAX.
Depending on your travel style, if you are looking for a full-time travel backpack, you're going to need AT LEAST 35 liters. That is the absolute bare minimum, and even then, you'll likely be uncomfortable. That's why we recommend a 40-50 liter.
The best full time travel backpack on the market is the Nomatic Travel Bag, but the Tortuga Outbreaker is a close second. If you want to save some money and still get a great carry-on backpack, check out the Tortuga Setout.
#3 – The Tortuga Setout Laptop Backpack is NOT for you if you are looking for a cheap daybag
At $120, this backpack is a bit of an investment.
Granted, we do think the price is justified. Tortuga is a high quality brand that makes high quality products, and because of that this backpack will last you years.
But if you are looking for something more budget-friendly, Tortuga has still got you!
Their Tortuga Compressible Daypack is only $40 and it still has some pretty cool features. Since it compresses it's great for light/minimalistic travelers, and it also has some decent features of it's own.
Having said that, don't expect anywhere near the same amount of quality as the Laptop Backpack. 1/3 of the price = 1/3 of the quality.
Is the Tortuga Laptop Daypack for you?
Ultimately if you are looking for an amazing laptop backpack – it doesn't get any better than this. The build and style alone make this one of the top laptop backpacks on the market.
Your gear will be protected, and you'll look sexy in the process 😉
Still unsure? No worries!
Let's dive deeper into this laptop backpack, analyze it's features, and see whether or not this is the daypack of your dreams.
The best present of all… is CONVENIENCE!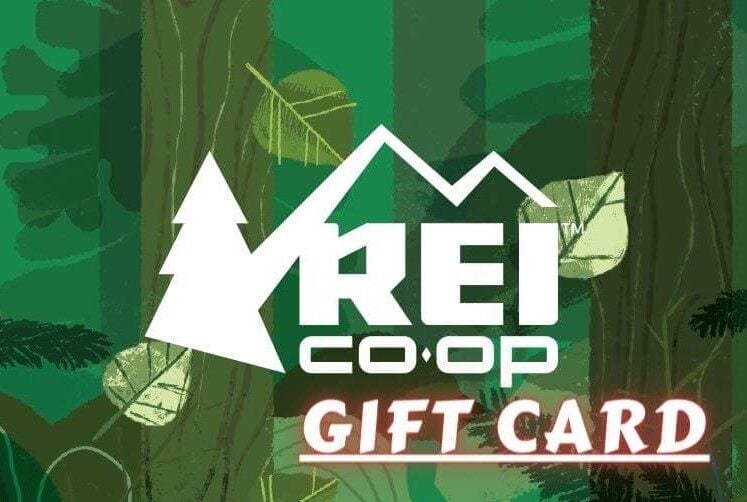 Now, you could spend a fat chunk of $$$ on the WRONG present for someone. Wrong size hiking boots, wrong fit backpack, wrong shape sleeping bag… As any adventurer will tell you, gear is a personal choice.
So give the adventurer in your life the gift of convenience: buy them an REI Co-op gift card! REI is The Broke Backpacker's retailer of choice for ALL things outdoors, and an REI gift card is the perfect present you can buy from them. And then you won't have to keep the receipt. 😉
Buy on REI!
Features; Tortuga Setout Laptop Backpack
This backpack is loaded with features that make it amazing, but let's just focus on a few of the most important that really take this bag too the next level for us.
Feature #1 – Next Level Organization
This backpack has a ton of places for all of your stuff. Laptop sleeve, journal compartment, pen pockets, keychains – you name it!
This sort of organization is what makes Tortuga so great. Each feature was thoughtfully designed, but without ever being too much.
Feature #2 – Easy to pack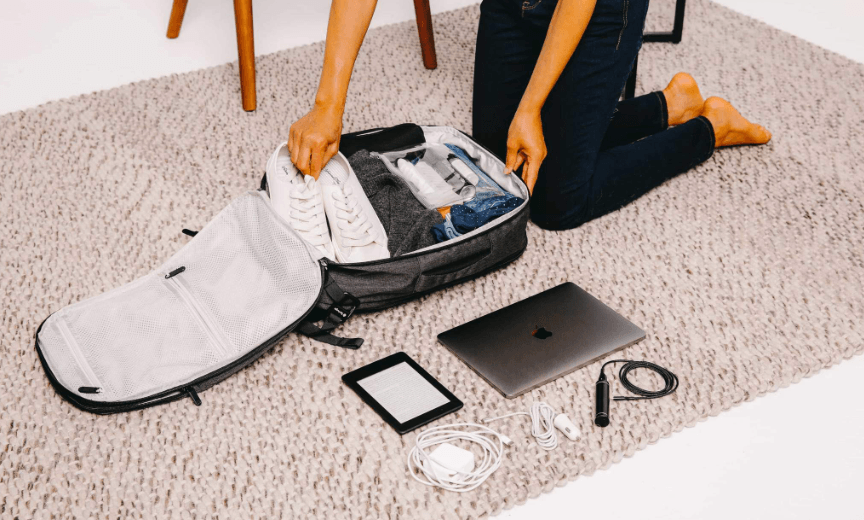 Back in the day, old-school hiking and travel bags were all top-loaders.
Well, those days are over.
Nowadays, most modern travel bags are not top loaders – instead they have an easy to unzip front panel that once opened will give you access to the entirety of your gear!
This sort of system is much better. It's easier to pack. It's easier to unpack. Case closed.
Notice those large mesh pockets on the left of the backpack? Those are also super helpful when organizing your stuff.
Feature #3 – Roller Suitcase-friendly
This is a nice feature if you prefer to travel with a rolling suitcase.
The design of the Tortuga Setout Laptop Backpack allows you to easily take your bag off, and slide it onto the handles of your rolling suitcase.
This allows ease of use while you are traveling. Tortuga's Setout design makes it the perfect daypack for air travel, and this is one of the biggest features why.
Feature #4 – Hideable Shoulder Straps
Another sweet perk of the Tortuga Setout Laptop Daypack is the ability to say – screw the shoulder straps!
The backpack allows you to pull off the bottom of the straps, and hide them in the convenient strap-pocket located at the top of the bag.
This feature rocks for many reasons, and is a feature we found exponentially more useful the more we got used to it.
***NOTE – The shoulder straps are one of the cons of this backpack – at least in terms of comfort. Many people have complained that over time the straps of the backpack can deteriorate and become increasingly uncomfortable***
Feature # 5 – Water Bottle Compartment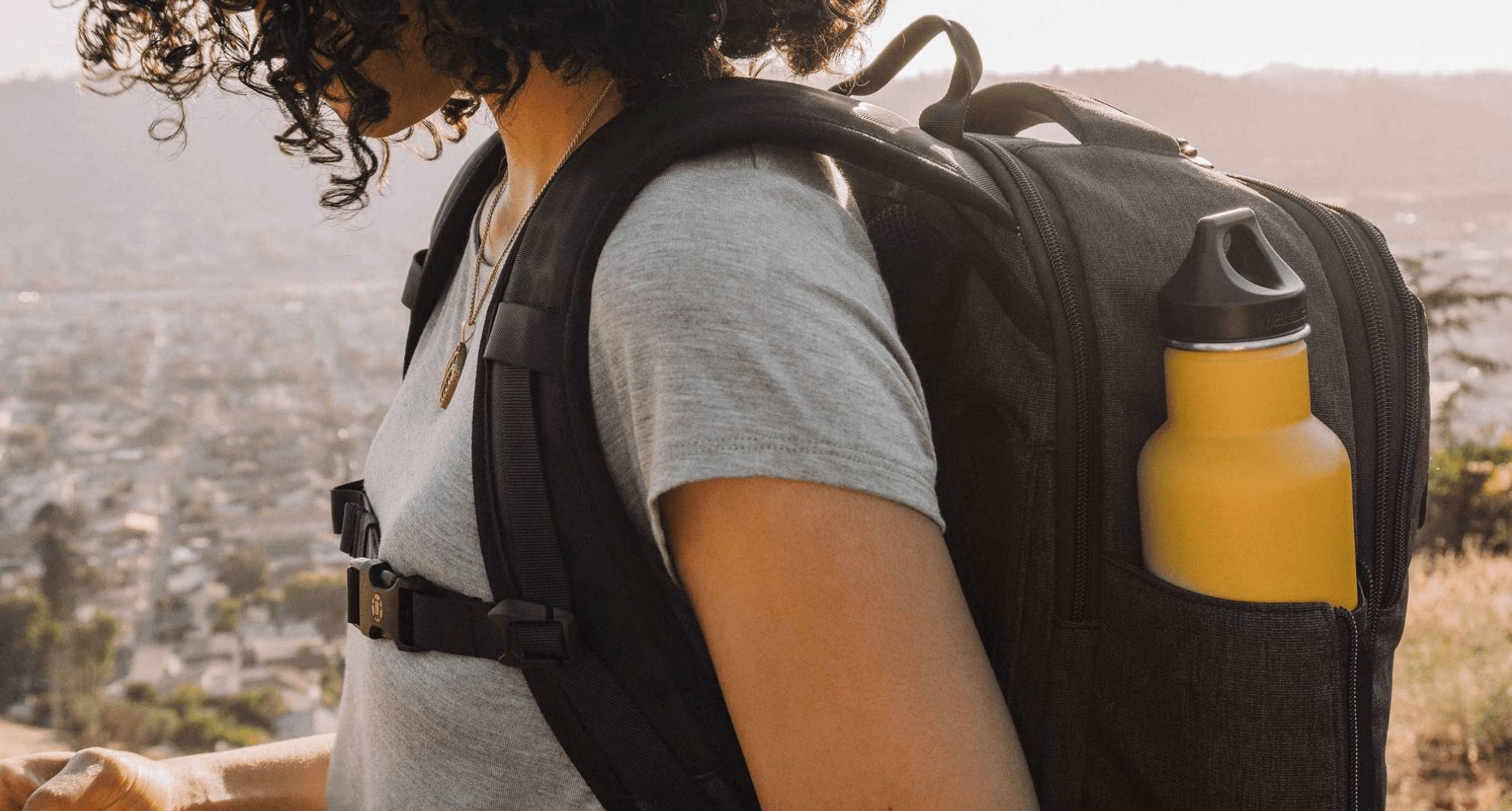 If you are a frequent traveler (especially in airports!) then a water bottle compartment is a must.
All road warriors know that airports always have water fountains, and refilling a water bottle is much better not only for your pocket, but for the environment.
This water bottle container is a universal size and should be able to fit any and every water bottle you'd like to bring on your travels 🙂
Feature #6 – Tablet Compartment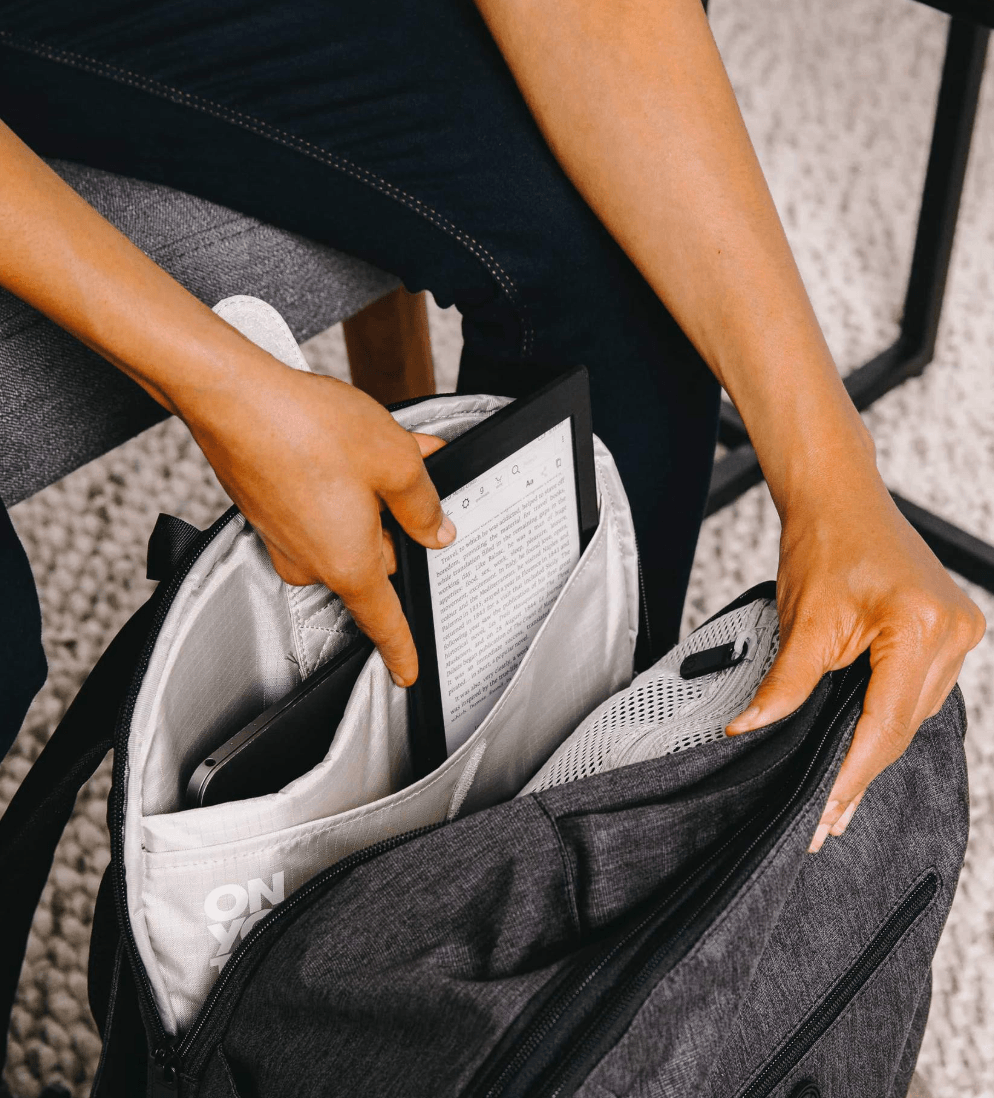 The Tortuga Setout Laptop Backpack comes equipped with it's own unique tablet compartment – which is great if you own a tablet! The sleeve is protected and durable, so you can be confident knowing that your iPad or Kindle is going to be safe and sound.
But what if you don't own a tablet?
For you non-tablet owners – fear not! The sleeve can be repurposed for plenty of other things like additional/larger notebooks, or as a designated area for your most important documents.
Feature #7 – Simple Lockable Zippers
These lockable zippers are well designed and look neat – plus they will provide you with some peace of mind if you and your beloved Setout are ever separated.
Lock NOT included.
Tortuga Setout Laptop Backpack Specs
This backpack is a 25L which in our opinion is the perfect size for daypacks.
25 liters gives you the ability to pack for up to a 3 day trip, but without making the bag too big or clunky. It's the best of both worlds!
While some might say this bag is slightly on the heavy side (especially when compared to the 8.5 oz Tortuga Compressible Daypack) we think it's fine.
A backpack weighing at less than 3 lbs with this durable of materials is really impressive, but like we said if you are looking for something ultra-light, this might not be the backpack for you.
Laptop Size – up to 15 inches
Whether you have a 13 inch or a 15 inch, this daypack will snugly fit your beloved computer. Sorry 17 inch laptop owners, this is not the backpack for you.
Tablet Size – up to 9.7 inches
Tablet sizes vary greatly, so some will fit (Kindle, iPad classic) and others absolutely will not (no iPad pro!). Make sure to find out the measurements of your tablet if it's a game-breaker for you.
You don't need to be a zipper expert, just know that YKK zippers are top notch stuff. This means that they will have a great zip! to them and they will last forever.
Cons of the Tortuga Setout Laptop Backpack
Truth be told, this is a backpack for a specific type of person. There aren't very many cons to this backpack – it just depends on your style of travel. Perhaps the Tortuga Outbreaker is more suited for your packing needs?
For instance, if you are a traveling hiker and looking for a backpack that can accommodate that – this bag is going to have a ton of cons for you! If this describes you then do not buy this backpack!
If you are a world traveler looking for a HUGE backpack to help fit all of your shit, do not buy this backpack!
But! If you are looking for a durable, light, stylish daypack that is designed for airport travel and will help you organize your gear and keep it safe – you have hit the jackpot!
Tortuga Setout Laptop Backpack vs Nomatic Backpack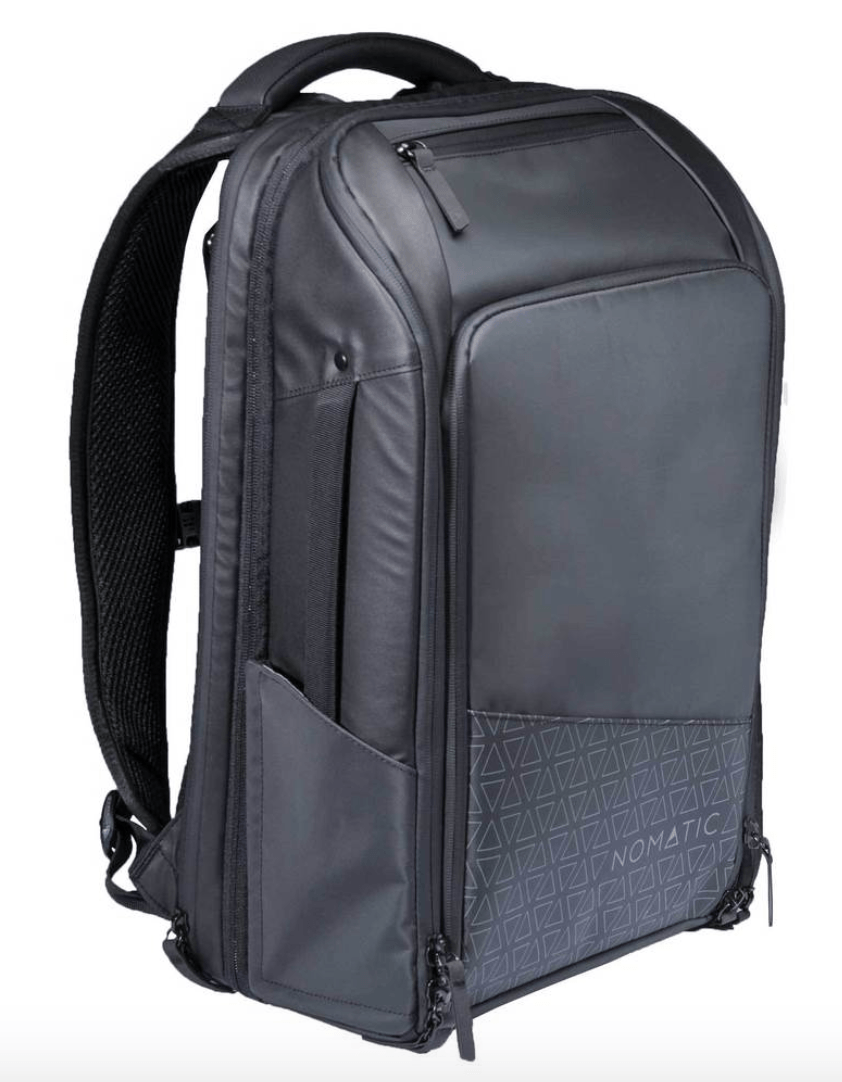 This… is tough.
Both of these bags offer similar things. They are both modern, sleek backpacks that provide organization for gear-wielding nomads.
Here's the difference.
While both are sleek… Nomatic is a bit sleeker. And while both have features, Nomatic is a bit more feature-rich.
These of these are necessarily pros or cons – it just depends on which style you prefer more.
Some people think Nomatic are too sleek, or that their bags have too many features. And to top it off, Nomatic Travel Bags are 40% more expensive than Tortuga bags. So if you like those additional features and sleekness… you gotta pay for it.
Get Your Copy of the Backpacker Bible Totally FREE!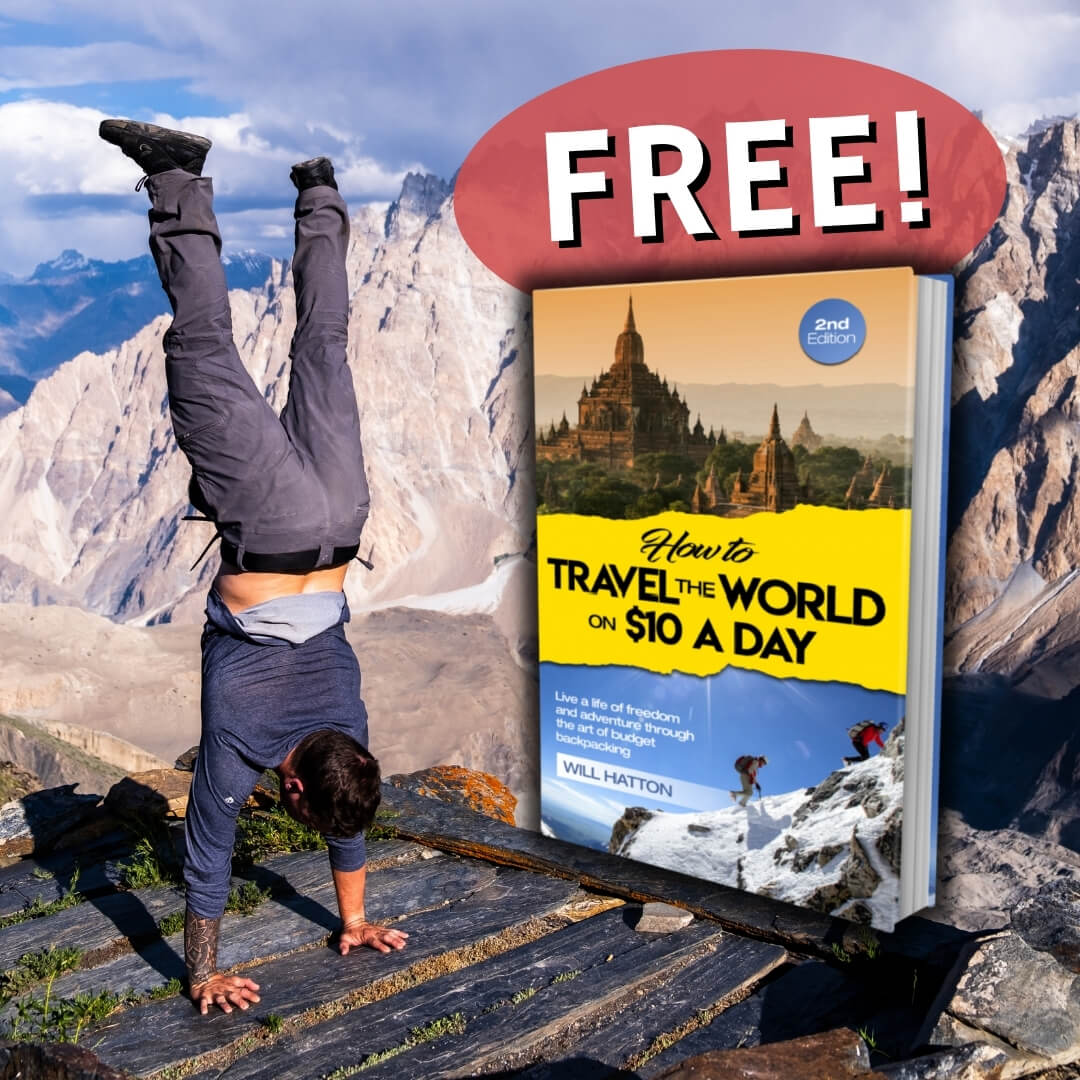 Learn how to travel the world on just $10/day with the Backpacker Bible – Will Hatton's own personal guide to the life of a budget traveller!
This book is the ULTIMATE culmination of more than 10 years of travel experience. It's full of valuable insider hacks and secrets that will help you unlock your full potential as a traveller.
AND… it's also FREE at the moment! All you need to do is click this link (or the sexy image of Will flexing his handstand skillz), provide your email, and we'll email you the ebook lickety-split!
Final Thoughts
At the end of the day – this backpack absolutely rocks… you just gotta make sure it suits your style of travel.
But if you are looking for an amazingly designed daypack that will protect your gear AND keep you looking sexy in the process, look no further!
What are your thoughts on the Tortuga Setout Laptop Backpack? Are you going to get one? Do you have any more questions? Let us know in the comments below!
What is our final score for the Tortuga Setout Laptop Backpack? We give it a rating of 4.7 out 5 stars!

---
Thanks for reading – that was fun! 😀
We bring you epic FREE content!
Find out how YOU can help support us.
We're a big site with a big team and this job isn't always easy. But we do it because we love it – we love providing epic and free content. We love the knowledge that our content keeps you adventuring. We don't ask for money, but if you'd like to find out how you can help the site in more organic ways, click the button below.
Thank you for your support 🙂
---
Bye for now, but not forever!
If you want MORE top-tier Broke Backpacker content like this, then sign up for our weekly newsletter below to get the latest and greatest!
And for transparency's sake, please know that some of the links in our content are affiliate links. That means that if you book your accommodation, buy your gear, or sort your insurance through our link, we earn a small commission (at no extra cost to you). That said, we only link to the gear we trust and never recommend services we don't believe are up to scratch. Again, thank you!