We've reviewed hundreds of the best travel bags throughout the years – from the best hiking backpacks to the best laptop bags, we know bags. 
This article is for you if you don't know where to start when it comes to travel bags. Are you a dedicated backpacker, a fan of the duffel bag, or maybe a devotee of the wheelie suitcase? Perhaps you're not sure which type of travel bag you should buy or if you should make a switch.
Whether you're a newbie or looking to upgrade and replace your existing travel bag, choosing from the best travel bags can be something of a minefield.
How on earth do you choose? The best way is to simply read on!
Keep scrolling and you'll discover a wealth of detailed information on all the latest travel bags – backpacks, duffel bags, carry-ons, backpacks with wheels, and anti-theft bags; the list goes on!
Quick Answer: The Best Travel Bags of 2020
BEST TRAVEL BACKPACK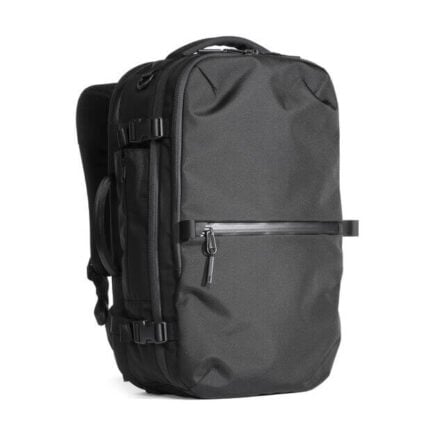 BEST TRAVEL BACKPACK
AER Travel Pack 2
Price: > $$
> Carry on friendly
> Many organization features
BEST TRAVEL DAYPACK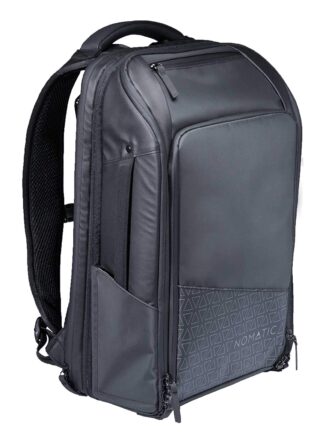 BEST TRAVEL DAYPACK
Tortuga Outbreaker Daypack
Price: > $$
> Laptop and tablet sleeves
> Made with water proof sailcloth
BEST TRAVEL LUGGAGE WITH WHEELS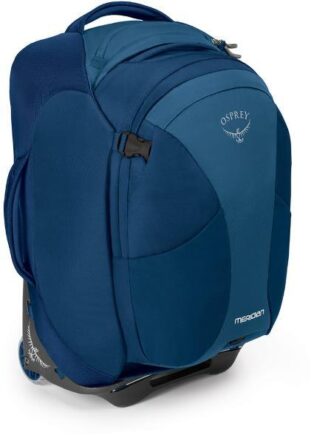 BEST TRAVEL LUGGAGE WITH WHEELS
Osprey Meridian Wheeled Convertible Luggage
Price: > $$$
> Carry on size
> Detachable day pack
BEST CARRY ON TRAVEL BAG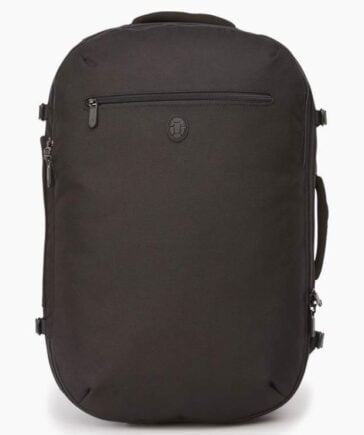 BEST CARRY ON TRAVEL BAG
Tortuga Setout Backpack
Price: > $$
> Book-style opening
> Dedicated laptop and tablet sleeves
BEST ANTI-THEFT TRAVEL BACKPACK
BEST ANTI-THEFT TRAVEL BACKPACK
Pacsafe Vibe 25
Price: > $
> RFID-blocking pouch
> Interlocking zips
BEST FOLDABLE TRAVEL BAG
BEST FOLDABLE TRAVEL BAG
POKARLA Foldable Rucksack
Price: > $
> Lightweight
> Multiple pockets
BEST TRAVEL DUFFEL BAG
BEST TRAVEL DUFFEL BAG
Osprey Transporter Expedition Duffel
Price: > $$
> Excellent all-round duffel bag
> Protected pocket for tech
BEST LAPTOP TRAVEL BAG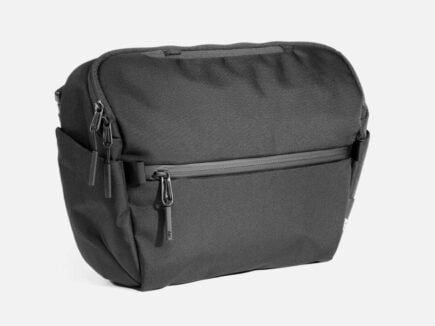 BEST LAPTOP TRAVEL BAG
AER City Messenger Bag
Price: > $$
> Durable
> Lightweight
How to Choose the Best Travel Bag
When deciding between all of these great travel bags, how do you choose the best bag for travel? Here are some pointers…
Size
One of the easiest ways to narrow down the choices is to consider the size of bag you require. If you're searching for a bag that will see you through the daily commute you're almost certainly going to need a smaller travel bag than if you're heading off vacation away from home.
Generally, good travel bags of somewhere between 30 and 45-liters, unless you plan to use air travel check-in. If you have a lot of electronics, camera gear, camping equipment, or clothes (we've all been there!), then a larger bag makes much more sense.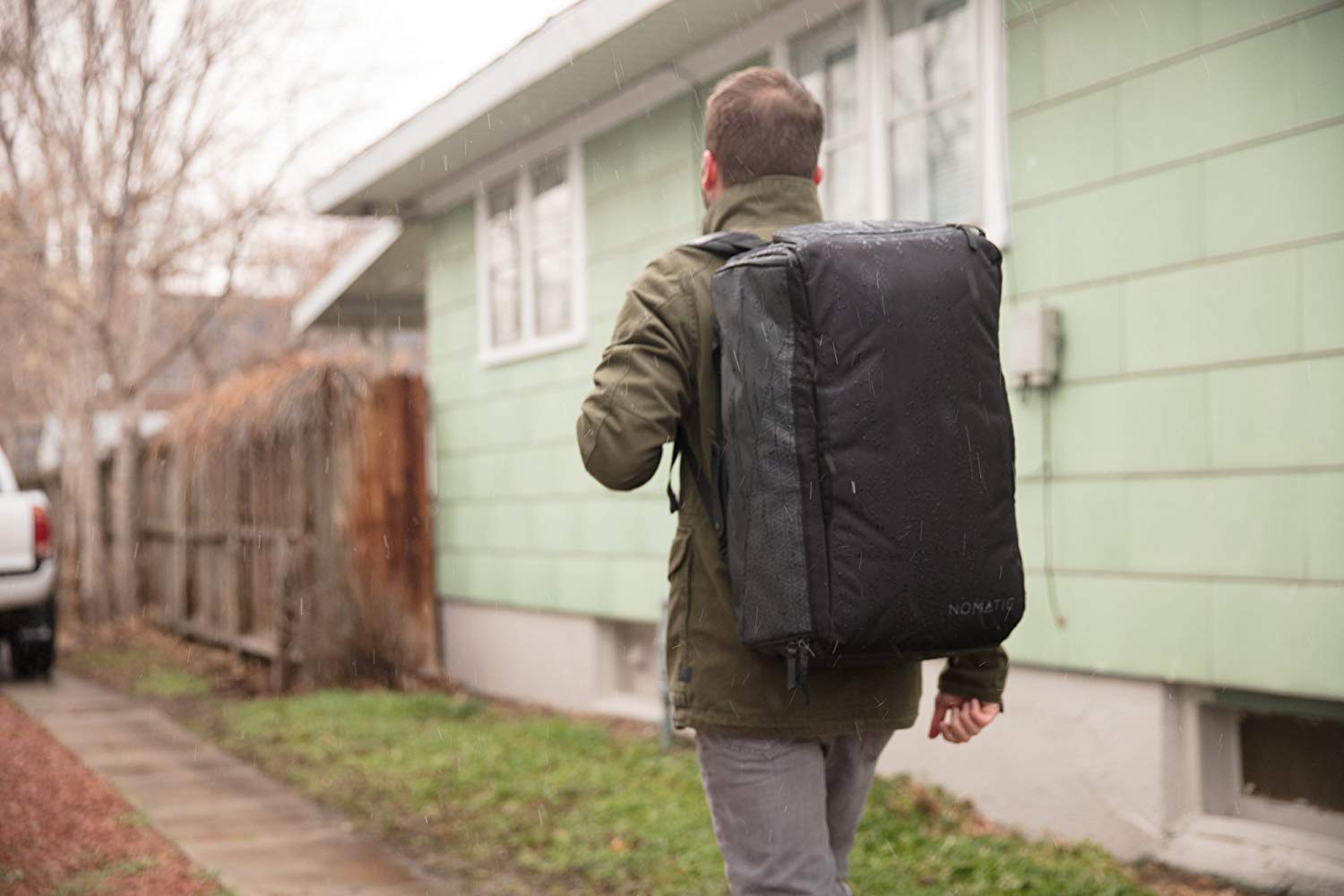 Style
If you have a travel bag you're looking to replace or upgrade, ask yourself what sort of style it is – and whether of course, you like that style!
If you're comfortable with a backpack-style travel bag, then focus your search on the same; whereas, if you prefer the ease of a duffel bag or wheelie suitcase, that's the way you should be leaning.
Weight
Will you be carrying your travel bag for long distances? Because if so, every gram (or ounce) of excess weight matters. While wheelie suitcases are a great idea for city movement, wheels always add weight to a bag and are a pain if you are heading off-road (or even onto the cobbles of a city like Paris).
Also, remember that weight is often a trade-off for durability, especially when it comes to travel and hiking backpacks. The more durable a bag, the more it tends to weigh. Understand how you plan to use your bag before buying the lightest or most heavy-duty pack!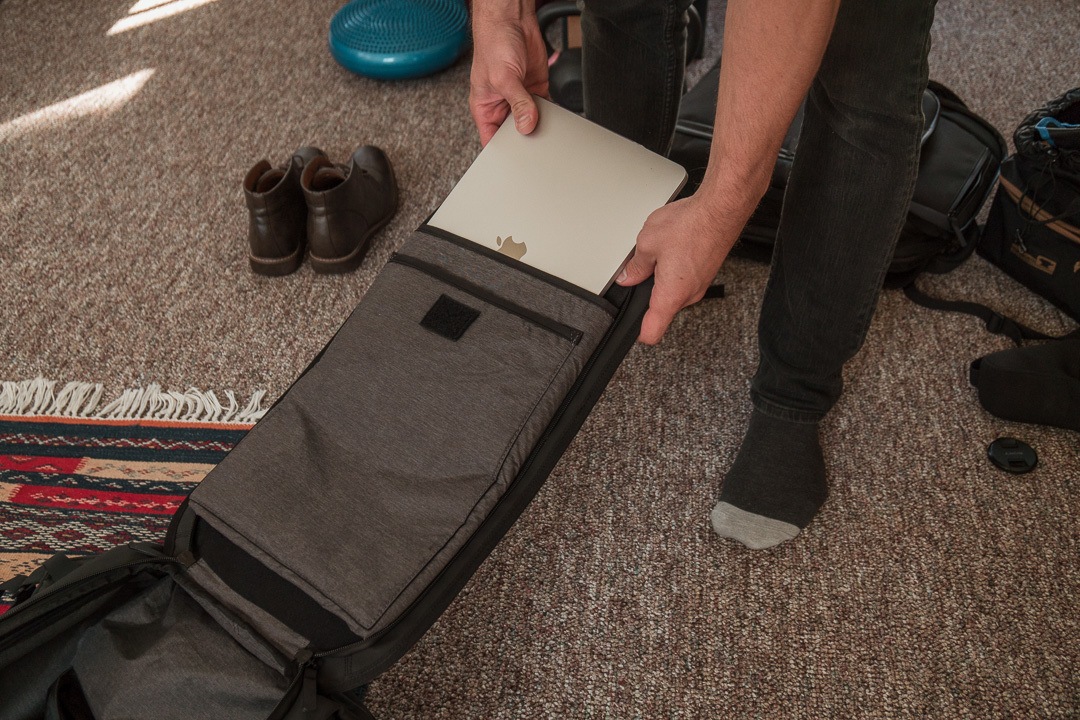 Are you traveling with Tech?
Are you traveling with tech? These days you probably are, whether you're traveling for pleasure or for work.
In which case, do you want a rigid travel bag that provides protection, or perhaps a padded laptop sleeve or compartment? We have an entire section dedicated to good travel bags for laptops.
If this is the case, make sure the sleeve is large enough for your particular laptop or tablet too!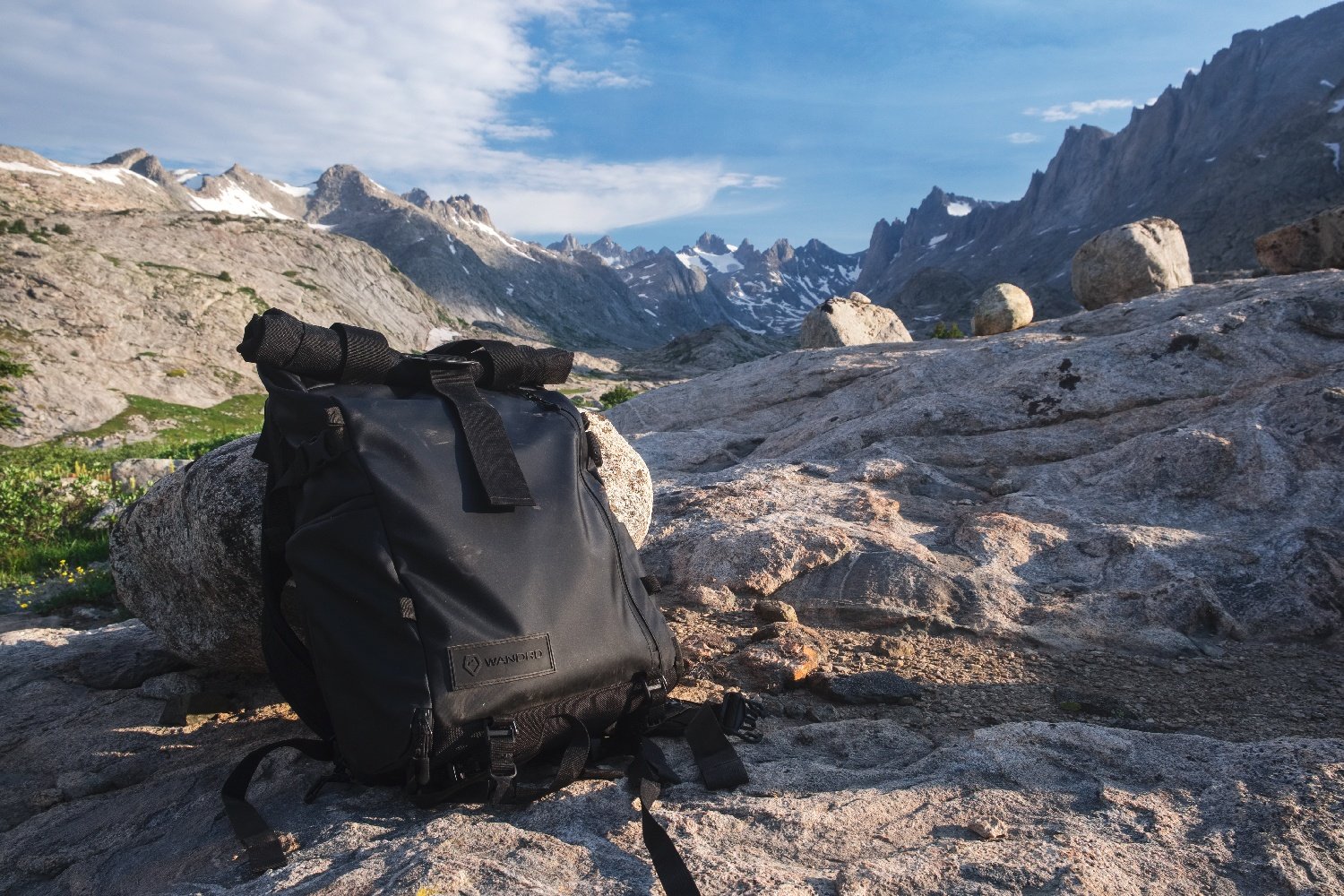 Are you Hiking?
While some of the best travel bags are geared for travel, they're often not designed for hiking. Some backpacks are designed for both travel AND hiking, but that usually means it's not the best at either, just manageable.
If you want a backpack that you can take on the trails, then pay attention to how the backpack holds its weight, the suspension system (if it even has one), the shoulder straps, and waist strap comfort.
Best Travel Backpacks
For those who need a larger, more convential backpack that can handle all sorts of trips. These come in all shapes and sizes though our top choices are around 40 liters.
For more information on these sorts of bags, visit our IN-DEPTH guide on how to choose a travel backpack.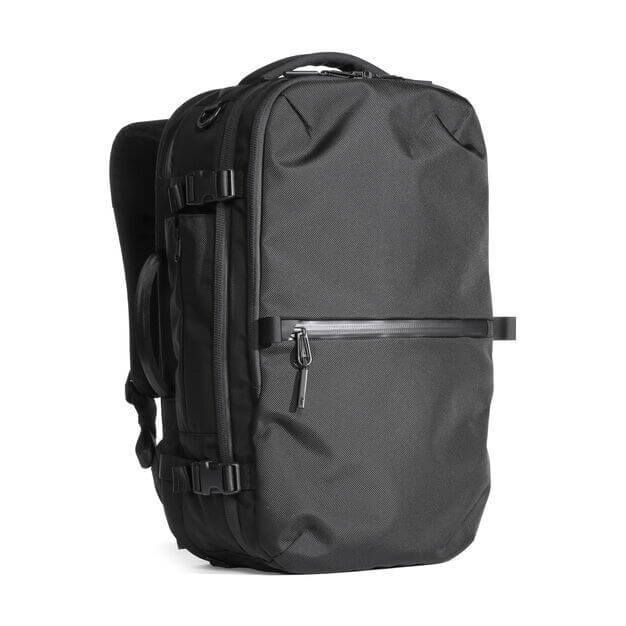 The AER Travel Bag 2 is one of the best travel bags, ever. They've designed and engineered a built-in solution to all of the previous problems we've had with travel bags.
This bag is great for digital nomads, backpackers, and business travelers alike. It is designed with your laptop and organization in mind. It's 33 liters of backpacker perfection.
Use this bag as a daypack, a carry on, or both. You'll appreciate the many pockets and storage features. Wear it around town to camp on your laptop at your favorite coffee shop or bring it on a plane without needing to check your bag.
For more details about the Aer Travel Pack 2, read our Aer Travel Pack 2 review.
What We Like and Don't Like
Pros
33 liters
Carry on friendly
Shoe pocket
Many organization features
Cons
Small water bottle pocket
Not entirely waterproof
No raincover
Is the Aer Travel Pack 2 for me?
If you benefit from having different storage options within one backpack and are a carry on traveler, this backpack is for you!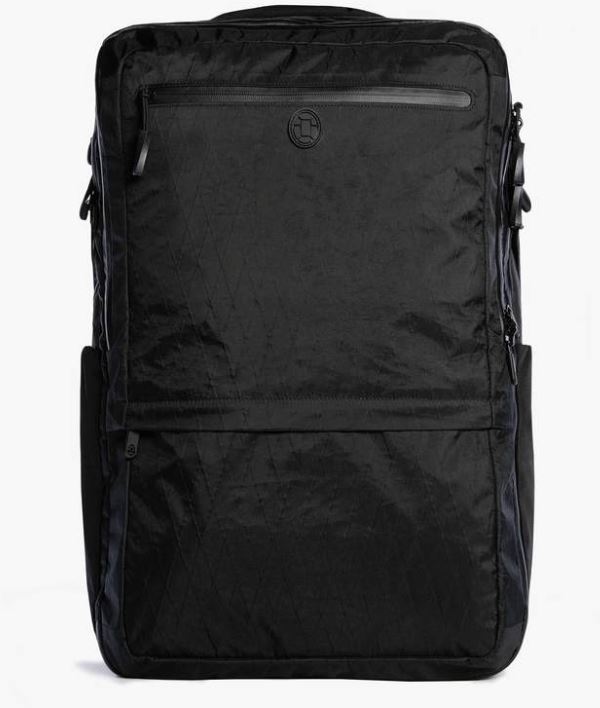 With their Outbreaker model, US-brand Tortuga promises to deliver a travel bag that has the portability and ergonomic qualities of a hiking backpack with the organizational stance and ease of packing that comes with a suitcase.
That said, we do not recommend this backpack for hiking… refer to our reviews on hiking backpacks instead.
Coming in 35 and 45-liter versions, which you might consider female and male versions, both sizes of the Outbreaker carry 17" laptops, and also tablets of up to 9.7".
This pack is constructed from waterproof sailcloth with water-resistant high-grade zips and has Ariaprene foam padding for extra security. Suitable as a carry-on, it's the perfect size for air travel. It also includes a front organizational pocket, mesh pockets for electronic accessories, and a large main space for clothing too.
What We Like and Don't Like
Pros
Suitable for laptops up to 17"
Comprises additional tablet sleeve
Waterproof
Carry on compliant
Plain look
Made in China
Rectangular shape
Not for adventures
Is the Tortuga Outbreaker for me?
The Tortuga Outbreaker is another phenomenal travel bag, with enough organizational pockets and sleeves to be useful without being overbearing or wasteful of space. The ability to carry a laptop and tablet is also very useful for those looking to stay connected when traveling for work or pleasure!
This is a more traditional backpack with its large main compartment and smaller front pocket. The North Face Vault is a great option for weekends away or minimalist packers!
The main compartment is large enough for books and binders, in addition to incorporating a padded laptop sleeve for laptops up to 15". The front pocket includes an additional tablet sleeve, as well as pen slots and small pouches that can be zipped shut.
The bag's shoulder straps have been designed with maximum comfort and breathability in mind, while reflective tabs and webbing ensure you can be seen in low light situations (i.e. biking home after work).
What We Like and Don't Like
Pros
Laptop and tablet sleeves
Small zip close pouches
Comfortable shoulder straps
Reflective tabs for low light
Cons
26 litre volume
100% polyester
Just one size
No waist straps for heavier loads
Is the North Face Vault for me?
Just because you're travelling doesn't necessarily mean you need a huge capacity bag, and the North Face Vault meets this smaller need. Even so, it has sleeves for both a laptop and a tablet within its two compartments and feels very comfortable when carried on the shoulders.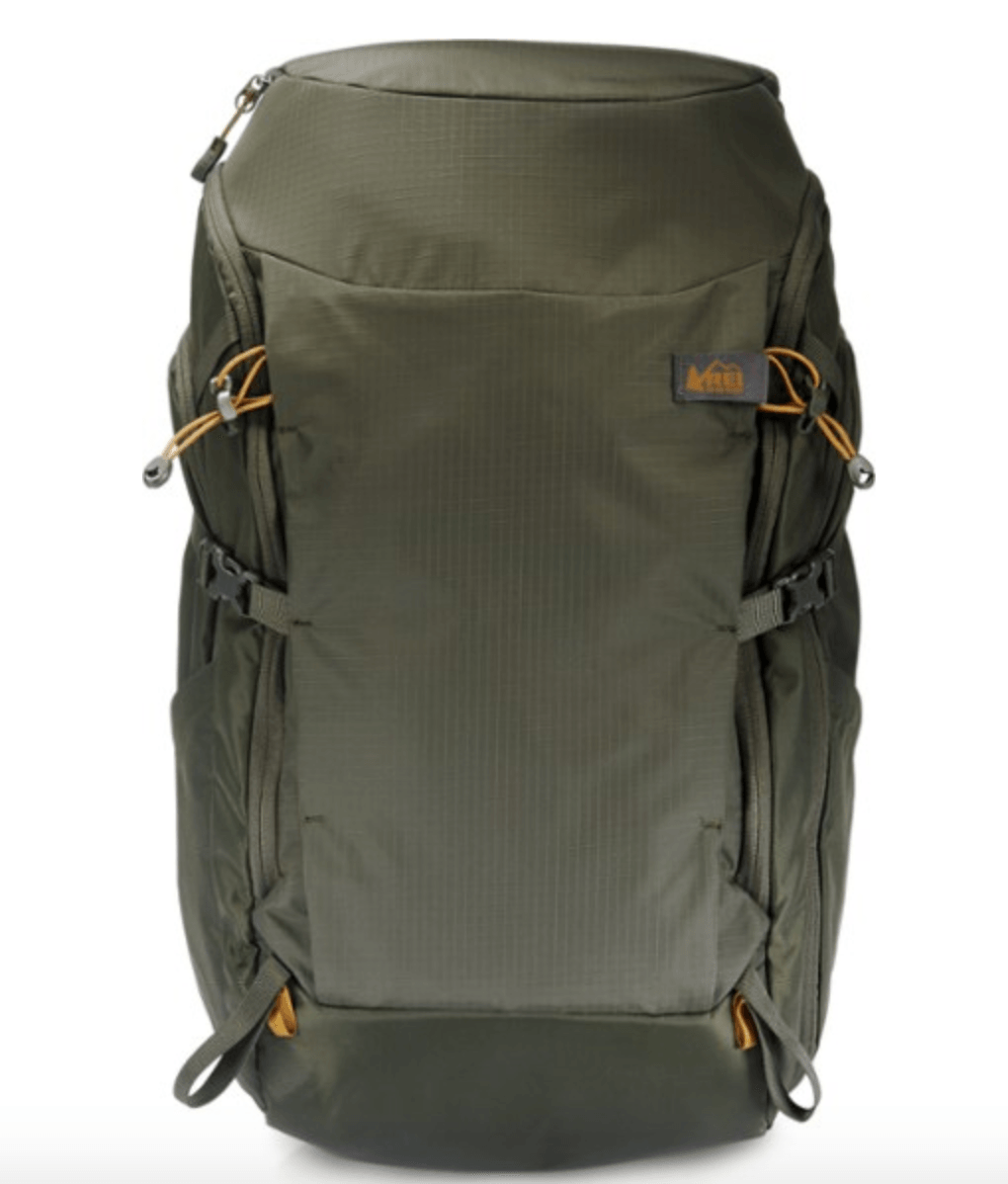 REI deserves a bit more credit for their backpacks – they are well crafted, well reviewed, and the Rucksack 40 is on of their finest!
The Rucksack is marketed as both a travel bag and a hiking bag – and we completely agree! While certainly a bit more on the camping-side than the travel-side, this bag has plenty of organizational compartments and well-thoughtout innovation.
REI's bags are extremely durable, so no matter where in the world you take this bag it'll stand the test of time (while also being carry-on compliant!)
What We Like and Don't Like
Pros
Affordable for its value
Classic rucksack look
Good pocket organization
Great ventilation/back support
Cons
No laptop compartment
Preferrable for hikers/campers
Might be too big for ultra-light campers
Is the REI Co-Op Rucksack the best bag for you?
Looking for a 40 liter travel bag but on a bit of a budget? This is a great option, especially if you are new to traveling and want to get a fee for it. The Rucksack is simple, but will be durable and do everything you need it to do for your travels or camping.
Best Travel Daypacks
Small travel bags that are meant for shorter journies. These typically hold less than 30 liters and are designed to be easy and lightweight.
If you're interest in buying a smaller bag and want to learn more, we've written a comprehensive daypack post as well!
Daypacks have become a vital way of carrying all you need when you're out and about for the day, but can faulter for two reasons.
Firstly, they don't always provide enough space for a laptop. Secondly, what do you do with it when its no longer needed? The Tortuga Outbreaker Daypack answers both of these problems!
It will take a laptop of up to 15" and a tablet of 9.7" in dedicated sleeves, and folds flat so it can be easily be packed into your main luggage. We think this is such an awesome feature!
Weighing a very light 500 grams, it won't add much extra weight to your luggage, but is still made with water proof sailcloth to keep your tech and other kit safe even on drizzly days!
What We Like and Don't Like
Pros
Laptop and tablet sleeves
Folds flat for packing
Weighs just 500 grams
Made with water proof sailcloth
Cons
Won't fit larger laptops
Volume limited to 21 litres
Just one colour
White interior may stain quickly
Is the Tortuga Outbreaker Daypack for me?
Unlike some daypacks, the Tortuga Outbreaker Daypack has been constructed with sleeves for both a laptop and tablet. Not only that, but it folds flat for easy packing into a larger piece of luggage, which is PERFECT for one bag travel! We love that it comprises waterproof sailcloth too!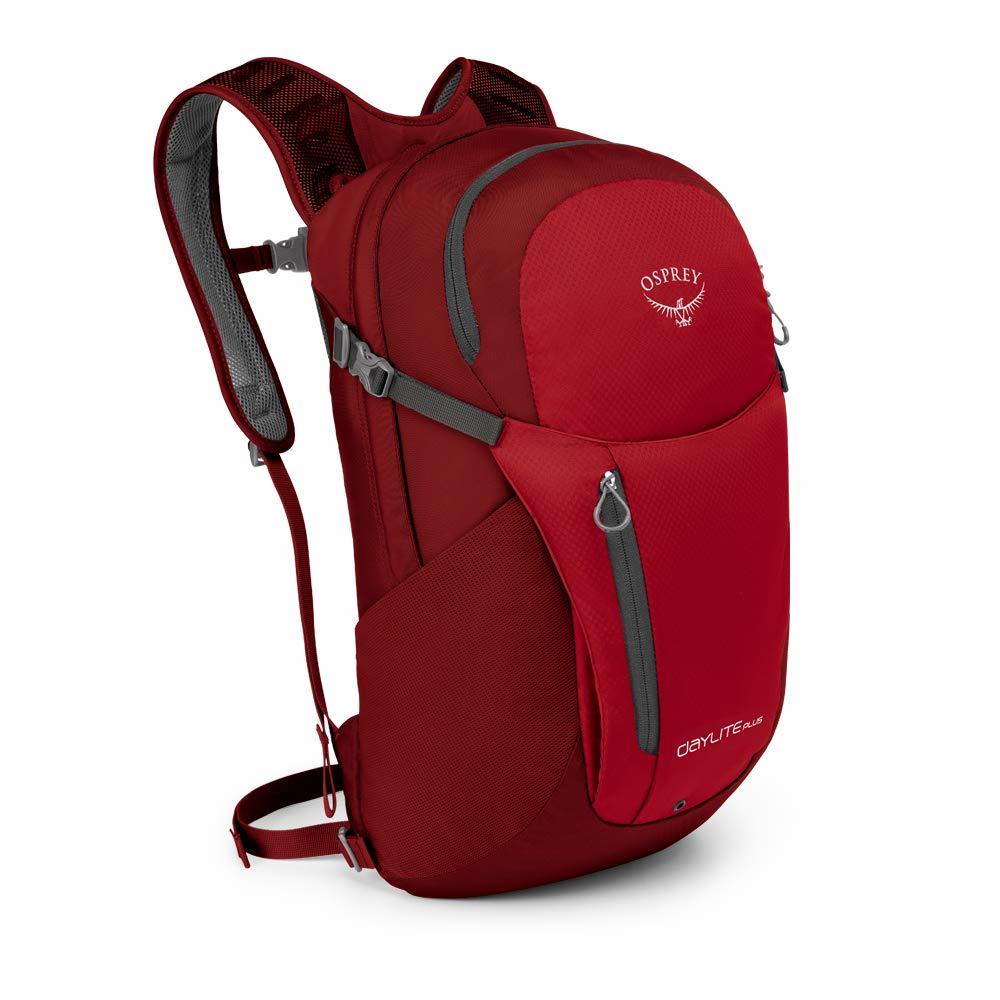 For a daypack orientated towards hiking and outdoor adventures, this is one of the best bags for travel on the market. Made from a durable ripstop and water resistant nylon, it's very capable of taking on the great outdoors.
Its frame helps to spread the weight evenly, taking the stress further off your shoulders, which will already feel the benefit of the padded and ventilated shoulder straps. 20-liter packs with frames and waist straps are virtually unheard of, meaning this pack is perfect for day hikes.
Lightweight at just over half a kilo, the Osprey Daylite Plus boasts dedicated spaces for laptop and tablets, in addition to 'standard' hiking bag features such as emergency whistle and chest strap!
What We Like and Don't Like
Pros
Made with durable ripstop nylon
Water resistant
20 liters
Lightweight travel bag
Cons
Buckle closure top flap
Lacks external webbing or anchor points
Front pocket is unlockable
May be too small for some users
Is the Osprey Daylite Plus for me?
The spacious main compartment, accessed through a buckle closure top flap, manages to find enough space for laptops and tablet computers, while a smaller front pocket is useful for quick-access items.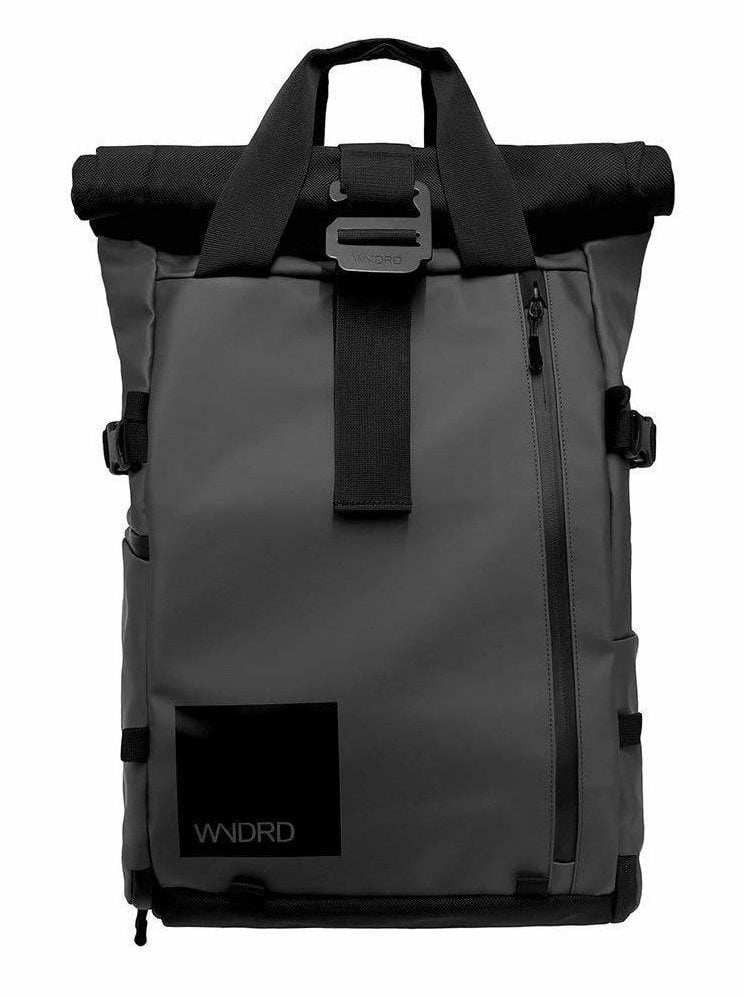 The WANDRD PRVKE 31 is one of the best camera backpacks on the market for non-professional photographers. The bag is extremely versatile and extremely durable. Its versatility and durability mean the WANDRD PRVKE 31 can be used for more than just a camera bag.
It's good for hiking, a daypack, or even a small travel bag – the magic is in the WANDRD's ability to be more than just a camera backpack.
What We Like and Don't Like
Pros
Very durable and robust
Great design
Tons of pockets
Comes with handy accessories
Cons
Limited space for cameras/equipment
Magnetic handles are just OK
Is the WANDRD PRVKE 31 the best bag for you?
This bag looks great, can handle simple camera gear, and is versatile. The lack of dedicated photography compartments means we can't recommend this backpack for photo-pros, but any amateur photographers in search of an awesome camera backpack – look no further!
Best Travel Luggage with Wheels
Sometimes, having a set of wheels on your bag can be really useful. Not having to carry around a big ol' bag can really save your back, especially when you're in the airport or on some really nice pavement.
We've only covered a few bags in this section – read more about wheeled backpacks if you're interested!
One of the main reasons you should invest in a backpack with wheels is for convenience. Well, this backpack takes convenience to an entirely new level with its detachable 16-liter day pack!
With this luggage, you will have a day pack, backpack, and rolling luggage all in one! The detachable "day pack" is a great design and can be used as a day bag for all of your excursions. It's also great for holding your essentials on a flight.
A few more great features include padded top and side handles, a removable shoulder harness, and of course the day pack!
This item meets carry-on size restrictions for most airlines (size does not exceed 45 linear inches).
What We Like and Don't Like
Pros
Carry on size
Versatile
Detachable day pack
Is the Osprey Meridian for me?
If you want a backpack with wheels that is convenient, comfortable and able to hold up in multiple situations, then you should invest in this backpack. Our favorite part about this backpack is the detachable day pack.
The Swiss Tech Wanderer is kind of a hybrid between a classic duffel design and a standard, cabin sized, wheeled carry on. This one offers oodles of space, (around 40 litres). This is great for those who want the no thrills packing option a duffel brings but also want wheels so they don't have to do all of the carrying. However, please note that this one is considerably bigger than the usual 18" so is not suitable for taking into the plane's cabin as carry-on luggage.
What We Like and Don't Like
Pros
Extremely durable material
Zippers are compatible with TPA locks
Cons
Kind of heavy
Too big for carry-on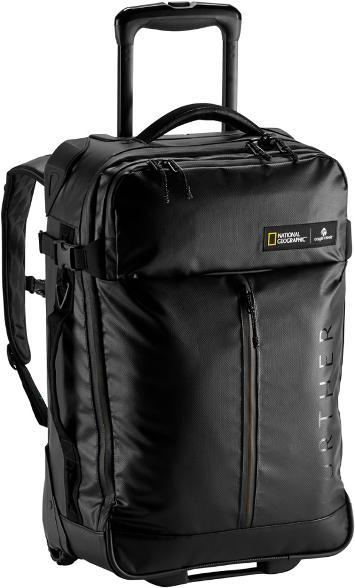 This 40 Liter rolling luggage tha doubles as a backpack is perfect for international travel. A marriage between two companies that know rugged travel – Eagle Creek and National Geographic – was built to be weatherproof and dirt resistant for all of your adventures.
Plus, it's probably the coolest looking backpack with wheels – something I haven't said since the fourth grade! A few of its awesome features include the top quick stash pocket, multiple grab handles, and treaded off-road wheels so you can roll this bag on challenging terrain!
The main drawback is its weight. There is always a trade-off for durability and weight… and in this case, it's a few pounds! This backpack may be overkill if you aren't going on an adventure…
What We Like and Don't Like
Pros
Perfect carry on size
Weatherproof and extremely durable
Treaded off-road wheels
Is the Eagle Creek National Geographic Series for me?
We think this is the most durable backpack with wheels available. It can handle awful weather and rough terrain, but it might be overkill if you aren't going on expeditions in South America and Africa! This is the right luggage for you if you want a sleek, durable rolling backpack to keep your things safe.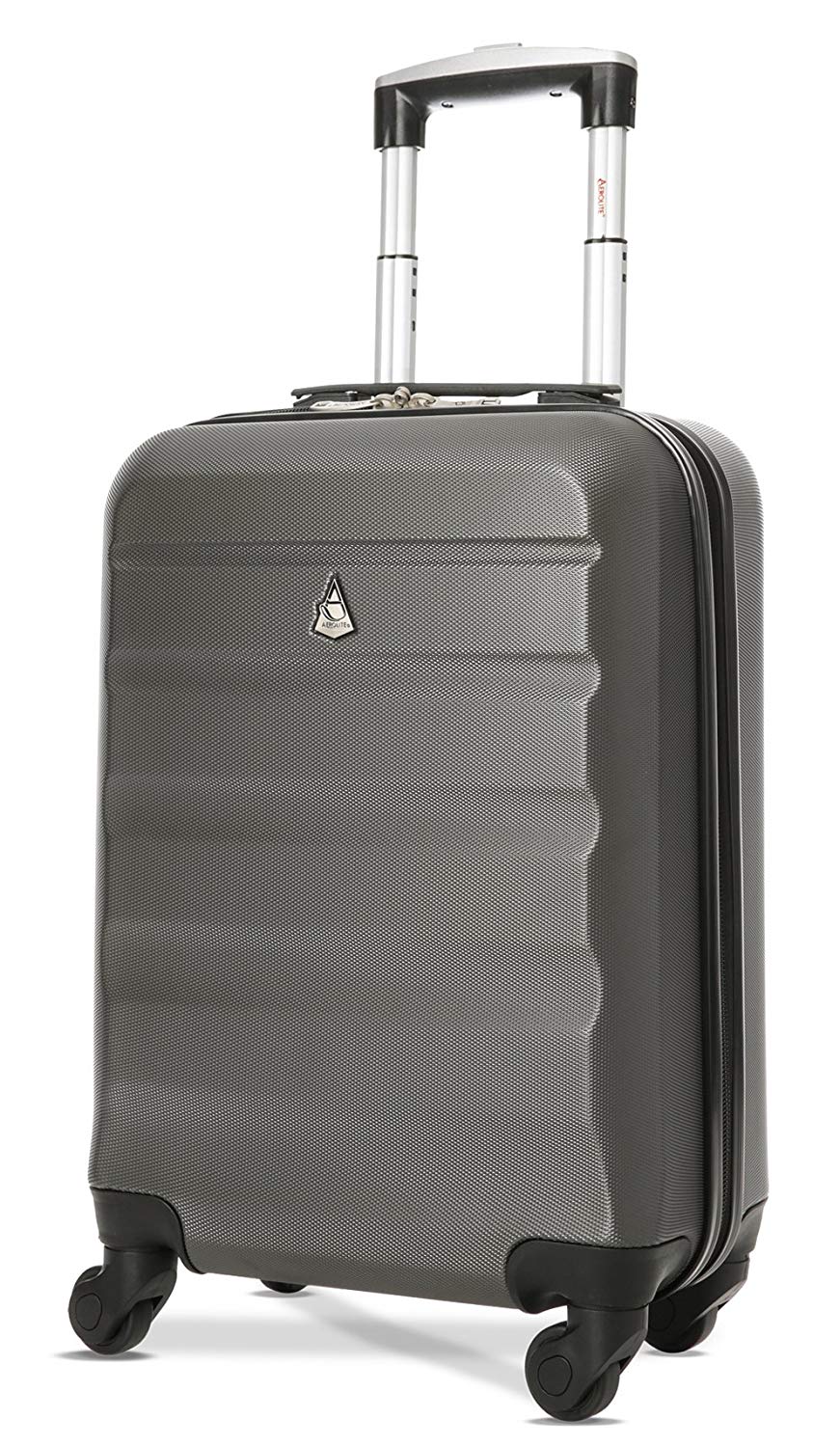 A traditional wheelie suitcase, the four-wheeled Aerolite Superlight Hard Shell Carry on offers its users supreme protection of its contents thanks to its rigid form of ABS plastic.
Accepted by all the major airlines in Europe and North America as carry on compliant, it weighs 2.5 kg and has a mid-range capacity of 33 litres.
Its wheels rotate a full 360°, giving you effortless movement across airport departure halls. Inside, the case includes packing straps to hold all your baggage in place, two elastic shoe pockets, a slim mesh pocket for documentation, and a zipped divider to keep items separate from one another.
Finally, there's a five-year guarantee to protect against manufacturing defects!
What We Like and Don't Like
Pros
Rigid-form carry on
Carry on compliant
Easy wheel movement
Five year guarantee
Cons
Weight of 2.5 kg
Wheels protrude and cannot be retracted
Cannot be used as a backpack
No padded laptop sleeve
Is the Aerolite Superlight Hard Shell Carry on for me?
If you're a fan of the traditional design of the wheelie suitcase, here's a carry on for you! The fully-rotating wheel at each corner of the Aerolite Superlight Hard Shell Carry on makes it really simple to move about, while the hard shell plastic will keep contents safe from damage, and the internal pockets for organisation are also key!
Best Carry On Travel Bags
For those who fly very often and NEED to make sure that their backpack will can be taken on the plane. Generally speaking, 20-30 liter bags can almost always be used as carry ons. 40 liter bags are a little bit more risky but, because we like to toe the line, we've included some 40-liters that we believe can be used as such.
If you'd like, you can also read more about carry ons here!
The pared-back design of the Tortuga Setout Backpack puts its functionality front and centre.
The most obvious advantages are its packability – with a book-style opening like a suitcase – and its dedicated laptop and tablet sleeves that protect your tech gear. It also has a volume of 45 liters (with a 35 litre version also available if that's a little too much), and an overall weight of less than 2 kg.
The backpack shoulder straps can be hidden away, and there's even a detachable hip belt to help with carrying!
What We Like and Don't Like
Pros
Book-style opening
Dedicated laptop and tablet sleeves
Lockable zips
Detachable hip belt
Cons
Fairly plain design
Option between 35 and 45 litres
Weight of less than 2 kg
Locks must be bought separately
Is the Tortuga Setout Backpack for me?
Its not as fully-featured as the aforementioned Tortuga Outbreaker, but it's more affordable! If you just need a laptop backpack versus a fully-featured travel backpack with all the bells and whistles, then this is a great choice.
If you are trying to decide between the Tortuga and the Osprey, then it simply comes down to one thing – your personal travel style
Do you need a carry on travel bag for camping and light hiking, or for urban travel? If you picked the former, then the Osprey Farpoint is for you!
Here's the thing, the Farpoint is somewhat of a hybrid travel and hiking backpack. I'd never pick it primarily for hiking when Osprey carries so many specific hiking backpacks, but if you want a bag that can do a little bit of everything and accompany you on flights, then look no farther.
This bag caters Digital Nomads and backpackers. Read our full Osprey Farpoint 40 review here.
What We Like and Don't Like
Pros
Duffel bag or backpack
Lifetime guarantee
Cons
Not as much tech-organization as Nomatic
Looks a bit like a turtle shell
Is the Osprey Farpoint 40L the best bag for you?
Are you looking for an incredible carry on backpack, with solid features, and a lifetime warranty? Then look no further than the Osprey Farpoint 40. This is a serious bag for people who love to travel and also want the option to do some camping or hiking.
Unlike the Farpoint reviewed above, the Osprey Stratos is a hiking bag first, and a travel bag second. If you love to hike, then you'll love this bag for many reasons.
This bag is a go-to for short hikes and overnight camping excursions. It comes with an integrated rain cover, is quite lightweight, and has an impressive amount of organization capacity for it's minimal design.
At 33 or 36 liters (depending on the size you buy), this bag is ALWAYS carry on compliant. If you aren't sold on the Stratos, the Osprey Cirrus 36 is another great option.
Read our full Osprey Stratos 36 review here.
What We Like and Don't Like
Pros
Always carry-on compliant
Awesome ultralight hiking backpacks
New updated design
Ventilated mesh back panel
Cons
Likely too small for most travelers
Not made for regular travel
Mixed reviews on the pocket sizes
Is the Osprey Stratos 36 the best bag for you?
You love to hike. You love to camp. If this is the case, then you need t need to consider this bag. The only downside is its size, as 33 liters can be pretty tight – but if you are used to day-hikes, and lightweight camping then the size won't be much of a problem for you!
The first thing that must be noted about the Inateck Travel Carry on Luggage is the fact that despite its impressive size and dimensions it still counts as carry on compatible for most of the world's major airlines.
Its capacity is divided into two main compartments, a sleeve for a laptop up to 17" and another for a 13" tablet, and several other pockets inside and out to help keep your baggage organized.
There's a hidden pocket that rests against your back for keeping important items safe and close at hand, while the comfortable backpack straps make it ever so easy to transport from place to place.
What We Like and Don't Like
Pros
Generally carry on compliant
Two main compartments
Sleeves for laptop and tablet
Hidden pocket
Cons
Quite large for carrying as a backpack
Square shape
Included rain cover must be used for water proofing
Locking requires additional padlock
Is the Inateck Travel Carry On Luggage for me?
The fact the Inateck travel carry on luggage is carry on compliant for most major airlines makes it very useful for anyone who doesn't want to have to do battle with a baggage carousel after a long journey by air.
Its large capacity also includes spaces for a laptop and tablet, meaning you can stay fully connected while on the move!
Nomatic bags have 20 innovative features to make your travels all the easier, such as a dedicated shoe pocket that keeps dirty soles away from the rest of your luggage, and a fleece-lined RFID-blocking pocket that will keep your electronic data and passports safe from illegitimate scanning by scammers.
This bag also incorporates a dedicated laptop sleeve, and is carry on approved for a plethora of international airlines!
We have so much to say about this bag that we wrote an entire review about it. Check out our Nomatic Travel Bag review for more information!
What We Like and Don't Like
Pros
Perfect carry-on size
Tons of features for the modern traveler
RFID-blocking pockets
Laptop sleeve
Cons
Price
Weight is a tad heavy for some (1.8 kg)
Soft frame
Hip belt must be bought separately
Is the Nomatic 40-liter travel bag for me?
If you're willing to splash out for a travel bag that is sure to meet your needs AND then some, then the Nomatic 40-litre is the travel bag for you!
Best Anti-theft Travel Backpacks
Most travel bags have some sort of security against theft. For extra protection though, you'll need a special backpack with more features than usual.
The Australian brand, Pacsafe, is dedicated to creating fully-functional travel bags that also protect you from theft. The Vibe 25 has a reasonable daypack size of 25 litres, while weighing less than a kilogram.
There's an RFID-protective pocket to keep your credit cards, identity card and passport safe from data theft, and a PopNLock security clip that secures the Vibe 25 to any immovable object.
An interlinking zip closure system also makes it impossible for anyone to open any of the bag's zips without you noticing! The Vibe 25 is also protected from the slash and grab tactics of some thieves due to its hidden wire mesh, and shoulder straps that incorporate steel wires.
What We Like and Don't Like
Pros
Weighs less than a kilo
RFID-blocking pouch
Interlocking zips
Embedded steel mesh
Cons
Fairly plain exterior
Too small a volume for some
Some users report zips jamming
Not for adventure travel
Is the Pacsafe Vibe 25 for me?
Anyone who worries theft when travelling will be given piece of mind with the Pacsafe Vibe 25. You'll definitely feel safe with this travel bag due to its anti-theft features, including an RFID-blocking pocket and integrated steel.
With a stylish modern design and 12.5 litre capacity, the XD Design Bobby has both hidden zips to make it harder for pickpockets to make a quick grab for your kit, and additional hidden pockets.
The water repellent and slash proof outer material will see splashes of water just run off, while the interior has space for laptops up to 15.6" in size and tablets of up to 10".
Further, the XD Design Bobby also includes an integrated USB charging port into its design, enabling you to charge your smartphone and still use it by connecting it to a powerbank stored safely inside the bag.
What We Like and Don't Like
Pros
Ideal for commuting or day travelling
Hidden zips for main compartment
Slash proof material
Integrated USB charging port
Cons
12.5 litre capacity not for longer travels
Water repellent rather than water proof
Fits laptops up to 15.6"
Powerbank not included
Is the XD Design Bobby for me?
Stylish and protective, why wouldn't the XD Design Bobby be for you? Even if you need to move about with a laptop and a tablet this bag has you sorted, while the ability to charge your smart phone with a powerbank on the go is another nice feature!
In the Kopack Lightweight Anti-theft backpack, we have another travel bag with anti-theft features that is able to carry laptops up to 15" in size.
Like the XD Design Bobby, this model from Kopack has a hidden zip design that makes it difficult for pickpockets to target, while this bag is nice and comfortable thanks to the padding added to the shoulder straps and other areas of the bag that touch the body.
A sleeve on the outside means you can slip the bag over the extendable handles of a wheelie suitcase, while the outer materials are deliberately made from tough nylon that is resistant to tears and anti-slash too!
What We Like and Don't Like
Pros
Lightweight
Comfortable
Hidden zipper design
Tear resistant nylon construction
Cons
No RFID-protection pocket
Not fully water proof
Single colour option
Fits laptops up to 15" only
Is the Kopack Lightweight Anti-theft backpack for me?
The Kopack Lightweight Anti-theft backpack offers everyday anti-theft protection thanks to its hidden zip design and the tough wearing materials it's comprised of. Lightweight and comfortable to use, this is a fine anti-theft backpack indeed!
Best Foldable Travel Bags
These are the ultimate packable backpacks – ones that can fold and collapse into a sleeve that is usually the size of a purse or tablet! These make for excellent additions to backpacking gear lists and are usually very affordable as well.
The vibrant colours of the POKARLA foldable rucksack certainly draw the eye. It has a sturdy main structure which is resistant to general wear and tear as well as protective against rain and other weather conditions.
Weighing just a few hundred grams, there are two zip-shut front pockets for smaller items of kit, pockets on either side for water bottles or an umbrella, and a mesh pocket with zip closure on the inside. An access point has been incorporated for use with water hydration systems.
What We Like and Don't Like
Pros
Nice colour options
Sturdy structure
Lightweight travel bag
Multiple pockets
Cons
No padding for laptop or tech
Mesh pockets could be stronger
Not fully water proof
Is the POKARLA Foldable Rucksack for me?
Folding into its own 9 x 7" pocket rather than folding flat, this foldable rucksack by POKARLA makes for a very good rucksack or daysack that can then be put away without it taking up a huge amount of space or weighing too much. The multiple pockets also make it a very useful travel bag for transporting smaller items.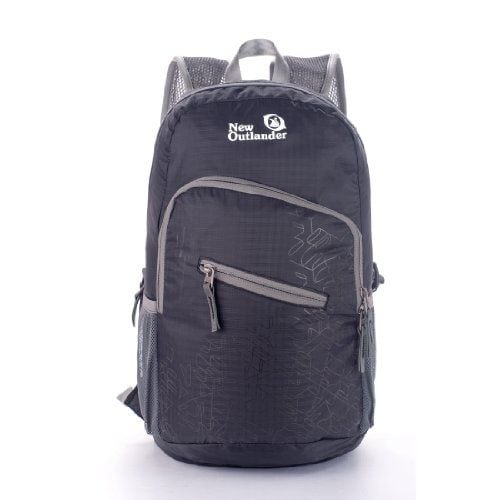 The Outlander is foldable daypack with multiple compartments! This bag has an internal security zippered pocket to protect valuable items. The fabric is water and abrasion resistant and it is reinforced to be ultra-durable. It's also extremely affordable!
What We Like and Don't Like
Pros
Multiple compartments
Water resistant
Durable for a packable
Cheap!
Cons
Not for proper hikes/athletics
Simple style
Is the Outlander Packable the best travel daypack for you?
If you are the type of traveler that is looking to travel as light as possible – even at the sacrifice of hiking comfortably and looking stylish – then the Outlander Packable could be a good pick for you. Ultralight travelers, you've met your match!
The Skypak Folding Travel Bag is a foldable duffel bag with a 90 litre capacity! Coming with a detachable shoulder strap, the Skypak still only weighs 600 grams when empty.
Folding into a flat pack roughly the size and shape of a tablet computer, it can easily be slipped into a larger piece of luggage or even a daypack or handbag.
Each of the metal zips have bright orange tags for grip, which contrasts nicely against the otherwise plain black nylon material. The manufacturers report it to be strong enough to be placed in the hold of an aircraft without issue, but we've yet to test this out for sure.
What We Like and Don't Like
Pros
Detachable shoulder strap
Just 600 g in weight
Folds down to size of tablet computer
Tough enough to act as hold luggage
Cons
Soft shell design without rigidity
No padding or dedicated tech sleeve
No backpack handles
Not a wheelie suitcase
Is the Skypak Folding Travel Bag for me?
Incredibly lightweight for its 90 litre capacity, the Skypak Folding Travel Bag is a fine folding duffel for anyone who needs a larger capacity bag at their finger tips. It still manages to fold down to the size of a computer for easy transport when not in use!
Best Travel Duffel Bags
Duffels are tried and tested bags that are still useful these days. Grabable, packable, tossable, and stowable, for some travelers, duffel bags are the way to go.
Duffel bags don't have to be foldable to be a great way of transporting kit from place to place, with the Osprey Transporter Expedition Duffel an excellent example of this.
Not only does it have all the features of a standard duffel bag – a large main compartment accessed via a large top opening – it also has a set of padded shoulder straps that can be pulled out when you want to use this duffel as a backpack.
There's also a padded internal compartment for keeping your laptop protected; the tough double zips are lockable, and the materials are long-lasting and durable.
What We Like and Don't Like
Pros
Excellent all-round duffel bag
Packable padded shoulder straps
Lockable zips
Protected pocket for tech
Cons
Has rain flaps but not fully water resistant
Mid-sized bag of 40 litres
Rigid construction
Locks must be bought separately
Is the Osprey Transporter Expedition Duffel for me?
The Osprey Transporter Expedition Duffel is really easy to transport thanks to the added stowable backpack shoulder straps. In addition, unlike many duffel-style bags, the Transporter Expedition has a dedicated compartment for delicate pieces of kit, ensuring your travels will be worry free!
This duffle is one of the best travel bags for air travel. It really shines when it comes to internal organization, even though it's a duffel bag! It includes a compartment for your laptop and chargers, and a separate compartment for your shoes! Its handle slips over a luggage handle.
What We Like and Don't Like
Pros
35 L perfect carry on size
Wonderful design
Laptop compartment
Tons of organization
Cons
Not fully waterproof
Straps are not as comfortable as their backpack!
Only fits 13″ laptop
No water bottle pocket
Is the Setout Duffle Bag for me?
This is a well made and well thought out travel duffel bag. Its features and pouches are perfect for a short trip. It's very durable and aesthetically pleasing. This bag is great for business trips because it stores your tech with ease; however, we're a bit disappointed that it doesn't fit a 15″ laptop.
The Eagle Creek Cargo Hauler comes not only with backpack shoulder straps, but also with grab handles, making this duffel-style travel bag simple to lift, move, and transport. Fantastic, no? But there's more! The 45 litre capacity version of the Cargo Hauler comes with an empty packed weight of just 2 lbs, making it a very lightweight travel bag, while 600 Dernier synthetic materials that are also water resistant make it durable and tough. Though there is no dedicated padded compartment for delicate items, the Cargo Hauler does boast a padded bottom section, so you should have little worry when placing your duffel on uneven ground.
What We Like and Don't Like
Pros
Incorporates backpack straps and grab handles
Lightweight
600 Dernier material
Padded base
Cons
Water resistant rather than water proof
600 Dernier thinner than some duffel materials
No rigid structure
Not for business travel
Is the Eagle Creek Cargo Hauler for me?
Offering a choice of carrying and transporting options, the Cargo Hauler by Eagle Creek is a good quality yet lightweight duffel that will see you through many years of travel. The durable materials used are part of this overall long-lasting quality, as is the padded bottom that protects your contents from accidental bumps.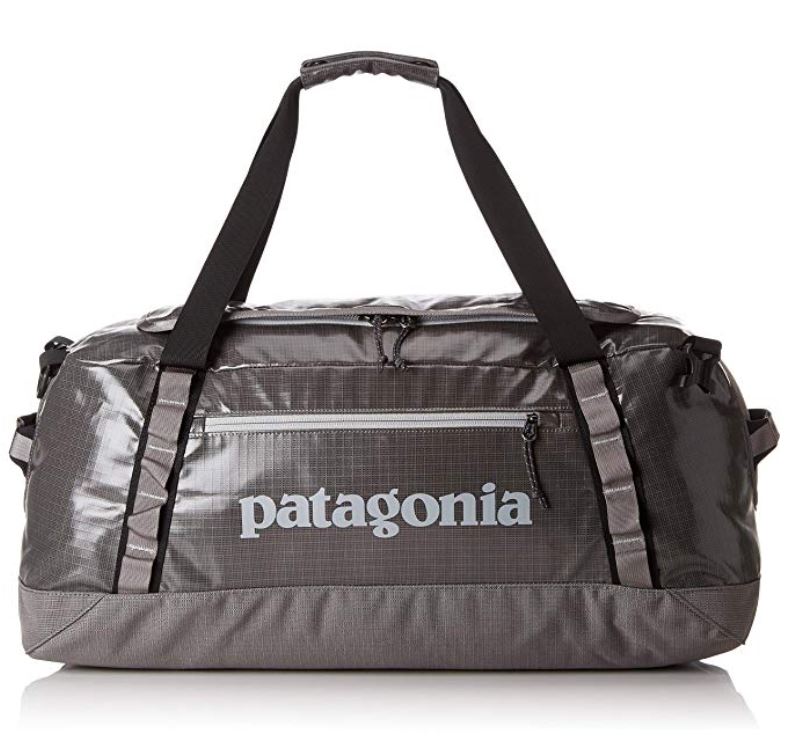 Patagonia is the doyen of the outdoor market, and The Black Hole series of duffel bags are made with even thicker, durable synthetic materials than the Eagle Creek Cargo Hauler. Each version of these duffels are constructed with a 900 Dernier ripstop nylon material which has been treated in to be highly water-resistant as well as tear-resistant – liquids really do just roll off this bag.
Despite the thicker materials used in these quality constructions, the Black Hole series still offers an impressive balance between usage and weight, with the 60 litre version hitting the scale at less than 3 lbs. It has backpack straps too!
What We Like and Don't Like
Pros
900 Dernier ripstop construction
Water resistant
Relatively lightweight
Come with backpack straps
Cons
Soft shell design
Not fully waterproof
No detachable cross body shoulder strap
Not a guaranteed carry on
Is the Patagonia Black Hole duffel bag for me?
Super tough, the Patagonia Black Hole duffel travel bag is made with thick ripstop material that guarantees you years of use. What's more, the Black Hole series remains very lightweight for its size capacity.
Looking for a travel duffel bag with wheels? The rolling thunder provides traction in all conditions, so you can roll your heavy duty bag through airports and over cobblestone streets. The Sherpa strap lets you carry your duffel when you need to.
Its handle and back-panel structure add durability. You also have an internal split mesh pocket, 2 external zippered pockets, and a small zippered pocket on top for organization.
What We Like and Don't Like
Pros
Integrated wheels
Large for longer trips
Good Capacity
High quality
Cons
Heavy
Wheels can't be hidden
The handle needs both hands to pull up
Might be too big for some
Is the North Face Rolling Thunder for me?
Perfect for a month abroad, The North Face Rolling Thunder wheeled duffel bag has 80 liters of interior space and ample organization to take you (and your gear) around the world.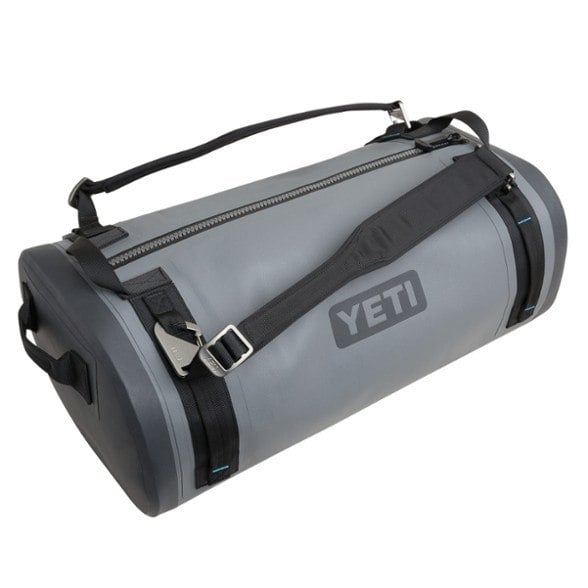 YETI makes the most durable, waterproof gear on the market, period. You could throw this duffel bag overboard and your stuff would stay perfectly dry.
This is the best travel duffel bag if you are doing any type of water activity – rafting down a river; living on a boat; traveling in monsoon season; you name it, YETI's got you.
It has 6 lash points and 2 long straps so you can haul your bag in multiple ways. 2 easy-to-access mesh pockets keep your valuables safely tucked away. We think 50 liters is a perfect size, but if you need something bigger, this bag also comes in a 75 liter and 100-liter size.
What We Like and Don't Like
Pros
Most durable duffel bag ever
Fully Waterproof
Water-resistant
Hanging internal pocket
Cons
Heavy (price you pay for durability)
Might be overkill for basic trips
Expensive
Is the YETI Panga 50 Dry Duffel for me?
The YETI Panga 50 dry duffel is built to handle total water submersion while remaining 100% dry on the inside.
Best Laptop Travel Bags
These days, lots of people travel with laptops. If you do as well, make sure that you have the right bag to protect. A laptop can be a big investment, and it'd be a shame if it was broken because it was carried in the wrong kind.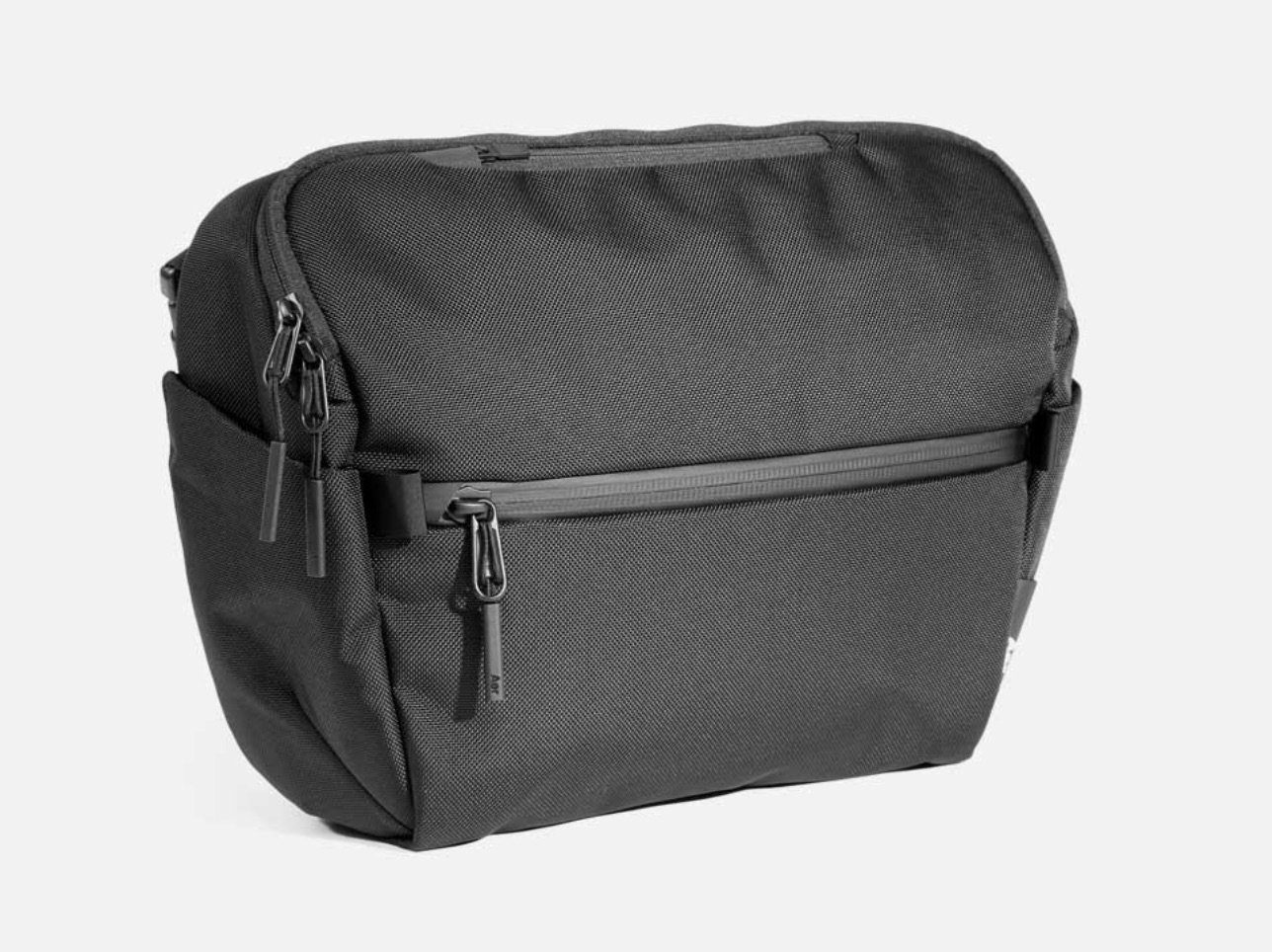 Many of our other reviewed travel bags have dedicated laptop compartments of one form or another, but that doesn't mean a specialised laptop travel bag isn't useful for expensive tech.
Taking the standard form of a modern briefcase laptop bag, the AER City Messenger Bag is made up of durable and waterproof materials and zips. It has a reversible padded shoulder strap for easy transportation and side pouches that can be used for packing water bottles or other accessories. If you are a bike commuter, you will appreciate the relatively small size of the city messenger – not too bulky – but big enough to carry what you need for the day.
What We Like and Don't Like
Pros
Durable
Reversible shoulder strap
Lightweight
Cons
Capacity of just 10 liters
Solely a laptop bag
Cannot be used as main bag
Is the AER Laptop Bag for me?
If you want a dedicated laptop bag, then the AER City Messenger Bag is perfect for you! Its sleek and professional appearance are matched by its durability. This stylish bag also keeps your stuff safe and secure.
We love practical gear that gets the job done at a reasonable price point – and with the AER City Messenger, that is precisely what you get.
The Tortuga Setout Laptop Backpack is the smaller version of their first Setout – and it's just as awesome! This bag is a 25-liter masterpiece for anyone looking for a smaller laptop bag that feels and looks great.
The Setout Laptop Backpack has plenty of organizational-features including mesh pockets and a secure area for your laptop.
The Setout Laptop is marketed as a laptop bag for those who do a lot of air travel. If this sounds like you, then this may be your backpack from heaven.
Read our complete Tortuga Setout Laptop Backpack Review here.
What We Like and Don't Like
Pros
Durable
Minimalist design
Dedicated Laptop and Tablet Area
25 liters
Cons
Pricey for 25 liter bag
Might be too small for some
Is the Tortuga Laptop Backpack for me?
Its not as fully-featured as the aforementioned Tortuga backpacks, but it's perfect if you need a functional laptop backpack primarily for your tech gear.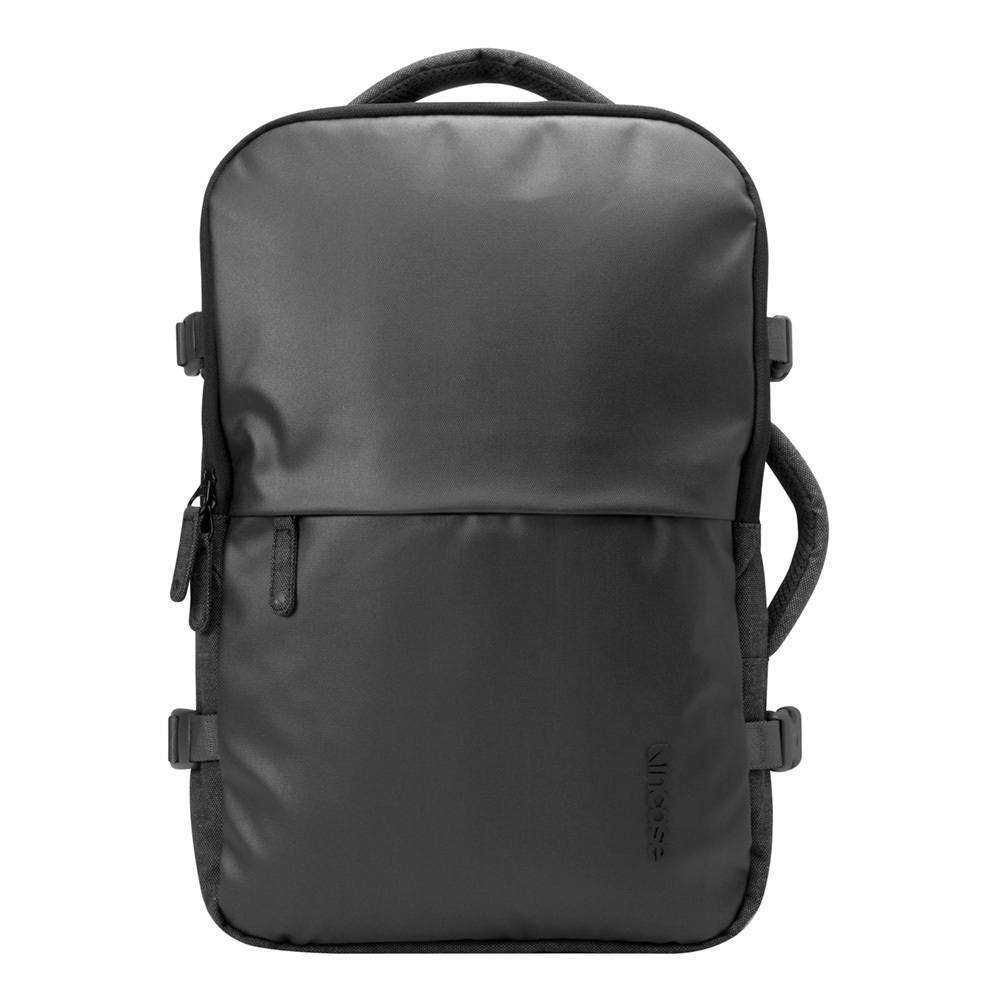 The EO travel backpack is known for making stylish business backpacks. This bag is made for people on-the-go and business trips. The EO accommodates a 17-inch laptop and has tons of options for internal organization.
The bag itself is made out of 300D polyester, and the black option has a triple coated weather-resistant front panel. The shoulder straps are made with breathable mesh, and the back panels are padded too.
The main compartment has plenty of storage space, and it expands 35% to fit all of the clothes you may need. You can also maintain a slimmer profile if you are just using it for layovers and day trips.
What We Like and Don't Like
Pros
Fits up to a 17-inch laptop
Padded back panels
Main compartment expands by 35%
Zippable laptop compartment makes security checks a breeze
Cons
Might be too small for some
For minimal travelers only
No strap to attach to suitcase handle
Is the Incase EO Carry on for me?
This is an excellent travel backpack for air travel and business. This backpack is smaller than others on this list, but the Incase EO makes use of its space with plenty of organizational pockets and compartments. Plus, sometimes slimmer is better, so you can travel without bulk.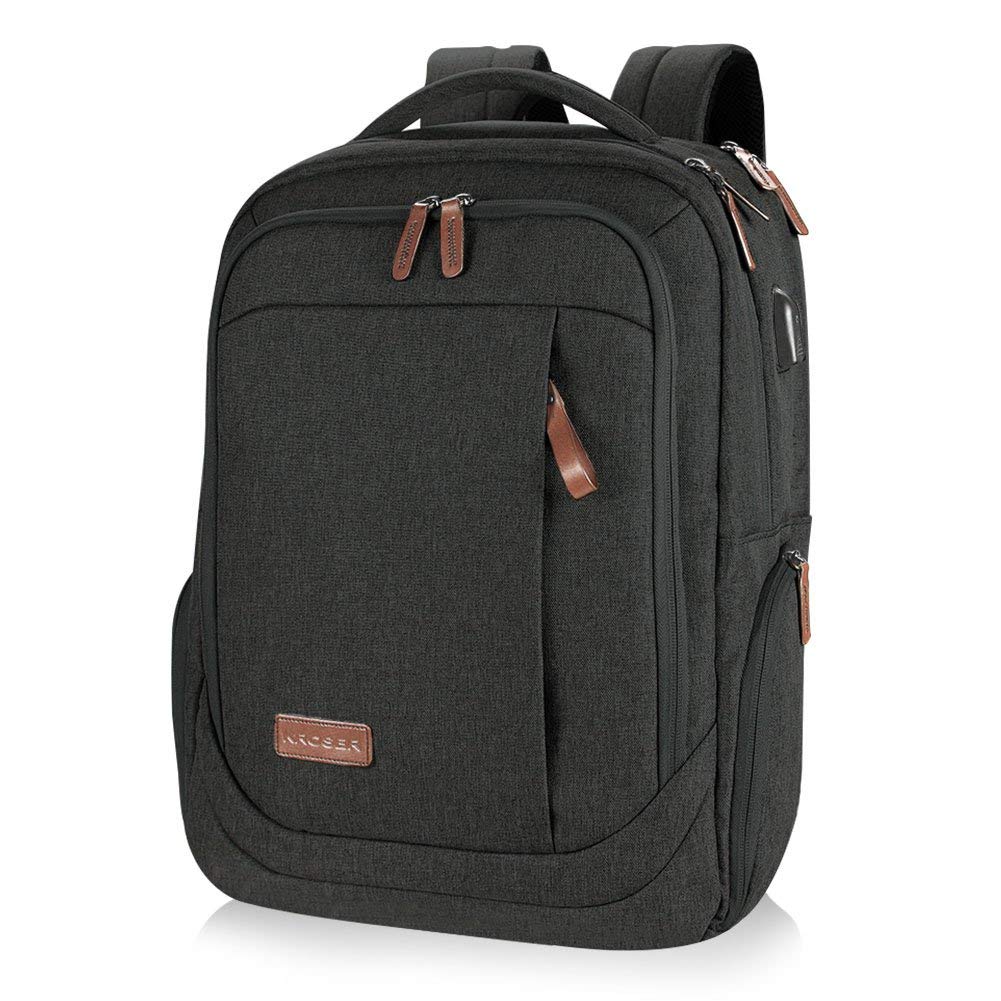 Not only does the Kroser Laptop Backpack offer some protection from the rain with its water resistant qualities, but it also boasts some environmental credentials with its use of environmentally-friendly poly fabric!
It weighs in at just over 1 kg, and consists of several large compartments, with dedicated padded sleeves for laptops up to 17" in size and standard-sized tablet computers.
It also includes an integrated USB charging port, so that you can continue to use a smart phone while it is being charged with a powerbank hidden inside the bag. In addition to its comfortable backpack straps, there is also a luggage strap so that the bag can be held firmly on the handles of a wheelie suitcase.
What We Like and Don't Like
Pros
Water resistant
Environmentally friendly
Dedicated laptop and tablet sleeves
USB charging port
Cons
Not fully water proof
Not for longer journeys
Does not boast TSA approval
Powerbank not included
Is the Kroser Laptop Backpack for me?
The Kroser Laptop Backpack is a wonderful backpack with specifically designed and constructed protection for laptops and tablet computers. It has a very reasonable weight out of the box and has the added advantage of a built-in USB charging port, so you can stay busy even on the move.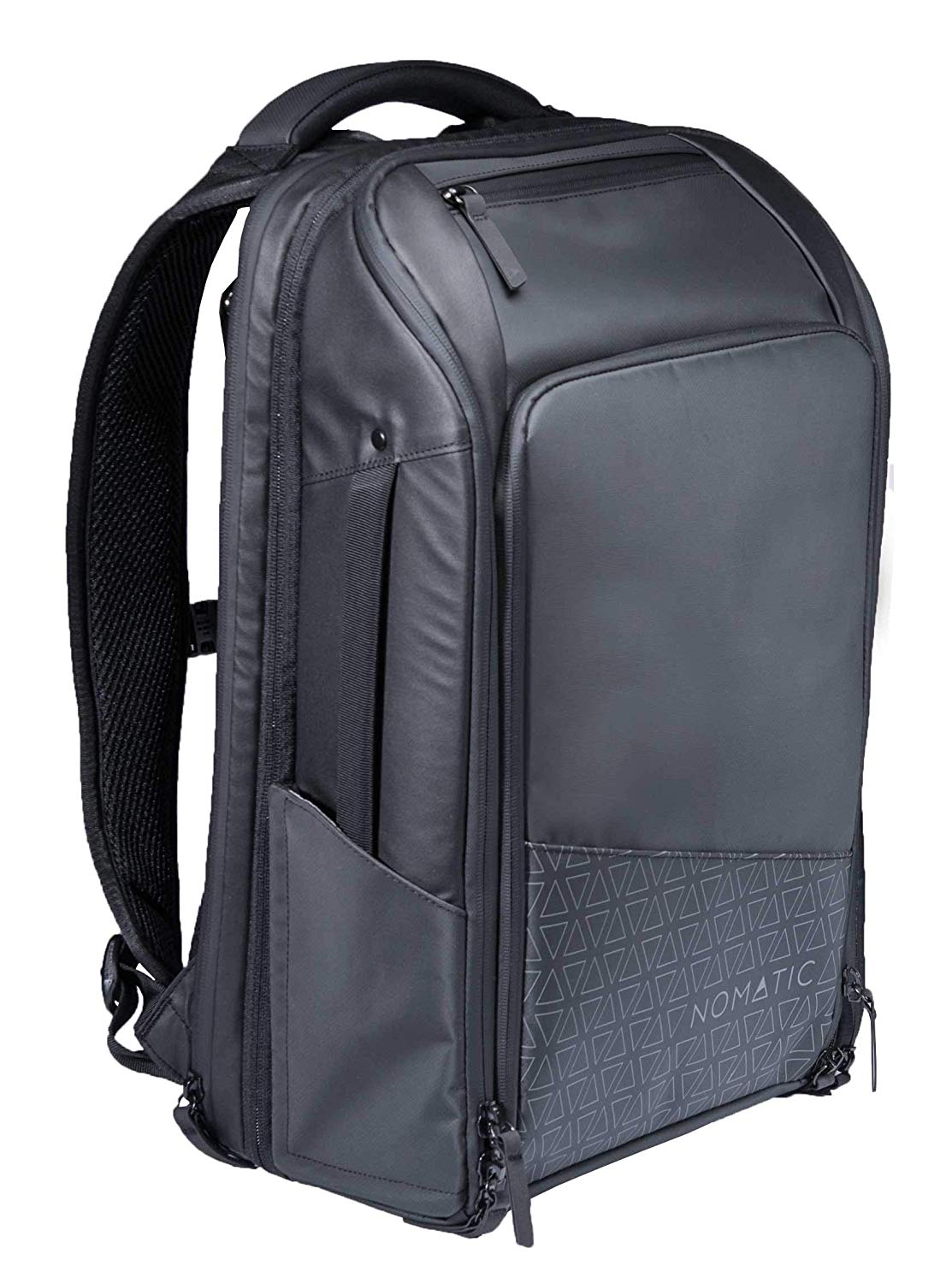 The Nomatic Travel Pack is another super offering from this brand! We think it's one of the best day bags due to its size and versatility.
This 20-litre daypack can be expanded to 30 litres, making it extremely adaptable for your trip!
An internal zip-shut mesh divider means you can keep clean and dirty clothing separate, and there's a compression packing cube and separate shoe compartment incorporated.
If that wasn't enough, the bag also contains a sleeve for a laptop of up to 15" which is TSA approved as it lays flat, hidden pockets, and a pocket with RFID-blocking technology for the protection of your electronic data!
What We Like and Don't Like
Pros
Expandable
Internal divider
TSA approved
RFID-blocking pocket
Cons
Volume may be too small for some travellers
Carries laptops up to 15"
Weight of 1.9 kg
Easy access from all sides
Is the Nomatic Travel Pack for me?
The 20+10 liter Nomatic Travel Pack is a great alternative to the 40-liter Nomatic travel bag. Far from being the less useful little brother, the Travel Pack still has a wealth of features including opening flat for easy passage through US airport security.
If you don't need a pack quite as big as the Nomatic travel bag, then this is an excellent choice.
The Best of the Best Travel Bags Revealed!
Whatever your preferred choice of travel bag, our epic list of the best travel bags has undoubtedly brought the latest and most impressive bags to your attention.
We've covered all manner of travel bags in this review, from traditional backpacks to laptop bags and the staple wheelie suitcase. Having scoured the world for the very best, our selection includes some of the globe's biggest travel brands, but also lesser-known labels we think you should pay attention to!
"Find out how YOU can support the site. We work hard to put out the best backpacker resources on the web, for free! It's all about helping out our tribe of awesome backpacker readers [that's you!]. Please visit the link to find out how you can help keep the site going 🙂
For the sake of transparency, some of the links in our content are affiliate links. This means that if you book your accommodation, buy a book or sort your insurance, we earn a small commission at no extra cost to you. I only link to stuff I've actually used and never endorse products or services that are not up to scratch. Thanks for your support.