So you just bought your first (expensive) travel camera and, if you're like most photographers, you're probably worried sick about breaking it.
The best thing you can do? Invest in a great camera bag. But with so many options available, which one is best for you? Worry not. I'm here to help you find the perfect camera bag for your needs.
When you are looking for the best travel camera bag, you need to understand that every photographer has different needs. With this guide, you'll receive a ton of tips and info on what constitutes the best camera bag for travel and what makes a solid investment.
By the end of this guide, you'll know exactly which of the best travel camera bags is best for you. 
So let's go look at some of the best travel camera bags that are currently on the market!
Quick Answers: Top Picks for the Best Camera Bags of 2022
Types of Travel Camera Bags
Every photographer knows that a bag is just as important as their actual equipment. Should the shit hit the fan, a well-built bag or backpack could mean the difference between a functioning travel camera and a dead piece of kit.
Many photographers spend hundreds of dollars on a camera bag so that they can protect it from all sorts of dangers like poor weather, accidents, and thieves. If you're serious about travel photography, then you need to make a serious effort on finding the best camera bag possible.
Are you a casual photographer who just wants something easy? Maybe a shoulder or messenger bag would be best for you. Do you travel often and need maximum protection for your gear? Maybe a full-fledged backpack or roller bag is necessary then. Do you want to just store your gear or have your camera with the lens attached and ready to go?
No matter what your preference is, there's a travel camera bag out there that's made for you and it is my aim to help you find it.
Before jumping into the reviews for each travel camera bag, it would pay to look at the multitude of styles out there. Below are the six main varieties of bags outlined in this guide and some brief descriptions of their pros/cons.
Shoulder Bags – A smaller bag with a shorter strap. This bag is meant to go over one shoulder and falls about to your rib cage. Shoulder bags are very light and usually easy to access though they are limited in space. Sling bags also fall into the shoulder bags category.
Messenger Bag – Similar to a shoulder bag but slightly larger with a longer strap. Usually falls to about the hip and can be strung across your body/over both shoulders.
Holster Bag – A bag that is meant to be attached to some sort of garment, like a chest harness or strong belt. These are sometimes smaller than shoulder bags and are meant to hold just one camera with a lens attached at a time.
Backpack – These have more interior space for cameras and lenses, which makes them the best travel camera bags for DSLRs. Often has a laptop compartment or padded laptop sleeve as well. If designed properly, backpacks are more adept at distributing weight and in a comfortable manner across the shoulder straps. Access is an issue though as you usually have to take off the backpack first to get to your gear.
Roller Bag – Similar capacity to a standard backpack but meant to be rolled on the ground. These types of bags are obviously not meant for rugged, remote work but for urban projects where the bag can easily navigate.
Backpack Insert – A large accessory that is meant to fit into another larger backpack. Many photographers prefer these because usually travel backpacks are more comfortable and come equipped with more features.
Best Overall Camera Bag
Best Overall Camera Bag
Wandrd PRVKE 31
Price > $$
Favorite Features > Spacious
Why I Like it > Very Adaptable
Best Travel Camera Bag Runner Up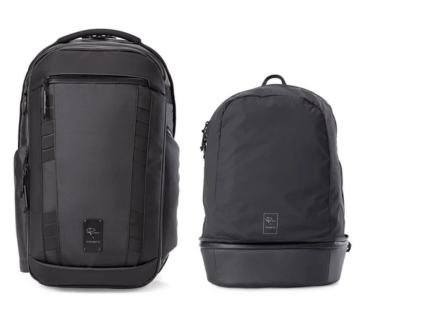 Best Travel Camera Bag Runner Up
Nomatic Mckinnon 35L Camera Bag
Price > $$
Favorite Features > Big enough to haul multiple lenses, a drone, batteries, etc
Why I Like it > Quick access, tough construction design
Best Small Travel Camera Bag
Best Small Travel Camera Bag
Domke F-5XA
Price > $$$
Favorite Features > Small and Light
Why I Like It? > Good Value
Best Messenger Camera Bag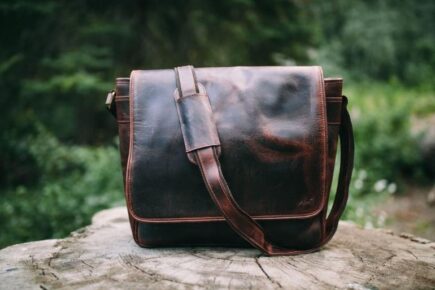 Best Messenger Camera Bag
Kodiak Messenger Bag
Price > $$$
Favorite Features > Spacious Interior
Why I Like It > Lots of Compartments
The Best Camera Bag for Serious Photographers
The Best Camera Bag for Serious Photographers
Lowepro ProTactic 450 AW
Price > $$
Favorite Feature > Built like a tank
Why I Like It > Customizable and comfy
Best Camera Bag for Urban Travel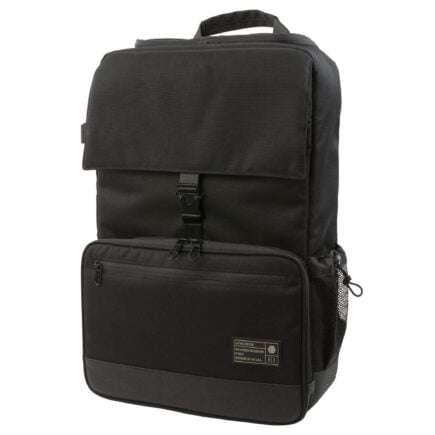 Best Camera Bag for Urban Travel
Hex Back Loader DSLR Backpack
Price > $$
Favorite Features > The wonderful interior
Why I Like It > Reliable
Best Budget Travel Camera Bag
Best Budget Travel Camera Bag
Case Logic SLRC-206
Price > $
Favorite Features > Camera Hammock Included
Why I Like It > Affordable
Best Camera Bag for Air Travel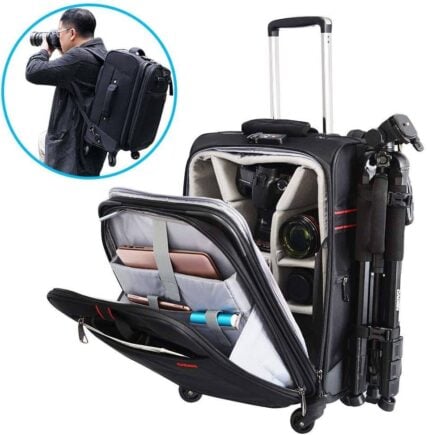 Best Camera Bag for Air Travel
CADeN Camera Backpack Trolley Case
Price > $$$$
Favorite Features > Super Sturdy/Tough
Why I Like It > Carry-on Compliant
Now that you have a good idea as to what to look for when investing in a good travel camera bag, let's look at some of the best so you can find your perfect camera bag in no time.
Below is a list of the 14 best travel camera bags for 2022. Each one should serve a different type of travel photographer, from the budget-minded to ultra-light backpacker. Choose the one that is best suited for your style of shooting.

Do You Want to Travel FOREVER??
Pop your email in below to get a FREE copy of 'How to Travel the World on $10 a Day!'.
The Best Overall Travel Camera Bag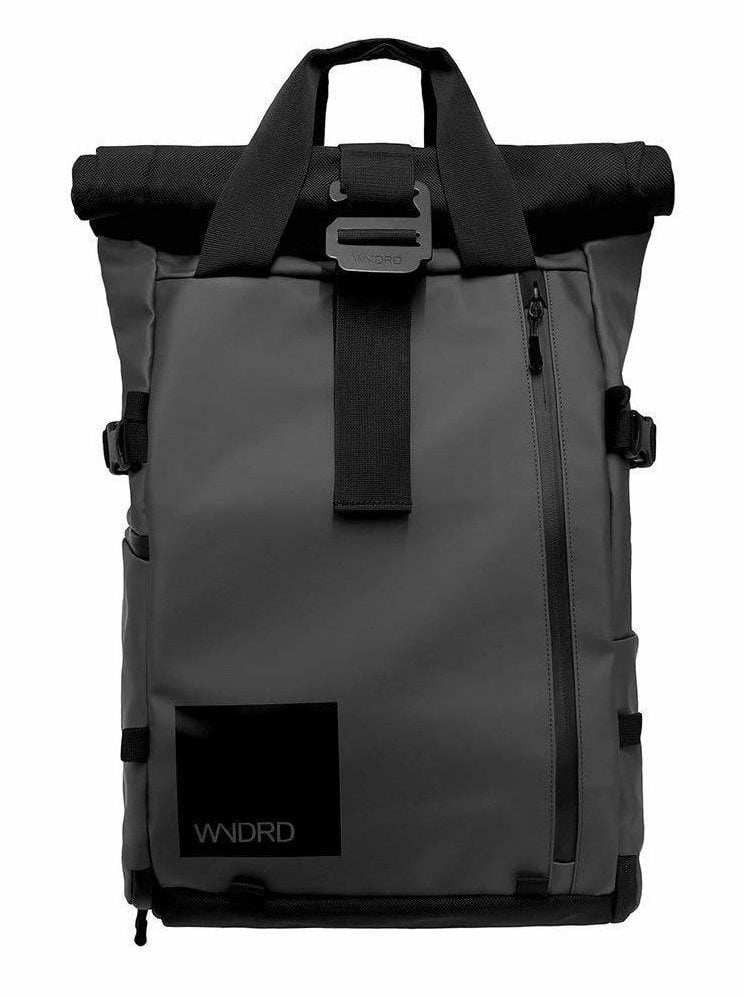 The WANDRD PRVKE 31 is our choice for the best overall camera bag! Thanks to its awesome design, excellent protectiveness, and great customisability, this backpack will appeal to both casual and professional photographers alike.
Upon first glance, one will notice how good the WANDRD PRVKE 31 looks. Its minimal cosmetics make it appear very sleek and sexy and we personally love the all-black tone.
This bag doesn't sacrifice any protectiveness for aesthetics either – the WANDRD PRVKE 31 still does a very good job of guarding your gear thanks in part to its high-quality materials and excellent overall structure.
In terms of ergonomics, you can access the WANDRD PRVKE 31 via three different access points spread throughout the bag. Most of these entryways are very intuitive although getting to them may be a little tedious for some users. You can store your mirrorless camera or DSLR with the lens attached and be able to pull it out whenever you need it.
In addition to these access points, there are tons of extra hidden pockets as well as lots of other points for mounting various accessories.
Oh, In case you want something smaller, then check out The WANDRD Lite or the WANDRD Duo.
Pros
Very adaptable with easy access for camera
Surprisingly spacious given weight
Robust yet great to look at
Cons
Lacks some adjustability
Can be less comfortable at heavier weights
Could use more space for camera gear
The WANDRD PRVKE 31 can hold quite a bit – up to 36 litres with the rolltop fully extended – which is quite impressive considering how light the actual bag is (3.4 lbs). The WANDRD PRVKE 31 does sit a little heavy on the shoulders though especially when the bag is packed all the way with weighty equipment. The shoulder straps are adjustable and there are waist straps that you can install but both could be better.
To properly store your camera gear, you'll have to buy a WANDRD Camera Cube in addition to the bag. Though this accessory usually fits snugly in the backpack, it can float around a little and thus be tedious to access at times. This can be attached to the side opening for easy access to your camera with the lens attached. The top section above can then be used to store additional lenses and accessories.
Also, it offers a good amount of space for mirrorless systems and might be the perfect camera bag for the Sony a7IV, but full-frame DSLR users may find it insufficient. If you need a more spacious camera backpack, we suggest checking out the Lowepro 450 AW below.
Is the WANDRD PRVKE 31 for you?
Do you want a bag that is suitable for all walks of life? Do you want something that will both protect your gear and look good at the same time? The WANDRD PRVKE 31 offers a little bit of everything and will prove to be imminently useful to those photographers who are always on the run! It's super versatile too so it can be used even if you're not a photographer, making it one of the best EDC backpacks too.
Be sure to check out our full review of the PRVKE WANDRD 31 for more information!
Meet The Peak Design Capture Clip…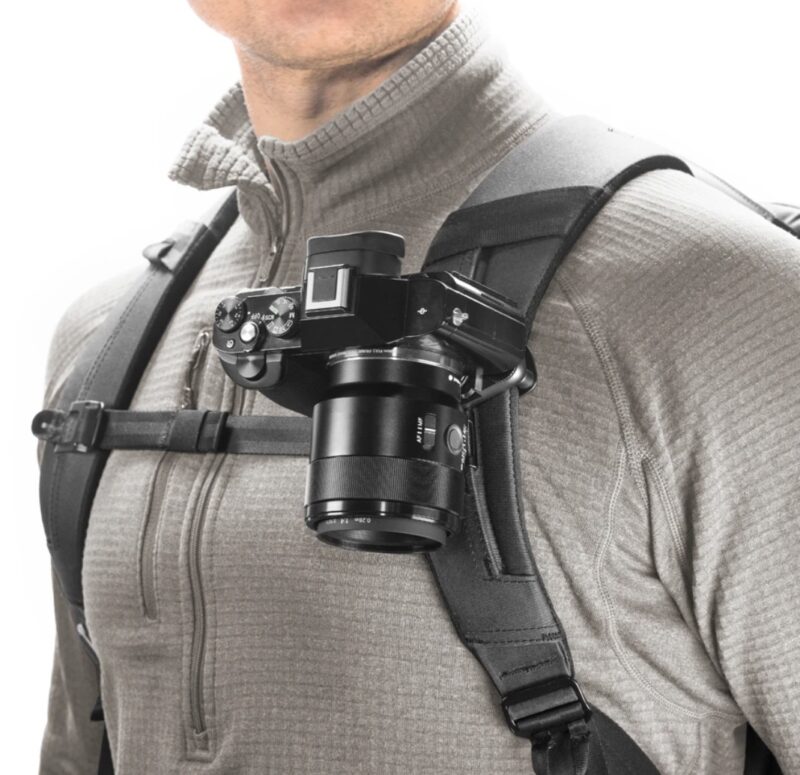 Before we go any further, I need to drop some knowledge on you. The Peak Design Capture Clip is a cheap, game-changing tool for adventure photographers that lets you keep your camera within arm's reach when hiking or moving about a city, without the camera ever getting in the way when you are not taking photos.
Clip it in, clip it out in one quick motion. Boom.
Investing in one of these is probably the best small adjustment you can make to your adventure photography setup. Just sayin'
Check on Peak Design
Runner up for the Best Camera Bag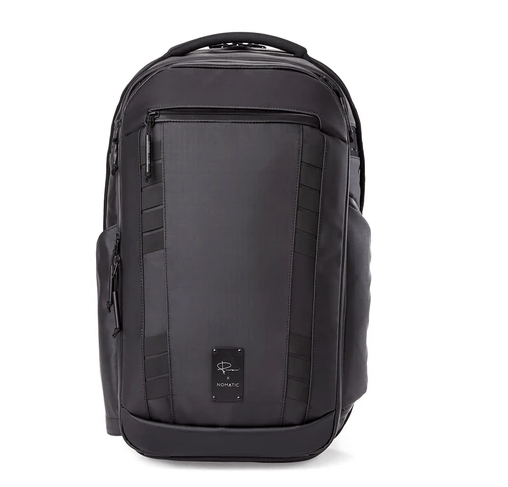 What happens when a world-class photographer and badass backpack company join forces? The result is quite epic indeed. The Nomatic Mckinnon 35 L Camera Bag is a fully-featured travel backpack crafted for the sort of gear photographers need to carry. 
The clamshell opening delivers easy access to your camera, lenses, batteries, etc. As you open the main compartment, you'll notice there are a few pockets on the backside of the pack for even more organisational options. I appreciate that the two main pockets are see-through mesh, making it easy for me to find what I am looking for on the fly. There is also a large pocket that could easily fit papers, a binder, more clothes, etc. It's a solid spot for a laptop. 
35 litres give you just enough space to pack lightly for a weekend on the road or to a neighbouring city. To be honest, it is a difficult choice between the Nomatic Mckinnon 35 L and the WANDRD PRVKE 31 – both are staff favourites here at The Broke Backpacker. Another important feature to note is that the Mckinnon 35 can be expanded by 7 litres, giving you room for more gear if need be. 
Pros
Excellent storage and organization
Quality Build
Doubles as a great weekend bag/ day backpack for traveling
Cons
The hipbelt is a little small
Extremely heavy… almost 6-pounds with no gear
Too big for tiny girls and guys!
For any active photographer, weight is an important factor to consider. My own camera gear (lenses, camera body, cleaning tools, batteries, filters, etc) weighs at least 10 pounds plus my tripod is not the lightest unit either. That means that with all my camera gear packed inside the backpack – the total weight is pushing 16 pounds with no clothes or laptop packed inside. 
Carrying some extra bulk and weight is something that I am used to as it just kind of comes with the territory if you are a halfway serious photographer. The pack is also a great tech backpack with heaps of room to keep all your other accessories safe like your hard drives, chargers and cables.
For me, the comfort, organisational features, and sleek design outweigh the negatives of having a heavy base weight. 
Is the Nomatic Mckinnon 35L for you?
If style, functionality, and speedy access are important to you – the Nomatic Mckinnon 35 L is a great buy. We have been using Nomatic products for years and I have never been disappointed in the performance of one of their packs thus far. Again it is a toss-up between the WANDRD PRVKE 31 and this pack – but in the end, you can't go wrong with either one. 
The Best Camera Bag for Serious Photographers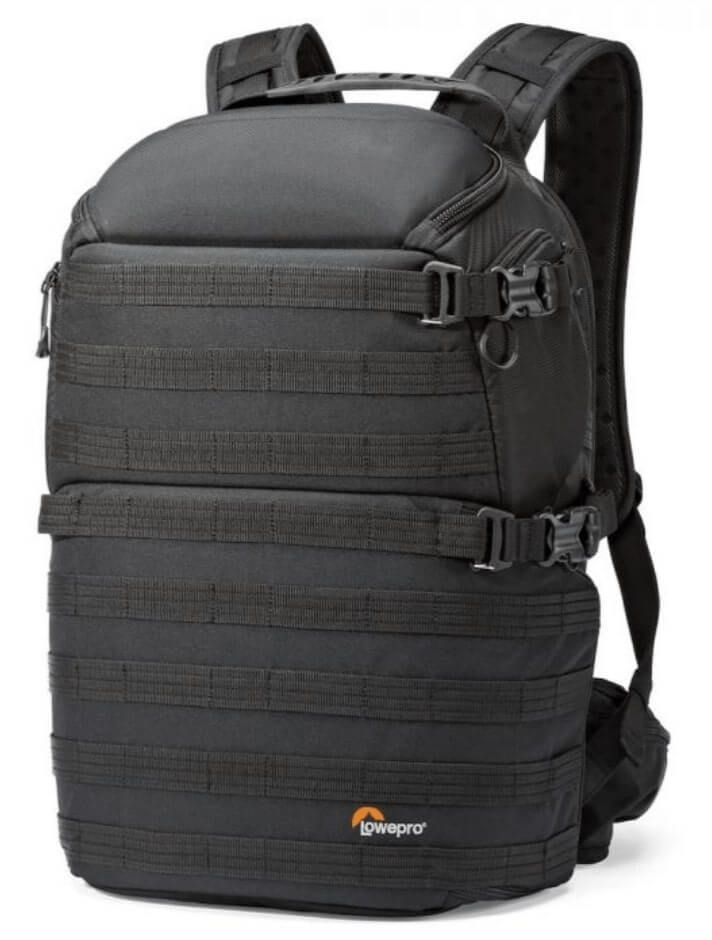 The Lowepro ProTactic 450 AW gets very high marks because of its awesome customizability, competitive price point, and superlatively durable construction. Many pro photographers love this bag and exclaim that it is their favourite camera bag of all time.
Made from high-grade synthetic materials, the Lowepro ProTactic 450 AW is built to withstand the harshest of threats. Though this bag may appear hefty – weighing in at 5 lbs – most users will hardly notice this as the straps and padding on the back are very well designed and provide optimal comfort. The addition of a thick waist strap adds additional support.
The most attractive part of the Lowepro ProTactic 450 AW is its exterior "slip-lock" loops, which provide the means to attach multiple accessories. Possible augmentations include mounts for a water bottle, tripod, or additional cases for extra gear. This system allows for unmatched versatility and the ability to fully customise your bag.
Pros
Very customisable
Built like a tank
Excellent design for enhanced comfort
Cons
Little heavy
Not very discreet
Amount of interior dividers might be overwhelming for some
The interior of the Lowepro ProTactic 450 AW is spacious and equally modifiable as the exterior. Multiple compartments can be created using the included padded dividers.
These chambers can easily be reached via one of the four access points spread throughout the bag. There's so much going on inside this bag that some casual photographers may actually be slightly intimidated.
As mentioned before, Lowepro ProTactic 450 AW is a bit heavy. Some casual photographers may think that this bag is a bit overkill, yet we can't honestly knock this bag for going above and beyond. The ergonomics are just so damn good.
Some professionals may feel like they stick out in a crowd with this backpack because of its look and size. In a worst-case scenario, heavy-duty zippers and construction should deter most attackers though.
Is the Lowepro Tactic 450 AW for you?
Looking for a backpack that is both innovative and reliable? Do you need to pack lots of gear and want total protection at the same time? Then go for the Lowepro ProTactic 450 AW! This top-of-the-line backpack is full of inventive ways to pack your equipment and is, overall, one of the best camera bags that money can buy. There is a laptop compartment but it's not as good as some of the others in my opinion.
The Best Overall Travel Camera Runner-up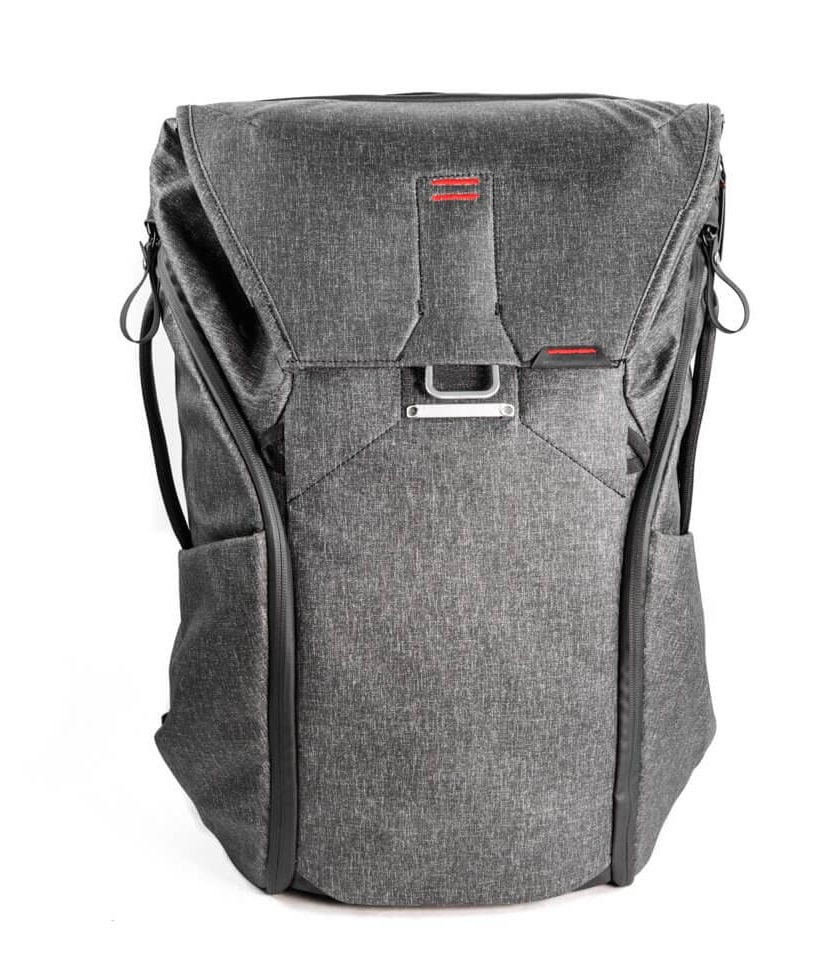 The Peak Design Everyday Backpack 30L is our third choice for the best overall camera bag for travel. This backpack is simply gorgeous to look at and, most of the time, a thrill to use.
The Peak Design Everyday 30L and the Lowepro ProTactic 450 AW have a lot in common in that they're both highly customizable and very accessible. Like the ProTactic, the Peak Design Everyday 30L has multiple entry points that allow you to easily grab your gear on the go and not fiddle too much. Multiple attachment points also enable you to mount a number of accessories onto the bag, including a tripod mount and an exterior clip to hold your camera.
What sets the Peak Design Everyday 30L apart from the ProTactic is its sleek and sexy appearance. Made from weatherproof materials and designed to be as compact as possible, this bag is absolutely dazzling to look at.
Durable zippers and an innovative MagLatch system mean that this bag is very secure without having to sacrifice any usability. At 3.5 lbs, it's a bit lighter than the ProTactic though the Peak Design is a little less spacious and holds less gear.
Pros
Very spacious and accessible
Customisable
Sleek, stylish design
Cons
Shoulder straps a bit uncomfortable, especially if you have a larger body frame
The bag can feel too big for someone under 5'5"
Slightly expensive for a bag of its type
For all of its original features though, the Peak Design Everyday 30L falls short in a couple of ways. Due in part to its size, this bag is primarily catered to people over a certain height (5'5") so shorter photographers may find it a bit cumbersome.
Some taller photographers – reportedly, those over 6'0" – complain that the shoulder straps are uncomfortable on their larger shoulders though, which feels a little counterintuitive ergonomically speaking.
This discrepancy implies that only photographers between 5'5" and 6'0" can effectively use this bag, a narrow demographic to be sure.
Is the Peak Design Everyday backpack for you?
Do you want a gorgeous travel camera bag that is jam-packed with customisable features? My friends, the Peak Design Everyday 30L Backpack is a solid choice. This versatile bag is useful, secure, and just drop-dead good looking. If it fits you, this backpack will serve you very well.
Ladies & Gents, It's Time to Step Your GEAR Game Up. 😉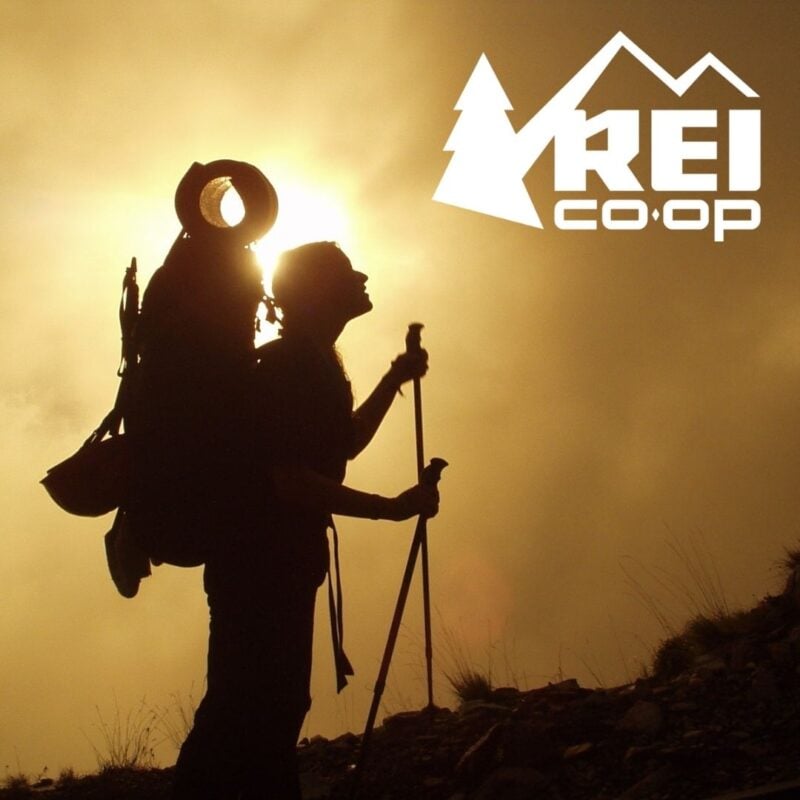 REI is one of America's biggest and most-loved outdoor gear retailers.
Now, for just $30, get a lifetime membership that entitles you to 10% OFF on most items, access to their trade-in scheme and discount rentals.
Join REI Today!
Best Modular Camera Bag
The Boundary Supply Prima-System backpack is one of our favourite modular camera bags for travel. Like the Peak Design, the Prima-System uses innovative modules to help keep your items secure and organised.
This is a fantastic backpack set apart from many other travel backpacks because of its modular design and special camera compartment. When you buy this backpack, you are also investing their included modules, the Verge and Field space, for ultimate organisation and storage.
If you are looking for a camera backpack for everyday use or an efficient backpack for overnight getaways, then the Prima System by Boundary Supply is one of your best choices, period.
It's durable, stylish, uniquely modular, and perfect for commuting as well as travel. This is the perfect weekender backpack for digital nomads and anyone travelling with camera gear and electronics.
If you're travelling even lighter or you just have to get from A to B really fast, opting for the Boundary Supply Errant Backpack is a great option for you too.
Check out our full review to learn more about the Boundary Supply Prima-System backpack.
Pros
Very durable
Innovative Modules
Sleek, stylish design
Cons
25-35L can be an awkward size
The bag can feel too big for someone under 5'5"
Only one pocket for water bottle or tripod
For all of its original features though, the Prima-system has a couple of drawbacks, mostly due to its size. It's not quite large enough to make your sole travel bag.
Secondly, this backpack is built for commuting, riding a bike, etc. because of its sleek profile. The downside of this is the lack of pockets on the exterior. However, it does feature side opening for quick access to your camera with the lens attached so you can shoot in no time.
There is only one water bottle pocket that doubles as a tripod holder, so you can't store a tripod and a water bottle at the same time. If I'm out shooting, I want a tripod and a water bottle.
Is the Boundary Supply Prima-System for you?
Do you want an innovative travel camera bag with customisable features? Do you need a bag that keeps your gear secure and organised? If so, this may be your match made in heaven.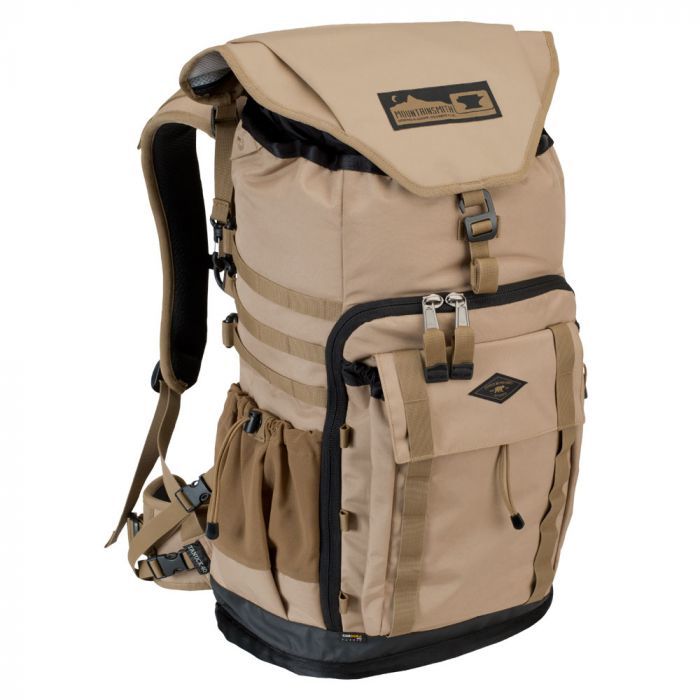 Finally, a backpack made for hiking and securing your camera gear. This backpack was designed between Mountain Smith and the famous landscape and surfer photographer, Chris Burkard, to handle miles of hiking while keeping camera gear secure.
Like all good hiking backpacks, this bag has a comfortable and durable waist strap, shoulder pads, and padded back panel and it is loaded with organizational pockets, modules, and more.
A few unique features include its durability and seemingly indestructible water-resistant material, a waterproof and abrasion-proof bottom, #10 sized YKK zippers, great organizational pockets, and large water bottle side pockets.
It's not just a camera bag, but a hiking pack for cameras.
Pros
Built for hiking and photography
Weather-resistant and extremely durable
Great for organising gear
Cons
Heavy
Overkill for everyday use
Top flap is loose without full load
The only real drawback is this backpack's weight. For every ounce of extra protection is an extra ounce of weight. The top flap is always loose unless you have a full load. Not a deal-breaker, but a bit annoying.
Aside from those two cons, I would say this is one of my favourite travel backpacks, and the fact that is built for camera gear is only the icing on the cake.
For more information, check out my full Mountainsmith camera bag TANUCK review, here.
Is the Mountainsmith TANUCK for you?
Finally, an amazing camera bag built for multi-day treks and adventures. If you need a camera bag that can handle the elements, this is the camera bag for you.
The Best Small Travel Camera Bag/ Shoulder Bag
The diminutive Domke F-5XA shoulder bag is one of the best small travel camera bags out there. For travel photographers that use a smaller compact or mirrorless with only a lens or two, this bag is perfect for walking around.
Domke has been producing top-quality camera bags for generations. Their durability and compactness have made Domkes a favourite among journalists and documentary photographers. These bags will stand up to some very harsh conditions and never take up too much room.
Pros
Small, light and comfortable
Weather resistant canvas construction w/ zipper
Affordable
Cons
Limited space
Very few pockets
Padding is somewhat thin
The interior dimensions of the Domke F-5XA shoulder bag are 4 x 7.5 x 7.5″, which are humble numbers. The Domke F-5XA can accommodate one mirrorless camera and a couple of additional lenses depending on their size.
Unfortunately, though, this bag doesn't have lots of space and it's ill-suited for photographers who carry a larger camera or lots of equipment. There are two pockets on the front of the Domke F-5XA for extra accessories and/or phones.
The Domke F-5XA weighs about 1 lb, and the extra-comfortable removable shoulder strap should ensure that users are almost never straining.
Users that want maximum accessibility from their Domke F-5XA can customise the removable shoulder strap and instead run their belt through the camera bag.
Using the Domke as a sort of holster instead of a shoulder bag will allow users to quickly grab their camera and start shooting. Whoever does this had better have a nice and sturdy belt though lest they want their pants to fall down.
Is the Domke Shoulder Bag F-5XA for you?
Do you need a smaller bag that suits your smaller mirrorless camera and additional lenses? Do you want a product from a reputable company that has been serving photographers for decades? Then the Domke F-5XA Bag is the one for you! This bag is very practical and durable, and at a great price as well. For these reasons, the F-5XA is the best small travel camera bag on this list.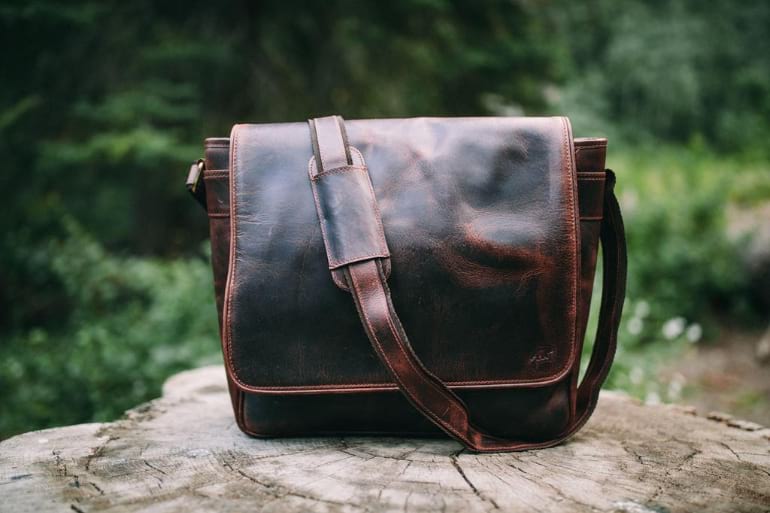 For photographers who need a little extra space in their messenger bag, the spacious Kodiak Messenger Bag is the way to go. Leather camera bags mix elegance, style and longevity.
This travel camera bag is larger than the Domke F-5XA with a main compartment that can comfortably hold a mirrorless camera plus 2-3 additional lenses. This bag is perfect for the travel photographer who wants to carry a full kit without having to use a backpack.
Whilst made from hard-wearing leather, it is still relatively light enough carry over your shoulder. The internal dimensions – 16 x 4 x 12″ – are large enough to accommodate a larger camera system, like a Fuji X-Series and the shoulder strap makes it all pretty comfy too.
The addition of several pockets ensures that you'll have enough room for all of your extra accessories as well. Other features, like an included rain cover and silenceable velcro, only add to the usefulness of this travel camera bag.
Pros
Spacious interior for larger cameras
Lots of extra compartments
Excellent build
Cons
Main compartment doesn't zip
About as heavy as a messenger bag should be
Is the Kodiak Messenger Bag for you?
The Kodiak is made from tough canvas and is very well constructed. Appearance-wise, the bag is very beautiful and suave.
Speaking from experience, I can say that the Kodiak Messenger Bag can survive most situations. While shooting in Johannesburg, I was robbed by a group of thieves.
They got away with my wallet and phone but I was able to keep my camera bag either because it was strong enough to withstand their attacks or because they didn't realise it was a camera bag at all.
The Kodiak Messenger Bag is probably the largest messenger bag that one can use before feeling bodily discomfort. When fully packed, this messenger bag can definitely feel a little weighty on the shoulder strap. If you find that your shoulders begin to ache, then it's probably time to move on to a full-fledged backpack.
Do like to carry messenger bags? Is your camera kit getting a little large? The Messenger Bag by Kodiak is an excellent bag that is very spacious (for its type) and rugged to boot. Those who want to stick to messenger bags will find that the Think Tank is one of the best camera bags for travel that there is.
The best present of all… is CONVENIENCE!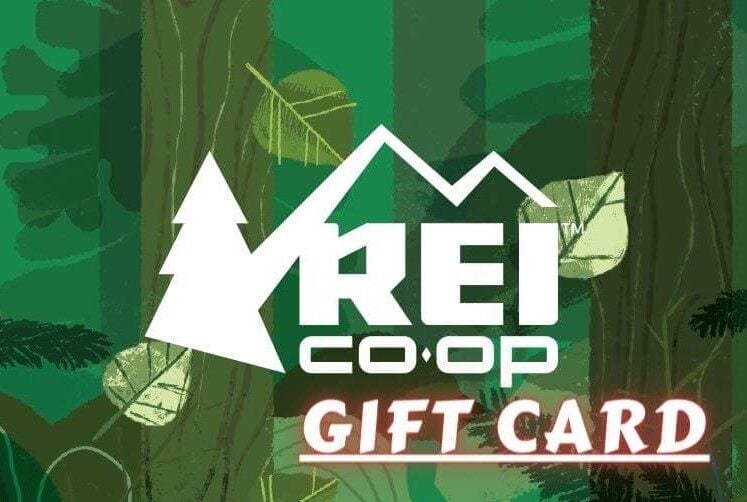 Now, you could spend a fat chunk of $$$ on the WRONG present for someone. Wrong size hiking boots, wrong fit backpack, wrong shape sleeping bag… As any adventurer will tell you, gear is a personal choice.
So give the adventurer in your life the gift of convenience: buy them an REI Co-op gift card! REI is The Broke Backpacker's retailer of choice for ALL things outdoors, and an REI gift card is the perfect present you can buy from them. And then you won't have to keep the receipt. 😉
Buy on REI!
The Best Camera Bag for Urban Travel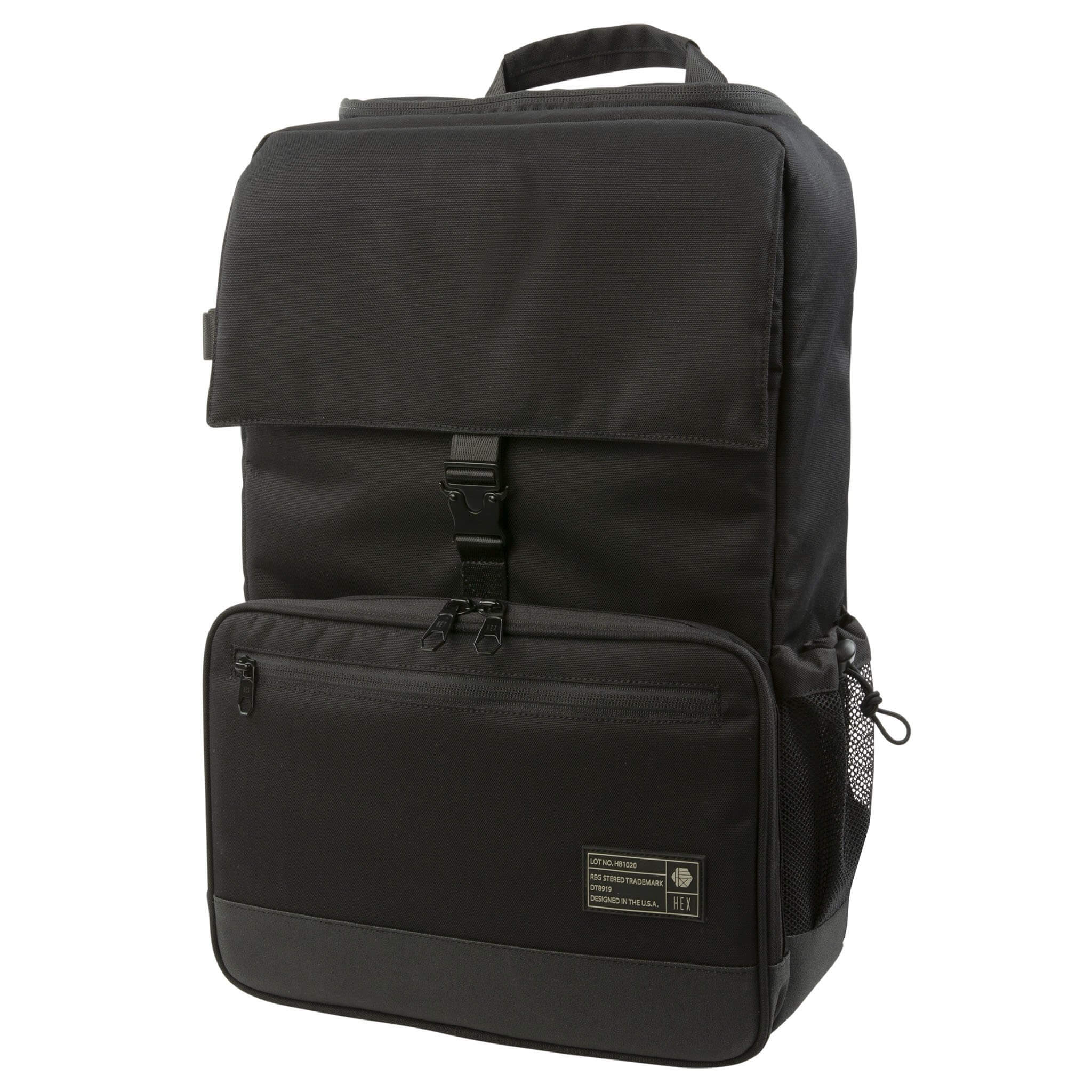 People who spend a lot of time in the city have to deal with certain problems: riding public transport, navigating city streets, all of these and more. Some may take these things for granted, but as someone who has lived in the city and countryside, trust me, having the right backpack for the former matters.
Enter the HEX DSLR Camera Backpack. This bag is spacious, sturdy, and customisable, which are all features that pay dividends in the city. There is enough room to pack more than a day's worth of gear and supplies, plenty of padding to keep everything safe, and strong zippers to deter thieves. Did we mention that the bag is also very comfortable given its size?
Pros
Durable design that works.
Interior spacious and customisable.
Easy to pack around.
Cons
Awkward fit for women.
Lack of external loops.
Bulky design can be slightly uncomfortable.
The HEX DSLR Backpack is quite easy to access. The most immediate access point is at the top of the bag – most photographers will put their camera here so they can grab and go shooting. The main compartment is opened via the back suitcase-style; most of your stashed gear can be accessed from here.
There are a couple of problems with the HEX backpack. The flat black design is not 100% comfortable, especially as a camera bag for women. We would also have liked to see more external loops for hanging extra accessories. Finally, although the HEX may not be easy for thieves to access, it is flashy enough to catch people's attention.
Is the HEX Camera Backpack for you?
Do you need a camera backpack that is good for the city? Do you need something that is big enough to carry a day or two's worth of gear? The HEX does all of these and more. For urban travellers, we recommend grabbing the HEX as they will have something that is large, easy, and reliable.
Be sure to check out our complete review of the HEX Back Loader to learn more about this camera bag!
The Best Holster-Style Travel Camera Bag
The Lowepro Toploader Zoom 50 AW II is a holster style camera bag that is great for photographers that want quick access to their camera. Holster bags are usually the smallest of all travel camera bags and are meant to be worn on your belt or on your chest via a harness/ shoulder strap.
By wearing your camera at your waist or on the front of your person, you can grab your camera and start shooting faster than a Texas gunslinger. For this reason, the Lowepro Toploader Zoom 50 AW II is one of the best small travel camera bags available.
The Lowepro Toploader Zoom 50 AW II can accommodate one large DSLR with a lens attached and no more. It might also fit a smaller mirrorless camera with some additional lenses that are on the more compact side.
Pros
Very small and light
Extremely easy access
Comes with a rain cover
Cons
Very limited space
Rain cover can sometimes be a hassle
Can be a little flimsy or awkward
There are a few extra zippers and pouches to hold accessories but these are pretty limited in space. Those who carry around lots of camera equipment ought to consider a second bag or backpack, like the Tenba BYOB Camera Insert.
The Lowepro Toploader Zoom 50 AW II weighs in at a meagre 0.8 lbs. It can be worn in a number of ways – either on your belt, over your shoulder with a strap or from your chest via a harness that is sold separately.
It does take a bit of troubleshooting to find the best arrangement though as each photographer will be most comfortable with a certain way of wearing the bag.
The Lowepro Toploader Zoom 50 AW II is made from durable synthetic materials that allow for maximum lightness.
These fabrics aren't very good at being waterproof but, thankfully, the Toploader Zoom 50 AW II comes with a built-in rain cover that does a better job of withstanding the elements.
Is the Lowepro Toploader Zoom 50 AW II for you?
Are you a run-and-gun style photographer that needs to be able to grab their camera in a split second? Do you still need a bag that offers some degree of protection? For those who want one of the best small travel camera bags, the Lowepro Toploader Zoom 50 AW II is a fantastic choice. With it, you get one of the lightest options available and the ability to quickly pull out your travel camera in the blink of an eye.
The Best Budget Travel Camera Bag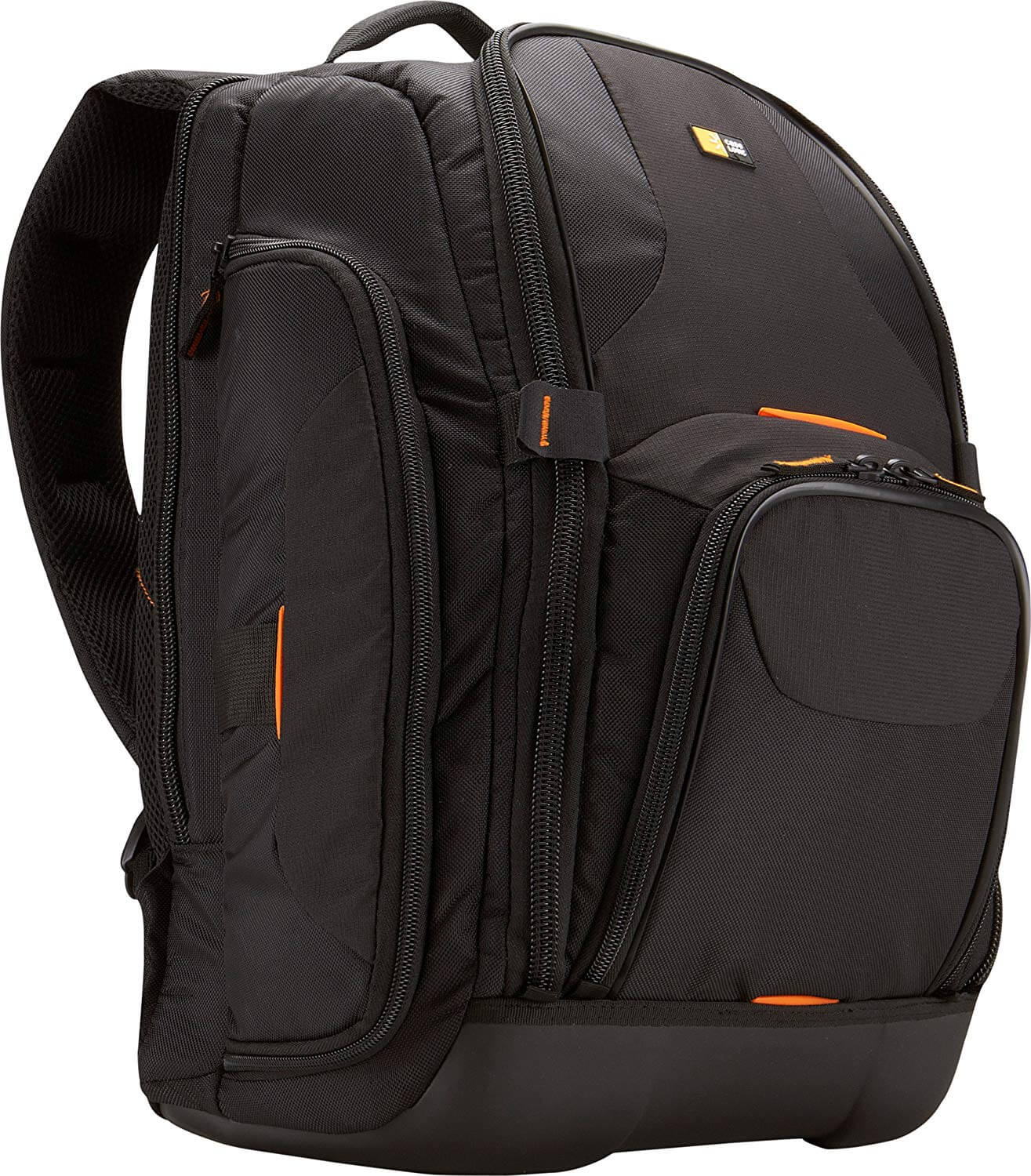 At around $75 new, the Case Logic SLRC-206 is the best budget travel camera bag that you can find! With a very spacious interior and a nice rigid frame, this backpack is sure to handle all of your needs.
The Case Logic SLRC-206 can accommodate most full camera systems including multiple DSLRs and a litany of lenses. If you're packing a larger mirrorless camera with additional lenses you'll find it pretty spacious alongside your accessories too.
The various spacers and interior dividers can be readjusted to fit any lens or camera as well, allowing for the usual customisation.
Some users of this bag have complained that the various internal compartments are too shallow though so users of overly-large equipment may be frustrated. In addition, there are plentiful pockets for accessories and a rear laptop compartment that can fit a 16" computer.
The most notable feature of the Case Logic SLRC-206 is its camera"hammock" found near the top of the bag. This conveniently suspends your camera inside of the bag, allowing for quick access and excellent protection.
Pros
Great bang for your buck
Large enough to hold DSLR + 5-6 lenses
Innovative "camera hammock" included
Cons
A bit too bulky
Straps are poorly designed
Access to compartments is somewhat inconvenient
The exterior of the Case Logic SLRC-206 is made from waterproof nylon that is resistant to most elements. A rigid frame also ensures that your gear will not be smashed or broken should the bag be subject to some blunt force. At 2 lbs, the weight of this bag is actually quite low as well.
The Case Logic SLRC-206 is a bit beefy for some photographers. Its rigid design is great for resisting impacts and for when you need it to stand upright but makes for a cumbersome overall experience. A shoddy tripod strap leaves much to be desired as well.
Comfort is also an issue. When fully packed, many users experience noticeable discomfort due in part to the poorly designed shoulder straps. A waist or chest strap would've provided some respite but they are sorely missing.
Is the Case Logic SLRC-206 for you?
Do you want a capable travel camera bag for as little money as possible? Then check out the Case Logic SLRC-206! This bag is built for photographers who want something durable that won't break the bank or, for that matter, their gear. For these reasons, the Case Logic SLRC-206 is one of the best budget camera bags that travellers can find!
The Best Camera Bag for Air Travel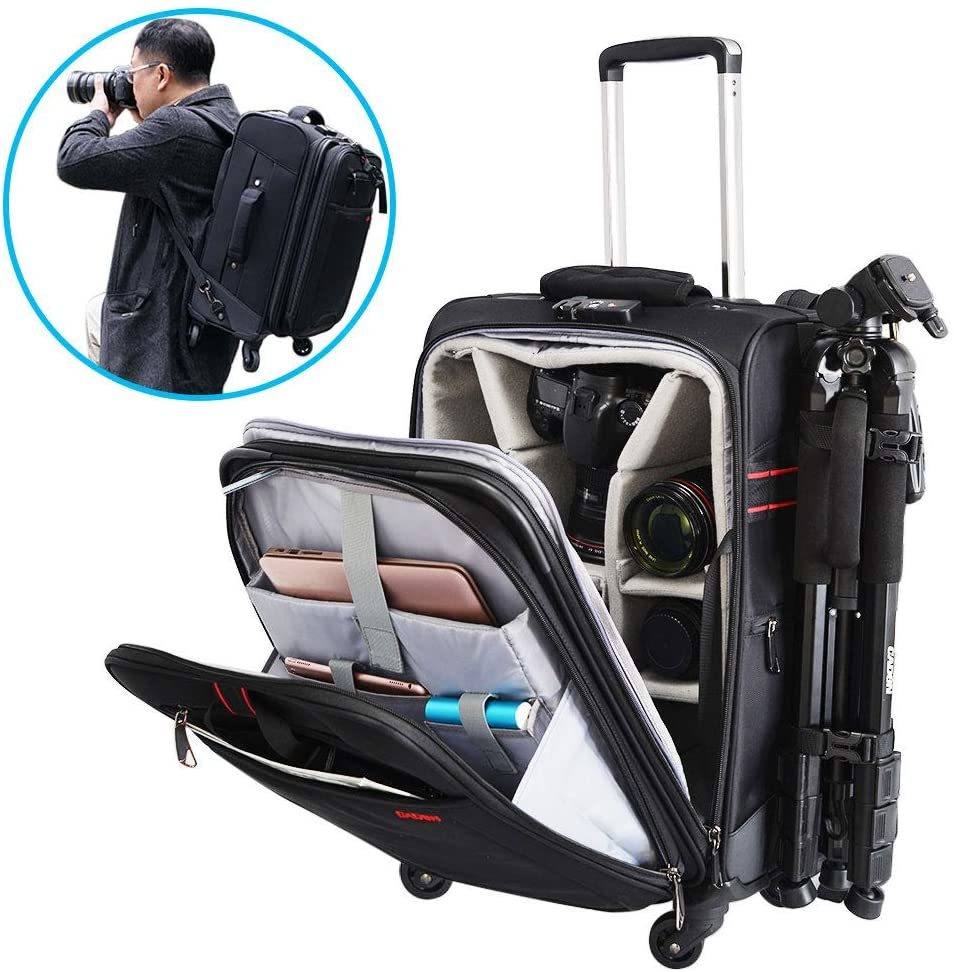 For professional photographers who travel often and need a bag that they can conveniently take on the plane with them, the Neewer 2 n1 Camera Backpack Trolley Case is the best camera bag for air travel!
This sturdy bag is designed to meet most carry-on luggage standards, which means that you'll always have it with you and that you'll never have to risk checking it in. Its four sets of dual-wheels also ensure effortless manoeuvring as they enable the bag to glide in-between almost any obstacle.
The CADeN Camera Backpack Trolley Case can easily hold multiple DSLRs in addition to 6-8 lenses. Multiple pockets and extra compartments are also on hand to hold various camera accessories.
The CADeN Camera Backpack Trolley Case can stand up to both weather and invader alike. An attachable rain cover will protect the bag during inclement weather. In addition, a theft-proof double-lock zipper system is in place to protect your gear.
Pros
Meets standards for carry-on luggage
Heaps of storage
Very sturdy build
Cons
Top heavy when fully loaded
Bag tends to drift if not on level ground
Heavy
The wheels of the CADeN Camera Backpack are very smooth and guiding this bag will be a breeze. Should the wheels become damaged, they can easily be replaced.
Note that the wheels can be a little too smooth sometimes as many photographers have reported that this bag has a tendency to float away when not arrested. There have also been reports of when being fully loaded (including with a laptop in the front), the bag can tend to topple.
Outside of the airports, true backpackers and wilderness hikers may find using this bag an impractical endeavour. At its core, the Think Tank Airport Roller Derby is best suited for lifestyle, product or wedding photographers who do most of their work in urban environments.
Looking for a specific laptop bag? Check out our rundown on the best travel laptop bags for more options.
Is the Neewer 2 in 1 Camera Backpack Trolley Case for you?
Are you a professional photographer who travels very often for work? Do you need a bag that you can take on the plane with you? Stress not as this is one of the best camera bags for airline travel! This reinforced roller bag is designed to fit in most overhead compartments and the smoothness of its wheels will ensure that you'll get to where you're going pronto.
The Travel Camera Bag Insert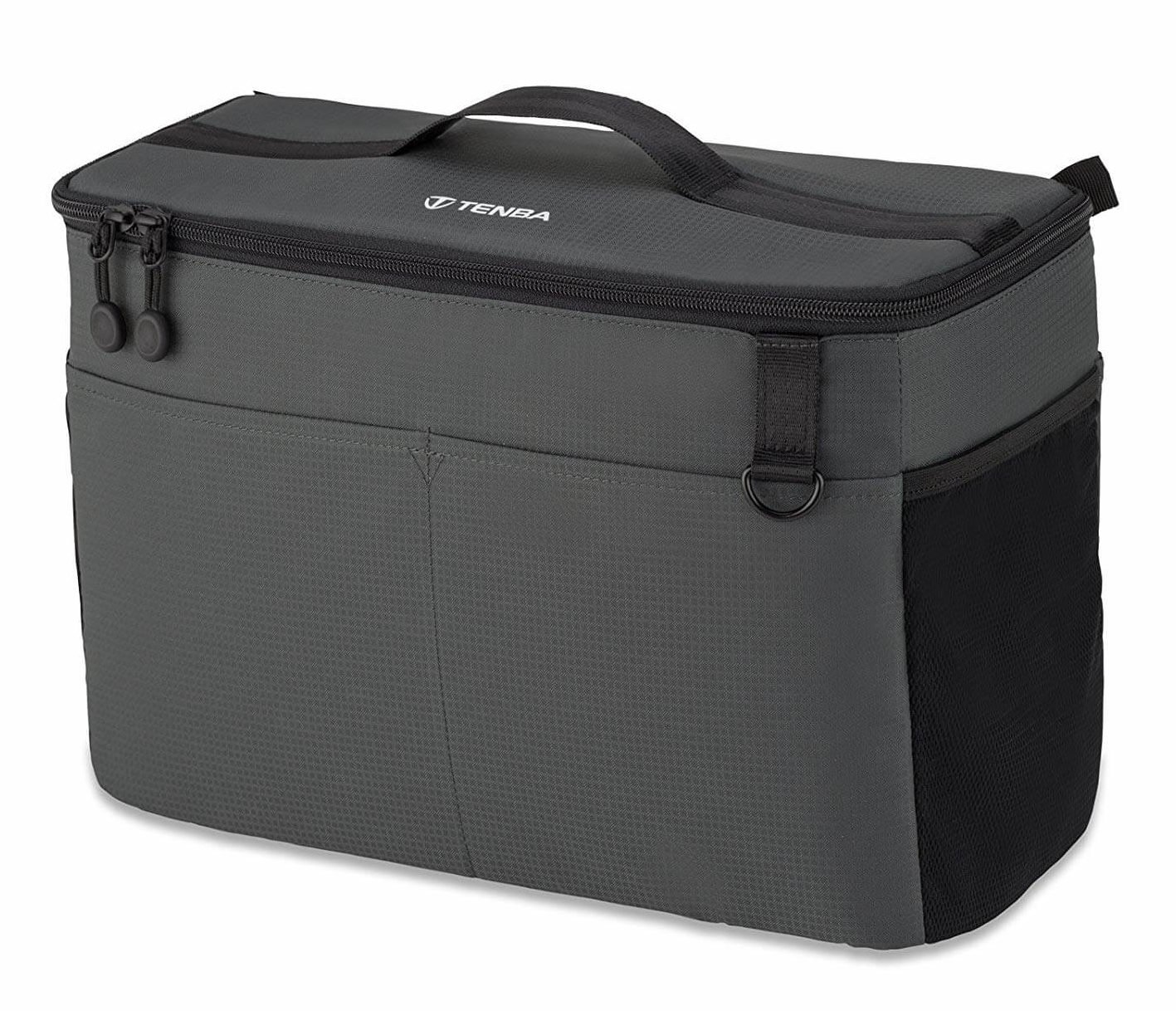 Those looking for a conventional travel backpack with a camera compartment will be sorry to hear that not many exist. Thankfully though, Tenba has created an insert that can slide into almost any backpack and does a very good job of protecting your camera gear.
The Tenba BYOB 13 Camera Insert is, essentially, designed to mirror the interior of a classic camera backpack. It obviously lacks any sort of straps or method of carrying but this is totally acceptable because it's meant to be packed into another larger bag. With the Tenba BYOB 13, your travel backpack is now totally equipped to carry your camera equipment.
The Tenba BYOB 13 is very tough and can take quite the beating on its own; when packed into a backpack, your expensive camera gear is very safe.
In terms of capacity, the Tenba BYOB 13 can carry a single camera body and 3-4 lenses, which is admittedly less than some of the other travel camera bags outlined on this list. Like most camera bags, the compartments of this insert can be reorganized to fit your needs.
Pros
Turns your travel backpack into a travel camera bag
Compact and very well protected
Adjustable compartments plus extra pockets
Cons
Not very practical if you plan to carry it alone
Doesn't hold as much as a dedicated camera backpack
There are several reasons to use a camera insert over a dedicated camera backpack. Many photographers have pointed out that camera bags can be quite awkward to wear because they're designed with optimal protection in mind as opposed to comfort.
This decision is understandable but also irritating as, after 25+ lbs of gear, you really start to feel the weight.
With their extra straps and padding, outdoor and travel backpacks are much better equipped for heavier loads. Many backpackers will find that simply using their usual backpack and inserting the Tenba BYOB 13 Camera Insert will be easier on their bodies and feel much better.
Is the Tenba BYOB 13 for you?
Do you want to keep using your outdoor backpack and find a way to pack your camera gear as well? With extra durability and packability, the Tenba BYOB 13 Camera Insert is the best alternative to a DSLR travel camera bag. With it, photographers can convert just about any outdoor backpack into a safe haven for their camera gear.
The Travel Camera Bag for Drones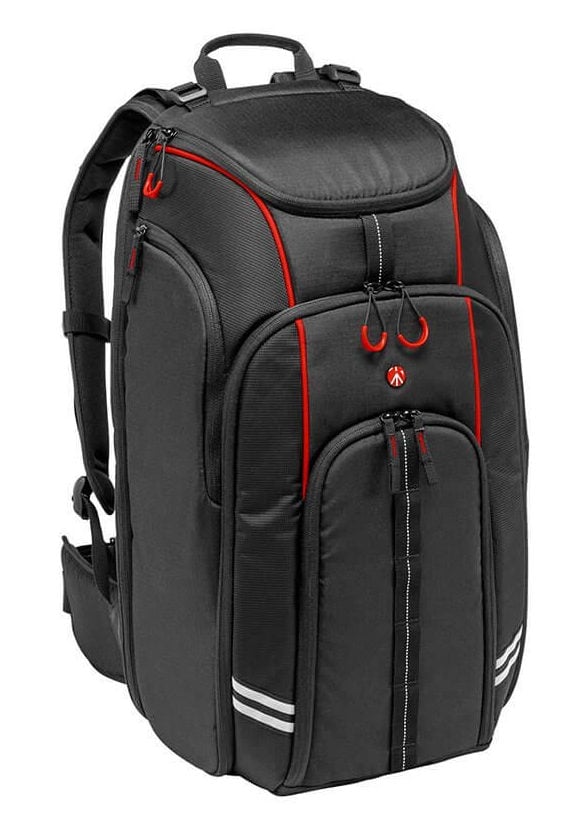 Photographers that often use drones when travelling or working will need a backpack specially engineered for their equipment. One of the best travel camera bags for drones is the Manfrotto Aviator D1 Backpack. This drone backpack, made with DJI Phantom equipment in mind, is very comfortable and easy to use.
The Manfrotto Aviator D1 is built from water-resistant materials that effectively protect your drone from the elements. At over 4 lbs, this bag may seem heavy but, thanks to its superb ergonomics, few users complain about discomfort.
Aside from the main compartment where the drone can be stored, there are multiple pockets and pouches that can store anything from extra batteries to a 16" laptop.
Pros
Specifically designed for Phantom 3 Drone
Very comfortable to wear
5 year warranty
Cons
Tight fit for Phantom 4 Drone
Compromised security when packed too tightly
In practice, more room is needed for DSLR and lenses
In addition, a smaller top compartment was built into the bag to accommodate a DSLR camera plus one or two lenses. Some photographers complain that, unfortunately, this isn't enough room though for a proper camera kit and that more is to be desired.
The Manfrotto Aviator D1 Backpack was designed specifically for the DJI Phantom 3 and does a very good job of storing it.
The Phantom 3 fits snugly in the front pouch of the bag and there is additional room for drone lenses and accessories as well.
Many users have noted that when using a Phantom 4 though, things are a little too tight and breakages do occur. This problem is usually alleviated by creating extra space in the bag but at the expense of carrying a DSLR.
Is the Manfrotto Aviator D1 Backpack for you?
Are you a drone photographer in need of a specially built backpack? Do you want something that is easy to wear? Then look no further than the Manfrotto Aviator D1 Backpack! This comfortable backpack is great for those who use a DJI Phantom 3 (or Phantom 4 if you rearrange a little) and is one of the best travel camera bags for drones available.
Forget boring accommodation… book yourself an EPIC STAY!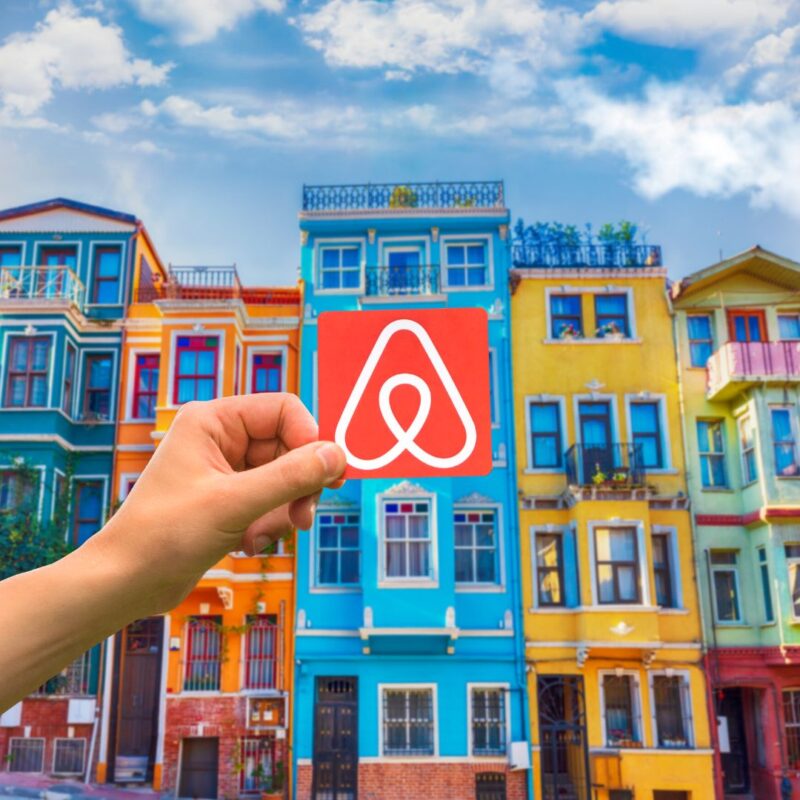 Why stay in a naff hotel when you can stay in a cosy, stylish local house instead? And for half the money too!
Stay somewhere EPIC and save your hard-earned dollars — from houses to barns to castles and caves, there is an Airbnb for every occasion!
Book an EPIC Stay
A great camera bag for travel photographers will be defined by several features that will make or (literally) break your equipment. Photographers must consider aspects like material, size/weight, capacity, discreteness, security, and comfort in order to choose the right camera bag.
Below is a brief breakdown of each of these features and why they are important to the buying and shooting process.
Material/Construction
If you travel a lot, your camera is going to be subject to the elements very often. Overexposure to the likes of weather, grime, and/or physical trauma can compromise your equipment and lead to failure or breakage.
This is why it is very important to get a sturdy travel camera bag made from high-quality and rugged materials. With better craftsmanship, your camera will be better protected from dangerous forces.
Canvas – and all of its varieties – is one of the most used materials in travel camera bags and for good reason: it's durable, relatively waterproof, and cheap. However, note that cheap camera bags are not ideal for keeping expensive cameras in.
Many of the best travel camera bags in this list will have some canvas in some degree. Leather is also a good material that is used quite often in camera bags but makes sure that it's real – the fake shit will degrade and fail much sooner than the authentic leather.
Some camera bag manufacturers are using newer, synthetic fabrics that offer optimal quality and protection. Note that if a bag has higher quality synthetic materials, then its price will usually be higher.
Protection/Durability
The inside of travel camera bags are usually – and should be – full of foam inserts that offer extra protection to the equipment inside.
A good travel camera bag will have lots of these barriers that can be rearranged to provide the proper housing for your camera kit. These padded dividers should be somewhat rigid, thick, and properly sized.
In addition to interior padding, your travel bag should have a number of pockets and compartments that should be sealed and in working order. If they are not properly constructed, then your camera will be susceptible to water and other harmful elements.
Capacity
You're obviously going to need a camera bag that is big enough to house all of your gear.
Each type of travel camera bag is going to be appropriately sized for a certain amount of equipment. Smaller messenger bags will be able to accommodate a small mirrorless or compact camera with an extra lens or two while larger camera backpacks will be better suited for full-frame DSLRs and a plethora of lenses.
Figure out how much camera equipment you will need to carry and then decide on how big of a bag you will need. Also, don't take for granted how to pack the bag either.
Comfort
Travel photographers will most likely have their gear on their person for most of the day so it's very important to consider how comfortable a travel camera bag will be.
If you're just planning on bringing a small camera with an equally diminutive lens or two, then a messenger bag will feel very natural.
Start adding more lenses and a larger camera body though and straps begin to cut into your shoulders – a more spacious and ergonomic backpack will probably feel better.
Being able to access your equipment in a comfortable way is also worth considering. Are you going to have to take your bag off and reach into it every time you want to take a photo? That may get tedious.
Can you get away with using a holster or small messenger bag? Being able to reach for a travel camera that is near the front of your body will feel much better.
Discreteness
Cameras are thieves' favourite targets so it's imperative that you find a bag that will ward away not only the elements but human perpetrators as well.
Many camera bags will come with latches, locking zippers and other deterrents that will hamper robbers' attempts at stealing your gear. Should an attacker threaten you, good sturdy construction – like the kind mentioned in the materials section – will prevent them from tearing or cutting your bag and getting to the inner contents.
Some camera bags that are built from luxurious materials just scream "steal me" as well. Buying a bag that is relatively simple and inconspicuous looking will attract less attention from possible assailants. Being smart when travelling and avoiding theft in the first place is the best way to prevent it.
Customisability
Lots of camera bags will have the ability to accommodate additional accessories. These additions may be possible thanks to extra straps, adjustable interiors, special adapters, and/or more found on the bag. The more options you have when it comes to being able to add accessories, the more that you'll be able to pack and the better prepared your bag will be. You'll definitely want a bag with a special strap for a travel tripod
Keep in mind how much you can change your travel camera bag when investing in one.
Ergonomics
Like the specialized tools that they hold, a travel camera bag is only effective if it's understandable and intuitive. Even if you have a great bag with amazing capacity and protection, it's going to be a hellish experience if it takes too long or too much effort to get into the bag. You must take into consideration how easy it is to use a travel camera bag before buying one.
Look for multiple entry points and features, like layout design, that allows for quick and easy access to your gear. Also take note of certain incidentals, like a zipper and buckle efficiency, which can play a big part in accessing the bag despite their perceived insignificance. Learn how to use your camera bag to get the most out of it.
Size/Weight
Size and weight play an important part in determining what constitutes a good travel camera bag. Depending on the quality of the design and materials, a bag may or not be too heavy or use space efficiently, and you also might want to consider if it's carry on compliant. No one wants to carry around a bag that is unnecessarily cumbersome or wastes space.
Weight is influenced by the amount and type of materials used. Certain materials mentioned prior, like canvas or leather, may weigh more, but they offer good protection and, if used intelligently, can contribute less to overall mass. If a bag is designed poorly and has a lot of superfluous materials,  its weight can increase for no good reason.
Size, like weight, comes down to whether or not the bag was designed well or not. Again, if there's a lot of extra materials used, the size is going to increase. On the other hand, if every little fabric is used properly and the structure is sound, the bag is going to be more compact and still offer good protection.
FAQ about the Best Camera Bag
Still, have some questions? No problem! We've listed and answered the most commonly asked questions below. Here's what people usually want to know:

Unlock the The Broke Backpacker's GREATEST Travel Secrets!
You pop your email here, and we promise to send you only travel content that's actually relevant — sounds like a pretty good deal to us!
Final Thoughts on the Best Camera Bag for Travel
Should you get caught in a sticky situation, you wouldn't want to put your valuable camera gear at risk. So hopefully you've looked through this list of camera backpacks and found the one for you!
You wouldn't travel to a foreign country without the proper insurance, right? Then why would put your camera kit at risk without the appropriate protection?! Pick out the best travel camera bag for your style of shooting and invest in protection that suits your needs.
Each photographer will find merit in each bag. Those who use smaller kits may find a messenger bag, like the Think Tank Retrospective 30, more suitable.
Conversely, wilderness backpackers or digital nomads may not want to invest in a full-fledged camera backpack so the best bet is they end up buying an insert, like the Tenba BYOB 13. There really is a travel camera bag for everyone out there.
Figure out your needs and choose a bag accordingly.
With this guide, you have the beginnings of understanding what is best for your gear. There are so many camera bags, so study it well and then waste no time in finding the best camera bag for your travel needs! You'll be glad that you took camera bags seriously.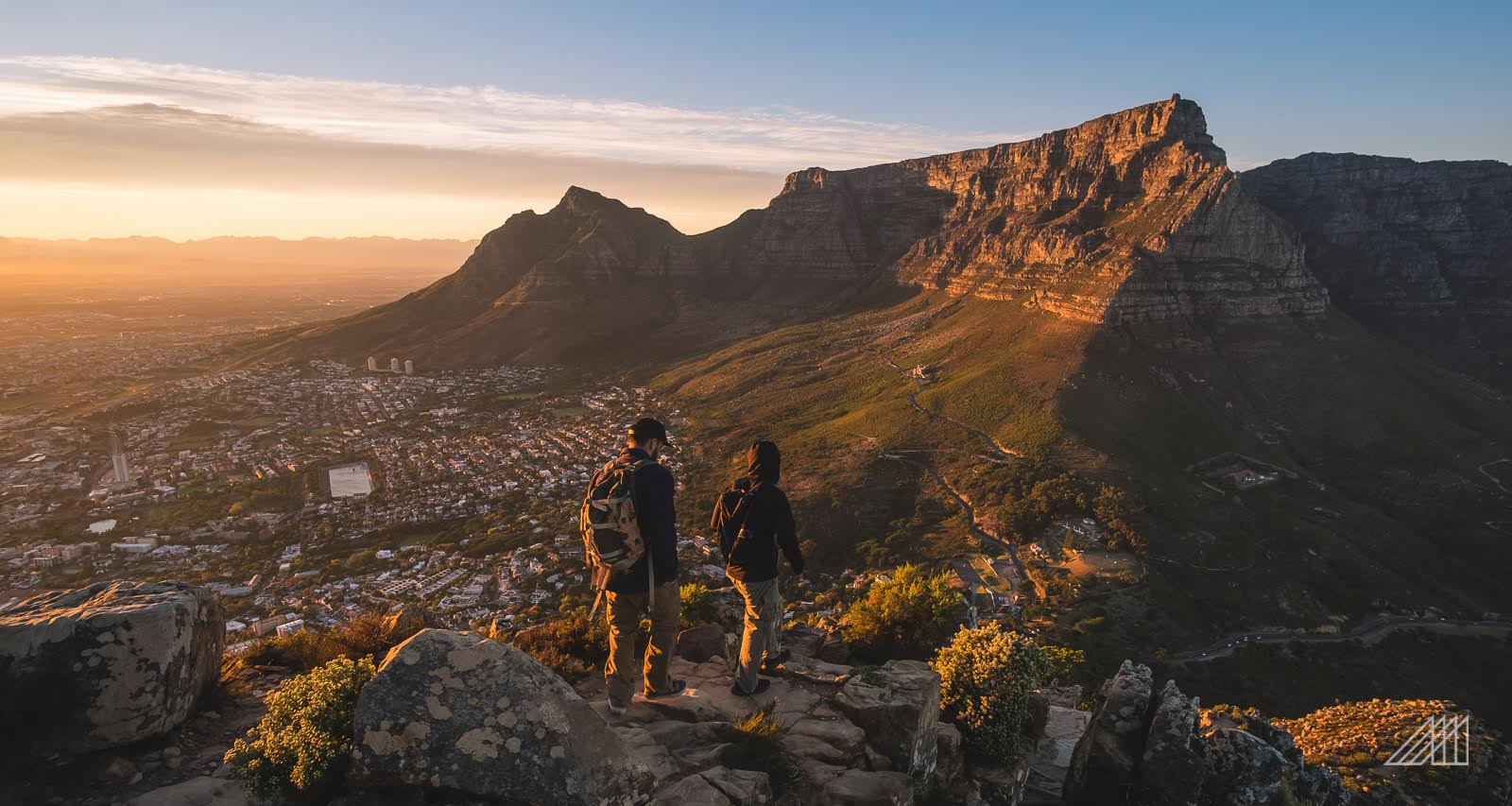 ---
Thanks for reading – that was fun! 😀
We bring you epic FREE content!
Find out how YOU can help support us.
We're a big site with a big team and this job isn't always easy. But we do it because we love it – we love providing epic and free content. We love the knowledge that our content keeps you adventuring. We don't ask for money, but if you'd like to find out how you can help the site in more organic ways, click the button below.
Thank you for your support 🙂
---
Bye for now, but not forever!
If you want MORE top-tier Broke Backpacker content like this, then sign up for our weekly newsletter below to get the latest and greatest!
And for transparency's sake, please know that some of the links in our content are affiliate links. That means that if you book your accommodation, buy your gear, or sort your insurance through our link, we earn a small commission (at no extra cost to you). That said, we only link to the gear we trust and never recommend services we don't believe are up to scratch. Again, thank you!