The Hex Camera Backloader DSLR Backpack marries durability, necessity, and function to create the best of these qualities. It's a configurable camera daypack aimed at all kinds of digital creators.
Hex started with two musicians that saw a need for functional, fashionable bags, and they have done it. This bag delivers on all of its promises.
Is the Hex Camera Backpack a good daypack for digital creators? Is it as customizable and durable as it claims? Read on to find out the answer to these questions and much more in-depth information about this bag.
This Hex Camera Backpack review will cover if this bag is a good carry-on, how it held up to dropping it with my laptop and camera in it, and if it holds up to rain.
Testing the Hex Back Loader DSLR Backpack
I used this bag as a daypack to hold my camera gear, laptop, and other daytime necessities as well as bringing this as a one bag carry-on. I found that using it as a daypack worked well but did take some creative placement of my belongings.
Using it as a carry-on was actually amazing. It worked out better than I thought it would, and I didn't have to worry about checking a bag. The items below are what I packed in total for using the bag as a daypack and a carry-on.
I ended up packing the following items:
Film Camera
7 Rolls of film
Laptop
Book
Notebook
Pen
Phone charger
Laptop charger
Extension cord
Nalgene water bottle
Car keys/wallet
Passport
Doggy backpack
Snacks
Condoms
Shawl
Darn Tough Vermont Socks
Underwear
Leggings
Two Sweaters
T-shirt
Romper
When my water bottle was full everything weighed about 20-30lbs. I only brought it to urban areas during my travels. I would be slightly uncomfortable bringing this bag hiking while loaded with camera gear considering there wouldn't also be room for emergency preparedness items.
So, how did the Hex Backpack perform when put to the test? Did all my belongings get wet in the rain? Did anything break when I dropped it? Was it comfortable? I've got answers for you.
Ladies & Gents, It's Time to Step Your GEAR Game Up. 😉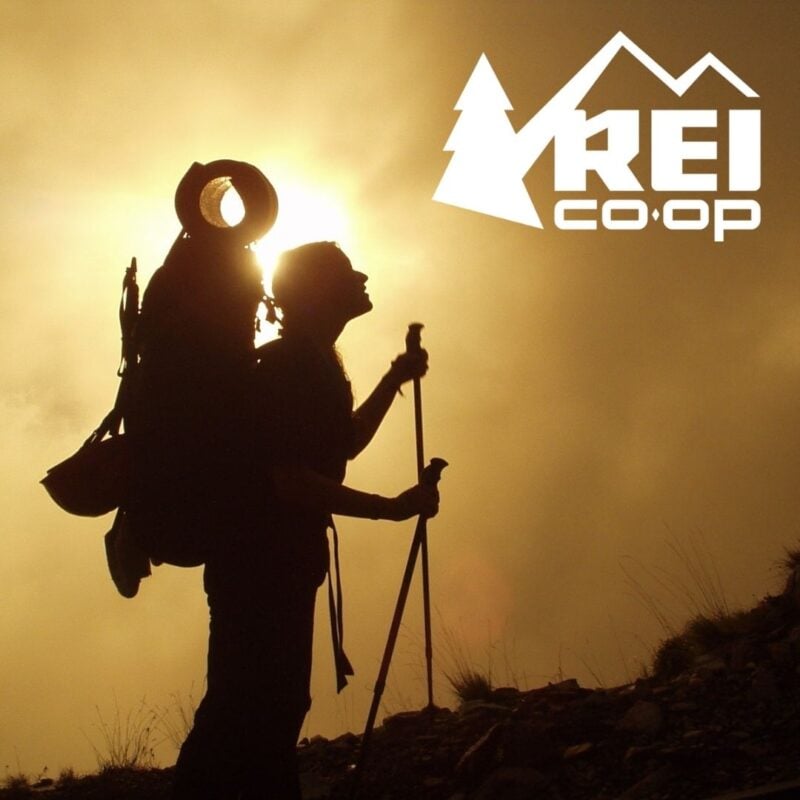 REI is one of America's biggest and most-loved outdoor gear retailers.
Now, for just $30, get a lifetime membership that entitles you to 10% OFF on most items, access to their trade-in scheme and discount rentals.
Join REI Today!
Key Specs and Pros/Cons
Dimensions (cms): 18.5″ H x 12.0″ W x 5.5″ D
Volume: 20 liters
Weight: 3.25lbs empty (including inserts)
Primary Material: Premium 900D poly exterior
What We Like and Don't Like
Pros
The ease of access to the laptop area.
Multiple zippered pockets.
Durable design that actually protected my laptop and camera when I accidentally dropped the bag.
Highly customizable and adjustable.
All of the inserts can be removed to give yourself a suitcase-style bag.
Easy to pack and access what I need quickly.
Cons
No loops for strapping gear to the outside.
The front pocket could be slightly larger. I had a hard time stuffing a book into it AND a charger.
Male-centric fit that didn't conform well to my large chest or hips.
The metal zippers are very jingly.
No rain cover.
It does look like a high-end bag, so I had to be extra vigilant about theft when in public areas. (Maybe a rain cover would make this more discreet?)
Reviewing the Hex Camera Backloader DSLR Backpack
Let's break down each of HEX Back Loader's features and talk a bit more about what makes this bag worth buying.
First Impressions
When the bag arrived in the mail, I was super excited to try it out and see what it's like in person. Having only seen it online, I had no idea what it would be like in my hands.
The first thing I noticed was the size of the bag. It was quite a bit bigger than I expected, making it perfect as a small carry-on and daypack.
I immediately grabbed my Nalgene to see if it fit in the water bottle pocket. It just barely fit. Given that that's one of the most common water bottles, this is a huge plus.
Next, I put my laptop in the laptop sleeve. It was an older laptop that is not as slim as newer models, and it fit, but the zipper didn't zip. This wasn't a problem considering there is also a flap, but this is something to keep in mind if your laptop isn't a new, slim one.
However, I did purchase a new laptop during my time using this bag, and the new laptop slips right in comfortably with the zipper closing.
I noticed the top zipper right away that allows for easy access without having to completely open the bag. This is perfect for quick access to a camera or phone.
Size/Weight
This bag is just big enough to fit necessities and then some. I typically don't travel with a bunch of camera gear, so this bag worked well for my level of gear, which is just a laptop, camera, lens, and lots of film. However, I found that I needed to use the extra space for things like chargers, notebooks, books, and snacks.
If you remove the adjustable inserts, you free up a ton of space. Frustrated at constantly adjusting the inserts to fit my different items, I just ripped them all out. Depending on what you use this bag for, this might be necessary on occasion.
It is big enough to be used as a carry-on if you're a good packer, and I enjoyed using this as a carry-on quite a bit. Weighing in at 3.25lbs, it is fairly light. However, this isn't the kind of bag that would need to be super light. I'll gladly trade weight for extra protection.
Material/Construction
This bag is made out of premium 900D poly exterior. It has a similar texture to a backpacking bag, but with thicker fabric. The laptop sleeve is "Hey, stick your hand in here" soft.
The material is water-resistant, not waterproof. I was nervous to take it in the rain, but I never had a problem being in the rain for a few minutes. It- unfortunately- does not come with a rain cover. I'm sure you could buy one, and you definitely should to protect your precious cargo.
The back panel is thick enough to keep anything from poking in or out and has breathable mesh to keep it comfy. My only complaint is the flatness of the back of the bag. I know this makes it better for holding your gear in place, but it is somewhat uncomfortable to carry because of this.
Quality was not skimped on when it comes to the construction of this bag. I've thrown it, I've put sharp things in it, and I've pushed the zippers to the limits. So far, it has held up really well. The straps are the most solid straps I've ever seen on a backpack, and I've never had anything shift out of place.
The inner adjustable inserts are very, very soft but stay in place with super strong velcro.
Protection/Durability
Let me set the scene: I was in a Starbucks near closing time, only a few people were inside, and the gallon of water I drank that day was about to leave my body with or without my permission.
Not wanting to leave all of my belongings susceptible to theft or pee myself, I quickly shoved everything into the Hex backpack and ran to the bathroom. Once in the bathroom, I hung up the backpack up on the hook, not realizing the hook was already broken, and the Hex backpack fell about 5 feet onto tile floor.
I was mentally prepared to at least find a broken laptop, considering the camera was at the top and seemed to be in a safer area. Surprisingly, nothing was broken! Thank you Hex!
I wouldn't throw this bag off a cliff, but it thankfully holds up to everyday indoor falls. The bottom is padded with about half an inch of foam. This is what saved my laptop, and although this doesn't seem like much protection, it was the difference between a smashed laptop and a safe laptop.
There is a quick-release metal buckle to access the laptop sleeve. This buckle is very durable, and the metal is hardy, however, it does seem that if it was hit just the right way one of the side clips could snap off.
Comfort
The Hex Camera Backpack is sturdy and comfortable. It does not feel like you're carrying a small safe around on your back which can be a problem with some backpacks.
A thick back panel is completely covered in foam with a breathable mesh. It doesn't feel too hot on your back, and nothing inside of the backpack pokes through.
The straps also have foam inside of them for about a foot and a half down the strap. There is an adjustable chest strap along the main shoulder straps for added comfort.
Although the straps and the back are covered in foam, they do have some comfort flaws. First, the back is completely flat. I get that this helps everything stay in place and give a better storage design, however, this is not that comfortable.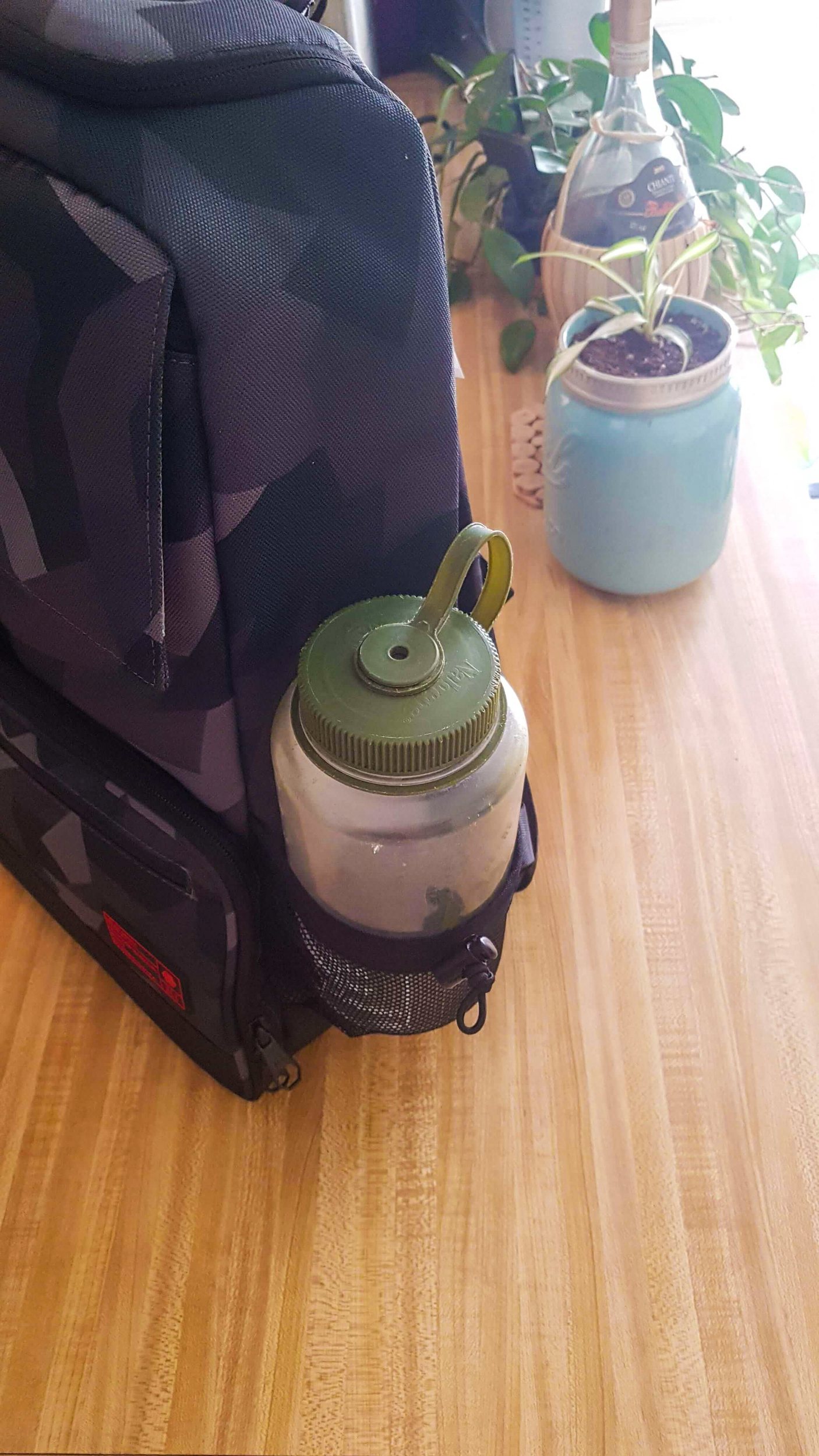 I'm a woman and my back curves in, so I think this bag would be more comfortable for a man and may be modeled for a man even though it is not necessarily advertised as a man's backpack. I'm also very tall- nearly six feet- and it does not feel too small for my large frame. Tall people know the struggle of finding good backpacks that fit, and this one definitely fits well on my back as far as size goes.
Do the straps fit around my boobs? NO. They don't, and I absolutely would not buckle the chest strap over them with the way it is designed. The straps on the other backpacks I own have a slight curve in them, and the straps on the Hex are just straight up and down. If you are a large chested woman, you'll be very uncomfortable with the current straps on this backpack. I wear the straps very loose so that I can push them to the side.
Interior Design:
The front pocket has many different zippers and compartments within it but is overall not very large and fills up quickly. It has a mesh zippered compartment, and a solid zippered compartment as well as a few small palm-sized areas for miscellaneous items inside of the main front pocket.
I found that I didn't need to use this level of organization, so I typically just threw whatever I needed into that pocket. The only time I really wanted a zippered pocket was for my passport and plane tickets so that they didn't get lost.
The front pocket is only about the size of a book, however, once anything is put into the front pocket, a book will no longer fit. I found that the front pocket could have been twice as big to be more user-friendly. I had to put some of my chargers and other items inside of the actual backpack because the storage of the only real pocket on the backpack is very limited.
There is a designated laptop sleeve that is awesome. It's super easy to access, and it's right on the front of the backpack with a zippered closure on top. Above this, a flap folds and clips down for added security of the laptop sleeve. Inside, it has furry protective fabric so that nothing gets scratched and your laptop can rest in luxury.
Right under this flap is a business card holder! I love this feature, and I have been giving out way more business cards than I normally would just because I know they are so accessible.
The back panel of the bag completely zips open. On the inside of this are three more pockets: two mesh zippered pockets and an expandable velcro pocket. The zippered pockets would be really good for things like SD cards, and I used the velcro pocket for rolls of film.
Inside the main and biggest area of the backpack are eleven foam and velcro adjustable inserts. These customizable pieces can be moved around to fit every shape of camera, lens, drone, and whatever else you like to carry with you.
I eventually removed all of these inserts to pack the bag like a tiny suitcase. This worked best for me when I used the bag as a carry-on, and it freed up a lot of space.
The outside has two straps on the side that are adjustable and are perfect for a tripod or anything else too big to go inside that bag. However, there are no backpacker type loops for attaching gear.
Ergonomics
The Hex Camera Backloader DSLR Backpack is very easy to use. The laptop sleeve is incredibly well thought out. The business card pocket is convenient, and the top zipper makes grabbing my camera easy.
The main compartment is accessed through the back of the bag. The back zips open like a suitcase. You have to lay the bag flat on the ground to access the main compartment. This can be a little annoying, but once I got used to it, I know what to pack where to limit opening the back of the bag.
Anything I wanted access to quickly I would put directly at the top which has a small zipper to access things there, or I would put it in the front pocket.
Although it takes more effort to lay the bag down and unzip the back, it's easier to find things. Nothing is ever buried at the bottom of your bag, and you can quickly grab anything you've packed.
The best ergonomic features:
Front zippered pocket
Adjustable inserts
Business card pocket
Top zipper the size of a DSLR
Sturdy handle on top
Backload main storage area
The Hex Camera Backloader DSLR Backpack is very well designed, but there is one feature that I think is missing: There are no side handles.
When this bag is open flat I sometimes want to move it around, so I grab the sides of the bag directly. I find that side handles would be super helpful.
When using this bag at the airport, side handles would've been great. Taking it in and out of the TSA tubs, throwing it up into the carry-on compartment, and putting it in backseats all required grabbing the Hex backpack with a hand on either side. It's definitely missing these key handles, however, I was still able to use the bag without dropping it, so it was okay.
Aesthetics/Security
I knew this bag was camo before it arrived, however, I was pleasantly surprised that the camo tones are slightly more muted than in the pictures. It has more of an urban vibe than a hunting vibe, which is a much more pleasing aesthetic.
No detail has been overlooked when it comes to the Hex Camera Backpack. All of the zippers are in the shape of hexagons. The straps are slightly shiny, giving the bag some visual texture. All seams on this bag are professionally sewn and it's easy to notice that these are not carelessly mass-produced. Even the color of the thread varies along with the color of the fabric beneath it. Tiny details are everywhere. It will take a long time before these seams show any sign of wear!
The main compartment of this bag can't be fully accessed when it's on your back, so your camera gear is safe. The laptop compartment can be accessed when it's being worn, however, the thief would have to unclick the flap, unzip the zipper, then remove the bag. Hopefully, you'd notice once they got to the zipper.
The least secure compartment is the front zipper. It can be easily accessed and unzipped while you're wearing it. I would not put any valuables in this pocket.
There is one hidden pocket that is so well hidden that it took me over a month to notice it! It's on the inside panel of the main compartment with a very discreet zipper opening. You'd never know it's there unless you can see the zipper which can be easily tucked in.
Customizability
The main customization potential in the Hex Camera Backloader DSLR Backpack comes from the velcro dividers. I tried to calculate the exact mathematical answer for how many potential ways you can move these dividers around, and that turned out to be a difficult task. The answer is a LOT.
There are two long dividers and nine smaller dividers. Each of them has velcro on the bottom and the sides and stick wherever you put them. You can have all of them in at once or take them all out for a larger storage capacity.
The chest straps slide up and down to fit different bodies, and the water bottle pouch has a drawstring to fit different sizes of bottles.
One side has the water bottle holder and the other side has two adjustable straps with buckles to hold bulky items.
The outside of the bag is minimalistic, so there isn't much room for customization on the outside, and the most adjustable part is the inside with the dividers.

Our GREATEST Travel Secrets…
Pop your email here & get the original Broke Backpacker Bible for FREE.
What's the Verdict on the Hex Camera Backloader DSLR Backpack?
If you want a backpack that can hold your laptop, camera, digital gear, and look good doing it, the Hex Camera Backloader DSLR Backpack is for you.
The Hex website describes this backpack as a camera backpack and it is well-crafted for that purpose. It's not a suitable hiking or backpacking bag. If you are looking for a hiking and camera backpack, then we have written a hiking camera backpack round up.
Part of being a good camera bag is also being a good electronics bag. It needs a place for your laptop, phone, and anything you might need to leave for the day. I've found that the front pocket is perfect for smaller items and anything else can be creatively stored in the back.
Overall, this a good backpack for anyone traveling with camera gear or in the market for a carry-on that caters to digital creators.
What is our final score for the Hex Camera Backpack? We give it a rating of 4.5 out 5 stars!

---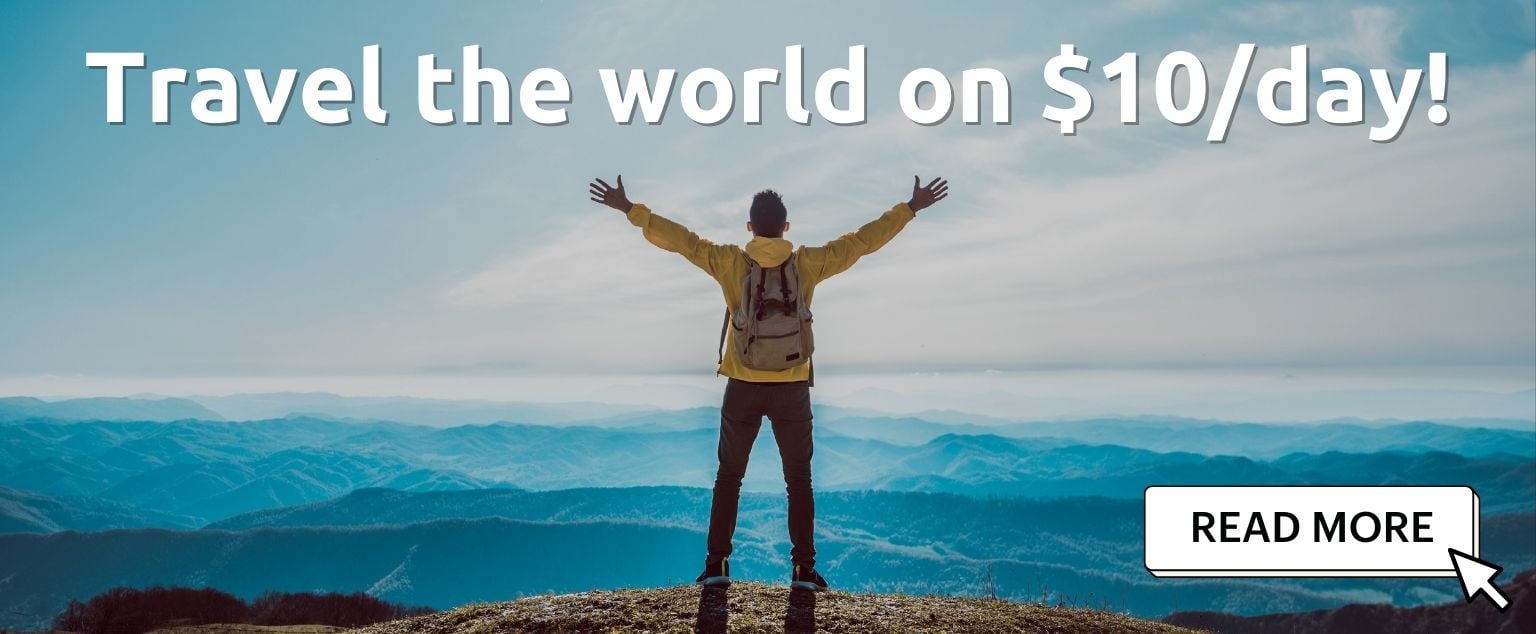 And for transparency's sake, please know that some of the links in our content are affiliate links. That means that if you book your accommodation, buy your gear, or sort your insurance through our link, we earn a small commission (at no extra cost to you). That said, we only link to the gear we trust and never recommend services we don't believe are up to scratch. Again, thank you!