Hello fellow adventurers! One of the most common questions I get from folks about to hit the road on around the world trip is "what gear should I take backpacking?". Here you will find a complete backpacking packing list of everything you will need for a trip abroad.
I have changed and adapted my backpacking packing list over nine years of travel, please note some of this backpacking gear should only really be taken on more adventurous trips. There are lots of backpacking equipment dealers out there but I recommend saving yourself a lot of time and ordering most of your gear online.
Backpacking Packing List – Essentials checklist
Backpack: You can't be a backpacker without a backpack! I myself am a big fan of Osprey packs, they are super comfortable, well designed, almost indestructible and come with a lifetime warranty… I suggest picking a backpacking in the fifty to seventy litres range. I myself have the Osprey Aether backpack but there are lots of great options out there; check out my detailed post on how to choose the best travel backpack.
If you want to go for something a little bit smaller, I recommend the Berghaus Freeflow; it's super comfy and I've had mine for six years, it's still in great condition. Picking the right travel backpack is very important; you are, after all, going to be pretty much living out of your pack.
Day Pack (10-20 litres): A very worthwhile investment is a decent day pack, you can get something cheap but if you want something reliable, I would recommend choosing something by Berghaus, Osprey or Lowe Pro. Check out my comparison article on how to choose the best day pack for travel.
Compression Packing Cubes: The ultimate backpacker secret weapon in keeping your shit organised. Be sure to get a mesh laundry bag to keep your dirty laundry in, it stinks if you put it in one of the plastic ones.
Dry bag: Well worth having to keep your electronics in… Mine has saved my gear on more than one occasion. A five litre dry-bag is normally big enough.
Hanging Toiletry bag: Hand's down the easiest way to keep all your toiletries and meds in one place. I never really feel like I've moved into a place until I hang it up…
Backpacking Packing List – Clothing checklist
Trekking trainers: Don't go travelling around the world without some decent shoes! I personally swear by North Face Hedgehogs and have been wearing them for nearly a decade.
Technical sandals: If you're going to be spending a lot of time trekking in the jungle, hanging out on the beach or sailing then it's worth bringing a pair of good quality technical sandals; Teva and Merrel are the best.
Flip Flops: Definitely worth packing no matter where you are going.

Sunhat: If you're heading to the scorched plains of Backpackistan, you need to keep your head covered. My Barmah bush-hat has accompanied me on many adventures.
Buff: One of my favourite travel accessories, I wear one on my wrist at all times; it's great for keeping the sun off or covering your mouth and nose to keep dust out. I also use it as an eye mask on long haul transport and in dorm rooms.
Underwear: It can be surprisingly hard to find underwear that fits in Asia… Pack enough before you go backpacking!
Thin hiking trousers: Craghoppers make the best stuff and their Nosquito range is impregnated with mosquito repellent.  
Long sleeved mosquito repellent shirt: A life saver when trekking or hanging out in tropical climates.

T-shirts / Tank tops x 4: Easy to find on the road, don't stress too much about these.
Base Layer: Crucial for keeping warm, I swear by my Helley Hansen.
Lightweight technical fleece: Essential when you're on buses or trains that have the AC turned to 'freezing'.
Evening wear for going out: Again, I tend to stick to Craghoppers; they have some smart shirts which are also fairly practical.


Indestructible sunglasses: I have probably destroyed over one hundred pairs of sunglasses… For a backpacking adventure, it's worth investing in a decent pair of sunnies and I recommend Sungod; these are specifically built for travellers and are pretty much impossible to break. Best of all, you can design them yourself on the site.
Backpacking Packing List – Technology checklist
If you're keen on becoming a digital nomad, it makes sense to invest in your gear. Buying a Macbook Pro was the single best investment I ever made. You'll also need a camera; if you're new to photography I suggest getting something by Lumix, it offers great bang for your buck and is ideal for taking quality travel photos. If you are interested in a career as a freelance photographer then you will need a better camera; I recommend the Nikon D5300. Check out my post on the best travel cameras. 
Laptop: A Macbook Pro is the ultimate choice but it is damn expensive, a Macbook Air will do the job just as well; be sure to pack an external hard-drive to get around the relatively small drive space. For the love of god buy a laptop case to protect your baby. 

USB flash drive: Endlessly helpful.
USB card reader: Essential if you're into your photography.
World Travel Adapter: It's worth splashing out a bit here and getting one that can charge a laptop and two USB devices at once, I have been using my Skross Travel Adapter for years.
Smartphone: If you have a good smartphone, you might not need a camera – it totally depends on how much you care about your photos.
Portable battery: Extremely useful for keeping your phone and camera charged whilst adventuring. I travel with two as I'm often trekking and away from power.
GoPro Hero 5: If you want an action cam, this is the one to go for…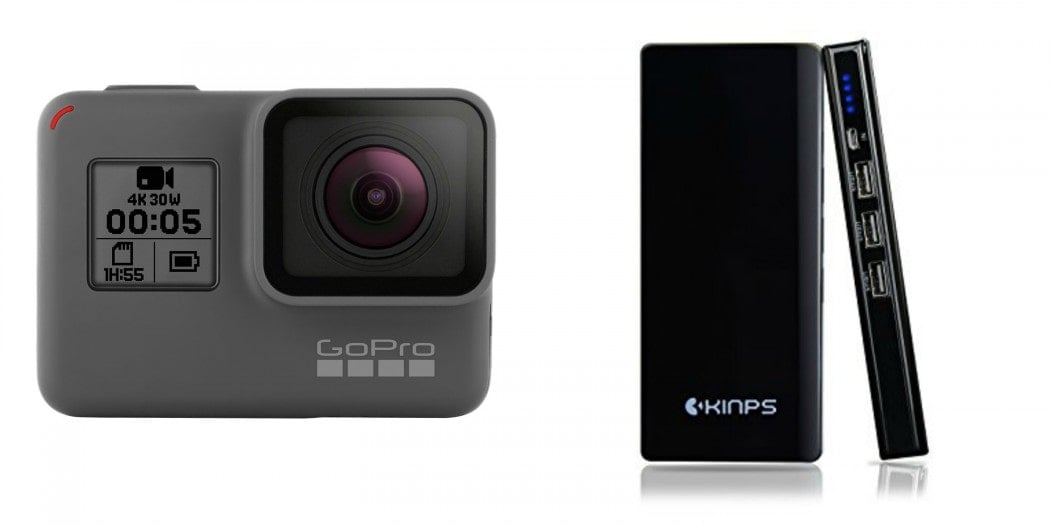 Backpacking Packing List – Adventure checklist
Head-torch: Super useful for caving, hiking and bathroom trips when the power's gone out. Check out my post on the best headlamps for travel. 
Mosquito Net: I strongly recommend getting a box shaped net.
Cable ties: Always worth packing a couple, especially if you're off on a motorbiking adventure.
Carabiners: I always pack a couple of these, simply clip them to your pack.
Sleeping bag liner: Useful when the sheets are not so clean or you want to sleep under a blanket but it's damn hot.
Small sewing kit: Fix your own shit, you'll save some money.
Combination padlock: I used to frequently lose my room keys when staying in hostels, these days I just lock my room myself using my padlock, problem solved.
Pens and notebook: Don't go travelling without it!
Backpacking Packing List – Hiking Gear checklist
You may not need a lot of the gear below but if you're planning an epic expedition and will be away from civilisation a lot it does make sense to invest in some of the below.
Warm gear: If you're heading into the mountains, pick up a pair of water-resistant gloves, a hat with ear-flaps and a down jacket; I've been using my RAB Neutrino for years and it was a great investment.
Water bottle: Hydration is pretty damn important whilst trekking, I recommend a Nalgene as it's wide enough to clean easily.
UV steripen: The best option for purifying water.
Water purification tabs: A much cheaper option for purifying water.
Multi-tool: I've been using my ultra lightweight Leatherman Skeletool for years, it's the perfect companion for any backpacking adventure.
Portable Stove: I have a pocket-rocket which serves me well – check out my post on the top backpacking stoves to find out if you really need a stove for your travels.
Tent: If you're camping, you'll need a tent… Check out my detailed post on the best tents to take backpacking. 
Hammock: Even if you're not trekking a camping hammock always comes in handy when backpacking & takes up next to no room in your pack. Check out my article on the best camping hammocks for travelling!
Sleeping pad and sleeping bag: Thermarest makes some very good, albeit, expensive stuff. Check out my post on the best sleeping pads to take backpacking. 
Backpacking Packing List – Toiletries checklist
Toothbrush and toothpaste
Shower gel
Cotton buds
Pack of tissues
Decent sunscreen (often expensive to buy abroad)
Deodorant
Nail clipper
Moisturiser (for sunburn)
Razor with replacement blades
Shaving gel
Earplugs
Condoms
Girly stuff (if applicable!)
Microfibre travel towel – significantly better than using scummy hostel towels. 
Backpacking Packing List – Medical checklist
It's always worth packing a small first-aid kit. On my travels, I've been hospitalised three times, been in a couple of motorbike accidents and had more hangovers than I can count. My first aid kit saved my ass on more than one occasion…
I recommend picking up a pre-assembled first-aid kit and then pimping it out with all of the below. 
Personal medicines such as inhalers
Paracetamol, ibuprofen and aspirin
Disinfectant spray
Disinfectant wipes
Mosquito repellent (at least 40% deet)
Antihistamines
Bandages and gauze
Plasters in various sizes
Throat lozenges
Condoms
Ciprofloxacin (the best thing to take for traveller's diarrhoea)
Malaria pills if applicable
Backpacking Packing List – Documents checklist
It helps to be organised before you hit the road; I travel with all of the below in a plastic wallet, it may sound nerdy but when you're at a politically charged border crossing you will get across a lot faster if you are organised.
Flight, train and bus tickets
Address of your first hostel (even if it's fake).
Valid Passport
Laminated copy of your passport
Debit Cards x 2
Credit Card
Dollars or Euros
Some one dollar bills for tips
Driver's licence
Student ID
half a dozen passport photos for visas on arrival (you normally need two per visa).
Insurance information, home contact details, health information as part of a laminated card.
The Backpacker Bible – Learn how to ditch your desk and travel the world on just $10 a day whilst building a life of long-term travel with an online income.  Shameless bit of self promo here but this book is basically my dissertation on backpacking, nine years of tips and tricks and your purchase helps keep the site going. If you've found the content on this site useful, the book is the next level up and you will learn a ton – if you don't, I'll give you your money back. Check it out here.
Travel Insurance
Whatever you do, don't hit the road without travel insurance. I've ended up claiming on my travel insurance three times on my travels and every time, if I didn't have insurance, I would have been fucked without it.
Check out this post for plenty of intel on staying safe whilst travelling. 
I recommend getting your travel insurance through World Nomads.
Did I forget something? Is there any super special gear you always take backpacking?
For more travel gear inspiration, check out my buddy Gianni's ultralight packing list and for the ladies, this excellent travel packing list for women by Two Scots Abroad.
Yay for transparency! The links in this post are affiliate links. This means that if you buy anything, I'll earn a small commission at no extra cost to you. I only link to stuff I've actually used and never endorse crap. Your support helps me keep the site going. 
Like this Post?! PIN ME!!