While using microfiber towels for traveling aren't the most thrilling topic, they should be on any traveler's packing list. Travel pros always travel with a microfiber travel towel, and you'll never see me travel without one.
Let me tell you exactly why.
Microfiber towels are made of travelers' dreams. They are made with quick-dry material, they pack super small, and they are relatively inexpensive.
In a nutshell – microfiber towels were literally made for backpackers and travelers.
But in my experience, not all towels are created equal, so I wrote this epic guide so you can quickly and easily find which microfiber travel towel best suits your needs.
Believe me, you're going to love your new accessory.
Quick Answer: What are the best towels to take traveling?
Real Quick – What is Microfiber Material?
Ok, so before we crack on with showing you what the best backpacking towel is, we need to explain what one is first.
Microfiber is a synthetic fiber, usually made out of polyesters, polyamides, or blends. The grabby texture of the microfiber makes the towel more absorbent which, in turn, makes it great for swimming, traveling, exercising, any activity that makes you wet.
Right then, let's get this microfiber towel review going!
Microfiber Travel Towel Reviews
Check out our extensive review on our top four favorite quick-drying microfiber travel towels reviews below…
Winter is coming… WARM UP!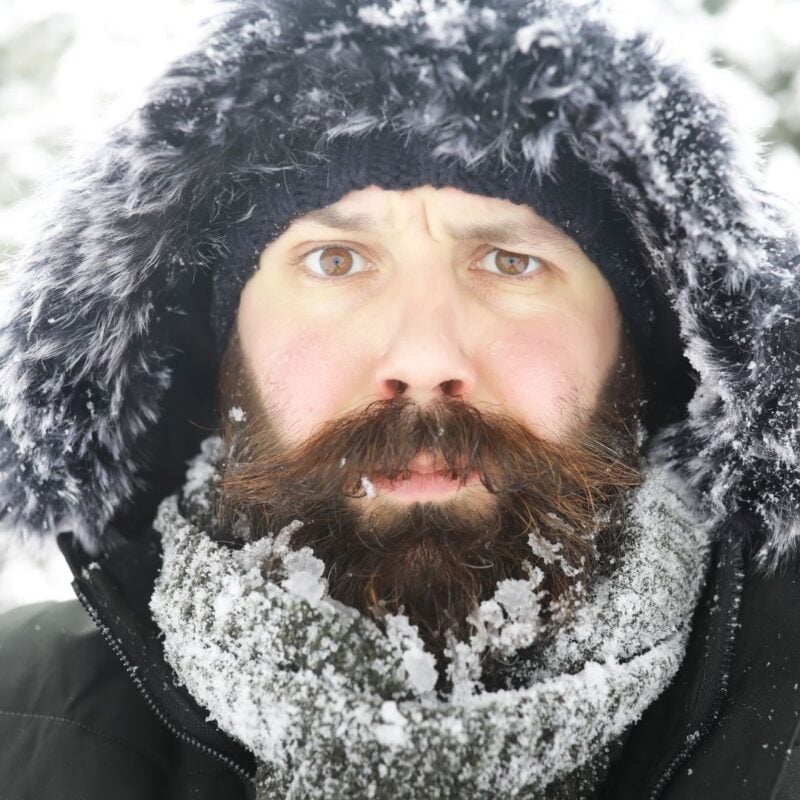 Get up to 50% OFF when shopping gear for the winter on REI.
Warm up for the holidays and SAVE on outdoor gifts all the way through Dec 18!
View on REI
Specs
Comes in multiple sizes
Very lightweight
A bit more expensive
Sea to Summit is known for making ultralight camping and backpacking gear, so it makes sense that they make a lightweight backpacking towel. The soft, quick-drying towel is compact and comes in three sizes. The small towel is 32" by 16", the large is 48" by 24" and the extra large is 60" by 30". All these towel sizes weigh under 7 ounces. This is a good choice for the traveler constantly on the trail when every oz makes a difference. We also rated it as the best microfiber travel towel due to the fact that it came in different sizes meaning you can pick the right one for your trip.
The drawback? The XL is expensive for a microfiber towel and is pricier than the other towels on this travel towel review.
Our team felt this was the best microfiber towel for travel particularly because it worked well in damp and humid environments which is ideal for places like Southeast Asia. On top of that the actual towel itself dries quickly after usage too. They also loved how well it packed down and fit easily inside their bags, in fact, it's that small it could easily fit inside a jacket pocket!
Specs
Super small and compact
Lightweight nanofiber material
Comes in powermesh storage bag
In case space in your backpack is really at a premium, then check out the mini Ultralight travel towel by Matador. Measuring 15″ x 15″ (or 39cm x 39cm) it quite literally fits inside your pocket. It is of course smaller than other towels if this list and it will take some time to fully dry your body using this. However, it absorbs 2.3 times its own weight so with a little patience you can work your way around your whole body.
Both the towel itself and its bag have buckle attachments so you can fasten to your bag or jacket and really maximise storage space. Made from an ultralight (25g) Nano Fibre material it is also fully machine washable and will hardly even fade.
Our team felt this was the best compact microfiber towel on the market because, well, it's super compact, like, insanely compact! This towel could fit inside your pants pocket it's that tiny! Our team were realists and felt being so small that it had a certain purpose and it wasn't the easiest to dry their whole body with … but at a push it wasn't impossible and for the ultralight packer they felt that bit of extra effort was worth the space saved.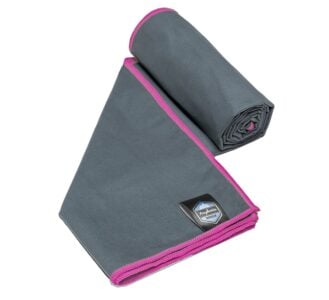 Specs
Holds moisture well
Softer + more comfortable than others
Bit heavier than others
This is a yoga-specific towel, but I think it makes great use as a backpacking towel as well because it's highly absorbent and can hold up to 5X its weight in water. I also find yoga towels to have an extra soft feel and are less likely to attract lint.
They also tend to pack down even smaller than other backpacking towels. The downside is that its largest size weighs more than the other choices on this list. However, for all the yogis out there who plan to travel with a yoga mat anyway, this is a great choice.
Our team picked this as their best microfibre towel for yogis because of how comfortable it was not just to dry themselves with but to us on top of their yoga mats. The team also felt the towel was light, and compact but ultimately super durable, especially when used for both general drying purposes but for yoga and after the gym too.

Do You Want to Travel FOREVER??
Pop your email in below to get a FREE copy of 'How to Travel the World on $10 a Day!'.
Best Non-Microfiber Towel for Travel – Nomadix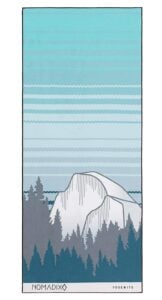 Specs
Made from recycled materials
Very tough
Very expensive for a towel
For the environmentally-conscious traveler, the Nomadix travel towel is about as ideal as it gets. This towel is made of 100% recycled materials – fibers from plastic bottles are processed into effective and comfortable nylon and polyester threads. These towels do not involve any sort of polymer-based microfiber yet they are still very good at what they do.
Nomadix towels are quick-drying, tough, and very packable. Coming in at a very reasonable 1 lb, these make for great towels to take traveling. Thanks to it's anti-microbial and non-slip qualities, the Nomadix is very popular at yoga retreats and camping but you could conceivably use this towel anywhere: at the beach, gym, kitchen, and more.
The Nomadix is a bit more expensive than other towels and quite larger as well. That being said, the larger price tag is more than justifiable – this towel will last longer than most and you will definitely get more use out of it.
Our team were pretty interested in how this towel compared to microfibre as several members expressed that they would prefer something more environmentally friendly. Firstly they just loved the different colours and designs that the towels come in, something many of the other towels are lacking, which makes it look better when taken to the beach. In terms of usage, they felt it was just as absorbent as the microfibre towels and literally dried them in one swipe!
Specs
Very cool designs
Double-sided
Much larger than other beach towels
I'd give this beach towel props just for being so damn good lookin'! Look at those patterns! So bold and colorful! Who says a microfiber travel towel has to be flat-colored and boring, anways?
But it's not just beautiful; the ECCOSOHPY beach towel is also useful, of course. Since it's made of microfiber, you'll get the absorptive qualities as well as the quick drying. It packs well enough although, given it's size, it's going to be much larger in your bag than most other towels.
I would also like to add that this towel would be fine for both sexes. ECCOOPHY markets it has a lady's towel on their Amazon page but, honestly, I'd rock this anytime and anywhere in the world.
When it came to design our team just fell in love with the awesome patterns these towels came in, they felt they really created that backpacker vibe instead of looking a bit geeky like some of the other towels. our team just loved how lightweight and thin these towels were meaning they rolled down super small and took up almost no room or weight in their bags. They felt it absorbed water instantly and on top of that was ideal for people with longer hair.
Specs
Better than a typical cotton beach towel
Very packable
Perfect size
I like this towel because it's big (80×57 inches), but because of the lightweight microfiber material, it packs down much better than a normal beach towel. Not only that but it does come in some smaller sizes too if you don't need something that massive!
This is a great towel for lounging beachside. While not as lightweight as the Active Roots or Sea to Summit, the OCOOPA has large dimensions and is still a great choice for a quick-drying towel for travel, and an easy pick for the best travel beach towel.
Our team loved the slightly thicker profile of this towel which is what made it stand out as their best beach towel. Rather than just being used for drying themselves down after a swim, which it did an awesome job of, it was comfortable to lie down and lay on all day too. The durable material was also great given the extra abrasions using the towel on the beach results in.
The best present of all… is CONVENIENCE!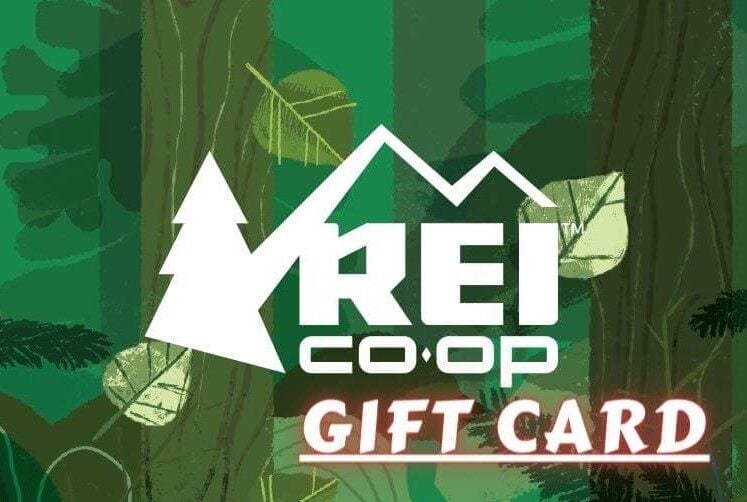 Now, you could spend a fat chunk of $$$ on the WRONG present for someone. Wrong size hiking boots, wrong fit backpack, wrong shape sleeping bag… As any adventurer will tell you, gear is a personal choice.
So give the adventurer in your life the gift of convenience: buy them an REI Co-op gift card! REI is The Broke Backpacker's retailer of choice for ALL things outdoors, and an REI gift card is the perfect present you can buy from them. And then you won't have to keep the receipt. 😉
Buy on REI!
Why Invest in a Travel Towel?
It may seem like an insignificant item to pack, but a good towel will be one of the most useful items in your backpacker arsenal.
In our normal lives, we use towels on a daily basis, really; to wash the dishes, ourselves, the car, when cleaning the house. Yet, we take them from granted because they're always there and in a multitude! Thanks to industrialization, we have a cloth or rag somewhere nearby, buried in an old drawer or conveniently hanging on a hook or rack.
Unfortunately, backpackers usually don't have this option. Because they are constantly going from place to place and because they are living out of a backpack (finite space), they don't have the convenience of carrying a lot of towels on them. Hell, most backpackers are grateful just to get a free towel at their hostel!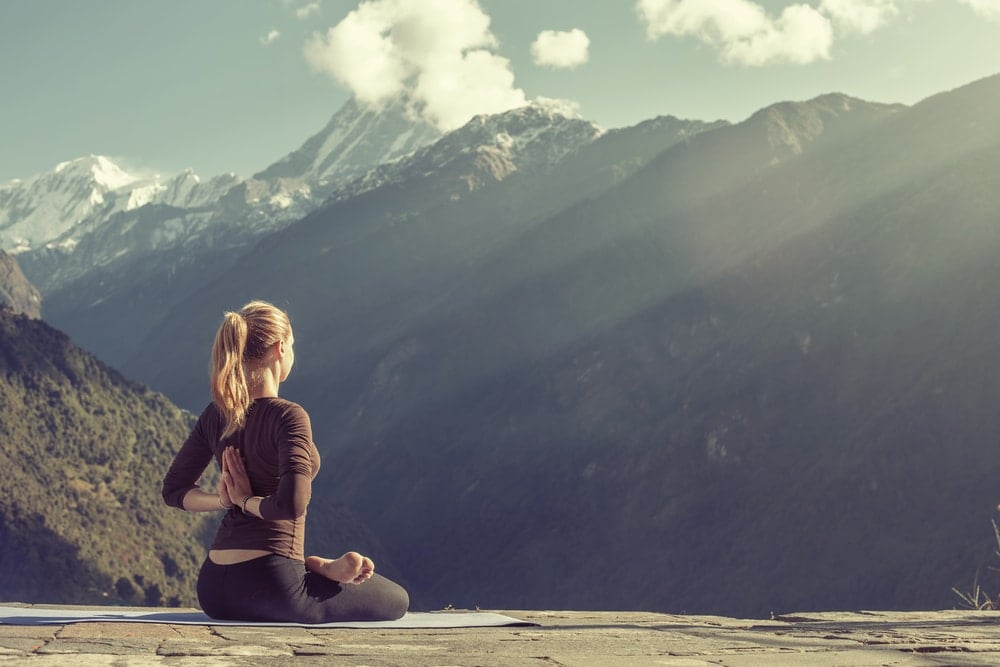 Having your own towel for traveling the world can be immensely useful. Going to the beach? The towel will keep the sand off your ass and out of your portable speaker. Want to have a spontaneous yoga session? Throwdown your towel and chaturanga away. Need to dry out those hiking boots after a long walk? Use that towel to soak up any leftover moisture in those boots (maybe do that after washing yourself though)
Trust me: you will get a lot of use out of your towel while traveling, more than you might know right now. That means you need to have a good towel – the tougher it is and the better it is at absorbing, the more useful it will be. Luckily, it's not so difficult to pick out a good one; you just need to refer below for some tips.
What to Look for in a Microfiber Travel Towel
Lightweight – As with anything in your travel backpack, it's important to invest in a lightweight travel towel. Less weight = awesome.
Compact – A microfiber travel towel should take up as little room as possible. They should fold up smaller than a tank-top.
Well constructed – There is such a thing as a good microfiber and bad microfiber.
Quick Drying – The best towels for backpacking and traveling must have quick dry material.
Absorbency – Even if a microfiber travel towel is lightweight and dries quickly, it's useless if it doesn't actually absorb liquids.
Special features – A loop makes it easy to attach the quick drying towel to your backpack as you hike, or hang it on a clothes hanger at your hostel.
Additional accessories – A storage pouch for your microfiber towel helps you keep your backpack organized.
Towel Sizes
Quick drying towels range between XS-XL, and the dimensions vary as well! Different brands will have different dimensions of their sizes, so be sure to check the dimensions!
Small or Medium: Often used as a washcloth, hand towel, or to bring along for workouts. These make a great addition to your toiletry bag.
Large: Hair towel or small bath towel.
XL: Best recommendation for a full bath towel.
It's worth investing in both an XL towel, and a small washcloth sized towel for your toiletry bag (washing your face, taking off makeup, etc.).
Ultra lightweight; great for hikers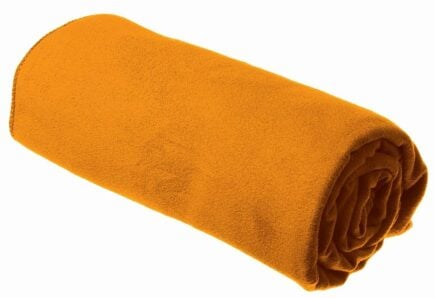 Ultra lightweight; great for hikers
Sea to Summit
Price > $$$
Weight > 1.3 – 4 oz.
Size > XS to XL
Great replacement to beach towel; large dimensions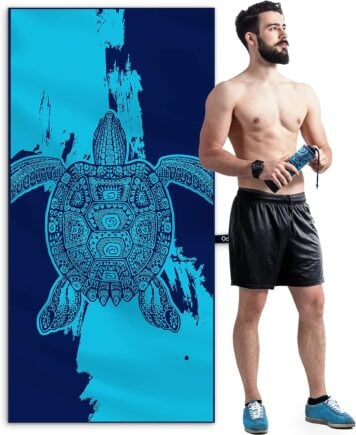 Great replacement to beach towel; large dimensions
OCOOPA Microfiber Beach Towel
Prize > $$$
Weight > ?310 g
Size > XL
Yoga towel and bath towel; good value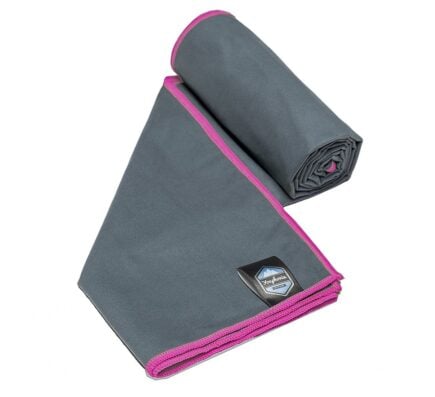 Yoga towel and bath towel; good value
Youphoria
Price > $
Weight > 2.4 – 12 oz
Size > 20-40″; 28-56″; 32-72″
Other Travel "Towel" Options
Along with a microfiber towel, it's totally worth packing a fashion-friendly sarong or large scarf to double as a large beach towel.
My boyfriend uses his scarf for a beach towel, to protect his neck from the sun, warm up in the cold, shield from dust, etc. I always travel to beach destinations with a sarong to double as a towel and beach cover-up.
Middle Eastern style scarves, traditionally referred to as keffiyehs or shemaghs, are also super adaptable pieces of kit that can be used as a towel. Granted, their primary purpose is more for keeping sand out of one's eyes and the cold out at night, but many people also use them as beach towels as well.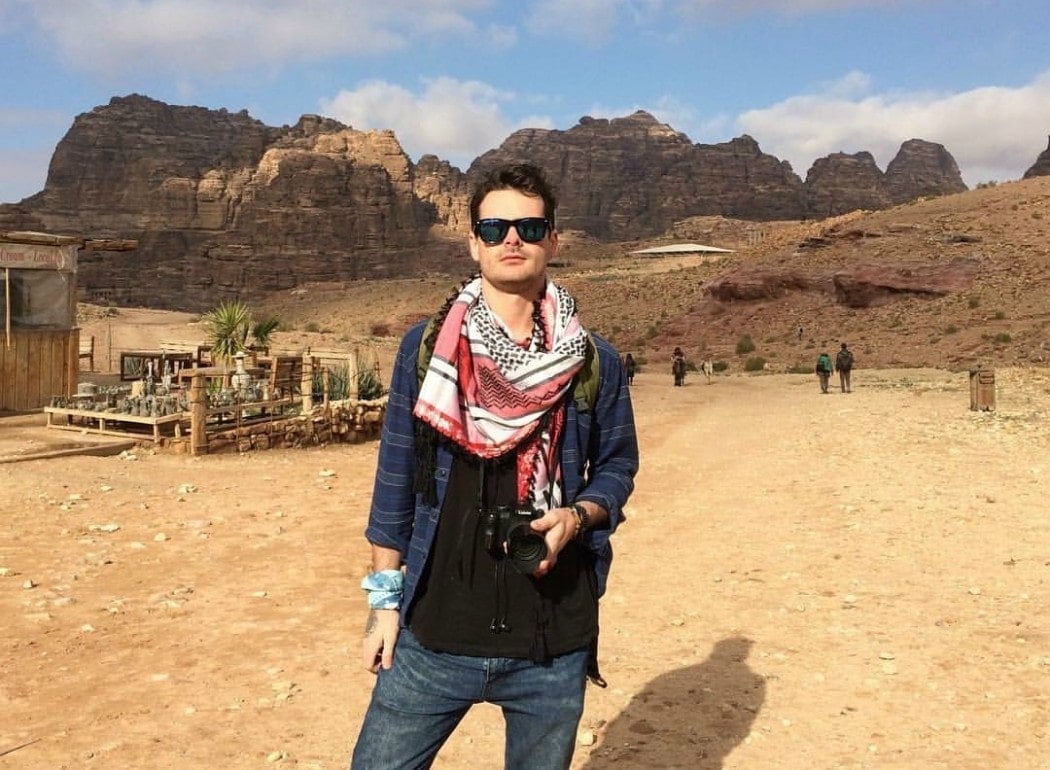 How We Tested The Best Microfiber Travel Towel
There is no perfect or exact science when it comes to testing out travel and outdoor gear. However, we feel our years of experience across our team mean we've got a good eye for decent gear.
When it came to picking out the best towel for backpacking there were a few different considerations we had. Including how lightweight it was, how easily and well it could compact down, how well it dried us and also, well, the smell test! If you get my drift! We were also concerned with how well it was made and how long-lasting it would be.
Finally, we also take into account how much each microfibre travel towel costs – for example, expensive items that perform averagely will lose points, but budget items may be given more leeway.
FAQ about the Best Microfiber Travel Towel
Still have some questions about the best travel microfiber towel? No problem! We've listed and answered the most commonly asked questions below. Here's what people usually want to know:

Our GREATEST Travel Secrets…
Pop your email here & get the original Broke Backpacker Bible for FREE.
Conclusion: The Best Microfiber Towels for Travel
Microfiber towels are a more logical alternative to your good old fashion bath-towel for a billion reasons, but all you need to know are these five: they're compact, lightweight, durable, absorbent, quick-drying towels for travel.
Let us know what you think about our epic review of the best quick dry towels for travel in the comments below! Do you have a favourite microfiber travel towel?
---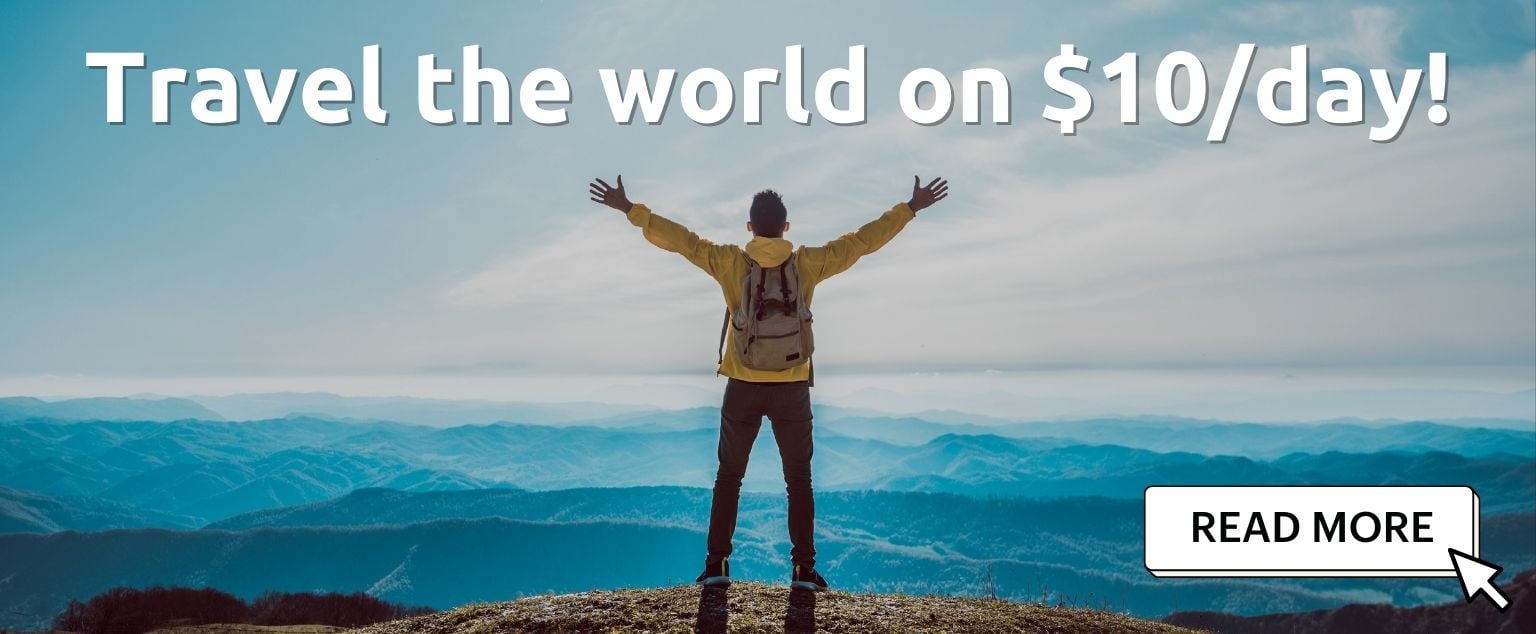 And for transparency's sake, please know that some of the links in our content are affiliate links. That means that if you book your accommodation, buy your gear, or sort your insurance through our link, we earn a small commission (at no extra cost to you). That said, we only link to the gear we trust and never recommend services we don't believe are up to scratch. Again, thank you!