Quick Answer: The Top Sleeping Pads of 2022
I update this post pretty regularly as we are constantly testing new gear so as well as the examples above, there are few other sleeping pads included as honourable mentions in this review roundup. Here are the top backpacking sleeping pads that can become valued members of your sleep system!
Over the last ten years of hiking, camping, and backpacking, I've tested out over a dozen sleeping pads. We often are asked by different outdoor brands if we'll test out there sleeping pads too so I update this post regularly whenever we find a new sleeping pad that makes the cut and offers great value.
In this post, we're going to look in-depth at ten high-quality sleeping pads but since I know you may not have time to properly analyze ten sleeping pads, I've broken this down for you further in the table below which shows my top five picks of 2022…
THE BEST SLEEPING PAD OF 2022
THE BEST SLEEPING PAD OF 2022
Thermarest NeoAir Xtherm
Dimensions unfurled > 77 x 22 x 2.5 inches
Dimensions packed > 4 x 9 inches
Volume > 15 ounces
BEST VALUE SLEEPING PAD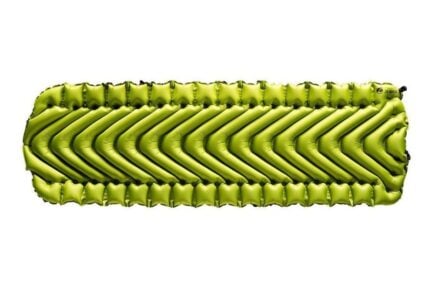 BEST VALUE SLEEPING PAD
Klymit Static V2
Dimensions unfurled > 72 x 23 x 2.5 inches
Dimensions packed > 3 x 8 inches
Volume > 16.33 ounces
LIGHTEST INFLATABLE SLEEPING PAD FOR HIKERS
LIGHTEST INFLATABLE SLEEPING PAD FOR HIKERS
Sea to Summit Ultralight Insulated Air Sleeping Pad
Dimensions unfurled > Regular Mummy: 72 x 21.5 x 2 inches
Dimensions packed: Regular Mummy > 9 x 4 inches
Volume > 1 lb. 5 oz.
LIGHTEST SELF INFLATING SLEEPING PAD
LIGHTEST SELF INFLATING SLEEPING PAD
Thermarest ProLite Plus
Dimensions unfurled > 72 x 20 x 1 Inches
Dimensions packed > 4.1 x 11 inches
Volume > 1 pound
BEST SLEEPING PAD FOR TALL PEOPLE

BEST SLEEPING PAD FOR TALL PEOPLE
Big Agnes Insulated Air Core Ultra
Dimensions unfurled > 78 x 25 x 3.25 inches
Dimensions packed > 8.5 x 4 inches
Volume > 1 pound, 15 ounces
MOST COMFORTABLE SELF INFLATING SLEEPING PAD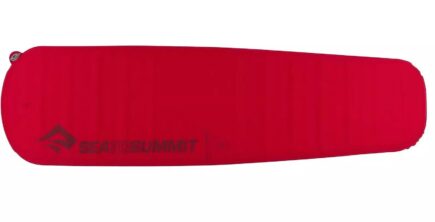 MOST COMFORTABLE SELF INFLATING SLEEPING PAD
Sea to Summit Comfort Plus SI Sleeping Pad
Dimensions unfurled: Regular > 72 x 20 x 3 inches
Dimensions packed: Regular > 7 x 11.25 inches
Volume: Regular > 2 lbs. 2 oz.
BEST DOUBLE SLEEPING PAD
BEST DOUBLE SLEEPING PAD
Therm-a-Rest NeoAir Camper Duo Sleeping Pad
Dimensions unfurled > 77 x 50 x 3 inches
Dimensions packed > 16 x 8 inches
Volume > 4 lbs. 7 oz.
BEST BACKPACKING SLEEPING PAD OF 2022
BEST BACKPACKING SLEEPING PAD OF 2022
Thermarest NeoAir Xlite
Dimensions unfurled > 72 x 20 x 2.5 inches
Dimensions packed > 9.3 x 13 inches
Volume > 12 ounces
HONOURABLE MENTION

HONOURABLE MENTION
Thermarest Solite Sleeping Pad
Dimensions unfurled > 77 x 25 x 1.5 inches
Dimensions packed > 20 x 8.6 inches
Volume > 9 ounces
HONOURABLE MENTION
HONOURABLE MENTION
NEMO Tensor Insulated Sleeping Pad
Dimensions unfurled > 72 x 20 x 3 inches
Dimensions packed > 8 x 5 inches
Volume > 1 pound, 4 ounces
For those of you who want to get real deep, grab a coffee and strap in. I'm going to cover ten of the top sleeping pads around so that you can choose the perfect sleeping pad for your travel style.
I hike, camp and backpack a lot. In my humble opinion, these are the most impressive sleeping pads on the market…
We have something here to suit all trips, all sleeping types and all budgets. So let's get down to it and run through the very best sleeping pads of 2022. From cheap sleeping mats to backpacking sleeping pads, we've got it all.
The Best Sleeping Pad of 2022
Therm-a-Rest's Sleeping pads are the best. The Thermarest NeoAir Xtherm was designed with winter backpacking in mind and is the most effective sleeping pad on the market right now. The NeoAir Xtherm is lightweight, easily packable and warm like a tropical island… For reals, this bad-ass sleeping pad will keep you toasty warm. It may be the best 4 season sleeping pad.
The NeoAir Xtherm ditches the mainstream rectangular shape for a contoured build. This makes it overall more weight-effective, without compromising comfort and it's a seriously comfortable, seriously lightweight sleeping pad – as an all rounder, the Xtherm is hard to beat, but it ain't cheap and there are some better value options out there.
The Xtherm does a terrific job of retaining heat. Pretty much all of the mainstream gear testers have showered the Xtherm with rewards for the duration of it's life. Overall, reviewers have given the Xtherm a 4.7 star rating and we put together our own in-depth Xtherm review here.
Best Budget Sleeping Pad
Need a cheap sleeping pad? When it comes to getting bang for your buck, Kylmit makes the best value sleeping pads. The Kylmit Static V2 offers incredible value with an included stuff sack, patch kit and a lifetime warranty. This is a sleeping pad made with backpackers in mind and it's extremely lightweight yet very comfortable. Even for a 6 foot, 180 pound dude, this backpacking pad will keep you toasty warm.
It only takes 10-15 breaths (my average was 11) to fill up this backpacking pad and crucially the Static V2 doesn't leak air, like a lot of other sleeping mats I've tested over the years. If you're looking for cheap sleeping mats, thus one ain't bad.
I sleep on my side and often find that I wake up with sore shoulders when camping out, the Static V2 is a perfect sleeping pad for side sleepers and I found it very comfortable to sleep on, unlike the X Frame.
Definitely the best budget sleeping pad I've used. See our full review for the Klymit Static V2 for more info!
Best BARGAIN Sleeping Pad – Reduced TO Clear
If you want a top spec, high value Sleeping Pad at a budget price, then this is it. Big Agnes have now discontinued this product so the last stocks are being reduced to clear. Click the button below, check it out and back a bargain before they sell out.
Stay tuned to see what stellar product Big Agnes replace it with.
Lightest Inflatable sleeping pad for hikers
Sometimes it can be a fine line between comfort and extra weight. When cutting down on your general carry weight – shaving off a few ounces (or more) by going with an ultralight sleeping pad option is a good option for backpackers looking to prioritize an ultralight approach. 
The Sea to Summit Ultralight Insulated pad is a solid no-frills option that treads the line between being ultralight and delivering a comfortable night in night out performance. 
While this pad is insulated – it does not deliver the same cold weather protection from the freezing terrain beneath the pad as well as some of the other pads on this list. When it comes to saving weight, there are always going to be compromises – and the compromise here is the relatively low R value. 
That said, the STS Ultralight Insulated pad delivers an all-around great three season performance for the price.
Lightest Self Inflating Sleeping Pad
This ultralight Thermarest inflatable mattress is, as far as self-inflating sleeping pads go, the smallest sleeping pad on the market. Unrivaled in terms of convenience, the Pro Lite comes in a range of three sizes (short, long, and regular) and each size is a different price meaning you can save some money if you need a small sleeping pad.
If you're looking for a lightweight air bed, the die cut foam of the Pro Lite makes it easy to pack and carry from camp to camp. It is the best self-inflating air mattress around but it doesn't offer the same kind of R value as the XTherm or Static V2. For a casual backpacker, the Prolite Plus is a good choice but if you plan on spending a lot of time in cold weather then I would recommend choosing a sleeping pad with a higher R value.
Is this the lightest inflatable sleeping pad in the world? No but it' still a good one.
Best Sleeping Pad for Tall People
OK, first things first, this sleeping pad comes in several different sizes and the best size for a tall or larger adventurer is the wide long size.  If you are car camping and don't have to carry your gear very far then this is a great choice as one of the best camping sleeping pads. That said, the Air Core Ultra also makes for a good backpacking pad – especially if you are hiking with others and can thus split the weight of the tent, food, etc.
This is a fairly heavy sleeping pad but it is super comfortable and 4 inches thick… If you have chronic back problems or a bigger person, this is a sleeping pad which can provide you with some next level comfort. If you need an extra long sleeping pad, you could do worse than this one.
The most awesome thing about this air mattress is the 'internal stabiliser' that makes sure your weight is distributed evenly while you snooze. I hiked with the smaller version of this pad on the Appalachian Trail, and though not an ultralight choice, I got excellent sleep night after night – which makes it worth its weight in gold.
Most Comfortable Self Inflating Sleeping Pad
Sea to Summit has yet again graced our list. This time with the Comfort Plus SI sleeping pad. This is the pad to go with if the priority is 3-season comfort above all else. Delivering a cushy 3 inches of padding, this self-inflating sleeping pad is also built from 30-denier stretch-knit top fabric, which is going to deliver a slightly more durable performance over lightweight pads.
Since the R Value of the Comfort Plus SI is around 4.1, mild winter adventures are now a possibility. That said, keep your expectations realistic. This is not an extreme cold weather sleeping pad. 
Every backpacker prioritizes comfort needs differently. For me personally, I would choose something a bit lighter for a long-distance hike beyond more than just a couple of days. But if you are an older person, or a person who suffers from a stiff back if you sleep on a hard surface, I'd say it is well worth the investment to go with a well-cushioned pad like this one. 
All and all, Sea to Summit delivers the quality with the Comfort Plus SI that one has come to expect with a brand which is now considered a major player in the backpacker scene.
Best Double Sleeping Pad
Now I have always had mixed feelings about double pads. Kind of like double sleeping bags – I love the concept – but the reality does not always produce the best night's sleep. 
That said, having a double sleeping pad makes sense in a variety of situations. For car camping, festival use, or an awesome mattress substitute for your adventure camper van – the Exped Mega Mat Duo 10 is a great choice for couples.
Let us be clear, at 4lbs. 7 oz., this sleeping pad is likely to weigh more than your tent – which means it is less than ideal for backpacking or any sort of camping which involves a significant hike in. The pad itself is super comfortable, delivering three inches of padding and an easy to use pump sack, which provides for faster inflation/deflation. 
The Exped Mega Mat Duo is also not a cold weather pad – so stick to late spring through early fall adventures only (unless you are using it inside of a camper van or something off of the ground. 
If you are looking for the camping version of a "love nest", look no further.
Best Backpacking Sleeping Pad of 2022
The Thermarest Neo Air series took the gold for excellence in 2022. The NeoAir XLite inflates quickly, offers great warmth and comfort and is a solid choice if you want to pick up the top Thermarest sleeping pad from last year.
I traveled extensively with the Thermarest Neo Air myself. It's a great travel sleeping pad. But I have now upgraded and I travel with the, significantly better, XTherm.
Honourable Mention
The Thermarest Trail Pro Sleeping Pad deserves an honourable mention thanks to its innovate new technology that reflects heat back to the user. This is a crazy good value sleeping pad and although it isn't as comfortable as traditional inflatable sleeping pads, it's my top pick for non-inflatable sleeping pads, it will keep you warm even if you are sleeping on snow.
This very cool sleeping pad reflects your heat radiation back towards you using a patent pending tech which helps keep you significantly warmer than if you were on a traditional foam camping mat.
It's one of the lightest none-inflatable mats around but it doesn't fold up quite as small as I would like, that's probably the main disadvantage of this sleeping pad.
Cheapest Sleeping Pad
The Nemo Switchback is a great option if you are looking to save on space and cut down some weight. The pad is exceptionally warm and is an excellent option for those who live in colder 3-season climates. With an R value of 2, I still would not recommend the Switchback for winter camping.
I have tested a ton of pads in my day, but the Switchback was one of the most consistently comfortable units I have ever used. I have had positive experiences with Nemo tents and sleeping bags as well, thus I a a big fan of NEMO gear in general. 
Want an upgrade? Check out the epic ultralight Nemo Tensor Sleeping Pad instead.
Looking at all the options for sleeping pads on the interwebs can be a bit mind-boggling. Every adventure you go on is different. Some may be long, so you need a sturdy and durable sleeping pad. Some may be short, and cold – so you need to focus on warmth. At the end of the day, you're also going to be tired. So a pad that inflates quickly can come in handy. As a primer, here are some of the factors I look at when I feel the need to buy a new sleeping pad.
If you're new to exploring and camping outdoors, you might be worried about how cozy your sleeping bag is going to be. It's important to remember here that a good sleeping bag with a camping pad can create a level of warmth, insulation, and comfort that simply wouldn't be possible with a sleeping bag alone.
The good news is, it's the year 2022 and there are plenty of options for great camping sleeping pads. In fact, there are so many options that you may need some help narrowing down the options.
I spend several months every year camping out in the woods or mountains, most recently in Pakistan, and I've used quite a few different sleeping pads over the years. There's a few different factors you need to consider when choosing a pad for your travel style…
Sleeping Pad Dimensions
You need to understand how well you'll fit onto your sleeping pad based on its dimensions compared to your own dimensions. If you're tall, make sure your entire body will fit on your pad. If you're short or petite, you'll be able to get away with a smaller sleeping pad which will save on weight. The best portable sleeping pad is one with the minimum possible dimensions.
Inflating Your Sleeping Pad
Even the best sleeping pad needs air! The two options when it comes to inflating your sleeping pads are automatic and manual. The best self-inflating air mattress uses an air valve to suck in air and expand to create a comfortable airbed. Sleeping pads that inflate manually usually use an air pump or need to be blown into to expand. I recommend buying a pad with an integrated pump to make inflating your pad quick and easy.
Sleeping Pad Durability
This is an essential factor, especially if you are setting off on a long trip. Sleeping pads are what keep you warm and insulated whilst trying to sleep so if you plan on taking your sleeping pad out on a long, cold, adventure then you can't afford to compromise on durability for price. On a long hike, make sure to pick up something that you know will last and with the appropriate R-value – which is how sleeping pad manufacturers measure the insulating capabilities of a mattress.
Why Sleeping Pads are Important
Sleeping pads are an essential part of any serious camper or hikers kit. A high-quality sleeping pad will keep you warm, improve your night's sleep and help your muscles relax after a hard day on the trail.
If you sleep on the bare ground without a sleeping pad, even if you're young and hardy, your muscles will start to ache after the second night – this is NOT a good feeling and is one that I myself was familiar with in my younger years of broke backpacking…
Still have some questions? No problem! We've listed and answered the most commonly asked questions below. Here's what people usually want to know:
Our Top Picks
So to recap; the best camping pad out there is the Thermarest NeoAir Xtherm closely followed by the Klymit Static V2 or the XFrame if weight is the most important factor to you.
If you are on a real budget then heck; take a foam sleeping pad instead. Just do NOT get the cheapest one you can find; it'll fall apart within a few weeks. This cheaper version of the Thermarest Solar Pad is a good bet.
Now that the results are in, I hope you find it easier to choose a sleeping pad for your travel style 🙂
The next time you're heading off into the wilderness or looking for the perfect gift for backpackers, pick up a sleeping pad – I guarantee you'll find yourself redefining what it means to be a 'happy camper' on your adventure!
---
Thanks for reading – that was fun! 😀
We bring you epic FREE content!
Find out how YOU can help support us.
We're a big site with a big team and this job isn't always easy. But we do it because we love it – we love providing epic and free content. We love the knowledge that our content keeps you adventuring. We don't ask for money, but if you'd like to find out how you can help the site in more organic ways, click the button below.
Thank you for your support 🙂
---
And for transparency's sake, please know that some of the links in our content are affiliate links. That means that if you book your accommodation, buy your gear, or sort your insurance through our link, we earn a small commission (at no extra cost to you). That said, we only link to the gear we trust and never recommend services we don't believe are up to scratch. Again, thank you!