As a long-term traveler, hiker, and backpacker, I'm constantly on the lookout for the most functional and lightest gear, and I'm pretty excited to be adding the Klymit Static V2 sleeping pad to my backpack and list of essential items to pack.
It checks off all of the boxes: comfort, lightweight, and remarkable ease to use. While I just started using this pad, I already feel confident that this is one of the best lightweight backpacking sleeping pads for your money.
The Static V2 barely weighs a pound, yet offers ultimate comfort thanks to its V-shape body mapping technology.
In this Klymit Static V2 review, I will discuss my experiences with the V2 pad. I tested this sleeping pad for comfort, stability, weight, and special features on an alpine hiking adventure.
You might be asking yourself, "is Kylmit a good brand" well now, keep on reading to find out! (Spoiler: yes it is!)
The Test – Klymit Static V2 Sleeping Pad
To review the Klymit Static V2 sleeping pad, we headed into the California Sierra Nevadas, a mountain range that stretches down the state. You just won't find this level of dedication on the other Kylmit sleeping pad reviews, let me tell you!
Our 3-day backpacking trip took us into Desolation Wilderness, a protected alpine area near Lake Tahoe, where we camped at Dick's Lake at 8,420 ft (2566 m) elevation.
Temperature: 40 F (4.4 C)
Elevation: 8,470 feet (2566 m)
While preparing for my trip, I packed the usuals: my trusty backpacking tent, sleeping bag, favorite fleece, and snacks, but there was a new addition to my backpack – the V2 Klymit Sleeping Pad.
Both myself (a cold sleeper and 5'6" woman), and my boyfriend (a hot sleeper and 6′ male) tested the Klymit sleeping pad.
In this review, I will discuss our experiences concerning comfort, stability, pressure points, and other features, like how long it takes to blow up the pad, and how easy it is to roll up. Trust us, we've got it all covered in this Kylmit sleeping pad review.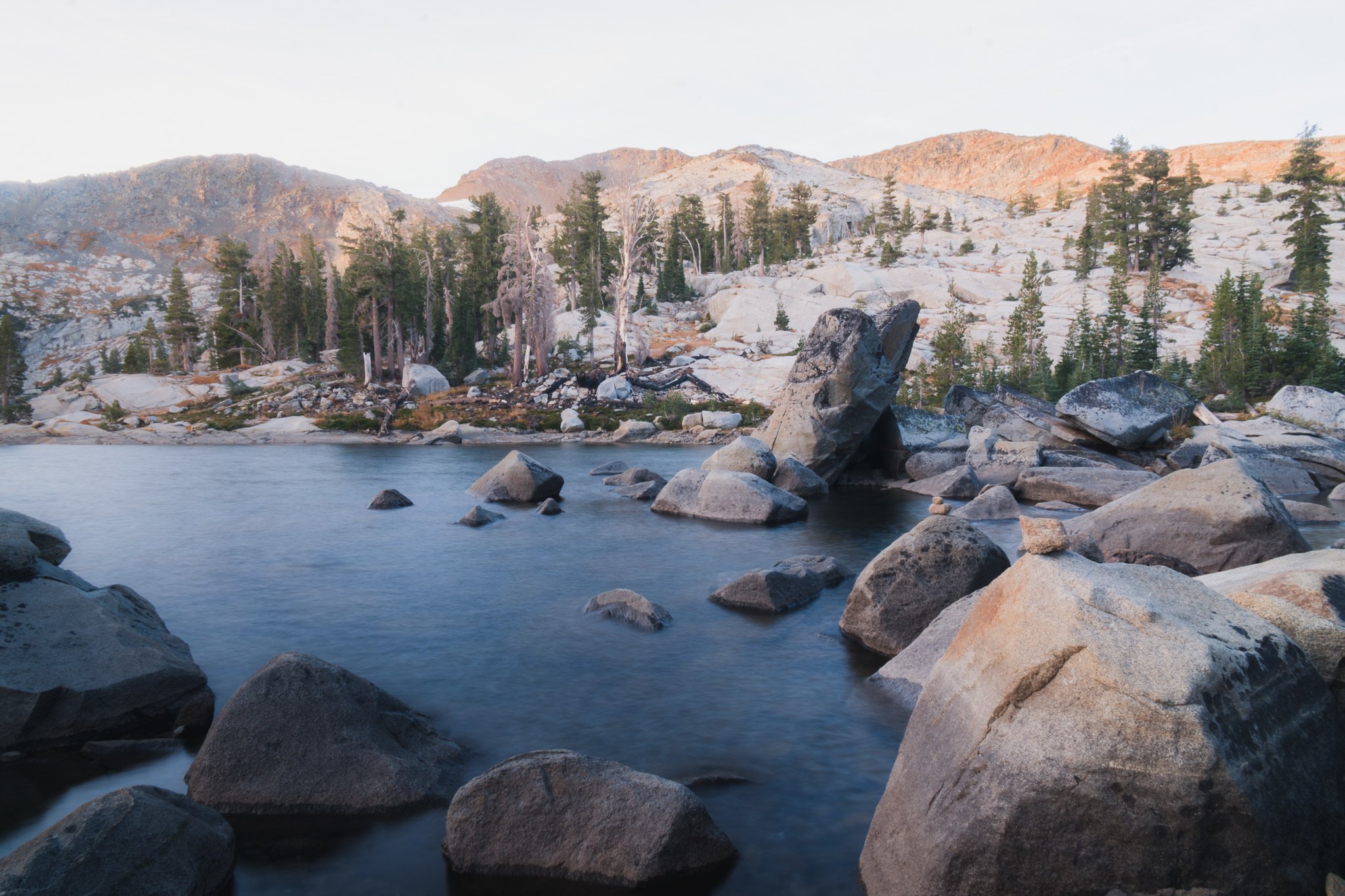 Ladies & Gents, It's Time to Step Your GEAR Game Up. 😉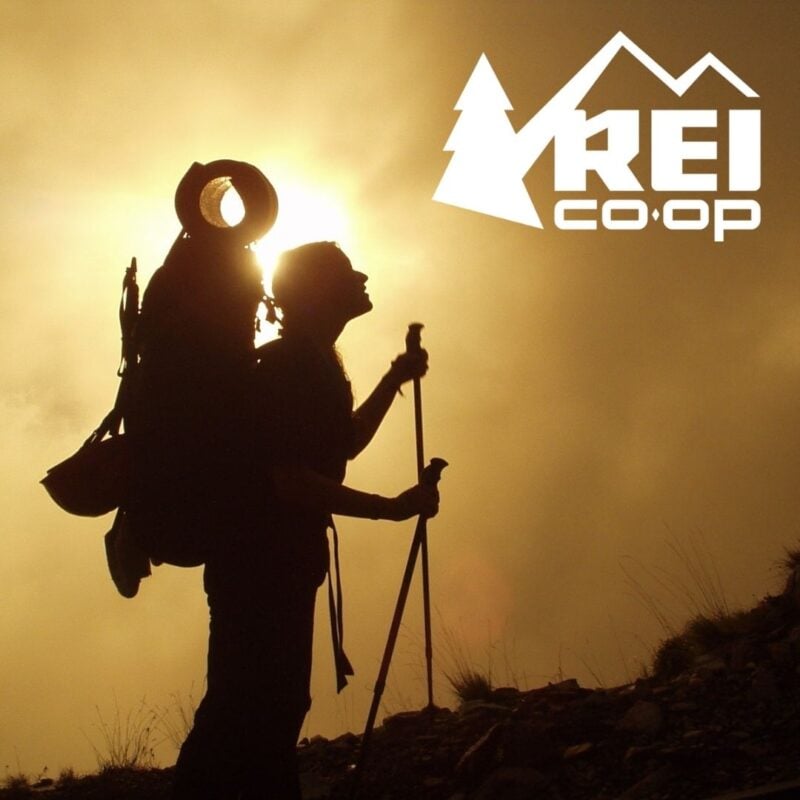 REI is one of America's biggest and most-loved outdoor gear retailers.
Now, for just $30, get a lifetime membership that entitles you to 10% OFF on most items, access to their trade-in scheme and discount rentals.
Join REI Today!
The Klymit Static V2 Sleeping Pad Review
Below is my full review of the Static V2 Kylmit sleeping pad, touching on a few important categories, like weight and packing size, comfort and stability, R-Value and insulation, and other features.
Weight/Packing Size
The Klymit Static V2 weighs 16.55 oz, just barely a pound, including its stuff sack and emergency patch kit. You really can't ask for anything lighter on the trails, and this is where the Static V2 excels.
I am writing this review as both a backcountry hiker and traveler. In both instances, I usually carry a 45-65 liter hiking backpack, depending on how long I'm out there.
As they say in the hiking world, ounces equal pounds and pounds equal pain. Every ounce and inch truly matter when you are packing all of your essentials: sleeping gear, clothes, food, electronics, and camera equipment.
This sleeping pad was designed with backpackers in mind.
When I first opened the packed sleeping pad, I immediately noticed how much smaller and lighter it was compared to my old mat, yet when I rolled it out, it was still the same length! We were both super impressed by the Kylmit sleeping pads' compact design.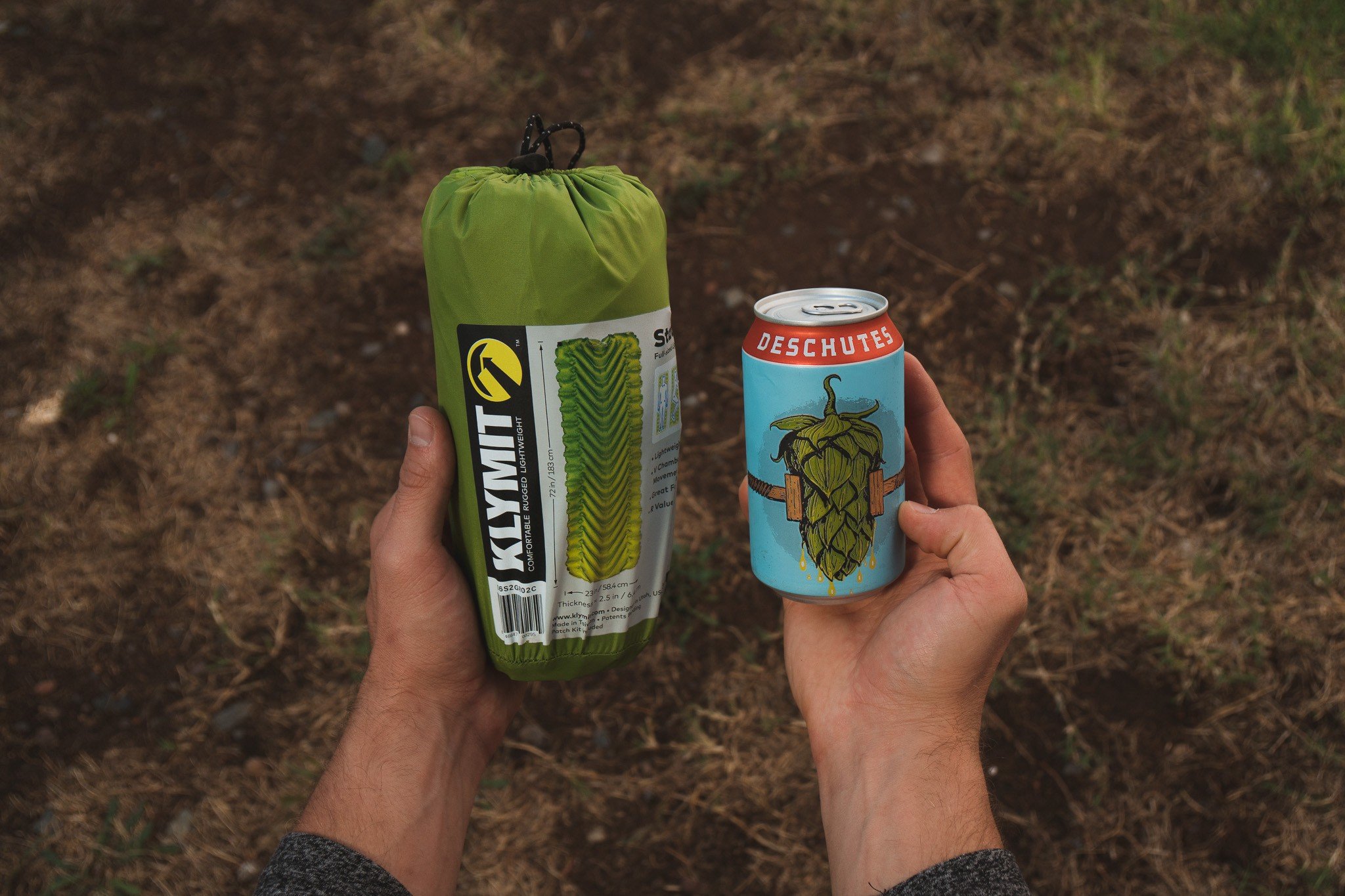 Pack size: 4″ x 8″, 10.2 cm x 20.3 cm
Blown up dimensions: 72″ x 23″ x 2.5″, 183 cm x 59 cm x 6.5 cm
The Static V2 packs down smaller than a water bottle and easily fits in the palm of my hand. The Static V2 was able to shed weight by using a lighter fabric on top, which gives you the freedom to shed weight from your pack and make some extra packing room without sacrificing comfort, which I'll get to later.
For minimalist packers counting ounces, this is the sleeping pad for you.
(There is a drawback to its weight, which I will discuss later. This isn't an insulated sleeping pad, and it's designed for summer backpacking trips. That said, any traveler will find it perfect, and I used this Kylmit sleep pad on a 40 F night without any trouble sleeping.)
Score: 5/5
Material/Design
On the bottom of this sleeping pad, you have durable 75D polyester material. The upper fabric is far lighter at 30D polyester to keep the weight and packability low.
Even though this is lightweight, its puncture resistant fabric means it's durable too. I haven't owned this pad for long enough to say for certain how long it will last, but the material feels tough.
Moving onto the design of the V2, it's innovative and patented "V shape" technology really sets is apart from other pads. They call this technology Body Mapping, and the idea is that it creates excellent cushion and stability if you tend to move around a lot in your sleep.
It's a great solution for anyone who sleeps on their side, stomach, or back.
As the name suggests, the sleeping pad has a "V" shape from the center, while the outer edges are rectangles that form somewhat of a side rail. See the photo above.
This was what I was most excited to test out, as my older pad has a normal, simple design. While I like my other pad, I do tend to wake-up multiple times in the night to adjust, as I am a side sleeper.
On my first night on the Static V2, I felt that I slept much more comfortable thanks to the body mapping. The V-shape cradles your body, so you don't slip off your pad or twist your sleeping bag around in the middle of the night.
I can see how some sleepers wouldn't like the V-shape or need time to get used to it, but both my boyfriend and I felt comfortable and stable on this pad. What is more, I found the Static V2 is much quieter than my other pad!
I give the design a 5, though this is something each individual will need to test out for themselves. I like that Klymit is innovative and pushing the level of comfort and weight in their sleeping pads.
Another feature worth mentioning: the inside of the pad has an anti-microbial treatment applied to restrain the growth of microorganisms, fungus, and bacteria, another bonus to their design/material.
Score: 5/5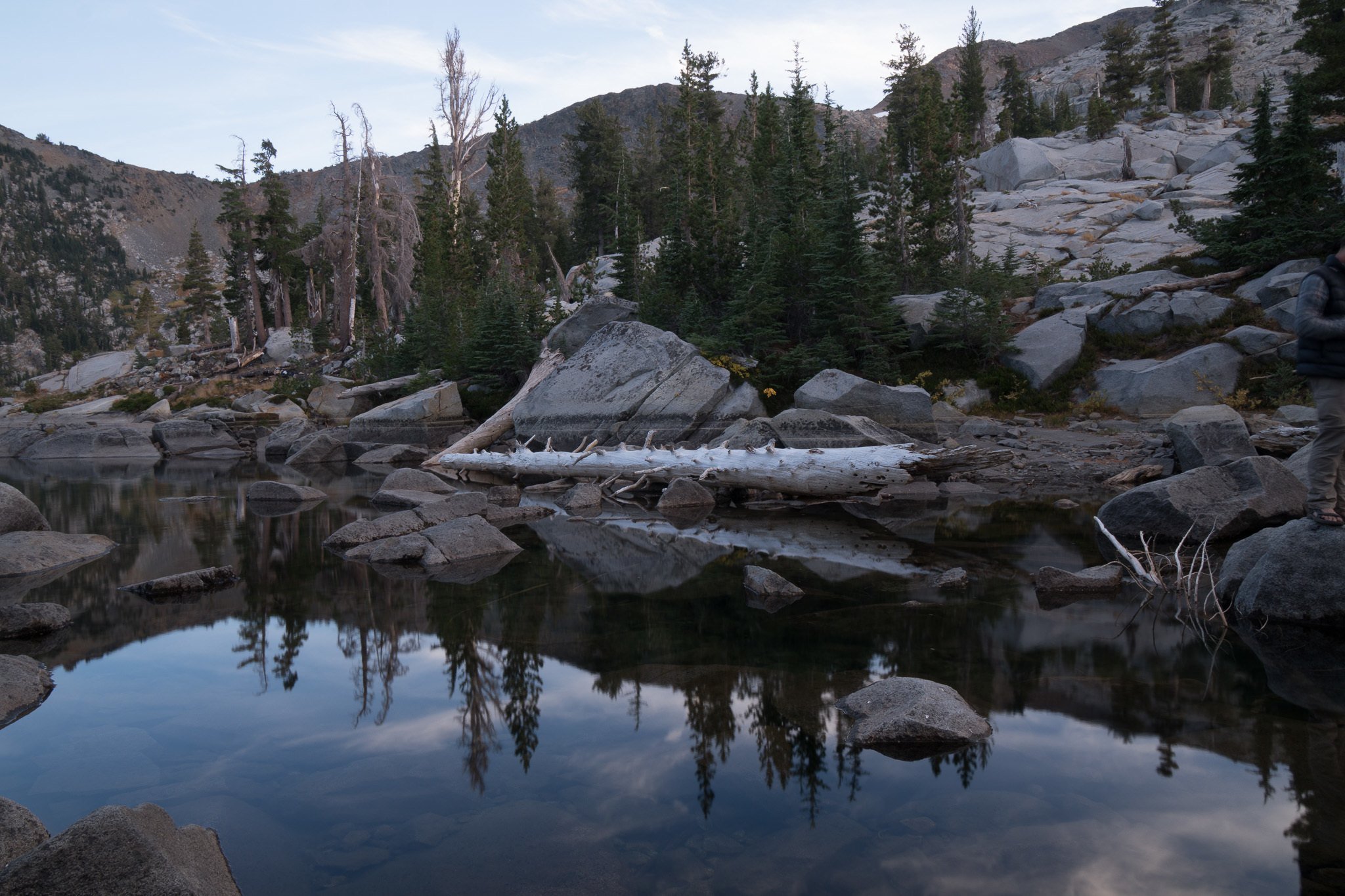 Inflation/Twist-Pull System
Klymit claims that the Static V2 can be inflated in 10-15 breaths, so I obviously needed to test this out myself. I was able to blow up the Static V2 with 13 full breaths every time I inflated the pad.
It took me much less time and energy to blow up the Static V2 than my old pad, so I give it a 5 out of 5 for inflation. This actually ended up being one of my favorite features.
Where I'm docking a point is the ease of use for the twist-pull system, which you need to twist and pull at the same time to open. Sounds simple enough, but I had a hard time undoing the first few times I used this pad.
Score: 4/5
Insulation/R-Value
R-Value is the measurement used to gage a sleeping pad's ability to insulate. The higher the R-value, the warmer the sleeping pad will be, as this what measures its capacity to "resist" (hence the "R") heat flow.
The minimal insulation is 1.0, and the highest is around 11.0 or more. Thicker pads tend to offer higher R-values, though they will be bigger and heavier too.
Insulation is important even in summer because you lose body heat to the ground. With an R-Value of only 1.3, the Static V2 is not recommended for cold temperatures. If you're looking for something warmer, have a look at the ThermaRest NeoAir XLite NXT.
If you want a 3-4 season sleeping pad, then the V2 is not for you, as this is a non-insulated pad that focuses on weight and comfort over the R-Value. This is also a uni-sex sleeping pad. Women-specific pads insulate the core and feet area more.
I will say that I used this sleeping pad in the lower 40s (F) without any insulation between the floor and my pad or my pad and my sleeping bag. I still stayed warm, despite this pad's low rating. This could be due to its deep weld patterning.
Unlike traditional pads that flatten the sleeping bag's fill, the deep welds allow your sleeping bag to fully loft into the pockets and improve overall thermal comfort.
When all is said and done, you're not buying this pad for winter camping, you are buying it because it's a comfortable, lightweight summer sleeping pad.
Score: 2.5/5
Comfort/Stability
I touched on the Static V2's comfort in the "design" section, but I will cover comfort and stability in more detail here.
Let's take a look at what makes a sleeping pad comfortable. The optimal sleeping pad will feel as light as a feather; you want to feel like you are sleeping on air – no pressure points or deflation throughout the night!
Neither of us felt any pressure points sleeping on this pad. We both woke up to a fully inflated pad too. Check and check.
Important Note: To avoid popping or deflating your pad, it's important to adjust the air volume depending on the outside temps. If it's cold, the air in your mattress will compress, and when it's warm, it'll inflate. Don't blow it up all the way if it's warm out or it will pop!
Another important factor to consider is, of course, what type of sleeper you are.
I think if you are a side, back, or stomach sleeper, this sleeping pad will be a good fit due to the Body Mapping Technology that I mentioned earlier, which implies support and stability.
The side rails help cradle your body in the center, even if you toss and turn. The V-Shape also helps keep you in place, and lofts your sleeping bag to keep you warmer.
Lastly, this is one of the quietest sleeping pads I've ever used. In the past, changing sleeping positions has always been annoying simply because of the noise, but the V2 is pleasantly quiet when you move around on it.
Score: 5/5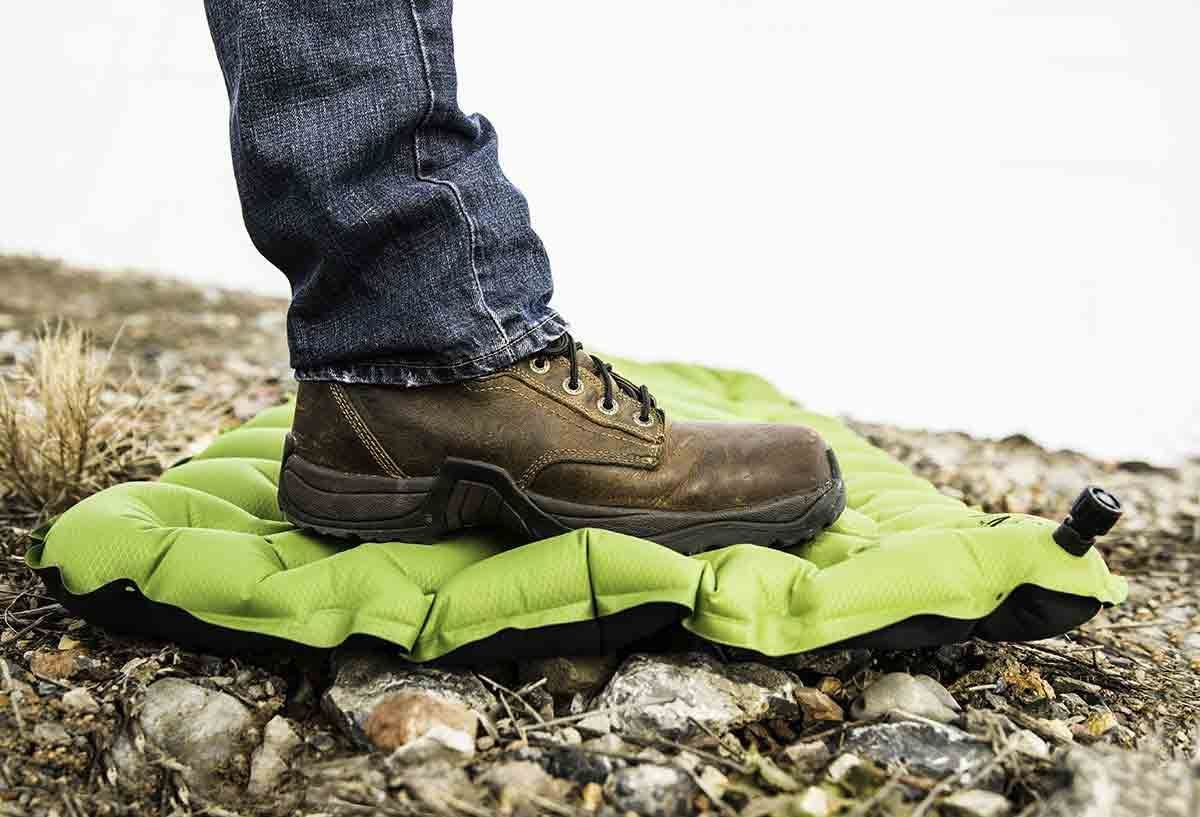 Price
At a retail value of $64.95, this is one of the best-valued sleeping pads, no questions asked. Most of its competitors are over $100.
Score: 5/5
The best present of all… is CONVENIENCE!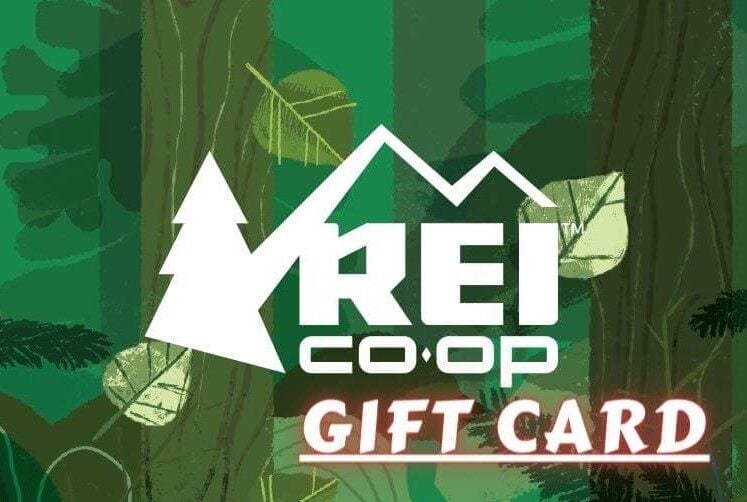 Now, you could spend a fat chunk of $$$ on the WRONG present for someone. Wrong size hiking boots, wrong fit backpack, wrong shape sleeping bag… As any adventurer will tell you, gear is a personal choice.
So give the adventurer in your life the gift of convenience: buy them an REI Co-op gift card! REI is The Broke Backpacker's retailer of choice for ALL things outdoors, and an REI gift card is the perfect present you can buy from them. And then you won't have to keep the receipt. 😉
Buy on REI!
How does the Klymit Stack Against Competition?
The Klymit Static V2 is one of the best-valued sleeping pads on the market. For one, it's the most comfortable sleeping pad I've used, providing plenty of cushion and stability.
It's also one of the lightest weighted and smallest pack size sleeping pads I've used. Despite its lightweight, it's still 3 inches wider than your standard pad, including the Big Agnes Double Z or Therm-a-Rest NeoAir Trekker air mattresses.
The Big Agnes Double Z is much thicker, but it's also a lot heavier (at 27 ounces). Plus they cost over $100. The NeoAir Trekker is also over $100 or more.
When it comes down to it, you'll probably be happy with any of these three sleeping pads, but for the cost-to-value – the Static V2 is the winner.
Drawbacks of the Klymit Static V2
I found this lightweight sleeping pad to be extremely comfortable, but some people may not like the "V-shaped" design. This isn't a drawback so much as a matter of preference.
Secondly, this is a lightweight pad, as I've already stressed, and it is non-insulated and designed for summer. Its low R-value at 1.3 means this is not for high altitudes or mountaineers. That said, I used this pad at 8,500 feet on a 40-degree night without any insulation and just my sleeping bag for warmth. It was completely fine at this temperature.
Finally, its length at 72 inches (183 cm) is not the best option for taller people, and they do not have a larger option for the V2, but the Static V is also built in a Luxe version if you need a bigger size.
The Final Verdict on the Klymit Sleeping Pad
This is the best-valued sleeping pad on our sleeping pad list for a reason.
And just because this is one of the most affordable backpacking sleeping pads doesn't mean it skimps out on quality. The material, design, and comfort and stability all received a 5 out of 5.
Is the Klmit Static V2 Right for you?
Consider what type of camping and traveling you'll be doing. If you need a lightweight, small pad to throw in your bag on your travels, this is an excellent sleeping pad. If you want something comfortable for summer and fall temperatures in the backcountry, this is the best sleeping pad for you.
On the other hand, if you spend a lot of time winter camping and in high elevation, you should opt for a sleeping pad with a much higher R-value.
Finally, we had to put the pad to one more test. After all, if you want a pad to sleep on OR to float on in those big, beautiful alpine lakes, this is a great purchase 😉
Want something different? Have a look at the epic ultralight Nemo Tensor Sleeping Pad instead.
Final Scores
Weight/Packing Size: 5/5
Material/Design: 5/5
Inflation/Twist-Pull System: 4/5
Insulation/R-Value: 2.5/5
Comfort/Stability: 5/5
Price: 5/5
Overall Score: 4.4/5
What we love about the Klymit Static V2
Ultra lightweight at only 1 pound
V-shape mapping technology for comfort
Easy to inflate in 15 breaths or less
Best Value Sleeping Pad
What we don't like about the Klymit Static V2
Low R-Value
Not recommended for winter camping
Twist-valve to open takes some getting used to
Only comes in one size

Our GREATEST Travel Secrets…
Pop your email here & get the original Broke Backpacker Bible for FREE.
Final Thoughts on the Klymit V2 Static Sleeping Pad
Klymit is making its mark in the world of sleeping pads because of their ultralight set up and innovation. Their patented body mapping technology really sets them apart when it comes to comfortable, light sleeping pads.
For its weight and pack down size alone, I would say this is a great cost-to-value sleeping pad for backpacking and hiking, but it's the comfort and V-shape technology that really makes the Klymit Static V2 an awesome sleeping pad.
On a personal note, I am curious to see how far I can push this Kylmit pad into cold temperatures. Despite the low R-value, I had no trouble sleeping on this non-insulated pad at 40 F (4.4 C) degrees. I didn't use an insulation or a blanket between the pad and tent and my sleeping bag either. Even though this is a summer pad, it kept me warm as we approach fall out here in the Sierra Nevada mountains. This is one of the many reasons I am super impressed with Kylmit pads.
Overall, I absolutely love this pad. It's extremely lightweight without sacrificing luxury and comfort.
So, did our Kylmit Static V2 sleeping pad review help? Let us know below.
What is our final score for the Klymit Static V2? We give it a rating of 4.5 out 5 stars!

---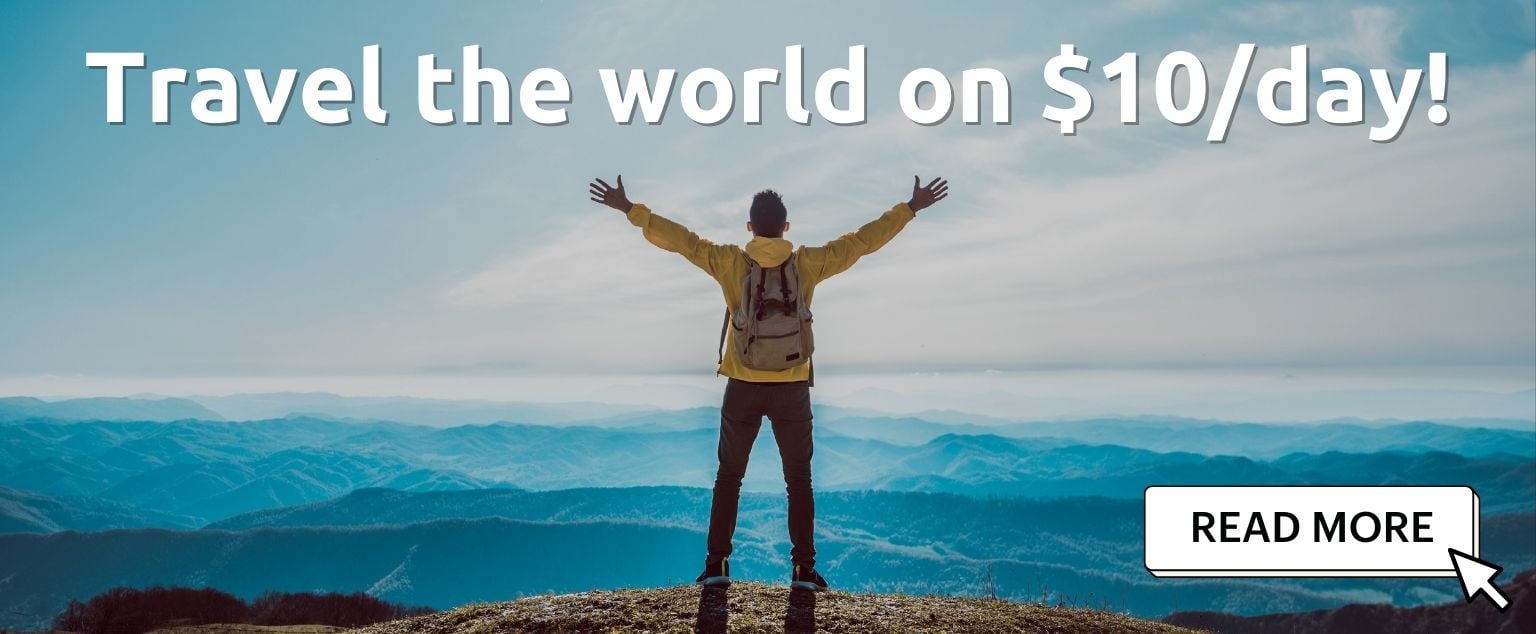 And for transparency's sake, please know that some of the links in our content are affiliate links. That means that if you book your accommodation, buy your gear, or sort your insurance through our link, we earn a small commission (at no extra cost to you). That said, we only link to the gear we trust and never recommend services we don't believe are up to scratch. Again, thank you!