The Osprey Aether 70 liter is perhaps the best long-term backpacking pack on the market today. Its generous storage capacity, succinct features and sheer durability make it the perfect pack for multiple backpacking trips of several months or even years.
In this Osprey Aether 70 liter review we will take a closer look at some of the pack's key features, it's pricing and some of it's competitors, and help you to decide whether it is the perfect backpack for your next trip.
Oh, and one more thing before we dig in. For every pack purchased online, Osprey will plant 2 trees. So if you buy it you can also do a tiny bit to help the environment.
So let's begin our Osprey Aether AG 70 review.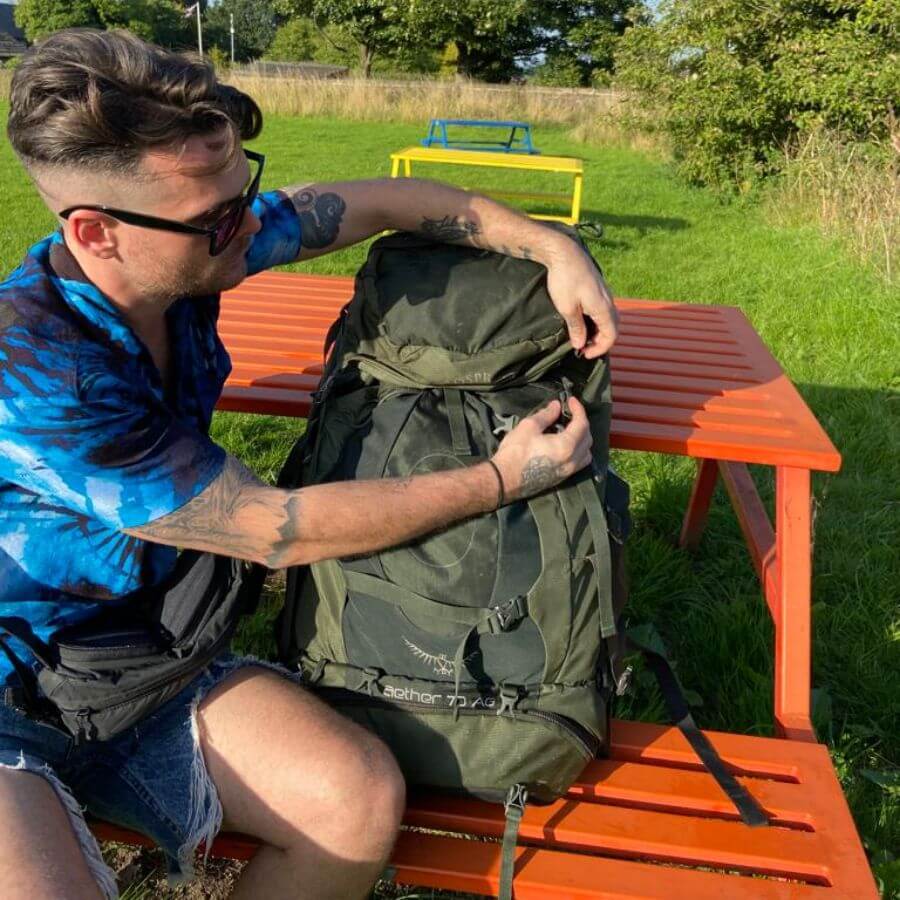 Review of the Osprey Aether 70
I am truly, very excited to be reviewing the new Osprey Aether 70 Liter Backpack because I've been using Osprey backpacks for nearly ten years now and I absolutely love their stuff.
I am extremely impressed with Osprey's products and I doubt I will ever buy a none-Osprey pack. Recently, the good folks at Osprey got in touch and asked me if I would like to review the brand spanking new Osprey Aether AG 70 Liter Backpack.
So of course, I was buzzing for the Osprey Aether AG 70 review and I know you guys will be too!
Obviously, I was stoked to get an upgrade and take this bad boy for a spin! So, why the Osprey Aether AG 70 pack?
Osprey has a strong reputation for building durable, comfortable packs, and the Aether AG 70 (and Ariel 65 women's version) is the brand new, top of the line, pack in Osprey's range of backpacks.
Osprey has several different lines of backpacks, all made specifically for male and female body frames. The Aether AG line is meant to carry heavy loads, which is great if you're living out of your backpack and always on the road. While not a lightweight pack (5 pounds 3 oz), it's a top choice for anyone who wants the option to carry a lot of weight, and still want a comfortable pack.
Personally, I always like to work with a pack that has the option to carry camping gear if I need to and the Osprey Aether AG 70 has plenty of room to carry whatever you need.
The Aether AG 70 is packed to bursting with innovative design features, here are a few of the highlights of the Aether backpack…
Comfortable padding
Top and side zipper opening to the main compartment
Trekking pole holders
Hydration reservoir sleeve holder
Detachable daypack
Hip belt with dual zippered pockets for easy access to your phone and snacks
Lifetime manufacturer warranty
Read on for my in-depth Osprey Aether AG 70 review!
Ladies & Gents, It's Time to Step Your GEAR Game Up. 😉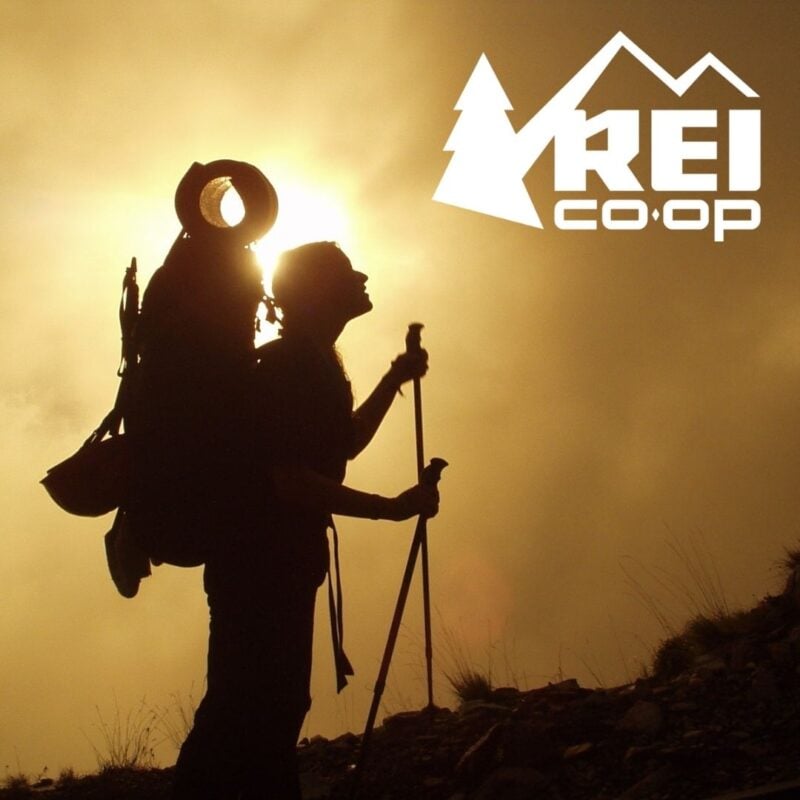 REI is one of America's biggest and most-loved outdoor gear retailers.
Now, for just $30, get a lifetime membership that entitles you to 10% OFF on most items, access to their trade-in scheme and discount rentals.
Join REI Today!
I have reviewed the Osprey Aether 70-litre backpack based on various features, including comfort, ventilation, organisation, fit, and sizing.
Osprey Aether AG 70 (2017) – What's New with this Osprey pack?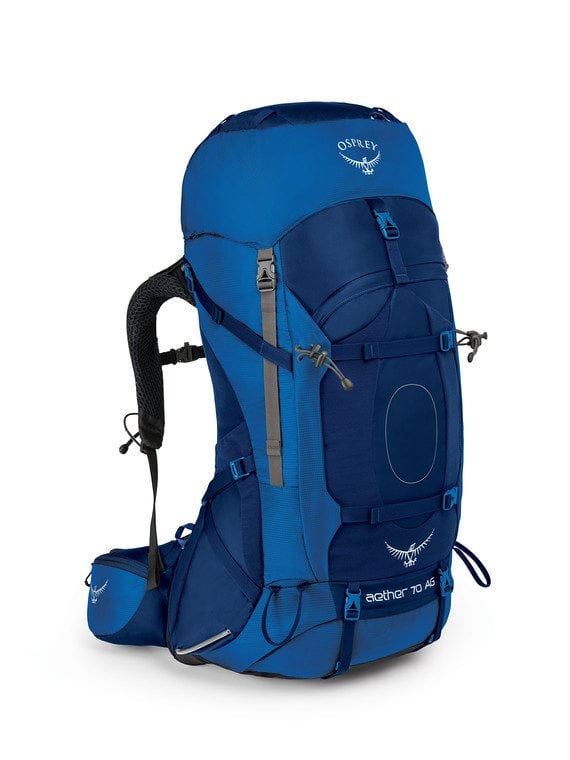 Updated for 2017, the Osprey Aether 70 adds Osprey's signature "Anti-Gravity" suspension. This suspension system is meant to endure heavy loads at maximum comfort meaning you can carry a lot without it feeling crazy heavy!
The Aether AG 70 also comes with a newly designed detachable daypack, a huge upgrade to the previous oversized fanny pack.
Finally, another one of its newest features is its extra side entrance versus the older version's J-shaped zippered front entrance.
Introducing the new Osprey Aether AG 70 – Video by Osprey
How Comfortable is the Osprey Aether 70?
I'm starting this review with the Osprey Aether 70 AG's best quality: its comfortability. The Aether AG 70 is built to handle 60-pound heavy loads with total comfort (although I hope your pack doesn't have to be this heavy). Its ability to handle so much weight is due to its metal frame and Anti-Gravity suspension system, which molds to your back by its suspending mesh back panel. This means you can carry a lot comfortably.
Secondly, the Aether, along with many of Osprey's other packs comes with multiple compression straps along the front and sides. This helps you center the backpack's weight as close to your body frame as possible. Without these straps, a pack can feel off-balance or heavier than it should.
The backpack is designed to carry its weight close to your centre. Depending on your preference you can adjust the load to sit close/far from your upper back too. The Osprey Aether is also built for comfort and the super high-quality hip belt keeps weight on your hips and off your shoulders, this is much safer and much more comfortable than a lot of other packs on the market.
The updated 2017 version of the Aether is the best version yet when it comes to comfort. You should be able to carry up to 60 pounds in your pack without an oz of weight on your shoulders.
**Note that the most comfortable pack Osprey ever released is the groundbreaking Airscape UNLTD pack.
Reliability and Durability of the Aether 70
This pack is built to last and can handle plenty of wear, no doubt. One great aspect of the Osprey Aether series is you don't have to worry about over-packing your backpack. This isn't the case for some of their lighter weight backpacks as well as other competitors which simply can't handle big loads.
While a minimalist hiker, who counts every oz, may not have as much of a need for overpacking their bag, most travellers will and if you're heading out on a proper expedition you will need to carry camping equipment, food, water, a machete… The Osprey Aether AG 70 has got you covered for all of that. There is tons of space in the bag and also a lot of external storage options – more on that later.
The Aether 70 is tough and durable and will last you for years to come. Best of all, this can be the last backpack you ever buy thanks to Osprey's lifetime warranty!
Osprey Aether 70 Ventilation
The anti-gravity suspension system of this Osprey 70 pack not only helps you support a lot of weight, it also allows for better ventilation. Because of its open mesh back panel, the pack itself sits a couple inches away from your back. This feature helps you avoid a drenched, sweaty back caused by direct contact with the pack. Personally, I would NEVER go hiking without a mesh back panel on my pack.
Organization and Accessibility of the Aether 70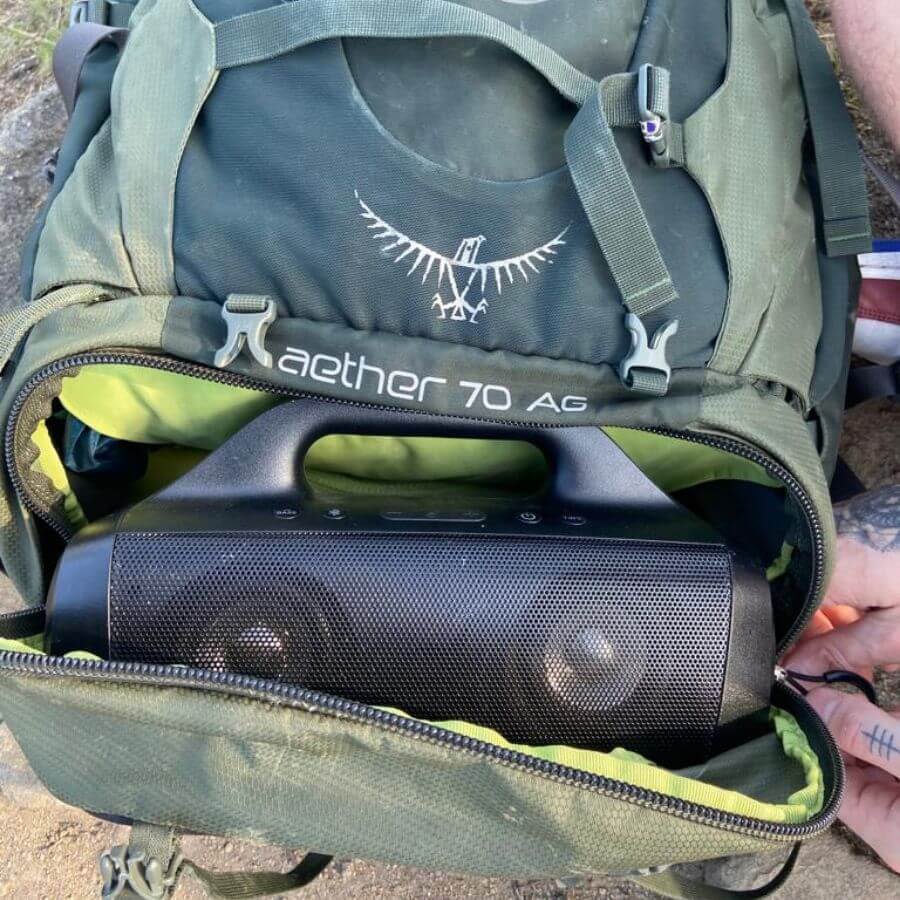 The Osprey Aether AG 70 pack is first and foremost a multi-day hiking backpack, but it can easily double up as your only travel backpack. It certainly kicks the shit out of wheelie suitcases, seriously; why does anybody travel with these?
The Aether 70 has many pockets and features that make this a comfortable pack for travelling. Broke Backpacker writer Ana chimes in with this…
"I just used Osprey's female version (the Osprey Ariel) for 11 months backpacking around Africa and had no problems, it's comfortable, durable and reliable"
Organization and access is considerably more important when you are travelling with a bag, and unpacking/packing it frequently.
Unlike other hiking backpacks that only open from the top lid, the Osprey Aether AG 70 has a top drawstring opening, as well as a large pocket on its side that has access to the main compartment. Like most hiking backpacks, the Aether 70 has another zipper opening at the front near the bottom for easy access to your sleeping bag. These three pockets allow you to access your main compartment and it's a stand-out feature on the Osprey Aether 70.
The sleeping bag compartment divider is removable on the Osprey Aether AG 70. This way you can decide if you want to divide your main compartment into two sections or make it one huge compartment. I usually keep the divider in place unless I need the bag's entire space for my diving fins or camera tripod.

How Many Pockets Does The Aether 70 Have?
The Osprey Aether features pockets galore and if you like to be organized, you have lots of options. In fact you may even wind up wondering how to pack Osprey Aether 70
The outer elastic mesh kangaroo pouch is really useful for storing wet clothes or gear, bathing suits, towels, flip flops etc. It's something small but appreciated on the Aether AG 70.
The hip belt features a surprisingly high-volume zippered pocket on each side. I use these pockets to hold my phone, keys, snacks, and wallet while on the move.
There is also a zipper to a large pocket on the top lid. I keep my washbag and books in here for easy access on long journeys.
There are two expandable water bottle holsters on each side of the Aether 70 AG, as well as an area for your hydration reservoir along the backside for easy access to the hose. I've had a hard time finding packs with useful outer water bottle pockets, but the Aether AG is made of tough elastic that can hold wide Nalgene bottles secure, as well as my large 40 oz hydroflask.
There are plenty of attachment holders for extra gear like trekking poles and ice axes so Osprey Aether 70 backpacks are great for carrying stuff.
Another great feature is the detachable daypack that stores in the top lid, but more on that later…
Straps on Straps on Straps
The Osprey Aether 70 pack has plenty of straps to help you secure and tighten your pack as needed. As I mentioned before, this is especially important in order to keep the weight center to your body for maximum comfort and balance.

Aether 70 Fit and Sizing
Osprey packs come in multiple sizes (small, medium, and large) based on your torso frame. The shoulder straps can be adjusted based on your height. You can also adjust how close the backpack sits on your upper back and shoulders.
Osprey also offers heat molding with the hip belt to create a closer feeling fit. The heat molders should be available at any of Osprey's distributors. You can buy the pack online to get the best price and then take your Osprey pack into one of Osprey's distributors for the heat molding. Personally, I'm not 100% convinced of the benefits of the heat molding as the shape seems to bounce back pretty quickly.
The hip belt is removable/replaceable, an important feature in case the backpack's torso size and hip belt do not fit proportionately. For example, you're a size small who needs a medium hip belt. Most outdoor stores, like REI, can switch it out for you. This may be useful if you plan to use the pack with other people, who are different sizes. This way each person can remove/replace the hip belt depending on their use.
How Much Does The Aether 70 Weigh?
This is where the Osprey Aether AG meets its downside. The pack is over 5 pounds and one of the heaviest backpacking packs in its class. For this reason, it's not going to please ultra minimalists, as its 3 oz heavier than its competitors.
On the other hand, this is the price you pay if you want a pack that can carry a lot of weight comfortably. Personally, I'll take the extra 3 oz if I can carry them with comfort.
I think its larger, more cushioned hip belt adds to the weight as well as its more functional detachable pack. The hip belt is a good trade off since its thickness helps keep the pack from swaying and it absorbs a lot of the weight.
How Much is Osprey Aether 70?
Osprey's Aether series is more expensive than other Osprey backpacks because of its material and durability. This pack handles years of wear and abuse on the trails. It's also designed with backpackers and mountaineers in mind.
I think it is worth investing in a good quality backpack that will last you for years, but this is quite an investment for a broke backpacker. I have always invested in my gear because it's better and cheaper to buy something once than replace it every god-damn year. Personally, I think all backpackers need a decent backpack and a decent pair of shoes – if you have those two basics, you're sorted for life on the road.
If you think a life of backpacking is for you and you imagine yourself travelling at least once a year, invest in Osprey, it's the smart choice.
Attachment for Osprey's Daylite Pack
On the front of the pack, you can see the dual front compression system, which comprises of two vertical flaps with horizontal straps. When you undo these straps, you will see 4 attachment loops underneath.
These 4 attachment loops are there to attach to the Osprey daylite daypack (sold separately). The Osprey daylite daypack is designed to be attached to many of Osprey's packs. It's a great addition if you think you will need more than 70L space, and want to use the daylite daypack as a separate backpack.
However, the Osprey Aether's integrated daypack (included with the Osprey Aether – USA version only) may be enough for you! Check out my mini review below…
Integrated Daypack
Next up in our Aether 70 review is a look at the integrated daypack. What is an integrated daypack I hear you say? Basically, it is a feature which enables users to zip the top lid from the rest of the pack and use it as a daypack. The integrated daypack is one of the Osprey Aether 70's newest features and a great one at that. This daypack is a giant step forward for Osprey, considering I still haven't found an actual use for the removable giant fanny pack on their older version.
The new full functional daypack is perfect for day hikes, urban escapes, and side excursions while on a multi-day backpacking trip. When you're not using the daypack, it stores in the top lid.
Moreover, I think the Osprey integrated daypack is designed better than Gregory's Baltoro (Osprey's main competitor) removable daypack, which seems flimsier. Osprey's daypack comes with with a separate sleeve for a hydration reservoir. Huge bonus!
The integrated daypack includes:
Shoulder straps with mesh and edgeless wrap.
Dual access to the main compartment.
A zippered pocket on top.
There is even an external hydration sleeve with a hanger for the reservoir.
This is a solid daypack for simple day hikes or exploring a new town and since it's included in the price of the Aether 70 is a very nice bonus indeed…
Is 70 Liters the Right Size for You?
Choosing the right backpack size is crucial. When it comes to traveling, I personally try to keep my pack as small as possible. That being said, a 70-liter pack is the perfect size for a longterm traveller – think 3 months in India or the loop of South East Asia. Even if you are using half the pack's space for most of your travels, you can use the numerous compression straps on the sides and front to make the bag smaller.
But what about airline carry-on requirements? Most budget airlines and domestic flights do not have a free baggage check-in. Baggage fees sort of defeat the purpose of a budget flight, right? If you are solely jet setting around Europe and taking flights every week, or you only plan to go use a backpack for weekend trips and short vacations, then I think a 40L travel specific backpack is a much better option.
However, if you will be travelling for longer periods of time, travelling overland (buses, cars, etc.), like to trek, or are an adventurous traveller, invest in a "hiking" backpack, like the Osprey Aether 70. You'll need one if you plan to travel in far flung lands.
I once made the mistake of taking a 40L travel backpack around Central America. I found myself using buses to get around (so the dimensions didn't matter) and I carried that bag up volcanos and over mountains. It was the worst. Travel bags do not have suspension systems designed for carrying a lot of weight on rough terrain. You end up carrying more weight on your shoulders, feeling off balance, getting tired quicker, etc.
Sure, you can rent one abroad, but if you're hiking around, it's worth investing in a pack that fits you perfectly! Backpacks that are a mixture between a travel and a hiking bag, like the Osprey Volt 60, are a great option too, but still not 100% ideal for a pure long-term hiking trip.
Osprey makes several sizes and versions of the Aether packs, here's what you need to know…
The best present of all… is CONVENIENCE!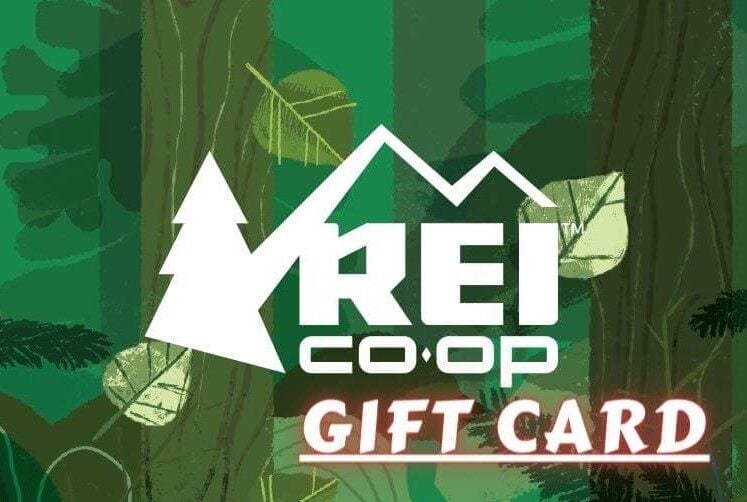 Now, you could spend a fat chunk of $$$ on the WRONG present for someone. Wrong size hiking boots, wrong fit backpack, wrong shape sleeping bag… As any adventurer will tell you, gear is a personal choice.
So give the adventurer in your life the gift of convenience: buy them an REI Co-op gift card! REI is The Broke Backpacker's retailer of choice for ALL things outdoors, and an REI gift card is the perfect present you can buy from them. And then you won't have to keep the receipt. 😉
Buy on REI!
The Osprey All Mighty Guarantee!
Our Osprey Aether 70 pack review would not be complete without mention of the Osprey AMG! One of the best parts about Osprey's products is their lifetime warranty the legendary "All-Mighty Guarantee!"
The All-Mighty Guarantee is a lifetime warranty whereby Osprey agrees to fix many defects at any time. No matter when you bought your bag, you can mail it to Osprey and they will fix any problems free of charge.
Of course, you do need to pay the postage costs which usually cost around $20.00.
This warranty shows just how much faith Osprey have in their gear and also how much they value customers. It is for this reason (and others) that I now own 3 Osprey backpacks. If you ever have to send your pack to Osprey they turn the repairs around pretty fast and they are very easy to communicate with.
However, note that there are some exceptions to the All-Mighty Guarantee. They will not fix accidental damage, airline damage, hard use, wear & tear or damp related damage. Still, imagine if Apple had so much faith in their products rather than that crappy 1-year warranty they offer…?

Our GREATEST Travel Secrets…
Pop your email here & get the original Broke Backpacker Bible for FREE.
Osprey Aether 70 Review Final Thoughts – Why the Osprey Aether 70 Liter Backpack is Right for you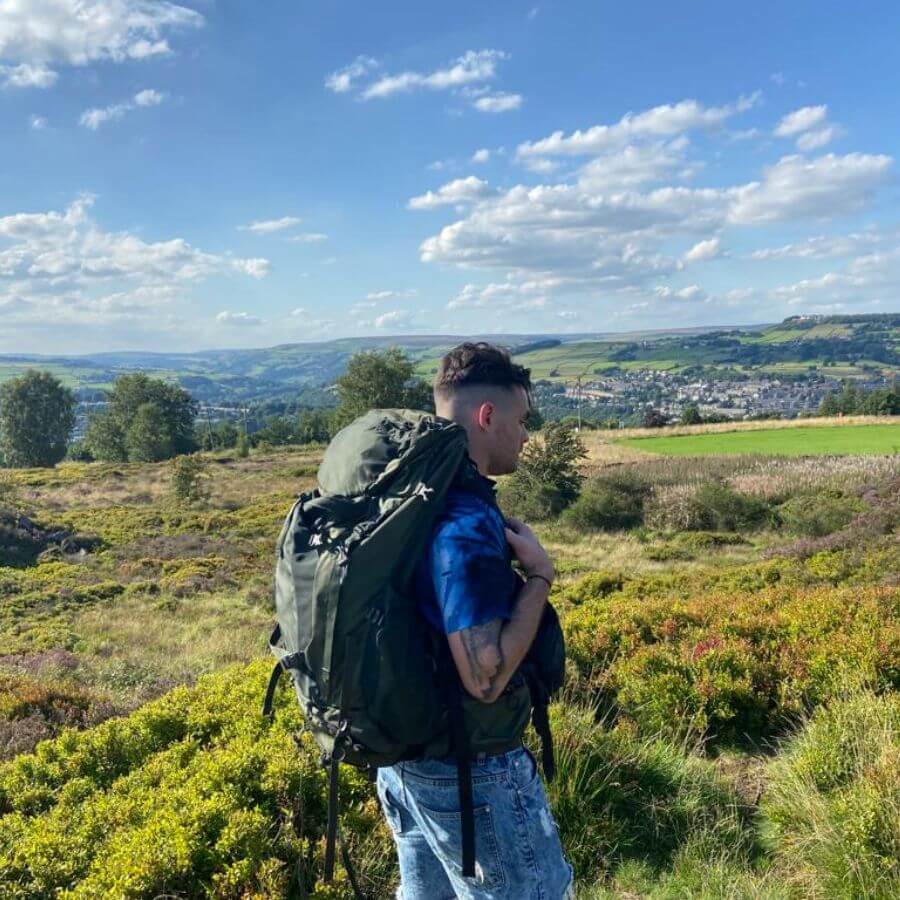 Osprey makes travel specific backpacks, most notably their Farpoint 40, which has the right carry-on dimensions for even the strictest airlines. I own a Farpoint, and think it's a great pack for urban escapes; however, if you are going to be walking a lot, or hiking on your travels, I would definitely go with the Aether 70 L.
The Aether series Osprey backpack is great for its comfort, durability, and space. The new detachable daypack is also epic! It's perfect for flights, afternoon excursions, and day hikes, and then storable in the top lid when not in use.
Travelling with a hike-thru specific backpack gives you the versatility to go on excursions, treks, and walk from hostel to hostel with ease. Osprey Aether's suspension system is meant to carry 50 pounds (22kg) or more, of weight at maximum comfort over mountains, so you know it can handle any travel situation.
I personally think the Osprey Aether 70 has really stepped up its game, especially with its detachable daypack. This is a pricey backpack, but its a lifetime investment for your future travel and outdoor excursions and I truly believe it's worth it.
I hope you enjoyed my review of the Osprey Aether AG 70.
What is our final score for the Osprey Aether AG 70 Liter? We give it a rating of 4.7 out 5 stars!

Need help packing once you've bought the bag? Check out our how to pack your backpack guide for some advice.
---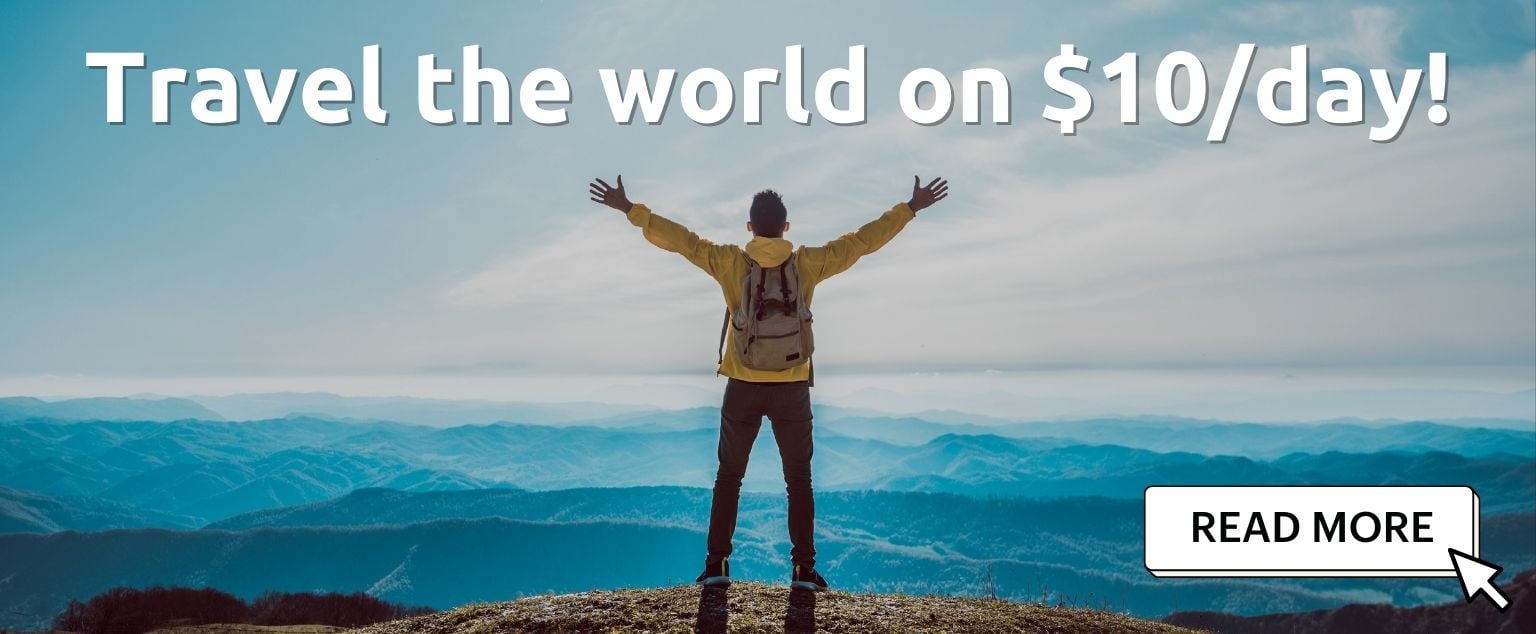 And for transparency's sake, please know that some of the links in our content are affiliate links. That means that if you book your accommodation, buy your gear, or sort your insurance through our link, we earn a small commission (at no extra cost to you). That said, we only link to the gear we trust and never recommend services we don't believe are up to scratch. Again, thank you!