When planning your backpacking adventure; the two most essential items for any aspiring traveller are a good pair of shoes and a quality travel backpack. Your backpack will carry every single one of your possessions on the road, it will become your home. You need your chosen backpack to be strong, durable, comfortable and compact enough to save you some space! Choosing the best travel backpack is a bit of a minefield but I've been living out of backpacks for ten years now and I know what to look out for when choosing the best backpack to travel with.
There is nothing worse than a travelling backpack causing pain, discomfort and dread every time you pack up to move on. I for one, love my trusty old backpack, it's become a travel buddy while I explore the world. To find the best backpack for travel I did a heap of research and a ton of trial and error over the years.
I'm stoked to unveil my ultimate guide to the best travel backpacks of 2017!
Quick Answer: The Best Travel Backpacks
So Why Choose to Travel with a Backpack?
If there is this much research to be done to find the best travel backpack, why travel with one at all, wouldn't a suitcase be easier? The easy answer is no, it would not. The cobbled streets of Europe, dirt roads of Nepal and busy bus stations around the world are not suitcase friendly. Your suitcase is likely to get damaged, get in the way and in general, piss you off. Trust me, carrying your suitcase because the wheels have fallen off while you search for the hostel, is not a great start to a trip plus you look like an idiot. Backpacks to the rescue!
The best backpacks for travel make life when travelling, easier. Strapped to your back, with a good hip strap you'll barely feel the weight on your back. On your travels, you will often pick up your luggage and hoist it over your head to access luggage compartments, lofts, tree houses, bunk beds etc… This is significantly easier with a backpack compared to a suitcase.
Crucially, when travelling with a backpack your hands are free to use google maps to find your hostel, tackling stairs is not a problem and you can officially join the backpacker hordes!
The best backpacks for travel are made with budget travellers in mind! If you travel with a compact backpack you can save a fortune on luggage fees and simply take your backpack on a flight as carry on.
Still not convinced? What if I told you that once you invest in the best travel backpack you shouldn't ever need to buy another one! Good quality travel backpacks last years and do not get damaged as easily as suitcases. I've been dragging my pack around the globe for nearly ten years and it's still going strong… even better, my pack has a lifetime guarantee.
The best backpacks for travel will be flexible in size and shape so when they are not full, there is more chance that you can take them on board planes. Some travelling backpacks even come with detachable day packs to make things even easier!
What Makes The Best Travel backpack?
Picking the best backpack to travel with doesn't need to be difficult or expensive… It's easy to grab a great discount deal from a top brand and to be honest if you buy anything from Osprey, Berghaus or Gregory you probably will not be disappointed. However, not all travel backpacks are created equal and there's a few factors you should always look at when picking a travel backpack…
1. Size
Size is a personal choice and the best travel backpack has no definitive size. If you are a traveler who needs more space for lots of trinkets or you pack everything but the kitchen sink; then a sixty litre plus backpack will suit your travels. Larger backpacks however mean, checked baggage fees and you are less likely to be able to take your backpack into the bus with you, instead of having to strap it to the roof and hope it doesn't rain! The smaller your travel bag of course means the less you can take, but the bonus; no checked bag fees. If you can keep your backpack below fifty litres you will save a fortune when flying. Think carefully about the size of your pack and what's best for you, the best backpacks for travel is different for everyone – personally, I travel with a seventy litre pack as I am often carrying camping gear. 
2. Straps
Carrying everything you need to travel the world on your back doesn't come lightly… even when you pack light! Wandering lost, trying to find a hostel in the heat of the day with a travel bag is not fun, even the lightest packers will agree. So how do you combat this? Well the best travel backpacks will have some pretty awesome straps to help turn that heavy backpack into a feather fairly light backpack. The aim of the game is to take weight off your shoulders so look for hip and chest straps to help distribute the weight. A hip strap for me, is what makes the best travel backpack, without hip straps, even the best backpack can turn into a nightmare. Some backpacks (cough, Osprey, cough) have heat molded custom made hip belts that are definitely a gimmick but comfortable none the less.
3. Pockets
Well organised travel bags make the best travel backpacks. There's nothing more annoying than a typical backpack which only opens from the top. Meaning each and every time you need something you'll be pulling literally, everything else but that, out. Pockets alleviate this problem; allowing you to assign certain segments of your travel backpack to particular items (e.g. clothes, toiletries, passport and money) for easier access. The best pocket is a U Shaped opening pocket is what turns a regular backpack into one of the best backpacks for travel.
4. Weight
The best travel backpacks are those which are as light as a feather, right? Sadly these don't really exist and instead, you need to consider the best weight for what you'll be doing. Backpacks themselves are not weightless, the heavier the frame, the more weight you have to start with. So choosing a travel backpack means thinking about where you're taking it. If you'll be hiking with it then you need a pack that weighs you down as little as possible. If you're just moving from one airport to another, not too much of a big deal. Metal frames offer a bit more support and keep the backpack nice and rigid, which is not ideal for hiking. 

5. Comfort
Your travel backpack will become your new best friend, it's where you will store all of your shit, it will basically become your home; therefore you need to choose a decent travel backpack that is comfortable. You'll find the best travel pack by trying it on in the store before buying. When trying it on, load it up with some weight to take it for a proper test drive. You want an even distribution of weight across your hips, shoulders and chest, and to make sure there are no pressure points that may cause the bag to rub or pinch as you walk. Cushioned shoulder pads and padded hip straps are always a winner my friends… The better your hip belt, the better your pack will sit upon your body and the more comfortable it will be. 
6. Material
So it's raining and you're still trying to find your hostel? Or you can see your backpack from the plane window waiting to be loaded and it's sitting in the rain? (Fuck you Turkish Airlines).
Water-resistant material is essential when travelling! Your travel bag will be exposed to rain, puddles or leaks at some point. There's nothing worse than opening the bag to find your clothes soaked and stinking. The best travel backpacks are made from strong, durable, stretchy, waterproof material. 
So look out for a material that will last for years – the last thing you want is a ripped bag halfway through your travels!
Breakdown of the Best Travel Backpacks

Backpack

Best for

Price

Size

Osprey Aether


Men


Find out more

$174.00

70L

Osprey Aura


Women


Find out more

$195.05

50L

Deuter Aircontact


Unisex


Find out more

$280.00

65L + 10

Kelty Redwing


Unisex


Find out more

$79.68

50L

Berghaus Freeflow


Carry On


Find out more

$100.00

30L

Osprey Ozone


Carry On


Find out more

$160.00

46L

Incase Icon


Laptop


Find out more

$110.60

9x13x9 inches
Best Travel Backpacks for Men 2017
There are literally, thousands of travel backpacks on the market and the best packs tend to be made with one gender or another in mind. Unisex backpacks usually will fit pretty much anybody but you can get a manly backpack, which will take into account broad shoulders, for the same price so I definitely recommend finding a gender-specific backpack when you hit the road. I've been backpacking for about a decade now and have tried out several different backpacks and brands over the last few years. Here are the two best travel backpacks I would recommend to any guy planning to pack his life into his backpack and head off on an adventure…
This is a great all-round backpack and hand's down one of the best backpacks for men. This backpack has literally everything you need to adventure and travel – it's comfortable, tough, well organised and crucially it has an airflow back panel which means it's comfortable to hike with and you won't get insanely hot. The Kelty Redwing is 44L but feels much bigger, it can be taken on most planes as carry on so you can save money on checked baggage. The Kelty Redwing is one of the best travel backpacks for short adventures.
Size: 44L
Straps: load lifters, hip-belt stabilisers, sternum straps and waist buckle
Pockets: zip side pockets, zip stash pocket, large front pocket with organisation for small items, and the large pocket on the top of the pack.
Frame: LightBeam single aluminium stay and Dynamic AirFlow back panel
Material: 420D Polyester Ball Shadow
Feature Highlights: Top loading, zippered side pockets, stretch front pouch. 

The Aether has all the advantages of every pack of the Osprey brand (all-mighty guarantee, durability, comfort), but this model is slightly smaller than the standard 80+ litre. Making it the perfect backpack for travel on long-haul trips when a small travel bag just won't do. Additionally, it has plenty of pockets and compartments to keep things extra organised. An AirScape back panel to keep you cool on the warmest adventures. I can guarantee it'll last a lifetime, if you don't believe me, just ask Osprey!
Literally guys, they put a lifetime guarantee on every single product they sell to prove it. The only downside to this pack is you can't avoid checked luggage fee's with this bad boy. But at least you don't have to dump any stuff! This is hand's down one of the best backpacks for travelling around the world on a longer adventure.
Size: 70L
Straps: Hip, Shoulder and Chest Compression Straps
Pockets: Multiple!
Frame:  IsoForm5 harness and CM™ hip-belt for a custom fit
Material: 210D Nylon Dobby
Feature Highlights: Anti-Gravity technology with custom fit, convertible top-lid day pack.
Best Travel Backpacks for Women 2017
Finding the best travel backpack for women requires more research than nice colours and comfortable straps. I am, of course not a woman. So to help me out on this I spoke to a bunch of kick ass women adventurers for advice. The tips, advice and best backpacks below are tried, tested and highly recommended by some pretty awesome ladies.
Most of the points described above need to be taken into account. Size is perhaps the most important consideration along with comfortable straps and weight distribution. This doesn't mean that women have to buy travel bags specifically for them, but the feedback from my girlfriend and friends; is that they're so much better.
Other than the different design for a typical woman's body, there is not much difference between the women's and the men's travel backpacks.
So ladies without further or do, here are the top choices for the best women's travel backpack recommended by women adventurers themselves…
The women's specific Osprey Aura is the best travel backpack specifically designed for the ladies. This is a high-quality backpack for women travelling on epic short or long haul adventures. Osprey as a brand are awesome and they guarantee to last many adventures! Seriously, all Osprey travel bags come with a lifetime guarantee. With the unique built-in Anti-Gravity suspension system, this bag is designed to carry up to 40lbs without the carrier even noticing! Meaning this travel backpack is stable, strong and can carry the weight without you having to suffer for it! If you're a chick hitting the road, this is the travel backpack I recommend.
Size: 50L
Straps: Hip, Shoulder and Chest Side Compression Straps
Pockets: Multiple – including top, front and water bottle pockets.
Frame:  Internal, full peripheral frame
Material: 100D X 630D Nylon Dobby
Feature Highlights: Anti-Gravity Suspension, floating top-lid replaceable with FlapJacket, multiple organisation options.
If you're looking for a backpack like a Mary Poppins suitcase this is it. Although it has 'weekend' in the name, this backpack can actually extend out to hold up to sixty litres of stuff! Which as we all know, makes one of the best travel backpacks for us budget round the world travellers.
This travel bag is great for those planning to travel light or for those escaping on frequent long weekend trips. For those more adventurous, the only draw back to this travel bag is the lack of waist strap. It does come with an attachable strap that can be used around the waist, but it doesn't offer the same comfort and support as other backpacks. I wouldn't recommend to take this pack hiking or on a real backpacking adventure; you wouldn't want to carry this bad-boy fully loaded through the streets of Delhi.
If you're traveling lightweight round the world and need a backpack that can shrink and grow; The Motherlode TLS Weekender Convertible is the best travel backpack for you.
Size: 60L
Straps: Detachable Back straps, Side Handle and attachable shoulder strap.
Pockets: pop-out water bottle holder, side-zip front grab-n-go pocket, inside mesh pockets and laptop slot
Frame:  Internal, full frame
Material: 840 denier twisted polyester
Feature Highlights: Cushy backpack straps that easily unclip and zip inside the bag. It can be carried by a side handle, or by attaching a shoulder strap (also included).
Best Unisex Travel Backpack for 2017
There are a ton of travel backpacks out there which comfortable fit both sexes. Find below the best travel backpacks for both ladies and gentlemen travelling the world.
Looking to head into the back country in search of adventure? Whether it is a couple of days hiking or an epic adventure The Osprey Aether 85 backpack is the best travel backpack on the market by far.
I've been adventuring with my Aether for nearly ten years now. The best thing about Osprey is that they operate an all-mighty guarantee. This means that they will repair any damage done to your pack, no questions asked, for free. Forever. Osprey packs are expensive but you are effectively buying a pack for life. I've had my pack repaired once by Osprey, four years ago, and I will soon be sending it in for some more minor repairs to belt buckles and a ripped external pocket.
The pack is extremely tough; in ten years of constant backpacking I have never damaged or ripped the main pack's body and only minor things have broken (usually after five years!). The Osprey Aether 85 is a big expedition backpack; it's 85 litres, extremely comfortable thanks to the custom moulder hip belt, is compatible with hydration systems, has plenty of sections for storage and can easily be loaded up with a ton of stuff – I once strapped three tents to the outside and had a fourth tent on the inside plus cooking equipment, sleeping bags, food, clothes, electronics etc…
You can fit everything in this pack and it will remain comfortable and manageable. I cannot recommend Osprey enough. The best backpacks for travel are all made by Osprey. 
Size: 85L
Straps: removable hip belt molding straps, comfortable shoulder straps
Pockets: Multiple including one mesh pocket on the right side, large enough to store a 1 liter size water bottle and a zippered storage pocket on the left side.
Frame: HDPE/aluminium rod
Material: High tenacity nylon
Feature Highlights: Removable top lid has one compartment with a waterproof zipper and lash-on points; converts to a lumbar pack with AirScape lumbar pad.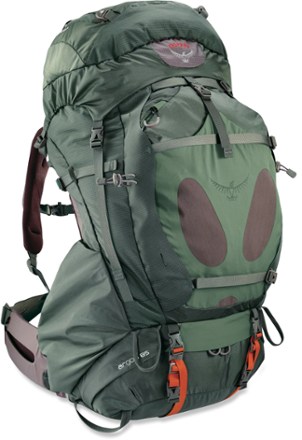 Although a little smaller than the Osprey Aether, the Kelty Redwing still makes for a quality unisex backpack for travel on long haul trips. Ideal for use in both cities and in the mountains, the Redwing is a versatile, sturdy backpack with multi-functional pockets, a comfortable fit and easy access compartments allowing you to get to your travel essentials whenever you need to. This is one of the best travel backpacks around for compact, convenient travel for both men and women.
Size: 50L
Straps: Side Compression Straps
Pockets: Multiple – including top, front and water bottle pockets.
Frame:  Internal, HDPE frame sheet
Material: Poly 420D
Feature Highlights: Perfect-Fit suspension for on-body adjustments, easy access, and AirFlow back panel for increased comfort.
Hands down, this is one of the best travel backpacks to take hiking. This is a fantastic backpack for those looking for comfort, support, breathability and freedom of movement. This backpack is absolutely one of my best picks and if it wasn't for my trusty Osprey, I would probably be a Deuter man.
Size: 65L
Straps: ActiveFit shoulder straps, VariFlex hip fins and Chest straps
Pockets: Lid pocket, Hip belt pocket, wet pocket, valuables pocket, side pockets, front opening and bottom compartments. Also, Daisy chains to secure extra gear.
Frame:  X frame Construction
Material: Polyester: 20% / Nylon: 80%
Feature Highlights: 15% perspiration control – 3D AirMesh cover with breathable hollow chamber foam that blends ventilation through a pump effect that circulates air through.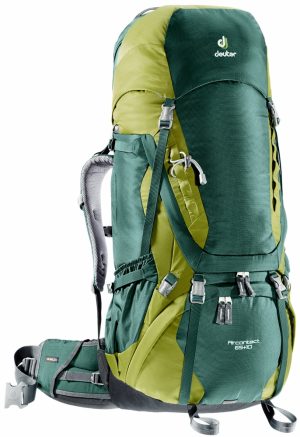 Best Carry on Backpack
I have about four different packs now and whilst I am almost always carrying my Osprey Aether, it's well worth having a second backpack which is small enough to get by as carry-on luggage. Carry on backpacks can be difficult to choose, especially when you want it bigger than a weekend backpack, but smaller than a long term backpack. I've written an entire post about the best travel daypacks – check it out here. Below are two of my all time favourite travel bags to take as carry on.
For the days when you venture into the wilderness or walk the market streets, you need a pack that is both comfortable and practical. I've been using my Berghaus Freeflow for three years now as my go-to backpack for shorter adventures or hikes. It's one hell of a pack and is the best budget backpack I've come across. It's pretty cheap considering the quality and it has plenty of pockets for storage, a padded hip belt, a safety whistle on the chest strap (always handy!) and an in-built rain cover.
The Berghaus Freeflow backpack is 35 litres so best for weekends or ultralight hiking rather than long expeditions where you have to carry tents and food. It can just about handle long trips but space is limited so whilst it is one of the best backpacks for travel, it wouldn't be my first choice for a long trip.
Size:  30L
Straps: Height adjustable chest strap and side compression straps
Pockets: Zipped internal lid pocket and front bungee system
Frame: Ultra-light 6001 aluminium frame
Material: Nylon
Feature Highlights: Walking pole attachments and flow or adjustable BIOFIT back system.
Designed for the savvy traveller, Osprey's Ozone Travel Pack 46 is pretty much one of the best travel backpacks out there. The padded hip-belt and shoulder harness stow away for easy transport. It can clip on to the wheeled range by osprey for easy transport and it is super breathable. It even has an inside zipped compartment perfect for smelly hiking boots! I've been using this pack on and off for two years, you can fit a TON of stuff in it – a genuinely surprising amount considering it still qualifies as hand luggage most of the time – however, once it's heavy it quickly becomes a tad uncomfortable – not ideal if you plan on taking it hiking. This is one of the best backpacks for travel if you have a ton of valuables you want to keep in your hand luggage – i.e. if you are a digital nomad!
Size:  46L
Straps: Compression straps, shoulder straps and hip strap.
Pockets: Stretch Mesh Pockets
Frame: Ultra-light 6001 aluminium frame
Material: Nylon
Feature Highlights: This pack will attach to any of the wheeled luggage by Osprey attachment system to create a single rolling unit so you are nimble on the way to the airport. But then again, who needs wheels…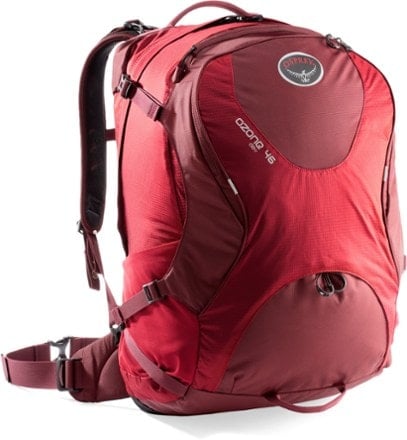 Best hiking backpack for photographers
"Keeping all your electronics safe"
I've only had this pack for six months but I absolutely love it. Whilst it is not the most comfortable pack to carry on long hikes it is the best hiking backpack for photographers. It is super strong, probably the toughest pack I've ever owned, and is beautifully designed with photographers in mind.
There are separate sections for lenses, cables, camera bodies etc and plenty of options to attach your tripod to the outside of the pack. Best of all, you can get into the pack from the top and from the front, meaning you can have your camera assembled and ready to go in record time. If you want to truly turn it into one of the best backpacks for hiking, I recommend pairing this with the peak design camera clip so you can carry your camera on your hip or on the chest strap of your bag, making it accessible in seconds.
Size:  11.8 X 7.0 inches
Straps: Adjustable padded ergonomic shoulder straps.
Pockets: Includes generous external pockets and pouches. Modular dividers let you customise to fit your gear.
Frame: None
Material: Made of environmentally friendly hemp and cotton that has been treated for water resistance.
Feature Highlights: Modular dividers let you customise to fit your gear, concealed pocket to keep valuables, made of environmentally friendly hemp.
Best Laptop Backpack
These days, travelling without my laptop is just not going to happen. For many of us, a laptop is just as essential as a phone and if you are a digital nomad hitting the road, you need to protect your baby. So amigos, let me share the best travel backpack for laptop lovers.
The Incase Icon Pack is the best travel backpack if you'll be working on the road and need a sturdy, durable pack to keep your laptop safe while exploring new areas. Featuring multiple exterior and interior pockets, the Icon laptop backpack allows maximum organisation and easy access to your belongings, with a dedicated laptop compartment to stow your gear away safely.
Size:  9 x 13 x 19 inches
Straps: Shoulder and Chest Straps
Pockets: 5 exterior pockets, 1 interior zippered pocket
Frame: None
Material: 100% Nylon
Feature Highlights: Dedicated laptop compartment, multiple organisation options, airflow channels in back panel.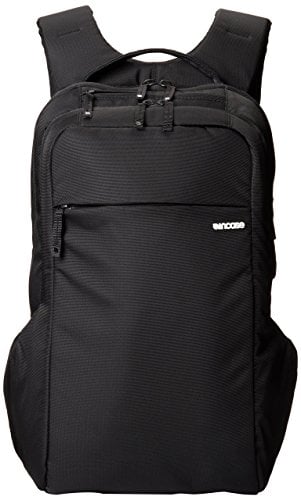 ---
Conclusion
So there you have it amigos, the best tips to help you find the best travel backpacks for your upcoming adventures. Remember, the most important thing that makes a travel backpack one of the best backpacks for travel is the comfort. The last thing you want is a bag that rubs on your shoulders or hips while walking. Follow these tips, try some bags on before buying, and you'll end up with a bag to last you years of adventures!
Still not sure which backpack to buy?
OK, let's break it down…
The Osprey Aether 85 is the best unisex travel backpack, I've been travelling with mine for nearly a decade, I've had it replaced twice (for free, by Osprey!) and I god-damn love this pack. In my opinion, this is the best backpack for travelling around the world long term.
The Osprey Aether 70 is also excellent, and a bit smaller than the 85. Check out the men's Aether here and check out the female's Aether here.
The Berghaus Freeflow is the best travel backpack for hiking and the best backpack I've ever come across for short adventures.
---
Need More Inspiration?


Yay for transparency! The links in this post are affiliate links. That means if you buy any of the products using our links we'll earn a small commission at no extra cost to you. Never fear, we actually use and/or want all of these things. We don't endorse crappy stuff!
Like this post? PIN ME!!