According to a prominent psychological study, the average human makes upwards of 35,000 decisions every single day. That's a whole lotta deciding right? But in truth, some of life's (many) decisions are more important than others. BIG decisions include what career to  pursue, who to marry and of course whether you should take the red pill, the blue pill or both…
So, in the grand scheme of things, choosing which travel backpack to buy may not seem all that important and yet take it from us (the experts), having the right backpack can sometimes make or break a trip. Seriously peeps, choosing which backpack to bring on a given trip is AS important as choosing where to go.
Your travel backpack will carry every single one of your possessions on the road and will become your home. You need your chosen backpack to be strong, durable, comfortable, and compact enough to save you some space!
Over the years, I have personally tried countless different backpacks. I have carried them all over the world, up mountains into valleys, tossed them onto the back of busses and places them delicately in overhead compartments.
In this post I am going to channel all of that experience and knowledge in order to answer, what is the best travel backpack? Join me as I explore several bags and what makes them more or less suitable for each person's specific needs.
Quick Answer: These are the Best Travel Backpacks of 2023
Best Overall Travel Backpack
Best Overall Travel Backpack
Nomatic 40L Travel Bag
Price > $$
Liters > 30L and 40L
Material > Tarpaulin/Ballistic Weave
Best Use > Travel, digital nomad lifestyle, weekend trips
Best Long Term Travel Backpack (Men)
Best Long Term Travel Backpack (Men)
Osprey Men's Aether Plus 70
Price > $$$
Liters > 70L
Material > 210D high-tenacity nylon
Best Use > Backpacking
Best Carry-on Backpack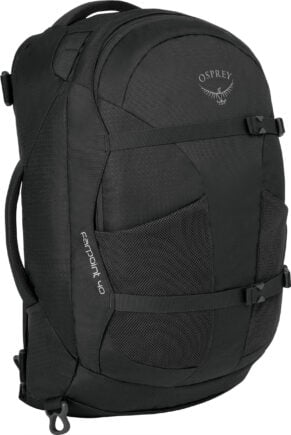 Best Carry-on Backpack
Osprey Farpoint 40
Price > $$
Liters > 40L
Material > 450D recycled twist dobby polyester
Best Use > Travel, international backpacking, urban lifestyle
Best Long Term Travel Backpack for Women (Large)
Best Long Term Travel Backpack for Women (Large)
Osprey Aura 50
Price > $$$
Liters > 50L
Material > 210D honeycomb recycled nylon
Best Use > Trekking, backpacking, hiking, international travel
Best Travel & Hiking Backpack
Best Travel & Hiking Backpack
Osprey Airscape UNLTD
Price > $$$$
Liters > 68L
Material > 210D Nylon Mini Hex Diamond Ripstop
Best Use > Hiking, international backpacking,
Best Organized Backpack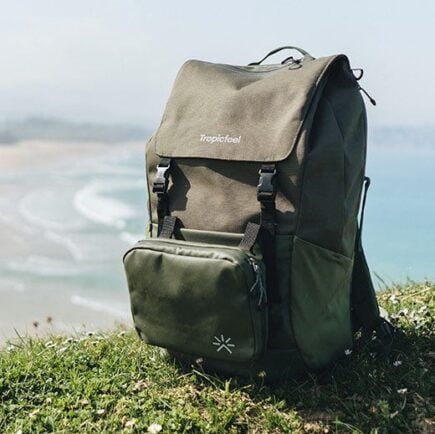 Best Organized Backpack
Tropicfeel Shell
Price > $$
Liters > 22-40
Material > Polyester – 60% recycled material, 100% recycled nylon
Best Use > Travel, international backpacking, urban lifestyle
Best Full Size Carry On (Unisex)
Best Full Size Carry On (Unisex)
Tortuga Travel Pack
Price > $$$
Liters > 30L and 40L
Material > SHELL200D Recycled Polyester
Best Use > Travel, international backpacking, urban lifestyle
Best Travel Bag with Wheels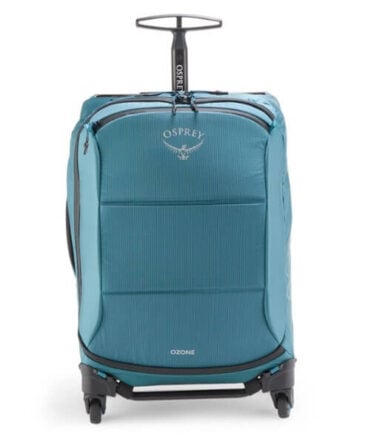 Best Travel Bag with Wheels
Osprey Ozone
Price > $$$
Liters > 38L
Material > 100-denier recycled high-tenacity NanoFly nylon
Best Use > Travel, international wheelpacking
Best Camera Backpack for Travel
Best Camera Backpack for Travel
WANDRD PRVKE 31
Price > $$$
Liters > 31-36L
Material > Combination of tarpaulin and robic nylon
Best Use > Travel photography<
Best Travel Bag for Laptops
Best Travel Bag for Laptops
Tortuga Setout Laptop Backpack
Price > $$$
Liters > 25L
Material > 900D heathered polyester
Best Use > Travel, digital nomad lifestyle, carry on, day pack
So Why Choose to Travel with a Backpack?
Ok so why should you travel with a backpack rather than suitcase? Well, ultimately it depends on where you are going and your travel style.
For example, the cobbled streets of Europe, dirt roads of Nepal, and busy bus stations around the world are quite simply not suitcase friendly. In these environments your suitcase is likely to get damaged, get in the way and, in general, piss you off. Trust me, carrying your suitcase because the wheels have fallen off while you search for the hostel, is not a great start to a trip.
And, if you are planning to visit multiple destinations and using public transport, a suitcase is simply not practical and you will hate yourself for bringing one!
Backpacks also look kind of cool whereas suitcases just make you look like a tourist.
Ladies & Gents, It's Time to Step Your GEAR Game Up. 😉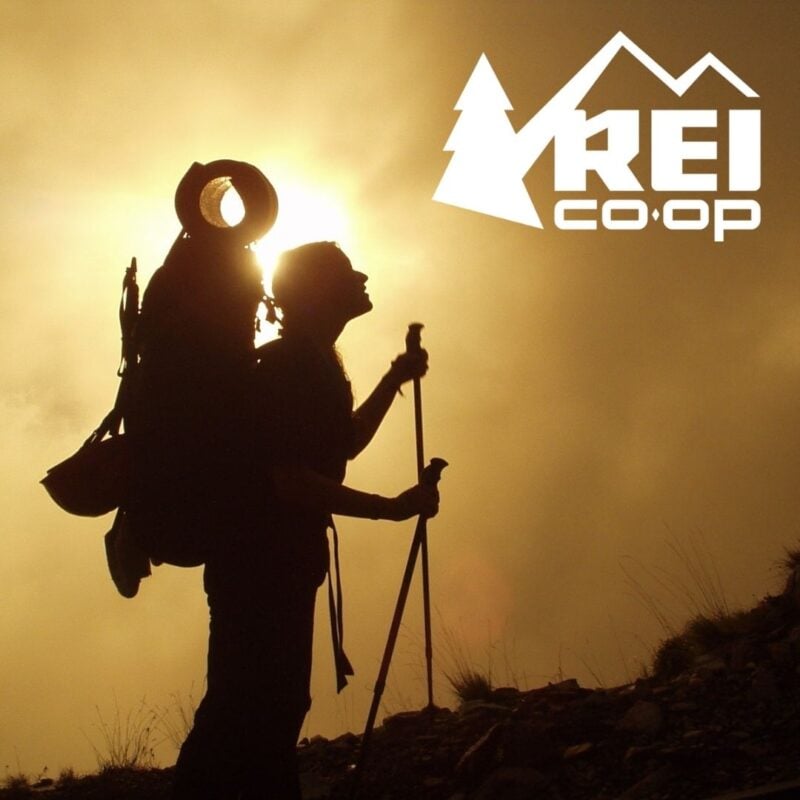 REI is one of America's biggest and most-loved outdoor gear retailers.
Now, for just $30, get a lifetime membership that entitles you to 10% OFF on most items, access to their trade-in scheme and discount rentals.
Join REI Today!
Crucially, when traveling with a backpack your hands are free to use Google Maps to find your hostel, tackling stairs is not a problem, and you can officially join the backpacker hordes! No one likes a suitcase.
Still not convinced? What if I told you that once you invest in the best travel bag you shouldn't ever need to buy another one! A good quality travel backpack lasts years and does not get damaged as easily as suitcases. I've been dragging my pack around the globe for nearly ten years and it's still going strong… even better, my pack has a lifetime guarantee.
The best backpacks for travel will be flexible in size and shape so when they are not full, there is more chance that you can take them on board planes. Some traveling backpacks even come with detachable day packs to make things even easier.
JUMP TO ->
Why Should You Trust Us?
The Broke Backpacker team have been travelling and living out of their own backpacks for years now. Collectively, they must have 50+ years of travel experience and, by now, know what it takes to be successful on the road. They are experts in their field and take great pleasure in presenting the best possible gear to you.
Looking to Find Your Tribe?
Introducing Tribal, Bali's first purpose designed co-working hostel!
A unique coworking and co-living hostel for those that want to travel the world while working from their laptops. Make use of the massive open-air coworking spaces and sip on delicious coffee.
Network with other like-minded travellers all day and if you need a quick screen break, just take a refreshing dip in the infinity pool or go grab a drink at the bar.
Travel Backpack: The Best Overall for 2023
Let's kick this off with what I feel are the absolute TOP backpacks to travel with.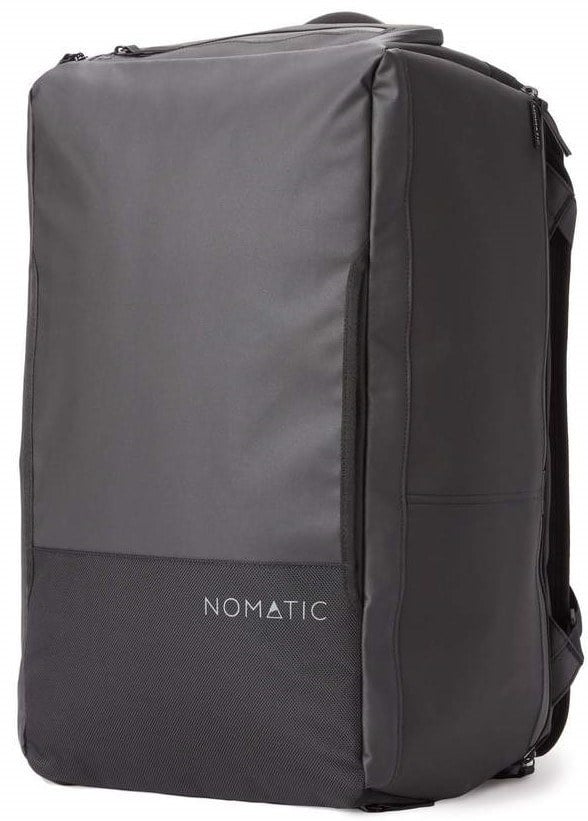 Specs
Size: 40L
Dimemsions: 22.86 x 53.34 x 35.56 cm
Weight: 1.55 kg
Feature Highlights
Looks sexy!
Modern and efficient
Tons of room
Lots of awesome features
Carry on size
Nomatic bags are designed to be modern, sleek, and provide ultimate packing efficiency. This is accomplished by great design: tons of features, and more pockets and sleeves than you'll know what to do with.
Whether you need a backpack for a business trip or are a digital nomad traveling the world, this will keep your laptop and valuables well secured all while looking stylish.
If you are a modern traveler who spends a lot of time in urban environments, the Nomatic Travel Bag is an awesome backpack. It looks great, is feature-rich, and can pack a lot more than it looks like. Nomatic is one biggest players in the backpack niche – this bag is why.
However, do note that this bag's capacity is only 40L which may not be enough storage space for backpackers on long trips or anybody who needs to bring along camping gear, hiking gear or maybe photography equipment.
Read our full review of the Nomatic Travel Bag!
#2 Aer Travel Pack 3 – Our Favorite Backpack to Travel With Runner Up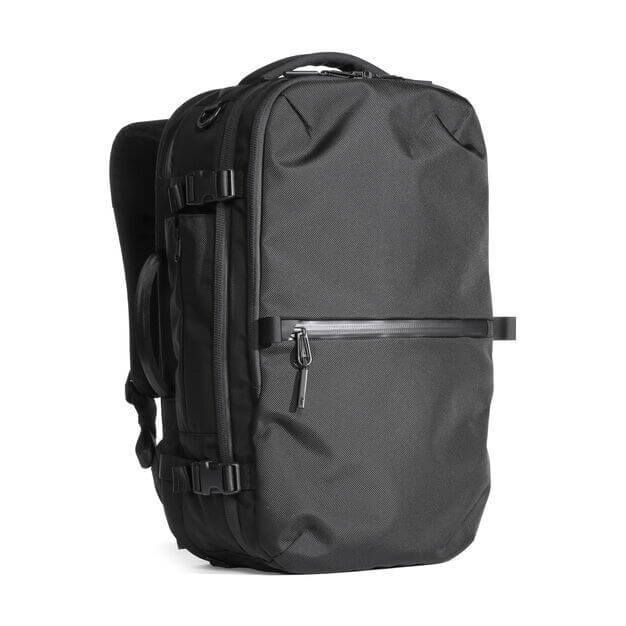 Specs
Volume: 35 liters
Dimemsions: 55 x 33 x 22
Weight: 1.87 kg
Feature Highlights
Multiple compartments for organization
Durable
Lots of potential customization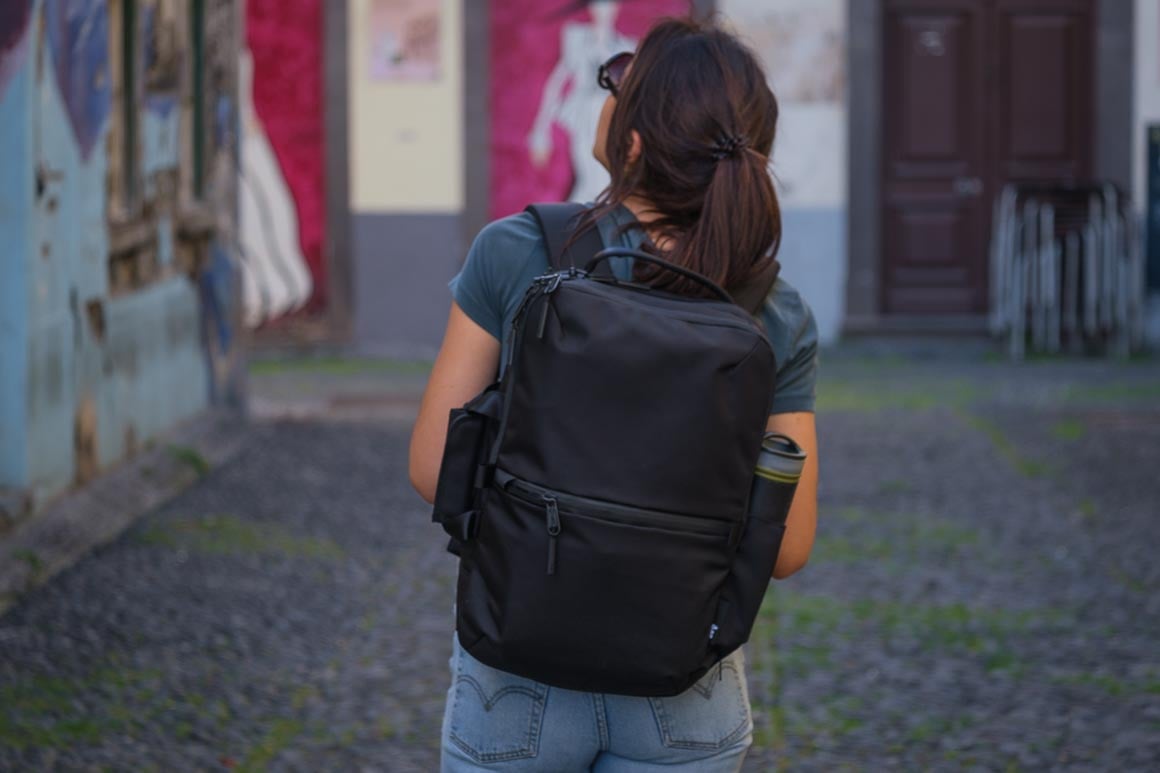 Here at The Broke Backpacker, we are big fans of AER – and the Travel Bag is one of their best backpacks to date. This bag has gotten a ton of (much deserved) hype and it's our pick for the best overall travel backpack!
The AER is a wonderful backpack for digital nomads on the go. It can fit your laptop as well as any other travel gear you tote around. Use it as a daypack around town or bring it on the pane for one bag travel.
There are many different compartments, pockets, and zippers to keep you organized. There's a laptop sleeve and a very handy place just for shoes.
The minimalist outer design helps deter thieves, and what the outside lacks in pockets it makes up for with well-designed internal storage.
Read our Aer Travel Pack 2 review to learn more about thus bag!

Do You Want to Travel FOREVER??
Pop your email in below to get a FREE copy of 'How to Travel the World on $10 a Day!'.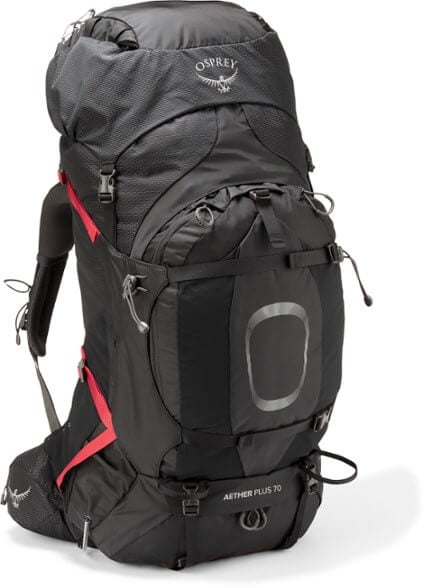 Specs
Size: 70L
Dimemsions: 83.82 x 38.1 x 35.56 cm
Weight: 2.81 kg
Feature Highlights
Custom-fit
Convertible top-lid day pack.
The Osprey Aether is in our view, the quintessential backpackers backpack. If you headed to Southeast Asia for a few month, or maybe going on a backcountry hiking trip, then this arguably the PERFECT backpack.
It's offers a whopping 70 litres of storage and has all the advantages that every pack from the Osprey brand offers. (the Osprey 'All-Mighty Guarantee', durability, comfort). Several of us here at TBB use this pack for all of our backpacking trips and I have carried mine across 5 continents now.
It has plenty of pockets and compartments to keep things extra organized plus An AirScape back panel to keep you cool on the warmest adventures. I can guarantee it'll last a lifetime, if you don't believe me, just ask Osprey!
Literally guys, they put a lifetime guarantee on every single product they sell to prove it. The only downside to this pack is you can't avoid checked luggage fee's with this bad boy as its too big. But at least you don't have to dump any stuff! This is hands down one of the best backpacks for traveling around the world on a longer adventure.
Check out our review of the Aether 70 backpack to learn more!
#4 Osprey Aura 50 – Best For Backpacking (Women)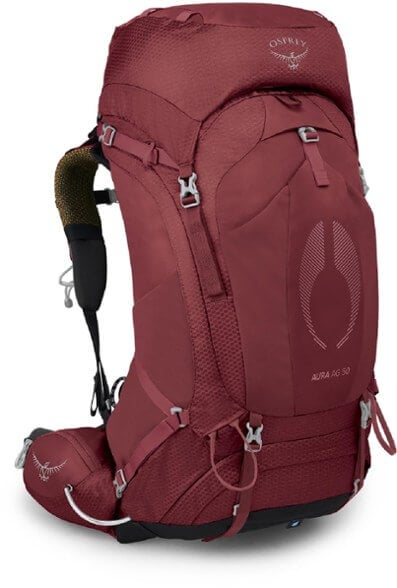 Specs
Size: 50L
Dimemsions: 81.28 x 38.1 x 30.48 cm
Weight: 1.86 kg
Feature Highlights
Anti-Gravity Suspension
Floating top-lid replaceable with FlapJacket
Multiple organisation options.
The ladies-specific Osprey Aura is the best travel backpack for women. This is a high-quality backpack for women traveling on epic short or long haul adventures. Osprey as a brand are awesome and they guarantee to last many adventures! Seriously, all Osprey travel bags come with a lifetime guarantee making them undeniably the best value backpacks.
With the unique built-in Anti-Gravity suspension system, this bag is designed to carry up to 40lbs without the carrier even noticing! Meaning this travel backpack is stable, strong and can carry the weight without you having to suffer for it! If you're a lady hitting the road, this is the travel backpack I recommend.
Overall, you should get the Osprey Aura 50 if you are traveling in a variety of weather (humidity and snow) and hike and backpack often. This backpack will be a great fit if you are looking for a high-quality backpack that can handle wear and tear.
Check out our awesome Osprey Aura 50 review!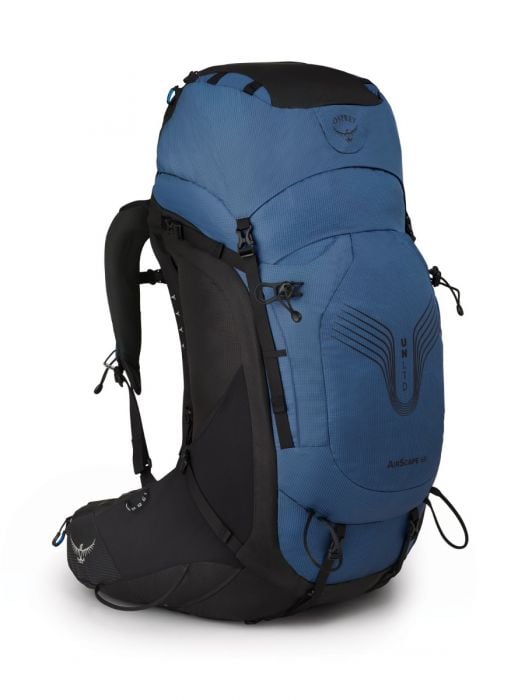 Specs
Size: 68L
Dimemsions: 81.28 x 40.64 x 38.1 cm
Weight: 2.72 kg
Feature Highlights
Anti-Gravity Suspension
Cutting edge super comfy back support
Lid detaches into a day pack
The Osprey Airscape is one of two spanking hiking packs launched by the world's leading backpack brand's as part of its UNLTD series.
The Airscape UNLTD is a 68 litre hiking and travel backpack that utilises cutting edge, 3D printing technology to create an ultra comfy, supportive and breathable lumbar, back support.
Whilst there are too many little features to list in this section (read on for the full run down), another major bonus is the 8l top lid that converts to an 18l day pack which brings a whole new dimension to the pack.
Alas, the Osprey Airscape UNLTD also comes with a hefty $750 price tag which by far makes it the most expensive backpack that I have ever come across. Whether it is really worth that amount of money is of course debatable but what I can say is that this is by far the most comfortable hiking backpack that I have ever tried.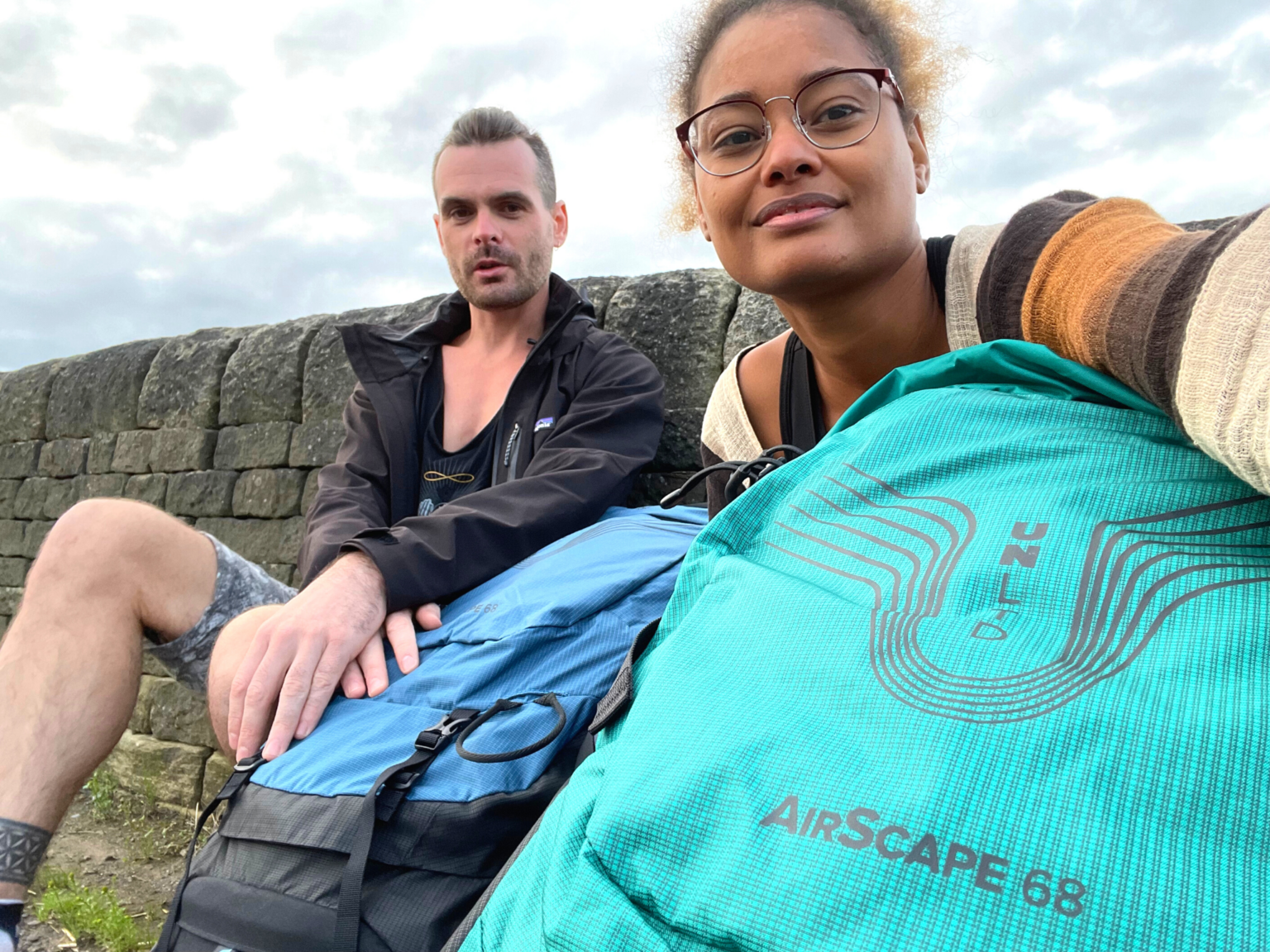 I have about four different travel backpacks now. For longer trips I generally use my Osprey Aether, but I also have a number of carry on backpacks which I use for shorter trips.
And hear this, these days it is increasingly common for airlines to charge separately for checked bags and it can often increase the price of the ticket by 50%. As such, if you only travel with a compact backpack you can save a fortune on luggage fees and simply take your backpack on a flight as carry-on. Budget backpacking win right there!
Below are some of my favorite backpacks that I use as a carry-on. If you'd like to learn more about these sort of bags, then be sure to head over our comprehensive guide on the top carry-on backpacks to take traveling!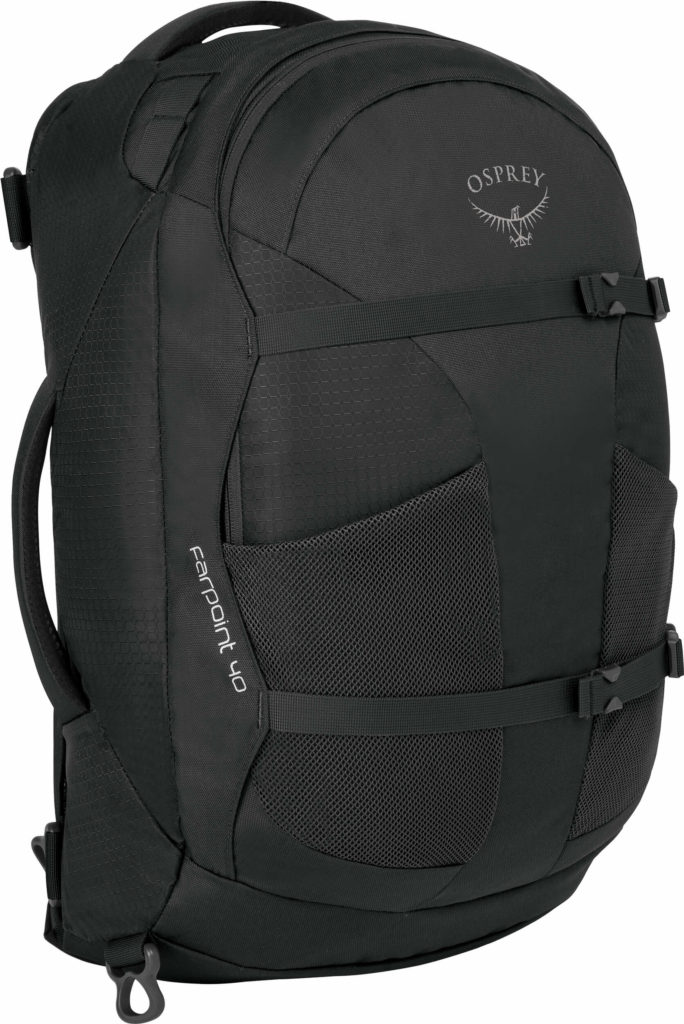 Specs
Size: 40L
Dimemsions: 55.88 x 35.56 x 22.86 cm
Weight: 1.59 kg
Feature Highlights
Large panel zip access to main compartment.
Stowaway backpanel, harness and hipbelt with zippered rear flap for protection.
Laptop and tablet sleeve secure in lockable compartment.
Overall, you should get the Osprey Farpoint 40 if you are traveling the world, and like to pack super light (like me).
If you are looking for a nearly indestructible carry on backpack which can actually carry, and compartmentalize, a lot of stuff – this backpack might be your match made in heaven.
Because of it's 40 liter size, the Farpoint 40 is a near-guarantee to carry on no matter the airline. This will save you hundreds of dollars in checking fees, and countless hours waiting in baggage claim. And as we will look at later, there is plenty of space to make sure that light-traveling does not mean bad-traveling.
In my opinion, the Osprey Farpoint 40 is the best value carry on backpack on the market right now.
Check out our epic Osprey Farpoint review here.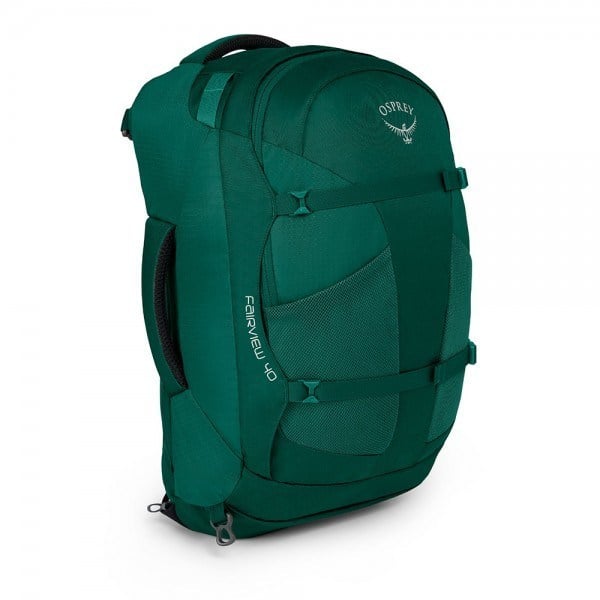 Specs
Size: 40 Liters
Dimemsions: 53.34 x 35.56 x 22.86 cm
Feature Highlights
All of the pros of the Osprey Farpoint 40.
A hiking and carry-on backpack specifically designed to fit women!
The Osprey Fairview 40 was designed specifically for women – making this category an easy choice! To clarify for the ladies…
ANY of the bags mentioned prior can be used for women. Whether you are interested in Minaal, Tortuga, AER, or any of the others – all of these bags are unisex. Except for the Osprey Fairview 40, which was designed specifically for women.
Just as the Osprey Farpoint 40, the Farview 40 is a masterpiece, and is taken to the next level by being tailored for women.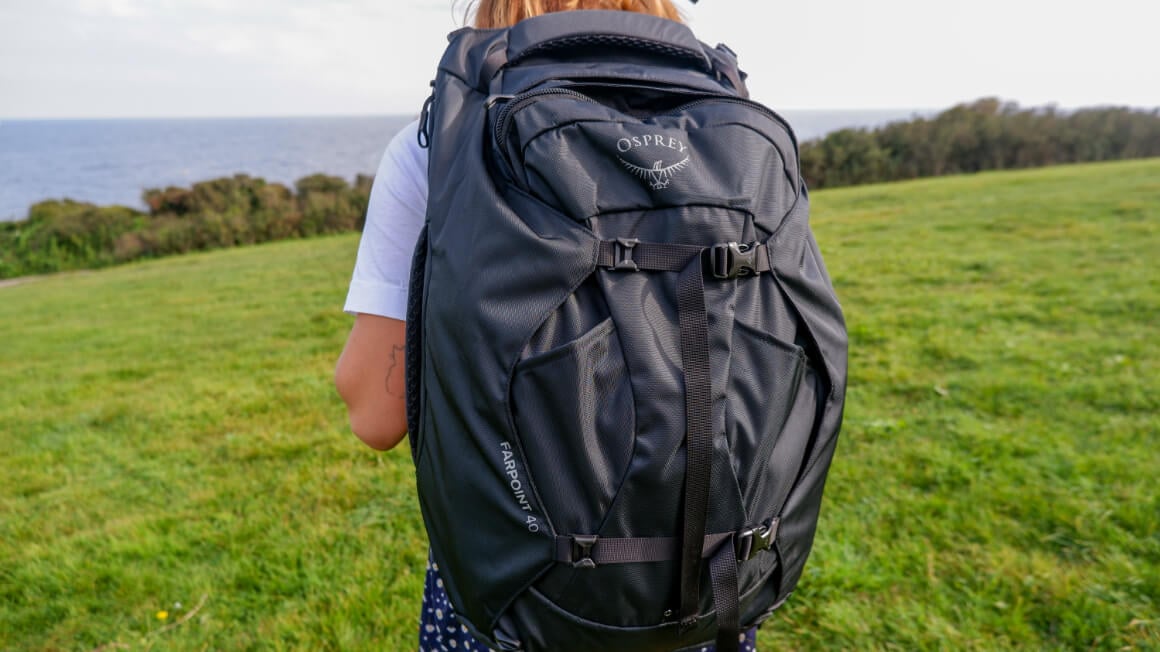 This travel backpack can transform into a duffel bag, which is made even more awesome by the included shoulder strap, and the ability to stow the bag's harness and hip belt. At a square 40 liters, you'll rarely have to worry about this bag being checked.
Is the Osprey Fairview 40 the best traveling backpack for you?
If you are a lady, and want all of the glory of Osprey in a bag that is specifically designed for you, then hell yes! Please, don't be hesitant to purchase any of the other bags (as they are all unisex!) but if you want a badass hiking pack that also functions as a carry on backpack, this is an easy pick.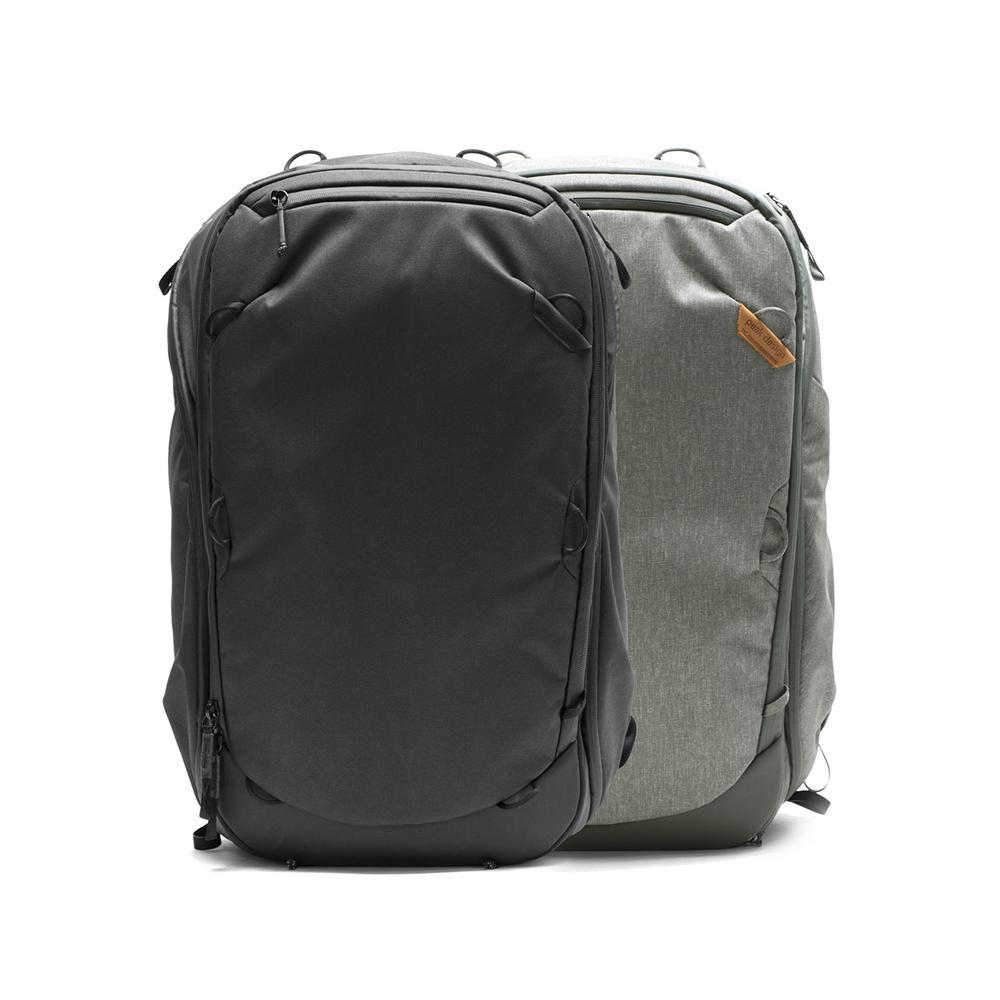 Specs
Capacity: 30 litres
Dimemsions: 53cm x 34cm x 20cm
Weight: 1.44 kg
Price: $250
Feature Highlights
Great organisational capacity
Extends to 33L
Amazing for organization
Comfy to carry and fits under the seat
The Peak Design 30L Travel Pack is built with the modern traveler in mind. Its 30-liter capacity is perfect for weekend getaways or even extended travel if you pack light. The bag's sleek design isn't just about looks; it's also about function. Its adjustable compartments allow for a customized fit for your belongings, while its innovative side access points provide convenience in retrieving items without having to dig through the entire bag. The expansion zippers give you the flexibility to accommodate extra items when needed, making it an adaptable companion for various travel durations.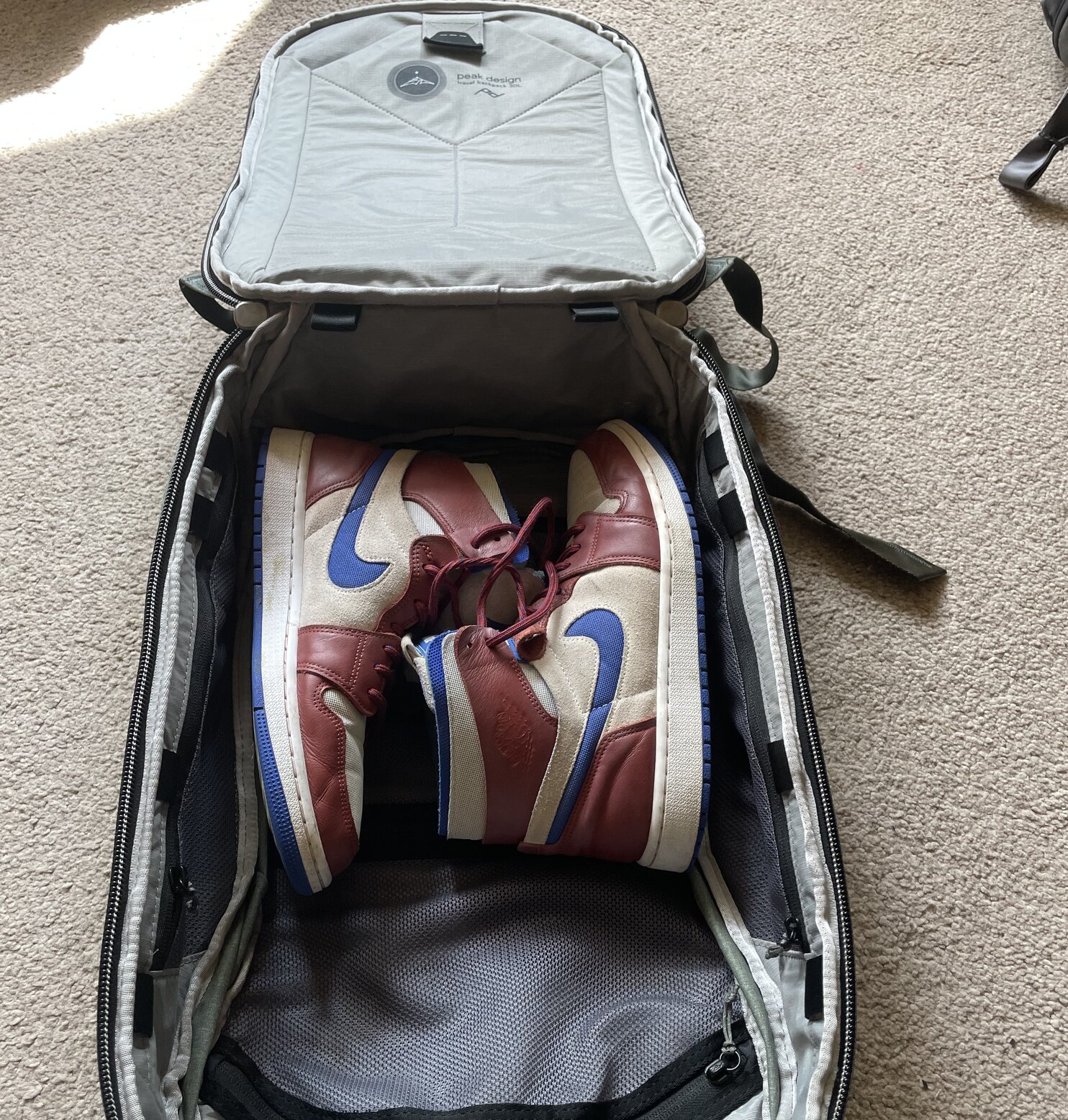 Crafted with high-quality, weather-resistant materials, the Peak Design 30L Travel Pack ensures that your belongings are protected from the elements. Whether you're navigating through bustling city streets or embarking on an outdoor adventure, this backpack is built to withstand the rigors of travel. Additionally, its well-padded shoulder straps and back panel provide exceptional comfort. The sternum strap and waist belt help distribute the weight evenly, reducing strain on your shoulders and back, making it perfect for long days of exploration or airport navigation.
I have been incredibly impressed by this travel pack and it has now accompanied me on a free weekend rips already. What I really love about it is how well organised I can get with my packing – everything has its place and there are enough zips and pockets to stash all of those little odds and ends. In terms of downsides, the packs material is thick and robust but not all that nice to the touch. The bag does also feel a bit heavier than it looks. Finally I personally find that 30 litres is only ever enough storage for a few nights worth of traveling but perhaps thats just me – I do after all travel with a hair-dryer. Fortunately though there is a 40 litre version available.
What sets the Peak Design 30L Travel Pack apart from others is its traveler-focused features. The bag comes with dedicated pockets for essential items such as passports, travel documents, and laptops, ensuring quick access during security checks or boarding. Its locking zippers add an extra layer of security to protect your valuables. Moreover, the bag's stowable straps and smooth exterior make it hassle-free when stowing in overhead compartments or under seats. Combined with the thoughtful organization and sleek aesthetics, these features make it a standout choice for both casual travelers and seasoned globetrotters.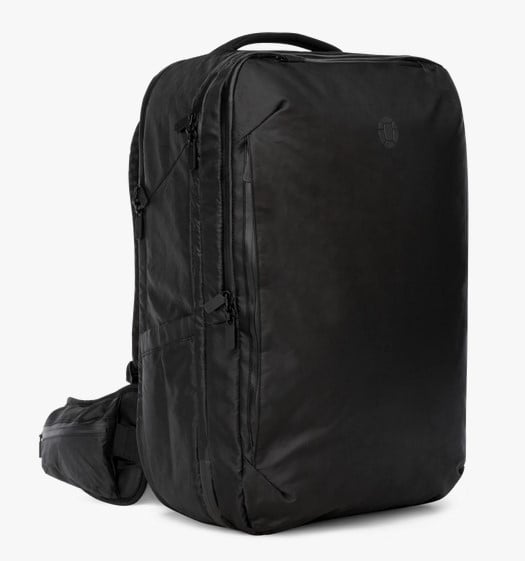 Specs
Size: 45 litres
Dimemsions: 47 x 30 x 23
Weight: 1.5 kg
Feature Highlights
The design will leave you fairly impressed
It has tons of pockets/compartments
Amazing for organization
It packs huge – you can put A LOT in it
The first thing I noticed when packing my new Tortuga Travel Pack, was just how massive the main compartment was. It has the capacity to carry a ton of clothes. If you are a world traveler, then this is great because it means you have to do less laundry – score! And yet despite its generous capacity, the new and improved version of the Tortuga Travel pack was custom designed to for carry on meaning that it complies with the limits for pretty much every airline in the world.
Its a cleverly designed pan too. The Travel Pack by Tortuga's design enables its the main compartment to be opened like a suitcase; this is far more convenient than a traditional backpackers backpack. Reaching my stuff was simple, and because of the organization of the compartments, it was easy to know what was where.
Inside the main compartment are six smaller compartments. The first four smaller compartments are enclosed within the main compartment.
The Tortuga Travel Pack is still without a doubt one of the best backpacks on the market. It's quality build, intuitive design, fantastic organization, and smaller size make it the perfect compact travel bag for anyone who wants to travel light, but travel in style.
Check out out our must-read full Tortuga Travel Pack review.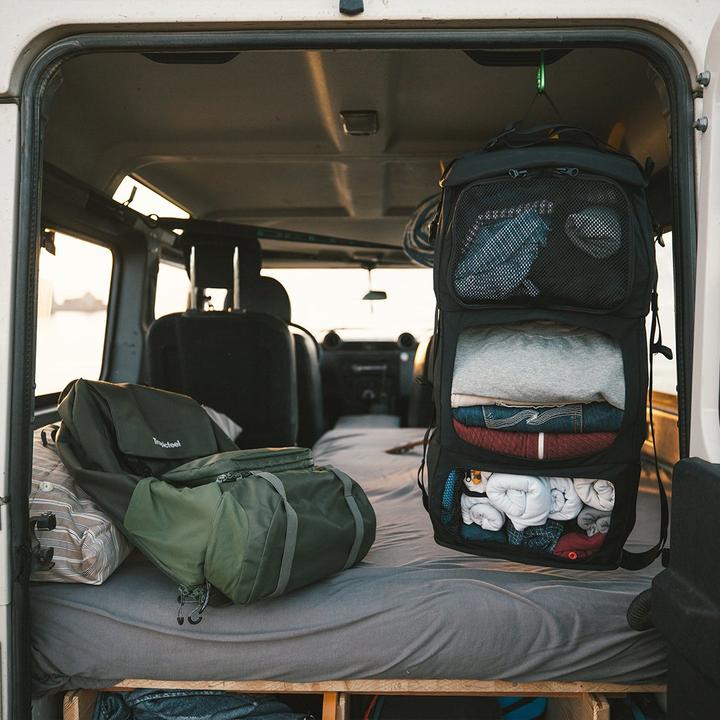 Specs
Size: 22-40 litres
Dimemsions: 51 x 30 x 19 cm
Weight: 1.5 kg
Feature Highlights
Really fucking versatile
Packs up easily
Fairly priced
The Shell by Tropicfeel is a little to medium backpack sized with a big concept. Firstly, it is a 3 in 1 extendable backpack that begins life as a 22 liter pack, rolls up to 30 litres and then with the addition of a detachable pouch goes all the way to 40 litres.
As well as being a 3-in-1 backpack (which you can easily adapt to use as day pack, overnight pack and carry-on pack), the Shell also has another awesome feature – a little, mini drop in pull out travel roll up wardrobe! With multiple compartments, you can easily pack and unpack all of your belongings. For a quick outfit change at the airport, this is ideal.
This is a VERY unique and special pack and it seriously impressed me. While not all of you will want this kind of pack, it has won itself a delisted fanbase. I also just love how mega-stylish this bag is too.
Keeping everything tidy, easily accessible and organized during your travels has never been so easy. On top of that, the recycled material is also weather and water-resistant.
Want to know more about the company, we've done a full review of TropicFeel just for you!
A lot of people like to go hiking while they are out traveling the world. To do so, they need a special type of travel backpack, one that can go further, carry more, and last longer.
Aside from the Osprey Aether and Aura, here are a couple more options when looking for a good bag to go traveling and hiking with. If you would like to read more about these special pieces of gear, then be sure to check out our ENORMOUS hiking backpack guide!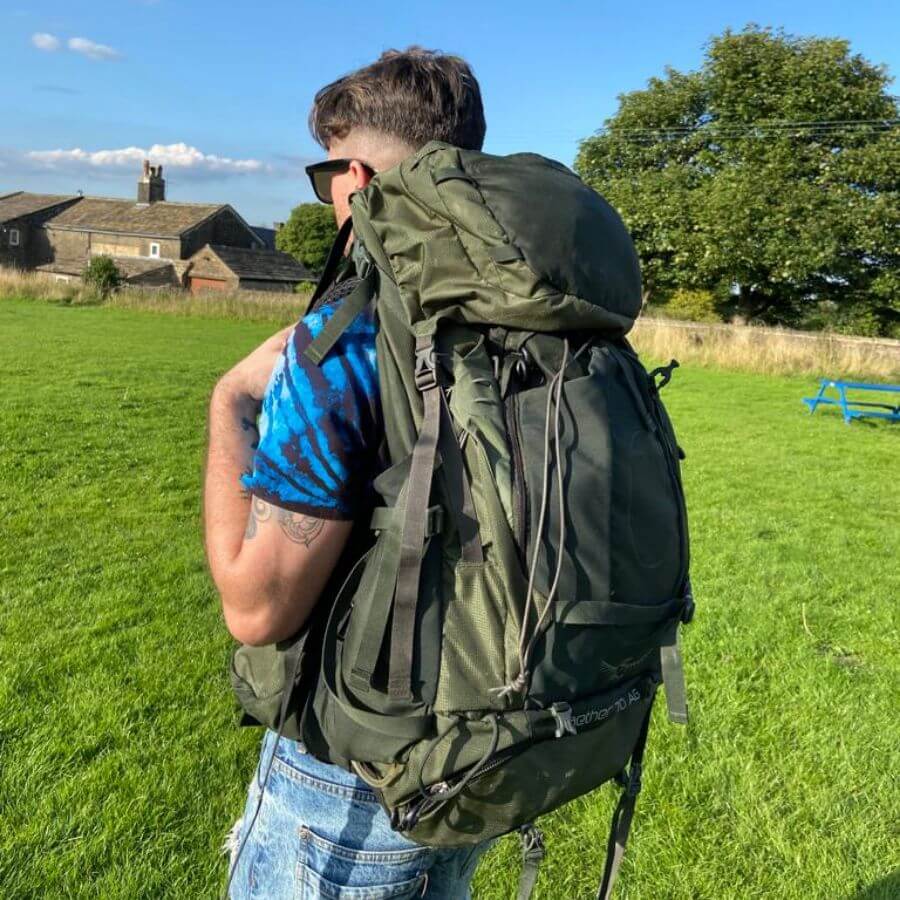 Specs
Size: 85L
Dimemsions: 86.36 x 40.64x 40.64 cm
Feature Highlights
Removable top lid w/compartment and waterproof zipper
Converts to a lumbar pack with AirScape lumbar pad
Looking to head into the back country in search of adventure? Whether it is a couple of days hiking or an epic adventure The Osprey Aether Plus 85 backpack is the best travel backpack on the market by far.
I've been adventuring with my Aether for nearly ten years now. The best thing about Osprey is that they operate an all-mighty guarantee. This means that they will repair any damage done to your pack, no questions asked, for free. However, note that in recent years they have amended this guarantee and it now excludes wear & tear, water damage and airline damage.
Osprey packs are expensive but you are effectively buying a pack for life. The backpack is extremely durable; in ten years of constant backpacking I have never damaged or ripped the main pack's body and only minor things have broken (usually after five years).
The Osprey Aether Plus 85 is a big expedition backpack; it's 85 liters, extremely comfortable thanks to the custom-molded hip belt, is compatible with hydration systems, has plenty of sections for storage and can easily be loaded up with a ton of stuff – I once strapped three tents to the outside and had a fourth tent on the inside plus cooking equipment, sleeping bags, food, clothes, electronics etc…
You can fit everything in this pack and it will remain comfortable and manageable. I cannot recommend Osprey enough. The best backpacks for travel are all made by Osprey.
#2 Osprey Skarab 30 – A Smaller Backpack for Shorter Journeys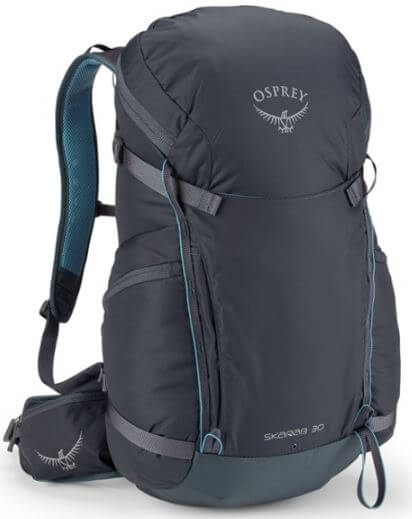 Specs
Size: 30L
Dimemsions: 53.34 x 27.94 x 25.4 cm
Weight: 0.74 kg
Feature Highlights
Walking pole attachments
Adjustable BIOFIT back system
For the days when you venture into the wilderness or walk the market streets, you need a pack that is both comfortable and practical. I've been using my Osprey Skarab for three years now as my go-to backpack for shorter adventures or hikes.
It's one hell of a pack and is the best budget backpack I've come across. It's pretty cheap considering the quality and it has plenty of pockets for storage, a padded hip belt, a safety whistle on the chest strap (always handy!) and an in-built rain cover.
The Osprey Skarab backpack is 30 liters so it's a backpack best for weekends or ultralight hiking rather than long expeditions where you have to carry tents and food. It can just about handle long trips but space is limited so whilst it is one of the best backpacks for travel, it wouldn't be my first choice for a long trip.
Check out our full-length Osprey Skarab review.
The best present of all… is CONVENIENCE!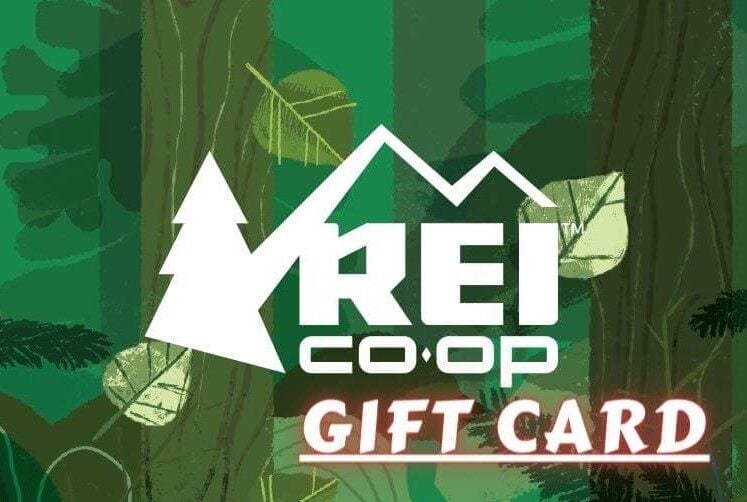 Now, you could spend a fat chunk of $$$ on the WRONG present for someone. Wrong size hiking boots, wrong fit backpack, wrong shape sleeping bag… As any adventurer will tell you, gear is a personal choice.
So give the adventurer in your life the gift of convenience: buy them an REI Co-op gift card! REI is The Broke Backpacker's retailer of choice for ALL things outdoors, and an REI gift card is the perfect present you can buy from them. And then you won't have to keep the receipt. 😉
Buy on REI!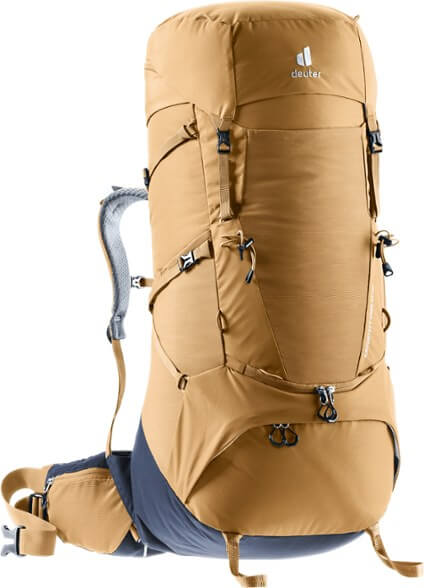 Specs
Size: 75L
Dimensions: 84.07 x 32 x 27.94 cm
Weight: 2.25 kg
Feature Highlights
15% perspiration control
Dimemsions:
Weight:
Material:
Hands down, this is one of the best backpacks for hiking. This is a fantastic backpack for those looking for comfort, support, breathability and freedom of movement. This backpack is absolutely one of my best picks and if it wasn't for my trusty Osprey, I would probably be a Deuter man.
These days, traveling without a laptop is just not going to happen. For many of us, a laptop is just as essential as a phone and if you are a digital nomad hitting the road, you need to protect your baby. So amigos, let me share the best travel backpacks for digital nomads and laptop lovers.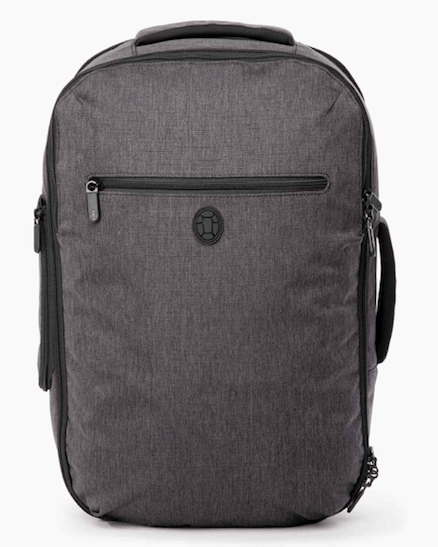 Specs
Size: 25 liters
Dimemsions: 55.88 x 35.56 x 22.86 cm
Weight: 1.27 kg
Feature Highlights
Very functional
High-quality manufacturing
Super organized
This one is pretty obvious – the Setout Laptop Backpack is great for…. laptops!
But seriously, if you are looking for a sturdy pack to carry your laptop around– look no further, this bad boy is as good as it gets. This is for a few reasons.
First off, Tortuga Backpacks are possibly some of the most well designed and durable backpacks on the market. We've reviewed tons of Tortuga products and they all have an incredible amount of detail to them, and are made of the highest quality materials. High quality/durable materials means your precious laptop will be safe and sound.
Secondly, to make the world's greatest laptop backpack, Tortuga put a lot of time and effort into the laptop-features of this backpack.
Simply put, this backpack has tons of organization features, all of which are designed specifically for laptops. Notice in the pictures above and below, that this bag is loaded with ways to keep your gear safe, and very organized.
Tortuga markets this bag as an "organized daypack for air travel"– and it's certainly true!
The design and features of this backpack make it perfect for air travel. Whether it's the sleek laptop sleeve, the easy to lock zippers, the luggage handle pass through or the hideaway shoulder straps, this bag thrives in airports and airplanes.
Whether you are a road warrior looking for an upgraded carry on backpack, or you just love to travel the world, this is the backpack that will make your life easier and stress free while traveling via air.
Check out our in-depth Tortuga Setout Laptop backpack review.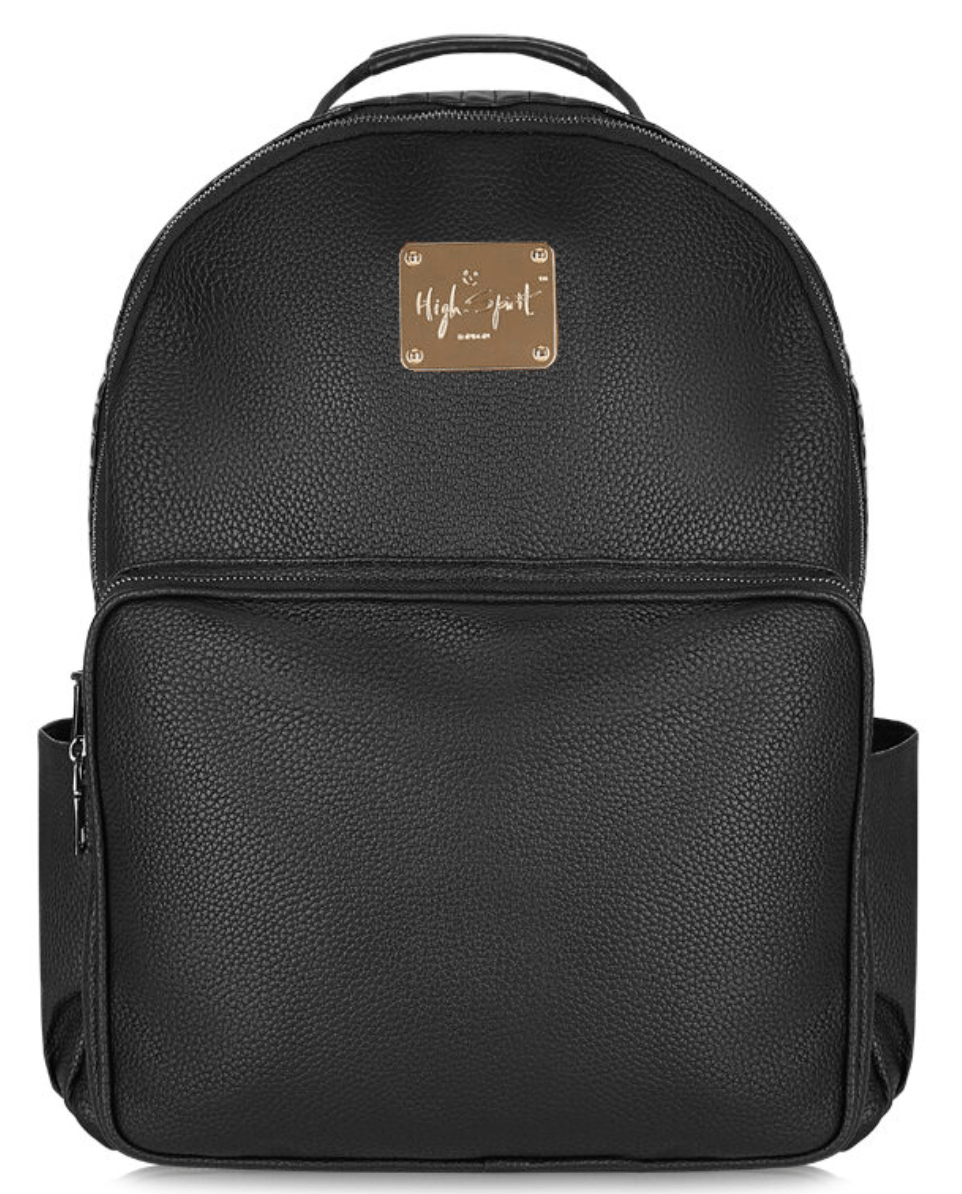 Feature Highlights
Anti-theft
Extremely well made
Durable shock-absorbing base
High Spirit Bags have broken onto the travel backpack scene with an emphatic BANG. Their brand new Laptop Backpack is the perfect choice for travelers who prioritize style, security, and functionality all rolled up into one tidy package.
Every inch of the Laptop Backpack is thoughtfully designed to provide the best possible user experience. The high quality leather exterior is the ideal combination of sleek and anti-theft – which when you are toting around expensive electronics – this feature is very important.
Perhaps my favorite feature is the pack's access design. The zippers are located on the back panel making it virtually impossible for thieves to unzip your backpack whilst you are wearing it.
The organizational layout of this backpack provides more than enough storage options for your work day in the city or a weekend jaunt to Barcelona.
Surprisingly, the High Spirt Laptop Backpack is much more affordable than many other laptop-focused travel backpacks out there. The verdict is in: you are not going to find a more high-quality laptop backpack that looks and functions this well for the given price point (£110).
High Spirit – you have won over our entire gear review team – good on you!
#3 Arcido Akra 35L – A Large yet Lightweight Travel Backpack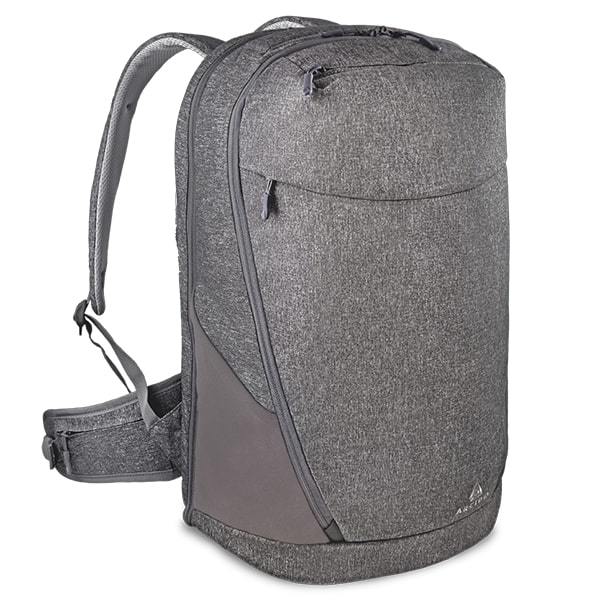 Specs
Size: 35L
Dimemsions: 55 X 35 X 20 cm
Weight: 1.7 kg
Feature Highlights
Sleek, stylish design
Super lightweight makes travel easy
Organized + customizable
This is the perfect carry on travel backpack for urban travelers. Its laptop harness, organizational pockets, and integrative packing cubes (in the Arcido Akra and Vaga Daypack Bundle) make this the perfect travel backpack for digital nomads too.
At only 2.4 lbs, this is a lightweight backpack for travel that can become even lighter when the sternum straps and waist belt are removed.
In essence, Arcido makes simple, tough, and well-designed travel backpacks equipped with enough storage and organizational features make any modern traveler happy. We love that this is an affordable backpack for its high-quality design.
Check out our full Arcido Akra review!
#4 Incase Icon Pack – One of the Toughest Laptops Bags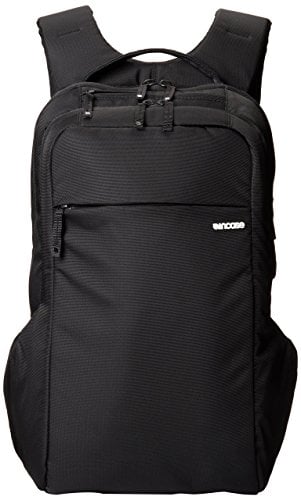 Specs
Size: 9 x 13 x 19 inches
Dimemsions: 48.26 x 33.02 x 22.86 cm
Weight: 1.5 kg
Feature Highlights
Dedicated laptop compartment
Multiple organisation options
Airflow channels in back panel
The Incase Icon Pack is a great travel backpack if you'll be working on the road and need a sturdy, durable pack to keep your laptop safe while exploring new areas. Featuring multiple exterior and interior pockets, the Icon laptop backpack allows maximum organisation and easy access to your belongings, with a dedicated laptop compartment to stow your gear away safely.
Check out our in-depth breakdown of the best laptop backpacks for more intel!
Photographers need to be very mindful of their gear while traveling. Rough rides and constant movement can imperil sensitive camera equipment, so it's very important to have a reliable backpack that can keep everything safe.
These are a few more good travel backpacks, this time with the photographers and aspiring photographers in mind. If these suggestions aren't enough, we've also written an in-depth guide to choosing the best camera backpacks too!
#1 WANDRD PRVKE 31 – Best Travel Camera Backpack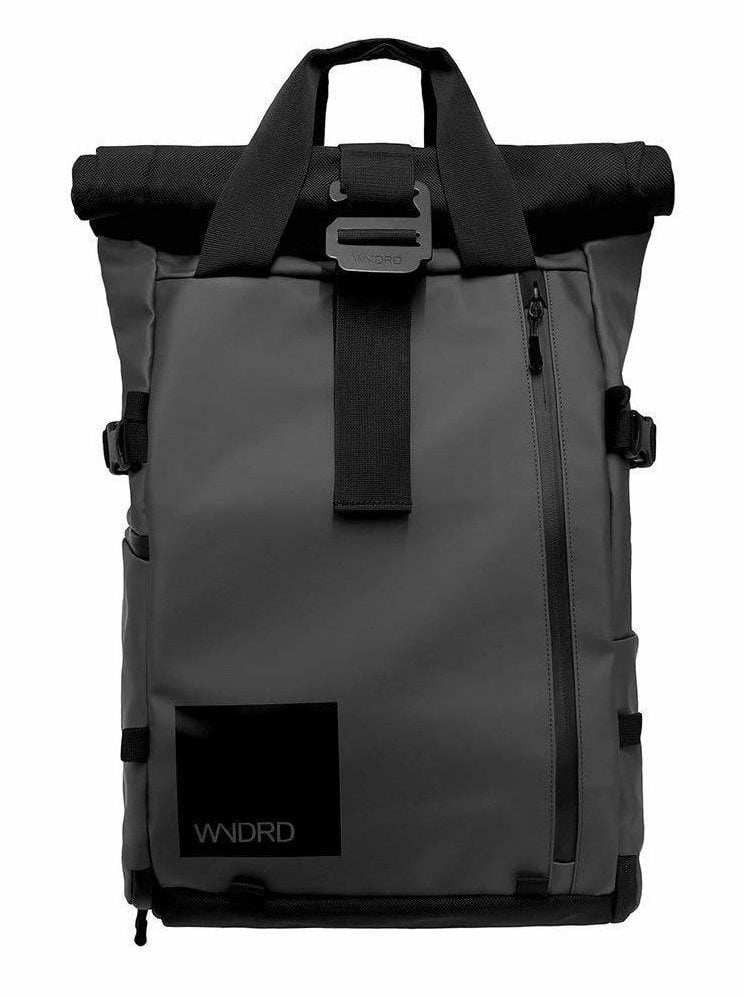 Specs
Size: 31 Liters
Dimemsions: 48 X 30 X 18 cm
Weight: 1.5 kg
For those who want a backpack that can does a little bit of everything, is durable, and looks damn good in the process, the WADNRD PRVKE 31 is an excellent investment. At 31 (expandable to 36) liters, this backpack can hold quite a bit and there are plenty more pockets to hold everything else.
Thanks to its robust weather-resistant design, your belongings will be safe as well. Add in some customizable straps and sleek sexy design and you have a backpack that can do damn near anything.
Though the PRVKE 31 has lots of padding and additional straps for distributing weight, it lacks certain key features that make it truly adept at carrying heavier loads. During our tests, both of the women on our trip struggled somewhat while carrying this bag as it did not fit snugly against their bodies.
I was impressed with the number of customizable options that PRVKE 31 offered. Between the many loops found on the pack as well as the ability to attach adjustable accessory straps (sold separately), users will be able to find many alternative means of packing. Overall, a badass camera backpack!
Read our WANDRD PRVKE 31 review!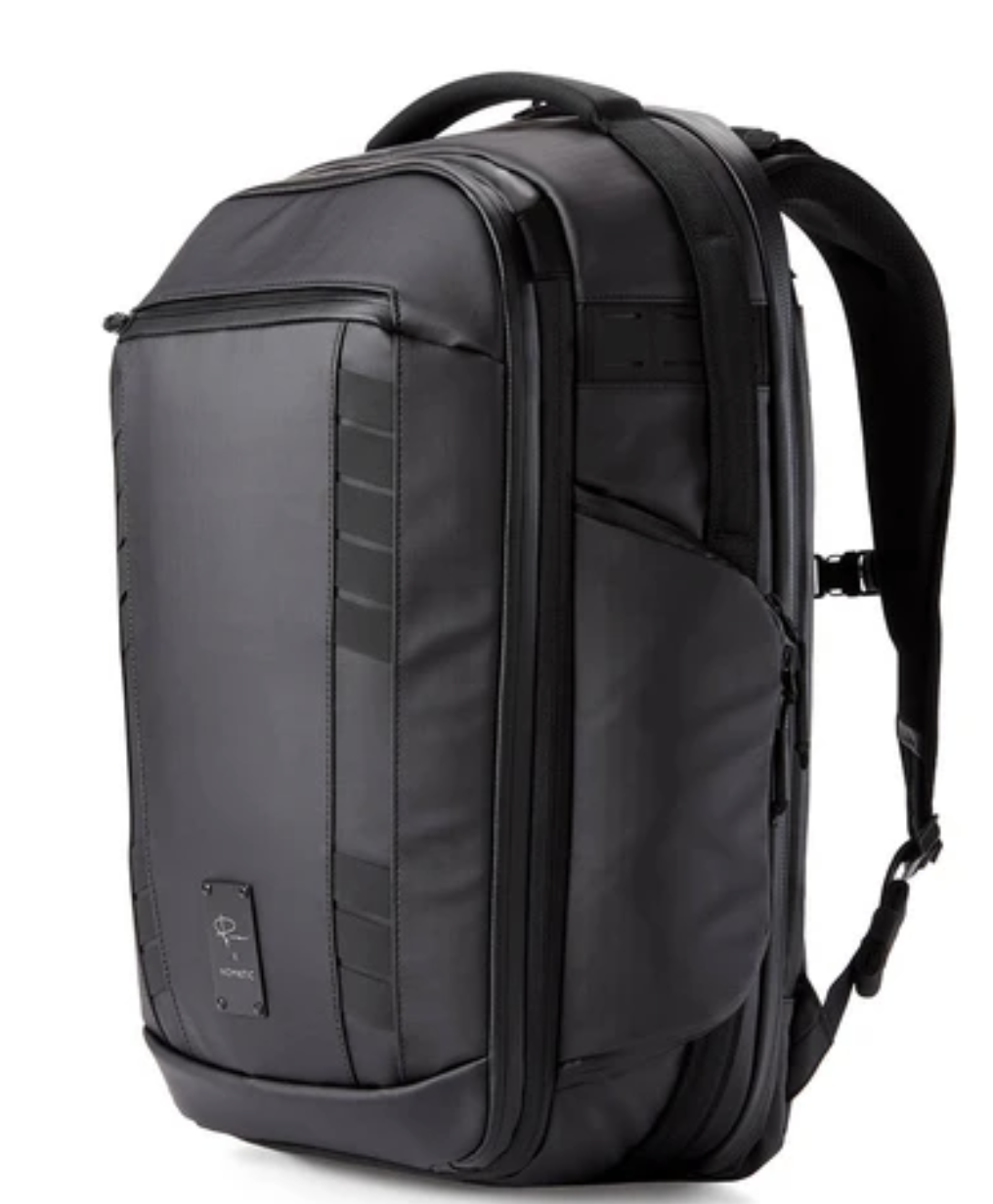 Specs
Size: 35 liters
Dimemsions: 55.88 x 34.29 x 22.86 cm
Weight: 2.61 kg
Feature Highlights
Expands to 42 liters
Can hold a full-frame camera, multiple lenses, and a small drone
Doubles as a great short-term travel backpack
This is the first true camera bag offered by Nomatic. Inspired and designed by legendary Youtuber and renowned photographer Peter Mckinnon, this 35 liter backpack is already a top competitor of the Wandrd PRVKE 31.
Built to last and with the traveling photographer in mind, the Nomatic Camera Bag is ultra-functional, durable, and sleek. Small enough to be a carry on, yet big enough to support extended weekend trips, the 35 liters offered here makes this bag ideal for photographers who find themselves frequently out on overnight/ inner-city trips.
The drawback: to get the most of this bag, you really need to go for the bundle package – which comes with all of the nice accessories that make this backpack great. If you have the money, going for the Nomatic Camera Bag is an excellent investment and is probably an all-around better backpack then the WANDRD 31 when all of the accessories and features are added up.
Read our Nomatic Camera Pack review!
Sometimes traveling calls for a unique bag. Maybe you're a weekend warrior who needs something both professional and rugged. Maybe you just like to mix things up. Either way, these backpacks maybe more appropriate for you.
#1 Osprey Ozone 4-Wheel – Top Wheeled Backpack for Travel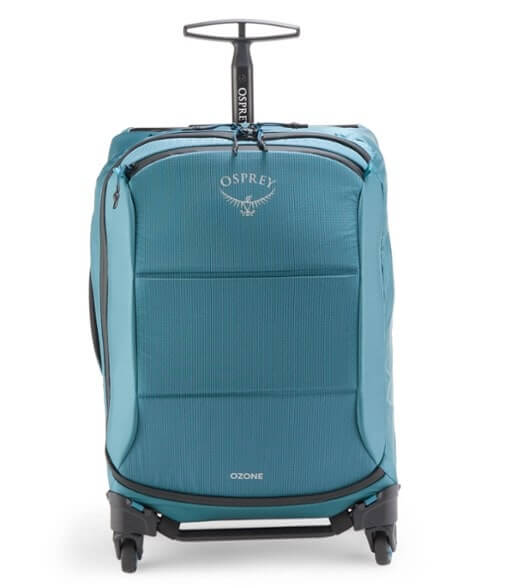 Specs
Size: 38 Liters
Dimemsions: 55.88 x 35.56 x 22.86 cm
Weight: 2.27 kg
Feature Highlights
Will attach to any of the wheeled luggage by Osprey
Can be combined with other Osprey bags to make a nimble beast
Wheeled luggage sometimes get a bad reputation. We've all seen those travelers trying to roll giant pieces luggage around cobble stone streets or busy Asian alleys, clearly in over their head.
But wheeled backpacks are different.
Designed for the savvy traveler, Osprey Ozone 4-Wheel Carry-On Wheeled Luggage is pretty much one of the best travel backpacks out there. The padded hip-belt and shoulder harness stow away for easy transport. It can clip on to the wheeled range by osprey for easy transport and it is super breathable. It even has an inside zipped compartment perfect for smelly hiking boots!
I've been using this pack on and off for two years: you can fit a TON of stuff in it – a genuinely surprising amount considering it still qualifies as hand luggage most of the time – however, once it's heavy it quickly becomes a tad uncomfortable – not ideal if you plan on taking it hiking. This is one of the best backpacks for travel if you have a ton of valuables you want to keep in your hand luggage – i.e. if you are a digital nomad!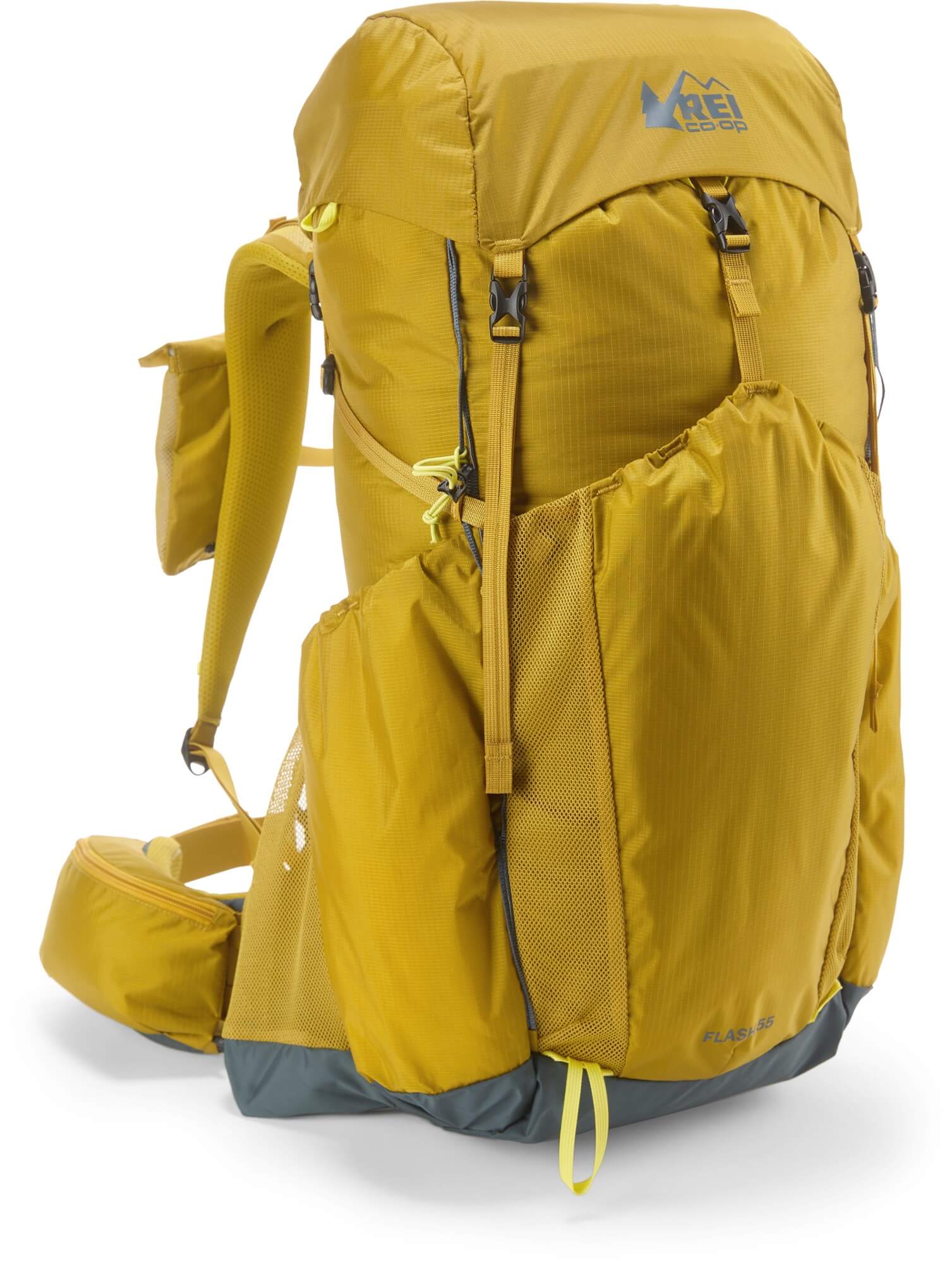 Specs
Size: 55L
Dimensions: 76.2 x 35.56 x 30.48 cm
Weight: 1.28 kg
Feature Highlights
Perfect-Fit suspension for on-body adjustments
Easy access
Budget-friendly
Although a little smaller than the Osprey Aether (and not as well-built), the REI Flash 55 still makes for a quality backpack for travel on long haul minimalist trips and weekend backpacking missions.
Ideal for use in both cities and in the mountains, the Flash 55 is a versatile, sturdy backpack with multi-functional pockets, a comfortable, suspension- supported fit, and easy access compartments allowing you to get to your essentials whenever you need to. This is one of the best hiking bags around for under $200.
Coming in just under $200, this pack features 8 external pockets plus a main compartment, making packing for your adventure a breeze. Combine this with a breathable back frame and comfortable hip belt, this is a great go-to for your weekend backpacking trips and more. I've used this pack primarily in desert climates, and typically tried to keep the overall packed weight under 35 lbs, and it's yet to fail me.
All that being said, there are a few things I don't love about the bag. For starters, the zipper pouch on the back side is made from a ripstop nylon material, which I found to be super inconvenient. With a fully packed bag, it was pretty difficult to fit small items such as granola bars and my water filter. I would've liked to see a mesh net pocket on the back, which I think would've allowed much easier storage and more space. Another small complaint I had was the option to not include a rain cover for the bag. The nylon exterior can fend off small mistings of from mother nature, but anything more would more than likely render the bag (and your belongings inside) rather soaked and heavy.
Picking the best backpack to travel with doesn't need to be difficult or expensive…
It's easy to grab a great discount deal from a top brand and, to be honest, if you buy anything from Osprey, AER, or Tortuga you won't be disappointed. However, not all backpacks are created equal and there's a few factors you should always look at when picking a backpack for traveling…
1. The Right Travel Backpack Size
Size is a personal choice and the best travel packs have no definitive size. If you are a medium to long term traveler who needs more space for camping gear, who wants to pick up lots of trinkets or who travels with a full wardrobe then you need a 60-liter minimum backpack. I have seen some backpackers make do with 50 litre packs, and while I applaud them, they are definitely freaks!
Larger backpacks however mean checked baggage fees and you are less likely to be able to take your backpack into the bus with you -instead you'll have to strap it to the roof and hope it doesn't rain (rain covers do exist mind).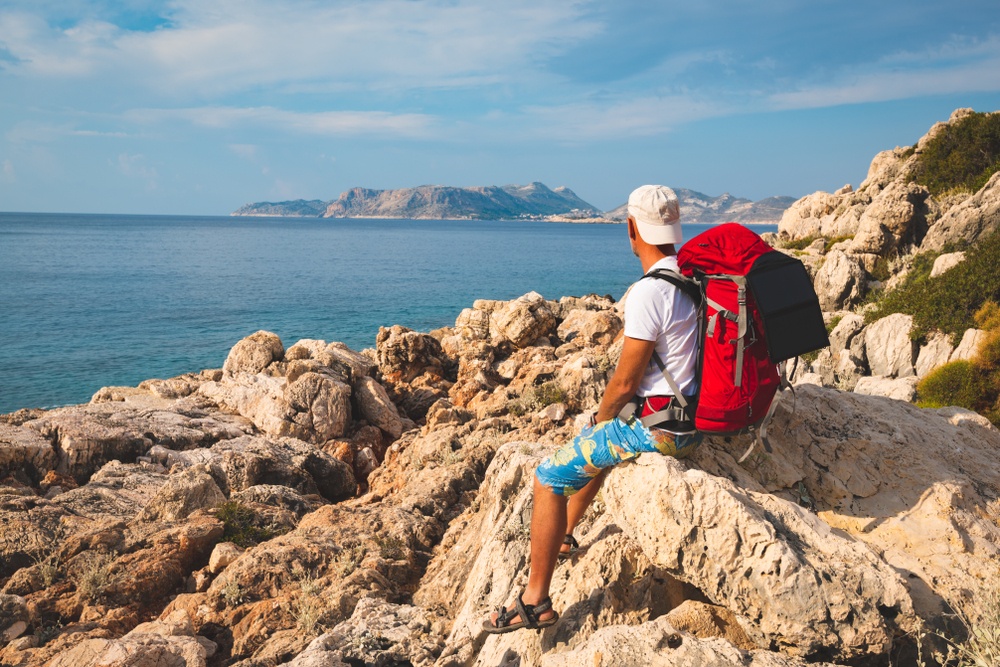 The smaller your travel bag, the less you can take, but the big bonus is no checked bag fees and it's easier to keep tabs on your pack at all times. If you can keep your backpack below fifty liters you will save a fortune when flying. However the reality is that small bags are usaally too small for trips that last longer than a week to maybe two.
Think carefully about the size of your pack and what's best for you – the best backpacks for travel are different for everyone. Personally, I travel with a seventy liter pack as I am often carrying camping gear.
2. Straps on Your Travel Backpack
Carrying everything you need to travel the world on your back doesn't come lightly… even when you pack light! Wandering lost, trying to find a hostel in the heat of the day with a travel bag is not fun, even the lightest packers will agree.
To combat this, the best backpacks will include well designed load bearing straps to help turn that heavy backpack into a fairly light backpack.
The aim of the game is to take weight off your shoulders and onto the hips. This is significantly better for you and you can walk, climb and even jump around pretty comfortably if your pack's weight is distributed evenly. These days most larger backpacks include hip belts as standard.
For me, quality hip belts are what makes a great travel backpack. Without a hip belt, even the best backpack in the world can turn into a nightmare. Some traveling backpacks have heat-molded custom made hip belts that may appear somewhat gimmicky but are very comfortable.
Your shoulder straps are equally important and should be comfortable to wear, without the hip belt. Look for shoulder straps that have plenty of padding.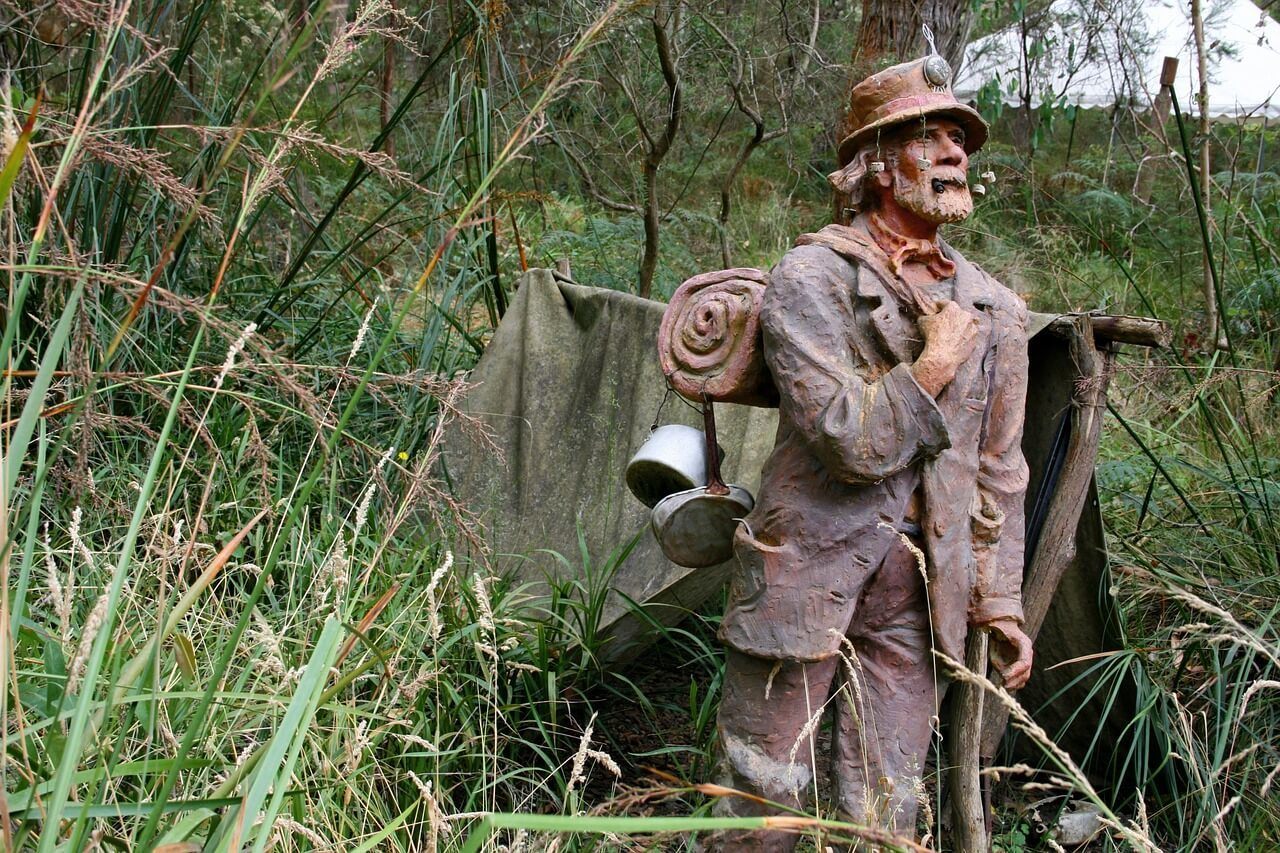 3. Pockets, Pockets, POCKETS
Well organised travel bags make the best travel bags. There's nothing more annoying than a typical backpack which only opens from the top meaning that each and every time you need something you'll be pulling literally, everything else but that, out.
Pockets alleviate this problem; allowing you to assign certain segments of your travel backpack to particular items (e.g. clothes, toiletries, passport and money) for easier access. The best pocket is a U-shaped opening pocket as this allows easy access.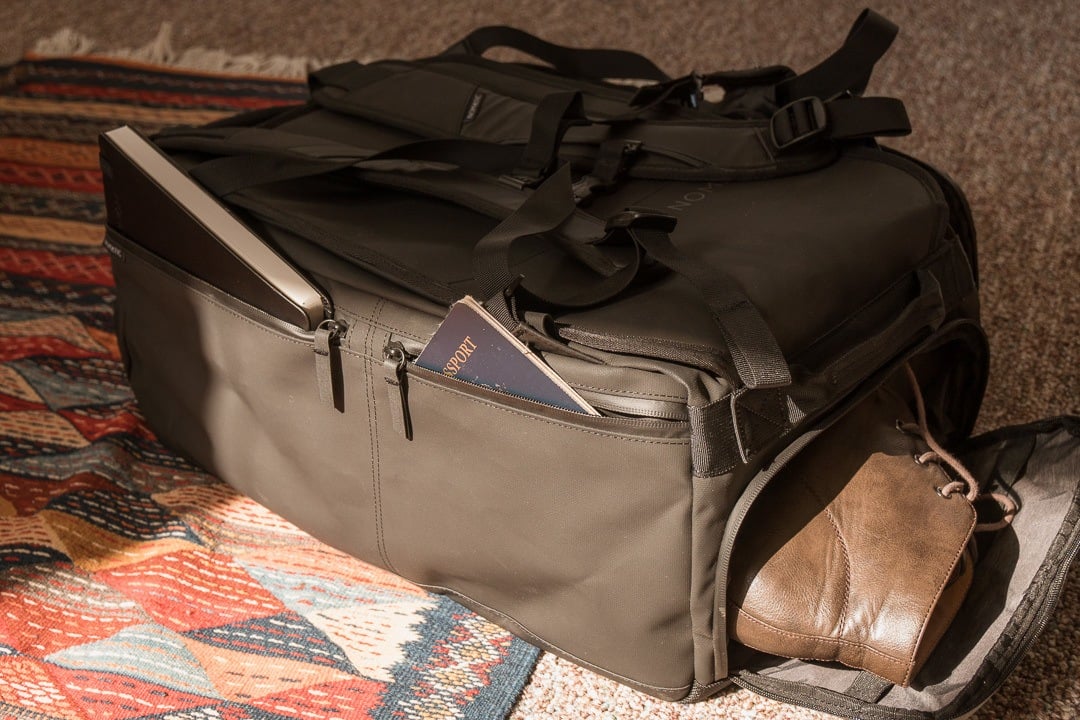 4. Travel Backpack Weight
Great travel backpacks are those which are as light as a feather. Sadly these don't really exist and instead, you need to consider the best weight for what you'll be doing. Backpacks themselves are not weightless, the heavier the frame, the more weight you have to start with.
In general, you want to go for the lightest, but toughest, pack you can find. Gregory Packs are some of the lightest packs on the market but they are simply not as tough as Osprey or AER and that is there downfall…
5. How Comfortable Should a Travel Backpack Be?
Your travel backpack will become your new best friend, it's where you will store all of your shit, it will basically become your home; therefore you need to try and choose the most comfortable backpack.
You'll find the best travel pack by trying it on in the store before buying. When trying it on, load it up with some weight to take it for a proper test drive. I strongly recommend trying a bunch of different backpacks on at an REI or Outdoor Store before making your choice.
When it comes to fitting a backpack, you want an even distribution of weight across your hips, shoulders and chest, and to make sure there are no pressure points that may cause the bag to rub or pinch as you walk. Cushioned shoulder pads and padded hip belts are always a winner my friends…
The better your hip belt, the better your pack will sit upon your body and the more comfortable it will be.
6. Material and Construction of a Good Travel Backpack
So it's raining and you're still trying to find your hostel? Or you can see your backpack from the plane window waiting to be loaded and it's sitting in the rain? (Fuck you Kingfisher Airlines). Water-resistant material is essential when traveling!
Your bag will be exposed to rain, puddles or leaks at some point. There's nothing worse than opening the bag to find your clothes soaked and stinking or worse, your electronics damaged. The most durable backpacks are made from strong, durable, stretchy, waterproof material.
So look out for backpack material that will last for years – the last thing you want is a ripped bag halfway through your travels!
Does the sound of having a super-durable backpack speak to you? Check out our in-depth best heavy duty backpacks review!
7. Best Travel Backpacks for Men vs Women
There are literally thousands of backpacks for traveling on the market and the best packs tend to be made with one gender or another in mind. Unisex backpacks usually will fit pretty much anybody but you can get a man's backpack, which will take into account broad shoulders, for the same price so I definitely recommend finding a gender-specific backpack when you hit the road.
Finding the best female travel bag requires more research than nice colors and comfortable straps. I am, of course not a woman. So to help me out on this I spoke to a bunch of kick-ass women adventurers for advice.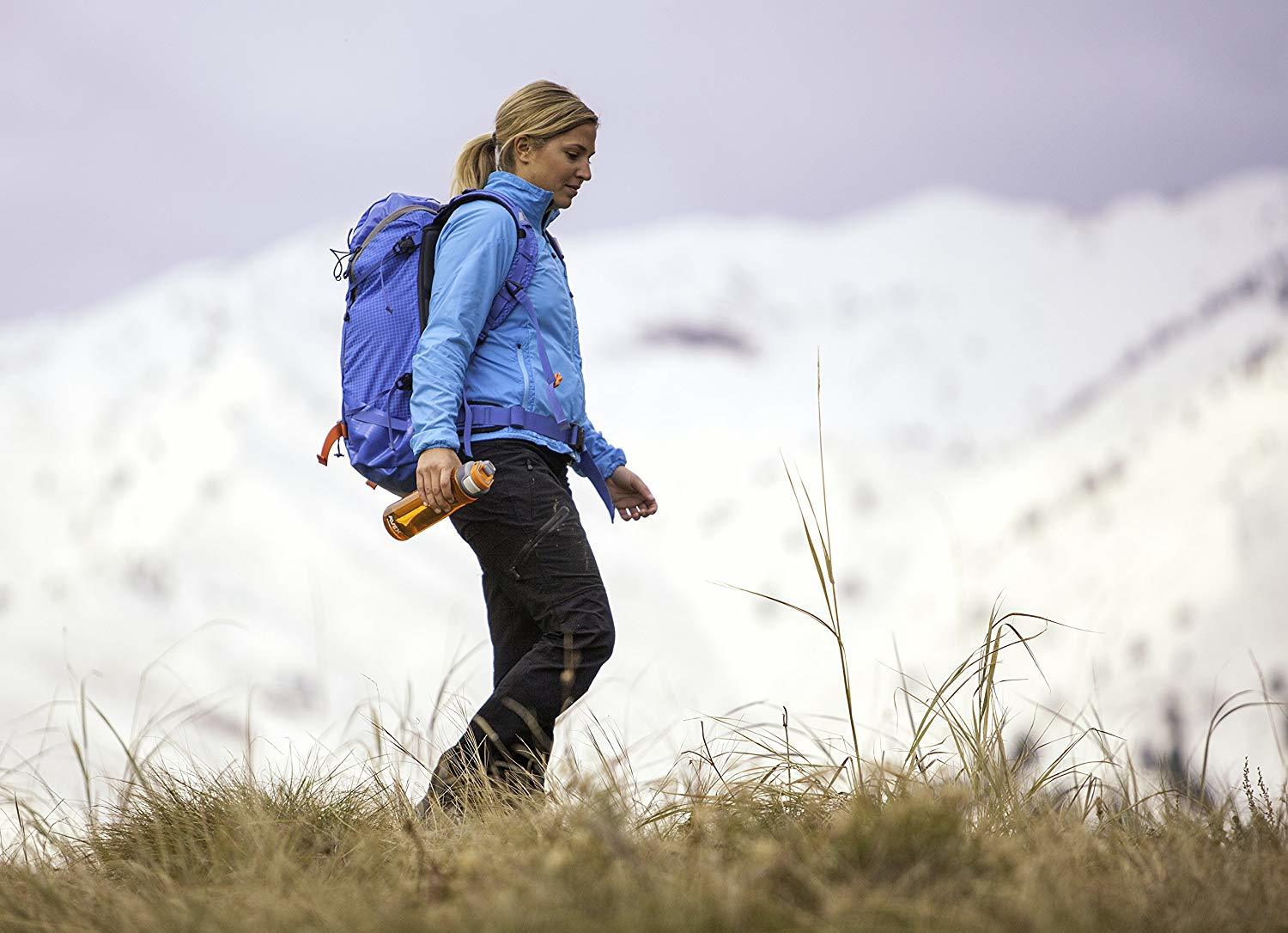 Size is perhaps the most important consideration along with comfortable straps and weight distribution. This doesn't mean that women have to buy travel bags specifically for them, but the feedback from my girlfriend and friends; is that they're so much better.
Other than the different design for a typical woman's body, there is not much difference between the women's and the men's travel backpacks. Most of the points that you'll below apply to both genders so keep these in mind.
Generally speaking, backpackers are some of the most warming, understanding, agreeable people on the planet.
But there is one decisive issue among backpackers.
To travel with a carry on backpack, OR to travel with a large backpack?
This has proven to be quite the epic debate. Every backpacker has an opinion on the topic, making it difficult for newbie travelers to know which side to pick, and most importantly, which bag to buy.
Let's go over both options.
In Favor of a Big Backpack (60L – 80L)
The most obvious reason to have a larger backpack is that you can carry more stuff! A 65-70 liter backpack can hold all kinds of extra items from food to gear to photography/videography equipment!
Now not everyone is going to want or necessarily need to deal with all of these extra pieces of kit. More kit means more weight, more check-in fees, and more tedious packing and unpacking sessions. Ultimatly, you should only be packing what you need.
How About 50 Litres?
Some backpackers prefer to use 50 litre backpacks. They offer the comfort and durability of "proper" big backpacks but obviously are lighter and carry less stuff making them lighter again. Honestly, a litre backpack feels really nice to carry and they are easy to throw on and take off bus roofs.
However. While some travellers a 50 litre backpack to be something of a "not too big not too small" sweetspot, I actually find them to occupy a bit of a neversphere. What I mean is that they are too big to take as carry on but (for me) not big enough for a proper long trip. Personally, my view is that you are going to go with a full sized pack, go with 60 litres. Even if you don't use all 60, at least you have room for souvernirs.
Pros
Can accommodate extra gear for hiking, camping, etc
Great if traveling to colder destinations
Great when traveling off the beaten path
More room=more options
Cons
Additional strain on your back
Have to check it on airplanes and buses
Many travelers simply don't need it
Not as ideal for urban travel
In Favor of a Carry On Bag (35L – 40L)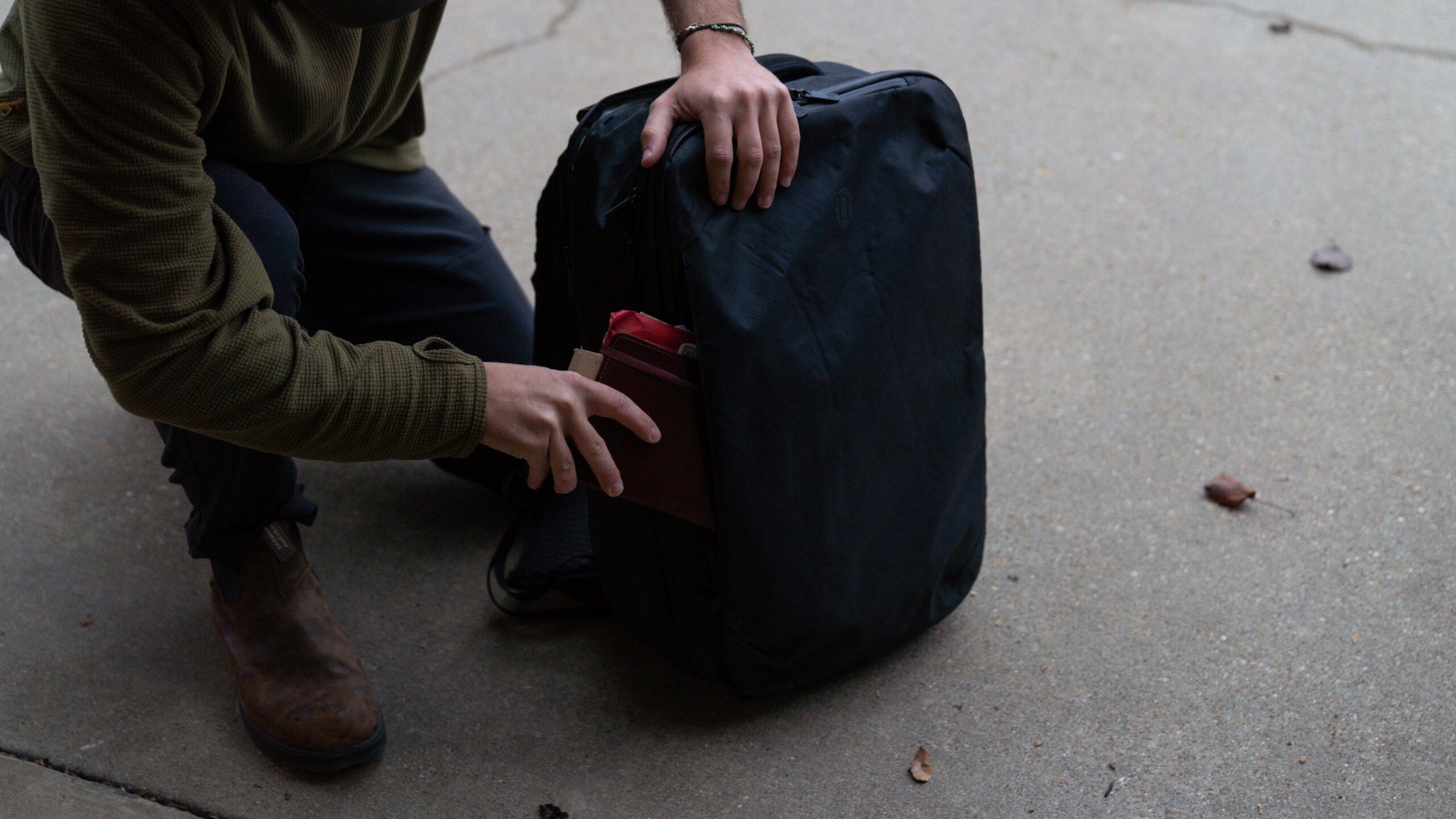 While traveling with a 60L+ bag might make sense for some people, it is completely unnecessary for other people. If you are a lighter packer, or maybe if you are just going away for the weekend, then need a 65L beast is too way much.
If this is you, then you may prefer a 40L, "carry on" size bag. To be fair, they are still a decent size and can carry a lot of stuff. If you are not any bringing camping or hiking gear, then a 40-50L bag can be more than enough to handle all of your stuff.
Traveling with a light bag means traveling with less stress. Less stress on your back, less stress in your bag, less stress in your life in general. Travelers who carry large bags often fill it with things they don't need.
But traveling light does require a sense of dedication, and if this minimalist bag style doesn't appeal to you, then go big baby!
Pros
Less shit to worry about
Less stress on your back
If your bag is under 40L, you don't have to check it
Great for urban travel
Cons
Forget about camping, trekking or hitchhiking
Limited space means less stuff
Not a great option if you want to bring a lot of clothes
Should you get a Large or Carry On Backpack?
This is completely up to you and will ultimately depend on your travel style.
Take into consideration the type of person you are… is traveling super lightweight attractive to you? Do you plan to go camping around the world? Do you plan to travel mostly to cities? Will you be flying a lot and want to avoid luggage fees?
By determining your travel plans and travel style, you'll be able to better make a selection for which travel bag is best for you
Best Travel Backpack

| Name | Volume (litres) | Weight (KG) | Dimensions (CM) | Price (USD) |
| --- | --- | --- | --- | --- |
| Nomatic Travel Bag | 40 | 1.55 | 22.86 x 53.34 x 35.56 | 289.99 |
| Aer Travel Pack 3 | 35 | 1.87 | 54.5 x 33 x 21.5 | 249 |
| Osprey Men's Aether 70 | 70 | 2.81 | 83.82 x 38.1 x 35.56 | 410 |
| Osprey Aura 50 | 50 | 1.86 | 81.28 x 38.1 x 30.48 | 315 |
| Osprey Airscape UNLTD | 68 | 2.72 | 81.28 x 40.64 x 38.1 | 700 |
| Osprey Farpoint 40 | 40 | 1.59 | 55.88 x 35.56 x 22.86 | 185 |
| Osprey Fairview 40 | 40 | 1.56 | 53.34 x 35.56 x 22.86 | 185 |
| Tortuga Outbreaker | 27 | 1.5 | 47 x 30 x 23 | 225 |
| Tropicfeel Shell Backpack | 22-40 | 1.5 | 51 x 30 x 19 | 249 |
| Osprey Aether Plus 85 Backpack | 85 | 2.83 | 86.36 x 40.64 x 40.64 | 440 |
| Osprey Skarab 30 | 30 | 0.74 | 53.34 x 27.94 x 25.4 | 150 |
| Deuter Aircontact Core 65+10 Backpack | 75 | 2.25 | 84.07 x 32 x 27.94 | 250 |
| Tortuga Setout Laptop Backpack | 25 | 1.27 | 55.88 x 35.56 x 22.86 | 199 |
| High Spirit Laptop Backpack | 19.5 | – | – | 114.64 |
| Arcido Akra | 35 | 1.3 | 55 X 35 X 20 | 192. |
| Incase Icon Pack | – | 1.36 | 48.26 x 33.02 x 22.86 | 127.90 |
| WANDRD PRVKE 31 | 31 | 1.5 | 48 X 30 X 18 | 239 |
| Nomatic Peter Mckinnon Camera Bag | 35 | 2.61 | 55.88 x 34.29 x 22.86 | 399.99 |
| Osprey Ozone | 38 | 2.27 | 55.88 x 35.56 x 22.86 | 320 |
| REI Co-Op Flash 55 | 55 | 1.28 | 76.2 x 35.56 x 30.48 | 199 |
FAQ about the Best Travel Backpack
If you still have some questions then no problem! We've listed and answered the most commonly asked questions below. Here's what people usually want to know:
Conclusion of the Best Travel Backpacks Mega-List
So there you have it amigos, the best tips to help you find the best travel packs for your upcoming adventures. The packs featured here are our personal favourites and we can vouch for each and every one of them.
Still not sure which backpack to buy? Well to nicely summarise it all for you, the best backpacks for travel are:
You are now armed with all of the best options to find the best backpack for you! Our hope is that you find the backpack of your dreams and have many, many awesome adventures with your new best friend.
Now that you have your backpack, it's time to check out our backpacking packing list for some ideas of what to put in it!
---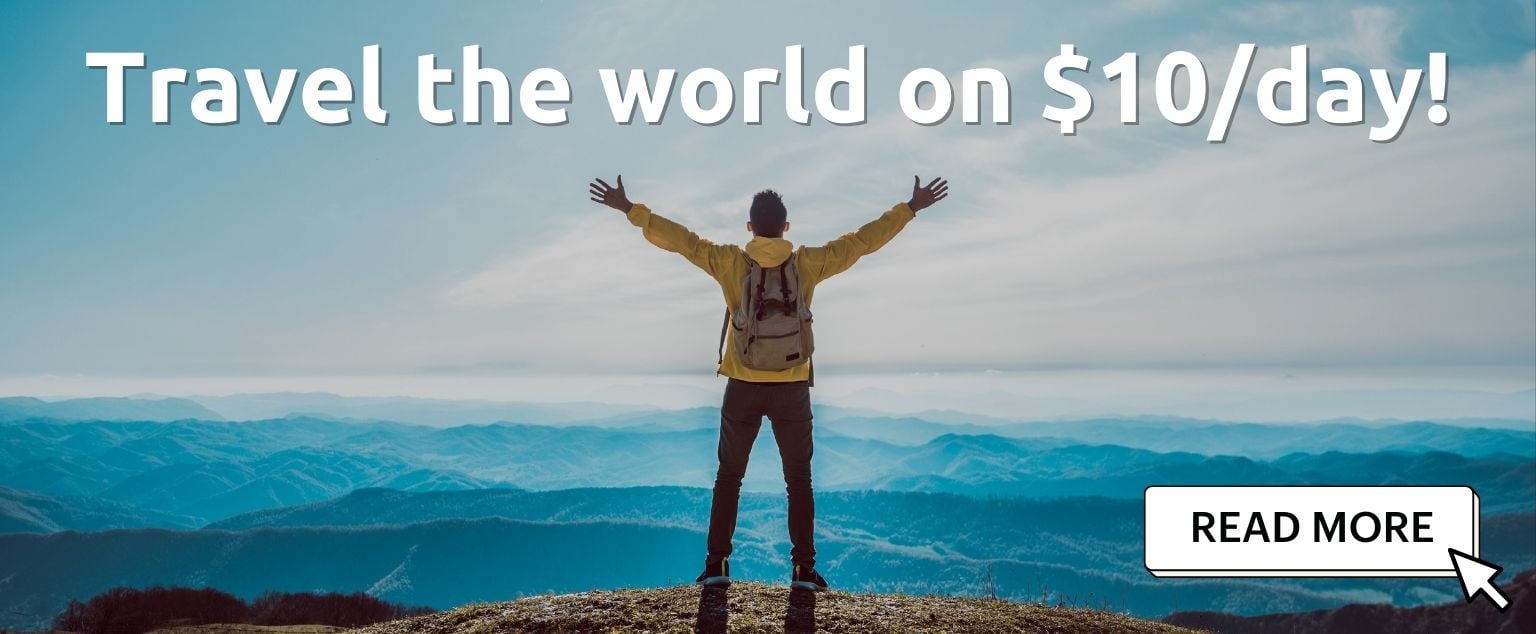 And for transparency's sake, please know that some of the links in our content are affiliate links. That means that if you book your accommodation, buy your gear, or sort your insurance through our link, we earn a small commission (at no extra cost to you). That said, we only link to the gear we trust and never recommend services we don't believe are up to scratch. Again, thank you!