Just 20 years ago, the consumer experience was completely different. If you wanted a pair of waterproof shoes for your next trip if you were lucky, you'd have a local shoe shop and Dick's sporting goods to choose from, plus an L.L. Bean catalog or an assortment of leather from the Sierra Trading Post, but we've entered the golden era of travel gear.
Nowadays, a few quality gear companies are sprouting up every offseason. The market is stacked with broke backpackers who have grown up and are now trying to fix the problems they experienced while on the road. The bare minimum for most new contenders are recycled materials, pillow-esque comfort, and 16 new pockets.
Consumers have more options than ever, so how on earth is a young fledgling travel gear company supposed to make a name for themselves in an entire internet swarming with new and used gear that is better than the best things the previous generation of travelers could buy?
That's the question TropicFeel needs to answer to stay afloat. Since its inception in 2017, they've carved out a quality product line that matches a niche currently enjoying incredible growth. They're right there with the rest of the Kickstarter darlings and are ready to take the leap and stand somewhere between the Ospreys and Samsonites of the world.
We all have our own opinions, and I'll lay mine down in my final thoughts. But first, let's lay out the facts and let you decide whether or not you think TropicFeel has what it takes to differentiate itself and provide the quality innovation that the travel industry needs right now. We'll monitor TropicFeel's improvement, take a deep dive into their product lines, broadcast what they're doing better than anyone else, and highlight some areas with room for improvement because nobodies perfect.
There's a lot going on at TropicFeel, so there's bound to be a product available now that could potentially change the way you travel. Let's check them out.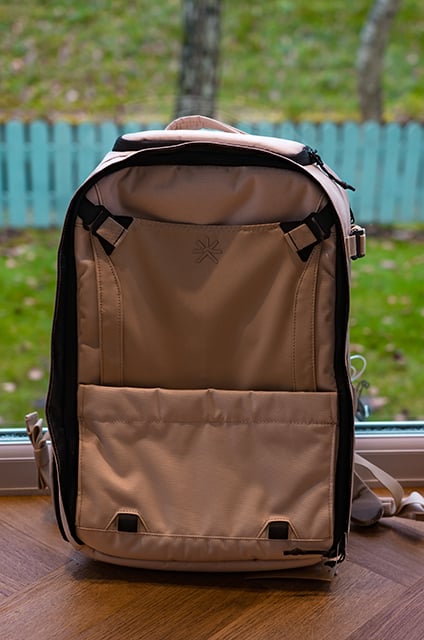 All About TropicFeel
I've seen a lot of places, packing my bags and checking in and out of many hostels along the way. In all the miles logged and peanut butter & jelly sandwiches squished, I've never seen anything like a TropicFeel bag.
A great backpack starts from a solid foundation. TropicFeel is a brand that's interested in way more than marching along your back on the best days of the year. The company hopes to bring the joys of the open road to everyone, everywhere. That's right, folks, we finally have a brand that's out to make a rainy Wednesday feel like Carnival in Rio.
TropicFeel brings the noise responsibility. Their mission towards changing global tourism surrounds four buzzwords: Consciousness, curiosity, authenticity, and innovation. Interestingly enough, those are the exact four words I'd use to describe last Saturday night!
The brand's authenticity and consciousness go hand in hand because you can't be a sustainable company without full transparency. The company goes above and beyond most major marketers in terms of their sustainability, especially for such technically advanced and waterproof product lines. It's innovations like this that make TropicFeel one of the best backpack brands in 2023.
Smack dab on their website, you can find TropicFeel's total carbon footprint and a detailed breakdown of their product's makeup. Many modern companies simply offer the classic line "made from recycled materials" without going in-depth about the percentages or the "why" of it all.
Backing up their own promises is a long list of third-party certifications and collaborations with watchdog groups. They also know that durability is the key to all of this. It doesn't matter how recycled your backpack is if you need a new one every year.
That leads us to the other two pillars of TropicFeel: curiosity and innovation, which walk together into new ideas and better products. Let's be honest for a second: there is still no such thing as the perfect backpack.
Every traveler wishes things would work differently, even with a Tropicfeel shell by your side. But this company is trying new things, and for some trips, it's really working. Between submersible sneakers, backpacks with a portable closet, and jackets that smile back, TropicFeel has sent many products through a metamorphosis.
Best TropicFeel Products Reviewed
So without further ado, let's check out the hits. There are pages and pages more of products like the ones we'll look at here, all of which use the same high-performing materials that deliver a low negative impact to the world. So, if you're in the market for a shiny new backpack, then you're in the right place!

Do You Want to Travel FOREVER??
Pop your email in below to get a FREE copy of 'How to Travel the World on $10 a Day!'.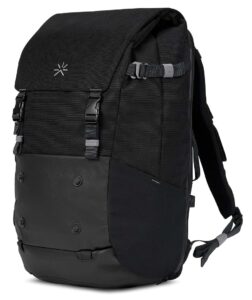 Specs
Capacity (L): 20-42
Dims (in): 20x12x7.5 (compressed); 24x12x9 (expanded)
Weight (lbs): 3.3
As the clan's matriarch, the Shell Backpack is uniquely responsible for broadcasting TropicFeel's ethos. Okay, TropicFeel, we hear you want to change the game responsibility, so what does that look like? Actually, It looks pretty frickin' sweet.
The Shell backpack brings me back to the good old days, letting me build on to it like Bionicles. That's because this backpack is basically an entire ecosystem: a water-resistant shell built from recycled materials, a portable wardrobe, a camera cube, a toiletry kit, and a kangaroo pouch that clips onto the front for good measure. If you're looking for a backpack with a shoe compartment, it's got that too!
Protecting it all is a full clamshell opening that sneaks in a laptop compartment and plenty of dividers into the backside of an incredibly spacious main storage area. Everything I need for a week fits inside this bag, and when I get to my destination, I can hang my closet, set up my bathroom, and hit the town with the same backpack, only it's half the size it was on travel day. Pretty freaking sweet!
Want to know more? We've written an in-depth review of the TropicFeel Shell just for you lucky people.
Specs
Capacity (L): 22-46
Dims (in): 19x12x7 (compressed); 24x12x10 (expanded)
Weight (lbs): 3
The Hive takes things up a notch from TropicFeel's baseline shell bag. It brings access to the groundbreaking set of accessories that attach to the Shell (and every TropicFeel bag) and adds a few more tricks of its own across the waterproof polyester.
This heavy-duty backpack brings extra padding and carry comfort to accommodate the more extensive size range, yet the pack weighs less than the Shell. The difference is only .3 lbs, but for some travelers, every single ounce counts.
Another key feature that differentiates the Hive backpack is an included bum bag. This fanny pack works double duty as a waist strap that helps support the backpack and then detaches to work independently. I'll never leave the house without a fanny pack, but with traditional backpack hip straps, they often just get in the way. The Hive helps my whole kit work together.
Looking for an alternative? The 40l Tortuga Travel Backpack might just be it.
Specs
Capacity (L): 16-30
Dims (in): 18x11x5 (compressed); 22x11x5 (expanded)
Weight (lbs): 2.43
Every great backpack company has to have an everyday carry. The Nest is TropicFeel's humble offering, able to condense onto full buses and tight trains and still expand with the signature Tropicfeel magnet system. If you're looking for a recycled backpack, this is a great choice.
There is an important catch with all three of these backpacks – without the additional accessory systems, they are barebones bags with solid water resistance and nifty interiors. That is especially important for the Nest, as the 16-liter baseline model struggles to pack my lunch and an extra set of shoes for the gym without all the add-ons. Throw in some decent packing cubes though and you'll be good to go.
On the plus side, because the pack is smaller, TropicFeel made the Nest backpack 100% Vegan. All three backpacks source recycled materials through a transparent supply chain, but only the Nest is CO2 NEutral Certified.
Like what you see? Have a look at this intensive guide to the TropicFeel nest.
Specs
Capacity (L): 40-52
Dims (in): 22x14x9 (compressed); 22x14x11 (expanded)
Weight (lbs): 6
TropicFeel's mobile closet now has wheels. One-bag travel is great, but there comes a time in every nomad's life when the itinerary doesn't call for shoulder straps anymore. This genius roller bag makes the transition easier and still brings solid reinforcements and weatherproofing to handle the grit and grind.
If we're being honest with you, It's hard to sit here and tell you that, without a doubt, the Shell is the best backpack in the world. However, after a few weeks and a few trips getting to know my Lift Rollerbag, I can confidently say there is no better rolling suitcase on the planet.
The wardrobe can feel heavy on a backpack, but in this case, it makes perfect sense. The telescoping handle serves as an ideal place for deployment. My favorite part is the external options. The roller has two outside pockets, perfect for my laptop and travel day essentials. It's an entire suitcase that still lets me charge my phone without zipping anything open.
Looking for more options? We've done a comprehensive guide to the best backpacks with wheels just for you!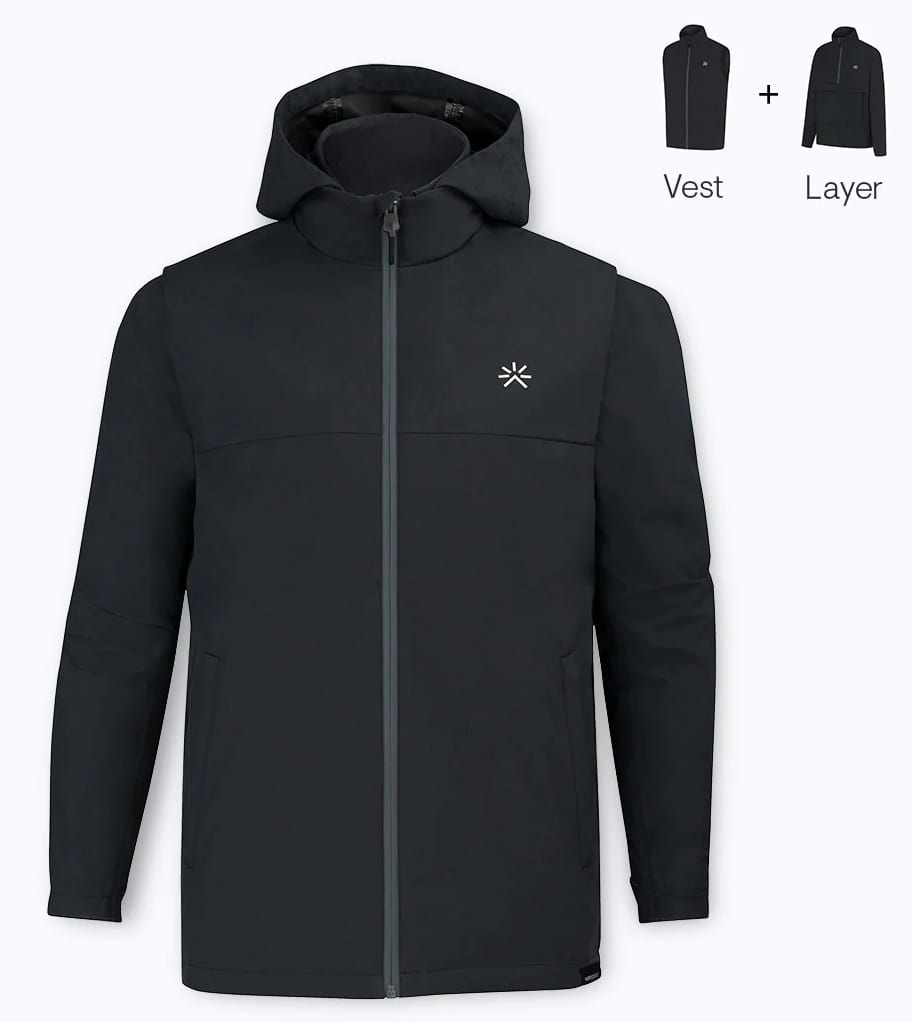 TropicFeel worked out a genius waterproof external layer that helped protect their backpacks using recycled materials. Thankfully, they didn't stop there. They put their legendary membranes to work as a light jacket that, for the first time, isn't just designed for hiking or the city but is built with international travel in mind.
Because it's not strictly a hiking jacket, no Gore-tex is involved in the NS40, the only flaw I've found after months of use. The waterproofing blocks moderate tropical rain, but a few monsoon-y afternoons have begun to penetrate the protection. Besides the worst rains of the year, the jacket holds up strong and stays breathable.
If things get too warm, you can always pack away the mid-layer and rely on only the reversible vest to break the wind creeping towards your core. The coat packs inside itself and lets a thermoregulated zipper keep things temperate in temperatures down to 15 Celsius. It's a pretty decent outdoor jacket for traveling, especially given its weight.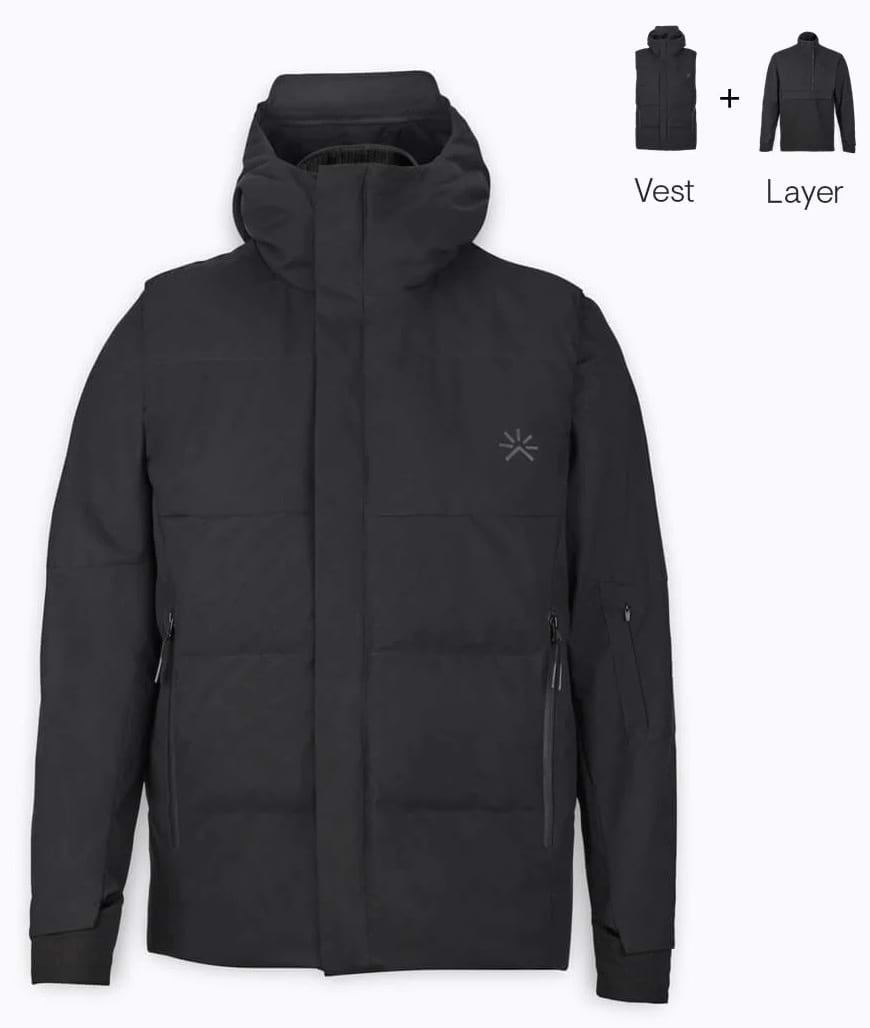 The NS60 is TropicFeel's colder climate jacket capable of just about anything. Through various sneaky zippers and incredible fabrics, this jacket expands into a parka and condenses down into a light vest. I haven't found a fall or winter day not well-suited for this beast by my side. The jacket maxes out at about zero degrees Celsius. Until then, and up to 15, there is a customized wear style perfect for the moment.
For years I was forced to wear my heaviest jacket on travel days. It was the only way to pack a buff outer layer without taking up half of my suitcase, but the NS60 changed that. Now I can squeeze this jacket inside its own carry bag, stow it away in my luggage, and still have a four-season coat ready when I land.
That alone justifies the investment, but there are many more tricks up this jacket's sleeves – literally. The waterproof jacket has a modular neck, PrimaLoft insulation, and a weatherproof kangaroo pocket that lets you build your coat to match your fit. You can strip down the inside vest and pass it off to someone in need while keeping the outer layer so you both stay warm. It's a great winter travel jacket for those wanting to keep things light and warm.
The best present of all… is CONVENIENCE!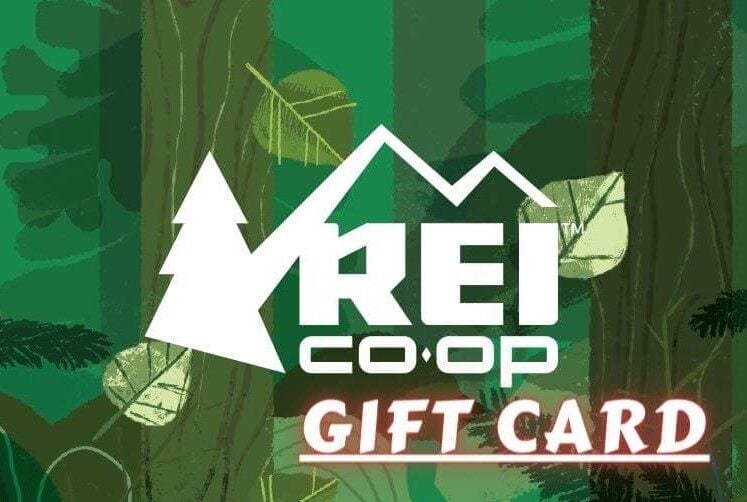 Now, you could spend a fat chunk of $$$ on the WRONG present for someone. Wrong size hiking boots, wrong fit backpack, wrong shape sleeping bag… As any adventurer will tell you, gear is a personal choice.
So give the adventurer in your life the gift of convenience: buy them an REI Co-op gift card! REI is The Broke Backpacker's retailer of choice for ALL things outdoors, and an REI gift card is the perfect present you can buy from them. And then you won't have to keep the receipt. 😉
Buy on REI!
TropicFeel Shoes
Every shoe in the TropicFeel line is custom-built for travel. The brand splits its options into two classes – weatherproof and water friendly.
Water-friendly sneakers are like water shoes you can wear to the bar after your snorkeling session. The sneakers will let some water in but won't mind splashing around and will dry out quickly. Weatherproof shoes use heavy-duty materials that keep your feet dry as long as you don't completely submerge them.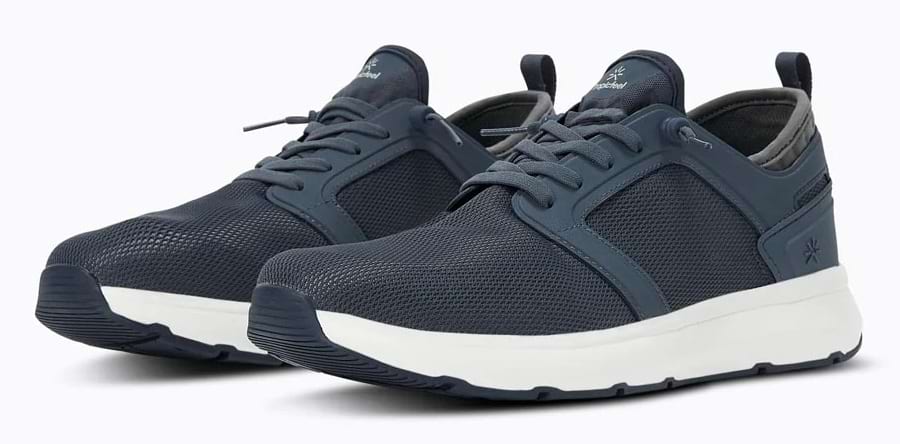 These warm climate specialists are water-friendly lightweight sneakers great for a day in the rapids. A slick-looking outsole helps the shoes grip onto coral, concrete, and grit equally effectively to help create a more amphibious shoe collection.
Monsoon models are one of Tropicfeel's most all-around shoes with plenty of high-performance features. The water-friendly options dry fast thanks to sneaky drainage holes and slip on even more quickly with sprint laces. The cherry on top is a new super comfortable sole cushion that rounds out a great pair of sneakers. All in all, they are a great pair of travel shoes that won't look out of place wherever you take them.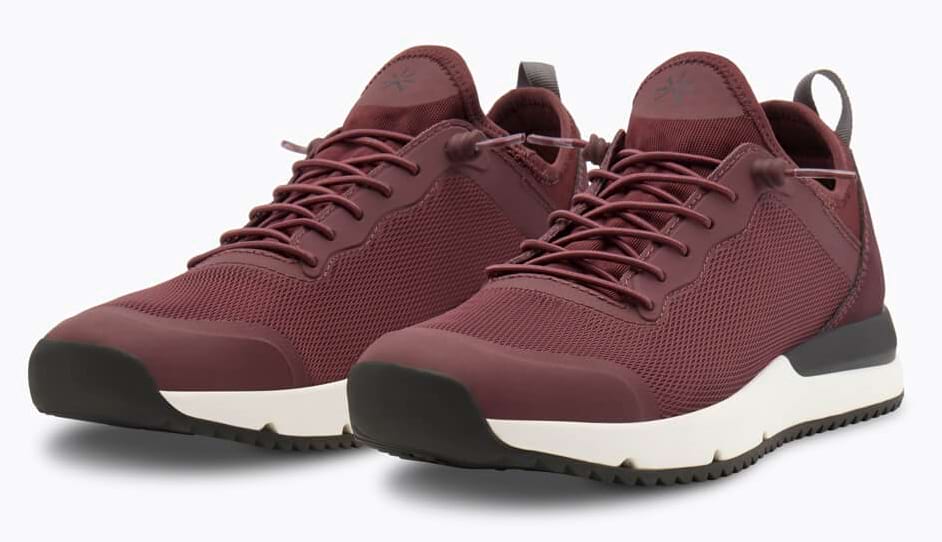 TropicFeel's Canyon is another excellent all-around pair of shoes that want to be the only shoes you pack for your next trip. The Canyon uses the same sprint laces that TropicFeel designed to hold tight while staying untied, bringing a more comfortable looseness to long travel days.
They're not quite perfect yet. While TropicFeel will be the first to tell you these shoes work best in the tropics, I pushed the limits wearing my Canyons through the ski lodge and found them to slip and slide a bit in snowy conditions. If you keep them in their comfortable climate, these shoes will deliver comfort on the beach and in the water.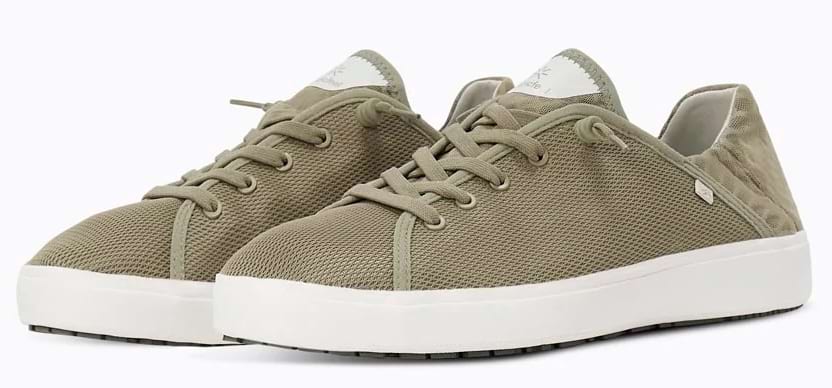 The Sunset series looks more casual than the Monsoon or Canyon, but don't be fooled by the relaxed style – these shoes are as high-tech as anything else sold by TropicFeel. Sunset sneakers think of everything to help you wear them from door to door and bring a classic look that lets you stop off at a function in between.
It starts out back with the foldable heel that allows you to wear the shoes as slip-ons without causing permanent damage. The number of times the Sunset has saved me extra steps when I just want a pair of shoes for the dorm bathroom or the speedy shuffle to make the free breakfast makes me wonder if I'll ever be able to wear a rigid heel again.
Mid-topped Lava models bring more to the table, adding extra reinforcements to serve as one of TropicFeel's more rugged shoe lines. The company considers these shoes more suitable for the mountaintop than the runway, but I find an irresistible edge in these comfortable trainers – and the creative color schemes certainly don't hurt the Lava's style.
While the shoes are more durable than other tropic choices, the Lava line still has quick dry drainage and high-density foam that keeps breathability at the forefront. The sneaky light shoes bring heavy-duty performance but only weigh about one-quarter of a kilo making them some of the most impressive travel hiking boots on the market.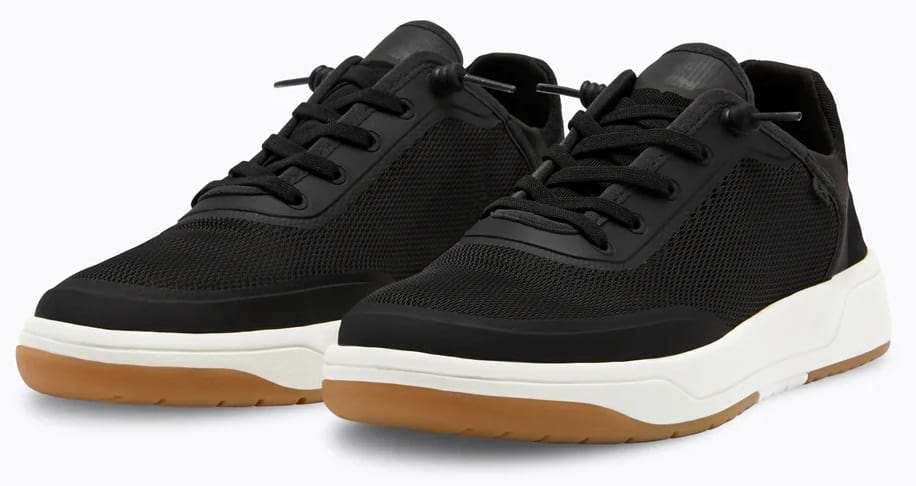 All of TropicFeel's shoes work without tying up the laces, but a lot like Batman, they merely adopted the slip-on. Dune was born into it, molded by it, producing a different class of sneakers.
Dune shoes bring a fashionable boost to a classic kayaking performance shoe, creating an all-terrain option you can still wear with jeans. The low-top sneakers have a two-toned sole system that brings some soul to technical footwear, like if you combined a pair of Astrals with a pair of Vans.
The Jungle line makes for a great set of gym shoes. The series dropped in 2021, serving as an upgrade for TropicFeel's flagship lines by adding the SlipSock construction to an all-around collection of sneakers. The SlipSock is a sneaky touch that helps you get your shoes on quickly and keeps things tight, no matter the terrain.
Getting these shoes on your feet is about as effortless as maneuvering a set of socks that shrunk in the wash, and only one of those two will keep its form after a full submerge. The Jungle series also adds an extra splash of color around the heel to help them stand out from the crowd while bouncing off the day's obstacles.
With the Geyser series, TropicFeel finally dipped its toes into cold-weather footwear. The shoes use thermoregulating wool that teams up with an extra waterproof membrane that helps the Geysers travel to more continents than any other model we've covered thus far.
Geyser shoes are also waterproof instead of water-friendly. We covered the differences in the intro, but now you can see what we mean in context: instead of being submergible, the Geyser helps moisture wick off your feet and keep your toes dry like quality rain boots.

Our GREATEST Travel Secrets…
Pop your email here & get the original Broke Backpacker Bible for FREE.
Our Final Thoughts on TropicFeel
The products we've looked up today are stellar examples of TropicFeel's trailblazing. From how to protect your feet while heading to the mountaintop to how you pack when heading to the board room, this company has provided its own take on practically every facet of modern travel.
My favorite part about the company's relentless pursuit of innovation is that they have done it sustainably. Even TropicFeel's most high-tech sneakers source 6-7 plastic bottles in construction to produce waterproof membranes and luggage pieces that help you bring a closet with you on the road.
This inspirational combination of sustainably advanced backpacks leads me to believe that, yes, this company has what it takes to succeed in the modern travel industry. All that's left for them to stand against is the ultimate test of time.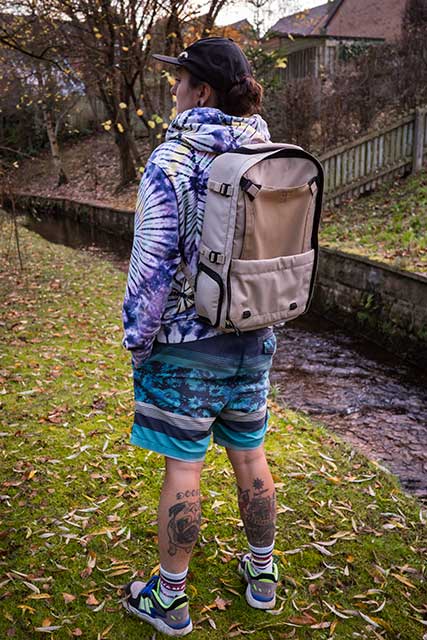 However, I don't think they are perfect. TropicFeel's luggage is pretty useless unless you purchase a long list of additional accessories. There's nothing I dislike more than buying a backpack that costs several hundred dollars only to be told I need to buy a few hundred dollars more in add-ons. I know several less organized travelers who will think the wardrobe system is a bunch of bollocks too.
I suppose you could also say that these add-ons work as a testament to TropicFeel's potential because never in a million years would I have thought I would tell you this: it's totally worth the upgrade. These sneaky add-ons revolutionize TropicFeel's gear lines to create something entirely new.
The upstart designers churned out myriad luggage, jackets, and shoes that have protected my trips and taken the hits, so I don't see why this company isn't going to stick around and continue to establish itself. Plus, I need them to stay long enough to ensure I get full use of their excellent warranty program. Personally, I think they make one of the top travel backpacks on the market in 2023.
But what do I know? I'm just a broke backpacker. Let me know what you think about TropicFeel's lofty promises or Primaloft insulation in the comments below.
---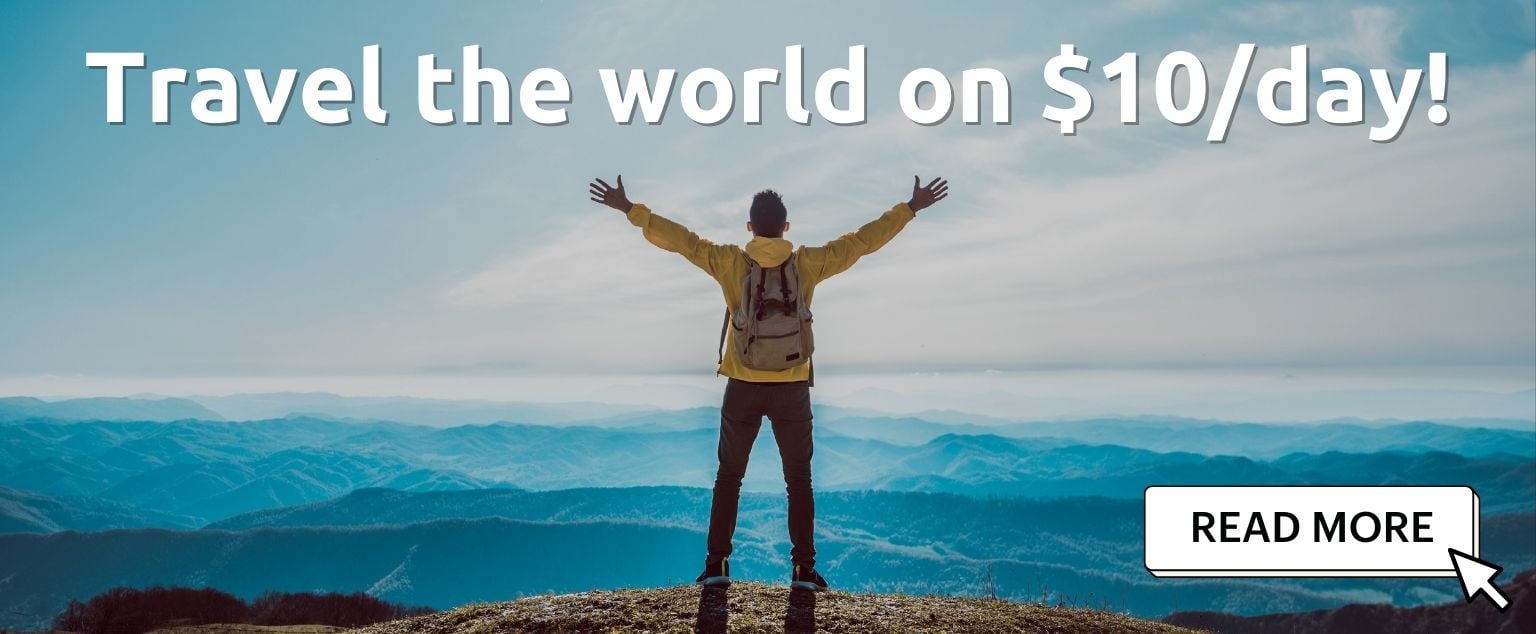 And for transparency's sake, please know that some of the links in our content are affiliate links. That means that if you book your accommodation, buy your gear, or sort your insurance through our link, we earn a small commission (at no extra cost to you). That said, we only link to the gear we trust and never recommend services we don't believe are up to scratch. Again, thank you!