Packing your backpack for travel is an art form and one which can take years to refine and perfect. For the longest time, I used to simply (strategically) chuck all my stuff into the main compartment. But then I discovered a way to keep things tidier and better organised…
Packing cubes are small packs that help both organize and compress your baggage into handy divisions. Whether you use a backpack, wheeled suitcase, or duffel bag, there's no need to haul out ALL your holiday luggage to find that small item you're looking for.
Although packing cubes are a relatively new idea there are already a huge number on the market.
How do you know which packing cubes are right for you? You could spend hours online and in-store doing your research, or you could keep reading to discover our ultimate list of the best packing cubes!
Quick Answer: Ultimate List of Best Packing Cubes
OVERALL BEST PACKING CUBES FOR BACKPACKING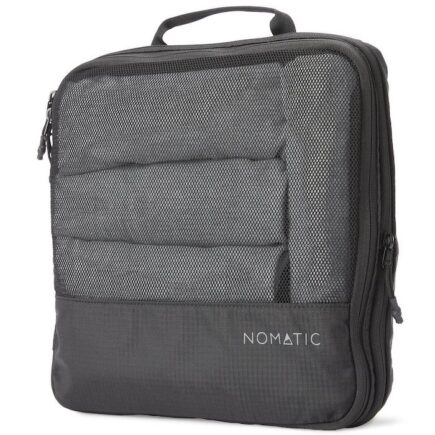 OVERALL BEST PACKING CUBES FOR BACKPACKING
Nomatic Packing Cubes
> Ideal for international travel
> Weight very little
> Durable
BEST COMPRESSION PACKING CUBES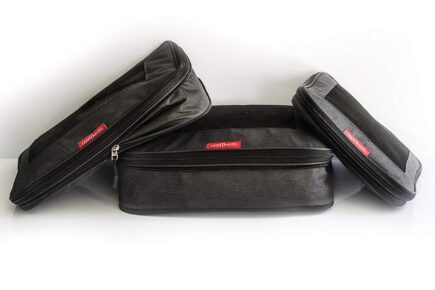 BEST COMPRESSION PACKING CUBES
LeanTravel Compression Packing Cubes
> Compresses luggage
> Mesh window enhances breathability
> Helps minimize wrinkles
BEST PACKING CUBES FOR CARRY ON LUGGAGE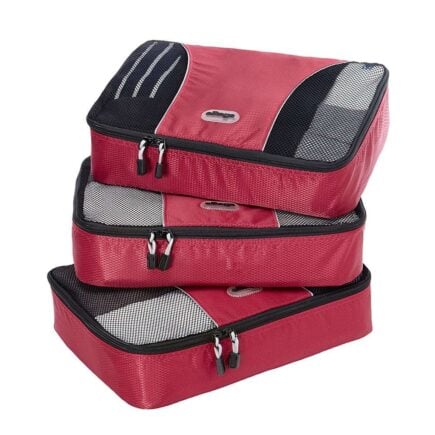 BEST PACKING CUBES FOR CARRY ON LUGGAGE
eBags Medium Packing Cubes Set
> Three bags of the same dimensions
> Lightweight nylon construction
> Premium YKK zip closures
BEST PACKING CUBES FOR INTERNATIONAL TRAVEL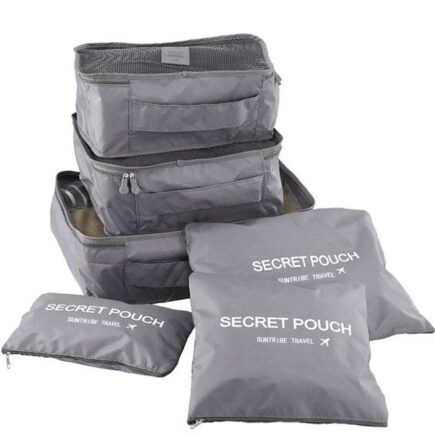 BEST PACKING CUBES FOR INTERNATIONAL TRAVEL
WantGor Six Piece Packing Cubes
> Graduated packing cube set
> Laundry pouches for each size of packing cube
> Mesh upper panel for breathability and visualization
BEST PACKING CUBE SET FOR A LONG TRIP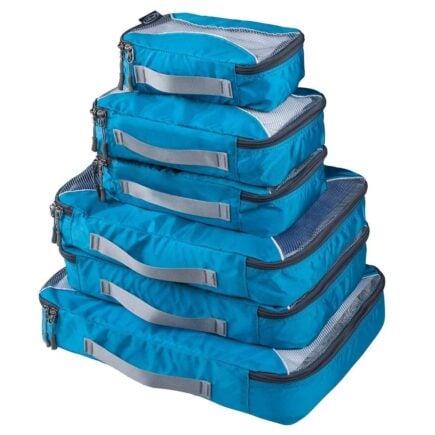 BEST PACKING CUBE SET FOR A LONG TRIP
G4Free Packing Cubes
> Six piece set
> Made up of 4 different sized packing cubes
> Carry handle
Using Packing Cubes
Using packing cubes is not exactly rocket science and you will be able to figure it out for yourself pretty easily. However, if you are looking for some tips on how to get the best use from packing cubes then skip to the latter section of this post.
Alternatively, if you are still unsure as to whether packing cubes are for you, then we have added some useful info at the back end of this post to help make your mind up.
Before then, let's crack on with the best packing cubes for backpacks.
Overall best packing cubes for backpacking
Ladies & Gents, It's Time to Step Your GEAR Game Up. 😉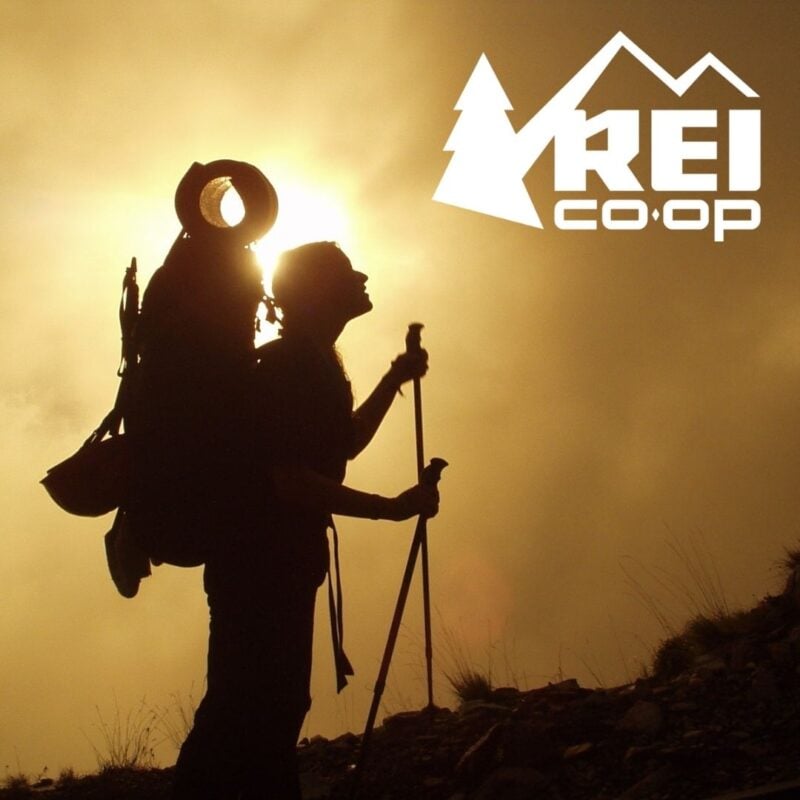 REI is one of America's biggest and most-loved outdoor gear retailers.
Now, for just $30, get a lifetime membership that entitles you to 10% OFF on most items, access to their trade-in scheme and discount rentals.
Join REI Today!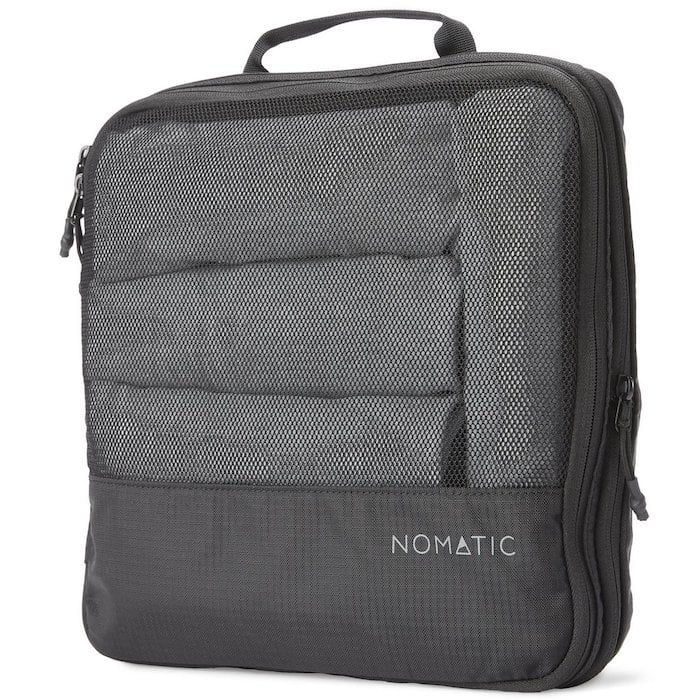 The Nomatic packing cubes not only have a second zipper for extra compression they are designed to fit perfectly inside their accompanying backpacks, which are number one on the market for digital nomads.
Another amazing feature about the Nomatic packing cube is the divider to keep clean and dirty clothes separated while still organized. There is a reason why these cubes are the best…
Pros
Compression
Lifetime warranty
Clean/Dirty clothing divider
Durable
Cons
One color
Weight and size
Cost
Individually sold
Are the Nomatic packing cubes for me?
If you are a traveling nomad and looking to have a full set of products that will make your life streamlined then yeah you should grab some Nomatic packing cubes, and gear. Every product has a lifetime warranty and it's nice to stick with one brand throughout your backpacking setup.
Our team rated this as one of their best packing cubes for backpacking for two main reasons. Firstly they felt the compression feature on these packing cubes was awesome, it really meant they saved so much space inside their bags, but importantly when it comes to features like this, the sewing and zipper felt strong enough to deal with the pressure from compressing their gear. They also felt the divider was a godsend when it came to backpacking, carrying around your dirty clothing is when things can get a bit disorganised so this was a welcome feature.
Best Packing Cubes for Travel Runner Up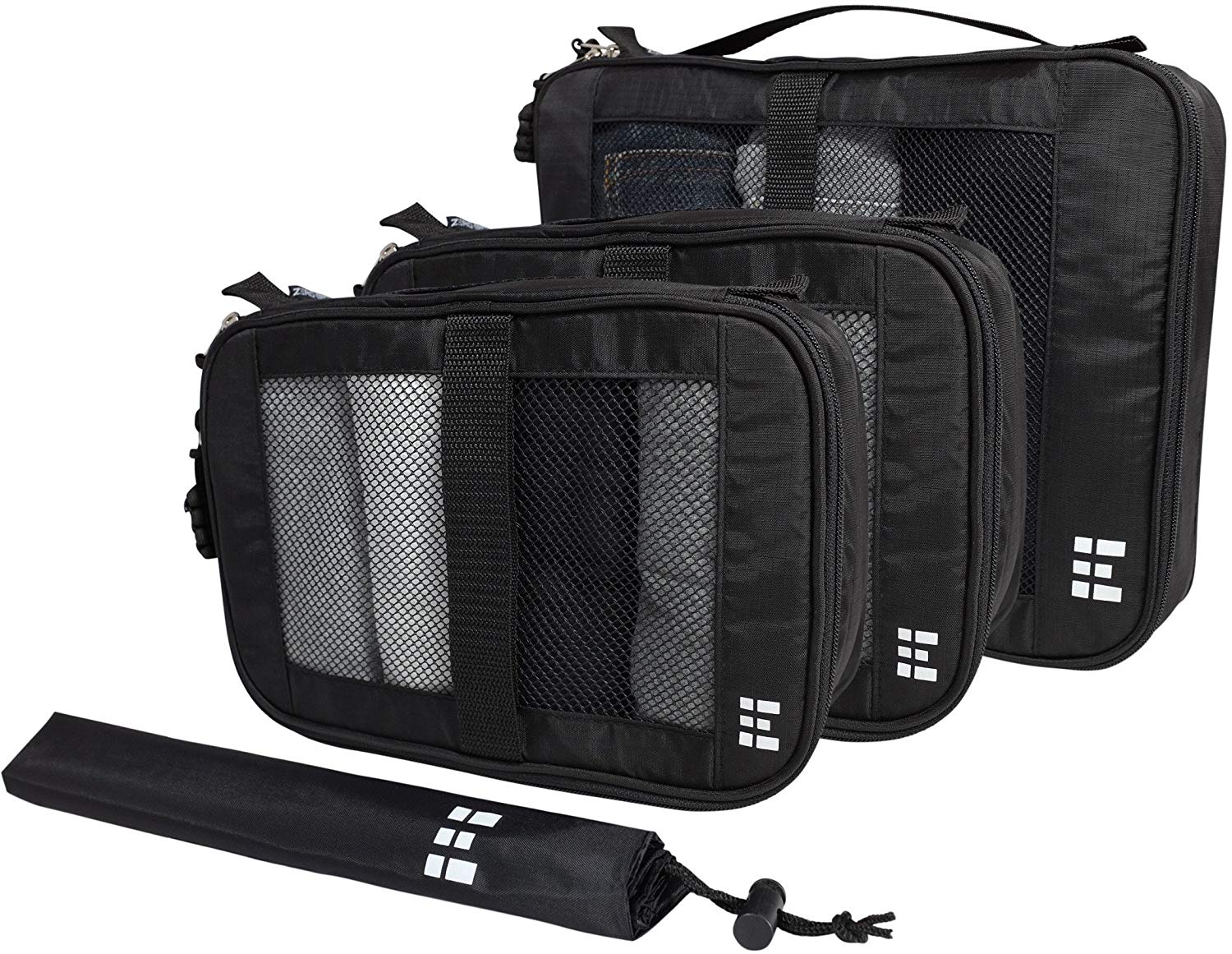 Why are the insider packing cubes by Zero Grid the best overall packing cubes for backpacking? Let us list the ways! To begin with, the Zero Grid packing cubes are very lightweight, with weight an even more important consideration when carrying all you need on your back than any other form of baggage.
On top of that, the Zero Grid packing cubes are also very durable and are more than strong enough to survive the chaffing, rubbing, dust, and dirt that tends to come with backpacking for any length of time. Not only are the zip closures deliberately tough, but they also have grippy ties that make them easy to open and close however sweaty you might find yourself!
Pros
Ideal for backpacking
Weight very little
Durable
Three packing cubes in the set
Cons
Only available in the UK
All cubes in pack are the same color
Zip ties might catch in the backpack
Too small for some backpackers
Are the Zero Grid packing cubes for me?
When backpacking, weight is almost always the first consideration – no one wants to have to carry more than they have to. Being lightweight, the Zero Grid packing cubes will only add a few hundred grams to your overall backpack weight, while keeping your kit organized throughout your travels.
Our team loved how durable and high-quality these packing cubes felt. After some hardcore use on the road, they really stood up to everyday abuse where other cheaper versions started falling apart. They also felt they offered great value too coming in a set rather than being sold individually.
Best compression packing cubes
Not only do the packing cubes from LeanTravel keep all your kit organized while you're on the road, but they are also designed to go further than that, compressing your kit so it takes up as little space as possible. After all, we've all had to close a suitcase by sitting on it and praying! They manage this by an additional external zipper that, when closed, reduces the depth of the cubes from their standard four inches down to an amazing one inch! As packing cube sets come, the LeanTravel compression cubes are also very helpful in that they come in three different sizes – small cube, medium cube, and large cube.
Pros
Compresses luggage
Helps minimize wrinkles
Mesh window enhances breathability
Anti-catch zips
Cons
Cubes all the same color
Boxed weight 600 g
Polyester material
Small cube less useful to many
Are the LeanTravel Compression packing cubes for me?
If you thought the idea of an internal packing system that helps keep your kit organized was a great idea, then you'll be smitten by the idea of packing cubes that help organize and compress at the same time! No longer will you have to sit on a suitcase (or even leave things behind) to get your baggage closed!
Our team loved the high quality and durable feel of these cubes and felt the variation of sizes that the set came in were pretty useful in practice and fit in their bags well. They felt a lot more sturdy than many other packing cubes and they liked that they had more rigid edges which made packing them out a lot easier.
Best packing cubes for carry-on luggage
The eBags medium cubes set gives those traveling using just carry on luggage three identically-sized packing cubes of roughly 14 x 10 x 3 inches in which to fold or roll clothing (and store other important travel essentials). They comprise premium YKK zips that wrap right around the edge of the cubes to form a wide opening and internal seams that are fully finished to ensure durability. The soft mesh material used on the upper panel not only protects more delicate fabrics you might be traveling with but also aids breathability to prevent the build-up of odors.
Pros
Three bags of the same dimensions
Lightweight nylon construction
Premium YKK zip closures
Mesh upper to help breathability
Cons
All cubes the same color
No compression zip
Not waterproof
Volume of 10 liters
Are the eBags medium packing cubes set for me?
These medium-sized packing cubes will undoubtedly aid the organization of any traveler with carry on luggage, saving you the embarrassment of having all your clothes and travel essentials tip out when you're searching for a pen or your passport. If you'd rather all your packing cubes were the same size, these are the packing cubes for you!
Our team felt these were great packing cubes for those just looking to get into using them without committing too much money to the more expensive options. This three-pack is a great budget, no-frills option that still offers great quality when it comes to materials and construction. You can't go wrong here if you're still not convinced but want to give packing cubes a go.
Best packing cube set for a long trip
Are you setting off for a long trip? Not only are you going to need a good number of packing cubes, but a variety of different sizes would make recognizing what you have all the easier. That's why we're recommending the packing cubes by G4Free as our best option for a long trip! This pack contains six individual packing cubes of 4 different sizes from very large (to fit jackets and cold-weather items) down to small. Each has a carry handle for easy picking up, and are made from high-quality durable nylon together with a mesh material upper panel and strong zips.
Pros
Six piece set
Made up of 4 different sized packing cubes
Carry handle
Durable nylon construction
Cons
All cubes the same color
No compression zip
Zip tags may catch
Not waterproof
Are the G4Free packing cubes for me?
The G4Free packing cubes offer a great blend of quantity and quality. With six cubes in this set of various sizes you're sure to have enough space for all your essentials, while the durable nylon construction, strong zips, and mesh upper will ensure they last however long your trip!
Our team loved the value offered by this selection of packing cubes. For those needing super organisation of their gear, this 6-pack gave them great options for different configurations for both their main pack and their day pack too. For members of the team travelling with their partner, this pack also offered unbeatable value if they divvied up the cubes between them.
Best packing cubes for international travel
If you're heading out on international travel or even just a few days you're going to need more clothing and therefore luggage than a weekend away closer to home. You're probably going to want additional packing cubes, which makes this six-piece set of packing cubes from WantGor all the more useful. In addition to their three graduated cubes, the set includes laundry pouches that fit each size, meaning you can always keep dirty, used items away from your clean clothes! What an excellent idea!
Pros
Graduated packing cube set
Laundry pouches for each size of packing cube
Mesh upper panel for breathability and visualization
Double zip closure
Cons
Cubes all the same color
Laundry pouches have no carry handles
Polyester
Less stylish than other packing cube sets
Is the WantGor Six Piece Packing Cube set for me?
We really like the fact this WantGor Six Piece Packing Cube set includes not just three packing cubes, but also laundry pouches so that travelers can easily keep their clean and dirty clothing items separate. Together with the decent build quality means we think they're a great option for international travel.
Our team loved how light these packing cubes were compared to some of the more over-engineered items on this list. The team felt they were a great option for shorter-term use, occasional trips and weekends away without needing to commit to more expensive options. The addition of the laundry bag was also something they really appreciated.

Do You Want to Travel FOREVER??
Pop your email in below to get a FREE copy of 'How to Travel the World on $10 a Day!'.
Best of the rest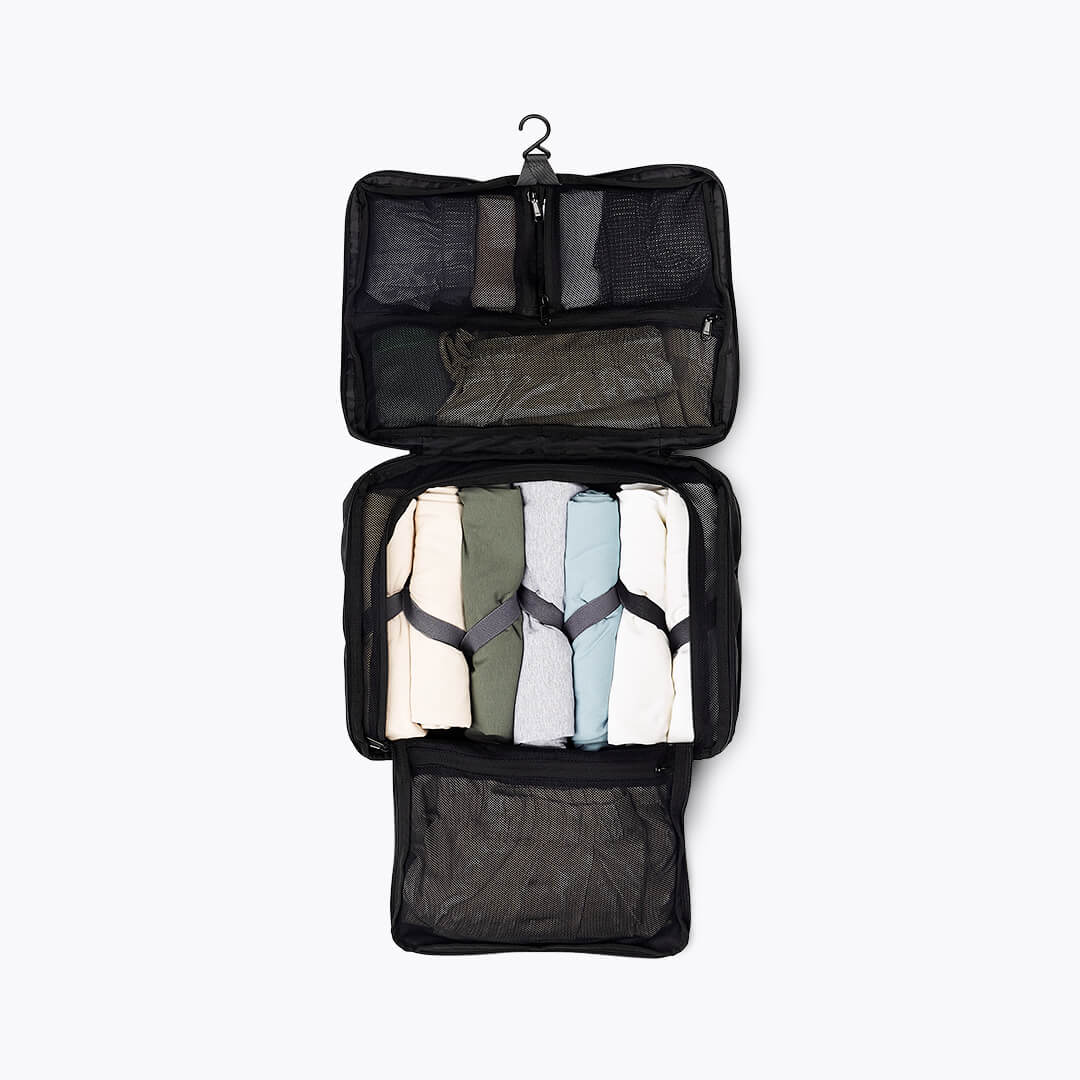 TropicFeel offers 2 different packing cube options – the 12L Smart Packing Cube and the 10L Small Packing Cube. While they don't offer smaller cubes like some competitors, this is not an issue for me personally.
So what makes the TropicFeel Packing Cubes special? Well unlike other cubes they are designed to be used as hanging closets – once you reach your destination you simply open the cube up, hang it and boom, you're right at home. The only criticism I have is that 10 and 12L are both pretty big and they may not fit so nicely into many classic backpacks – for example I can't use these with my Osprey Aether as they eat up too much space,
While TropicFeels Packing Cubes are designed for best use with their Hive Backpack, they will fit nicely inside most backpacks, duffels or suitcases.
Pros
Unique wardrobe design
Good size
Lightweight
Fits with Hive Backpack
Cons
No small cubes
Design not for everybody
Polyester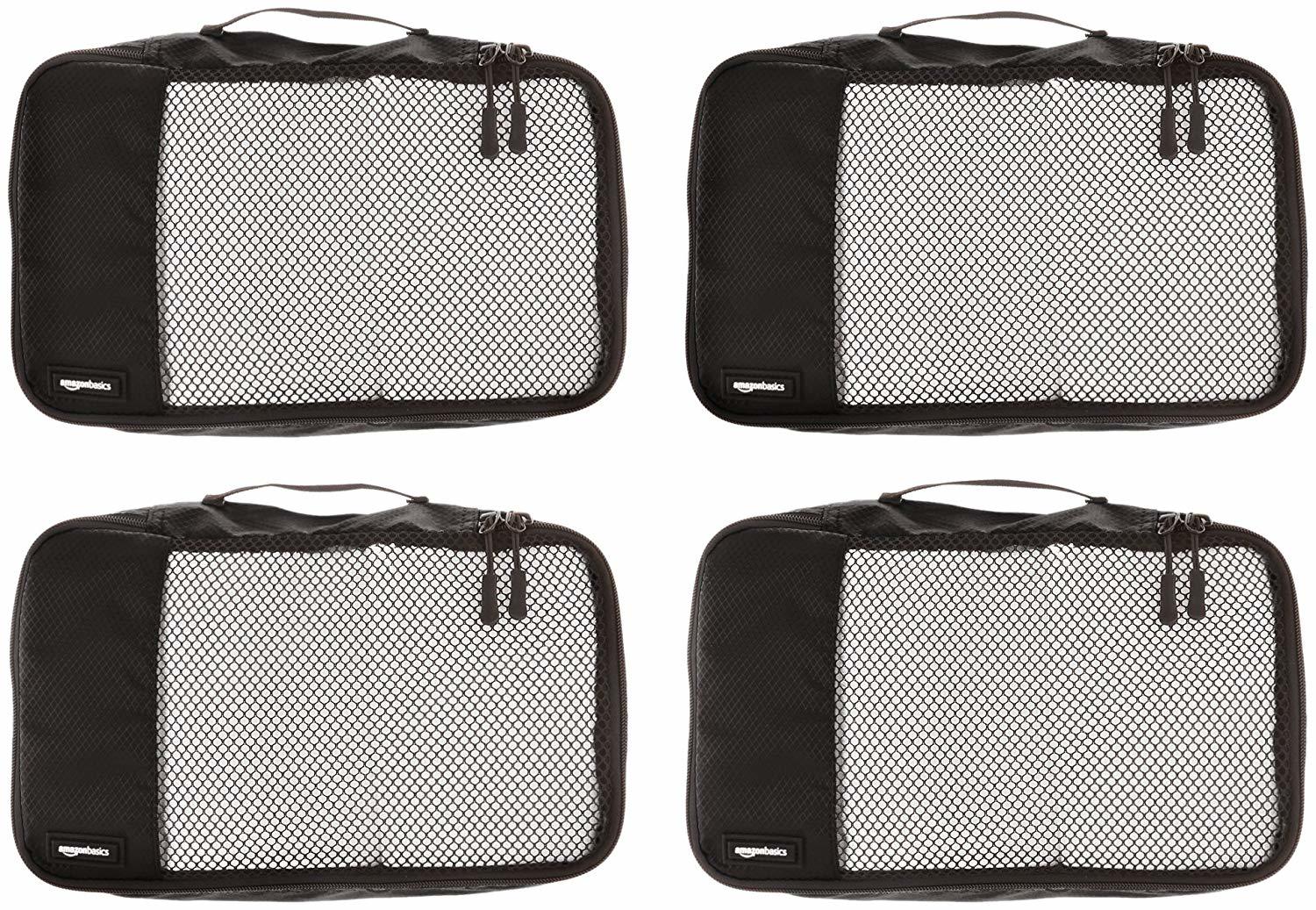 Budget is not the only reason you might want to consider the AmazonBasics packing cubes as your packing cubes of choice. This set contains four packing cubes of the same small size of 11 x 7 x 3 inches which makes them much more adaptable to the odd shapes of specific bags and suitcases than larger packing cubes. Like many of the other packing cubes we've already reviewed, the upper panel is made up of a mesh material that helps with spotting the item you might need without having to unzip a cube, as well as helping breathability to prevent the build-up of unattractive odors.
Pros
Attractive price
Four-piece set
Lightweight
See-through top panel
Cons
All small cubes (in this set)
Cubes can deform if over packed
Polyester
Only machine washable on cool cycle
Are the AmazonBasics Packing Cubes for me?
The idea of having four small packing cubes may not meet every traveler's needs (other sets are also available), but we like the versatility this gives the AmazonBasics packing cubes when it comes to the actual packing of them, in addition to the fact they are lightweight and a great price!
Our team are big fans of Amazon basics and feel they offer great value for money as well as good quality products. The packing cubes are perfect for those wanting to organise their gear with no bells or whistles on a budget. They loved the massive mesh panel for keeping things fresh but also for making it easy to quickly grab the right packing cube.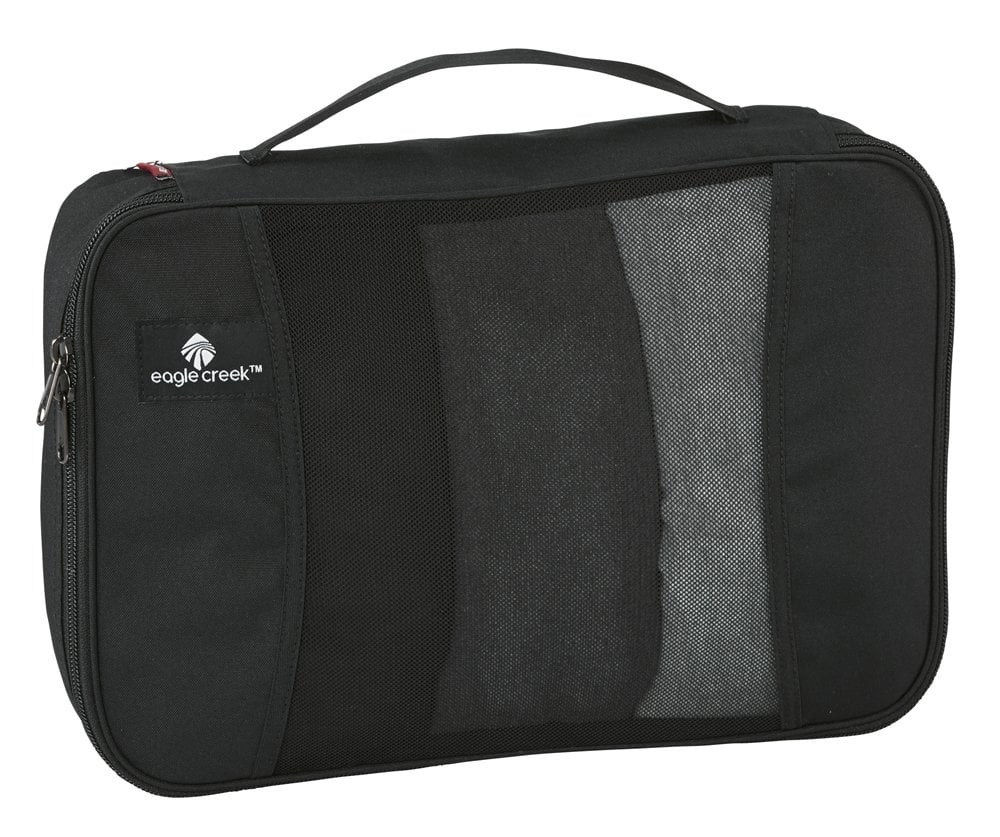 The Eagle Creek Pack-It Cube is so well designed and constructed you could easily use it as a carry on rather than an item of internal luggage packing! There's a grab handle for easy carrying, and an upper panel which is half solid material and half mesh. The full-length double zip opening makes packing and unpacking superbly easy, and allows the Pack-It Cube to be padlocked should you have the need. Washable too, the Eagle Pack-It Cube is a very practical option when it comes to packing cubes, with a volume of 10.5 litres.
Pros
Very well constructed
Mesh window on upper panel
Full-length double zipper
Volume of 10.5 liters
Cons
Single packing cube
Depth of 3 inches
300 g weight
Polyester construction
Is the Eagle Creek Pack-It Cube for me?
When you want a packing cube that you know is going to last we think you can't do better than the Eagle Creek Pack-it Cube. In fact, this cube is so well made you could even use it as a carry-on! But whether you use it inside or outside of another bag, it will definitely surpass your expectations when it came to packing cubes for our backpack.
Our team loved this simple but effective packing cube that really just hits the mark when it comes to offering good value, great durability and effective features to make packing and unpacking easy. They loved the two-way zipper that makes it easier to open and close when fully packed out.
The phrase 'simple but effective' best describes this packing cube set from Dot&Dot. What you get is a set of four medium-sized and very cool-looking packing cubes, but what makes them stand out from the crowd is that each of the cubes is a different color, making it even easier to find the cube you're after. Made from lightweight yet durable nylon material, these packing cubes include a mesh window on the upper panel, further aiding the visibility of contents – and allowing your clothes to breath while they're packed up tight together in the cubes.
Pros
Four piece set
Differentiated by color
Mesh window
Durable nylon construction
Cons
Imported from the US for UK customers
Each cube is the same dimensions
Not water proof
No compression zip
Is the Dot&Dot Medium Packing Cubes set for me?
If being able to differentiate a packing cube by sight at a distance is more important to you than having a range of different or graduated packing cubes, then we think these Dot&Dot packing cubes are the ones for you! And with the look of the Dot&Dot packing cubes, you won't fear having to pull out any of these colorful backpacking cubes in public either!
Our team loved this set of backpack packing cubes and one of the things they really felt stood out was the fact that the set includes cubes that are all the same size. Most multipacks offer different sizes but they felt it was a good option when you just need a few in the same size.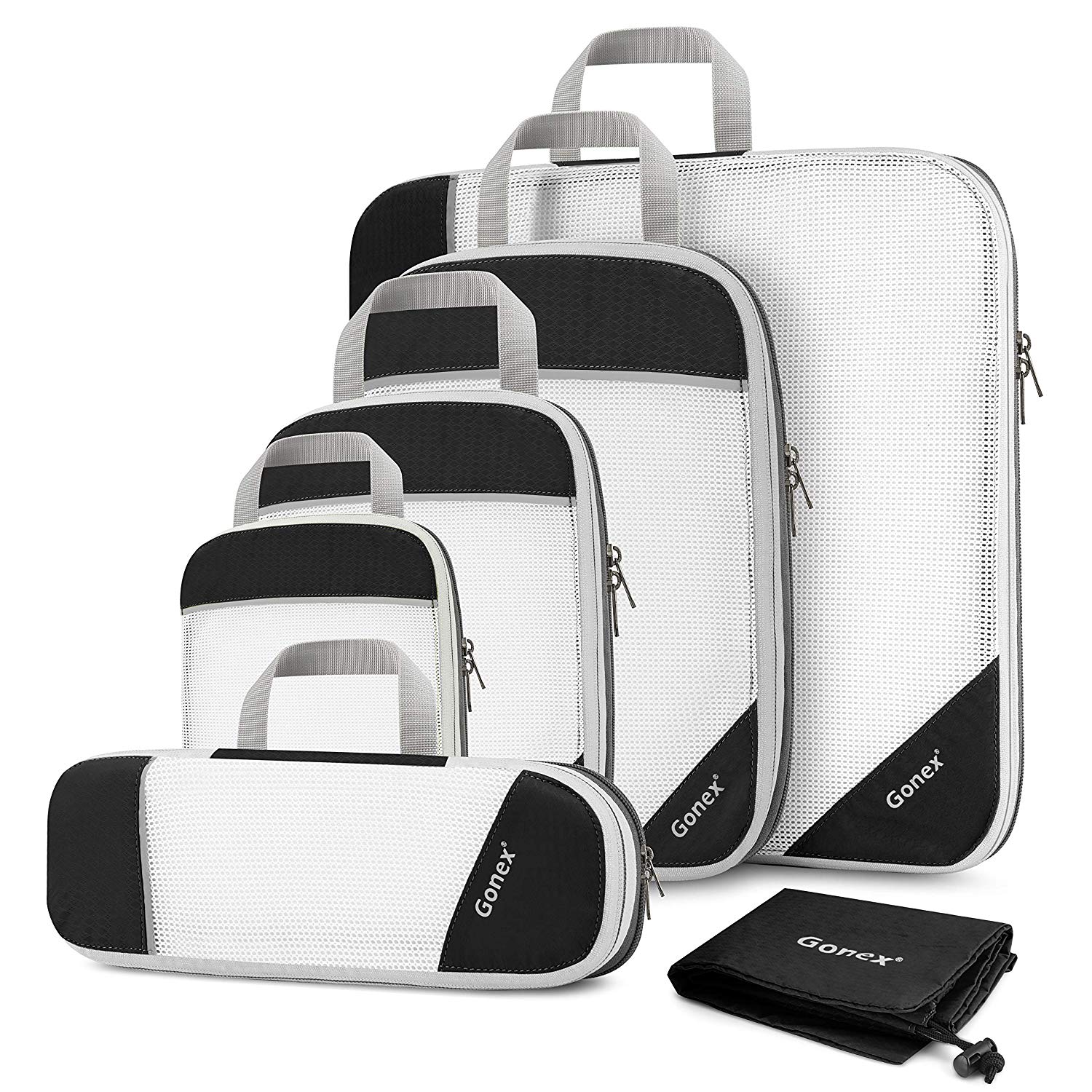 This packing cube set from Gonex includes six packing cubes of various different sizes and shapes. The largest measures 15.4 x 15.4 x 3.5 inches, while the smallest comes in at 8 x 6 x 3.5 inches, giving you a great range of packing options. In between, you'll find another two packing cube sizes, while a slimmer packing cube and laundry/shoe bag complete the six-piece ensemble. Stylish enough to take out and about on their own, each (except the laundry bag) has a handy grab handle, semi-transparent mesh front, and zip. These Gonex packing cubes are also compressible, with a second zip to decrease the size of the packing cubes further, while the set comes with a 100% satisfaction guarantee too!
Pros
Set of six
Great look
Compression zip
Grab handles
Cons
Nylon fabric
All packing cubes the same depth
Bulge if overpacked
White mesh may dirty quickly
Are the Gonex Compression Packing Cubes for me?
This six-piece set by Gonex offers all the usual advantages of packing cubes – organisation, accessibility, and so on – with the added and rarer feature of compression thanks to the extra external zip, further reducing the volume of space your things take up. We're certainly not going to complain about that! If you're asking "what size packing cubes for my backpack?", well you can't go wrong here with this selection of different sizes.
Our team felt these were a close second when it comes to the best compression packing cubes for 2022 and beyond. They were blown away by just how useful such a small set of items could be for their trip. They felt for the money the 6-pack offered great value for compression cubes which are usually much more expensive.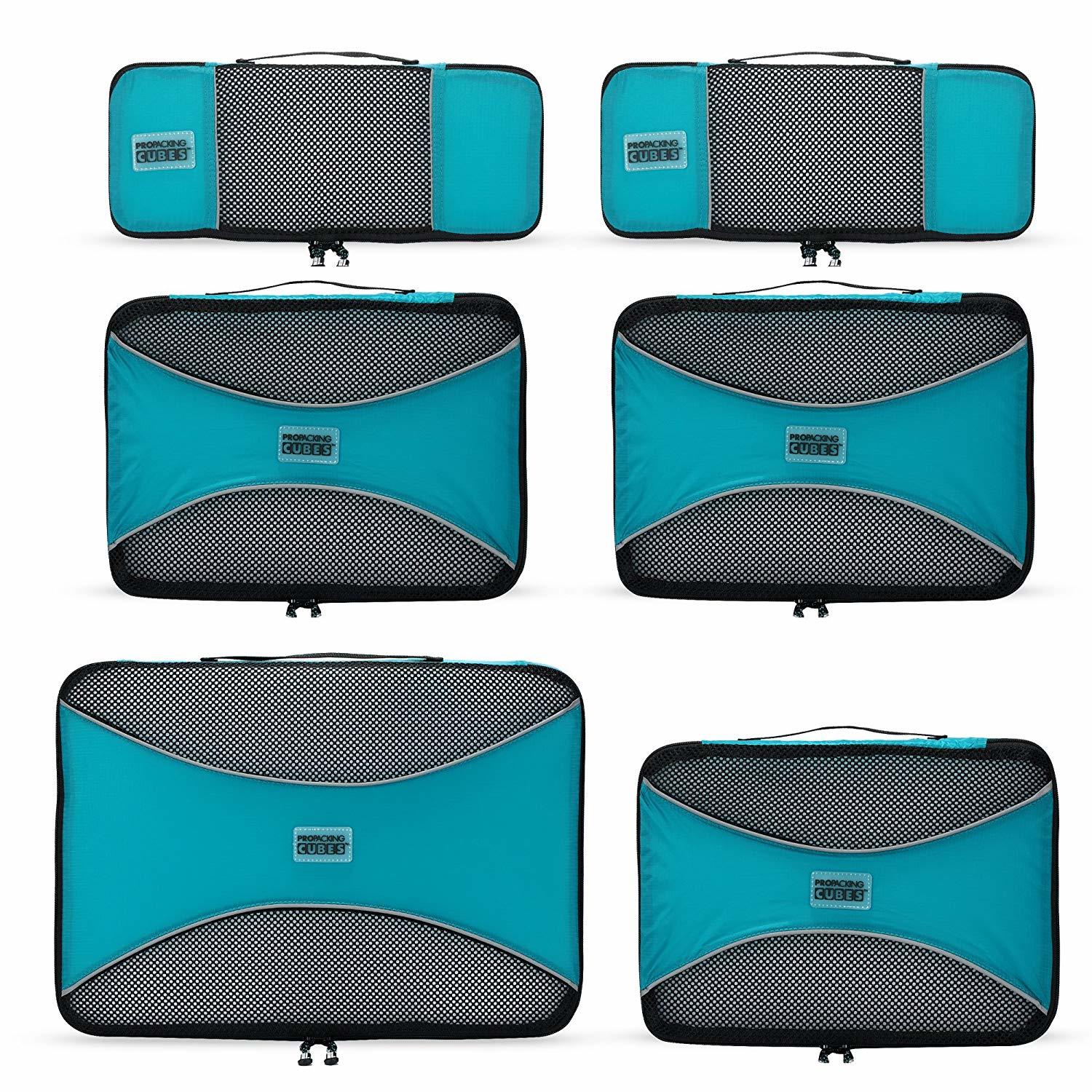 Another six-piece set of packing cubes are these by PRO. Very light when it comes to the weigh-in, they are also made from durable nylon material and come in a range of bright colors – although not quite as vivid or fashionable as those by Dot&Dot. A specialist packing cube company, PRO knows exactly what it's doing, and offer three different sizes in this set: one large, three medium, and two slim packing cubes. The PRO brand also offers a 100% satisfaction guarantee on manufacturing faults that lasts for the lifetime of the product, making this packing cube set risk free!
Pros
Six-piece packing cube set
Lightweight
Nice color range
Various sizes included in pack
Cons
Soft fabric cubes so can bulge if over packed
No compression zip
Not water proof
Zip tags can catch inside luggage or backpack
Are the PRO packing cubes for me?
PRO packing cubes by name, pro packing cubes by nature? Absolutely! Offering a great range of sizes within this six-piece set, as well as some interesting color combinations for those who want to make organisation of their kit even easier, these packing cubes really do live up to their name. And with a lifetime guarantee thrown in, you really can't go wrong!
Our team felt this pack was great for a travelling couple or family wanting a multipack of useful sizes for different needs. The packing cubes felt super high quality and hard-wearing and they loved the addition of the external handles making them useful both inside your bag and outside of it too.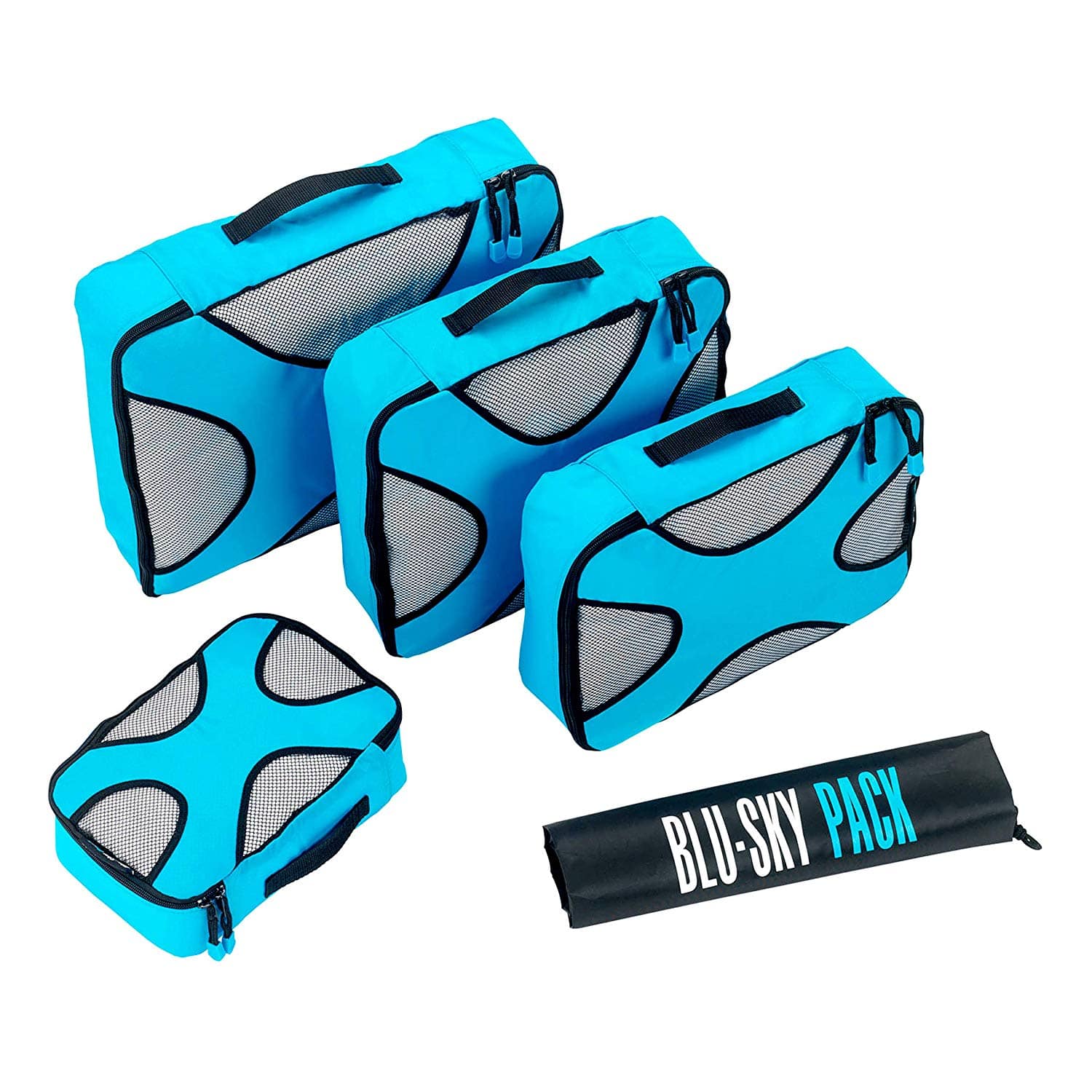 The five pieces in this Blu Sky packing cube set are breathable thanks to the four mesh windows on the upper panel, and durable, since they are constructed from heavy-duty nylon material with reinforced stitching. The zips are also reinforced, which mean together these features result in a very tough wearing packing cube. In addition to the packing cubes that range from an extra large size (of 17.5 x 13 x 4 inches) through to the smallest cube of roughly 11 x 7 x 4 inches, this Blu Sky set is completed by a large laundry bag. With its similar proportions to the extra large cube, it provides plenty of space to keep your dirty clothes separate from your clean ones.
Pros
Breathable
Made from heavy-duty nylon
Reinforced zips
Large laundry bag included
Cons
No compression zip
Not water proof
Larger sized cubes may be too big for some
No differentiation in color in a set
Are the Blu Sky Packing Cubes for me?
Really the question is why would you choose these Blu Sky packing cubes over any of the other packing cubes we've already reviewed? For one thing, these Blu Sky packing cubes are heavy duty nylon with reinforced stitching and zips, meaning they will last for trip after trip. But on top of that, these are some of the largest packing cubes around, so if you need plenty of space in your packing cubes, these could be the ones for you!
Our testers loved the wide range of sizes available in this pack compared to some of the other smaller packing cube configurations. For those on the team needing more space in bigger bags, this was the perfect solution. They also felt the bags were some of the strongest on the market and loved the cross-section of solid material that helped them keep their shape.
The best present of all… is CONVENIENCE!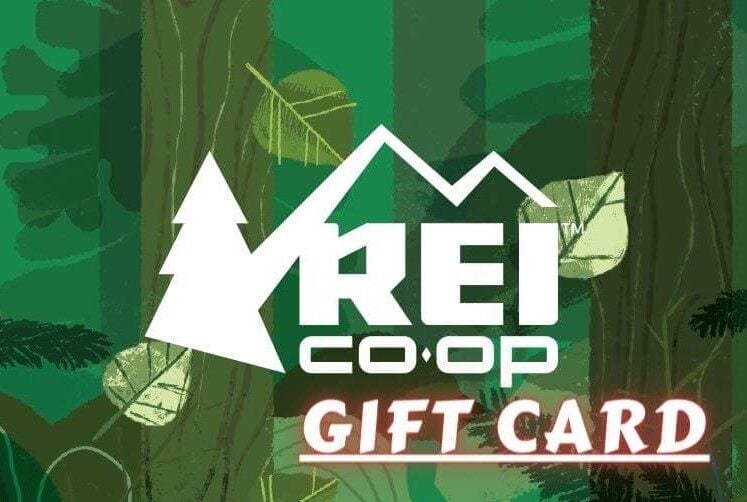 Now, you could spend a fat chunk of $$$ on the WRONG present for someone. Wrong size hiking boots, wrong fit backpack, wrong shape sleeping bag… As any adventurer will tell you, gear is a personal choice.
So give the adventurer in your life the gift of convenience: buy them an REI Co-op gift card! REI is The Broke Backpacker's retailer of choice for ALL things outdoors, and an REI gift card is the perfect present you can buy from them. And then you won't have to keep the receipt. 😉
Buy on REI!
How And Why To Use Packing Cubes
You've seen the products, but maybe you are still wondering if you even really need Packing Cubes. After all, they don't exactly come cheap. Check out some of the top reasons why Packing Cubes should be on every travel packing list;
Pack more efficiently –Packing becomes a lot easier if you know what goes into each cube, and how each cube fits in your luggage. You'll feel less stressed when packing, as you know everything will fit. If you are struggling to fit the cubes in snugly, then look at it like playing Tetris!
Find things easier – When everything has its own special place, everything is easier to find. No more rummaging around your case like a dog frantically digging for a bone!
Save some space – You can squeeze rather a lot of clothes into a single cube. Compression bags are even better still as they remove excess any air.
Keep clothes clean and dry – Some cubes are water resistant. All offer protection from dirt or from exploding bottles of suncream. You can also use them to keep your stuff clean once you arrive at your destination.
Prevent overpacking – You can use your Packing cubes to limit what you pack by choosing one for each category – once the cube is full, it's full.
Chicks Dig Packing Cubes – The ladies love a well-organised man. Simply drop into conversation that you're a man who owns multiple packing cubes, and its' bombs away…
Now for the how! Using packing cubes is even easier than Lionel Ritchie on a Sunday Morning. If you're packing clothes, fold them over as tight as you can or roll them up and pop them firmly into the pack. Then squeeze out all the air. There is a bit of a knack to this and you will get better with practice. It helps if you do it on the floor. Either way, travel cubes for backpacks are the perfect way to keep organised.
If for example you are putting electronics items or books into a cube, then you can't really roll or fold them but you can practice a bit of pre-tetris.
Need help knowing how to pack a backpack for your trip, check out our guide for some advice.
How We Tested The Best Packing Cubes
There is no perfect or exact science when it comes to testing out travel gear, but at the same time, when you've got as much experience as The Broke Backpacker team, you get pretty good at it!
Whenever we test a piece of gear, one of our team takes it out for a spin and puts it through its paces. Yes, even when it came to finding the best backpacking packing cubes!
When it comes to packing cubes, well, one of the primary things we tested was just how well they packed in our gear! Ok, so there's a bit more to it than that! We paid attention to the build quality of each pack, like how well the zips and stitching held up. We also noted whether the packing cubes included extra features like compression, internal organisation, pockets and handles too.
Finally, we also take into account how an item is priced. With packing cubes we usually expect them to not break the bank and still function. However, there are some more expensive offerings out there and we judged these harder and gave the cheap options a little more leeway.
FAQ about the Best Packing Cubes
Still have some questions about the best packing cubes for backpacking? No problem! We've listed and answered the most commonly asked questions below. Here's what people usually want to know:

Our GREATEST Travel Secrets…
Pop your email here & get the original Broke Backpacker Bible for FREE.
Looking forward to the holidays yet?
Packing cubes are a great way of keeping your things neat – and wrinkle-free – while travelling. And at only a few pounds per cube, they really are worth their weight in gold!
So, we hope you've found this post about the best packing cubes for backpacking and you've been able to find the right set-up for your next trip.
---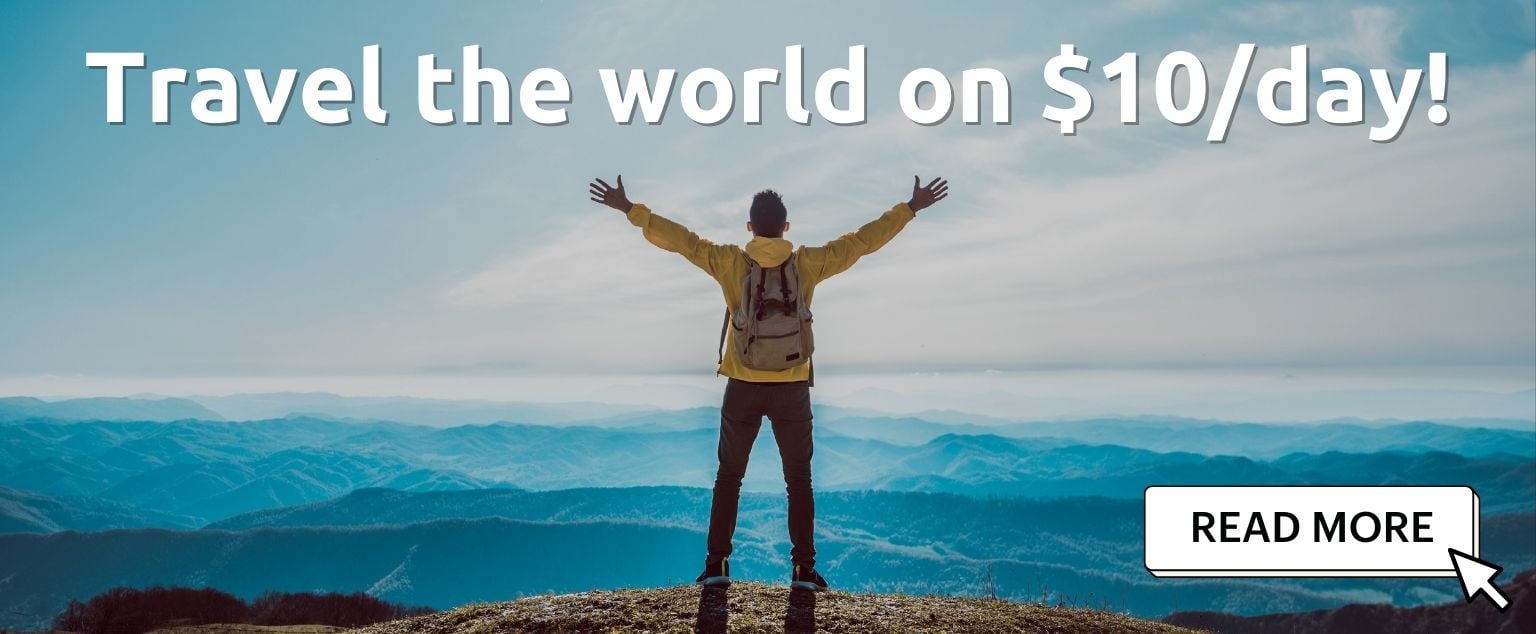 And for transparency's sake, please know that some of the links in our content are affiliate links. That means that if you book your accommodation, buy your gear, or sort your insurance through our link, we earn a small commission (at no extra cost to you). That said, we only link to the gear we trust and never recommend services we don't believe are up to scratch. Again, thank you!