When it comes to backpacks, the days of just buying any old top loader, throwing your gear into it and then panicking to find something, later on, are over! There are plenty more options out there that offer intelligent storage options, innovative organisational features and sleek aesthetics.
So, when it comes to picking out the perfect bag, we've got some pretty high standards these days and after 65+ countries we've realised we've got some pretty specific needs and wants when it comes to travel bags. What that also made me realise is that there might not actually exist the "perfect bag" because at the end of the day we all have different needs.
This is where the TropicFeel Nest comes into its own. Those realisations made me come to the conclusion that the perfect bag is in-fact the one that is the most versatile and the Nest is just that. It's multi-purpose storage options, changeable organisational features and additional pouches make it super adaptable for different types of trips and travellers.
It's for this reason, we really loved this bag! But there's a bit more to it than that! So read on if you want the low down on why this bag is so awesome!
Quick Answer: TropicFeel Nest Specs
Price: From £149/ $199
Volume: The main bag is 16L but with the additional kangaroo pouch it expands to 20L and if used with the smart packing cube externally can hold up to 30L.
Weight: 1.1kg / 2.43 lbs
Material: Recycled Polyester and Nylon
Laptop Compartment: Yes. Dedicated pocket at the back of the bag.
Carry-On Compliant: Yes, even with the kangaroo pouch. (16L)
Ladies & Gents, It's Time to Step Your GEAR Game Up. 😉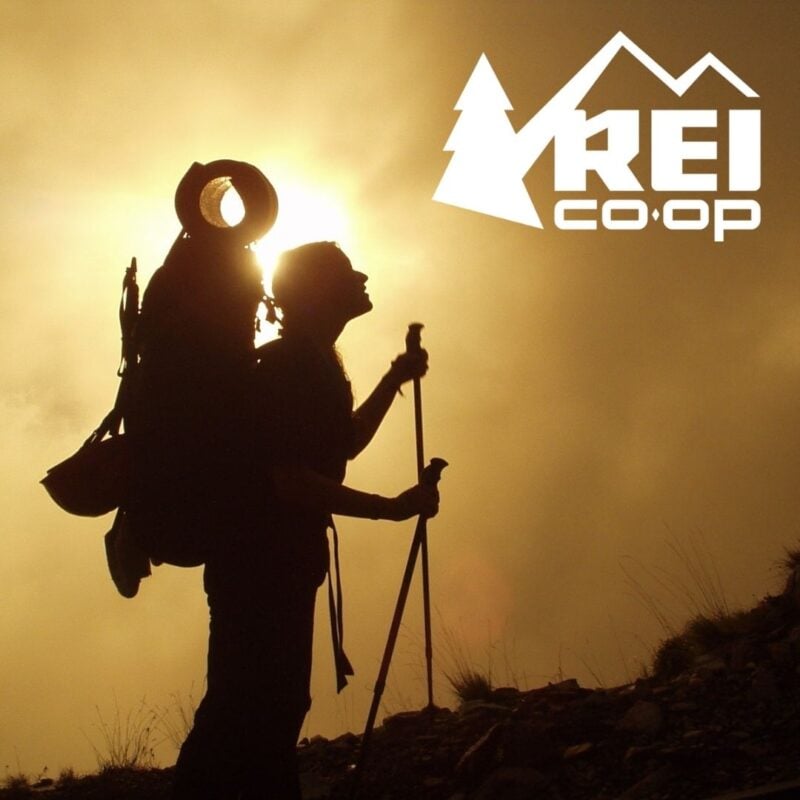 REI is one of America's biggest and most-loved outdoor gear retailers.
Now, for just $30, get a lifetime membership that entitles you to 10% OFF on most items, access to their trade-in scheme and discount rentals.
Join REI Today!
TropicFeel Nest Review: Key Features and Performance Breakdown
The TropicFeel Nest feels like one of those bags that could go anywhere and everywhere with you. What we really love about all its various design features (which we'll go into more detail later) is just how versatile they make the bag.
It's the sort of bag you could easily take for a weekend away or even a longer carry-on trip, you could use it as a day pack for city breaks or for hiking too. Hell, you could also quite easily turn up at the office or go on a business trip with this bag without it looking out of place, especially the black version.
Even at 16L, this bag punches above its weight when it comes to storage, particularly when combined with the additional kangaroo pouch and Smart Packing Cube. At the same time, it also means that the bag is compact and tidy making it ideal for carry-on travel or day-to-day use, especially in busy cities.
There are heaps of features we'll go into once we get into the detail of this post. But the key area we feel this bag excels in is the main storage solutions. This bag opens up in a clamshell way just like a suitcase. This means that you can easily organise your stuff especially if you use their packing cubes, additional camera cube or organiser.
For those who travel with laptops, such as digital nomads, the other key feature is the location of the laptop compartment. It sits in its own dedicated pocket away from the main compartment against your back. Personally, I much prefer this set-up to having it on the opening lid.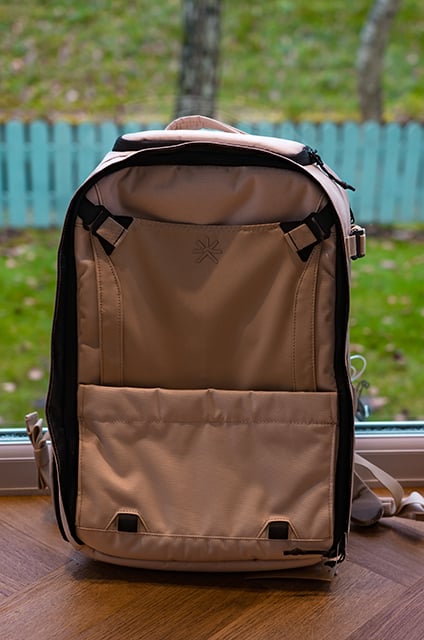 Whilst this bag might not be the biggest in the world, it really does maximise the space it gives you in a small and lightweight package. With the addition of the kangaroo pouch and the ability to use the smart packing cube attached to the outside, it offers a massive 30L of storage in a super compact design.
I do however think these features fully don't replicate having this amount of storage inside the bag itself and they are instead to be looked at as useful additions for when the need arises. Which in itself is super useful.
Rather than carting around a 30L bag, you can just open up the pouch if you need to bring along some shoes or throw the Smart Packing Cube on the front of the pack with your gym gear inside or a jacket for example.
Personally, I wouldn't feel comfortable having my entire load of clothes for my trip attached to the outside of the pack but these features are great as an overflow or for other things you're not as precious about.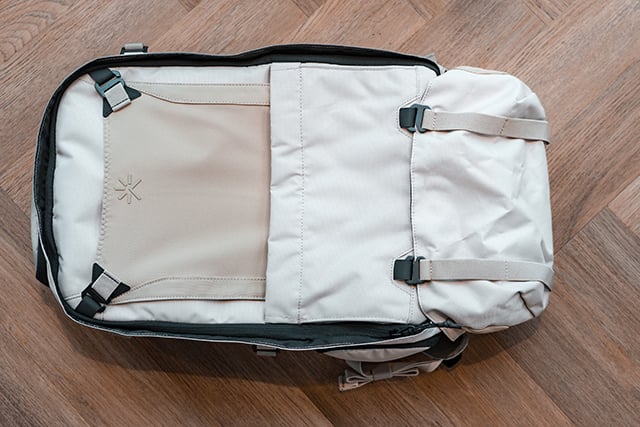 The Interior
The bag offers simple but super useful interior storage options that keep everything organised yet allow you heaps of room for all your gear.
The interior of this bag consists of a large main compartment that opens in a clamshell style like a suitcase to reveal a large open area. This area includes a padded foldable protective section (which has a removable waterproof inner bag) at the bottom that can be used to keep things separate from the main compartment and even has its own opening on the side of the bag. Other features of the main area include several zippable pockets on the lid for keeping smaller items organised.
The other main interior area is the separate laptop compartment at the back. This is a great design feature to keep your computer safe and away from everything else in your pack.
Laptop Compartment
When it comes to a laptop compartment, we're pretty picky! Travelling long-term with an expensive Macbook makes me, well, a bit anxious to say the least! So when I'm looking for a new bag the laptop compartment is one of the most important features.
For me, I much prefer when a backpack with a laptop pocket away from everything else rather than being inside the main compartment or even worse, attached to the opening lid. Thankfully the TropicFeel Nest has knocked it out of the park here!
The soft-lined pocket is plenty big enough to fit a 16′ laptop inside and looks discrete with its placement. It also means that you can access the main compartment of the bag without worrying if your laptop might fall out or be exposed.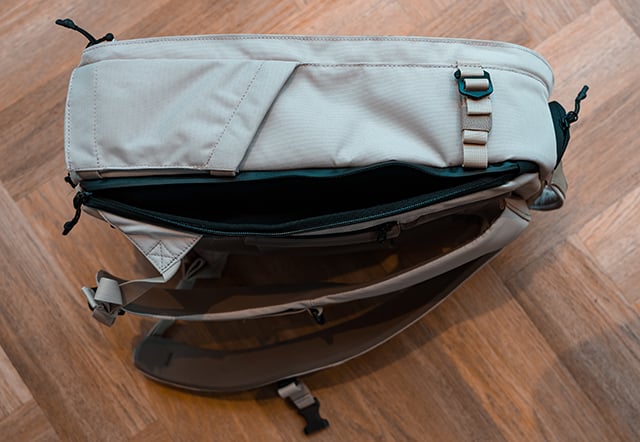 Another neat feature we discovered when playing around with this bag is that the Smart Packing Cube actually fits inside the laptop compartment. I mean, I don't know exactly what this means but I just LOVE the versatility of this pack and how well it all works together.
You could quite easily fill the Smart Packing Cube, compress it and keep it in here rather than on the front if you don't have a laptop. Or you could use this section to store the Smart Packing Cube for when you need it. I just love that they have made each element fit and work together so well, giving you so many options for your own personal needs.
Laptop Compartment Score: 5/5 stars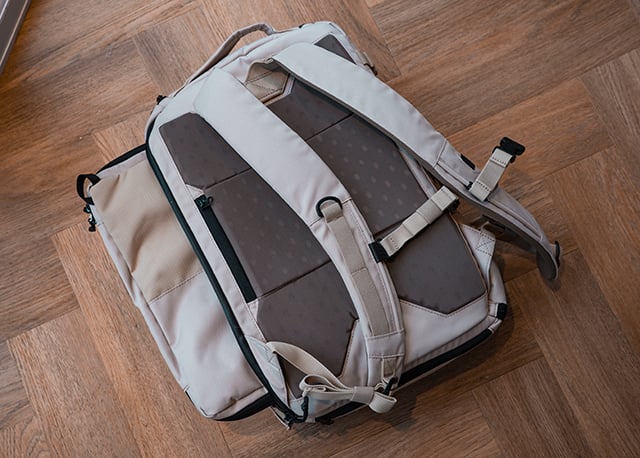 The Main Compartment
One of the stand-out features of the bag is the main compartment and its opening style. Rather than a top loader where you open from the top and stuff everything on top of each other, this bag opens in a clamshell style.
This suitcase-style bag is becoming more and more sought after as travellers realise just how much more functional and useful it is, especially if you're carrying quite a lot of gear that needs to be organised. Laying the bag flat like this means you can take advantage of the packing cubes, camera cubes and organisers' TropicFeel offer to keep your gear separate and arranged in a way that's easy to access and keep in order.
Again, TropicFeel has really thought their sizing through well and the Smart Packing Cube fits perfectly inside the main compartment of the bag leaving just enough room for the pocket on the top of the bag. Another thing we love is that the area is pretty much square, so it's easy to fit organisers like packing cubes or camera cubes inside.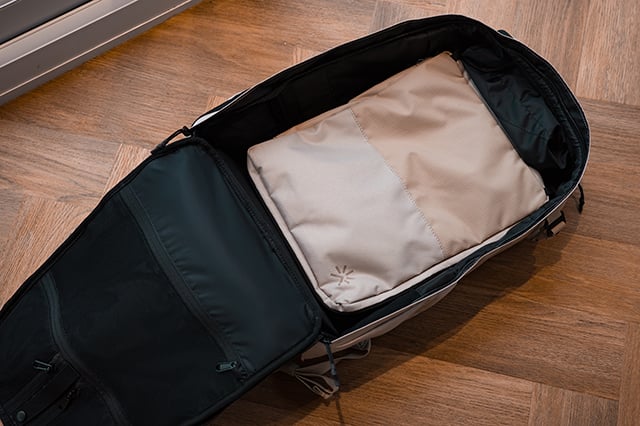 Now, as much as we love this opening style, it is often pretty much just an open space! However, we really appreciate when brands go to the extra effort of adding additional features that this style of opening allows for. One of those is the addition of several zippered pockets on the lid of various different sizes. These are ideal for keeping loose items organised including chargers, hard drives, torches etc.
One other cool feature, which I've not seen in many bags before, is the protected foldable compartment at the bottom of the main compartment. This section comes with a removable internal waterproof bag and a separately accessible zippable door on the side of the bag. The internal bag can be stored inside the door of the opening when not in use.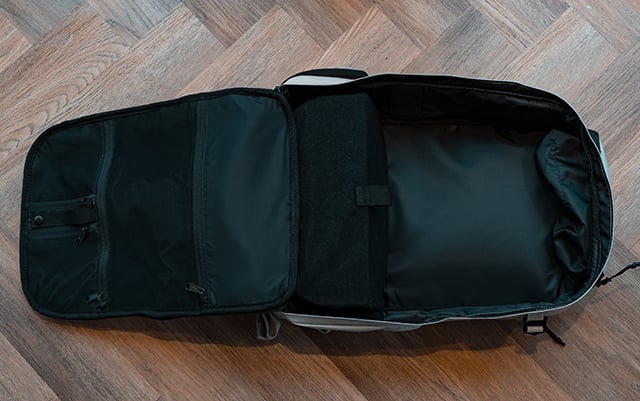 This feature means you can keep items either away from the other section of the bag, like if you've got something wet or maybe food, or just to keep certain items accessible or separate for organisational purposes. The material is also pretty sturdy so you can combine it with the camera cube Tropical Feel make and place it above without this section being crushed when the bag is upright.
If you don't need to use this, you can easily remove the inner bag (it stores in the pocket on the door) and fold it down flat against the inside so you can use the entire main compartment.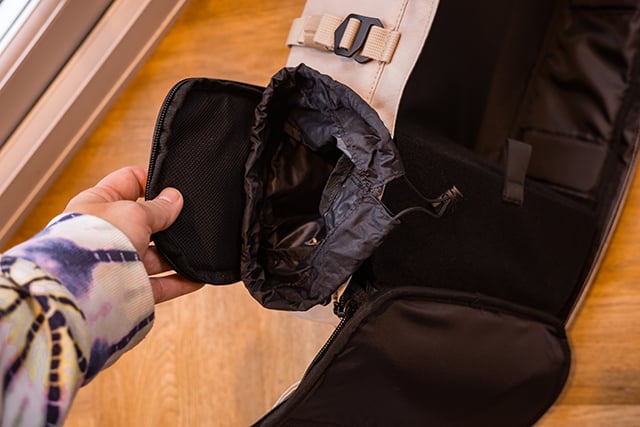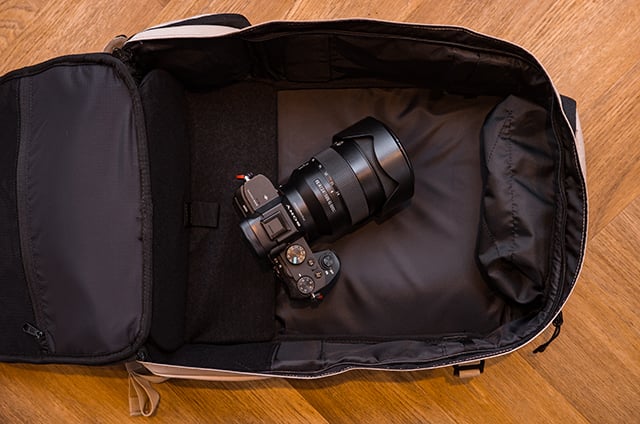 Main Compartment Score: 4/5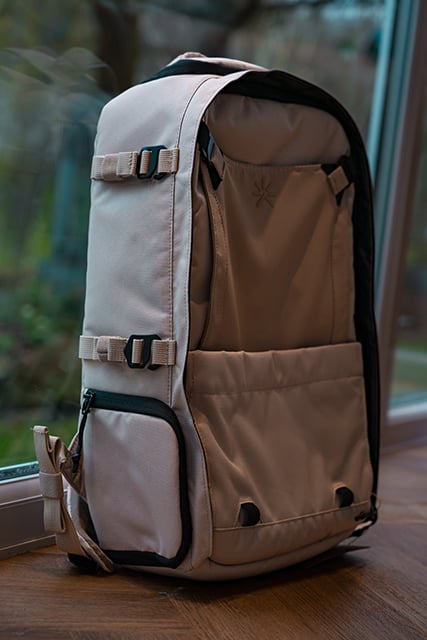 The Exterior
The exterior of the bag is pretty minimalist in style whilst at the same time offering a great range of features and functionality.
Firstly the material is super durable and weatherproof … to a certain degree. You would most likely want to throw on a rain cover if you're going to be out and about in heavy rain all day, but for a shower here and there this bag will keep your gear safe and dry. Note, it's pretty rare to get a fully waterproof bag that's not specialist equipment or super expensive.
The buckles, zips and overall material feel high quality and long-lasting. This bag has a real premium feel to it and from the materials used to the construction of the bag including things like sewing and the smooth feel of the zips.
The bag also comes in 3 other colours including a light green as well as black and navy blue if you want something darker.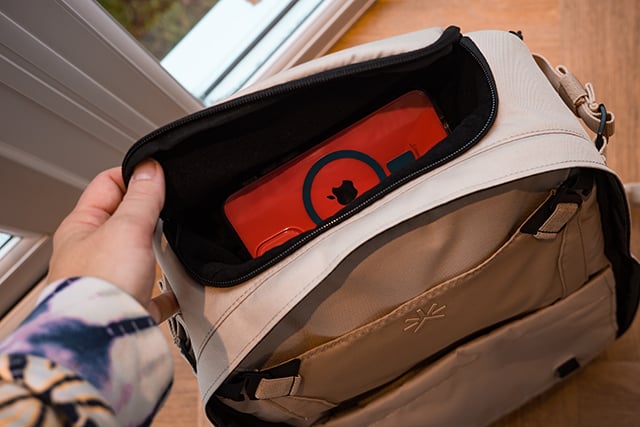 One more external feature is the fleece-lined top pocket designed to keep things like your sunnies, or other items you want close at hand but protected. It's plenty big enough to throw in your phone, wallet and headphones.
Another feature we love is the addition of the luggage pass on the back of the bag. It means can use this to keep your backpack attached to the top of your rolling luggage when you're gliding through the airport like a gazelle.
Just behind here is a pretty roomy pocket designed as a super safe/ secret pocket to keep valuables safe. With this sitting against your back when you're wearing the bag it makes the perfect spot to keep things like cards, passports or your phone when you're in high-risk pickpocket areas.
The exterior also features the Nest's most trailblazing features, the extendable kangaroo pouch and the front storage area which can be used alongside the Smart Packing Cube to extend the capacity of the bag.
We'll talk about these in more detail below but we have to say, again, having these additional features is what makes this bag super versatile because they can be used for various different purposes. Or, with how well they pack away inside the bag, not at all if you choose, but knowing they are there as an overflow is a great option. They add additional functionality without taking up any additional space or much more weight.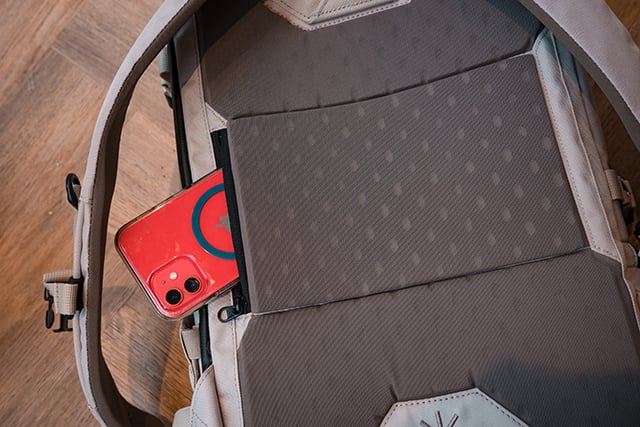 Exterior Score: 4/5 stars
Front Storage Section
One of the most unique features of this bag is the front pockets. Now at first glance, they might appear pretty standard, however, when combined with the Smart Packing Cube you can expand this bag to hold another 10L.
Basically, you can slot the packing cube once flattened inside the pocket that comes halfway up the front of the bag and use the webbing to secure the cube. The great thing is that the material of the packing cube is pretty solid too and the webbing does provide quite a secure fit, especially if the packing cube is pretty full. I can't see it easily unattaching.
Personally, I don't think I would attach a packing cube full of my clothes for my trip to the outside of my pack, even if it's pretty secure, but I like the fact that it's an option. Though, for some people, this could be totally viable. For me, I could see myself using it for maybe things like a jacket, a towel or some gym gear or other items I might want at hand like a notebook or magazines.
I would have liked it if this section had a zip rather than clipping in just so you could throw other bits in and use it more like a functional second large pocket. I would have felt more comfortable keeping more important items in there and it would be great for the organisation. But I understand this design has other positives and uses, so overall it would be nice to have both options in an ideal world.
One of the other uses of this section is as a stuff pocket where you can throw in a jacket or a hat or something you want close at hand and won't fit inside the main pack. The clippable webbing means the section can hold larger items like a bike or climbing helmet pretty securely.
Front Storage Area Score: 3/5 stars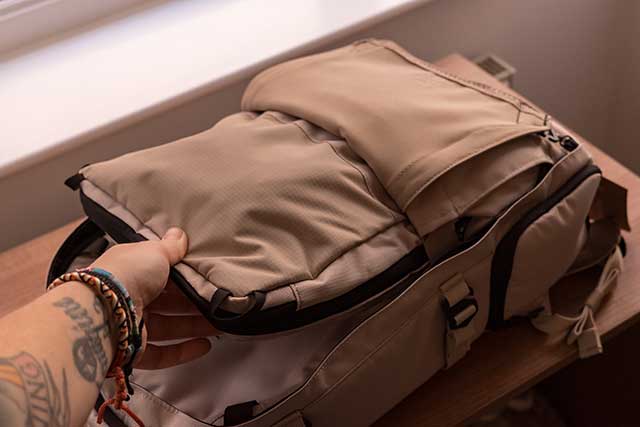 Exterior Kangaroo Pouch Extender
Another interesting and unique feature of the TropicFeel Nest expandable system is the kangaroo pouch at the bottom. It's one of those features that is possibly easy to criticise in some ways, but on the other hand, is a great bonus when you look at it in that way.
The bottom of the bag has a zippered pocket which holds the kangaroo pouch when not in use, this keeps it out of the way if you don't want to use it and the pocket still retains some space where you could easily throw in a rain cover or use as another secure hidden pocket.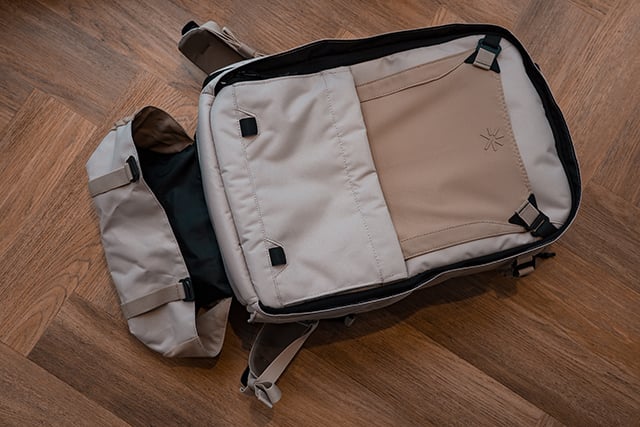 The pouch opens up and then clips to the loops on the front of the pack. The material again is very sturdy and the clips stay in place well. Much like the front storage area, I am not sure I would put anything super valuable or important to my trip in here, but it's perfect for unexpected extra-carrying needs.
I could see this being great for things like trainers/ shoes/ flip flops or holding a tripod or yoga mat in place as the sides can flatten down.
Front Storage Area Score: 4/5 stars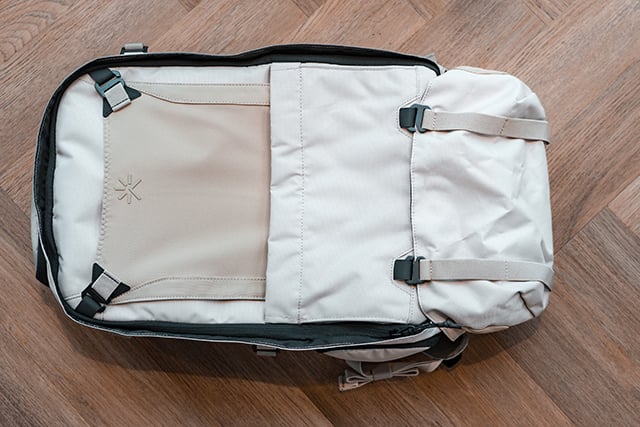 Sizing and Fit
The bag's basic capacity is 16L but it feels like it holds a hell of a lot more than your standard 16L pack. The clamshell opening means you can really take advantage of the space and organise your stuff well.
The addition of the Smart Packing Cube with its compression feature also means that even when it's placed inside the bag it takes up hardly any room, you could easily fit two of these in there packed up with a weekend's worth of clothes and some toiletries.
If you add on the additional pouch and an external packing cube then the bag is said to have a capacity of 30L, which is pretty impressive. Though this extra storage does come with some compromises, it's a great feature to have that really adds plenty of extra uses to a pretty compact backpack.
Being on the smaller side this bag easily passes the carry-on travel checklist and will even fit under your seat without the pouch. Even once fully extended the bag is suitable for carry-on travel on most airlines, but do specifically check each policy, particularly Ryanair's carry-on baggage rules.
In terms of usability when it comes to size. We do think this pack is pretty versatile when it comes to usage, but in my opinion, it's mostly suitable for overnight or weekend trips and as a day pack. I could see how some minimalist travellers could use this for longer trips, especially if the Smart Packing Cubes and pouch are fully utilised, but I think it might be a touch too small for even the most basic of packers to take as your main backpacking bag.
The bag also fits well on both me and my partner, it doesn't feel cumbersome or bulky and doesn't stick out too far when packed out. The compression straps on the side also help keep the weight centred and the pack compact.
Sizing and Fit Score: 4/5 stars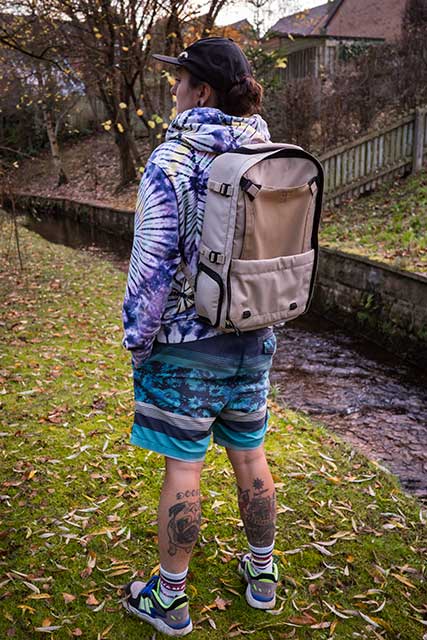 Shoulder Straps & Carry Comfort
The shoulder straps on the TropicFeel Nest could be a little bit more padded as well as a touch wider in my opinion. They are still pretty comfortable, especially given the compact size of the bag and the fact you're unlikely to be carrying massive loads. However, for me with my camera gear, laptop and hard drives, my front pack can get heavier than I would like.
The shoulder straps also include some webbing and clips that are great additions for clipping on a cycling light or a torch for example. There are also adjustable chest straps that help keep the pack well-fitted and stable when in use. There isn't a hip belt but given the size of the bag, I don't think it's a big deal.
The padding on the back of the bag is great, it's super comfortable whilst being lightweight and breathable too. No complaints from us in this department!
The bag also has a comfortable handle on the top which allows for the bag to be carried at your side when needed. This is great for getting on and off a plane or negotiating busy spaces.
Carry Score: 3/5 stars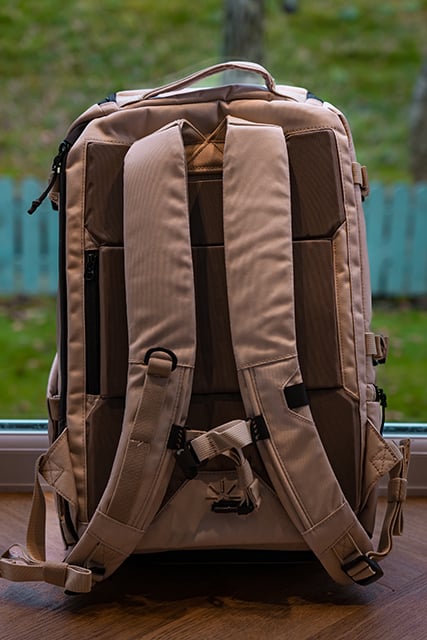 Weight and Capacity
Quick Answer:
Weight: 2.43 lbs / 1.1 kg
Capacity: 16 – 30 litres
As we mentioned above, we feel this bag offers a great amount of storage given how small it feels. Clever design features like the clamshell opening and the expandable sections mean this bag punches way above its weight and offers something not many other bags on the market do.
Even without the expandable sections, we feel this bag feels super roomy for a 16L pack. The fact it does expand though means you can carry around a super compact and light bag and make use of the extra space if and when the need arises, rather than setting out with a bigger pack with more weight.
Weight & Capacity Score: 4/5 stars
Toughness and Durability
The material of the bag feels super durable and hard-wearing without being heavy or bulky. Tropical Feel tells us the material is "weather resistant" which means it's ideal for keeping out showers and occasional rain. If you're going to be out all day in the rain then we'd suggest getting a rain cover for extra protection, but we appreciate the built-in level of protection. The zippers are also weather-sealed for extra peace of mind.
Like we said previously, all the other fixtures and fittings on the bag, including clips, zips, sewing and general construction feel super well made. They are smooth, strong and don't catch in use. The bag as a whole has an air of real quality to it. It feels like the sort of bag that could withstand some hardcore backpacking and long-term travelling.
Toughness Score: 4/5 stars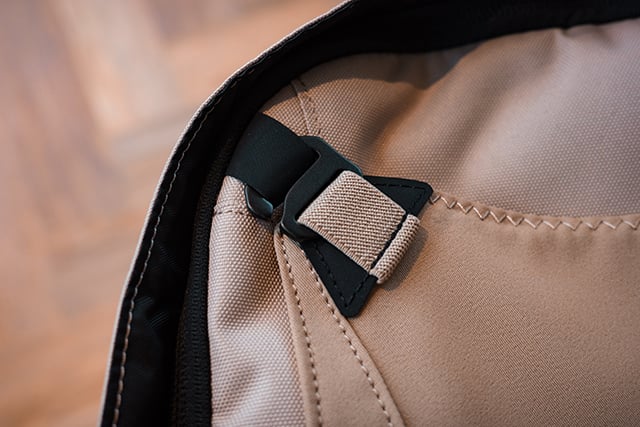 Security
If there is one area of this bag I feel could be improved it would be security. Personally, I would love to have seen zips with built-in loops for attaching a padlock.
The clamshell opening is both a blessing and a curse here. On the one hand, it avoids a wandering hand from above delving into your pack. But at the same time, it means the entire contents of the pack can be accessed with one zip.
Theoretically, someone could unzip the whole thing and the pack could swing open. Now, it's pretty unlikely but I carry some expensive camera and laptop gear so it's something that's on my mind. I would like to see some extra clips on the side to secure the opening as well as lockable zips.
I would have also liked to have seen an internal zipper or some other system to make the side-opening door blockable when the foldable compartment is not in use.
The expandable sections are also a little more susceptible to items being stolen or falling off the pack if extra care is not used. Though I do find the clips to be pretty secure.
Having said all that. I do love the addition of the hidden pocket on the back of the bag, this is really underrated when it comes to carrying cards and passports. The pocket containing the kangaroo pouch can also double as a pretty discrete pocket too.
One other security feature I love is the separate laptop compartment, this feels much more secure than having it in the main compartment.
Security Score: 3/5 stars
TropicFeel Bag Aesthetics
We love how this bag looks, we feel it's got that low-key utilitarian feel to it whilst still looking pretty suave! The bag itself isn't bulky at all and looks good when it's worn, so you don't look like a turtle getting about town!
We feel one of the additional versatile features of this bag is that it looks sleek enough to go pretty much anywhere with you. You won't look like a dork in your dorm if you take it backpacking, equally you won't look like a bum on a business trip! It works for weekends away, the daily commute or even on the trails.
The bag comes not only in the Amphora Brown seen here but also in Desert Green (which is a light green colour) as well as the darker options of Navy and Black. All the colourways look great but if you're looking for something even more professional then the darker versions work even better.
Aesthetics Score: 4/5 stars
What I Liked About the TropicFeel Nest
Clamshell opening on the main compartment
Separate laptop pocket on the back
Protected Foldable Compartment with pouch and pocket
Expandable kangaroo pouch
Looks professional and sleek
Hidden Passport/ wallet pocket
Luggage pass through
Tough and durable feel
What I Didn't Like About the TropicFeel Nest
Shoulder straps could be thicker
Zips aren't lockable
Would prefer another zippered front pocket than the front pouch
No rain cover included
No compression straps inside main compartment
The best present of all… is CONVENIENCE!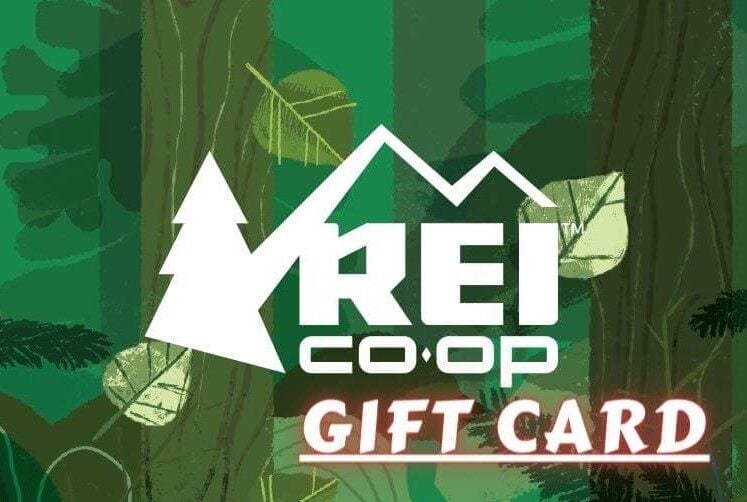 Now, you could spend a fat chunk of $$$ on the WRONG present for someone. Wrong size hiking boots, wrong fit backpack, wrong shape sleeping bag… As any adventurer will tell you, gear is a personal choice.
So give the adventurer in your life the gift of convenience: buy them an REI Co-op gift card! REI is The Broke Backpacker's retailer of choice for ALL things outdoors, and an REI gift card is the perfect present you can buy from them. And then you won't have to keep the receipt. 😉
Buy on REI!
Love the company but not sure about the bag? Check out our review of TropicFeel where we go through all their best bags and other accessories.
TropicFeel Nest vs the Competition
Truth be told, the TropicFeel Nest is a pretty unique offering on the backpack market with its expandable options and clamshell opening at its size. Most other day packs don't include these features so it's already pretty far ahead when it comes to the competition, but let's have a look at some bags that offer similar uses.
One of the other bags I personally love is the WANDRD PRVKE 21, It offers a similar storage capacity to the TropicFeel Nest and has an expandable roll top if you need additional space. One of the great features of this bag is the side door which can be paired with its camera cube for quick access to your camera. This feature also means the storage areas can be split between a camera section and an upper area for other things. One area it is lacking however is the laptop sleeve which isn't in a separate pocket.
For more information, check out our more in-depth WANDRD PRVKE 21 review.
Another worthy competitor is the Nomatic Travel Pack. This bag is 20L with the ability to expand to 30L. It's a little bit on the bigger side to begin with but the storage is more secure and contained than in the TropicFeel. The pack has heaps of extra internal and external pockets which is great for keeping things organised. However, as with the WANDRD PRVKE the laptop sleeve is on the lid rather than in a dedicated compartment. This bag also opens in a clamshell fashion but it doesn't feel like it retains its shape for packing as well.
For more information, check out our more in-depth Nomatic Travel Bag review.
Here are some other TropicFeel Nest backpack competitors: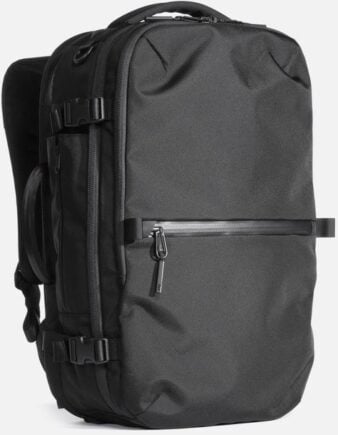 Aer Travel Pack 3
Cost > $$$
Liters > 33
Laptop Compartment? > Yes
Best Use? > Everyday use, weekend + international travel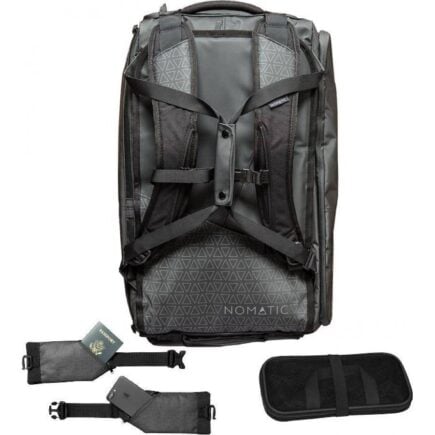 Nomatic Travel Bag
Cost > $$$
Liters > 40
Laptop Compartment? > Yes
Best Use? > Everyday use, weekend + international travel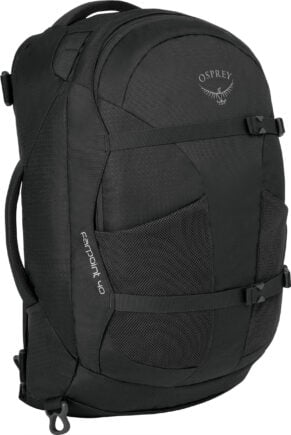 Osprey Farpoint (40 liter)
Cost > $$
Liters > 40
Laptop Compartment? > Yes
Best Use? > Weekend/international travel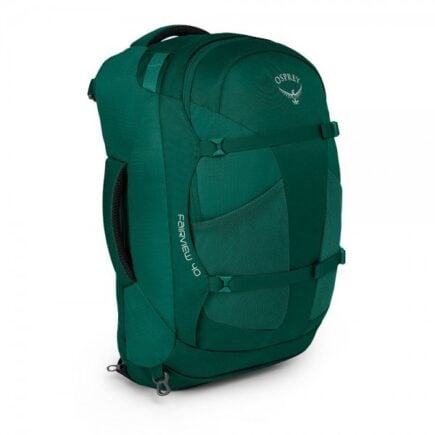 Osprey Fairview (40 liter)
Cost > $$
Liters > 40
Laptop Compartment? > Yes
Best Use? > Weekend/international travel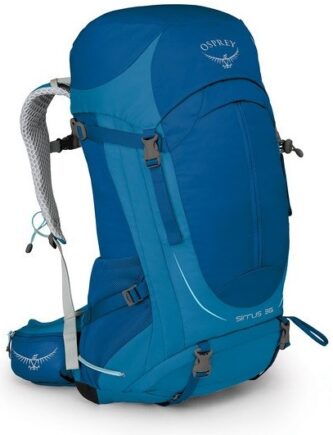 Osprey Stratos (33 or 36 liter)
Cost > $$
Liters > 33 or 36
Laptop Compartment? > No
Best Use? > Hiking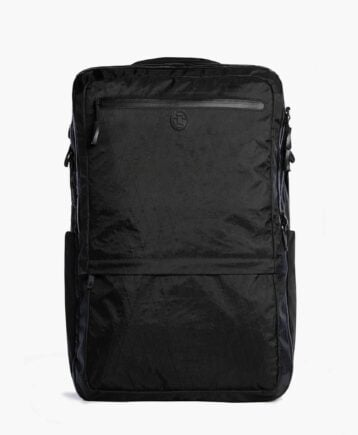 Tortuga Outbreaker (45 liter)
Cost > $$$
Liters > 45
Laptop Compartment? > Yes
Best Use? > Weekend/international travel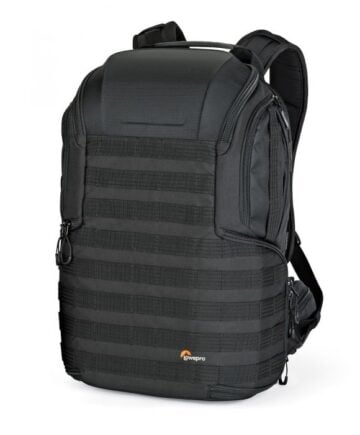 LowePro Pro Tactic 450 AW (45 liter)
Cost > $$$$
Liters > 45
Laptop Compartment? > Yes
Best Use? > Photography
REI Co-op Trail 40 Pack
Cost > $$
Liters > 40
Laptop Compartment? > No
Best Use? > Hiking/travel

Our GREATEST Travel Secrets…
Pop your email here & get the original Broke Backpacker Bible for FREE.
The Ultimate TropicFeel Backpack: Our Verdict on the Nest
So, you've got this far and you're wondering when we're going to get to the dam point! Well, here it goes!
The TropicFeel Nest really hits the sweet spot for size and storage whilst offering innovative and intelligent storage, organisational and expansion features. We feel that for its minor flaws, the versatility of this bag is awesome and it offers great solutions to various packing needs across the board.
I really love that at 16L it's super compact and light whilst still being able to fit everything that I currently have in my 21L bag due to its better shape and opening.
I've already spoken a lot about it, but the separate laptop compartment really gives me an added sense of security. With the rugged weatherproof exterior, it also feels like a step up from the run-of-the-mill bag to something more high quality and just adds to my sense of confidence carrying around important and expensive gear.
Overall, what can I say, I really do love this bag and I can see it replacing my current front pack set up for backpacking. I can easily take my camera cube from my photography bag and fit it inside here along with my laptop, hard drives, cables and documents.
What is our final score for the TropicFeel Nest? We give it a rating of 4.5 out of 5 stars!

Bonus: 12L Smart Packing Cube
The TropicFeel Nest has various accessories that you can include in a bundle with your bag. One of the most useful and popular is the Smart Packing Cube. You might think you already know what a packing cube consists of, but this thing is really special considering it's such a simple piece of kit.
The Smart Packing Cube is designed to be used in many different configurations depending on your needs. It can be packed out like a standard packing cube and just placed inside the bag. But if you employ the straps, expander and hook, it can be used as a mini portable wardrobe. Compressed back down and attached to the front of the bag it expands its storage by 10L.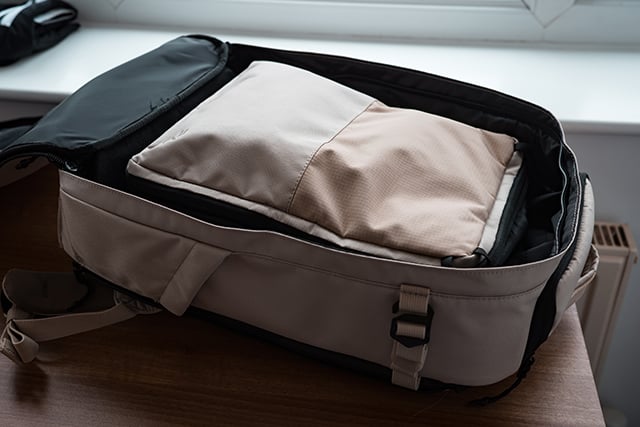 12L Smart Packing Cube: Keep Your Stuff Organised
We tested the Smart Packing Cube out with various amounts of clothing and found that it easily fit inside 5 days' worth of underwear and t-shirts with some room to spare for a pair of shorts or tracksuit pants.
It was even roomier when we reduced this to 3 days worth of clothing, this could be easily combined with toiletries and compressed down into a super small package under 3 inches thick! You could very easily fit in 2-3 of these packing cubes compressed down inside the bag and then there's space for another on the front too.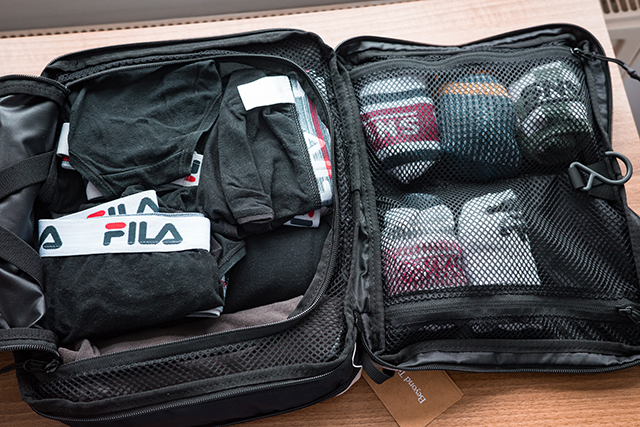 The material of the Smart Packing Cube is also pretty durable and includes a good amount of weather resistance which is reassuring if you decide to attach it to the bag. I wouldn't want to leave it too long in the elements but it will certainly add additional protection than a standard packing cube in a light shower and give you plenty of time to fish out your rain cover.
One other interesting fact about the Smart Packing Cube we noticed is that it fits our 14′ Macbook inside. Though it's not designed as a laptop case, it just adds further options when it comes to packing and carrying your stuff. With the internal pockets, you could easily carry your laptop in here alongside your charger and hard drives. The Smart Packing Cube does also fit inside the laptop compartment too.
Bonus: TropicFeel Clothing – The NS40 Jacket Core.
Yeah, you got that right, another bloody bonus! Did you know not only do TropicFeel do backpacks, but they also do clothing too? We got our hands on an awesome NS40 Jacket Core.
Now, not only is this a jacket, but it's a three-in-one jacket! It features two main pieces, a thinner core layer with long sleeves and a thicker gillet-type jacket that is designed to be worn over the core for added warmth and protection. Each piece can be worn individually too for you guessed it, in classic TropicFeel style… awesome versatility!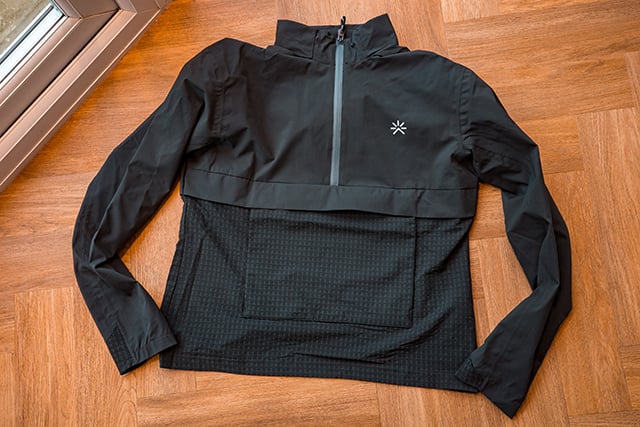 The NS40 inner layer is a great lightweight water and windproof jacket that helps protect from the elements whilst also retaining breathability. It's perfect for all climates either as a layer in cooler environments or a light jacket for warmer weather hikes and summer storms.
With a roll-up hood, thumb holes in the sleeves, a half zip front and a zippable pouch, it offers great features for keeping you protected as well as for organising your gear. The jacket also packs down inside its own pocket making it super compact. Combine that with how light this thing is and it's a perfect jacket to throw inside your TropicFeel Nest backpack.
The other piece of this jacket is the reversible waterproof vest/ gillet. Made from Graphene technology it keeps out the elements whilst remaining breathable and light. It also features zippable "smart" pockets to keep your gear secure too.
Worn on its own it's a great way to keep warm on a chilly day when you still want to be active, like on a climbing or hiking trip. It folds down super small and light so it's easy to pack in your bag and throw on when needed.
Combined with the NS40 inner layer you get a superb level of protection against the elements whilst retaining that flexibility and movement needed for the active traveller. Layering allows for added breathability whilst also retaining heat when needed.
The versatility of the jacket makes it a great bit of kit in any traveller's arsenal. It's super light, carbon neutral and packs down well. It's easy to throw this jacket into any pack and it offers great variety when it comes to protecting you against various different climates and weather conditions.
---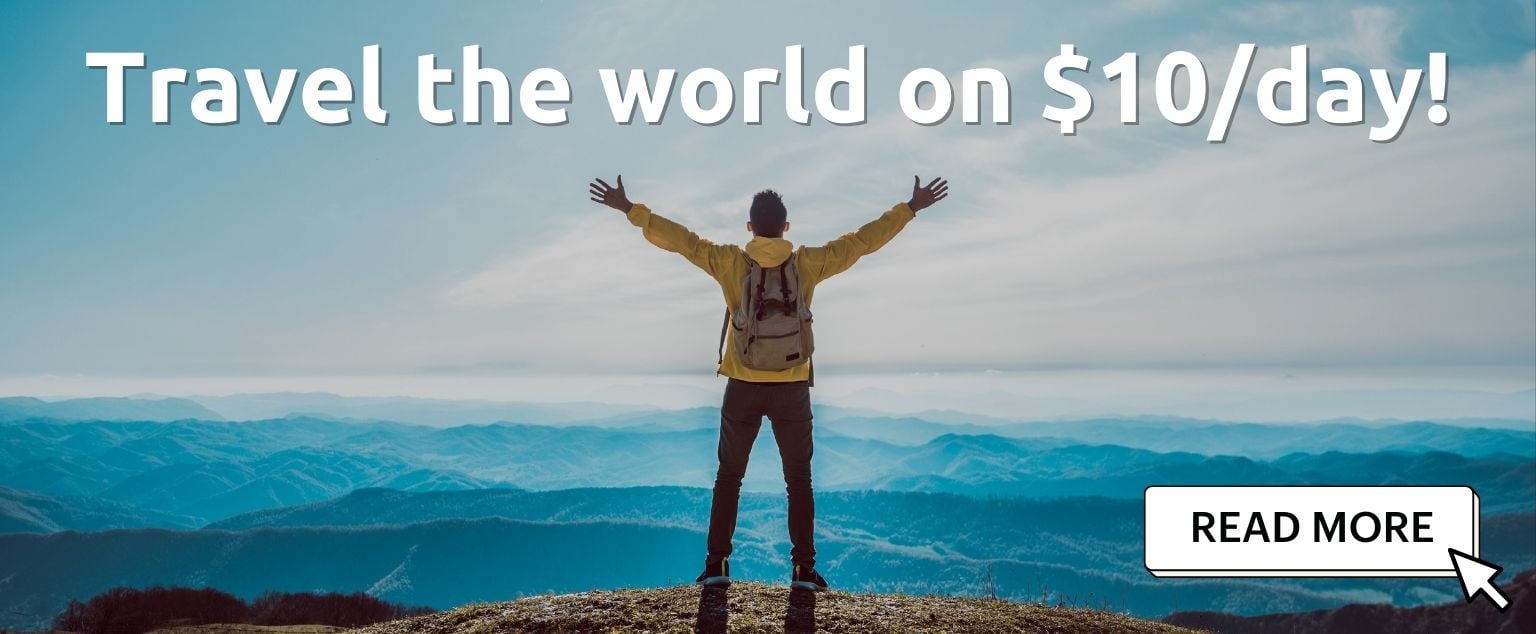 And for transparency's sake, please know that some of the links in our content are affiliate links. That means that if you book your accommodation, buy your gear, or sort your insurance through our link, we earn a small commission (at no extra cost to you). That said, we only link to the gear we trust and never recommend services we don't believe are up to scratch. Again, thank you!