Ryanair has taken minimalism to the sky. They shook up the industry with discount rates by separating the flight cost from the baggage fees. If you truly travel with pretty much nothing, you can find flights from Paris to Morocco cheaper than catching a train to Nantes.
Their cheap rates provide easy opportunities to get abroad and hook millions of budget travelers each year. Who can say no to a $10 direct flight, right? Unfortunately, if you want to travel with more than a change of clothes or two, your luggage will likely cost more than your ticket!
Low-cost airlines gotta sneak in those lost earnings somewhere, usually at the customer's expense. I can respect that about Ryanair. Unlike other, more expensive airlines, they don't pretend like they aren't trying to squeeze money out of you every step of the way. And at least some of it is optional.
Baggage fees are a natural place to start. It seems fair enough until you start reading the fine print. Carry-on-size definitions on Ryanair are much smaller than you'd expect. Nobody in their right mind would call this small size reasonable, but that is clearly not the goal here. Every time you fly with them, the seats get smaller, and the cushion wears thin. We're only a few months away from gate agents breaking out the measuring tape in the name of a 30-euro bag fee.
You always think you can get away with traveling with less, but only a few select travelers can spend more than a day or two living out of one free carry-on bag. Three days of peace and music is doable with one carry-on-sized container, but sometimes you've got to crumble and accept the extra charge. I mean, if you're going to have a better time and you can afford it, it's hard to argue against it.
Ryanair knows that and continues to crank up the argument.
Allow us to introduce you to the rebuttal. These backpacks are at the frontlines of discount travel, packing more storage options into less space and helping you march off the plane and straight out the door, 34 euros poorer and in Amman.
These carry-on bags are savvy travelers' responses to rules that got too strict. While no backpack on the market can magically turn 40 liters of storage into a 30 x 20 package, these bags store more than their size and maximise the storage space they do have.
You've got to plan ahead to beat budget airline companies and keep your costs down. It starts with the right carry-on, so let's dive into the qualifications before looking at the most qualified backpacks.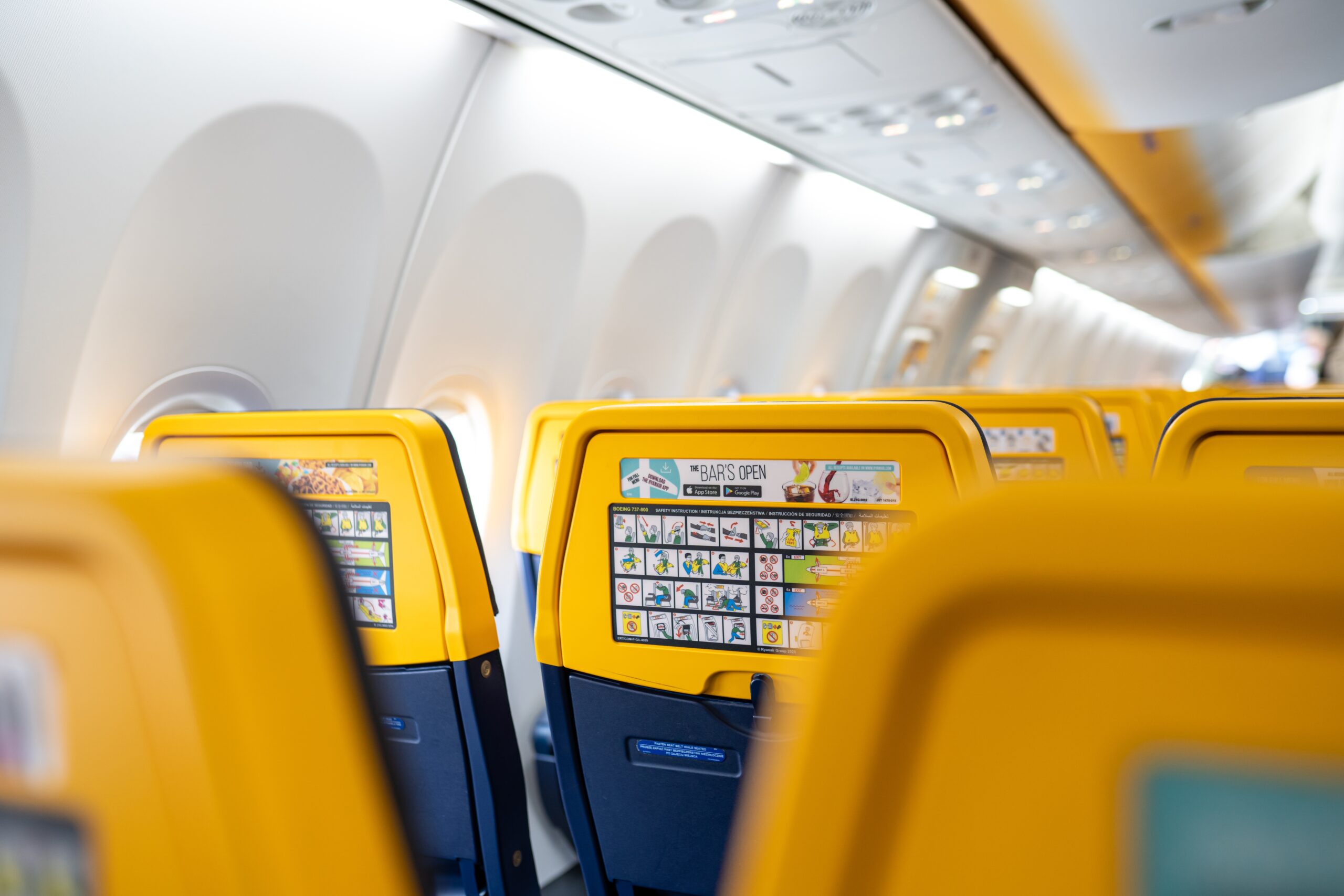 What is the Ryanair Carry-on Bag Size?
Small. Really, really small!
Especially if you hadn't flown with them since 2018 when the carry-on size decreased. Each ticket now only comes with one personal bag that can fit underneath the seat in front of you. The listed dimensions of that bag are 40cmx20cmx25cm or roughly 20 litres of storage. Ouch!
The good news is that Ryanair does allow for a modicum of flexibility. Those numbers can represent any three angles of your bag, so a suitcase that is 40 cm long is just as acceptable as a backpack that is 40 cm tall, as long as the other two edges stay within the lines.
Compare the size of their hand baggage-only fares to Luftansa's (55cm x 40cm x 23cm), and British Airways (40 x 30 x 15cm), and the good news turns bad. The key to Ryanair's infamous policy is their strict interpretation of the definition of small.
A bag that you can get away with on other airlines will get stopped at the door at Ryanair. Travelers who don't want clean underwear or folks heading to the beach might be able to stretch their free carry-on bag out to a week, but realistically, 20 liters plus the clothes you're wearing on the plane will get you through a long weekend.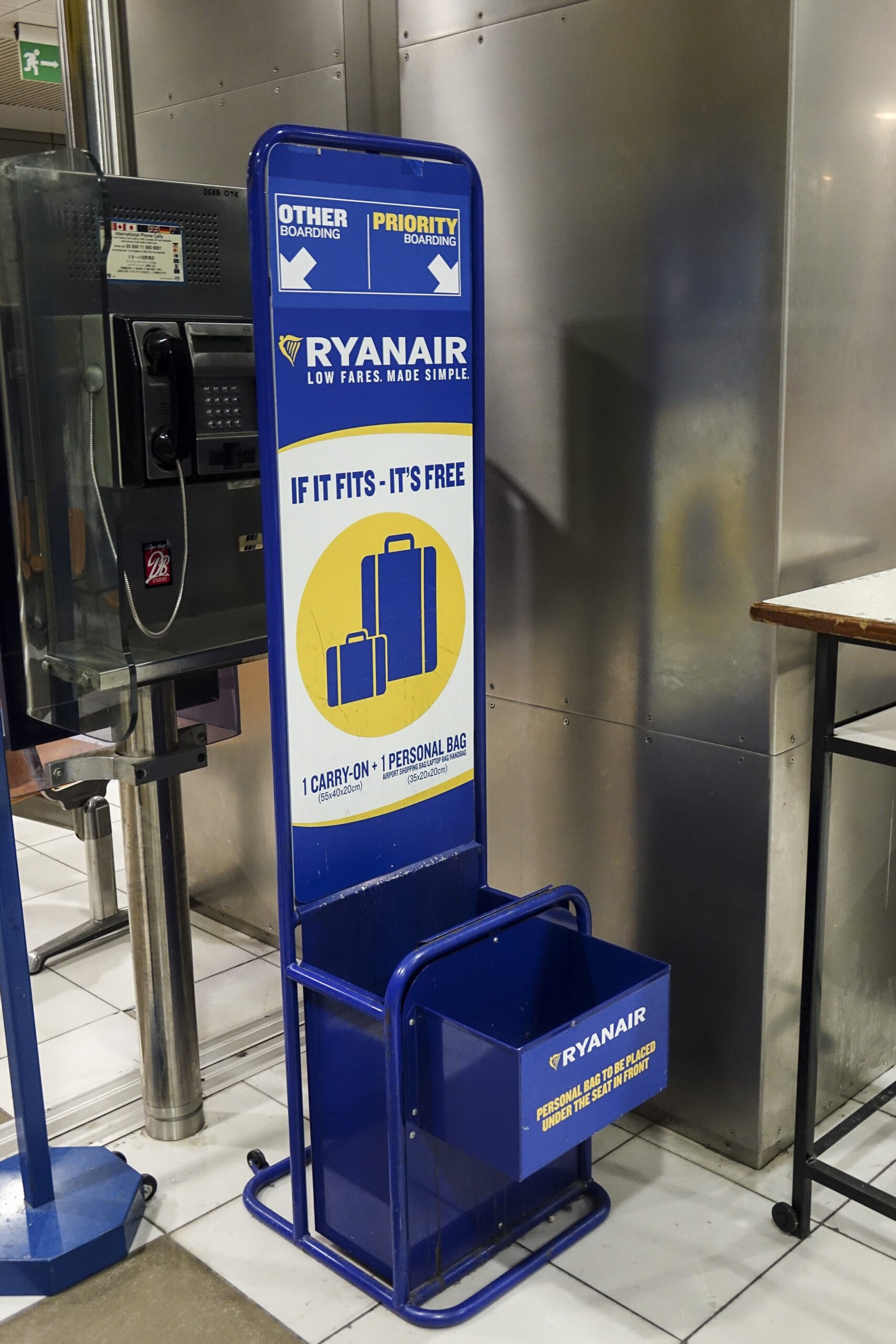 For an extra fee, you can travel with that carry-on bag plus a 10 kg piece (55cm x 40cm x 20cm.) This service is called paying for "priority," and it comes in a limited supply. Anything else, or anything bigger, will be heading underneath the cabin.
Don't think you're out of the woods just for upgrading. This 10 kg piece will usually top out at around 40 liters, which can be a tight squeeze. It's the bare minimum most one-bag travelers would recommend, but there is still a chance staff might pull you up with a 40-liter backpack stuffed full.
That's why the secret of great one-bag travel is multiple bags. Priority gives you a larger cabin bag in addition to your free personal item. That means with the right backpack combination you can walk on the plane with 55 litres of storage, which is more than enough to get you through a month in most tropical places.
Not every trip ends at the beach. Sometimes to get where you're going, you'll need a bit more gear, like for camping or winter trips for example. Each passenger can pay to check up to three 20 kg pieces of luggage too.
If you know you'll have to check a backpack, doing it online will always be cheaper than being stopped at check-in. And they will check. Gate agent's eyes light up with dollar signs at the sight of dirty hiking bags stuffed to the brim.
Every backpack on our list will qualify as a carry-on bag for Ryanair, some in the overhead compartment, and some as a free personal item. Be sure to check before you travel if you need to upgrade.

Do You Want to Travel FOREVER??
Pop your email in below to get a FREE copy of 'How to Travel the World on $10 a Day!'.
How Much is a Ryanair Carry-On Bag?
You'll want to bite the bullet early on all luggage purchases, both to make sure there is still room in the priority class with access to overhead bins and also to avoid the higher fees that come with same-day luggage checking.
The cold hard truth is that if a gate agent decides your bag is too big, there's not much you can do to plead your case. You might get away with it a time or two, but eventually, you'll have to buy some extra luggage and it'll cost you a fair bit more.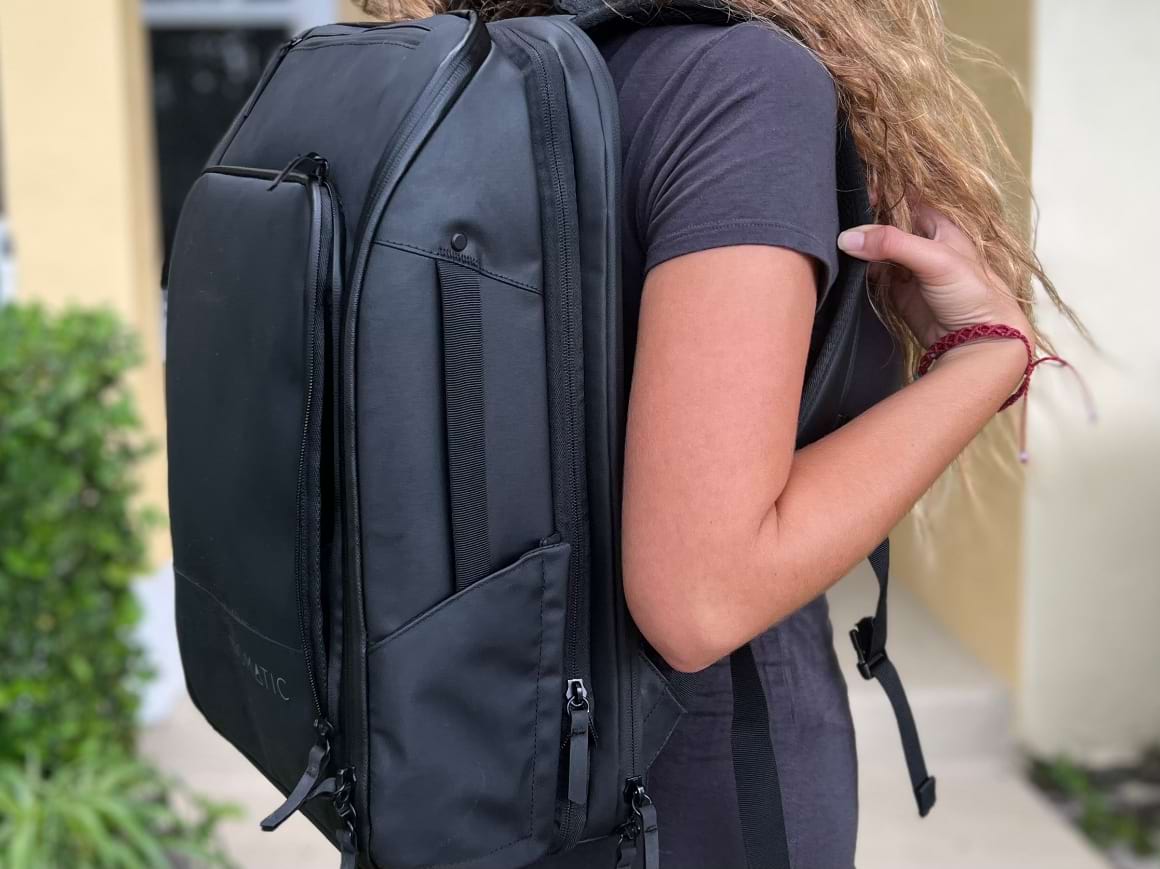 The Priority Pass is Ryanair's solution. They make things sound fancy by emphasizing your two free cabin luggage options, but really it's the one free bag plus one 10kg case. You're paying for an extra backpack and an earlier boarding group.
A lot like mushrooms, priority is best purchased online! Even if you call a Ryanair call center instead of booking your bags online, the prices will be higher. Nothing compares to the fees they'll place at airport ticket desks though!
Ryanair Carry-On

| Baggage Option | Price on booking | Price at airport |
| --- | --- | --- |
| Priority | €6 – €30 | €35.99 |
| 10kg Check-in Bag | €12.00- €25.00 | €35.99 |
| 20kg Check-in Bag | €17.99 – €50.00 | €39.99 – €59.99 |
A good rule of thumb for anything involving Ryanair is to take care of things before you get to the airport. Thankfully, they finally stopped charging us for not having our tickets printed out, but there are still plenty of extra fees the company looks to tack on while checking you in.
The fees are real, and they are enforced. Going by carry-on size restrictions, Ryanair is literally the worst.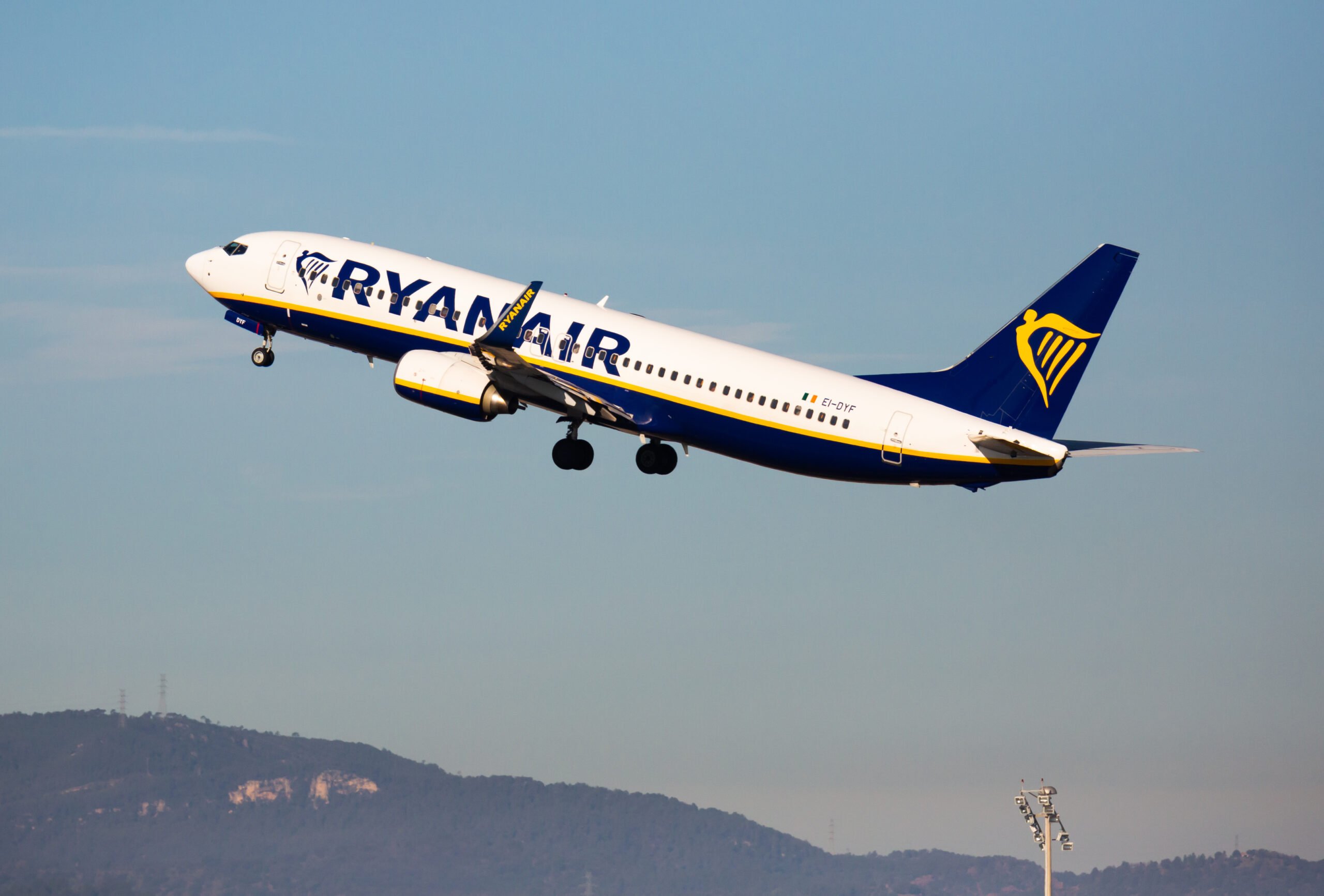 The Best Bags For Ryanair Flights
There's carry-on ready, and then there is Ryanair ready. The budget ticket seller makes no secret of their passionate enforcement of draconian bag requirements. Just like the black market adjusting to the police increasing cell phone monitoring, some companies have made it their mission to stay ahead of the rules.
The choices are split between free bags that may have to go in the overhead compartment and carry-ons guaranteed to fight under tight seats.
Just remember, the art to travelling carry-on only with Ryanair is not just the bag itself, but learning how to properly pack your bag for flying on the chicken bus of the skies!
We'll show you a few backpacks that bring the power back to the passengers!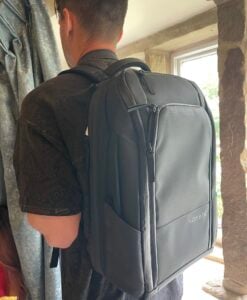 SPECS
Dimensions (CM): 48 x 30 x 14
Capacity (L): 14-21
Price (€): 200
When you're trying to squeeze your gear down to carry-on size, every detail matters. Nobody does more with less than the Nomatic Travel Pack. The Nomatic Travel Pack is perhaps the classic Nomatic flagship product and this is the 14 – 21L, "under the seat" version. It is a versatile and feature-heavy backpack designed specifically for travel purposes.
It has a sleek and minimalist design with a capacity of 14 -21 liters (it extends its capacity by zipping up/down). It is an under-seat, carry-on size backpack that meets all known airline requirements (including Ryaniair), making it suitable for both short trips and longer travels.
The backpack is designed for efficient organization and has loads of different compartments and pockets. It features a full-perimeter zippered clamshell opening which allows easy access to the main compartment. Once inside, you'll find multiple mesh and zipper pockets for organizing all of your belongings, including separate compartments for clothes, shoes, and toiletries.
We're also massive fans of Nomatic here at TBB and we've also got a rundown of our favourite Nomatic backpacks too if you're looking for something different. For more info on this magnificent piece of gear, check out my full Nomatic 14L travel pack review.
SPECS
Dimensions (CM): 53cm x 34cm x 18cm (20.9″ x 13.4″ x 7″)
Capacity (L): 30l
Price (€): 250
The Tortuga Travel Pack is a serious piece of equipment. The revamped 30L version of the Travel Pack has been custom designed to be accepted for carry on all over the world. With this bag, Tortuga has cemented it place among the best luggage brands in the world.
As well as being globally carry-on ready, it's also got a phenomenal design, great organization, and it has HUGE amounts of space. Tortuga might be the company that best knows how to create space within their bags so you can pack the compartments to your heart's content.
Note that there isa 40L version available but in order to spare you all the wrath of European airlines like Ryanair, we suggest using the smaller 30L version.
I loved taking this pack around Europe as it was accessible, comfy to carry and fit all my gear. One thing I noticed about this pack is how durable and strong the zippers feel.
SPECS
Dimensions (CM): 53cm x 34cm x 18cm
Capacity (L): 27l extendable to 33l
Price (€): 200
Ryanair's stringent carry-on restrictions demand a bag that can fit within the specified dimensions without sacrificing utility. The Peak Design Travel Pack 30L is designed with carry-on travelers in mind, with its well-thought-out design. Offering 30 liters of space, it is perfectly sized to comply with Ryanair's carry-on restrictions, yet spacious enough to carry all you need for a short trip.
The pack's innovative organizational system, complete with adaptable dividers and various pockets, allows travelers to maximize space, so packing becomes an art rather than a struggle. The external compression straps help keep everything compact, ensuring compliance with airline size requirements.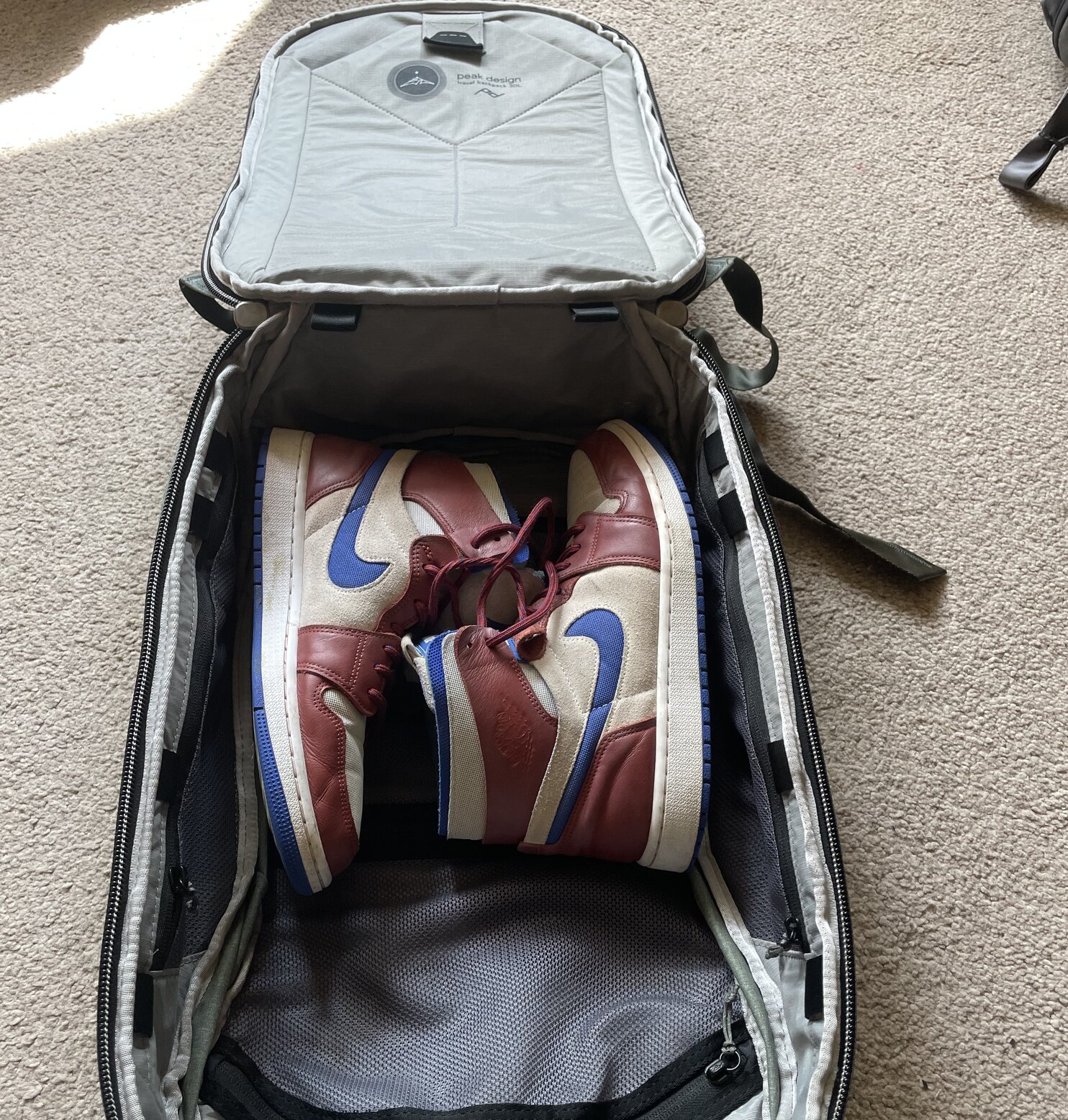 For frequent travelers on budget airlines, durability is key. The Peak Design Travel Pack 30L is crafted with high-quality materials that can withstand the rigors of regular travel. Its weatherproof shell offers protection against unexpected spills or rain, providing peace of mind during transit. Additionally, the quick zip access ensures that everything inside the bag is readily accessible, which can be a lifesaver during security checks or when retrieving items during the flight.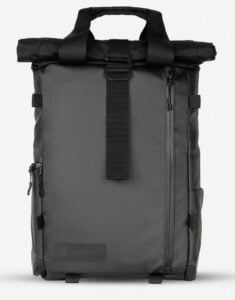 SPECS
Dimensions (CM): 40 X 28 X 14 cm
Capacity (L): 11-16
Price (€): 224
WANDRD's flagship PRVKE model can work as a carry-on on most airlines, but to get onto Ryanair they had to think smaller. The Lite bag takes things down a size while still bringing cushioned, organized storage to a solid amount of gear. You'll still have plenty of divider options and even a laptop compartment, all in a great under-seat size that's kind on the shoulders too.
PRVKE's dimensions are right at the edge of the baggage policy, getting under the legal limit without giving up a single Centimeter more. You might have to answer a few tough questions if the bag is stuffed full, but with enough patience, you can stuff this solid bag inside any steel cage. The roll top feature means you can throw your hoody or a few extra bits back in once you arrive at your destination.
If you're looking for a similar but slightly larger setup, then check out the WANDRD PRVKE 31L instead.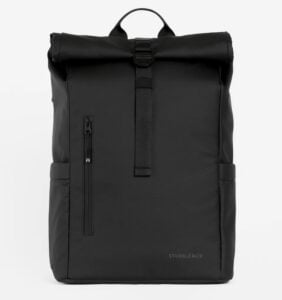 SPECS
Dimensions (CM): 41 x 28 x 12
Capacity (L): 14
Price (€): 107
The Roll Top is a commuting specialist that works great whether your route is underground or in the air. The same sleek features that help this bag fight snugly over your shoulders in an amphibious march to work will also help the bag slide under the seat. The direct access laptop pocket means once your bag gets beneath the seat, you won't have to zip it open until touchdown.
If you're feeling like flirting with the limits even further, Stubble & Co, has a larger roll-top backpack with an extra 6 liters of storage, all while only adding on 3 centimetres of length, width, and height. Leave an extra t-shirt behind, and you can likely still sneak it onboard.
If it's the hipster style you're looking for and the Stubble & Co Roll Top doesn't quite hit the mark, then check out our round-up of the best hipster backpacks on the market for some more ideas.
SPECS
Dimensions (CM): 47 x 33 x 23
Capacity (L): 25
Price (€): 100
The Transporter's dimensions are a dangerous game. If you fully stuff the Panel Loader full, There's a good chance this backpack can get flagged at the gate. Worst case scenario, it will still easily fit in the overhead compartment, and thanks to its lack of stiff joints, you might be able to squeeze it under a seat or two with a bit of elbow grease!
Osprey switched up their usual operating procedure, creating a super flexible shell that can collapse down to a small stature. While there is still plenty of comfort against your spine, Osprey skipped the Airscape back panel on this bag, greatly increasing shrinkability. An internal water bottle pocket finishes the job off, resulting in a sleek backpack that can fit in tight spaces.
If you're looking for some different options when it comes to Osprey bags, maybe you've decided to check in some bigger luggage, then check out our guide to the best Osprey bags on the market.
The best present of all… is CONVENIENCE!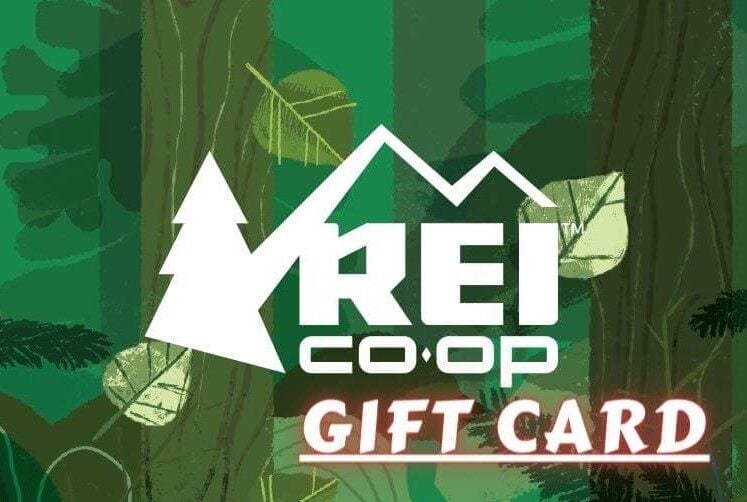 Now, you could spend a fat chunk of $$$ on the WRONG present for someone. Wrong size hiking boots, wrong fit backpack, wrong shape sleeping bag… As any adventurer will tell you, gear is a personal choice.
So give the adventurer in your life the gift of convenience: buy them an REI Co-op gift card! REI is The Broke Backpacker's retailer of choice for ALL things outdoors, and an REI gift card is the perfect present you can buy from them. And then you won't have to keep the receipt. 😉
Buy on REI!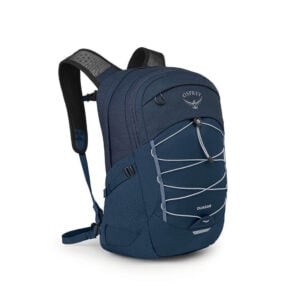 SPECS
Dimensions (CM): 48 x 30 x 27
Capacity (L): 26
Price (€): 102
The Quasar marks the start of our backpacks that flirt a bit with the overhead compartment. Take advantage of the compacting side straps, and you can still easily pack this bag for a weekend trip, squish it under the seat with a 100% success rate.
The 26-liter bag has a few great exterior features that make the bag feel both bigger and smaller. A durable mesh cord allows you to strap on a sweater or oversized tools, and a top bungee connection helps the bag squeeze tightly together to slip into smaller spaces. When it's time to ease your bag into the gate side metal box, remove your sweater and fit right in. I have personally taken this bag as my "under seat" bag on countless flights and never had any problems including with Ryanair. Check out my Osprey Quasar review.
Want something more specific to the female figure, why not check out the Archeon 25 Women's backpack instead?
Tropicfeel – SHELL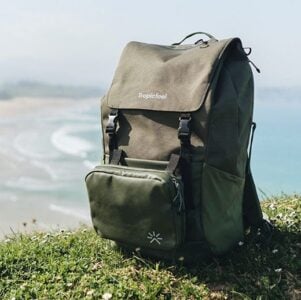 SPECS
Dimensions (CM): 51 x 30 x 19
Capacity (L): 20-40
Price (€): 159
This backpack takes on many different forms. Fully loaded, it's practically a mobile closet with a detachable hanger, toiletry kit, a tech pouch, and a camera cube. Unfortunately, at maximum size, you'll also need priority. Start deconstructing things, and suddenly you've got a great bag to beat Ryanair.
You can squeeze things down over 6 liters smaller to get through security and then unfurl a kangaroo pouch perfect for souvenirs. You can even add and remove hip straps to affect the bag's overall size further. The adaptability of the bag means you can slim down for your flight and open it back up once you arrive.
No matter which setting you've employed, it's got a tough waterproof exterior and organised interior that come together for a great backpack.
Not sure if the SHELL is right for you, why not have a look at the TropicFeel NEST instead, it's still 16L and has similar expandable features.
SPECS
Dimensions (CM): 40 x 30 x 20
Capacity (L): 30
Price (€): 60
This affordable and functional bag was custom designed for aviation and will slot perfectly under your seat on all Ryanair and Wizair flights. You can wear the Memphis 30 ear as a backpack, carry it by the top handles or even combine with your rolling luggage using the rear handle pass-through.
If offers 24L internal capacity with built in packing compression system, a nice padded laptop/tech compartment, 3D packing pockets, water bottle pocket and organiser compartment with key clip and then a discrete rear 'secret' pocket. Padded backpack straps with adjustable chest strap and sunglasses loop. Aesthetically, its not the prettiest bag and my first thought was that it looked a bit 'cheap' but after trying it I can say its honesty a very well designed and usable carry on backpack.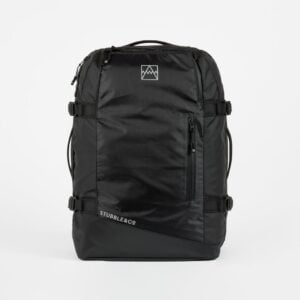 SPECS
Dimensions (CM): 55 x 38 x 24
Capacity (L): 42
Price (€): 217
You might need to show up at the airport with some extra baroque bridges in your pocket to sneak this bag onboard. At full size, It rides the limits of Ryanair's overhead compartment specs. Take advantage of the strap adjusters and side compression straps to blend in and avoid any further inspection, and stay aware. It's easy enough to leave home with a slim pack, but everyone's bag fills up along the road.
Once you land, this bag really shows out. Stubble & Co's new model comes with features from across the aisle. You won't find many backpacks with a reflective, stormproof cover and a padded laptop compartment/secret pocket combo. The new streamlined shape sits like a jetpack on your back, ready for takeoff.
Wanna know more? Of course, you do! We've gone to the effort of writing a full post on the Stubble & Co Adventure Bag.
SPECS
Dimensions (CM): 30 x 29 x 10
Capacity (L): 9
Price (€): 136
Dixie Bohoes bounce from Texas to Tennessee, strapped up in leather bags and bangles. Mahi leather is along for the ride with one thumb stuck out by your side. When some other materials break down, this full-grain Leather won't even crack. This bag only bends and morphs with time.
Brass fittings and YKK tell the world this company is dedicated to taking care of the little things and letting the leather do the talking. The genuine suppleness of the leather takes on different shapes through use, further whistling dixie. High-quality materials and focused detail work are a great combination to provide genuine craftsmanship no matter where the value fare takes you.
The best thing about the bag though, it's easily below the size limitations for Ryanair carry-on luggage, so you'll never have to stress.
Like the look of this leather bag? Check out the best leather bags on the market for some more options.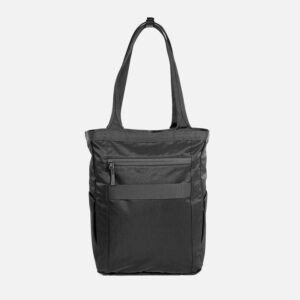 SPECS
Dimensions (CM): 38 x 28 x 13
Capacity (L): 17.5
Price (€): 82
The Go Tote is a sneaky way to get on board with a whole lot of storage. Gate agents aren't used to providing an over-the-shoulder bag with the same scrutiny as backpacking backpacks. While it's a few liters lighter than those more traditional models, it's also guaranteed to qualify as a free option on any flight.
Those fools have no idea! Below the surface, this is no ordinary tote. Thanks to nifty organization options and a laptop compartment, this bag can keep your gear organized and fit in a whole load more than you might imagine. It has six separate pockets ready to outscore any Jansport. That proficiency takes this bag places… and does it without having to pay any extra baggage fees!
Looking for a tote-style bag but not too sure about the Aer? Have a look at our guide to the best messenger bags for a few more ideas.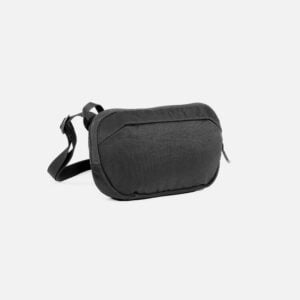 SPECS
Dimensions (CM): 24 x 13 x 5
Capacity (L): 0.8
Price (€): 54
This bit of gear is the backpack equivalent of a swiss army knife. If you pack smart and dress loosely, you can get some storage for free with this close-fitting chest piece. The slim storage capacity is chock full of mesh, zippers, and dividers that split up your gear and keep your cords untangled. Most importantly, it does all that while fitting underneath your clothing.
If they're going to treat us like cattle, we're going to turn this game into Animal Farm. Sneaking an extra bag onboard exists on the outskirts of the rules, sort of like counting cards at a casino. If you get caught, you might get invited into the backroom and tossed around, but ultimately you'll just pay a small fee.
Sling-style bags are a great option when it comes to carry-on travel as they're small, fit most of your valuables and often go undetected. If you're in the market for one but want a few more options then check out our roundup of the best sling bags for a few more ideas.

Our GREATEST Travel Secrets…
Pop your email here & get the original Broke Backpacker Bible for FREE.
Final Thoughts on Finding The Best Ryanair Carry on Bag
You didn't spend a month searching Skyscanner for the year's cheapest getaways just to piss it all away on extra luggage fees. To really save money on your next trip, carry-on bags are the way forward. Spending a bit of extra money on the right bag now will save you money on each and every flight.
Right now, you can find 67 flights on Ryanair's website that are cheaper than the price to check a 20 Kg bag. The right carry-on bag can cut your travel budget in half. That sounds great, but you'll be surprised how challenging it is to cram things down to 15 Liters.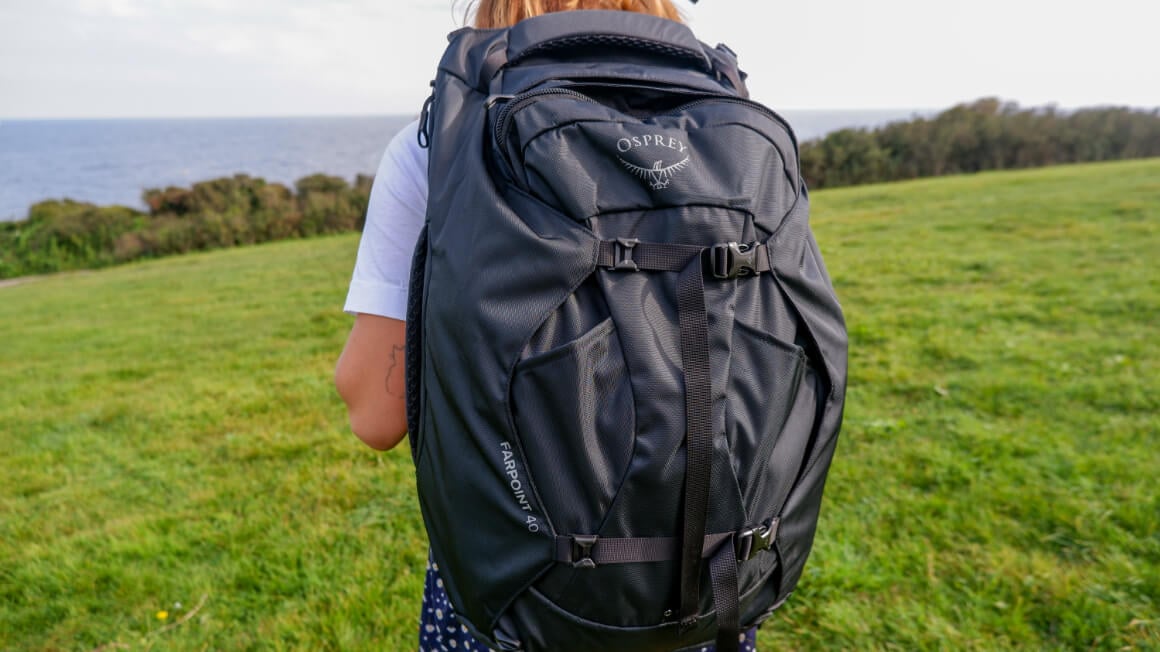 If your bag is on the edge of glory, we'd prescribe paying for priority upfront and half a Xan after you get through security to ensure a smooth travel day. Even if you've already taken the pledge and splurged for a checked bag, you should still consciously choose your carry-on.
A good carry-on bag will ensure everything you need stays by your side and with airlines potentially scrapping liquid rules soon, it's an even more convenient way to travel.
Budget airline or Eithad, there's a real chance things get lost along the way. While your checked bag does the legwork, your carry-on bag should store a few days of gear, so you don't have to spend the first afternoon of your vacation bikini shopping.
Ultimately, there is no carry-on bag that has truly hacked Ryanair. Every bag that you can fit underneath the seat had to make some serious sacrifices to make it happen. The bags on this list soften the blow while still maximizing storage to give you a fighter's chance.
---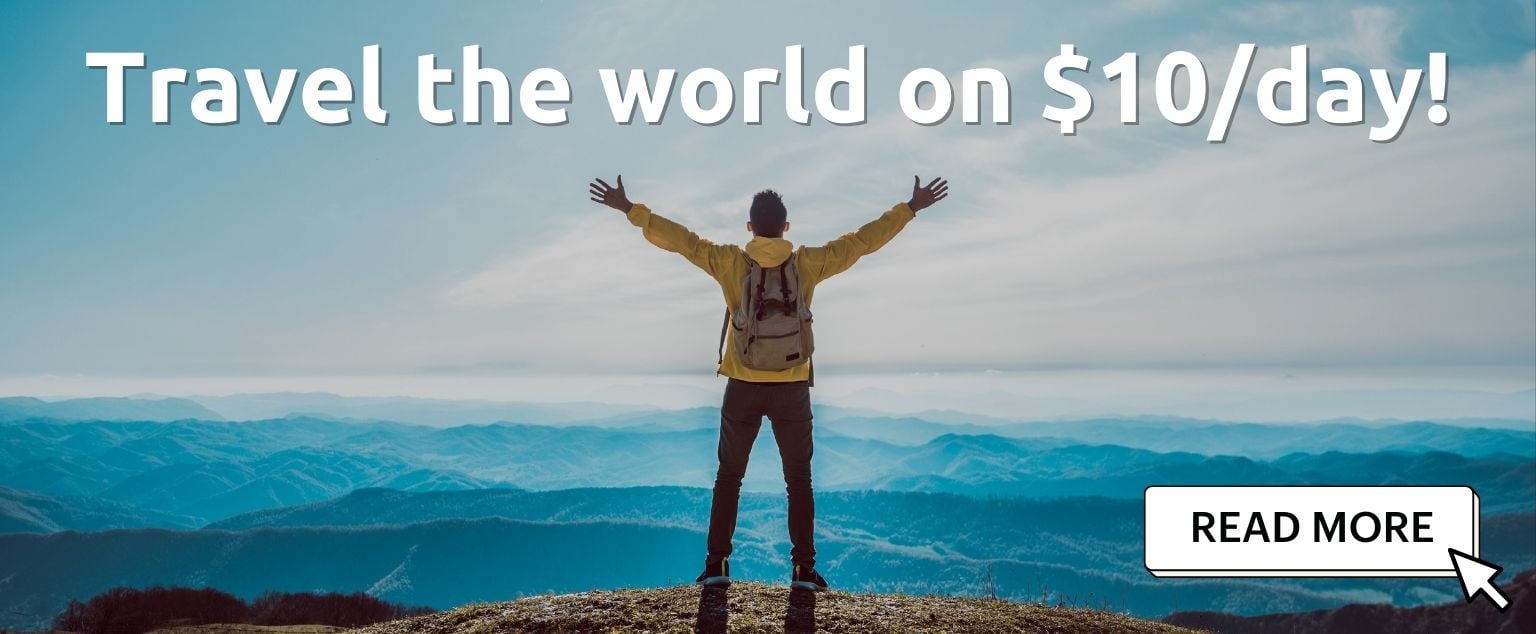 And for transparency's sake, please know that some of the links in our content are affiliate links. That means that if you book your accommodation, buy your gear, or sort your insurance through our link, we earn a small commission (at no extra cost to you). That said, we only link to the gear we trust and never recommend services we don't believe are up to scratch. Again, thank you!