It doesn't matter if you're a well-seasoned traveler or not, navigating an airport is often a stressful experience. Knowing what to pack or not to pack can easily be overwhelming for first-time travelers. After all, the regulations often vary according to the airlines, the TSA, and the destination countries, making it harder to keep track of everything. But don't worry though- I've got your back!
In this article, you'll not only find everything that you can't bring on a plane, but I'll also take you through the different size restrictions for both your carry-on and checked luggage. So, let's get started!

Do You Want to Travel FOREVER??
Pop your email in below to get a FREE copy of 'How to Travel the World on $10 a Day!'.
What CAN'T You Bring on a Plane?
First things first: for security reasons, there are some things that are absolutely not allowed on a plane- regardless of whether they're packed in your carry-on or checked luggage.
Bringing contraband on a plane may result in civil penalties and maybe even an arrest so before leaving home, make sure that you don't have the following in either your checked or cabin luggage:
Snakes (you've seen the movie, right?)
Explosives including fireworks
Any beverage containing over 70% alcohol
Chemicals such as fertilizers, bleach, chlorine, spray paint, and tear gas
Wildlife and outdoor safety products
Flammable products such as turpentine, gas torches, and strike-anywhere matches
What Can't You Bring as Carry on?
Okay, before we properly dive into that one, here's a quick list of everything that you're allowed in your checked luggage but not in your carry-on bag:
Any tool measuring more than 7 inches long
Sporting equipment that could potentially be used as a weapon like baseball bats
Toy guns or any other toy that resemble weapons
Self-defense products like pepper spray or mace
Guns, swords, and other weapons
Sharp, pointy objects
More than 3.4 ounces of liquid (and yes, that includes cosmetics as well!)
Liquids
Speaking of liquids, it's important to know that, according to the TSA, your liquid products should comfortably fit in a clear Ziplock bag (one quart-sized). Each passenger is entitled to one liquid bag.
Containers that are larger than 3.4 ounces (100ml) will be confiscated even if they're half-empty. As such, I would recommend that you buy a couple of travel-sized containers and decant your own shower gel, shampoo, lotions, and any other liquid travel toiletries you may wish to bring with you. These are cheap and readily available. Most supermarkets also carry tiny tubes of toothpaste for shorter trips. Alternatively, you may wish to consider buying a couple of solid toothpaste tablets.
In addition to your 3.4 ounces (100ml), you're allowed to carry a bottle of sanitizer (no more than 12 ounces).
Now, as far as medication is concerned, I would strongly urge you to let the screening agents know you're carrying liquid meds. It's also a good idea to check the medication rules for both your departing and arriving destinations since the regulations usually vary by country.
Bear in mind that products such as aerosols, snow globes, peanut butter, and mascara are considered liquids as well. At Marseille Provence Airport, I was even told that my tube of Chapstick was considered liquid, but this may vary according to the airport.
Breastmilk, infant formula, and other baby food are allowed in your carry-on luggage even if they exceed 3.4 ounces. When going through security, be sure to inform the TSA agents about these products. While not required, it's recommended to place them in clear bottles to speed up the screening process.
Looking for the perfect bag? Have a look at these carry-on compliant duffels for your next TSA patdown!
Powdered Substances
Here's the not-so-good news though: the TSA recently introduced a new rule regarding powdered substances (including powdered makeup and condiments). While these are allowed in both your checked luggage and carry-on, the new rule states that 'Powder-like substances greater than 12 oz. / 350 mL must be placed in a separate bin for X-ray screening. They may require additional screening and containers may need to be opened.'
To avoid any potential issues, I would recommend that you pack any powdered product larger than 12 ounces in your checked luggage. While this is not an official TSA regulation as such, it can save you quite a bit of time and hassle when going through security.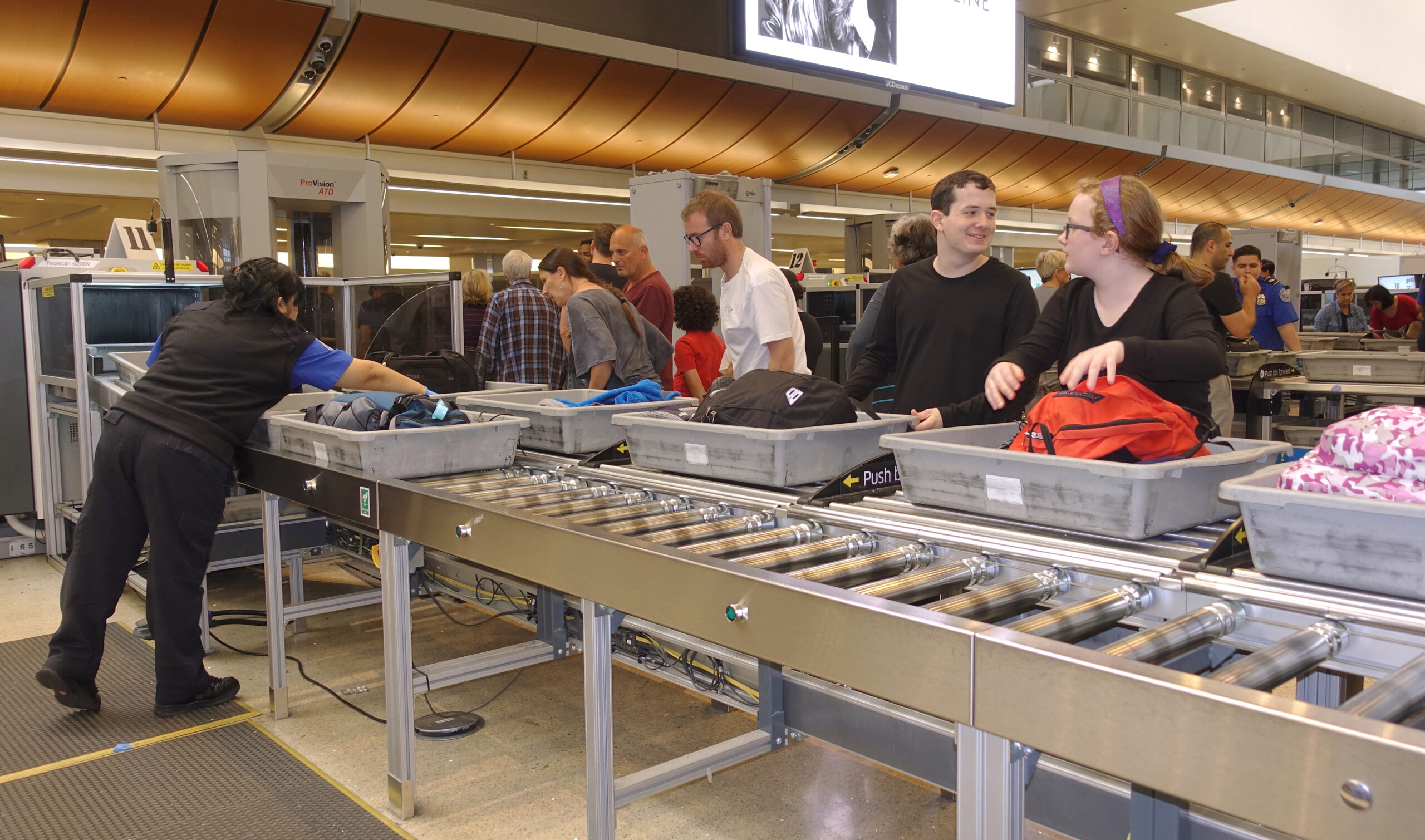 Tools
You're allowed tools measuring seven inches or less in your carry-on bag but only if they don't have any sharp edges. It's important to know that the TSA does regard drill bits and hammers as tools so be sure to leave these in your checked baggage.
Sporting Equipment
If you're planning on indulging in some kind of sports during your travels, I would highly recommend that you rent your equipment onsite.
Not only are things like golf clubs, hockey sticks, bows, pool cues, ski poles, and baseball bats regarded as weapons (and hence prohibited in your carry-on!), but they're quite bulky to drag around. You can still throw some light travel workout equipment like a jumping rope or a stretching strap to stay on top of your travel fitness game.
Toys
Most toys are allowed in your carry-on baggage as long as they're not replicas of ammunition, swords, and firearms. Electronic toys that can't be switched off aren't allowed.
Weapons
Since we're talking about weapons, it goes without saying that guns are a huge no-no in your carry-on bag. If you're planning on bringing a gun in your checked luggage, it's recommended that you research the laws in the country or state you're visiting.
By the same token, you're not allowed to bring other weapons such as stun guns, nunchakus, batons, swords and err, whips!
Similarly, sharp objects like knives, swords, or box cutters aren't allowed.
The best present of all… is CONVENIENCE!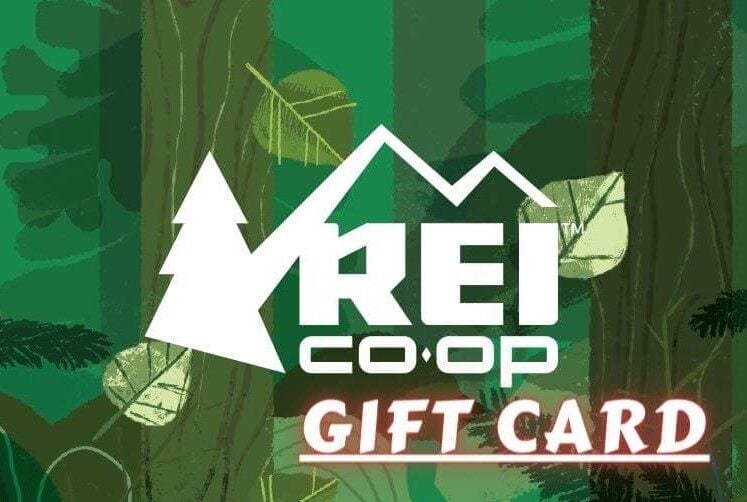 Now, you could spend a fat chunk of $$$ on the WRONG present for someone. Wrong size hiking boots, wrong fit backpack, wrong shape sleeping bag… As any adventurer will tell you, gear is a personal choice.
So give the adventurer in your life the gift of convenience: buy them an REI Co-op gift card! REI is The Broke Backpacker's retailer of choice for ALL things outdoors, and an REI gift card is the perfect present you can buy from them. And then you won't have to keep the receipt. 😉
Buy on REI!
What Can't You Put in Checked Baggage?
I'm sure by now you realize that there's way more flexibility when it comes to your checked luggage. Still, while the list is less restricted than cabin bags, there are still a few things that you should avoid.
Let's take a look at them!
Flares and gun powders are strictly prohibited in your checked baggage, as are super flammable products like grenades, flare guns, gun lighters, fireworks, and even flammable paints.
You're allowed to pack pellet guns, rifles, starter pistols, and firearms but these should be locked in a hardshell container. They should also be empty.
According to the TSA, you're not allowed to pack any kind of electronic smoking device in your checked luggage so be sure to pack them in your cabin bag instead. Remember that you won't be allowed to actually use them onboard though!
As far as the vaping liquid is concerned, it must fit the usual 3.4 ounces (100ml) limit for carry-on bags.
This one isn't an official rule as such, but it's strongly recommended to avoid packing any important meds and supplements in your checked baggage. If your luggage gets lost or if your flight gets delayed somehow, you might just find yourself without your meds. No one wants to start a trip with a dash to the ER, right?
Ah, here's where things get a bit confusing. While electronics like laptops, tablets, and phones are technically allowed in your checked luggage, you may wish to stow them in your carry-on to avoid any potential damage or theft.
However, electronic devices like power banks are strictly not allowed in checked baggage. The same rule applies to any large electronics fitted with lithium batteries since there have been quite a few cases of these batteries exploding mid-flight.
Any electronic using a non-lithium battery is allowed in your checked luggage.
Can You Bring a lighter on a Plane?
This depends on the type of lighter that you're carrying. For instance, Zippo and Disposable lighters without any fuel are allowed in checked bags.
According to the Department of Transportation, passengers are allowed to check no more than two fueled lighters but only if these are enclosed in a DOT-approved casing. Despite this exemption, some airlines won't allow fueled lighters so be sure to check with them before throwing them into your weekend bag!
Can You Bring Razors on a Plane?
There's quite a bit of confusion about whether or not you're allowed to bring a razor on a plane. At the end of the day, it all depends on the type of razor you're traveling with:
Electric razors: Electric razors are permitted in both carry-on and checked bags.
Disposable razors: You're allowed to pack disposable razors in your carry-on luggage. The same rule applies to disposable razors with replaceable cartridges.
Safety razors: Both straight and safety razors are only allowed in your carry-on if you remove the blade first. The blade should be packed in your checked baggage.
What is the Carry On Weight Limit?
Let's be honest, having the freedom to travel carry-on only is ideal! But what does that actually entail?
Here's what we all want to know: how many ounces can you carry on a plane?
Unfortunately, there's no set rule for that one since it ultimately depends on the airline. You'll be able to see the personal item and carry-on limits when buying your flight. I would recommend that you take the time to properly familiarize yourself with the rules and regulations before packing your carry-on to avoid unexpected fees and delays.
Surprisingly enough, the TSA doesn't have a set of rules in place regarding the weight of your actual cabin bag. The only regulation is the famous 3-1-1 liquid rule (3.4 ounces per bag, 1 bag per 1 person). Any heavier than 3.4 (100ml) and you'll need to discard your liquids. If you decide to pack larger containers in your checked luggage at the counter, bear in mind that you may eventually need to pay overweight fees.
The carry-on weight limit for international flights can differ from domestic ones. While domestic trips usually allow backpacks of up to 35 pounds (some don't even have a weight restriction), most international flights have a restriction of 16 to 25 pounds. More importantly, you should be able to lift it onto the storage bin yourself and we always advocate for traveling as lightly as possible too.
Passengers traveling by Ryanair are allowed up to 22 pounds in their carry-on luggage. It's important to know that passengers with non-priority tickets are only allowed one single personal item like a backpack. Those with a priority ticket can bring a carry-on bag that doesn't exceed 22 along with a personal item.
What is The Carry On Bag Size Limit
Just like weight restrictions, the carry-on bag size limit also varies according to the airline, your departure country, as well as your destination country.
Sure, it's sometimes possible to sneak a bag that's a bit bigger than the recommended size but trust me when I say you really don't want to risk it- I learned that the hard way! Planning ahead will save you quite a bit of hassle, not to mention an unexpected, last-minute charge.
So, let's check out the size regulations!
Psst!! Looking for a compliant bag? Have a look at our guide to the best carry-on bags here!
International Carry On Size
While the carry-on size varies according to each airline, you may wish to get a case that stands at around 21 inches or less to ensure that it's accepted on all carriers.
Be extra mindful of the limits when flying with smaller international airlines since they usually set their own restrictions. To be safe, we recommend a small travel backpack so you don't get caught out and also so you don't need to buy multiple bags for different airlines!
US Domestic Carry-On Size
While domestic airlines like JetBlue, Southwest, and Delta don't have an actual weight restriction as such, you do need to pay attention to the size of your carry-on bag.
Depending on the airline, the size restrictions can vary by a couple of inches but when it comes to most US domestic flights, your carry-on should measure 22" x 14" x 19". Remember that the measurements also include the wheels and handles.
Ryanair Carry-On Size
If traveling by Ryanair, it's important to know that you'll be allowed a small personal bag in addition to your carry-on. Your personal bag for Ryanair should be small enough to comfortably fit under the seat in front of you. It should measure 14 x 8 x 8 inches.
For non-priority passengers, carry-on bags should measure 22 x 16 x 8 inches. Those with a priority boarding pass are allowed a larger cabin bag of 21 x 15 x 7.

Our GREATEST Travel Secrets…
Pop your email here & get the original Broke Backpacker Bible for FREE.
Final Thoughts
I know all these rules and regulations can be something of a hassle on top of all the flight-related stress! But then again, the restrictions have all been designed with your safety in mind. Just remember to properly familiarize yourself with both the TSA and airline requirements before zipping up your suitcase and you'll be able to breeze through the airport for a hassle-free trip!
---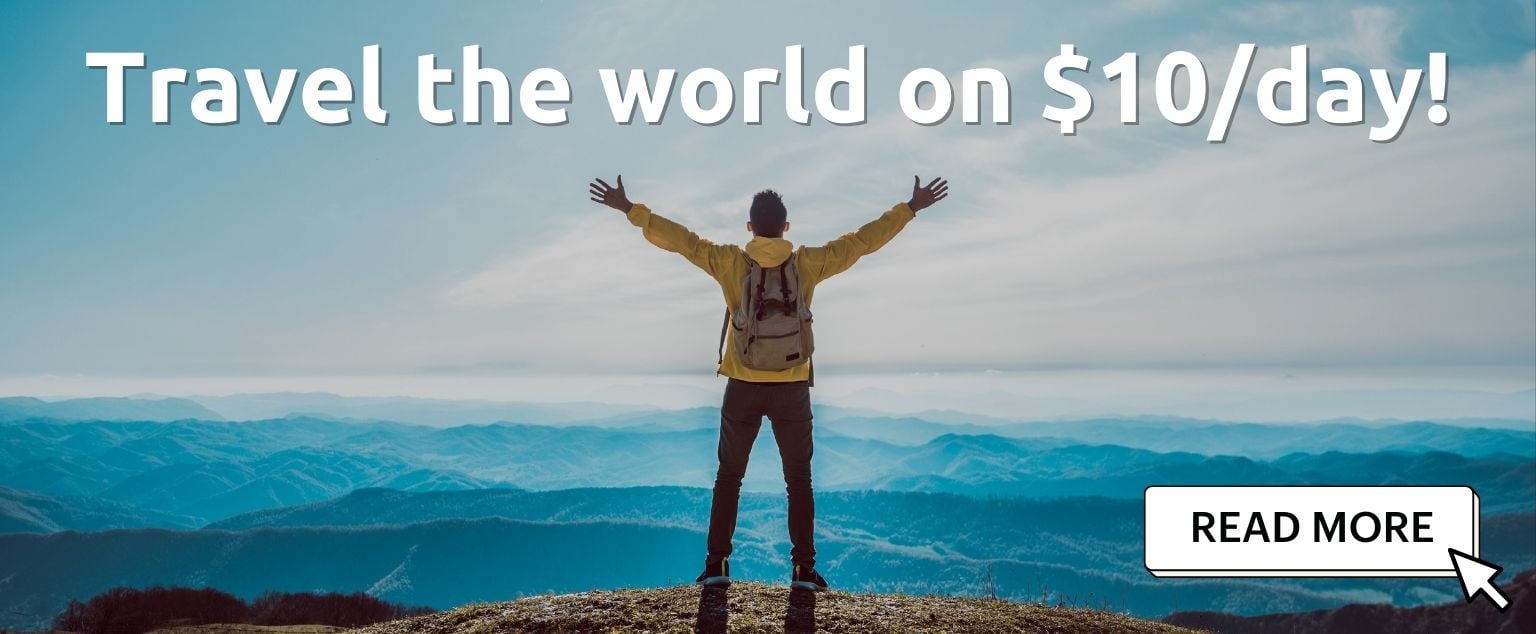 And for transparency's sake, please know that some of the links in our content are affiliate links. That means that if you book your accommodation, buy your gear, or sort your insurance through our link, we earn a small commission (at no extra cost to you). That said, we only link to the gear we trust and never recommend services we don't believe are up to scratch. Again, thank you!