When in doubt, leave it out! Packing light is all about cutting back on the details, and we're here to help. Piling all your potential gear on the floor turns your trip from future plans to takeoff. As you decide which T-shirt to cram into your bag, you visualise what it will feel like to relax in your tee of choice and look forward to your impending freedom.
There are so many directions your gear can take you, making it hard to whittle everything down to the essentials. It may seem like overpacking is the only way you can stay prepared while on the road, but you'd be surprised at how little you need and at how much your pack will weigh stuffed full.
A few subtle shifts here and minute weight drops there quickly add up to a noticeably lighter pack. Packing light brings space, literally and in the itinerary, which gives you the confidence to take a step further outside your comfort zone.
Every trip has so many variables; it's totally reasonable to panic pack a few extra pairs of underwear or carry around a set of swimming goggles, just in case.
No matter if your trip is one week or one year, you can live out of one backpack, and I'm here to push you in the right direction. We'll walk through high tech gear that makes 40 litres feel like 400, examine some items better left at home, and throw in all the lessons learned the hard way along the ride.
So follow along and prepare to make some tough decisions, today we're going to learn how to pack for any trip in one 40 Liter backpack.
The Best Gear To Help You Pack Light
Each of these items plays a crucial role in light packing, so follow along and see how they can fit on your next trip.
Nomatic 40L Travel Pack
Nomatic 40L Travel Pack
40L Travel Bag
> $$$
> Included shoe compartment, laptop sleeve, laundry bag, and effervescent front pockets
> Shoulder or carry it duffle style
Nomatic Packing Cubes – Keep Things Organised
Nomatic Packing Cubes – Keep Things Organised
Packing Cubes
> $
> Multicompartmental backpack set-up
> See-through mesh material
Nomatic Toiletry Bag 2.00
Nomatic Toiletry Bag 2.00
Toiletry Bag 2.0
> $
> Guarantee easy access
> Full of organisational pockets
WANDRD Veer Packable Backpack
WANDRD Veer Packable Backpack
VEER Packable Bag
> $
> Weather-resistant zippers
> Adds shoulder straps
Nomatic Sling Pack
Nomatic Sling Pack
Navigator Sling 6L
> $$
> Perfect aeroplane companion
> Providing space for your passport and inflight entertainment
Red Ledge Lightweight Rain Jacket
Step By Step Guide to Light Packing
You'll find the key theme to packing light is breaking down your luggage into categories and lists. Last-minute panicked packing is minimalists worst nightmare, as a cluttered, rushed mind will throw caution to the wind and try to pack it all.
Use this step-by-step guide to start your process, and give yourself plenty of time to go through your list and check it twice.
Ladies & Gents, It's Time to Step Your GEAR Game Up. 😉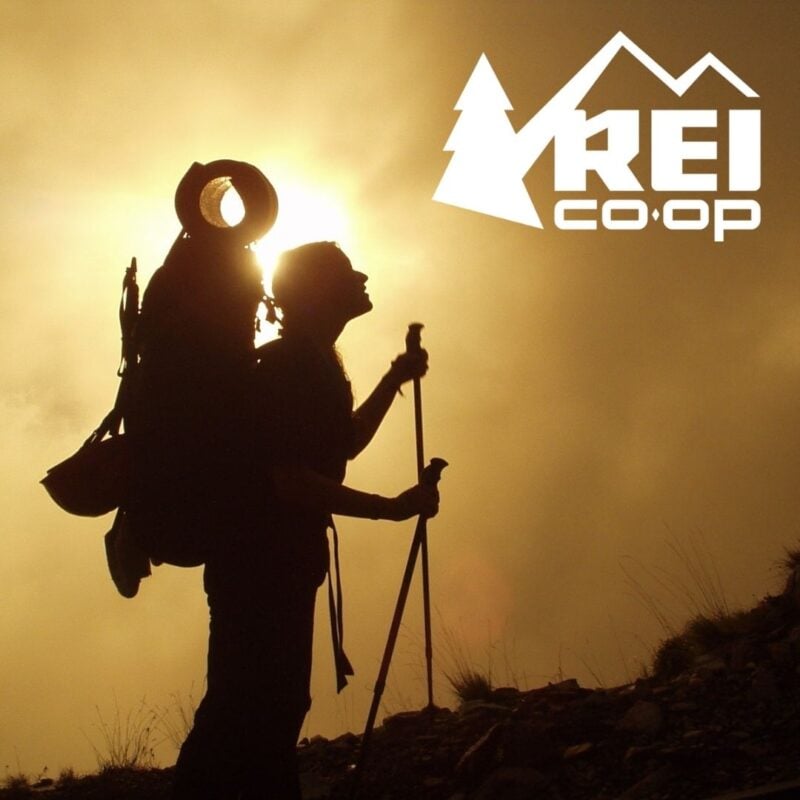 REI is one of America's biggest and most-loved outdoor gear retailers.
Now, for just $30, get a lifetime membership that entitles you to 10% OFF on most items, access to their trade-in scheme and discount rentals.
Join REI Today!
Tip #1 – Get The Right Bag
Step one is to know what you're working with. Finding your perfect backpack is no easy task, but the right bag is the difference between fumbling it and flipping it and tumbling it. No other singular item on the list will define how light you can pack more than which bag you're using.
If you use a 65-litre backpack, you're going to find it a lot harder to widdle your bag down. Even if you leave 25% of the bag empty, you'll be overpacking, and nobody steps out the door with their bag a quarter empty.
You can boil it down with some simple math: however many litres your bag can hold = the amount of stuff you will end up bringing. That's why I highly recommend using a bag you can fit in an overhead compartment.
It probably doesn't sound like a whole lot of space, and that's because it isn't. You'll have to maximise every one of those 40 litres to get the job done correctly. To do that, you'll need a bag that meets you in the middle. One 40 Liter opening compared to a multipocketed high-tech backpack makes all the difference in the world.
Our team recommends nothing less than the best, and the Nomatic 40L Travel Bag is the best bag for packing light in the business.
Nomatic's entire company is built around getting the most out of travelling with less. They have gear suited for all sorts of travellers, and their flagship backpack is one of the best modern home bases in the market.
This pack is full of surprises. With an included shoe compartment, laptop sleeve, laundry bag, and effervescent front pockets, you'll find a space for everything you need for short or long term travelling.
Throw it over your shoulder or carry it duffle style while you get through security in a breeze. Keep your clean clothes separated from your laundry and even find a dedicated space for your underwear.
Nomatic makes it easy to travel light by giving you organisation options that make the most out of limited space. Airlines restrictions aren't getting any more lenient, but these bags are getting a whole lot smarter. Take back your travel days and treat yourself to a fresh bevvy with all that time you saved getting through security.
Tip #2 – Use Packing Cubes
Our favourite kit: Nomatic Packing Cubes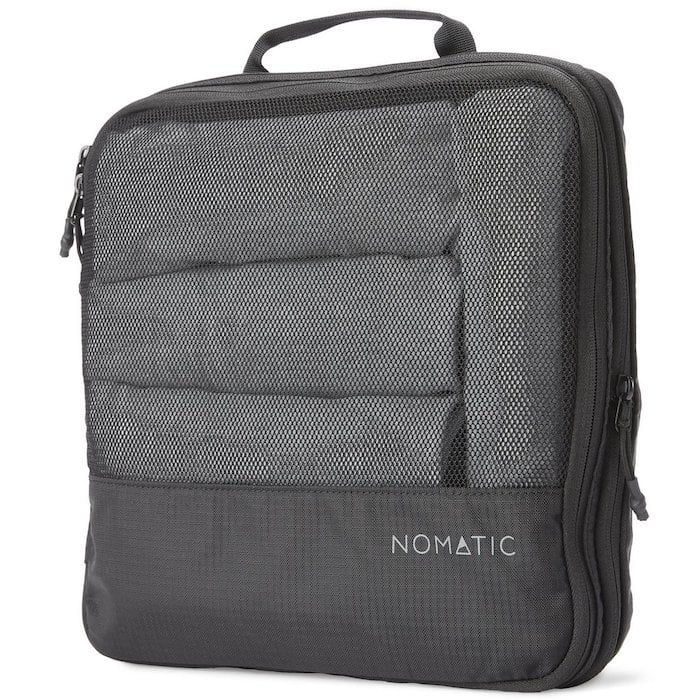 There is no such thing as too many ways to store. Use packing cubes for everything from socks and shoes to your electronic cords and chargers.
The main benefit of packing cubes is compression, as you can squish down these blocks to fill all sorts of spaces, but the benefits don't stop once you arrive. Most affordable accommodation options are relatively short on storage spaces, and your packing cubes can function as portable shelves or shower bags in a pinch.
High-quality packing cubes can squeeze and save valuable inches. Nomatic's packing cubes are a perfect fit for a multicompartmental backpack set-up. These three packing cubes should be more than enough space for all your clothing, and the see-through meshing makes it easy to only unpack what you need.
You can further organise your tool shed with three cubes that range from 10L to 1.5L of storage. You won't waste an inch as all of the bags can reduce by several litres depending on their fill. It's never a bad idea to jump on an opportunity to fit more into less space, and the right set of packing cubes will make it look easy.
Look for packing cubes with varied colours, remarkable features, or a see-through mesh material like Nomatic includes. Unicolored and completely sealed packing cubes can be more trouble than their worth if you constantly forget which one holds your t-shirts and which one stores the socks.
Tip #3 – Choosing What To Bring
Now that you've laid out all your storage options, you should have a great idea of what kind of space you're working with. Hint: it's less than you think! We'll all have to leave a few of our favourite t-shirts behind when condensing our lives.
This step is where the real fun begins.
A few items on the universal packing list should serve as about 35% of your overall packed weight, and everyone will have plenty of personal choices to make. Your packing list will be dictated mainly by the climate you're heading towards. These articles of clothing will always account for every itinerary's bare minimum: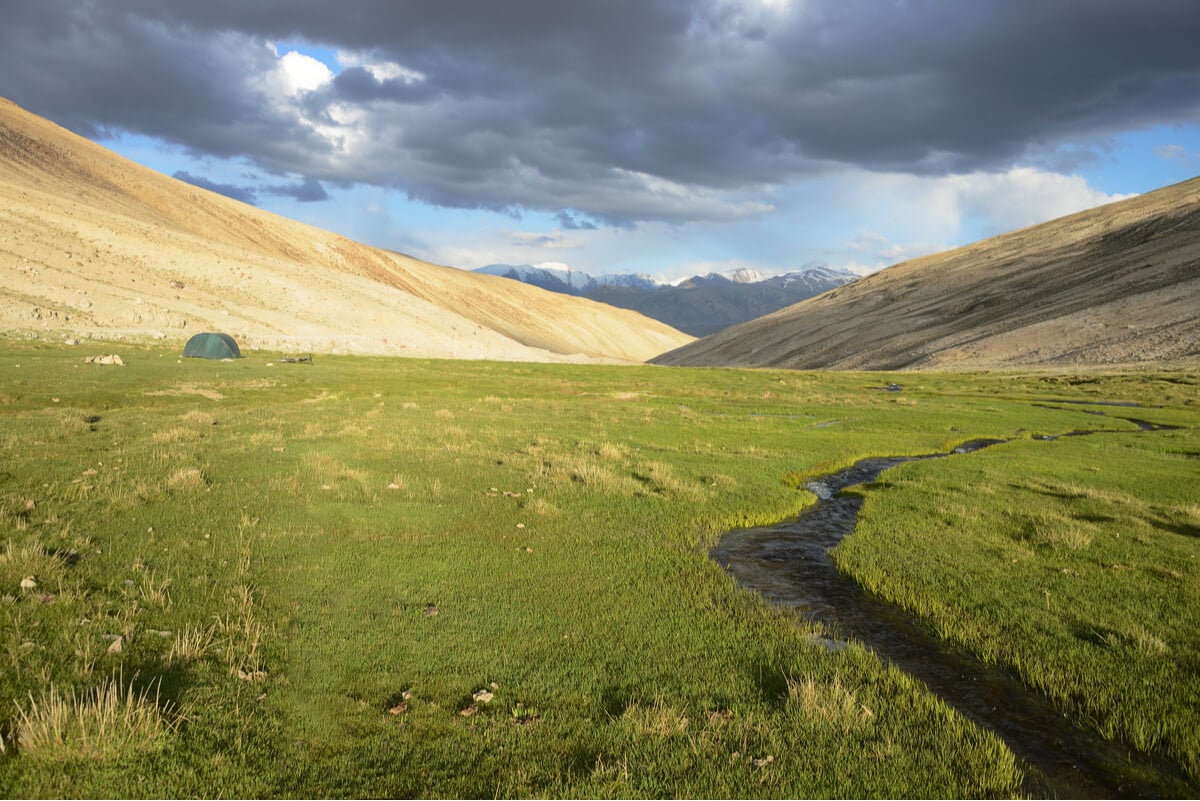 7 Tops
3 shorts
3-4 pairs of underwear
3-4 pairs of socks
1 swim trunk
1 hoodie
1 Pair pants (+1 worn on travel day if you're headed north)
1 piece of rain gear
2-3 pairs of shoes
The hardest part of packing light is cutting down on clothing, but it has to be done with vigour. Cramming everything into a carry on means absolutely no more than one week's worth of clothing coming along.
Keeping these tricks in mind while packing your bag will help you solve difficult questions and push you towards a lighter backpack.
Oh, you should also know what NOT to pack too, including things like liquids, weapons and ya know, snakes too!
When in doubt, leave it out
Convincing yourself you don't need a solution to every problem is the hardest part of packing light. Typically clothes are where we leave our guard down the most. It all starts with, "it's just one t-shirt, it can't weigh much" and ends with a packing cube stuffed full of tank tops.
Especially for your first attempts at packing light, leave any 50/50 items at home. You quickly realise there are very few items in your backpack you truly can't live without. I don't remember hearing many people living out of bags who wish they had packed more stuff, but practically every backpacker is looking for ways to reduce weight.
To get the most out of your space, wear your heaviest clothing items while flying. Most adventures will only require one heavier coat or even just a sweater that would take up the same space as an entire week of T-shirts.
Not only will this save you space, but it will also keep you comfortable through climate-controlled settings. Aeroplanes and terminals stay cool, and the extra layers can quickly double as blankets or pillows if they aren't needed.
Your largest pair of shoes, pants, and tops should make up your travel day outfit. Looking at our universal list, I like to wear my sweater, only a pair of pants, heaviest shoes and rain jacket while I'm heading through airports.
Nobody wants to head through security looking like they just came crawling out of the woods, but wearing your hiking boots saves so much packing space I could care less. Sometimes I'm hotter than I'd like to be when I arrive at a tropical place, but it's a small price to pay to remove my three most enormous pieces of clothing from my luggage.
2-3 pairs of shoes will Do
Wearing your heaviest sneakers can only do so much. Shoes are just too bulky to justify bringing along a few extra pairs. You'll have to make some hard choices and leave a few of your favourites at home, so select only your most multifunctional trainers for the mission.
Versatility is the name of the game across your pack, but having several sets of skills is extra important when it comes to footwear. Narrow it down to two to three pairs of shoes that can all handle different scenarios.
I like to group up one pair of waterproof hiking boots comfortable enough to wear around town with a couple of sandals when heading to the tropics. Cold weather changes those out for warm boots and a quality set of slip-on sneakers.
The best part about packing fewer shoes is not feeling guilty at all about picking up the latest in authentic 'Nikki' slides at the local four-way intersection.
Bring a pack inside your pack
One bag travel has one major flaw: no singular bag is best at fulfilling every niche. A 40L backpack is incredibly lightweight for a typical piece of luggage, but it's way too big to work as a day pack.
Without a packable bag, you'd have to unpack your entire suitcase every time you want to throw a few things together for a day out or haul your clothes with you on the tour.
A Combination of bags better bet than a one-bag-fits-all solution. Everything you own could be going inside your packs and then onto your back, so we've got to get it right. Packable backpacks are bags that can reduce small enough to fit in your more giant backpack on travel days and come out to play once you've checked in.
These bags can stretch your 40L's into 60 once you get there, or just bring on a sweet day pack without checking bags. Some of these packable bags are just glorified gym bags, but others can haul some serious gear.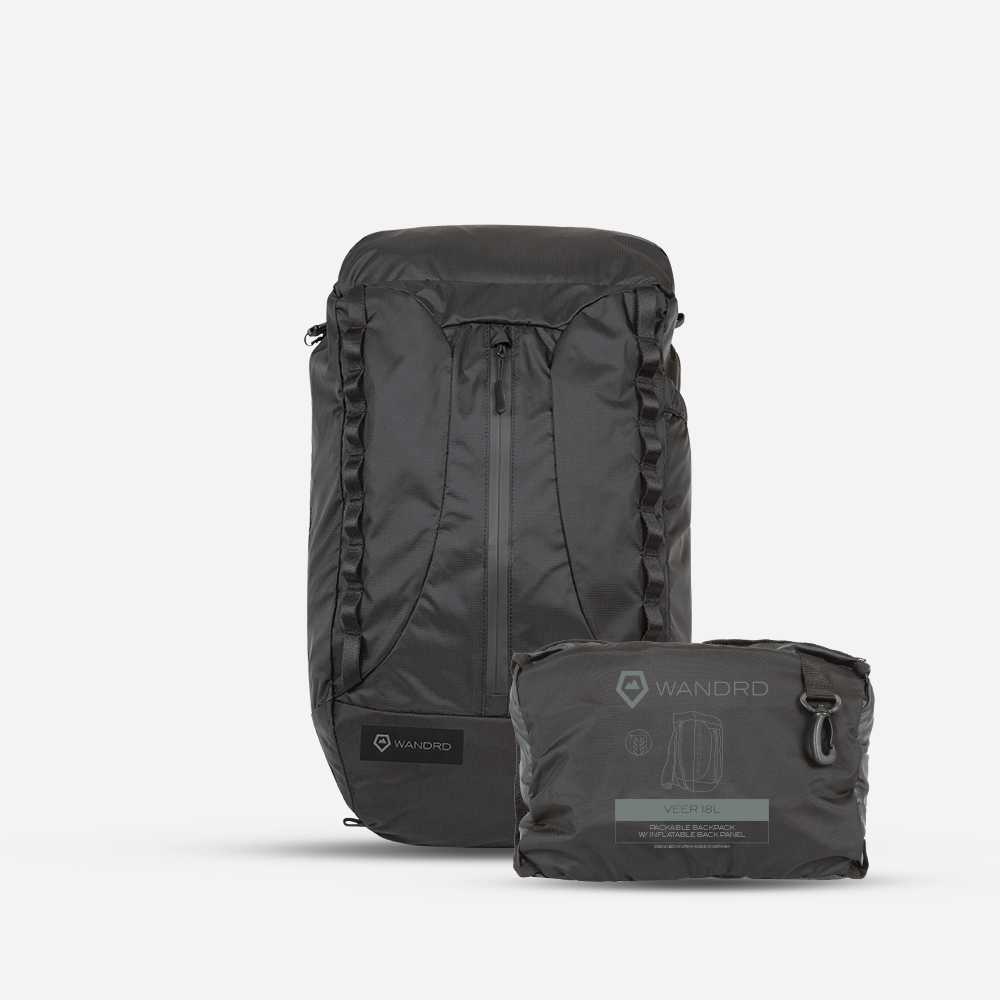 The cream of the crop is this VEER Packable Bag. The bag redefines a breathable back panel by adding on an inflatable frame. This allows the packable pack to condense down to 6″ x 9″ and expands out to an 18L carry-all complete with an inflatable back frame. It's the most heavy-duty packable bag on the market.
You'll have more than enough space for groceries, a packed lunch, or a change of clothes on a pool day, and the weather-resistant zippers make the bag ready for more serious adventures. Wandrd even adds shoulder straps to ensure their pack is confident on long hikes.
The other main perk of packing across several bags allows you to really bend the TSA rules in your direction.
Case in point: Navigator Sling 6L, the lightweight packers perfect aeroplane companion.
I like to take advantage of the airline industries dumb policies any chance I can get as my revenge for some companies poor customer service. It's all about the little things, and the Navigator Sling is a little thing that sure can store some shit.
This sling pack is a professional personal item built for travellers who know exactly what they want to keep close. This pack rounds out Nomatic's arsenal of bags made for travel by providing space for your passport and inflight entertainment. Nomatic's smallest bag clips over a shoulder or straps onto a larger backpack until it's time to break out your tickets.
Suppose you are up against particularly draconian bag policies. In that case, you can keep this beauty hidden away until you reach your seat, stow your more unwieldy pack, sit back and enjoy the flight. Like every bag built for nomads, this pack's 6 Liters has storage quirks that provide a place for everything you need to get through the flight.
A good hip bag's ultimate ability is activated when the plane runs out of overhead storage. If you ever feel like taking advantage of a free gate check, you can let your larger bag meet you at your destination and rely on your sling to take you across your travel day.
Once you have a rough idea of what you want to bring, lay it all out neatly so that every item is visible.
If you start the process by throwing things into your bag without regard, you could end up halfway through the process with a full backpack, unsure if you've already packed underwear. And the benefits don't stop there.
This layout will give you much-needed perspective and get a good glimpse of how much space everything will take up. I typically start packing by laying out everything I want to take and checking that each item truly fulfils a void in my pack.
Seeing everything stacked together helps me realise how much space it all actually takes up. Once it's all on display, it's time for cutbacks.
Shop for multi-purpose clothing
At every corner, you'll have to be brutal with your clothing selection. The sooner you can give up on having an outfit for every occasion, the better. You can reduce your closet and still smile in your fit check as long as you get creative.
A fast way to cut back on clothing is by investing in versatile multi-purpose T-shirts made of breathable materials – as long as you don't forget deodorant!
High-quality materials can help the shirt last longer between washes and keep you feeling fresh. Spending a bit of extra coin on a T-shirt is absolutely a worthy cost when you could end up wearing it for a week straight. I try not to let many shirts and shorts into my pack that I can't wash in the shower, just in case.
Unfortunately, this also means avoiding some specialist gear wherever possible. Good ole fashioned generalists need not bog themselves down with too many details. Unless you're travelling for a specific purpose, any one-time use items are not worth their weight.
There is one major exception to this rule; rain gear. Luckily, A waterproof jacket doesn't have to bring a significant burden. Many trips won't require anything more technically advanced than the right packable rain jacket, AKA the Thunderlight Rain Jacket. Thunderlight's slim overcoat fits into its own large pocket and quickly rolls out and provide cover. You won't find many rain jackets this flexible that still took the time to fully tape the seams and hems.
This ain't no flimsy poncho passing as weather protection, this is the real deal. Weighing in at less than a half kilo, it's got an attachable hood that works with the same inside lining as the rest of the jacket. It pumps in a surprising splash of heat.
And it all wraps up into a bag the size of your fist. Shove it down a deep dark corner of your larger bag on a travel day and immediately switch it into your day pack once your adventure begins.

Do You Want to Travel FOREVER??
Pop your email in below to get a FREE copy of 'How to Travel the World on $10 a Day!'.
Tip #4 – Toilet Talk
Banned from the dinner table and heavily regulated by TSA, packing your toiletries for carry-on travel is no simple task.
Before we dive into the specifics, remember the golden rule of toiletry packing: most toiletries can be bought on the other side and at a much lower price, depending on where you're headed.
Toiletry bag
Everything you'll need for a month-long trip can fit in the Nomatic toiletry bag and slip into a corner of your larger luggage. I like to keep my toiletry bag close by during travel days, so I save packing your toiletry bag for the end to guarantee easy access.
Your toiletries can seem an obvious choice to tuck into a forgotten corner of your bag, but you're playing a dangerous game. I think we've all noticed a sharp uptick of delays lately, and it's only a matter of time before you're spending some quality time stuck in an airport.
Keep at least your toothbrush and deodorant in a convenient pocket. A breath of fresh air will keep your mind centred through flight delays and focused on getting your toes in the sand.
Numatics Toiletry bag has a dedicated toothbrush pocket that keeps your teeth cleaners fresh and handy. The bag is full of organisational pockets that help you stay on top of things. Keeping make-up, medicine, and cleaning products in their respective containers instead of one giant black hole helps everything make it through the trip without spilling.
The added perk of all those extra pockets is this toiletry bag's hanger set-up, which opens the bag up vertically and turns your travel bag into a multi-shelf toiletry cabinet. Toiletry 2.0 works perfectly alongside the best lightweight travel packs to create a formidable duo.
Only bring the essentials
You can quickly lower your actual footprint by packing the bare essentials. This guide is geared around carry-on travel, which means you can't bring anything over three ounces anyways.
Your toiletry bag can start the trip incomplete and slowly fill up along the way. Most over the counter medications can be found anywhere, but do some research on your chosen destination country while formulating your toiletry bag.
Focus your initial packing on prescription medication or speciality items that make the flight more leisurely, like melatonin and Advil. Tack on a basic first aid kit, and you'll be good to go.
I suppose there are specific luxury items you'd rather not travel without. You can always head to most local department stores' sample counter or travel-size section to find a perfect travel-sized bottle before departure.
They may not have the same brands at your final destination, but you'll be able to find enough duct tape and WD-40 to get the job done. And if things don't work out, remember the second golden rule. No matter where you are, you can find a pina Colada.
Even when canals get blocked up, practically everything you need to thrive in a new community is already there.
Another tip when it comes to packing light, forget that massive and heavy wallet and bring along the minimalist Nomatic Wallet instead.
Sunscreen
The same mantra doesn't apply to sunscreen. Any place you go where you will need sunscreen is aware that you will have to pay for it no matter what it costs.
Here are the facts: sunscreen will be more expensive at the beach. Locals tend to use way less than tourists, so nobody cries afoul when a bottle of sunblock costs upwards of 30$.
Sunscreen will be cheaper at home, so be sure to stock up before you go – and don't forget to transfer them into carry-on approved Small Liquid Bottles. Use these toiletry wizards for everything from shampoo to bug spray to avoid any headaches.
Small Liquid Bottles
Carry-on only travel disqualifies lots of liquid toiletries and beverages unless you get creative.
Anything you can't find in your final destination can make the trip if you manage to transfer them into airline-approved sizes. Bottles like these transform your bathroom into 20 air travel certified containers, complete with leak-proof lids and varieties of dispenser options.
My favourite feature is the unscrewable bottoms that allow you to easily refill your bottles without trying to throw together a makeshift funnel out of paper and aluminium. Don't forget to label each bottle before you start putting your sunscreen on in the shower!
Don't Forget to Bring A Towel!
Carry-on Travel doesn't leave much space for a lush full-sized cotton towel, but the right travel towel is as close to essential as any part of your bathroom kit. There is no guarantee your accommodation has towels, and it's always nice to have something to stretch out on or take to the beach.
Your one-stop travel towel stop is the Matador NanoDry Packable Shower Towel. This legendary accessory has been in the running for the best accessory every year since its 2018 release. Its critical acclaim is thanks to the fact that this full-sized towel compacts down and fits inside its own carrying case to provide a portable towel that won't soak everything else in your bag.
The five-ounce towel fits into the palm of your hand and weighs less than six ounces, and expands to absorb 2.3X of its own weight in a quick-drying package. 
The best present of all… is CONVENIENCE!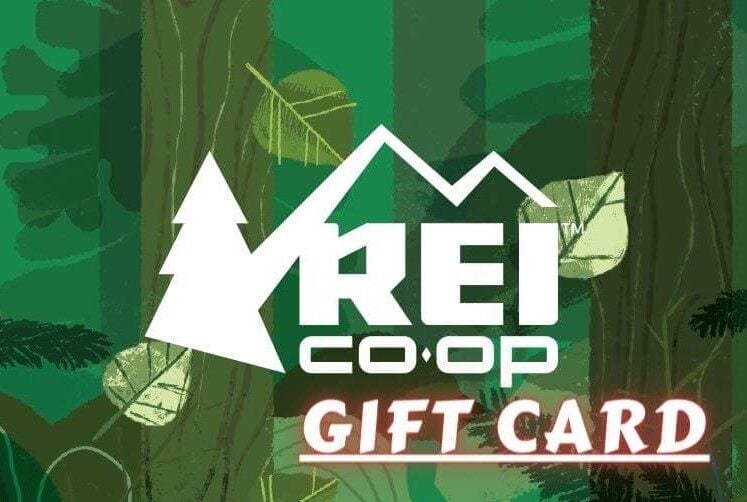 Now, you could spend a fat chunk of $$$ on the WRONG present for someone. Wrong size hiking boots, wrong fit backpack, wrong shape sleeping bag… As any adventurer will tell you, gear is a personal choice.
So give the adventurer in your life the gift of convenience: buy them an REI Co-op gift card! REI is The Broke Backpacker's retailer of choice for ALL things outdoors, and an REI gift card is the perfect present you can buy from them. And then you won't have to keep the receipt. 😉
Buy on REI!
Tip #5 – What About Tech?
There's no magic formula. Travelling with loads of tech makes it kinda hard to travel light. You'll have to accept your tech for the burden it is or learn to live without some of your bigger gear.
Ask yourself some tough questions
Do you need a big DSLR camera, or will your phone do? Do you need a laptop, or will your device do?
A DSLR camera and laptops are frequently the heaviest items on my potential packing lists, and every trip, I get close to leaving one at home, but that quality is just tough to replace. I would love to sit here and tell you that everything you need to work on the road can be done with an Ipad mini, but that's just not the case.
Anyone working from the road may have to suck it up and carry the extra gear. Quick trips are a whole other ball game. Turn up vacation mode and leave the laptop at home. Just bring something light enough to entertain you through your travel days.
The DSLR debate is a whole other ball game. It could be a great excuse to upgrade your phone, as some of the latest iPhone camera technology rivals anything I could capture with a heftier set-up.
Still, there is no lightweight way to shoot from a distance or capture certain high-quality shots, so decide what's more important to you, your weight or your equipment.
Tech that works towards light packing
Not all electronics have to add on loads of weight. These items will fit into the most minimalist lists out there, and that's because their value far exceeds their lightweight.
This handy tool turns one outlet into three USB-B ports, one USB-C connection and the international connections to plug into walls around the world.
These days, just about everything can be charged by USB, so grabbing an adaptable USB splitter can help drop weight slightly. The right power adapters can easily be converted to work intercontinental style, so you'll never be too far from a full charge.
A headlamp is a camping essential and you don't have to be heading into the woods to take advantage of some high-tech headgear. Whether it's for some casual spelunking, reading after light's out, or coping with surprise outages, this headlamp has far more uses than ounces.
three AAA batteries will power this waterproof light for hours, and an optional redlight setting will help you see through the night without attracting any bugs.
Amazingly enough, some airlines still haven't found it necessary to add device charging capabilities to their aircraft. Add this to the fact that most local taxis and tuk-tuks don't have wall outlets, and a portable power bank will pay for itself on your first travel day.
Love it or hate it, we can't get very far with dead cell phone batteries these days. This portable power bank is the cream of the crop, and it comes with a $25,000 connected equipment warranty to declare its prowess in powering sensitive electronics.

Our GREATEST Travel Secrets…
Pop your email here & get the original Broke Backpacker Bible for FREE.
Final Thoughts On The Art of Packing Light
Less is more when you're carrying your whole life on your shoulders. The final key to packing light is getting rid of your gear attachment. I don't mean you should travel around without a sense of style, but you'll have to let go of some hits while consolidating.
If you can't imagine losing something, don't bring it with you. You'll have to get rid of something eventually. Bags don't expand as your trip moves along; they just fill up unless you and your merry reindeer do all your travelling on Christmas Eve.
Looking to shed weight after your trip has already started? Try out a light packing as you go system, getting rid of any parts of your kit that doesn't prove helpful. If you've been carrying around something in your bag for a few months and never worn it, it's time to say goodbye. In the right hostel bartering system, that heavy flannel for which you don't have space becomes a free dinner.
While I was learning how to pack light the hard way, I had to ditch a green jacket in the Portland airport to get my bag closed enough for gate check. I still miss that coat, and if I had just left it in storage, it could have really helped out later.
We all have favourite t-shirts, pallets and combos that aren't practical enough to come with us, and if you want to travel with loads of options packing light may not be your strong suit.
That's totally okay. Living out of an XL daypack isn't for everyone. If you plan to stick around one place long enough to unpack for a while, you may not mind lugging an extra bag through the airport once every couple of months. Nobody knows your particular travelling style better than you do.
What I do know, through years of lugging heavy packs across deserts, jungles, and chicken busses, is that you rarely find a traveller who doesn't want to cut back a few pounds. Even going from three to two bags is a step in the right direction, and I guarantee you won't ever dream of packing heavy again!
---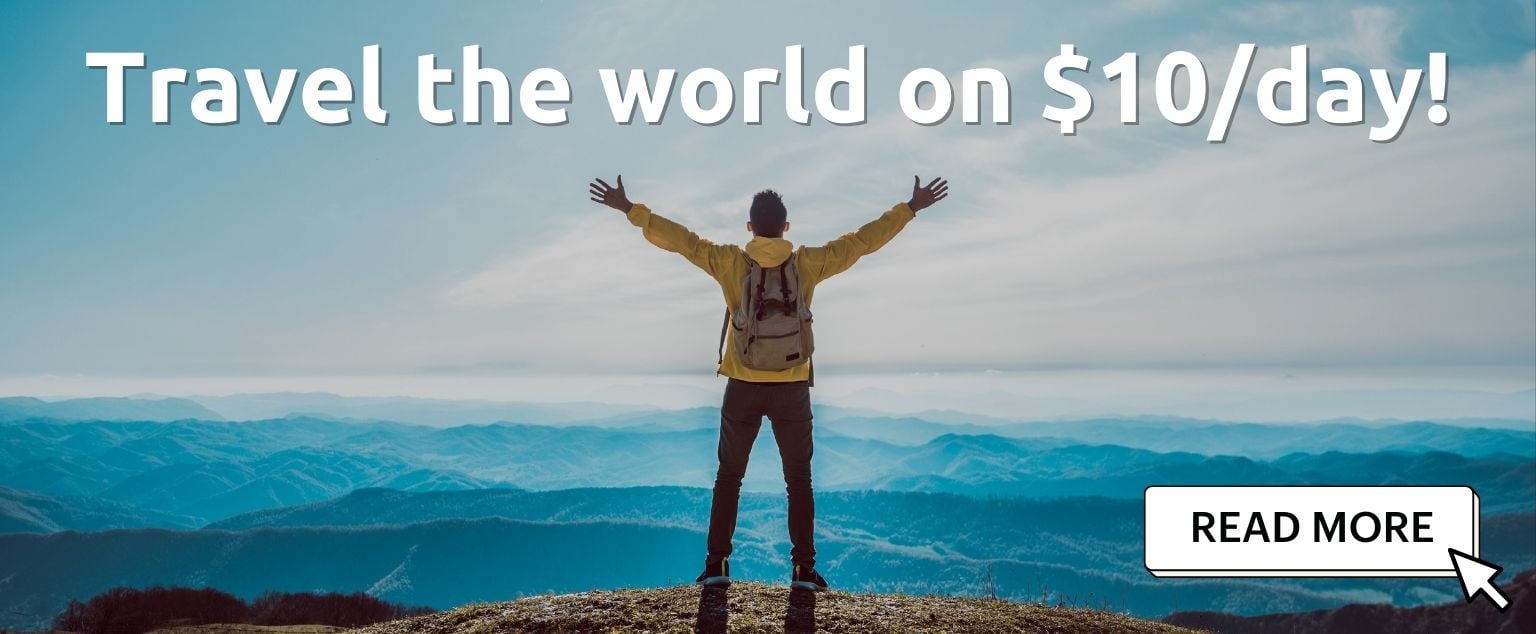 And for transparency's sake, please know that some of the links in our content are affiliate links. That means that if you book your accommodation, buy your gear, or sort your insurance through our link, we earn a small commission (at no extra cost to you). That said, we only link to the gear we trust and never recommend services we don't believe are up to scratch. Again, thank you!