If you're looking for the best men's weekend bag right now, well, you've come to the right place. On this epic list we've got just about all the bases covered with all sorts of bags: durable, carry-on compliant, canvas, laptop-friendly, stylish, outdoorsy… it's all here!
For when a day bag is way too small, but a big ol' travellers backpack is way too big, a weekend bag is the just what you need. With just enough capacity for a few days worth of clothes and other essentials, you won't feel laden down with luggage when you're only embarking on a short trip.
And these days there are some pretty amazing backpacks and bags that are doing wonders for short-term travel. Most of our choices are carry-on compliant, meaning flights are so much less hassle than they would be with checking luggage for just a few nights away.
There are a lot of different things to consider when you're thinking of getting a weekend bag, all of which we have taken on board for our handy list of the best of the best in the world of men's weekend bags. There's no doubt that you'll find something that's perfect for you.
Quick Answer: These are the Best Men's Weekend Bag of 2023
BEST OVERALL MEN'S WEEKEND BAG
BEST OVERALL MEN'S WEEKEND BAG
Nomatic 30L Travel Bag
Price: $$$ >
> 30L capacity
> Tarpaulin & ballistic nylon weave
Best Small Weekend Bag For Men
Best Small Weekend Bag For Men
Tortuga Travel Pack
Price: $$ >
> Carry on sized
> Laptop and tablet sleeves
MOST DURABLE WEEKEND BAG FOR MEN
MOST DURABLE WEEKEND BAG FOR MEN
Solgaard Lifepack
Price: $$ >
> Patented anti-theft lock with coil design
> Includes Solarbank – a powerbank with solar charger
BEST CARRY ON WEEKEND BAG FOR MEN
TOP LEATHER MEN'S WEEKEND BAG
TOP LEATHER MEN'S WEEKEND BAG
Kodiak Leather Backpack
Price: $$$$ >
> Top-grain leather
> Padded, adjustable Backpack Straps
BEST DESIGNER MEN'S WEEKEND BAG
GREAT WEEKEND BAG WITH A SHOE COMPARTMENT
MOST ORGANIZED WEEKEND BAG FOR MEN
MOST ORGANIZED WEEKEND BAG FOR MEN
Nomatic Travel Bag 30L
Price: $$$ >
> Durable / Water Resistant
> Ventilated Shoe Pocket
BEST SEGMENTED WEEKEND BAG
BEST SEGMENTED WEEKEND BAG
Matador Seg 30
Price: $$ >
> Great organisation
> Pretty light
Best Men's Weekend Bags of 2023
Winter is coming… WARM UP!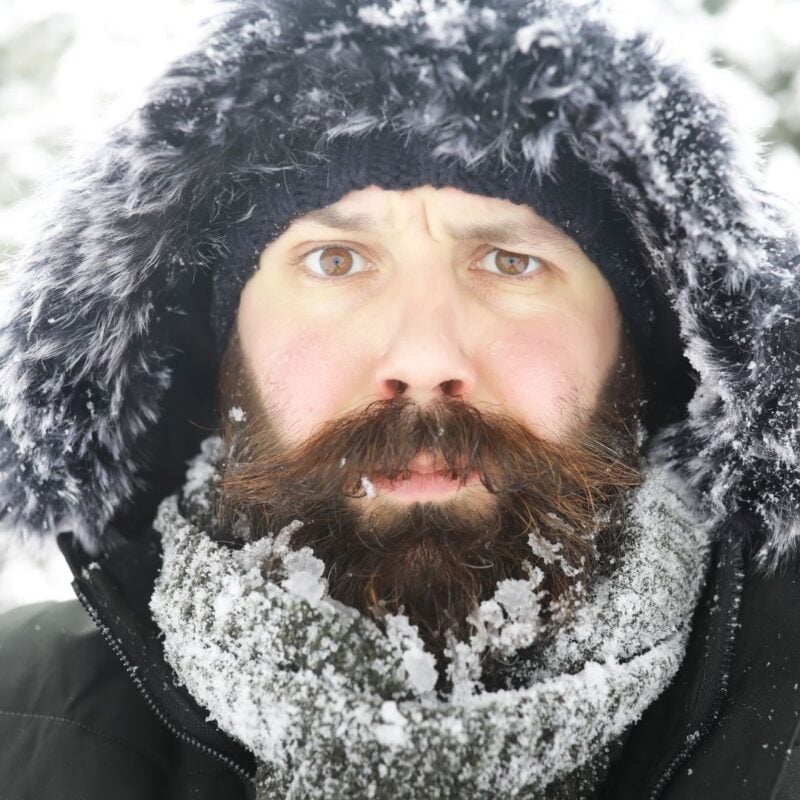 Get up to 50% OFF when shopping gear for the winter on REI.
Warm up for the holidays and SAVE on outdoor gifts all the way through Dec 18!
View on REI
#1 – Best Overall Men's Weekend Bag
Our favourite carry-on pack is that little doozy from Nomatic. Custom designed for long weekend breaks and short trips, this weekender bag is equally useful for taking on flights, down the gym and to the store to buy booze.
It is 30 liters, making it carry-on compliant just about everywhere (except perhaps in The Shire). Its tarpaulin and ballistic weave materials mean this pack will last you for years to come unless you pack a bomb in it of course.
Whether you are traveling for a business trip or you are a Digital Nomad packing for traveling the world, this will keep your laptop and valuables well secured all while looking stylish. Plus, you'll have more pockets and sleeves than you know what to do with.
Now, I do know some hardcore minimalists who can last for a few weeks out of a bag this size but personally, for me it is big enough for a weekend.
Its top features include an RFID Safe Pocket, Roller Bag Sleeve, a dedicated Underwear Pocket, Cord Pass Through, hEasy Access Pocket, Water Bottle Pocket, Innovative Strap System and waist Straps.
Looking for something smaller than extends when you need it. Have a look at the Nomatic Travel Pack instead.
#2 – Another Men's Weekend Bag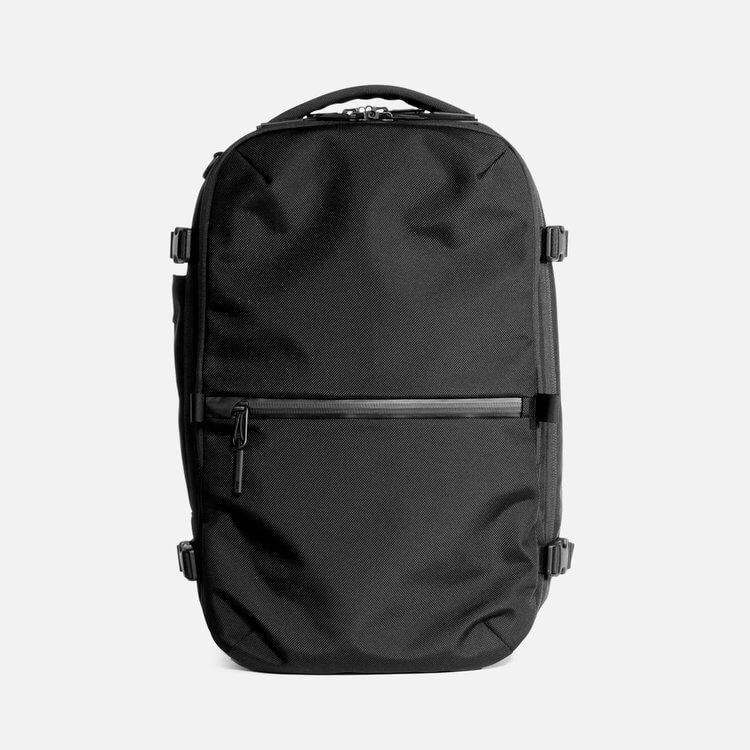 Nomatic is only available in the US so this is the perfect prescription from those of us from the other 196 countries. The AER Travel Pack 3 is a solid option when it comes to weekend breaks, getaways, road trips – any short trip. Aesthetically, it fits in on a city break, but for more rugged trips, this awesome backpack is designed with durability in mind, with waterproof material and sealed zippers.
This backpack is a tough, durable offering that is the sequel to AER's popular Travel Pack. The second edition has some updated features and great components to make it a long-lasting backpack – a travel companion that's easily the best durable men's weekend bag.
With a 35L capacity, there's enough room in here to fit pretty much everything you might need for a trip away, not having to worry about any other bags.
The AER Travel Pack 3 is made of 1680 denier cordura ballistic nylon weave – in layman's terms, that means it's very, very durable and shouldn't break under weight, stress, and definitely shouldn't tear at all when you're using it all. In addition to that, this pack has YKK zippers, EVA foam (for comfort) and Duraflex buckles to tie it all together.
So basically, what you get with this backpack is a top-quality piece of kit that should last you for as long as you want it to, with a minimalist, black and low-key aesthetic that won't make you stand out anywhere you might travel.
#3 – Best Small Mens Weekend Bag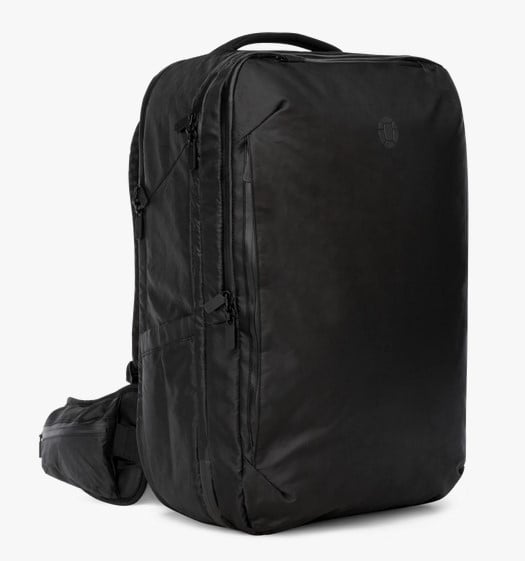 With this backpack, Tortuga have solved the problem of just how frustrating a hiking or "typical" backpacking pack can be. Instead of having to stuff one massive compartment with all of your luggage – and having to rifle through it all to find what you want – the Divide Backpack is full of organisational wonders and a clamshell opening for a stress and hassle-free trip.
Inside this top expandable weekend bag for men, there's dedicated space for a 15″ laptop (or 9.7″ tablet) as well as enough room for clothes good for 3 to 5 days worth of travel.
A major plus of the Tortuga 30 L Travel Pack is that it's carry-on compliant with all airlines: no extra fees, no waiting in line, no lost luggage.
#4 – Most Durable Weekend Bag for Men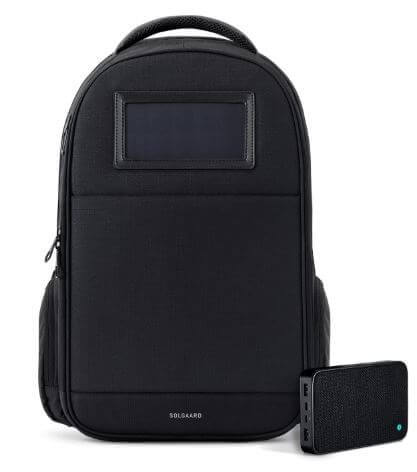 If you're looking for a top weekend bag for men for city breaks where you aren't packing at ton of gear, then look no further than the Solgaard Lifepack.
You should definitely consider this cool looking backpack if you want to travel with expensive kit, like your Macbook, or a valuable camera, because this backpack is all about its anti-theft credentials.
What does that entail? For starters, there's an anti-theft lock with a coil design that means no one should be tampering (successfully) anytime soon. It's also got drop-proof laptop storage and secret pockets for your passport and travel wallet, to keep your valuables as safe as they can be.
But we suppose you might be wanting to take some clothes and toiletries with you alongside all those gadgets. Don't worry: there are also "life zone" compartments, where you can pack a few spare pairs of underwear, T-shirts, and that sort of thing.
One of our favourite things about this cool weekend bag for men is that it comes with its very own solar-powered power bank. How awesome is that? Now you'll never lose battery life in your smartphone.
#5 – Best Carry On Weekend Bag for Men
Known usually for their specialist hiking and outdoorsy offerings, Osprey have made a leap into the sleek and stylish world of carry-on backpacks, perfect for digital nomads and the like, which still boast Osprey's trademark comfort credentials.
Though the clue is in the name of this pack, Osprey's Transporter Global Carry On also happens to be our favourite carry-on weekend bag for men. Available either in "westwind teal" or black, this bag is for independent travellers who want to get right into their vacation or trip away as soon as they arrive at the airport: no suitcases, thank you very much.
That said, it does have a suitcase sleeve, meaning it can be used as an additional carry on bag alongside a suitcase for longer trips.
The interior pockets of this Osprey pack have been designed to keep your clothes, electronics, accessories and documents separate, with an external compartment for toiletries, too.
This bag is really comfortable, with padded shoulder, waist and sternum straps. It's tough, too!
Travelling cattle class? Have a look at our specific Ryanair compatible carry-on bags for some other ideas.
#6 – Top Leather Men's Weekend Bag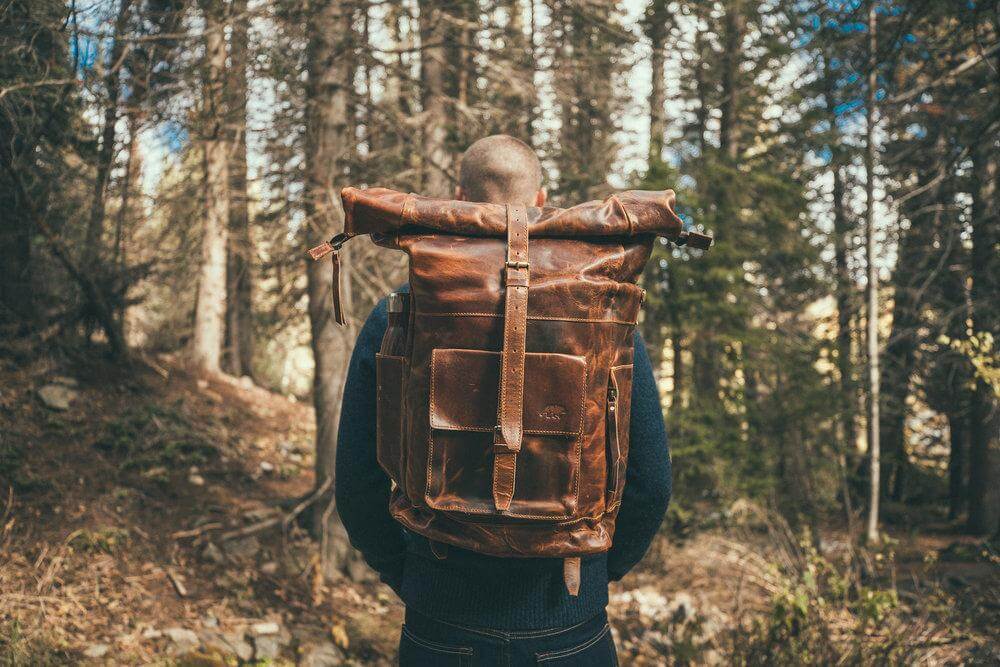 When it comes to style, Kodiak Leather makes some dope shit! Their classic woodsman-style bag has to be one of the best men's weekend bags out there. This vintage look is the antidote to nylon, rip stop carry on luggage offered up by the above brands, making for a more tactile, statement look – if you're into that kind of thing!
So if you're not interested in looking like every other digital nomad out there, with a black or grey cuboid of a pack sitting on your bag, then our top choice for the best leather weekender bag for men out there should be something you consider!
And, just in case you were wondering, this isn't all style: there's a whole lot of substance going on here, with a load of design features to make it comfortable, durable and versatile.
We're talking padded, adjustable backstraps, easy access side open pocket, a fully padded laptop sleeve, interior phone pocket, and adjustable magnetic buckles to name just a few. All of that with top-notch quality, top-grain leather, and the awesome feeling of investing in a bag you'll be carrying for decades.
Tip: want more leather bag options? Check out our favorite leather duffel bags here!
#7 – Best Designer Men's Weekend Bag
It isn't the weekend without a bit of leather right? (did I just overshare there?…). This do-it-all leather weekend bag from the designer leather goods brand Harber London delivers all your one bag travel needs no matter the itinerary with unmatched handmade details. Every inch of this bag was thoroughly inspected and tested to deliver years of epic trip taking. Its perfect for digital nomads, movie stars and even hitch hikers with cash on account of its suave and sexy stylish design.
It has seven outer pockets including one for a water bottle. Then, you can take advantage of the front zippered pockets or wide side openings to keep the main compartment zipped for the little things like keys, ket or coins.
Once it's time to go inside the main compartment you can really feel the soft microsuede cushioning that will protect all of your valuable. Its a lovely finish to this quality bag. This bag is stylish, functional, hard wearing and made for the road. But it is a tad on the expensive side.
#8 – Best Men's Weekend Bag for Minimalist Travellers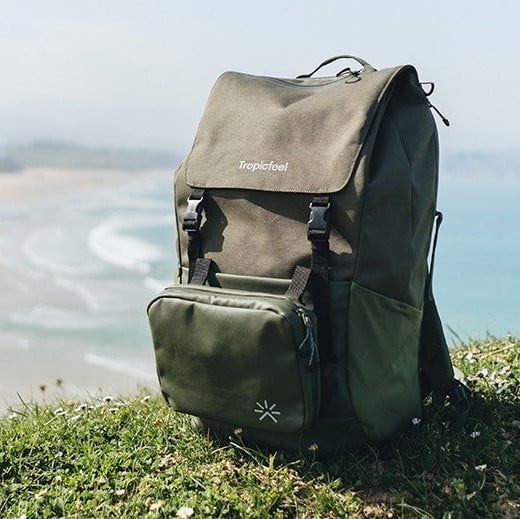 The Shell by Tropicfeel is a relatively new find to us at the Broke Backpacker but may just have changed the very fact of one bag travel. Firstly, the Tropicfeel Shell has an adjustable capacity extending from a 22L day pack to a full 40L carry-on, overnight, weekend sized pack. This saves you from having to bring a second pack to use for day trips and visits to the beach. Result.
The next awesome feature is that it literally comes with a built-in hanging wardrobe! You pack your clothes neatly into the mesh wardrobe, pop it inside the Shell and then unpack it and hang it up once you arrive at your destination!
It's a great bag for those who like to travel neat and also for business people who kind of need to stay presentable and organised. It's made from fully sustainable materials making the Shell an all-round hit with us at The Broke Backpacker.
#9 – Best Camera Ready Weekend Bag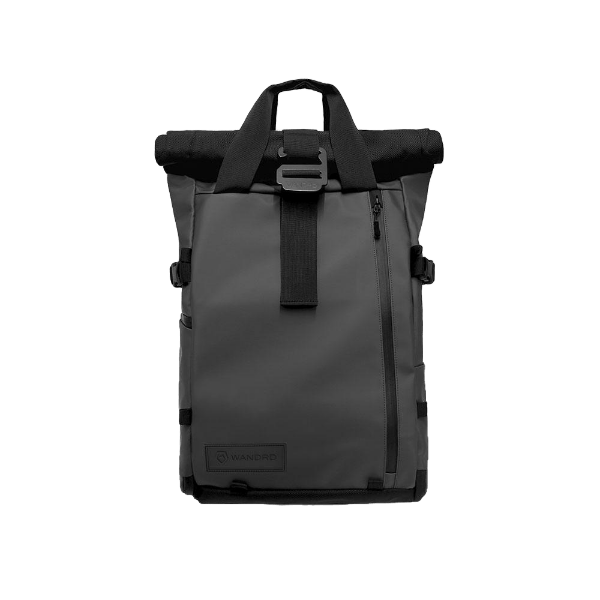 If you're looking for a decent option for a camera ready weekend bag, then you should stop and take a look at this affordable offering from Wandrd. Constructed from heavy-duty, durable canvas material, there's a lot going on inside – and outside! – this bag.
Not only can you use this top men's weekend bag as a backpack, but you can zip it down like a carry-on case and utilise the dedicated, tech ready compartment for laptops and cameras.
On top of that, the Wandrd Prvke 31 Canvas Backpack is pretty cool looking, with faux-leather detailing that mixes well with the rustic, tuned down canvas body. It's also got a pretty decent capacity (31 increasing to 35 litres), with enough room for more than just a couple of days worth of clothing.
It can work just as well as the daily bag you use for work, carry on for a trip away, or on a weekend getaway from the city.
Inside you can slip your electricals into a dedicated laptop compartment; there's space for a water bottle on the sides, and there's interior zip pockets for items like wallets and keys. It's got just about everything you need!
#10 Best Weekend Duffel Bag
The All new weekender from Stubble & Co is made from water repelling British Millerain Tekwax and designed for hard wearing, rugged exploration. It boasts a 60L capacity (although a 30L version is also available), it has detachable, padded shoulder straps, mesh pockets, solid brass studs and safe and secure inner pockets that are just perfect for stashing valuables.
In terms of packing and access, its a very simple design with a main, zip-able top access point in which you can pack all of your clothes and weekend gear.
Want more options? Check out our rundown of the best Stubble & Co. bags.
#11 – Great Weekend Bag with a Shoe Compartment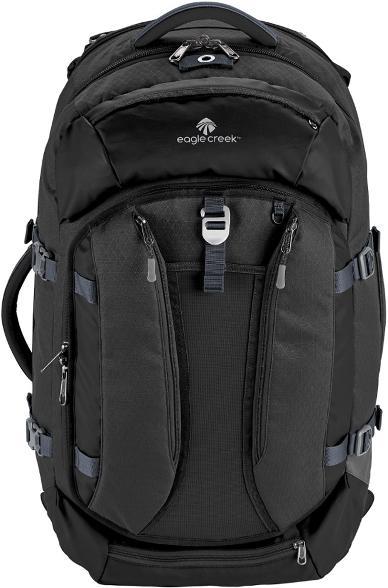 The Eagle Creek Global Companion is a 40L pack that will keep you organised on your travels – no matter where you're heading. It's carry on compliant with most airlines, but 40L can come in on the top end on fussy and budget airlines, so make sure you double check the next time you're flying on one of those.
The company claims that the Global Companion, true to its name, is a "organisation machine" – and we're not gonna argue with them on that one. Our favorite pocket has to be the shoe compartment, which will keep your… aromatic kicks away from your clean clothes.
But that's not all the Global Companion can do.
Aside from being an awesome weekend bag with a shoe compartment, there's top, bottom and middle access to the bag, dual interior compartments, laptop sleeve, panel pockets, mesh pockets, side pockets – pockets just about everywhere.
In addition to a durable bottom panel, and a tuckaway rain cover, there's also ergonomic padding and moisture-wicking straps for extra comfort.
This one comes in black, blue or a funky pattern (which we love).

Do You Want to Travel FOREVER??
Pop your email in below to get a FREE copy of 'How to Travel the World on $10 a Day!'.
#12 Best Segmented Backpack
The Matador Seg 30 very recently came to my attention and has massively impressed me and become my go-to Weekend Bag. It packs in 30L of organised, segmented goodness allowing you to carry all you need for a weekend break and furthermore, to keep is properly organised.
The main compartment fully zips open like carry on case allowing for efficient packing and meaning you can even fit the odd bulky item inside. Then, the outside shell comes with 4 additional, little zipable compartments which accommodate a further 12l of storage – I use these sections for packing toiletries, chargers and socks. If you carry a laptop, then there is external laptop pocket on the inside back. Finally, there is zip able bottle pocket on the right hand side.
The Matador Seg 30 can be carried as a backpack, or you can carry it like a case.
#13 – Most Organized Weekend Bag for Men
When it comes to one bag travel, the Nomatic Travel Bag 30L pretty much has all bases covered. Easily one of the best weekend bags for men out there, this offering from relative newcomer Nomatic is worth taking on weekend breaks and short getaways.
Let's take a look inside the bag to see what's going on. There's a shoe compartment (mercifully ventilated). The bag can be work as a backpack or duffel, thanks to a removable strap, and opens clamshell style for easy packing. It's got a laptop compartment and lots of smaller pockets to keep your stuff organized – even an underwear pocket. A place for everything – or so Nomatic claims.
A major perk of this backpack is that it's carry-on sized, so you can bring it on which takes away all those lost luggage woes you may have experienced. Added perks, like packing cubes, are available at an additional cost but, to be honest, this bag – a digital nomad's dream – is great as is.
More Best Men's Weekend Bag of 2023
If you are looking for a men's weekend bag that is less of a backpack and more of a duffel, then you may have just found your perfect match in the Matador Transit30 Packable Duffel. It's one of the best travel duffel bags on the market for a number of reasons.
And it's not the sort of duffel you're thinking of. This one is smartly designed with a modern aesthetic that makes this more than just a 30 litre weekend bag. One of the best things about this bag's contemporary design is its durability: constructed with waterproof, 30D Cordura, and with internally sealed seams, this thing is built to last.
The Matador Transit30 wouldn't look out of place in a city or at your campsite in the backwoods. It's a versatile bag that's not too urban or too outdoorsy, which we love.
It comes in either black or "color dipped Indigo blue." And for a little bonus you don't have to carry this duffel like a duffel if you don't feel like it – the nylon handles also allow you to carry it backpack-style, which is cool.
There may not be a load of organisation going on here, but you can sure fit a lot into this tough bag. There is a small zippered side compartment, however, for those essential, easy to reach items.
When it comes to iconic men's weekend bags, the Herschel Little America Backpack needs to be mentioned. With its classic, old-school mountaineering look – toned down for everyday getaways and weekend breaks, of course – it's a pretty fashionable option, if that's what you're looking for.
If you've seen this Herschel bag out and about, you may think that it's just a flimsy fashion folly. But that's not the case at all. There's an air mesh back at work here, as well as fleece-lined and padded laptop compartment, and an internal media pocket with a headphone port. It'll last you for years!
One of the best things about this cool weekend bag for men is the sheer amount of colours that it comes in. It's not just a couple. It isn't 5. It isn't 10. It's 57! So the chances of you seeing someone out and about with the same colour Herschel as you (because, let's face it, it's a popular bag) are relatively slim. And let's not forget those buckled straps – very cool.
As a versatile icon of a bag, it's perfect for everything from hiking, bumming around in cafes, or as carry on luggage on a plane.
The Solo New York Weekender Backpack Duffel is a fairly unique, individual looking backpack. It's designed to suit an "on the go lifestyle", and we pretty much agree: there's a lot of versatility going on here, a lot of zips and a lot of pockets. It's even got a shoe compartment at the bottom.
One of the best things about this men's weekend bag is how it transforms, quite seamlessly, from a backpack into a duffel bag, which means you can carry this thing how you want. Transforming into a duffel on other bags means zips being in the wrong place, but with this nifty bag the zip is on the front (as a rucksack), so when you engage duffel mode, everything's in the right place. Top usability.
Comfort-wise, the shoulder straps and back panel of the bag are both padded. It's a pretty durable backpack, too, with sturdy zips and handles that feel like they're built to last.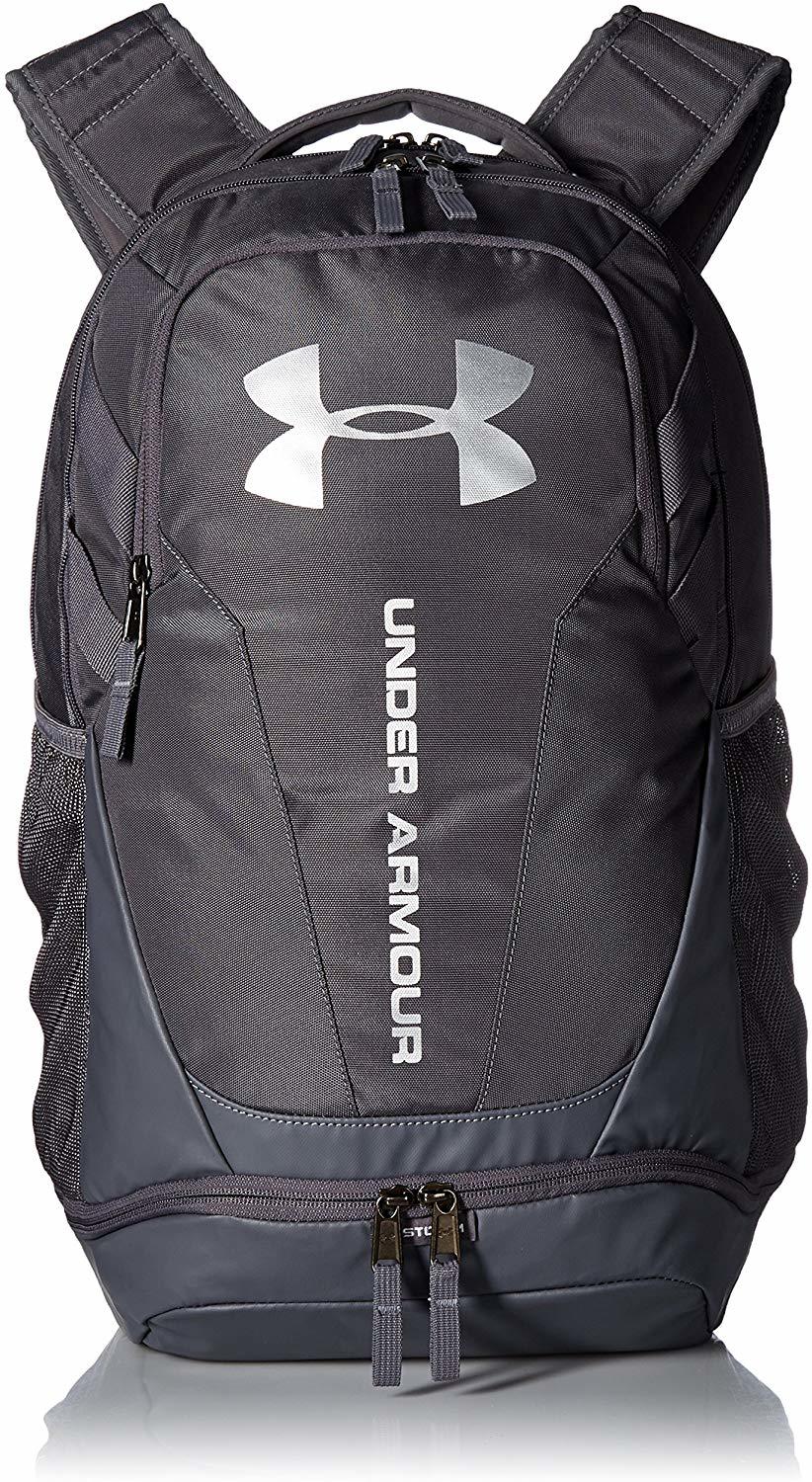 An Under Armor backpack? Yes, that's right. And not any old backpack: one that's specifically designed to carry your laptop, so if you're an Under Armor fan who needs to realise their digital nomad dreams, this could be the pack for you.
It might look pretty simple, but there's a lot going on in here. And it's all really well done, too, from the sturdy carry handle and heat gear technology shoulder straps, to the padded, to soft-lined laptop compartment that fits a 15″ Macbook Pro (their suggestion) nice and snug.
This sporty men's weekend bag is also built to last in adverse weather. The UA Storm technology is designed to last, with a "element battling" highly water-resistant finish; there's also a valuables pocket that's water repellent, and the bottom panel of the back is abrasion-resistant.
This Under Armor pack is 30L, meaning you can fit at least a couple days of clothing in there, and is also carry on compatible.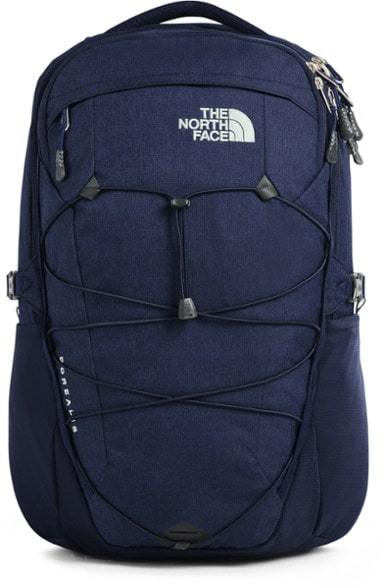 A classic backpack that's always been kept up to date, the North Face Borealis is definitely one you should consider when you're looking for the best men's weekend bags out there.
At 30L you definitely have some room for a laptop, clothes and (maybe) extra shoes as well. The main thing is that it's definitely one you can take overnight, or use day to day, which is the kind of versatility that we love.
Another thing we love is the comfort of this classic. It's got that both in the back panel – padded air-mesh with spine channel and PE sheet (that support) – as well as FlexVent injection-molded shoulder straps, complete with additional PE foam. If that doesn't make sense to you, don't worry: it's comfortable.
There's also a ton of organization going in this top mens weekend bag. There's the large main compartment with different pockets and sleeves inside, as well as a secondary compartment that includes a decent scope for organizing your gear.
One of our favourite things about this North Face staple, however, is the amount of colours you can get it in. There's almost no end to the choices: from light grey ("High Rise Grey Light Heather/Clear Lake Blue") to orange ("Papaya Orange/Picante Red") and just about everything you can imagine in between.
Hiking, exploring a city, or staying round a friend's house for the weekend, it's good for just about everything.
Very different to the last bag we spoke about, the eBags TLS Mother Lode Weekender Convertible sounds more like a car than a men's weekend bag. However, that's probably because it's packed full of a whole load of different features that make it a pretty useful backpack.
First of all, this bag opens like a suitcase, meaning that you can pack efficiently without just chucking everything into an unorganized void. There are also more organizational pockets on the front of the bag, for quick grab items and smaller accessories. Also like a suitcase, the flat-bottomed bag can stand up all on its own.
The backpack straps actually stow away which helps with the bag's already carry-on compliant capabilities; no more getting straps caught on armrests and people's faces!
For when you're off the plane and pavement pounding, the bag has a breathable back panel and a sternum strap (removable), which adds to the comfort of carrying this around town.
The best present of all… is CONVENIENCE!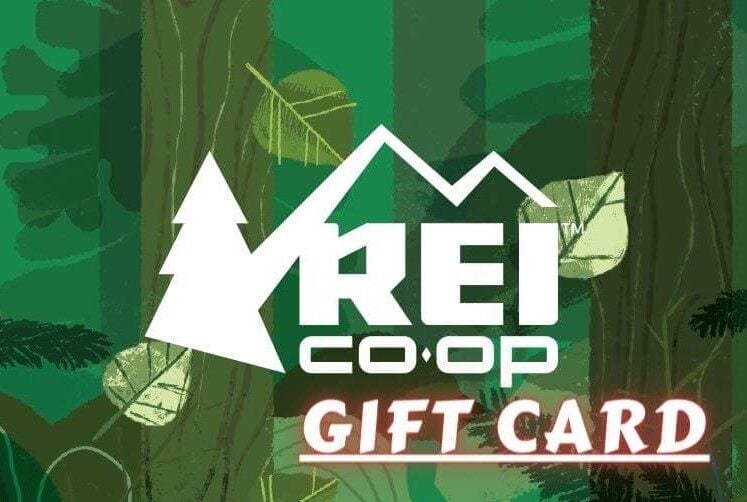 Now, you could spend a fat chunk of $$$ on the WRONG present for someone. Wrong size hiking boots, wrong fit backpack, wrong shape sleeping bag… As any adventurer will tell you, gear is a personal choice.
So give the adventurer in your life the gift of convenience: buy them an REI Co-op gift card! REI is The Broke Backpacker's retailer of choice for ALL things outdoors, and an REI gift card is the perfect present you can buy from them. And then you won't have to keep the receipt. 😉
Buy on REI!
Buyer Guide – How to Choose the Best Men's Weekend Bag for You
So there you have it: those are the best travel bags you can get right now! But when it comes to what you should be looking for in a travel bag – whether it's for you or as a gift – there are a lot of factors to think about! Let's take a look at everything you should be taking into consideration. If you are thinking about getting one of these bags to embark on a jouney into the land of Digital Nomadism
1. Capacity
You need a weekend travel bag to be able to pack all of your essential items and take them with you on your trips. Essentially, a bag is there to fit things in and so, when trying to work out what bag is right for you, picking one with enough capacity will be a deal-breaker.
Those of you out there who hate to travel with too much kit and clothes and are into one-bag travel. A bag with small capacity might seem like a good idea right now, but you may find yourself planning a longer trip (or picking up souveniers!) that will require more than a 30L capacity down the line.
Capacity will also come into play when you're carrying your bag for days at a time. Lugging a huge bag around, with a massive capacity will be pretty uncomfortable on public transport and will just leave you looking like a tourist, so more likely to be targeted for petty crime.
2. Durability
Yes, you might have found the perfect bag that looks the part, ticks all of the style, capacity and interior feature boxes, but if you're going to be spending some of your hard-earned cash on a new bag, surely you are going to be looking for something that is going to last you?
Durability should totally be a key feature you're looking for when buying a new product, we've all had enough of throw away products that will just end up in landfills after a year (or even a few months) of use.
Make sure to really pay attention to what the bag is made of before you click buy. Have the designers thought about how their customers are going to be using the bag and included high-spec details like YKK zippers and high denier fabric? It's also worth checking out other durability aspects of a bag – is there a thick bottom panel of the bag?
Finally, a good clue as to if the designers have made the weekend bag to last is if they include an awesome warranty with the purchase. If they expect it to last for a decent amount of time, then they should also be able to back up their claims with a warranty.
3. Style of the bag
As with anything you'll be wearing, aesthetics are important! Style says a lot about you, so it's going to play a pretty big role in helping you make the final decision on which men's weekend bag you are going to end up choosing.
The style of the bag will make a difference in which activities you want to do with it. Hiking backpacks, for example, are going to look a whole lot more outdoorsy, than a sleek leather commuter style backpack, and a carry-on digital nomad type pack will have a ton of focus on features and (sometimes!) less focus on the design of the bag.
Don't forget though, that style isn't everything. Even though there's a cool looking weekend bag in a skater style in a funky material, is it really worth parting with your cash for if it doesn't actually fit all of the stuff you need into it?
4. Organizational Features
Organizational features. We love them. We love all of the little pockets, pen holders, laptop compartments, sneaky bottle holders and packing cubes. They make packing up a backpack for a weekend away super straight forward. Yet, there can be something of am overkill when it comes to organization.
Sorry to say it folks, but there are bags out there that have gone in too heavily on all of the nooks and crannies of a backpack to the point that we lose stuff for days in a bag that just has way too many pockets.
If organizing is your thing or you have a ton of electronic kit to fit into your bag then take some time to read through what is involved in the interior pockets in the bag. Will it fit in your precious items and have enough room to spare for your underpants and toiletries?
A good thing to do if organization is a top priority for your bag is to dig deep into reviews from other people who have tried and tested it before. Find out how they have found the various compartments and how they stand up to real-life, everyday use.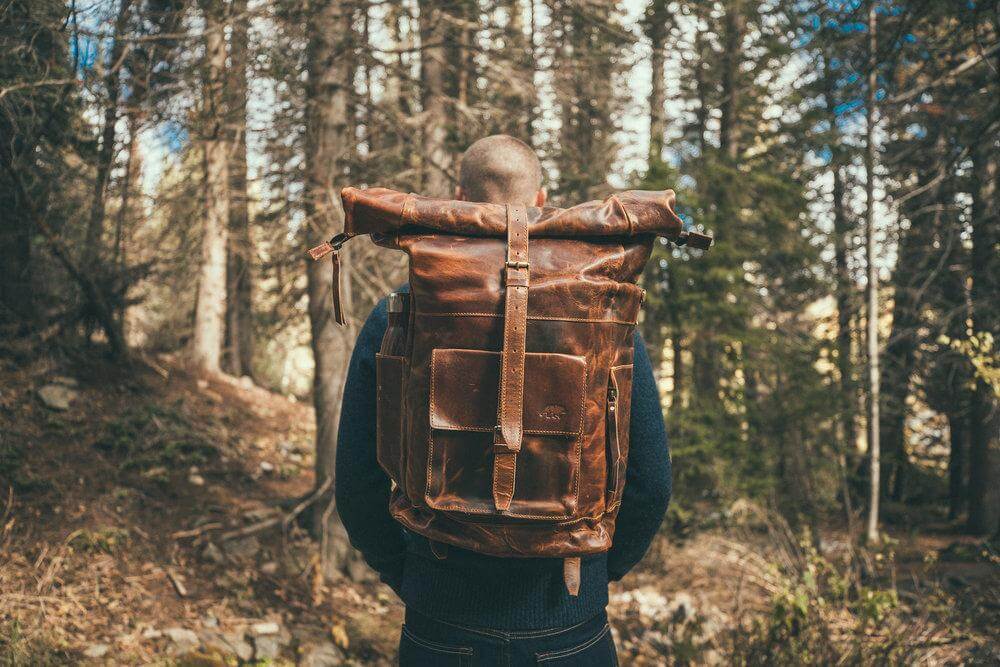 5. Carry on Capabilities
Carry on capabilities in a bag are an absolute game-changer. We are in a time where people are really pushing the capacity of their travel on with amazingly well-designed bags that are focused only on their carry on capabilities.
People who only want to travel with one bag and not have to pay the huge fees for checking in a suitcase, will be mainly looking at if a bag is suitable to be carried on an airplane. Weekend bags that have been specifically designed to comply with airline regulations for hand luggage will no doubt be your go-to if you want to skip the baggage line in future travels. As long as you know what you CAN'T pack, you're good to go!
But you should totally read the small print. Even though some bags are perfectly designed with carry on capabilities, the real issue will be with the airline that you are flying with. Check that your bag is compliant with most airlines, and before you fly, make sure to double check with the airline that your bag will fit. Especially with the cheaper budget airlines – those guys can be tricky!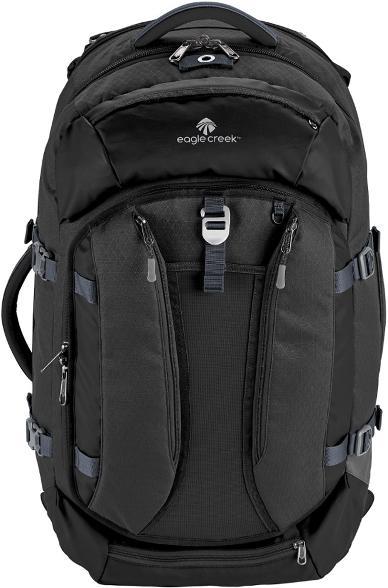 6. Length of your trip
The type of travel and the length of the trips you take probably will affect the type of weekend bag you take. If you're taking a lot of one-night trips, then you're really not going to need a bag that comes with all the bells and whistles that a bag for a longer trip might have.
Thinking ahead to the type of trips you are likely to be taking your weekend bag on will help you out with this decision. Something else that will help you pick a weekend bag is just considering how long your trips away usually are so that you don't end up kidding yourself and spending money on a lovely compact backpack, only for you to leave it behind because you didn't realise you needed more space.
You might be really into going away for a night or two in between bigger backpacking trips away, in that case, it could help to think about getting a weekend bag that could also double up as your day bag when your away on a longer vacation.
7. Budget
Have you ever browsed online stores for your new threads, filling your virtual basket up with all of the shiny new items that you just know you can't afford? We're guilty too, but that doesn't mean you should max out your credit card to buy the top-of-the-line bag all the travel influencers are carrying.
Weekend bags for men can be fairly pricey, especially if you're looking for something that has a shed load of special features and added extras. Just because you have a small amount of money to spend does not mean you can't pick up a quality bag, though – there's a selection of mid-range options in our list that are the absolute bomb and won't break the bank.
You also shouldn't feel like you have to spend the big bucks in order to get 'the best weekend bag' out there. Money doesn't equal quality in every case and, if you like a bag enough and it ticks all of the boxes then there's no reason that you shouldn't add it to your cart.
8. Lifestyle
Finally, a key point to think about when buying a new bag is your lifestyle. Does the bag fit in with how you live your life? If you are an avid hiker that will need plenty of layers and gear for your trip then a bag with some exterior pockets and more litre-age will be better for you.
Those of you who are digital nomads and need laptops, cameras and other accessories in order to go about your work, then your lifestyle will dictate what you need out of a bag.
It's not all about work and hobbies either, simply the kind of person you are. Those of you who like going out in the evenings when you're away on your travels will need a clean change of clothes so you can hit the town and bars, and if you like to use various products for your skin and hair then you will need room for these in your bag too.
Best Men's Weekend Bags

| Name | Volume (Litres) | Weight (KG) | Dimensions (CM) | Price (USD) |
| --- | --- | --- | --- | --- |
| Nomatic Travel Bag | 30 | 1.50 | 22.86 x 48.26 x 33.02 | 279.99 |
| Aer Travel Pack 3 | 35 | 1.87 | 54.5 x 33 x 21.5 | 249 |
| Tortuga Setout Divide Backpack | 26-34 | 1.7 | 50.8 x 33 x 15.2 | – |
| Solgaard Lifepack | 18 | 1.81 | 29.5 x 47 x 17.8 | 245 |
| Osprey Transporter Global Carry On | 36 | 1.13 | 49.53 x 35.56 x 20.32 | 195 |
| Kodiak Leather Backpack | 40 | 1.59 | 53.34 x 33.02 x 27.94 | 340 |
| Harber London Weekend Bag | 26.4 | – | 24 x 22 x 50 | 1198 |
| Tropicfeel Shell | 22-40 | 1.5 | 19 x 51 x 30 | 249 |
| Wandrd Prvke 31 | 31-36 | 1.5 | 48 x 30 x 18 | 191.20 |
| Stubble & Co Weekender XL | 60 | 1.7 | 61 x 35 x 29 | 255 |
| Eagle Creek Global Companion | 68 | 2.32 | 66.04 x 33.66 x 31.11 | 199.95 |
| Matador Seg 30 | 30 | 0.70 | 47 x 24.13 x 24.13 | 149.99 |
| Nomatic Travel Bag 30L | 30 | 1.50 | 22.86 x 48.26 x 33.02 | 279.99 |
| Matador Transit30 Packable Duffel | 30 | 0.12 | 61.01 x 35.50 x 27 | – |
| Herschel Little America Backpack | 25 | 1 | 48.90 x 28.58 x 17.78 | 83.93 |
| Solo New York Weekender Backpack Duffel | – | 0.73 | 50.8 x 20.32 x 27.94 | – |
| Under Armor Hustle 3.0 Laptop Backpack | 30 | 0.20 | 34.50 x 23.60 x 48 | 40.97 |
| The North Face Borealis Pack | 28 | 1.05 | 49.53 x 30.48 x 16.51 | 99 |
| eBags TLS Mother Lode Weekender Convertible | 54 | 0.81 | 23.01 x 56 x 35.51 | 119.99 |
FAQ about the Best Men's Weekend Bags
Still have some questions? No problem! We've listed and answered the most commonly asked questions below. Here's what people usually want to know:

Our GREATEST Travel Secrets…
Pop your email here & get the original Broke Backpacker Bible for FREE.
Final Thoughts on the Best Men's Weekend Bags
Having a good weekend bag is essential if you like to travel. It's all well and good having your suitcase, your travelling backpack for longer trips, and your day pack, but having a good bag for shorter trips opens up a world of quick, convenient travel.
No matter what your style is and how you like to travel, we are certain that you are going to find something on our list of the best men's weekend bags for you.
Our top choice for the number one, overall best men's weekend bag is the AER Travel Pack 3. This thing is durable, full of all sorts of organizational capabilities, and is built to last.
Then again, if you don't feel like a digital nomad centric backpack is for you, then you may want to consider something a little more casual, like the Yousu Canvas Backpack, for example.
Is there an awesome weekend bag for men that we've missed out on? If yes, let us know in the comments!
---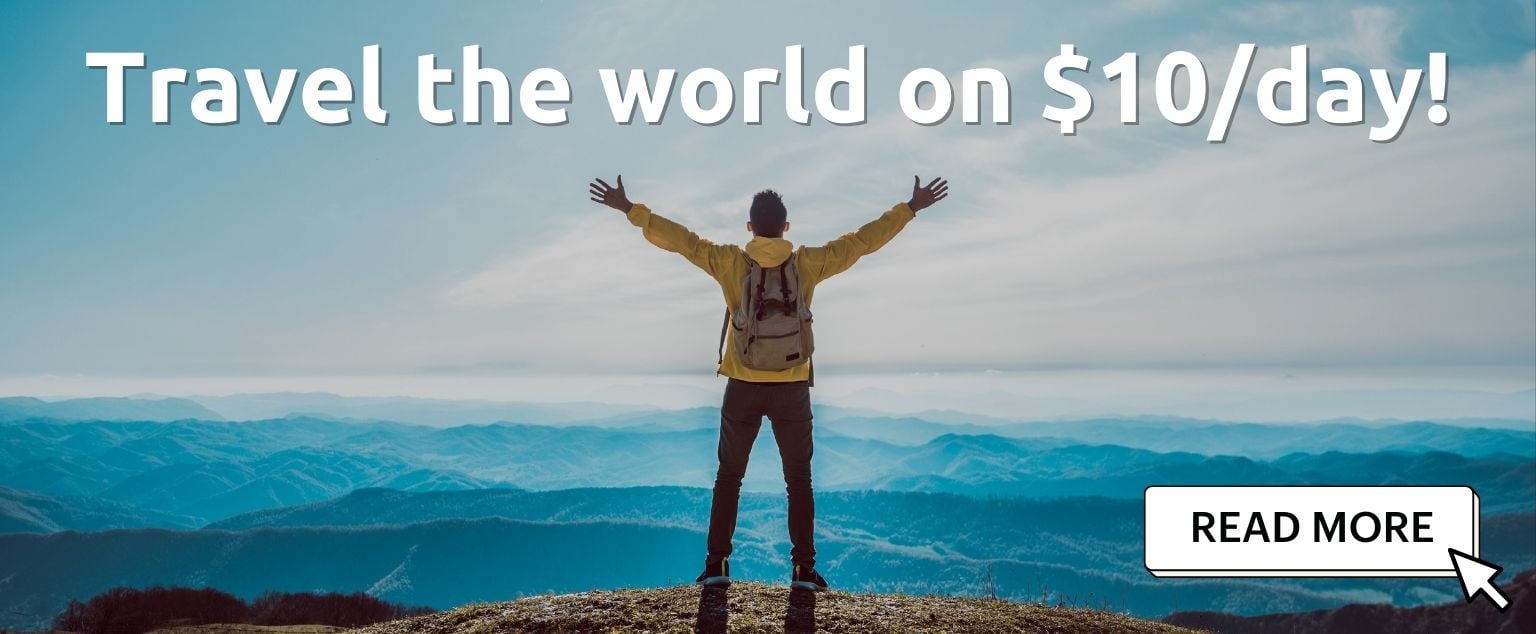 And for transparency's sake, please know that some of the links in our content are affiliate links. That means that if you book your accommodation, buy your gear, or sort your insurance through our link, we earn a small commission (at no extra cost to you). That said, we only link to the gear we trust and never recommend services we don't believe are up to scratch. Again, thank you!