Leather totes are uniquely capable of fitting in everywhere. The best leather travel bags can fit in the boardroom, bus stops, and underneath the seats of trips worldwide to provide a piece of luggage like no other.
TBB staff have found nothing quite like leather to turn heads and properly pack everything we need for our next adventure, whether heading to work or to the woods. Synthetic materials may look the same, but nothing feels quite like leather, and nothing lasts longer than the best leather travel bags in the business.
A leather bag is no easy investment. A sick blend of durability, flexibility, and looks isn't cheap. When you're spending hundreds of dollars on a bag, you want to make sure you're not getting burned.
That's where we step in. We've used and abused bags of all shapes and sizes, and only a few have stood up to the rigorous demands of life on the road. You've come to the right place to find the perfect top-grain cowhide pairing for your lifestyle.
We'll sort the pretenders from the contenders so you can get a feel for the real. From duffel bags to diaper totes, buckle up, away we go! Let's take a look at the best leather travel bags on the market.
Quick Answers: Are These The Best Leather Travel Bags?
Best Leather Bag For Long Trips
Best Leather Bag For Long Trips
Kodiak 60L Duffle
> $$$
> Several carrying styles
> Interior and exterior pockets
Best Leather Commuter Bag
Best Leather Commuter Bag
The Classic 3.0
> $
> Slim and stylish
> Convenient exterior pocket
Best Leather Carry on Bag
Perfect Leather Look Bag For Photographers
Perfect Leather Look Bag For Photographers
WANDRD PRVKE 31
> $$
> Innovative Material & Design
> Pockets at every corner
Best Women's Daypack
Best Women's Daypack
The Roma Backpack
> $$
> Three exterior pockets and two water bottle pockets
> Versatile and stylish bag
Best Leather Style Travel Bag
Guide To Leather Travel Bags
From work to Wyoming, these travel bags fashioned from fine leather can certainly pack quite the punch. We looked at factors that influence carrying capacity, durability, flexibility, and aesthetics to determine the best-in-class bags for 2022.
Every bag on our list excels in a specific niche while providing quality across every corner, and all can be carried on to most major airlines.
There may be plenty of cheaper choices on the market, but you'll be hard-pressed to find anything that works harder than these leather travel bags. Remember too, they are investments that will last you years if you look after your bags correctly.
Ladies & Gents, It's Time to Step Your GEAR Game Up. 😉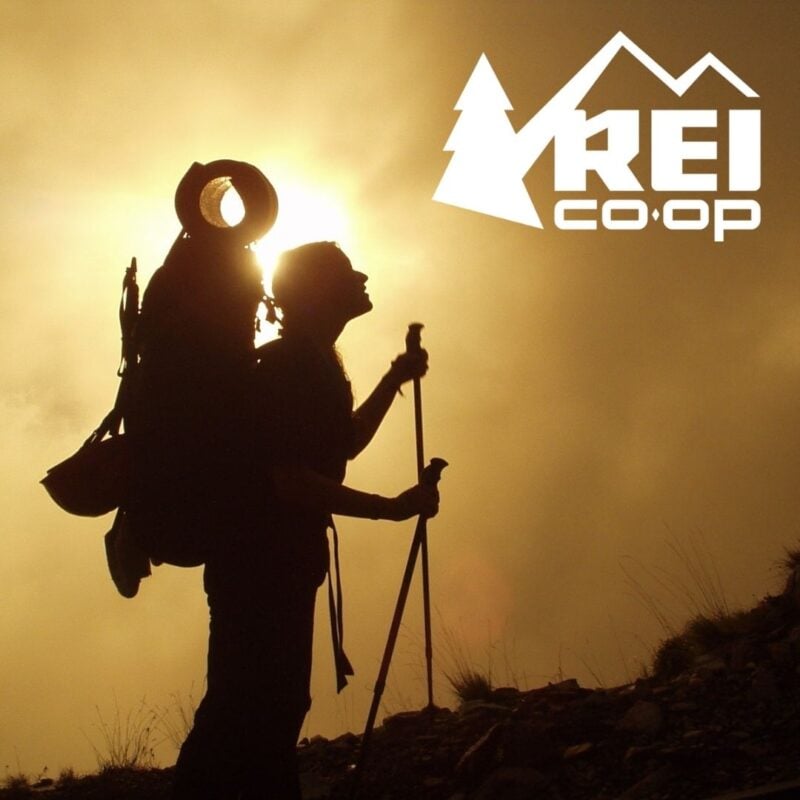 REI is one of America's biggest and most-loved outdoor gear retailers.
Now, for just $30, get a lifetime membership that entitles you to 10% OFF on most items, access to their trade-in scheme and discount rentals.
Join REI Today!
Our pick for best leather bags for long trips is the Harber London Weekender.
Specs
Type: Duffel
Weight: 7.1 lbs
Dimensions: 23.5″ x 12″ x 12
Liters of Capacity: 60L
Price: $499
For trips long or short, you won't find a leather duffle bag that can do more than this leather weekender. With several carrying styles, interior and exterior pockets, and quality materials from top to bottom, this bag is as flexible as it is powerful. Its one of the best weekender bags I have ever used.
This leather duffel bag is lightweight enough to fit in a carry-on space but still comes with 60 liters of storage, comparable to any high-tech backpack. It has a couple of interior pockets where you can keep your keys and small bits – perfect for a weekend getaway.
The 60 liters of storage are firmly secured inside 100% top-grain buffalo leather and reinforced by brass hardware at all connection points to provide a bag that will last for decades. If it gets too heavy for the leather handles, throw it over your shoulder with a reinforced shoulder pad and slide effortlessly through security.
Leather travel bags should be seen as a long-term investment. Although this bag may come with a hefty price tag, Kodiak has proven itself to be the best leather travel bag company on the market, and this 60L duffel is the company's most powerful option.
Pros
Several carrying options
Exterior pockets
Each bag has a unique hue
Cons
Costs almost as much as a MacBook!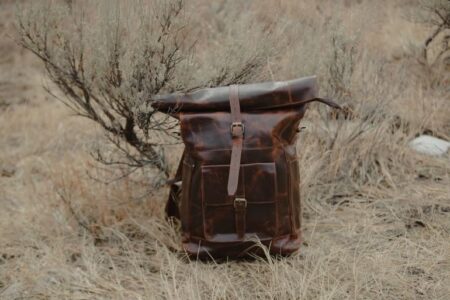 Meet the best leather backpack: Harber London Roll Top
Specs
Type: Backpack
Weight: 3.8 lbs
Dimensions (expanded): 21″ H x 13″ W x 11″ D
Liters of Capacity: N/A
Price: $299
The Kobuk is at home on the street or in the muck, fully loaded with convenient features and high-quality workmanship.
The roll-top opening allows you to utilize extra liters of storage capacity or buckle it down for a compact traveling companion. While we wouldn't recommend taking the bag backpacking, it certainly has the durability and storage capacity to work on your next camping trip.
When it's time to get to work, the laptop and phone pockets make commutes easier and prove that one bag really can get you through the week and the weekends, and there are even two water bottle pockets.
All of these components are wrapped up in Kodiak's 100% top-grain leather to guarantee this leather backpack will be around awhile. The Kobuk leather has thought of everything to give you the great gift of options for your next adventure.
Pros
Versatile
Extends when rolled up
Expandable storage compartments
Cons
No shoulder pad reinforcements
Expensive
The Classic 3.0 by Mahi Leather
Specs
Type: Backpack
Weight: N/A
Dimensions: W37cm x H45cm x D14cm
Liters of Capacity: N/A
Price: $175
Hopefully, you're starting to notice the pattern. Mahi Leather is one of the best in the business coming with an affordable price tag. This leather backpack signifies the leather manufacturer's foray into daily commutes, and it provides the rugged look and high-quality convenience we expect from the leather leaders.
Barebones in nature, this is one of the more affordable top-grain leather bags on the market, making it suitable for commutes of all shapes and sizes. The bag is slim and stylish enough to work whether you get to work on your bike or in the subway and has reinforced materials at all stress points. Its water resistant so can withstand a bit of drizzle on your commute.
Keep your phone, wallet, and bus pass in the convenient exterior pocket, and rely on the organization options on the interior to ensure everything is crisp when you clock in. The authentic top-grain leather makes a hell of a first impression.
Pros
Affordable for real leather
Stylish as hell
Good quality
Our pick for best leather carry on bag is the Kodiak 30l.
Specs
Type: Duffel
Weight: N/A
Dimensions: 20″ L x 10″ W x 11″
Liters of Capacity: 30
Price: $299
If you're not planning a long trip, you won't need more than 30 Liters of top-grain leather. This sleek duffel bag carries easily and fits into your overhead compartment while providing enough organized space to pack everything you need for a quick trip.
No two Kodiak leather bags are the same. Your weekender duffel will bend and shift subtly with every trip to give your bag a more personalized look and feel. The reinforced brass straps will keep you out of trouble even if you have to gate check and the rugged interior features sidewall pockets for your passport and phone.
You'll have your choice of carrying options, and thanks to the slim dimensions, you'll never have trouble slinging it over your shoulder or carrying it with one arm unless you're taking it to bowling practice.
This bag is the little brother of our favorite leather travel bag, but it's proven more than capable of striking out on its own.
Pros
Minimalist design
Built to last
Two external pockets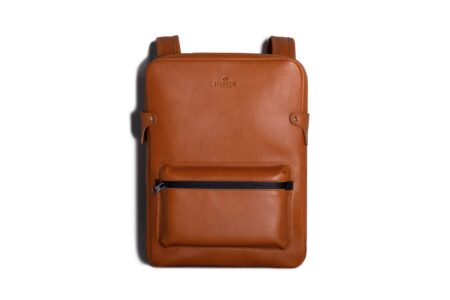 The Harber London Slim Laptop bag is our pick for best leather laptop bag
Specs
Type: Messenger
Weight: 1.8 lbs
Dimensions (in): 40 x 28 x 4.5 cm
Liters of Capacity: 5
Price: $350
With a slim design and a padded pocket for everything, this is a genuinely professional bag. The full-grain leather is the cherry on top, ensuring your next laptop bag fits with every ensemble.
Most of the backpacks included in this post are pretty spacious providing room for gym kits, sandwiches and water bottles. However, sometimes you just want a light a backpack for holds a laptop and nothing more.
This suave and elegant slim leather backpack by Harber London is perfectly sized for your laptop or device. Its spec is pretty basic offering a main laptop compartment with an internal pocket as well as front zip pockets for cables, cards and keys.
There's room for far more than just a MacBook. This case will pack in everything you could need for a busy day at work or function admirably as a carry-on bag ready to get some work done on your next flight.
A high-quality laptop case that doesn't look or feel chunky is a rare find. This leather messenger bag checks off all the boxes without adding extra weight to earn its spot on our list.
Pros
No wasted space
Several carrying styles
Made in the USA
#6 – Leather Look Bag For Photographers – WANDRD PRVKE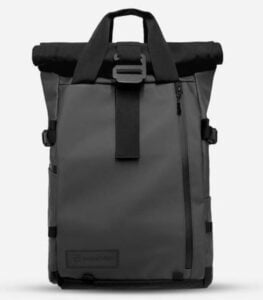 Meet the perfect leather-style bag for photographers: WANDRD PRVKE
Specs
Type: Duffel
Weight: 1.3kg
Dimensions: 43 X 28 X 17 cm
Liters of Capacity: 31 liters
Price: $235
Leather provides a one-of-a-kind look, but sometimes, the material can use a bit of help from its friends to protect expensive electronic equipment adequately. This is where the nylon-canvas-ballister material of the WANDRD PRVKE comes in. It kinds looks like a leather, but it isn't leather.

This is a camera bag designed by photographers for photographers and is perfect in every way. It has capacity for a cushion camera cube to keep your baby safe and comes with a quick access side pocket so you can pull it out and start shooting on the fly.
We love a good camera bag that comes slightly disguised. This leather canvas bag looks professional no matter the scenario but won't attract too much attention. For added security, Brass hardware keeps everything locked in tight.
A high-quality camera set-up demands high-quality protection, and this leather bag will work as an everyday duffel or a home for your favorite tools.
Pros
Doesn't stick out
Several large exterior pockets
Reinforced straps
Cons
Not actually leather
It's pretty heavy
The best present of all… is CONVENIENCE!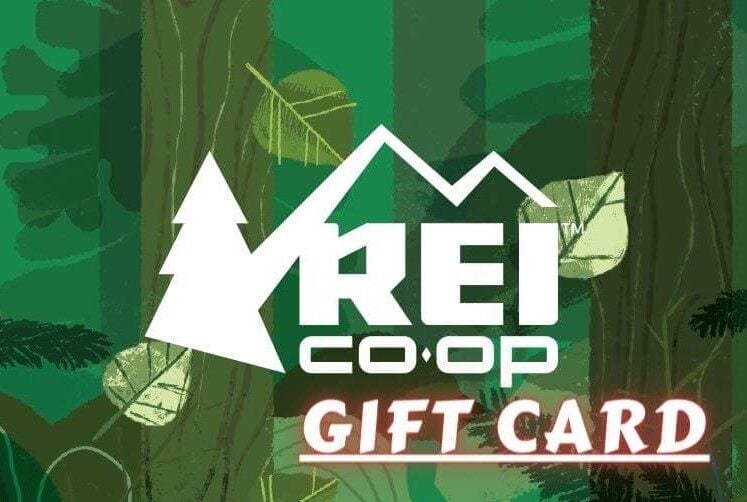 Now, you could spend a fat chunk of $$$ on the WRONG present for someone. Wrong size hiking boots, wrong fit backpack, wrong shape sleeping bag… As any adventurer will tell you, gear is a personal choice.
So give the adventurer in your life the gift of convenience: buy them an REI Co-op gift card! REI is The Broke Backpacker's retailer of choice for ALL things outdoors, and an REI gift card is the perfect present you can buy from them. And then you won't have to keep the receipt. 😉
Buy on REI!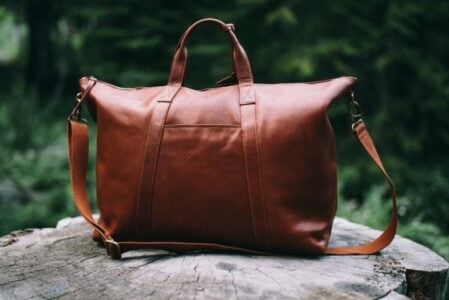 Our top pick for best womens leather bag is Womens 45L Weekender Duffel
Specs
Type: Duffel
Weight: N/A
Dimensions (in): 16 x 20 x 7
Liters of Capacity: 45
Price: $299
They call this duffel a weekender, but it's suitable for far more than two-day vacations. Crisp, rugged, and elegant, you can use this bag daily, weekly, or monthly – its just a great leather bag for women and a great leather duffle bag all round.
Plenty of carrying styles gives you more options, and the oblong shape keeps everything you need by your side. The striking brown colors of this bag bend and mold with the years, constantly changing but always looking good.
You'll find nothing but top-grain calfskin across this bag, down to the straps and handles. An exterior sidewall pocket has space for your passport, phone, and keys, and the considerable interior pocket features a full zipper to keep everything secure.
Whether you are heading out overnight or overseas, you'll find a place for the essential things in this weekender. The downside is that its just over carry on size.
Pros
Reinforced carrying straps
Easily fits as a carry-on
Interior protected by a zipper
The Roma Backpack is our top pick for best womens daypack
Specs
Type: Backpack
Weight: N/A
Dimensions: W31cm (bottom) / W22cm (top) x H40cm x D11cm
Liters of Capacity: N/A
Price: $199
The Katmai Diaper pack is a top-grain leather backpack with pockets for everything. You won't find many genuine leather bags more versatile than this one, thanks to the backpack-style carrying option.
A zipper all easily seals off three exterior pockets, and two water bottle pockets on the side make the pack suitable for shorter hikes. Inside the main compartment, you'll have a separate case for a laptop or tablet, making the pack a capable commuter.
It's a diaper bag in name only. The high-tech storage features combined with top-grain cowhide have created a versatile and stylish bag ready for adventure.
While it doesn't pack in the storage space for longer trips, we haven't been able to find a better leather backpack option for daily use.
Pros
Stylish as hell
Gets better with age
Has a useful carry handle
Cons
Not large enough for a weekend trip
No hip straps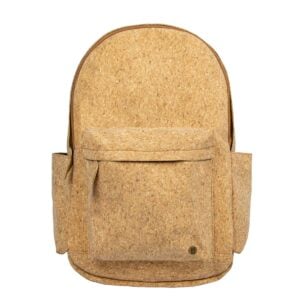 Our pick for best vegan leather backpack is MAHI Vegan Cork.
Specs
Dimensions: 17" x 14.5" x 5"
Laptop compartment: Yes
Best Use: Everyday
Price: $
Sustainability is sexy, and this vintage vegan cork backpack hammers that point home. This sleek pack is made of high-quality cork which is a cracking substitute for leather, that will feel and look properly organic.
Perfect for daily use, the pack doesn't have loads of extra features around the exterior, which gives it a clean look and feel. MAHI still found a way to sneak a few pockets into the outside of the bag, all protected from theft with zippered or magnetically sealing buttons.
The Mahi Classic Backpack now has ample space for a 15″ laptop and it's own padded laptop compartment so you can stay organised. MAHI have also added two external water bottle holders, complete with a waterproof lining and a handy leather strap on the back that slots over wheelie suitcase handles so you can give your back a rest when you're on the go.
Fashion and environmentally friendly, this vegan, eco friendly backpack looks and feels ready for anything.
the Leather Executive by Waterfield
Specs
Dimensions: 14.25″ x 9.75″
Laptop compartment: Yes
Best Use: Everyday/Work
Price: $$
If you are looking for a beautiful leather shoulder bag then check out this offering from San Francisco based Waterfield. Waterfield are an innovative leader in custom laptop sleeves, bags, and cases and cater for digital-nomads and modern professionals. The Executive Leather Messenger is a full-grain leather laptop bag which mixes a classic looks with some modern features.
The Executive offers Dual padded compartments for both a laptop and a tablet. Out of all the leather we have tested in those post, this premium, rugged leather is the best feeling and smelling.
Caring for Leather Guide
With the proper care routine, your next leather bag could outlast you. If you've chosen one of the leather bags on our list, your travel bag will come with high-quality materials built to last across every inch. The next part is on you.
Be proactive when taking care of your leather bag to tackle any problem before it turns into a rip or crack in your bag. Following these simple basic care tips will surely add years to the life of your next bag.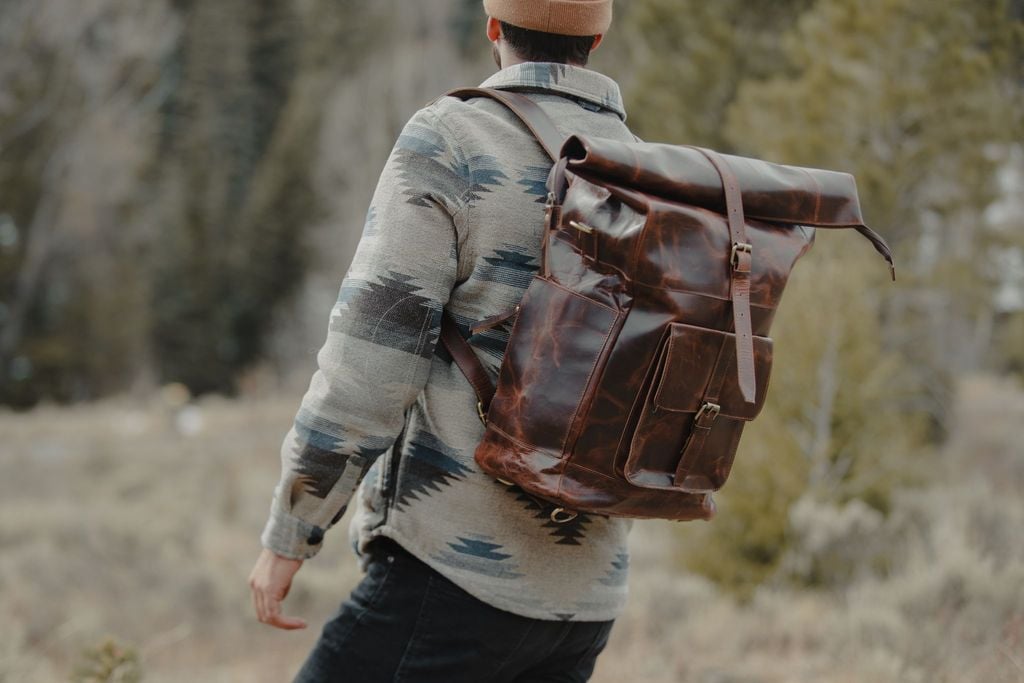 Tool Kit
Before you start polishing, make sure you've got the right arsenal. If you want to cover all the bases, Kodiak provides a complete kit. All you'll need to tack on is a cloth.
Clean Cloth
Your everyday leather cleaner. Leather bags absorb grease and oils easily, so be sure to have a separate cloth whose only responsibility is your leather bag. Use the cloth to prep and polish your bag every time you use a leather conditioner or any time you want to give the material a quick wipe.
Leather Cleaner
Once or twice a year, lather your entire bag with a chemical-free leather cleaner. This cleaner will get down into the membrane of your leather and remove any dirt build-up, giving your bag a shine and reducing erosion.
Apply the cleaner in a circular motion, and don't forget to wipe it off with a damp cloth.
Leather Conditioner
The Conditioner's job is to keep your bag moisturized to prevent cracks and crevices popping up in dry leather. You can apply a coat of conditioner anywhere from once a year to once a month to keep your bag feeling new.
Leather Brush
For any quick cleaning efforts, the brush will be all you need. You can give your bag a good scrub with the leather brush or use it after applying the conditioner to make sure the cleaning solution reaches deep into the heart of your leather bag.
Storage
Cleaning your bag won't accomplish much if you keep your bag stored poorly between itineraries. Keep your bag in a cool, dry space away from the sun or any natural elements. If you know you won't be using your bag for a month or two, fill the insides with newspaper or other dry materials to wick away any moisture and help the bag hold its shape.
Genuine leather constantly changes its color and shape, so if your bag spends three months balled up in the corner, you'll never get rid of the creases.
Caring for your leather bag is a simple process and is an essential part of leather ownership. If you're not ready to take the proper steps to keep your bag in top shape, you might want to consider another material.
Best Leather Travel Bags

| Name | Volume (Litres) | Weight (KG) | Dimensions (CM) | Price (USD) |
| --- | --- | --- | --- | --- |
| Kodiak 60L Weekender Duffel | 60 | 3.22 | 59.69 x 30.48 x 30.48 | 499 |
| Kobuk Leather Backpack | 40 | 1.72 | 53.34 x 33.02 x 27.94 | 299 |
| The Classic by Mahi Leather | – | – | 37 x 45 x 14 | 175 |
| Kodiak 30L Weekender Duffel Bag | 30 | 2.04 | 50.8 x 25.4 x 27.94 | 299 |
| Harber London Slim Laptop Backpack | 5 | 0.82 | 40 x 28 x 4.5 | 350 |
| WANDRD PRVKE | 31 | 1.3 | 43 x 28 x 17 | 235 |
| Womens 45L Weekender Duffel | 45 | – | 40.64 x 50.8 x 17.78 | 299 |
| The Roma Backpack | – | – | 31 (bottom)/ 22 (top) x 40 x 11 | 199 |
| Mahi Vegan Cork Backpack | – | – | 28 x 44 x 14 | 93.50 |
| Executive by Waterfield | 7.5 | 1.47 | 36.19 x 6.98-7.62 x 26.67 | 399 |

Our GREATEST Travel Secrets…
Pop your email here & get the original Broke Backpacker Bible for FREE.
Final Thoughts
From 60 liters of storage to laptop cases, we've put leather travel bags' rugged look and durability on full display. These bags are simply the best of the best.
Whether you rely on the Kodiak 60L Weekender Duffel to pack a few spare changes of clothes or keep everything organized in style with the Atlas Executive Athletic Holdall, your perfect partner is somewhere on this list.
You shouldn't go cheap when it comes to your travel bags. Your bag will be responsible for keeping everything you need for your adventure in one piece, and it's only a matter of time before you find out why that discount bag was so cheap.
If you choose to entrust your vacation to top-grain leather, any one of these bags will make your life easier for years to come.
---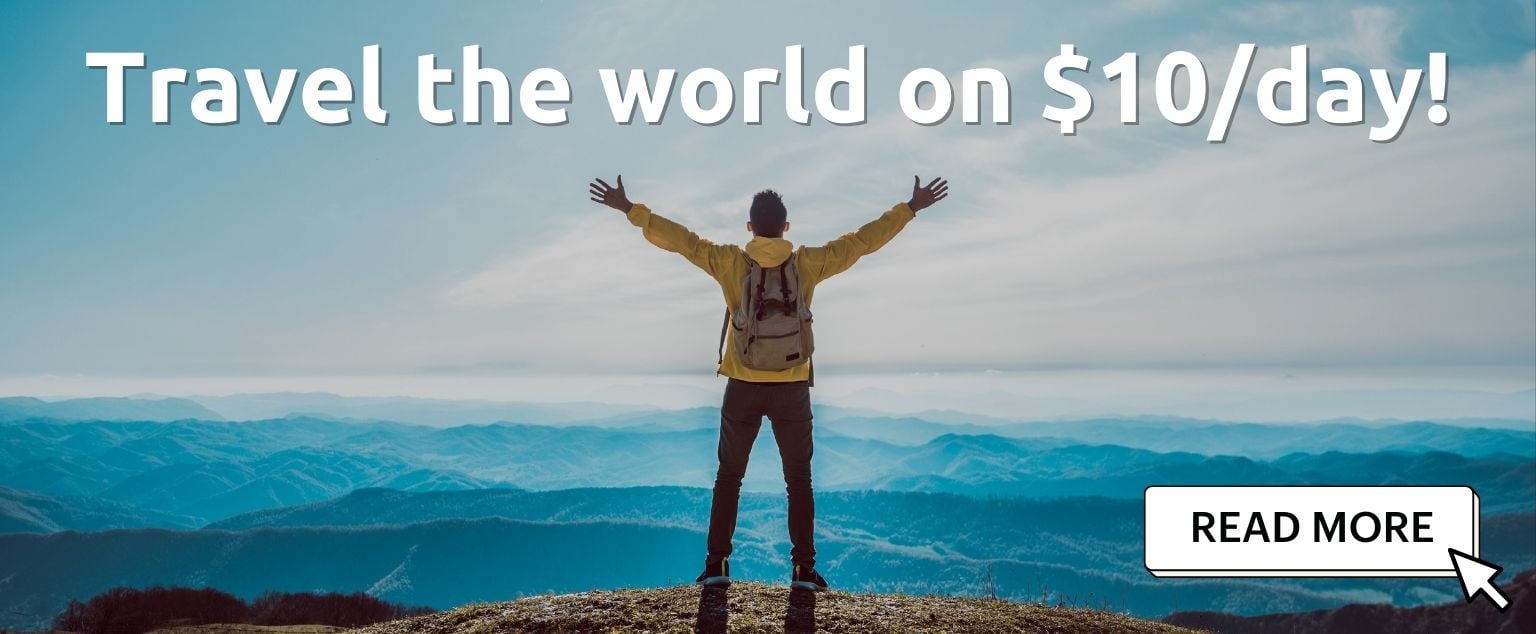 And for transparency's sake, please know that some of the links in our content are affiliate links. That means that if you book your accommodation, buy your gear, or sort your insurance through our link, we earn a small commission (at no extra cost to you). That said, we only link to the gear we trust and never recommend services we don't believe are up to scratch. Again, thank you!