Are you in search of a good all-around laptop bag for traveling around with?
In today's world, travel and tech go hand in hand. You might be traveling for work or pleasure, commute or an international journey, but no matter where you're going, chances are you'll take your laptop or tablet with you.
If you're reading this review, you're probably looking for the best travel laptop bag to protect your precious computer and tech.
We agree that you should travel with a laptop and take care of it! After all, working off a laptop gives loads of freedom to live and travel however you'd like. Plus, laptops make staying in contact with home a bit easier.
While looking through all of these laptop bags, you need to ask yourself: "which bag will work best for me and my needs?"
That's where we come in with our detailed review of 15 of the best laptop bags for travel!
Quick Answer: What are the Best Laptop Bags for Travelers?
OVERALL BEST TRAVEL LAPTOP BAG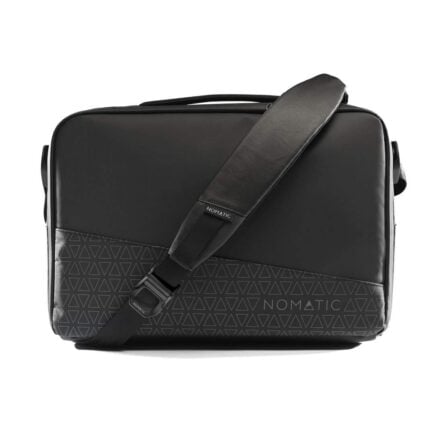 OVERALL BEST TRAVEL LAPTOP BAG
Nomatic Messenger Bag
Price > $$
> Great ergonomics
> Tough
BEST CARRY-ON TRAVEL LAPTOP BAG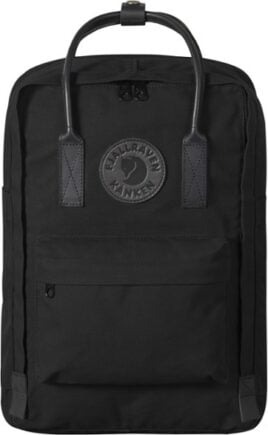 BEST CARRY-ON TRAVEL LAPTOP BAG
Fjallraven Kanken No. 2 Laptop Pack
Price > $
> Lockable main compartment
> Padded shoulder straps
BEST MESSENGER-STYLE LAPTOP BAG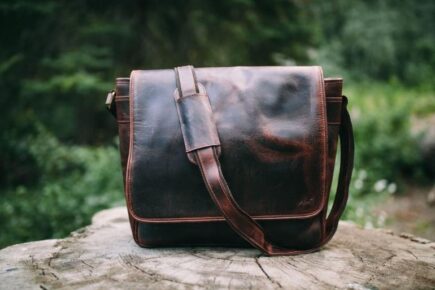 BEST MESSENGER-STYLE LAPTOP BAG
Kodiak Buffalo Leather Messenger Bag.
Price > $$
> Weatherproof
> Thoughtful pockets
BEST BRIEFCASE-STYLE LAPTOP BAG FOR BUSINESS TRAVELERS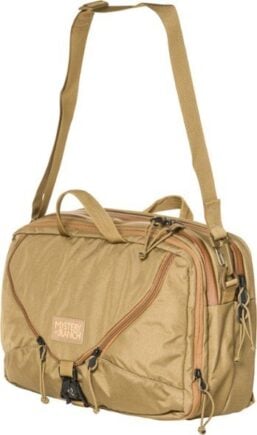 BEST BRIEFCASE-STYLE LAPTOP BAG FOR BUSINESS TRAVELERS
MYSTERY RANCH 3-Way Expandable Briefcase
Price > $$
> Expandable for longer trips
> Rugged and Functional
MOST STYLISH BRIEFCASE-STYLE LAPTOP BAG
MOST STYLISH BRIEFCASE-STYLE LAPTOP BAG
Filson Dryden Briefcase
Price > $$
> Carries 15″ laptop
> 2 exterior pockets
BEST MESSENGER LAPTOP BAG FOR WOMEN
BEST MESSENGER LAPTOP BAG FOR WOMEN
Sherpani Cabo Convertible Pack
Price > $
> Flashlight-pen included!
> Multi-use
BEST FOR OVERSIZED LAPTOPS
BEST FOR OVERSIZED LAPTOPS
Estarer 17.3" Laptop Messenger Bag
Price > $
> Fits larger laptops
> Small anti-theft pocket
BEST FOR TRAVELING WITH A LAPTOP AND TABLET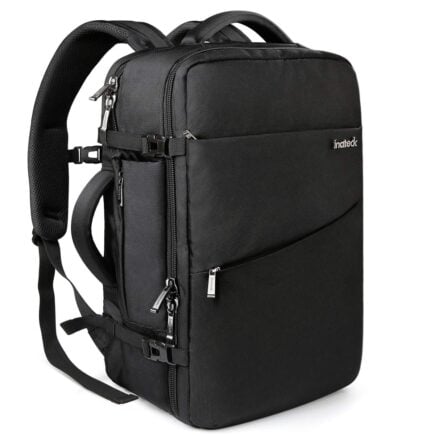 BEST FOR TRAVELING WITH A LAPTOP AND TABLET
Inateck Travel Carry-on 40L Laptop Backpack
Price > $
> Two laptop compartments
> Lockable zips
BEST WATERPROOF LAPTOP BAG
BEST WATERPROOF LAPTOP BAG
Arc'teryx Granville 20 Pack
Price > $$$
> Rugged and durable
> Completely waterproof
How to Choose the Best Travel Laptop Bags
When you think about it, there are many factors to consider when buying a laptop bag for traveling – which is why articles like this are so great of course!
You need to travel with a laptop, but is this mainly for commuting within your city, or traveling more broadly, nationally or internationally? And is this travel for work, school, or just plain travel? Do you need your laptop bag to be rugged or is it just for urban use?
Each will have an impact on the laptop bag you want to buy.
What Size Bag Do You Need?
There are some other obvious factors to take into account. You'll need a bag that fits your particular travel laptop – and if you need to travel with more than one electronic device, you'll need to make sure any bag you choose can comfortably fit another device.
The best travel laptop bags will include dedicated sleeves, pockets, and compartments that fit your lifestyle! Also, remember there's some great travel purses out there that you can combine with a laptop bag to keep your passport and wallet safe and organised.
Volume
Once you figure out what size and shape you want, you need to know how much extra stuff you want to carry. Is this bag for a short commute to school or work If so, you may only need a bag under 20 liters.
Are you traveling for longer periods? If so, you're going to need space for clothes, adapters, and other miscellaneous kits. In this case, laptop backpacks might be better than a messenger bag. We have a best laptop backpacks post elsewhere on the site.
Type of Laptop Bag
There are a few different types of laptop bags in this article. We have reviewed classic messenger bags, urban backpacks, classic-style bags, and fully waterproof backpacks.
Some even switch from a messenger to a backpack for their laptops! Depending on your style and needs, you will need to decide what type of bag you want.
Organization
Consider how you like to pack and travel. Are you a simple soul who can survive on the minimum? If so, you'll be happy with a minimalist bag with fewer compartments, a laptop sleeve, and not much else.
Someone who prefers to travel with more kit, or likes to be more organized, will undoubtedly want a laptop travel bag with several compartments, pockets, and organization features.
Cost
The question of cost is also an important one for many, and will also have an impact on how long you're expecting this bag to last – just a couple of weeks to cover you during an unexpected trip, or do you want a bag durable enough to last you for years.
The Best Laptop Bags for Travelers
Below is our full list of the 15 top laptop bags for travel on the market! We have reviewed bags for all styles, uses, and budgets. Whether you need a bag to travel for business, pleasure, or simply to-and-from work, we've got you covered below!
Do You Want to Travel FOREVER??
Then pop your email address in below and we'll send you a FREE copy of 'How to Travel the World on $10 a Day!' – make travel your LIFE.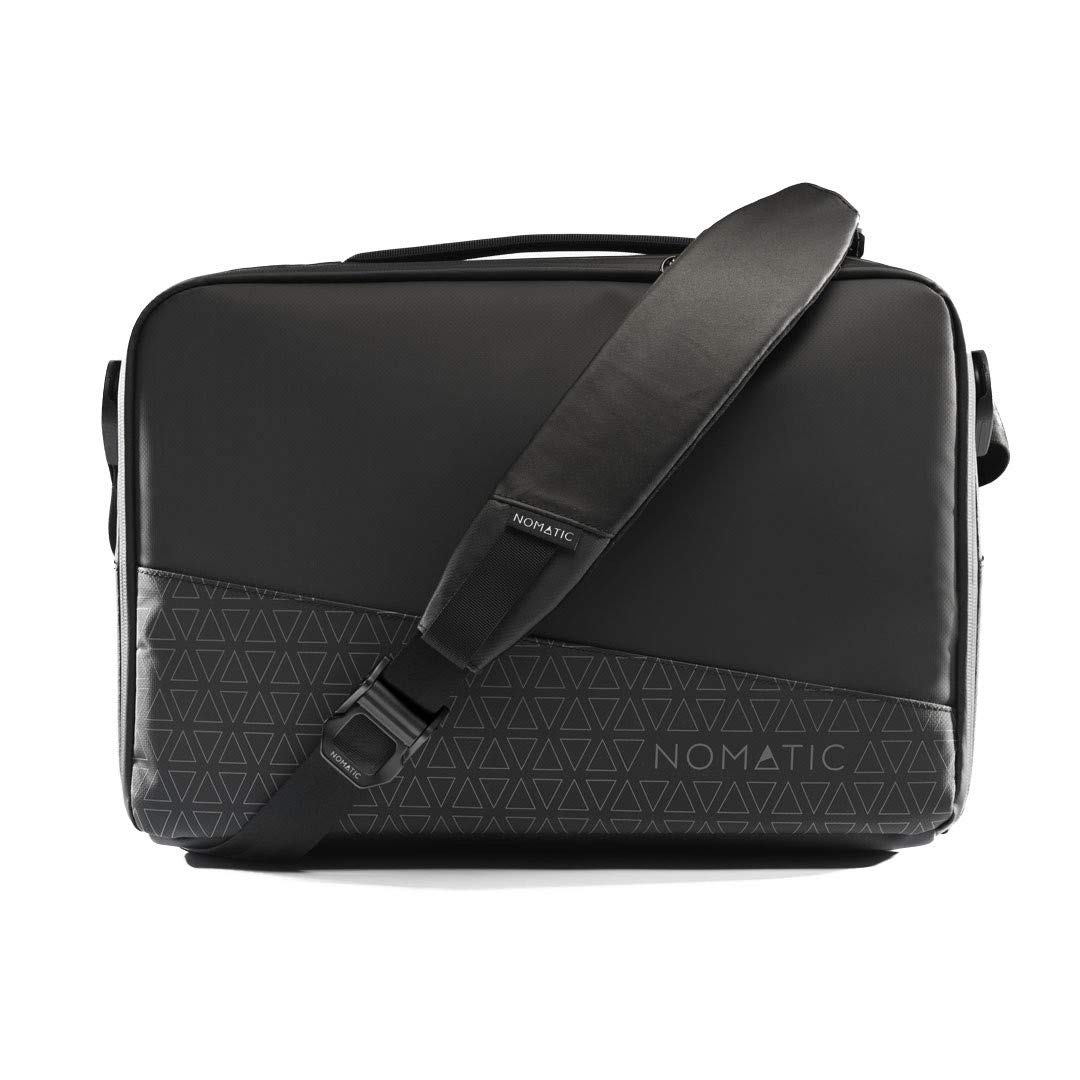 Nomatic has provided us with a simple travel laptop bag. This slim over-the-shoulder is perfect for toting your laptop and necessary accessories around in an urban environment, and we love traveling with it!
This sleek laptop travel bag holds everything you need in a slim 3.5 inches. The strap even unbuckles so your bag can disguise itself as a professional travel briefcase. Traveling is easy with the Nomatic Laptop Bag, as it can slip right over your suitcase with its trolley sleeve.
Also, you won't be the one holding up the line at TSA, as the bag allows quick access to those items that need extra screening.
To learn more about this awesome bag, be sure to read our full review of the Nomatic Messenger Bag!
UPDATE for 2021: Nomatic no longer sells or does business in the European Union, which is an unfortunate development. Those living in the EU should consider the next bag instead…
Pros
Sleek & urban
Retractable key leash
Detachable shoulder strap
Waterproof
Cons
No additional tablet sleeve or pocket
No cross-strap for extra comfort
Is the Nomatic Laptop Bag for me?
If you want a functional laptop bag that organizes and totes your stuff with the highest degree of style, this is your bag! However, if you need a little more storage space or are looking for a backpack, check out our other recommendations.
Regardless if you're a commuter flying about town on an electric bike or digital nomad, you'll need a bit more storage space in your laptop bag for all those important cords, external keyboards, and laptop mounts you're surely carrying around (just kidding, us digital nomads are often lovers of minimalism).
The Tortuga Setout Laptop Backpack provides space for all your work necessities and a few comforts as well, so it's a great bag for weekend trips. Beyond space, the Setout's distinct advantage is a beautifully organized interior.
This laptop bag has pockets for days, so you'll never have to dig through the bag looking for that important piece that you just know you packed.
Pros
25L Capacity
Comfortable to carry
Tablet compartment
Lockable zippers
Cons
Only for urban use
Not an all-in-one travel bag
Is the Tortuga Setout Laptop Backpack for me?
We've answered this question in-depth in our Tortuga Setout Laptop Backpack Review, but here's the gist. If you want a bag to organize all your tech and a little more, this bag is perfect. If you're looking for absolute maximum capacity to carry everything at once, we recommend the traditional Tortuga Setout.
The combination of trendy styling, size, and resistance to dirt and water makes the Fjallraven Kanken a fine carry-on for traveling with a laptop.
Although one of the simpler laptop bags we're covering, the double zip closure of the main compartment and its padded laptop sleeve, is lockable for peace of mind. This bag also includes several smaller pockets for keeping items organised, and useful black leather handles too.
Padded shoulder straps make this comfortable to carry while in the various queues you might well encounter at an airport.
Pros
Beautifully styled
Lockable main compartment
Smaller pockets for organisation
Padded shoulder straps
Cons
Not fully waterproof
18-liter capacity
Is the Fjallraven Kanken 15" Laptop Bag for me?
If you'd rather go for a briefcase-style bag rather than a backpack, the Timbuk2 Flight Classic Messenger Bag is a great option! This bag will last you for years, through sun and rain, and for commute and business trips!
This bag also comes in multiple colors including black, army, and a neon teal.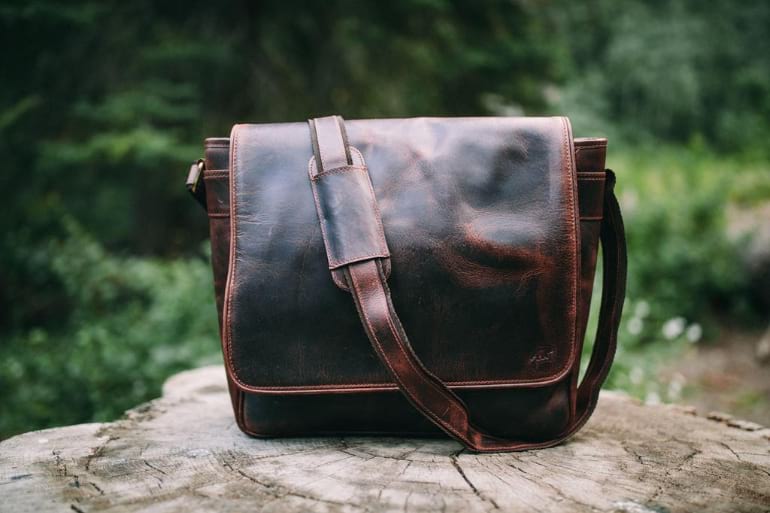 Enter the Kodiak Buffalo Leather Messenger Bag. A large sling bag for daily use, which not only looks totally classy AF, but also fits with a variety of work and travel situations. This bag has tons of internal pockets for your pens, small items, and even a padded, firm place to store files. It fits a 15″ laptop.
There is a removable cross-body strap for carrying. The shoulder strap includes a super comfortable air-mesh strap pad. The flap corners fold into place for weatherproofing and the waterproof thermoplastic liner keeps water out.
Pros
Weatherproof material
Thoughtfully distributed internal pockets
Removable cross-body strap
Cons
No backpack straps
Leather is not the most weather resistant material
Is The Kodiak Messenger Bag for me?
This super snazzy, classy messenger satchel is a beauty. This bag will last you for years, through sun and rain, and for commute and business trips!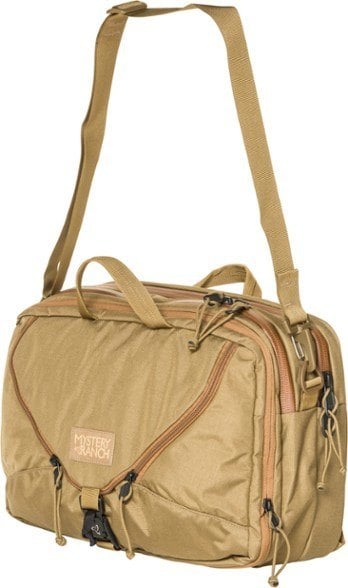 This briefcase laptop bag is both rugged and practical! We think this is one of the best laptop bags for business travel!
It has a zippered main compartment, a laptop compartment and multiple accessory pockets. The bag can hold a 15″ laptop and an expandable zipper provides 5 extra liters of storage if you need it.
It also includes fully cushioned backpack straps when not in use. Like a briefcase, it provides adequate space for a laptop or iPad, binder, and any smaller things you may need to carry.
Pros
Weatherproof material
Thoughtfully distributed internal pockets
TSA-friendly
Removable cross-body strap
Cons
Only 22 liters
Not much padding on the shoulder strap
No bottle carrier
Is the MYSTERY RANCH 3-Way Expandable Briefcase for me?
This is a go-to bag for everyday and weekend use. Like a briefcase, it's very convenient for a 15″ laptop and everyday necessities. Expanded, it can be used for a three-day business trip and will deploy the backpack straps for help with added weight.
Looking for a stylish and modern briefcase to carry your laptop? If so, look no further than the Filson Dryden briefcase! Filson makes top quality and versatile bags. This bag is designed to carry a standard 15 in. laptop plus essentials, so it's also a great  laptop bag for business travelers.
Its double-layer bottom provides water resistance and durability.
Pros
Multi-use
Carries 15″ laptop
2 exterior pockets
Cons
No water bottle pocket
 Not big enough to be a full day bag (more like a purse)
Is the Filson Dryden Briefcase for me?
This is a high-quality, rugged briefcase bag that is stylish too! The internal space comfortably holds a 15″ laptop, book, and pad. The external pockets are useful. If you need a bag for your laptop and essentials, this bag is a great choice. If you want a laptop bag for commute, the gym, and travel, then it's probably not big enough! Overall, Filson quality is hard to beat.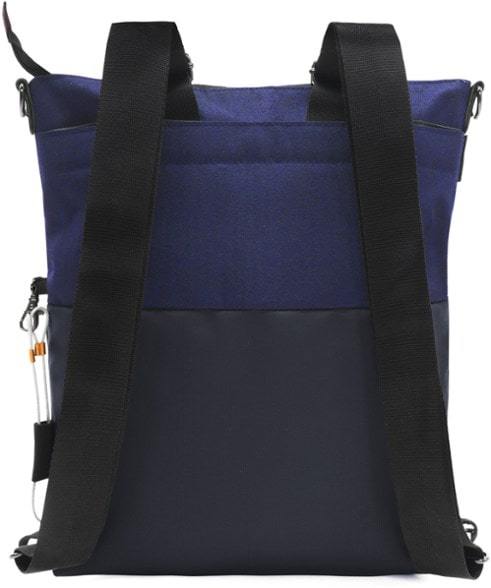 This is stylish messenger is one of the best travel laptop bags for women (though men can use it too!). We love that it's an all-in-one convertible backpack and cross body bag. It includes an anti-theft locking slider, anti-slashing fabric, and RFID-protected panel for added security and peace of mind.
There is a deep main zipper compartment with zipper locks. The padded internal laptop sleeve fits most 11 inch computers, and there's an extra interior pocket for a phone and other bits.
It also has a front pocket as well as a back packet which doubles as storage for the straps when not in use. Bonus points for the included flashlight-pen!
Pros
Multi-use
Super secure
Flashlight-pen included!
Cons
Only fits up to a 11-inch laptop
 Tight squeeze for everything
Is the Sherpani Capo Convertible Pack Tote for me?
This is a go-to, multifunctional bag and backpack! There are a few things that can improve, but we like that it is a secure and stylish bag with a padded internal laptop sleeve and a nice array of exterior pockets. The biggest drawback, however, is that it only fits most 11 inch laptops. Get a bigger bag if you have a bigger laptop.
The best present of all… is CONVENIENCE!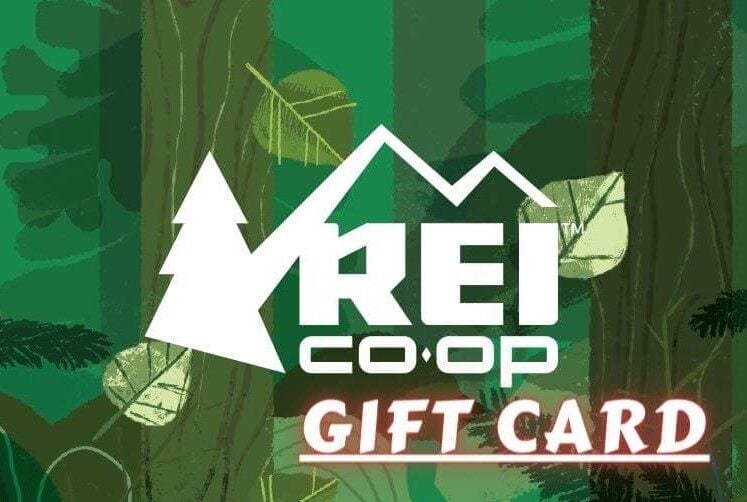 Now, you could spend a fat chunk of $$$ on the WRONG present for someone. Wrong size hiking boots, wrong fit backpack, wrong shape sleeping bag… As any adventurer will tell you, gear is a personal choice.
So give the adventurer in your life the gift of convenience: buy them an REI Co-op gift card! REI is The Broke Backpacker's retailer of choice for ALL things outdoors, and an REI gift card is the perfect present you can buy from them. And then you won't have to keep the receipt. 😉
Buy on REI!
The larger your laptop, the harder you're going to find it to purchase a dedicated laptop travel bag that fits all your kit. Made from water-resistant canvas material, this Laptop Messenger Bag by Estarer will fit a laptop up to 17.3 inches.
A front flap provides quick access to a zip-closure main compartment lined with a soft protective material which is large enough for the laptop and large A4 binder among other items.
There's also an anti-theft pocket on the back ideal for a passport or for keeping a credit card safe, while there are many other small pockets, including those on the exterior designed for a water bottle or umbrella.
Pros
Pockets might not meet the needs of some
40 liters too large for some
Square shape
Lacks protection from scanning technology
Cons
Just one main compartment
Messenger style bag rather than a backpack
Not fully waterproof
900g in weight
Is the Estarer 17.3" Laptop Messenger Bag for me?
The truth be told, if you require the use of a larger laptop, your options for a bag are limited. However, this is one of the best for oversized laptops (17.3-inch laptops), and it's stylish and useful.
The cool look will mean you won't be ashamed to walk the streets with this bag, while the padded main compartment provides the protection you need for your laptop.
The Inateck Travel Carry-on 40 litre Laptop Backpack offers two laptop compartments, each of which has the standard protection and padded sections you have come to expect from a dedicated laptop bag.
Double zips mean these compartments are lockable if you're looking for extra peace of mind, while an additional rain cover means all your tech will be protected even in the worst of downpours.
Additional features include a very handy change pocket and an anti-theft pocket on the back panel. What's more, this travel laptop bag has a great range of carrying options, with shoulder straps, side handle, and band to slip over the extended handle of a wheeled backpack too!
Pros
Two laptop compartments
Organizational pockets
Lockable zips
Rain cover
Cons
Pockets might not meet the needs of some
40 liters too large for some
Square shape
Lacks protection from scanning technology
Is the Inateck Travel Carry-on 40 litre Laptop Backpack for me?
We can see that the Inateck Travel Carry-on 40 litre Laptop Backpack might not be for everyone with its square shape. But anyone looking for a larger travel bag for a laptop will like the fact this offering from Inateck has a capacity of 40 liters, in addition to its two padded laptop compartments meaning a latop and all your other digital nomad essentials will fit nicely.
The best part about this backpack is that it is completely waterproof. If you live and work somewhere it rains a lot, then this is one of the best laptop bags for you! This laptop bag holds a standard 15 in. laptop and has an additional internal sleeve for documents as well as a stretch-mesh pocket for the accessories and doodads.
It has a padded back panel and adjustable shoulder straps for comfort. A 1-handed release buckles hold the top lid closed and offer easy access with a zippered top flkat for extra security. I do wish there was a water bottle holder, however.
Pros
Dedicated 15-inch laptop and iPad area
Rugged and durable
Completely waterproof
Cons
No water bottle pocket
Color can wear out easily
Is the Arc'teryx Granville 20 Pack for me?
This multi-functional, waterproof laptop bag. This bag is for you if you have to deal with traveling and commuting in the rain. It's also quite sleek and stylish, and useful for multiple situations.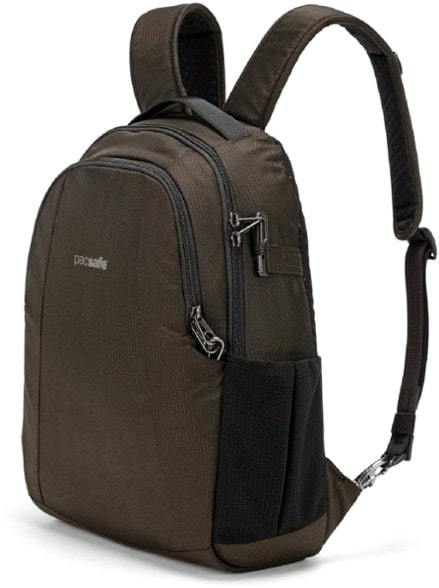 The Pacsafe Slingsafe LS350 is one of the best travel laptop bags with anti-theft functionality. Plus, it has plenty of space for your books and docs, and a padded sleeve for your 13 in. laptop, all in a go-anywhere, protective design. If you need to keep your laptop safe, then this may be the bag for you.
This laptop bag comes with lots of safety features, such as RFIDsafe blocking material to prevent your credit card and other chip data from being swiped. There are cut-resistant achor straps for securing valuables and an internal attachment point for your keys an wallet.
At only 15 liters, however, it's much more suited to safe city excursions rather as a soiltary travel bag.
Pros
Strong securing points for valuables
RFIDsafe blocking material
Cut-resistant material
Cons
Fits laptops only up to 13″
Quite a small capacity at only 15 liters
Is the Pacsafe MetroSafe LS350 for me?
Don't worry about traveling with your laptop thanks to this Anti-Theft Pacsafe Daypack. This backpack is for you if you prioritize security above all else! It is a small backpack, however, and may not be for you if you need more than 15 liters of space.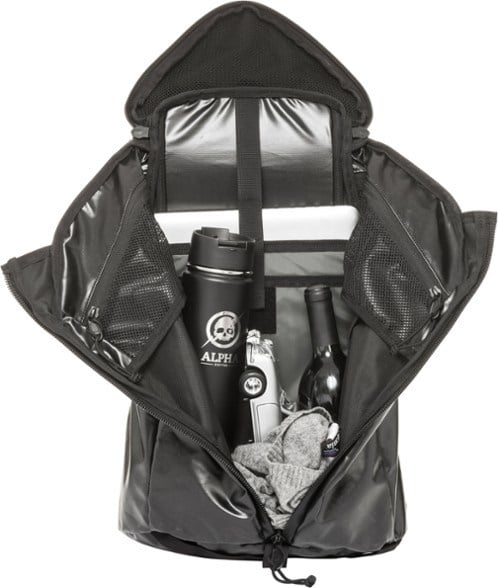 This laptop bag does it all. Use it for rugged travel or your day-to-day commute! I can't think of a more perfect bag. It's minimalist yet offers lots of storage, even for an 18-liter bag. There are small, inside pockets, and it can easily fit a 13″ laptop plus a tablet/reader.  The quality is bombproof and will handle any drops.
Pros
2 Internal zippered pockets
The sleeve fits up to a 15-inch laptop
YKK Zippers
Comfortable Straps
Cons
Only 18 Liter Bag
No Water Bottle Pocket
Is the Mystery Ranch Urban Assault Backpack for me?
Don't worry again about traveling with your laptop thanks to this bomb proof backpack! It's durable and stylish all in one. While on the smaller side, it still helps you organize your essentials. This is a great bag, but only 18 liters. If you need a laptop bag for travel, consider a bigger sized pack.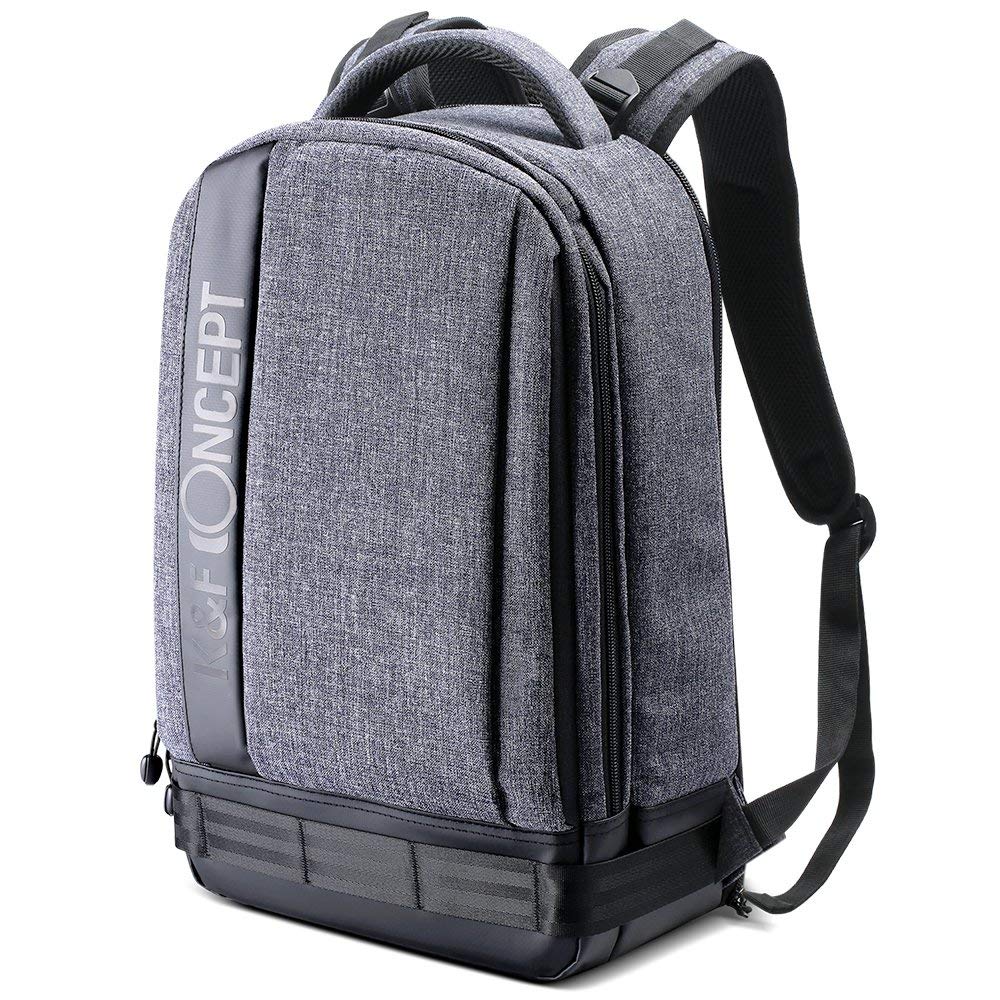 This laptop travel bag is surprisingly lightweight given the specific protection it gives to both camera gear and a laptop, weighing in at 1.2kg.
It can hold two cameras, five lenses, those photographic extras all semi-professional cameramen require, and a laptop up to 13.3"!
It's made from a tough nylon material which provides additional protection from tears, bumps, and light rain too. The interior dividers can be modified to your taste, with the main compartment opening flat to 180° for easy camera and laptop access.
There's a space to hang a lighter weight tripod on the exterior side of the bag, and a waist belt in addition to padded shoulder straps to ensure all your expensive kit stays exactly where it should on your back.
Pros
Dedicated camera and laptop bag
Capacity for a large amount of camera equipment
Tough nylon material
Internal dividers can be personalised
Cons
Not a briefcase-style bag
Only fits laptops up to 13.3"
Just one colour available
Not fully waterproof
Is the K&F Concept DSLR Camera and Laptop Bag for me?
If you're an active amateur or semi-professional photographer, you've got more than just a laptop to carry around with you as you travel. With this equipment being so expensive to buy and replace, you don't want to risk using a bag that isn't dedicated to the job. Instead, hit order on the K&F Concept, you won't regret it!
Made from water-repelling canvas this Kroser briefcase-style laptop bag can fit laptops up to 15.6 inches.
Although it lacks the shoulder straps you'll find on a backpack, it has both carry handles and a single shoulder strap for a choice of carrying options.
The main compartment is TSA-friendly, meaning it meets the needs of US airport security, while there are two other small compartments for notepads, paper, and pens. This laptop bag is good for business travelers.
Perhaps the best feature of the Kroser 15.6" laptop briefcase bag is its RFID pockets, which protect your electronic data on credit cards and passports from being scanned and then stolen.
Pros
Made from water repellent canvas
Carry handles and single shoulder strap
TSA-friendly
RFID protection pocket
Cons
Won't fit larger laptops
Not fully waterproof
Weight of just over 1 kg
No backpack straps
Is the Kroser 15.6" laptop briefcase bag for me?
If you'd rather go for a briefcase-style bag rather than a dedicated business backpack, the Kroser 15.6" laptop bag is a good option. In addition to the main compartment that will take an average-sized laptop, there's the additional space supplied by further compartments, as well as RFID protection for your electronic data too!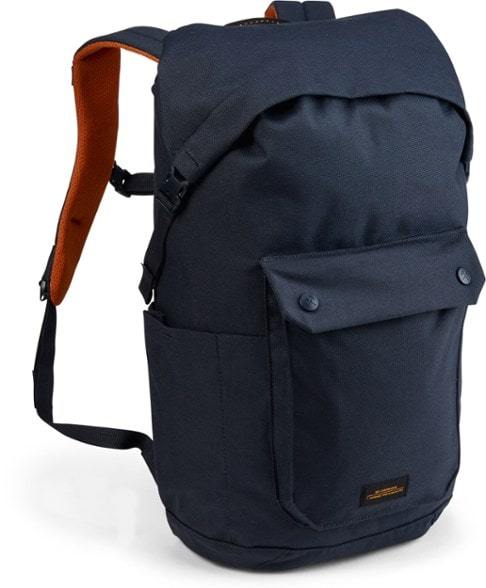 This heavy-duty travel laptop bag will hold not only a laptop up to 15" in size in a padded pocket, but also an interior pocket for organization and iS even designed to be overstuffed! Though only 26 L in size there are also exterior pockets as well as one dedicated for your water botttle.
Designed to most airline check-in restrictions, you'll be breezing through airports in no time. What's more, the back panel is lined with mesh to keep wearers cool, while adjustable shoulder straps keep everything sitting right.
Pros
Capable of carrying laptops up to 15"
Plenty of additional pockets
Breathable
Cons
Too small to suit all kinds of travelers
A tablet sleeve would be a nice bonus
Is the REI Co-op Norseland Pack for me?
While lacking in a tablet sleeve, the comfort of this pack combined with its budget price for such a sturdy beast is certainly nothing to ignore. The wealth of additional pockets and rather smart-casual stylish look only go further to accentuate this a budget pack suitable for most travelers.
FAQ about the Best Travel Laptop Bags
Still have some questions? No problem! We've listed and answered the most commonly asked questions below. Here's what people usually want to know:
Get Your Copy of the Backpacker Bible Totally FREE!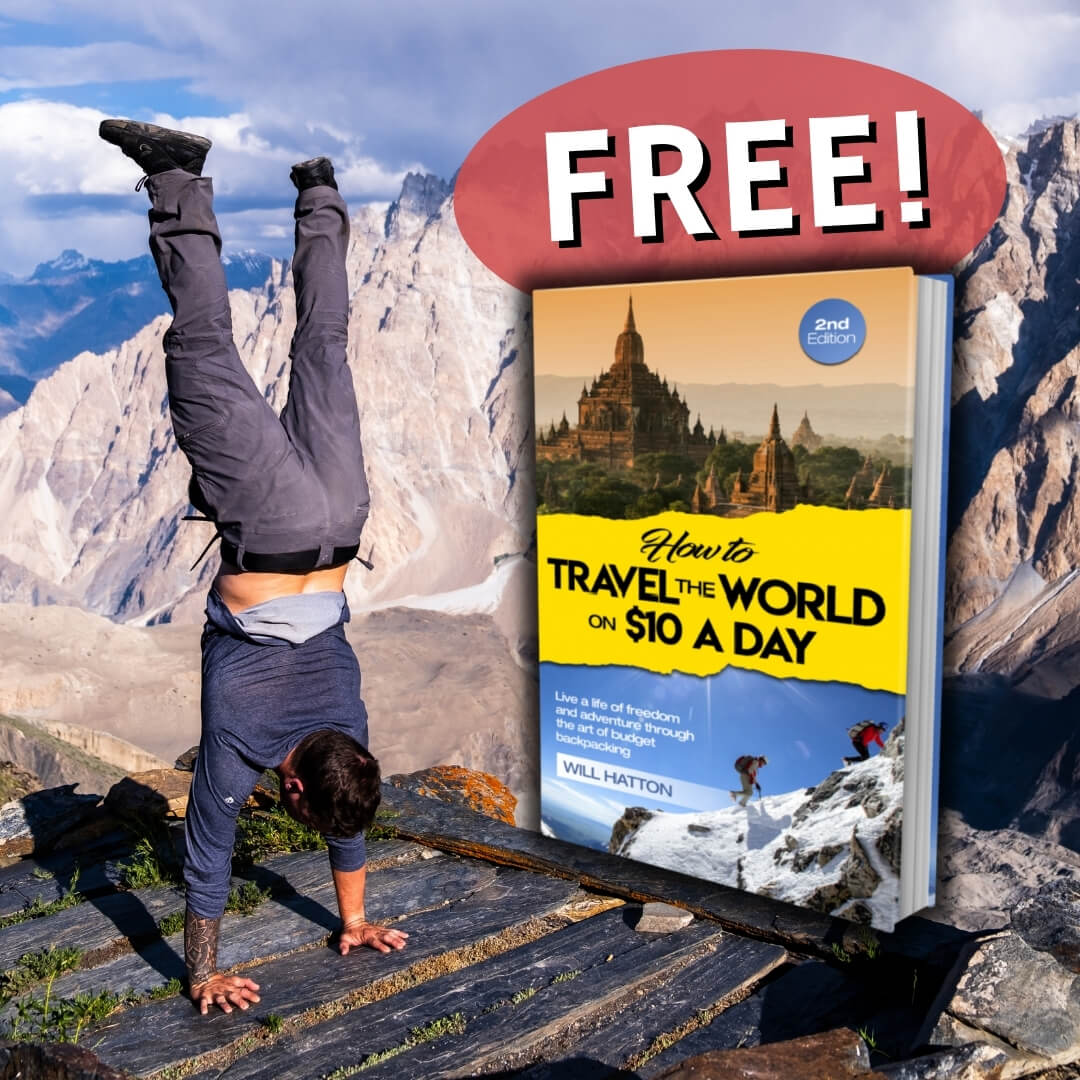 Learn how to travel the world on just $10/day with the Backpacker Bible – Will Hatton's own personal guide to the life of a budget traveller!
This book is the ULTIMATE culmination of more than 10 years of travel experience. It's full of valuable insider hacks and secrets that will help you unlock your full potential as a traveller.
AND… it's also FREE at the moment! All you need to do is click this link (or the sexy image of Will flexing his handstand skillz), provide your email, and we'll email you the ebook lickety-split!
Final Thoughts on the Best Laptop Bags for Travelers
We've worked hard to sort the wheat from the chaff so that you can see the best laptop bags on the market! From large, small, stylish, messenger-style, and functional, we're confident you'll find a keeper among our picks!
To summarize: we think that the Nomatic Messenger Bag is currently the best that money can buy. It's versatile, tough, and does what it's supposed to do (protect your gear).
That being said, there are plenty of other specialized bags out there for you to consider. The waterproof Arc'teryx Granville Pack is great for those more demanding adventures. The Tortuga Setout is probably more appropriate for those traveling long term. Finally, the Kroser 15.6" Laptop Briefcase Bag is great for those who travel frequently for business,
Whether you're looking for a laptop bag for travel, work, or everything in between, this list has you covered!
Although you should be able to use almost all of the bags on this list as a carry-on, some airlines still like to make a fuss over an inch or two. In this case, it pays to know the airline's own carry-on regulations. Use this convenient list of airlines and their cabin policies as a reference, if needed.
---
Thanks for reading – that was fun! 😀
We bring you epic FREE content!
Find out how YOU can help support us.
We're a big site with a big team and this job isn't always easy. But we do it because we love it – we love providing epic and free content. We love the knowledge that our content keeps you adventuring. We don't ask for money, but if you'd like to find out how you can help the site in more organic ways, click the button below.
Thank you for your support 🙂
---
Bye for now, but not forever!
If you want MORE top-tier Broke Backpacker content like this, then sign up for our weekly newsletter below to get the latest and greatest!
And for transparency's sake, please know that some of the links in our content are affiliate links. That means that if you book your accommodation, buy your gear, or sort your insurance through our link, we earn a small commission (at no extra cost to you). That said, we only link to the gear we trust and never recommend services we don't believe are up to scratch. Again, thank you!