Whether you are a Digital Nomad, like to surf the web, or just want the best travel laptop for a few Netflix binges, the truth is this…
Traveling with a laptop is awesome.
But unfortunately, not all laptops are ideal to travel with. And in fact… some of them suck.
I know this from first-hand experience.
Years ago, I bought a shiny new laptop for my travels. That laptop quickly died on me, and took all of my photos, documents, and precious memories down with it. Never to be recovered.
It sucked.
Which is exactly why I put together this epic guide to the best travel laptops so that you don't have to face the same struggle I did!
I put this guide together with one goal in mind – to help you find the best travel laptop for YOUR travel style.
With the help of this epic guide, you'll easily to be able to know which laptop is best for your needs, style, and budget.
Alllrighty then, do you wanna find out what the best computer for travel is? Well, let's get to it!
My laptop has literally changed my life – not only can I earn money online but I can also stream Game of Thrones wherever I go… and I think we can all agree that that's pretty damn important.
But what about your needs?
You see, "the best travel laptop" is a pretty broad statement since there are many different types of travelers. The question is – which kind of traveler are YOU?
Here are some extremely important things to consider…
1. Do you need to get work done on your laptop?
If you aren't planning on using your travel laptop for online work, you don't necessarily need to splash out on a top of the range laptop.
While it might be tempting to spend $2,000 on the new best laptop, the truth is that only digital nomads and other professionals really need that sort of tech. If you don't have any work deadlines to meet, it might be better to keep it simple.
2. What will you use your laptop for?
Will you be working on the road (writing, editing, etc.), or mainly surfing the web? Do you need the processing power to run multiple editing programs, or is your prime concern staying connected to social media?
Identifying exactly what you need a laptop for will help you decide on which one is best for your travels.
3. Do you have any size requirements?
Are you traveling with minimal room in your backpack? Are you bringing a bag with certain size requirements?
For instance, some expensive daypacks can't fit 15-inch laptops, or some laptop sleeves can't fit larger than a 13 inch. If you buy a special backpack for your laptop, then most of your needs should be met. Either way, make sure to keep these in mind.
4. Are you traveling heavy or light?
The more powerful the laptop, the more it weighs. The difference between a 1.5 lb tablet and a 7 lb professional laptop is HUGE.
Remember that a light traveler is a happy traveler, so if you don't need a heavier laptop, there's no reason to cause extra strain on your body.
There are different specs you need to considers when choosing the best laptop for you…
Introducing the world's best co-working hostel – a game changing space…
Tribal Hostel Bali is finally open – this custom-designed co-working hostel is an absolute game-changer for digital nomads, wandering entrepreneurs and excitable backpackers alike…
A unique coworking and co-living hostel for those that want to travel the world while working from their laptops. Make use of the massive open-air coworking spaces and sip on delicious coffee.
Need more work inspiration? Staying at a digital nomad-friendly hostel is a really smart way to get more done whilst still enjoying the social life of travelling… Mingle, share ideas, brainstorm, make connections and find your tribe at Tribal Bali!
Two quick things….
If you are a digital nomad, working professional, or aspiring to work online. Do not pick this travel laptop.
If you hate Macs or iOS. Do not pick this computer.
Everyone else. This is the best travel laptop.
If you're an Apple user, this is Apple's best Mac laptop for the money and this was the first laptop I took traveling which was adequate for working online.
The pros (as with any MacBook) are its integration with apple products, ease-of-use, trackpad and keyboard, design, and reliable performance. It's also the lightest laptop for travel, so that's a major win.
I've used MacBooks for 7 years now (my first one from 2010 is still alive and kicking!), and I've never needed repairs (except to replace an old battery). I can't say the same for any of the PCs I've owned, which is why I think Macs are the best user-friendly laptops if you don't have a computer background.
If you want a MacBook for browsing, streaming, social, and office, the MacBook Air is fast enough, especially with 2023's updated processor speed and default memory. But if you want a Retina resolution screen, "Kaby Lake" processors, and more power for editing programs, you'll have to fork out the money for a MacBook Pro instead.
I recommend you go for as much storage as you can afford if you plan on storing music, images or video because you can't add storage to Apple computers after purchase. If your laptop is used for browsing and light document work (Excel, Word, etc.) the 256GB SSD should be fine.
Our team rated this as their best travel computer in large part because of the combination of weight and performance. Mac's are popular for not just our team but for digital nomads the world over, they have proven themselves to be reliable and well worth the extra money upfront. The team are big into travelling as light as possible, so for them, the weight of the Macbook air was revolutionary when it came to having such a powerful laptop in their bag without being weighed down!
Is the MacBook Air for you?
If you are looking for a light laptop that can handle all of your basic internet needs and then a little bit more – the MacBook Air is my highest recommendation. It's light and sleek design makes it ideal for travelers, and it comes at a reasonable price.
If you are interested in making money online, you need to invest in a great laptop.
The MacBook Pro is my highest recommendation.
Its starting price plus lack of ports can be a deal breaker for many, but I still think it is the most versatile, user-friendly laptop out there and mine has allowed me to start and run several businesses from all over the world.
I love my MacBook Pro and investing in it was the smartest move I made.
Whether you are freelancing, doing graphic design, blogging or editing photo or video – if you are a traveling professional, it's hard to beat the MacBook Pro.
If you're in the market for the best lightweight laptop that still has a ton of storage space, the 16.2-inch MacBook is the best choice for you. Weighing less than a 2 kg, this is the best lightweight laptop for travel.
Overall, the MacBook Pro is one of the fastest computers on the market. It's the best traveling laptop for digital nomads, but you have to pay for it.
This is a great choice for bloggers, freelance photographers, etc. It outperforms the other laptops on this list, but if you're not set on the Mac OS system, the Dell XPS and Microsoft Surface Book have competing specs for a much more affordable cost.
Our team feel this is the best laptop for travel for professionals. One of the issues with the Macbook Air is that is does lack some of the features many of the photographers and graphic designers on our team require such as faster processors and larger storage. For those with additional requirements, they just swear by the Macbook. Plenty of the team have similar stories of having their Macbook for 10+ years and only having to upgrade based on things like updated graphics and processors rather than it actually breaking down. They're expensive sure, but they're worth it!
Is the MacBook Pro for you?
If you can afford a notebook above $1800, or have to bite the bullet because of work, these laptops are going to be fantastic options because they have powerful processors, larger storage space, and better quality build.
High-end laptops are the best laptops for travelling photographers, videographers, laptop bloggers, etc., but not necessary for the average traveller.
The Dell XPS is best mid-range laptop for travel because of its superb battery life, 7th-generation Core performance and excellent Wi-Fi range.
I love that it has more ports than on competing laptops, as well as an SD port. It also has a touch-screen higher-resolution option (for a bit more weight and quite a bit more money).
As for its design, the Dell XPS has a comfortable soft-touch, carbon-fibre deck, infinity display, and rose-colour option.
Often the trade off for a thin, best ultralight laptop is shorter battery life and too few ports. The XPS 13, however, gives you nearly 14 hours of battery power, and all the connection options you need while also remaining pretty light and compact for travel.
If you are a PC user, the Dell XPS 13″ is the best travel computer within the $1000 range. Though if you want more memory than 256MB, or an i7 processor, you will have to pay more money. This is a high quality laptop at a great price…
The team feel this laptop is a great alternative to the Apple products we listed above. Some of our team don't really want to invest thousands of dollars on a laptop they will be throwing into their backpack and travelling across the world with. Instead, they want something that cuts through the middle and offers something instead that is in the mid-range yet still offers great performance and importantly, is lightweight. The Dell XPS hits that spot perfectly!
Is the Dell XPS right for you?
For under $1000, you should be able to find a high quality travel laptop for many of the specs that matter most to the average traveler: weight, portability, and reliability. If you are willing to spend a couple hundred more, I would recommend picking up the Dell…
This is definitely one of the best-value laptops/tablets for travel!
You essentially get the portability and ease of use of a tablet with a detachable keyboard. The Microsoft Surface book is lightweight and portable, but you can still run programs like Lightroom and upload your travel photos and videos. The Stylus Pen is a truly innovative and amazing addition as well.
While this isn't the cheapest laptop in this guide, the Microsoft Surface book is definitely one of the best value laptops on the markets since you are getting a great tablet and computer all-in-one.
When it comes to weight, size, features, battery, I think this is the best travel laptop for your money but if you are going pro and embracing the digital nomad lifestyle, I would recommend getting a Macbook instead.
The Microsoft Surface book is a great laptop for photographers and allows you to run Lightroom, Adobe Premier, and other intensive programs.
This is the best Windows 10 option for creatives and travellers needing versatility, speed, and power. While technically a powerful laptop, this is also one of the best tablets for travel.
It has a battery on the detachable screen and actual computer. When both are charged you can get up to 12 hours battery life.
The 6th generation processor is not as speedy as the 7th generation in the MacBook Pro, but it's a bit more affordable. The Surface Book also has a leg up on graphics performance in comparison to the MacBook Pro.
For the graphic designers and photographers on our team, this laptop was a real stand-out performer. The superior graphics really allowed them to bring their work to life. Another feature that they loved what the ability to use the screen as a drawing tablet, again, for the creative workers this was super useful as it meant they didn't need to take a separate pad with them. The ability to also essentially fold the laptop over also meant it could be used well while on transport too.
Is the Surface right for you?
People who need discrete graphics, want a powerful computer that is also a 2-1, and Microsoft program integration will find this laptop to be one of the best options out there.
To take full advantage of the separate graphics chip and power, you have to invest more than the starting price and pay for an upgrade, but it's totally worth it.
The Lenovo is one of the best ultra-lightweight laptops in the budget price range. This Windows OS laptop has 9 hours of battery life, a nice design, and is one of the cheapest light laptops for travel.
The performance is good enough for web surfing, editing documents, and viewing movies. The keyboard and touchpad's quality, however, is less than subpar.
Overall, this is a cheap laptop and a solid choice for the minimal traveller, who wants to stream online and run basic programs.
This is definitely not adequate for anybody who needs to work online and certainly the Lenovo cannot handle Lightroom or other photo editing programs.
The team felt this was a great option for those with pretty basic needs looking for something lightweight, affordable and that performs well enough given the tasks expected of it. For those working mostly on word processors and looking to store their travel photos, this is a great option. The standard edition comes with a massive hard drive too making it great for storing and doing some basic processing to travel photos on the road.
Is the Lenovo right for you?
If you are trying to get any work done or be productive, the Lenovo is NOT for you. This is a budget computer that can handle some basic browsing and streaming for the few years it lasts. If that is what you need it for, then this is one of the best budget options!

This is one of the top travel laptops out there because of its versatility and price range compared to the competition. However, the biggest drawback is that the Surface Pro Keyboard must be bought separately (and costs an extra $120)!
The Surface Pro can easily function as an ebook reader, travelling tablet, sketchpad, and video player all-in-one, making it the best tablet for travel, hands down. Plus, I can say from experience that it has awesome resolution and a sharp screen, making it great for watching movies on a plane/bus/train.
Its most stand out features are its touch screen and surface pen stylus. The pen has been tested by comic artists and graphic designers for its accuracy and real-feel! (The pen even learns your handwriting!)
The device doesn't have as much storage space or processing power as its sister product, the Surface Book, so an external drive is crucial! Though you can upgrade to 256MB or 512MB, it will make the surface pro significantly more expensive.
Our team are big fans of this set-up and rate it as their best laptop for working on an airplane or bus due to its tiny size and versatility. They love the 3-1 feature where it can be used as a tablet for times when space is at a premium. The keyboard is actually pretty good, though for writers it might be a little flimsy, but for those with pretty standard writing needs, it's a great lightweight solution.
Is the Surface Pro 7 for you?
The Surface Pro 7 is the best tablet for travel, and with the keyboard one of the most versatile laptops on the market and is definitely worth considering.
The Samsung Chromebook Plus offers a decent design, long battery life, touchscreen, and a hybrid hinge that turns it into a tablet, and is the lightest Chromebook on this list.
Unlike other ChromeBooks, this one is using the sister system, that allows you to download Android apps and use them offline, making it a great Chromebook for travel.
As an alternative to expensive and heavy Macbooks, the team felt the Samsung Chromebook Plus was a really viable option for those not wanting to travel with that kind of laptop but wanting similar performance levels.
The Acer Chromebook is one of the better budget lightweight laptops on the market. The laptop has ultra portability, a comfortably sized keyboard, and a touchscreen. The downside is it does feel very "cheap" with a plastic like frame. At 1.1 Kg and 11.6 inches, this is one of the best budget laptops for surfing the internet, and a great option if you're looking for a small, portable laptop to stream movies on or run other basic tasks with. The team reckon it's a great option for those just wanting something cheap and portable to take on their trip!
Note: I have listed the starting price for the storage space available. Often you can add more storage space for a higher price.
An alternative to the Surface Pro and another one of the best tablets for traveling is another hybrid with cool features like a fingerprint sensor. At 1.4kg (3.09lbs), the Yoga 910 is a heavier than most 2-1s, but also has more storage space to start, an all-metal finish, the latest Kaby Lake processors (i7), and 14in HD display.
It's reasonably well-priced for a hybrid of this quality, but there is a cheaper, more basic version called the Lenovo Yoga 710 if you're trying to save some cash. The 910, however, is the best no-compromise option for work and pleasure making it one of the best laptops for travel and digital nomad life.
The team agrees too and they like that this option provides a bit more durability and storage than the Surface Pro, which for a few members was a real deal breaker.
Tie Between MacBook Pro and Dell XPS 13 for the best travel laptop
MacBook Pro is the best laptop for travel for Mac users, who want the fastest, most reliable computer on the market. The MacBook Pro uses Kaby Lake processors (Intel's seventh generation chips), has a sleek design, retina (2560 x 1600-pixel) display, touch ID, and the best rated audio sound.
The Dell XPS is the best Windows 10-based laptop. It comes with 13.3 HD display, nearly 14 hours of battery power, and all the connection options you while remaining plenty light and compact for travel. This is a great choice if you want to save a bit of cash and avoid Macs…
1.Price
Price is probably the most important factor when choosing the best laptop for traveling.
Unless you are working online, you really don't need to spend $1000+ to get the best travel laptop. There are several cheap travel laptops and mid-range options that make great laptops for travel.
Remember that high-value items, such as a top of the range laptop, are often harder to claim for on insurance. There are some cheap lightweight laptop options on the market too and overall the price of laptops continues to come down… You get what you pay for though so if you need a laptop for work, I recommend not going for the cheapest laptop option.
2. Portability
Portability is especially essential for the on-the-go, minimal traveler, and an important factor to consider when choosing the best laptop for travel.
You want something lightweight so that your backpack doesn't end up weighing too much (As we say in the hiking world, ounces add pounds and pounds add pain!). If you haven't yet picked up a backpack for your trip, check out this post for plenty of backpack inspiration.
Your laptop's size is also important (usually correlating with weight) to easily pull your computer in/out of your bag at the TSA security line, etc. The smallest travel laptops and tablets have less storage space and processing power, but they are also cheap and highly portable. If you are going to be on the road a lot, I recommend trying to find a lightweight laptop.
If you have a smaller unit, you can also invest in a smaller laptop bag. So portability not only applies to the laptop itself, but what you're going to use to carry it.
3. Battery Life
It's always nice to have a reliable battery life, especially if you are taking your laptop up into the mountains. The best laptops on the market have at least 8 hours of battery life, and some can last for an entire day. If you are spending a lot of time off the grid and still need access to your laptop then consider picking up a portable battery capable of charging a laptop.
Quick travel tip: make sure your wi-fi and blue tooth are turned off (when you're not using them) to save battery!
4. Storage Space
Most of the top travel laptops (with ample battery life and affordability) lack a large amount of storage space, and if you're going to store a lot of photos and videos from your travels, it's important to have ample hard drive space!
I've found it's well worth investing in a cloud drive and/or an external hard drive, especially since photos and videos take up a lot of room. This way you don't have to sacrifice laptop portability for storage space on the actual laptop.
My first backpacking laptop, a MacBook Air, didn't have too much storage space so I kept a lot of my photos and videos on Dropbox and stored my movies on a nearly bulletproof portable hard drive.
Typical external drives with 1 terabyte cost around $80 USD, and cloud storage (through Google, Dropbox Microsoft, etc.) average around $10 a month. It's also important to back up your files in case your travel laptop gets stolen (like my friend Ana's did in Costa Rica)!
5. Processing Power
If you are running editing programs and high-resolution videos, you should also prioritize the processing power.
The CPU is like the "brain" of your computer. At the moment, Intel Core i7 is the highest performer, but also the most expensive. Intel Core i5 should work for most of the best travel computers, and anything older is fine if you're just surfing the web.
A separate graphics chip allows gamers, 3D designers, and high-res video editors to run their programs without taking up a ton of RAM and slowing the overall performance of the computer.
An integrated graphics chips (one that shares system memory) is just fine if you don't have these needs.
If you want a separate graphics chip, keep in mind Apple only puts separate graphics chips in their MacBook Pro 15in computers. The 15 inch MacBooks are more expensive, and in my opinion, anything over 13 inches is too large to be considered one of the best laptops to travel with.
6. Do you prefer Mac, Windows, or Chrome OS?
Most laptops run one of these three operating systems: Windows, Chrome OS, or Mac OS X (for MacBooks only).
Windows notebooks offer the largest range of options for the best travel laptop. The newest window computers offer cool features like touch screens, 2-1 convertible tablets, fingerprint readers, and dual graphics chips.
Mac's newest operating system, MacOS Sierra, comes with all Apple computers. Once you get the hang of Apple's programs and trackpad/keyboard short cuts, Mac is the best user-friendly laptop (in my opinion) for the average person who knows nothing about computer engineering or coding.
Macs are expensive, but also reliable, which is important when you are travelling around the world and don't have time/money to take a computer in for repairs.
Chrome-OS is Google OS' – simple and secure operating system, usually available on small portable laptops. The drawback? It's mainly limited to surfing the web, checking email, and navigating social networks, not doing stuff offline. Still, ChromeBooks are the best cheap and light laptops for the minimal traveller.
Conclusion? Most travellers are going to need to prioritise versatility, weight, battery life, and price when picking the best travel laptop. Digital nomads and travellers working remotely are going to need powerful laptops for travel to handle multi-tasking and intensive programs.
Q. What is the best laptop for the money?
In my humble opinion, the best value laptop is definitely the Microsoft Surface Book – from a specs / weight / price ratio, this laptop outperforms all the others.
Q. What is the best cheap laptop?
The Lenovo Idea Pad is the best cheap laptop on the market at the moment. It is adequate for streaming movies and casual web browsing but that's about it… Still, for less than $300, it's a steal.
Q. What is the lightest travel laptop?
The MacBook Air is the most compact, thinnest and lightest laptop for traveling on the market… If space and weight is your primary concern, this is the laptop to choose.
Q. What is the best laptop for blogging?
The Macbook Pro is the best laptop for bloggers and photographers – it can handle whatever you throw at it and edit photos without any problems, even on very advanced, space hungry, software.
Q. What is the smallest travel laptop?
The Macbook Air takes the gold again for the smallest laptop for traveling…
Q. What is the most durable laptop?
The Macbook Pro is the toughest laptop in this list and if you put it in a case it can take some knocks… Still, be careful with it.
Q. Should I travel with a laptop or a tablet?
A 2-1 will give you a lot more versatility than just traveling with a laptop or a tablet. If you ARE a fan of tablets, I recommend that you consider getting a 2-1 laptop / tablet combo rather than just a tablet. The Microsoft Surface 7 Pro is definitely the best 2-1 laptop / tablet on the market.
There is no perfect or exact science when it comes to testing out what the best work travel laptop is. Having been digital nomads for a number of years, we think we're in a decent position to give our 2 cents on the matter!
So when it came to assessing the best travel computers, we looked at a few different factors like specific performance for certain jobs and tasks, memory, storage, speed, weight and durability too. Of course, when it comes to the best laptop for travel and work, much of what is needed is individual depending on your needs. But we tried to cover most of the common uses as well as generalised purposes for travelling with a laptop.
Finally, we also take into account how an item is priced. Travel computers vary wildly in price and the most expensive isn't always the best for your needs and your trip. However, we did scrutinise the more expensive laptops and gave the cheaper ones a bit more leeway.
Still have some questions about the best laptops for travel? No problem! We've listed and answered the most commonly asked questions below. Here's what people usually want to know:
There you have it!
Our epic reviews of the most versatile laptops, the most cost-efficient laptops, the best laptop for blogging and digital nomads and, of course, the best budget laptop on the market.
Overall, I don't think you can go wrong with any of the listed choices. I personally tend to lean towards MacBooks because of their reliability and my own personal experiences.
However, some of the newest Microsoft, Lenovo, and Dell laptops have unique, useful features like touch screen, and 2-1 convertibility that give them a leg up as the best traveling laptops.
If you just want the best cheap travel laptop to surf the web and stream online, one of the budget laptops or Chromebooks would be perfect for you.
You will need to upgrade from the ChromeBooks and budget options to one of the travelling tablet 2-1's or more expensive laptop options if you want to store data but you can get around this by buying a portable hard drive. Personally, I'm a big fan of Macbook Pros but what does the data say? When we compare all the factors, what is the best laptop for traveling?
---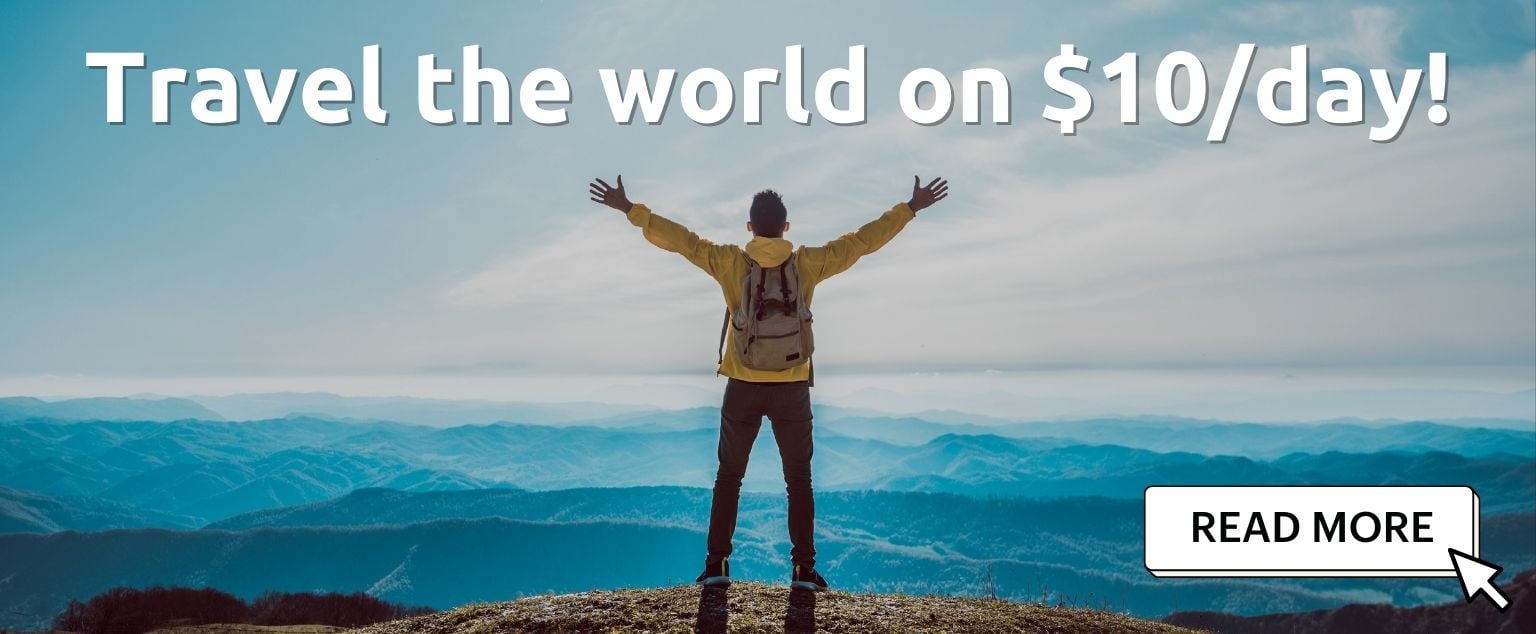 And for transparency's sake, please know that some of the links in our content are affiliate links. That means that if you book your accommodation, buy your gear, or sort your insurance through our link, we earn a small commission (at no extra cost to you). That said, we only link to the gear we trust and never recommend services we don't believe are up to scratch. Again, thank you!