A lot of people take their backpack for granted when it comes to their computer equipment. Many just shove their laptop into their bags haphazardly and without any thought of what could be happening to it…Well, doing this a great way to destroy your laptop, for good.
If you travel a lot with your computer, you're going to need the best travel laptop backpack possible. That way, you can keep your computer safe from harm while moving around.
This article will help you pick from the best laptop backpacks for travel depending on your needs and preferences. Whether you want the best backpack for a laptop and clothes, or maybe a laptop backpack with luggage pass through or even a false bottom backpack, we've got you covered!
Whether you are bringing your laptop on a backpacking trip, a weekend getaway, or your regular commute, each of these backpacks prioritizes quality, versatility, organization, and comfort! Every rucksack on this list is a TSA approved, has a specific laptop compartment, and the correct dimensions to carry onto any flight.
Read on to find the best traveling laptop backpack for your next digital adventure!
Quick Answer: What are the Best Laptop Backpacks for Travel in 2023?
What Makes a Good Travel Laptop Backpack?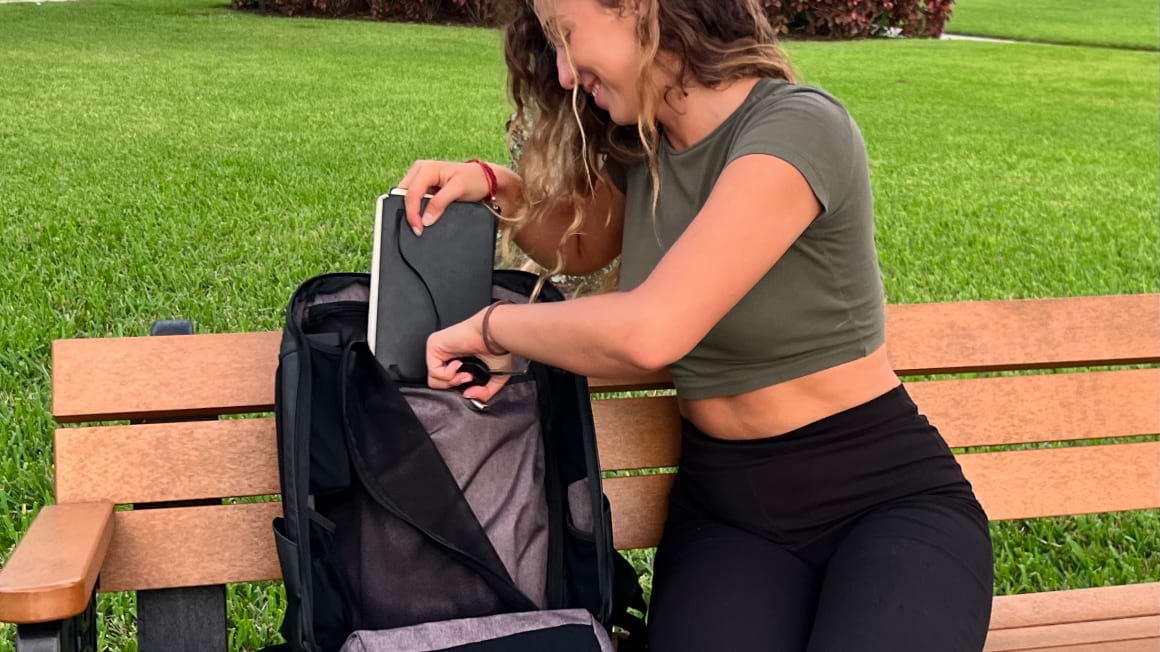 For this article, we are focusing on travel backpacks that can accommodate laptops.
All of the bags listed below are travel backpacks with laptop compartments and are well equipped to organize your technical gear while you're traveling.
Here are some features of the top laptop backpacks:
Backpack with a laptop compartment: Obviously, a good laptop backpack kind of needs a separate padded compartment keeps your electronics secure. Of course, you can also use these zipped compartments for books, your travel journal, or many other things.
Accessibility: In order to qualify as a good laptop bag, accessibility is very important. After all, its a royal pain in the arse if you have to dig deep and half unpack just to het your laptop out right?
Weather-resistant: If you are going to be carrying your laptop and other valuables, you want a backpack that will protect your valuables! Make sure it's weather-sealed or maybe includes a rain cover.
Carry-on size: Carry-on travel backpacks save you from having to deal with lost bags and luggage fees. Most of the backpacks on this list are carry-on sized and abide by TSA guidelines.
Our Top Picks For The Best Laptop Backpack
As I mentioned earlier, this article is going to focus on laptop backpacks that are specifically good for traveling with. I have reviewed our favorite backpacks below, categorized by different types of travels to accommodate your travel needs.
Best Overall Travel Laptop Backpack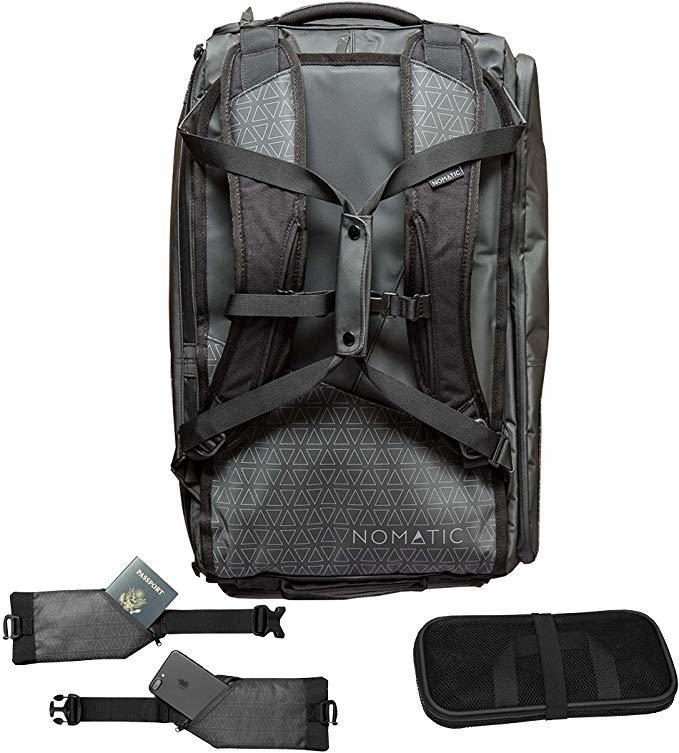 Capacity: 40L
Dimensions: 53.34 x 35.56 x 22.86 cm (21 x 14 x 9 in)
Weight: 1.5 kg (3.25 lbs)
Main Material: Durable water-resistant tarpaulin and ballistic nylon
Size of Laptop Compartment: 15″
Nomatic is the ultimate bag for nomadic travelers, featuring a plethora of pockets and functional features. Now, this is a 40L bag which Nomatic advertise for 3-7 day trips so you will be able to fit an entire desktop computer with screen inside, not just a laptop! It includes detachable waist straps with water-resistant pockets, a 15″ laptop pocket, and a roller bag sleeve. Additionally, the Nomatic bag is proper weather-resistant, ensuring your previous previous laptop stays well protected.
While not recommended for extreme weather conditions, the Nomatic is perfect for casual adventurers. The bag is praised for its versatility and ease of organization, with its numerous pockets and zippers making it effortless to organize different gear for various trips.
To learn more about this sick piece of kit, be sure to read our in-depth review of the Nomatic Travel Bag to find out how it performed when we took it along with us on a 2 week jolly! By the end, you'll see why we think it's the best computer backpack for travel.
UPDATE for 2023: Nomatic sells in the EU as Gomatic owing to licensing issues.
Pros
One of the best-crafted bags on the market
40L = lots of room
Sleek and stylish
Water resistant
Tons of pockets and features
Cons
Expensive
Mixed reviews on straps/comfort
Runner Up – Best Travel Laptop Backpack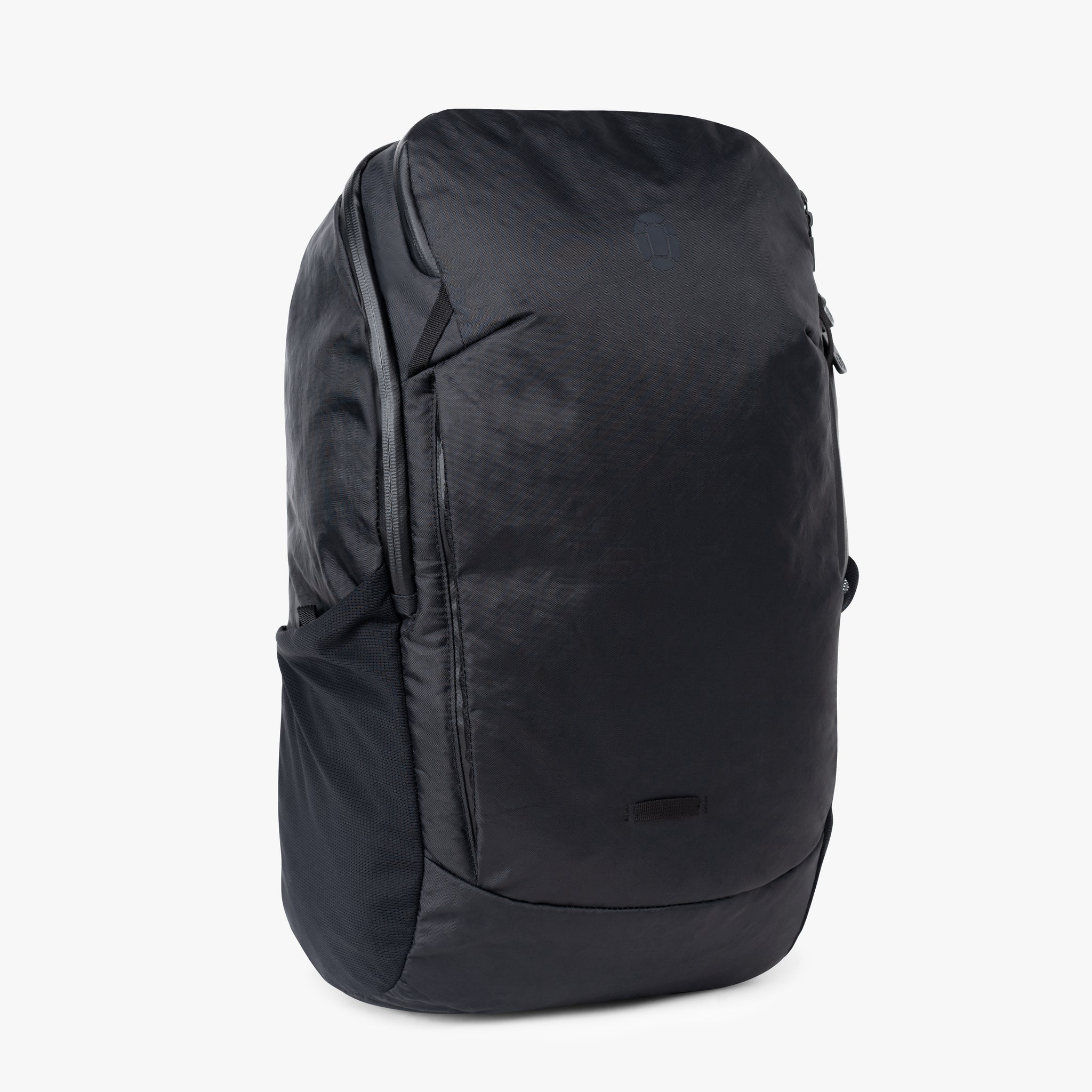 Capacity: 24L
Dimensions: 48.5 x 27.5 x 18 cm (19.1 x 10.8 x 7.1 in)
Weight: 2.1 lb (0.95 kg)
Main Material: Shell 200
Size of Laptop Compartment: 16″
The Tortuga Setout Laptop Backpack is the smaller version of their original Setout pack. This bag is a 24-liter masterpiece for anyone looking for a smaller laptop bag that feels and looks great. We might have rated it second best travel computer backpack but for many this will come out on top. The Setout Laptop Backpack has plenty of organisational features including mesh pockets and a super-secure area for your laptop. The Setout Laptop is marketed as a laptop bag for those who do lots of air travel and we find it to be a great bag to take onto planes as its easy to find our stuff, and it fits snuggly under seats (even on Ryanair).
Personally I love how compact this bag is – 24L is normally a little small for me but I make an exception for this. While I personally miss having a water bottle pocket on the side, the grab handle is a nice touch for those occasions when my back and neck needs a rest. The zips also open really smoothly. Its size made it feel great to wear day in day out and the quality of the materials felt like it would cope well with daily abuse!
Read our complete Tortuga Setout Laptop Backpack Review here.
Pros
Durable
Sexy, minimalist design
Tons of features
24 liters
Cons
Pricey
Might be too small for some
Leather Laptop Backpack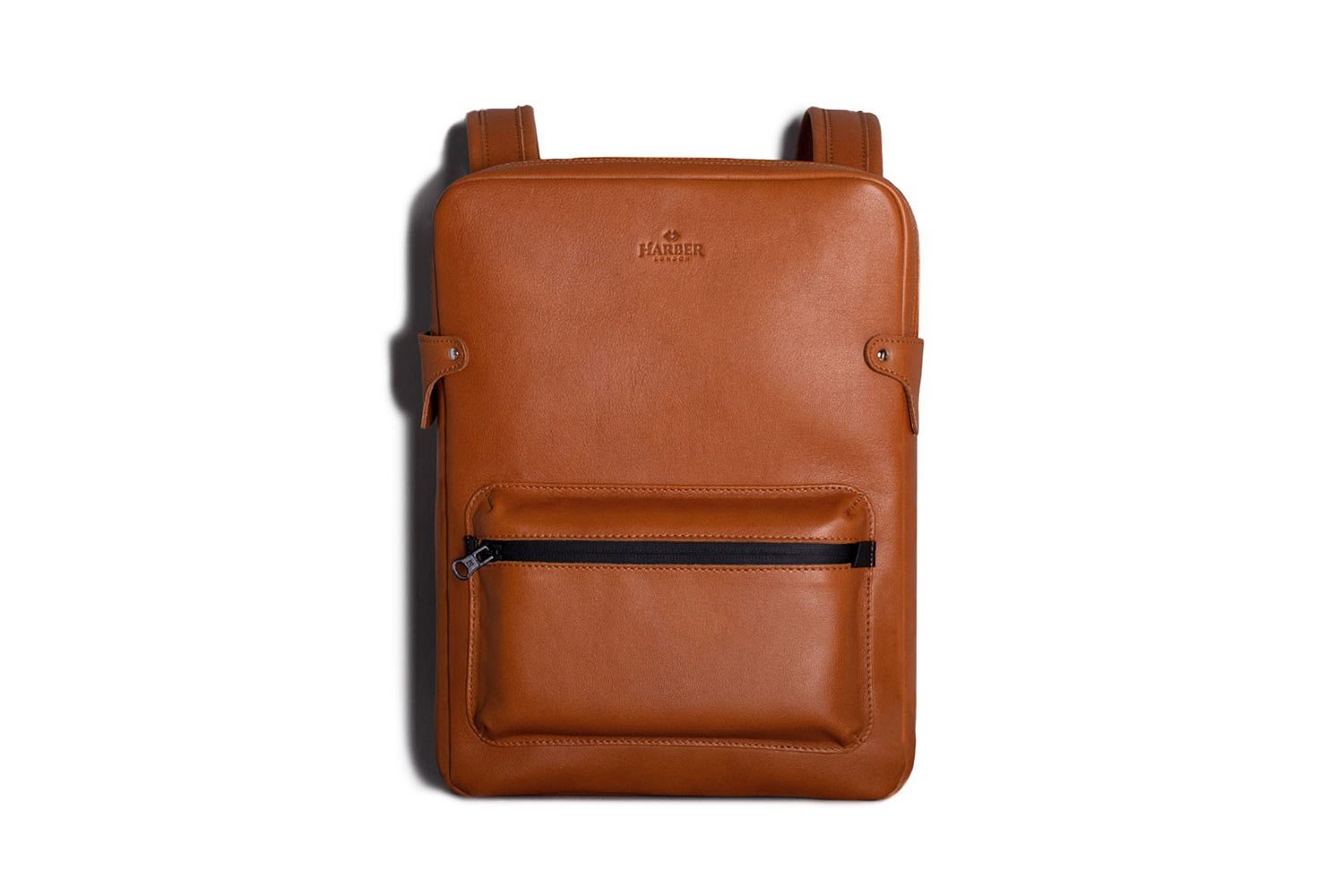 Capacity: 18l
Dimensions: 43 x 29 x 9 cm (16.9 x 11.4 x 3.5 in)
Weight: 1.5 kg (3.3 lbs)
Main Material: Full-grain vegetable-tanned leather and waterproof cotton canvas
Size of Laptop Compartment: 15″
The Harber London Slim Laptop backpack is stylish and functional. It is quite literally a laptop backpack and won't fit too much more in (although they do make bigger packs so take a look at their site) and just perfect for minimalists who want something a little bit special. The pack is crafted from Premium Full Grain Leather which feels really classy, soft and supple to touch. The interior is nicely padded, there are loads of pockets for you cables as well as a handle if you want to carry it.
This pack is very different to the other pack on our list and isn't really comparable to say the more versatile Tortuga. It is however perhaps the most classy and stylish and I felt pretty hip when testing out in my home city; it certainly has more sex appeal than the functional North Face.When they sent me this to try I was impressed. It is a niche product but that for the right person this would be the absolute perfect choice. What I really like is how minimalist it is – no unnecessary bulk and will look good if you've got a meeting to attend but want something more practical than a briefcase.
Pros
Durable and comfortable
High Quality Material
Stylish
Ladies & Gents, It's Time to Step Your GEAR Game Up. 😉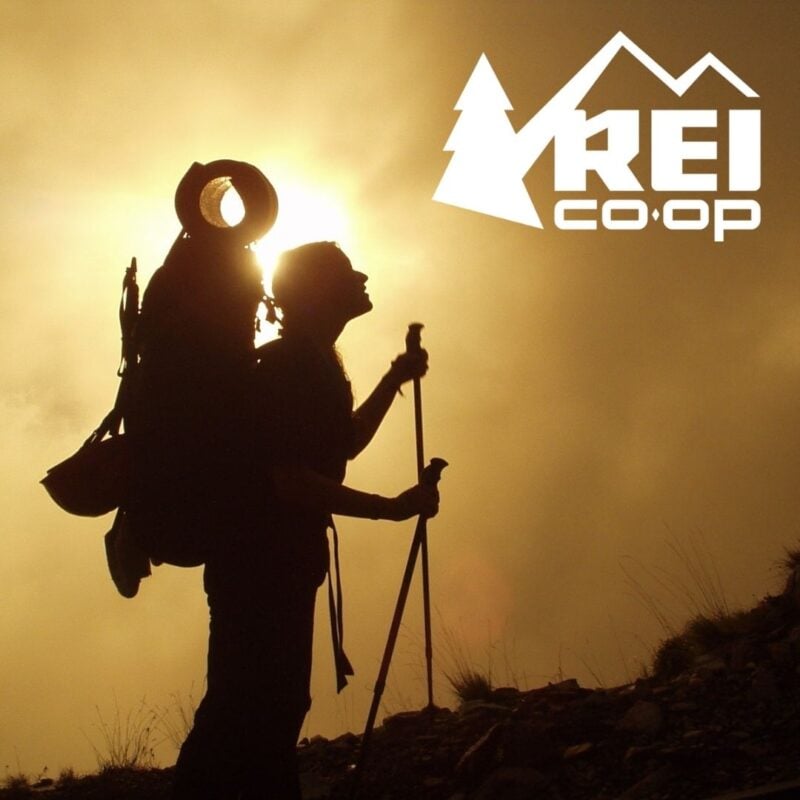 REI is one of America's biggest and most-loved outdoor gear retailers.
Now, for just $30, get a lifetime membership that entitles you to 10% OFF on most items, access to their trade-in scheme and discount rentals.
Join REI Today!
Best Commuter Laptop Bag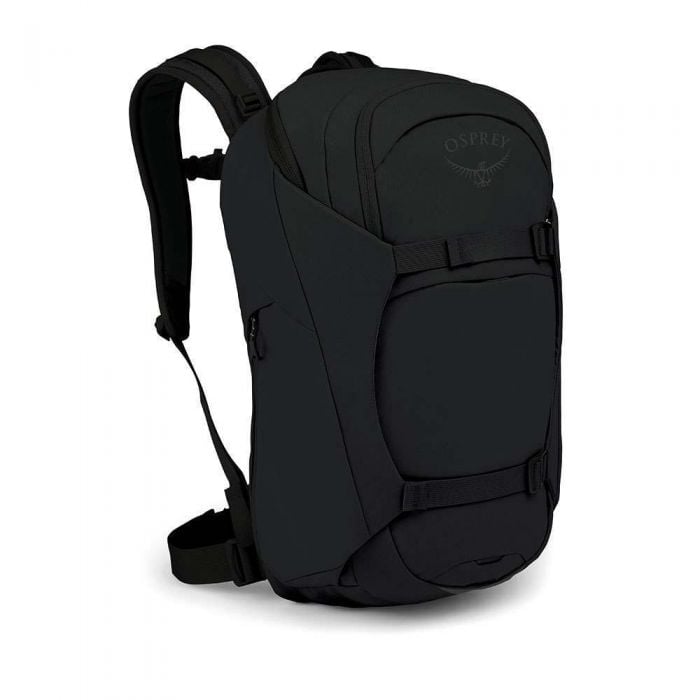 Capacity: 24L
Dimensions: 19.29H X 12.99W X 11.02D IN
Weight: 2.739 LBS
Main Material: 500D recycled high tenacity nylon
Size of Laptop Compartment: 16″
At 24l, the Osprey Metron is a well sized daypack which will accommodate your laptop, and lunch quite nicely. There is of course a padded laptop pouch along with enough pockets and pouches for keys, cards and pens. The compression straps are also a nice touch and we appreciated the way we could fasten the backpack down so it deint you won't stick out like a tortoise and barge into people (as much) when you crowd onto the morning train.
TI personally used this backpack for day to use for a good while before I replaced it with an Osprey Quasar – the latter I found could also be used to double up as a hiking backpack. Though we've included it here as the best bag for commuters, our team really loved how versatile this bag felt. Osprey is known for their outdoor bags and our team felt this one was suited to just about anything you could throw at it, from hiking to biking into the office. All in, the quality of the materials, the solid build and integrated rain cover make this daypack tough enough for any adventure!
Pros
Versatile
Durable and comfortable
Osprey offer a robust guarantee
Most Ethical Laptop Backpack
Capacity: 25 liters
Dimensions: 19 x 12 x 9 in
Weight: 2.0 lbs
Main Material: 500D nylon
Laptop compartment size: 15.6 inches
The Gulu Made brand set up shop building a backpacking factory in Uganda and has entrusted the local community with making sustainable backpacks built to last. These bags are designed and built by local tribes. The women of Gulu took modern comfort features into account, adding on water bottle holders and ten different organization pockets with an extra computer sleeve.
Not only is this pack amongst the most stylish I have tried, it is also genuinely well made and the organisational potential is great – the Inspire is the most spacious Gulu-made pack on the market and offers everything you need to commute in a sustainable style. If you are after an ethical product, this is a good on and if you love ethical travel gear, we have a cracking vegan backpack round-up on the site.
Pros
Ethical brand
Pretty inner lining
Good organisational potential
Best Backpack for 17-Inch Laptops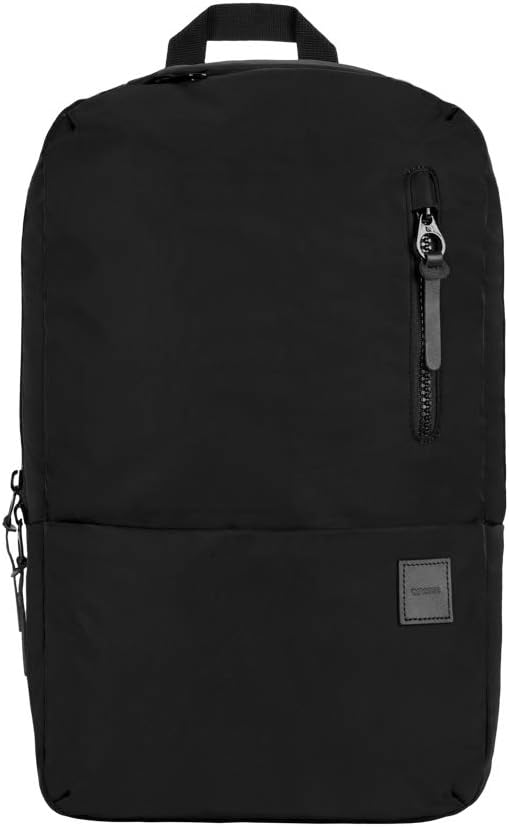 Capacity: 27 liters
Dimensions: 18 x 11.75 x 5.25 in
Weight: 1.39 lbs
Main Material: Light-weight Flight Nylon
Laptop compartment size: 16 inches
Incase is known for making stylish business and laptop backpacks. Expandable, easy to travel with, and well-padded, the Incase Compass is also our choice for the best 17-inch laptop backpack! The bag itself is made out of 300D polyester, and the black option has a triple-coated weather-resistant front panel. The shoulder straps are made with breathable mesh, and the back panels are padded too. The main compartment has plenty of storage space, and it expands by 35% to fit all of the clothes you may need. You can also maintain a slimmer profile if you are just using it for layovers and day trips.
While I personally don't like the look of this one, we found it to be one of the best laptop bags for travel because of the way the laptop sleeve is set up. This backpack is smaller than others on this list, but the Incase Compass makes use of its space and we hardly felt the limitations. All in, what we loved most about this bag was how the laptop had its own dedicated pocket away from everything else.
Pros
Great for on-the-go travel
Fits up to a 16-inch laptop
Padded back panels
Zippable laptop compartment makes security checks a breeze
Cons
Might be too small for long term travelers
Best Commuter Laptop Backpack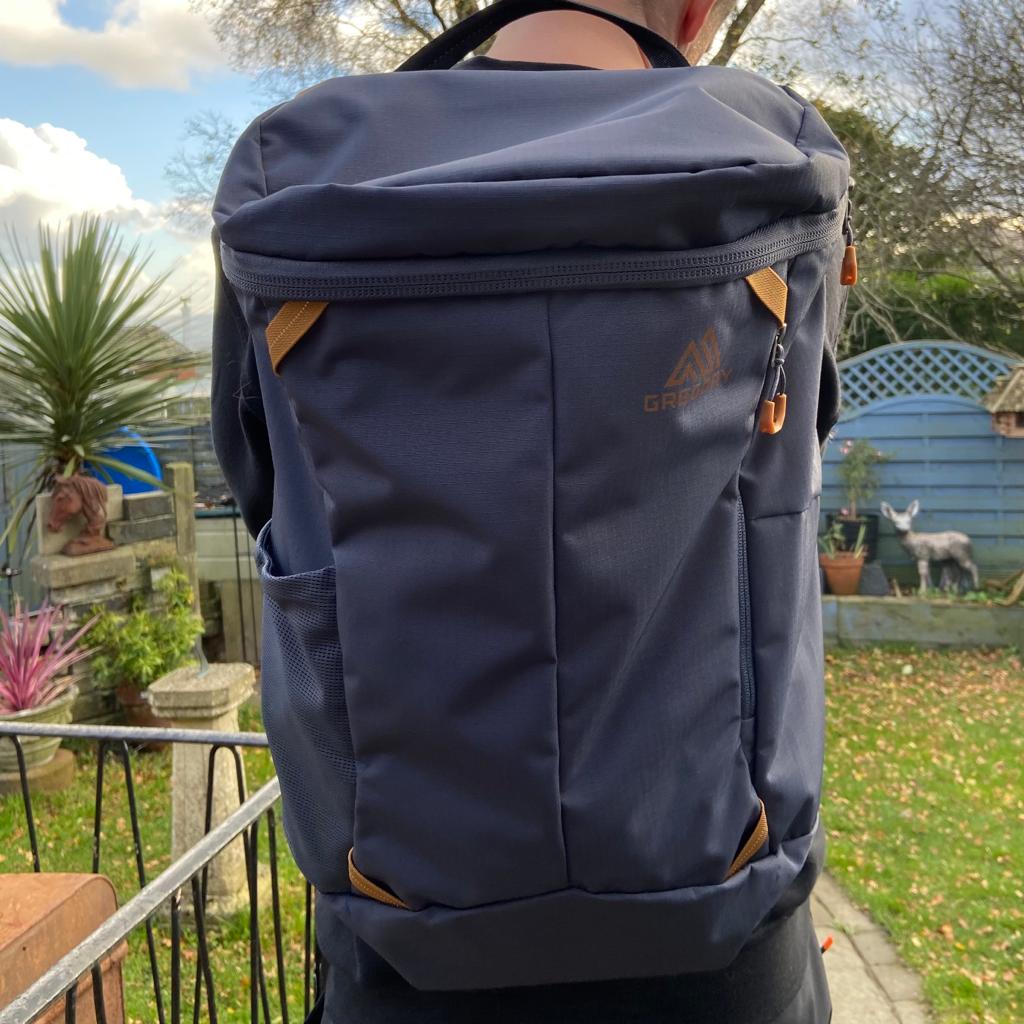 Capacity: 28 liters
Dimensions: 19″ x 11″ x 9″
Weight: 2.74 lbs
Main Material: 210D nylon and 420D high-density nylon
Laptop compartment size: 15 inches
The Gregory Rhune brings a durable and sustainable approach to the everyday backpack concept. All fabrics used in this pack are made from recycled materials resulting in a 51% in the production cycles carbon footprint. However, eco-credentials aside, this is a genuinely bloody good pack with an excellent attention to details. Designed for an active user the Rhune packs have an integrated shoulder harness pocket that is perfect for ear buds, transit passes, or mints.
The pack is accessed by a top-lid opening that pulls back – that's not an opening style that I am too used to but it's fine and actually makes packing and unpacking very easy. Inside the pack, the main compartment is split into 3 handy compartments including a very generous laptop compartment. To the touch, the material used in construction of the Gregory Rhune feels quite strong and durable and yet, the pack feels very light to carry. Overall, this is a great backpack for commutes and for day travel.
Pros
25 liters
Mid-Weight

0.925 kg

Made from recycled materials
Cons
Not great for hiking
Small water bottle pocket

Do You Want to Travel FOREVER??
Pop your email in below to get a FREE copy of 'How to Travel the World on $10 a Day!'.
Best Small Laptop Backpack for Travel
Capacity: 18 liters
Dimensions: 10.8″ x 5.91″ x 17.7″
Weight: 2.4 lb
Main Material: 400D nylon faille
Laptop compartment size: 15 inches
The Timbuk 2 is quite similar to the Incase above. It's a smaller laptop TSA-friendly backpack that works great for both travel and work, and is one of the best lightweight laptop backpacks. There is a side pocket for your water bottle and a front pocket that is useful for your passport and boarding pass so I would gladly take this onto a flight. The main compartment has plenty of space, and the one in front of it has three smaller compartments for organization.
This backpack is comfortable too – it feels nice against the back and on the shoulders. The drawback about this bag is that it's not big enough to take on most long backpacking trips; however, if you are just looking for a bag for everyday use, and quick weekend trips, this is a sleek, low-profile backpack that will keep all your stuff organized. Our team loved how balanced the weight felt in this pack when their laptops were stowed.
Pros
Laptop compartment zips away for easy security checks
Dedicated tablet pocket
5-year warranty
Great for weekend trips or quick getaways (or super light travelers)
Cons
Might be too small for long term travelers
Best Laptop Backpack for Travel Photographers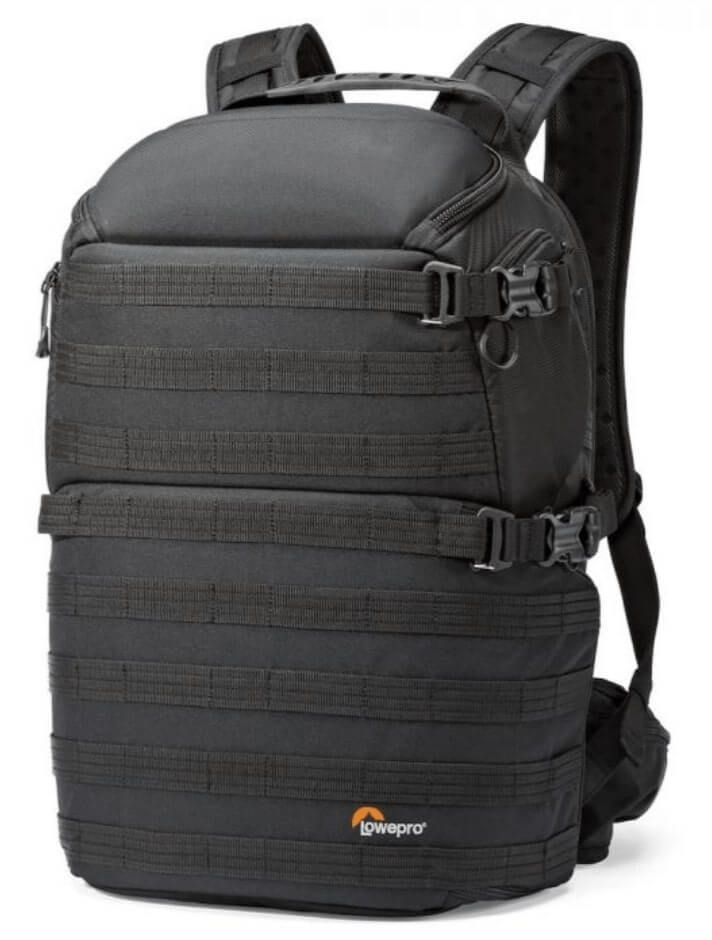 Capacity: Not specified
Dimensions: 13.78″ x 9.06″ x 20.08″
Weight: 6.28 lbs
Main Material: 900D and 1680D nylon
Laptop compartment size: 15 inches
If you are a serious photographer or have aspirations to be – this bag is next-level.
The LowePro ProTactic 450 is far and away the most functional and stylish backpack for photographers and videographers. The most impressive thing of the ProTactic is how big it is and how well organized the compartments are. Fitting up to two DSLR's, a 15″ laptop and some drones, this bag is versatile and able to handle all of your tech needs. It's practically a mobile office! You can go out shooting, pull out your laptop, and begin editing right then and there.
I don't use a DSLR and so didn't actually use this as a camera bag. Still, it is one of the best laptop backpacks for many, many reasons. If you want to learn more about the Lowpro, be sure to visit our post on the best camera bags, where we go into more detail.
Pros
Fits 1 or 2 DSLRs
Four camera-access points
Ventilation and back support
Laptop pocket and additional accessories
Cons
Pricey
Only useful for photographers
Best Laptop Messenger Bag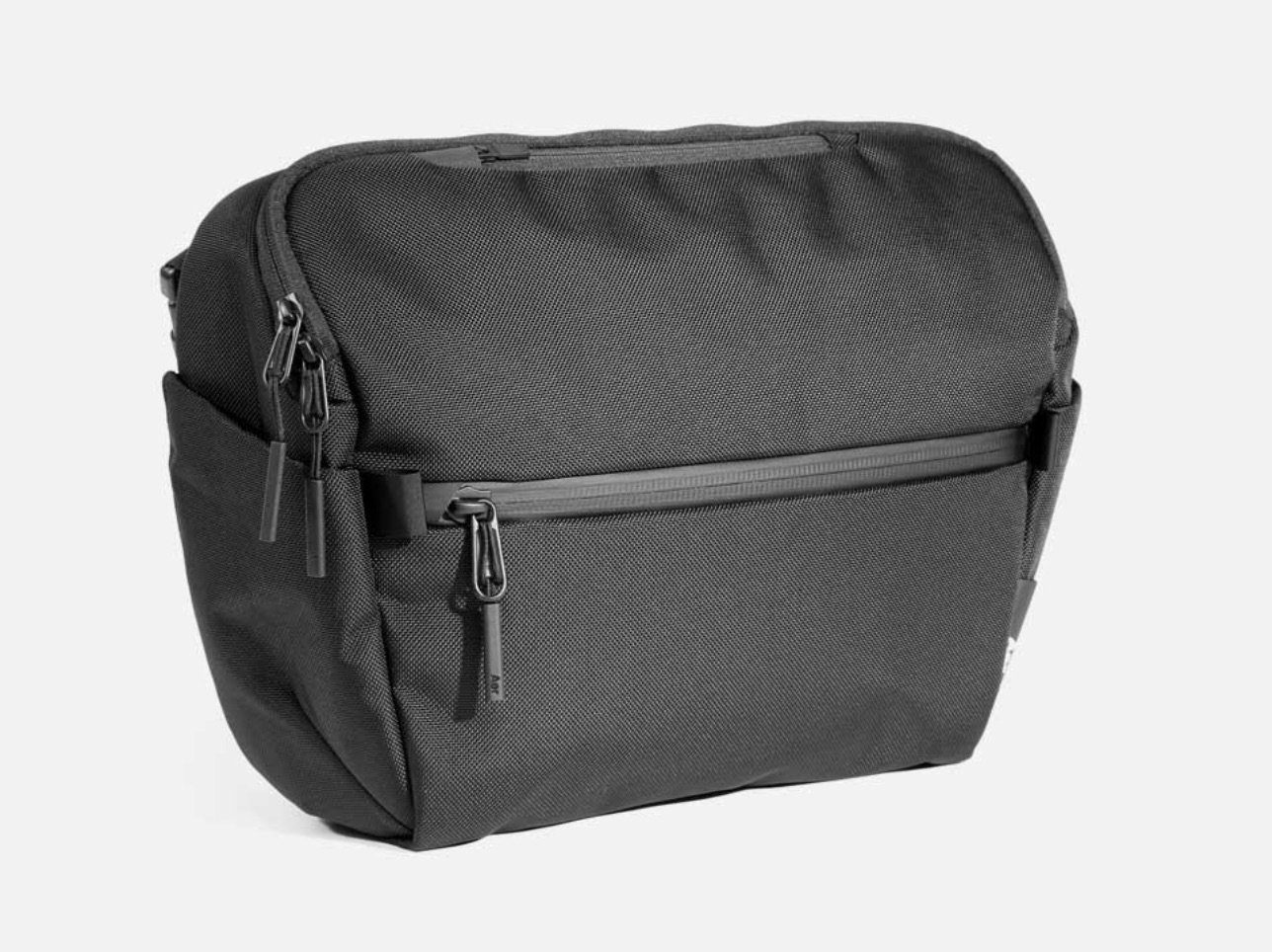 Capacity: 12 liters
Dimensions: 16″ x 11″ x 4.5″
Weight: 1.8 lbs
Main Material: VX-42 X-Pac™ sailcloth exterior by Dimension-Polyant
Laptop compartment size: 16 inches
AER has done it again! They've taken the same ergonomic principles that were used for their laptop backpack and applied them to a messenger bag. The result: an amazing laptop messenger bag that is very efficient, effective, and, above all, useful. The AER Travel Sling 2 X-Pac is very useful. It comfortably holds a 16-inch MacBook and can even hold a camera kit with a few lenses after some rearranging. The fact that the interior of this bag can be rearranged, much like a camera bag, makes it stand out from the rest as well. At the end of the day, this is more than a messenger bag.
We were quite intrigued about giving this a go as many are used to the traditional backpack setup. To be honest, this is a great bag but after a while I did start to feel the weight of my laptop handing around my neck. Still, I loved how compact and lowkey the bag was whilst also providing a surprising amount of storage and organisation and I was also impressed with how comfortable the padded strap felt on one shoulder.
Pros
Customizable interior.
Sleek, ergonomic design.
Top-quality manufacturing.
Cons
Not as big as the backpack.
Like the backpack, straps can be awkward.
Best Travel Backpack for Europe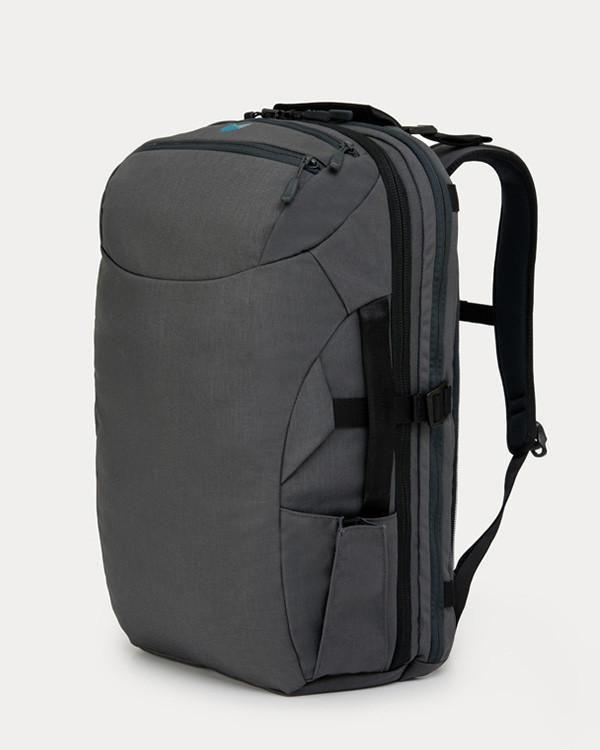 Capacity: 9.8 liters
Dimensions: 16.5″ x 10.6″ x 4.7″
Weight: 1.76 lbs
Main Material: 1680D Cordura ballistic nylon
Laptop compartment size: 13 inches
The Minaal Carry On has updated their original travel backpack to the 2.0, and it's loaded with new features that improve its functionality, and make it one of the best laptop backpacks for travel! This backpack has the perfect dimensions carry-on any flight (22 x 14 x 9 inches), including those strict European budget airlines, which is one of the reasons why we chose it as one of the best backpacks for travel in Europe. The main compartment zips all the way open like a suitcase which I find some getting used to, but then found to be absolutely great. The larger side is perfect for packing your clothes, shoes, and other items.
All in, we loved this sleek and professional-looking bag, but one of the standout features they told us about what they particularly loved was the zippers. Not only are they super strong and smooth, but they've got built-in loops for locking them and keeping your laptop secure. The Minaal Carry-On is made from heavy-duty nylon, so the fabric does a solid job repelling water. The shoulder straps and removable hip straps pack away easily for transit, and the strap system and cushioned back panel foam allow for ultimate comfort.
Pros
Perfect carry on dimensions
Removable hip strap
Rain cover that packs into itself
Locking zippers
Suspended laptop sleeve helps protect laptop if you drop your bag
Most Durable Travel Laptop Backpack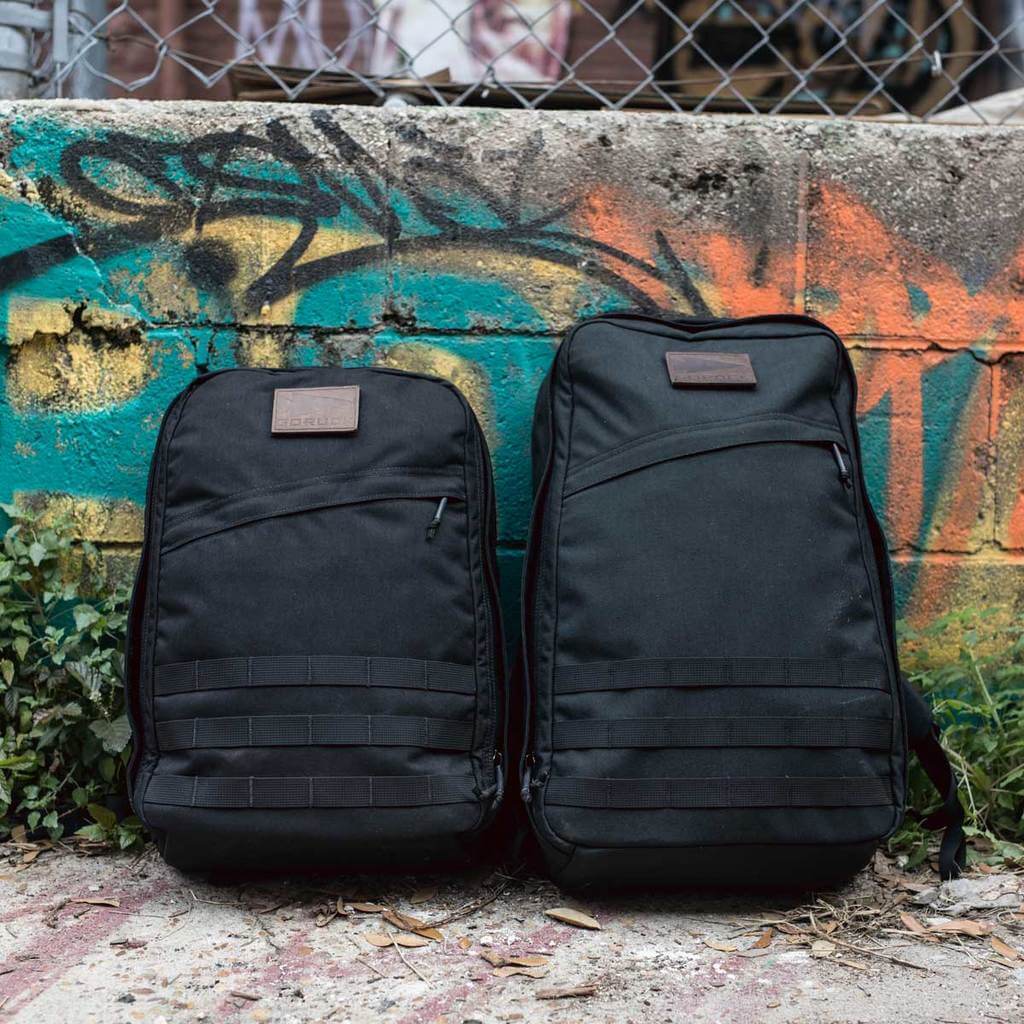 Capacity: 35 liters
Dimensions: 21.5″ x 13.5″ x 7.5″
Weight: 3.4 lbs
Main Material: Waterproof sailcloth and ballistic
Another one of the best-organized backpacks, 26-litre GoRuck GR1 was designed and built for war zones and cities alike by a former Army Green Beret to be extremely durable and adaptable. For one, this is the most durable backpack on this list, designed for any weather and climate. The YKK zippers perform in sandstorms, and the 1000 Cordura material is rainproof.
This bag is also extremely comfortable. The shoulder straps are padded to handle heavy loads (like 400 pounds), and this backpack is designed to sit high so the weight doesn't hang on your shoulders. Above all we loved what just how bloody hard wearing these beasts are. What I loved less was the price tag though.
Pros
Most durable backpack for laptops
Waterproof and weatherproof
Strength tested
Can fit 17 inch laptop
A Simple and Easy to Use Laptop Backpack
Fjallraven is one of the most recognizable backpack brands out there. Seriously, you can't walk a mile in the city and not see someone sporting one of these boxy bags as they appeal to just about every type of person. The Fjallraven Kanken, one of the company's flagship models, can also be used as a traveling laptop backpack. They are spacious enough to a hold a 15″ computer, include a nice dedicated laptop sleeve, and are pretty resistant to the elements. If you're looking for something quick and easy, not to mention in-vogue, then buying all Fjallraven Kanken wouldn't be a bad idea.
Fjallraven's do have their limits though. I personally find their boxy design is a little awkward sometimes, although these bags are still comfortable to wear. If you need an everyday backpack, and not JUST a backpack for traveling, it's hard to go wrong with the Fjallraven Kanken. It's proven itself over and over and will probably keep on doing just that.
Pros
Rugged, water-resistant material
Very easy to use
Great for everyday use
Cons
Boxy shape
Less protective padding
Best Hipster Laptop Backpack
We recently came across Stubble & Co and tried a bunch of their packs for ourselves – honestly we were seriously impressed by most of them. The Roll Top is a great hipster-style 20L bag perfect for carrying around your laptop as well as having heaps of room for your other accessories. What really makes it stand out for a day pack is that the laptop compartment is in a separate pocket on the back of the bag. This both makes it mega secure (especially for a roll top) and also saves the massive main compartment for everything else.
Internally the main compartment is one massive space with a selection of pockets and organisers attached to the other side of the laptop compartment/ back panel. This works well giving you some level of organisation whilst also being super roomy.
Pros
Capable of carrying laptops up to 16"
Roll top makes it expandable
Durable and weather resistant material
Cons
Could do with more internal organisation
Would like an internal zip as well as the roll top
Best Laptop Backpacks

| Name | Capacity (Litres) | Dimensions (CM) | Weight (KG) | Laptop Size (CM) | Price (USD) |
| --- | --- | --- | --- | --- | --- |
| Nomatic Travel Bag | 40 | 35.56 x 53.34 x 22.86 | 1.55 | 38.1 | 289.99 |
| Tortuga Laptop Backpack | 24 | 48.5 x 27.5 x 18 cm | 0.95 kg | 38.1 | 125 |
| Harber London Slim Laptop Pack | 5 | 40 x 28 x 4.5 | 1.3 | 40.64 | 349 |
| Osprey Metron | 26 | 48 x 35 x 2 | 1.2 | 38.1 | 160 |
| North Face Recon | 30 | 48.9 x 33 x 17.8 | 0.91 | 38.1 | 98.95 |
| Incase EO Travel Backpack | – | 54.61 x 38.1 x 12.7 | 0.50 | 43.18 | – |
| Aer Travel Pack 3 | 35 | 54.5 x 33 x 21.5 | 1.86 | 40.64 | 249 |
| Timbuk 2 Lane Commuter | 30 | 45 x 27.51 x 15 | 0.81 | 38.1 | 189 |
| LowePro ProTactic 450 | 25 | 52 x 36 x 22 | 2.7 | 38.1 | 219.95 |
| AER Travel Sling 2 X-Pac | 12 | 41 x 28 x 12 | 0.82 | 40.64 | 145 |
| Minaal Carry On 2.0 Backpack | 35 | 55 x 35 x 20 | 1.41 | 40.64 | 349 |
| GoRuck GR1 | 26 | 50.8 x 30.48 x 17.15 | 1.45 | 40.64 | 335 |
| Standard Luggage Carry-On | 35 | 54.61 x 34.29 x 19.05 | 1.68 | 39.62 | 219 |
| Fjallraven Kanken Laptop Backpack | 18 | 40.01 x 27.94 x 16 | 0.45 | 38.1 | 155 |
The best present of all… is CONVENIENCE!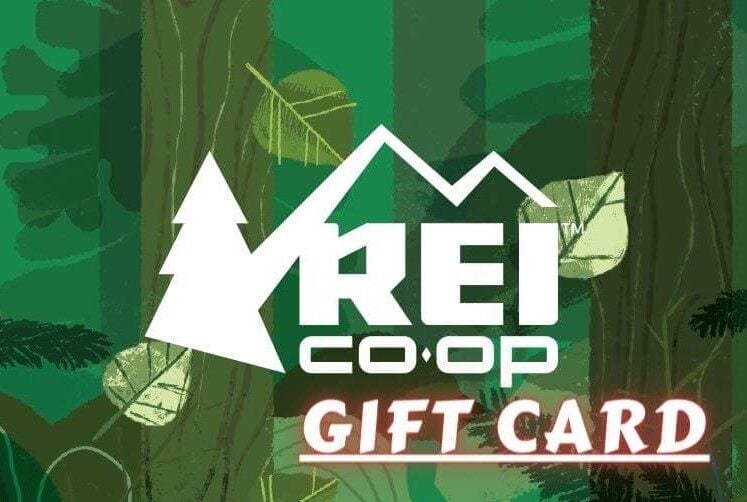 Now, you could spend a fat chunk of $$$ on the WRONG present for someone. Wrong size hiking boots, wrong fit backpack, wrong shape sleeping bag… As any adventurer will tell you, gear is a personal choice.
So give the adventurer in your life the gift of convenience: buy them an REI Co-op gift card! REI is The Broke Backpacker's retailer of choice for ALL things outdoors, and an REI gift card is the perfect present you can buy from them. And then you won't have to keep the receipt. 😉
Buy on REI!
Frequently Asked Questions about the Best Laptop Backpacks
Still have some questions? No problem! We've listed and answered the most commonly asked questions below. Here's what people usually want to know:

Our GREATEST Travel Secrets…
Pop your email here & get the original Broke Backpacker Bible for FREE.
Final Thoughts on Backpacks For Laptops
There are countless travel backpacks on the market for every type of travel use, but these are the best backpacks for travelers bringing along their laptop and technical gear. Maybe you've already fallen in love with one of our top travel bags, but if you need us to make the choice, pick the best travel laptop backpack that best fits your purpose.
If you want a versatile backpack for a long-term travel vacation, look no further than the Nomatic Travel Pack 40L. If you are based in Europe, or on a multi-month adventure there, the AER Travel Pack 3 is an awesome bag. For us, these are the laptop backpacks for travel for most people.
For traveling minimalists, who still carry some gear, the Incase EO travel backpack and Timbuk 2 Lane Commuter are both great bags. Photographers should look at the Emblem V4, and outdoor enthusiasts should definitely get the NorthFace Recon.
No matter what your travel style is, there is a bag on this list to cover all of your needs!
Is there a laptop backpack that you particularly enjoy? Think that we'd enjoy it as well? Leave a comment below and tell us about it so we can try the backpack out too!
---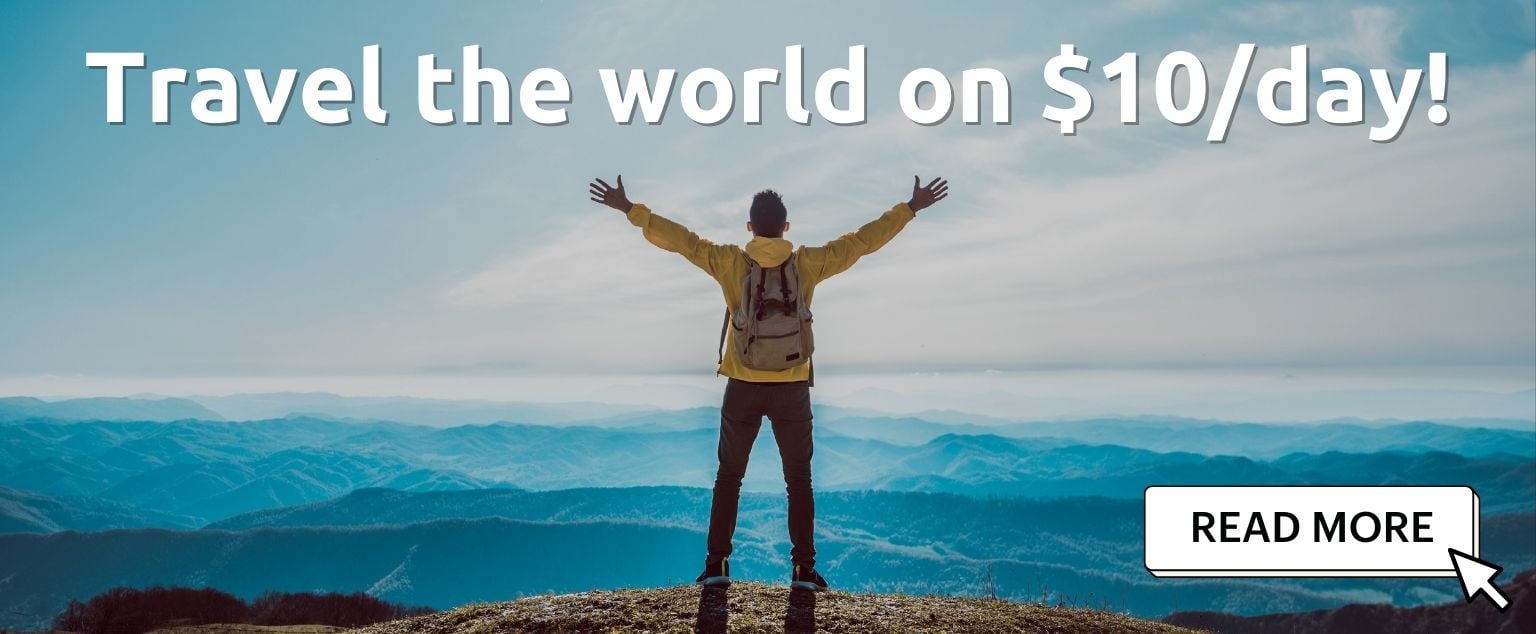 And for transparency's sake, please know that some of the links in our content are affiliate links. That means that if you book your accommodation, buy your gear, or sort your insurance through our link, we earn a small commission (at no extra cost to you). That said, we only link to the gear we trust and never recommend services we don't believe are up to scratch. Again, thank you!