It's no secret that there are a lot of backpacks out there advertised to be excellent tech packs. In a rapidly growing digital era, where more and more people want to carry their laptop and other electronics with them on a daily basis (myself included), the industry has exploded with options. Although the actual functionality of a lot of these products is questionable.
So, what makes the Aer Tech Pack 2 any different? The short answer is that this bag actually works in all the ways it's supposed to. Clearly, it was designed with careful thought about what people who spend a lot of time working online need in a tech pack, and not just putting a laptop compartment in a standard backpack and calling it a "tech pack."
If your curiosity has been piqued (then you're not alone) and you're in search of a new tech bag, below we'll cover every inch of the pack, inside and out, in this EPIC Aer Tech Pack 2 review.
Time to get after it…
Quick Answer: Aer Tech Pack 2 Specs List
Price: $210
Volume: 17L
Weight: 3.8 pounds
Material: 840D nylon with weather-resistant coating, 1690D Cordura ballistic nylon, Duraflex hardware
Laptop Compartment: Yes
Carry-on Compliant: Yes
Winter is coming… WARM UP!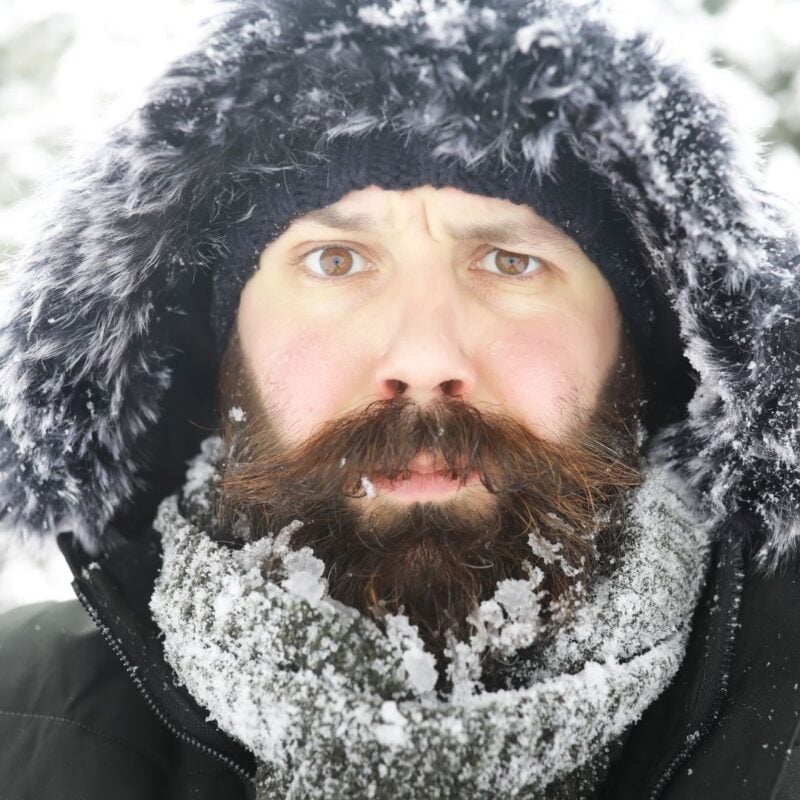 Get up to 50% OFF when shopping gear for the winter on REI.
Warm up for the holidays and SAVE on outdoor gifts all the way through Dec 18!
View on REI
Key Features and Performance Breakdown of the Aer Tech Pack 2
Interior Organization
Okay, granted everyone has their lazy and unorganized mornings when you're running late and simply cram all your gear into your pack at the last minute. But honestly, it seems like some backpacks are designed to be exercises in frustration when it comes to staying organized.
Not so with the Aer Tech Pack 2. It has enough compartments to give everything its own place, while also not having too many tiny zippers and random pockets which just becomes overwhelming.
Instead of giving a broad overview, we'll dive deeper into each interior compartment of the Aer Tech Pack 2 so you can see just how ingenious the design actually is.
Laptop Compartment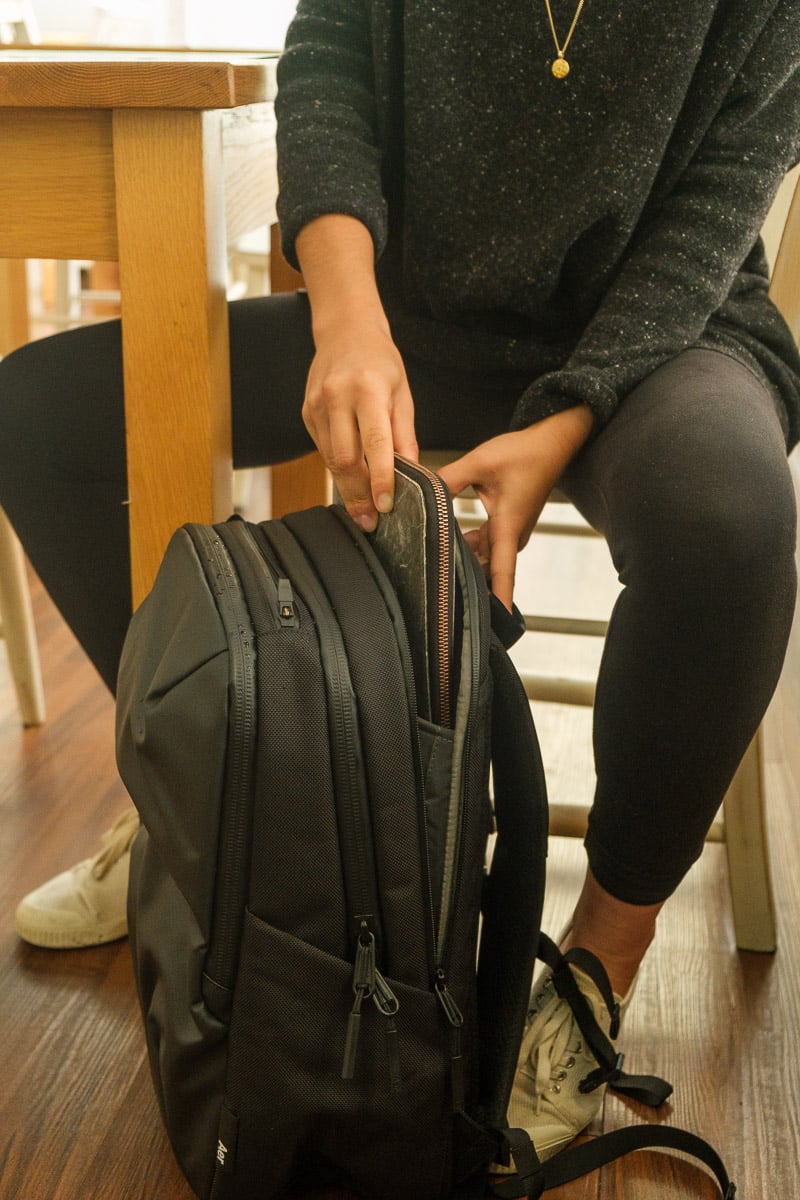 First and foremost, if a backpack claims to be a "tech pack," the barest minimum requirement is to have a laptop compartment. Not only does the Aer Tech Pack 2 meet this prerequisite for tech packs, but it goes above and beyond.
Many backpacks have a laptop compartment that's tucked on the back of the main compartment. This means you'll have to open the main zipper to reach the laptop, and if your bag is super full, you might even need to take out a few things to extract your device.
In the Aer Tech Pack 2, the laptop compartment is completely separate from the main compartment and has its own zipper. The suspended and padded pocket maximizes protection for your laptop, even if you need to sprint to catch a bus or are running late for a meeting.
There's room for a laptop up to 16 inches, which is plenty to accommodate almost every laptop on the market.
If you want, there's room for a few other papers or maybe a thin notebook in the laptop compartment, or you can have that spot designated solely for your electronic device and make use of the other pockets for other items. My girlfriend stashes postcards in there to save them from getting smashed.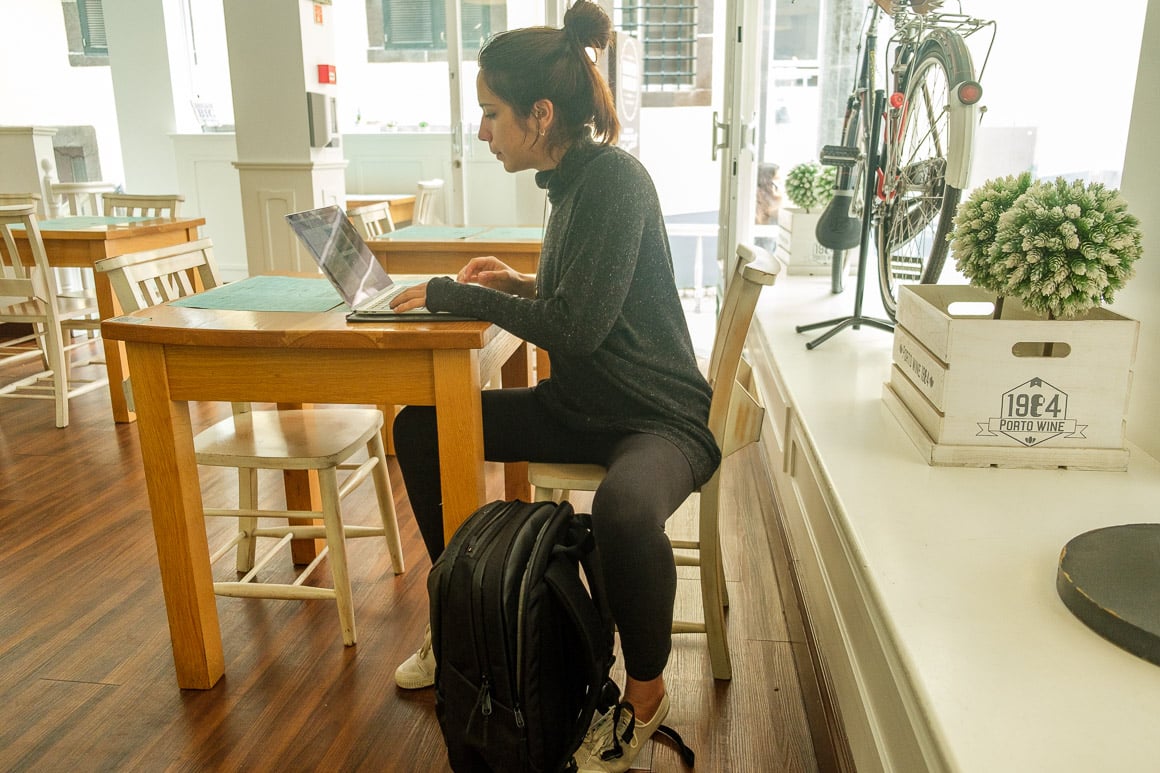 Middle Compartment
The biggest compartment of the Aer Tech Pack 2 is in the middle, which also has further dividers to keep notebooks, binders, and papers organized.
There's enough room for all your necessary chargers, a tablet if you have one, a snack for the road, headphones, camera, and a lightweight sweatshirt.
For travelers, the Aer Tech Pack 2 is too small on its own to be an overnight or weekend bag, especially if you're carrying around a decent amount of electronic equipment and chargers, plus your clothing and other gear.
If you need a full change of clothes and extra pair of shoes, then you'll probably want to have a separate suitcase in addition to the Aer Tech Pack 2.
Thanks to how far down the zippers on the main compartment go, you'll have easy access to the entire contents of your bag. Not only does this help prevent items from getting lost in the bottom of your pack, it's also simply more convenient in terms of organization.
Front Compartment
The Aer Tech Pack 2 really maximizes its organizational abilities thanks to the third zippered pouch on the front. Although it's smaller than the main compartment, there's still a decent amount of room, unlike some tech backpacks where the front compartment is only good for carrying an extra charging cord and some pens.
Within the front pouch there are additional soft pockets for keeping small items like power banks, charging cords, your wallet, or writing instruments.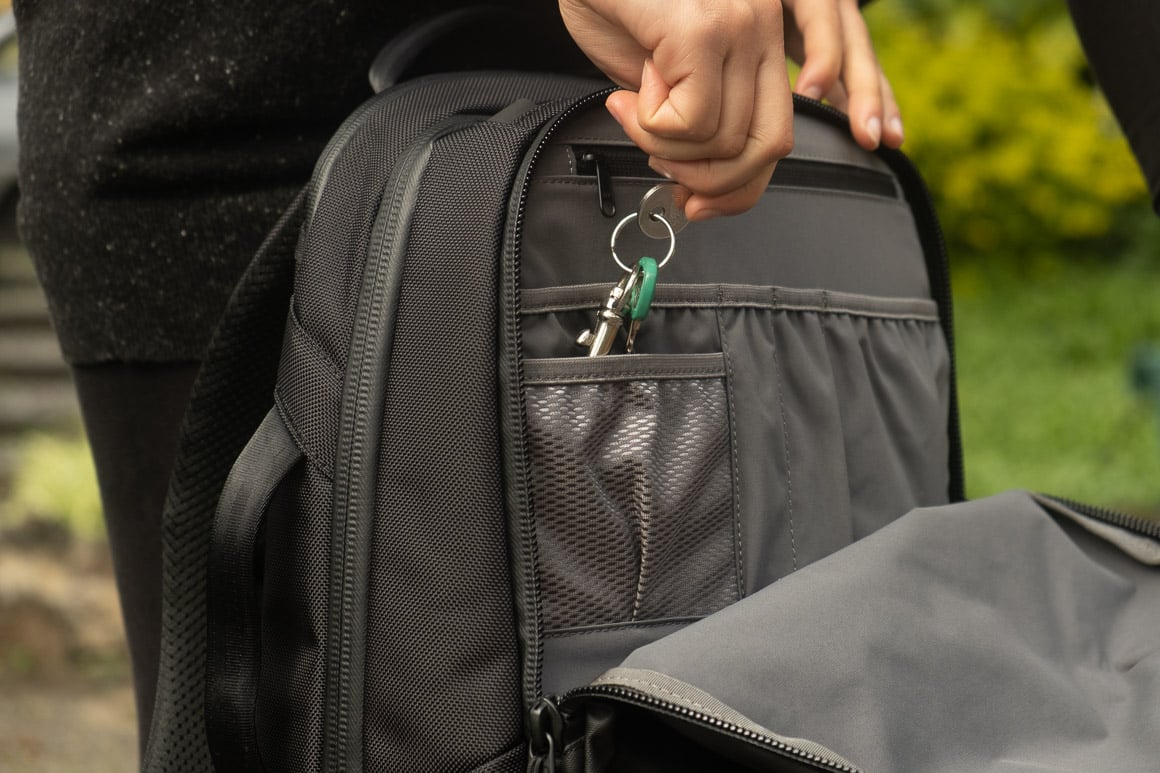 There's also a flat zippered pocket on the back which is a great spot to store your passport or other valuables since it's more secure. We also really like that the keychain attaches to the inside of this pocket. This way, if you want to keep your keys out of reach, they can be tucked away without getting lost.
Overall, we love that the front pocket provides great organization without overdoing it. The Aer Tech Pack 2 isn't like some backpacks with a hundred tiny little pockets in front that are too small to actually fit anything inside.
Instead, the dividers are well-placed and allow you to store your tech and writing accessories in a way that makes sense to you.
The Exterior
In addition to the main compartments of the bag, there are a few other small pockets on the Aer Tech Pack 2. We already mentioned the one located right next to the main compartment, which is good for keeping a phone or other items you want within easy reach.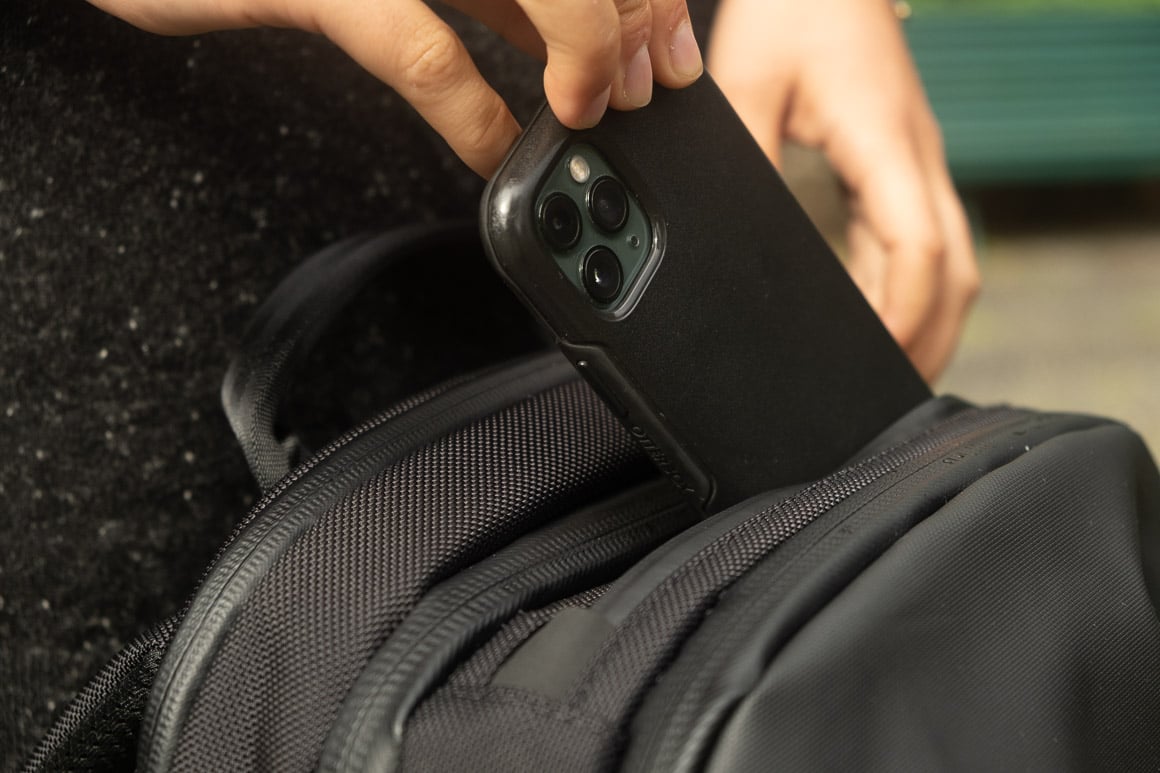 One side of the backpack has an expandable water bottle pocket which lays completely flat when not in use. On the other side is a small zippered pocket for other odds and ends you want on hand.
The one small complaint we have about the exterior of the pack is that some water bottles will slip out of the water bottle pocket if you bend over, and there's no way to secure a bottle with a carabiner to the outside.
Aer describes the design of the backpack as being "toolbox-inspired." Although this might bring to mind a bulky and unflattering pack, actually the opposite is true. The pack actually has quite a sleek appearance, and you might not even realize how sturdy it actually is until you put it on.
The Aer Tech Pack 2 has a rigid and stable enough structure to stand upright on its own, which is super helpful to protect more delicate electronic equipment, not to mention simply being easier to pull out a notebook when you're working at a cafe.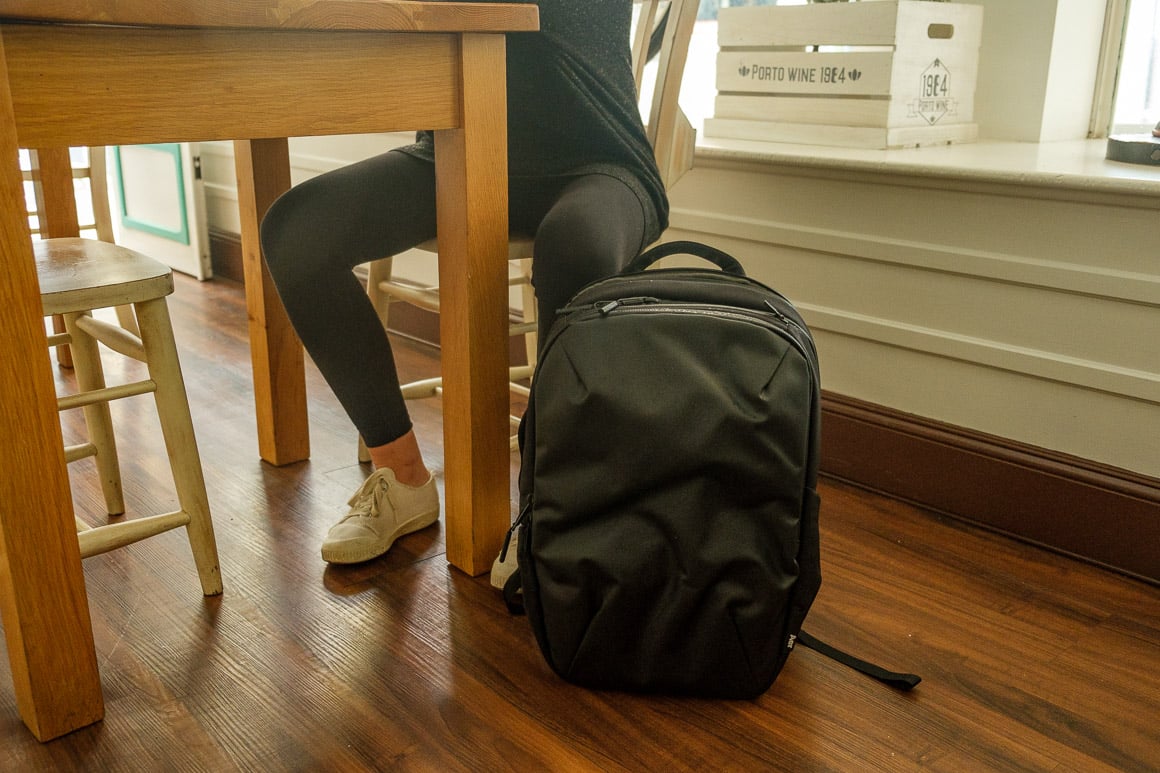 Perhaps a more accurate description would be "streamlined toolbox-inspired," since the Aer Tech Pack 2 has the stability and organization of a toolbox, without being cumbersome or awkward to carry.
Sizing and Fit
One of the numerous great qualities of the Aer Tech Pack 2 is it's wide range of functionality. If this pack somehow made it into the children's story of Goldilocks, it would be the 'not too big, not too small, but just right' option of backpacks.
The dimensions of the pack are 18 inches (length) x 12 inches (width) x 7 inches (depth), making it plenty large enough to carry your tech gear, but not something that's going to get in the way on a crowded city bus.
It only comes in one size, and in this circumstance, one size really does fit almost all people. The bag has highly adjustable shoulder straps to accommodate people of different torso length, and the padding in back will ensure that it sits comfortably and allows for air flow, even when loaded down with gear.
If you are looking for something larger more geared to weekend travel, be sure to check out the AER Travel Pack 2 and the AER Capsule Pack Max.
Carry Options
Of course, the most traditional way to carry the Aer Tech Pack 2 is as a standard backpack, because well, it's a backpack. Because the Tech Pack 2 is slightly more rigid than other day packs (IE those meant for hiking).
Some people prefer the firm design since the pack doesn't jostle around so much, while other people don't like the lack of flexibility. On the back side, there is padding with an air channel running down the middle, although since the entire pack is black, it will inevitably get hot in warmer climates.
There is a sternum strap on front to help distribute the weight more evenly but no hip belt, which is normal for packs of this size. Keep in mind that the shoulder straps and sternum strap have a wide range of adjustment and both have convenient loops to tuck the loose ends of the straps so they're not left dangling.
In addition to backpack-mode, there's also a top carry handle and a side handle, making it possible to carry the Aer Tech Pack 2 like a briefcase. Thanks to the sleek, black exterior, it's a bag that wouldn't look out of place at the office. We tend to not carry it like that since our office is the cafe down the street, but you get the idea.
For frequent flyers, you'll be happy to note that on the backside there is a pass-through loop for luggage handles so the Tech Pack 2 can be securely carried on top of your suitcase.
The dimensions make it carry-on compatible, so it's a great way to keep all your valuable electronics on hand while traveling.
Weight and Capacity
When empty, the Aer Tech Pack 2 weighs 3.8 pounds, which is a bit heavier than some packs of its size. Keep in mind that it was not intended to be a lightweight day back, but something sturdy to protect your electronics on a day-to-day basis for the long run.
The pack has a 17-liter capacity, which is a good size for daily activities, but a bit small for weekend trips or overnights if you want to pack a full change of clothes or spare shoes. On the other hand, if going small is your thing, AER makes a great day pack as well (similar to the Tech Pack in some ways).
Here's an example of stuff I tend to carry around in the Tech Pack 2:
Laptop and charger
Phone and charger
Camera and charger
Apple Airpods
Book
Light layer or rain jacket
1-2 notebooks
Sunglasses
Pens and pencils
Water Bottle
Keys
Wallet
Passport/other documents
Chewing gum or a small snack
Toughness and Durability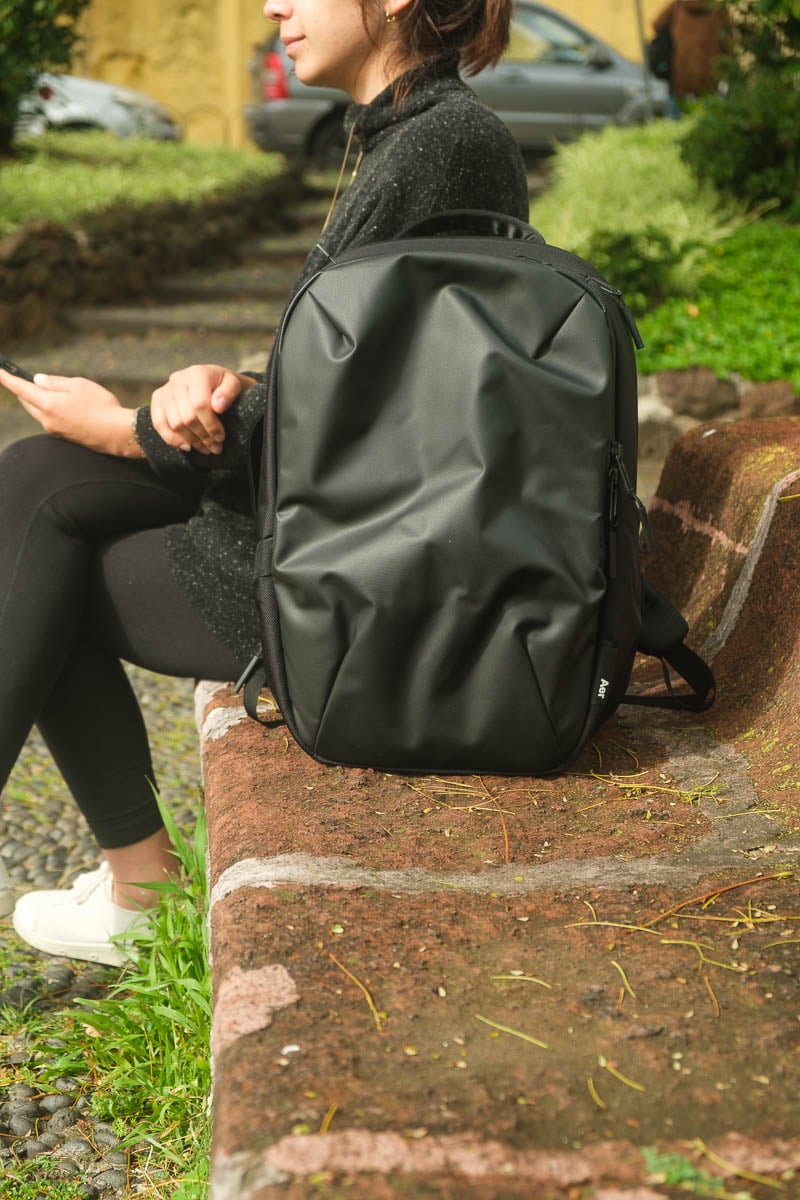 Especially for a backpack that's designed to hold sensitive and expensive electronic gear, durability is an important factor. Although the Aer Tech Pack 2 couldn't withstand being tossed in a lake, the high quality material produces a bag that's meant to withstand inclement weather.
The outside of the pack is made from a 840D nylon with a weather-resistant carbonate polyurethane coating. This means that in light rain, dusty conditions, or even a bit of snow, the pack will be able to repel water and be easy to clean and wipe off once you get to your destination.
Each of the zipper compartments features a YKK AquaGaurd zipper, which again aren't totally waterproof, but highly water repellent and able to withstand some splashing or rainy weather.
Inside, the bag maintains its structure with Duraflex hardware. This is soft enough to keep the pack comfortable while also being firm enough to offer great support and allow the pack to stand up on its own. Once again, the Aer Tech Pack 2 gets a gold star for achieving the perfect balance.
Security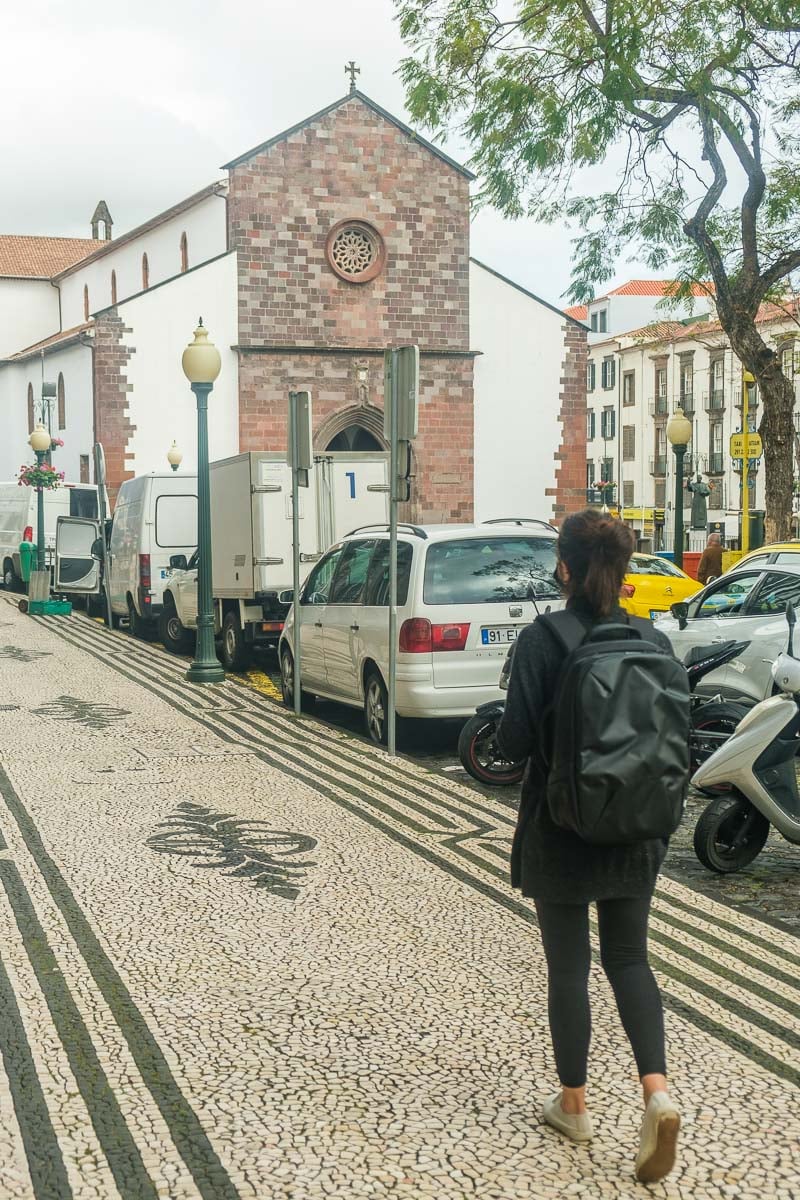 Overall, the Aer Tech Pack scores pretty high on security, although it is lacking in a few characteristics featured on other Aer backpacks.
In terms of how safe your laptop and other electronics will be based purely on how much they'll be jostled around, the answer is very safe. Aer has obviously put a lot of thought into designing secure, padded compartments for your gear and the durable exterior material protects everything from the elements.
In terms of traveling or facing the issue of potential pickpockets, the Tech Pack 2 also measures up well. There are enough hidden and difficult to reach pockets to keep your passport, wallet, or other sensitive items out of sight and reach.
Unfortunately, the Tech Pack 2 doesn't have the TSA-compliant lockable zippers some of their other travel bags feature. The zippers also tend to be a bit noisy and 'jangly,' which some people have dealt with by leaving a small open gap between the zippers. Although this may be fine in some circumstances, in others it could present more of a safety issue.
Bag Aesthetics
Sleek, entirely black, and yet also unassuming, the Aer Tech Pack has managed to not only achieve a high functioning backpack, but one that will also satisfy the needs of those looking for something that goes beyond the standard school backpack in terms of appearance.
Looking at the outside of the pack, you would seriously never guess how many compartments and organizational options there are inside.
This, plus the fact that you can carry the bag either as a backpack or like a briefcase, means that it will fit into a variety of settings. Whether you're commuting to work, on a business trip, attending university, or working at a coffee shop for the afternoon.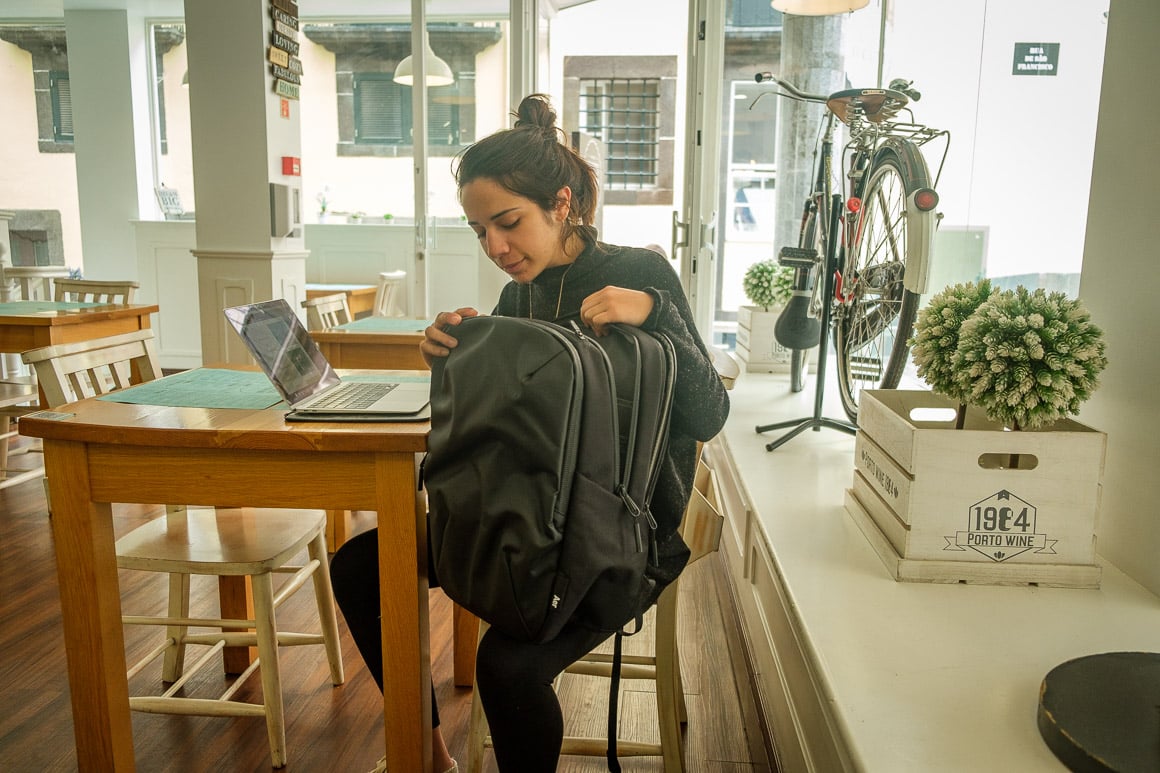 The only downside to the minimalist lack of exterior features is for those who like to attach things like keychains or carabiners to the outside of a pack.
This last "issue" is actually preferred by some people, so it's all a matter of personal opinion in terms of what you want in a pack.
Because the Aer Tech Pack 2 is designed for people who want to carry around electronic gear, the main circumstance it won't work so well in is hiking/trekking; it ain't built for that.
Sure, the pack looks awesome, but for long hours trekking under the sun, you would want to go with a backpack specifically designed for that purpose.
The best present of all… is CONVENIENCE!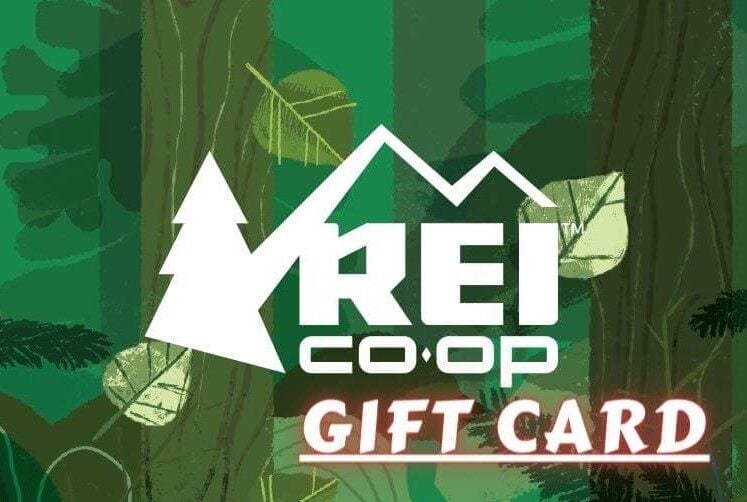 Now, you could spend a fat chunk of $$$ on the WRONG present for someone. Wrong size hiking boots, wrong fit backpack, wrong shape sleeping bag… As any adventurer will tell you, gear is a personal choice.
So give the adventurer in your life the gift of convenience: buy them an REI Co-op gift card! REI is The Broke Backpacker's retailer of choice for ALL things outdoors, and an REI gift card is the perfect present you can buy from them. And then you won't have to keep the receipt. 😉
Buy on REI!
Aer Tech Pack 2 vs the Competition
Although the Aer Tech Pack 2 is certainly an exceptional backpack, it might not be the solution for every traveler. If you've gone through this entire Aer Tech Pack 2 review and you're not entirely sold, here are a few of the main competitors which might fit your travel style better.
Aer
Aer
Aer Tech Pack 2
Cost > $$
Liters > 17
Laptop Compartment? > Yes
Best Use? > Travel
Osprey
Osprey
Osprey Daylite Plus
Cost > $
Liters > 20
Laptop Compartment? > Yes
Best Use? > Hiking, Travel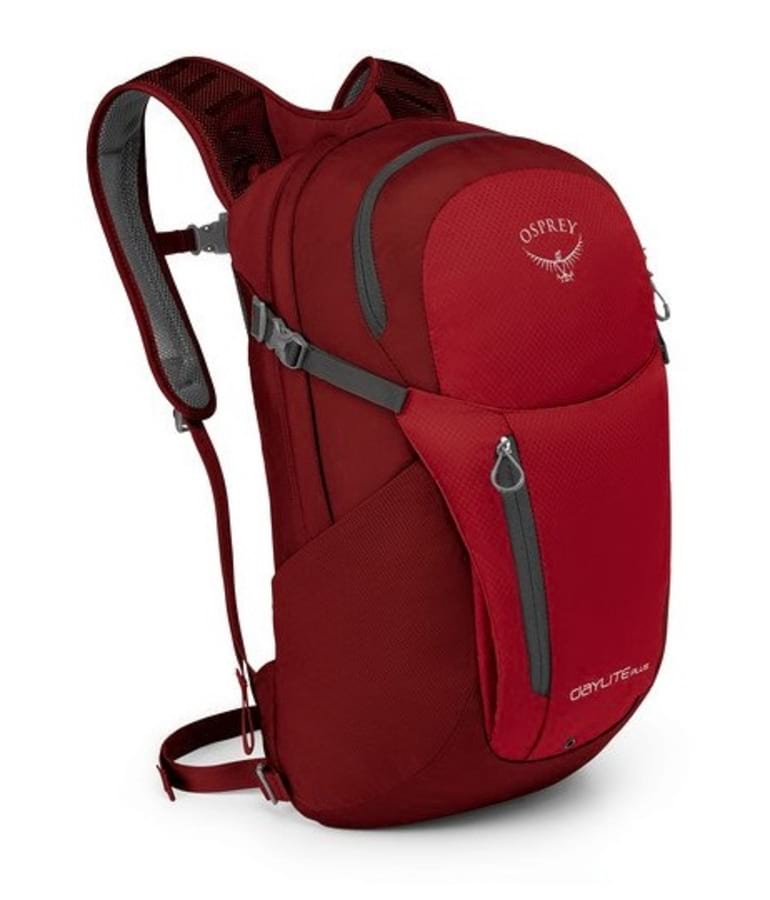 If the Aer Tech Pack is a bit too bulky and you'd prefer something more suitable for hiking and outdoor adventures, then the Osprey Daylite Plus is a great option.
Although this pack isn't quite as tech-oriented as the Aer Tech Pack, it still provides decent protection for your electronics while also being lightweight and suitable for hiking. There is a compartment for a laptop up to 14 inches, which can duly function for holding a hydration reservoir for when you're out on a long hike.
The Osprey Daylite Plus is also compatible with several other larger Osprey packs, so if you're already a backpacker with one of these packs, it might make sense to get a Daylite as a convenient day pack for your travels.
In terms of capacity, it's almost exactly the same as the Aer Tech Pack (20L instead of 17), although Aer does a better job with organizational capacity as well as security and weather-resistance.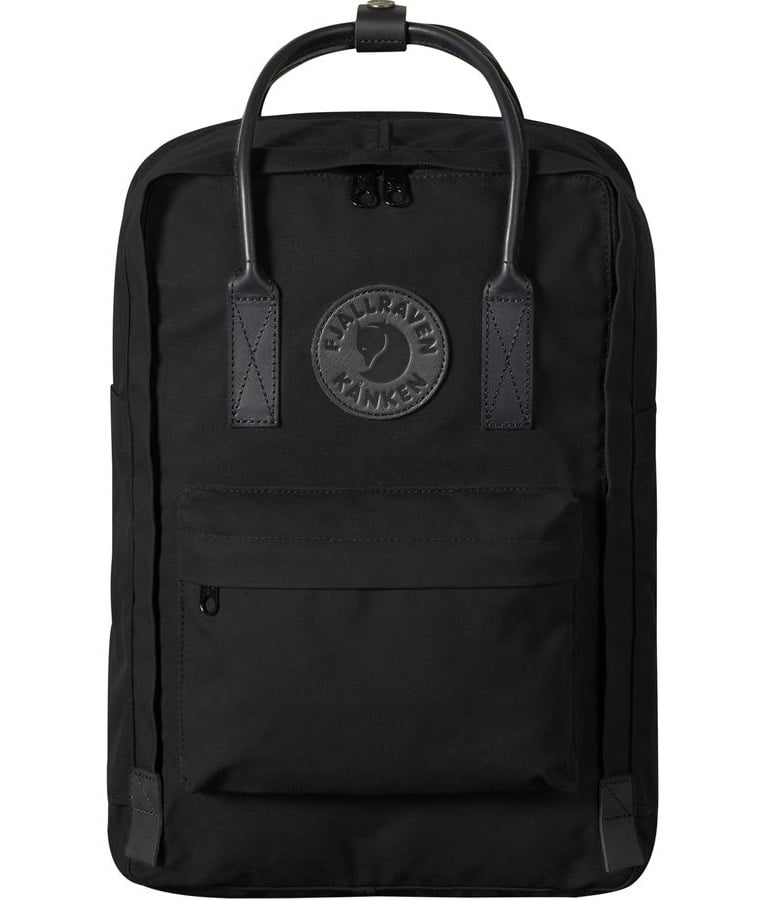 If the Aer Tech Pack is just too expensive for your budget right now, but you still want a high-quality backpack for your electronics, turn to the Fjallraven Kanken. Although it's not exactly cheap, it's still a big step down from the price tag on the Aer Tech Pack.
It has about the same capacity as the Aer Tech Pack, as well as a padded compartment for a laptop up to 15 inches. It's a little less structured though than the Tech Pack 2 and tends to tip over instead of standing up on its own like the Tech Pack 2 can.
Once again, the Tech pack still takes the prize for durability and security. In terms of abrasion resistance, the Kanken is still fairly good, although since it's not water resistant you might want to consider getting a backpack cover.
On the Kanken, the laptop pocket is within the main compartment instead of having a completely separate spot like the Aer Tech Pack 2. There is also a front pocket and two side pockets, although not quite as many internal dividers as Aer includes in their design.

Our GREATEST Travel Secrets…
Pop your email here & get the original Broke Backpacker Bible for FREE.
Aer Tech Pack 2 Review: Final Thoughts
In terms of a classy and high-quality backpack for your electronics, Aer has certainly gone above and beyond all expectations with the Tech Pack 2. Hopefully now that you've gone through this thorough Aer Tech Pack 2 review, you have an appreciation for why we're so stoked about this particular pack!
Versatility is highly desirable in modern life, and it's certainly more convenient to have one bag which functions as a school pack, travel day pack, or work bag depending on the occasion.
Not only is the Tech Pack 2 perfect in a variety of situations, but the tough material and weather resistance means that all your electronics will stay protected. If you're fed up with constantly needing to replace old bags because they rip and tear so easily, it might be time to upgrade to a high-quality backpack like the Aer Tech Pack 2.
Happy travels and urban exploring.
---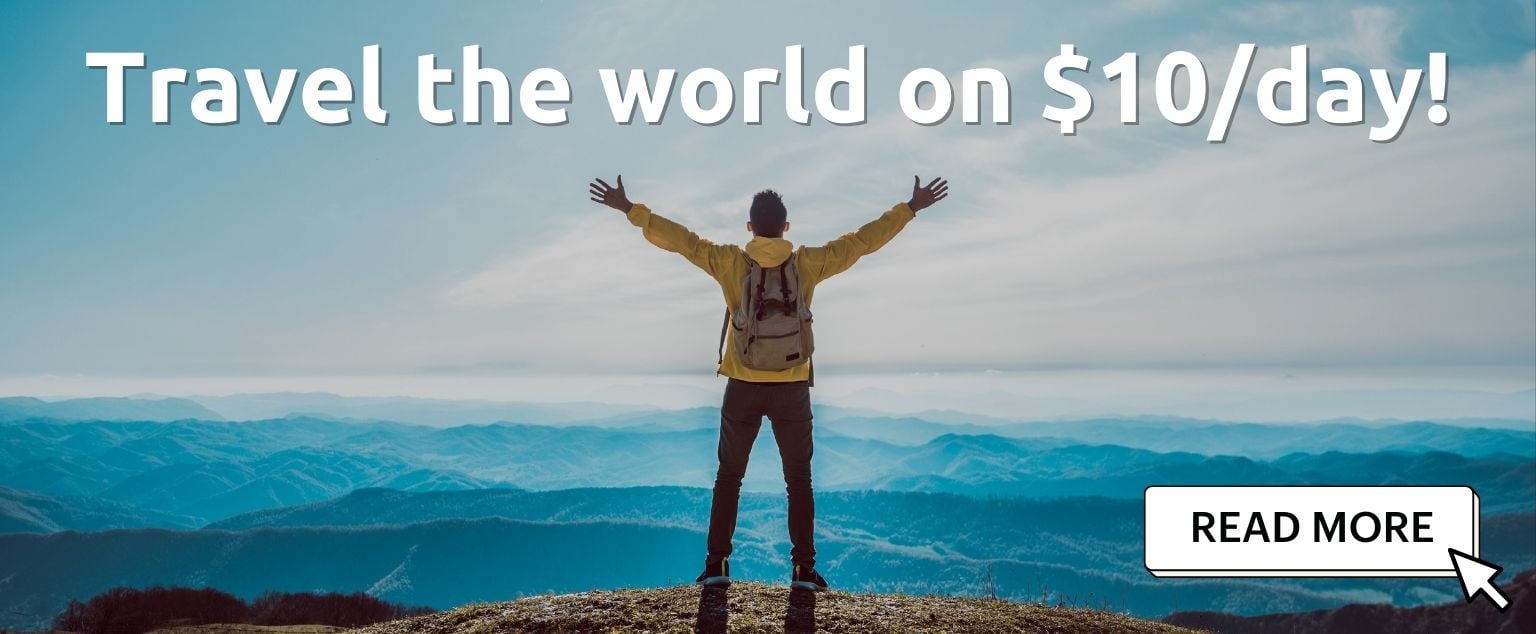 And for transparency's sake, please know that some of the links in our content are affiliate links. That means that if you book your accommodation, buy your gear, or sort your insurance through our link, we earn a small commission (at no extra cost to you). That said, we only link to the gear we trust and never recommend services we don't believe are up to scratch. Again, thank you!