Searching for a great new travel bag and unable to decide whether you want a backpack or a duffel? Well, with the Aer Capsule Pack you can have both options rolled into one, smooth-functioning, secure, and comfortable travel bag.
If you're familiar with any of Aer's other products, like their Travel Pack or their Tech Pack 2, you'll already know that they specialize in high-quality travel products for everyone, from long-term business travelers and nomads to tech-savvy backpackers and daily urban commuters.
In terms of quality and product standards, the Capsule Pack Max certainly measures up to Aer's other products. However, since the bag has such a unique design, it might not work for some travelers, while for others it will be exactly what they were looking for.
There is a lot to learn here so settle in and get ready to become fully acquainted with the AER Capsule Pack Max…
Quick Answer: Aer Capsule Pack Max Specs
Price: $250
Volume: 35L or 40L
Weight: 4.1 pounds or 4.4 pounds
Material: 1680D Cordura ballistic nylon with Duraflex hardware
Laptop Compartment: Yes
Carry-on Compliant: Yes
Ladies & Gents, It's Time to Step Your GEAR Game Up. 😉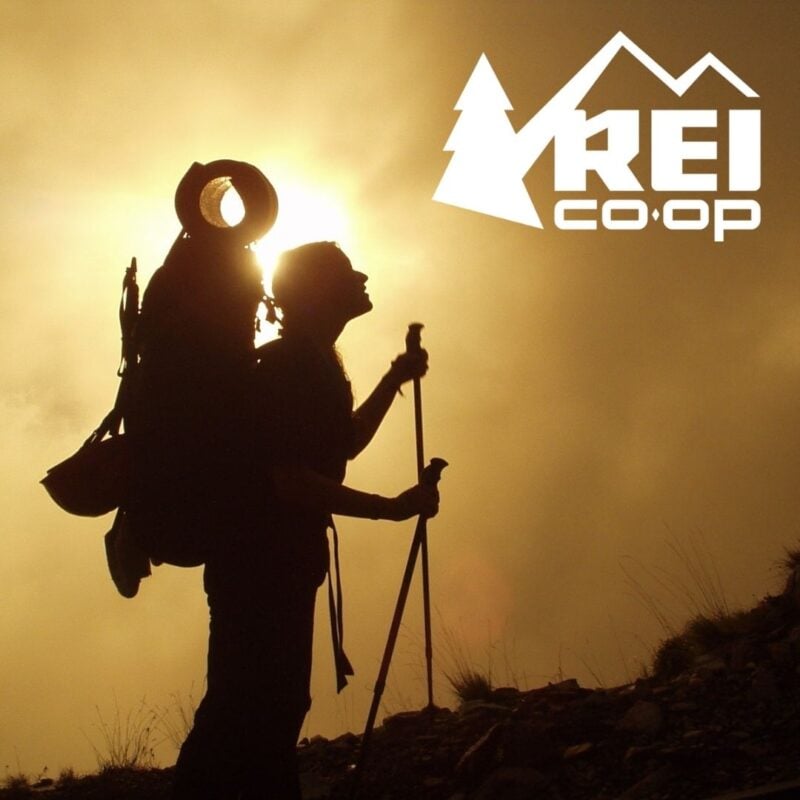 REI is one of America's biggest and most-loved outdoor gear retailers.
Now, for just $30, get a lifetime membership that entitles you to 10% OFF on most items, access to their trade-in scheme and discount rentals.
Join REI Today!
Key Features and Performance Breakdown of the Aer Capsule Pack Max
For sake of clarity, this review covers the 40 Liter AER Capsule Pack.
Interior Organization
With a duffel-style main compartment but organizational options of a backpack, the Aer Capsule Pack brings together the best of both travel bag styles. On the outside, the bag actually looks fairly simple, but when you dive deeper, you'll discover that a lot of planning and thought was put into the specific design and organization of the compartments.
A lot of duffel bags become a "dump and shove" sort of mess, especially after a little time on the road. Thanks to the various compartments and pockets of the Aer Capsule Pack, you can keep everything organized while also benefiting from the more spacious interior of a duffel.
Since there's quite a lot to cover when it comes to internal organization, we've divided our entire review of the Aer Capsule Pack Max into sections. We'll give the specifics for every compartment and how each measures up to withstanding the daily grind.
Main Compartment
The biggest compartment of the Aer Capsule Pack opens like a duffel bag. This is where the bulk of the storage capacity of the pack can be found (either 35L or 40L depending on the size).
If you're the type of person who likes the flat-open design of duffels and who likes to make use of packing cubes or other organizational dividers, then the Capsule Pack will probably be perfect for you.
Inside the main compartment, you have room for a few changes of clothing, possibly an extra pair of shoes, a towel and other toiletries, and some odds and ends of travel gear.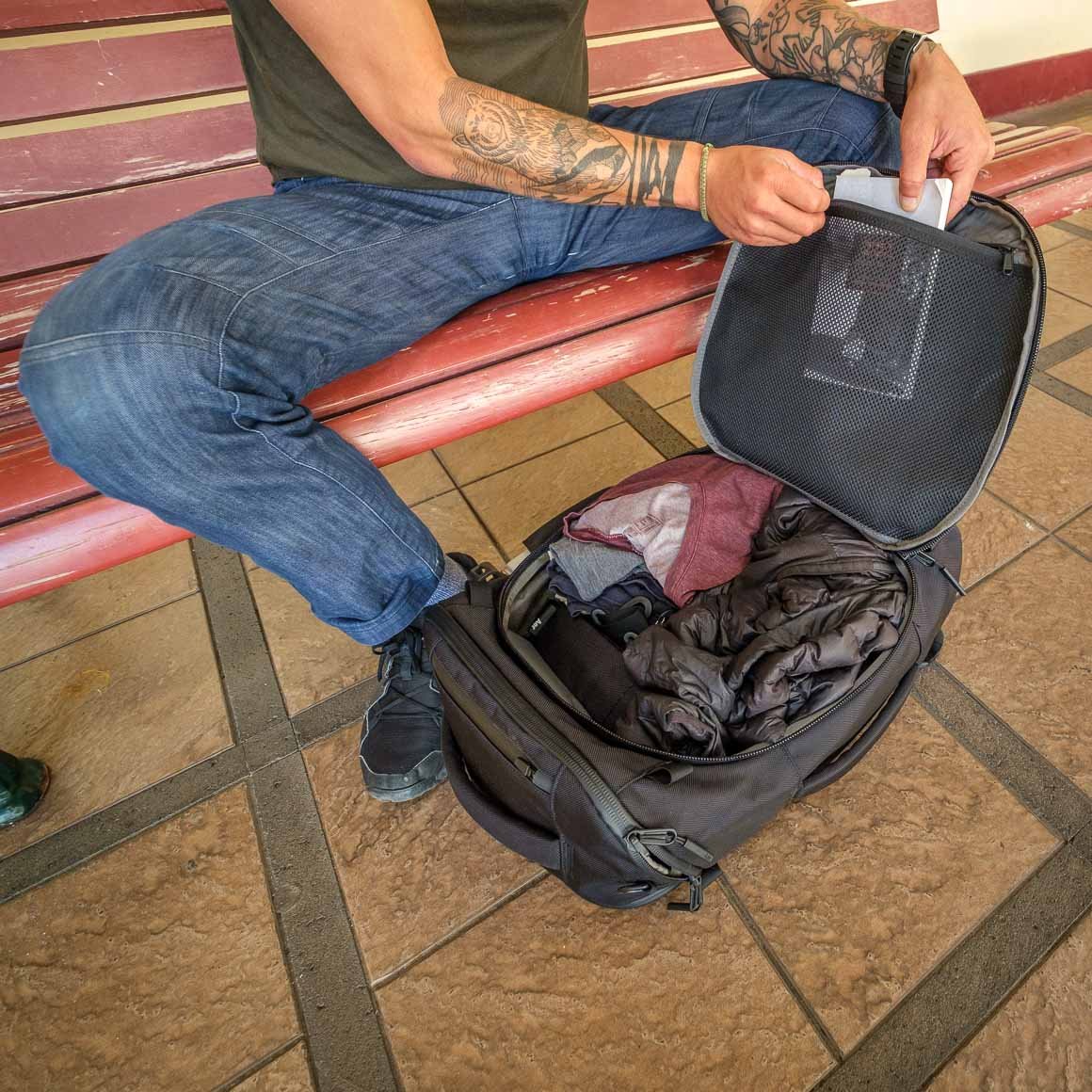 The "lid" so to speak of the main compartment has a zipper mesh pocket on the inside, which is a great place to keep a light jacket or hat within easy reach.
Thanks to the semi-clamshell design, the Capsule Pack Max makes it easy to access gear in all corners of the pack. If you're perpetually losing things at the bottom of your backpack, you'll be able to appreciate this open and easy-access design.
Since the zippers go almost entirely around the top of the bag, it's also possible to unzip it from multiple angles. This makes it easier to get something out of the pack while you're on the go. You can even open the main compartment when it's standing upright like a backpack without worrying about everything falling out.
Laptop Compartment
The downfall of most duffel bags is that they simply don't offer enough organization or protection for electronics and other sensitive items. Not so true for the Aer Capsule Pack.
You won't be forced to put your laptop in the main compartment of the bag and simply hope it doesn't get jostled around too much.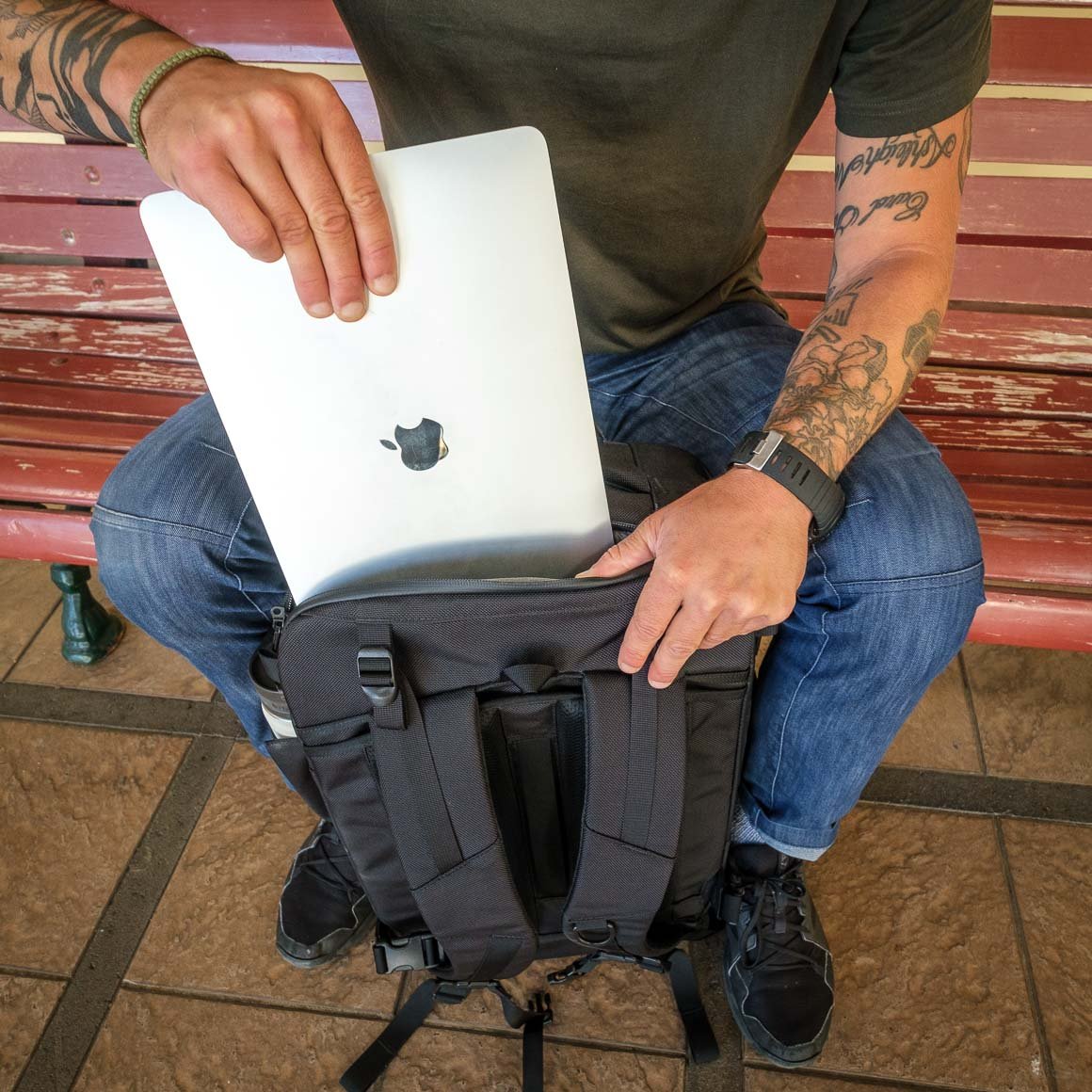 Depending on how you look at it, the laptop compartment of the Capsule Pack is either on the backside (backpack style) or bottom (duffel style) of the bag. This quick-access and padded pocket can store a laptop up to 15.6 inches (the one pictured in the photo above is a 13-inch Macbook.
The soft lining and cushioning provide enough protection that you won't be perpetually worried about your laptop getting damaged while in transit. It also frees up space in the main compartment for your clothing and other travel gear.
The Exterior and Other Pockets
If you're the type of traveler who's always losing your phone charger or sunglasses in the bottom of your duffel bag, the Capsule Pack comes prepared to solve this issue.
In addition to the main compartment and laptop compartment, Aer has added other organizational pockets to the Capsule Pack Max.
The largest of these pockets is located on the top (or side when carried like a duffel) of the bag, and is similar to what you would find in the front pocket of many backpacks. Inside, there are further organizational dividers where you can put chargers, pens, a power bank, a tablet, or any gear you want within easy reach.
Just above this pocket, there is an additional quick-access pocket with a soft lining which is the perfect spot for your phone or sunglasses. It's also not super obvious this pocket is even there, which makes it less likely for someone to be able to snatch your gear.
On one side of the Capsule Pack there is also an expandable water bottle pocket. The design of this pocket is one of the only issues we've found with the Capsule Pack, since it's only really functional when the pack is carried like a backpack. Once the bag is tipped on its side, water bottles can easily slip out if they're not attached with an additional carabiner.
Also I have a few big water bottles that can't fit due to the small circumference of the pocket. But luckily my thermos fits, so the coffee gets to come along for the ride.
If you're looking for a similarly sized bag, but want more organizational features for travel, be sure to check out the Aer Travel Pack 2.
Sizing and Fit
The Aer Capsule Pack Max comes in two sizes: 35L and 40L. Other than size, the bags are identical in terms of features and placement of pockets.
The 40L pack measures 22 inches in length, 14 inches in width, and 9 inches in depth. In comparison, the 35L pack is 20.5 inches in length, 14 inches in width, and 8.5 inches in depth. Although it may seem like a small difference, the extra 5 liters is very noticeable in terms of how much you can pack and overall weight of the bag once your gear is added.
If you're planning on using the Capsule Pack for longer trips, getting the larger pack is probably a good idea. For shorter urban commutes, as a school bag or gym duffel, the smaller option is likely more suitable.
Both the 40L and the 35L are compatible with carry-on item regulations for most airlines, so long as you don't attach other gear to the outside of the bag.
One thing to keep in mind is that the Capsule Pack Max does have a sort of "boxy" design as a result of the duffel-style opening. It does have the name "capsule" pack for a reason, and while some people prefer this type of fit, it can be bothersome or awkward for others to get used to.
Carry Options
As we've made clear from the beginning of this Aer Capsule Pack Max review, versatility is one thing this pack definitely has going for it. The bag has lots of carry options without having dangling straps that can get in the way when not in use.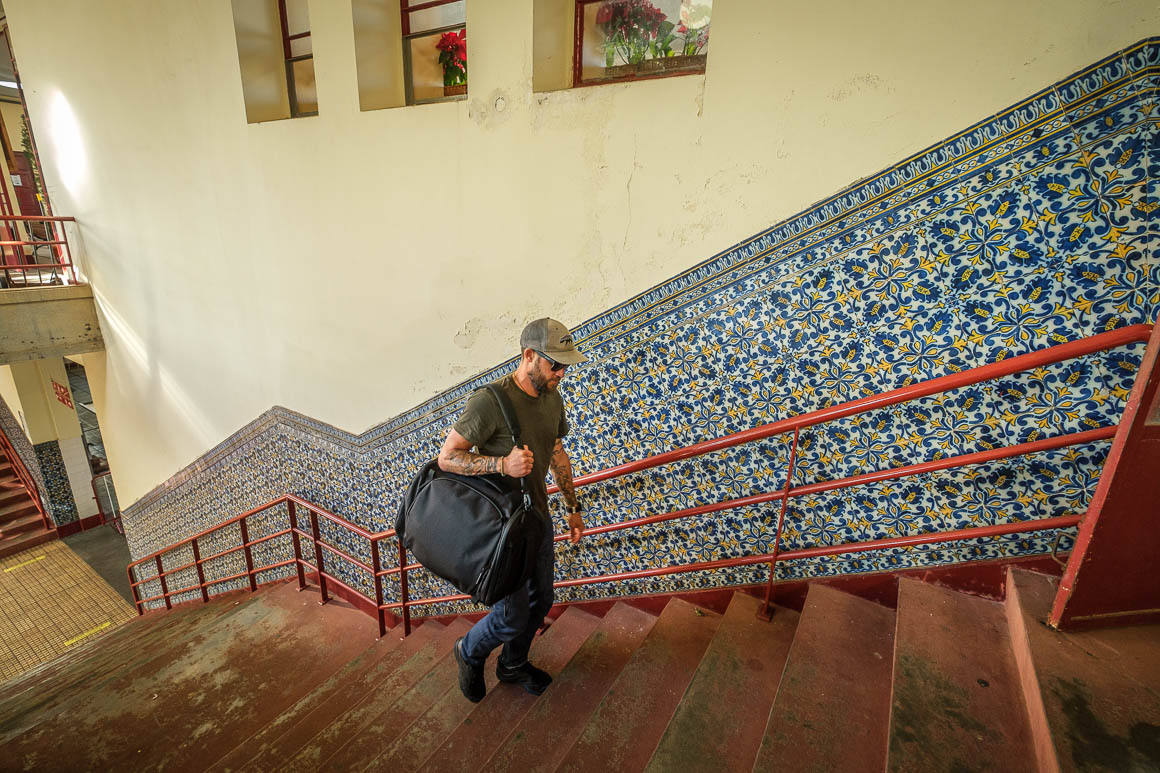 The Aer Capsule Pack has well padded adjustable backpack straps. A sternum strap is included on the pack, and there are attachment points for putting on a hip belt which you can purchase separately.
The best part of the backpack straps is that they can be tucked away on the back/bottom of the bag, behind where the laptop compartment is. This prevents them from swinging around and getting caught on things when you're not using the Capsule Pack Max as a backpack.
Your second carry option for the Capsule Pack Max is duffel style. There's a padded shoulder strap which can also be removed, so again, you won't have to deal with a long strap getting caught on things.
On the top and side of the Capsule Pack, there are also handles for carrying the bag briefcase/suitcase-style for short periods of time.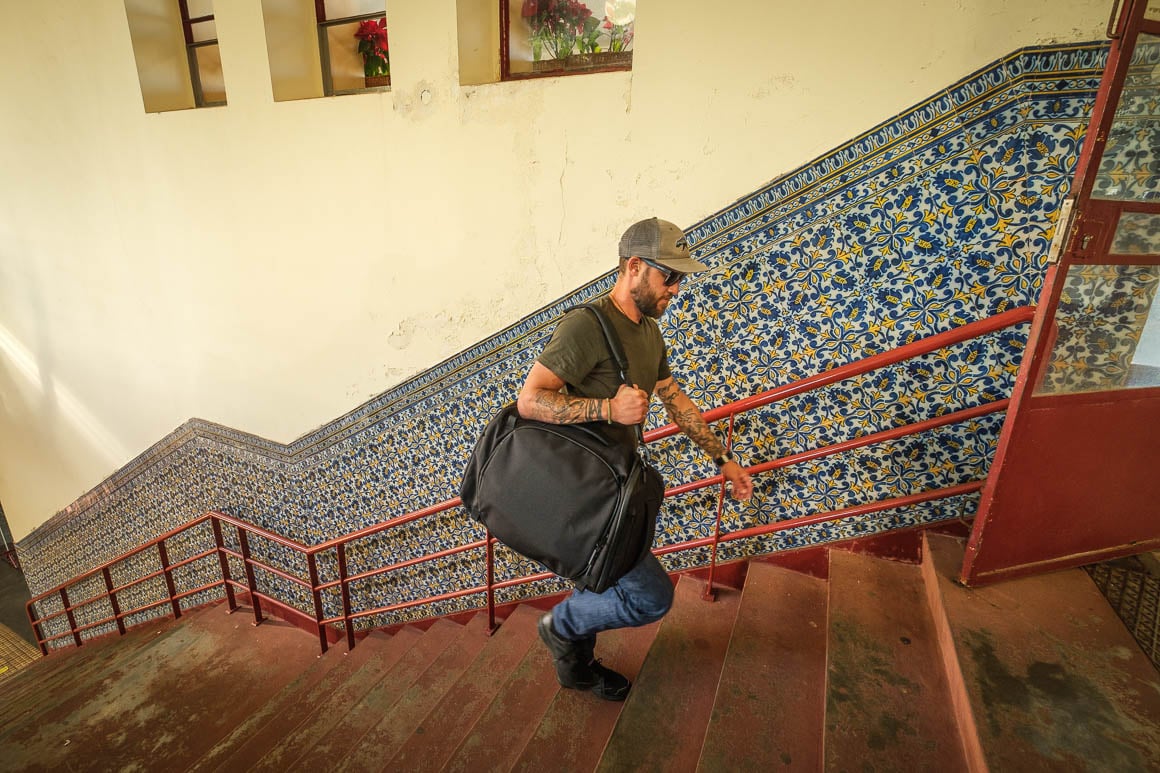 Frequent travelers will also appreciate the luggage pass-through strap on the backside of the pack. This allows you to carry it on top of your other suitcase if you're bringing the Capsule Pack Max on an extended trip.
Weight and Capacity
As we already touched on in the sizing section of this Capsule Pack Max review, there's a 40L and 35L option available. The 40L bag weighs 4.4 pounds, and the 35L bag is 4.1 pounds.
Although this difference in weight does not seem significant, you have to consider how much extra gear can fit in the additional 5 liters. Are you carrying another pair of shoes? A couple of heavy textbooks? Or just a bulky but lightweight rain jacket?
Overall, the 35L pack might be better for short-term / daily urban travel since it takes up a little less space, while the 40L pack is better for longer trips because you obviously get a little more space. If you're replacing an old backpack or suitcase, check what the capacity of this bag is and then decide whether the larger or smaller Capsule Pack is better for you, depending on if you felt like you had enough room.
Toughness and Durability
There's nothing more frustrating than getting a new backpack or travel bag only to have one of the zippers break after the first few days. Thankfully, you can rest assured on the overall toughness of the Aer Capsule Pack Max.
Barring any extreme circumstances, the Capsule Pack Max is undoubtedly designed to last for years of travel and use. It's made from the same 1680D Cordura ballistic nylon exterior as other Aer products, and has Duraflex hardware inside to produce a structured yet comfortable pack.
Each of the zippered compartments has YKK AguaGuard zippers, so although it won't survive being dumped in a lake, a light rain isn't going to do any damage to the pack or your possessions inside.
Security
For those worried about security features on the backpack, there are a number of features of the Aer Capsule Pack Max to help ease your fears.
Except for the large compartment, all the other zippered pockets are relatively out of reach and difficult to see, especially the top compartment which is the most likely place to put your phone or other valuables.
The laptop compartment is even more difficult to access, and chances are most people won't even know it's there. After all, it's not something super common to see on a duffel-style bag. The chances of someone actually succeeding in getting your laptop are close to zero unless you literally leave the bag totally unattended.
For additional security measures, all of the zippered compartments have lockable zippers. If you're traveling, you might want to consider putting a lock on the main compartment since it is easier to reach, and possibly the smaller top pocket if you're carrying valuables there.
Bag Aesthetics
Truth be told, reactions to the overall appearance of the Aer Capsule Pack Max vary across the board. Some people love the spacious design and versatility, other people say this makes the bag look awkward and clunky.
Keep in mind the pack gets the name "capsule" for a reason. It's not the most sleek of Aer's products, and it was designed more for function rather than glamor and looks.
That being said, in comparison to most duffel bags, the Aer Capsule Pack is downright schnazzy. The black-on-black color scheme and sleek simplicity make it a lower profile but still aesthetically pleasing by most standards.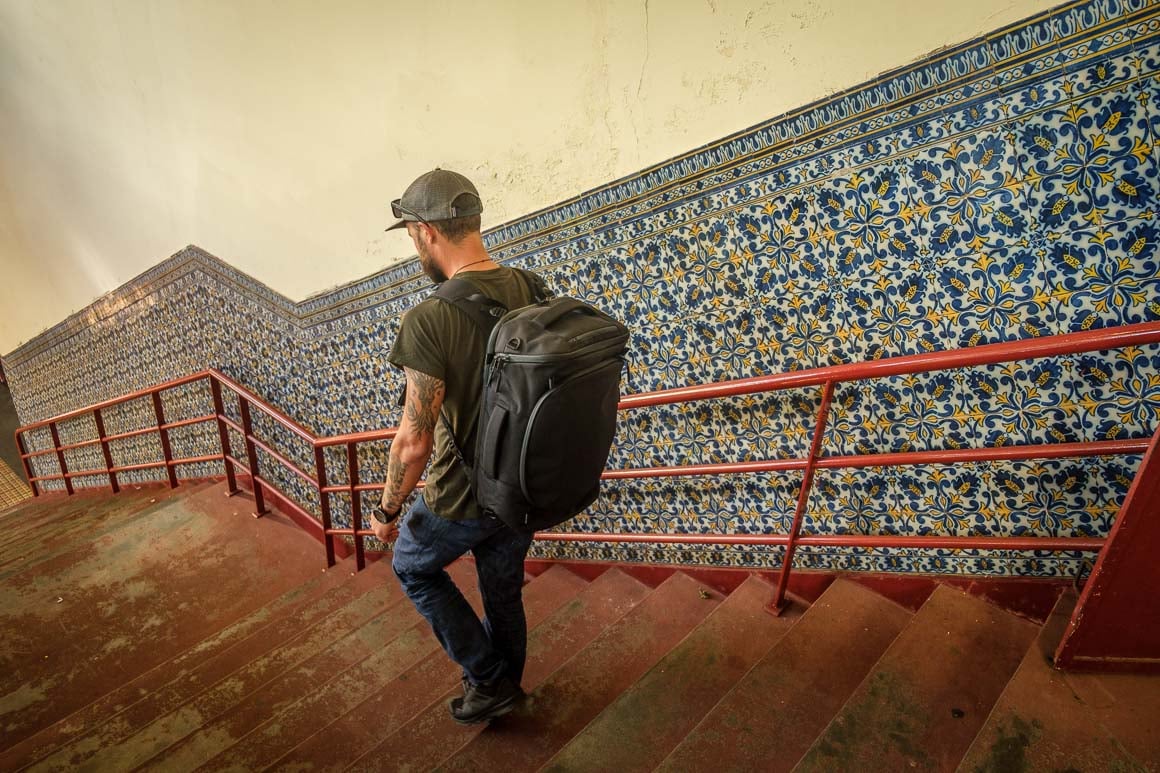 From our perspective (and we like minimalist designs), the Capsule Pack gets top marks again for versatility in the appearance category. This bag will look right at home at the gym, city cafe, airport, rock climbing gym, or on the local metro.
This, plus the variety of carrying methods, means that you can tailor the bag's appearance to fit your needs in numerous situations.
The best present of all… is CONVENIENCE!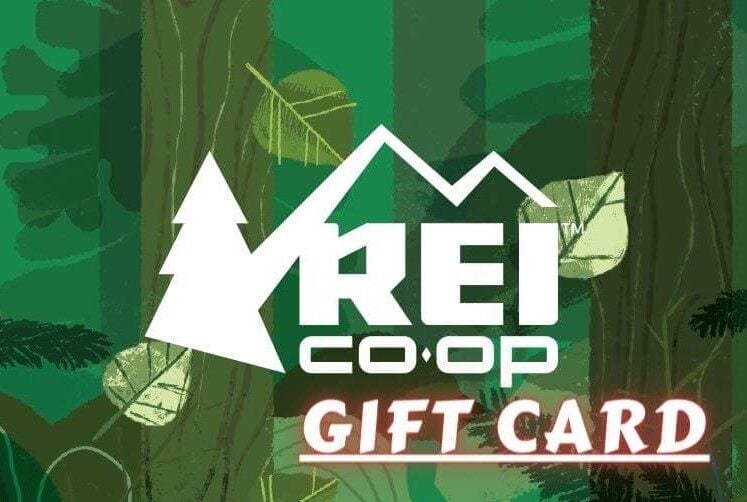 Now, you could spend a fat chunk of $$$ on the WRONG present for someone. Wrong size hiking boots, wrong fit backpack, wrong shape sleeping bag… As any adventurer will tell you, gear is a personal choice.
So give the adventurer in your life the gift of convenience: buy them an REI Co-op gift card! REI is The Broke Backpacker's retailer of choice for ALL things outdoors, and an REI gift card is the perfect present you can buy from them. And then you won't have to keep the receipt. 😉
Buy on REI!
Aer Capsule Pack Max vs. the Competition
If you've gone through this review of the Aer Capsule Pack Max and you're still unsure whether this is the right travel pack for you, we'll devote this section to comparing the Capsule Pack to one of the other top competitors in the field: the Tortuga 40L Travel Pack.
Tortuga has also made a name for themselves in terms of high-quality luggage and travel gear, and the Outbreaker is their solution to an innovative and versatile travel pack.
In terms of price, the Aer Capsule Pack Max and Tortuga Outbreaker come out almost even, which is to say 'expensive'. Yep, you'll be paying more upfront for either pack, but they are both made to last – maybe not forever, but a very long time.
Instead of blending a backpack and duffel, the Tortuga is a combination of a suitcase and backpack. The duffel vs. suitcase carrying option is a matter of personal preference, and it depends for each traveler what works best for them.
On the plus side for the Outbreaker, there is more room and organization options for electronics. Instead of just having a laptop pocket, the entire back of the pack unzips with room to store a laptop, tablet, chargers, and other small items securely.
Just like the Capsule Pack, the Outbreaker also has lockable zippers and is made from weather resistant material which can easily withstand a drizzle of rain or even a light dusting of snow.
On the downside, the shoulder straps and hip belt are not removable, so this pack is less useful for city travel or day-to-day urban use. However, for business travelers and frequent fliers who love the ease of a rolling suitcase, the Outbreaker could end up being a better choice.
Check out our full review of the Tortuga Outbreaker Pack here.

Our GREATEST Travel Secrets…
Pop your email here & get the original Broke Backpacker Bible for FREE.
Aer Capsule Pack Max Review: Final Thoughts
Versatile to the extreme, the Capsule Pack Max can easily become your favorite pack for a weekend bag or as a handy business travel pack.
With a variety of carrying options, removable straps, and an easy-to-pack structure, it's the perfect everyday carry pack for numerous situations (especially the 35-liter version).
Ultimately, I give the AER Capsule Pack Max 4.5 out of 5 stars.
Our Rating of the AER Capsule Pack Max?

Now that you've gone through all the details of the Aer Capsule Pack Max in this review, you're caught up on all the ins and outs, ups and downs, and everything in between this pack has to offer.
Say goodbye to your clunky old duffel or top loader backpack where everything seemed to get lost in the abyss at the bottom. The Aer Capsule Pack Max provides organization, functionality, and well as a clean, stylish appearance.
---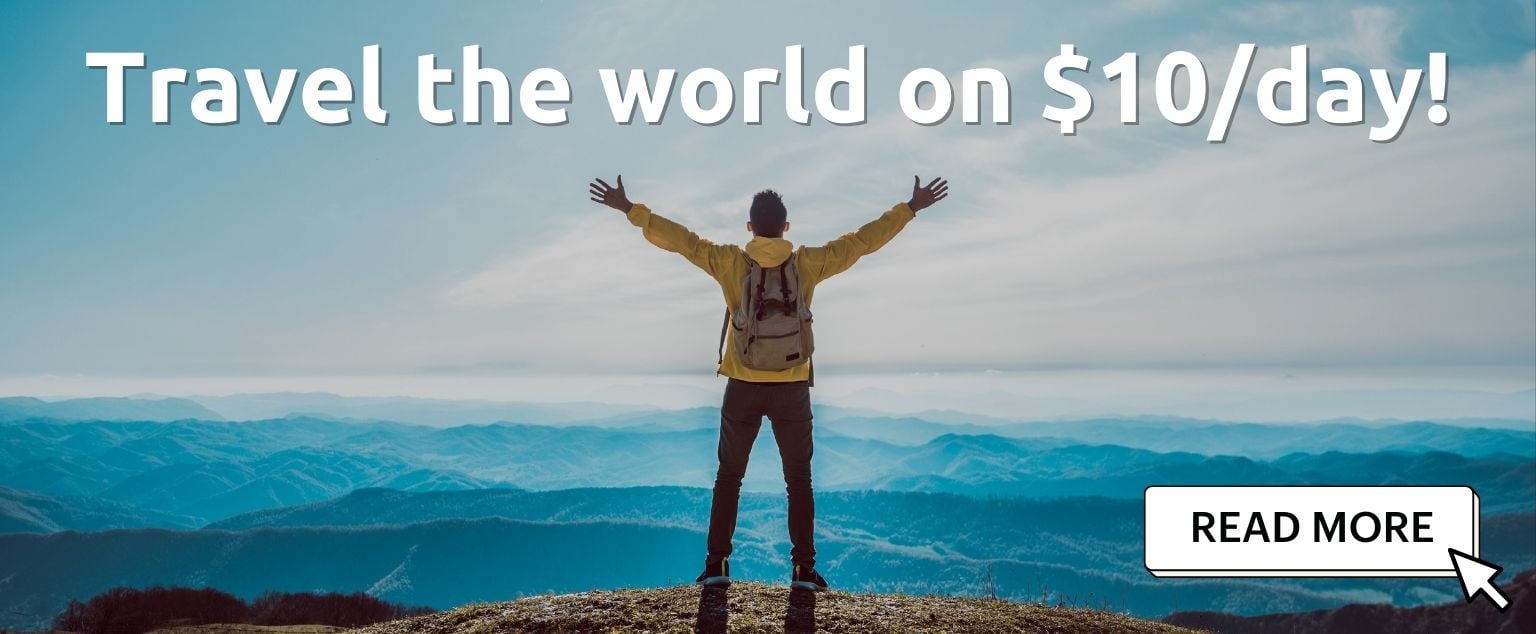 And for transparency's sake, please know that some of the links in our content are affiliate links. That means that if you book your accommodation, buy your gear, or sort your insurance through our link, we earn a small commission (at no extra cost to you). That said, we only link to the gear we trust and never recommend services we don't believe are up to scratch. Again, thank you!