Travel packs come in all shapes and sizes. There are suitcases for square Johns, backpacks for backpackers and then some of us love to rock a good old duffel pack now and then. Today we are going to take a close and detailed look at a very special pack that is kind of like the bastard love child between a carry-on travel backpack and a trusty duffel.
The Monarc Settra is a new to the market, innovative piece of travel gear made entirely from recycled plastic bottles. In this post we will examine its overall quality, its key features, its best uses and help you to decide if it is the hybrid travel pack you need for your next trip.
Let's begin!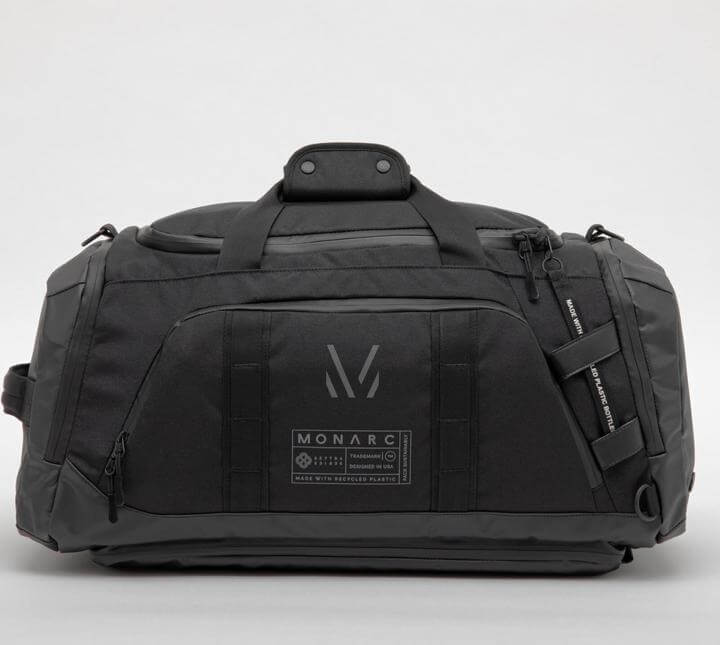 Size (at full capacity) – 21' x 13' x 11'
Weight – 4.5 Ibs
Storage – 40L
Fasten Type – Zips
Price – $149
Key Features at a Glance
Made from 50 Recycled Bottles
Water Resistant Fabric
Removable Shoe Compartment
17" Laptop Sleeve
Dual Function Backpack & Duffel
40L Packable Space
TSA Approved Carry-on size
Total Weight – 4.5lbs
Airmesh Ventilated Back
Adjustable Sternum and waist straps
Organization Packing add-ons
Locking Zippers (Lock not included)
The Lowdown on the Monarc Settra
The Monarc Settra is a cool, stylish, versatile and rather unique backpack/duffel hybrid made entirely from recycled water bottles. This is the ultimate eco travel luggage. Go hippies!
The Settra itself boasts an abundant 40L of capacity and also comes with several optional inserts; a padded cube for cameras and lenses, two ace compression packs that can really squeeze clothes in, and then a tech pack for organizing all of your wires and stuff. Oh, and there is also a laundry bag for chucking those stained undies into.
So, the Settra is a fully carry-on compliant, versatile and smart eco friendly travel pack. It's great for overnight trips, weekends away and city breaks. In fact, I think I could comfortably live out of it for a week if I didn't have to bring a change of footwear. Its basically a carry on duffel that is also a backpack that os also eco-good.
Ladies & Gents, It's Time to Step Your GEAR Game Up. 😉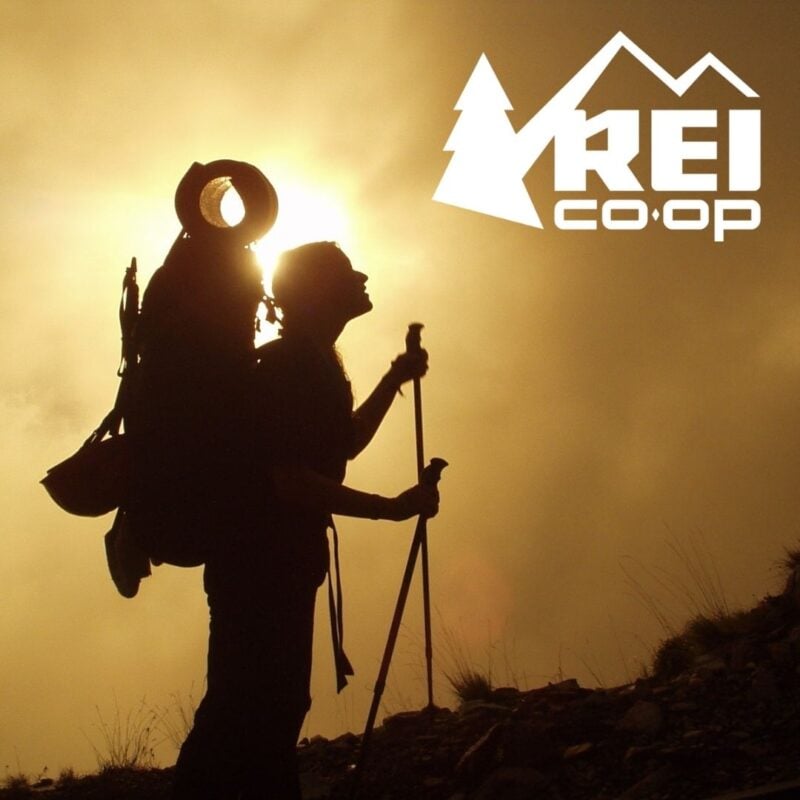 REI is one of America's biggest and most-loved outdoor gear retailers.
Now, for just $30, get a lifetime membership that entitles you to 10% OFF on most items, access to their trade-in scheme and discount rentals.
Join REI Today!
Is The Monarc Settra Perfect For You?
Let's take a quick look at who this pack is, and is not for.
The Monarc Settra is NOT for you if…
Tip #1 – You want a hiking pack…
If you intend on doing any serious hiking or camping, then do not use this pack. It is NOT a good hiking backpack. It is not lightweight, not entirely ergonomic and not fully waterproof. These are not really criticisms, they are simply reflections on the fact that this pack just wasn't designed for hiking!
Tip #2 – You really need a backpack…
Ok so for me, the downside of the Settra is that I just can't quite get comfortable carrying it as a backpack at all. So instead I have to carry it like a duffel which is not my usual style.
Still, for trips when you don't have to do much strenuous walking, it's a great pack and it is always handy to have the option to wear it as a backpack. The hybrid backpack-duffel style is super versatile.
Tip #3 – You are taking a long trip
The Monarc Settra allows you to pack a generous 40 litres of personal junk. Seriously, the compression packing cubes are amazing and there are quite a few side pockets and stuff. That is enough for up to one week of travel for most people. Therefore, this pack is not suitable for 2 week vacations and it is woefully inadequate for those multi-month endless backpacking trips that us at The Broke Backpacker are so fond of.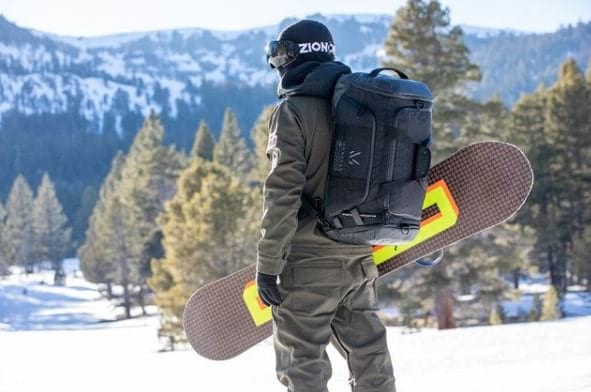 The Monarc IS PERFECT for you if…
Tip #1 – You are after a Duffel
Used as a duffel, the Monarc Settra is a great travel bag. It's comfy enough to carry, it's cool, it's well organised and you can wear it as a backpack if you ever need to.
We've tried a lot of duffel packs and this one is probably my personal favourite of all of them. And it's also eco friendly…
Tip #2 – You want an eco friendly travel pack
This pack is nothing short of genius. The people at Monarc have collected discarded plastic bottles from the beaches of paradise and turned them into duffel-cum-backpacks. Whilst some bag makers are nearing zero waste status, the Settra is plastic negative so simply by using it you are doing a tiny little bit to help that planet you presumably love enough to want to explore.
Tip #3 – You want to pack more stuff in less space
The compression packing cubes that come with this are ace. They use a clever design to allow you to squeeze way more clothes into them than you will need for your trip. This then leaves room to stick your laptop on top and your travel docs on the side. If you use the toiletry and tech bag, then you will find that it all fits inside the Settra perfectly. Basically, I have never managed to fit so much crap into a 40 litre bag – I am well impressed and I test bags for a living.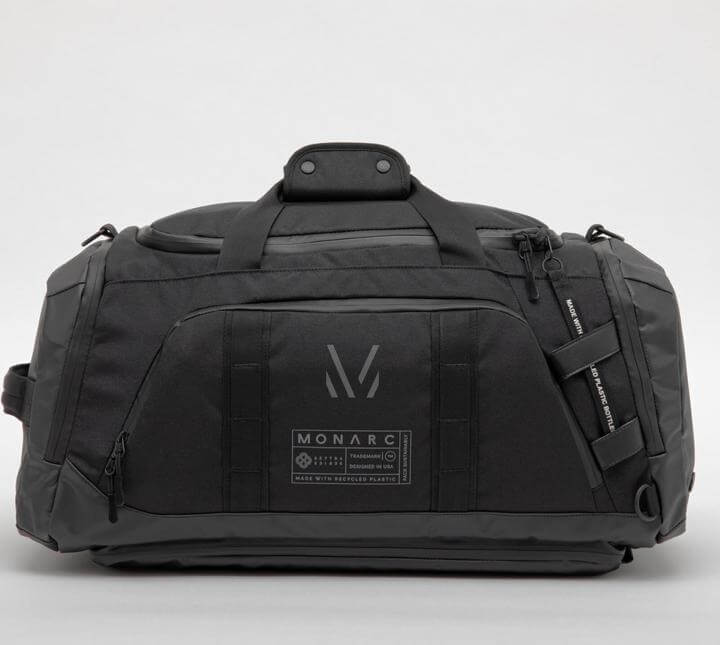 Top Monarc Settra Features
Materials & Aesthetic
As we know by now, the pack is made from recycled plastic bottles which have been ingeniously fashioned into some form of polyester, duffel type material! It feels quite firm, rugged but nice to the touch and I get the impression that it will prove to be a pretty hardwearing pack – I don't expect it to tear or rip anytime soon.
It is fully water resistant but if you want full waterproofing, then get yourself the optional rain cover too.
In terms of aesthetics, it's a very cool looking back with a classic sleek kind of masculine vibe to it. It's the kind of bag that would look in place at the airport, at the gym, carrying around a city and I'd say you could even take this bag to work at the office.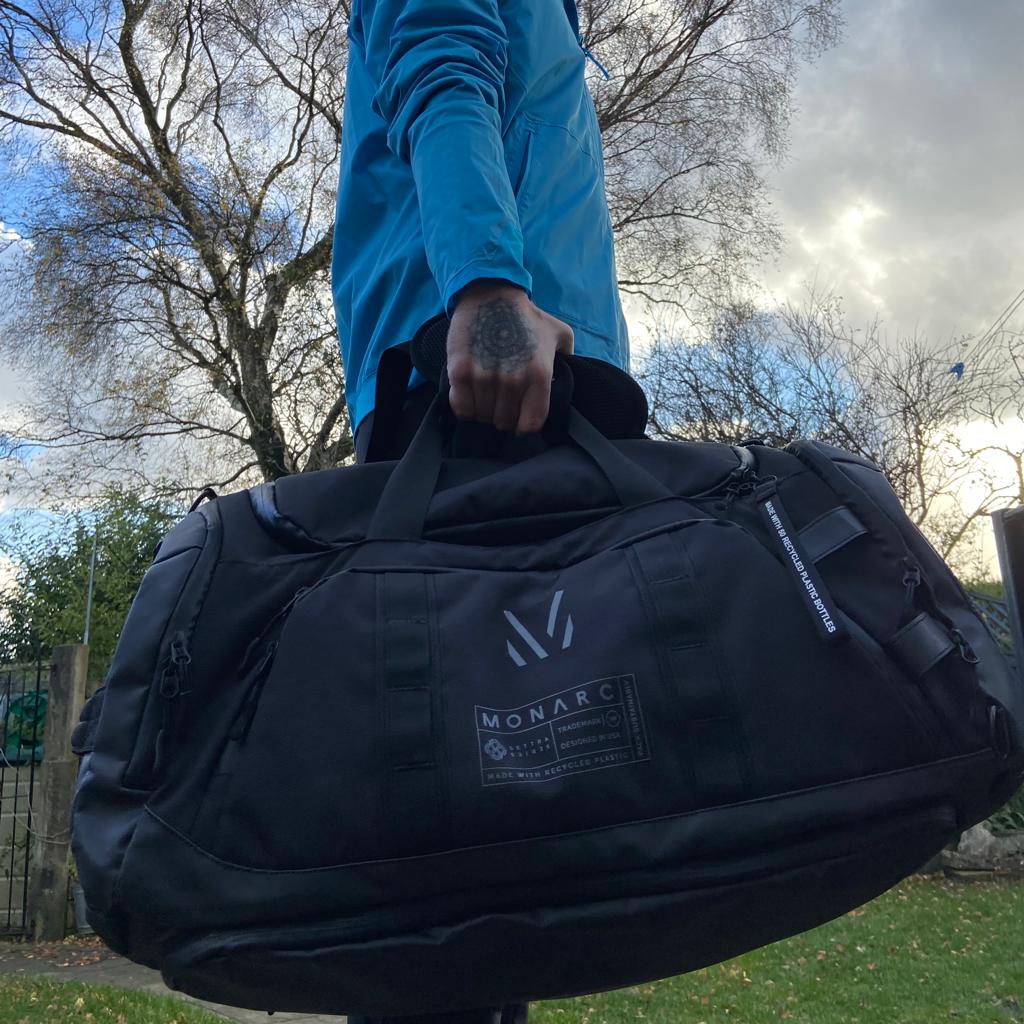 Weight & Comfort
It's not the lightest duffel I have tried but it isn't especially heavy either. The handle straps do have some padding to soften the friction on your palms but to be honest, this area could be improved a bit. Still, I carried it a fair bit fully packed and did not experience any particular discomfort.
You also have the option of carrying it over your shoulder using the adjustable shoulder pack or you can grab it by the handle located at the left hand side of the pack which is useful for loading it into overhead racks etc.
When worn as a backpack it does feel heavier than my other 40 litre backpacking backpacks and I would not ever want to hit the trails with the Settra on my back.
That said, there are sternum and hip straps to help spread the weight as well as a ventilated, mesh back compartments to stop you getting too sweaty.
Personally, I am not really a huge fan of wearing this bag as a backpack for too long probably because I am so used to backpacking and hiking type backpacks which are lightweight and ergonomic. Still, it is good to have options.
Storage & Access
I really like the storage capabilities of the Settra as well as its ease of access.
The main compartment zips open from the top and the top then pulls back. When you throw the top tip back, you will notice there is a nice, mesh storage net in the inside along with an inside, zip pouch.
There are then 2 side compartments on either side, both of which zip open. These side compartments are useful for storing things like books, documents or you could put the Monarc Tech Bag in there. The left hand compartment is actually intended by Monarc to be used as a "removable shoe compartment" although personally I would put shoes into the main section and use these side ones for other stuff. Bags with shoe compartments are pretty rare beasts by the way.
Along the front of the pack we have another zip open compartment which pulls down to reveal 2 more zip open compartments and net/meshy pouches.
The best present of all… is CONVENIENCE!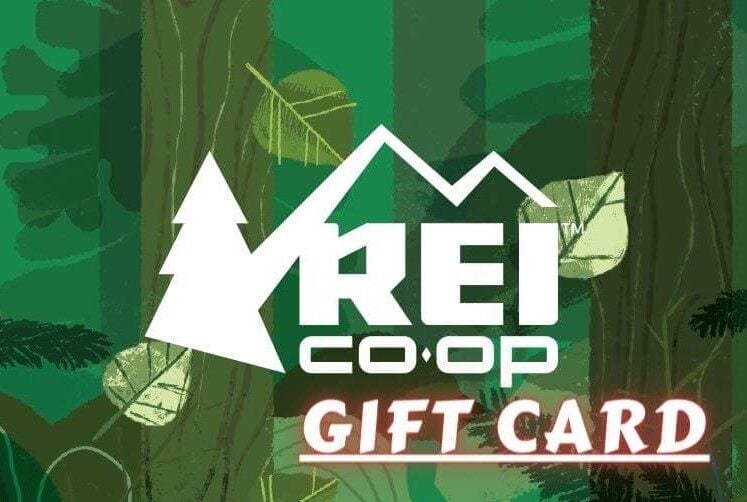 Now, you could spend a fat chunk of $$$ on the WRONG present for someone. Wrong size hiking boots, wrong fit backpack, wrong shape sleeping bag… As any adventurer will tell you, gear is a personal choice.
So give the adventurer in your life the gift of convenience: buy them an REI Co-op gift card! REI is The Broke Backpacker's retailer of choice for ALL things outdoors, and an REI gift card is the perfect present you can buy from them. And then you won't have to keep the receipt. 😉
Buy on REI!
Monarc Settra Accessories
As well as this nifty and lovely little hybrid travel bag, Monarc also offers a few little accompaniments and accessories which you can buy separately.
First up, the travel set features a 19' x 13' laundry bag. I presume you know what a laundry bag is so I won't go into too much detail about dirty socks etc. What I will say though is that it doesn't really roll up as small as I would like and feels a bit rugged. However, it is also made from recycled plastic bottles so it does deserve some eco-credo.
More interestingly though, the Travel Set also features both Small and a Medium sized, compression packing cube and I absolutely love them. Basically, you roll as many clothes in as you politely can, and then zip it closed whilst expelling excess air; this makes the cubes pack as flat and neatly as possible. It's a great space saving feature and I was thrilled by how much stuff I could pack. In all honesty, you can pack way too many clothes for any given trip in and I also really need to use one of the cubes at a time!
Made from 8 recycled plastic bottles, the tech bag is great for keeping your technical tackle organised. You neatly and safely slot your phone, charger and other bits safely stored.
Whilst billed as a tech bag, it's also handy for storing pens, notebooks and your passport if you are travelling internationally.
For those of you who travel with a proper camera, then you know how precious they are. This camera cube will keep your prize camera safe from knocks and drops and it is purposely designed to fit snugly inside the Settra pack.
Monarc Settra Pros and Cons
Pros
Backpack and Duffel in 1
Packs a lot in
Stylish and cool
Eco Friendly
Some great accessories
Cons
Not exactly great as a backpack
Not the lightest pack
Accessories not included
Monarc Settra vs The Rest
In case you are not convinced, then look at some other, multi purpose travel packs you may be interested in.
Nomatic Travel Pack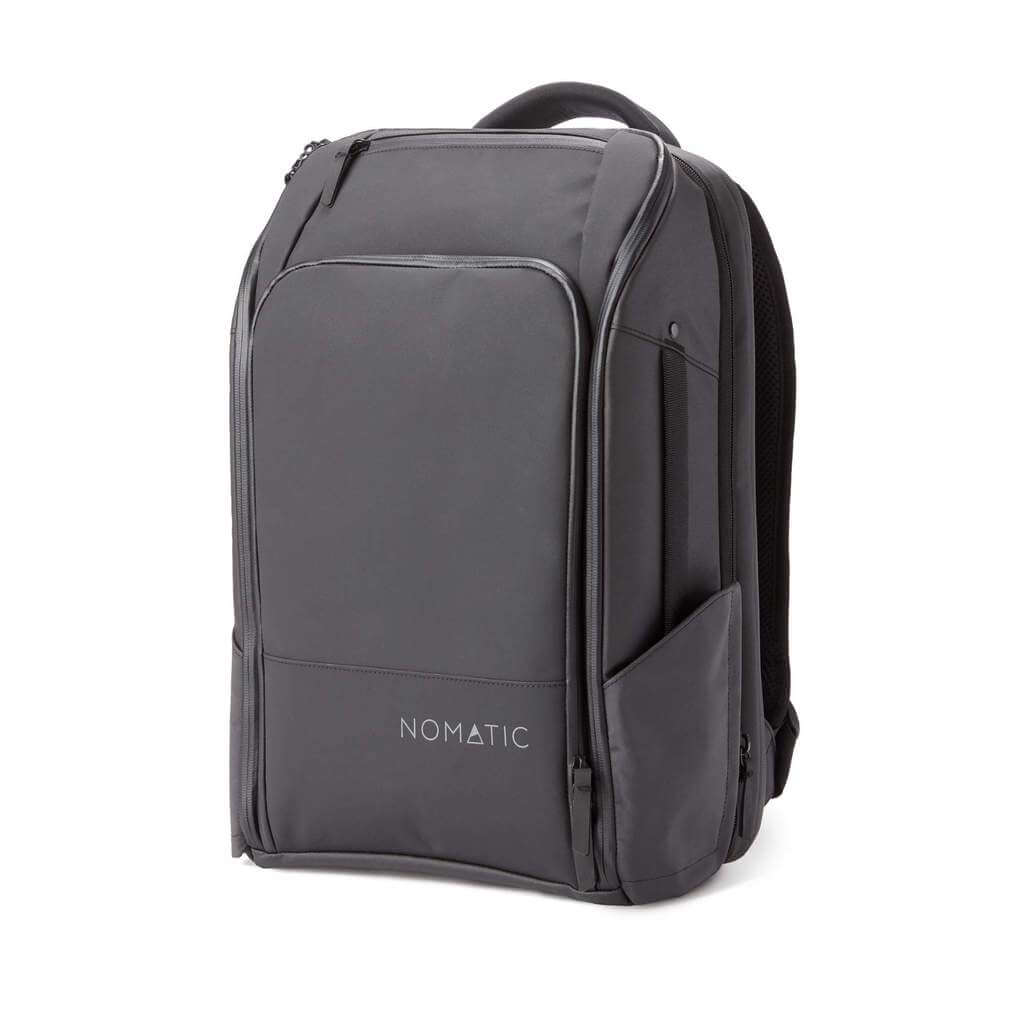 The Nomatic Travel pack is a simple, functional, professional looking backpack that converts from 20l to 30l. Born from a Kickstarter, the pack was designed by travellers for travellers for everyday use as well for those shorter long weekend trips.
It is fashioned from durable, water-resistant materials. It is slim but does expand when you need to pack more in. A great feature of the Nomatic is the patent pending strap system that allows you to go from backpack to briefcase carry for those times when you need to look more professional (court hearings etc).
All in, it's a classic looking travel pack that you can take into the cabin on most airlines (even Ryanair!).
Calling all Eurotrash! Note that Nomatic trades as Gomatic in Europe. This is owing to a trademark issue and rest assured it's the same great pack. I have it on good authority that they also considered going under the name 'Blowmatic', ''Betide-my-woe-a-matic and 'Bro-before-homatic'.
Tropicfeel Shell
Tropicfeels flagship product, the Shell, is a little to medium backpack sized with big ambitions. First up, it is a 3-1 extendable backpack that starts out as a 22 litre pack, then rolls up to 30 litres before the addition of a detachable pouch turns it into a 40 litre titan!
Aside from being a 3-in-1 adjustable backpack which you can adapt to use as day pack, overnight pack and carry-on pack, the Shell also has another novel feature; its detachable hanging packing cube which acts as a portable, pre-loaded travel wardrobe.
It's also made from 60% recycled materials so whilst its eco cres is not way near Monarcs, is nevertheless a good effort. Respect for that.
If you are set on getting a duffel but not quite convinced by the Monar Settra, then check out our best duffel travel bag round up for more inspo.

Our GREATEST Travel Secrets…
Pop your email here & get the original Broke Backpacker Bible for FREE.
Final Thoughts
If you made it this far then you should know by now whether this handy travel pack is right for you. All in all, it's a useful addition to any serious travellers gear collection and remains one of the few pieces of gear I tested this year that really impressed me. So far, it has accompanied me on work + social trips to exotic locations such Birmingham, Sheffield and Liverpool and it has proven a very worthy companion. Lets see what 2022 brings but who knows, one day the Monarc Settra may even make it on a trip with me outside of the UK.
---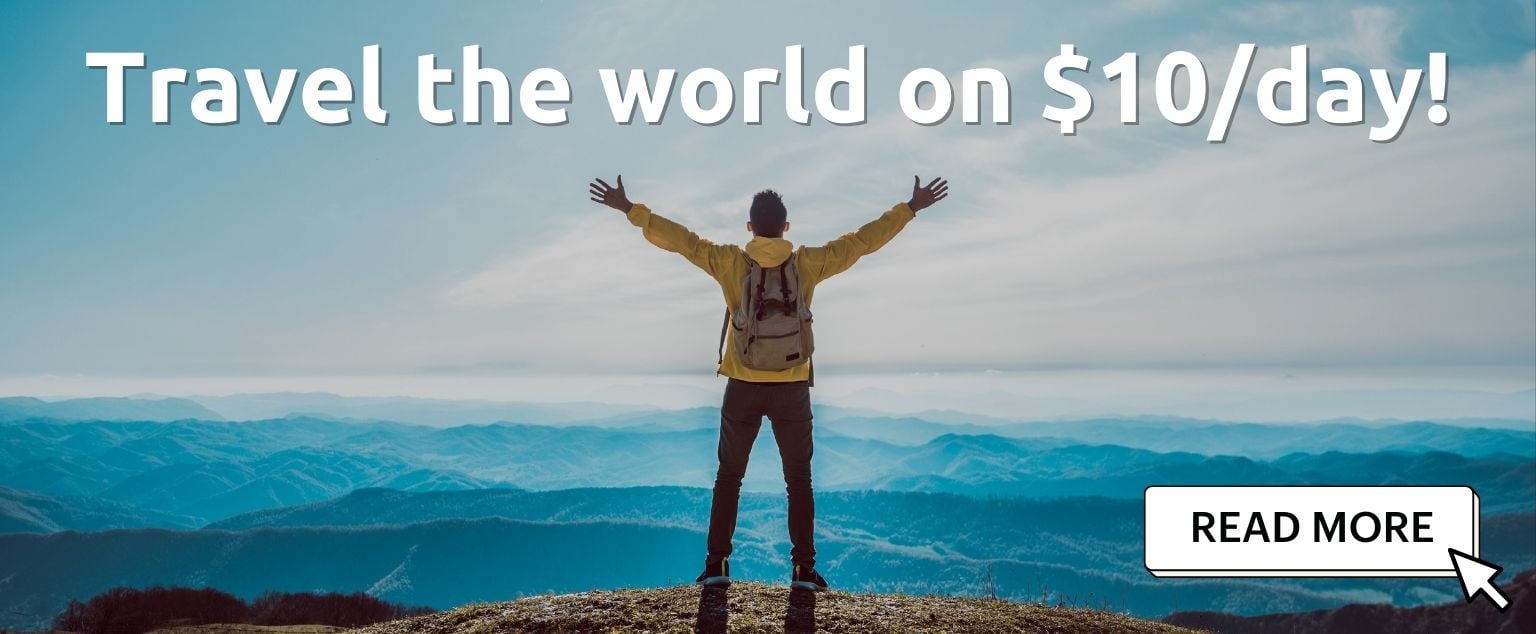 And for transparency's sake, please know that some of the links in our content are affiliate links. That means that if you book your accommodation, buy your gear, or sort your insurance through our link, we earn a small commission (at no extra cost to you). That said, we only link to the gear we trust and never recommend services we don't believe are up to scratch. Again, thank you!