The journey of a lifetime requires a lot of time in the airport. To get farther, you'll have to spend more on planes, trains, and automobiles to get there – often exiting those vehicles before they've come to a halt.
The Buses stop for no one, and they go the second your foot gets off the ground! Little details make a huge difference in the middle of the most challenging travel days. On those early mornings and late nights, it's the versatility of a hybrid backpack's time to shine. These bags bring the sweet relief of load-bearing opportunity to a long day waiting at immigration.
Everybody has had to spend an extra night in the airport or a few miles on foot at some point in the name of adventure. Shoot – You keep wandering far enough and the road's bound to turn amphibious! You'll never be able to control the pack fully, but you can control your versatility.
Hybrid backpacks usually involve tucking a few tricks up each strap, allowing you to carry your gear in one arm, over your shoulders, and sometimes across one shoulder. The style is there for moments when a few extra straps and zippers will make or break your travel day.
If the fit is right, this style can be the line between sneaking your luggage on the flight or paying extra to check it. Flip and tumble these bags just about any way you'd please. Flexible, thin fabric squeezes these duffels into more places.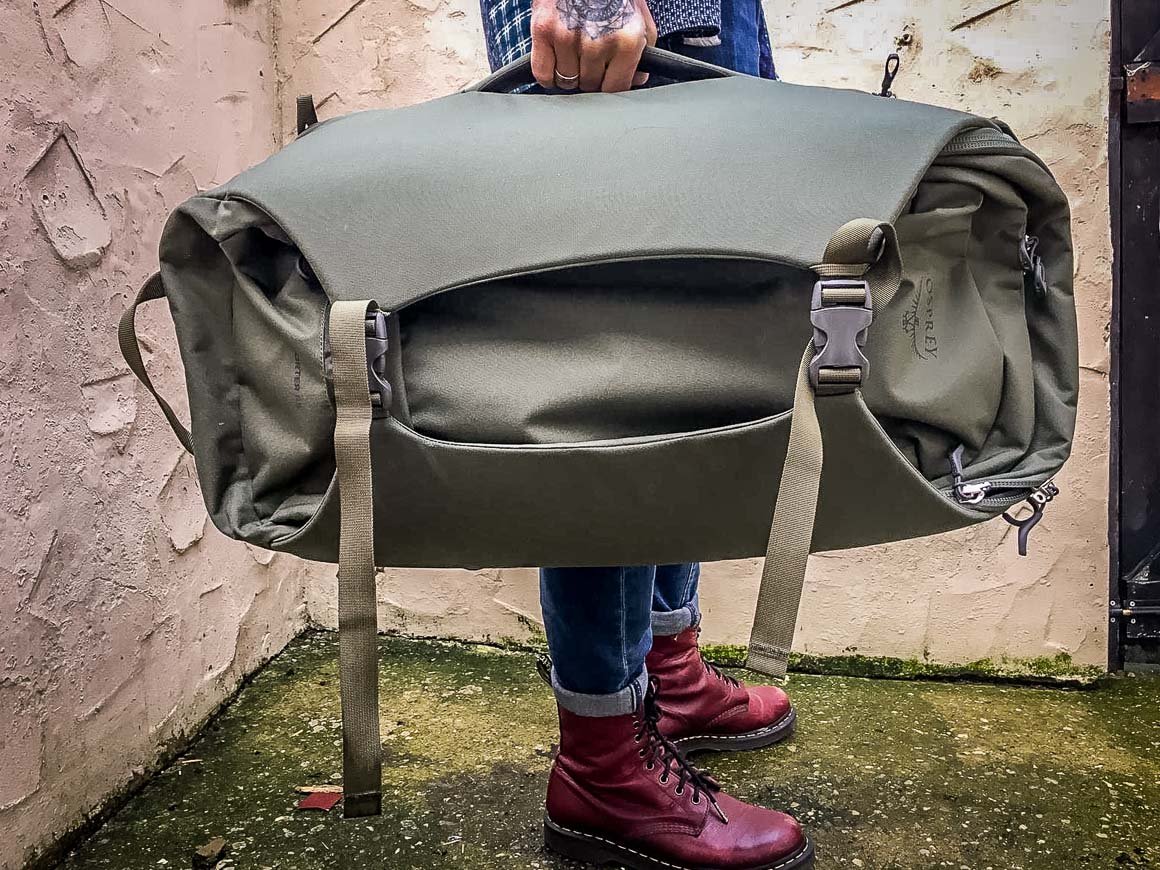 The hybrid nature of this category requires shaving off some exterior doodads to fit in more spaces. Specifically, duffel-style main compartments conform nicely to traditional luggage compartments and hold on well to a half-rigged rope system on a rusty yellow 1986 Izuzu!
Each option we'll look at today also has loops, handles, and waist belts that sneak through countless situations with minimal sweat and tears. They represent comfortable models that make a mockery of airline baggage requirements and save you from shoulder surgery.
Your bag is the one thing holding everything you own together, carrying everything without weighing you down. Backpacks have taken us a long way, and duffels have always specialized in making shorter distances more straightforward. Hybrids hope to bring it all together and see what supplemental straps can do for you.
It's a delicate tightrope to walk, and many companies have taken a fall trying to do too much. These Hybrid duffel backpacks are the ones that made it to the other side and we've featured some of the best luggage brands in the business too.
Quick Answers
Best Hybrid Duffel Backpack For Weekend Breaks – Monarc Settra Duffel
Most Novel Hybrid Duffel Backpack – Osprey Porter
Best Looking Hybrid Duffel Backpack – Cotopaxi Allpa
What Is a Hybrid Duffel Backpack?
Like chilling out, taking it slow, and rocking out the show, hybrids are the best of both worlds. A hybrid backpack is a modern style of luggage that incorporates various elements of a duffel with a shell material and shape similar to a classic pack.
Each bag in the series sits on a scale, from a duffel bag with shoulder straps to a backpack with one extra arm handle. In between those two extremes lies a whole world of packs… and many of them make for perfect carry-on luggage.
To be considered a hybrid is as easy as adding a few extra straps, but this category has much more potential. The hybrid nature opens a bagmaker's creativity to make a weather-resistant bag on the outside and a modern attaché on the inside. Some of these bags draw from traditional suitcases, zipping open clamshell style and sealing tight.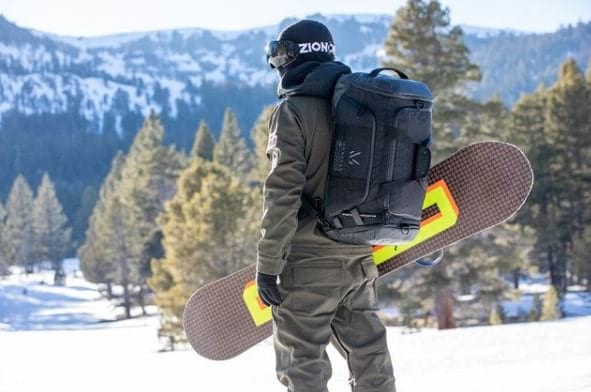 Underneath the hood typically exposes a large main compartment with a few mesh pockets or a laptop compartment for good measure. Truth be told, there's not much innovation going on inside these backpacks. It's what's on the outside that matters.
Out there, these bags bring the convenience of a quick-draw backpack with the spaciousness of a black hole. The combo creates a pack that can be tetrised onto chicken buses and the overhead bin.
In both cases, a great hybrid will allow you to access important documents without taking the bag down, although good luck figuring out how to get off the roof of a speeding Camioneta!
Looking for something that knows it's lane and sticks to what it does best? Fair enough! Have a look at our guide to the best travel duffel bags instead.
Best Hybrid Duffel Backpack For Backpacking
Best Hybrid Duffel Backpack For Weekend Breaks
Best Hybrid Duffel Backpack For Weekend Breaks
Monarc Settra Duffel
Price ($) > 150
Capacity (L) > 40
Most Novel Hybrid Duffel Backpack
Most Novel Hybrid Duffel Backpack
Osprey Porter
Price ($) > 185
Capacity (L) > 46
Best Looking Hybrid Duffel Backpack
Best Looking Hybrid Duffel Backpack
Cotapaxi Allpa
Price ($) > 200
Capacity (L) > 35
Best Hybrid Duffel Backpack For Carry-On
Best Hybrid Duffel Backpack For Camping
Best Budget Hybrid Duffel Backpack
The Best Hybrid Duffel Backpacks For Travel Reviewed and Rated
Many thin nylon wraps will get you from LA to Vegas, but a much smaller number of bags will get you home in one piece. Your best chance to make it out of there alive is some sort of duffel-y, strapped-up contraption that you can carry six ways to Sunday. These are those hybrids and by golly are they some great travel bags!

Do You Want to Travel FOREVER??
Pop your email in below to get a FREE copy of 'How to Travel the World on $10 a Day!'.
Specs
Price ($): 220
Weight (kg): 1.77
Dimensions (cm): 66x24x23
Capacity (L): 45-65
This duffel really bridges the gap. Peak Design snuck in a whole lot of sweet tech, all in the name of versatility. They kept the fundamentals intact to guarantee this new age backpack can sit confidently on its back long after its old news.
A sturdy sternum, waist, and shoulder strap set locks your bag in place, and magnetic closures hide all three away when they're not in use – an incredible feature when forced to check in your gear.
Baggage handlers often roll their eyes at the number of straps and clips hanging off of typical backpacking monstrosities. This combo pack found the solutions.
Want to know more, ya know ya do! Well, we've done a longer more detailed review of the Peak Design Duffelpack 65l … just for you!
Best Hybrid Duffel Backpack For Weekend Breaks – Monarc Settra Duffel
Specs
Price ($): 150
Weight (kg): 2
Dimensions (cm): 60x33x28
Capacity (L): 40
50 plastic bottles are one man's trash and another's hybrid recycled backpack. The Monarc Settra turns the goods into an industrial pack that brings a duffel revolution in the form of a full-sized laptop compartment and back support system. This option definitely shifts towards duffel on the backpack-duffel scale, but the legit strap system will carry your load.
While the 40-Liter Settra models can look like an old-school duffel bag black hole, a few slick nooks & crannies stretch out your storage potential. Outside, wide exterior pockets and a shoe space will get you through a commute or red-eye without undue rummaging.
Need a bit more info. We've got all you need on our Monarc Settra review.
Most Novel Hybrid Duffel Backpack – Osprey Porter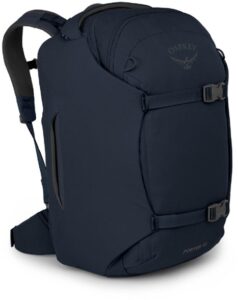 Specs
Price ($): 185
Weight (kg): 1.47
Dimensions (cm): 53x35x23
Capacity (L): 46
Let's be real for a moment. Many hybrid duffel-backpack options are duffel bags with shoulder straps or backpacks with a hand grip. Not this one. The Osprey Porter has become an intercontinental legend by thinking outside the straps.
The bag's specialties focus on comfortable storage of lots of gear, great for slow travel, video crews, and backpackers who haul their offices over their shoulders. That's because no matter what you need to store, the Porter's unique compacting strap system and various handling styles ensure everything is tucked away snugly without wasting a centimeter.
Intrigued? We've done a comprehensive Osprey Porter 46 review so you can get the full deets!
Best Looking Hybrid Duffel Backpack – Cotapaxi Allpa
Specs
Price ($): 200
Weight (kg): 1.5
Dimensions (cm): 50x30x25
Capacity (L): 35
This backpack elevated the Cotopaxi brand from colorful casual options to one of the year's best travel bags. You can find this crowd-funded, one-bag travel behemoth in sizes anywhere from 28-42 liters. Each size variation combines some great backpacking and modern traits, all protected by a formidable water-resistant shell, the signature Cotopaxi cool, and a rain cover. The small to medium sizes make for perfect carry-on duffels on pretty much any airline.
Four different handles, carabiner hooks, and stowable shoulder straps are the only thing that sticks out on the Allpa's slick exterior. The real magic is what's in store behind the YKK zippers: a great main compartment that opens up suitcase-style. Storage further splits into four different mesh compartments that keep long trips well organized.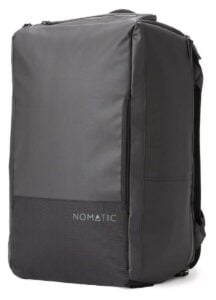 Specs
Price ($): 290
Weight (kg): 1.5
Dimensions (cm): 53x35x23
Capacity (L): 40
While the 40-liter backpack stuffed full might ruffle a few feathers at Ryanair, you can't beat this bag for bringing more gear into the main cabin. This travel bag beats the airlines at every corner, saving you money by helping you pack for more trips without checking your luggage. These shapely exteriors slide right through the metal cages that control our destinies.
Two duffel handles fit right over the shoulder straps to help you switch up your approach without leaving anything dangling. Inside the easy carrier is a veritable maze of compartments, perks, and laundry bags. The long list of more than twenty special features covers the gambit from waterproofing to a retractable key leash.
Want to know more about those special features. We've got a full post on the Nomatic Travel Bag 40l.
The best present of all… is CONVENIENCE!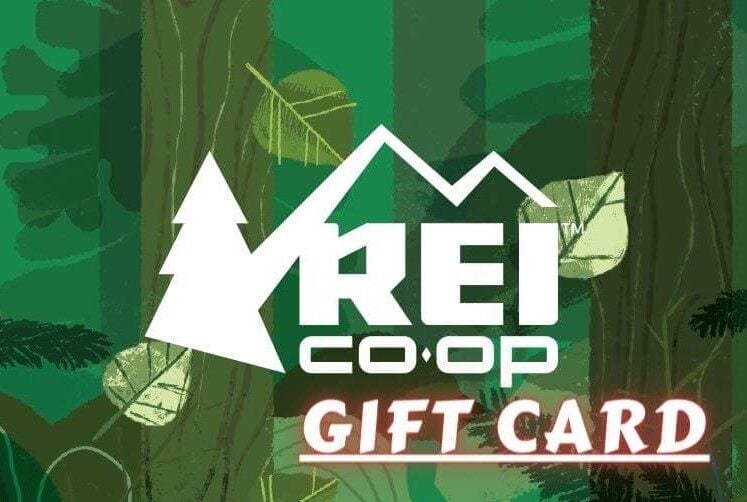 Now, you could spend a fat chunk of $$$ on the WRONG present for someone. Wrong size hiking boots, wrong fit backpack, wrong shape sleeping bag… As any adventurer will tell you, gear is a personal choice.
So give the adventurer in your life the gift of convenience: buy them an REI Co-op gift card! REI is The Broke Backpacker's retailer of choice for ALL things outdoors, and an REI gift card is the perfect present you can buy from them. And then you won't have to keep the receipt. 😉
Buy on REI!
Specs
Price ($): 275
Weight (kg): 1.7
Dimensions (cm): 55x38x24
Capacity (L): 42
Stubble & Co's typical terrain is more concrete, but this adventure bag proves the brand knows how to get dirty, too. The hybrid duffel turns recycled ripstop PET into a powerhouse that's as comfortable on a plane as it is in the woods, thanks to a reinforced hip support system.
The bag has a long list of features that work on both sides of the aisle. A clamshell opening and an easy-access laptop compartment make it a breeze to take the office on the road. Meanwhile, compression straps, a reflective storm cover, and a breathable back panel help you streamline and stay comfortable if the campsite is a few kilometers from the parking lot.
If you're interested but wanna know some more deets, check out this full review of the Stubble & Co Adventure Bag.
Specs
Price ($): 80
Weight (kg): 1
Dimensions (cm): 50x33x23
Capacity (L): 40
If you don't plan on logging serious miles or spending several months living out of your backpack, you might not need to drop hundreds of dollars to enjoy your next trip. This Tomtoc Traveler sneaks loads of unique features into an incredibly affordable bag.
At this price point, we'd be happy with two compartments and shoulder straps, but Tom stepped up and kept affordability ahead of the curve.A great opening system, laptop compartment, and several key organizers store more. Tomtoc even managed to seal the deal with YKK zippers, an excellent quality indicator.
Best Of the Rest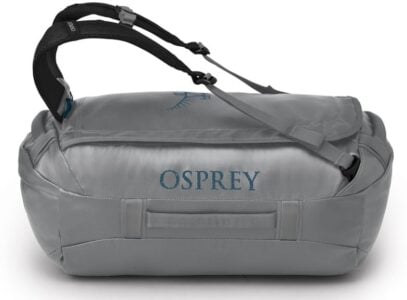 Specs
Price ($): 160
Weight (kg): 1.3
Dimensions (cm): 55x38x25
Capacity (L): 40
The Transporter series might not stick out in a niche role, but that's because it does a little bit of everything. From tucked-away hip straps to ten lash points, this bag brings backcountry expertise into an all-terrain traveling duffel powerhouse. The bag isn't as backpacking-focused as other Osprey's, but you'll still log a few comfortable kilometers fully packed.
These particular 40 Liters are all about getting your gear there in one piece. Whether that means through a three-day boat ride in the jungle, across the country one thumb at a time, or sneaking onto standby without worrying about check-in, this is a great bag to open up the road and it's one of our favourite Osprey packs for this reason.
Specs
Price ($): 169 (for 55L version)
Weight (kg): 1.1
Dimensions (cm): 69x40x30
Capacity (L): 40-100
Patagonia's Black Hole series comes in all shapes and sizes. From three-liter packing cubes to 100 Liters of pure storage capacity, this is the most extensive backpack line from the most famous outdoor company on the planet. While the Duffel series isn't great at working the hybrid model, there isn't a much safer choice than investing in Patagonia.
Black Hole Duffels come wheeled or unwheeled, always protected by recycled polyester and waterproof polyurethane. These duffels come with shoulder straps to technically qualify as hybrids, but without hip or sternum supports, you won't want to walk too far with a black hole across your back.
Specs
Price ($): 200
Weight (kg): 1.7
Dimensions (cm): 52x37x15
Capacity (L): 45
The all-black impulse travel pack has done the impossible. This bag stores 45 liters of gear without making you look instantly like a backpacker. All the storability and unique features inside this unassuming, hardcore exterior are your little secret.
TimBuk 2 contributes to this lowkey look through loads of different attachment points for the strap system. A great stowaway pocket sits on the flip side of every zippered lid. This pocket is most powerful up top, where you can pack your passport, cellphone, and wallet in a protected way that still provides quick accesss.

Our GREATEST Travel Secrets…
Pop your email here & get the original Broke Backpacker Bible for FREE.
Final Thoughts
What else can we say about the hybrid duffel? They may not be the most innovative on the inside, but a few heavy-lifting straps have game-breaking potential. If your itinerary doesn't feature week-long walks or spending a few weeks away from the nearest outlet, these bags will probably bring much more value to your trip than an old-school backpacking bag.
While the list is shrinking, there are still a few roads these bags can't follow. Hybrid category backpacks aren't ready for a through hike. And that's okay, because our arms aren't ready to carry a duffel bag across the PCT, either.
Don't get me wrong – plenty of hybrid backpack models can go camping, even if its a few kilometers before you can set up the tent. They are not made to cover too much ground on foot, primarily because of the extra weight brought on by versatility.
It's a good idea for your bag to have an extra strap or two. You simply never know how long you'll need to carry it.
Fancy a side of wheels with your duffel rather than a starter of backpack!? Well then, check out the best rolling duffel bags instead.
---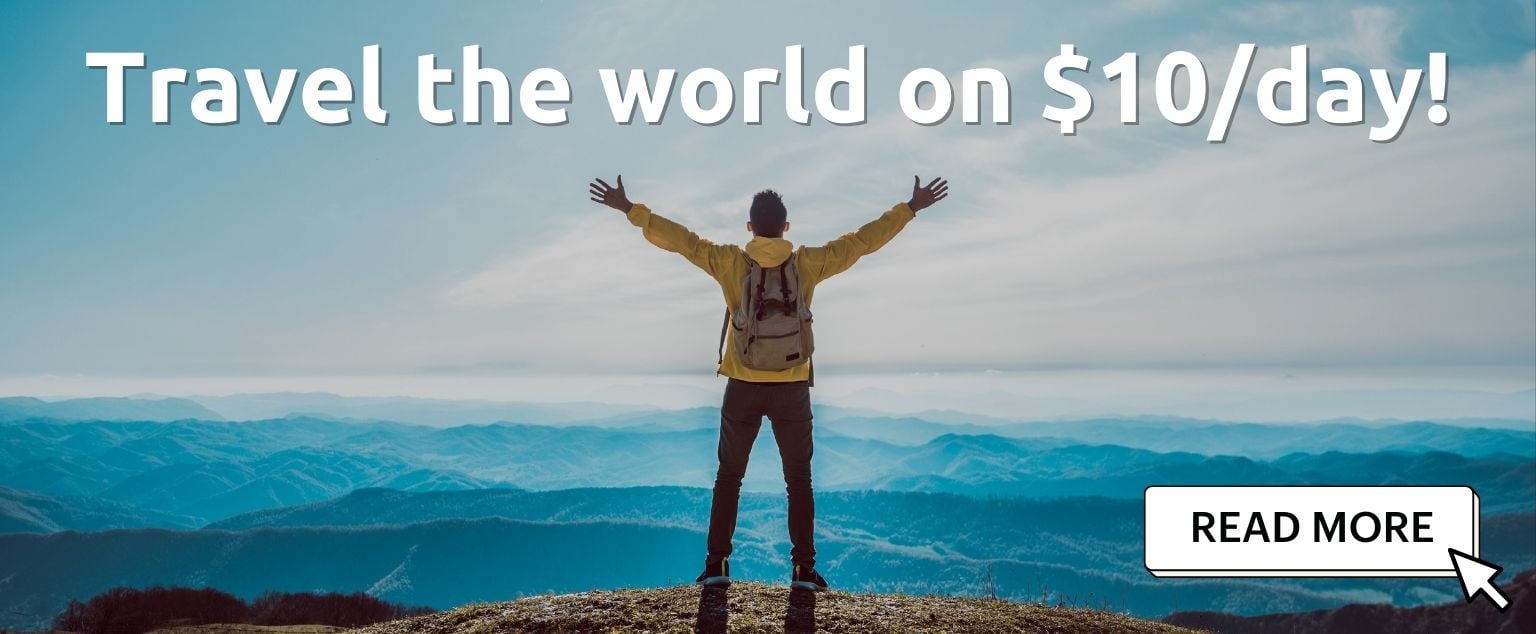 And for transparency's sake, please know that some of the links in our content are affiliate links. That means that if you book your accommodation, buy your gear, or sort your insurance through our link, we earn a small commission (at no extra cost to you). That said, we only link to the gear we trust and never recommend services we don't believe are up to scratch. Again, thank you!