So when The Adventure Bag felt fortuitously into our laps, we were just a little bit giddy about the unique and frankly game-changing features this bad boy came packed with. Clamshell bags have become all the rage recently and for good reason, they're frigging mint! So when it comes to designing bags, brands have had to go that one step further to really do something innovative and new… step in, Stubble & Co.
What is it they've gone and done so differently then, I hear you cry! Well, rather than opening up into a massive black hole of oblivion, this bag splits into two halves with each side cleverly divided up with a series of different-sized zippered compartments. So keeping your dirty undies away from your nice clean t-shirts has never been easier!
That's not it either… but you'll have to read on to find out what else makes this 42l a real contender for becoming our new go-to backpacking bag!
Price: £195
Volume: 42 litres
Weight: 1.7kg (3.7 lb)
Material: Ripstop 200D Recycled PET/ Tarpaulin (Base) / 600D Recycled PET (Sides)
Laptop Compartment: Yes (Padded, fits up to 16″ Laptop)
Carry-on Compliant: Yes
Ladies & Gents, It's Time to Step Your GEAR Game Up. 😉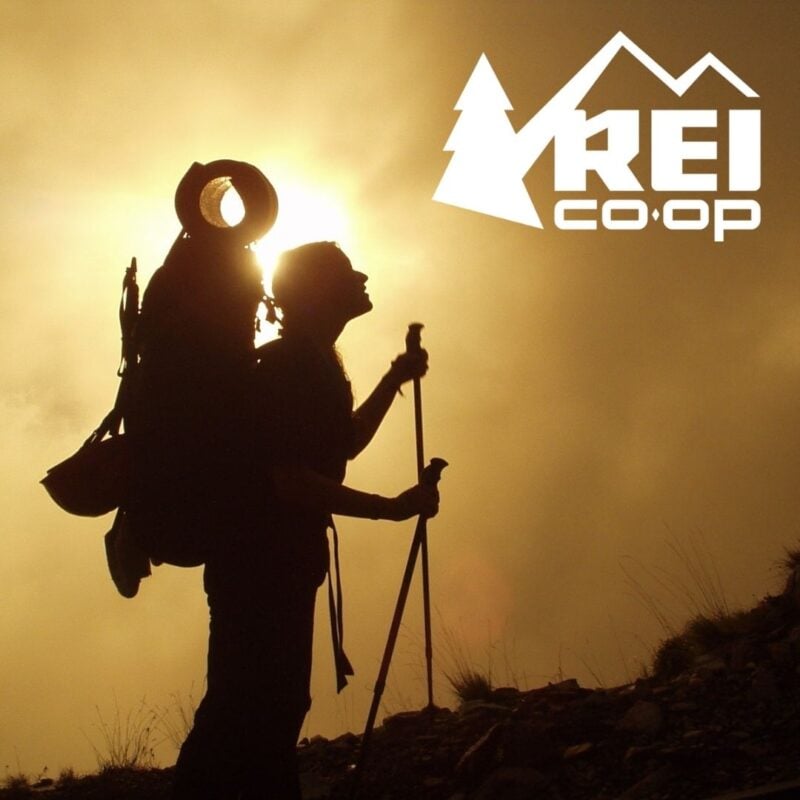 REI is one of America's biggest and most-loved outdoor gear retailers.
Now, for just $30, get a lifetime membership that entitles you to 10% OFF on most items, access to their trade-in scheme and discount rentals.
Join REI Today!
The Adventure Bag Review: Key Features and Performance Breakdown
The main feature of The Adventure Bag, the thing that really makes it stand out among the ever-growing number of trendy bags on the market, is organisation.
The guys over at Stubble & Co have really listened to what travellers need and what we're looking for when it comes to a modern, high-end backpack. By splitting the bag into two large and deep sections with well throughout zippered compartments, they've pretty much cracked the code.
That's not all though. Because at 42L we feel this carry-on compliant bag is pretty much the perfect replacement for those mahoosive and frankly crap toploading bags you see tiny girls getting about Thailand with! You know the ones, they've always got a flower attached and a pair of grotty trainers!
Forget that! Go minimal, go light, go organised and I guarantee you'll have a better time! Plus, this thing looks hella sexy too! So, let's get into the deets.
The Interior
So, we've already given you the spoiler! This bag pretty much blows any other bag I've ever used out of the water when it comes to the interior. I just love being able to organise my stuff and having it floating around, even when divided up in a series of packing cubes, just triggers me no end! So let's do a deeper dive!
Laptop Compartment
We all love bags with laptop compartments. Well this one is in a separate pocket on the back of this bag and is bloody massive. Almost too big in all honesty! My 14in Macbook pro was positively floating around in there! It is however very well padded and its location protects my precious laptop well.
My only complaint would be that this pocket doesn't lock like the main compartment. If I've got a bag that features that functionality, I would like it on the pocket where my most expensive gear is! Ok, you might think this is pretty niche, but it is a feature on the Aer Travel Pack 3, which is a similar bag.
Laptop Compartment Score: 4/5 stars
The Main Compartment
Now the main compartment is what sets this bag apart from the rest. Rather than opening into one massive space, it is divided into two halves. Each half is pretty deep and well deep enough to fit a packing cube full of clothes or pair of shoes for example.
But what really sets this layout apart is that each half is divided again into a series of differently-sized zippered compartments. Most of these are mesh covered making it easy to see what you've got stored in each one. There is then one completely covered pocket which is intended for use as a water-resistant place to store your shoes.
The two largest compartments easily fit in my packing cubes containing my larger clothes and underwear. The bottom compartment is a great place to chuck any dirty clothing as well as shoes or flip-flops.
The front upper pocket also has a smaller zippered pocket and is accessible from the outside too. So you can throw in gear like a hat, sunnies or other things you might want more to hand. It's also a good place to put your toiletries bag for airport security and easy access at night. The smaller upper section across is great for chucking in all those accessories like first aid kits, torches, etc etc that get lost floating around your bag.
Personally, I just love this setup for keeping everything organised. The only possible gripe is that this particular configuration might not be to everyone's tastes. I do however feel it's pretty well thought out for most travellers.
Main Compartment Score: 5/5
The Exterior
The exterior of the bag has a tough and hardwearing feel to it without being too heavy or stiff. The fabric used is a mixture of different ripstop recycled plastics. This gives it a great level of durability as well as a high level of water resistance.
The compression straps on the sides of the bag are a welcome addition meaning you can pack this thing out and it will still be compact. The front pocket on the bag is a decent size and fits inside a book or journal with room to spare.
The bag also looks pretty cool with the different materials being slightly different tones of black. It's pretty understated too which we always think is a bonus when you're backpacking.
Exterior Score: 4/5 stars
Sizing and Fit
The Adventure Bag is a great size for backpacking and will fit most people well. Sure, it can be a touch boxy compared to some other more traditional backpacks, but it carries its weight evenly across your back.
It is a little on the smaller side when it comes to backpacks for long-term travel but we feel it hits a great balance between storage and encouraging light packing. We really do see it as a viable alternative to the huge bags people lug around Southeast Asia!
Carry Comfort
The shoulder straps on this bag are hella chunky and we love them! In fact, they're a darn sight thicker than the ones on our bigger Osprey Farpoints that we've used for years whilst backpacking. The bag also comes with a removable waist belt too which again, is mega thick!
The back of the has a generous amount of padding too! So when combined, it's a LOT more comfortable than many other backpacks I've been lumbered with over the years!
Carry Comfort Score: 4/5 stars
Weight and Capacity
Quick Answer:
Weight: 1.7kg (3.7lb)
Capacity: 42 litres
Whilst the bag isn't the lightest, it also isn't the heaviest either. Given it carries a generous 42l of stuff, the 1.7kg isn't too shabby. As we'll go into more detail about below, the bag is pretty robust too so we appreciate that most of the weight is going towards the longevity and durability of the bag.
The capacity of 42l is a great sweet spot in terms of being well enough for a short break whilst still being carry-on compliant. But where we feel it really hits the mark is for those backpackers that want to travel light, pack the essentials and save money and time on checking their bags.
Those who are either; extra af, or require more technical equipment/ winter gear, might find it just a bit too small though.
Weight & Capacity Score: 4/5 stars
Toughness and Durability
I particularly liked that different areas of the bag use different materials according to their usage and likely wear and tear.
The base of the bag is made from a super tough and waterproof tarp that feels pretty heavy-duty. The sides are also tougher and thicker than the front owing to the compression straps on the side and allowing the bag to have a touch more structure.
Overall the bag feels like it will stand up to the rigours of long-term travel well. The bag is cleverly designed to use heavier materials only where needed to remain tough but also keep the weight down.
Toughness Score: 4/5 stars
Security
The main compartment of the bag comes with a pretty beefy zip which is lockable. We really do appreciate this feature and it does make the bag feel pretty secure. I do however wish the laptop pocket also had a lockable zip too.
Another cool feature is the hidden valuables pocket on the back panel of the bag. Where the padding comes away for use as a luggage handle pass-through, a generously sized pocket lurks ready to keep your wallet and passport safe.
The front and the top pockets are probably a little vulnerable, but there are plenty of other places in the bag to keep things safe from wandering hands.
Security Score: 4/5 stars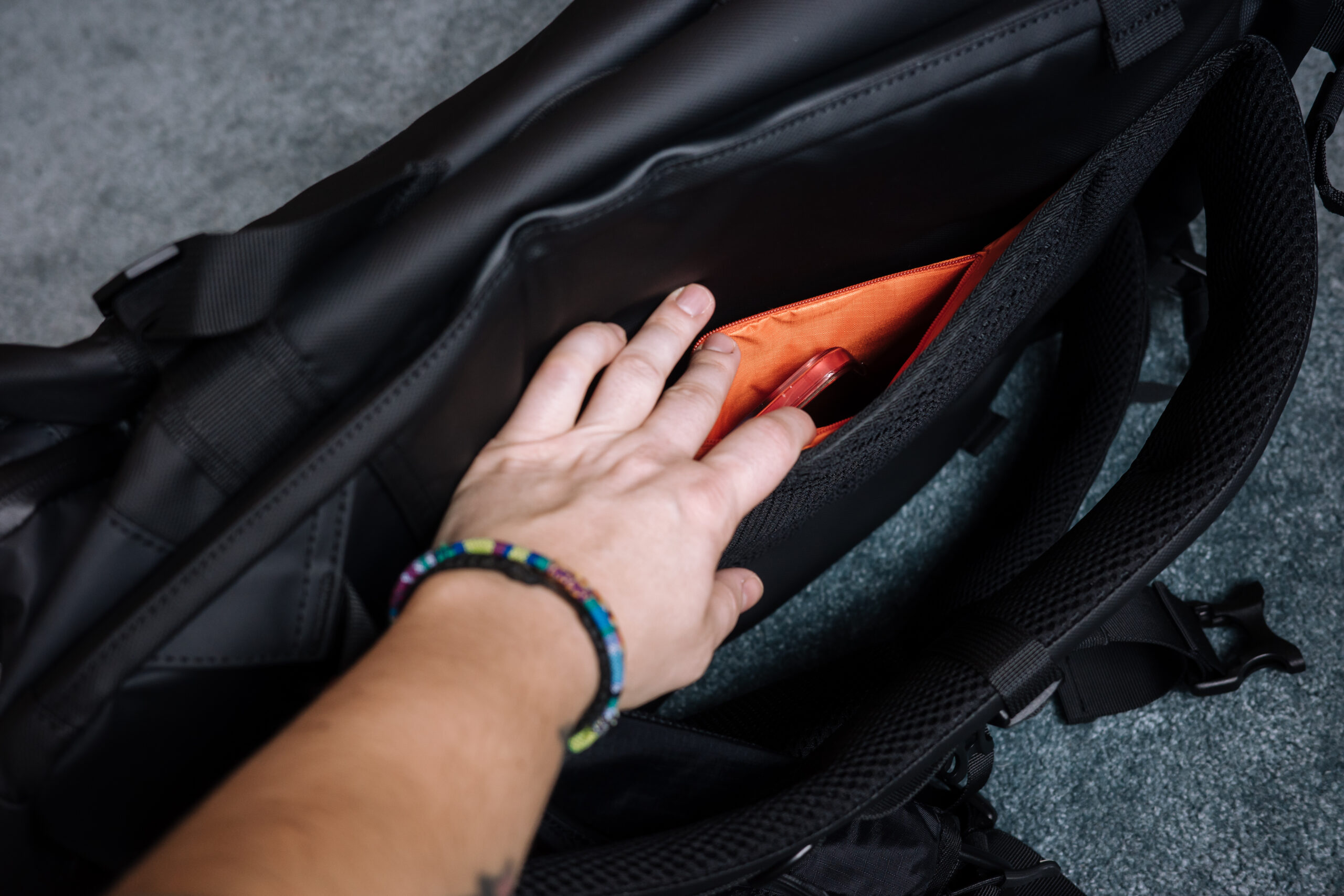 What I Liked About The Adventure Bag by Stubble & Co
Clamshell opening of the main compartment
Zippered pockets and sections of the main compartment
The separate and massive laptop compartment
Lockable zips
Hidden valuables pocket
Comes with a rain cover
Super comfortable straps and waist belt
Tough and durable feel
What I Didn't Like About The Adventure Bag by Stubble & Co
Would like more external pockets
Internal divider system might be restrictive for some
Can feel quite boxy and bulky on a smaller person
The zip on the bottom rain cover pocket is a bit stiff
The laptop compartment doesn't lock

Our GREATEST Travel Secrets…
Pop your email here & get the original Broke Backpacker Bible for FREE.
The Adventure Bag by Stubble & Co: Our Verdict
There's a hell of a lot to love about this bag and it might just be my replacement for my trusting backpacking bag. I am a big fan of innovation when it comes to travel gear, any time a company has really sat down and thought of meaningful solutions to common problems rather than just sticking to the same format is a winner with me.
The Adventure Bag by Stubble & Co is a real game changer when it comes to functionality and I expect many brands in the coming years will want to copy their ideas! With more and more travellers opting against the old top loaders and instead combining clamshell bags with packing cubes, this seems like the natural progression … and we're loving it!
What do you think? Will you be giving this unique design a go?
What is our final score for The Adventure Bag by Stubble & Co? We give it a rating of 4.7 out of 5 stars!

---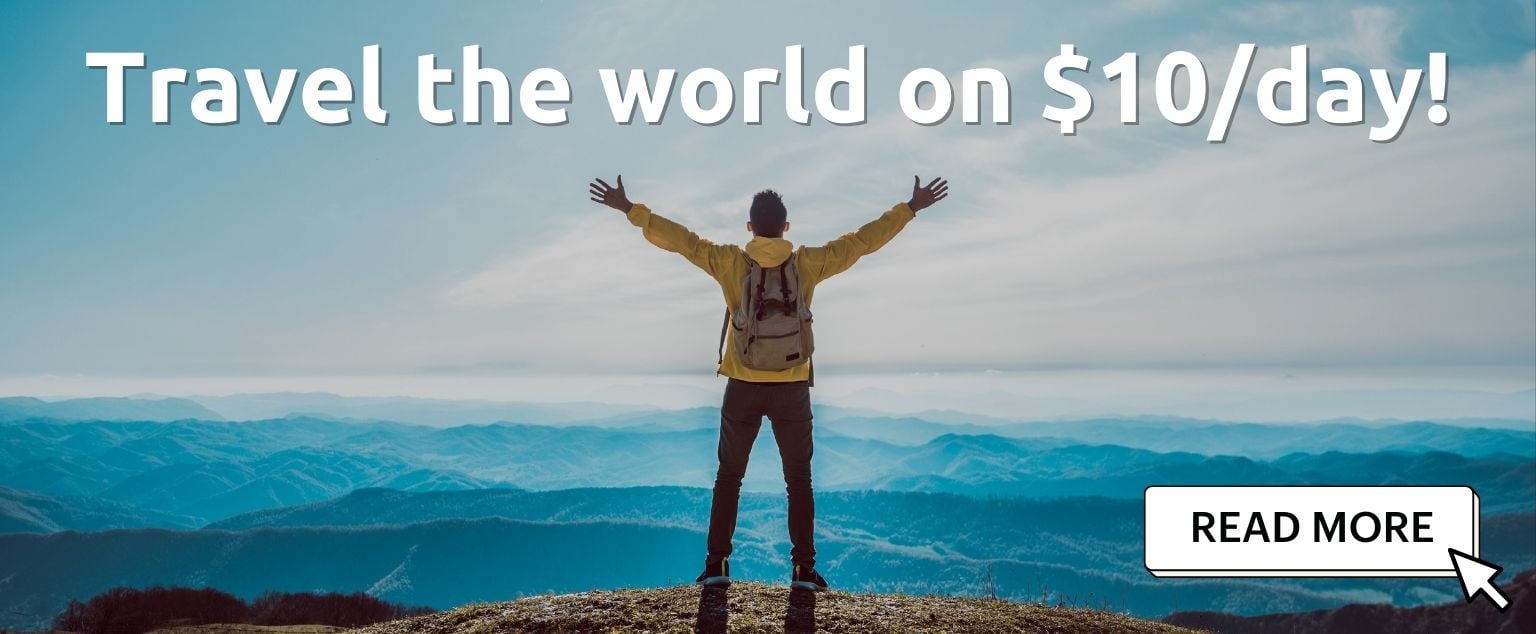 And for transparency's sake, please know that some of the links in our content are affiliate links. That means that if you book your accommodation, buy your gear, or sort your insurance through our link, we earn a small commission (at no extra cost to you). That said, we only link to the gear we trust and never recommend services we don't believe are up to scratch. Again, thank you!