The Osprey Farpoint Trek 70 is one of Osprey's newest backpacks. It is touted as a hybrid backpack, combining features from trekking and travel bags to make something new and exciting. It is primarily aimed at adventurous travelers who like to go hiking on their trips or, in my case, trekkers who are envious of big front-loading zippers.
The idea of having a backpack that is good for both hiking and casual traveling is very attractive. For some, having a backpack that is able to withstand the elements outside yet is even enough to take across the world would be a very smart investment and an easy buy.
So the question is: does the Osprey Farpoint Trek 70 deliver? Is it, in fact, the hybrid backpack that we've been waiting for? I'm going to answer this and many more questions in my review.
This Osprey Farpoint Trek 70 review is going to cover many aspects of the backpack. From the materials used to build quality to the additional features that make it stand out, we're going to go in-depth here people. Read on to see if this is the right backpack for you!
To review the Osprey Farpoint Trek 70, I decided to take it with me on a work trip to Florence, Italy. Since I would be gone for several days and would be walking a lot (we were filming a video), I knew that I would have to be mindful of what and how much I was taking.
I ended up packing the following items:
2 Fujifilm X-Series Cameras
3 Fujifilm Lenses
A full camera accessory kit
Gorilla Tripod
My Dell XPS 15 Laptop
2 Changes of underwear and socks
A dress shirt
A light sweater
A light leather jacket
Misc chargers and electronics
Travel wallet with documents
All in all, I'd say that the backpack ended up weighing about 10 kilos or 22 pounds.
After Florence, I also took the Farpoint Trek on a short hike in the Sibillini Mountains in Eastern Italy. I wanted to see how it performed in the wild. Again, I brought all my camera gear plus a heavier Manfrotto tripod but skimped on the extra change of clothing.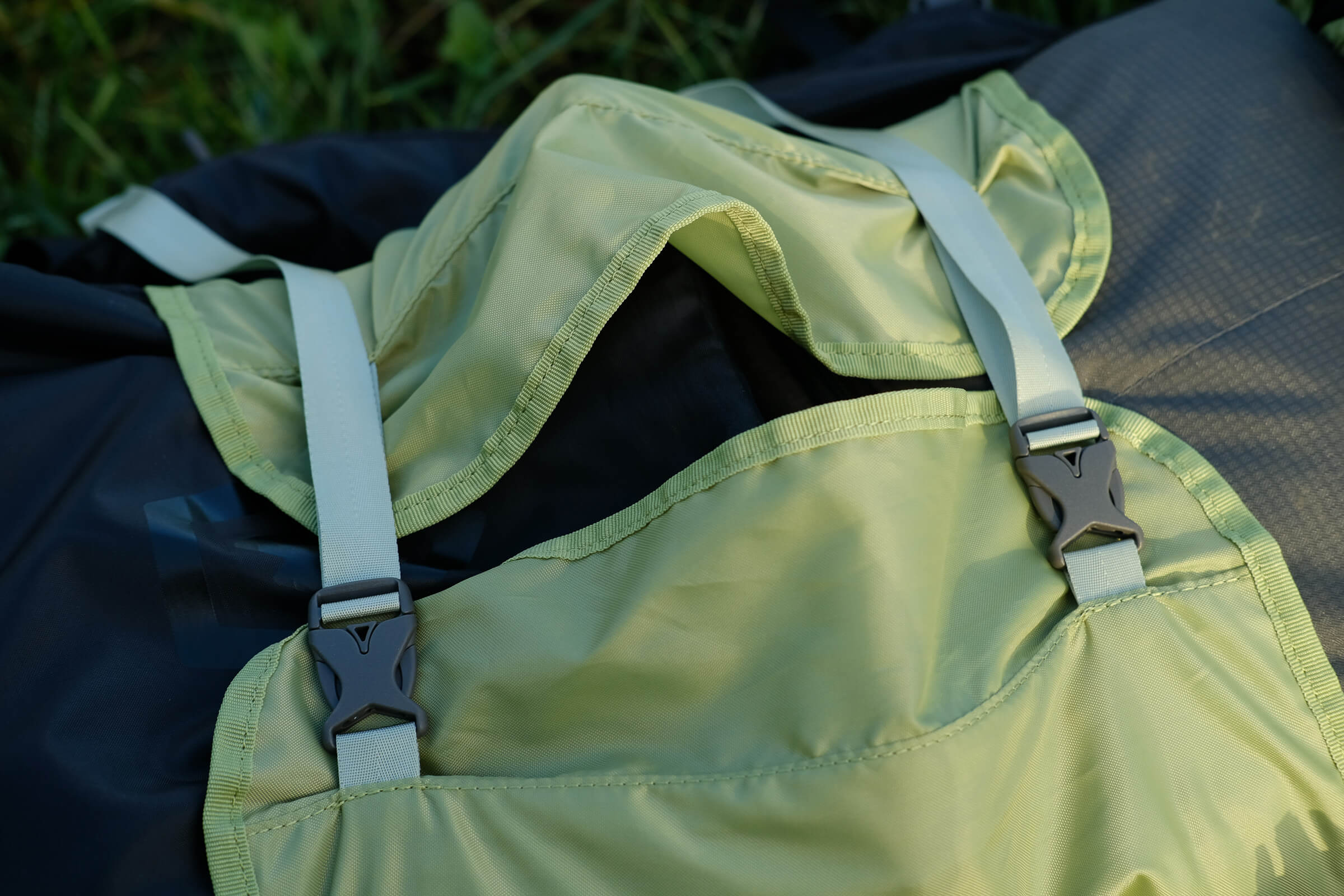 So how did the Osprey Farpoint Trek 70 perform over the course of my travels? Was it comfy? Were its features useful? Did it travel well when I was on the train and when I was hiking? Let's find out!
Ladies & Gents, It's Time to Step Your GEAR Game Up. 😉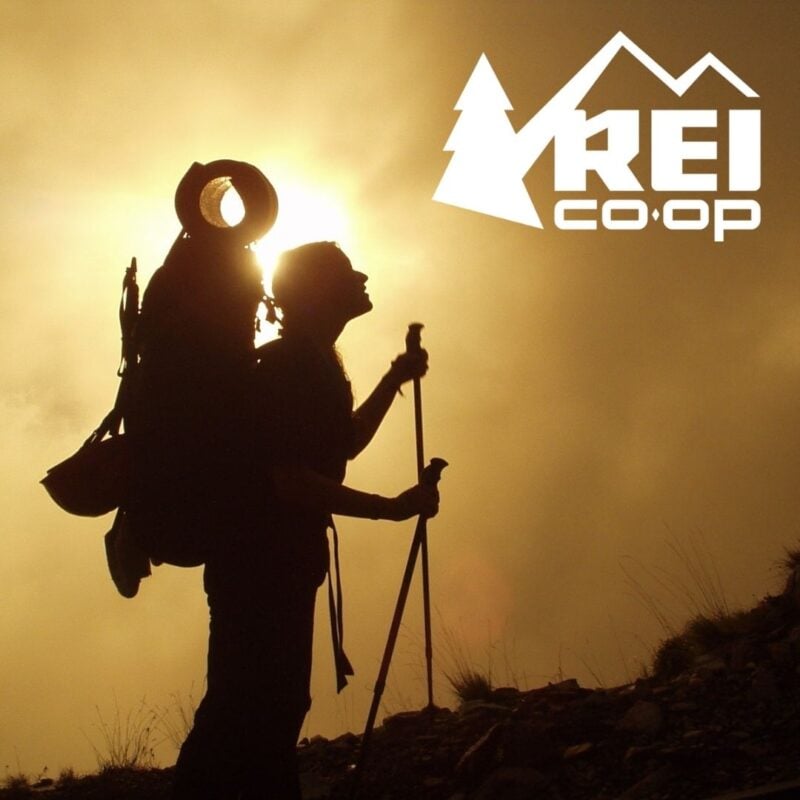 REI is one of America's biggest and most-loved outdoor gear retailers.
Now, for just $30, get a lifetime membership that entitles you to 10% OFF on most items, access to their trade-in scheme and discount rentals.
Join REI Today!
Key Specs and Pros/Cons
Dimensions (cms): 77 x 42 x 36 when filled completely
Volume: 70 liters
Weight: 2.4 kg empty
Primary Material: 450D recycled twist dobby polyester
What We Liked About the Osprey Farpoint Trek 70
Great capacity yet not too heavy
Well built and quite durable
The AirCover is super useful
Front-loading zipper is huge and allows access to the entire bag
Lots of extra pockets and compartments
Loops everywhere
Lots of adjustable straps mean you can get the perfect fit
Internal compression straps for organization
What We Didn't Like About the Osprey Farpoint Trek 70
Somewhat tedious to access, at least at first.
The top compartment tends to hang loose when the bag isn't full.
Items may move around inside the bag if they aren't arrested.
Needs AirCover or rain cover to be truly water-resistant.
With great zippers, comes great responsibility.
Mesh side pockets may be prone to catching and tearing.
The best present of all… is CONVENIENCE!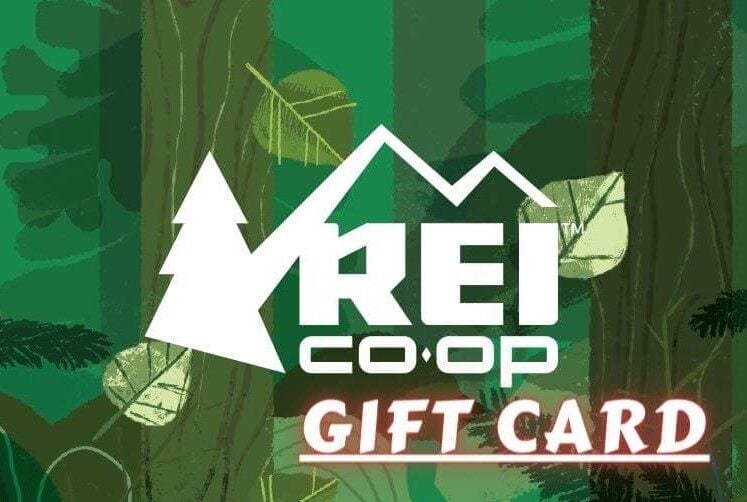 Now, you could spend a fat chunk of $$$ on the WRONG present for someone. Wrong size hiking boots, wrong fit backpack, wrong shape sleeping bag… As any adventurer will tell you, gear is a personal choice.
So give the adventurer in your life the gift of convenience: buy them an REI Co-op gift card! REI is The Broke Backpacker's retailer of choice for ALL things outdoors, and an REI gift card is the perfect present you can buy from them. And then you won't have to keep the receipt. 😉
Buy on REI!
Reviewing the Osprey Farpoint Trek 70
Let's break down each of Farpoint Trek's features and talk a bit more about what makes this bag worth buying.
Size/Weight
At 2.1 kilograms or 4.6 pounds, the Osprey Farpoint Trek 70 is right in the middle of the backpack weight spectrum. It's light enough to still be manageable yet heavy enough to retain a good degree of durability. For backpackers, this will be ideal both when traveling and hiking in the wilderness.
With a capacity of 70 liters, the Farpoint Trek 70 is also quite roomy. With that kind of space, you'll be able to pack quite a lot actually; enough for a longer, week-long trek or enough for a multi-month backpacking trip.
Let's not forget the extra pockets in the hip belts, the top compartment, and the small front compartment as well. With these additional spaces, there will plenty of room for your belongings.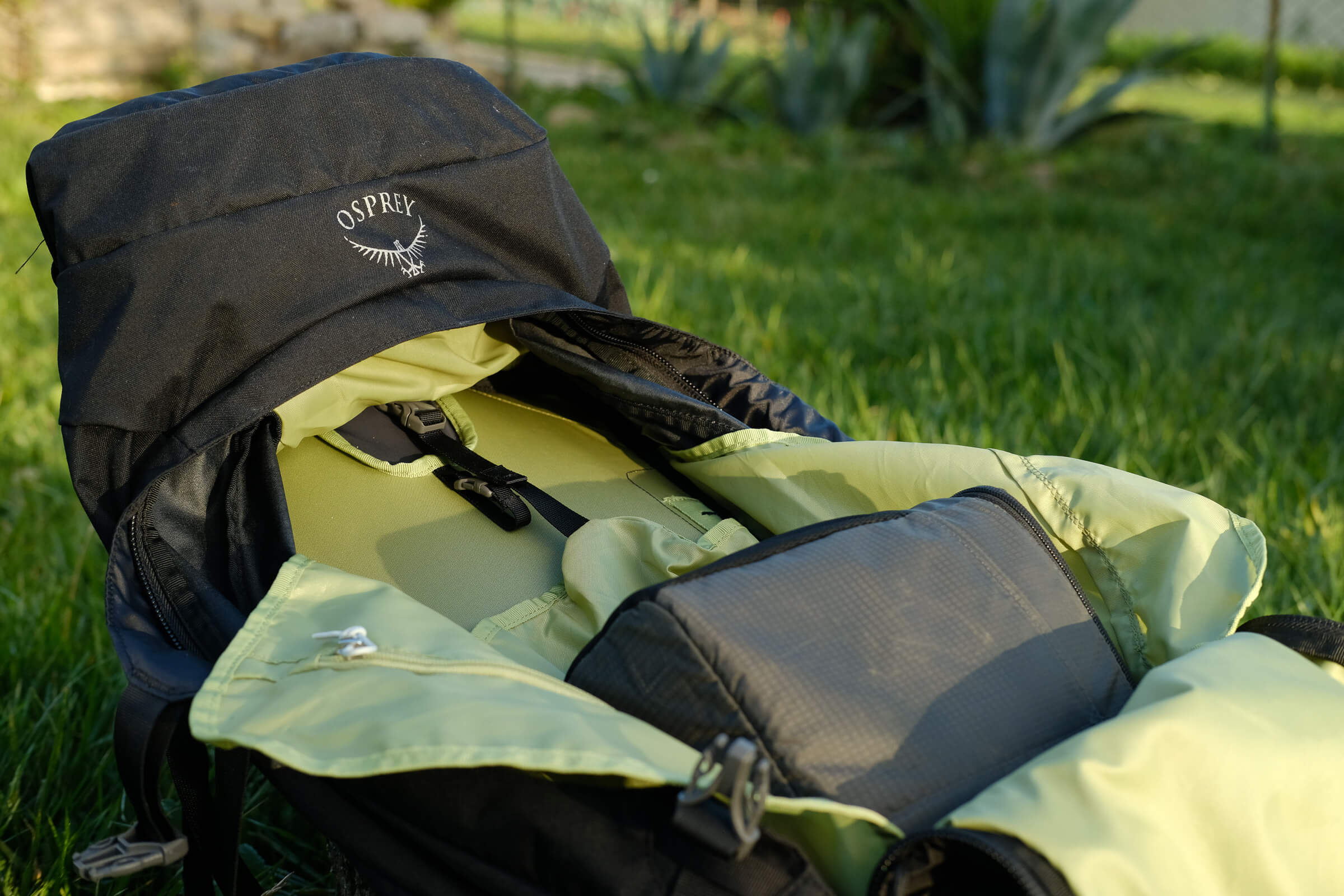 Because it can hold so much, the Farpoint Trek 70 can also be a bit long and hefty. When filled to the brim, the pack will start to engulf smaller backpackers and may become a little bit cumbersome. Taller people will definitely feel more comfortable in this bag.
On a side note, whilst I appreciated the huge array of cinch straps on the Farpoint Trek 70, I was a little wanting of some right below the top compartment. My reasoning: when the bag is not fully packed, the top compartment tends to sag down, which annoys me a little. The ability to cinch down this top compartment would do wonders I think.
A few small complaints aside, I think that the size and weight of the Farpoint Trek 70 are just right. But if you don't intend on carrying around 70 liters worth of stuff or you are a smaller person, I suggest that you opt for the more compact Farpoint Trek 55.
Score: 4.5 out of 5 stars
Material/Construction
The Osprey Farpoint Trek is made from a variety of materials that serve a variety of purposes. The most prevalent material used is 420HD Nylon Packcloth. For those who have invested in a quality travel backpack before, this type of nylon will seem instantly familiar.
420HD is a top-quality fabric that is used very often in the construction of outdoor gear. This nylon is tough enough to take a reasonable amount of abuse but, at the same time, won't weigh you down.
The material itself is not totally waterproof BUT the Farpoint Trek has been treated with a hydrophobic finish. It will repel water to a certain degree – let's say somewhere in-between accidental spills and a light rain shower – but will not stand up to a downpour of rain nor being fully submerged.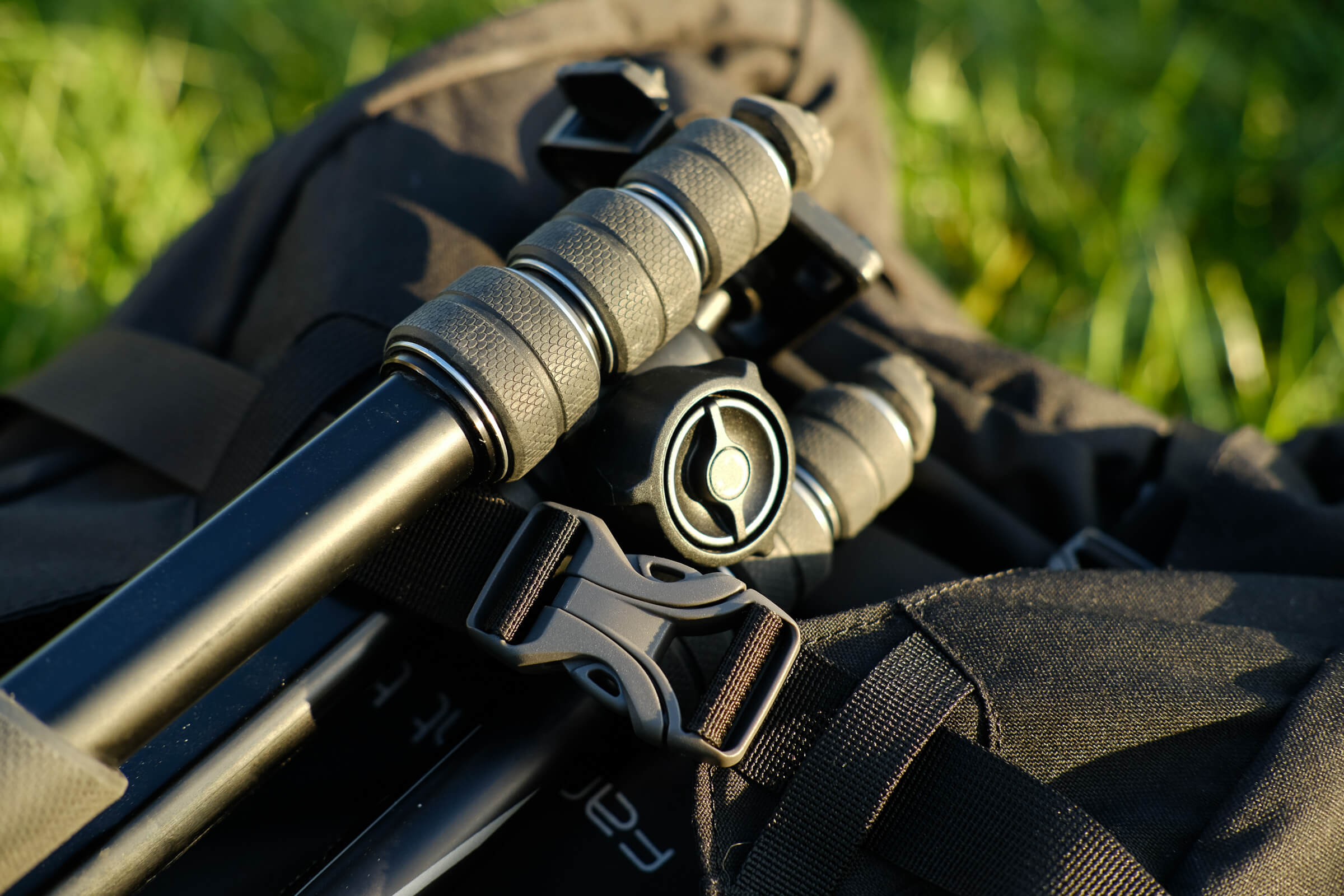 If you want to give the backpack more protection against water, then using the AirCover would be the next course of action.
The rest of the bag is made from different types of nylon and fabrics. There's lighter nylon in the interior of the bag and mesh is used on the exterior side pockets. Personally, I think that mesh is a bit of a mixed bag though and I generally don't like it because it catches on branches and other snags easily. When pulled hard enough, the mesh will often tear.
In defense of Osprey though, the bottom of the side pockets is made from the same durable nylon material that the rest of the bag is made from. This means that, even if the mesh tears, the pocket should remain intact. It's little back-up features like this that make me impressed with Osprey – they have an attention to detail and a great awareness that things may go wrong.
Score: 4.5 out of 5 stars
Protection/Durability
It is one thing to use high-quality materials; it's another to use them well. So is the Osprey Farpoint Trek 70 built well? The answer should be obvious.
Judging from the amount of positive reviews you hear about Osprey, their backpacks are very well made. The Osprey Farpoint Trek 70 is no exception.
This backpack is very well built. Every stitch feels tight and every seam looks strong. Based purely upon my initial impressions, I wouldn't hesitate to take this bag out on a backpacking trip. Granted, it generally takes months of hardcore abuse to really judge a bag but, that being said, I think that the Farpoint Trek would perform very well.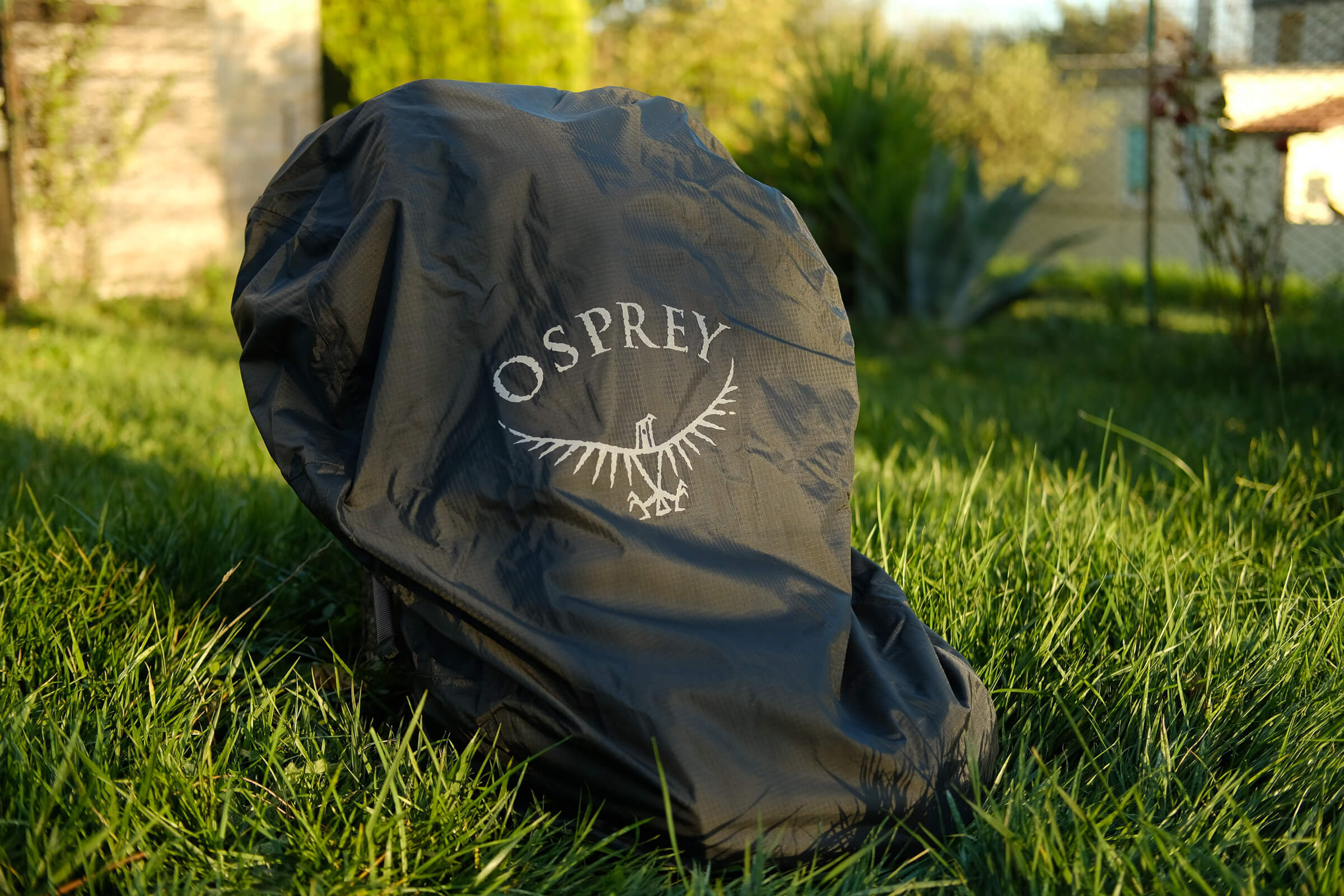 One of the most useful parts about the Farpoint Trek 70 is the inclusion of a travel cover or AirCover as Osprey calls it. The primary purpose of the AirCover is to provide extra protection when the bag is being handled by airport workers. You simply slip it over the backpack, zip it up, and BOOM there's an extra layer. This is will prevent clumsy baggage handlers from yanking the wrong strap or grabbing the backpack in the wrong way, which could lead to damage.
When you're out hiking and it starts to rain, the AirCover also works as a rain cover. Because the AirCover is not designed to be a rain cover first though, it may not be 100% effective. Still I find this extra level multi-faceted ability to be very impressive and better than nothing.
Osprey's Almighty Guarantee should also be an indicator of their bag's quality. A company wouldn't give a lifetime warranty if it didn't think that the product could last a good long while.
Score: 5 out of 5 stars
Comfort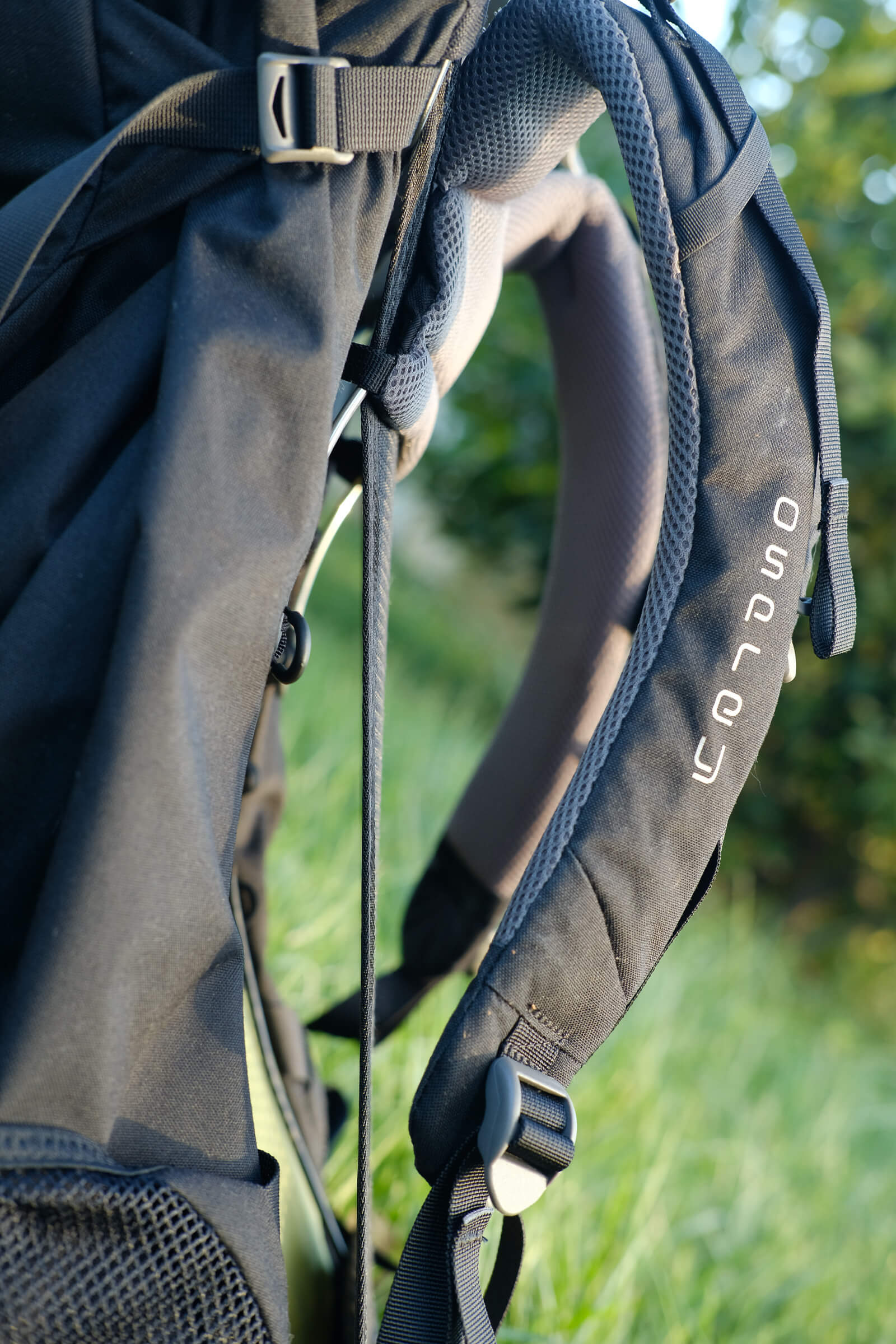 Comfort is one of the most critical aspects of a good travel backpack. Doesn't matter how strong or cool the features of one could be, if the backpack doesn't feel good to wear then chances are you won't wear it at all.
Comfort comes down to a couple of key components:
The use of adjustable straps.
The design of the dorsal area.
The way the backpack distributes weight.
Luckily, Osprey is no stranger to backpack comfort. The Osprey Farpoint Trek 70 has many, many adjustable straps that can be used to fit the bag perfectly. You can adjust the tightness of all crucial areas, like the waist, hips, shoulders, and armpits. After tinkering with all of these, it is possible to find a near-perfect fit to your body type. You can even adjust the height of the wire-frame on the dorsal section. I found that neat-o.
In terms of the dorsal design – i.e. the part of the bag that sits on your back – Osprey is well-known for its use of an intuitive "trampoline suspended mesh" system. They say that this sort of system helps to increase ventilation of the back area without compromising on form. Since I wasn't in hot or necessarily physically demanding environments, I can't say that I necessarily worked up a sweat in my tests. I can see the logic behind the system though and would expect it to work as described.
I will say that the backpack did feel a little awkward on my back when lightly packed. Because the interior is so compartmentalized, things tend to float around if they aren't arrested. This isn't an enormous issue, but it does mean that you should be a bit more conscious when packing.
Score: 4.5 out of 5 stars
Interior Design
Unlike many hiking backpacks I've used in the past, the Osprey Farpoint Trek 70 had lots of custom interior features. Upon further inspection, I found a huge array of pockets, straps, and clips that were all totally accessible and quite useful. Here's a breakdown of some of the Farpoint Trek's interior features:
Compression straps for packing
A dedicated sleeping bag compartment at the bottom of the bag
Clips for things like keys or a GPS unit
A hidden security pocket for a passport or wallet
On top of these, you have the added storage that comes from the top compartment and front compartment. All-in-all, that's a lot of extra bells and whistles that can be used to store and organize your stuff.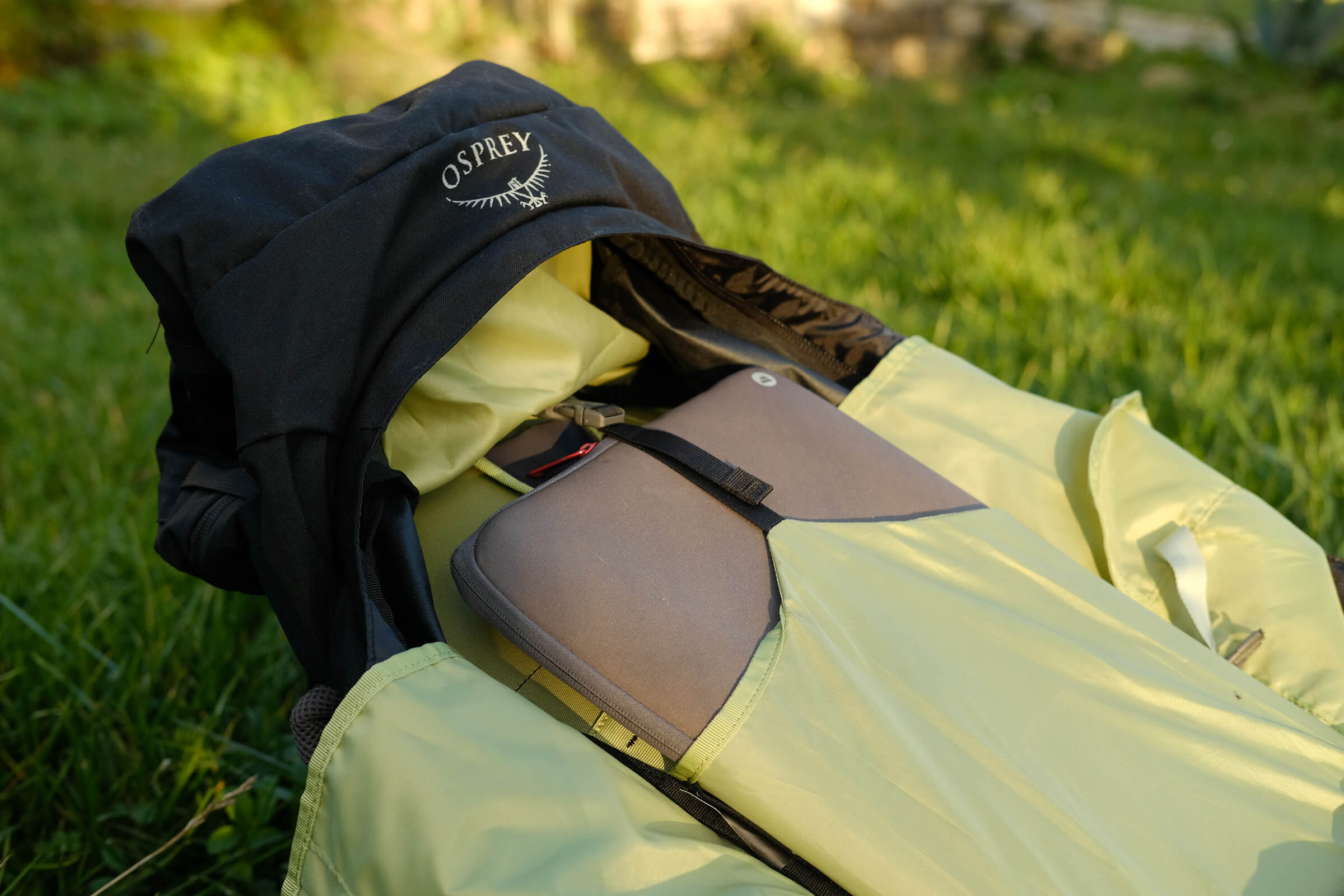 My first impression is that the inclusion of these extra organizational features is awesome. Everything appears to be implemented for a reason and I honestly can't wait to take this bag on a really epic backpacking trip and to pack it to the brim with stuff.
But the question remains as to if these extras are really necessary. Do I need a dedicated compartment for my sleeping bag? Do I need built-in compression straps? Or will all of these things simply get in the way. Right now, they appear to be very useful but only time will tell if they are of real use to a hoarding backpacker like myself.
Score: 4.5 out of 5 stars
Ergonomics
The ergonomics of the Osprey Farpoint Trek 70 are what make it really stand out. In order to truly be a travel-hiking backpack hybrid, the Farpoint Trek must be able to function as both, at least to a certain degree. This sort of marrying will require intuitive and uncompromising design.
The most obvious travel backpack design that has been incorporated into the Farpoint Trek is the front-loading zipper. Instead of accessing it from the top, as is the case with most trekking backpacks, the Osprey is accessed via a zipper in the front.
By having a zipper on the front of the bag, you can access almost the entirety of the interior at once. In turn, this allows you to see more, access more, and pack smarter. No more rifling through a small hole in the top to find something buried at the bottom.
The downside to this is that accessing the Osprey Farpoint Trek 70 can be a bit more tedious than usual. You have to lay the bag flat on the ground to get inside, which could be awkward for those hiking. Also, a larger zipper means it takes more time to unzip. This may not be a problem for some but for those who are constantly going in and out of their bag, it could be annoying. As a photographer, I would've liked to have seen a quick-access zipper somewhere on the side.
But these criticisms may simply come from a lack of experience with front-loading packs. Personally, it took me a bit of getting used to it, but once I stopped myself from habitually reaching for the top where I would usually get into a bag, the rest came naturally.
Score: 4.5 out of 5 stars
Aesthetics/Security
Discretion is an invaluable measure when it comes to travel backpacks. Wearing a flashy or insecure bag means that you will be more susceptible to would-be thieves. In order to deter them, you will need a bag that is safe and discreet.
Whilst I can't call the Osprey Farpoint Trek 70 discrete – it's big, black, and screams backpacker – I can say that it's at least secure. Many zippers have loops that allow for small padlocks. For added protection, you can also use the AirCover as an extra layer against thieves who use knives.
If you should find yourself in a really bad situation, you can also the emergency whistle on the backpack's sternum strap. Although it is intended for hiking emergencies, using a whistle in an urban area would definitely get people's attention and potentially stop an assault.
I will admit that the Osprey Farpoint Trek 70 was probably not designed to be the sexiest bag on the market. It is honestly a rather drab-looking bag with little ornamentation, but that is probably to its advantage. The Farpoint Trek was designed to be useful, not good-looking, and, ultimately it is very useful. I can't in good faith knock it down for not looking like a chic Herschel bag.
Score: 4 out of 5 stars
Customizability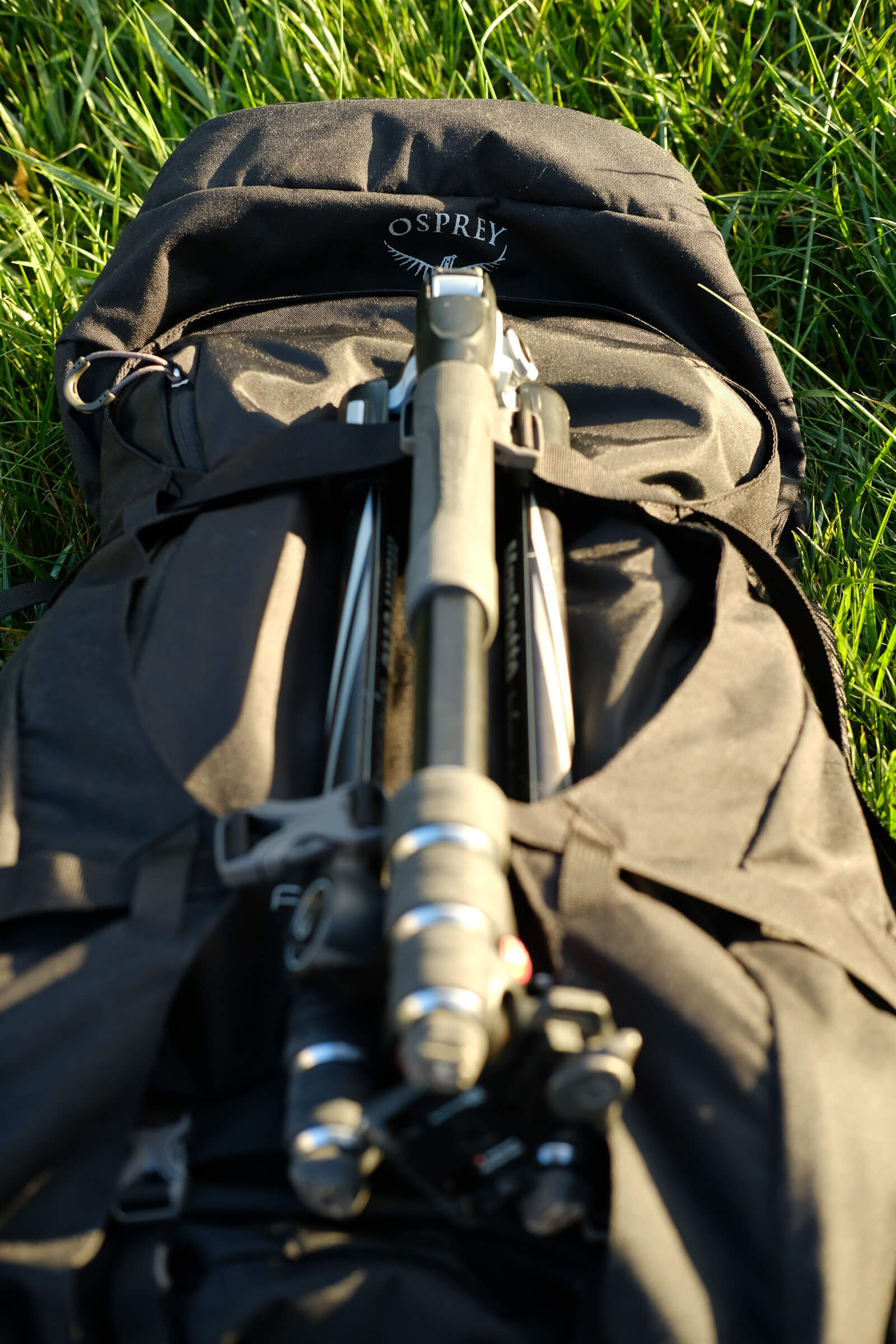 This is actually one of my favorite parts of reviewing backpacks: checking to see how I can enhance them and use them in more creative ways.
The Osprey Farpoint Trek 70 has a lot of potential to be customized.
There are a ton of loops that can be used to attach all sorts of accessories; carabiners, extra straps, sacks, you name it. I think that these sorts of loops are indispensable when it comes to choosing a good backpack for traveling, so I'm happy to see them here.
The Osprey Farpoint Trek is also designed to be compatible with many other products in Osprey's repertoire. Clips on the shoulder straps allow you to attach Osprey Daylite packs kangaroo style. We all know that backpackers and hikers love to rock the chest pack so kudos Osprey; you're making their lives a little bit easier.
You can also slip a water reservoir into the back of the bag. For travelers, this space can also be used to store a large laptop.
A neat little trick I discovered is using the lateral cinching straps on the back of the Farpoint Trek to carry my camera tripod. These did the job perfectly and I imagine they could also be used to fasten all sorts of items like a yoga mat, a tent, any much more I'm sure.
Score: 5 out of 5 stars

Our GREATEST Travel Secrets…
Pop your email here & get the original Broke Backpacker Bible for FREE.
What's the Verdict on the Osprey Farpoint Trek 70?
Osprey claims that their Farpoint Trek 70 "takes everything we learned from the award-winning travel series and makes it trek-ready." Ultimately, it is designed to excel as both a travel backpack and a hiking backpack.
From my experience with the bag, I think that the Osprey Farpoint Trek 70 is a success. It manages to combine the ruggedness and specialization of a trekking bag with the convenience and accessibility of a travel backpack. The two styles of backpacks actually fit quite nicely together and so the Osprey Farpoint Trek 70 feels like a natural development.
With 70 liters of capacity, the Farpoint Trek 70 has more than enough room to fit hiking and backpacking gear. Thanks to a plethora of additional compartments and pockets as well as straps and cinches, you can hide a lot in this backpack and still keep everything nice and organized. There were a few places I would've liked to have seen another cinch, but nothing deal-breaking.
The AirCover is a very nice addition to the backpack. Not only does it provide extra protection to an already durable bag but it can double as a rainfly as well. Good on you Osprey; I'm all for multi-purpose.
The Farpoint Trek also adopts a front-loading zipper – this is commonly seen in travel backpacks but is a welcome sign for a hiking backpack. It may take some getting used to for those who are used to top-loading bags and it may be slightly more tedious to unzip, but overall the front-loading zipper is still much appreciated.
Finally, you get all of the usual benefits of an Osprey backpack; the Farpoint Trek is tough, useful, intuitive, and well-designed. Even if the bag should fail, there's always the Almighty Guarantee there as well.
So would I recommend the Osprey Farpoint Trek 70? Yes – it will be a valuable piece of kit to both travelers, trekkers, and those who do both at the same time.
Final Scores
Size/Weight: 4.5
Material/Construction: 4.5
Protection/Durability: 5
Comfort: 4.5
Interior Design: 4.5
Ergonomics: 4.5
Aesthetics/Security: 4
Customizability: 5
Overall Score: 4.5 out of 5 stars

---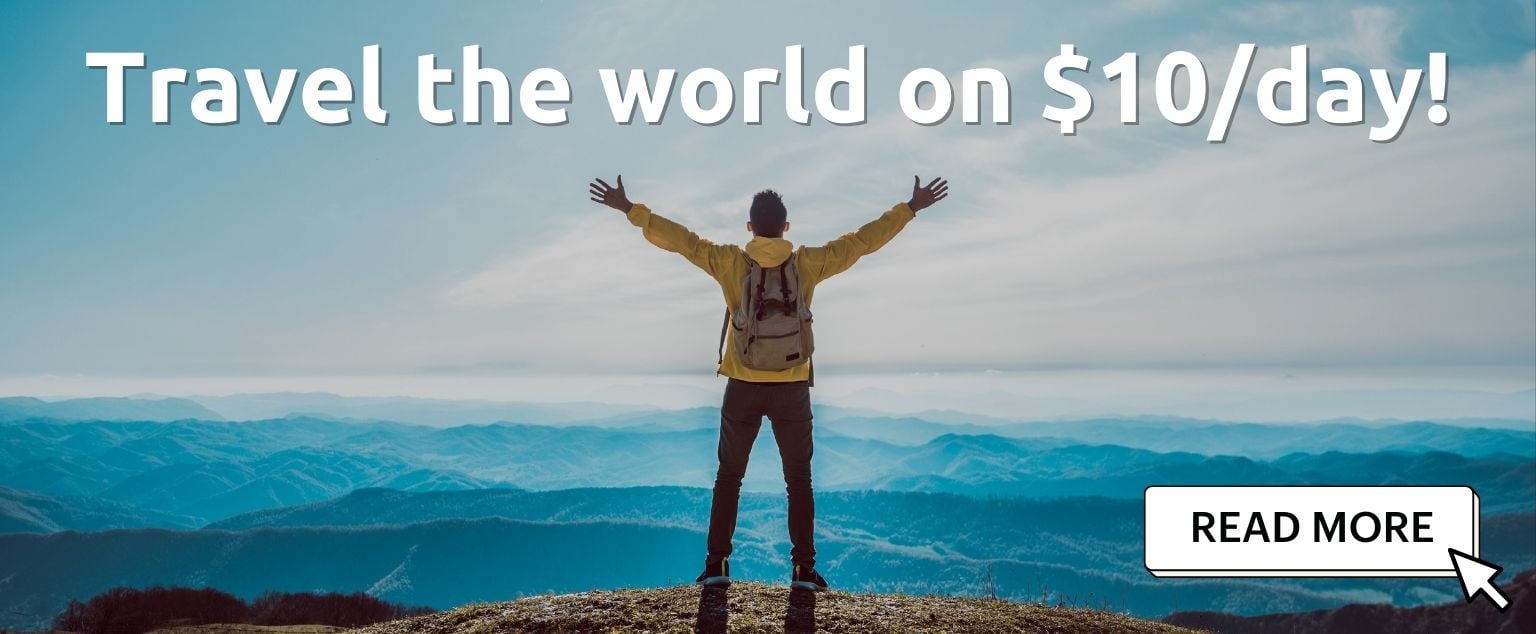 And for transparency's sake, please know that some of the links in our content are affiliate links. That means that if you book your accommodation, buy your gear, or sort your insurance through our link, we earn a small commission (at no extra cost to you). That said, we only link to the gear we trust and never recommend services we don't believe are up to scratch. Again, thank you!