If you've ever spent a night out in the woods, or camping in the shadow of the Himalayas, freezing your ass off and anxiously waiting for the night to be over, you probably already realise how important it is to pack the best backpacking sleeping bag possible! It's one of the most important pieces of outdoor gear you'll buy!
My style of travel involves a lot of camping, when I'm backpacking across the world I always travel with a tent, sleeping bag and sleeping pad. I have learned from experience that it's well worth investing in proper camping gear rather than cheaping out.
I've put together this detailed guide after personally testing some of the best sleeping bags out there. I'm going to share these sleeping bags reviews with you now so you can make an educated decision before you head out on your next adventure.
I've gone through some of the best sleeping bags for backpacking so you don't have to. So whether you're looking at synthetic bags or considering a down sleeping bag, wondering what bag shape to go for or just a rundown of the most popular backpacking sleeping bags. We've got you covered!
When you're choosing a sleeping bag, you need to take into account warmth, weight, (warmth to weight ratio!), comfort functionality, and price to find the best sleeping bag for your adventure style. With this guide, we'll cover all of these aspects and more, so that you know exactly what to invest in. From cheap & affordable sleeping bags to ultralight kipping-sacks, we'll review them all! Here's our guide to the best sleeping bags for backpacking.
Alright, let's get stuck into reviewing the best sleeping bags for backpackers! Before we dive into the in-depth reviews, let's take a quick peek at how our top four sleeping bag picks rank against each other…
Firstly here is the tough love – a good quality sleeping bag isn't going to be a cheap bit of outdoor gear. No, if you want quality you will have to put your hand in your pocket. However, look at your sleeping bag as an investment in getting many good nights sleep for years to come.
It's one of the most important bits of backpacking gear you can invest in, especially if you're planning on camping during your trip. When it comes to choosing the right one you to take into consideration the cost, the warmth to weight ratio and how compact the thing is if you're going to carry it around for months.
Many of the sleeping bags on our list come with lifetime warranties, and you can expect them to last for decades. Moreover, I think it is worth investing in a lightweight and packable sleeping bag if you want to keep your overall backpack light so as to avoid straining your back. There are also ultralight sleeping bags but they'll set you back even more money.
I've listed a couple of backpacker-friendly sleeping bags from the store REI (USA). REI has a one-year warranty on all of the brands they carry, so you can use the gear for up to a year, and return whatever isn't perfect for a full refund. If you're looking for good quality outdoor gear on a budget then check them out.
Here is a list of the most kickass camping sleeping bags no matter what kind of adventure you are on. From the best 3 season backpacking sleeping bag to the best packable sleeping bag, we've got all the options!
Best Overall Backpacking Sleeping Bag
This sleeping bag is not cheap, but the Feathered Friends Swift 20 YF is one of the best (if not THE best) sleeping bags for its quality, comfort, and durability.
No synthetic insulation here, it's real goose down with means it keeps your body heat without becoming stifling. It is comfortably fluffy (900+ fill down), yet durable, and the bag still compresses to the size of a loaf of bread. It's got great warmth to weight ratio to get the best bang for your buck.
It's large, the durable zipper doesn't get caught in the material, and the outside fabric is treated for water and stain resistance far beyond typical sleeping bags. Whilst the bag isn't waterproof (ie double water repellent), it's one of the most water-resistant down sleeping bags on the market. I tested this sleeping bag up in the Pakistani mountains and it was light enough to trek with and warm enough to sleep soundly – inside a cave in – making it one of my personal favorite sleeping bags.
Feathered Friends bags are the highest quality sleeping bags, made by hand in Seattle, USA, and are filled with down from geese raised with the highest humane standards. This one feels like real quality to the touch and when you sleep in it. We have stayed warm and dry all across the Pakistani Himalaya foothills thanks to this bag. You can customise the bag on the Feathered Friends site too, and even have the sleeping bag customised after purchase (years down the line) if ever needed.
Should You Buy the Feathered Friends Swift 20 YF?
Are you looking for the warmest sleeping bag possible and don't need to worry about the price tag? Then you can't really go wrong with the Feathered Friends Swift; it's a rugged and ultra-compact sleeping bag that will keep you warm on cold nights and it's got super warmth to weight ratio. Most sleeping bags can't offer what this guy can!
I have rated this as the best backpacking sleeping bag on the market because, to be honest, it hits it out of the park on every level! It is super comfortable, fits well and offered just the right amount of warmth. All of us here at TBB bloody love it!
Best Ultralight Sleeping Bag
At 12 oz. (340 grams) of total weight, the Sea to Summit Spark is one of the most lightweight sleeping bags on the market. If you are travelling with very limited space and weight, you're a minimalist, a biker, or a kayaker, this is the sleeping bag for you. It packs as small as a softball! (That's smaller than most down jackets!)
Lack of insulation to save weight means this hiker-friendly sleeping bag carries most of its fill in the space for heat where you need it most: over your core. The hood has a simple drawcord on the right, snugging around the face.
The drawback? It has a 54F (12.2c) comfort rating, so this is not for backpacking in cold conditions. On the other hand, if you like this Sea to Summit bag, you can get its big brother (Spark III), which handles temperatures at 25F (-3.9); however, this makes the sleeping bag heavier and more expensive as well, which kind of defeats the ultra-lightweight minimalist approach. It's not the best for warmth to weight ratio in all fairness but the sleeping bag temperature rating will work in warmer climates.
Should You Buy the Sea to Summit Spark Quilt?
Do you need an ultralight sleeping bag for your ultralight adventures? The Spark Quilt is one of the smallest and lightest sleeping bags and the market and shouldn't be a burden to carry, whether you're backpacking Southeast Asia or in the mountains of Pakistan.
I like how compact this bag and so have rated it as the best lightweight sleeping bag for backpacking as a result. It fits well into its tiny sack (very easy to pack) and it attaches easy to a pack. Obviously, ultralight pieces are not as warm as heavier ones and they do tend to deteriorate a bit faster.
Best Ultralight Sleeping Bag Honorable Mention
Ok so the REI Magma 15 might be nearly double the weight of the Sea to Summit Spark Quilt, but it is also WAY warmer for when you need a truly badass ultralight sleeping bag in the mountains.
At 1 lb. 14 oz (517 Grams), the REI Magma 15 isn't what I would call ultralight compared to most sleeping bags of this category. That said, it packs a lot of warming power into a fairly lightweight sleeping bag feel. For colder climates, a super lightweight sleeping bag simply will not keep you warm enough to be comfortable (or safe).
When you start dipping below 32 F (0 C), having a warm ultralight sleeping bag isn't just a luxury, it is a necessity for survival! If you plan on taking a backpacking trip to the Andes, Patagonia, the Himalayas, New Zealand, or other cold-climate/high-altitude destinations, I strongly recommend that you go with a lightweight sleeping bag that has an EN comfort rating of at least 20 F (-17c).
For $350, the Magma 15 is actually perhaps the best value backpacking sleeping bag when compared to other burly ultralight sleeping bags offering the same temperature rating. It's a solid buy for those looking for a more serious lightweight sleeping bag to take on those budget backpacking trips.
Over the years, I have loved drinking my morning coffee from the comfort of this bag.
Learn More: Best Travel Coffee Makers review
Should You Buy the REI Magma 15 Sleeping Bag?
Are you looking for a super warm sleeping bag that won't break the bank? The REI Magma 10 is an excellent bang for your buck and will keep you warm in some pretty cold climates.
This is a great bag for its price and various Broke Backpacker teams members have used the Magma 15 for years of happy camping now. I love how the hood closes super close and how the curved zip allows for easy opening and closing.
Check out our super in-depth REI Magma 15 review.
The Best Budget Backpacking Sleeping Bag
Having used the Marmot Trestles 30 extensively on my own adventures and can with 100% certainty that this is definitely one of the best hiking sleeping bags out there. It's durable, warm, and, best of all a very affordable backpacking sleeping bag.
The Marmot Trestles 30 is one of the company's flagship products is often suggested to casual backpackers and hikers. It can handle the elements, keep you warm, and is fairly easy to pack. I've taken this sleeping bag when backpacking Mozambique, Georgia, and the Colorado Rockies. It never failed me once.
Granted, the Marmot Trestles 30 is not the warmest nor the lightest sleeping bag on this list. It is not advised to take this sleeping bag backpacking in the winter nor on demanding expeditions.
All that being said, I still love my Trestles 30. To me, it is one of the best sleeping bags for $100 that you can have, just so long as you're a 3-season hiker.
Should You Buy the Marmot Trestles 30 Sleeping Bag?
Regardless of whether you're a casual or wilderness backpacker, the Marmot Trestles 30 is an excellent sleeping bag. Hiking will be a breeze with this baby, thanks to its packability and effective insulation. It's the warmest or lightest sleeping bag on this list, but, for the price, it's still a great deal.
Our team felt this was a great sleeping bag for the price and still offered a pretty decent level of compression when packed. They felt it was comfortable but maybe not at the lower end of the temperature scale.
The Best Entry-Level Sleeping Bag for New Backpackers
Imagine you and your homies are retreating from the city to go explore the pacific northwest backcountry. You tend to run cold, so you want a down sleeping bag, but you're in the pacific northwest… It's wet out there. Never fear, that's where the Sea to Summit Trek TKII can meet the best of both worlds.
With 650 fill water-resistant down and a DWR nylon shell finish, you can count on this sleeping bag to meet some moisture without ruining your night. It's one of the best sleeping bags for backpacking if you're not looking to spend a fortune but get something great in return!
This sleeping bag comes with all the standard features: a 3D hood, neck collar draft tube that keep heat from escaping, and side and foot zippers for ventilation. Which is great for letting the heat out (if needed) and keeping the cold air where it belongs, outside!
In addition to the standard features, it's sometimes the small details that matter. Ever wake up to pee in the middle of the night? Unfortunately, that damn headlamp is nowhere to be found. Thankfully, there's an internal lining pocket for a place to safely store the essentials. Trying snuggle with your partner for warmth? Unzip your bag and rezip it to theirs to create a double bag. (Speaking of double bags, if that's something you're in the market for then check out the Rei Siesta 20.
This is a great option for the new folks trying to get their foot in the door in the backpacking world. Solid material, compact design and affordable price make this a great option.
Should You Buy the Sea to Summit Trek TKII?
This is a great, affordable option for backpackers out there. Want to learn more about the Sea to Summit Trek TKII? Thankfully we have a review written just for you.
My take on this sleeping bag is that its a really solid choice for those looking for something versatile and affordable. One of the features I like and think you will also look is how spacious the shape is, escpecially for those who might feel a little claustrophobic in mummy-style bags, this was much more comfortable.
Best Four Season Sleeping Bag for Travelling
Many winter sleeping bags will run you $500-600+. The Kammok Thylacine, however, is one of the most versatile sleeping bags on our list because of its unique 3-in-1 feature. You essentially get three sleeping bags for a fraction of the cost.
The bag is normally at a 30°F temperature rating, but with its attachable liner, it can withstand 15°F. Add the liner insert and the Kammok becomes a winter bag for 0°F temperatures. While I wouldn't use the Kammok as a replacement for a winter-only sleeping bag, it's a great choice for the four-season traveller, who plans to camp in multiple temperatures and climates!
Other cool features include a pillow pocket to keep the pillow in place and a storage pocket for your head torch. Plus the Kammok compresses are quite small for a 3 lb bag!
The drawback? They do not have a short size for the vertically challenged. Its regular size is 78" and fits a person up to 6'3".
Should You Buy the Kammock Thylacine Sleeping Bag?
Are looking for a convenient sleeping bag that can be used in both the winter and the summer? The Kammock Thylacine is a unique 3-in-1 bag that allows you to do both! Just don't expect it to be a perfect replacement.
If I was to pick one stand-out feature, then the 3-in-1 system worked perfectly to create a sleeping bag perfect for pretty much any condition most backpackers will face.
Best Women's Sleeping Bag
REI's Joule 21 is consistently rated one of the best women's sleeping bags for its comfort, warmth, and durability.
REI makes great quality, affordable camping gear, and in the last few years their gear caught up to the same quality as many of the other brands in the outdoor space.
The Joule 21 can actually handle temperatures at 21F without extra clothing or a liner. One cool feature is its waterproof finish (despite the fact that it's down material)!
The most important feature is the Joule is designed to fit a woman's body and offers increased room at hips, the decreased room at shoulders, and extra insulation in critical heat-loss areas. This is a great quality sleeping bag for a woman traveller and comes with a one year warranty.
Should You Buy the REI Joule 21 Sleeping Bag?
Are you the outdoorsy type of girl who wants the best sleeping bag for a female's body? Then the REI Joule 21 is about as good as it gets. It's warm, form-fitting, durable, and a great investment.
This bag is super comfortable and feels like it can deal with different conditions perfectly – for example, when we took this to Pakistan one of our members ended up sleeping outside of their tent in some pretty chilly conditions and the bag stood up perfectly.
The Best 0-Degree Sleeping Bag for Budget Backpackers
For those dirtbag mountaineers who need to save a couple of dollars, the Marmot Never Summer is an excellent deal. It's a 0-degree bag that doesn't break the bank or your back and will perform very well in the wilderness.
Some people note that the Marmot Never Summer isn't a true 0-degree bag, which has some merit since the down fill is only 650. For this reason, the Marmot Never Summer may actually be more like a 5-degree bag and for women more so.
On another note, I do have to admit that this bag could be a little more compact but as it's the warmest bag on our list, what do you expect?
That being said, the Never Summer is still a great purchase. Even though the down fill may not be perfect, it still does a great job. I still believe that it's the best budget sleeping bag for mountaineers and those seeking a 0-degree or, at least, a bag close to 0.
Should You Buy the Marmot Never Summer Sleeping Bag?
Do you need a good 0-degree sleeping bag that won't leave you broke? Are you ok with using a bag that doesn't use the best possible down or isn't the most packable either? If you're ok with these shortcomings, then the Marmot Never Summer will serve you very well. I've used it in the mountains extensively and has kept me toasty through all of them.
This is the warmest rated sleeping bag on our list. However, at over 3 Ibs it does feel heaveier than some of the other offerings and you may come to resent that weight in your pack. But if you need a warm sleeping bag and can take the weight this is a great option.
Most Durable Sleeping Bag
First things first, let's talk about durability. Have you ever left camp in a rush? Stuffed your sleeping bag in your back and off you went. Only to find when you get to camp you ripped the stitching at the seam? Any experienced backpacker has been there. The Nemo Disco 15 has a ripstop nylon finish on the shell, to prevent just that. In addition, the nylon water-resistant finish can take on the moisture too, without ruining your night in the backcountry.
Durability is important but it's the little things that matter too:
You lay down in your tent after an exhausting day in the hills, fall asleep instantly. Hours later you wake up, face down, sprawled across your tent, your sleeping bag is twisted at your waist. You get yourself sorted. Hours later, you wake up. The same exact situation happened. You wake up in the morn, exhausted. Why? Because your sleeping bag manufacturer neglected to include the little details, that's why.
The Nemo Disco 15 is designed for the side sleeper. With articulated elbow and knee, the room allows you to shift around so your sleeping doesn't have to.
Should You Buy the Nemo Disco 15 Sleeping Bag?
The warmth and durability make this a great product if you put your gear through the wringer. Care for more info on the Nemo Disco 15? Check out our review!
I am impressed by the material and quality of this bag and how durable it feels. I have slept in it quite a lot over the years and can guarantee that its plenty warm. The additional additional features such as the stash pockets and thermo gills add to the functionality and quality of the bag.
It's time for the early morning rise and grind. So many miles to crank, so little time. It's frigid, but somehow your body temperature is stable in your Featured Friends Hummingbird UL. Let me tell you from experience that it is definitely easier to leave your cocoon in the early morn when you're already warm.
This sleeping bag is the ideal pick for the ultralight backpackers or for the folks who tend to run cold. Formerly, known as the Feather Friends Merlin, the Hummingbird UL lives up to its rebranded name.
The goose down insulation (for warmth) and the Pertex Endurance (water resistance) fabric shell is winning combination for any 3-season sleeping bag.
Its ultralightweight (24 oz/ 680 grams) is complemented by its packability. A 'long' 20 degree (Fahrenheit) will fit in your 10-litre stuff sack with room to spare.
Sometimes simplicity is the key to brilliance, especially with the Feathered Friends Hummingbird UL.
We've added this down the list but to be honest it was a hard decision between this and our eventual winner for the top spot. Our team felt it just oozed quality from the stitching to how well it compresses and then reshapes once rolled out to the awesome levels of comfort and warmth.
Finally! A sleeping bag manufacturer that has done something to accommodate the way most people fall asleep, on their side. The trademarked Unique Spoon feature offers more room for the elbow and knee areas so side sleepers can shift comfortably throughout the night.
This synthetic sleeping bag is made from 80% post-consumer content. The synthetic Primaloft insulation maximizes heat retention while wicking away moisture.
Have you ever brought a 3-season sleeping bag on a summer trip? Then you know how miserably hot and sweaty those nights can get. Thankfully, the Nemo Forte 35 includes Thermo Gills that allow for more ventilation on warmer nights, unzip the gills and let the excess heat out without letting cold air in.
Planning on a shoulder season trip? The Blanket Fold draft collar and tube provide more efficient temperature regulation. So when those spring and fall trips have warm days and cold nights, you won't even notice the outside temps inside the Nemo Forte 35. A 3-season sleeping bag exists that actually allows you to be more COMFORTABLE during all 3 seasons of use, go figure!
Hey ladies, want a sleeping bag with the same features, no worries! Nemo has made a Forte 35 just for women as well.
Our team rated this as their best 3 season sleeping bag for backpacking in part because of the thermo gill feature. They loved how easily the bag could go from cooler temperatures to warmer weather even within the course of a night.
This one is for all you couples out there. There comes a time when one of you (the crazier one) decides that spending every day with your partner isn't enough. Why not treat yourself to a remote, romantic, weekend getaway in the backcountry?
The sunsets, the alpenglow hits your partner's face, the mood strikes, and it's time for a romp in the sack (pun intended).
Except, have you ever had sex in a tent? Let me tell you from experience, it's a logistical hassle. Sleeping bags and sleeping pads get shifted around, someone usually gets cold, and next thing you know whoever is on the bottom has a rock jabbing their ass. Thankfully, the Exped MegsSleep Duo solves all those problems.
This sleeping bag is compatible with any sleeping pad. In addition, it comes with the same standard features and the quick-dry microfiber insulation that wicks away moisture. All fabrics are treatment-free, meaning no allergens or chemicals, BUT what does that really mean? It means you can cuddle without the concern of the material irritating your skin.
The whole setup weighs only 4 pounds, so you can pack the comfort without adding the extra weight. Are you worried it won't fit in your pack? No worries, make your partner carry it!
Lightweight, warm and affordable makes this a home run for all the adventurous couples out there and our team agreed. They made sure to well and truly put this through its paces if you know what I mean and it passed with flying colours! They felt it was roomy enough for two without feeling cramped and for the less romantic offered a great opportunity to starfish whilst camping!
The backpacking quilt is becoming all the rage these days. Why would anyone use a quilt instead of a sleeping bag? Three reasons: simplicity, packability and (most importantly) weight. REI has taken the classic Magma sleeping bags and made it even simpler for all you minimalists out there.
The REI Magma Trail Quilt ditches the zippers without ditching the warmth. This quilt is filled with water-resistant goose down. In addition, it has a durable water finish Pertex coating to protect the down insulation from exposure to moisture.
Despite its simplistic design, it has all the meaningful features any seasoned backpacker would care about. Unlike a wool quilt, this one secures to your sleeping pad so half your body doesn't end up on the cold, hard earth in the middle of the night.
When you sleep with a normal quilt, your feet are sure to pop out. Not with the REI Magma Trail Quilt, it comes a trapezoidal 'foot box' to keep your feet secure and warm.
I'm gonna be real with you, the backpacking quilt may not be for everyone. But if you're willing to be experimental with this trending product, and revert to the Jeremiah Johnson days, then this option is worth considering.
Our team were pretty excited to try this different style and felt it worked well still even in chilly temperatures. It was particularly great for those who feel too hemmed in by a traditional style bag but still want great comfort and warmth. The drawstring around the quilt allowed our testers to cinch the quilt close in and keep the cold air out.
After cranking miles all day you finally make it to camp. The first thing that comes to mind: food. Bust out the stove, nourish the body. The sunsets. You pull out the tent, sleeping pad and your 9-litre stuff sack filled with…your puffy? Nope, your Feathered Friends Swallow YF sleeping bag.
Down insulation, Pertex and YFuse water-resistant shell fabric all in a compact set-up. The packability is the ideal lightweight setup to keep your back from aching. Despite its compactness when it's shoved in your pack, you'll unpack it to realise it's more spacious than a traditional mummy bag style Feathered Friends sleeping bags.
Warm, lightweight, compact and durable make the Feathered Friends Swallow YF an ideal 3-season sleeping bag for backpackers and offers much more warmth for its weight than synthetic insulation.
Our team loved this feather-down bag and said it basically feels like wearing a massive fluffy down jacket for bed. Sounds good to me! They also commented on how well-made the bag was and how durable the material felt.
This North Face sleeping bag was an absolute game-changer for me. It's incredibly comfortable, packs down to almost nothing, and keeps me cozy down to around 20 degrees. With 800 fill ProDown (certified to the Responsible Down Standard) and a hood able to sinch down, the bag traps in body heat extremely well and warms up the second you slip into it. This bag performs best in rather cold climates (obviously), but I would be hesitant to bring it along on any adventure 35 degrees or higher.
That being said, I found the bag overall to be comfortable enough to simply lay on top of on warmer nights when the bag proved to be a little too much for the conditions. With an exterior as comfortable as the interior, you won't have any probably spending a night on top of this bag with a light blanket or base layer on. The only downside I found with this bag was the quarter-zip zipper, as I like when the bags can double as a down blanket, though I understand they did this for overall heating performance.
Before you make any purchase, you need to ask yourself a couple of questions: WHEN and WHERE do you plan on using your sleeping bag? Answering these basic questions will make your research a lot easier for you. If you can't give yourself a straight answer, then there are definitely some versatile options out there.
Let's take a look at the crucial factors you need to consider when choosing a sleeping bag…
Sleeping Bag Temperature Rating
Sleeping bag temperature ratings are often rated on the European Norm (EN). EN is a European rating system many outdoor brands use to standardize the temperature ratings on sleeping bags. EN uses three temperature ratings:
Comfort rating: The lowest temperature a sleeping bag will keep the average woman or "cold sleeper" comfortable.
Lower-limit rating: The lowest temperature a sleeping bag will keep a man or "warm sleeper" comfortable.
Extreme rating: Some bags come with an extreme rating, which is the temperature the average woman or "cold sleeper" can survive a night without getting hypothermia
Despite this information, most manufacturers defer to the extreme rating. Meaning if you're sleeping in a 20-degree sleeping bag, and the low temperature hits 20 degrees, you can expect to survive the night but not feel warm and cosy.
Backpacking Sleeping Bag Types
Summer Bags: Summer sleeping bags are typically rated 32 F (0 C) or higher, which means they are made for sleeping in 40s F and 50s F (4 C – 10 C). Summer sleeping bags may not have the features that keep you warmer in colder temperatures like built-in hoods. Most summer bags are rectangular.
3-Season Bags: 3-season bags are the most versatile bags for hikers and travellers. 3 season sleeping bags are usually rated from 10 F to 32 F (-12 C to 0 C) for sleeping in around 20 F to 40 F (-6 C to 4 C). You can easily use a 3 season sleeping bag in the summer by unzipping or just draping it over you like a blanket.
Winter Bags: These are tough-as-nails sleeping bags made for camping in the snow and extreme temperatures. They usually rate at 10 F and lower (-6 C to 4 C). Winter bags are typically bulkier and heavier. Let me tell you from experience, if you are planning a winter trip it is well worth the money for a winter bag. Otherwise, if you don't see yourself planning any winter adventures in the near future, they probably aren't worth it.
Now that you have some background information for the sleeping bags on the market. Let's dive into the buyer's guide:
Whether you're looking for sleeping bags for backcountry hiking or traveling the world, a lightweight and compact sleeping bag is a top priority.
The different types of insulation will make a huge difference in weight (as well as cost). If you're looking for the best ultralight sleeping bag with the smallest pack size, then look for down because down weighs significantly less and packs lighter than synthetic. The drawback is that down costs more. Still, there are some great sleeping bags that use synthetic materials so dont worry too much if you are a tight budget.
Sleeping Bag Insulation
Down: What is down? Usually, it's goose feathers (or something similar). Down sleeping bags are lightweight, warm, and packable, but they are also more expensive than synthetic bags. Down sleeping bags last much longer, often for decades of use. The downside (pun intended) is when they are exposed to moisture, it takes longer to dry out and does not retain body temperature very well.
However, we are in the 21st century. Water-resistant down sleeping bags exist on the market! Meaning what? It can definitely handle condensation and other minor forms of exposure to moisture. Even with water-resistant down, if the whole sleeping bag gets wet then you're in for a long, cold night.
Synthetic Bags: Many ultralight backpackers tend to steer clear of synthetic insulation because it is usually heavier and isn't as cosy as sleeping bags with lofty down insulation. That said, synthetic insulation does have its advantages.
If it's exposed to moisture, it dries much quicker. What about extreme circumstances? Like if your sleeping bag is wet and there's no opportunity to dry it? Crawl inside it anyway, even when it's wet it will still keep you warm throughout the night. Additionally, if you're a baller on a budget then synthetic sleeping bags are typically cheaper.
Pro tip: If you plan to travel in a wet and/or humid environment then synthetic sleeping bags are absolutely worth the weight.
Sleeping Bag Weight
When you're carrying your home on your back every ounce seems to matter. On average, down sleeping bags range from 1-3 pounds (.5-1.5 kilograms), while a synthetic sleeping bag will range from 2-4 pounds (1-2 kilograms).
The weight of your sleeping bag should depend on its intended use. If you're an experienced backpacker that is planning a thru-hike. Packing a zero-degree synthetic bag probably isn't a great idea. Or on the contrary, if you're new to backpacking and only take a couple of trips a year. A down sleeping bag will certainly keep you warm and comfortable, but you can count on it being more expensive.
So how much does weight actually matter? Consider the other gear that you plan to carry as well. That includes your tent, sleeping pad, stove, food, water etc. Personally, I do not consider myself an ultralight hiker; however, I do tend to go towards the lighter side when it comes to sleeping bags so I can pack other things (beer) on my backpacking trips. Of course if you are headed car camping you dont need to worry too much about weight.
Sleeping Bag Style/ Bag Shape
For women: Women-specific bags are designed to fit a woman's body shape, and are usually shorter in length, to help women and "cold sleepers" trap more heat. Many of them come with extra insulation in the upper body. Smaller women may find that youth bags are the best fit.
Rectangle Bags: While they have become less popular for backpackers over the years, rectangular sleeping bags are often the most comfortable because you have more room. By design, rectangular sleeping bags are often harder to pack. Despite this fact, rectangular bags are just as durable and reliable as any other style of sleeping bag.
Mummy Bags: A traditional mummy bag is warmer because they are tight-fitting, and usually have hoods to keep heat in from your head. Mummy bags are more compact, therefore easier to pack than rectangular sleeping bags. More contemporary bags have a mummy design because it better fits the curvature of the human body.
Quilts: As the ultralight form of travel becomes more trendy, manufacturers are coming up with more creative ways to sacrifice weight while maintaining packability and warmth. These backpacking quilts are usually made of down and are by far the most simplistic design.
Every style and sleeping bag shape has its purpose. Which of these styles will best meet your needs?
Need a good sleeping pad to go with your shiny new sleeping bag? Check out the ultralight Nemo Tensor Sleeping Pad.
Reading about a sleeping bag's specs and features is helpful, but to really get to know one once you're tucked up inside your tent and have to spend the night inside one! I mean, when you wake up shivering in the night those numbers really come into focus! So when it came to testing out the best sleeping bags for backpacking we put them to the test properly!
Our team members turned testers, tossed each one of these sleeping bags into their packs, took it camping and assessed its performance. They did that by looking at the following criteria;
Weight
You can read about a sleeping bag's weight on the manufacturer's website but it doesn't really mean anything until you actually pack it inside your backpack and see how it feels to carry.
The best backpacking sleeping bags are usually those that are on the lighter side. Thicker bags tend to be heavier so this is where there might be some compromise in order to facilitate a lighter bag.
Warmth and Ventilation
Sleeping bags all have warmth ratings but they don't exactly tell the whole story! Comfort levels are all pretty personal too and each bag has different definitions of what "comfort" actually means! You never really know until you give them a test run and our team did the hard work for you.
The only thing worse than a cold sleeping bag is a hot sleeping bag! So we were sure to test these out in different conditions and also to see how well they performed when it came to the fine balance between warmth and ventilation.
Comfort
All of our testers like to be nice and comfy, I mean, don't we all! But when it comes to sleeping bags, well it's kinda a deal breaker! So we all awarded marks to the sleeping bag that felt nice and soft way in, and the ones that didn't were cast into the fiery furnaces of sheol.
Still have some questions about the top backpacking sleeping bags? No problem! We've listed and answered the most commonly asked questions below. Here's what people usually want to know:
Everyone has different requirements and budgets when backpacking, so I decided to break down our top picks for sleeping bags based on different types of travel needs. When selecting the best sleeping bag for backpacking you've got to take into consideration your personal needs.
If you are aiming for an overall amazing quality backpacking sleeping bag, the Feathered Friends Swift 20 is without a doubt the best sleeping bag that I have ever slept in.
I understand though that many hikers and travellers are looking for something a little cheaper – The Dolomite 30 Sleeping Bag is a steal at $99 and if you don't mind the extra weight it's a solid choice and is definitely one of the greatest backpacking sleeping bags.
For the best ultralight sleeping bag on the market, the Sea to Summit Spark Quilt is a great option.
If you are off camping, don't forget to take a headlamp and get yourself kitted out with a good backpacking tent and a camping backpack to keep everything organised.
Oh, and check out the backpacking packing list if you are hitting the road, and unsure of what else to pack in your backpack as well as our how to pack a backpack guide for tips and tricks.
Have we missed anything out of our backpacking sleeping bag reviews? Let us know below.
Happy traveling!
---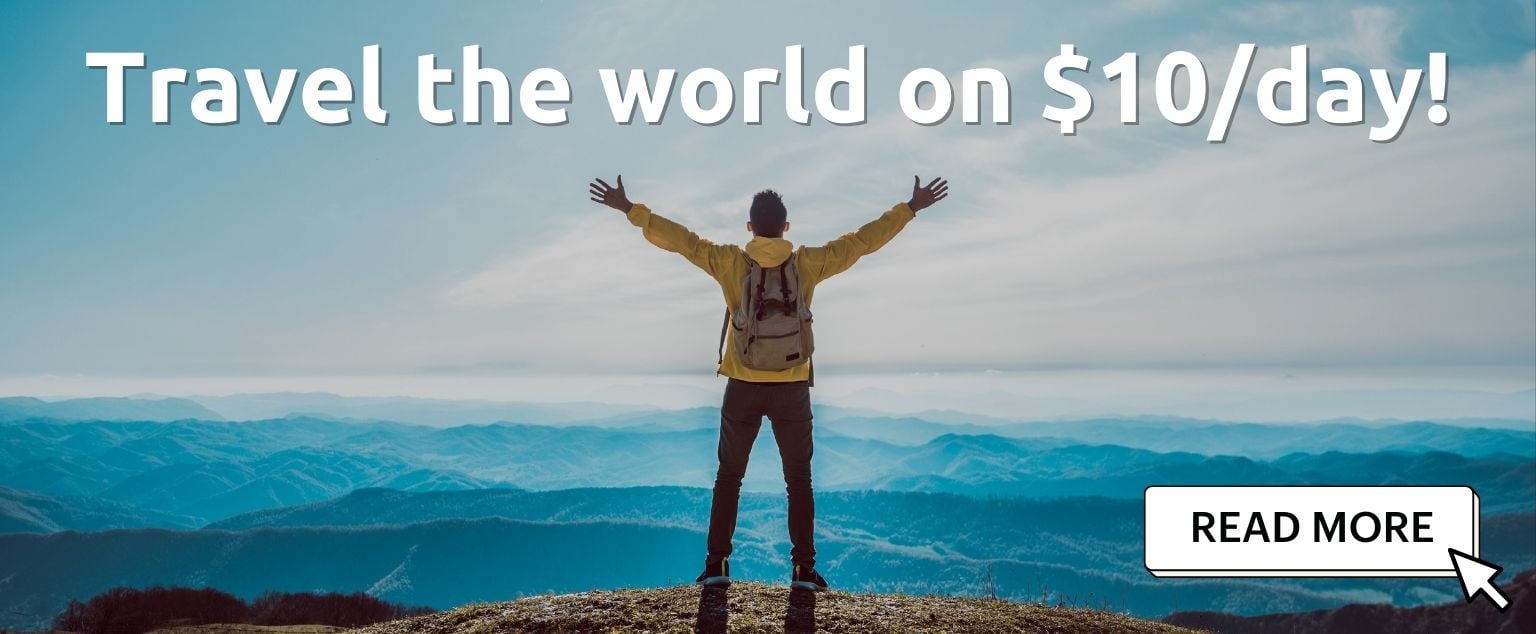 And for transparency's sake, please know that some of the links in our content are affiliate links. That means that if you book your accommodation, buy your gear, or sort your insurance through our link, we earn a small commission (at no extra cost to you). That said, we only link to the gear we trust and never recommend services we don't believe are up to scratch. Again, thank you!