But first, coffee.
Does this saying ring true for you? If yes, then an awesome travel coffee maker is the best purchase a caffeine-loving nomad like you could make. Not only will a portable coffee maker save you money by letting you ditch your dependence on café-purchased coffee drinks, but you can be sure to always have a cup of joe within reach even in the most isolated of destinations.
I personally never travel (if I can help it) without some sort of coffee making device.
So if you're in the market for the perfect portable coffee maker – whether you're an espresso, press, or drip brew enthusiast – you'll get all the information you need with this ultimate guide to finding the best coffee device that meets your needs and budget.
Let's talk coffee…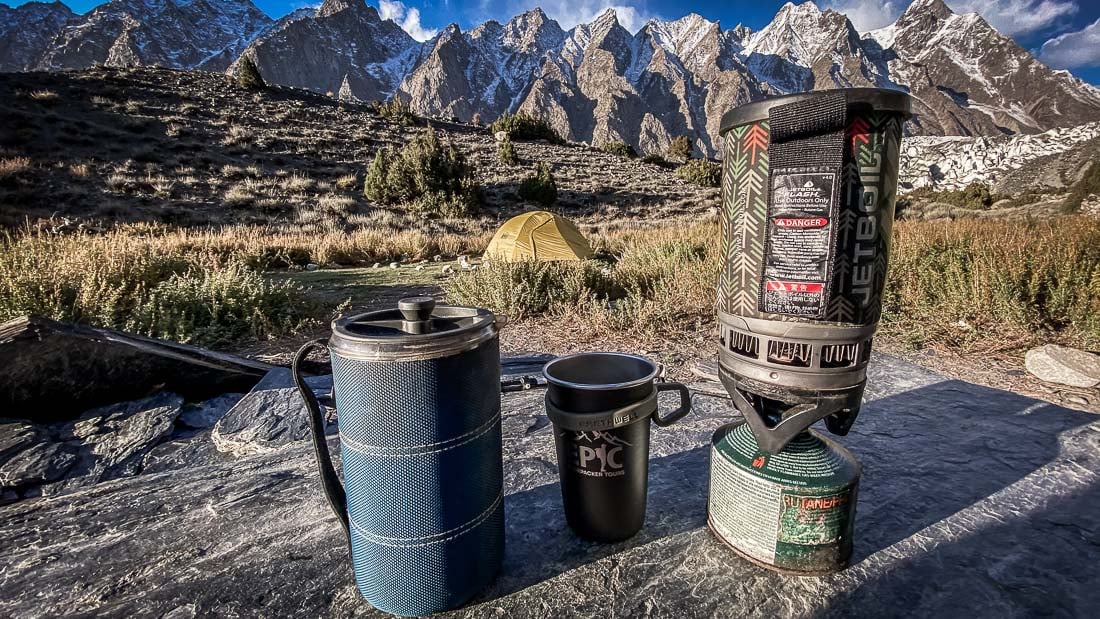 Quick Answer: These are the Best Travel Coffee Makers of 2020
Overall Best Travel Coffee Maker
Overall Best Travel Coffee Maker
GSI Outdoors Java Press
> $$
> Mug-within-a-mug construction
> Spill-resistant lid
Best Portable Travel Coffee Maker
Best Travel Coffee Maker for a Single Cup
Best Portable Coffee Maker for Large Groups
Best Portable Coffee Maker for Solo Travel
Best Travel Coffee Maker for Espresso Lovers
Best Travel Coffee Maker for a Jetboil
Best Portable Coffee Maker for Backpackers
Best Car Camping French Press
Best Travel Coffee Maker for Commuters
#1 – Overall Best Travel Coffee Maker
GSI Outdoors Java Press is our top pick for the best travel coffee maker
Specs
Liquid capacity: 30 fl.oz.
Best Use: Camping
Style: French Press
Weight: 10.3 oz.
We love this thing! In fact, Epic Backpacker Tours (a TBB partner company) uses these for our group tours. It's not the smallest unit, but it makes consistently delicious fresh-brewed coffee that you can count on to get your day started right.
The GSI has a silicone-ringed plunger and double-walled construction that not only keep your brew hot during and after brewing but also makes for a very durable java press. It's perfect as an everyday coffee maker for digital nomads or for long camping trips. Getting your coffee fix – and having enough to share with friends – has never been easier.
Pros
Large enough to serve 2-4 people
Press mechanism produces very little coffee silt
Cons
Too bulky for shorter backpacking trips
#2 – Most Portable Travel Coffee Maker
The best portable coffee maker on our list is Sea to Summit X-Brew Coffee Dripper
Specs
Best use: Backpacking
Style: Drip
Weight: 4 oz
Volume: 16.2 fluid oz.
Materials: Food-grade silicone/nylon/stainless steel
Collapsible, eco-friendly, light, economical…just about everything a java lover needs for the trails. While not ideal for brewing coffee for a whole group, you can count on a tall, 2-cup brew just by using coffee grounds and hot water.
Another plus is that it's made from food-grade silicone and has a reusable stainless steel double-mesh filter so there's no need for paper filters – less to carry, less waste. It fits comfortably on most mugs and wider water bottles for enjoying warm coffee on-the-go.
Sometimes the best travel coffee makers are the simplest.
This unit is perfect for ultralight backpacking.
Pros
Lightweight and minimally designed for maximum utility
No paper waste
Budget-friendly
Cons
Does not work well with very fine coffee grounds
#3 – Best Travel Coffee Maker for a Single Cup
Top pick for the best coffee maker for a single cup is AeroPress Go Travel Coffee Press
Specs
Liquid capacity: 8 fl.oz.
Best Use: Camping
Style: French Press
Weight: 11.5 oz.
You'll love how versatile and convenient this travel coffee maker is. It effortlessly brews a delicious cup of espresso, cold-brew or American style coffee. Not only that, but it's designed as an all-in-one mug and carrying case that makes it ideal for efficient portability.
Filters are needed; 350 paper micro-filters are included. This makes it easy to use and clean. All you need is some hot water and within 1-2 minutes, you have a delicious cup of coffee to kickstart your morning.
To have the freshest coffee possible, we also recommend purchasing the GSI Outdoors Java Mill to go with the AeroPress. The java mill features an adjustable and lightweight conical burr grinder that packs down easily and lets you have a high-quality cup of coffee every time. It's the ultimate travel coffee power duo for one!
Pros
Easy to clean
Built-in drinking cup
Portable and lightweight
Cons
Not enough for those that want more than 8 oz at once
#4 – Best Portable Coffee Maker for Large Groups
GSI Outdoors Glacier Stainless Steel 14-Cup Percolator is one of the best travel coffee maker for a large groups
Specs
Liquid capacity: 112 fl.oz.
Best Use: Camping
Style: Percolator
Weight: 2 lbs. 2 oz.
Made of high-grade stainless steel, this durable coffee maker is perfect for brewing a perfect cup of joe for every member of your camping posse. It's designed to be used on a camping stove or hung over a campfire for a delicious pot of coffee every time.
The GSI Outdoors Percolator will brew up to 14 x 8 oz. cups of coffee to accommodate the caffeine needs of a large group of super-sized needs of a smaller group all in one batch. Because of its larger size, it's preferred by trailer campers or for campers who take longer trips and are used to hauling plenty of equipment.
Pros
Sturdy stainless steel design will last a long time
Glass knob lets you assess the coffee's strength
Easy to clean
Cons
Doesn't fit stably on all camping stoves
Want to save the world?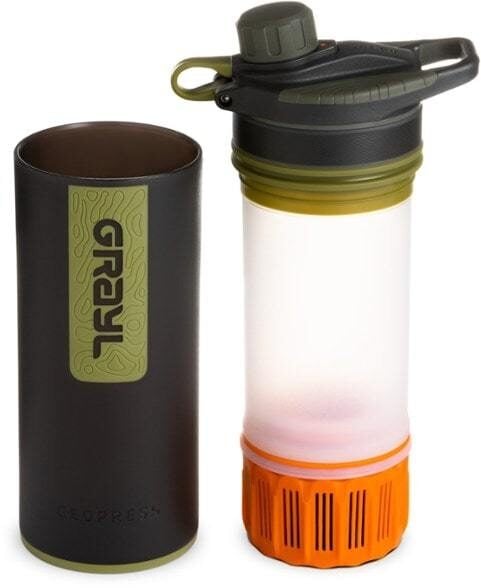 Single-use plastic bottles are a huge threat to Marine Life – Be a part of the solution and travel with a filter water bottle.
The GRAYL GEOPRESS water bottle is the ONLY all-in-one filter water bottle setup you'll need. Whether you need to purify the water from a hostel sink in Kathmandu or a stream trickle in the Andes, the Geopress has got you covered.
Read our full review of the GRAYL GEOPRESS!
#5 – Best Portable Coffee Maker for Solo Travel
Meet the best travel coffee maker for solo travel: AeroPress Go Travel Coffee Press
Specs
Liquid capacity: 8 fl.oz.
Best Use: Camping
Style: French Press
Weight: 11.5 oz.
As a solo traveler, going to a cafe for your morning cup of coffee can be a regular part of your travel schedule. But, if you're camping in a remote location or just maximizing the idea of solo time, a Go Travel Press is the perfect solution for getting your coffee fix – anywhere, any time.
Weighing only 11.5 ounces, it's a breeze to pack away and to make one of your travel gear essentials. And no need to take up extra packing space with a mug because the AeroPress has a drinking cup built-in that also serves as a carrying case. Just add hot water to coffee grounds, drink, and go. Cleaning requires just taking out the filter and a quick rinse – it's a solo travelers' coffee dream!
The Aeropress is a staple in the Digital Nomads' tool kit.
Pros
Very portable and lightweight
Built-in drinking cup/carrying case
Cons
Limited to brewing 8 oz of coffee in one batch
#6 – Best Travel Coffee Maker for Espresso Lovers
Our top pick for best travel coffee maker for espresso lovers is GSI Outdoors Mini Espresso Set
Specs
Liquid capacity: 2.5 fl.oz.
Best Use: Camping
Style: Espresso
Weight: 11 oz.
If you're all about espresso for your caffeine fix, the GSI mini espresso set is a godsend for travel. Lightweight, portable, and easy to use, this little travel kit includes everything you need for the perfect serving of espresso.
The stainless-steel, mini stove-top espresso maker includes a double-wall stainless-cup that makes an on-the-go coffee supply that much easier. Want your espresso pronto? All it takes is 90 seconds to have a 2.5oz double shot ready to go. Rinse, disassemble and pack up into its compact case – it's that easy.
Pros
Ultra-lightweight and portable
Cup and espresso maker parts disassemble and fit into a compact carrying case
Made of durable stainless steel
Cons
Limited to brewing just one 2.5 oz of espresso in one batch
#7 – Best Travel Coffee Maker for a Jetboil
Jetboil Grande Silicone Coffee Press is one of the best travel coffee maker for a jetboil
Specs
Best Use: Backpacking
Style: French Press
Weight: 1.5 oz.
If you have a Jetboil and want the option to brew the best coffee possible while traveling, take a look at the Jetboil Grande coffee press. This press is compatible with Jetboil MiniMo, SUMO and SUMO TI cooking systems.
Go ahead and ditch the instant coffee and give yourself the luxury of fresh ground coffee no matter where you are. With the improved silicone ring that makes for a secure fit, keep coffee grounds out and enjoy a flawless cup of brewed coffee.
Learn More: Jetboil Flash review
Pros
Detachable stem and basket for compact packing
Easy clean up
Less residue than previous version
#8 – Best Portable Coffee Maker for Backpackers
Our pick for the best travel coffee maker for backpackers is GSI Outdoors Ultralight Java Drip Coffee Maker
Specs
Best Use: Backpacking
Style: Drip
Weight: 0.4 oz.
When it comes to coffee-making essential simplicity, it doesn't get more minimal than this. The GSI java drip is simply a drip cone with legs that clips onto any mug of your choosing (mug is not included). If you're willing to carry some coffee grounds in your pack, this near-weightless coffee maker is the best way to get a fresh cup of brew on the trails, no matter how remote you are.
The GSI Outdoors Ultralight is the perfect solution if all you're looking for is an inexpensive, portable way to make a good cup of coffee in the morning. If instant coffee doesn't quite cut it for you, give this setup a try for your next backpacking venture. You won't be disappointed.
Pros
Doesn't require a filter
Packs down flat for ultimate portability
Can work with most mugs and wide-mouth bottles or flasks
Inexpensive
Cons
Drip process can be slow
Plastic and not ultra-sturdy/durable
#9 – Best Car Camping French Press
The best car camping french press is Snow Peak Titanium French Press
Specs
Liquid capacity: 24 fl.oz.
Best Use: Camping
Style: French Press
Weight: 6.3 oz.
The Snow Peak French Press is the way to go if you're looking for a high-quality stainless steel coffee press that's neither too big nor too small while being lightweight and easy to use. You'll be sure to get 24 ounces of hot, great-tasting coffee every time. Say goodbye to instant coffee and wasteful paper filters.
Weighing 6.3 ounces, it's heavier than most solo-cup portable coffee makers but is plenty compact and lightweight for most camping trips. It's perfect for car camping stoves and will deliver the fresh brew taste you crave on the road.
Pros
Compact stainless steel design
Includes pot, lid, plunger, and carrying bag
Cons
Works better by pouring hot water into versus boiling water directly into the pot
#10 – Best Travel Coffee Maker for Commuters
GSI Outdoors Commuter Java Press is our pick for the best travel coffee maker for commuters
Specs
Liquid capacity: 15 fl.oz.
Best Use: Commuting
Style: French Press
Weight: 9.6 oz.
If a coffee maker that fits into your cup holder sounds ideal to you, the GSI Commuter java press is for you. Simply use 2oz of ground coffee, add 8oz hot water, wait a few short minutes, push the press, and – voilà – you have hot, freshly-brewed coffee to go!
No need for a plunger like you'd find in traditional java press coffee makers – its mug-within-a-mug construction allows for a press-and-drink process that makes caffeination while commuting a breeze. The flip-top, spill-resistant lid makes it even more commuter-friendly.
Pros
Get a double serving of coffee in one container
Neoprene sleeve keeps coffee warm and provides insulation for easy holding
Non-slip base for stability and narrow enough for car cup holders
Cons
Too heavy for easy packing
How to Choose the Best Travel Coffee Maker
We've provided the above travel coffee maker reviews to help you in your search for the perfect coffee maker, but if you want to keep shopping around, here are some things to know and pointers on how to choose the best travel coffee maker.
Size
The first question to ask yourself is: how much coffee do I need? Second question: how many people do I need to provide coffee for? If you're a solo traveler, getting a large travel coffee maker likely isn't necessary. If you're traveling in a big group – and everyone wants to enjoy their cup of coffee at relatively the same time – a small coffee maker won't cut it. Brewing multiple batches to accommodate everyone will quickly become cumbersome and annoying.
Consider not just the size of the coffee maker itself but also the brewing capacity and weight. Obviously, the larger the contraption, the more it will weigh and the bulkier it will be to pack away. For a backpacker, this weight and space make a considerable difference. Whereas, for car camping, the weight of a medium-to-large travel coffee maker that has greater brewing capacity won't be as big of a deterrent.
Quality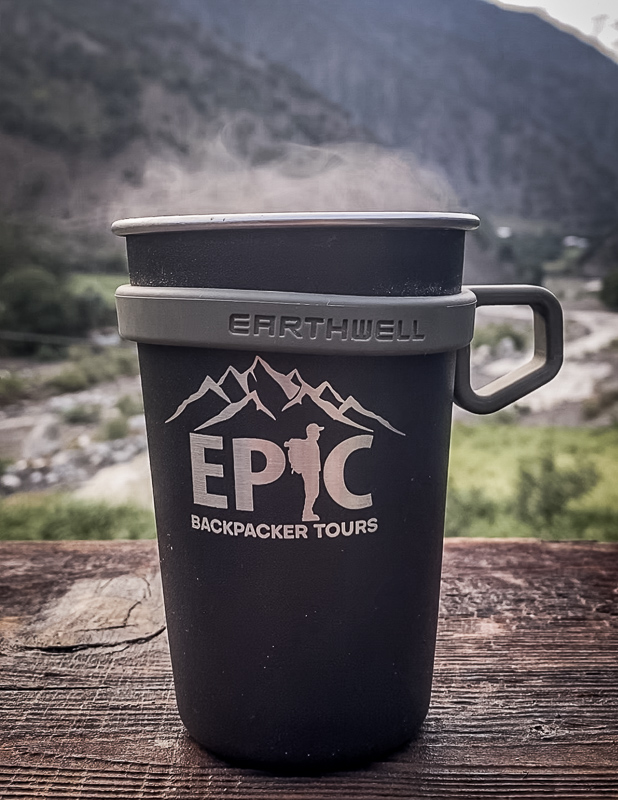 When choosing the best travel coffee maker for you, it's important to consider how picky you are about the taste and quality of your coffee. Drip units, espresso makers and French press produce a cup of coffee that tastes different – even if you use the same type of coffee. The quality of the beans matter too, but not all coffee makers yield the same results.
Typically, a drip unit makes a more basic, less-intense cup of joe. French press and espresso machines usually result in a tastier and overall better quality cup of coffee. Consider what you prefer and what you're used to and choose your coffee maker style accordingly.
Toughness
How well is the device going to do after long-term abuse on the road? Consider how long you want (and need) your travel coffee maker to last and what you're using it for. More economical coffee makers are usually plastic or include plastic parts – and are less durable. While stainless steel units are tougher and will last longer.
If you're a backpacker that needs a coffee-making unit that will fold down and won't break the bank, expect to get a plastic device that will do the trick for that trip. Whether or not it survives the abuse on the road can't be guaranteed. For camping nomads that enjoy regular and frequent camping trips, investing in a tough, durable stainless steel travel coffee maker is probably the better way to go.
Parts vs Simplicity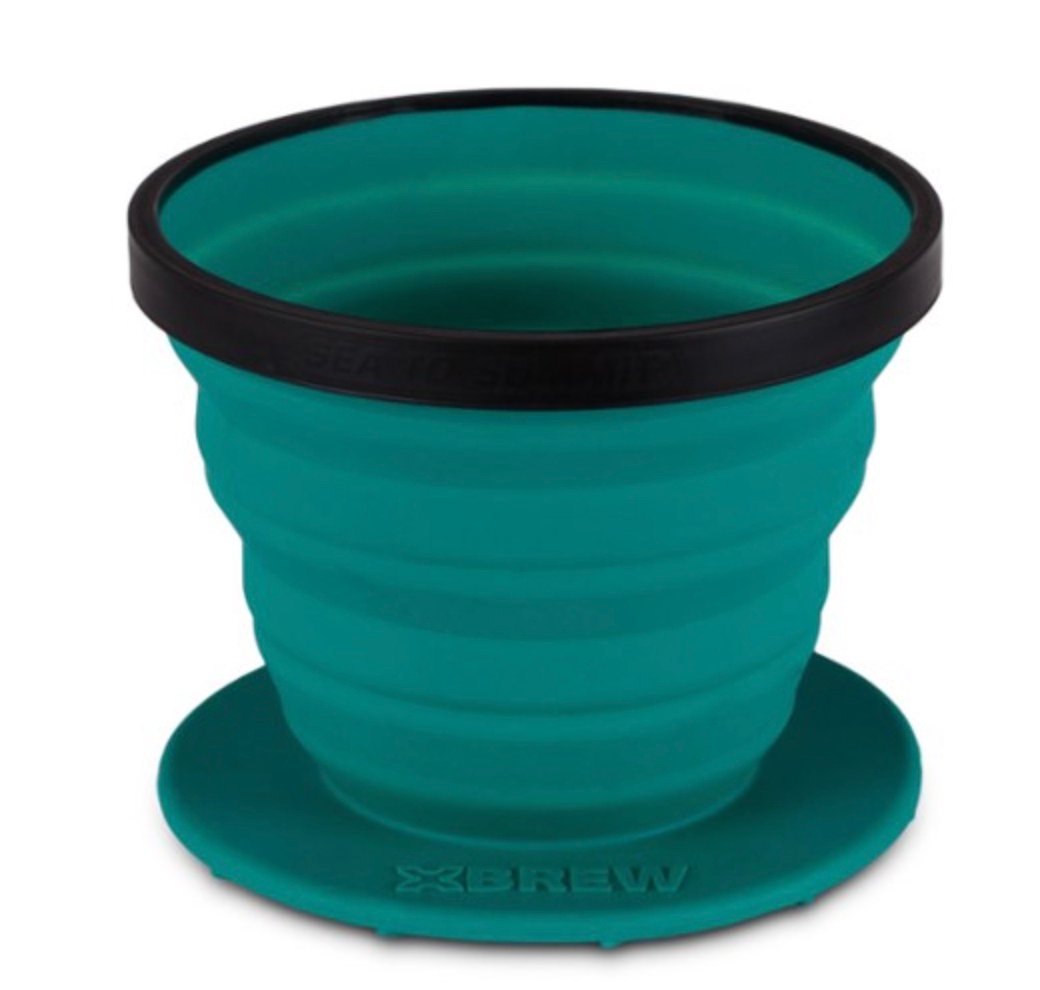 Also consider this question: does the device have a lot of parts that could break? If so, can they be easily replaced? The more parts, the more likely your chances of losing or breaking a piece while on your travels.
If you're really attached to your travel coffee maker – and finding replacement parts is fairly quick and simple – then the extra hassle of multiple parts could be worth it. But, if your travel style tends to be less organized and rugged, you should consider getting a simple device with as few extra parts as possible.
Eco-Friendly
Does the device require filters? Many espresso units do not require filters and some coffee presses have a silicone filter built-in – however – some do require paper filters. Be sure to know what the requirements are. Take the opportunity to bash the Keurig/Nespresso pods as an extreme environmental danger.
The more dependence your unit has on paper filters, the more wasteful and less eco-friendly it is. A device that has a reusable filter – or doesn't require a filter at all – is much better for the environment. As a nature-loving nomad, leaving the smallest carbon footprint possible is always more ideal.
Price
How often will you use your travel coffee maker? If the answer is often, then buying a high-quality one – or the one you really want – will be worth splashing out a little extra cash for. Most travel units aren't that expensive to begin with, and getting the quality cup of java you need to kickstart your travel days the right way will be worth it.
Also, think about the money you save by making your own coffee while traveling versus buying individual cups at cafes. With extended and frequent use, the unit will eventually pay for itself.
Power vs No Power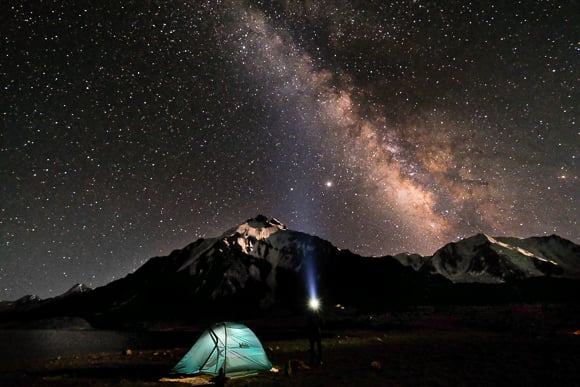 Typically, one should always go for a travel coffee maker that does not require electricity – that is why there are no powered coffee makers on our list. This is especially true for backcountry campers or backpackers who enjoy spending time the most remote places possible. Not having to find or bring along an extra source of electricity to power up your coffee machine will save a lot of hassle.
There are plenty of good travel coffee makers that produce delicious, high-quality coffee that don't require power. We highly recommend sticking to those when making your final selection.
Final Thoughts on the Best Travel Coffee Makers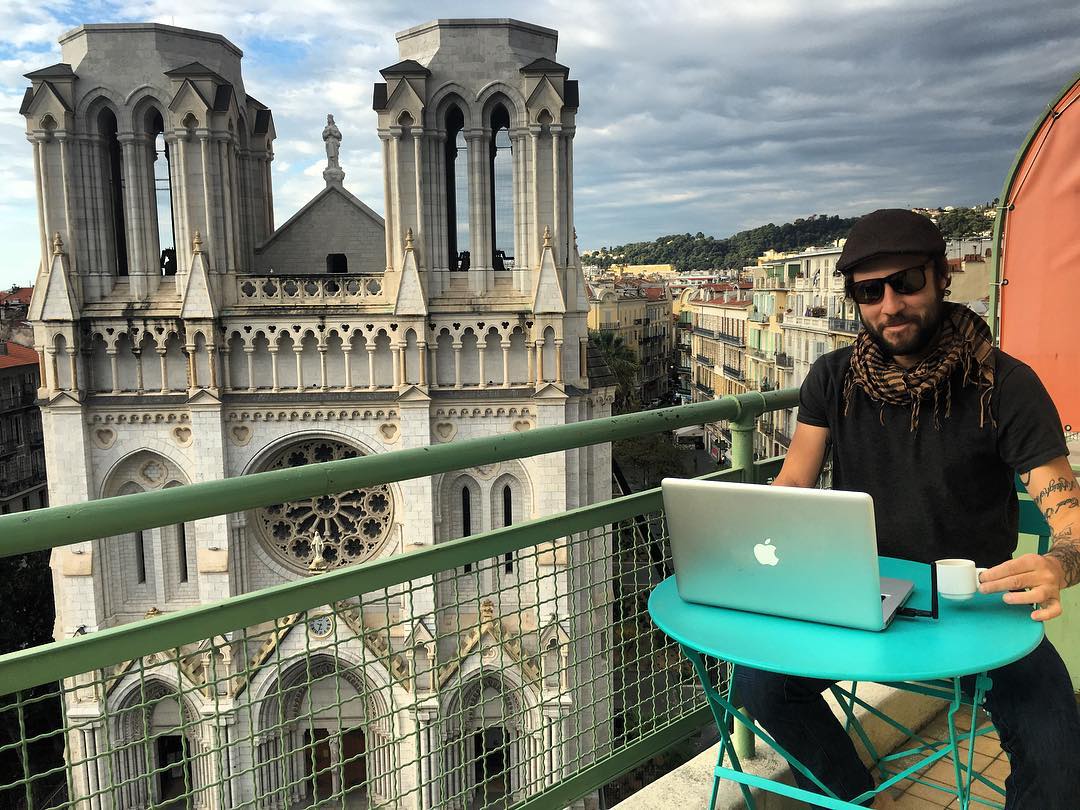 That's it, java lovers! This is all you need to know about the best travel coffee makers out there and what you need to know to find the right portable coffee maker for your adventures. As you can see, there are many styles, sizes, and features available when it comes to brewing a great cup of coffee while on the road. But getting your necessary coffee fix is important, so be sure to weigh all your options.
Remember, not everyone has the same opinion about what makes the "perfect" cup of coffee – so carefully consider your own personal tastes, travel style and needs.
We recommend using your new portable coffee maker with fair-trade, organic coffee :).
---
Find out how YOU can support the site.
We work hard to put out the best backpacker resources on the web for free! It's all about helping out our tribe of awesome backpacker readers (that's you!). Please visit the link to find out how you can help keep the site going 🙂
For the sake of transparency, some of the links in our content are affiliate links. This means that if you book your accommodation, buy a piece of gear, or sort your insurance through our link, we earn a small commission at no extra cost to you. We only link to stuff that members of the Broke Backpacker team has actually used and never endorse products or services that are not up to scratch. Thanks for your support!