I consider myself to be somewhat of a bag connoisseur. After 60+ countries and over half a decade of non-stop travel I've come to one sad realisation… there isn't a 'perfect' bag, but there are some that come damn close!
Wanna know why the perfect bag doesn't exist, well, we all have different needs and wants when it comes to organisation, storage solutions and ultimately style. It's near on impossible to cover all bases for everyone but there are times when you come across such a well-designed piece of travel gear that you have to just take a pause and appreciate the thought that's gone into it.
That's where the AER Travel Pack 3 comes it. This bag might be aimed at the carry on crowd, but its versatility means its adaptable for all sorts of different needs. Its sleek and stylish design, cleaver organisation solutions combined with its tough exterior and secure pockets for valuables make it a super flexible option.
Whether you're jetting off for a long weekend in Paris, needing a bag for the office that can carry your extracurricular gear or you're just a super lightweight traveller looking for an epic organisation for your longer-term trip. This might just be the bag that meets all your needs and more.
The AER Travel Pack 3 skirts dangerously close to the holy grail of backpacking needs, it's got heaps of storage, it's incredibly organised and it's not too bulky either.
Want to know more… of course you do! Well, let's get this AER bag review going! 
Quick Answer: AER Travel Pack 3 Specs
Price: $230.00
Volume: 35 litres
Weight: 3.7 lbs
Material: 1680D Cordura Ballistic Nylon Exterior
Laptop Compartment: Yes (Padded, Suspended, fits up to 16″ Laptop)
Carry-On Compliant: Yes
Winter is coming… WARM UP!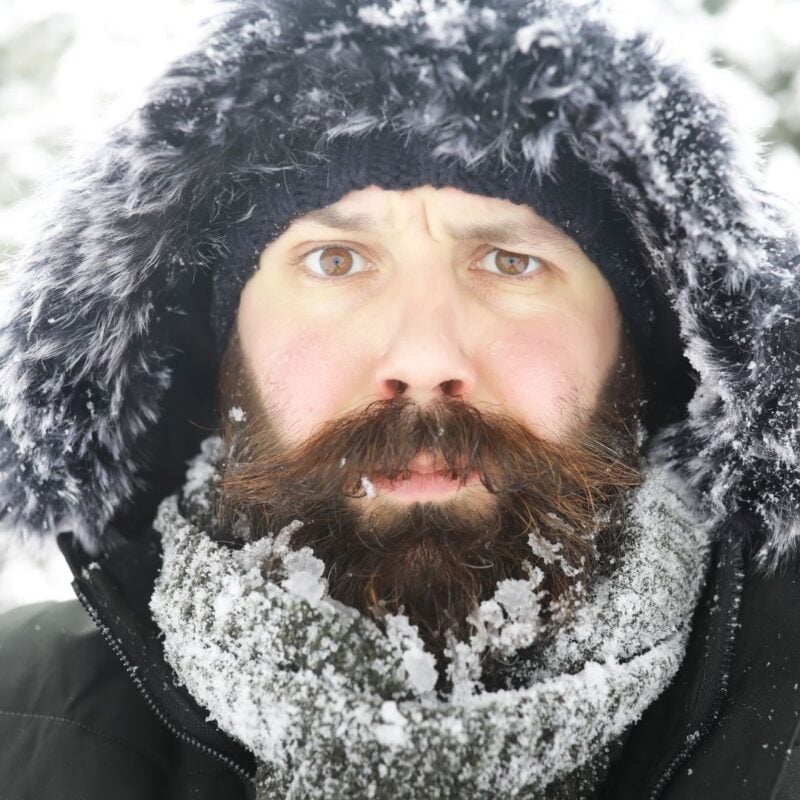 Get up to 50% OFF when shopping gear for the winter on REI.
Warm up for the holidays and SAVE on outdoor gifts all the way through Dec 18!
View on REI
Aer Travel Pack 3 Review: Key Features and Performance Breakdown
What I love about this bag (apart from the organisation features that I'll mention later) is just how versatile it is. The 35L storage covers so many different applications and that's where this bag excels.
With its suitcase-style opening and storage for things like a laptop, its primary design is to be used as a carry on bag that can easily facilitate one bag travel. With its compact design that's deceptively roomy and secure compartments, it can easily replace an unwieldy suitcase and backpack combination. It means you can move quickly through the airport and keep all your gear in one place.
Given its slightly high price tag, you'll be please to know the uses for this bag don't end there.
The lowkey sleek exterior means it fits whatever situation it finds itself in, all without making a fuss. Whether you're hitting the office or trying to keep a low profile in a South American bus station, the tough but stylish exterior fits the bill.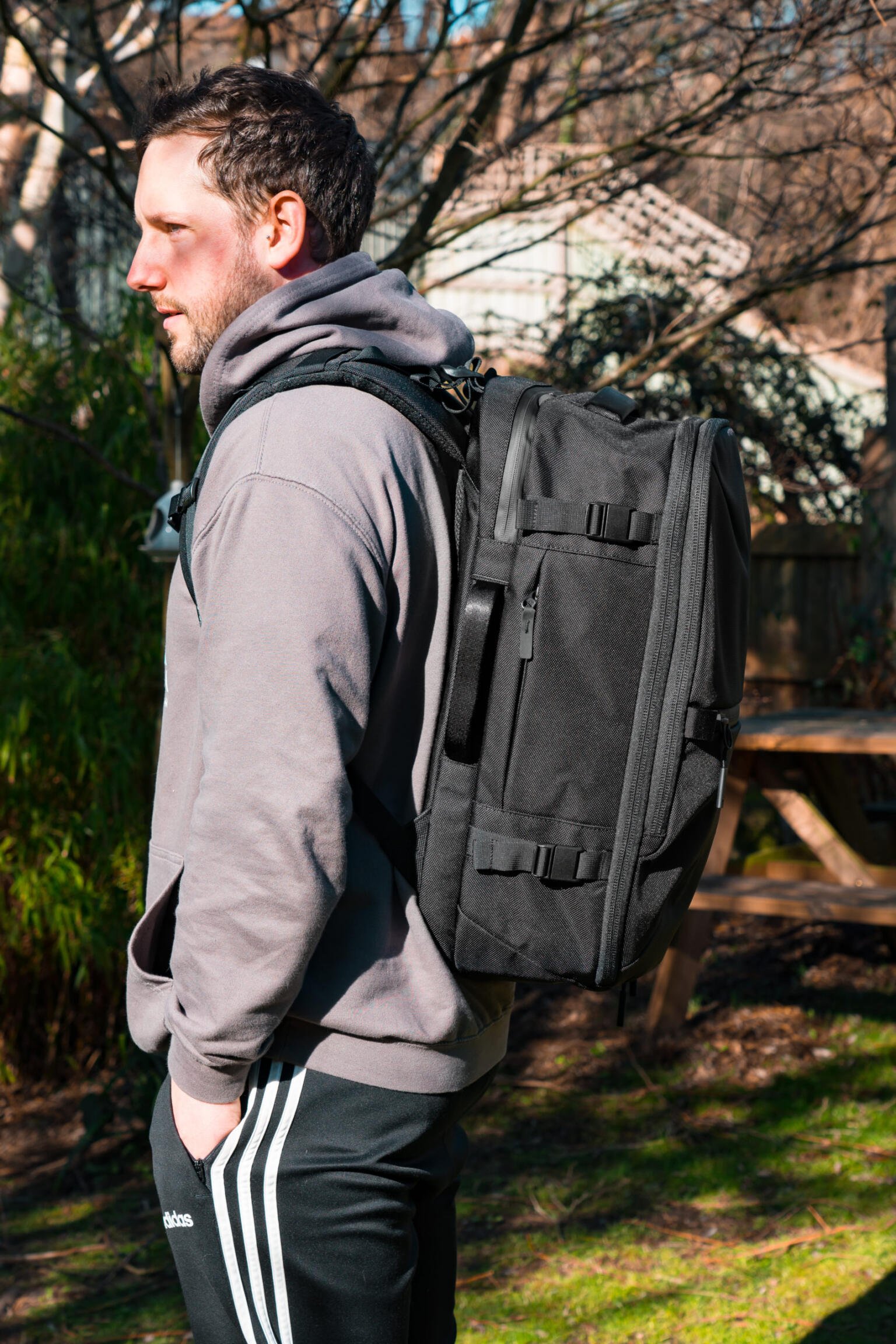 The carry on use kinda cuts through the middle of the extremities that this bag can be used for.
On the one hand, if you've got a job where you need to carry around a lot of gear, think cameras, laptops, hard drives etc etc then you can fit a mini office in this thing without looking like a bag lady! If you're planning on hitting the gym after the office then you can easily fit a change of clothes, trainers and other gear alongside your laptop and documents.
Digital nomads carrying a decent amount of work gear to and from all those Canggu cafes before the obligatory yoga session will find this bag particularly useful as an everyday carry backpack. Hell, you can even be one of those people who brings a printer to Starbucks with this thing!
Those looking to go super lightweight when it comes to backpacking might also be interested in this bag. If you get minimalist on your kit then there's no reason you can replace your massive pack with this more compact number. Whether you combine it with a smaller day pack or travel purse, its space and organisation mean unless you need any specialist equipment, you could easily backpack around South East Asia with this thing!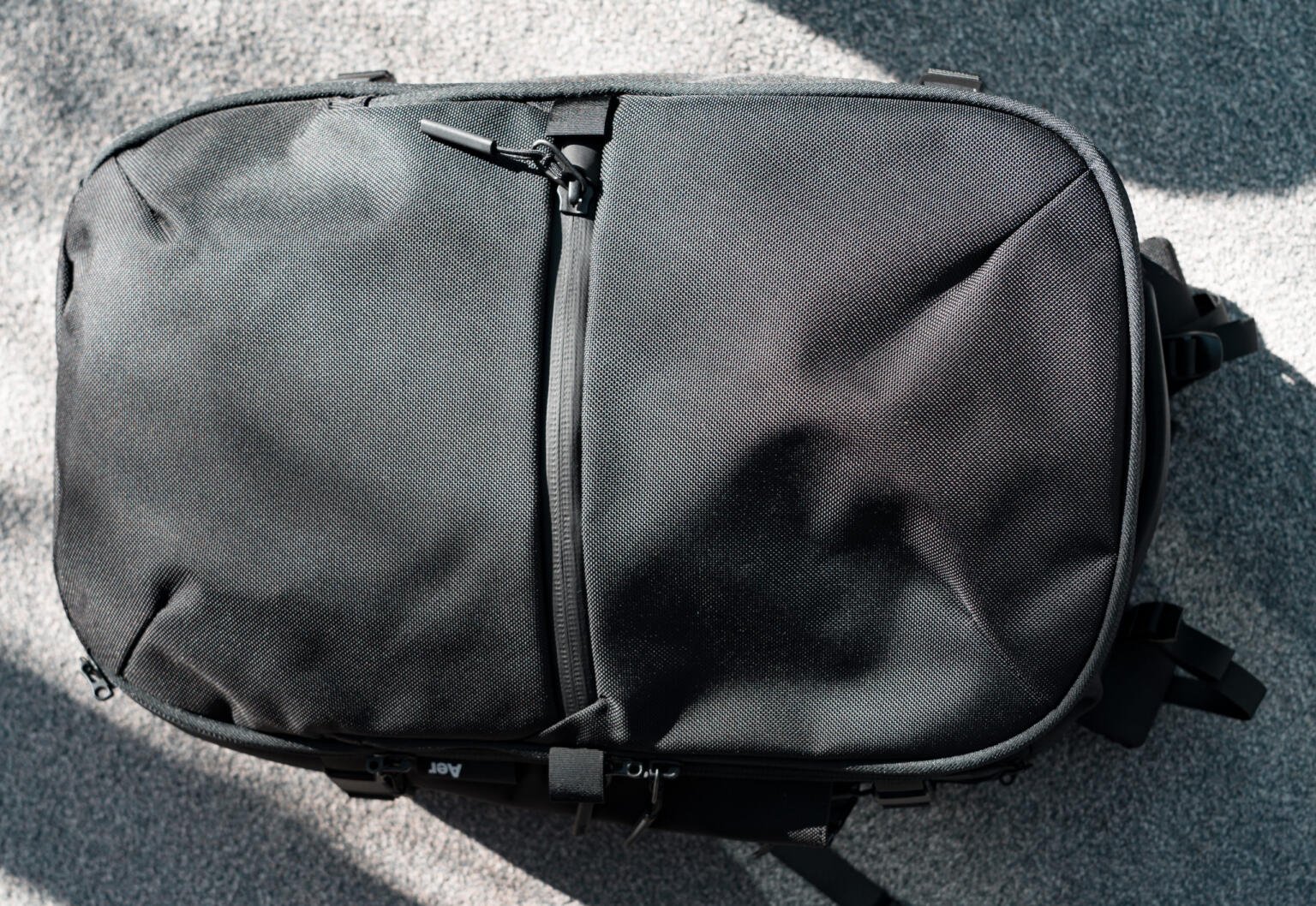 The Interior
This bag is a lot like me! The simple, compact and unassuming exterior hides a myriad of complex features and stores a whole load more baggage than it would appear. But unlike me, this bag has got its shit together and is organised af!
The interior isn't just one compartment, in fact, one of the features me and my OCD love about this bag are the different and divided sections, each of which has a particular use and features.
One of the major criticisms I've had of my other large packs before, including my Osprey Fairpoint that I've used for years, is that it's pretty much just one massive area with very little in the way of internal organisation. Well, now my bag in shining armour has come along to settle my crazed OCD mind!
So, I've broken things down into sections to make it easier to explain!
Laptop Compartment
The first section comes right at the back with a water-resistant zippered laptop compartment. This area opens just at the top to make the compartment as secure and covert as possible.
It's actually freaking massive, I've honestly never seen a laptop compartment as big as this one! In the past, I've travelled with a 15″ Macbook inside a Thule case and it's been a tight squeeze in most bags. Here my new 14″ laptop in a slightly smaller case fit easily, like with so much room to spare! What I love is that my laptop isn't right at the top of the compartment where it could still get banged or make it easier to grab.
The laptop section is also divided into two with the back section being padded and held up from the bottom of the bag. This means when you set the backpack down your laptop won't hit the floor.
The division also means this space is super versatile too. You could easily fit in two laptops in here if you're super fancy like that! If you're travelling with a tablet or a designer on the road with a graphics tablet, you can fit those in here too! Otherwise, it's an ideal spot for a magazine, documents or a full-sized notebook.
Another possible use for this massive space is things like hard drives and cables, it's perfect for keeping all your tech in one place.
Safety is paramount here too. The zip is pretty heafy and is lockable too meaning you can throw the bag in the overhead compartment with no worries. Inside this section is a pretty covert zippered pocket that is the ideal place for your passport, wallet and keys too.
Laptop Compartment Score: 5/5 stars
The Main Compartment
The large main compartment keeps things pretty simple and easy to manipulate to your individual needs. This section is also lockable with some pretty beefy looking zips!
Opening like a suitcase in a clamshell fashion you can really make use of the massive space offered by this bag. Rather than a top-loader where you feel like you're just shoving your gear in, here you can really organise your stuff and have much easier access when you get to your destination too. With the strategic use of an AER packing cube or two (sold separately), the large open area can be easily organised to keep all your gear well organised.
The large section provides a lot more storage than it looks especially if you're strategic. I packed 5 t-shirts, a pair of shorts and 5 pairs of underwear and socks as well as a toiletries bag. Well enough for a weekend trip, or, let's be honest, a longer-term trip if you're pretty a minimalist traveller. It's possible to double these up and then fit a small camera bag in there too but it would be a bit tight. be careful not to pack this section out too much as it makes the other areas hard to use.
The only thing I would love to see here inside the Travel Pack is internal straps to keep everything in place and to aid compression.
Other features on the inside include a small stash pocket on the sidewall. It's primarily designed to be used to hold a hidden smart tracker in case your bag does walkabout. But in real terms, it's ideal for smaller items you don't want floating around in the main compartment like wires, hair ties, medication etc.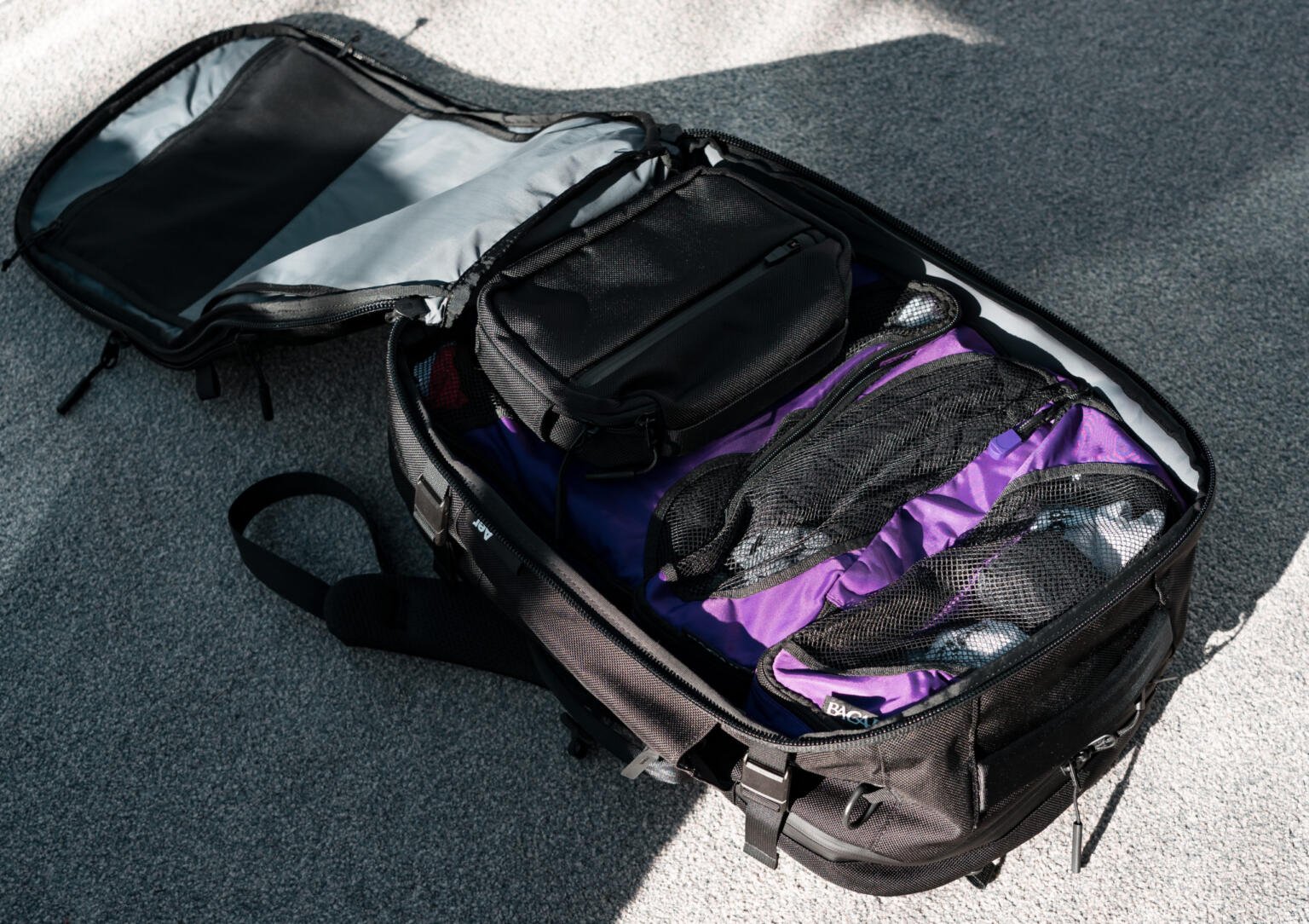 Now, I love pockets, like, I'm a proper fiend for them! So for me, I would love to have a few of these pockets dotted around on the inside just to keep things tidy. I always carry extra cables, wires and bits of crap I think I need and these would be an ideal out-of-the-way spot for them! It's one of the features of this AER travel backpack I just love.
It doesn't end there though. The large flap of the main section includes a mesh pocket on the front. It's a great spot for sanitary products, wires or maybe a torch. Again, I would love it if there were another couple of these on here, and there certainly is room, but I appreciate it being there!
Behind that is a full-length vertical pocket that covers the whole of the flap. It's a bit of an odd pocket that is maybe too big for small items that would just slide down to the bottom. It's perfect though for those documents you need to carry don't always need access to like travel insurance policies or dive journals. At a push, you could fit a small accessories pouch like a toiletries bag in here, but be sure to make sure you don't bulk it out too much.
Main Compartment Score: 4/5
Front Storage Compartment
If I thought I could do with a few more pockets on the larger section, then my worries were over once I opened this front storage compartment. I bloody love this compartment!
Here you've got a myriad of different pockets for epic organisation! You can use the zippered section to store your passport, wallet and keys if you like. The small elasticated pouches are ideal for Airpods, chargers and cables. The larger areas will easily fit things like portable battery packs and hard drives whilst you can put things like journals in the bottom. There's even a pocket for a pen!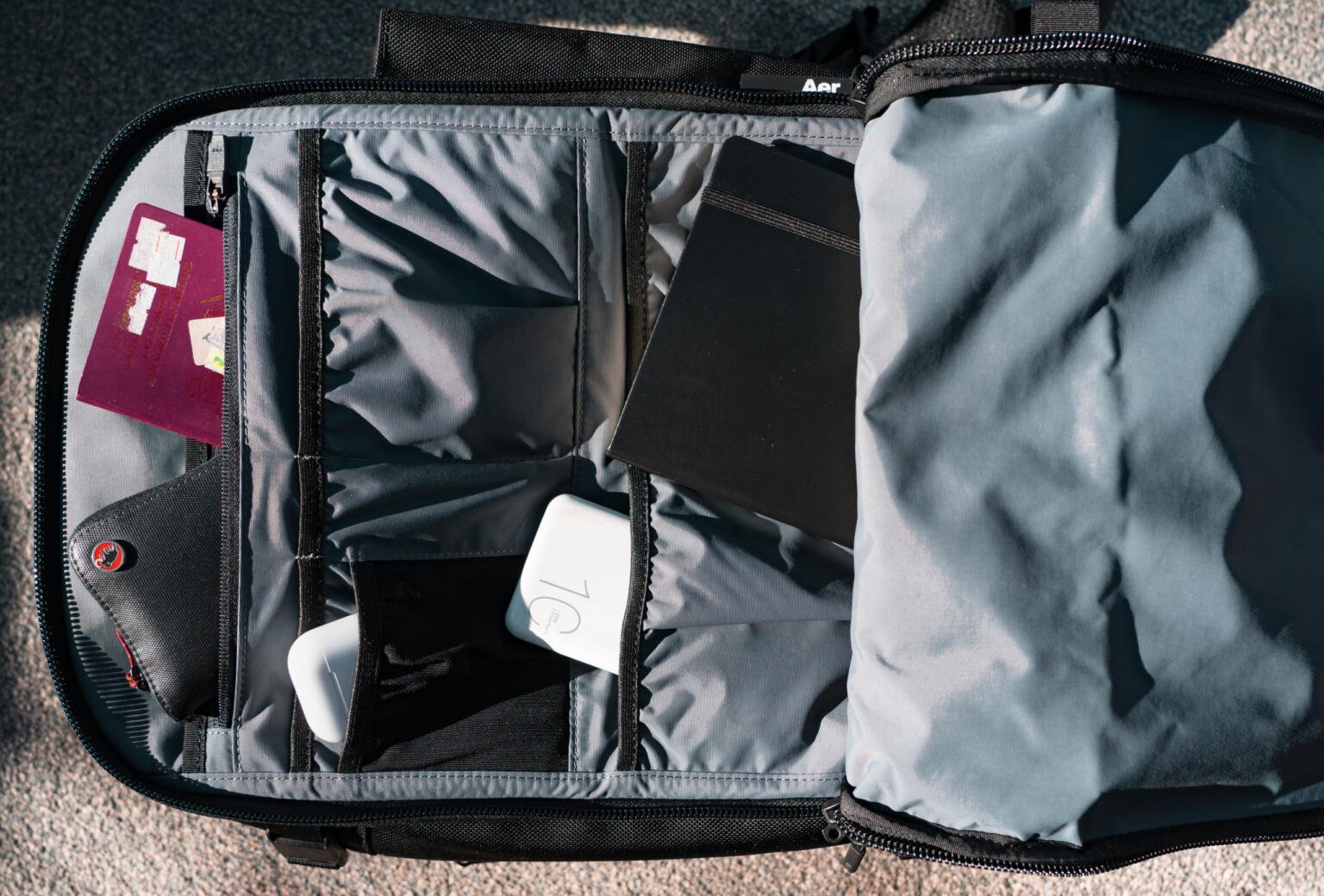 Behind all that is a large area where you can actually easily fit a laptop. Personally, I wouldn't store mine here as you've got the dedicated and better-protected area, but it goes to show what you could store here if you were feeling a bit funky! In practice, it's ideal for full-sized notebooks, magazines or documents.
Better still, this section is also lockable!! Yeah, that's three sections of this bag that you can lock, pretty sick!
Front Compartment Score: 5/5 stars
The Exterior
The exterior is pretty stylish, sleek and adaptable. It's a pack that will fit right in on the plane, at the office or on Khao San road just as well. The pack doesn't draw too much attention which is always great when it comes to keeping a low profile when you're travelling with valuables. Ok, so I do like a bit of colour but the design does mean it's great for a whole heap of different scenarios.
Pocket wise for a bag so lowkey it does actually have quick a few features.
On the front, there is a large pocket with a clip inside. I imagine the clip is designed for keys but I'm not sure I'd want my keys right on the outside of my bag. I would have prefered to have this feature in the front compartment.
However, the pocket is actually pretty big and you can fit a decent amount of stuff in there. I'd highly advise against storing anything valuable here though. It's perfectly suited for storing a book or items like tissues and sanitary products so you don't have to open the other sections, which you might have locked when you nip to the bathroom.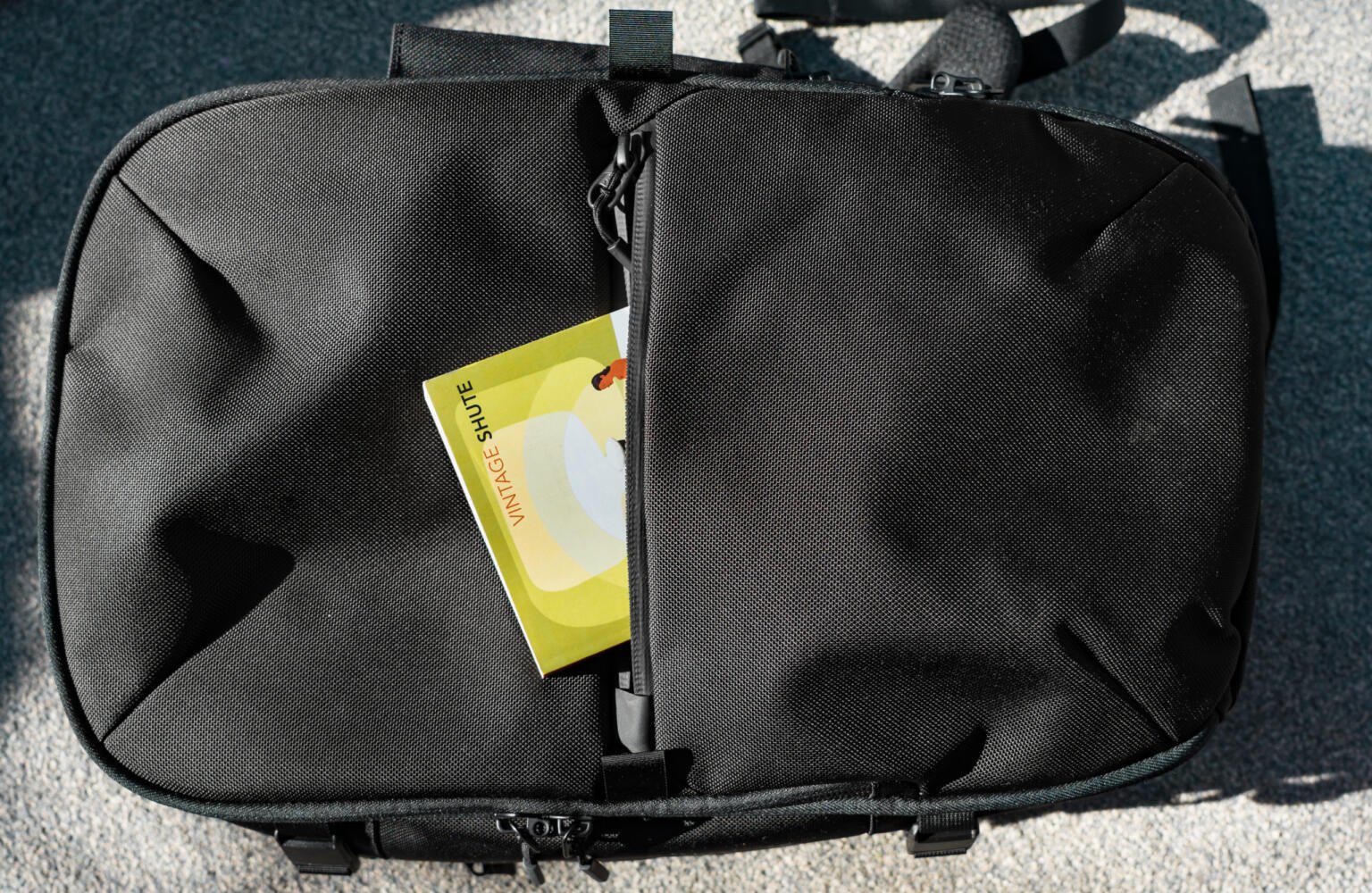 There's a side pocket too which isn't massive but again, great for a pack of tissues, pens, spare change etc. Things you want easy access to but that aren't valuable.
The top fleece-lined pocket is great for things like headphones, mints or your sunnies so they don't get scratched.
On the other side, there is an expandable water bottle holder. It's not massive but it's plenty big enough for most standard-sized refillable water bottles. There's a hoop too so you can clip your bottle with a carabiner to keep it secure. You could quite easily fit a small tripod in this pocket too and clip it on.
Another useful feature is the compression straps. There are two on each side so when the bag is full you can flatten things down, or when it's empty and you can reduce unsued space. They also come in useful if you're carrying a tripod or want to easily attach something like a travel towel or a lightweight jacket to the outside.
In addition, the pack features a pass-through strap so you can attach it securely to the top of a rolling suitcase. Personally, I don't use a suitcase when I travel but it's always nice to have additional features and functionality especially when they don't add extra bulk or weight.
Exterior Score: 4/5 stars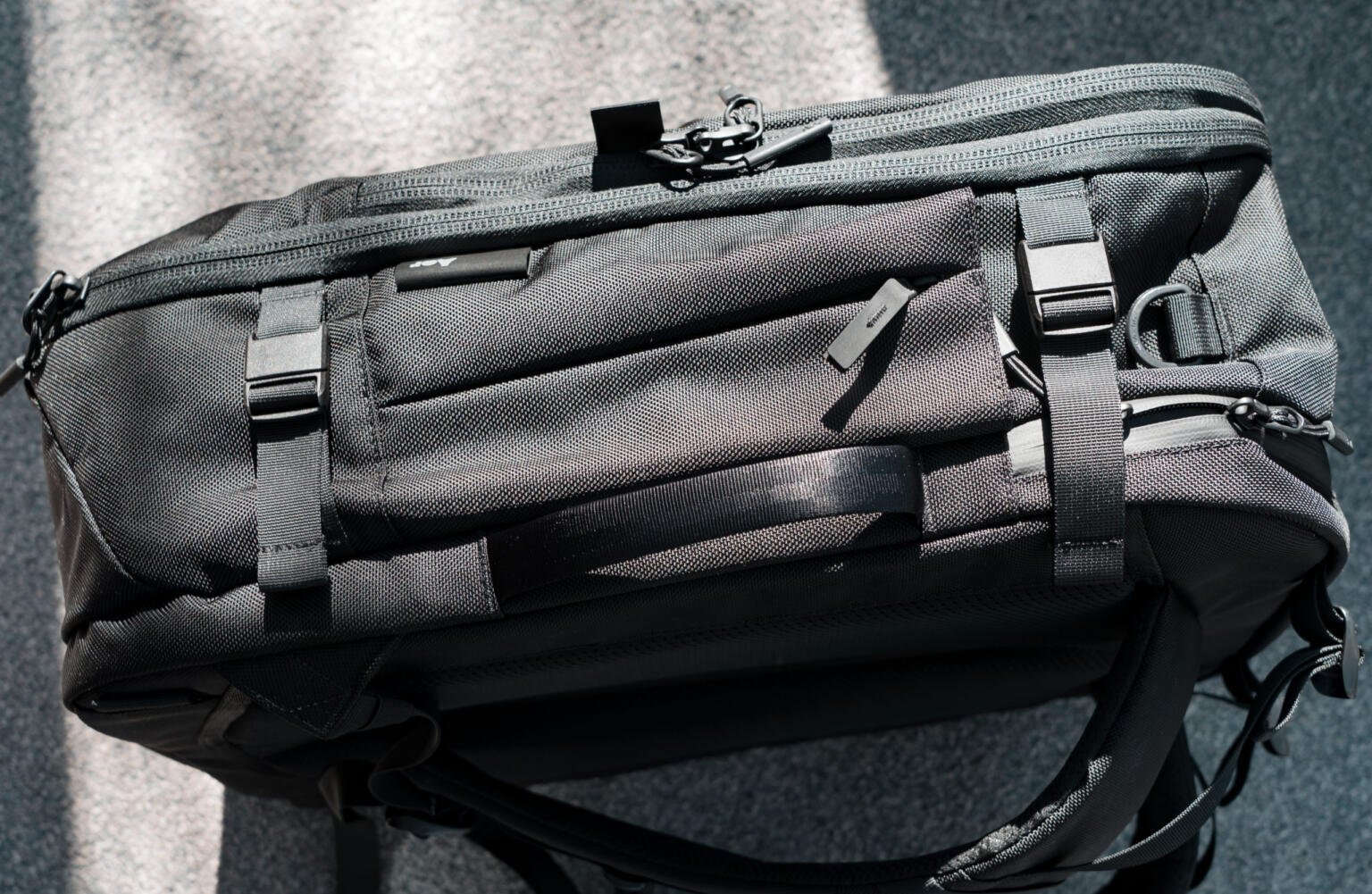 Sizing and Fit
The AER Travel Pack 3 at 35L offers great storage without feeling too bulky. Despite being a bit boxy, it still feels like it fits nicely on your back. I'm generally used to carrying around a much bigger bag for long term travel so it feels quite liberating to have such a compact bag on my back.
For such a compact feeling bag you can really fit quite a lot in not only the large main compartment but the other sections too. It's also designed to be carry on compliant which is super useful, just be sure not to pack it out too much and check with your airline before you fly.
However, in terms of everyday carry and day packs, I think if I was just heading to a cafe to work then it wouldn't be too bad, but for walking around all day it would certainly feel too big, but then again, that's not the primary use that this bag is designed for.
Another thing worth noting is that the design of the laptop compartment means that it doesn't feel too rigid against my back when my Mac is in there as it does on some other bags.
The sternum strap is great for keeping the bag close and stopping it from moving around too much, especially when it's full. But for me, you need more support when it's packed out fully and the additional waist straps (sold separately) would be a welcome purchase if you plan on carrying a decent load.
Padding wise the shoulder straps are pretty chunky and feel super comfy even when the bag is packed out. The back padding offers enough support whilst still moulding to your body. The breathable material is also great for those warmer climates.
Sizing and Fit Score: 4/5 stars
Carry Options
The bag comes with not only traditional backpack straps but handles on the top and each side. The makes carrying the bag in all sorts of different ways really easy. Sometimes it's just not convenient to have your bag on your back, you're on busy public transport or you want to look a bit more professional when you turn up for a meeting.
It also just makes generally handling the bag better, when you're picking it up from the scanner or pulling it down from the overhead compartment. Having straps on each side makes it easy wherever and however the bag is placed.
Carry Score: 5/5 stars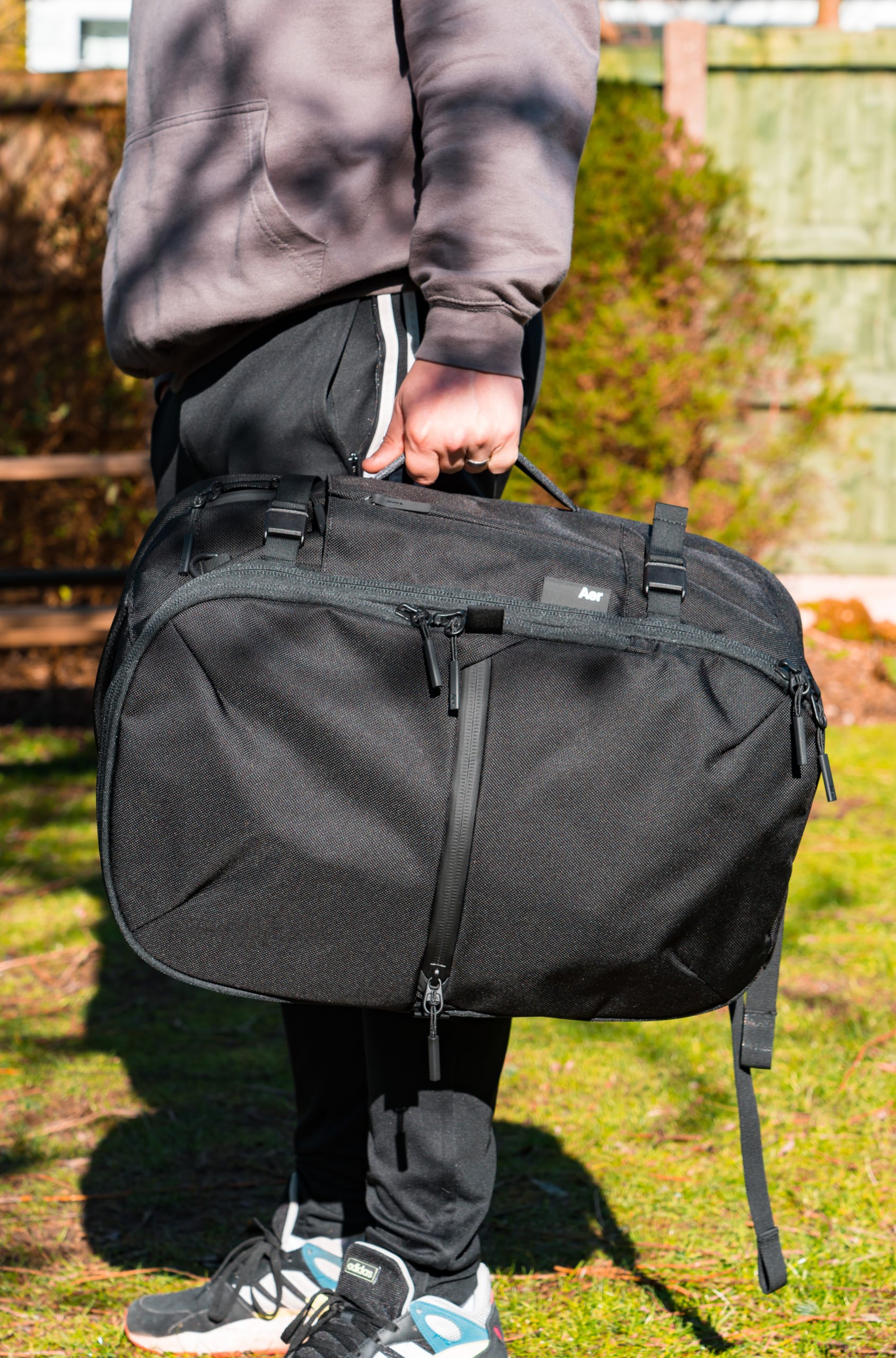 Weight and Capacity
Quick Answer:
Weight: 3.7 lbs
Capacity: 35 litres
The bag certainly isn't the lightest when it's unpacked and when it's maxed out it can start to feel a little on the weighty side.
But in all fairness that's partly in testament to the strong and hard-wearing material the bag is made from and its deceptive storage for a pretty compact backpack. With the padding on the shoulders and the added hip belt we mentioned earlier, it's still pretty comfortable.
It's also not the heaviest bag out there either, it manages to perfectly balance functionality, durability and storage.
There's also no getting around the fact that 35L of gear with a laptop and all the associated accessories are going to feel heavy after a while even if the bag was made from feathers! It's the design that's gone into things like weight distribution and padding that make it easier to handle and that's where the AER Travel Pack 3 does a great job.
Weight & Capacity Score: 4/5 stars
Toughness and Durability
The 1680D Cordura ballistic nylon material the bag is constructed from is super strong and water-resistant to boot. It's pretty heavy-duty and it makes the bag have a real quality feel to it. You really get the sense that this thing will go the distance and will stand up to some abuse!
The YKK zippers are pretty heavy duty and don't feel flimsy in the slightest. All three of the main compartments have pretty beefy lockable zippers and the laptop compartment has additional weather sealing along the zip to give you that bit more confidence when storing your electronics.
The bag isn't totally waterproof but it will certainly help keep the elements out if you're caught in a shower and the exterior will fend off the scrapes and scratches that come with travelling.
A rain cover would be a welcome addition to the bag but there is one available as an additional purchase for that extra peace of mind.
Toughness Score: 4/5 stars
Security
As we've mentioned before, the bag has three compartments with locking zips! That's pretty huge if you ask me and it makes this bag a great option for those travelling with quite a few valuable items that can't all just go in the one section. Whether you want peace of mind whilst you're having a snooze on the plane or you're commuting on busy trains on the daily, this bag takes a lot of the stress out of carrying expensive gear.
The addition of zippered pockets inside of the locked compartments, some of which are pretty well hidden too, also adds an additional level of security. There are plenty of places within this bag where you can store things like your passport, wallet and keys without a worry.
Security Score: 5/5 stars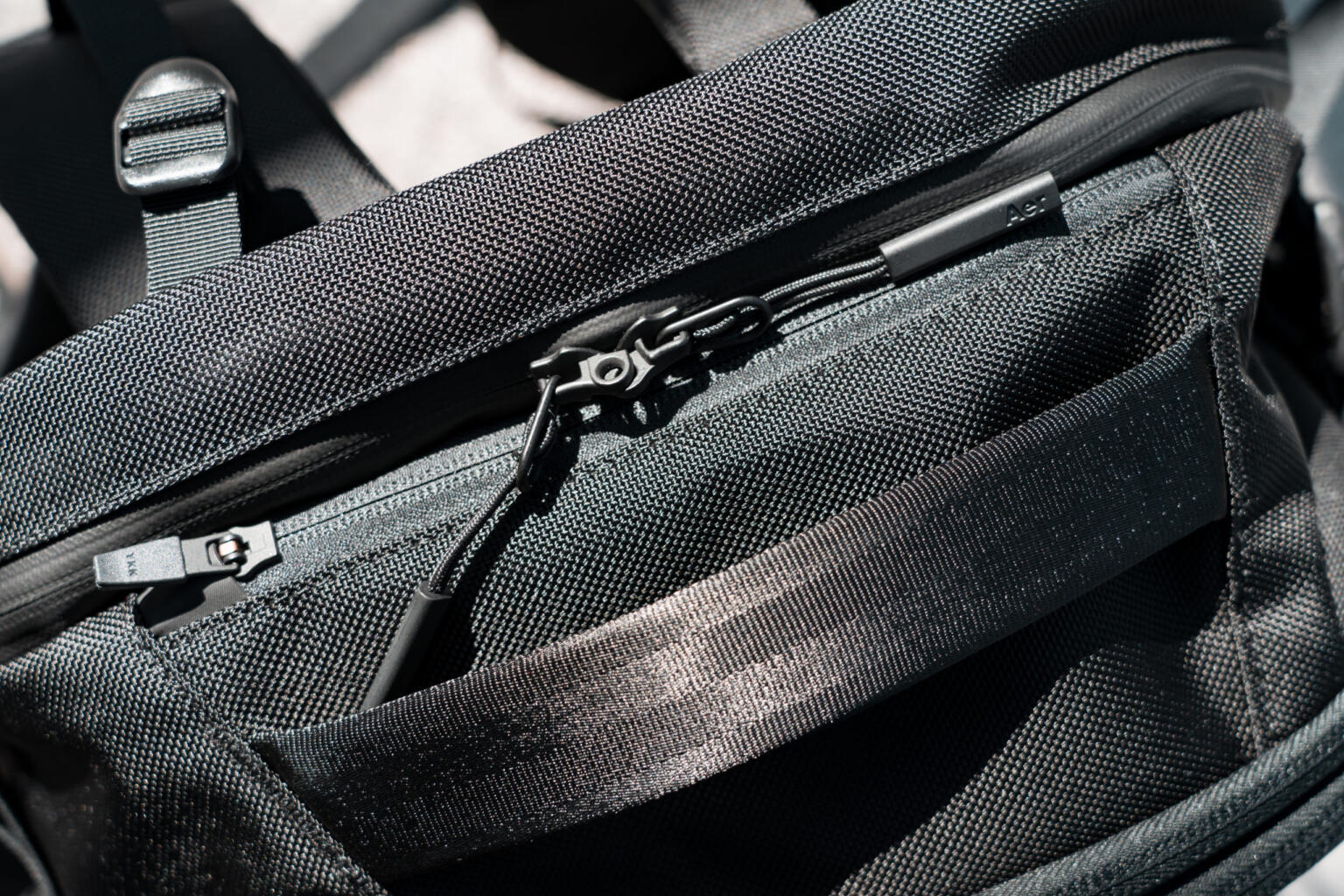 Aer Bag Aesthetics
Bags with this level of functionality, organisation and storage sometimes end up looking a bit, well, geeky! Aer however seem to have got the balance just right by keeping most of the important features on the inside whilst keeping the outside of the bag looking pretty minimalist and sleek.
The look of the bag is quite lowkey which helps once again to aid the versatility of the pack. It's not going to look out of place wherever it finds itself, from the board room to a hostel dorm. When you're carrying some expensive gear you don't want your bag to shout about it and the AER Travel Pack 3 does just that whilst retaining a stylish and understated vibe.
Aesthetics Score: 4/5 stars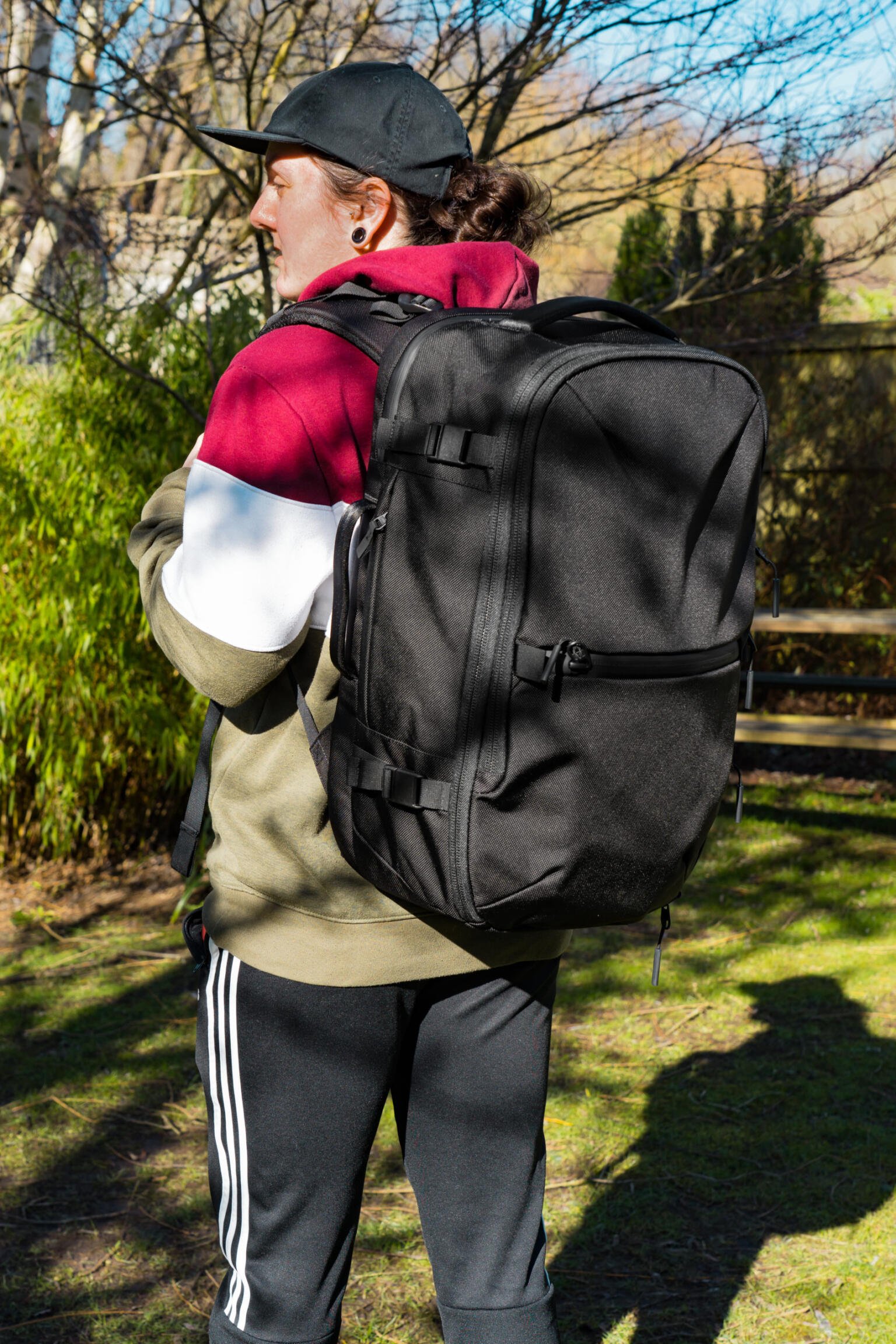 What I Liked About the Aer Travel Pack 3
3 Separate compartments rather than just one big main compartment
huge amount of organisation features!
The separate and huge laptop compartment
Lockable zips
Good array of external pockets for easy access
Clamshell opening on the main compartment
Covert internal pockets for valuables
Tough and durable feel
What I Didn't Like About the Aer Travel Pack 3
Can feel bulky when empty
Hip belt needs to be bought separately
Similarly, the rain cover is an additional purchase
Straps inside the main compartment would be great
Would love to see this bag in a larger version too
The best present of all… is CONVENIENCE!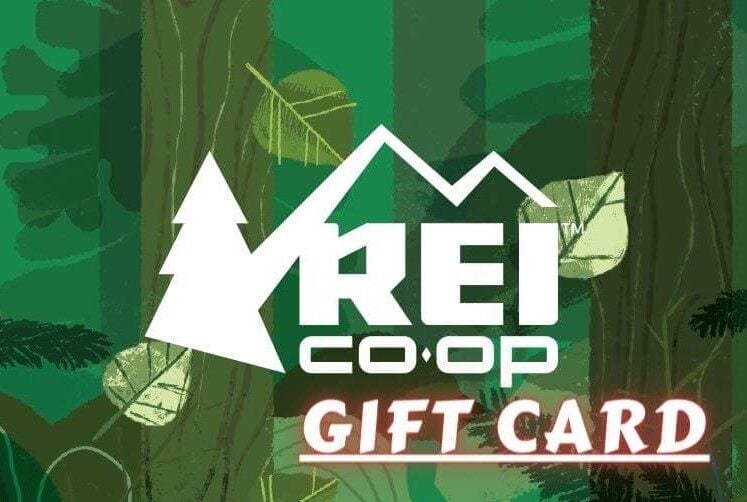 Now, you could spend a fat chunk of $$$ on the WRONG present for someone. Wrong size hiking boots, wrong fit backpack, wrong shape sleeping bag… As any adventurer will tell you, gear is a personal choice.
So give the adventurer in your life the gift of convenience: buy them an REI Co-op gift card! REI is The Broke Backpacker's retailer of choice for ALL things outdoors, and an REI gift card is the perfect present you can buy from them. And then you won't have to keep the receipt. 😉
Buy on REI!
Aer Travel Pack 3 vs the Competition
Truth be told, the Aer Travel Pack 3 is pretty unique in terms of the features it offers for the carry-on market. You're just not going to get features like the clamshell opening, three compartments and organisation levels in many other bags on the market. Aer really does seem to have thought of everything!
In terms of the main competition, it's going to come in the form of the Nomatic Travel Bag which is slightly larger at 40L. This is an epic bag for many of the same reasons I love the Aer Travel Pack 3 and has many similar features such as clamshell opening, tech compartments and laptop storage. It's a touch more expensive but you do get more space.
Personally, though, I still prefer the Aer Travel Pack 3 for a few reasons. Firstly is the dedicated laptop compartment, I'm not a fan of the way the Nomatic has it on the main opening flap. Secondly is the larger compartments for tech storage and in my opinion, the superior organisational features. Thirdly, the lockable zippers make it feel much more secure.
For more information, check out our more in-depth Nomatic Travel Bag review.
Here are some other Aer backpack competitors: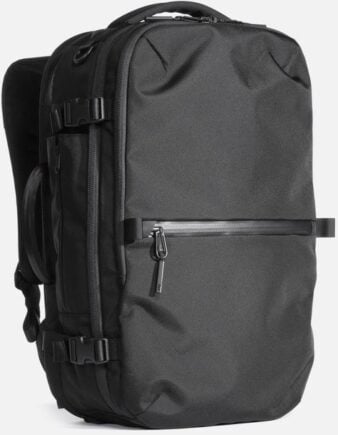 Aer Travel Pack 3
Cost > $$$
Liters > 33
Laptop Compartment? > Yes
Best Use? > Everyday use, weekend + international travel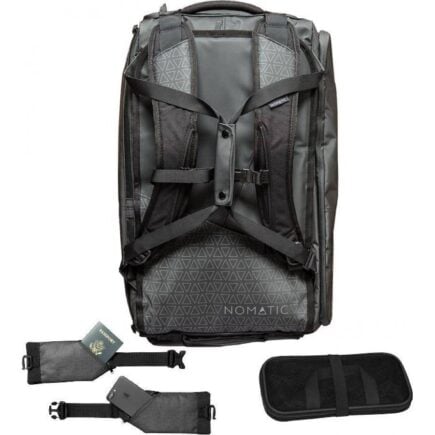 Nomatic Travel Bag
Cost > $$$
Liters > 40
Laptop Compartment? > Yes
Best Use? > Everyday use, weekend + international travel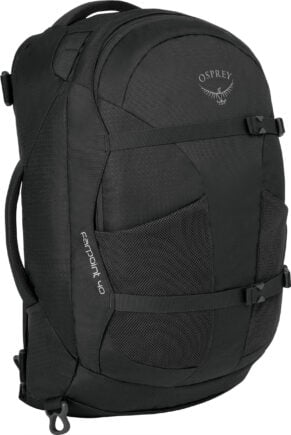 Osprey Farpoint (40 liter)
Cost > $$
Liters > 40
Laptop Compartment? > Yes
Best Use? > Weekend/international travel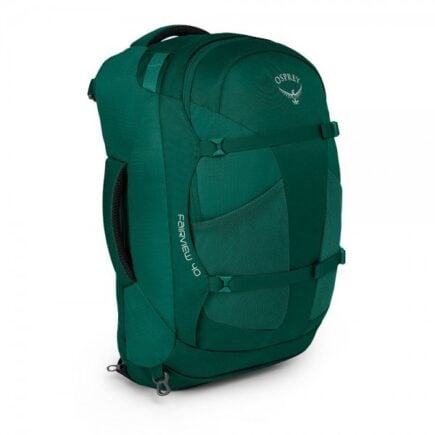 Osprey Fairview (40 liter)
Cost > $$
Liters > 40
Laptop Compartment? > Yes
Best Use? > Weekend/international travel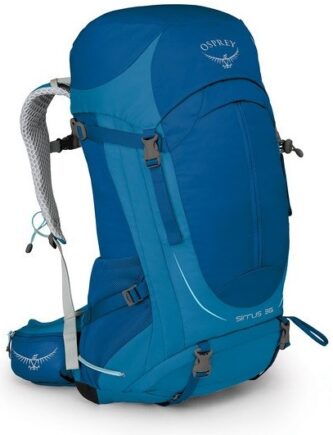 Osprey Stratos (33 or 36 liter)
Cost > $$
Liters > 33 or 36
Laptop Compartment? > No
Best Use? > Hiking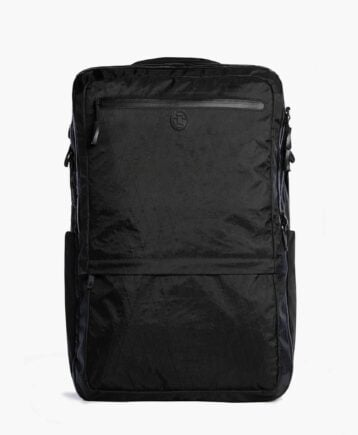 Tortuga Outbreaker (45 liter)
Cost > $$$
Liters > 45
Laptop Compartment? > Yes
Best Use? > Weekend/international travel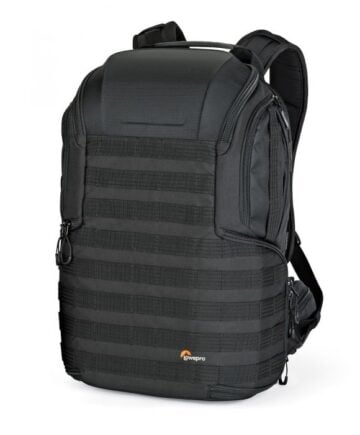 LowePro Pro Tactic 450 AW (45 liter)
Cost > $$$$
Liters > 45
Laptop Compartment? > Yes
Best Use? > Photography
REI Co-op Trail 40 Pack
Cost > $$
Liters > 40
Laptop Compartment? > No
Best Use? > Hiking/travel

Our GREATEST Travel Secrets…
Pop your email here & get the original Broke Backpacker Bible for FREE.
The Ultimate Aer Backpack: Our Verdict on the Travel Pack 3
Right then, we've come to the point in our AER travel pack 3 review where we've got to wrap things up!
Overall, I bloody love this bag and find it to come very close to perfection!
The sheer amount of organisational features packed within such an unassuming exterior is the real winner here. The large storage capacity is well managed across the three main compartments in a way that's clearly been well planned and thought out.
The sheer versatility of this thing means that you'll get your money's worth when it comes to usability in heaps of different scenarios. I can easily see this suiting digital nomads, office commuters, weekend warriors and even long term travellers.
On a personal note, the only issue I have with using this for one bag travel is that I travel with a large mirrorless camera and accessories. I think I'd struggle to fit my camera gear inside along with enough clothing for more than a couple of days. My partner who only tends to use his phone or a compact camera would have no issues at all in this respect and I think most travellers would be the same.
I could imagine combining this bag with a dedicated camera bag or shoulder satchel and using it as an alternative to my larger, more bulky and less organised big backpack that I've used before for both long and short trips.
Overall I am super impressed with this backpack and can't get over the organisational features that really are great for those of us with OCD!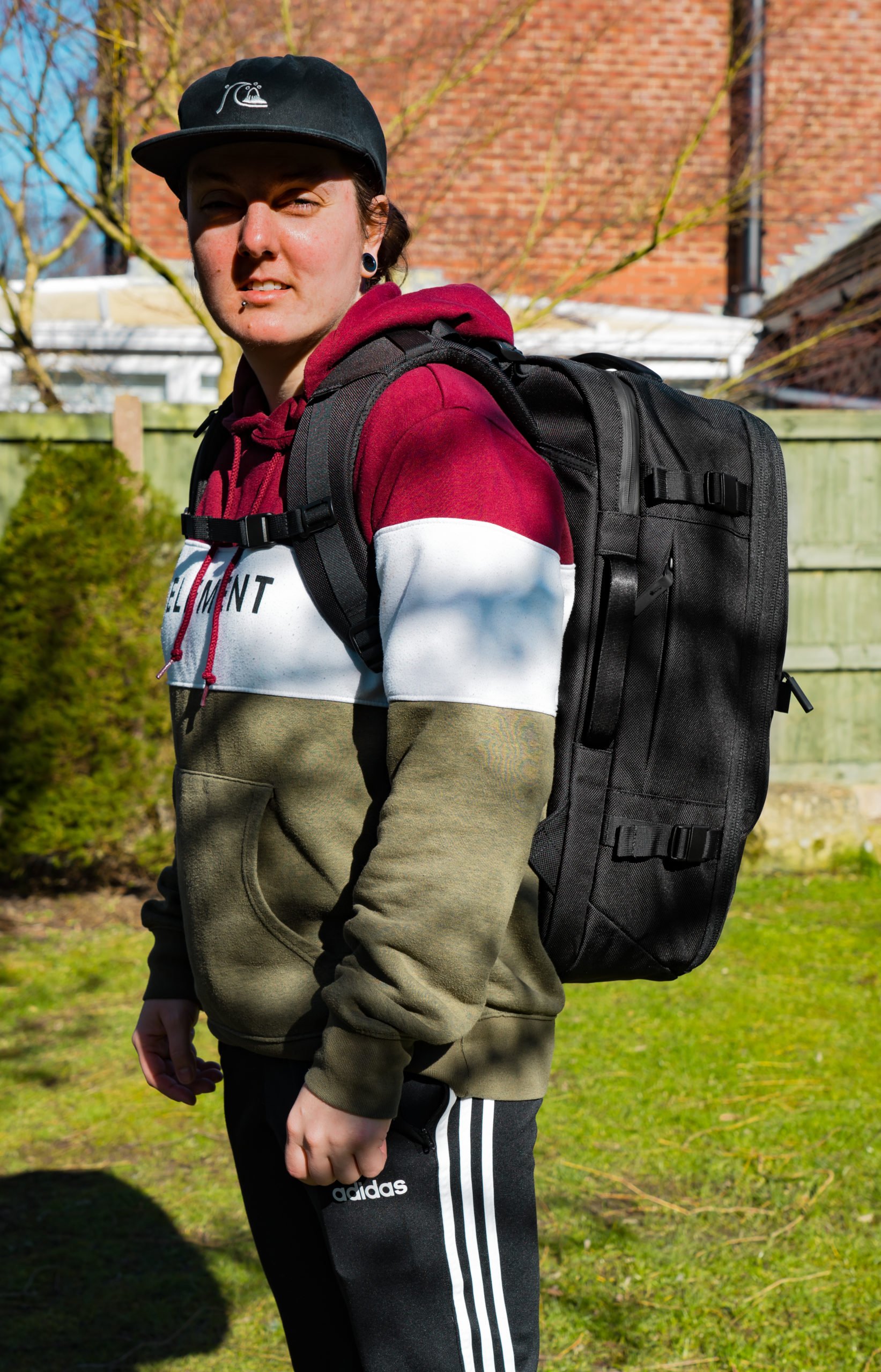 Did our AER backpack review cover all your questions? Let us know if you have any more below.
What is our final score for the AER Travel Pack 3? We give it a rating of 4.8 out of 5 stars!

Bonus: Day Sling 3 & Travel Kit 2
But wait! There's more! The AER travel range comes with a super useful AER Travel Kit and Day Sling too.
What more organisation, of course, you do!! Even if you're dedicated to the one-bag travel movement, there are another couple of bags that are needed to keep everything in check! One goes inside so it kinda doesn't count and the other is a handy travel purse for keeping your documents close at hand.
Day Sling 3: Keep Your Valuables Close
One of the main issues with one-bag travel is where to keep valuables like your passport, wallet and phone when you're not in possession of your bag. So you've thrown your AER Travel Pack under your seat or in the overhead locker, but can you really sleep soundly on that overnight bus?!
A travel purse/ sling/ manbag if you're from Liverpool, is the ideal solution. This neat little bag can be carried across your chest whilst wearing your larger bag and keeps everything close at hand and insight. It's the perfect place to keep things you need easy access to like your passport and boarding passes without having to root through your pack.
The Day Sling 3 unsurprisingly offers epic levels of storage and organisation for such a small bag. It's got a zippered section for your passport, elasticated pockets for things like AirPods and cables, a quick access front pocket with a keychain and all in the same premium material as the larger pack.
3 litres might not seem a whole lot, but in here you can easily fit all your most important items and for me, I'd throw in one of my super small SanDisk Extreme SSD with my laptop and photos backed up too so you've got every base covered.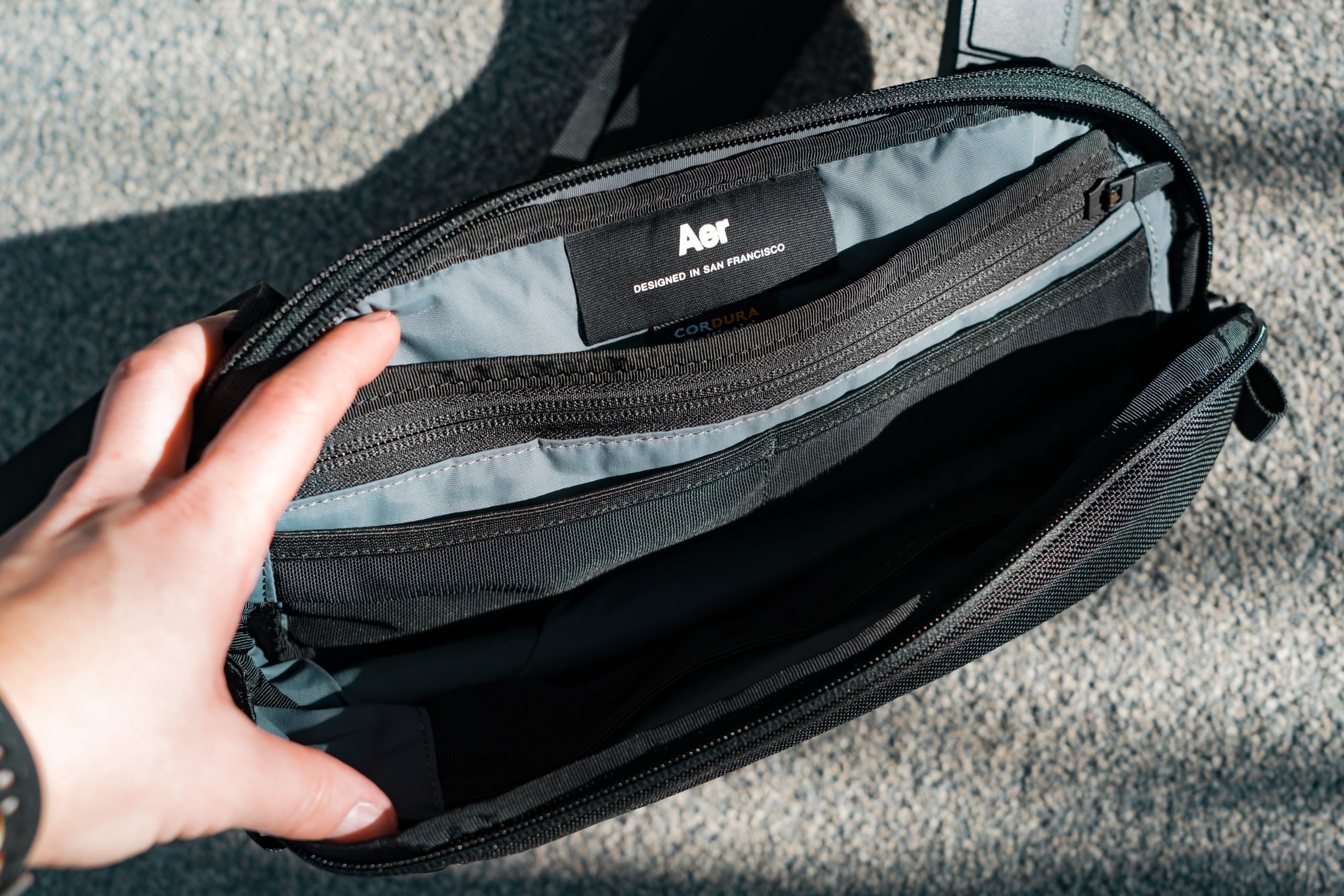 Travel Kit 2: Perfect Toiletry Bag
Another neat accessory is the Travel Kit 2.
This 2.5l pack is primarily designed to be used as a toiletries bag but in classic Aer fashion, it's actually a pretty versatile piece of kit that could be adapted to carry all your cables, wires, chargers and hard drives if you like or even as a first aid kit.
However, its primary function is to carry your toiletries and it does that with maximum levels of organisation too… obviously! There's a stowaway hook so you can hang this bad boy up in the bathroom as well as dedicated toothbrush storage and heaps of different zippered and elasticated pockets.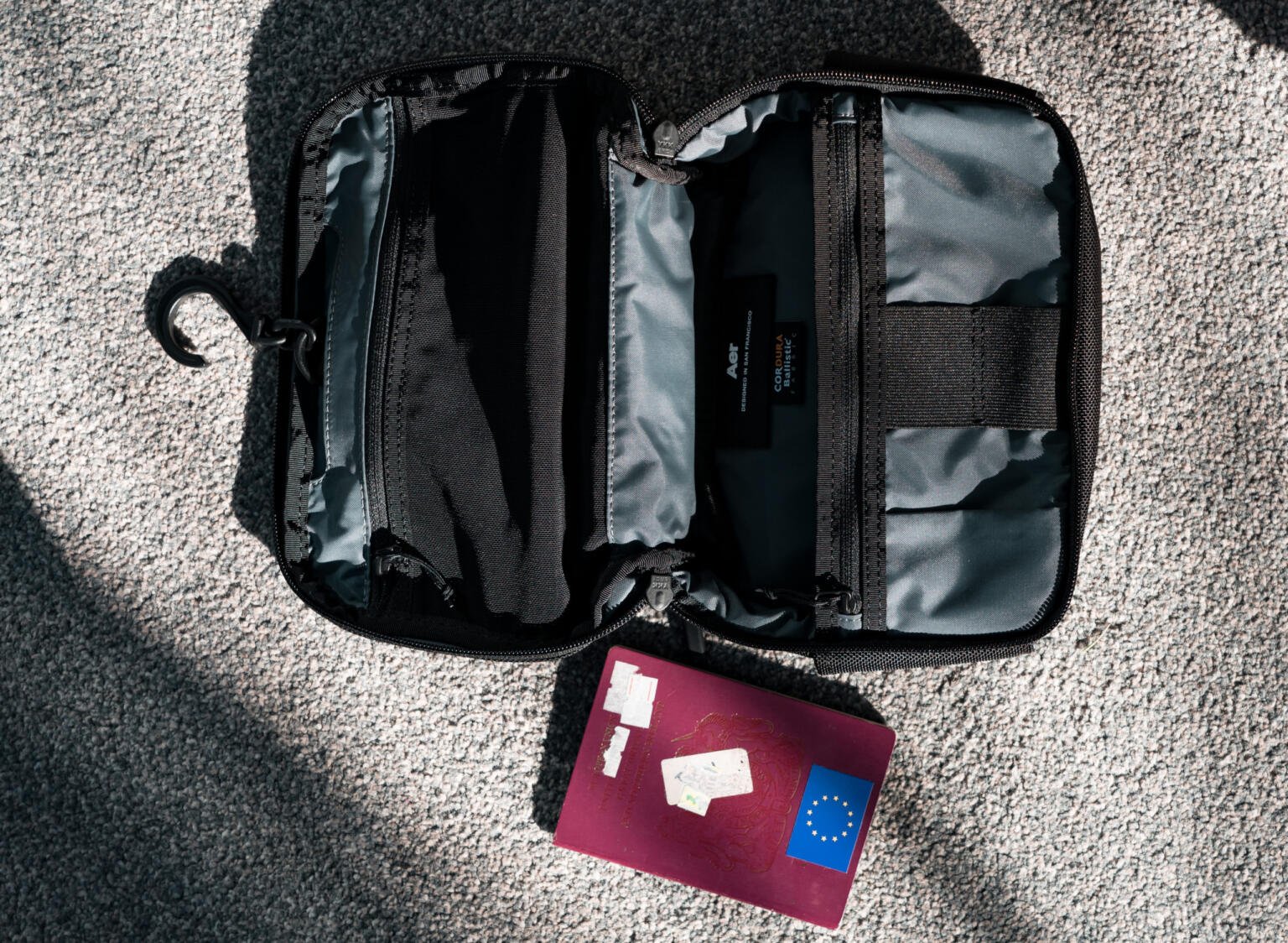 The exterior is the same 1680D Cordura Ballistic nylon so it can take some heavy use and it comes with a convenient carry handle and additional pockets. The interior is treated with an antimicrobial coating to control bacteria and odours which is a welcome feature.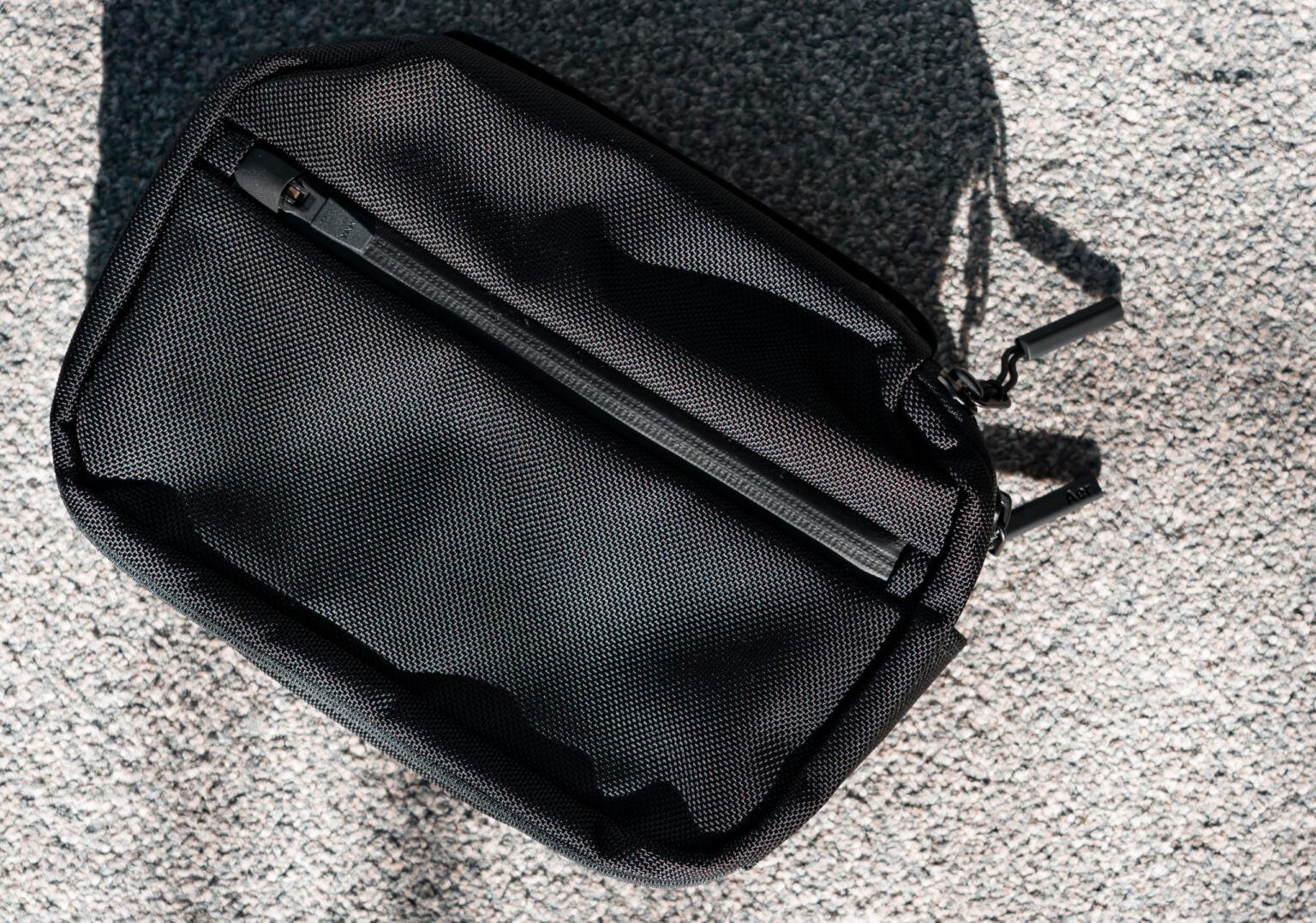 ---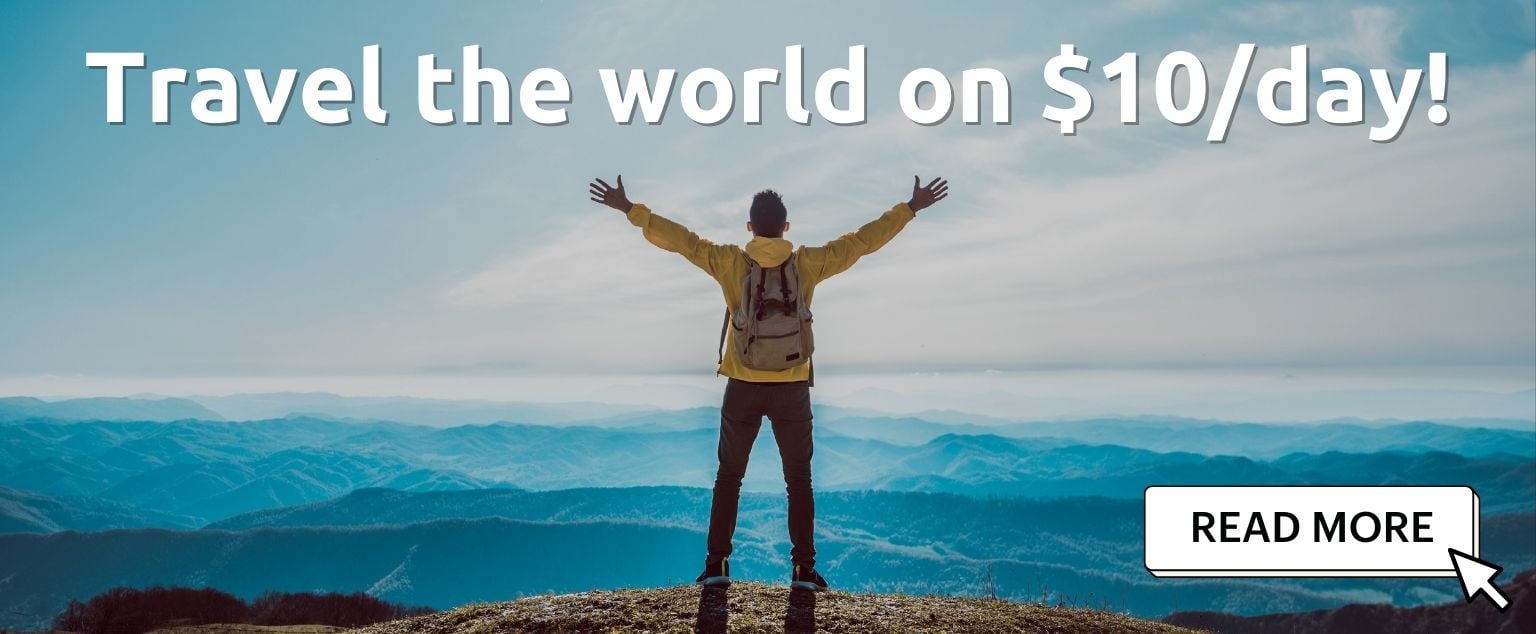 And for transparency's sake, please know that some of the links in our content are affiliate links. That means that if you book your accommodation, buy your gear, or sort your insurance through our link, we earn a small commission (at no extra cost to you). That said, we only link to the gear we trust and never recommend services we don't believe are up to scratch. Again, thank you!