It's surprising how many people decide to go the cheap route for backpacks they carry every single day. They end up with a product that's not only uncomfortable but poorly made and which starts tearing at the seams after a few weeks of use.
Whether you're fed up with having aching shoulders from your current bag, or you travel a lot for work and need something secure to transport your laptop, a good everyday carry backpacks (EDC) are the solution.
We test a TON of backpacks here at The Broke Backpacker so we've put together this ultimate guide our favourite EDC backpacks of the year.
Read on to find out what sets these everyday carry backpacks apart and how to select the perfect one for you.
Quick Answer: These are the Best EDC Backpacks of 2022
Overall Best EDC Backpack
Overall Best EDC Backpack
Aer Travel Pack 2 Small
> $$$
> Main and front zippers are lockable
> Combination of 1680D nylon, Duraflex plastic, and YKK zippers
Best EDC Backpack Runner Up
Best EDC Backpack Runner Up
Nomatic Traavel Bag 30L
> $$
> 20 Cool features
> Water-resistant materials and zippers
Best EDC Sling Bag
Best EDC Sling Bag
Aer Day Sling 2
> $
> Three pockets
> Made out of 1680D nylon, Duraflex plastic, and has YKK zippers
Best EDC Backpack for Travel
Best EDC Backpack for Travel
Aer Travel Pack 2
> $$$
> Lay-flat clamshell design
> Ergonomic and padded shoulder straps
Best EDC Backpack for the Gym
Best EDC Backpack for the Gym
Aer Fit Pack 2
> $$
> Has numerous pockets
> Well-made and durable
Best EDC Duffel for the Gym
Best EDC Duffel for the Gym
Kodiak 25l Duffel
> $$
> Good carrying capacity
> Multiple compartments
Best EDC Day Hiking Pack
Best EDC Day Hiking Pack
Osprey Daylite Plus Pack
> $
> There are two side mesh pockets
> Hip belt is only simple webbing material
Best EDC Leather Backpack
Best EDC Leather Backpack
Mahi Leather Classic Backpack
> $
> Stylish and professional looking
> Can fit a 13″ laptop
Best EDC (Every Day Carry) Backpacks
Researching all the backpacks available on the market can become tedious. That's why we've done the legwork for you and compiled our picks for the top everyday carry backpacks. From gym duffels to travel bags, we've got something for everyone on this list!
Do You Want to Travel FOREVER??
Then pop your email address in below and we'll send you a FREE copy of 'How to Travel the World on $10 a Day!' – make travel your LIFE.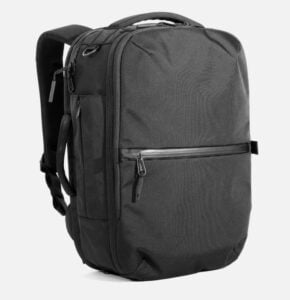 Our pick for overall best EDC backpack is Aer Travel Pack 2 Small
Specs
Best Use: Travel, urban
Weight: 3.3 pounds
Liters: 28 liters
Rain cover included: No
Compact, but spacious enough to fit a ton of gear, the Aer Travel Pack is the Goldilocks equivalent of everyday carry backpacks; not too big, not too small, just right. A little over 3 pounds, it's still relatively lightweight, but also more durable than ultralight packs. 
Inside there's a padded compartment for a 15-inch laptop, as well as a shoe compartment that can fit up to men's size 12. Both the main and front zippers are lockable for added protection while travelling. 
On top, there's a quick access pocket for small essential items and within the front compartment, there are additional organization pockets. These keep your pens, sunglasses, electronics, and other gear neat and easy to reach. There's also a key chain so your keys never get lost at the bottom. 
The Aer Travel Pack is small enough to be a carry-on item while flying, and the back panel of the pack acts as a pass-through for luggage handles. If you want more support, you can purchase a hip belt which comes separately. 
Although the Aer Travel Pack may be on the expensive end, the combination of 1680D nylon, Duraflex plastic, and YKK zippers are built to last, while also making the pack comfortable and sturdy while carrying. 
Be sure to check out our detailed Travel Pack 2 review here.
Pros
Great internal organization pockets
Main compartment has lay-flat design
Works as travel carry-on
2nd prize: The Nomatic Travel Bag 30L
Specs
Best Use: Urban, travel
Weight: 3.3 lbs
Liters: 30
Rain cover included: No
The Broke Backpacker team have been big fans of Nomatic gear for years. In fact from a style, functionality, and price point of view, nobody quite does it like Nomatic.
The 30 litre Nomatic Travel Bag is great for people who don't want to own multiple backpacks; this bag can be your everyday bag AND your travel day pack all in one.
Especially if you find yourself carrying around a laptop, some clothing layers, chargers, a camera, etc – you'll find 30 litres to be a pretty damn good size.
There will be times when you don't end up filling up the bag to capacity each time you go out, but I prefer to have a bit more space on occasion than not enough. Do note that a 30-litre backpack is on the larger side of your typical daily grind everyday carry backpack.
Unfortunately, at this time Nomatic can't ship to Europe, so if you are outside of the USA, go with the Aer Travel Pack 2 small instead.
Pros
Fully featured pack
Works great for travel and as an EDC Pack
Carry-on Size
Cons
Maybe too large for some people
Aer Day Sling 2 is one of the best EDC sling bag
Specs
Best Use: Urban, travel
Weight: 0.7 pounds
Liters: 4.5 liters
Rain cover included: No
If you don't need an entire backpack but still want a convenient bag for storing your phone, camera, passport, or other small essential items, then a sling bag is a perfect choice. The Aer Day Sling is also a more budget-friendly EDC pack option. 
There are three pockets: a front pouch, one main compartment, and a hidden back pocket great for keeping your passport or cash safe. The main pocket can fit a 7.9-inch tablet and it has multiple organizational pouches for storing sunglasses, pens, or other small items. 
The one aspect of the Aer Day Sling that could use improvement is the shoulder strap. Although it's adjustable, there's not much padding, which can make it a bit uncomfortable after wearing it for a long time. 
Like the Aer Travel Pack, the Day Sling is made out of 1680D nylon, Duraflex plastic, and has YKK zippers on all the pockets. It's also a good lightweight EDC pack, weighing less than a pound when empty. 
PSSTTT – If you want something light, but still bigger than a sling then you might be interested in these Packable Backpacks.
Pros
3 pockets and good organisation
Lightweight and budget friendly
Durable material
Cons
Shoulder strap could use more padding
Can't fit much gear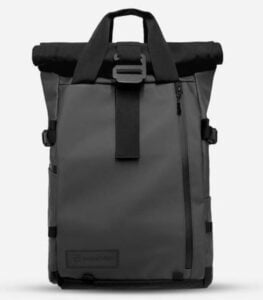 Wandrd PRVKE Series Camera Bag is our top pick for the best EDC camera bag
Specs
Best Use: Photography, travel
Weight: 3.4 pounds
Liters: 21 liters and 31 liter options
Rain cover included: Optional (purchase with or without accessory bundle)
There's nothing worse than having your camera gear damaged as a result of inadequate protection in your backpack or bag. The PRVKE takes all your photography needs and concerns into account and delivers an excellent everyday carry backpack. 
Two sizes are available. One is 21 litres, which can be expanded to 26 litres by extending the roll top, the other is a larger 31 litres, which is expandable to 36.
Both are made of waterproof tarpaulin and YKK weather-resistant zippers. So although the specialist camera backpack wouldn't survive being submerged, it will still hold up to heavy rain or some splashing. The water-resistant exterior is pretty tough too making this a super durable EDC backpack.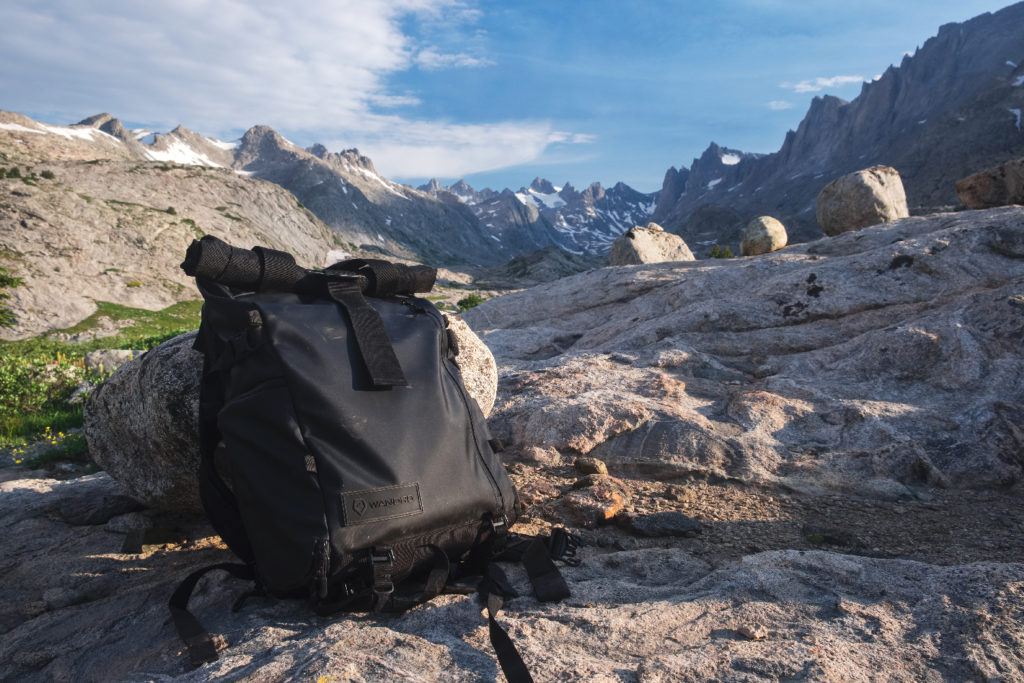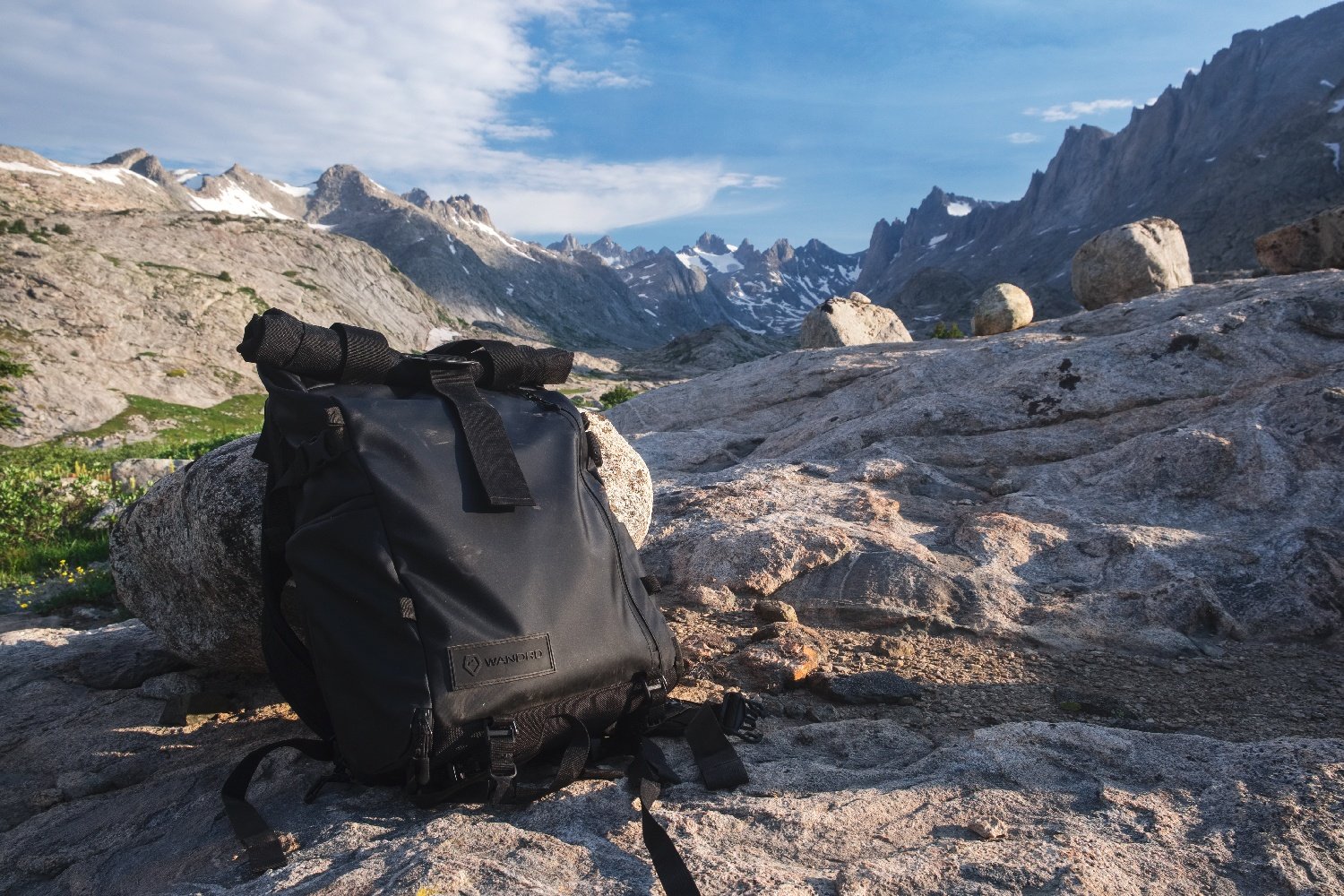 Inside are removable camera cubes so you can use the PRVKE as a normal pack on days you don't need to bring your equipment. There's also a dedicated laptop compartment, a tech pocket, a hidden pocket in the back, and a water bottle pocket for storing other essentials. 
It's a super functional backpack for photographers, providing a side opening directly to the camera cube for easy access to your gear on the move. You can also buy extra external carry straps to attach things like a tripod and there's a water bottle pocket on the other side.
You can either carry the PRVKE as a backpack or a tote bag thanks to the handles on top. It also comes with a removable waist strap which helps for carrying heavier loads. 
Read the full review here.
Pros
For camera equipment or regular backpack use
Highly weather resistant
2 sizes available and both have expandable roll-top
Cons
Expensive
Waist strap could use more padding
Meet the best EDC laptop pack: Tortuga Outbreaker Laptop Backpack
Specs
Best Use: University, travel
Weight: 3.2 pounds
Liters: 27 litres
Rain cover included: No (but has waterproof fabric and weather resistant zippers)
Although many of the best EDC packs have a spot to store a laptop, the Tortuga Outbreaker goes the extra mile and provides a bombproof laptop compartment.
Not only is this everyday backpack super comfortable, but also very stylish and well-designed to keep your laptop safe while on the go. It's a top pack for digital nomads who need to carry a fair bit of gear.
It's a cracking laptop backpack with extras. The outer material is VX21 waterproof sailcloth and the laptop compartment is protected with ariaprene foam. Each pocket has YKK lockable zippers to add further protection, especially while travelling. 
With a 27 litre capacity, and the ability to open all the way like a suitcase, the Outbreaker can easily fit extra clothing, textbooks, your lunch, or even a pair of shoes. It's still small enough to fit as a carry-on bag underneath an aeroplane seat, making it a great option for travellers. 
Inside are mesh pockets for keeping your chargers and other essential items organised and easy to reach. In addition to the padded shoulder straps, there's a removable sternum strap, plus top and side handles so you can carry the pack like a briefcase or tote bag. 
With the padded laptop sleeve and water-resistant exterior, this is a great everyday carry backpack for that needed protection for their tech and a decent amount of room for accessories. However, some might feel it's a little bulky for an everyday backpack for work.
Read the full-length Tortuga Outbreaker review here.
Pros
Lots of pockets and good organisation
Fits size requirements for 'personal item' when flying
Very weatherproof
padded laptop sleeve
The Classic Backpack by Mahi Leather
Specs
Best Use: Urban
Weight: 3.7 pounds
Liters: 25 litres
Rain cover included: No
Yum, look at that lovely leather goodness! I really love a good leather backpack. The classic backpack from Mahi leather mixed high quality waxy leather with a stylish, slightly retro design aesthetic. It's a cool and fashionable backpack made for urban living whether you are headed to the gym, the coffee shop or commuting for the daily grind.
Great for goimng to work, The Classic Backpack can comfortably accommodate an A4 pad and a 13″ laptop.
Pros
Good quality stylish leather
Easy organisation
Great for everyday use
Cons
Not designed for hiking or getting outdoors
Limited storage capacity
#7 – Best EDC Backpack for Travel: Aer Travel Pack 2
Our pick for best EDC backpack for travel is Aer Travel Pack 2
Specs
Best Use: Travel, university
Weight: 3.7 pounds
Liters: 33 litres
Rain cover included: No
For longer trips, you'll want something that's large enough to hold all your gear and belongings. The Aer Travel Pack 2 is a larger version of our number one pick for the best EDC backpack, but it's still small enough to work as a carry-on item. 
It might be a bit bulky as a commuter everyday carry backpack, but it's great for one bag travel. It's versatile enough to use as a carry on for a weekend break and double as an everyday backpack for exploring during the day.
The lay-flat clamshell design of the main compartment makes it super simple to pack and keep everything organised. There's also an easy access pocket that can fit a 15.6-inch laptop, and a shoe compartment large enough for a men's size 13. The compression straps also keep everything tight and compact.
Thanks to the ergonomic and padded shoulder straps, your back won't get sore even after you've been out walking around all day. It's also possible to carry the Aer Travel Pack as a tote or bag thanks to the padded top and side handles. 
Although the Aer Travel Pack isn't totally waterproof, it is highly weather-resistant thanks to the 160D Cordura nylon exterior and smooth YKK zippers. Both the main and front pockets have lockable zippers for added security. 
Pros
Durable material and locking zippers
Clamshell design for easy packing
Comfortable and stylish everyday backpack
Cons
Expensive
Doesn't come with hip belt (can purchase separately)
#7 – Best EDC Backpack for the Gym: Aer Fit Pack 2
Our pick for best EDC backpack for the gym is Aer Fit Pack 2
Specs
Best Use: Fitness, urban
Weight: 1.9 pounds
Liters: 18.8 litres
Rain cover included: No
Ever wish your gym bag could carry more than a pair of shoes and your towel? Well, the Aer Fit Pack is the solution to your needs! This stylish bag is the perfect everyday backpack to carry your training gear but also has all the features needed to make it functional in other everyday uses. 
Say goodbye to the single pocket standard gym bag you've been using. The Aer Fit Pack has numerous pockets, including the front-loading main pocket, a ventilated compartment for shoes up to men's size 13, a small top pocket for valuables, and a padded laptop pocket. 
With space for all your belongings, you can hit the gym then head straight to work or class without needing to swap bags or pick up any of your other possessions. 
Like other Aer products, the Fit Pack is well-made and durable with a weather-resistant nylon exterior, YKK zippers, and Duraflex plastic for structure and stability. 
Pros
Padded laptop compartment
Easy Access Shoe compartment (with ventilation!)
Durable and weather resistant
Cons
Expensive
Shoulder straps could have more padding
No dedicated water bottle pockets
Our pick for best EDC duffel for the gym is Kodiak 25L
Specs
Best Use: Fitness, travel
Weight: 16 ounces
Liters: 25 liters
Rain cover included: No
Not only does this duffel work well for the gym, but it can also function as a travel bag or extra-large briefcase, thanks to the large carrying capacity and multiple compartments.
The Kodiak Duffel 25L has many of the same features as the Fit Pack 2 but it is simply far more elegant, stylish and yes, manly! Inside the main compartment, you can easily fit a basketball, water bottles, and other gear, plus there's a separate ventilated pocket for shoes to help with organisation and minimize odour. 
Unlike your typical gym bag, the Kodiak Duffel can also be used for work or school, thanks to the padded laptop compartment and other gear pockets for storing additional electronics, books, and travel items. 
Due to its sleekness, the duffel also won't look out of place if you bring it with you to the office or into a coffee shop.
Pros
Padded shoulder strap and handles
Lots of storage space
Pockets for laptop and shoes
REI Co-op Ruckpack 28 is our top pick for the best budget EDC pack
Specs
Best Use: Camping, travel, urban
Weight: 1 pound 3 ounces
Liters: 28 litres
Rain cover included: Yes
Osprey has made a name for themselves with their high-quality camping and travel gear, and the Ruckpack meets these same expectations. Not only is it functional and durable, but the Ruckpack is also made from recycled ripstop nylon if you're interested in purchasing more sustainable products.  
There's a laptop sleeve that can also hold a hydration pack. It features both side and top main compartments, compression straps, and a small zippered top pocket for valuables. The zippered compartments are also lockable for secure travelling. 
There's a sternum strap and a very small hip belt, which is, unfortunately, lacking in padding. Other than that, the Ruckpack measures up to being a great EDC backpack without such a high price tag attached. 
Pros
More budget-friendly
Carry-on compliant and has locking zippers
Many organisation pockets
laptop Sleeve
Cons
Flimsy hip belt
Side pockets aren't very secure
The best present of all… is CONVENIENCE!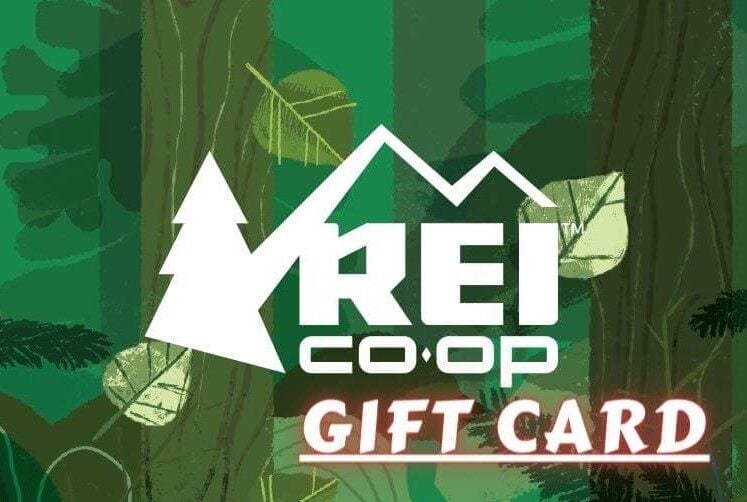 Now, you could spend a fat chunk of $$$ on the WRONG present for someone. Wrong size hiking boots, wrong fit backpack, wrong shape sleeping bag… As any adventurer will tell you, gear is a personal choice.
So give the adventurer in your life the gift of convenience: buy them an REI Co-op gift card! REI is The Broke Backpacker's retailer of choice for ALL things outdoors, and an REI gift card is the perfect present you can buy from them. And then you won't have to keep the receipt. 😉
Buy on REI!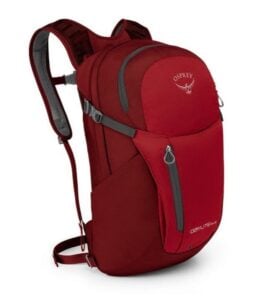 Osprey Daylite Plus Pack is one of the best EDC day hiking pack
Specs
Best Use: Camping, hiking, travel
Weight: 1 pound, 3.8 ounces
Liters: 20
Rain cover included: No
This lightweight backpack does the trick for single day hiking adventures. It's on the smaller end of EDC backpacks but is still big enough to bring the essentials without becoming too heavy while out on the trail. The compression straps also keep things as compact as possible.
Although it's too small to fit most laptops, there's a compartment that can fit a tablet or other similarly-sized device. You can also purchase a hydration reservoir to fit in the back pocket, or there are two side mesh pockets that are convenient for carrying water bottles. 
The shoulder straps have enough padding to be comfortable for a long hike, although the hip belt is only simple webbing material. It's also the perfect size as a personal item on an aeroplane and will fit stowed underneath your seat, but be aware that it doesn't have lockable zippers. 
It's a bit too small for multi-day travels, but for a budget-friendly and lightweight EDC backpack for day hikes, the Daylite pack fits the bill. 
Wanna know more? Check out our more detailed review for the lowdown.
Pros
Lightweight
Comfortable shoulder straps
Budget friendly
Cons
Too small for most laptops
Hip belt can be uncomfortable
Sometimes water bottles can fall out
Meet the best EDC pack for university students: Tortuga Setout Laptop Backpack
Specs
Best Use: University, urban, travel
Weight: 2.8 pounds
Liters: 25 liters
Rain cover included: No
Both functional and stylish, the Tortuga Setout is the perfect backpack for your university studies, work, or travel. There's a bombproof laptop compartment, plus another compartment for storing a tablet, both of which have padded foam for protection. 
There's plenty of space for all your textbooks, lunch or snacks while on the go, or other electronic equipment. Unfortunately, the Setout doesn't have a hip belt, but there is a removable sternum strap to help balance the weight. 
If you're using the pack for travel, there's a suitcase pass-through handle and the zippers on the main compartments are lockable. The clamshell design of the main compartment makes it easy to organize and use for packing clothing for an overnight or longer trip. 
Although the pack isn't waterproof, it is highly water-resistant thanks to the Durable Water Repellent (DWR) coating on the outside. The padded shoulder straps make it comfortable to carry, and there are also side and top handles to carry the Setout like a tote bag. 
Pros
Durable and weather resistant
Padded & Fleece Lined Laptop Sleeve
Padded straps and top and side handles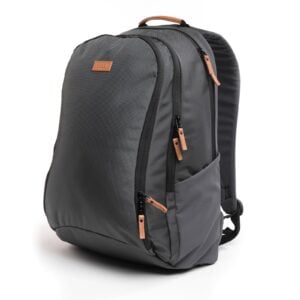 Meet the best EDC pack for university Commuters: Gulu Made Motivator Pack
Best Use: Going to work and urban, travel
Weight: 2 pounds
Liters: 25 litres
Rain cover included: No
Gulu Made are a socially conscious ethical start-up based in Uganda whose credentials are amazing. The team who work at Gulu Made all trained to sew in the aftermath of Joseph Kony's horrible civil war. They now leverage their skill to make beautiful bags and to build a future for themselves and their families. 
The pack itself has certainly impressed me. It zips down into 3 main storage compartments so you can organise your files, gym kit and lunch as you see fit and there is a dedicated laptop sleeve. There is no front pocket, but the pack does have 2 water bottle slide-in pockets at the sides. Best of all, the bag is lined with beautiful colourful traditional African fabric.
This pack is great for commuters, day trips and is roomy enough for short stay vacations. It could also be used for easy day hikes but does not have a hip/waist support belt so is perhaps less suitable for strenuous mountain treks.
Gulu Made are going to be a huge player in the vegan/ethical backpack space for years to come.
Looking for a commuter pack that's a bit more professional, then check out one of the business backpacks on offer instead.
Pros
Lovely internal fabric
Great storage layout
Handmade in Uganda by War Survivor
Lifetime Guarantee
Drop-Safe laptop Pocket
Cons
No hip belt
No front/lip pocket
#13 Best Organized EDC Backpack – Tropicfeel Shell
Meet the best organized EDC pack: Tropicfeel Shell Backpack
Best Use: Weekend Trips, Minimalist Travel
Weight: 3.3 pounds (at full capacity)
Liters: 22-40 litres
Rain cover included: No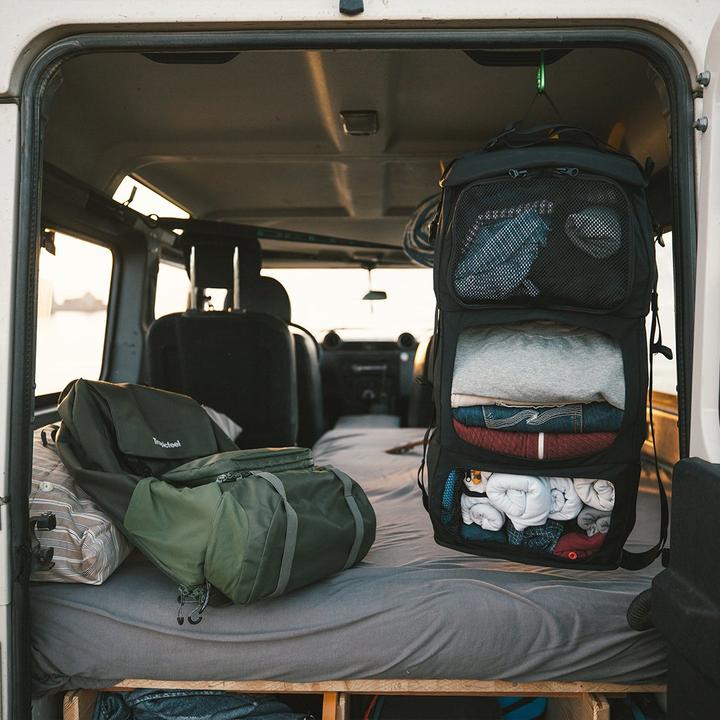 The Shell by Tropicfeel is a little to medium backpack with a big concept. Firstly, it is a 3 in 1 extendable backpack that begins life as a 22-litre pack, rolls up to 30 litres and then with the addition of a detachable pouch goes all the way to 40 litres.
As well as being a 3-in-1 backpack (which you can easily adapt to use as a day pack, overnight pack and carry-on pack), the Shell also has another awesome feature – a little, mini drop in pull out travel roll up wardrobe!
It's a great bag for those who like to travel neat and also for business people who kind of need to stay presentable and organised. It's made from fully sustainable materials making the Shell an all-round hit with us at The Broke Backpacker.
Pros
Really fucking versatile
Truly novel and unique
Packs up easily
Fairly priced
fleece Lined Laptop Sleeve
Cons
Not great for hiking
Not big enough for big trips
Not cheap (yet not expensive)
Best of the Rest
If you haven't quite found the right EDC backpack on this list, don't give up yet! Here are a few more options for EDC packs that might have the exact feature or specifications you're looking for in the perfect all-around pack.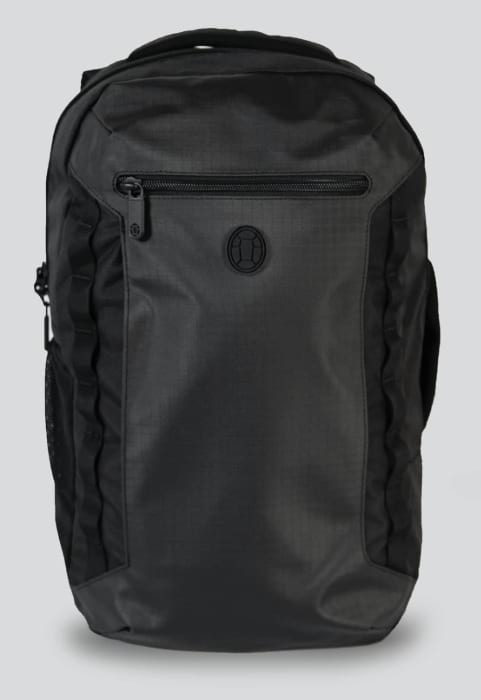 This 16.7-litre bag is on the smaller end for EDC backpacks, making it perfect as a day pack while travelling or a small school bag. The downside is that there's no laptop sleeve, and depending on how big your laptop is, it might not fit inside the pack. There is a padded front pouch that can fit up to an 8-inch tablet, plus compartments for chargers and other small electronic devices. 
Since it fits easily underneath the seat of aeroplanes, it's a good 'personal item' bag for travel. The YKK zippers on the main compartment are also lockable for added security. 
To free up extra space inside the pack, you can put your water bottle in one of the mesh pockets on the side. It's a good idea to use the webbing loops to secure the bottle as well since sometimes bottles can slip out if you bend over.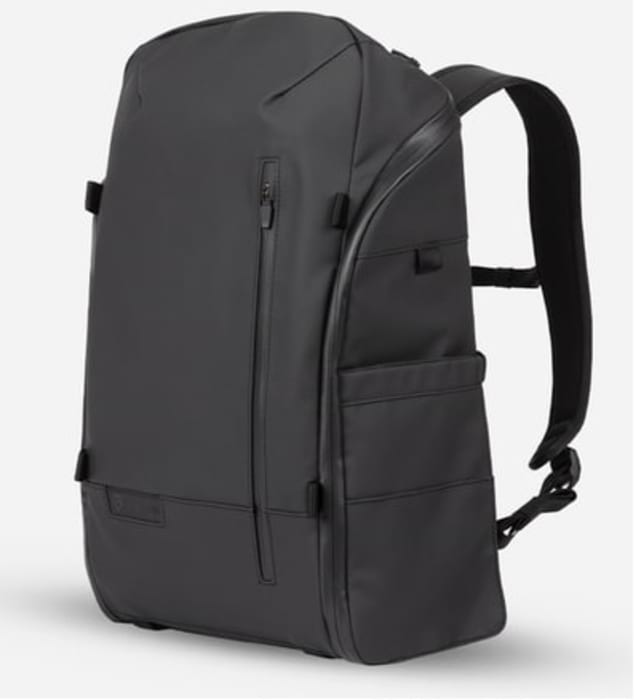 Another great EDC pack for photographers, the Duo Daypack is a bit smaller than our top pick for a camera backpack, but it still fits a decent amount of gear.
The pop-up camera cube provides a secure spot for your camera, but it can easily be flattened if you aren't bringing your photography gear along. 
The padded laptop sleeve and padded electronic compartments keep all your devices safe while on the go. Thanks to the waterproof tarpaulin material and weather-resistant YKK zippers, the Duo Daypack will also hold up against rain showers or accidental spills. 
To access your gear, the Duo has cool side-entry zippers on both sides of the main compartment. There's also a hidden pocket in the back for keeping a passport or spare cash safe and out of sight. 
One of Aer's more budget-friendly EDC backpacks, the Go Pack doesn't have all the features of the Travel Pack, but it's also more lightweight and easily rolls up for convenient storage. There's still a padded compartment for a laptop up to 13 inches and a quick access pocket on top. 
The 300D Cordura ripstop fabric is durable, but not weather-resistant, so you'll want to be careful if you're caught out in a rainstorm. It also lacks lockable zippers like other Aer packs, which some travellers prefer for security. 
The minimalist yet sleek design means that the Go Pack will suit a variety of settings, whether you're on an aeroplane or catching up with friends at a cafe. It would be nice to have at least one or two gear loops on the outside, however, especially since some water bottles can slip out of the side pockets if you bend over.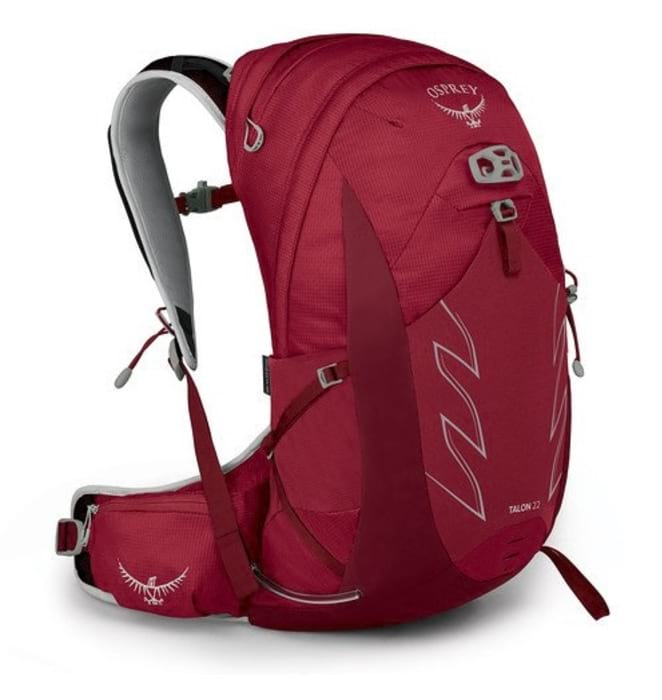 For outdoor enthusiasts, the Osprey Talon is a great EDC backpack that offers both support and organisation. Out of all the packs on this list, the Talon probably has the best hip belt with excellent padding and pockets on each side, although it's not removable. 
Designed for hiking, biking, climbing, and other outdoor sports, the Talon 22 has a helmet attachment, loops for ice tools, and trekking pole attachment points. 
You can also purchase a separate hydration reservoir to fit in the back sleeve for convenient water access while on the trail. However, there's not a designated laptop pocket, although some laptops will still fit inside the main pocket. 
If you have an outdoorsy lifestyle and need an EDC backpack for your adventures, then the Osprey Talon is a good fit.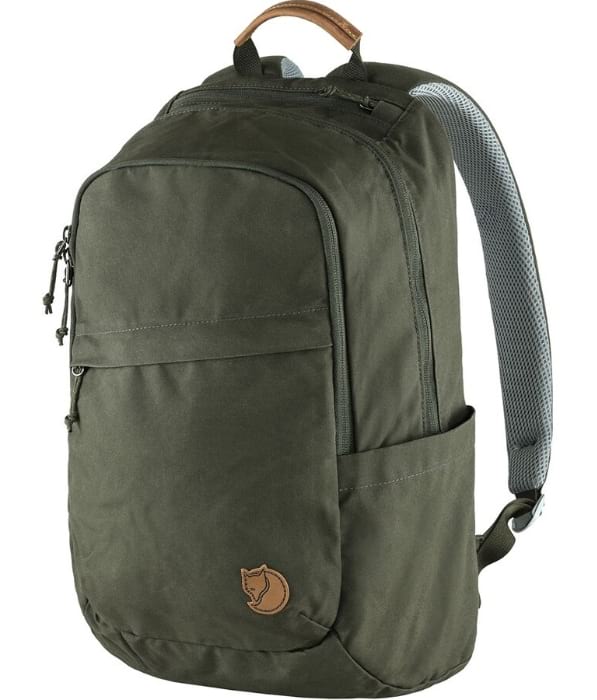 This casual backpack is good for all-around use whether you're attending university, commuting, or travelling. The Heavy Duty Eco fabric is strong and durable, but not water-resistant, so be careful if you're caught in a shower. 
Within the main compartment, there's a padded laptop pocket for a 15-inch model as well as a zippered security pocket for valuables. In the front pouch, there are additional mesh pockets for organization. 
The padded shoulder straps offer good comfort, although the back has less ventilation than some of the other EDC packs we've listed. There is a top haul handle, but the pack lacks a sternum strap or hip belt. 
Since it's a bit cheaper, the Raven 20L is a great budget EDC backpack. However, if you plan on carrying heavy loads, or go hiking with your backpack, you'll probably want something with better support and ventilation. 
How to Choose the Best EDC Pack 
As you can see from our list, there's a fair amount of variety in great EDC packs depending on how you plan to use it. Below, we'll go into more detail about how to decide which EDC pack is the best fit for your needs. 
Features
From minimalist daypacks to luxury travel bags, there's a wide variety in how many features an every day carry pack has. 
Laptop sleeves, lockable zippers, water bottle pockets, and secret pouches for passport and cash are all examples of common EDC pack features.
Other things, like gear loops, spots for a hydration reservoir, and camera compartments are more specialized features designed specifically for hiking and photography. 
Although having an EDC back with tons of features can be nice, usually these bags are bigger and more expensive. If all you really need is a simple, lightweight day bag, then don't worry so much about finding a bag with all the bells and whistles. 
Weight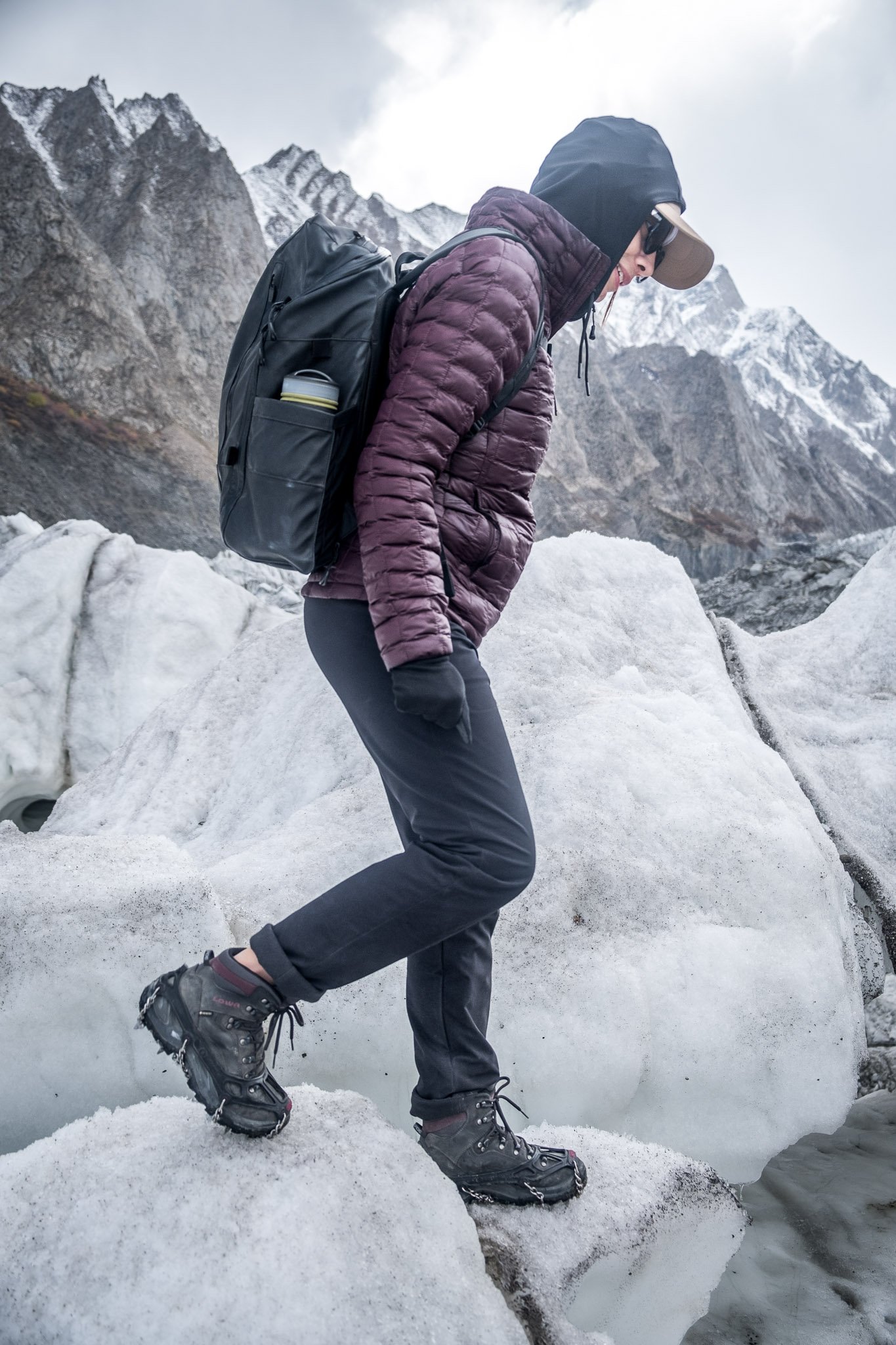 Determining what the "right" weight for an EDC pack is can be a bit tricky and is a matter of finding a balance of size, material, and comfort. 
Most EDC packs are on the lighter end since they're intended as something to carry around on a daily basis. Larger and heavier packs are usually designed for a specific purpose, like carrying delicate camera equipment or as carry-on luggage while travelling. 
If you're planning on using this pack for hiking or travelling and will be wearing it for the majority of the day, you don't want something that's going to be too heavy. Go with the minimum of what you need, and keep an eye out for good hip belts and padded shoulder straps. 
If you're planning on using your EDC pack more for going to the gym or commuting, then counting the ounces isn't as much of an issue. You can focus more on whether the pack will fit all your possessions, knowing that the time spent carrying it will be more limited. 
Size
Between your pockets not being big enough and a suitcase being way too large, there's a lot of variation in how big or small an EDC pack can be. For some people, something like the Aer Day Sling is enough, while a photographer will want something larger for all their equipment. 
Sure, with a bigger pack you'll have room for your laptop, a change of clothes, lunch, or even a spare pair of shoes, but not everyone needs all that space.
When picking an EDC pack, it can be helpful to make a list of all the things you want it to hold (laptop, water bottle, camera, phone, books, etc.).
Be mindful of size so you don't end up with something that's too bulky or cumbersome. Remember, this is a day pack; longer trips are where a suitcase or camping backpack comes in handy. 
Best Use
A bike commuter and a travel photographer most likely won't pick the same type of EDC pack. One person's "everyday" use can look very different from another's, so you'll want to think about what style or specific features would serve you best. 
If you know for sure you'll be carrying a laptop on a regular basis, then having a padded laptop compartment is important. Frequent fliers are going to want a bag that fits with airline carry-on specifications, and often prefer features like lockable zippers or luggage pass-through on the back.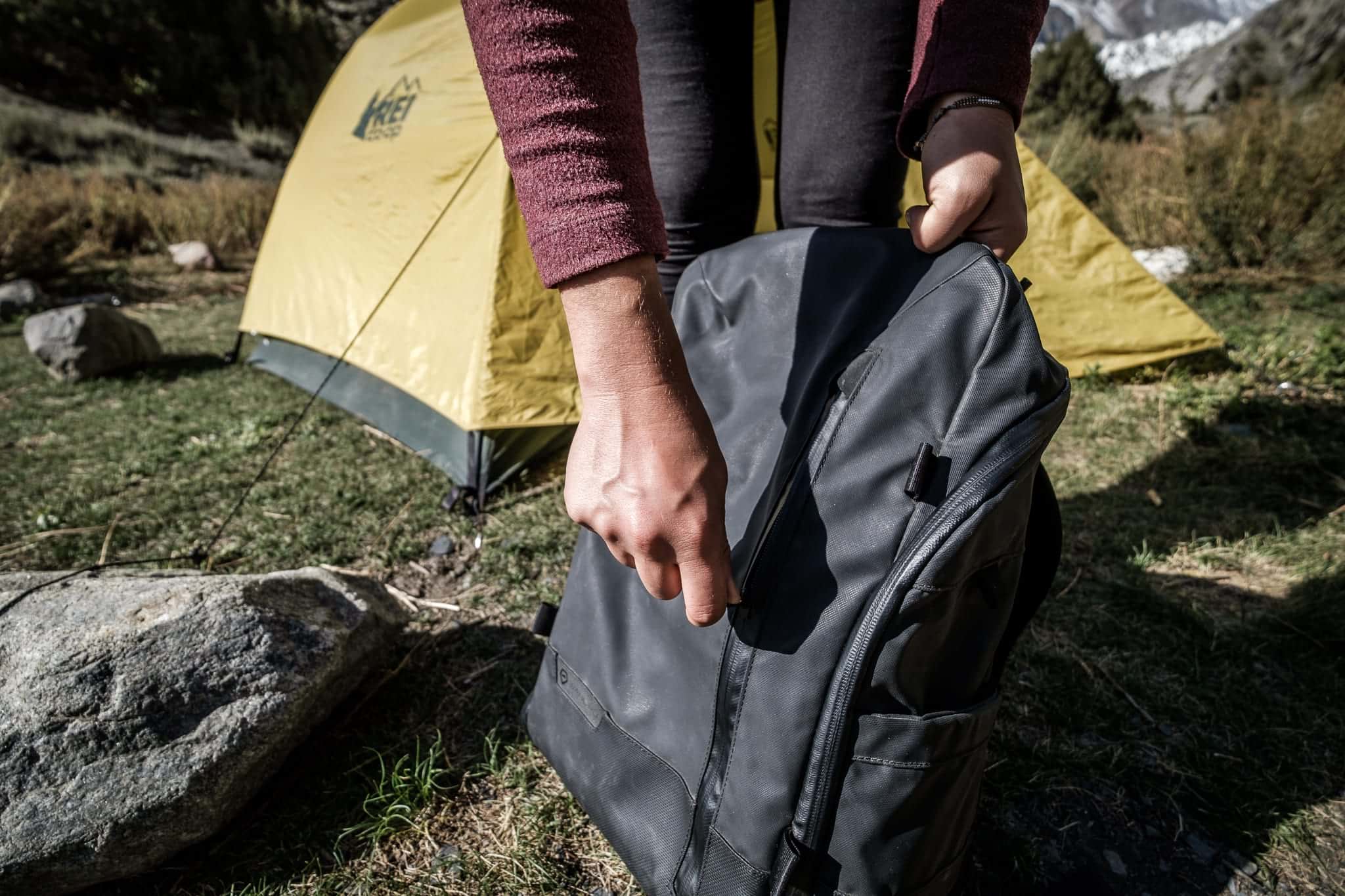 The good news is that most of the best EDC packs can function in a variety of settings. For example, the Aer Gym Duffel also has a compartment for a laptop or the Wandrd PRVKE bag has a removable camera cube for when you don't have your photo gear along. 
When selecting an EDC pack, think about both your primary and secondary intended use. For example, if you want the bag mostly for a daily commute to work, but like the idea of going hiking on the weekends, then something lightweight with padded straps, a water bottle holder, and good back ventilation is ideal.  
Aesthetics
What sort of "cool" factor points does your backpack or bag have? Will it look alright to bring to a meeting at work? Do you want a bag that's eye-catching, or something simpler and more minimalistic?  
Some people care a lot about how a backpack looks, while for others functionality is the only thing that matters. Again, thinking about how you will most often be using the bag can help determine whether you should go for a certain look or not.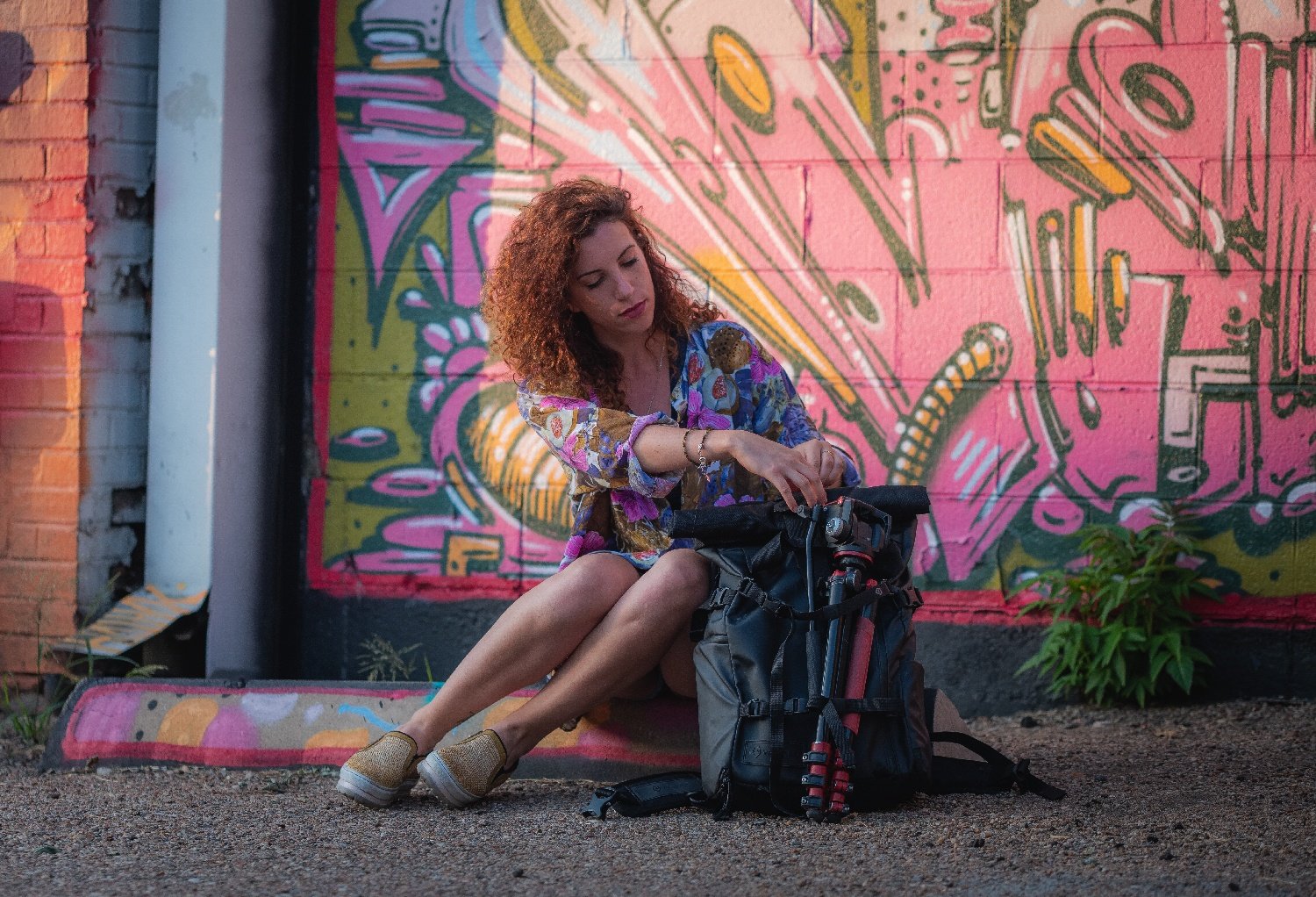 If you want to bring your EDC pack to more formal settings, like an office workspace or a travel business meeting, then something with a more sleek appearance is desirable. If you plan on using your EDC exclusively for biking and hikes in the woods, then you probably don't need to worry so much about how classy the pack looks. 
Weather
Thinking about where you plan on using your pack is just as important as what you need it for. Do you live somewhere with cold winters? Somewhere with lots of rain like Portland or London? Are you travelling somewhere hot and humid like Singapore or the Caribbean? 
Taking the weather into account can help you decide how durable and weatherproof a bag you'll need.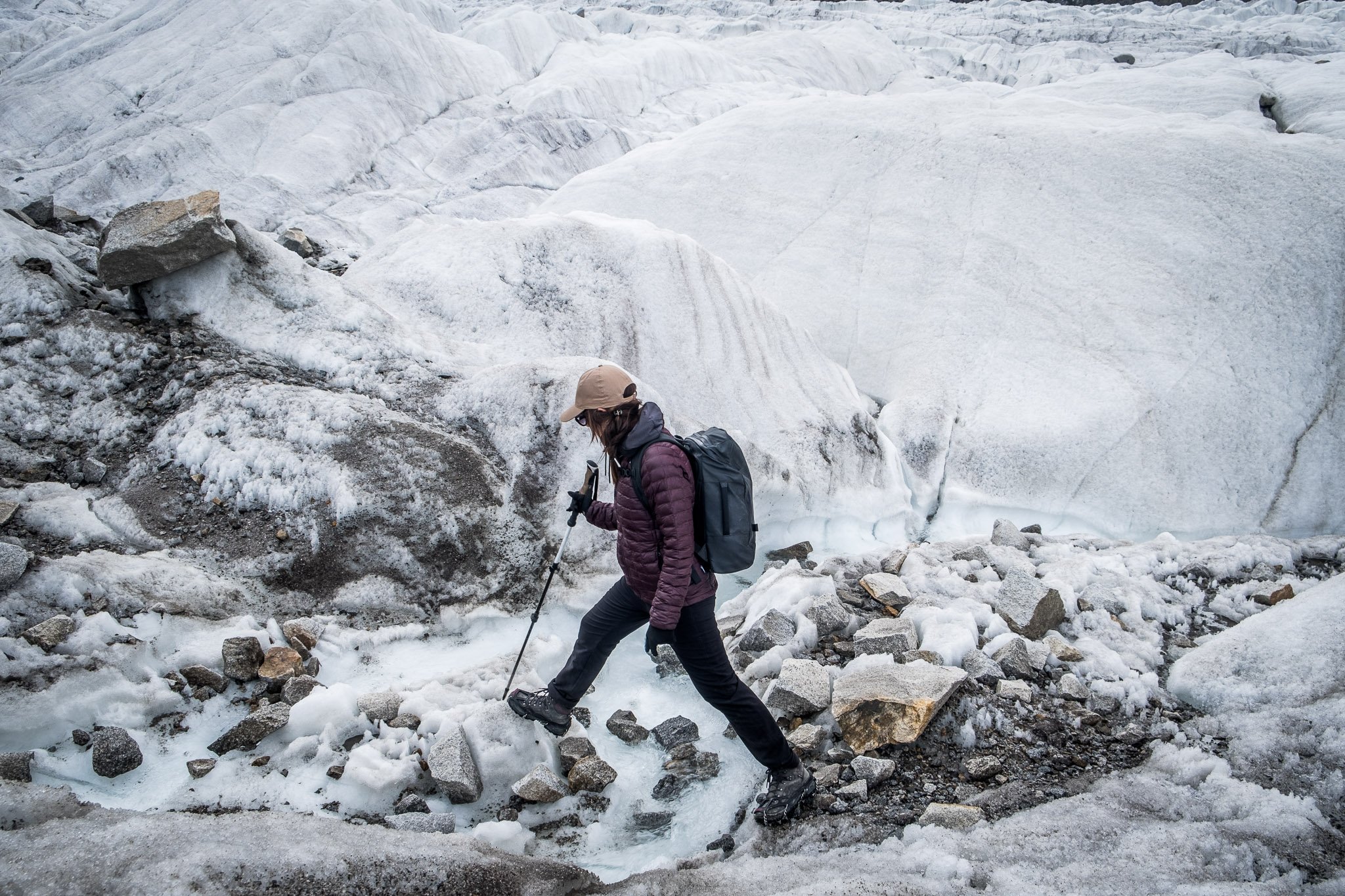 Even really good EDC packs usually aren't waterproof to the point of being submersible, but some come close thanks to waterproof material and weather-resistant zippers. 
Usually, the more weather resistant the bag is, the more it's going to cost. However, if you're carrying around an expensive laptop, camera equipment, or other valuables, buying a more watertight bag can actually save you money (and peace of mind) in the long run. 
FAQ about the Best EDC Backpacks
Still have some questions? No problem! We've listed and answered the most commonly asked questions below. Here's what people usually want to know:

Unlock the The Broke Backpacker's GREATEST Travel Secrets!
You pop your email here, and we promise to send you only travel content that's actually relevant — sounds like a pretty good deal to us!
Final Thoughts on the Best Everyday Carry Backpacks (EDC) Backpacks
There you have it. From gym bags to travel backpacks, hopefully, you've been able to find the best EDC pack for your needs and lifestyle on this list. If you're tired of awkward tote bags or backpacks that keep ripping at the seams, then it's probably time to invest in one of these comfortable and high-quality everyday carry packs. 
This is 2022; there are PLENTY of awesome options out there, so now I can't find an excuse for not having an awesome backpack I carry around every day. Life is too short amigos for a s*** everyday pack.
Whether you go with a great all-around option like our top pick the Aer Small Travel Pack or something like the Aer Duffel Bag if you're regularly at the gym, an EDC pack is a great way to help stay organized in all your daily activities. Most of these packs also work great as carry on backpacks too if you're headed away for a break from the daily grind, you can save money and use the same bag!
Good luck on your quest to find the perfect backpack that fits your daily routine.
---
Thanks for reading – that was fun! 😀
We bring you epic FREE content!
Find out how YOU can help support us.
We're a big site with a big team and this job isn't always easy. But we do it because we love it – we love providing epic and free content. We love the knowledge that our content keeps you adventuring. We don't ask for money, but if you'd like to find out how you can help the site in more organic ways, click the button below.
Thank you for your support 🙂
---
Bye for now, but not forever!
If you want MORE top-tier Broke Backpacker content like this, then sign up for our weekly newsletter below to get the latest and greatest!
And for transparency's sake, please know that some of the links in our content are affiliate links. That means that if you book your accommodation, buy your gear, or sort your insurance through our link, we earn a small commission (at no extra cost to you). That said, we only link to the gear we trust and never recommend services we don't believe are up to scratch. Again, thank you!