These days, pretty much all of us have a perfectly serviceable camera wedged inside our pockets. Whether you use an iPhone or a Smartphone, pretty much any model from the last decade can be used to take adequate travel snaps.
However, to get those real jaw dropping, magazine-worthy pictures, you still need a proper camera along with some key accessories and the knowledge of how to use it!
Whilst the knowledge can usually fit inside your head, the camera and accessories themselves can be pretty heavy and cumbersome. As such, dedicated photographers need to invest in a decent camera bag.
We have tried plenty of them and not all of them are equal. In this post, we're gonna take a deep dive and look at the WANDRD FERNWEH!
Through time, as adventure photography has evolved, so have the cameras. Professionals need a vessel to carry all their expensive cameras, lenses, tripods, etc. to get that money shot. The "like bomb" that will get thousands of likes and shares on social media of that one athlete reaching for that impossible crimp or shredding that beautiful powder turn.
WANDRD has finally created the backpack every adventure photographer needs, the FERNWEH (pronounced: Fern-veh). Load the WANDRD FERNWEH Backpacking Bag with your sleeping bag, pad, skis, climbing gear, and most importantly your camera and all its accessories, and strap it to your backpack for the next adventure.
The WANDRD FERNWEH backpack is the product for the 21st-century adventure photographer. I have been working in the outdoor industry for over a decade, I have tested and used many backpacks over that period of time. I must say that I have never seen one like this before!
In this review, I plan to cover it all, the pros, cons, highlights, and useful features.
Let's do some exploring…
Below is the link to WANDRD's BRAND NEW Kickstarter campaign where you can be one of the first to order the FERNWEH.
Quick Answer: WANDRD FERNWEH Backpacking Bag Specs
| | | |
| --- | --- | --- |
| | Small/Medium | Medium/Large |
| Exterior Dimensions | 25 x 13.5 x 9.5 Inches | 26 x 13.5 x 9.5 Inches |
| Torso Length Range | 14.5-16.5 Inches | 16-18 Inches |
| Exterior Materials | 4200 Nylon 5PM 6300 Nylon | 4200 Nylon 5PM 6300 Nylon |
| Interior Materials | 2000 Polyester | 2000 Polyester |
| Size | 50 Liters | 50 Liters |
| Weight | 5lbs | 5lbs |
Every adventure is different, therefore it requires a different set of gear. Typically, when I go out to adventure and take photos, there are some things I consider my "must-haves". To provide you some context, let me tell you a little more about what I prefer to bring out with my on adventures.
Camera
Lenses
Tripod
Solar-powered rechargeable battery
Laptop
Headlamp
Cords to charge all the technology I'm burdened within the 21st century
Water
Food
"X" days worth of clothes
Hardshell rain layer
Puffy jacket (winter)
Fleece layer (summer)
Climbing and/or ski gear
Sleeping bag
Sleeping pad
Now that you have some context, let's dive deeper into the WANDRD FERNWEH backpack.
Ladies & Gents, It's Time to Step Your GEAR Game Up. 😉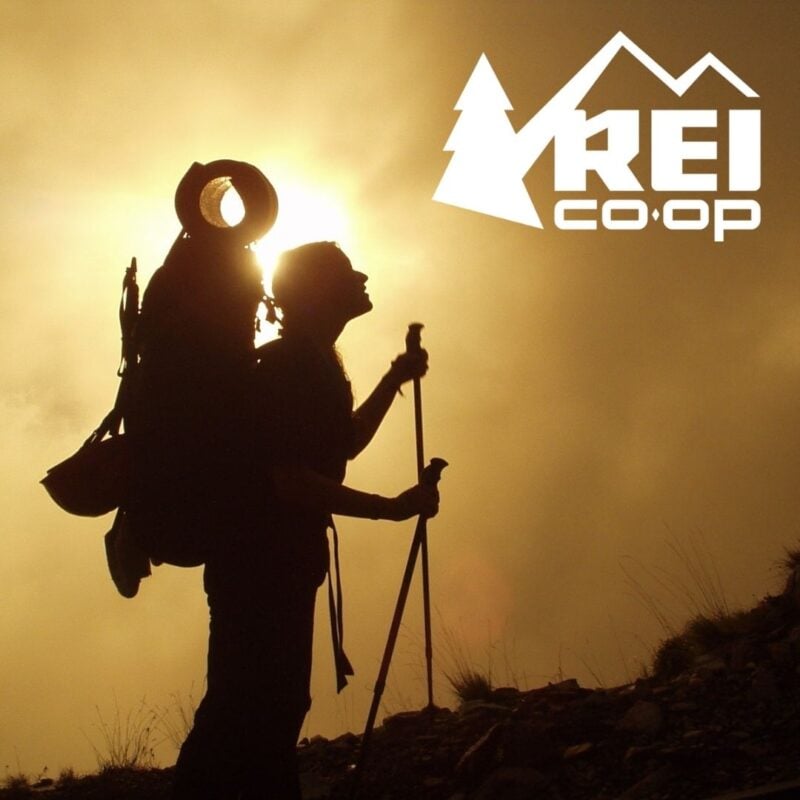 REI is one of America's biggest and most-loved outdoor gear retailers.
Now, for just $30, get a lifetime membership that entitles you to 10% OFF on most items, access to their trade-in scheme and discount rentals.
Join REI Today!
Camera Compartment
Well this is a backpack made for adventure photographers, right? So let's cut to the chase, shall we?
The camera compartment is broken down into seven different small compartments. All padded with synthetic material and velcro straps to secure the camera and its accessories in place. For years, I have known many adventure photographers that secure their cameras to the sternum strap of their backpacks. However, those adventure photographers that secure their cameras to their sternum straps had to do it out of necessity.
This camera compartment is located inside of the backpack itself and is accessible via the back frame sheet behind the shoulder straps. Although that can make it harder to access in a pinch, it was done strategically. To best support your back, the weight of the back needs to be aligned close to the middle/lower back.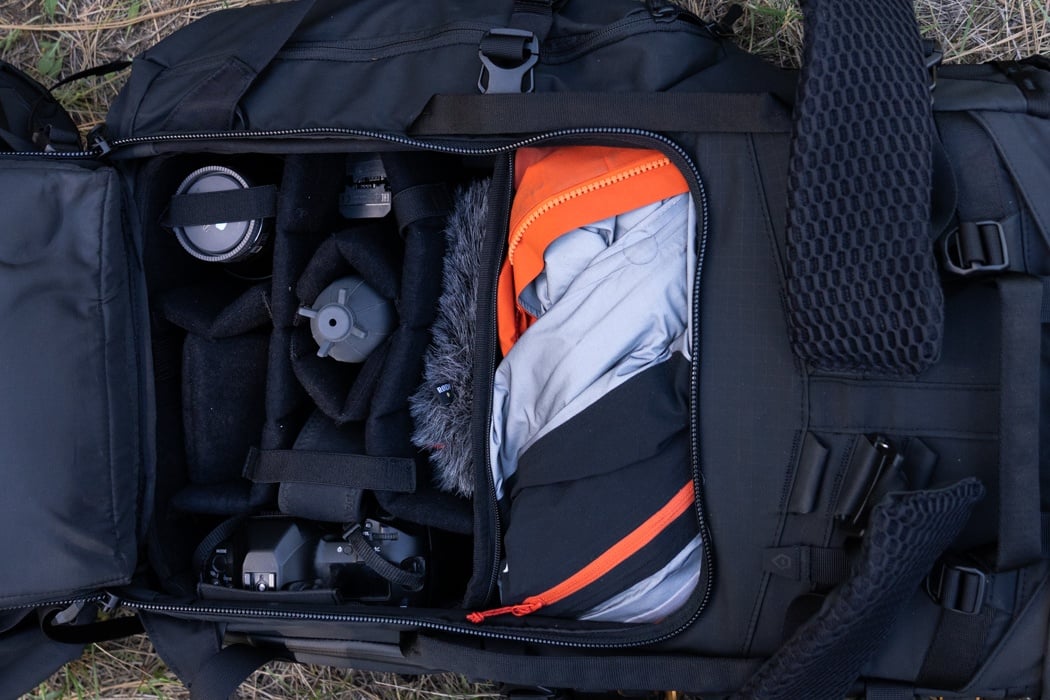 Those of you that have lugged around a bunch of camera gear know that it is no easy feat. Even with advancements in modern camera technology, cameras, lenses, and tripods are bulky and heavy. I would imagine the logic WANDRD used to include the camera compartment in the interior of the backpack had to do with support overall.
I see the pros and cons of this camera compartment overall. At first glance, one con is that is someone was hiking or skiing along and wanted their camera accessible to take a quick snapshot. Dropping your backpack, grabbing your camera and proper lens to get that magic moment takes time and the moment may disappear by the time that you're ready to shoot. However, a loaded backpack with heavy and bulky camera equipment would definitely be easiest to carry where it is located inside the backpack.
To address this issue, WANDRD included a Quick Draw Side Access on the FERNWEH similar to the PRVKE and HEXAD Access so that you don't have to take the bag all the way off and set it down. You can quickly access your camera by using this access point – which is crucial for speed and wuick access.
Camera Compartment Score 4.9/5
Meet The Peak Design Capture Clip…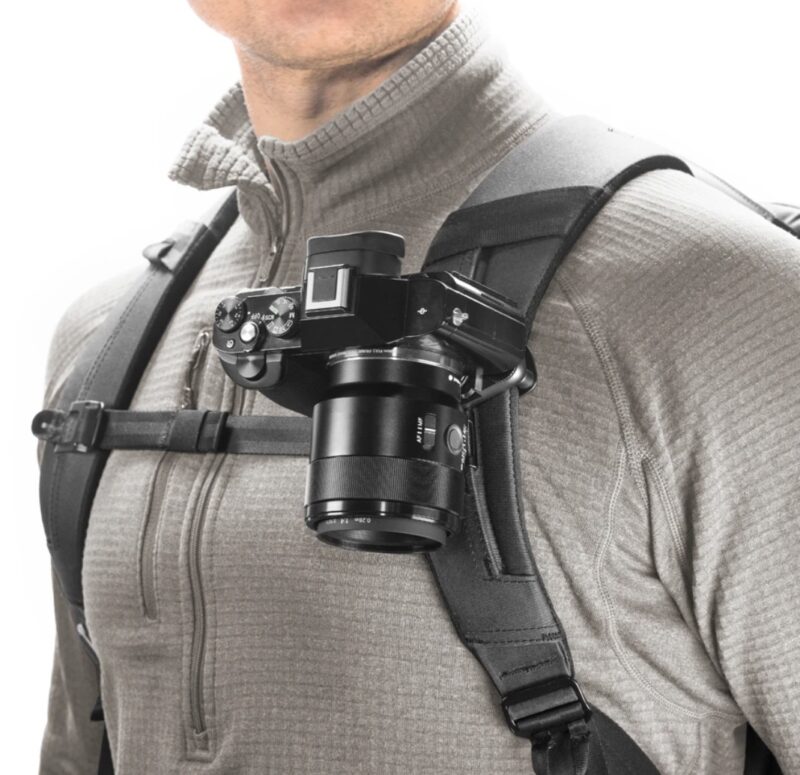 Before we go any further, I need to drop some knowledge on you. The Peak Design Capture Clip is a cheap, game-changing tool for adventure photographers that lets you keep your camera within arm's reach when hiking or moving about a city, without the camera ever getting in the way when you are not taking photos.
Clip it in, clip it out in one quick motion. Boom.
Investing in one of these is probably the best small adjustment you can make to your adventure photography setup. Just sayin'
Check on Peak Design
Laptop Compartment
As any adventure photographer would know, once you take your photos, you are going to need a place to store and edit them. Are you going to take your laptop on every adventure? Of course not. But if you plan on staying somewhere for an extended period of time you're going to want to have your laptop with you.
The laptop compartment is large enough to securely fit a 15″ computer. It is composed of padded, synthetic material with a velcro strap to secure your laptop and charger in place. The laptop compartment is located on the "backside" of the frame sheet.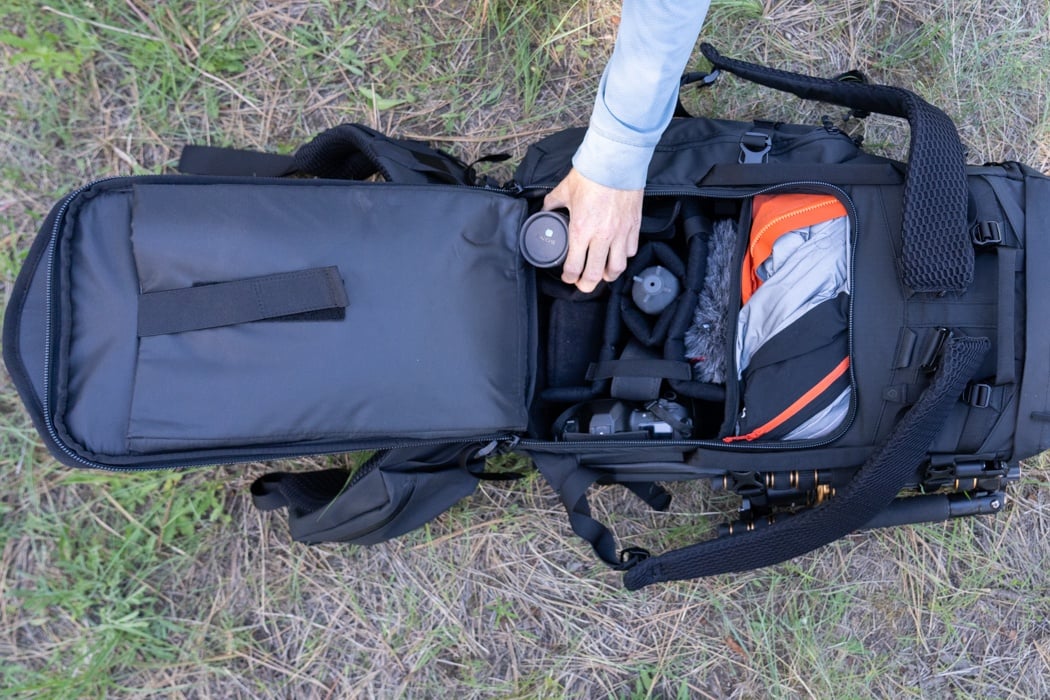 The laptop compartment location is consistent with any other backpack. The heaviest load needs to be close to the body, and putting the laptop compartment there makes the most sense.
Overall, the laptop compartment is straight forward and simple but definitely an important feature to include in an adventure photography backpack.
Laptop Compartment Score 4.7/5
Packability & Accessibility
Like any compartment of this backpack, I definitely see the pros and cons. For the meticulous, careful-minded backer, you are absolutely going to love using this backpack. For the 'Just cram it in there' type packer the packability of this backpack is likely going to drive you insane.
There seems to be a designated compartment for anything you can imagine. There is an interior brain, camera compartment, laptop compartment with additional room to spare. The backpack was clearly designed with intention.
The interior brain is large (approximately 5 liters). Ideal for small, miscellaneous, or important items so they don't float around our backpack and eventually get stuffed under something. A fully loaded backpack with camera gear, camping/adventure gear, and an interior brain allows you to keep everything organized.
Now, let's talk about accessibility. After observing and tinkering around with the features, consensus? High accessible. The interior of the backpack has four access points from any possible angle you can think of. Carelessly packed your rain jacked at the bottom of your backpack, well, there's a pocket to access it. Need to reach into the front of your backpack to grab your phone charger? There's a pocket to access it. Need to grab your camera for a quick group photo under beneath your big skiing objective? There's a pocket to access it. Get the idea?
The WANDRD FERNWEH backpack is not the type of backpack that you can cram weeks worth of clothes into, in addition to the camera and adventure gear. For its intended purpose, I would argue that it's highly packable and accessible.
Packability & Accessibility Score 4.8/5
Overall Interior Score 4.8/5
The best present of all… is CONVENIENCE!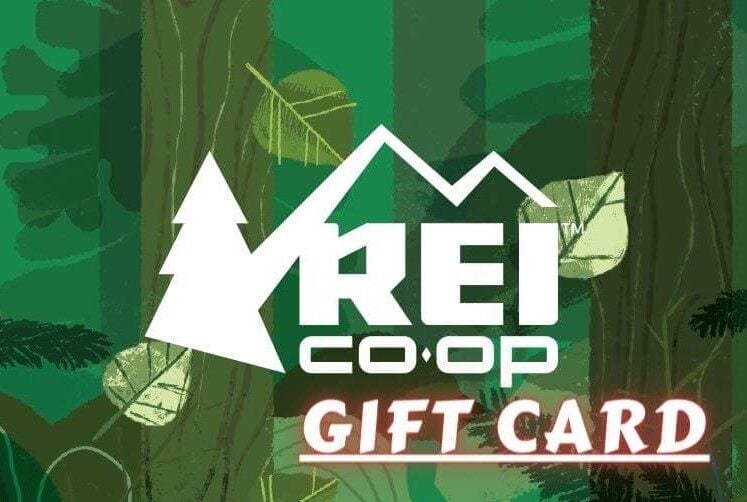 Now, you could spend a fat chunk of $$$ on the WRONG present for someone. Wrong size hiking boots, wrong fit backpack, wrong shape sleeping bag… As any adventurer will tell you, gear is a personal choice.
So give the adventurer in your life the gift of convenience: buy them an REI Co-op gift card! REI is The Broke Backpacker's retailer of choice for ALL things outdoors, and an REI gift card is the perfect present you can buy from them. And then you won't have to keep the receipt. 😉
Buy on REI!
WANDRD FERNWEH Exterior
Structure & Support
Ever carried a fully loaded backpack only to find out that the straps dug into your shoulders and waist? It sucks, doesn't it? Thankfully the developers at WANDRD took that into consideration when designing the FERNWEH.
The shoulder and hip straps are made with a breathable foam and air mesh back panel. So what does that mean? It means when it's underweight and compressed, the straps have enough support to form a contour around your shoulder and hip features. Which maximizes comfort.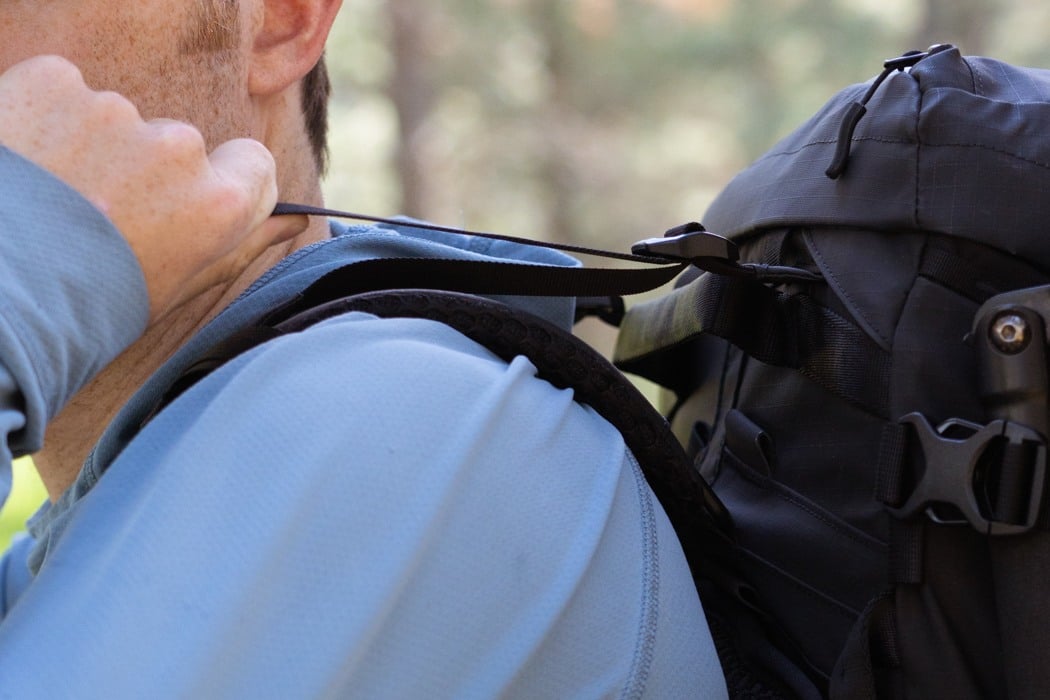 The frame sheet is the feature that aligns against your back when you wear the pack, ultimately it displaces most of the weight. The frame sheet is covered in the same material, so even when you're carrying your camera gear, laptop, adventure gear, and clothing, the foam and air mesh will not only maintain comfort but also breathability.
Ultimately, the structure of the backpack itself supplements the support it has for the user. Being made of good material is one thing, but what it really comes down to is design. The features included, and the intentional compartment designed for specific use force you to pack heavy items closer to the body which is what makes it supportive overall.
Structure & Support Score 4.6/5
Exterior Packability Score
Earlier in the article, we talked about interior packability. Ordinarily, there is not much to say about exterior packability, the WANDRD FERNWEH Backpacking Bag is definitely an exception to that.
First, the outside of the backpack is riddled with multi-point exterior accessory straps. They are everywhere and they are placed with intention. For one reason or another, folks will need to strap or clip things to their backpacks. If you are in that position where you need to clip things everywhere, then there are multiple points to clip to so you don't have to consolidate a ton of shit onto one point of the backpack.
It appears that the developers of the WANDRD FERNWEH backpacking bag are skiers. On both sides of the backpack are ski straps with releasable buckles. Let me tell you from experience, strapping skis onto the sides of your backpack and not having the ability to secure them tight is a total headache. Thankfully, the folks at WANDRD thought this one through, likely from their own experience.
In addition to the ski straps, there are ice ax loops in the front of the backpack. If you find yourself going on an alpine mission, thankfully you can take a backpack that can accommodate the gear required for that particular mission.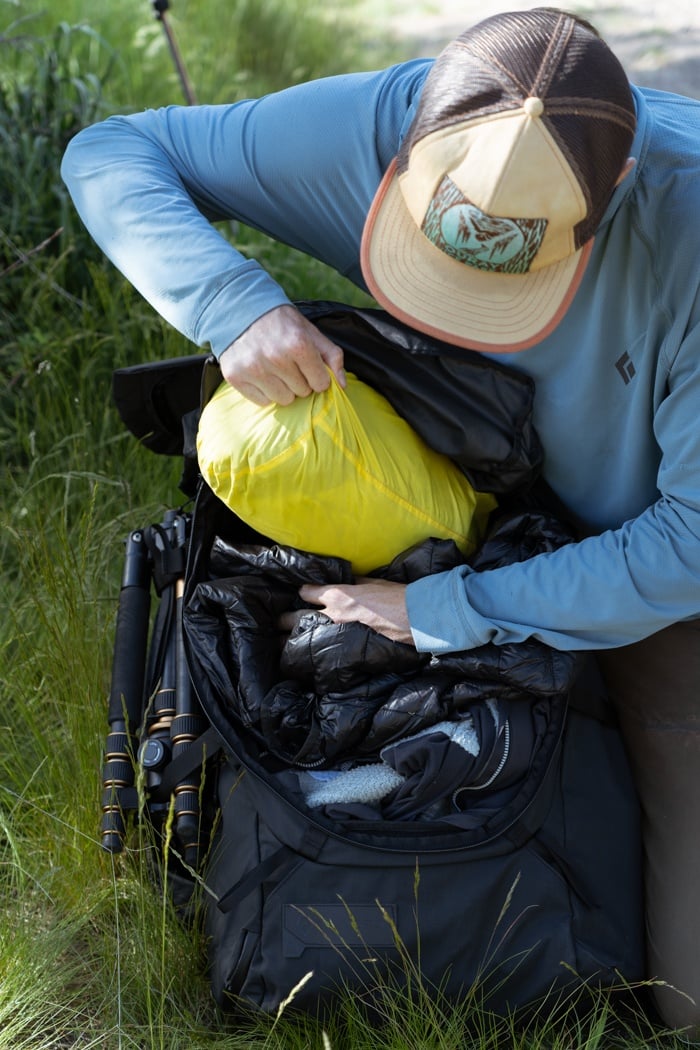 Finally, the bottom compartment has an additional feature, the sleeping bag/pad carry system. If you find yourself on an adventure that requires all your camera gear, climbing/skiing gear, food, clothes, and a backcountry sleep system. There is no way you're gonna fit all that shit inside this backpack, that's where the folks at WANDRD were thinking ahead. Unzip the very bottom compartment and BAM! There is a pouch that pulls out of the pack and allows you to securely pack your sleeping bag or pad on the exterior of your backpack.
Personally, I think any adventurer is going to lose style points when you're walking along with a bunch of crap banging against each other on the outside of your backpack. There is a time, place and purpose for such a packing style. Thankfully, the folks at WANDRD clearly put thought and intention after multiple rounds of testing to ensure that you'll never have to be "that person".
Exterior Packability Score 4.7/5
Water Resistance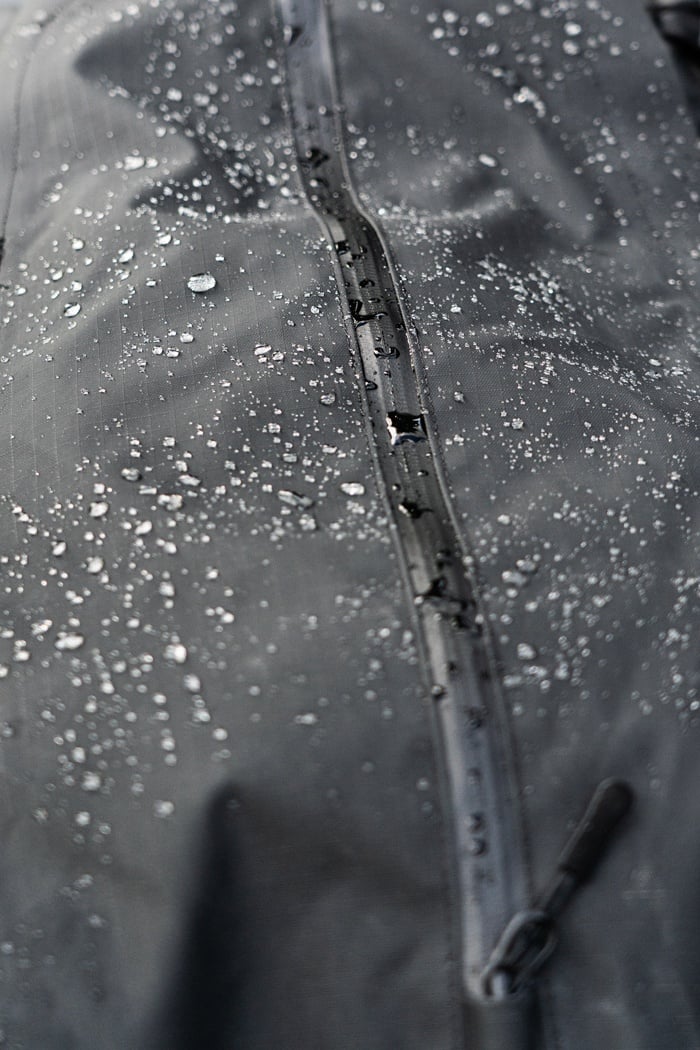 Well, the WANDRD FERNWEH is a backpack made for backcountry adventures, isn't it? Well, when you're traveling in the backcountry it is important to take one thing you cannot control into consideration, weather.
The exterior material is made of 420D Nylon 5PM, 630D Nylon. So what the hell does that even mean? It means it can handle some exposure to water. "Some" being the keyword here.
Technically, that material is waterproof; however, the zippers are not. Meaning that it can handle rain and splashing, but if you're planning on doing a river crossing on your next adventure, take precautions to ensure that your valuables inside the backpack aren't damaged if they get exposed to moisture.
Fun fact, one of the developers at WANDRD accidentally submerged their FERNWEH Backpacking Bag into a river while doing a crossing. Thankfully, the backpack was recovered quickly and the contents inside the backpack stayed dry. Overall, I would boil that conclusion down to quick reflexes, if the backpack was submerged longer the backpack would have eventually leaked. Despite this cool story, for all the kids out there, don't try that at home.
Water Resistance Score 4.8/5
Overall Exterior Score 4.7/5
Pros
Versatile design and use
Durable
Aesthetically pleasing
High quality, water resistent fabric
Highly accessibly from exterior
Cons
Expensive ($349 retail)
Heavy
Interior design is "rigid" and may drive some users nuts
So many interior/exterior pockets it took me a minute to get oriented to the pack
WANDRD FERHWEH Backpacking Bag vs. the Competition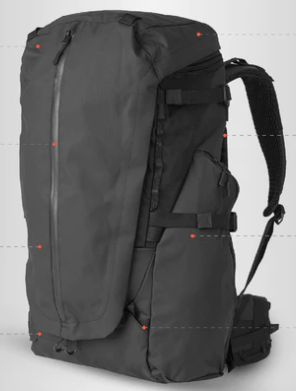 Wandrd Fernweh
Liters > 50 L
Weight > 5 lbs
Materials Used: 420D Nylon 5PM > 420D Nylon 5PM, 630D Nylon
Rainfly Included > No
Mountainsmith Tanuck
Liters > 40 L
Weight > 5 lbs
Materials Used > 610-denier Cordura HP polyester
Rainfly Included > Yes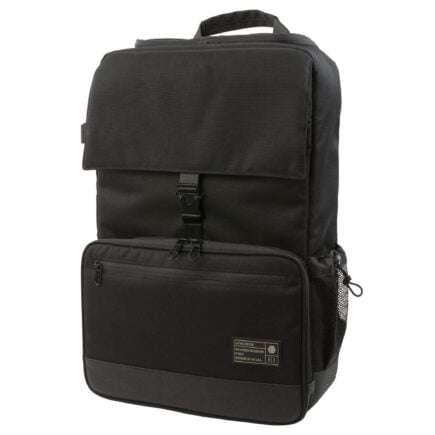 Hex Camera Backpack
Liters > 20 L
Weight > 3.25 lbs
Materials Used > Premium 900D poly exterior
Rainfly Included > No
Although the WANDRD FERHWEH backpack is one that stands out and is unique in the sense that it holds cameras, accessories, and a tripod in addition to all your other adventure gear. Obviously other camera backpacks exist on the market, let's take a closer look at what the WANDRD Ferhweh is up against.
The Mountainsmith Tanuck 40 liter camera backpack has some similar features for sure. Mountainsmith is known for making high quality, durable products. I personally have used their products before, although they don't create the prettiest products, they are built to take some abuse. Overall, the Tanuck 40 is not marketed as an adventure photography backpack but the accessory straps and higher volume give this backpack the ability to sustain any adventure photography adventure.
Another camera bag worth noting is the (smaller) Wandrd Prvke 31 camera backpack. Yes, this is definitely a camera bag but does not have the same features that the WANDRD FERNWEH has when it comes to suspension and hiking carry comfort.
Finally, another solid brand worth exploring is the Hex Camera Backpack. Hex products are a result of high quality, functionality and style. Although this is another great brand that provides solid options for all you photographers doing research out there. It is worth noting that the majority of Hex products are not designed for backcountry use.

Our GREATEST Travel Secrets…
Pop your email here & get the original Broke Backpacker Bible for FREE.
WANDRD FERNWEH Backpacking Bag Review: Final Thoughts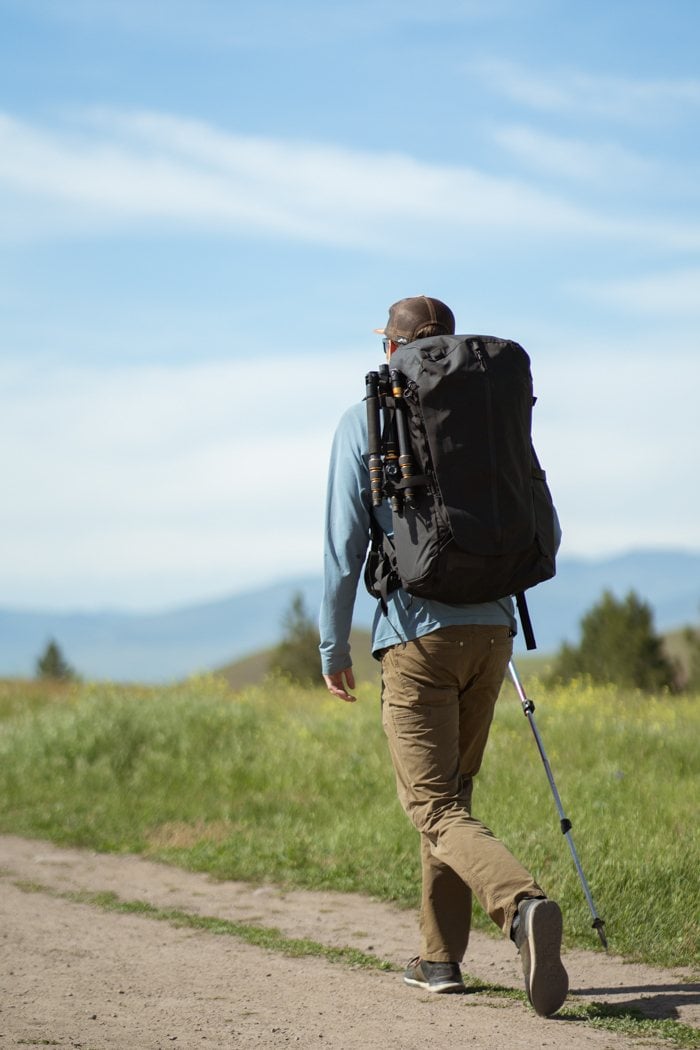 While you're doing your research, you need to ask yourself some questions: What specifically do you need for your adventure photography adventures? What sports do you do while you take photos? Where do you plan to travel with your camera and adventure gear?
All these questions are worth considering, and once you provide answers to these questions, you'll have a better idea of what you need for your adventures.
Overall, the WANDRD FERNWEH backpack is a badass product, it does not go without its flaws. First, it is heavy (5lbs), if you're the ultralight type traveler, that is something that may be a deterrent for you.
Something to consider, if you're the 'just shove it in your pack' type person then the interior of the backpack is likely going to drive you nuts. This sounds crazy to consider this a "flaw", but the interior forces you to be organized. The designated pockets and compartments have specific usage, so if you're unwilling to "comply" with the design, or get creative to customize the interior to fit your needs you may not be as stoked.
Finally, the FERNWEH is a brand new product. Meaning that over time the style and features will be changed and eventually improved upon. Currently, this review is of a prototype, so of course, the product isn't perfect. It's still in the beta phase, like a fine wine, expect this backpack to become better with time.
Despite these considerations, the WANDRD FERNWEH is a badass backpack. It is versatile, durable, made of high-quality fabric, and can fit your adventure and camera gear. Overall, this is a great product worth exploring.
Overall WANDRD FERNWEH Score 4.8/5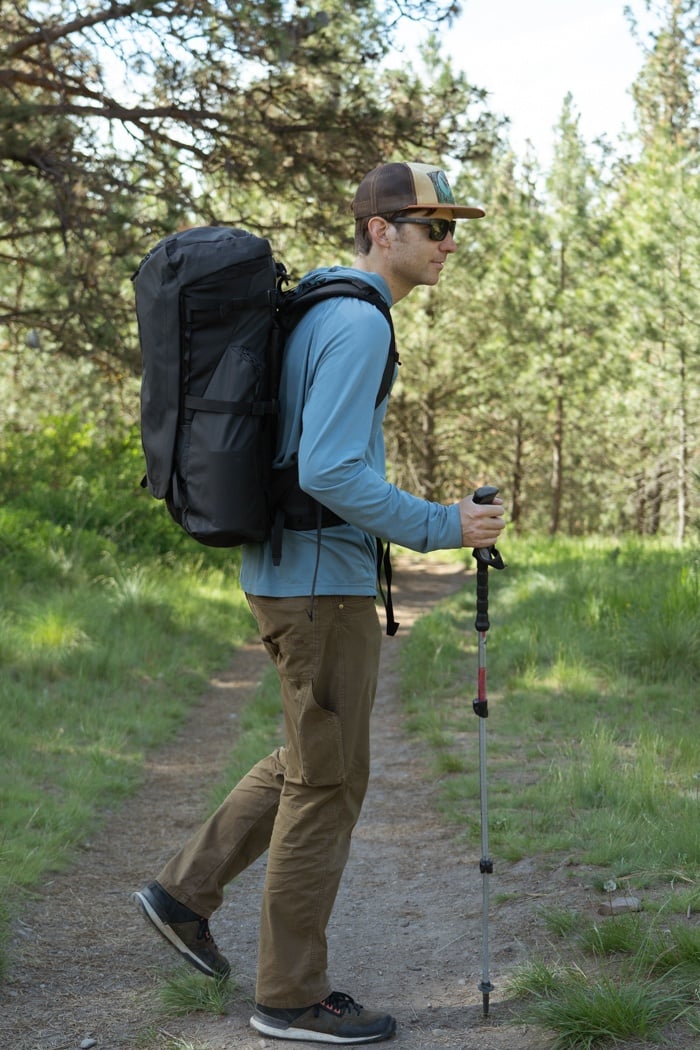 ---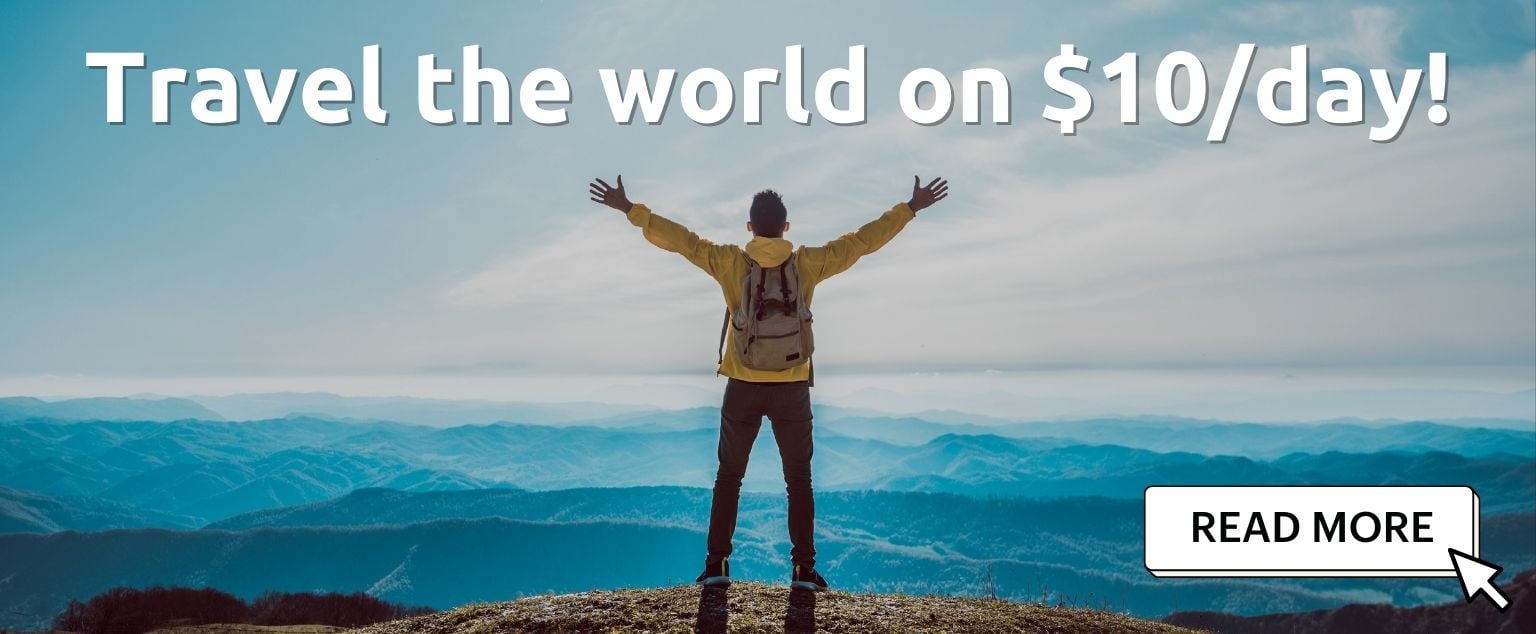 And for transparency's sake, please know that some of the links in our content are affiliate links. That means that if you book your accommodation, buy your gear, or sort your insurance through our link, we earn a small commission (at no extra cost to you). That said, we only link to the gear we trust and never recommend services we don't believe are up to scratch. Again, thank you!