With the rise of travel-specific backpacks over the last few years, few companies have risen to popularity as fast as Wandrd. Along with other top brands like Tortuga and AER, Wandrd produces a range of activity-specific backpacks to suit the modern traveler/backpacker.
I have been using the Wandrd Prvke 31 for the last few years, so when the chance came to do a Wandrd Duo daypack review, you better believe I jumped on it.
The Wandrd Duo (20 liters) is a backpack aimed at the "commuter photographer" – though we found its usefulness extends well beyond just that category.
From the streets of Paris to the mountains of Pakistan (quite the testing field, right?), we put this backpack through its paces to find out if it was indeed as badass as other backpacks offered by Wandrd.
Below, I breakdown all of the need-to-know information about the Duo including fit, organizational specs, durability and toughness, and hell, we even took a poll on Instagram to get the pulse on what other experienced travelers thought of the look.
If you are looking for an awesome new day pack, read on to find out if the Wandrd Duo is a good fit for your daily needs.
Wandrd Duo Daypack Review: Key Features and Performance Breakdown
Whenever I get my hands on a new daypack, I ask myself a few questions right off the bat. Is the backpack compatible with a laptop? Will my camera and lenses fit inside? Is it comfortable enough to take on day hikes? Will the look of this bag make me look like a total fool on the streets of Europe?
If the answer is negative to any of the questions above the backpack already has some serious strikes against it.
With the Duo backpack in hand, my first impression was that it met all of my criteria straight away. With a pop-camera cube, side access points, and plenty of padding and simple style – the Duo is an interesting option for the rigors of daily life. It is big enough to be an everyday bag yet small enough that it won't feel half empty every time you use it.
Minimalist minded people will appreciate the generous, but not over-the-top features on offer here.
Ladies & Gents, It's Time to Step Your GEAR Game Up. 😉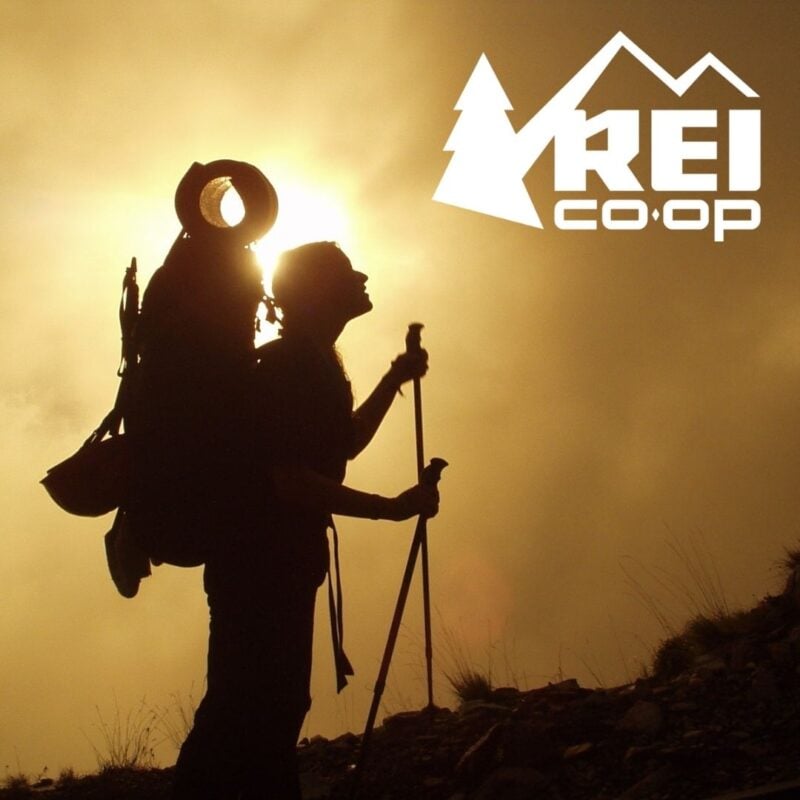 REI is one of America's biggest and most-loved outdoor gear retailers.
Now, for just $30, get a lifetime membership that entitles you to 10% OFF on most items, access to their trade-in scheme and discount rentals.
Join REI Today!
Internal Organizational Features: The Main Compartment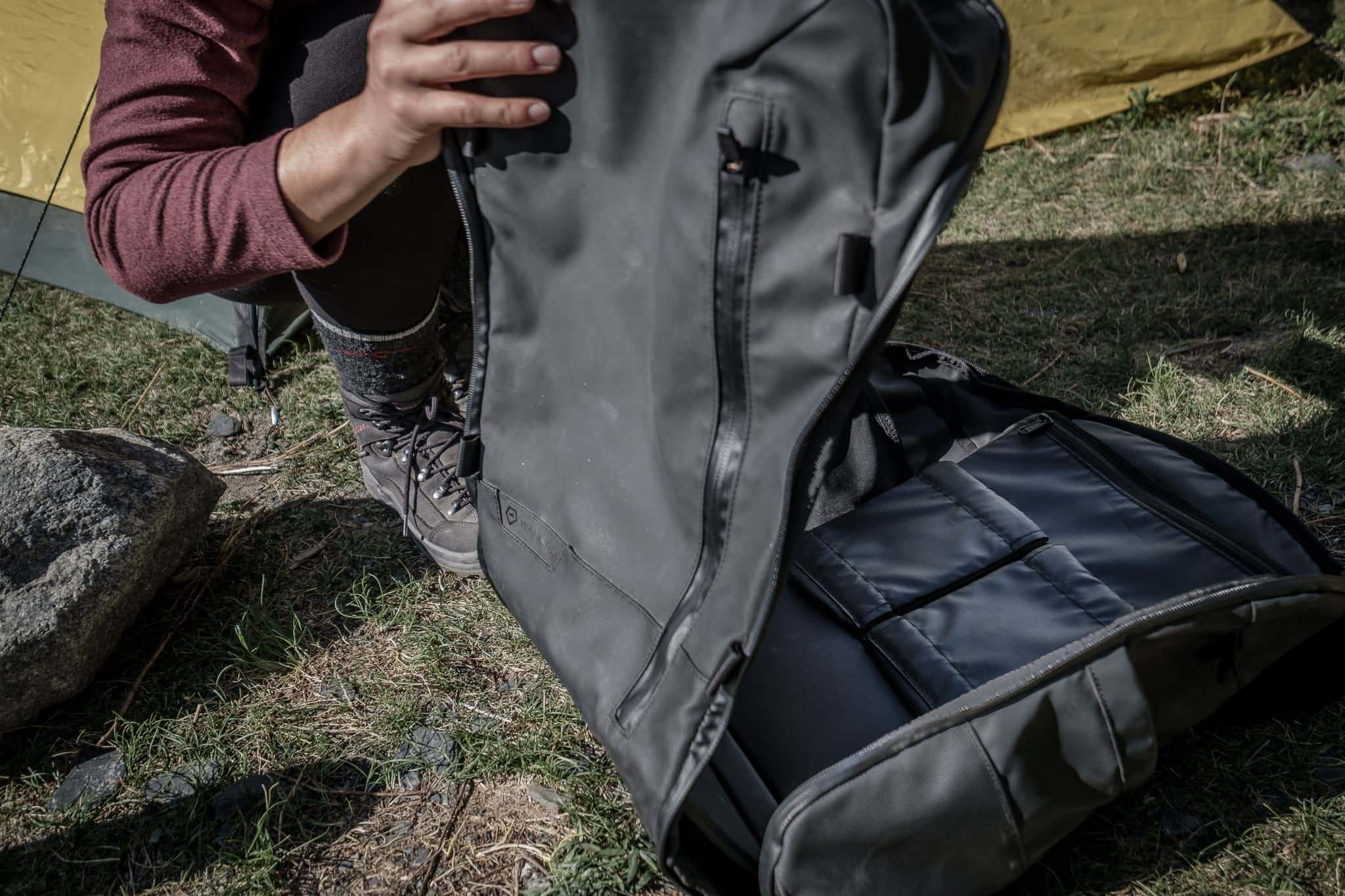 What does that old adage say? It's what's on the inside that counts. You're damn right. Well, don't worry. This Wandrd Duo review is going to focus plenty on what is going on inside this backpack.
Some of the main important features to note:
Airport friendly padded laptop sleeve – Because we all want to get in and out of security as fast as possible.
Expandable interior pockets (with padding) – carry a camera lens, hard drive, or a Cuban sandwich; the Cuban sandwich is best.
Numerous side stash pockets (inside) to organize all of your bits and piece – we all have bits and pieces.
If you carry a camera the obvious place to start is with the "Pop Camera Cube". This feature is pretty straightforward. Pop it up when you need it, keep it flat when you don't. Simple.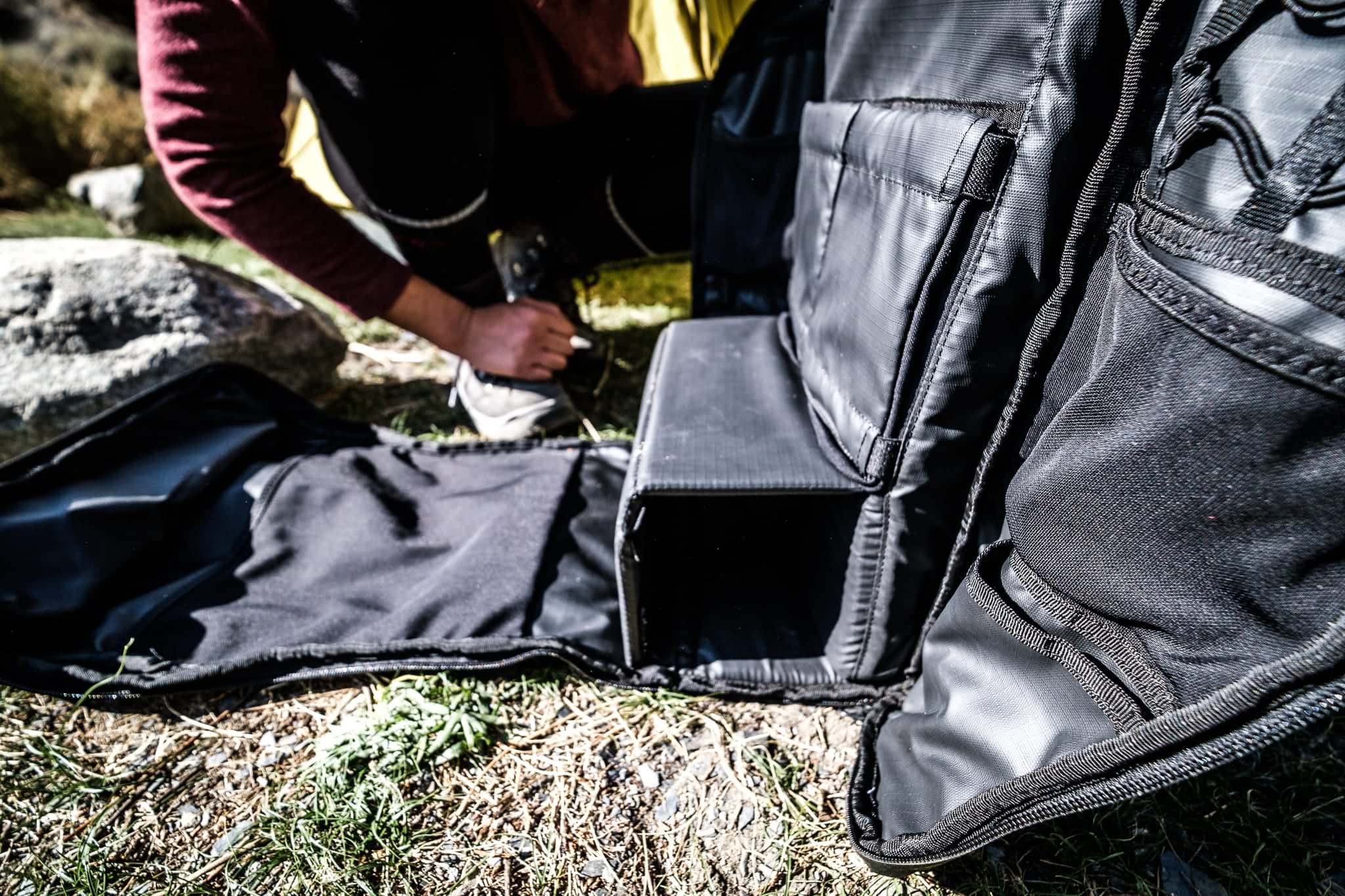 My initial concern with the camera cube is lack of ability to totally secure the camera within. I mean there are no closure fasteners or zips. Then I found that once inside, the camera is surrounded tightly enough by the padded walls of the cube and the contours of the pack that it does not move around at all when the pack is closed.
Even though your camera will live at the bottom of the backpack, you can still quickly and easily access it from either side. They call this the "Dual Side Access". This feature is critical for the Duo to have as without it, you would need to remove all of the stuff on top to access the camera below.
If you are traveling with a camera packed – be sure not to drop the backpack from any significant height as the camera cube is not suspended – thus it will be the first part of the pack to receive the impact from a fall.
The Laptop Compartment on the Wandrd Duo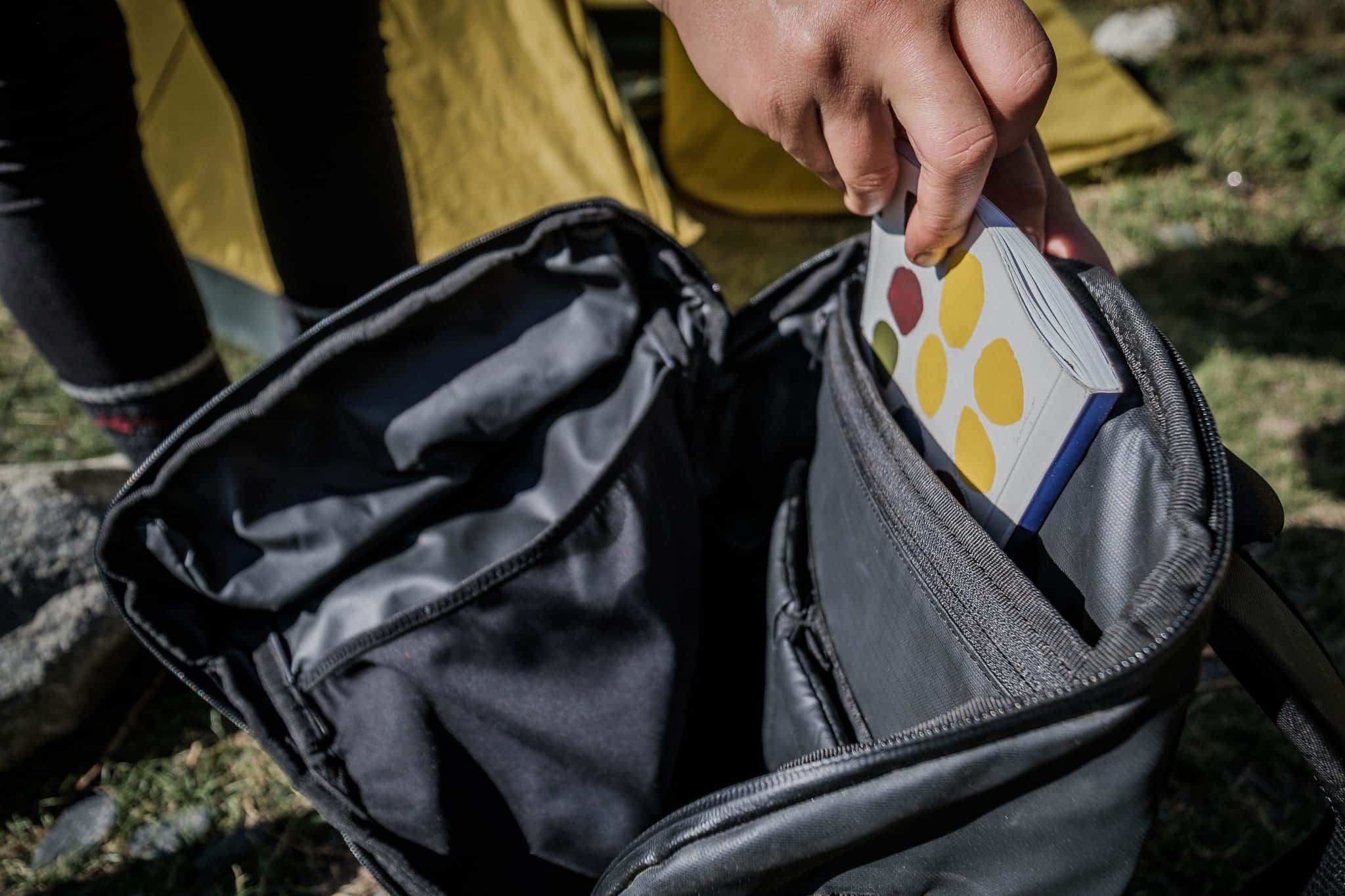 Standard on most travel backpacks these days, the Wandrd Duo's laptop sleeve provides easy, safe storage for your computer. If you carry a laptop on a daily basis as I do when I am in cities, then having quick access to your laptop is an obvious must.
The padding itself around the pack is solid enough to survive knocks against rough surfaces. That said, it should be noted that like the camera cube, there is no extra space between the bottom of the backpack and the laptop sleeve, meaning it is not really protected against major drops.
Is this a deal-breaker for me? No, it is not. Since the laptop has padding around all other areas and the exterior fabric is itself tough – it would take a major operator error, IE carelessly throwing your backpack down out of a second-story window to inflict serious harm onto your laptop.
Pay attention about how and where you set your backpack down and there are no worries.
For going through airport security – one zip and your laptop is entering the twilight zone of an airport x-ray machine. Done. Basically, access is easy, functional, and the laptop is padded from external threats; like the good foundation of a healthy relationship.
Internal Pockets and More Storage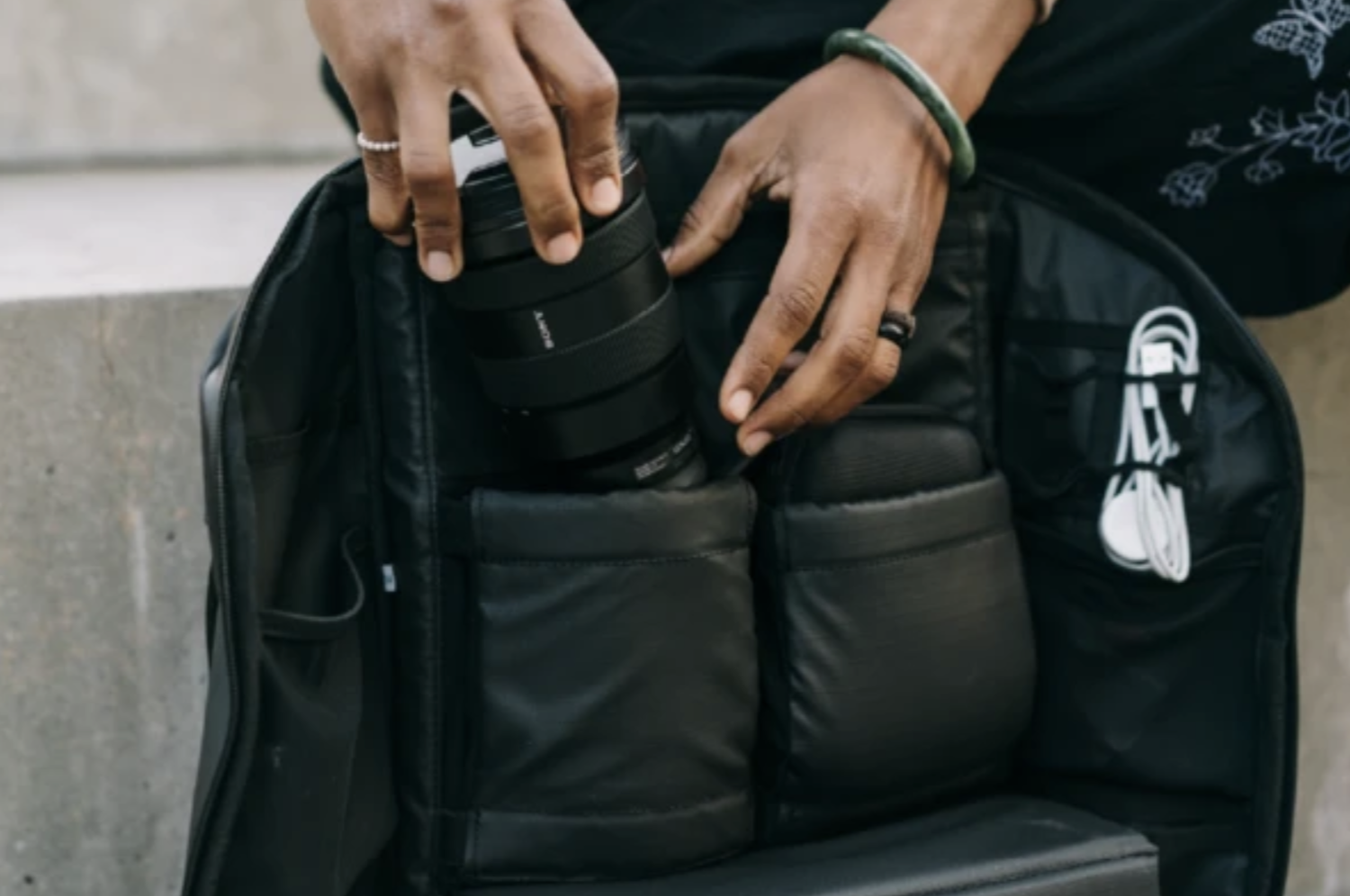 If you have been reading my reviews over the years, you know that I am a man who enjoys a good pocket scheme.
We all have stuff and keeping it organized in a thoughtful way helps us to be more efficient humans. At least that is what we tell ourselves, right?
If you are carrying other semi-bulky electronics or camera accessories, then you need to know about the expandable padded pockets. Located in the dead center of the backpack, the two expandable pockets firmly secure a camera lens (or 2), hard drives, and maybe, just maybe, a small drone like the Mavic Mini (not confirmed).
Bear in mind that if you have two full sized lenses stashed into these pockets, you will notice it. Lenses are bulky by nature and there is not a ton of room to work with inside the backpack if you plan on carrying other gear as well.
The various side and top pockets located around and above the expandable lens pockets are great for a variety of things. My favorite and possibly most useful small pocket feature is cord/cable secure zone. The stretch material they used helps keep everything in place.
In the heart of the pack you will also find a zippered pocket (especially good for smaller bits like SD cards, keys, cash, etc) along with multiple other pockets for storage and organization.
Exterior Pockets and Security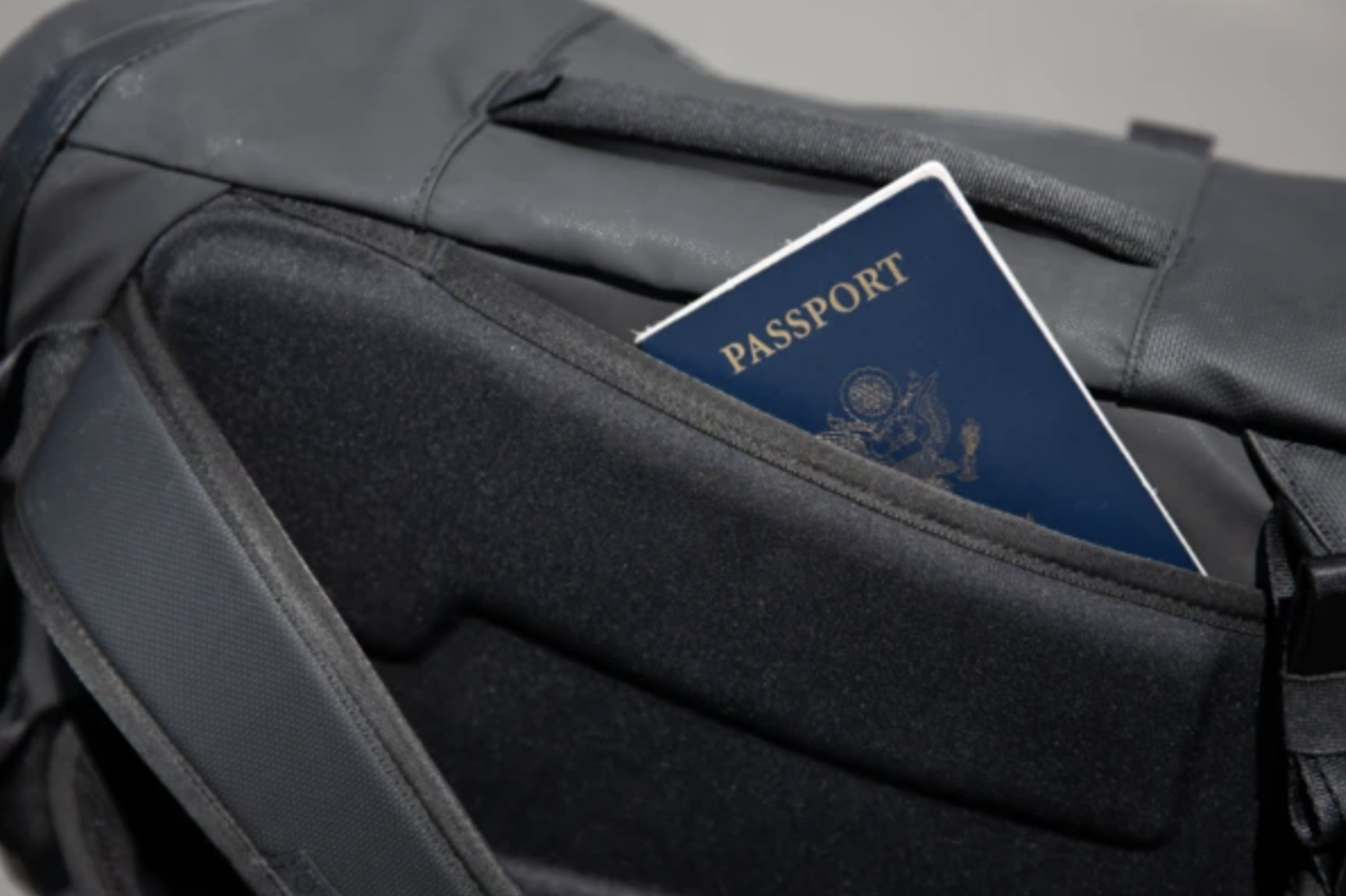 The exterior of the Duo also features several pocket options. The most useful is the full zippered pocket on the backside of the pack. It is big enough to store things you want to keep close at hand like suncream, a book, extra batteries, snacks, sunglasses, etc.
Located just above the backpack straps you will find a stash/ passport pocket. When in cities, utilize this thing! This stash pocket runs the whole length of the back panel you can easily store your phone, cash, cards, wallet, keys, passport, etc. I actually prefer this version of the stash pocket over the Wandrd Prvke 31 version since it is about double the size.
The exterior zippers (only 1 zipper present on each exterior pocket) are not lockable which is a negative for security. In that case, keep valuable stuff either in the stash pocket or inside the pack. I would never keep articles of any real value on the back zippered compartment when moving about in a big city as it can easily be opened by a clever thief.
The pass-through option – meaning you can fix the Duo backpack via a pass-through slot through the handle of a roller suitcase – is in fact not a pocket at all, but can prove very useful if you own a roller suitcase (I do not). It basically means that if you got wheels, you don't have to carry your backpack through a massive airport that feels like it was designed to train you for marathons.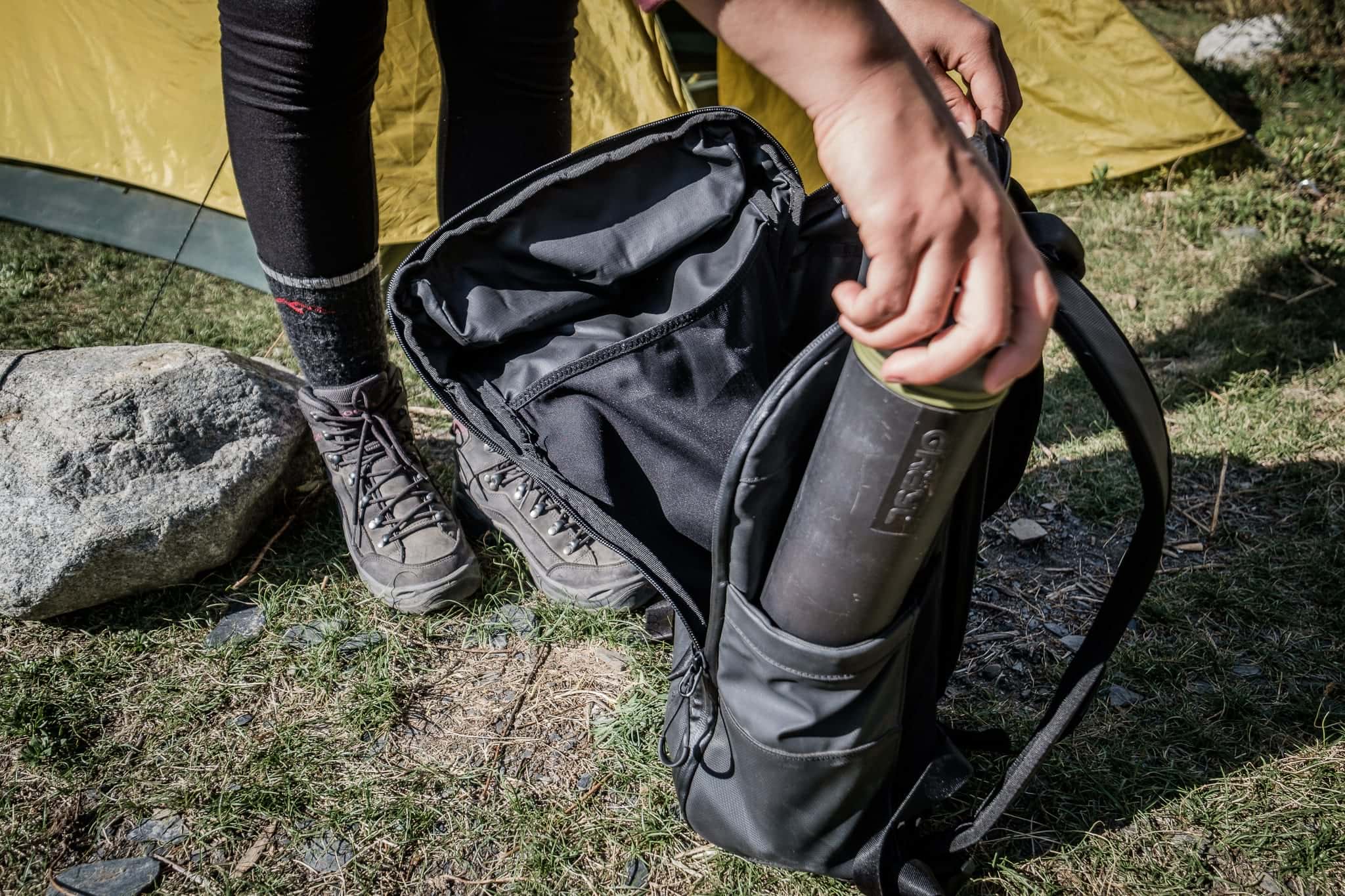 Note the side water bottle pocket – big enough to fit a Grayl Ultralight bottle – but not big enough to fit a Nalgene. You should have a Grayl Ultralight anyway if we are being honest.
Size of the Wandrd Duo Daypack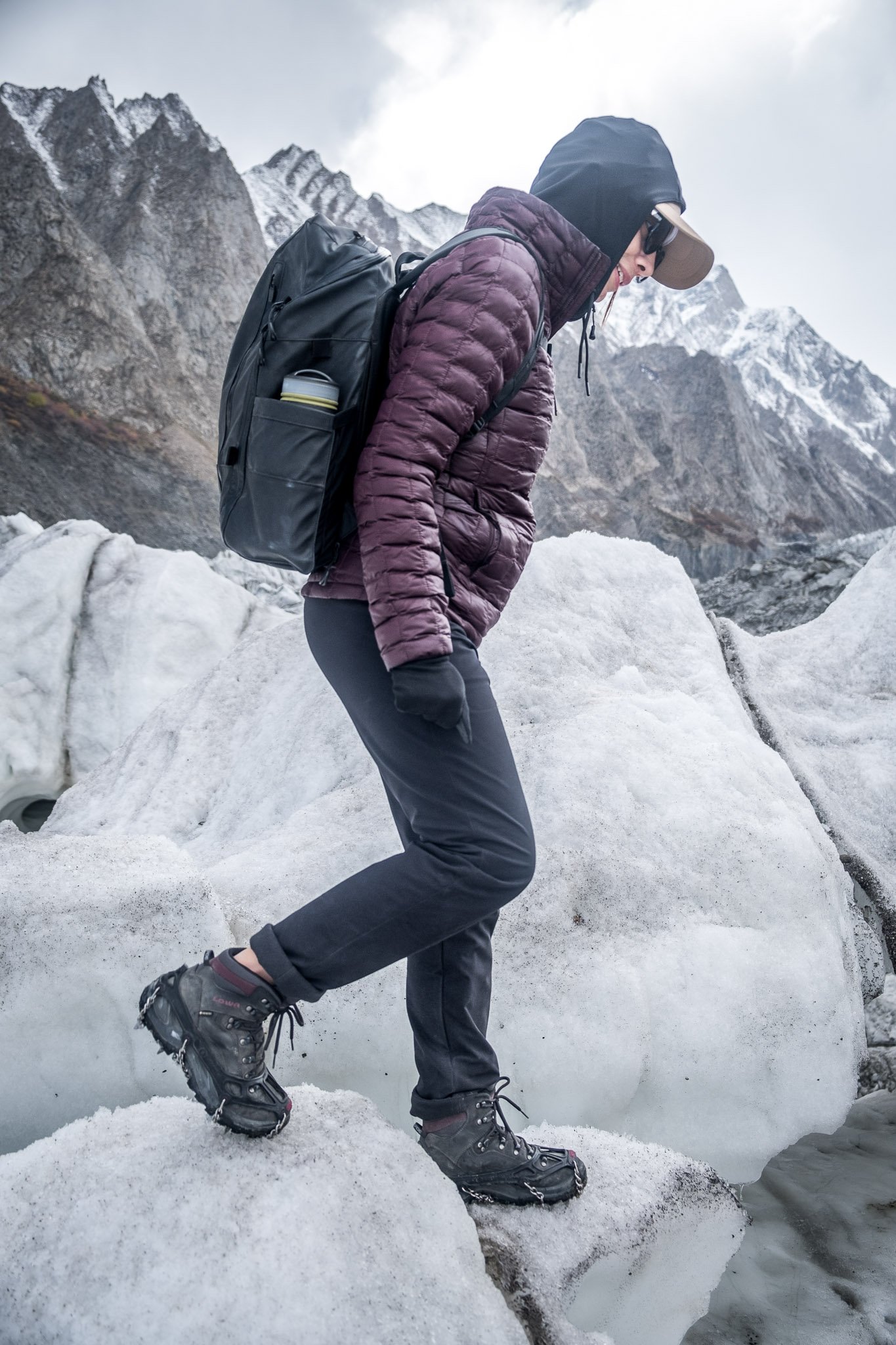 For some reason, I have noticed a trend over the last few years. Companies churn out these fully-featured day backpacks that end up being too big to actually be practical for daily use.
For day trips in the city, short hikes, and everyday carry, the 20 liters of storage offered by the Duo is more than enough. When you start getting into the realm of 30-35+ liters, you find that most of the time the bag is sitting half empty, yet there you are carrying around the whole bulk of the pack (in a day pack scenario).
If you are a serious photographer who carries 3-4 lenses, multiple batteries, filters, camera cleaning supplies, a drone, plus other gear (like layers) for the day, the probably the Duo is not the pack for you. Instead, you need to be looking at the Wandrd Prvke 31.
Recently, my girlfriend used the Wandrd Duo on many day hikes in the mountains of Pakistan. Now let me be clear: the Duo is not a backpack specifically designed for hiking. That said, it provided more than enough space and comfort for carrying the essentials in a cold, rugged place where we were covering lots of ground on difficult terrain.
If you don't want to buy two separate day backpacks – 1 for travel and 1 hiking respectively – then the Duo is a great option that will cover the needs of most people on a wide variety of day adventures.
The best present of all… is CONVENIENCE!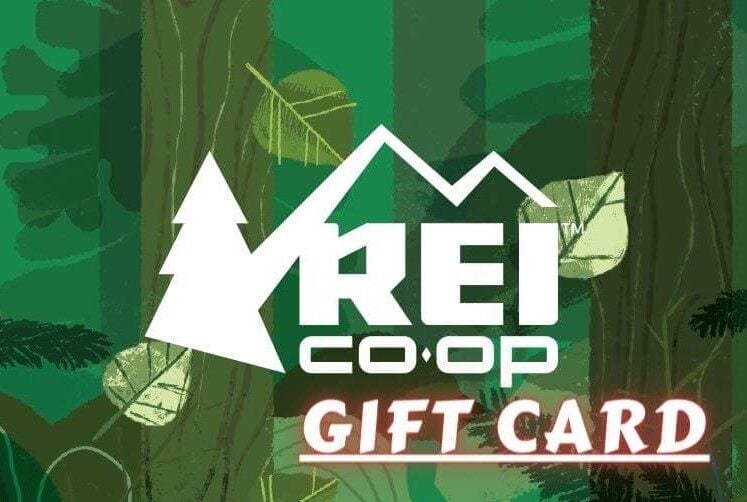 Now, you could spend a fat chunk of $$$ on the WRONG present for someone. Wrong size hiking boots, wrong fit backpack, wrong shape sleeping bag… As any adventurer will tell you, gear is a personal choice.
So give the adventurer in your life the gift of convenience: buy them an REI Co-op gift card! REI is The Broke Backpacker's retailer of choice for ALL things outdoors, and an REI gift card is the perfect present you can buy from them. And then you won't have to keep the receipt. 😉
Buy on REI!
Look and Feel of the Wandrd DUO: Aesthetics
If you like minimalist, simple designs, then you will probably like the look of the Duo. If you prioritize style and appearance, then this backpack might not be your thing.
My take? I dig the blocky, dry bag textured feel of the Duo. First and foremost, I am all about the practical function of a piece of gear, but I now have enough vanity and attention to detail to care if I will be judged on the streets of Europe or not as well. Point being, I'd rather not carry a hideous potato sack with backpack straps sewn into it down the Champs-Élysées.
For my personal style, the black color, the no-flair/no-frills looks works just fine.
We took a poll on Instagram to see what our followers think and here are the results: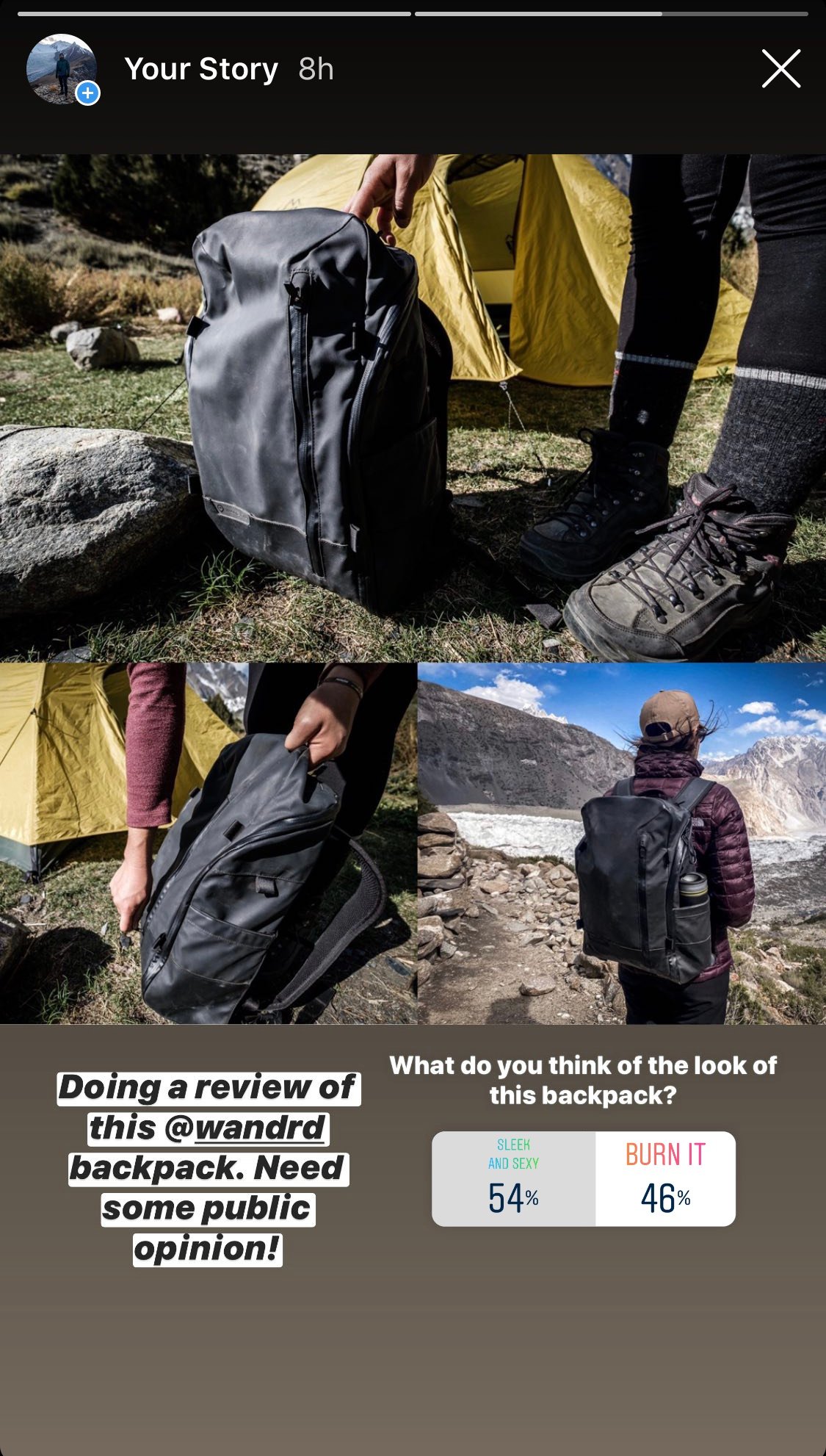 One guy even left this comment: Yeah I get the same vibes looking at that as I do looking at an old Soviet gulag haha.
Well, that might be harsh – I do kind of agree that if the Duo was a building, it would fit nicely around Comrade Stalin's brutalist Soviet architecture.
To be honest, I have never equated a backpack to 20th-century architecture before, so in a way, that observation makes this backpack even more appealing for me. Having done the poll, this Wandrd Duo review feels more official now.
Toughness and Durability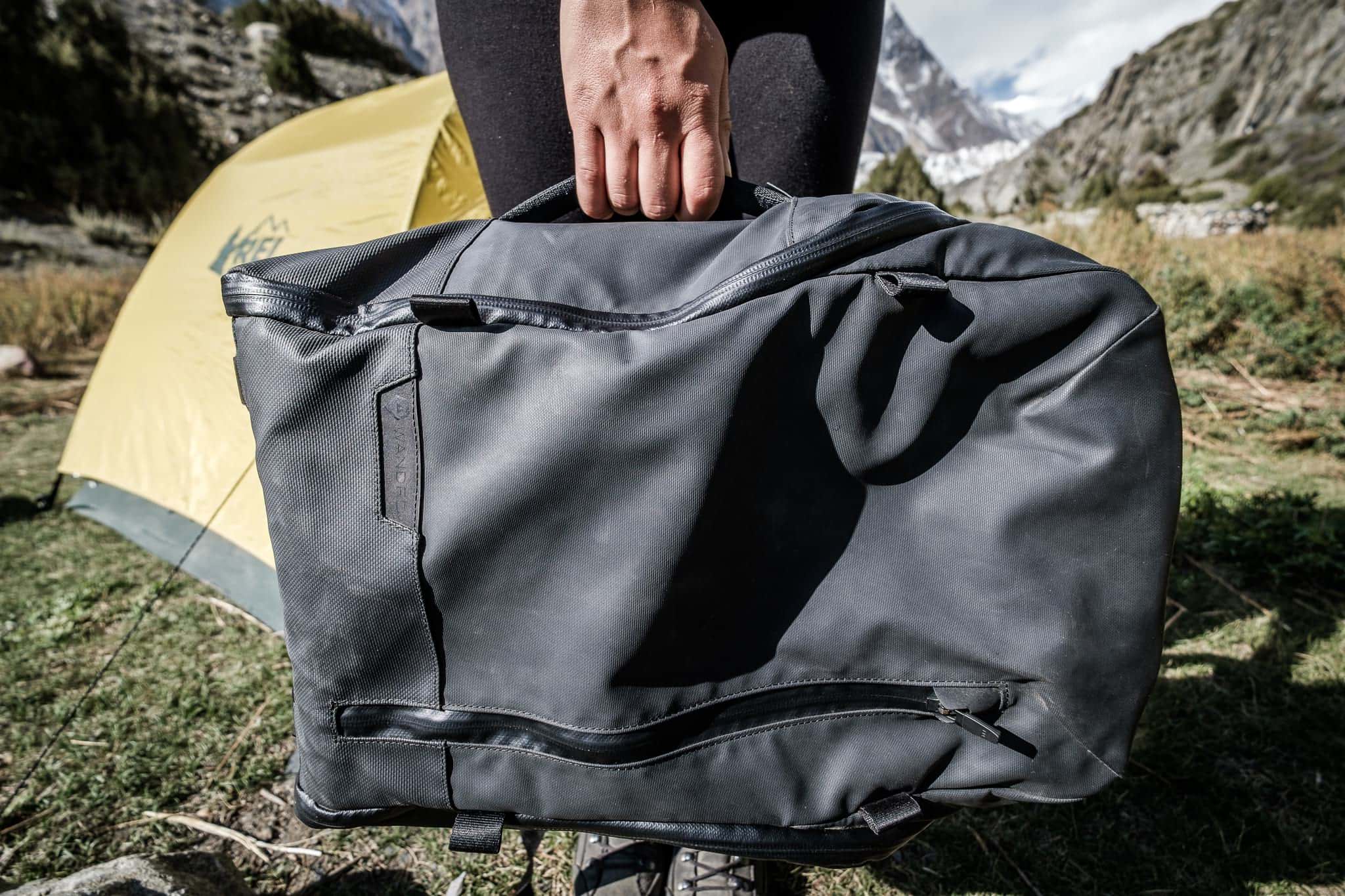 One thing Wandrd is known for is there rough and rugged backpacks. I have hauled my Prvke 31 all over the world and the thing is still going like a champ.
As mentioned, we just had the Duo out in Pakistan for 3 weeks. In case you did not know, Pakistan is a country filled with rocks, dust, grit, thorns, and glaciated ice – all of which can be hard on a new backpack.
The Duo kicked ass though through it all. The waterproof tarpaulin and robic 1680D Ballistic Nylon feels a bit like a heavy-duty dry bag you would take on white water rafting trips (though not quite as thick). The YKK weather-resistant zippers also aid in keeping your electronics dry from rain and snow.
Because of the nature of the tarpaulin material, the Duo is very easy to clean. You can get it dirt/dust-covered throughout the day, and easily wipe it down that evening. Can't say the same for my full-sized Osprey backpack.
All said, the Duo is pretty darn tough. If it survived three challenging weeks in Pakistan, it has my full confidence on the durability front. Keep in mind also that the Wandrd Duo is backed by a lifetime guarantee in case something does prematurely wear out on it.
Wandrd Duo Comfort and Fit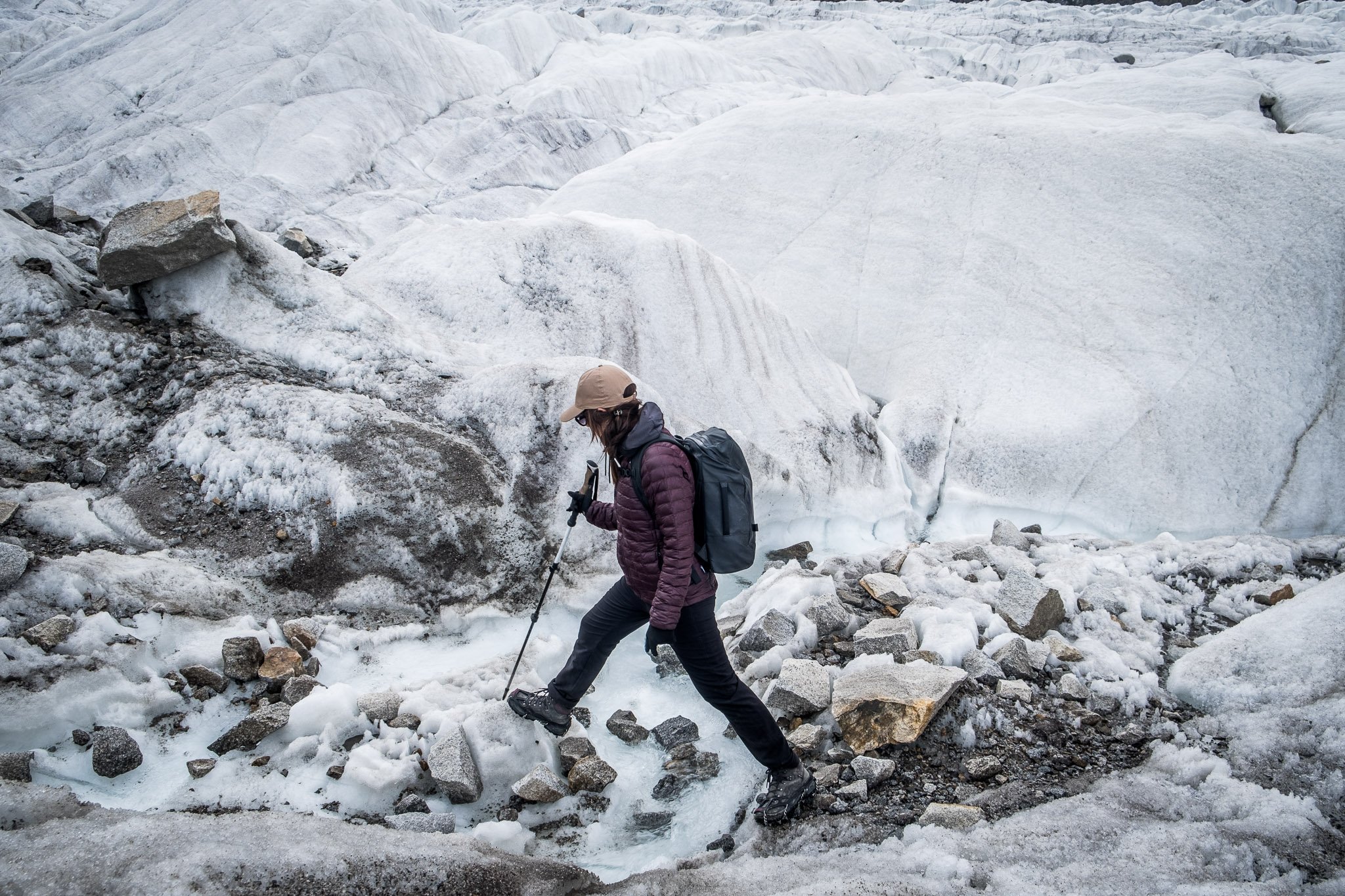 At first glance, the seasoned gear eye might not think that the Duo works as a comfortable hiking backpack. As I have said, after 3 weeks in Pakistan using this bag as a primary day hiking bag – it well out performed my expectations. If it carries well in the mountains, you can be sure that it carries well in the city too.
Note that the Wandrd Duo can also be carried like a briefcase using the burly side-carry handle.
At 1.2 kg (2.6 lbs.) it is not the lightest day backpack on the market, but with the weight comes the solid toughness. A fair tradeoff in my opinion.
The back panel is well padded so if things inside the backpack are properly organized the fit should feel comfortable and stable. My general packing advice for any backpack is to pack heavy stuff towards the middle or bottom of the pack. This technique proved to be a bit difficult given the placement of some of the compartments/storage areas.
Since the camera cube is located in the bottom section, that zone of the bag will always feel heavier and can feel off-balanced if you don't fill out the bag in other areas.
Adjustable sternum straps offer a further stabilizing element which we found easy to use and well-designed. There are no hip straps on the Duo, which is probably due to the fact that this backpack is not meant to be a stand-alone hiking bag.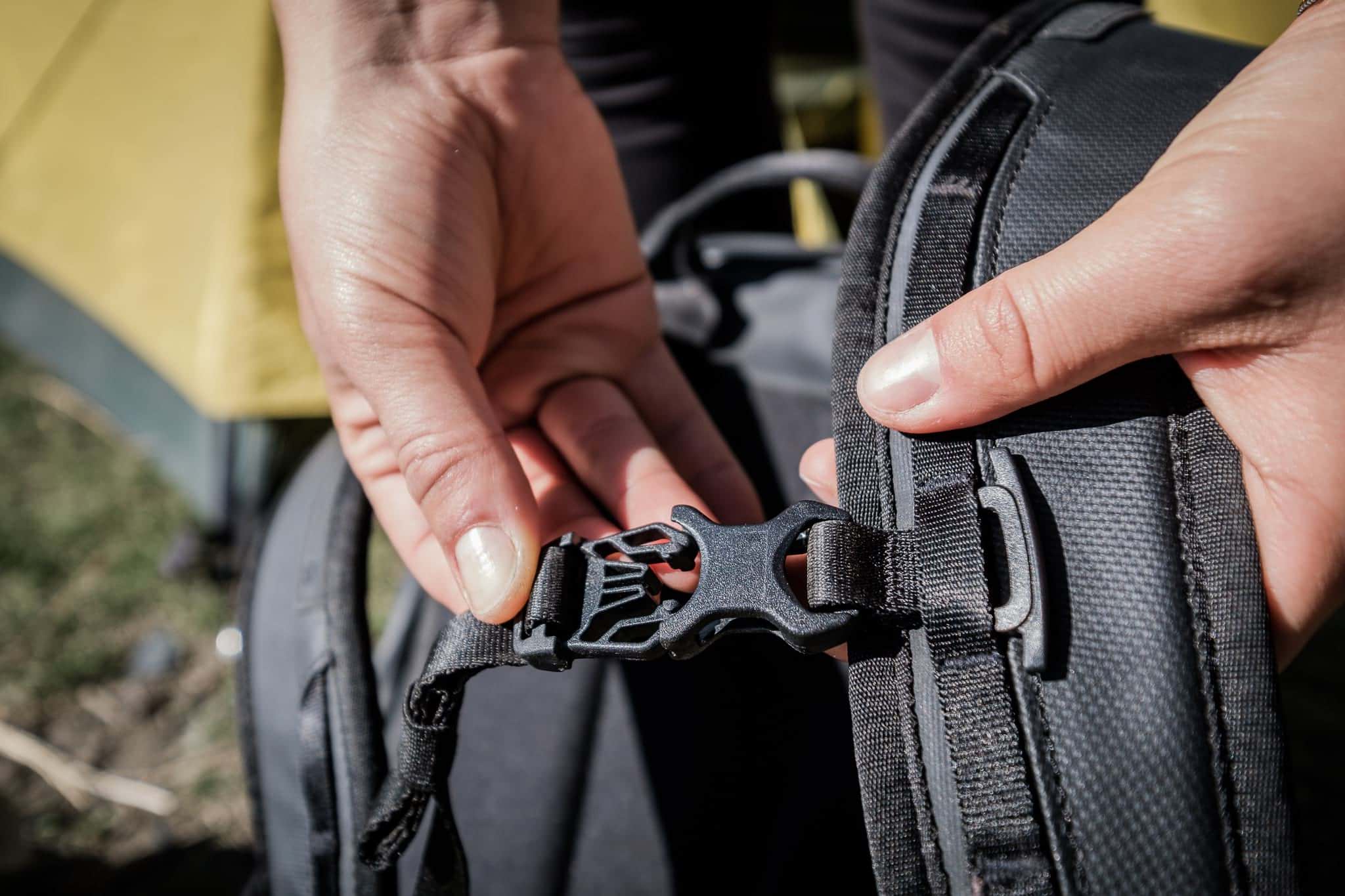 Our GREATEST Travel Secrets…
Pop your email here & get the original Broke Backpacker Bible for FREE.
Final Thoughts: Wandrd Duo Review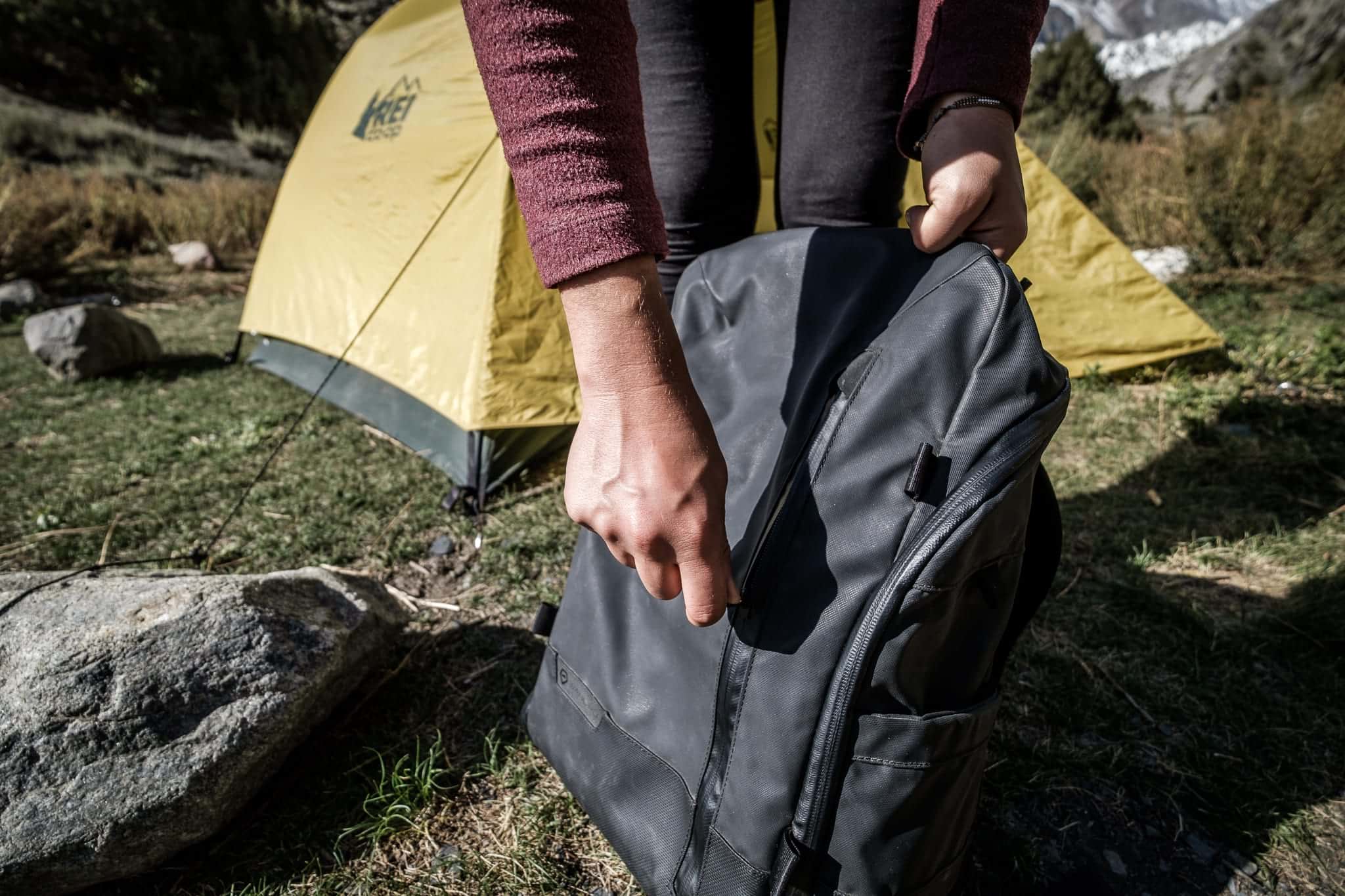 Choosing any backpack is a big step. I mean, this unit will accompany you during an untold number of days of your life – you want it to work for you.
After my experience with the Wandrd Duo daypack here is what I think: if you want a handy everyday backpack that doubles as a legit day hiking bag option – and especially if you are photography-inclined – the Duo is one of the top, most versatile contenders in its class.
Though we would have liked to see more padding at the base/bottom side of the backpack, overall the Duo performs above the standard it was built to serve – making it an excellent value by one of the rising stars in adventure travel gear land: Wandrd.
If after reading this Wandrd Duo review you are thinking, "this backpack looks cool, but I really need something bigger" – go check out the Wandrd Prvke 31 or the Wandrd Fernweh – you won't be disappointed.
Want some more options? Check out our rundown of the best camera bags.
What is our final score for the Wandrd Duo Daypack? We give it a rating of 4.5 out 5 stars!

---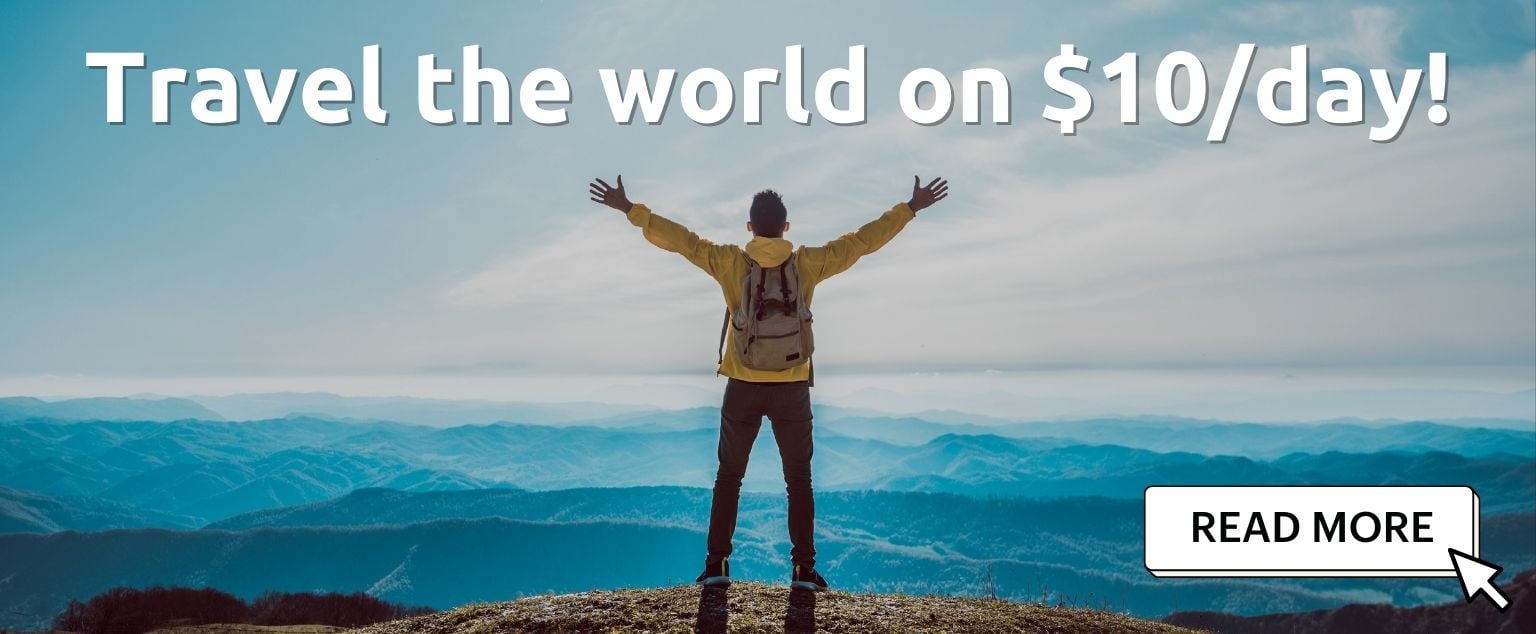 And for transparency's sake, please know that some of the links in our content are affiliate links. That means that if you book your accommodation, buy your gear, or sort your insurance through our link, we earn a small commission (at no extra cost to you). That said, we only link to the gear we trust and never recommend services we don't believe are up to scratch. Again, thank you!