On the lookout for a tech and travel pack? In case you have been living under a rock and are not yet already familiar with the Nomatic brand, it's one you'll want to have on your radar when hunting for a quality day pack for travel.
Our team of gear of vagabonds has been using the Nomatic Travel Bag for years now and it got me thinking: "why have we never taken the Nomatic Backpack for a test ride?"
Well this review put an end to that quandary.
Nomatic is an industry leader for a reason and this Nomatic Backpack review will take a hard look at what makes a Nomatic backpack different from the rest.
Nomatic Backpack: Key Features and Performance Breakdown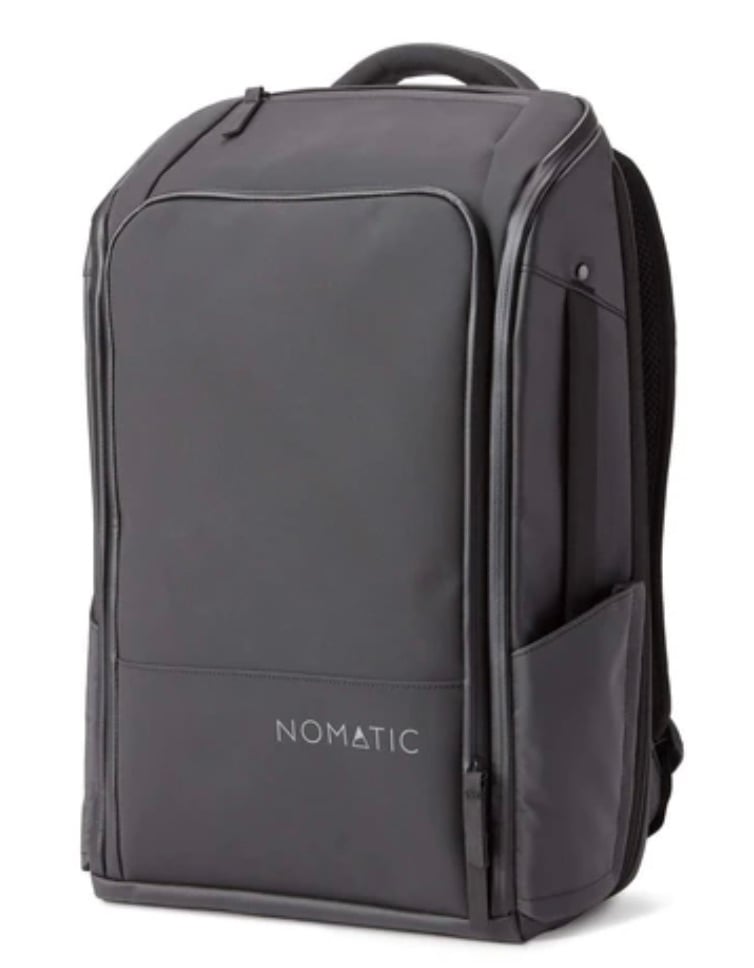 You've been told to not judge a book by its cover, but what about a backpack by its appearance? Well, it turns out in the case of the Nomatic Backpack that there are a lot of details and cool features hiding underneath the surface.
The sleek and minimalist design undermines the organizational abilities of the pack and the numerous extra touches Nomatic has added to make this a functional everyday carry pack and travel bag.
In each section of our Nomatic Backpack review, we'll open every pocket, so to speak, in order for you to get a detailed picture of what this pack has to offer.
Main/Laptop Compartment
The largest compartment of the Nomatic Backpack has a convenient full-perimeter zipper, allowing you access to every corner of the bag.
On the backside, the padded laptop sleeve can fit devices up to 15 inches. In addition, there are separate sleeves for a tablet, keyboard, mouse, and computer charger to help you keep all your tech gear organized.
One of the super cool features Nomatic has included in the main compartment is a padded and removable sunglasses pouch to the side of the laptop sleeve. This keeps your sunglasses within easy reach, plus prevents them from getting scratches when you're not using them.
There are additional organizational pockets on the front flap of the main compartment, which are easily accessible thanks to the full perimeter zipper. You can fit heaps in here and it's the perfect spot to put something like the Nomatic Toiletry Bag too.
If you are straight up looking for something larger to carry more gear, be sure to check out the Nomatic Travel Bag.
Ladies & Gents, It's Time to Step Your GEAR Game Up. 😉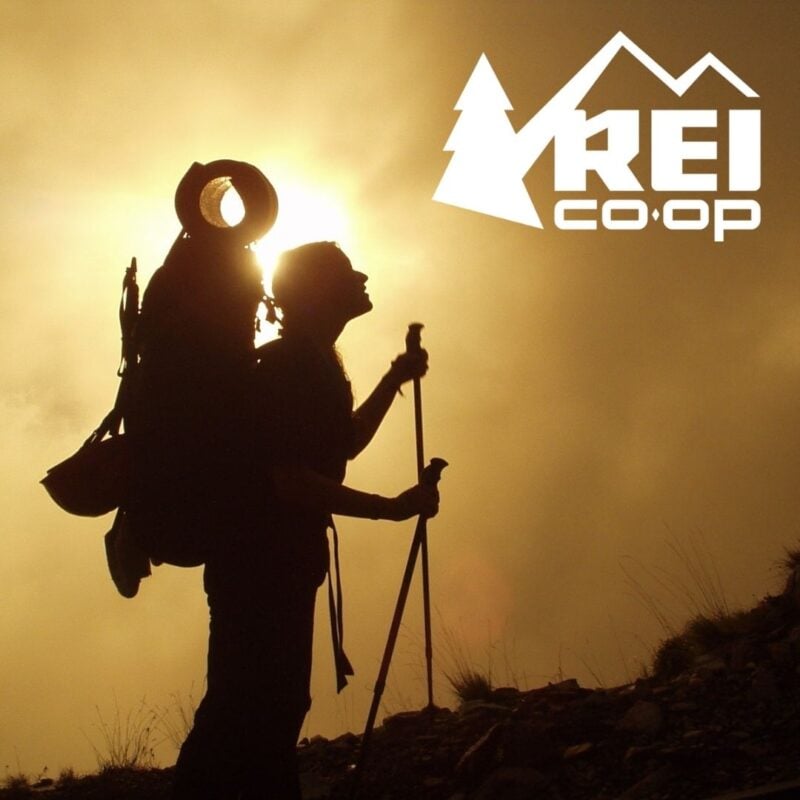 REI is one of America's biggest and most-loved outdoor gear retailers.
Now, for just $30, get a lifetime membership that entitles you to 10% OFF on most items, access to their trade-in scheme and discount rentals.
Join REI Today!
Front Compartment
If you always seem to have a hundred little items which are constantly getting lost in the bottom of your backpack, you'll love the front compartment of the Nomatic Backpack.
Divided into small pouches and zippered organizational pockets, there's a spot for your pens, pencils, power bank, charging cables, wallet, and more.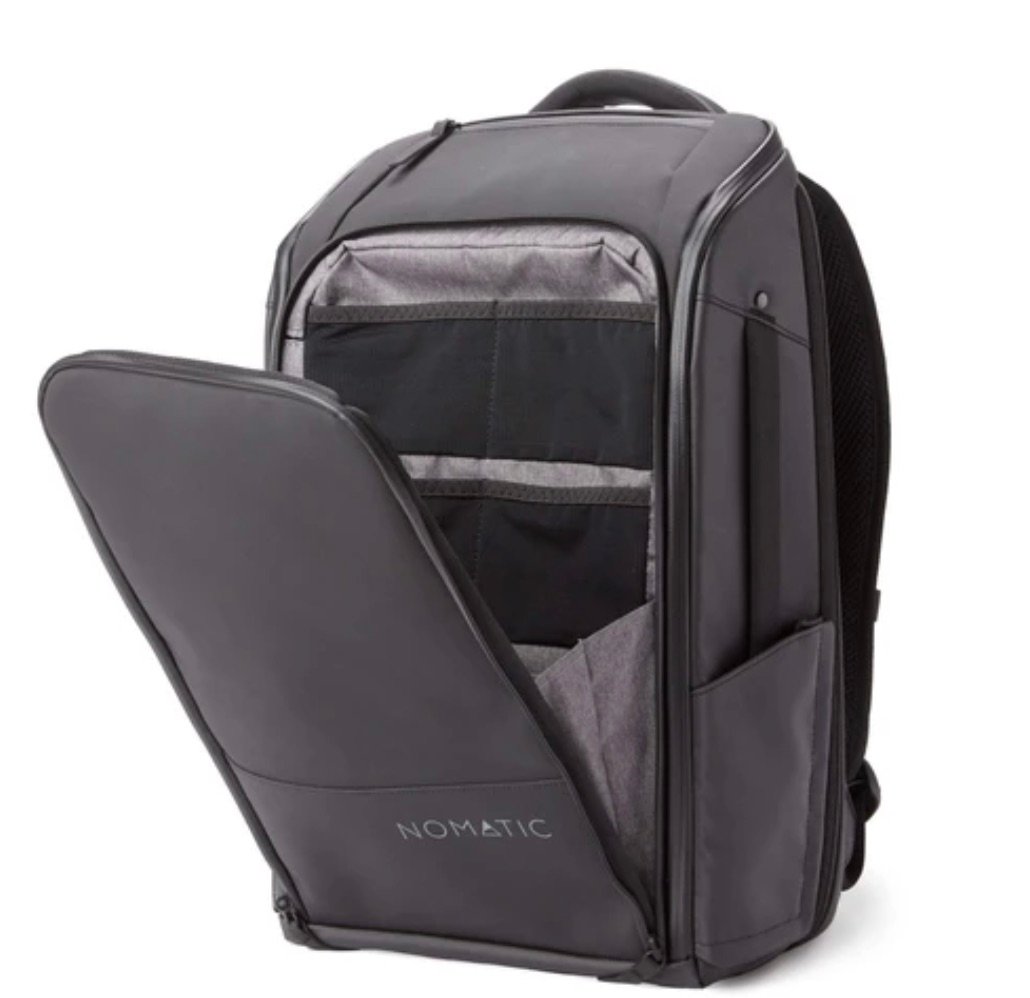 For sensitive documents like passports and credit cards, there's even an RFID safe pocket so you don't have to worry about your information getting stolen.
There's also a cord-pass through between the front and main compartments so you can keep your phone charged while on the go or listen to music without removing your phone from the backpack.
Tucked to one side of the front compartment is a retractable key leash, which is another super helpful organizational feature to save you time from rummaging around in your bag hunting for your keys.
The Exterior and Carry Options
Nomatic hasn't limited the organizational abilities of this pack to just the inside. Even though the exterior looks super sleek, there's still more pockets to be found.
For items you want within easy reach like your phone or wallet, there's a quick-access pocket on the top of the pack (which also has a pass-through for a charging cord).
On the backside of the pack tucked behind the straps is a secret zippered pocket which is a good place to store spare cash or other valuables you want to keep out of reach.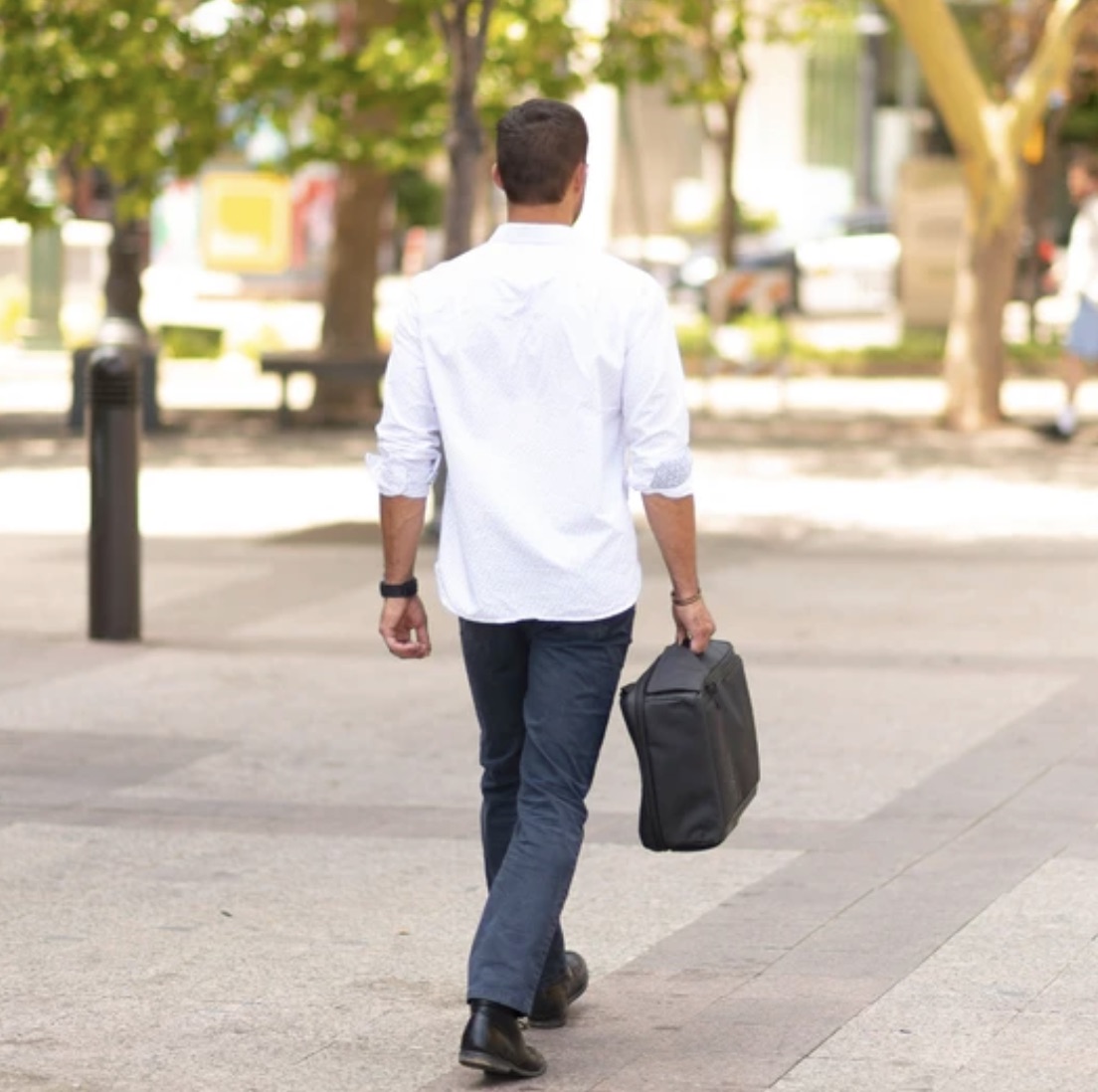 Each side of the Nomatic Backpack has a magnetic water bottle pocket. This means that when the pocket isn't in use, they snap into place to lie seamlessly against the sides of the pack.
In situations where you want to look more professional, Nomatic has included a briefcase-style handle on one side of the bag. When the backpack straps aren't in use, you can easily tuck them behind the back panel, which snaps into place to keep the straps from flopping around.
For frequent fliers, the back panel also serves as a luggage pass-through so you can carry the Nomatic Backpack on top of your other suitcase while at the airport.
Sizing and Fit
Measuring 18.5 inches by 12 inches by five inches (seven and a half inches when expanded), the Nomatic Backpack is the perfect size for a carry-on pack, commuter bag, or for work or university. It hits the "just right" spot of not being too big that it becomes cumbersome, but also not so small that it's hard to fit all your gear.
The pack is designed to rest higher up on your back, which helps with back posture and comfort as well. Both the hip belt and the shoulder straps have a wide range of adjustments, so people of all heights can find a comfortable fit.
There is no denying that there is a sort of box vibe happening here. While this structure provides more security for your laptop and gear, some people prefer a lighter and more flexible feeling backpack. It really comes down to your own preference and what you'll be using it for – though I can say I prefer a stiiffer, tougher pack in general.
Weight and Capacity
The Nomatic Backpack weighs a hefty four pounds. It's a heavy backpack for a pack this size, no question. Also, the black color and relative lack of ventilation on the back can make it hot to carry if you're outside in warm climates or tropical places for long periods of time.
The 20 liter capacity can be expanded to 24 liters by unzipping an external zipper on the back of the pack, which creates more room in the main compartment. This is another super convenient feature of the Nomatic, and even when expanded the pack is still small enough to be a carry-on.
Toughness, Durability, and Materials
In addition to its excellent organizational capacity, the Nomatic Backpack also gets a high score for durability. The anti-scratch and weather-resistant material of the shell is enough to withstand a sudden (light) rain shower or an accidentally spilled beverage.
Of course, it's not meant to be tossed in a lake, but for typical daily use, you shouldn't have to worry about getting a backpack cover since the materials already provide enough protection.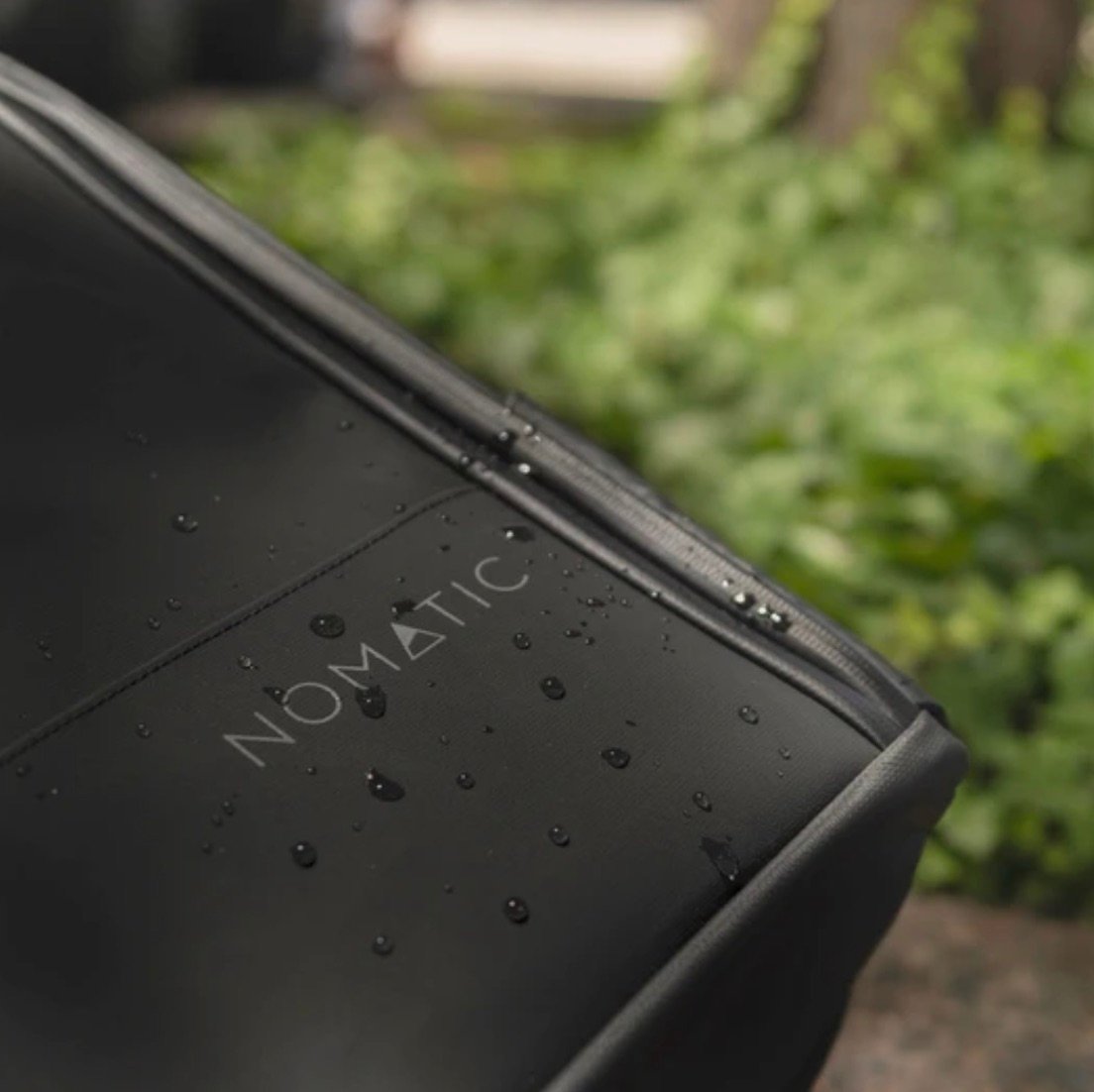 Inside, the thorough foam padding on the laptop sleeve also helps ensure that your device remains safe even if the pack gets jostled around a bit.
All the zippered pockets of the Nomatic Backpack have YKK zippers which are easy to open and don't have an issue with snagging.
Security
For many travelers, security is a priority when it comes to selecting a travel pack. Overall, the Nomatic Backpack is well designed for safety whether you're at the airport or on a daily commute to work.
The fact that none of the pockets are super obvious helps with the overall security of the pack. In addition, the hidden pocket in back and the RFID safe pocket in the front compartment of the backpack give you an additional measure of safety.
However, the zippers on the main and front compartments aren't lockable to TSA standards. Some people don't care so much about this feature, while for others it might be a dealbreaker.
Bag Aesthetics
Nomatic has done a good job in combining casual style with business formality. Depending on your needs, the Nomatic Backpack can work equally well at an office meeting or just hanging out at a coffee shop after work.
The versatility of the pack is further increased by the ability to carry it as a backpack, briefcase, or on top of your travel suitcase with the luggage pass-through.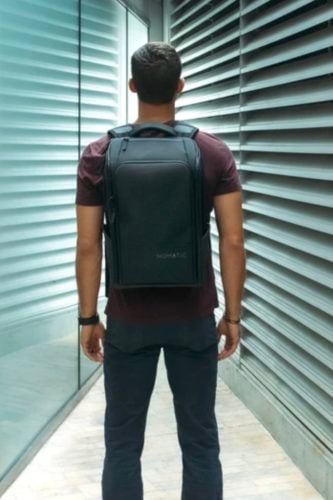 There are some mixed reviews about the more rectangular shape of the pack. Some people find that this provides more structure and makes it easier to pack, while other people don't like the boxiness of the bag.
To help with night visibility, Nomatic has put reflective material on both the front and back. It's not something super noticeable to the wearer, but it does help drivers spot you if you're crossing the street when it's dark out.
Cons
As you can see from this Nomatic Backpack review, there are a lot of positive things going for this travel pack. However, no product is perfect and there are some drawbacks to keep in mind when considering the Nomatic Backpack.
This pack was designed for travelers and frequent fliers in mind, so it might not be the best choice if you're looking for something to dually function as a hiking pack or a bag for day trips. The Nomatic Backpack does a great job with organization, but your shoulders and back will be much happier with a lighter-weight outdoor backpack if you're planning on hiking.
As we already mentioned, the shape of the backpack can be positive or negative depending on your personal preference. Many people have reported that although the Nomatic feels different from other backpacks, it only takes a few times of wearing it before the shape feels natural.
And finally, if you're on a tight budget, then the Nomatic Backpack is probably not the pack for you. Remember though, that the high price tag also comes with durable material that's meant to last for years. It's also a backpack that comes with the Nomatic Lifetime warranty. Consequently, there's a good chance of it being a cheaper option in the long run instead of needing to replace a poorer quality backpack after only a year or less of use.
The best present of all… is CONVENIENCE!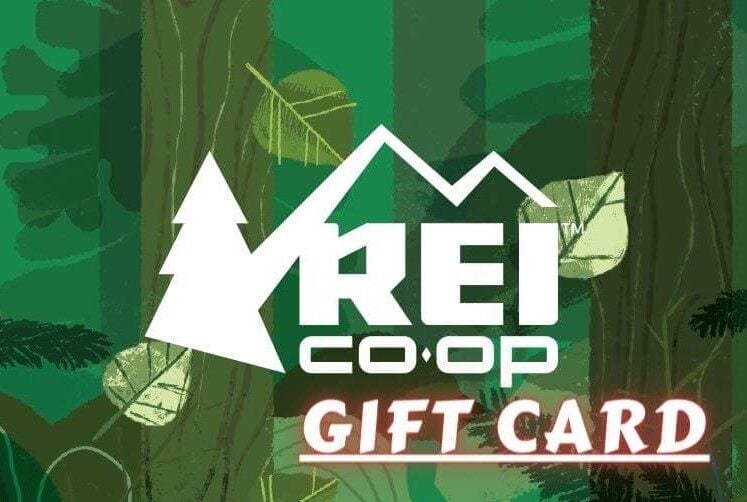 Now, you could spend a fat chunk of $$$ on the WRONG present for someone. Wrong size hiking boots, wrong fit backpack, wrong shape sleeping bag… As any adventurer will tell you, gear is a personal choice.
So give the adventurer in your life the gift of convenience: buy them an REI Co-op gift card! REI is The Broke Backpacker's retailer of choice for ALL things outdoors, and an REI gift card is the perfect present you can buy from them. And then you won't have to keep the receipt. 😉
Buy on REI!
Nomatic Backpack vs the Competition
If you've come to this point in the Nomatic Backpack review and aren't sure whether it's the right travel bag, here are a few other options for similar backpacks that might better fit your needs.
NOMATIC
NOMATIC
Nomatic Backpack
Cost > $$
Liters > 20L-24L (expanded)
Dimensions > 18.5″x 12″x 5-7.5″
Laptop Compartment? > Yes
WANDRD
WANDRD
Wandrd Duo Daypack
Cost > $$
Liters > 20L
Dimensions > 19.5″x 11.5″x 6.5″
Laptop Compartment? > Yes
AER
AER
AER Flight Pack 2
Cost > $
Liters > 19L
Dimensions > 18″x12″x5″
Laptop Compartment? > Yes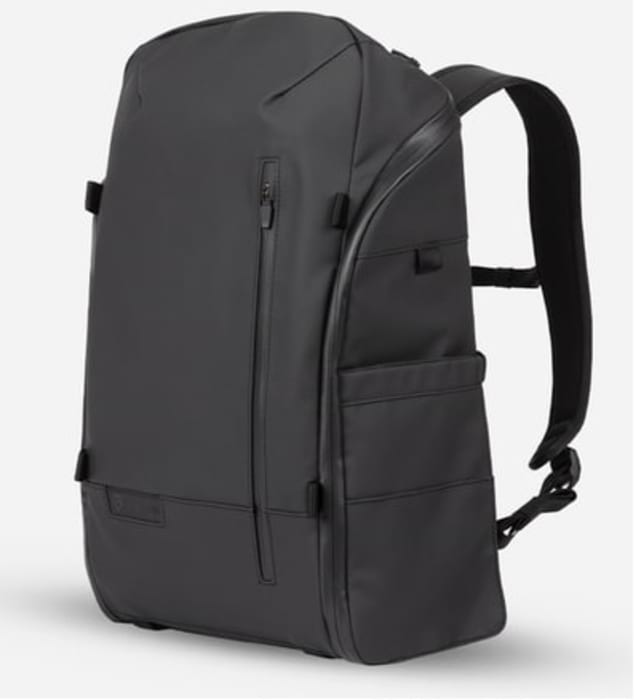 Similar in shape and price to the Nomatic Backpack, the Wandrd Duo Daypack really shines for traveling photographers. Wandrd has made a name for itself for its high-quality multi-functioning camera backpacks, and the Duo Daypack is no exception.
The "duo" part of the name comes from the fact that this daypack works well as a camera bag, or simply a sturdy and safe everyday carry backpack. The Pop Camera Cube can be placed in the backpack when you need to carry your photo equipment, and then taken out if you're heading to the office or just out for a day with friends.
It has 20 liters of capacity just like the Nomatic Backpack, although the Duo Daypack doesn't have the expandable feature. In terms of durability, the Duo Daypack scores a bit higher since the tarpaulin of the exterior is considered waterproof, not just weather-resistant like the Nomatic.
Overall a great tech bag, if you're looking for something with the option to carry a more expensive camera, then the Duo Daypack is probably a better choice than the Nomatic Backpack. Check out the full review here.
Just like Nomatic, AER is well known for its stylish and high-quality travel gear. The Flight Pack 2 is very similar to the Nomatic Backpack, with a few differences that might sway your favor.
First off, the Flight Pack 2 has three possible carry modes – backpack, briefcase, or shoulder bag. If you like messenger-style bags, then the removable shoulder strap is a big bonus with the Flight Pack 2.
The Flight Pack is just a bit smaller than the Nomatic Backpack with 19 liters of capacity, and it's just under three pounds. It also has a similar expandable water bottle pocket, and a luggage pass-through on the back.
In terms of interior organization, the Flight Pack 2 and Nomatic Backpacks have most of the same features like a padded laptop case and a quick access top pocket. However, the Flight Pack 2 lacks the pass-through slots for headphones and charging cables that the Nomatic Backpack has.
Durability-wise, the packs are also very comparable, but the Flight Pack 2 has better security since both the front and main compartments have lockable zippers. On the other hand, the Flight Pack 2 lacks the RFID safe pocket that comes in the Nomatic.

Our GREATEST Travel Secrets…
Pop your email here & get the original Broke Backpacker Bible for FREE.
Nomatic Backpack Review: Final Thoughts
As you might have guesses by now. The Nomatic brand tends to do things different. That is why they are one of our favoutie travel backpack brands. What the Nomatic Backpack lacks in terms of the creativity of its name, it succeeds in just about every other category that goes into making a kick ass pack.
If you're often carrying around tech gear and like the flexibility of converting between a backpack and "briefcase", you'll probably find that the Nomatic Backpack checks the boxes for most (if not all) of your day to day pack needs.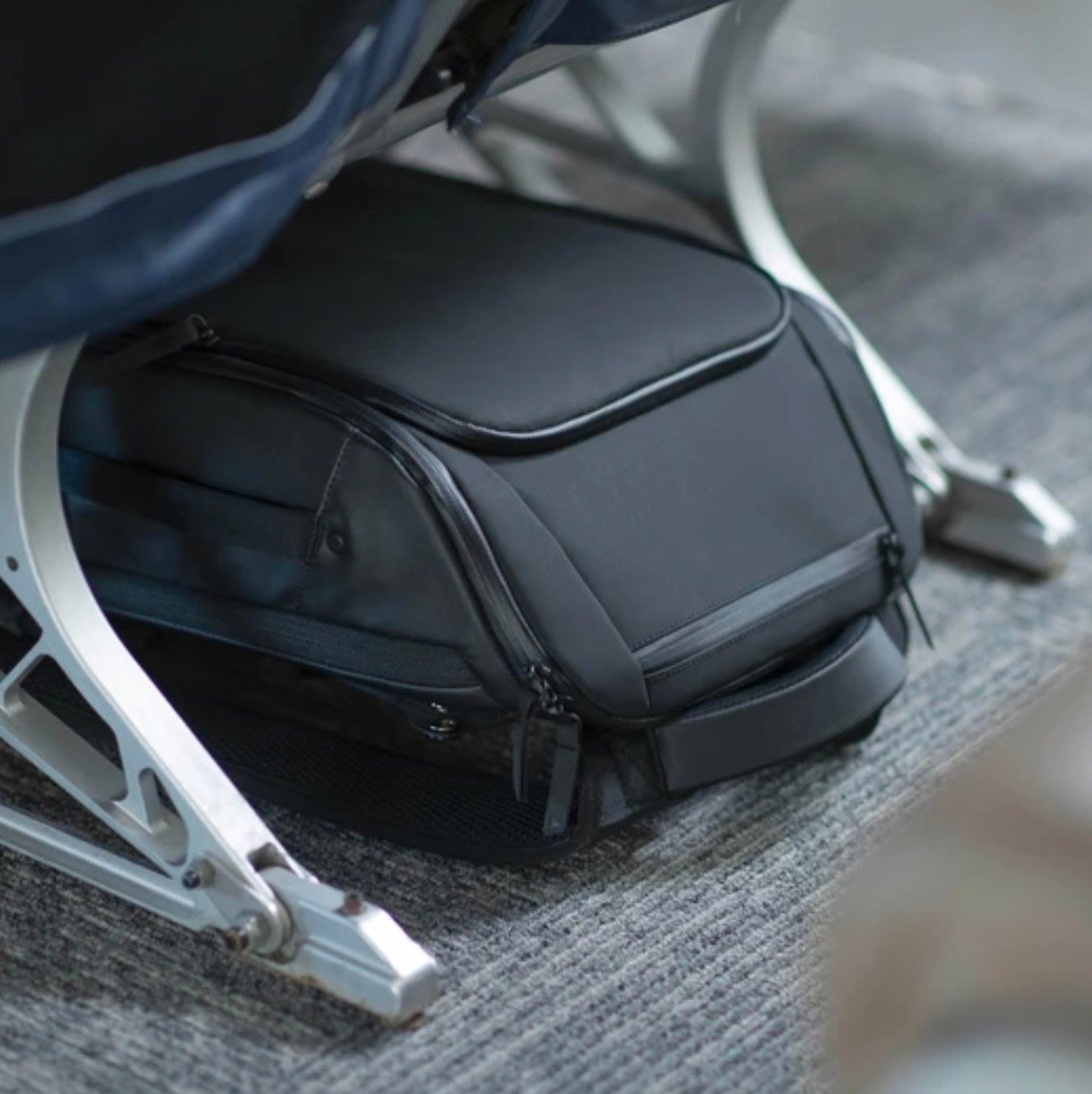 Although it's a more expensive and heavier pack than some options out there, you're also getting a warranty-covered and high-quality product that's meant to last for years. In the long run, the investment can pay off, not to mention the benefit of having a backpack with some serious style, you know, if you dig the black-box-vibe.
Looking for something same same but different, have a look at the Nomatic Travel Pack instead.
Thanks for reading this way-to-long Nomatic Backpack review. Happy travels guys.
---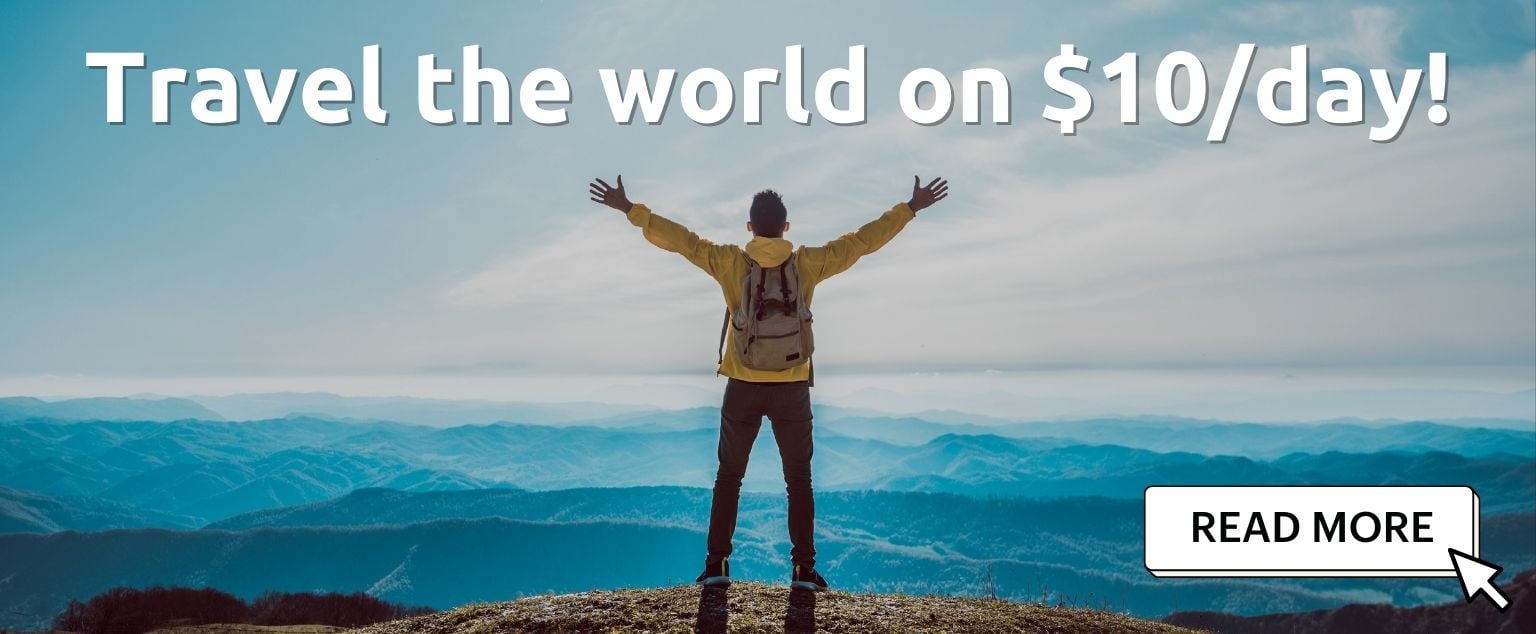 And for transparency's sake, please know that some of the links in our content are affiliate links. That means that if you book your accommodation, buy your gear, or sort your insurance through our link, we earn a small commission (at no extra cost to you). That said, we only link to the gear we trust and never recommend services we don't believe are up to scratch. Again, thank you!