Nomatic has been releasing innovative, high quality and generally awesome travel products for half a decade now. We have tried and tested quite a few of their packs and now have the absolute pleasure to put the Nomatic Travel Pack through its paces.
In this detailed Nomatic travel pack review we will take a close look at this adaptable day and travel backpack.
We will look at the Nomatic Travel Pack's features, its performance, the quality and longevity and of course, the price. By the end of this review, you will know whether this is the right backpack for your needs.
Quick Answers – Is The Nomatic Travel Pack Right For You?
In a hurry? Can't be bothered to read all of these big long words that I could scarcely be bothered to write?! Well in that case just read our quick summary!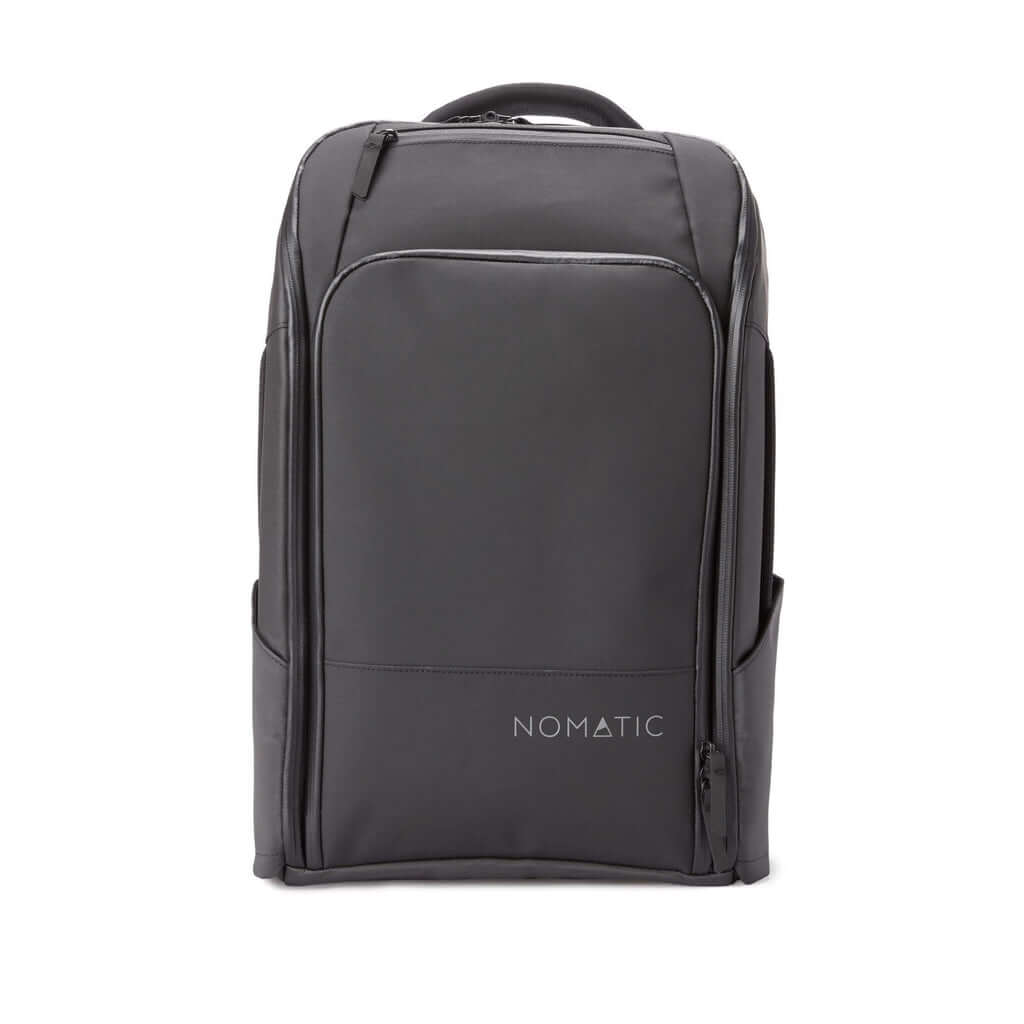 Ladies & Gents, It's Time to Step Your GEAR Game Up. 😉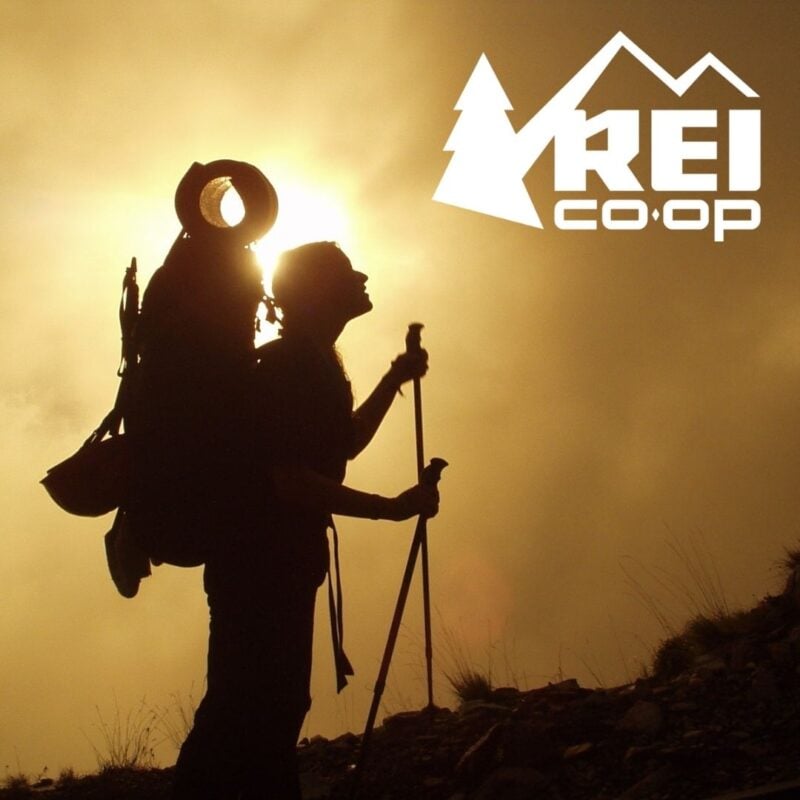 REI is one of America's biggest and most-loved outdoor gear retailers.
Now, for just $30, get a lifetime membership that entitles you to 10% OFF on most items, access to their trade-in scheme and discount rentals.
Join REI Today!
The Nomatic Travel Pack is PERFECT You If…
You want a 2-in-1 extendable backpack. This pack can be used both as a 20L day or commuter backpack or it can be extended and turned into a 30L overnight/weekend pack.
You want a laptop compartment. The Nomatic travel pack has a 15" laptop compartment located on the inside of the pack. If this is something you value then bingo!
You value organisational options. All of the Nomatic packs really shine when it comes to organisation. Everything has its own place and there are loads of zip and mesh pockets dotted all over the pack. Therefore if you like to travel neat and tidy then this pack may be for you. Fellow OCD heads unite!
The Nomatic Travel Pack is NOT For You If…
You need a big backpack. When extended, the Nomatic Travel Pack offers 30L of storage. That is enough for a weekend break or maybe a week if you are a seriously minimalist light packer.
If this is you then check out either the Nomatic 40L Travel Bag or one of their full-blown suitcase/luggage models like the Nomatic Navigator or the awesome Nomatic Check In.
You are on a tight budget. Coming in at $300 this pack is not cheap. In fact, $300 is actually quite expensive for a 30L backpack. Whilst it may well justify the price tag, it does nevertheless exclude those who are short on funds.
You're looking for a camera-specific bag. Whilst this bag will fit some photography gear in, the clever folks at Nomatic have designed a bag specifically designed for camera gear in collaboration with Pete Mckinnon that is better suited for keeping your expensive gear safe.
The Nomatic Travel Pack at a Glance
The original and maybe best Nomatic backpack, the Travel Pack is an adaptable backpack that converts from 20 to 30L meaning it can be used either as a day pack or as a small travel pack. It is well made, stylish and has some lovely, innovative features.
Looking for something smaller? Have a look at the Nomatic Messenger Bag, it's a great stand-alone pack if you want to travel super light or a good addition to this bag if you need extra space for valuables.
Specs
Capacity: 30l when Expanded (20L when not expanded)
Weight:  4.16 lb (1.9 kg)
Dimensions: 18.5 in x 12 in x 9.5 in (47 x 30.5 x 24.1 cm) (when extended)
Price: $300
Word Up Funsters – In case you get to the end of this review and don't quite think that the Nomatic Travel Pack is for you, then note that Nomatic also offers 2 similar packs; the 40L Nomatic Travel Bag and the 20 – 24L Nomatic Backpack.
We have written a full Nomatic Travel Bag review as well as a Nomatic Backpack review. On the other hand, if you're looking for something bigger and more like a suitcase, have a look at the Nomatic Carry On Pro instead.
Nomatic Travel Pack: Key Features and Performance Breakdown
Let's now take a detailed look at the main features of the Nomatic Travel Pack.
Aesthetics & Material
The Nomatic brand really does have a strong brand identity and all of their packs fit a certain, in-house style. The Travel Pack like other Nomatic offerings has a simple, classy almost minimal look that helps it to blend in equally well in the airport lounge, the office or the gym. Some critics find the design too 'boxy' and austere but that's all subjective.
The main material is some form of tarpaulin material. It feels kind of rubbery but pleasant to the touch and offers a good level of water resistance which is a real plus.
Storage Capacity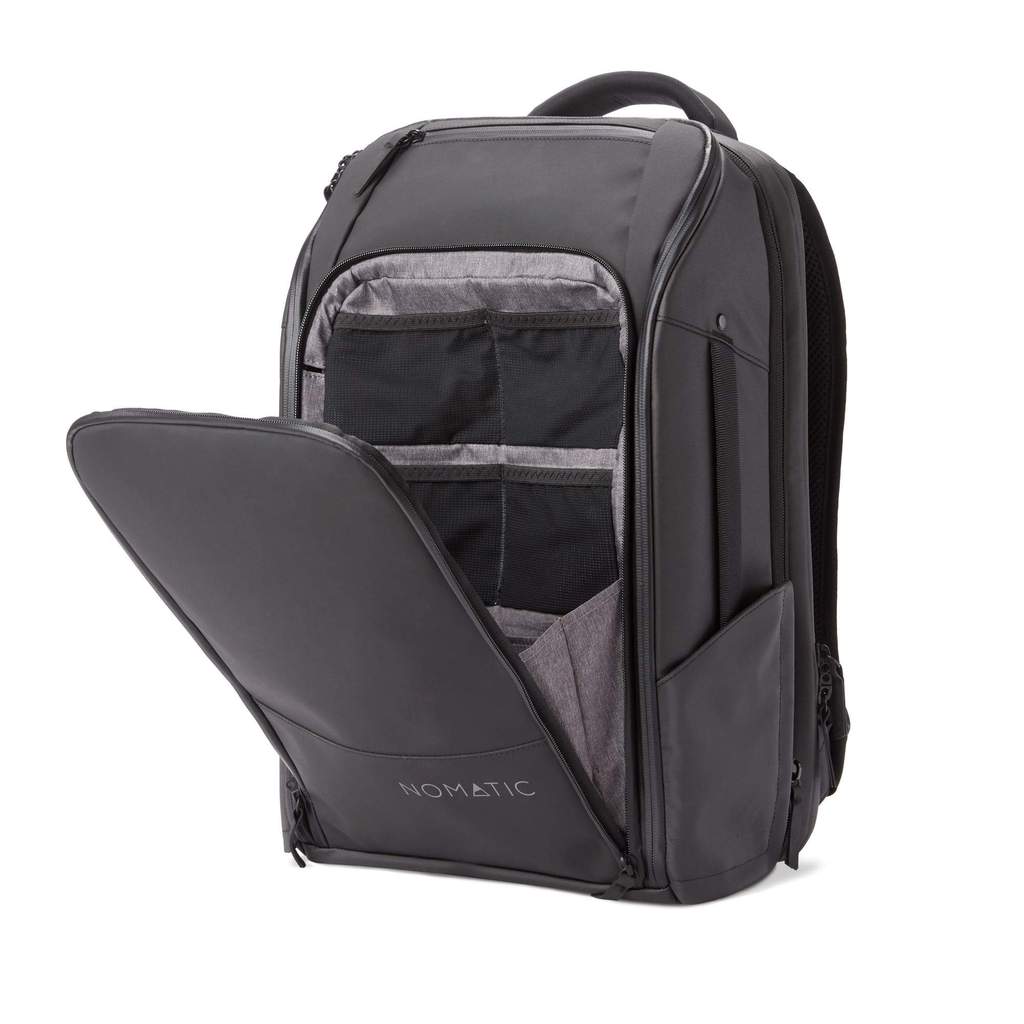 Ok, listen up because this is important. As we said earlier, what makes this pack unique and special is that it is extendable. It's default setting is 20L but it can be extended to accommodate 30L of glorious travel junk.
The expansion works simply by "zipping down" the pack using a zip located right slap bang in the middle of the pack. And when you have finished using it as 30L, you can simply zip it back up.
In case you don't know, 20L is generally suitable for day use and 30L suitable for overnight and weekend use.
Size, Weight & Fit
As this pack is extendable, the size of it does change accordingly. At full mast (ie, unzipped to 30L mode) the size is 18.5 in x 12 in x 9.5 in (47 x 30.5 x 24.1 cm) which is kind of standard size for 30L packs. In case you are wondering, it is within the acceptable "carry on" requirements for all but the most miserly of airlines. It easily fits into the overhead compartment and even fits under most airline seats when compressed to its 20L mode.
As for weight, it remains constant no matter which size and capacity mode is being invoked. Weighing in at 4.16 lb (1.9 kg) it is heavy for a 20L pack and even weighty for a 30L pack. As such this ain't a pack you want to take hiking or carry up hills on hot afternoons too often.
In terms of carrying, the pack is well fitted to suit an average man's torso. The shoulder straps are adaptable and there is a harness hip belt which you may wish to use if you fully pack it at 30L. Note that pack also has an adaptable handle meaning that it can be carried like a suitcase too.
Main Compartment
Where Nomatic packs really shine is in their organisational potential. Nomatic boasts that this pack has a "space for everything" and it's not a bad assessment.
The main compartment pack opens up in a clamshell style which means you can lay it out flat and pack/unpack it like a suitcase – as opposed to the standard "top access" you get with backpacks. The main compartment has a generous amount of room for putting clothes, shoes or whatever else you can fit in there.
Below the main compartment are two zip mesh pockets which fit small bits and pieces such as chargers.
Then, there are four mesh pockets on the sides of the main compartment which you can pop other little bits and pieces into – the size perfectly accommodates a sunglasses case and by the way, the Nomatic Travel Pack actually comes with a free sunglasses case in case that swings it for you!
Other Compartments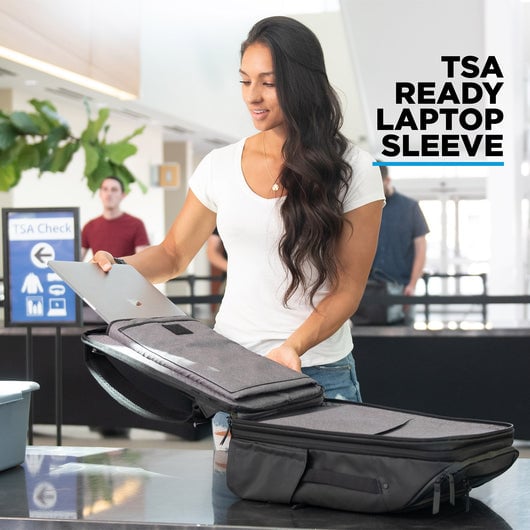 One of the best features of this pack is the laptop compartment.
It is located on the reverse side of the inside side of the pack (the part that rests on your back). When you zip open the clamshell to access the main compartment, the laptop case will fold down. The compartment opens and closes securely with a zip and comes with enough padding to keep your precious device safe from a few knocks. It will fit laptops up to 15" which is a bummer if you are one of those rare beasts who still uses a 17".
So what else do we have? Well on the outer side of the pack the flap zips open to reveal 4 more mesh pockets, a bottom pocket, and then some inside pockets on the inside of the flap. I don't know about you, but you can never have enough pockets in my opinion!
But that's not it, there is also a small secret zipper pocket situated on the backside of the pack. The pocket is super hard to access but that is the whole point of it – it's a secret compartment and therefore useful for hiding passports, credit cards and cash!
Quality and Longevity
Nomatic gear is not cheap so buyers have every right to expect high quality and some longevity.
The main material is tarpaulin which offers a good level of water resistance. It feels quite thick and hard-wearing (which does make the pack on the heavier side of things) but it is definitely not scuff proof and I can foresee the pack taking a few scratches after a few months of use.
The zips and zip lining are zoom zippers which are of a very high quality.
The other Nomatic packs we have owned are in great condition after years of use and we fully expect this one to perform just as well. In fact, Nomatic even offers a pretty strong Lifetime Warranty that guarantees against manufacturer defects.
Price and Value For Money
The Nomatic Travel Pack is $300. That is quite a lot for a 20L or a 30L pack.
Still, we do feel that the chunky price tag is justified. The Nomatic brand pride itself on making innovative, high-quality travel gear that offers heaps of awesome features.
Basically, if you feel you will make use of the pack's features such as the clamshell opening, the extendability, the laptop compartment and all the little organisation pockets, then you will probably get your money's worth.
If you will not make the most of these features then there are more cost-effective alternatives out there for you.
Also, keep in mind that this pack comes with a lifetime guarantee – and $300 is not really bad for a travel bag for life now is it?! I mean, you can't beat a 10p Tesco bag for life in terms of value but they are somewhat lacking in features compared to the Nomatic!
Final Thoughts on The Nomatic Travel Pack
As we have seen, the Nomatic Travel pack is a unique extensible travel pack. It can be used as a 20L daypack or a 30L overnight or weekend bag. It is made from high-quality materials, has lots of storage options and even comes with a laptop compartment.
It is not a cheap travel pack and it is not ideal for everybody. Still, it has a very unique space in the travel gear-o-sphere and has earned itself a lot of fans… including us.
Looking for some accessories to match you're new shiny bag? Have a look at the Nomatic wallet that fits perfectly in the secret pocket. Also, check out the Nomatic toiletries bag, it's one of the best on the market and continues the company's line of excellent travel products.
---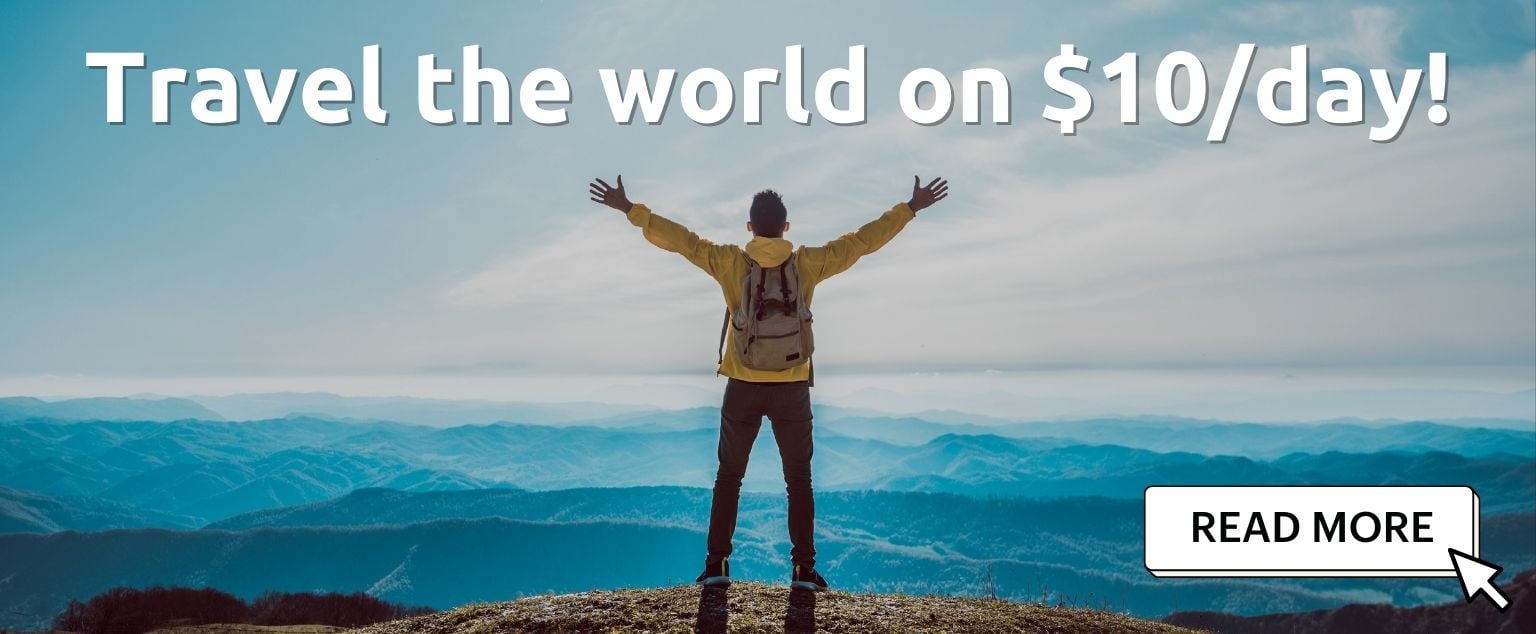 And for transparency's sake, please know that some of the links in our content are affiliate links. That means that if you book your accommodation, buy your gear, or sort your insurance through our link, we earn a small commission (at no extra cost to you). That said, we only link to the gear we trust and never recommend services we don't believe are up to scratch. Again, thank you!