A new generation of top-notch wheeled luggage is here: welcome to my Nomatic Check-In review!
For the past several years, Nomatic has been making a huge impact on the travel space by offering up some of the best in class luggage options on the market.
Their new fully-featured Nomatic Check-In suitcase will change the way you travel. If you find yourself going on extended trips for work, pleasure, or as part of your normal routine, then listen up! This in-depth review will provide you with everything you need to know about this innovative suitcase.
With so many roller luggage options on the market, it can be hard to know where to even start. Let me save you the effort of doing your own research: for most types of travelers, the Nomatic Check-In is the ONLY suitcase you will ever need. Sometimes, having a carry-on suitcase just isn't enough, and when you need to pack for a longer trip, only a full-sized suitcase will do.
Below, I'll break down the Check-In suitcase from every angle, covering things like organization features, capacity, weight, security features, durability, and much more.
By the end of this review, all of the cards will be on the table and you will know for sure whether or not the Nomatic Check-In is the right suitcase for your personal travel style.
Quick Answer: Nomatic Check-In Key Specs
Price: $599.00
Weight: 12.32 pounds
Capacity: 78 liters
Locking Zippers: Yes
Outer Dimensions: 29″ H x 18.5″ W x 9″
Packs For: Up to two weeks+
What We Liked About the Nomatic Check-In Suitcase
Great capacity for long term travel
Well built and probably the toughest suitcase you will find
Excellent organizational features
Custom locking system
Compression straps help secure contents from shifting in transit.
Silent wheels
Sleek design
Lifetime warranty
What We Didn't Like About the Nomatic Check-In Suitcase
Heavy – might be an issue for airline weight restrictions if your bag is very full
No exterior storage areas
Does not come with any packing cubes
Expensive
Ladies & Gents, It's Time to Step Your GEAR Game Up. 😉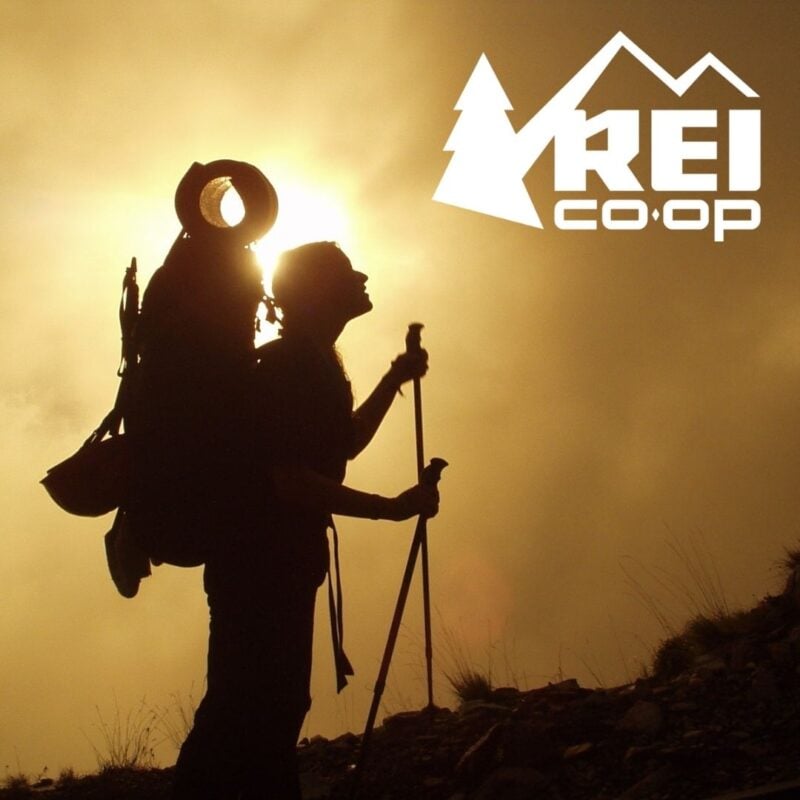 REI is one of America's biggest and most-loved outdoor gear retailers.
Now, for just $30, get a lifetime membership that entitles you to 10% OFF on most items, access to their trade-in scheme and discount rentals.
Join REI Today!
Meet the Nomatic Wheeled Luggage Fleet
Not all wheeled suitcases are created equal. So what sets Nomatic products apart from the rest of the pack? Nomatic has earned a cult following within the travel community for many reasons, with the main one being that they actually build quality luggage with the modern traveler in mind.
Let's take a look at some of the cool design features of the Check-In suitcase…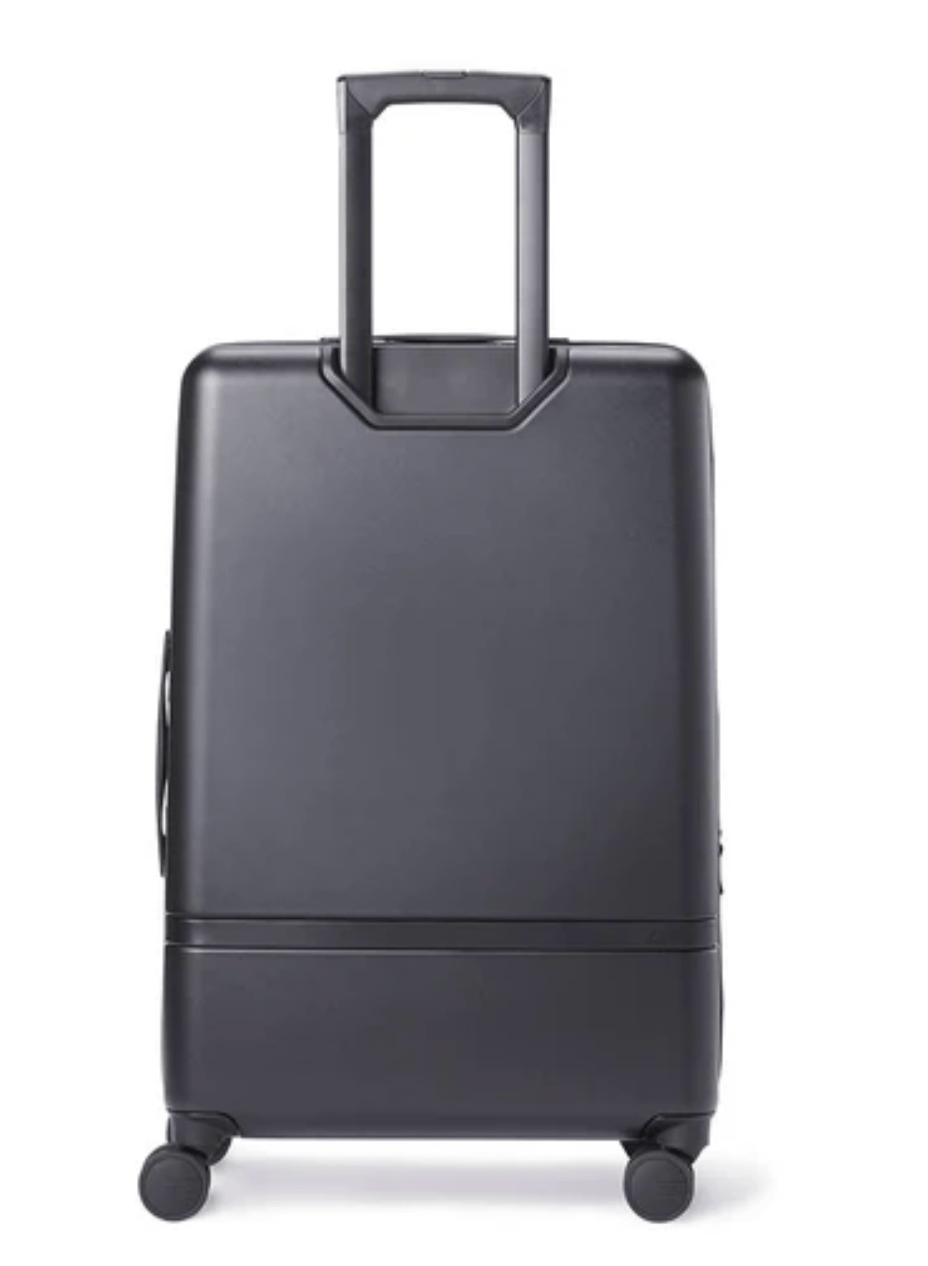 Organizational Features
Instead of having one large storage compartment to keep all of your clothes and other stuff contained, the Check-In offers a number of individual zippered compartments. The zippered compartments are not intended to store bulky items or much clothing but are great for containing things like chargers, small electronics, toiletries, books, socks, and the like.
For a complete visual breakdown, check out our friends over at Nomads Nation for a super in-depth video review:
Let's talk about the magnetic compression straps. These straps allow you to ratchet down your neatly folded clothes (because you are a neat person right?). This allows the packer to fully maximize the available space by making those aforementioned piles of clothes as flat and compressed as possible.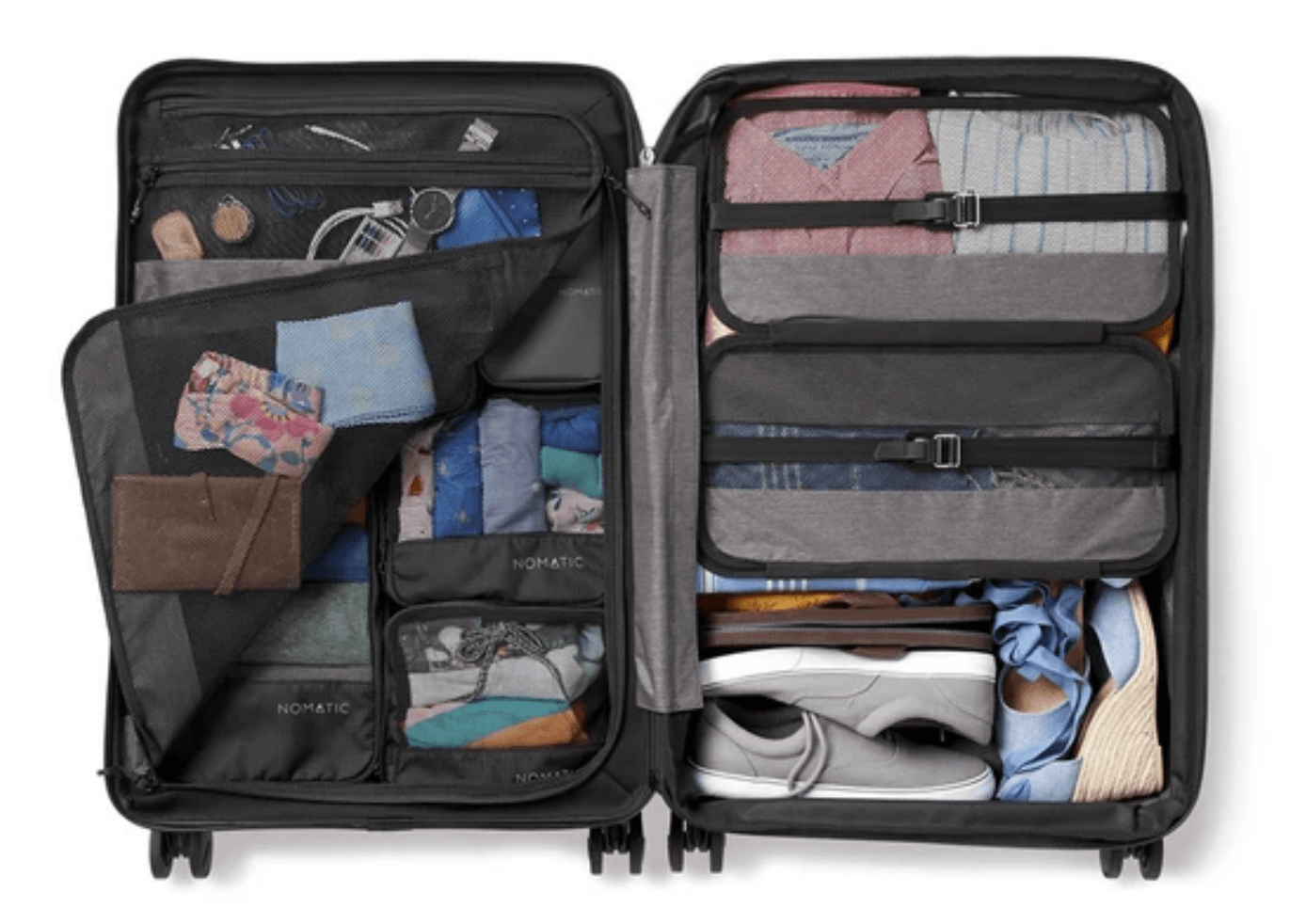 Another benefit to using the straps is that they help to keep all of your stuff from moving around in transit so it will not look like a bomb went off in your case when you arrive at your Airbnb or Hostel. I guess I should not have said "bomb" in the same article as the word "airplane", but I promise you, my intentions are innocent.
The Check-In also comes with a folding compression panel, which helps to dial in exactly what you want to compress and in which area of the suitcase you want to do it. One of my favorite general organizational features of the Check-In is just how customizable it is. Maybe sometimes you are packing a few pairs of shoes or winter clothing for that Ski holiday in France. Whatever packing scenario you need to organize yourself around, the Check-In makes it easy to get all of your gear securely in place.
If you really want to take your packing game to the next level and get the absolute most out of the Check-In's available space, pick up some Nomatic Packing Cubes (sold separately).
Organizational Features Score: 4/5
Packing Capacity
The Check-in suitcase offers 78 liters of space. To give some perspective, when I go on a serious backpacking mission, I usually take a 70 0r 80-liter backpack. With that sort of capacity, I carry a tent, sleeping bag, cooking supplies including a gas stove, all of my cold weather clothing, food, water, electronics (camera, power bank), sleeping pad, and on and on.
Point being, with 78 liters to work with, you can comfortably pack a ton of stuff. For a week vacation in the Colorado mountains, or a month in South East Asia, the Check-In has got the storage capacity.
By comparison, the Nomatic Check-In offers nearly triple the amount of packable space than the smaller Nomatic Carry-On Pro model (29 liters).
If you are looking for a smaller carry-on friendly suitcase option be sure to check out my full-length Carry-On Pro review.
In addition to the packing cube, Nomatic has plenty of accessory items to help you master the art of packing.
Have a look at these:
Packability and Capacity Score: 5/5
Security Features
There is no doubt that one of the top priorities of any traveler is security. You want the contents of your suitcase to arrive at your destination without being disturbed by thieving hands. You also want to be able to travel in densely populated urban areas like train stations, inside the metro, or busy markets without having to worry about pickpockets.
The Check-in suitcase features several nice touches that go a long way in keeping thieves out of your stuff.
Let's start with the TSA approved Locking YKK zippers. No additional lock needs to be purchased to lock the zippers as the combination lock built into the top of the case will handle that for you. If you want to double-lock your suitcase, the zippers have wide eyelets that can be locked together with a travel lock of your choosing. In my opinion, this is overkill, and just one more step between you and getting into your bag.
That said, there is nothing wrong with being overly cautious, so if it makes you feel good to use two locks on your suitcase, go for it.
The fact that the suitcase has no external pockets or access points also provides another subtle layer of security as from the exterior, nothing can be stolen.
As a further security measure, we also recommend taking out travel insurance before any trip to cover both yourself and your luggage.
Security Score: 4/5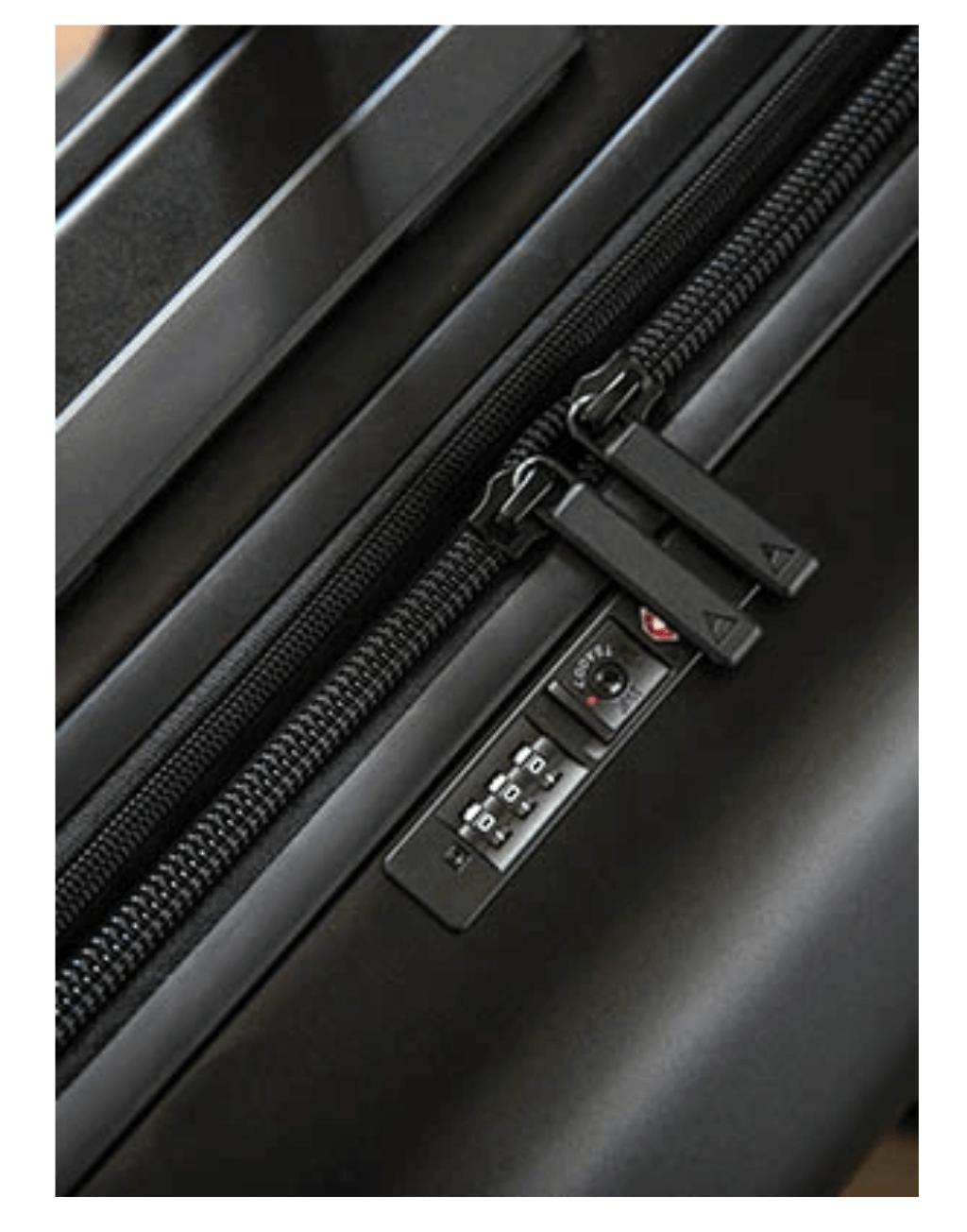 Durability and Toughness
One of the key selling points for Nomatic products are their reputation for being TOUGH. I mean just watch the video below and you will see what I am talking about.
Unfortunately, I did not have the luxury of smashing my Check-In suitcase with a sledgehammer, but if I ever do, I shall update this review to grade the personal pleasure I experienced.
All Nomatic suitcases are built from an ultra-durable polycarbonate material intended to survive impacts with sledgehammers…and even cars. Point being, if you accidentally knock your Check-In case into the wall, drop it down a flight of stairs, or use it to blow off steam from your latest disastrous Tinder date (if you have a sledgehammer on hand), it should hold up just fine.
Given that Nomatic suitcases are far from cheap, it is good to know that they can literally take a beating and maintain performance for years.
Though not marketed as waterproof, short of being left in a pouring rainstorm for hours (which you would never do of course), the Check-In suitcase can handle getting wet without having the water penetrate to the interior.
Durability and Toughness Score: 5/5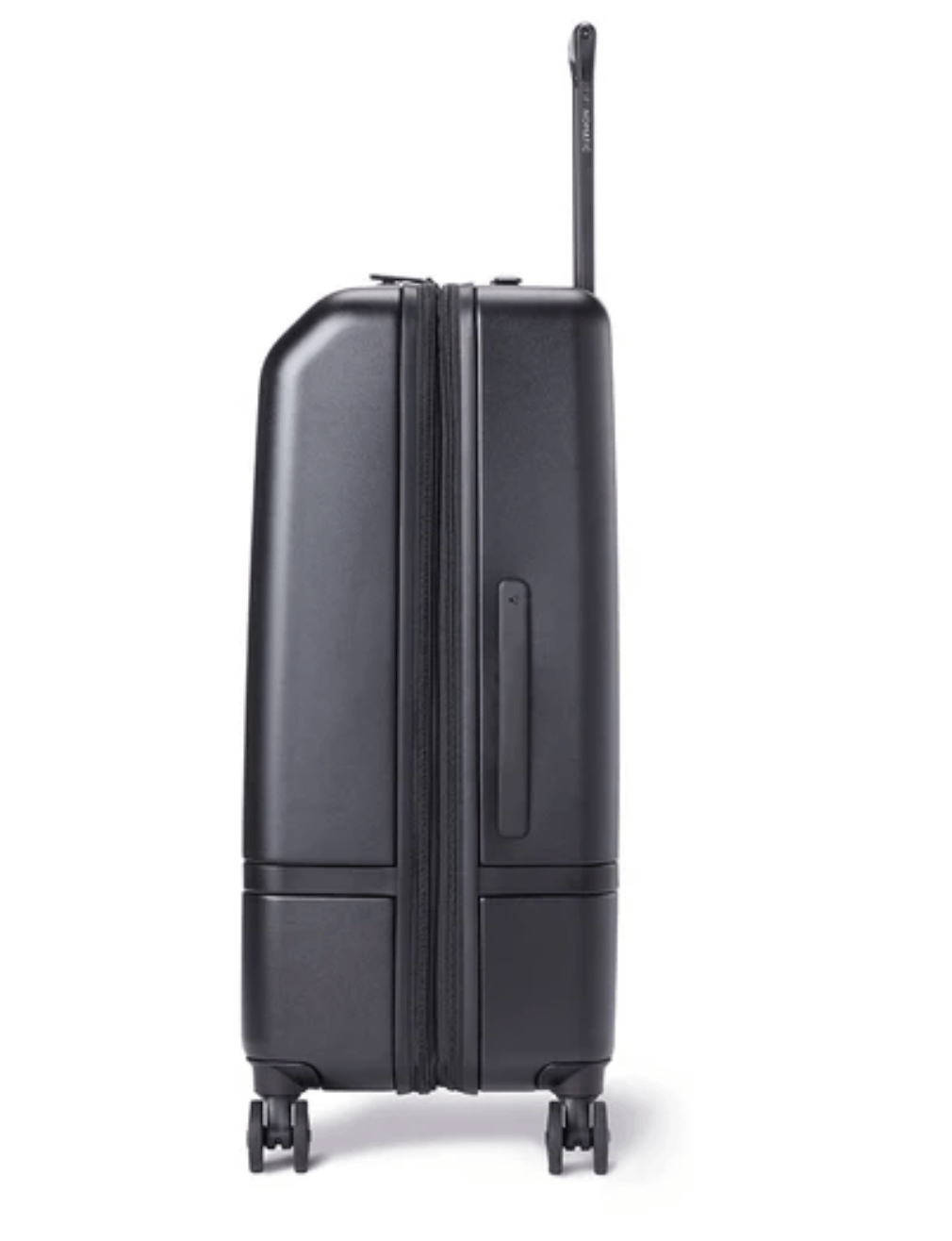 Using the Nomatic Check-In
Sexy design and cool storage features mean nothing if the bag is not practically functional for busy travelers on the move. So how does it feel to use the Check-In in the proverbial "field"?
An obvious place to start is with the wheel system. The Check-In model is equipped with 4 Hinomoto silent wheels that offer 360-degree movement capabilities (you can spin the suitcase in a circle while it is in place). As promised, the wheels are indeed silent, and the "roll" they provide is super smooth even when the bag is loaded with 50+ pounds of contents.
The three-stage aluminum handle is the final piece of the functionality pie. The handle locks into place at each of the three sections. This makes it highly adaptable to your height, so if you happen to be on the spectrum of being a tall or short person, you can adjust the handle accordingly.
The whole point of having a wheeled suitcase is to avoid the prospect of needing to carry the thing. In case you need to walk the suitcase up a flight of stairs or load it into your Uber ride to the airport, there are two built-in carry handles; one on the top and one on the side.
Usability Score: 5/5
Size and Weight
The major (and seemingly only) qualm I have with the Nomatic Check-In suitcase is its base weight (the weight of the suitcase when it is empty). Though I have not run into this issue personally, if you fly with an airline that has strict weight limitations, you'll need to be careful to not overpack.
Certain budget airlines only allow for a 25-30 pound check-in bag, so if your Check-In suitcase is over 12 pounds, to begin with, you'll need to be a bit strategic with what you decide to bring. To be fair, most "heavy-duty" style full-sized suitcases are not light. Tough Polycarbonate exteriors are not lightweight by nature, and thus the final product's weight reflects that quality.
For being a large suitcase, I appreciate the aerodynamic shape and look of the Check-In model. It does not have the same bulk and some of the other padded soft shell suitcases you see on the market.
To be clear (and as the name suggests), there is likely not to be an airline on earth that will accept the Nomatic Check-In as a carry-on suitcase as it is simply too large to enter the cabin.
Is the Check-In a Good Bet for Digital Nomads?
The Check-In suitcase is large enough for long-term travel (especially if we are talking about warm-weather countries). If you are planning to move to Thailand or Bali to join the hordes of other millennials living the digital nomad dream, the Check-In makes for a good option to move your minimalist life possessions into.
However, if you want to cash in on 12 liters of even more space, the suitcase's expansion can be unzipped in a matter of seconds!
As mentioned, if you are planning on making use of every square inch of space within this suitcase, check in with your airline to see what the eight limits are. If carrying less is not an option for you, you can usually pay the excess baggage fees in advance (which ends up being waaaaay cheaper than doing that at the airport).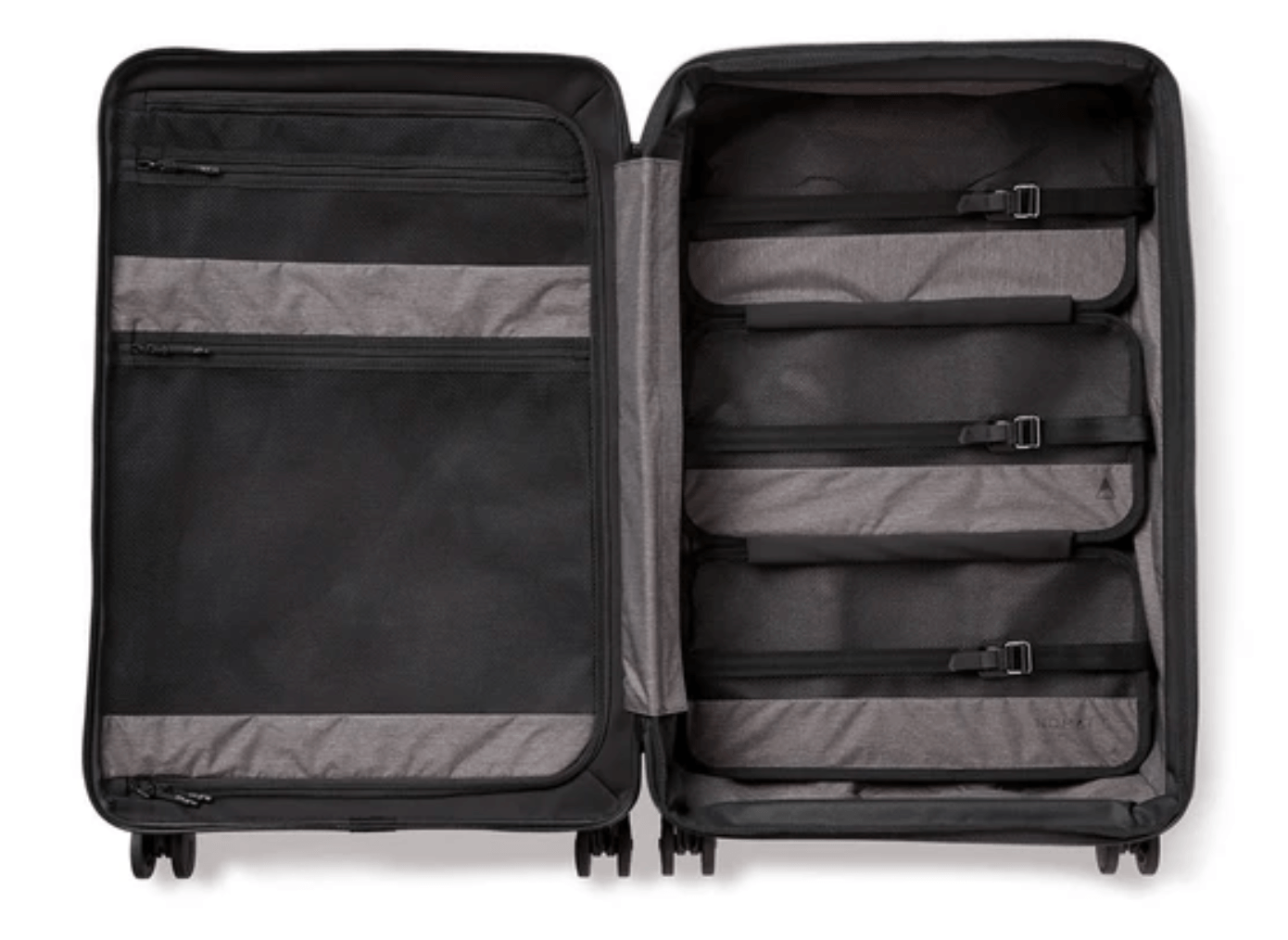 Price
If you are a regular reader of this blog, you know that we only recommend top-notch gear. Sometimes, that gear is expensive and when it comes to the Check-In suitcase, yeah, it's expensive all right.
So do I think that the Check-In is overpriced and just a waste of money? Whilst priced high, there are a few factors to consider here.
For the top-of-the-line luggage category, the Nomadic line is not exceptionally overpriced. Quality luggage is just pricey in general.
I understand that the $600 price tag might put this suitcase out of reach for some budget travelers, but the Check-In suitcase is not a spontaneous/impulse buy sort of item either. You have to want it. This suitcase is built to last a loooong time (and a few sledgehammer thrashings along the way) and it includes a lifetime warranty (which is hard to beat). To justify paying $600 for a suitcase, you really must think of it as a long -term investment, because that is exactly what it is.
If you prioritize quality, cool organizational features, and long-term durability, then the Nomatic Check-In is just about as good as it gets for a full-size wheeled suitcase. If you want the best, this is it.
Price Score: 3/5

Our GREATEST Travel Secrets…
Pop your email here & get the original Broke Backpacker Bible for FREE.
Final Thoughts: Nomatic Check-In Review
Wheeled luggage, in general, is not the sort of gear I find myself reviewing often. I am a long term backpack guy and I will be forevermore. That said, having awesome wheeled luggage set up definitely has its perks. It's the right tool for the job sort of situation.
Backpacks are not for every travel scenario or every traveler. In fact, most of the world prefers to travel with a wheeled suitcase.
In terms of quality, organizational features, storage capacity, exterior look, security components, and the rest, the Nomatic Check-In suitcase is the best overall wheeled luggage I have come across.
So you find yourself taking extended trips and in need of a solid suitcase. The goal is to be able to load up everything you need for a week or two away. Good news! The Nomatic Check-In is probably just the unit to serve that purpose.
Once you get past the heavy base weight and steep price-tag, you will be enjoying years of (silent) wheeled bliss for many trips to come.
So what's the final score for the Nomatic Check-in suitcase? We're confident to give this awesome travel a solid 4.6/5 rating!

I hope you found this Check-In review helpful! If you have any experience using this suitcase or if I missed something, please leave a comment below! Happy travels guys!
Looking for a smaller backpack that opens up like a suitcase still? Check out the Nomatic Travel Pack instead.
---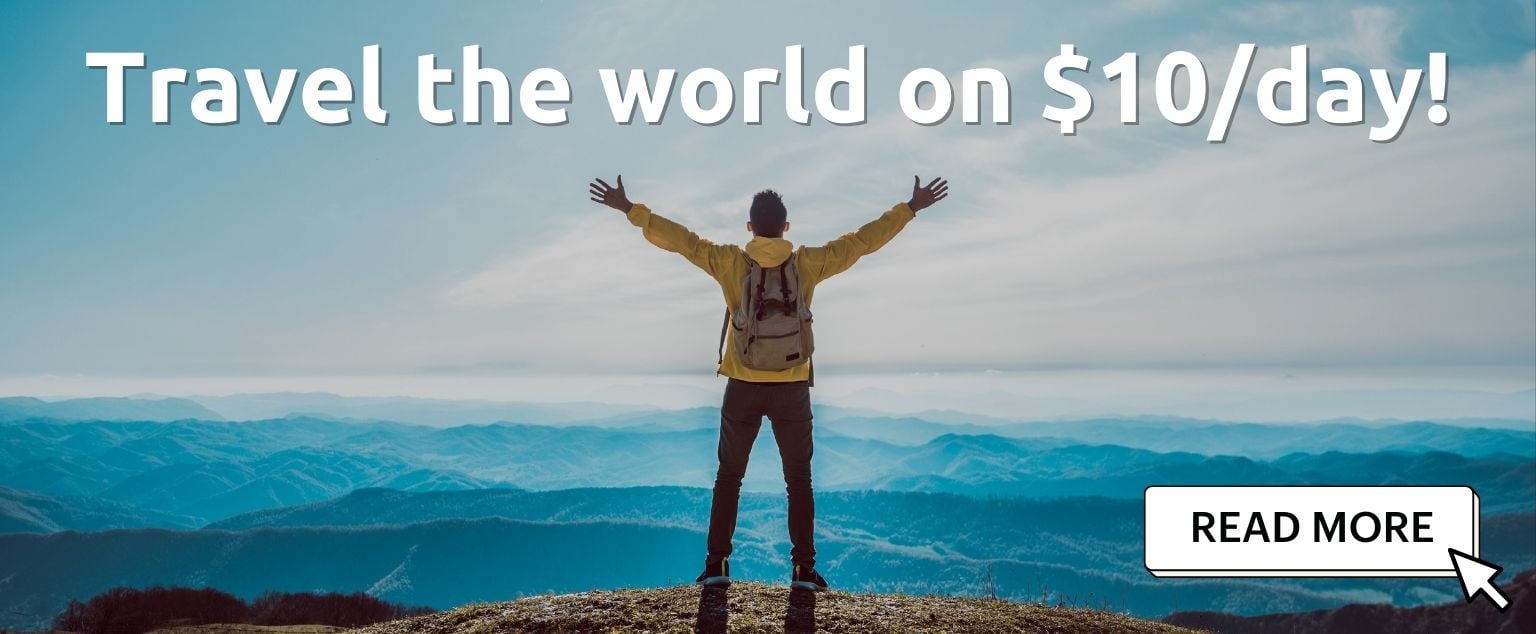 And for transparency's sake, please know that some of the links in our content are affiliate links. That means that if you book your accommodation, buy your gear, or sort your insurance through our link, we earn a small commission (at no extra cost to you). That said, we only link to the gear we trust and never recommend services we don't believe are up to scratch. Again, thank you!