There are many situations where looking for a brand name above all else can be slightly stupid. Do we need to spend twice as much for Bounty? Do our dogs genuinely care whether we go for Blue Diamond or Target brand snacks? Probably not.
And yet, there are also a few key moments where going for the wrong off-brand label to save some cash will cost you dearly in the long run. Luggage brands are one of those occasions.
The trouble is, the gap between the REIs and Forclaz of the world versus the Carl Friedriks is narrowing, and the price difference is steadily increasing. It can be harder and harder to justify splurging for an expensive piece of luggage when it feels like I can get pretty much the same thing delivered to my house in 24 hours or less at a fraction of the cost.
Honestly, if you only need a suitcase for a wedding or two a year, or a long weekend at Myrtle Beach, I say go for it. Anything with a zipper and four wheels will get you from the airport to the hotel once or twice.
But once you've got the bug and start to stretch out your itinerary, heading to multiple stops on one trip, or hoofing it more than a block or two, a quality luggage brand should be by your side for the ride.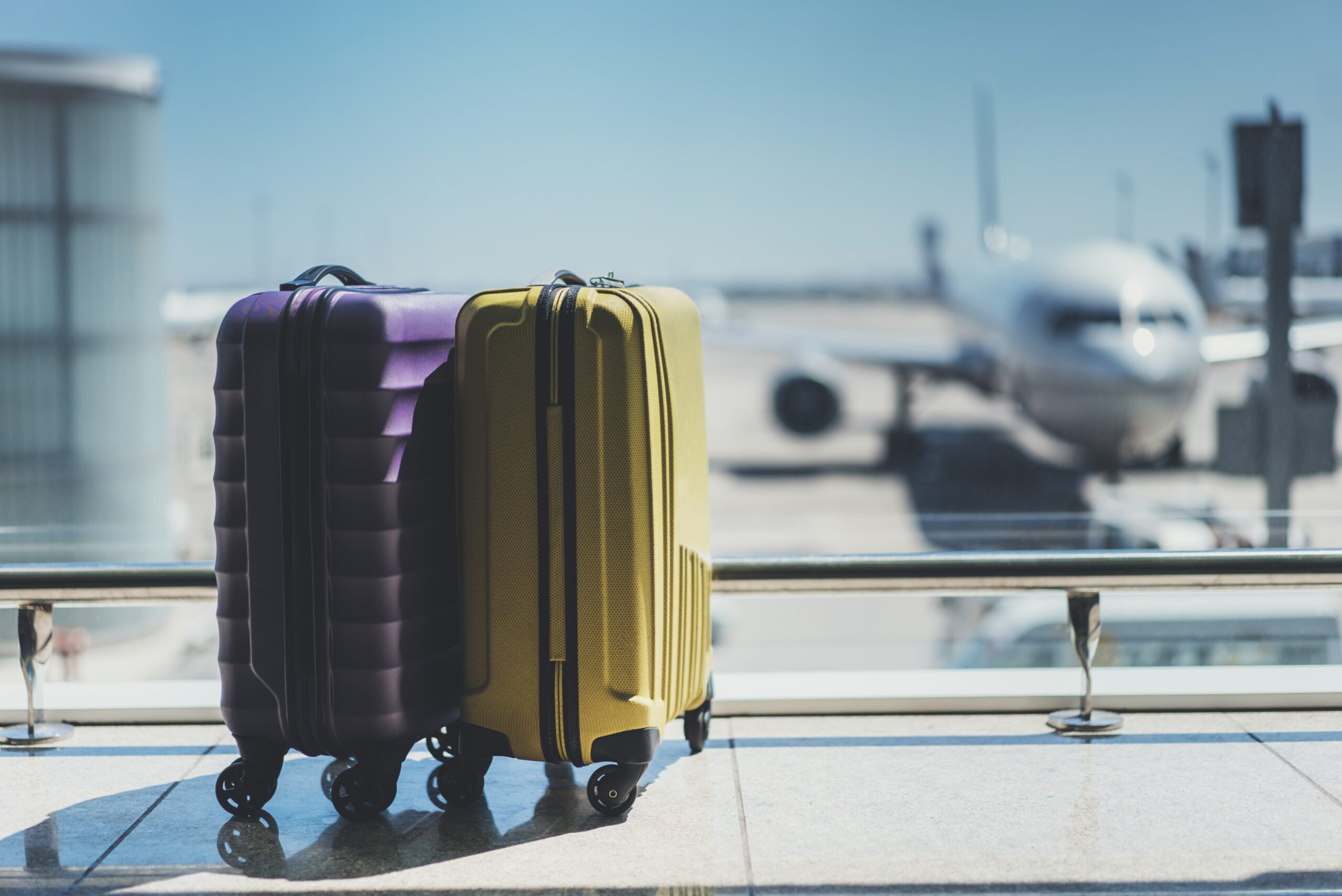 In a sea of black-wheeled suitcases, a few proud pieces of luggage float above the muck and mire to stand out on the baggage claim carousel and wheel you away ahead of the crowd. Today we'll meet those brands.
Whether you're a minimalist wanderer, a business traveler who wants to ensure your trip has space for yourself, or just trying to get the heck out of dodge, not every purportedly high-quality luggage brand is worth the extra cost. Still, a brand is bound to have bagged up your travel persona.
Some brands bring professional minimalism to the conveyor belt, while others embrace vibrant patterns and eye-catching colors. Some brands dream of New York City, seamlessly blending into a fast-paced style and swinging from concrete to a taxi trunk, while others are built like a 4×4 ready for the trails. Some aint worth your time, while others will create more of it.
Stay tuned for the exciting reviews of these extraordinary luggage brands, and get ready to pack your bags with panache.
Our Favorite Luggage Brands
Best Luggage Brand: Monos
Best Backpacking Luggage Brand: Osprey
Most Innovative Luggage Brand: Nomatic
Best Carry on Luggage Maker: LOJEL
Most Secure Luggage Brand: Samsonite
Best Budget Luggage Brand: Amazon Basics
Best Outdoors Luggage Brand: Eagle Creek
Best Performance Luggage Brand: SOLGAARD
Best Designed Luggage Brand: Roam Luggage
Whether you're heading four days deep into the Amazon or embarking on a country-wide tour of marketing conventions, there's a brand on this list that will help you get there with clean underwear.
Looking for something more specific? Check out the best backpack brands instead.

Do You Want to Travel FOREVER??
Pop your email in below to get a FREE copy of 'How to Travel the World on $10 a Day!'.
Best Luggage Brand: Monos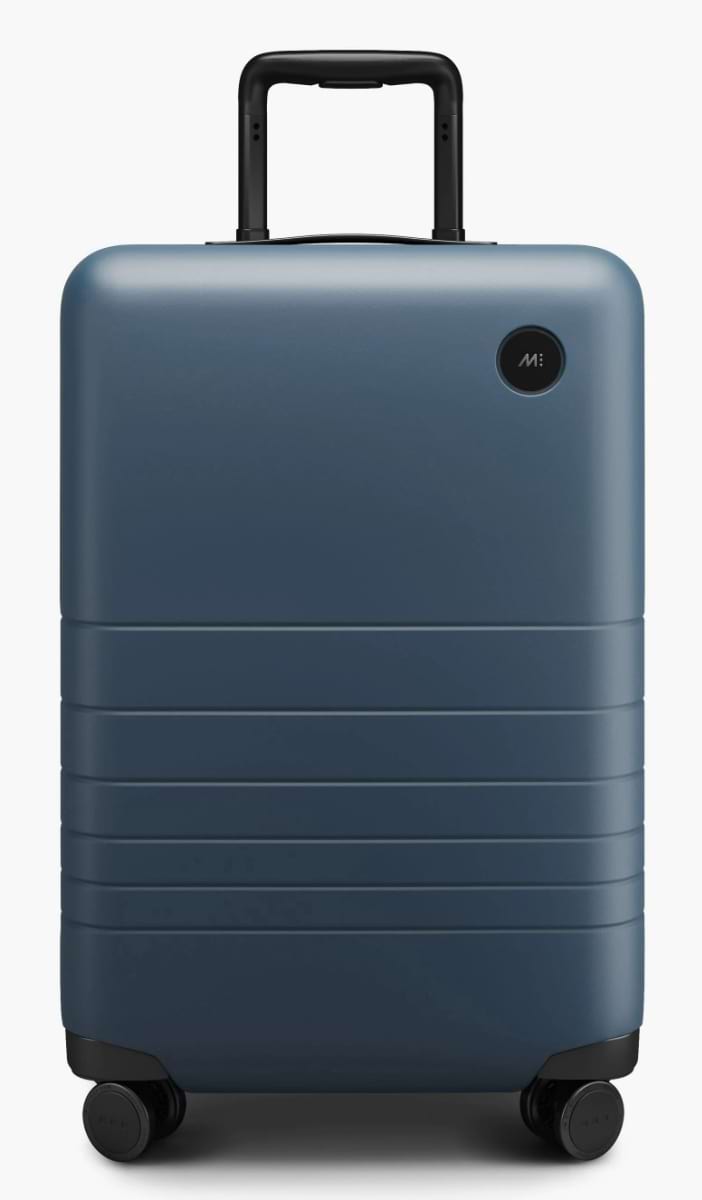 We like a brand that understands travel can be more than just a means of escape. Monos churns out luggage that reflects a natural cascading beauty, like whitewater crashing onto distant shores.
This luggage brand was founded on fleeting moments, embracing a minimalist approach backed by high-quality materials. Their luggage is simple and effective, backed up by a lifetime warranty. The luggage makers mindfully manifested a straightforward process, employing the finest materials to encourage more travelers to enjoy the present moment fully.
This meditative mentality has led to many suitcases and bags, each embodying calm, strength, and reliability. At the front of the charge is the Carry-On Plus suitcase series, which protects your gear in a monotone polycarbonate shell. The shell is rumored to be unbreakable, and it's reinforced with vegan leather detailing and whisper-quiet wheels.
If you'd rather lift your gear off its feet, the Monos Metro Backpack has you covered. This common-sense backpack looks and feels like most everyday carries, except it's got a QUickSnap Modular Kit up its sleeve. Monos' unique system lets you attach and detach various attachments that help you can keep everything you need close by and stow the rest.
Looking for something similar, have a look at this run of the best rolling duffel bags instead.
Best Backpacking Luggage Brand: Osprey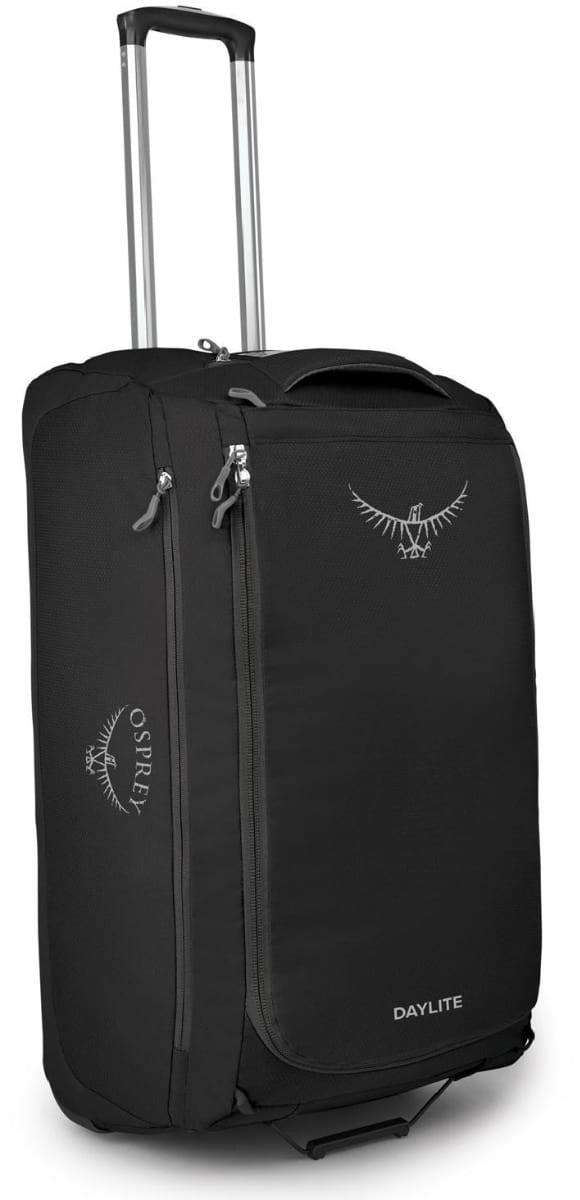 One of the main reasons I fell in love with the open road is that when I left the house for the first time, I was lucky enough to have an Osprey strapped to my back. It's been a long and winding road since then, but I've still got my Original Osprey Aether supplying the stoke through it all.
Sure, in the decade-plus since, it's got its fair share of bumps and bruises, but the backpack has never caused me any trouble I didn't bring on myself. The brand's sturdy bags have withstood the trials of rough baggage handlers, rainy seasons, and sunrise mountain climbs, emerging unscathed and ready for more. There are some awesome Osprey backpacks on the market, each for a different specific purpose.
Osprey takes sustainability seriously, implementing a three-step approach that encourages third-party watchdogs, Blue sign-approved materials, and fair working conditions. Further testament to their efficiency commitment is the All-Mighty guarantee, which promises to repair or replace any pack for any reason.
No product is better than the Talon 22, which I would argue is the best small backpack on the planet. The bag brings immense Airscape supports, sternum clips, and hip belts to an everyday pack.
Most Innovative Luggage Brand: Nomatic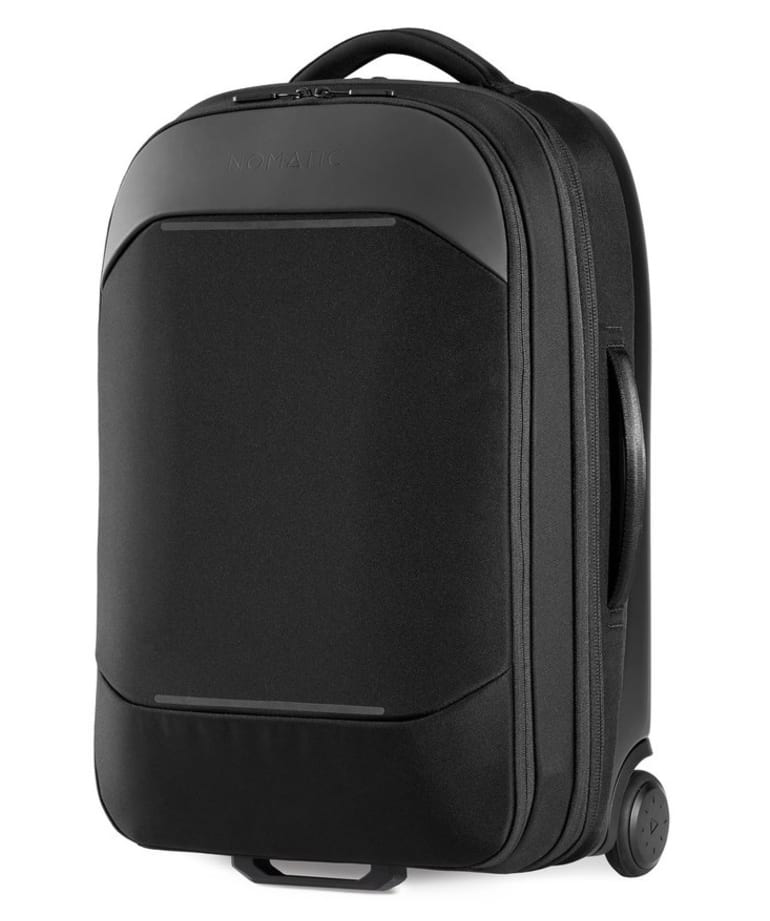 Nomatic started small out of Utah, USA, launching a wallet on Kickstarter. The high-tech features wrapped up in a traditional package quickly garnished over a hundred thousand dollars of crowdfunded investment, and the company hasn't taken its feet off the gas since, churning out tons of different products that stuff technically advanced features into traditional frames.
Travelers had to choose between bulky suitcases or overpowered backpacking bags for a long time, but Nomatic proved there is another way to roam. The luggage brand's wide-ranging lines don't reinvent what it means to be a backpack; they're just stuffed full of common sense perks.
The company hasn't lost sight of its backers, continuing to make products for the people, funded by the people. One of their more recent lines, the Nomatic Navigator, took in over 600,000 dollars on Kickstarter.
Ranging from a 1-liter sling to a 37-liter rolling carry-on, the Navigator series brings clamshell openings, mesh dividers, expandability, and water resistance together into one backpack that does it all.
Best Carry on Luggage Maker: LOJEL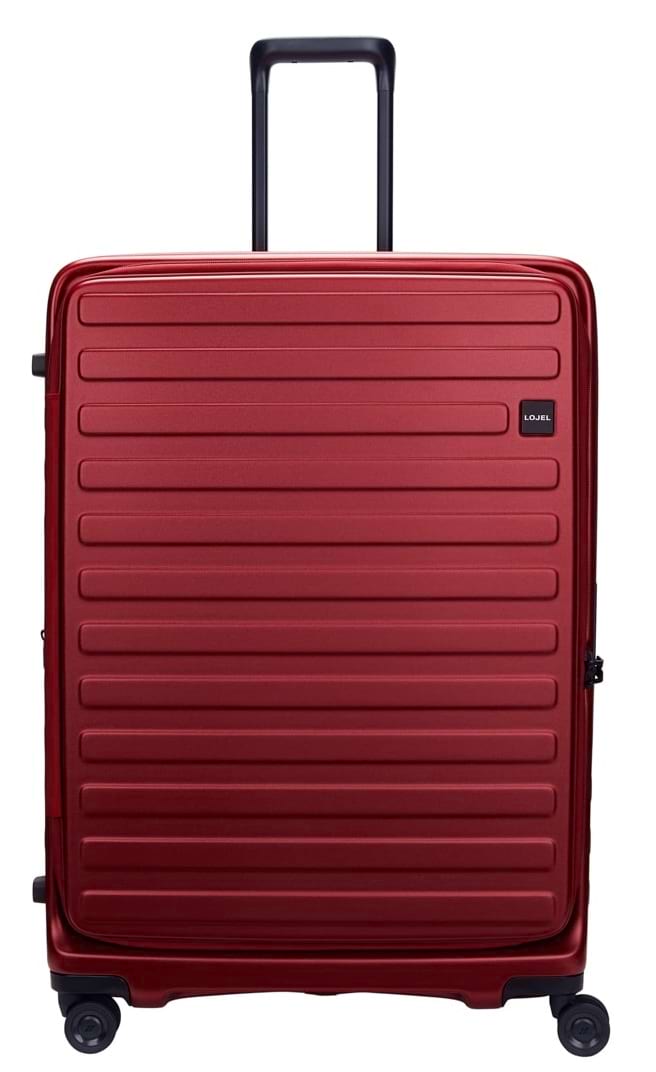 LOJEL stands for Let our journeys enrich life, a motto that expresses interest in pushing more travelers to go global and see more with less, and it's no mere marketing scheme. The company was formed after the founders traveled to forty-three countries in 180 days!
Anyone who logged anywhere close to that milage will know this: while any old piece of luggage can get you from your house to the airport, to a hotel, and back again, very few backpacks can keep your gear together and your mind sane for a halfyear of global wandering… and that is exactly where LOJEL luggage comes in.
Nowadays, the company has settled down and focused on churning out the hits, resulting in wide-ranging lines of minimalist-looking luggage with signature colorways that help you spot your gear on the carousel. The brand's Cubo wheeled series comes in four sizes and splits storage into mesh pockets and a wide-mouth opening protected by compression straps.
Another example of lived travel experience going into backpack design is the Niru daypack. My backpack is never big enough when I go to the grocery store. But when I'm squished onto a crowded chicken bus, I always wish for a more petite frame. With a few clutch buckles and a side zipper, this bag shapeshifts into both to be one of the best travel backpacks on the market in 2023.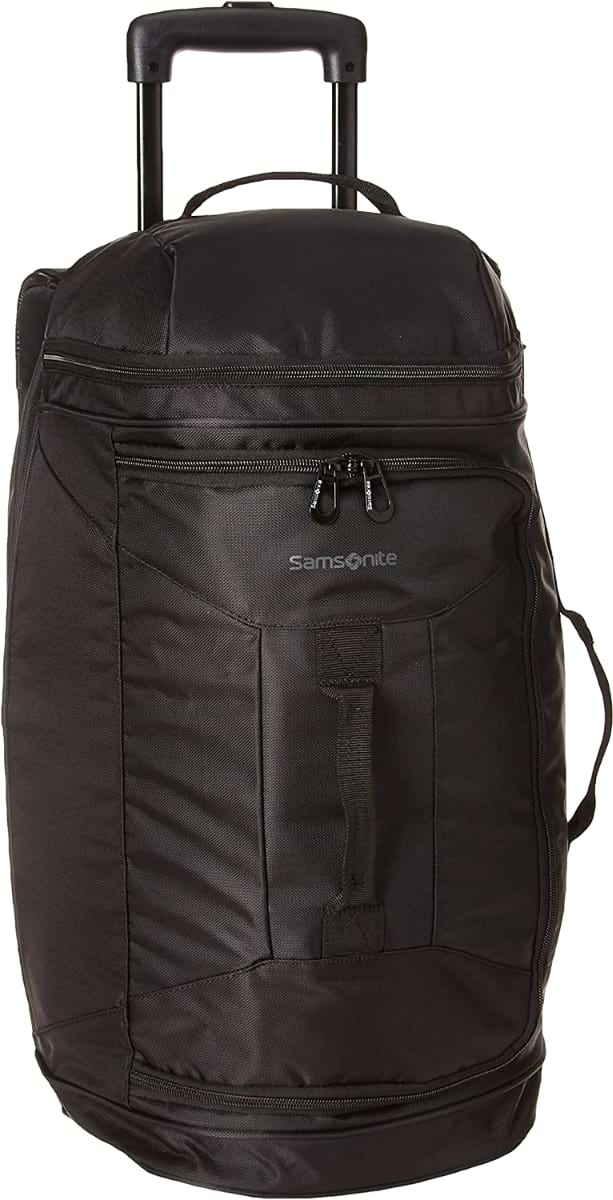 With over 100 years of luggage domination, there is no safer choice in travel than Samsonite. The company has kept with the times and held on to timeless techniques that create some of the industry's most sensible luggage pieces.
Samsonite's current models look like classics on the outside and boast intelligent features underneath the polycarbonate shells. Things like USB port charging, integrated weight scales, anti-theft dual zips, and more make peace of mind mobile.
When it comes to hardshell suitcases, Samsonite reigns supreme. If you don't believe me, Just look at the Carbon 2. The rugged unit boasts a textured shell that can easily withstand the bumps and bruises of travel. Down below, 360-degree spinning wheels provide effortless maneuverability, while sentry locks add security to your belongings.
Samsonite's also not afraid of wheeling and dealing. The Andante Wheeled Duffel combines a solid back support system and durable plastic components on the corners, ensuring structural integrity. On the flip side, soft canvas and flexible fabrics provide a snug fit for your belongings. This versatile design keeps your bag loose while securely locking your gear into place.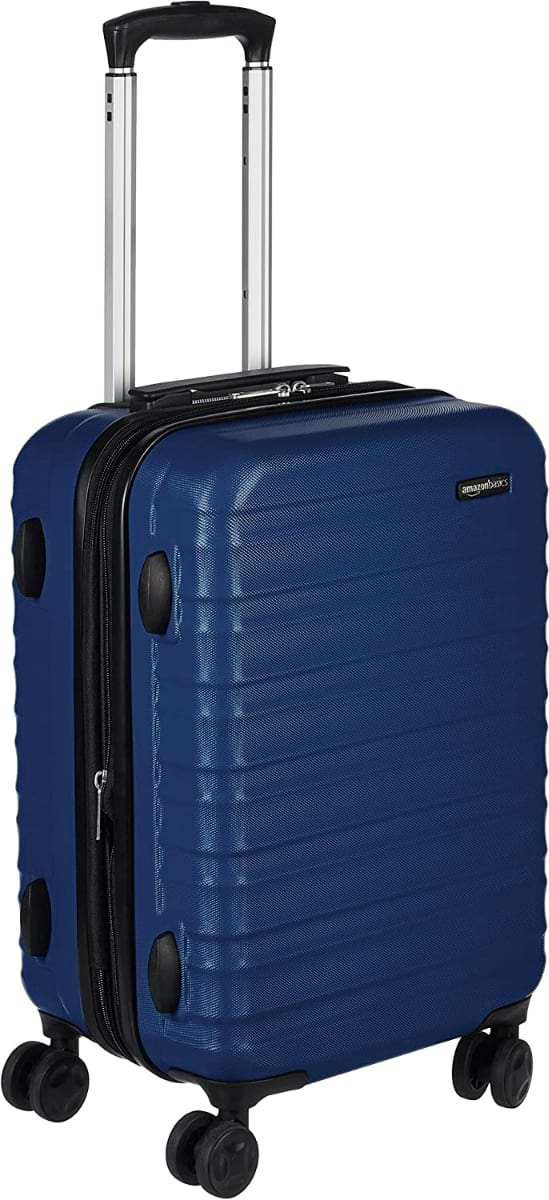 Not every trip needs ballistic nylon. Sometimes, your vacation can be as simple as a plastic shell and a half-decent set of wheels. Amazon Basics is here for those trips, serving double duty as the bag you order when you pull your usual suitcase out of the closet two days before the trip, only to discover you're a wheel short of a set.
The Basics behemoth takes advantage of Amazon's disgustingly large logistics chain to undercut the competition in various categories. You can practically procure your entire trip from Amazon basics, sourcing everything from the luggage and toiletries to the t-shirts and underwear.
With that said, there is nothing groundbreaking about their luggage. The only reason to go for Amazon Basics is the price, which is comically low for travel gear. The brand's carry-on travel backpack comes in sizes from 10 Liters to 60, all with a suitcase-style opening, compression straps, and a $60 price tag.
Amazon's Basics tend to sneak a few fun, user-friendly features into the mix, like the extra zippered mesh on the inside. That carries over into their hard-side spinner luggage, which comes in four different bright monotone colors and is slowly becoming a common sight at baggage claim.
The best present of all… is CONVENIENCE!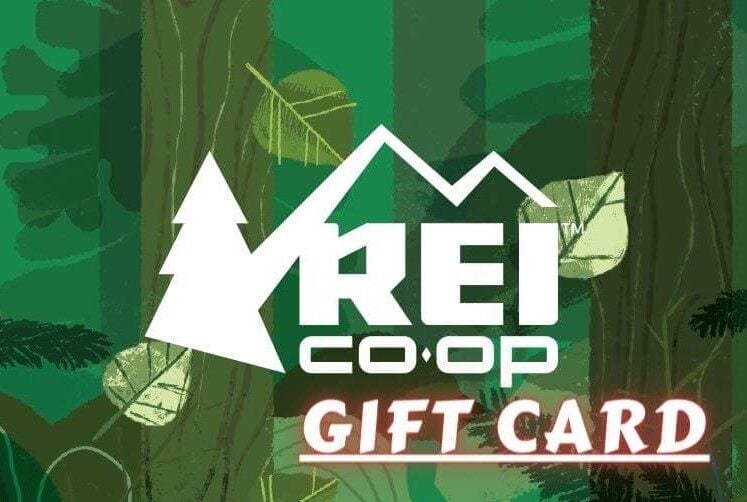 Now, you could spend a fat chunk of $$$ on the WRONG present for someone. Wrong size hiking boots, wrong fit backpack, wrong shape sleeping bag… As any adventurer will tell you, gear is a personal choice.
So give the adventurer in your life the gift of convenience: buy them an REI Co-op gift card! REI is The Broke Backpacker's retailer of choice for ALL things outdoors, and an REI gift card is the perfect present you can buy from them. And then you won't have to keep the receipt. 😉
Buy on REI!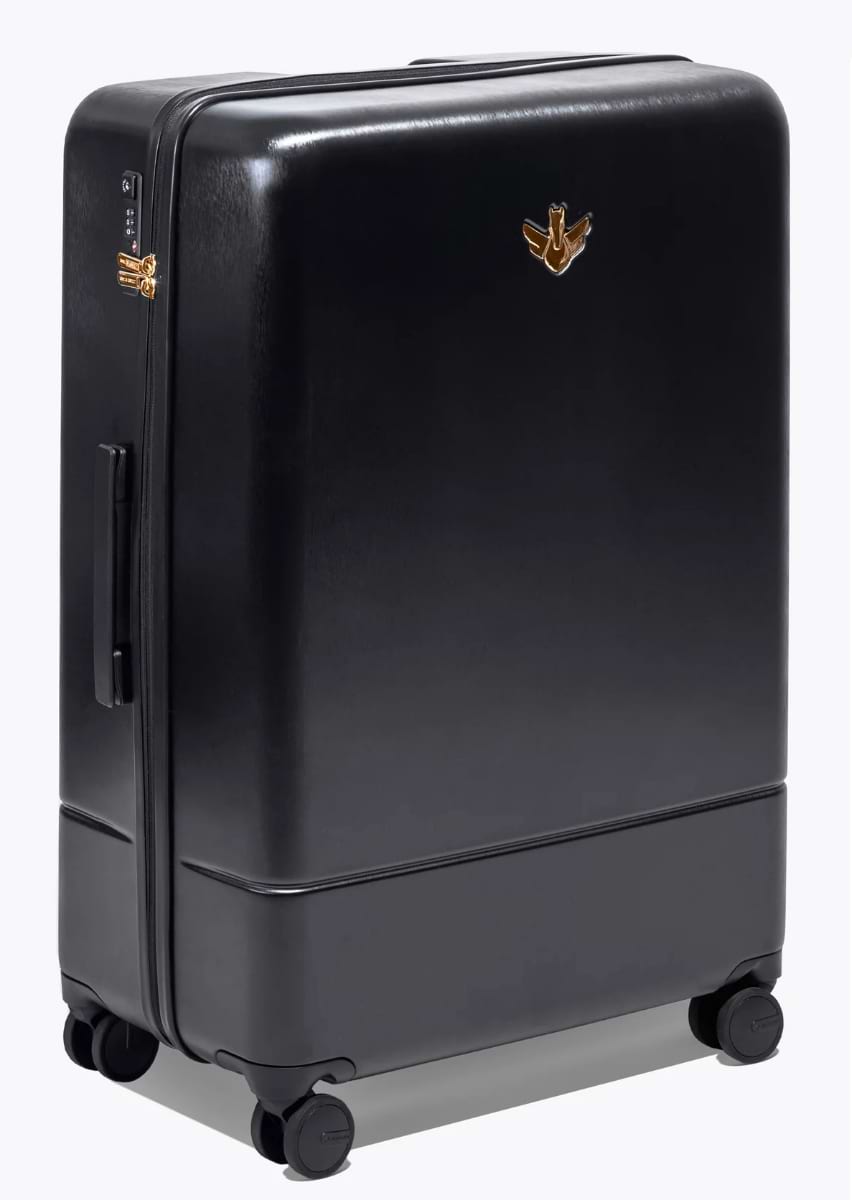 Royce and Rocket is an excellent combination of a high-class luggage brand with a family-style approach. The brand was born after countless family trips by a mother-daughter team tired of packing minivan-style suitcases, so they switched to the Rolls Royce of roller luggage.
My favorite thing about this fledgling company is that they aren't trying to stretch themselves too thin. The company dreamed up one slick roller suitcase idea and offered it in different sizes and alongside a set of no-nonsense accessories.
The brand's magnum opus is the Castle Shelves, hard shells that come in classic, expandable, and carry-on models. This luxury suitcase is a bit different. Many brands make it easy to pack everything you need and roll through travel days without a fuss, but most stop there.
The Castle Shelves pay off once you get to your final destination. Each suitcase has two shelves built inside the lid that folds flat and expands into a portable closet. An additional zippered pocket swings down over the top to add one last drawer to the equation, and it's all protected by a TSA-approved lock.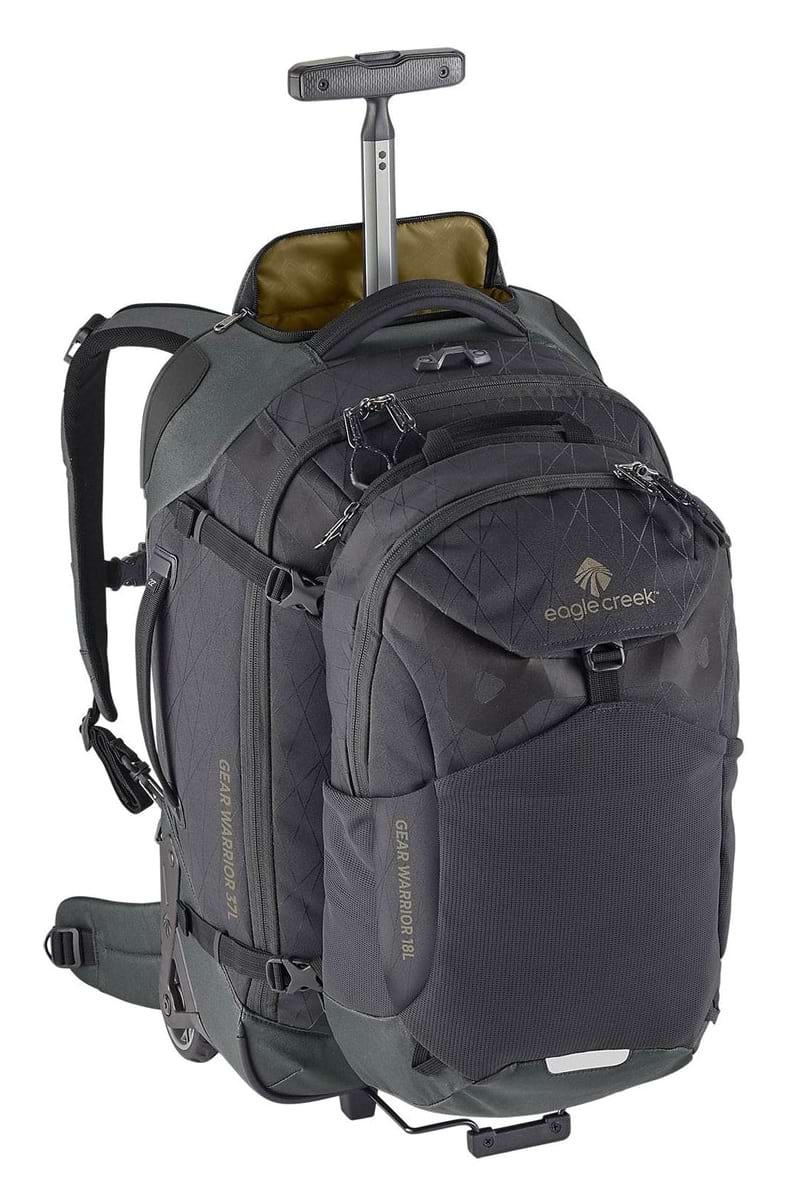 Eagle Creek provides luggage across the spectrum, from 130-liter wheeled duffel bags to theft-preventing money clips. Throughout the middle, they've got rolling backpacks, tons of packing cube solutions, and earplugs, Each thoughtfully designed to make traveling easier. If you're struggling to decide which to pick in the suitcase vs backpack debate, then Eagle Creek has you covered.
Eagle Creek turned recycled water bottles in the Gear Warrior, a wheeled backpack with a detachable daypack. You can wheel your way through your travel days, and once you get to home base, easily detach a front-facing daypack that helps you see the sights with nothing weighing you down.
The brand is more than a one-hit wonder, crafting roller luggage, backpacks, and duffels protected by a No Matter What Warranty. Especially when it comes to wheeled bags and duffel combinations, it's good to have extra peace of mind and protection. Eagle Creek promises to replace any faulty set of wheels and keep things rolling.
Streamline Luggage provides the best way to guarantee your bags don't get mixed up on the carousel. Thanks to 18 different collections with individualized colorways and vegan leather accents, you'll have to spend a lot of time on the road before you bump into someone sporting the same suitcase.
The sweet looks don't stop on the inside. Steamline lined the interiors of each model with unique prints that draw inspiration everywhere, from Art Deco to Lilly Pulitzer.
These bags sport a splash of flash without feeling over the top, working perfectly with floral assortments and guiding you through security painlessly. Most models are finished with ripstop nylon and feature faux leather straps that lock down your bag with a signature style.
Sort between the Architect series, which uses burgundy and navy colors for a more refined look, or go all out with The Botanist, which sports a beautiful floral print. Pimp out your closet under one theme or select a bag for a rainbow assortment of travel gear from each collection.
Best Performance Luggage Brand: SOLGAARD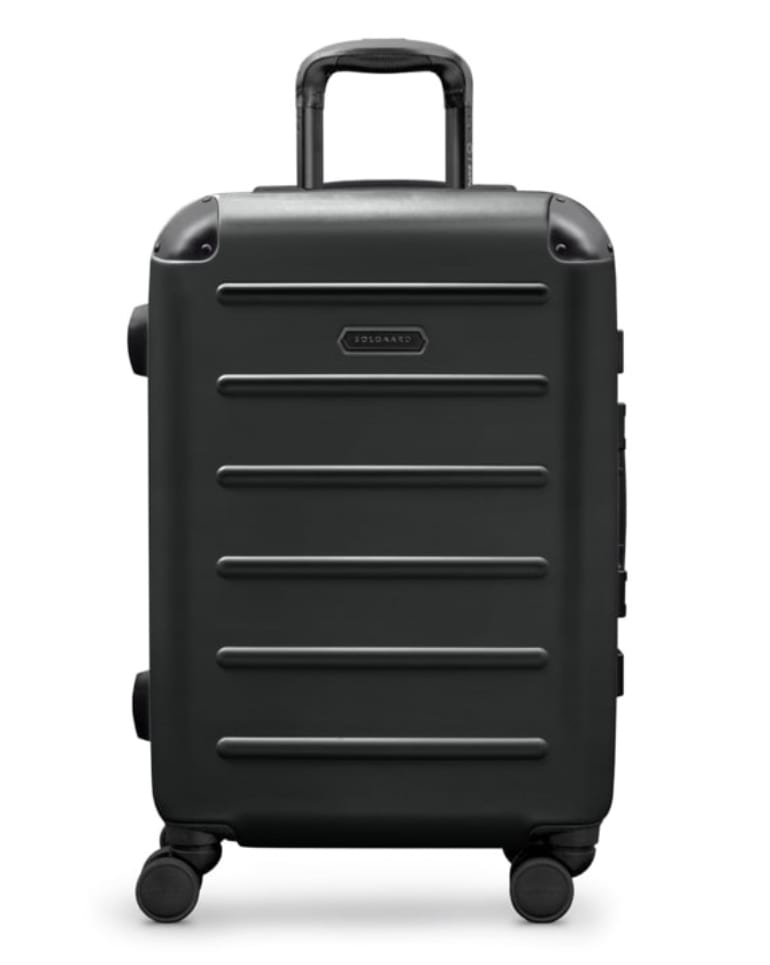 Solgaard makes backpacks with portable power stations, bags that fold upon themselves into a hanging shelf system, and rolling duffels that promise to open into a carry-on closet. That's a pretty impressive list.
Each Solgaard option does something nobody else on the market dreams about. They even dipped into the watch market after the success of their first two luggage pieces and designed a hexagonal watch head that makes it easier to tell time on the fly.
I used to live and work out of a 1994 Ford Econoline, which didn't bring much power on its own. I took this solar-charged backpack out with me to the deep end, and it got me to a few mobile meetings by the skin of my teeth. Every day when I headed out to work, the Solgaard Lifepack brought along a jungle of cables, all my work gear, and a raincoat for good measure.
Lifehack backpacks were Solgaard's first great hit, and they took their supercharged luggage up a notch with the carry-on closet series. The large model feels like an impervious case with USB charging and a modular system allowing you to unpack your bags without taking anything out of the suitcase.
You can rest easy knowing Roam built its luggage with your best interests in mind because each suitcase is made to order. The brand has set itself apart by providing more than a million color combinations and customization options that help create rock-solid luggage pieces.
Nobody is roaming further from typical black suitcases than these guys. You start your search by choosing what trip length you want a piece of luggage for and deciding whether you want a piece that goes on the plane or underneath it. Then things get really interesting.
Sort between expandable or regular models and build your palette of five colors and accents. No matter which style you choose, Roam Luggage comes with a confident compression and organizer system, antimicrobial fabrics on the inside, and a TSA-approved lock, with plenty of recycled eco-friendly materials incorporated.
Once you've built your dream suitcase, your luggage is assembled by hand in the U.S.A. Any one of the handcrafted luggage pieces would make a great addition to your closet. If you want to take your self-expression even further, Roam has limited edition luggage combos with Amanda Wachob and other famous designers that bring new colors to the airport.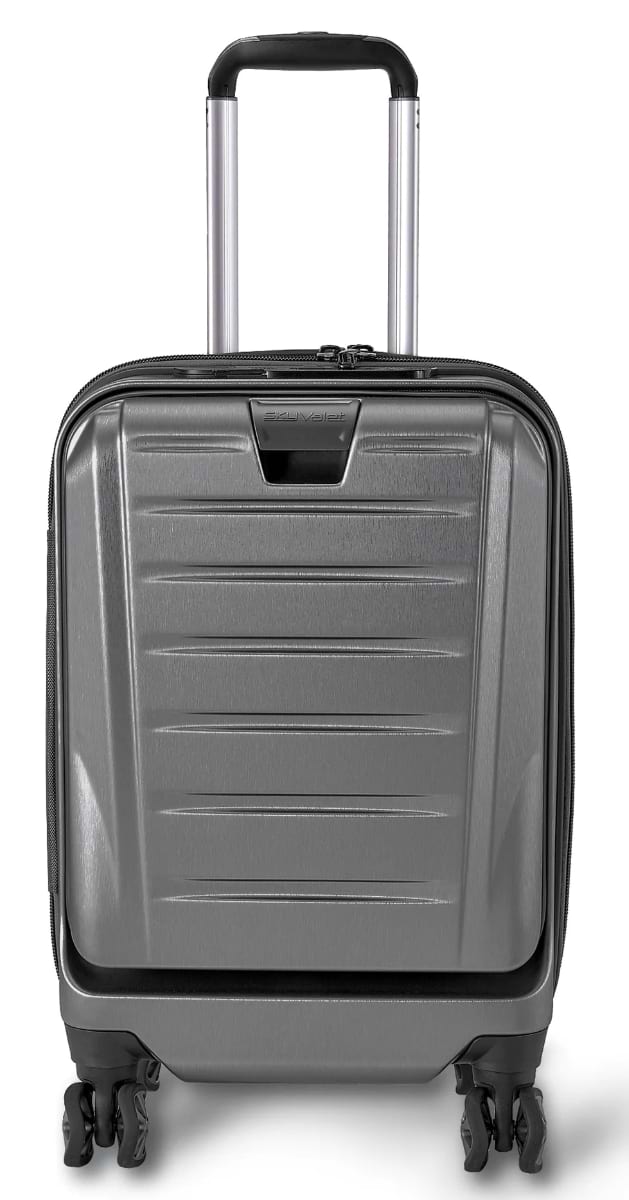 The Sky Valet luggage lines feel like something that would come straight out of Skymall Magazine (which, by the way, apparently still exists.) The list of technically advanced features on this luggage is staggering, as long as you remember to charge up your suitcase before your next trip.
The Skyvalet family is a collection of TSA-approved suitcases with two sleeves full of tricks. In the carry-on edition, Sky Valet add a laptop storing front pocket accessible at the push of a button, a wireless phone charging dock AND two USB ports, and a locking system that shuts down your gear with the help of Bluetooth.
Unfortunately, you'll have to add your own 10,000 mAh power bank to use this suitcase to charge your devices, but these bags bring plenty to the terminal without the additional boost.
The valet's varying luggage lines bring this same energy to business cases and carry-ons. The brand's larger lines also include a built-in scale to guarantee you won't be hit with surprises at the check-in counter.
Sky Valet's still got a few kinks to work out before we can elevate them to a permanent place on the leaderboard, like ironing out the protection plan pricing. For now, they bring extra promise and USB ports to rank as the best in the crowded field of luggage brands. All you need now is to grab some luggage trackers and this thing is as high-tech as the death star!

Our GREATEST Travel Secrets…
Pop your email here & get the original Broke Backpacker Bible for FREE.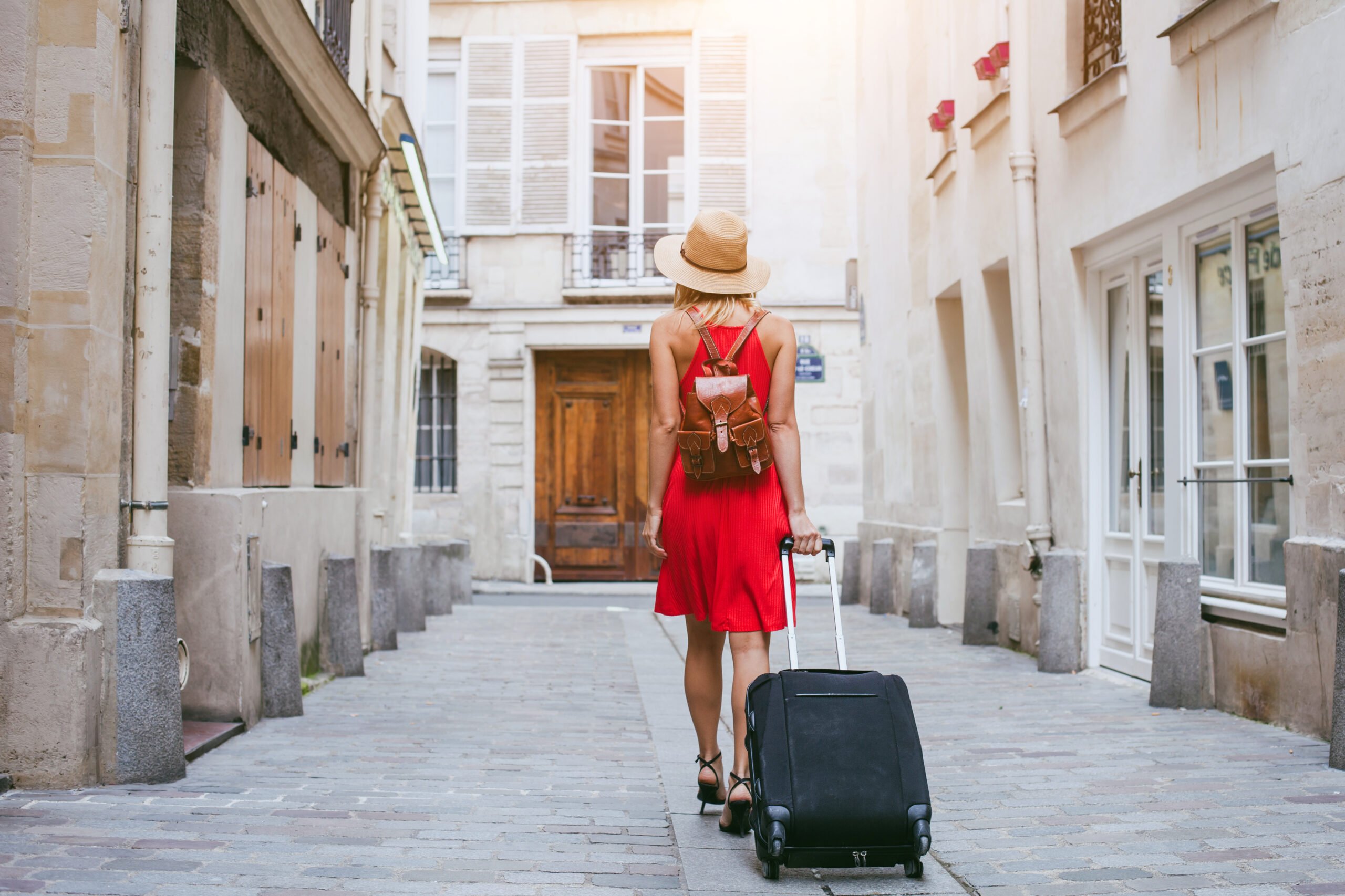 Final Thoughts on The Best Luggage Brands
In a world where brand names and gargantuan inflation collides, it's easy to dismiss the significance of high-quality luggage brands. After all, who really gives a damn if your suitcase has a big fat "S" on its chest?
Again, If you're only shopping for the occasional three-day weekend — then, by all means, grab whatever suitcase catches your wallet's eye.
But, there comes a time in every traveler's life when it's time to step up your luggage game. Especially if you're traveling for work or while working, you can't afford to risk your trip to the wrong telescoping handle.
While it is true that the gap between the high-end players and their more affordable counterparts is shrinking faster than my inhibitions after a few drinks, the brands on this list are worth paying extra attention to.
We spent decades choosing between the same old black suitcases, but not any longer. These brands have developed their game, found a unique ethos, and incorporated sustainability into their products to round out a signature-looking luggage that will get you confidently rolling out of the gate.
The brands on this list go above and beyond in one way or another. Yes, even you, Amazon Basics, because outpacing the competition in pricing only still counts.
I'm not one to tell you where to go or what to do, but when it comes to travel gear, the wrong choice can quickly cost you hundreds, especially if you're flying Frontier. But the right choice, the right piece of luggage, will have you looking up flight tickets on your way home from your last trip.
---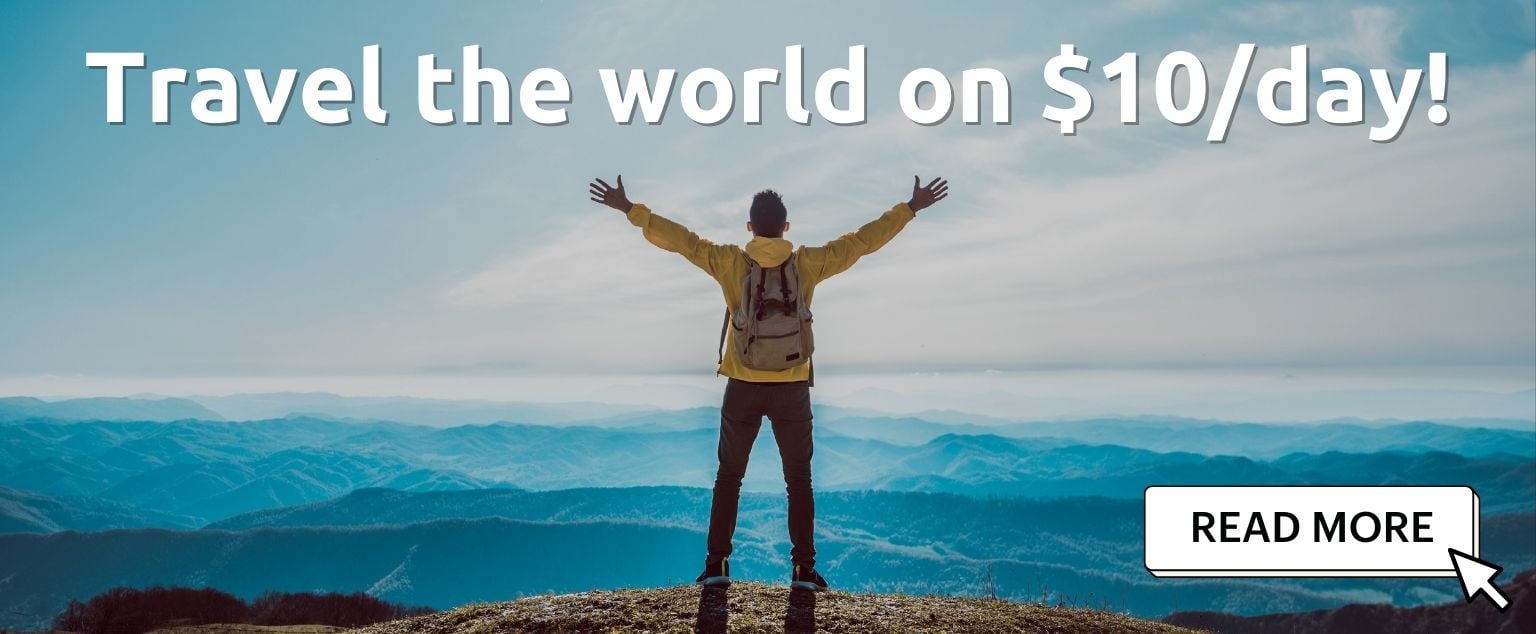 And for transparency's sake, please know that some of the links in our content are affiliate links. That means that if you book your accommodation, buy your gear, or sort your insurance through our link, we earn a small commission (at no extra cost to you). That said, we only link to the gear we trust and never recommend services we don't believe are up to scratch. Again, thank you!