If you've never spent the afternoon trying to keep your cool while speaking to apoplectic baggage handlers, let me save you the trouble. It's only a matter of time before your bag slips off the back of a luggage cart. You'll be at the mercy of an overworked and underpaid employee who may or may not care about getting your bags back without doing your research.
Taking matters into your own hands is logical, especially when traveling with sensitive gear. I don't think I could stomach the idea of packing expensive electronics into a bag, handing it off to someone else, and having no receipts.
Smart GPS luggage trackers won't add any weight to your pack, but they'll take a load off your shoulders. Great trackers can provide up-to-date information and keep you posted on where to find your bags before you can even clear customs. Use this guide to keep tabs on your bags from international travel to days crossing the grasslands on the bus.
We've tracked our luggage across the globe and spent a few days waiting for our luggage to show up. When you're living out of your backpack, it can be excruciating to spend a week without it, so GPS luggage tags have become a natural line of defense.
Read on to explore the best luggage trackers for movement across town and the Pacific.
We Found The Best Luggage Trackers – Here Our Top Picks:
#1 Best Overall Luggage Tracker – Apple Air Tags
Apple Air Tags
> $$
> Easy To Use with Apple devices
> 1 year warranty
These Are The Best Luggage Trackers – GPS, Smart & More
Luggage Trackers are two-part systems. On one end, you'll have a physical unit that you place inside the gear you want to track. This beacon will communicate with GPS, cellular data, or Bluetooth systems to continuously send signals. It's not much more than a tiny tracking chip, but it brings a wealth of data.
You'll want to look for either a GPS or GSM luggage tracker to take advantage of real-time tracking, but you won't find any of those that won't require a subscription fee. The best luggage tags will use a combination of these signal types to make sure you're never out of service. You can find trackers that send a probe out every few seconds or ones that can update you once or twice a day to save battery life.
The second part of the parcel is often a smartphone app that receives your bag's beacon and translates it into up-to-date statistics. These apps can show everything from luggage top speed to the amount of time spent idle at each stop to paint the complete picture.
As long as you fully charge your luggage tracker before your travel days, every option on this list will last for weeks of movement and can pinpoint your bag to a precise location every few minutes, hours, or days.
Keeping track of your gear can be a hassle, especially when left up to the airlines. These luggage trackers can draw you a map to your equipment and place it in the palm of your hands, as long as you solemnly swear you're up to no good. Take it from us, GPS luggage trackers have fast established themselves as a go-to modern travel accessory.
Winter is coming… WARM UP!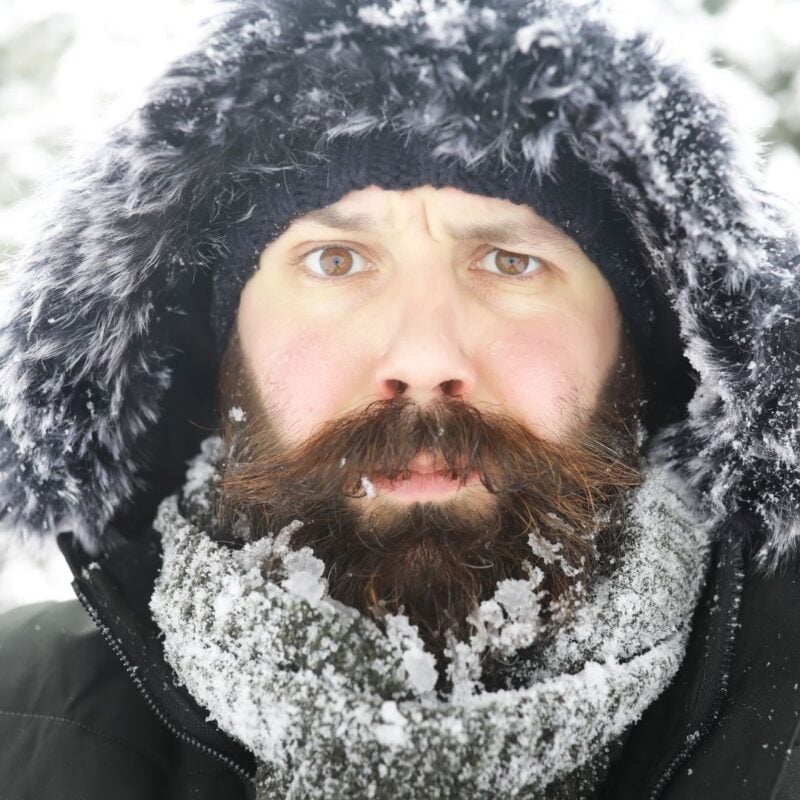 Get up to 50% OFF when shopping gear for the winter on REI.
Warm up for the holidays and SAVE on outdoor gifts all the way through Dec 18!
View on REI
Battery Type: Replaceable CR2032 battery
Compatibility: Apple devices only
Subscription: Apple ID only
Size:3.27 in. x 0.47 in. x 4.09 in.
We presume that Apple needs no introduction to you by now and you will probably NOT be surprised to find us ranking as the number 1 best luggage tracker – in fact they have proven such a hit that they are often sold out in many locations. If you're part of the Apple ecosystem, setting up your AirTag is a breeze. Simply tap your iPhone or iPad's Bluetooth and you're good to go! Listen out for the AirTag's built-in speaker and let it guide you straight to your belongings.
Reliability and accuracy are the name of the game with the Apple AirTag. It's a compact and lightweight tracker that's perfect for keeping tabs on all the things you often misplace while out on the road, from your keys to your backpack to, of course, your luggage.
One of the coolest features of the AirTag is Lost Mode. This nifty setting sends you notifications when your device is in range or has been located by the Find My network. Even better, your AirTag will ping off of nearby Apple devices to gauge its location, so you can track your bag even if it's miles away. And if you're ever unlucky enough to lose your AirTag, you can input your phone number and email so that anyone who finds it can tap it using their iPhone to display your contact info. How's that for peace of mind on the road?
+Pros
Tracks in real time
Battery guaranteed for a year under Apple Warranty
Most popular air tag on market
-Cons
Pricey
Can only track on apple devices
Battery Type: Rechargeable lithium battery
Compatibility: iOS 9.3 and Android 5
Subscription: Monthly plan starts at $6.50
Size:3.15 x 1.77 x 0.63 inches (80 x 45 x 16 mm)
Gego's real-time tracker will let you watch your bag travel from the hold to the taxi trunk without a blip. The tracker communicates with your cell phone, so you don't need to add more complicated electronics to your luggage. Just slip the thin reader into the corner of your luggage, charge and connect the tracker before your voyage, and travel with peace of mind.
The Gego Worldwide isn't called that for nothing. This travel tracker utilizes TSA compliant battery to stay on and stay off any x-ray machine's radar. You can set your own proximity radar for customized alerts if you're bag starts wandering off and check back over the bag's history to see how it got there.
Anywhere you've got a cellular connection, you'll have your hands on minute-by-minute baggage updates to keep you from wasting time at the carousel. This is the pick of the GPS luggage trackers which we tested.
+Pros
Contract free SIM connection – only activate it when you're ready to travel
Battery saver mode helps the tracker last through long haul trips
Bluetooth connection can keep you notified of your baggage before you connect to airport wif
-Cons
You'll need a monthly subscription to get everything out of this device
Battery Type: Rechargeable lithium battery
Compatibility: iOS 1 and Android 6 or later
Subscription: Monthly plan starts at $9.95
Size:3 1.8 x 1.6 x 0.7 inches (47 x 40 x 18 mm)
This mini tracker is a great daily GPS that's always ready to go on vacation. The long-lasting battery and low monthly subscription cost make this tracker perfect for dog collars, carburetors, and international travel.
Tracki uses GTM/LTE Service to connect in over 180 countries and provides up to one month of constant updates on your luggage's whereabouts. You don't need convoluted equipment to keep an eye on things. The Tracki mini is one of the lightest luggage trackers out there, but that tiny packaging is more than capable of tracking your gear.
+Pros
Replaceable battery brings backup without buying an entirely new system
Tracki records and stores up to 5 years of movements
3-month battery life tracking once a day, 2-3 days tracking at once per minute
-Cons
Expensive monthly subscription fee unless you opt for a long-term contract
Being tossed around in the luggage compartment rarely accidentally activates a panic button
Battery Type: Rechargeable lithium battery
Compatibility: iOS 7 and Android 4.4 or later
Subscription: Monthly plan starts at $25.95
Size:2.25 x 2.25 x 0.8 inches (57 x 57 x 20 mm)
This Conveniently storable cookie-sized tracking device slips into your daypack or checked bags and draws a map of their movements 24/7. Over 50 hours of movement battery stays with you through the red eye and helps you relax a bit while dealing with delays. This product brings several deluxe features that have it fighting for top dog in the market.
Lifetime hardware replacement and a water-proof guarantee bring peace of mind to your purchase. Your GPS luggage tracker can trace its design and manufacture origins to the USA and provide pinpointed live location for your luggage and loved ones.
+Pros
HIstorical reports provide speed, stops, and idle time information
Low Power Mode brings six months of battery life
-Cons
The longest interval you can select is every 3 minutes
Magnetic trackers can set off alarm bells
The best present of all… is CONVENIENCE!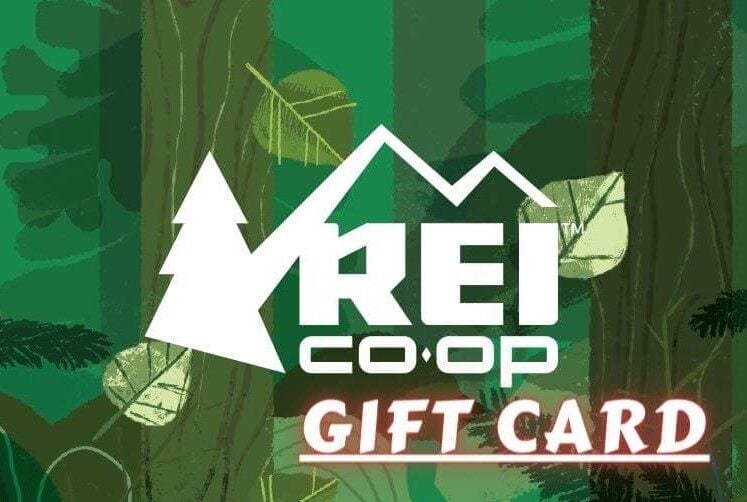 Now, you could spend a fat chunk of $$$ on the WRONG present for someone. Wrong size hiking boots, wrong fit backpack, wrong shape sleeping bag… As any adventurer will tell you, gear is a personal choice.
So give the adventurer in your life the gift of convenience: buy them an REI Co-op gift card! REI is The Broke Backpacker's retailer of choice for ALL things outdoors, and an REI gift card is the perfect present you can buy from them. And then you won't have to keep the receipt. 😉
Buy on REI!
Battery Type: Rechargeable lithium battery
Compatibility: iOS 9 and Android 4.4 or later
Subscription: Monthly plan starts at $14.99
Size:3.62 x 1.85 x 0.87 inches (92 x 47 x 22 mm)
This luggage tracker is all about monitoring objects in motion. The sensor can provide minute-by-minute updates for up to three weeks on one battery charge and a monthly subscription. Logixtar's daily tracker goes above and beyond the capabilities of most baggage tags.
Get instant alerts if your baggage starts to break speed records or gets too far out of hand. The tracker uses a sim card and magnetic attachment to bring versatile full-time location sharing international.
+Pros
No extra charge for more frequent updates
Magnetic attachments holds on in cars and boats
Your purchase comes with a lifetime warranty and an accompanying app that receives frequent updates
-Cons
Good luck remembering how to spell Logixtar
Not specifically designed to beat TSA requirements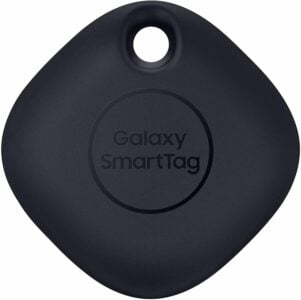 Battery Type: Replaceable CR2032 coin cell battery
Compatibility: iOS 1 and Android 9 or later
Subscription: None
Size: 1.54 x 1.54 x 0.39 inches (39.1 x 39.1 x 10.0 mm)
Our last Smart Luggage Tracker is also one of the simplest. This thin black square easily loops across keychains and stows away inside a pocket to fit any suitcase with an extra security splash. Connect the Bluetooth tracker to your cell phone and make sure your bag gets on the same plane that you do.
There is one eerie piece of technology that helps this Smart Tag stand out in a crowded field. The Smart Tag Bluetooth Low Energy signal will communicate with any nearby Galaxy devices. That means if someone with a participating device walks past your lost luggage, it can update you on the location of lost luggage.
If you already have your hands on a Samsung Galaxy, this additional tag comes with no subscription fees or monthly contract requirements, making it easily the most GPS luggage tracker out there. Unfortunately, it's useless if you don't already have the proper cell phone setup.
+Pros
Easily removable back compartment allows you to replace the battery without replacing the product
Loud tones can help your bag screech up to 89 dB
-Cons
Slightly too large to fit in your wallet
Can only be used with a Samsung Galaxy
Battery Type: Replaceable CR2032 battery
Compatibility: iOS 1 and Android 9 or later
Subscription: None
Size: 1.46 x 1.46 x 0.26 inches
The SmartTrack Link is compatible with Apple's Find My app, which comes pre-installed on iOS, iPadOS, and macOS devices. To add the SmartTrack Link to the Items tab, simply use the Find My app. This feature allows you to track the location of your item anywhere in the world using Apple's extensive network of devices. It is important to note that Apple Find My features are only available when used with an iOS, iPadOS, or macOS device.
Finding your phone in silent mode is made easy with a double tap, which triggers a loud ringtone that can be heard even when the phone is on silent mode.
With the eufy Security app, you can share the location of your items with friends and family.
The Link device comes with an alarm that is so loud that it cannot be missed, even if it's covered or in the next room.
+Pros
Can share location with friends and family
Has a silent option
-Cons
Not the smallest
Cheap price tag but does that mean low quality?
Best Smart and GPS Luggage Trackers & Tags

| Product Name | Battery Type | Compatibility | Subscription | Size (in) |
| --- | --- | --- | --- | --- |
| Apple Air Tag | Replaceable CR2032 battery | Apple devices only | Apple ID only | 3.27 x 0.47 x 4.09 |
| Gego Worldwide Tracker | Rechargeable lithium battery | iOS 9.3 and Android 5 | Monthly plan starts at $6.50 | 3.15 x 1.77 x 0.63 |
| Tracki LTE Mini Gps Tracker | Rechargeable lithium battery | iOS 1 and Android 6 or later | Monthly plan starts at $9.95 | 3 1.8 x 1.6 x 0.7 |
| Landairsea 54 GPS Tracker | Rechargeable lithium battery | iOS 7 and Android 4.4 or later | Monthly plan starts at $25.95 | 2.25 x 2.25 x 0.8 |
| Logixtar GL310MG | Rechargeable lithium battery | iOS 9 and Android 4.4 or later | Monthly plan starts at $14.99 | 3.62 x 1.85 x 0.87 |
| Samsung Galaxy Smart Tag Bluetooth Tracker | Replaceable CR2032 coin cell battery | iOS 1 and Android 9 or later | None | 1.54 x 1.54 x 0.39 |

Our GREATEST Travel Secrets…
Pop your email here & get the original Broke Backpacker Bible for FREE.
Final Thoughts on the Best Luggage Trackers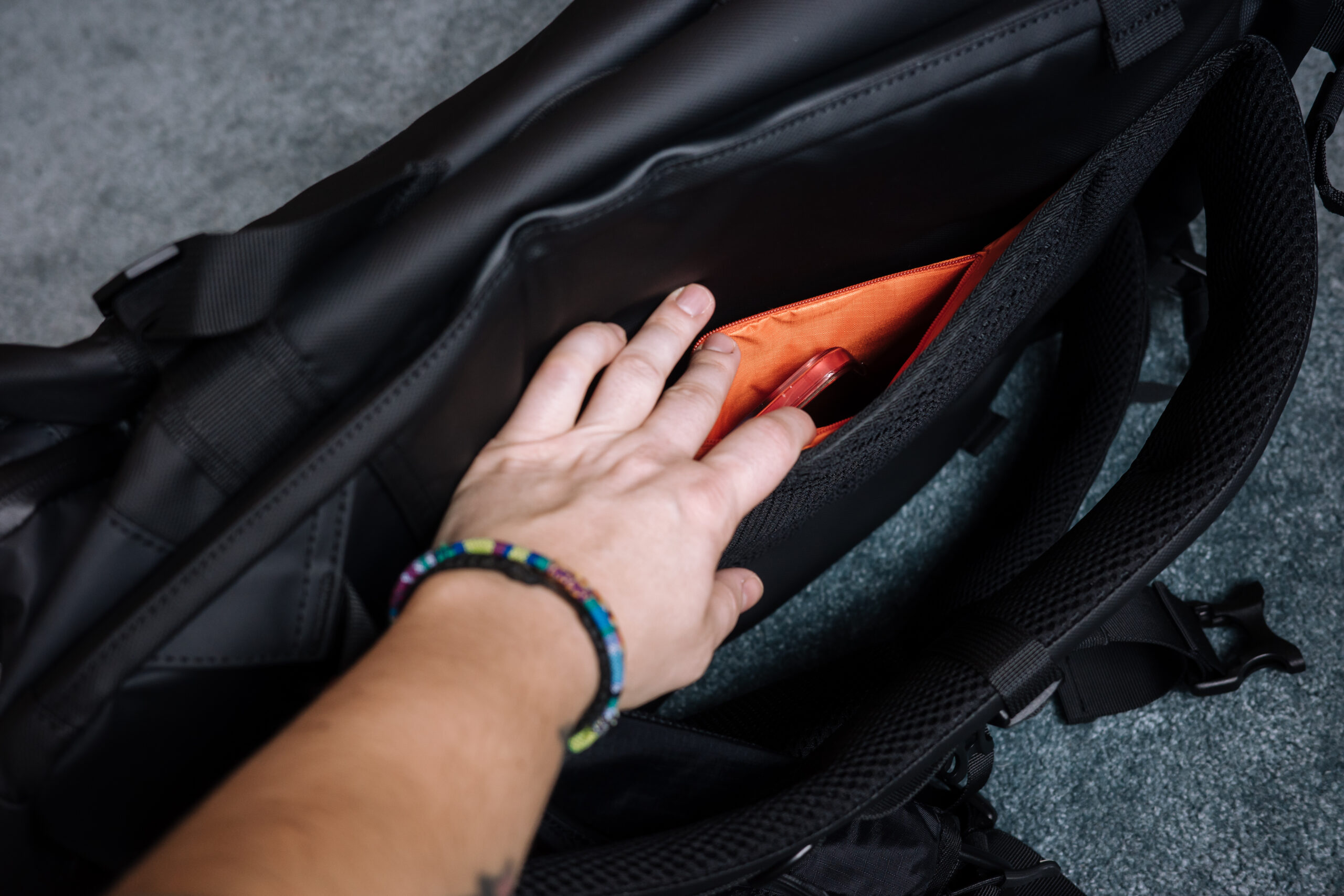 Have your choice of any of these fantastic luggage trackers and keep your security in your hands. Travel insurance can only recover a fraction of the financial burden and inconvenience of lost or stolen luggage. Don't let your expensive equipment travel without some essential back-ups.
Hopefully, these luggage trackers will never come in handy, but it only takes one disaster averted to more than justify the investment. Connect to the accompanying application before your travel day, and you'll be sitting at the controls in no time.
Every tracker on our list can fit inside handbags or larger backpacks and even keep track of mobile equipment at the push of a button.
Luggage tracking technology has gotten easier and easier. We don't need military satellites to take advantage of global positioning systems, thanks to our cell phones. One chip is all it takes to get to your destination at the same time as your fresh pair of underwear.
---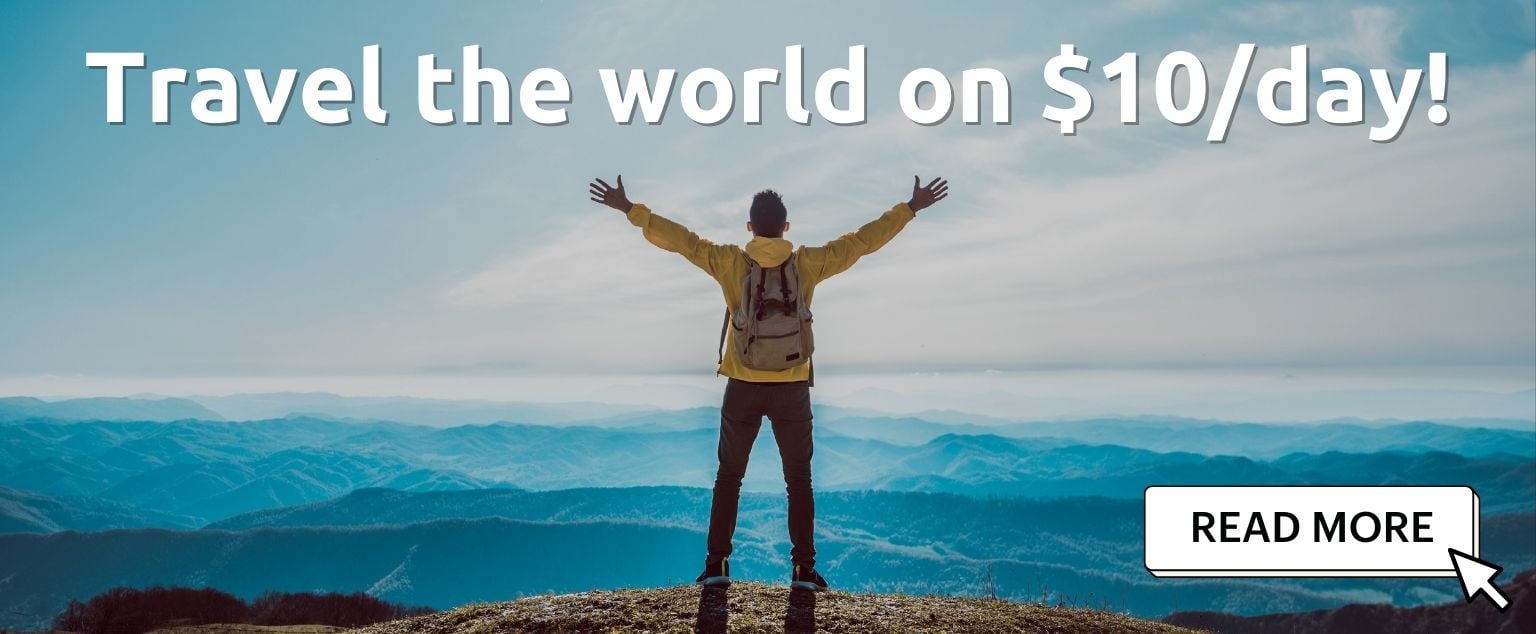 And for transparency's sake, please know that some of the links in our content are affiliate links. That means that if you book your accommodation, buy your gear, or sort your insurance through our link, we earn a small commission (at no extra cost to you). That said, we only link to the gear we trust and never recommend services we don't believe are up to scratch. Again, thank you!