At first glance, the trendy minimalist bags and wheeled suitcases that make up Lojel's lines could look like today's Kickstarter darlings. The gear brings a signature color scheme and comfortable confidence to the baggage market that many modern brands try to emulate, but Lojel's been around the block a few decades longer than the lot.
It all started in local Japanese markets. LOJEL's creator toiled away following orders, shaping up leather bags that looked, felt, and broke down in the same old ways. Chih Chang Chiang saved enough money hawking bags in the back alley to hit the road for six months with his prototype, pushing his new luggage to the limit.
Chiang took his luggage into a new country every four days on average, stumbling through plenty of baggage handlers, dirt roads, and surprise turns along the way. The extensive efforts ensured him that his bag was durable enough to handle the rigors of the open road and simple enough to be fixed up along the way.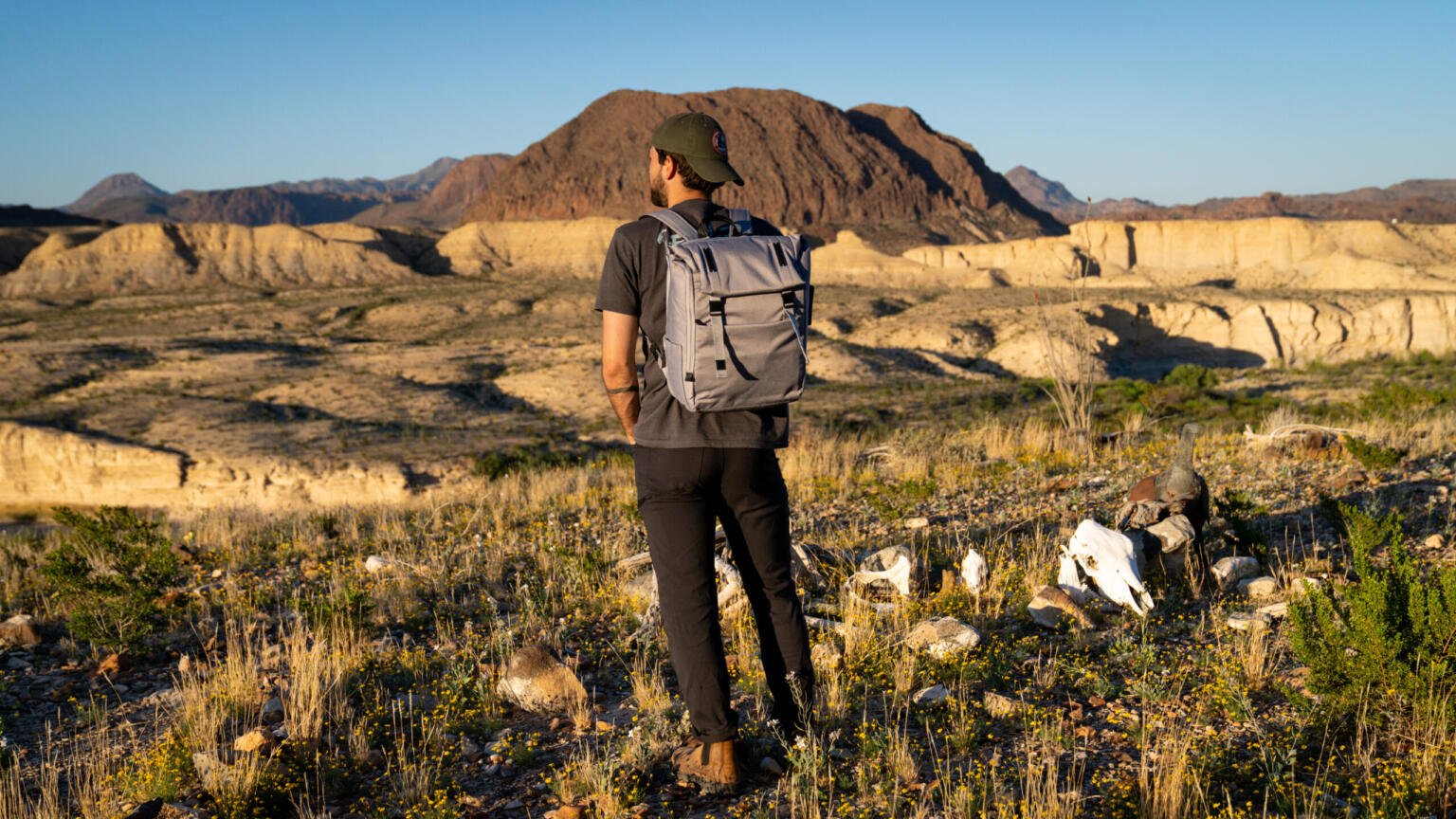 LOJEL got a significant facelift in 2014 that resulted in the luggage and backpacks we'll see today. The redesign brought a fresh color scheme and a facelift to their gear lines. Beyond those good looks is a modular system that really makes LOJEL feel different from the competition.
Wheeled luggage, in particular, comes with a lot of moving parts. Many manufacturers sneakily encourage you to invest in entirely new pieces of luggage at the first broken zipper or wonky wheel, but not Lojel.
They committed to the duct tape and WD-40 method, passionately pursuing damaged luggage and giving them a second chance. Lojel luggage is meant to be fixed, sometimes even while on the road. The brand set up an extensive Global Service Network that allows you to chat with the brand and look for a solution no matter where you are. This isn't only great for your wallet, but it makes these sustainable bags great for the environment too.
More than thirty years later, this top suitcase brand has proven itself in it for the long haul with wide-ranging lines of travel gear. Before diving deep into those bags, let's take a closer look at what makes the Lojel stamp unique before diving deep into those bags. 

Do You Want to Travel FOREVER??
Pop your email in below to get a FREE copy of 'How to Travel the World on $10 a Day!'.
Who Are LOJEL? About The Brand
Lojel means to Let our Journey Enrich Life. That Acronymic brand name sets the bar high, hoping to sell you on luggage that doesn't just get you to your final destination but also enhances the journey there. So, did they make it to our list of best backpack brands? Let's have a closer look.
A great piece of luggage can indeed make or break your trip. Can they really take things even further?
This company wants to tackle extracurriculars, promising that their luggage can spark connections on the road. With those bold approaches in their elevator pitch, we had to take a second look.
A few dozen in-person interviews, background checks, and closer inspections later, we're hooked. While we should be careful how much we expect inanimate objects to enrich our life, we can't help but admire Lojel's passion, and the bags they put on our backs help us to believe.
Above all else, these minimalist options boost your confidence, an essential aspect of any travel day. Lojel has put themselves in the traveler's shoes, spent a few extra days at the airport, and hopped some turnstiles to tinker with their lines and expand the options. You'll find solid, monotone luggage and backpack pieces perfect for all sorts of commutes and travel days.
Looking for similar bags? Check out our list of the best minimalist backpacks on the market.
Lojel's legendary warranty is a great selling point, free shipping really tempts you, and the free returns seal the deal. Still, every rose has its thorns. The warranty program protects Lojel's luggage line for 10 years, a major selling point. However, Lojel's guarantees don't stretch as far for their backpacks, which are instead protected anywhere from 1 year to a half-decade.
Make sure you know what you're getting into with each product. The good news is you shouldn't expect to put that warranty plan to good use. The Japanese backpack maker has been churning out hits since 1989. 35 years later and they're still looking crisp, it's tough to question their longevity at this point. Its minimalist approach with a splash of color has stood the test of time.
Through all these years, Lojel hasn't changed who they are. Whether it's hipster backpacks that subtly match mustard pants or A Virginia Woolfe model tucked into a display suitcase, the brand's offerings inject a burst of energy into conventional style.
The LOJEL Luggage, Backpacks, and Travel Gear Reviewed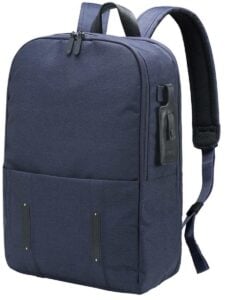 SPECS
Volume (L): 18-21
Dims (in): 17 x 11 x 6
Best Use: Not running from the grind
Price ($): 110
Every great bagmaker has a signature daypack. This city pack fits loose and square to help move its weight with the best of them. A cheeky back flap makes sure of that. Urbo 2 can expand and contract to squeeze in the precious space you need to bring a raincoat too.
The pack zips right open onto a full-sized laptop compartment with a middle strap that keeps things in place. The bag's tongue doubles as a mesh storage compartment. You'll find three zippered pockets within easy reach of the bag's lid. While this is a city slicker, it's got a few more tricks up its sleeves.
A luggage pass-through out back and a built-in ID card slot sitting front left to make sure this bag is free to move across the globe. Unfortunately, it won't be a great help if the trip is on foot. Don't get me wrong – this is a cushy, comfortable backpack, but shoulder straps alone can only take you so far.
You'll feel this bag's greatest strengths off the ground. Most importantly, this everyday carry is designed for real life.
Looking for a backpack for daily use? Check out this guide to the best everyday carry bags.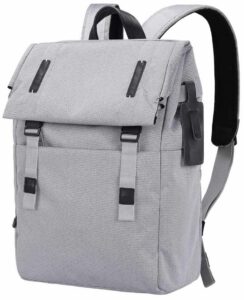 SPECS
Volume (L): 20-23
Dims (in): 17 x 11 x 7
Best Use: Carry-on
Price ($): 125
With a few tweaks and a re-imagined opening, the Urbo 2 is set to take off. This bag takes the same variable opening system and easy access outer pocket and buckles everything else into place. It also stores slightly more than the city pack while staying small enough to fit underneath the seat in front of you with ease.
Lojel will be the first to point out that this backpack is a complementary piece, not a carry-all. You won't be able to get through much more than a long weekend at Myrtle Beach with this backpack. The back panel has a pair of luggage pass-throughs to encourage teamwork with a suitcase or larger backpack.
There is still a whole lot of 'compactibility' inside this carry-on-sized backpack. The laptop compartment is as easy to get to as your passport is, and a variety of zippered pockets keep your headphone cables organized for departure. A comfortable back mesh panel helps you wait through long security lines.
The travel pack comes in three calm, monotone colors that match suitcases and travel day fits. The bag also looks good after touchdown, hanging on with style while you take your board and march barefoot through low tide.
Looking for bags tailored to transit? Check out our guide to the best travel bags here.
SPECS
Volume (L): N/A
Dims (in): 17 x 11 5 (open) 11 x 8 x 2 (folded)
Best Use: Skip unpacking and hit the door
Price ($): 60
Sometimes the smallest things make the biggest difference. This foldable backpack unfurls into a legitimate daypack, only a half-inch shorter and slimmer than the Urbo 2. Once compacted this bag is the same length and width as a standard sheet of paper. The foldable bag's wide range of storage sizes whips up tons of use cases.
It sits on the larger end of the packable daypack spectrum but more than justifies a bit of extra bulk with multiple compartments and storage options. The bag condenses into its own pouch, ready to slide into a fully stuffed suitcase.
Most foldable backpacks make much bigger sacrifices to fit into small spaces. This bag somehow retains a laptop compartment and several small organizers in the main compartment. In this case, what truly matters is on the outside.
The foldable bag creates an all-weather exterior that weighs less than a pound while it's at it. This bag bends, packs light, and shows out rain or shine. Keep your bulky bags in the hotel and let this foldable Swiss army bag go grocery shopping, tour the city, or hit the WeWork, As long as you promise not to teach languages in the co-work space.
SPECS
Volume (L): 20
Dims (in): 17 x 13 x 6

Best Use: On the backs of Terracotta soldiers
Price ($): 125
With the Niru series Lojel really steps up aesthetically. This bag fits loosely to shapeshift with the load. Lojel snuck in design features that allow you to set up your backpack in three different shapes.
The flat, pyramid, and cuboid sizes steadily increase in carrying capacity. Slip your lunch inside the cuboid configuration, finish your plate, and buckle up the bag's size for a smaller load home. This kind of control over your backpack's size is a game-changer. The rest of the day pack covers the essentials to warrant a role in your closet.
We love the innovation involved in this backpack, but old habits die hard. The Niru Daypack moves the zipper from the top to the side of the pack. On the plus side, this keeps the zipper larger no matter what adjustable capacity you're enjoying. However, the zipper can feel exposed compared to a top-loader.
Surely an experienced pickpocket can get to a top-loading backpack as easily as a side loader, but something about the zipper off to one size makes me nervous. As long as you stay out of open-air markets, this bag brings a one-of-a-kind finish to your look.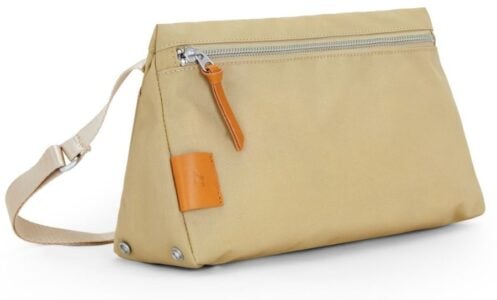 SPECS
Volume (L): 2.5
Dims (in): 11 x 8 x 4
Best Use: Keeping things close to chest
Price ($): 65
This Sling is the solution to a sideways zipper. There's enough space inside this compact compartment to stow away passports, cellphones, and a pack of Parliaments you never plan on smoking.
Lojel has proven to be a big fan of expanding bags. The company successfully managed to sneak in expansion even in its smallest sling pack. Each size of the bag is shaped like a triangle with two buttons. Clip things in and slip in your back pocket, unbutton the opening, and bring snacks!
Another thing Lojel loves is pockets inside of pockets. Zip 'er open, and you'll immediately find a collection of three dividers you can deal with as you see fit. This city sling is due for an infrastructure upgrade. We've been patiently waiting for an exterior pocket on this sling that would really set this bag over the edge.
As it stands, the Niru model stretches out and makes the most of its slim package. This sling can store with the best of them.
Not sure this is the right model for you? Have a look at this rundown of the best travel slings for some more ideas.
The best present of all… is CONVENIENCE!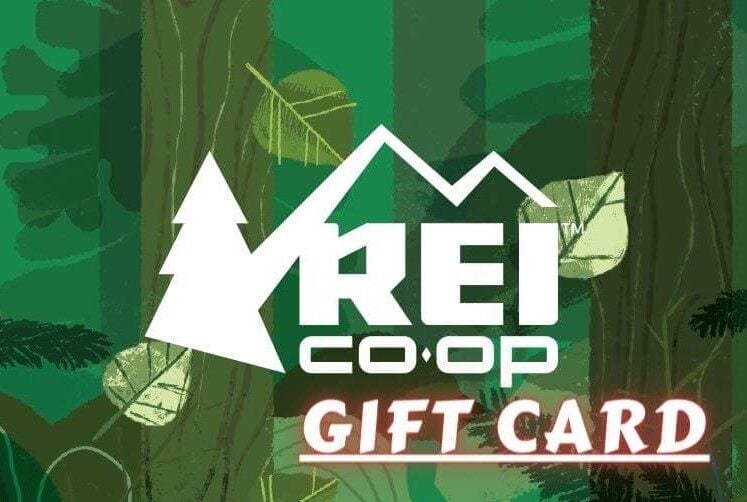 Now, you could spend a fat chunk of $$$ on the WRONG present for someone. Wrong size hiking boots, wrong fit backpack, wrong shape sleeping bag… As any adventurer will tell you, gear is a personal choice.
So give the adventurer in your life the gift of convenience: buy them an REI Co-op gift card! REI is The Broke Backpacker's retailer of choice for ALL things outdoors, and an REI gift card is the perfect present you can buy from them. And then you won't have to keep the receipt. 😉
Buy on REI!
SPECS
Volume (L): 10
Dims (in): 15 x 11 x 4
Best Use: Taking a half day
Price ($): 100
The daypack mini shaves an extra inch off to serve as one of Lojel's most compact backpacks. As the Daypack mini, it keeps the same three states of being, so this mini bag can both stretch out further and compact denser than the competition.
This slim stature comes with a few consequences. You won't find a single exterior pocket on the front side of the pack nor a water bottle holder on the side. Luckily, the daypack keeps a nifty zippered pocket on the backside, right above your shoulders. And don't forget, as the daypack mini, you'll still have to get used to a side zipper with this pack.
If you're comfortable trying something new, this pack has many options including snap buckles that lock your bag into several contemporary shapes. The smooth, unbroken backside of the bag brings a different look to your ensemble.
Any modern backpack requires consciousness in design. A 100% recycled nylon exterior is responsible for the signature Daypack look to create a backpack you can wear with your head high.
SPECS
Volume (L): 18 + 2.5 in the sling pouch
Dims (in): 17 x 11 x 7
Best Use: Everything you need to hit the road this weekend
Price ($): 380
This EBLO set is the easiest way to make sure your raincoat matches your backpack. This set could have come from an empty closet to a full travel kit in one click. The dusty colors come with a full-sized backpack, the City Sling, adjustable straps, and a utility poncho for good measure.
This is a package of essential travel items all working together. It starts with the backpack, which combines the Niru side zipper with the Urbo top pocket to access papers, tablets, and passports without digging through dirty underwear. Lojel finishes off the job with a sling poncho wombo-combo for good measure.
Both the stealthy fanny pack and the Eblo backpack will easily slip underneath your raincoat. But you won't have to worry about that too much, either. Each part of this parcel features waterproof exteriors. It's okay to be sceptical of combo packs. While it is true that any one of these items on their own might not top the charts, together, they create a powerhouse.
I'd like to see a bit more creativity in this pack: namely, a better place to store the poncho. It stuff downs easily enough in the bottom of the bag, and it's zippered chest pocket. means you can finish off a lot of quick errands. while leaving the main backpack at home.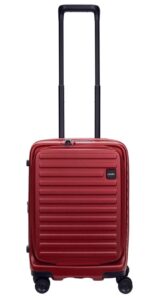 SPECS
Volume (L): 42
Dims (in): 21 x 14 x 10
Best Use: Week-long trips to the Bahamas, long weekends in the snow
Price ($): 300
If you take your time packing, this clutch carrier can feel like a mobile closet. There are all sorts of straps and gadgets that hold your gear in place and keep it separated. This piece of roller luggage sports a concave opening and four mesh pockets that help you have full access even when standing upright.
You don't have to drop your bag onto bedbug-infested hotel sheets to get to your toothbrush. No matter how you've got your bag standing, the real fun begins once you open things up.
The 'small' moniker that follows the Cubo refers to the outside, not the inside – and it's all relative. While Lojel has a few larger options, there is still plenty of space inside this beast. The comfortable opening pairs well with packing cubes to really start stacking. Travelers looking for more storage can choose from four different sizes that all sport cavernous main compartments.
We got an inside look at the smallest option, which can fit in the overhead compartment of any airline. If you must gate check, the polycarbonate shell and a set of air tags will help you send your gear off risk-free.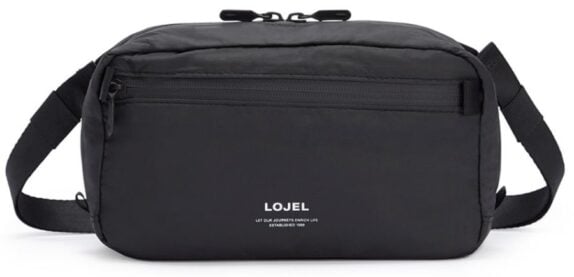 SPECS
Volume (L): N/A
Dims (in): 9 x 5 x 3
Best Use: A holster for your phone, wallet, and keys
Price ($): 50
You might buy this matte-black bag to keep your ID on your person at your next music festival, but it will quickly become your everyday wallet. This hip shoulder pack is just big enough that you won't spend most mornings looking for it and small enough to casually throw across your shoulder as you hit the door.
Every closet needs a hip pack. It doesn't get more classic than this single-pocket model that sports two pockets and a few handy compartments. It's not as thorough as the Niru sling but adds that exterior zippered pocket we were looking for. In this particular fanny pack, that zipper carries a whole lot of weight.
The front zip fits much more than loose change and chapstick, allowing you to save your larger storage for the gear you shouldn't need to access in motion.
Just like in the foldable pack, Tyveks flexibility pays off big time here. When packed only half full, the bag can condense and fit underneath baggy clothing with ease. It can also stretch out and hold a kindle paperweight.
Not sure this hits the spot. Have a look at the best travel wallets on the market for some more inspiration.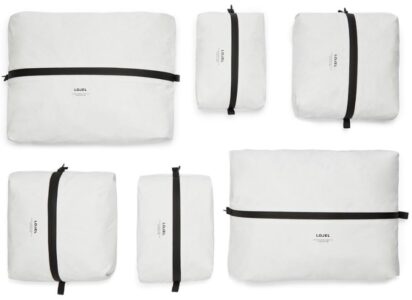 SPECS
Volume (L): N/A
Dims (in): 13 x 10 x 4
Best Use: Alongside the Cubo Small
Price ($): 65
Lojel took their recyclable Tyvek down a size to whip up a solid set of water-resistant packing squares. This tough exterior also stays easy to clean and prevents wet or smelly clothes from leaking into the rest of your gear. Choose between a set of 4 or 6, both of which easily fit inside Lojel's larger luggage and add significant value.
Each packing cube zips open right down the middle so you can open up a cube full of fresh socks without disturbing the neighbors. Squish these collapsible packs for easy storage in tight spaces once you unpack.
As a big fan of Lojel's colorful line-up of backpacks and suitcases, I was a bit disappointed to find out that this packing kit only comes in white and black. Pack cubes are a perfect place to express yourself, especially if it goes well with your Cubo.
The good news is the only option isn't bright purple. These two crisp colorways will go the extra mile and carry well on many packing lists.
Looking for more options? We've got a whole heap of them on our guide to the best packing cubes.
SPECS
Volume (L): N/A
Dims (in): 12 x 7 x 4
Best Use: Both private and shared bathrooms
Price ($): 25
This simple toiletry case makes a great accoutrement, the final piece of the puzzle. Lojel's option is as easygoing as they come with one large zippered opening. There is a nifty handle on the outside to make for an easy grip after a shower, but besides that, this toiletry case sticks to the standards.
Instead of flipping the toiletry case community on its head, this bag focuses on protection both inside and out. Your shampoo bottle leaking is a part of traveling, but the right bag will stop the damage before it leaks onto your camera battery. This toiletry case can prevent any spills from slipping outside the bathroom with a 600D polyester shell and a leak-proof base.
Lojel does slightly hold this bag back, inexplicably electing to leave out many details that make their other bags pop, like compartmentalizing options. that's not necessarily a deal-breaker if you're a traveler who saves the compartments for the bedroom and prefers to pack your entire bathroom kit in one fell swoop.
There is plenty of safe space for the essentials, and even a few extras, to help each trip feel beautiful.
Looking for something similar? Check out our guide to the best toiletry bags here.

Our GREATEST Travel Secrets…
Pop your email here & get the original Broke Backpacker Bible for FREE.
Final Thoughts
From toiletry cases to 110 Liters of polycarbonate, Lojel's got the luggage for your next trip. More often than not, the best bag for packing all your gear is actually a combination platter. Lojel's smaller offerings fit snugly inside their signature wheeled cases to make the most out of your storage space.
Within the lower 48, there isn't a much safer choice than Lojel. The Japanese giant has made its way over to the new world with free shipping and free returns for 30 days to bring further peace of mind to your next piece of luggage.
While the brand isn't quite as cheap as Amazon Basics, these hardy luggage and backpack options are squarely in the middle class of luggage lines. To see this kind of warranty and return combo at this price point instantly builds some trust in the brand, and their modular system seals the deal.
There is no planned obsolescence in a Lojel. The build quality of these bags means that if you take proper care of your backpack, then they can last decades.
So, make sure you pick the color that best fits with your preferred travel day fit because the bag options we looked at today could last you for decades.
---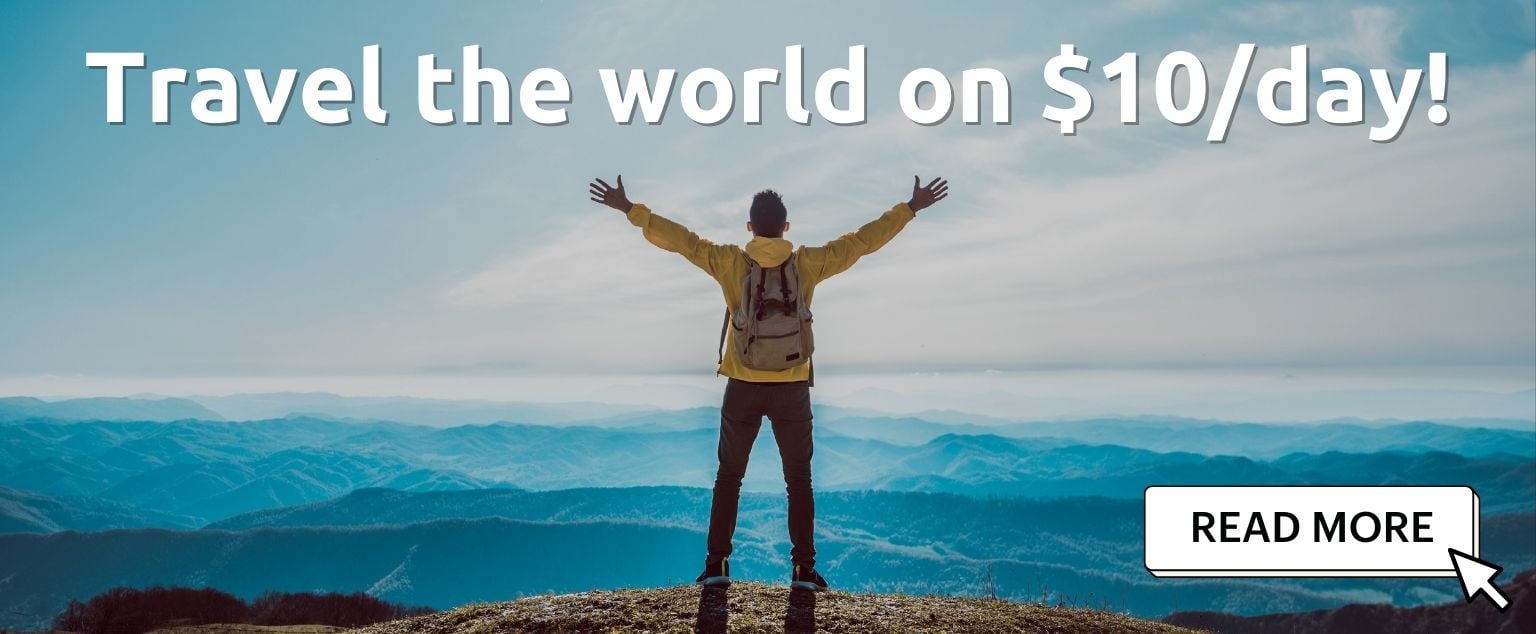 And for transparency's sake, please know that some of the links in our content are affiliate links. That means that if you book your accommodation, buy your gear, or sort your insurance through our link, we earn a small commission (at no extra cost to you). That said, we only link to the gear we trust and never recommend services we don't believe are up to scratch. Again, thank you!