Not every bag is built for a week in the woods. Sometimes, we just need a bit of help getting to work and maybe to the gym afterwards. Well, enter the commuter backpack! A commuter backpack holds everything you need for the day while still being small enough to fit underneath the seat in front of you.
There is a surprising number of gearheads who don't properly invest in their commuting bag. It might be tempting to go with the cheapest option, but only the best commuter backpacks include features and quality materials that last longer and hold more while staying small.
Take it from me, I used to commute for years and learned the hard way that a good backpack is like a good friend.  For example, you need to get caught out in the rain with your laptop just one time to understand the value of a backpack that goes the extra mile to protect what you carry with you. Whether it's water, lunch, essential documents, textbooks, or electronics, your commuter backpack needs to be able to carry it all.
Plenty of cheap bags don't take care of all the details, and your shoulders will feel it too.  It's worth investing in one of the best gear haulers on the market to protect your health and your valuables better.
Not all bags are made equal, and you don't want to end up with an expensive bag that just talks the talk. Read on to find out more about my to picks for the the best commuter backpacks on the market, so you can find the bag that helps you walk the walk.
Quick Answers
Best Commuter Duffel Backpack
Commuter Backpack For Students
Best Overall Commuter Backpack
Ethically Made Commuter Backpack
Best Waterproof Commuter Backpack
Commuter Backpack For Hipsters
Best Commuter Gym Bag
Best Commuter Gym Bag
Aer Duffel 2
> $$
> Loads of extra compartments
> Fits a basketball
Best Business Commuter Backpack
Best Commuter and Hiking Backpack
Best Commuter and Hiking Backpack
Osprey Aoede Airspeed
> $
> Extra shoulder protection
> 13 different pockets
Most Versatile Commuter Backpack
Most Versatile Commuter Backpack
Osprey Arcane
> $
> Tons of different colors
> Adjustable sternum straps
Bicycle Commuter Backpack
Leather Messenger Bag
Leather Messenger Bag
Mahi Leather Messenger
> $$
> Messenger style satchel
> Excellent Leather
Best Organized Commuter Bag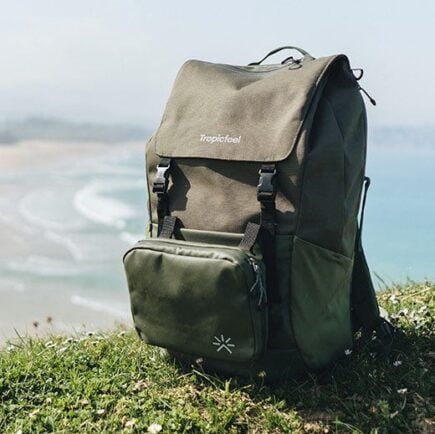 Best Organized Commuter Bag
Tropicfeel Shell
> $$-$$$
> Built-in wardrobe
> Protected Laptop Compartment
The Very Best Commuter Backpacks
From Berlin to Bolivia, we've consulted loads of broke backpackers to put together this list of the best backpacks on the market. Of course, everyone's needs are different, but one of these packs is bound to make your commute easier whether you're walking to work, jumping on the bus or flying about town on your fancy electric bike!
Looking to Find Your Tribe?
Introducing Tribal, Bali's first purpose designed co-working hostel!
A unique coworking and co-living hostel for those that want to travel the world while working from their laptops. Make use of the massive open-air coworking spaces and sip on delicious coffee.
Network with other like-minded travellers all day and if you need a quick screen break, just take a refreshing dip in the infinity pool or go grab a drink at the bar.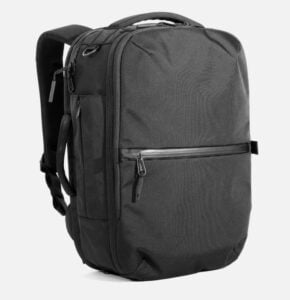 Our pick for best overall commuter backpack is Aer Travel Pack 2 Small
Specs
Size: 19" x 12.5" x 7.5"
Weight: 3.3 lbs
Capacity: 28 liters
The Aer travel pack small is a commuter backpack that can go anywhere. Whether you need a bag for work, sport, or vacation, this pack will get the job done better than the competition. The bag fits as a carry-on, has a separate laptop compartment, and even has a stowable shoe compartment so your wet trainers won't ruin everything you own.
In addition to protecting the rest of your clothes from damp shoes, the exterior of the bag features water-resistant nylon that is as durable as it is dry. Across the board, this bag is built tough with reinforced buckles, zips, and grips designed to last for decades.
While the bag comes with a hefty price tag, its various uses and high-quality materials more than justify the price.
I felt that this was a close contender for the best backpack for work commuting, only falling short due to it coming in slightly larger size for most people's needs. However, what I do love about the bag was how well it can carry larger loads when needed as well as how well its design functioned for longer business trips. It also offers a different organisation options for keeping their wires and other tech accessories in order.
Pros
Great for Airplane Travel
Front zippers are lockable
Extra rain protection
Cons
Shoe compartment is large
A bit on the heavy side
Osprey Transporter Duffel Bag is our pick for best commuter duffel backpack
Specs
Size: 22 x 15 x 10 inches
Weight: 2 lbs. 8 oz
Capacity: 40 liters
This duffel takes care of the details to make the bag easy to organize and transport, and recycled materials make this bag stand out. Made out of plastic bottles and durable fabrics, the bag is minimalist but it's still supportive. It's a duffel style bag, so don't expect too many front pockets or water bottle holders, just plenty of lightweight storage space.
With handles, shoulder straps, and a full-body sling, you can carry this duffel bag however you see fit. No matter how you hold it, the interior is easy to pack, thanks to the full zipper that allows the bag to open further.
If you're looking for a lightweight everyday duffel that can also fit in the overhead lockers, this weekend pack is built sturdy and packages in fun features that make it work for all occasions.
I made this the best men's commuter backpack (and women's) for several reasons. The first being just how lightweight it was especially when considering how much this bag can fit inside. I also love the different carry options that this bag facilitates and how well that works whilst commuting. For example, I was able to use the backpack straps to carry the bag whilst walking to the tube station and the duffel option whilst negotiating the queues and train carriages.
Pros
Made from recycled materials
Multiple carry options
Works great with packing cubes
Cons
Not many pockets
No water bottle holder
Ladies & Gents, It's Time to Step Your GEAR Game Up. 😉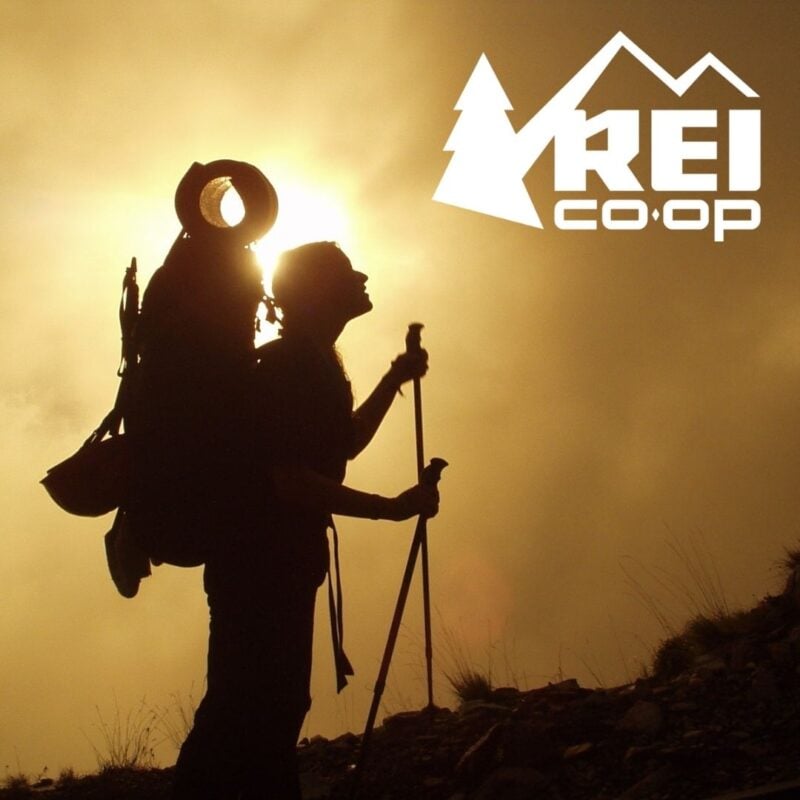 REI is one of America's biggest and most-loved outdoor gear retailers.
Now, for just $30, get a lifetime membership that entitles you to 10% OFF on most items, access to their trade-in scheme and discount rentals.
Join REI Today!
Tortuga Outbreaker Laptop Backpack is our pick for best commuter backpack for students
Specs
Size: 18.5" x 12" x 9"
Weight: 3.2 lbs
Capacity: 27 liters
With all the right reinforcements in all the right places, this bag will help carry your load. Extra cushioning in the shoulder pads help lug your books home from class, and it's still small enough to fit underneath a seat.
Many bags can fit a laptop, but no models go further than this one to keep your electronics secure. An extra layer of ariaprene foam protects the laptop compartment, and lockable zippers make sure nothing accidentally slips open.
When I got hold of this bag, it felt like a proper solid and durable pack that offered an awesome level of protection for gear on the daily commute. I am also a fans of the different pockets, zippered compartments and elasticated sections that are perfect for keeping all wires, papers, pens, journals and other bits organised and accessible.
Pros
Sternum Strap
Weatherproof
Lockable zippers
Meet the ethically made commuter backpack: Gulu Made Inspire Backpack
Specs
Size: 19" x 12" x 9"
Weight: 2 lbs
Capacity: 25 liters
Team up with the women of Gulu for your next commuter backpack, and you'll receive a roomy pack with plenty of small pockets for essential details. The Gulu Made brand set up shop building a backpacking factory in Uganda and has entrusted the local community with making sustainable backpacks built to last.
These bags are designed and built by local tribes. The women of Gulu took modern comfort features into account, adding on water bottle holders and ten different organization pockets with an extra computer sleeve.
The Motivator is the most spacious Gulu-made pack on the market and offers everything you need to commute in a sustainable style. If you are after an ethical product, this is a good one.
I am a big fan of this bag. One of the standout features in terms of the organisation was the 3 main sections of the pack. I appreciate that laptops can be placed in their own section at the back away from all their other gear, making it easy to access when needed, but easy to keep secure too.
If you look ethical gear, we have a cracking vegan backpack round up on the site.
Pros
Unique design scheme
Loads of extra pockets
Built for life
Cons
Not protected against the weather
Not built for mountain treks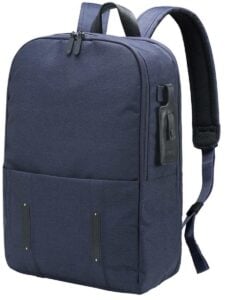 Specs
Size: 17" x 11" x 6"
Capacity: 18-21 liters
When searching for a good commuter bag, it's a good idea to imagine yourself wearing it every single day. You want something functional and comfortable, but also a backpack that's aesthetically pleasing. The Urbo 2 Citybag finds a perfect middle ground between making sure all your belongings are safe and secure, while looking rather sleek while slipping through transit systems and narrow streets.
This bag offers plenty of space inside to pack your laptop, some journals, and whatever else you may want to toss in here for your commute. A really cool feature on this bag is the side zipper, allowing you to expand the internal capacity of your bag by 3 liters. This may not sound like much, but packing is a game of inches and this could be the difference between leaving that windbreaker at home or bringing it just in case. This feature also makes it good backpack for university IMO.
Another thing I really liked about the pack was the separate laptop sleeve on the back, giving you an extra level of protection while zooming around the city. Combine this with the 600D abrasion-resistant material this citybag is constructed of, you'll be commuting with a clear conscience wherever the road takes you.
Want some more options from this brand? Check out our guide to the best LOJEL backpacks and luggage here.
Pros
Durable 600D construction
Sleek look
Internal organization pockets
Cons
Not waterproof
Tight fit for a larger laptop
Arc'teryx Granville 16 Zip is one of the waterproof commuter backpack
Specs
Size: 18.5" x 12.2" x 10.6"
Weight: 1.65 lbs
Capacity: 16 liters
There's no good reason to take a risk with your commuter backpack. Your everyday bag will have to get the job done rain or shine, and this lightweight Arc'teryx will make sure everything stays dry no matter the weather.
The waterproof technology is everywhere from the external pocket built for holding your cell phone down to the watertight zippers. Don't expect any bells or whistles on this pack. A minimalist, monotone exterior only comes with one extra pocket.
Inside the main compartment, you'll find a few more storage options. A laptop sleeve, mesh separators, and secret pockets make a convenient and dry space for everything you'll need in a day's work. This is one of the best waterproof backpacks I've ever tried.
For those of us in rainier climates carrying laptops and cameras on a daily basis, this bag is a bit of a godsend. I really rate Arc'teryx gear and this offering also justifies its price tag. The lowkey sleek and modern appearance of the bag also resonates with me, as does the different pockets and organisational features.
Pros
Completely waterproof
Minimalist design
Reinforced straps
Cons
Zipper is finicky
Not many external pockets
#7 – Best Organized Commuter Bag – Gregory Rhune 25
The Gregory Rhune is the most organized commuter pack
Specs
Size:

20.3 x 50.8 x 33 cm 

Weight:

0.925 kg

Capacity: 25 liters
The Gregory Rhune brings a durable and sustainable approach to the everyday backpack concept. All fabrics used in this pack are made from recycled materials resulting in a 51% in the production cycles carbon footprint.
However, eco-credentials aside, this is a genuinely bloody good pack with an excellent attention to details. Designed for an active user the Rhune packs have an integrated shoulder harness pocket that is perfect for ear buds, transit passes, or mints.
The pack is accessed by a top-lid opening that pulls back – that's not an opening style that I am too used to but it's fine. Insider the pack, the main compartment is split into 3 handy compartments including a very generous laptop compartment.
To the touch, the material used in construction of the Gregory Rhune feels quite strong and durable and yet, the pack feels very light to carry.
Overall, this is a great backpack for commutes and for day travel. It's a great bag for when they had to carry quite a lot – it feels roomy and yet not bulky once fully packed out. Oh and the shoulder straps felt comfortable even at full capacity.
Pros
Made from recycled materials
Great organisational capacities
Nice and light
Cons
Not cheap (yet not expensive)
Not great for hiking

Do You Want to Travel FOREVER??
Pop your email in below to get a FREE copy of 'How to Travel the World on $10 a Day!'.
#8 – Best Commuter Gym Bag – Aer Duffel 2
Aer Duffel 2 is one of the best commuter gym bag
Specs
Size: 21.5" x 12" x 8"
Weight: 2.4 lbs
Capacity: 24.6 liters
Don't let the name fool you – this is more than a simple duffel bag. Three separate straps allow you to carry the bag however you feel that day, giving you one less excuse to skip the gym. An extra compartment prevents stinky shoes from spreading, and a top pocket lets you store your keys and flash your key card with ease. The bag is a hybrid model built for the gym and the office.
With a separate laptop compartment, you can keep everything together in their respective space, making Aer's Duffel the perfect bag when you want to stop by the gym on the way home.
My view is that some of you will love the multi-use aspect of this bag. Those of you who love to nip to the gym after work will not feel out place carrying it to the office first. The shoe section is particularly useful in keeping gym and business separate (never mix business with pleasure)!
Pros
Loads of extra compartments
Several carrying options
Fits a basketball
Cons
Only comes in black
No rain protection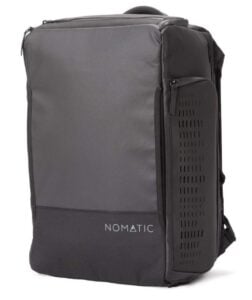 Meet the best business commuter backpack: Nomatic Backpack 14l
Specs
Size:17.5″ H x 11″ W x 5.5″- 7.5″
Weight: 3.5 lbs
Capacity: 14 liters
Nomadic broke backpackers across the world have been using Nomatic for years. The technology we pack inside our backpacks is constantly improving, and travel bags like these provide the extra features to keep everything secure no matter what we take with us.
The 14l volume is just the perfect size for a laptops, cords, a packed lunch and a notebook. Various exterior pockets make security checks a breeze,nd sternum and waist straps will keep the pressure off your shoulders. 
This is one of the larger packs on the list, it's a great business backpack.
We have used loads of Nomatic gear over the years and all of their packs are high quality. We made this none the best commuter laptop backpack on the market due to the separate pocket at the back of the pack just for your laptop.
If you want something a little bigger, then there is a 20l version. Also for an even bigger one take a look at the Nomatic Travel Pack instead.
Pros
Does a bit of everything
Water-resistant
Many carrying options
Cons
Doesn't ship to Europe
Expensive!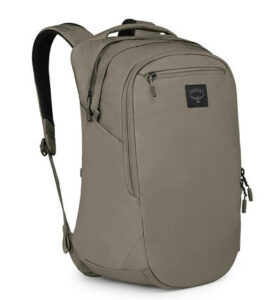 Osprey Aoede Airspeed is our pick for best commuter and hiking backpack
Specs
18.7H X 11.61W X 8.86D IN
Weight:2.26 LBS
Capacity: 21 liters
Packed full of easy-to-reach outside pockets, this bag has tons of fun features that make it a great companion on the way to work or the trail. The outside storage pockets all have different functionality, with two side pockets for water bottles or walking sticks and a scratch-free central pocket to protect your phone from rocky scrambles.
There is an included laptop sleeve, although at 14 inches, it can't quite hold every laptop. However, this small size does have its advantages. The pack is so light, you can carry the bag in one hand, or use the included sternum strap when it's full of gear.
To top it all off, an exterior layer of mesh doubles the amount you can carry, providing a convenient place for wet shoes or souvenirs. The Aoede Airspeed is quite simply, a great every day backpack that I quite literally use every single day.
I like that this bag is super versatile and that it could be used not only on the daily commute but for fun on the trails on the weekends. The hard-wearing exterior and dark colour mean that any potential damage or dirt from the weekend's adventures won't be seen.
Check out my detailed Osprey Quasar review, a very similar bag, you shall see why.
Pros
Can handle a beating
Extra shoulder protection
13 different pockets
Cons
Not the most laptop-friendly
#11 – Most Versatile Commuter Backpack – Osprey Arcane
Our pick for most versatile commuter backpack is Osprey Arcane
Specs
Size: 17.7 x 11.8 x 8.7 inches
Weight: 1 lb. 6 oz.
Capacity: 20 liters
Affordable, breathable, and lightweight, there are not many commuters that wouldn't benefit from the Arcane on their backs. The slim bag doesn't provide high-tech features but does offer plenty of pockets and padded protections.
Two separate internal dividers keep space for your computer and important documents, but a cleaner layout ensures nothing gets lost in cracks and crevices. While there's not much weight on this bag, Osprey still found space for some really useful features, but all in all, it's one of those superlight bags for getting around the city quickly.
This bag won't win any awards, but its simple features do enough to help out in any scenario. Personally, I prefer the Osprey Quasar but for those looking for a simple, durable and smart bag that is super light and gets the job done wherever you use it, this is the one. Oh, what I do love about the Arcane is the fact that there is an attachment for your keys inside!
Pros
Tons of different colors
Internal key clip
Quick reach pocket
Cons
Not many extra features
No back ventilation
Osprey Radial Bike Commuter Pack is one of the best bicycle commuter backpack
Specs
Size: 20 x 14 x 12
Weight: 3 lbs. 5 oz.
Capacity: 34 liters
You may have noticed the trend by now – Osprey makes tons of great commuter backpacks. The Radial Bike Commuter Pack combines some of our favorite features from across Osprey's backpack repertoire, making it a great bag to strap on if you wear clip ons to work.
We love this backpack's Airscape ventilation system, a rare find on backpacks that feature a laptop compartment. The frameless back allows a better fit for biking, and the variety of pockets and volumes of dedicated storage allow you to fit a change of clothes easily.
You won't find a gear hauler better suited for biking to work in this price range. There are even built-in blinker light attachments if you plan on working late!
In many ways this is a step up from the Centauri with the addition of the additional middle organisational section. I like that it offers a better level of organisation as a result and makes the weight distribution much better. I am also a fan of the key hook which means no more digging around in the rain for your keys!
Pros
Hidden LidLock helmet carry attachment point
Durable protection
Minimalist design
Cons
No hip strap
Not much external storage
Specs
Size (Large): 14″ W x 11″ H x 3.75″ D
Weight: 1.81lbs
Capacity: 5 liters
First up, this isn't a backpack its a carry case. Sorry for misleading you but its such a cool bag that we just HAD to include it. Most of the commuter backpack we have featured in this post are pretty spacious providing room for gym bags, lunch boxes and changes of shoes. However, some commuters just really need a backpack for holds a laptop and nothing more.
This beautiful, elegant slim leather backpack by Kodiak is perfectly sized for your laptop. It has a main laptop compartment with an internal pocket as well as front zipper pocket for cables, cards and keys. It's just a laptop pack so look elsewhere if you need a leather travel bag.
As a self confessed dandy, I love how stylish and professional this bag looks for the commute. While I am not a huge fan of the satchel carry, it feels comfortable enough for commutes. The leather also feels and smells freaking gorgeous.
Pros
Stylish
Durable protection
Minimalist design
Cons
Limited Storage
No hip belt
The MAHI Leather is a great option for business travelers.
Specs
Size (Large): 37 x 28 x 8
Weight: 1.81lbs
Capacity: 5 liters
The eagle eyed amongst you will no doubt have spotted that this is NOT a backpack. It is instead a satchel/messenger bag that can also be carried like a briefcase by a leather handle. This makes it a great option for business and professional commuters who need to look a bit more formal.
It's made from top notch full grain leather and comes in a classic tan colour. Its storage options are fairly straightforward in that it has a main laptop/document compartment as well as 2 additional pockets for keys and cards.
Complete with a fawn cotton lining, the Messenger Satchel includes a zip pocket at the back, an internal zip pocket, a leather pouch style pocket at the front and an extendable detachable shoulder strap.
Another messenger bag, this one offers more room and protection than above for those wanting a similar style but with larger carrying needs. Again, some of you will dig the classic satchel style of this bag alongside the hardwearing and weather-resistant leather material. The pocket set-up is handy and the smaller front pocket is actually surprisingly big.
Want more options, have a look at our post covered all the best messenger bags out there.
The Harber London commuter backpack is a great laptop ready backpack
Specs
Size (Large): 43 x 28 x 14
Weight: 1.81lbs
Capacity: 16.85 liters
This hugely stylish backpack from Harber London is designed for everyday urban living. It employs a safe and secure magnetic closing mechanism, comes with a padded laptop sleeve and utilises top quality materials throughout.
When I laid hands on this pack I was taken with two-tone style of the bag and just how stylish and hip it looked – it wouldn't look out of place in the cafes of Williamsburg! In terms of practical features, I really like the floating bottom of the padded laptop compartment. They also loved that the bag felt compact and yet at the same time felt roomy and offered massive amounts of storage.
The best present of all… is CONVENIENCE!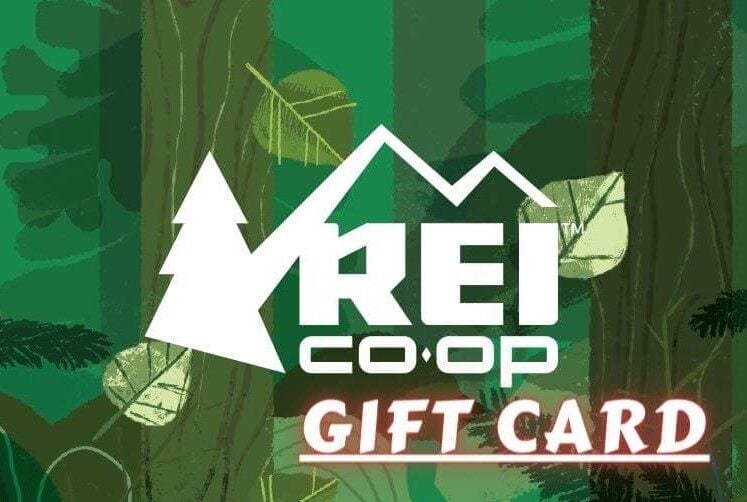 Now, you could spend a fat chunk of $$$ on the WRONG present for someone. Wrong size hiking boots, wrong fit backpack, wrong shape sleeping bag… As any adventurer will tell you, gear is a personal choice.
So give the adventurer in your life the gift of convenience: buy them an REI Co-op gift card! REI is The Broke Backpacker's retailer of choice for ALL things outdoors, and an REI gift card is the perfect present you can buy from them. And then you won't have to keep the receipt. 😉
Buy on REI!
Best Commuter Backpacks

| Name | Capacity (litres) | Dimensions (CM) | Weight (KG) | Laptop Compartment (Y/N) | Price (USD |
| --- | --- | --- | --- | --- | --- |
| Osprey Transporter Duffel | 40 | 22 x 15 x 10 inches | 2 lbs. 8 oz. | Y | 160 |
| Aer Travel Pack 3 Small | 28 | 48.26 x 31.75 x 19.05 | 1.50 | Y | 200 |
| Gulu Made Motivator Pack | 25 | 48.26 x 30.48 x 12.7 | 0.91 | Y | – |
| Arc'teryx Granville 16 Zip | 16 | 46.99 x 30.99 x 26.92 | 0.75 | Y | 180 |
| The Backpack by Stubble & Co | 21 | 78.74 x 96.52 x 35.56 | 1 | Y | 145 |
| Tortuga Outbreaker Laptop Backpack | 27 | 46.99 x 30.48 x 22.86 | 1.45 | Y | 225 |
| Gregory Rhune 25 | 25 | 20.3 x 50.8 x 33 | 0.93 | Y | 119.25 |
| Aer Duffel 2 | 24.6 | 54.61 x 30.48 x 20.32 | 1.09 | Y | 170 |
| Nomatic Backpack | 14 | 17.5″ H x 11″ W x 5.5″- 7.5″ | 2.50 | Y | 179.99 |
| Osprey Aoede Airspeed | 21 | 18.7H X 11.61W X 8.86D IN | 2.26 LBS | Y | 140 |
| Osprey Arcane | 20 | 17.7 x 11.8 x 8.7 in | 1 lb. 6 oz. | Y | 110 |
| Osprey Radial Bike Commuter Pack | 34 | 20 x 14 x 12 in | 3 lbs. 5 oz. | Y | 195 |
| Kodiak Katmai Laptop bag | 5 | 35.56 x 27.94 x 9.53 | 0.82 | Y | 199 |
| Mahi Leather Messenger | 5 | 37 x 28 x 8 | 0.82 | Y | 151.50 |
| Harber London Commuter Backpack | 16.85 | 43 x 28 x 14 | 0.82 | Y | 228 |
How and Where We Tested To Find The Best Commuter Backpacks
To test these packs and compile our list of best commuter bags, we took each one of them out and gave them a proper test ride. To do this we gave each bag to various members of our team over an extended period of time so they could take them on various different trips to many locations around the world.
Packability
A backpack is primarily designed to carry your gear, so packability was one of the main areas where we judged these bags. When it came to selecting the best commuter bag, we awarded points for how well each one maximised its space and how easily they allowed effective packing.
It's not only packing that is important, but unpacking too. We awarded points for how well each pack made it to retrieve items quickly and easily from each bag. When it came to commuter bags, that was especially important for items like travel cards, headphones and wallets.
Weight and Comfort of Carrying
No one wants to be carting around a super heavy backpack, having uncomfortable straps that dig in and a pack that unevenly distributes its weight over your back is no fun at all. A good commuter backpack enables you to pack inside it heavy papers and laptops whilst remaining comfortable for a potentially long journey where you'll be carrying, wearing and holding your pack at various points.
With that in mind, we awarded full marks for packs that minimise weight and maximum carry comfort.
Functionality
In order to test out how well a pack fulfilled its primary purpose we used it for this purpose. So when it came to the best backpacks for commuters, well, we used them whilst travelling to and from workplaces. For us, when it came to the functionality of commuter packs, being easy to carry on and off transport and negotiating crowds with ease were top priorities.
Aesthetics
When it came to selecting the best commuter backpacks, looks were super important to us. A pack that will be used in and around the workplace needs to look sleek and professional. With this in mind, we chose packs with a minimal amount of colour and external features.
Durability and Weatherproofing
Whilst commuting it's likely you'll be bringing along expensive and important documents, laptops, hard drives and other gear you really don't want to get wet! The chances are you'll also be standing at a bus stop or walking from the underground station to the office in all kinds of weather.
As such, we tested each bag on its ability to keep its contents dry and safe by pouring over a pint or two of water and checking the inside! Equally, with everyday use, these bags need to be durable and strong. So we looked at the various pressure points where packs often fail, inspected the seam sewing quality alongside the materials used, the traction of the zips and how well other hardwear faired over time.
FAQ about the Best Commuter Backpacks
Still have some questions about the best commuter backpack? No problem! We've listed and answered the most commonly asked questions below. Here's what people usually want to know:

Our GREATEST Travel Secrets…
Pop your email here & get the original Broke Backpacker Bible for FREE.
Final Thoughts
Whether your commute takes you through city streets or snowy pastures, the backpacks on this list offer lightweight protection and stylish features that help you carry more with you.
Whether you want all-around performance or best-in-class features, these bags run the gambit of industry-leading commuter backpacks. What's more, with their quality, if you look after your backpack they'll last you years to come.
Stay organized and stay ahead of the game with the right backpack on your shoulders. Decide what you want out of your bag, and find out what the best gear haulers on the market can do to ultimately decide which bag is best for your arsenal. You can even easily combine one of these bags with a stylish and lightweight travel purse to keep your wallet and passport handy if needed.
You'll likely be using your commuter backpack more than any other bag in your kit, so make a list of demands, check it twice, and gear up properly with the bag built for you.
Hopefully, you've found the best commuting backpack for your needs. Let us know below.
---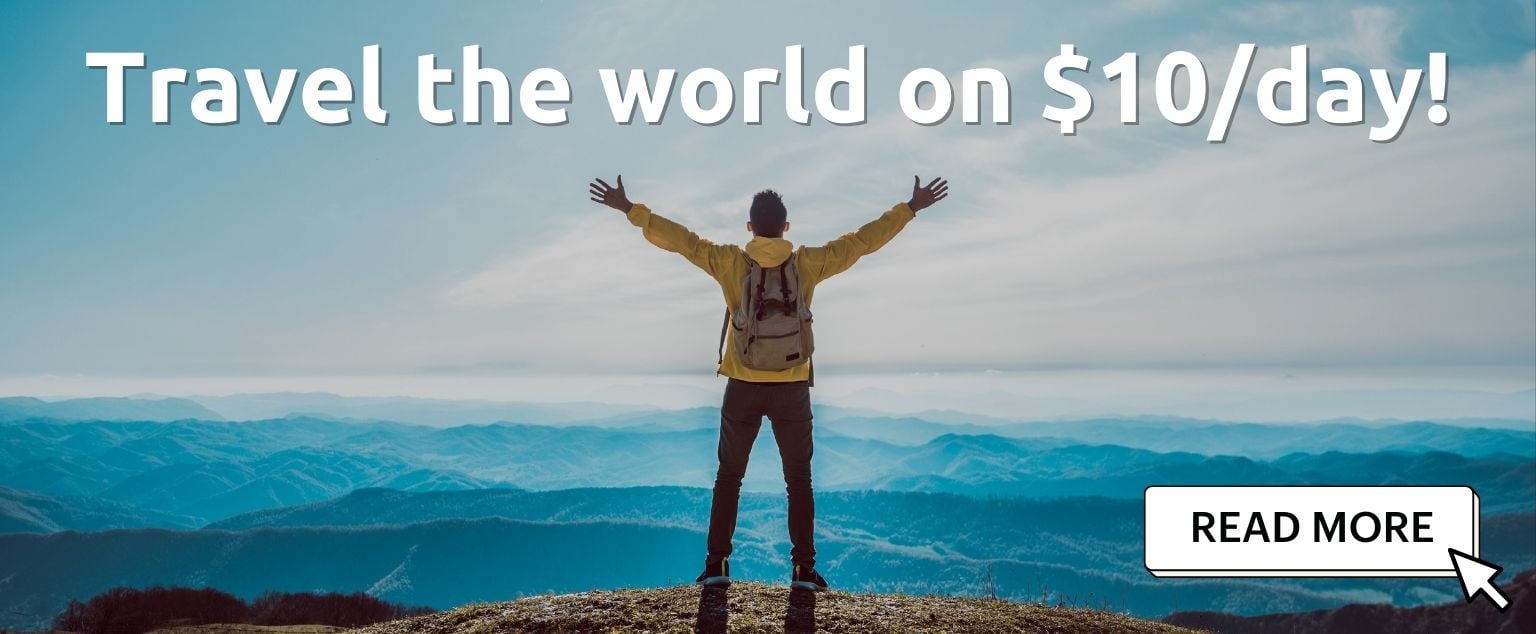 And for transparency's sake, please know that some of the links in our content are affiliate links. That means that if you book your accommodation, buy your gear, or sort your insurance through our link, we earn a small commission (at no extra cost to you). That said, we only link to the gear we trust and never recommend services we don't believe are up to scratch. Again, thank you!