Sustainable options have spread out of the grocery store and leaked into every aspect of the travel industry. A vegan backpack lets you take your eco-friendly lifestyle wherever the road takes you.
Environmentally friendly travelers have finally carved out a powerful voice, and industry-leading gear designers have heard consumer's cries and crafted vegan backpacks that get the job done while making the world breathe a bit easier.
As more and more customers become aware of how their buying choices affect the world around them, companies have responded by making more vegan backpacks than ever before.
Tons of snake oil salespeople promise the world, but only a few vegan backpack manufacturers have taken the time to ensure their products are sustainably made and built to last.
To help you navigate this growing corner of the travel market, we've thrown together a few of our favorite vegan backpacks. Whether you're committed to an animal-free lifestyle or just looking for a few areas to help out, the quality of these backpacks promises to perform up to par with artificially made products, all without the carbon footprint.
Follow along and find out what the best vegan backpacks on the market are up to, and you'll be surprised to find out everything plant-based travel products are capable of delivering.
Quick Answers:
What is a Vegan Backpack?
A vegan backpack was raised on a pesticide-free farm and never fed any GMO's.
Just kidding. Vegan simply means there are absolutely no animal products used in the production of the backpack.
You'd be surprised to find out what your favorite bags are made from. From leather to animal glues or even crushed-up beetles, animal byproducts have a nifty way of sneaking their way into the inner workings of backpack materials.
A vegan backpack uses no animal products, and all the bags on our list focused on ethical production, so even carnivores can help out by choosing a vegan bag.
Every bag below did not use any animal products in production, and almost all of them work as a carry-on bag.
Best Vegan Daypack
Best Vegan Daypack
Arcane Tote Pack
> $$$
> 100% Recycled materials
> Minimalist in design
Best Vegan Leather Backpack
Best Vegan Dayhike Pack For Men
Best Vegan Dayhike Pack For Men
VAUDE Wizard
> $$$
> Lightweight
> Variety of different color options
Vegan Cork Backpack
Vegan Cork Backpack
MAHI Classic 3.0
> $
> Lovely Stylish Cork
> Great Storage Capacity
Best Vegan Bikepack
Best Vegan Bikepack
Po Campo Kinga
> $$
> Waterproof and functional
> Three separate compartments
Best Vegan Purse
Best Vegan Purse
Po Campo Bergen
> $$$$
> Two-strap styles
> Weather-resistant
Best Vegan Backpack For Yoga
Vegan Backpack For Long Trips
Vegan Backpack For Medium Trips
Delicious Vegan Backpacks For All Occasions
Take your eco-friendly efforts a step further with one of the best vegan backpacks suitable for every occasion.
Ladies & Gents, It's Time to Step Your GEAR Game Up. 😉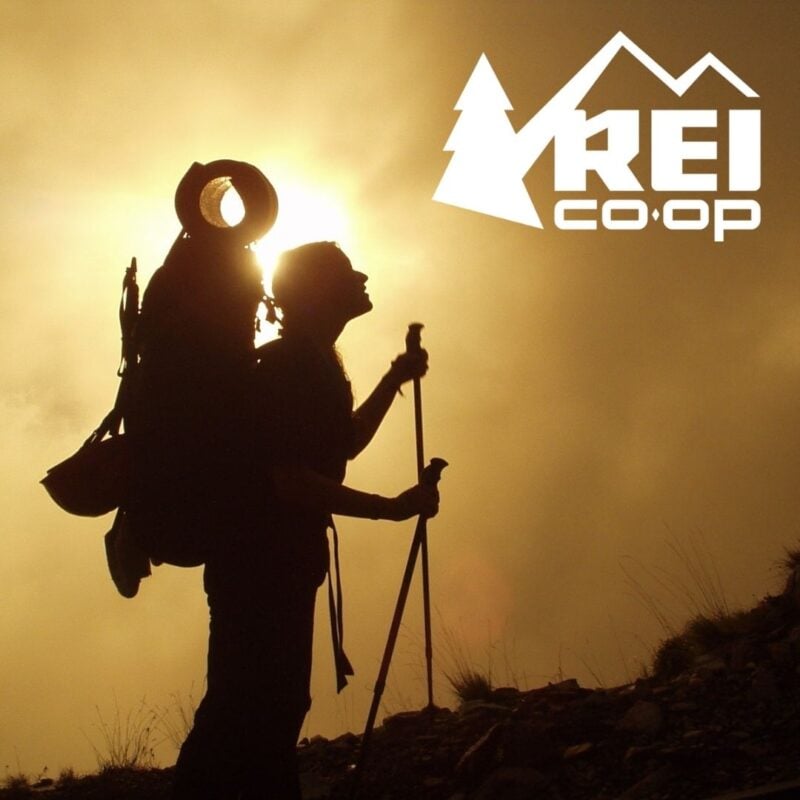 REI is one of America's biggest and most-loved outdoor gear retailers.
Now, for just $30, get a lifetime membership that entitles you to 10% OFF on most items, access to their trade-in scheme and discount rentals.
Join REI Today!
Arcane Tote Pack is our pick for best vegan daypack
Specs
Lbs: 1.76
Liter Capacity: 20
Dims (In.): 18 / 11 / 12
Fabric: Recycled polyester
Price: $$$
The All Mighty Guarantee gets even more potent when fed off a plant-based diet. 100% Recycled materials make up this bag that is guaranteed to last for life. A lifetime guarantee and various fine features make this the best sustainable day pack on the market.
The Arcane tote slips on your shoulders or loops around your wrists for more ways to hold. The series is Osprey's most city-friendly line of products, and this tote bag is comfortable at the grocery or on a day hike.
The pack is minimalist in design, with a simple monotone exterior devoid of water bottle holders. Inside, you'll find plenty of organization options. Zippered mesh and laptop pockets line the back wall.
With many forms and plenty of storage, this versatile vegan backpack is the perfect bag for a day trip.
The bigger Archeon 60 made for long trips is also is eco-friendly luggage at its finest.
Pros
Loads of color options
Guaranteed to last for life
Different holding methods
Cons
Not enough support for longer treks
No water bottle pockets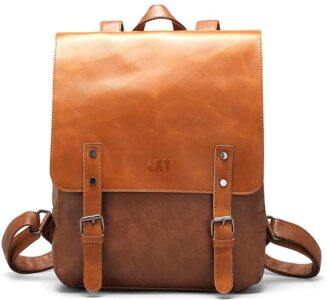 Our pick for best vegan leather backpack is LXY Leather Backpack
Specs
Lbs: 2.12
Liter Capacity: N/A
Dims (In.): 14 / 11 / 4
Fabric: Faux leather
Price: $
Leather backpacks are great but not if you are Vegan. Happily, there are now plenty of began lather options out there.
This bag fits every type of adventure. From day to day romps, through security checkpoints, and in the woods, this stylish pack will find a way to be helpful. Its affordable price makes perfect for this weekend if you're in a rush.
The shoulder straps hang loose, but they're durable. The buckles are sturdy and reinforced by nylon. A thin front pocket is an excellent spot for your keys, and two anti-theft pockets let you tuck away your valuables.
While the bag doesn't come loaded with lightweight features, it's a solid and dependant bag if you don't need to store the world.
Pros
Fits in with every ensemble
Anti-theft compartments
Side buttons expand storage space
Cons
No laptop divider
No water bottle holder
#3 – Best Vegan Dayhike Pack For Men: VAUDE Wizard
Meet the best vegan dayhike pack for men: VAUDE Wizard
Specs
Lbs: 2.24
Liter Capacity: 28
Dims (In.): 18 / 11 / 11
Fabric: Polyester
Price: $$$
There's no need for a water bottle holder with a built-in hydration system. These minimalist packs are made lightweight but still with your comfort in mind. Padding and dividers go the extra mile to make the bag easier on your back and your goods.
You won't find much more on the exterior besides one pocket, but a variety of different color options lets you find the bag that works best with you.
The backpack has different sizes, storing up to 34 liters. At this capacity, the completely vegan packs are great for shorter backpacking trips as well as day hikes, and thanks to hip and sternum straps, it'll still feel light as a breeze.
Pros
Great storage capacity
Comes with a hydration system
Flexible shoulder straps
Cons
Not quite big enough for most tents
No water bottle holder
Meet the best vegan dayhike pack for women: VAUDE Women's Tacora 26 Daypack
Specs
Lbs: 2.2
Liter Capacity: 26
Dims (In.): 20 / 13 / 10
Fabric: Polyester
Price: $$$
We love that this dayhiker comes loaded up with extra pockets. Two pole attachments flank the exterior, and slick pockets on the hip wings give you plenty of options. Those hip pockets double as load management support, combining with the sternum strap to create a fabulous loadbearing pack.
The pack's back features a pocket for a hydration system and padded airflow mesh that keeps temperatures down.
This Tacora hopes to take the best aspects of hiking packs and the casual look of a day pack to create a vegan pack for every day of the week.
Pros
Plenty of pockets
A decent amount of water resistance
Front compartment organizer
Cons
No laptop compartment
Could use more storage
Po Campo Kinga is one of the best vegan bikepack
Specs
Lbs: .1
Liter Capacity: 1.8
Dims (In.): 4 / 9 / 5
Fabric: Polyester
Price: $$
Waterproof and functional, strap this pack to your handlebars, and you'll be on your way. The adjustable straps lock on and hold tight during your commute, and the bag can easily store everything a burgeoning bike mechanic could need in emergencies.
Three separate compartments provide space for your tools, your phone, and a Clif bar or two. Most importantly, the muted black color fits on every bike.
Taking this pack with you when it's time to lock up your bike is as simple as slinging it over your shoulder, and velcro straps make reattachment simple.
Pros
Easily to remove
Allows organization
Zippered quick-access pocket
Cons
Doesn't bring loads of space
Not very aerodynamic

Do You Want to Travel FOREVER??
Pop your email in below to get a FREE copy of 'How to Travel the World on $10 a Day!'.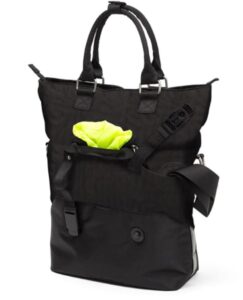 Our pick for best vegan purse is Po Campo Bergen
Specs
Lbs: 1.75
Liter Capacity: 20
Dims (In.): 16 / 15 / 6
Fabric: Polyester
Price: $$$$
This female-owned company has considered its footprint across the board, and this sustainably made purse continues that creed. For every 50 vegan bags sold, Po Campo donates a bicycle to a girl in Africa.
This bag has loads of low-key features that help you carry more. The 20 liters can hold up to 80 lbs and hooks right up to a bike to make moving a bit easier.
Built to work just as well on the handlebars or over your shoulders, two-strap styles and a special shoulder strap let you carry your weight how you see fit. This purse is one of the most sustainably made options on the market, and it kicks ass.
Pros
Weather-resistant
Padded laptop pocket
Seven total pockets
Cons
The shoulder strap can get heavy
Deep main pocket
Transfer Coal Yoga Bag is our pick for best vegan backpack for yoga
Specs
Lbs: N/A
Liter Capacity: N/A
Dims (In.): 17 / 13 / 9
Fabric: Cotton and Cork
Price: $$$$
This hybrid bag has flexibility in mind. It's barely big enough to take on your yoga mat without being too large to toss over your shoulder. It works great as a versatile everyday bag, reusable grocery bag, gym bag, and yoga bag.
Your yoga mat slides in quickly to the backside of the bag, and two elastic bands will lock your carpet into place even on a bumpy train or bus, and one front zipper pocket lets you keep everything close.
These bags employees paid a livable wage built the mats by hand in Portugal, which gives each one a unique flavor.
Pros
Latex Free
Space for more than a spare jumper
Corc Yoga gives back for every purchase
Cons
Won't work for a full day exploring
No water bottle holder
Our pick for best vegan backpack for long trips are Archeon 70 Men's and Archeon 65 Women's
Specs
Lbs: 5.5
Liter Capacity: 68
Dims (In.): 33 / 15 / 13
Fabric: Nylon
Price: $$$$$
Made sustainably out of recycled fabrics, these bags heard you're going for a longer hike, and they want in. Loads of space for tents, sleeping gear, and food for the weekend, you can trust these backpacks to get you further out there than ever before.
With an intense suspension system highlighted by aluminum alloy frames and waist/sternum straps, heavyweights packed inside these bad boys feels lighter than air. You can loop your ice axes on either side of the slick exterior in the added gear loops.
A zippered front panel allows you to access the bottom of your bag without taking everything out, and nooks and corners throughout the product make themselves useful.
Pros
Built-in sleeping bag compartment
Guaranteed for life
Various load-bearing support
Cons
Too big for daily use
Not ultralight
Meet the vegan backpack for medium trips: Archeon 45 Men's and Archeon 45 Women's
Specs
Lbs: 4.4
Liter Capacity: 45
Dims (In.): 28 / 13 / 12
Fabric: Nylon
Price: $$$$$
We love the look and feel of this best-in-class pack. If you're not planning on heading out in the woods for weeks at a time, 45 liters is all you'll need to transport your gear. The Osprey archeon 45 is great for weekend trips both in the city and in the middle of nowhere.
These bags are made out of 100% recycled material and are guaranteed to last for life to sweeten the pot.
The top-loading pack features two water bottle holders and a minimalist front. The storage capacity makes use of the main compartment and a spacious zipper pocket. With all the benefits of the Archeon 70 in a smaller package, anyone who needs a casual overnight backpacking bag will find this Osprey product to be a sustainable solution.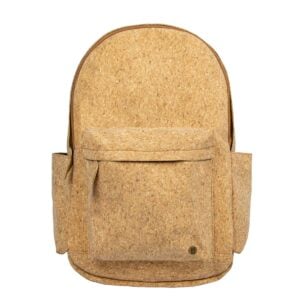 Meet this lovely Cork backpack from MAHI.
Specs
Lbs: 4.4
Liter Capacity: 28
Dims (In.): 37 / 45 / 13
Fabric: Cork
Price: $
Sustainability is sexy, as this vegan cork backpack testifies This striking pack is made of high-quality cork which is a cracking substitute for leather, that will feel and look properly organic.
Perfect for daily use, the pack doesn't have loads of extra features around the exterior, which gives it a clean look and feel. MAHI still found a way to sneak a few pockets into the outside of the bag, all protected from theft with zippered or magnetically sealing buttons.
The Mahi Classic Backpack includes plenty of room for a 15? laptop and it's own padded laptop compartment so you can stay organised. The back also has two external water bottle holders, complete with a waterproof lining and a handy leather strap on the back.
Fashion and environmentally friendly, this vegan, eco friendly backpack looks and feels ready for anything.
Pros
Sylish Cork Material
Laptop compartment
The best present of all… is CONVENIENCE!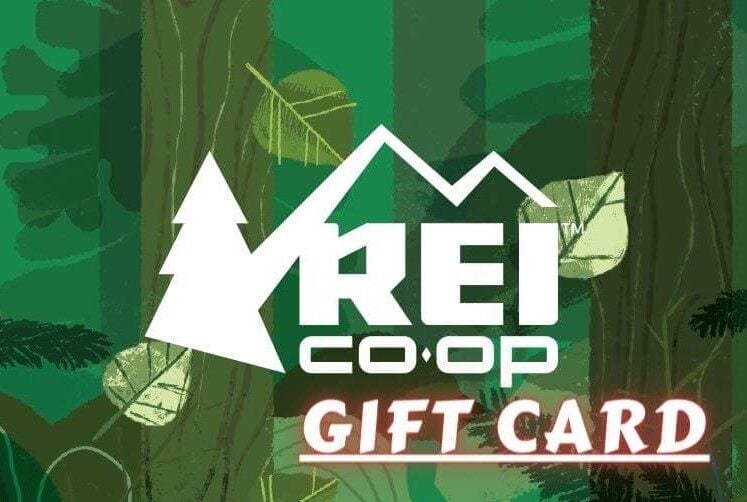 Now, you could spend a fat chunk of $$$ on the WRONG present for someone. Wrong size hiking boots, wrong fit backpack, wrong shape sleeping bag… As any adventurer will tell you, gear is a personal choice.
So give the adventurer in your life the gift of convenience: buy them an REI Co-op gift card! REI is The Broke Backpacker's retailer of choice for ALL things outdoors, and an REI gift card is the perfect present you can buy from them. And then you won't have to keep the receipt. 😉
Buy on REI!
Best Vegan Backpacks

| Name | Volume (Litres) | Weight (KG) | Dimensions (CM) | Vegan Rating (100%) | Price (USD) |
| --- | --- | --- | --- | --- | --- |
| Arcane Tote Pack | 20 | 0.79 | 45.97 x 38.1 x 22.86 | – | 81.93 |
| LXY Leather Backpack | – | 0.98 | 27.94 x 9.90 x 39.88 | – | 37.99 |
| VAUDE Wizard | 28 | 1.01 | 53 x 30 x 24 | – | 68.15 |
| VAUDE Women's Tacora 26 Daypack | 26 | 0.99 | 30.48 x 48.77 x 13.72 | – | 145.85 |
| Po Campo Kinga | 1.8 | 0.45 | 22.86 x 12.7 x 8.89 | – | 55 |
| Po Campo Bergen | 20 | 0.79 | 43.18 x 38.1 x 15.24 | – | 130 |
| Transfer Coal Yoga Bag | – | – | 43.18 x 33.02 x 22.86 | 100% | 159.84 |
| Archeon 70 Men's | 70 | 2.8 | 83 x 38 x 33 | – | – |
| Archeon 45 Men's | 45 | 2.19 | 70.99 x 30.99 x 29.99 | – | 290 |
| MAHI Classic 3.0 | 28 | 1.99 | 37 x 45 x 14 | – | 98.50 |
FAQ about the Best Vegan Backpacks
Still have some questions? No problem! We've listed and answered the most commonly asked questions below. Here's what people usually want to know:

Our GREATEST Travel Secrets…
Pop your email here & get the original Broke Backpacker Bible for FREE.
Final Thoughts
Vegan backpacks are a relatively new industry, but you'll already find loads of options when searching for an eco-friendly pack. This last will help narrow down your choices and let you get in contact with the best bag for your budget and needs.
Whether you want the versatile protection offered by the Arcane Tote Pack or the stylish feel of the Po Campo Bergen, the vegan bag that will make your life easier is somewhere on this list.
Personally, I think that Osprey is head and shoulders above the rest of the field when it comes to outdoor backpacks. Their superior technological features mixed with the lifetime guarantee make any one of their packs a safe choice.
If you're not putting your bag up to the ultimate tests, you may not need the extra protections offered by Osprey and can focus on something more stylish.
Whatever you have ahead of you, stay green and stay in style with the right vegan backpack.
---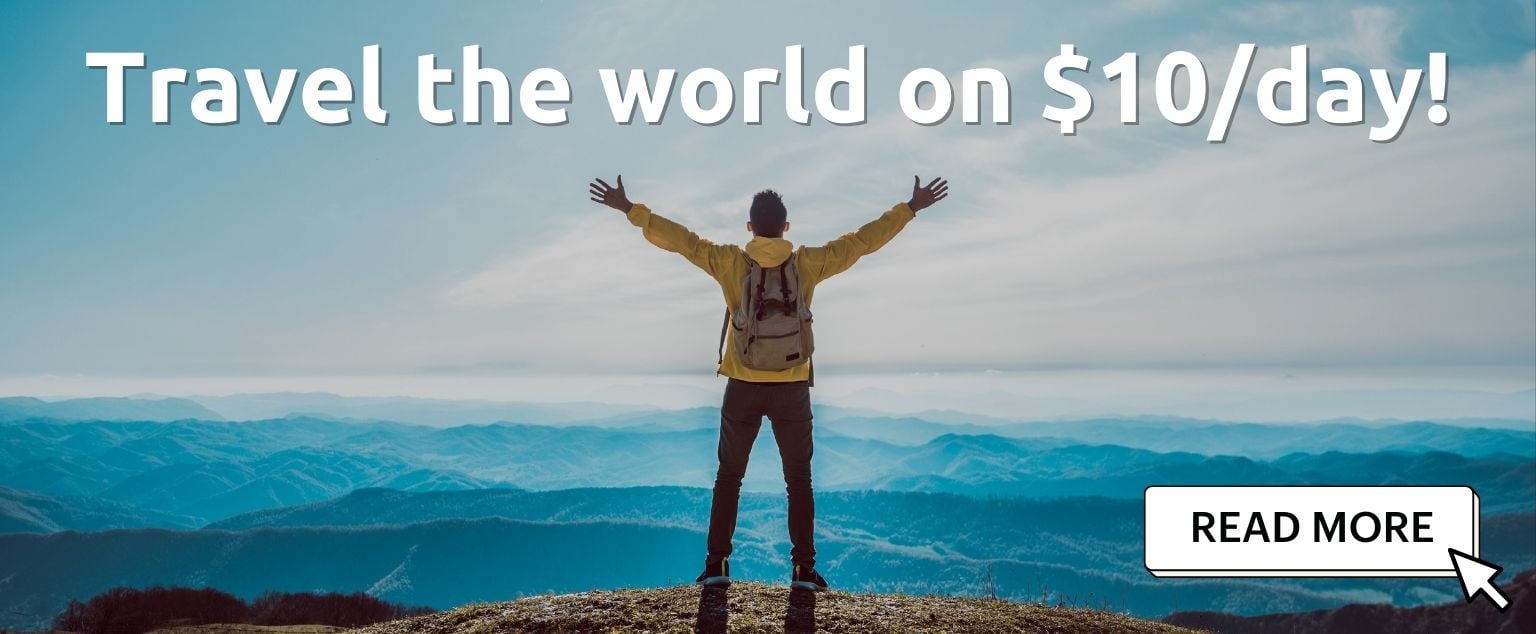 And for transparency's sake, please know that some of the links in our content are affiliate links. That means that if you book your accommodation, buy your gear, or sort your insurance through our link, we earn a small commission (at no extra cost to you). That said, we only link to the gear we trust and never recommend services we don't believe are up to scratch. Again, thank you!