We've got a fever, and the only prescription is more cowhide.
Loads of synthetic materials are starting to bridge the gap, but there is still nothing quite like a great, real, genuine leather backpack.
When done right, a leather backpack provides unbelievable value when done right, thanks to modern conveniences and a classic top-grain style unlike anything else out there.
Unfortunately, it's easier than ever for companies to whip up a fake leather backpack that begins to crumble as soon as the warranty is over. In a world full of options, it can be hard to wade through the muck and find the real gems.
That's where we step in. We've got the low down on the best leather backpack for men, women and everyone in between.
Finding The Right Leather Backpack
We may not have raised the cattle, but we have scoured the ends of the earth, battle testing leather backpacks of all shapes and sizes along the way.
Spending years and putting serious miles into our bags helped us understand the blueprint for a good quality backpack. Every minute issue in design or implementation will make itself known, often at the worst possible moment.
I've seen and experienced countless trips affected by a bag ripping open before I've even gotten through security or hikers turn around due to sore backs and bags with poor load management.
You may not need the benefits of a high-quality backpack for your next day trip, but eventually, you'll be glad you invested in backpacks with genuine leather and real convenience.
Nothing outlasts leather, so your next leather backpack could be your last. Take the time and do the research to find a sustainable and authentic leather bag that delivers on every promise. Here are the bags strong and affordable enough to qualify as one of the best leather backpacks on the market. A leather bag is a long-term investment and if you care for your backpack correctly it will last for many years.
Quick Answers:
Best Overall Leather Bag
Best Overall Leather Bag
Leather Katmai Bag by Kodiak
> $$
> Three separate zipper compartments
> Durable protection and iconic style of high-quality leather
Best Upscale Leather Bag
Best Upscale Leather Bag
The Kobuk by Kodiak
> $$$
> Authentic and functional
> Roll-top feature
Best Leather Backpack for Photography
Best Leather Backpack for Photography
Original PRVKE
> $$$
> Water-resistant
> Myriad of compartments and pockets
Best Budget Leather Backpack
Best Vegan Cork Backpack
Best Vegan Cork Backpack
MAHI Cork Backpack
> $
> Made of high-quality cork
> Great organisation options
Best Commuter Leather Backpack
Best Leather Backpacks Guide for 2022
Without further ado, here is the cream of the crop. These bags provide a combination of style, functionality, and innovative features to outwork the competition and establish themselves as an icon in an industry full of pretenders.
Ladies & Gents, It's Time to Step Your GEAR Game Up. 😉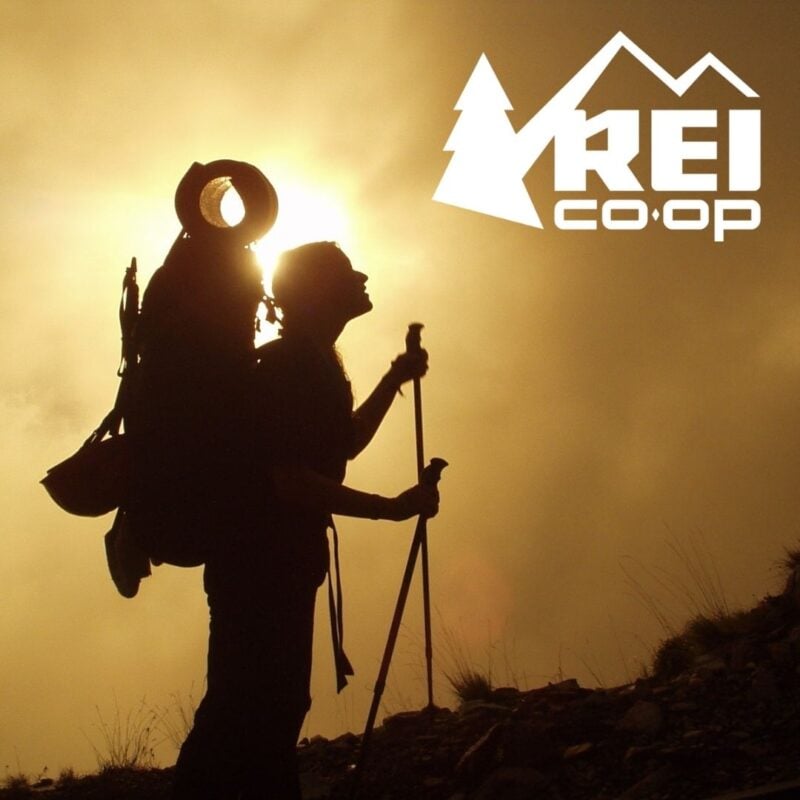 REI is one of America's biggest and most-loved outdoor gear retailers.
Now, for just $30, get a lifetime membership that entitles you to 10% OFF on most items, access to their trade-in scheme and discount rentals.
Join REI Today!
Katmai Leather Backpack is our pick for best overall leather bag
Specs
Dimensions: 16" x 15" x 5"
Laptop compartment: Yes
Best Use: Everyday
Price: $$$$
You won't find anything less than top-grain cowhide across this handy leather bookbag, all the way through to the reinforced carrying handle. The exterior space of this bag is as handy as it is durable, with three separate zipper compartments for easy storage.
Kodiak's Leather bags combines the durable protection and iconic style of high-quality leather, with convenient nooks and crannies, to craft a modern leather backpack that is bound to make your day a bit easier.
Inside, you'll find a black nylon lining and a padded leather laptop compartment properly prepped to protect.
The bold colors of your leather bag fit in with every ensemble and develops a personality as it ages, subtly shifting its colors and creases.
We felt that the handy size of this bag truly sends it over the edge. It's small enough to not feel out of place in a commute, packs the technical features to make security checkpoints a breeze, and has the durability to be a great dayhiking pack.
Our team loved this pack and voted it their best leather backpack for a few reasons. They loved the compact size and lightweight construction which felt perfect for an EDC where they could fit what they needed without it becoming bulky. They also loved the superb workmanship and high-quality feel of the bag.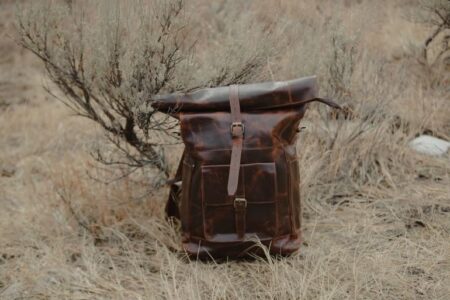 Our pick for best upscale leather bag is Kobuk Leather Backpack
Specs
Dimensions: 21" x 13" x 11"
Laptop compartment: Yes
Best Use: Weekender
Price: $$$$$
Think of the Kobuk as Katmai's older sibling. Thought-provoking and a bit sensual, there are not many wasted inches to be found in the large leather bag. Made of nothing but brass and leather, this pack is authentic and functional.
We loved the roll-top feature that really expands the storage capability of the Kobuk leather. One simple buckle strap holds the roll-top down when it's not in use, and the extra liters provided by the function make the bag perfect for slightly longer trips.
Across the top-grain leather, you'll find zippered openings, padded straps, and magnetically locking buckles for extra security and comfort.
There's a seperate pocket for your laptop, your phone, pens, keys, and wallet. You can keep every part of your arsenal within easy reach. This bag has a splash of extra space compared to many leather backpacks that make it a great leather weekender bag.
The team loved the unique style of this pack. Across the team, this popular leather backpack proved a real hit. They loved the hipster vibe of the roll top and how it allowed them to really maximise the space inside. The padded shoulder straps also meant that the bag was still comfortable despite its larger size than the Katmai Leather Backpack.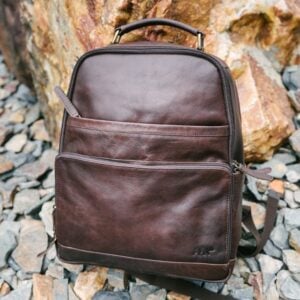 Meet the best small leather backpack: Katmai Diaper Bag
Specs
Dimensions: 16" x 15" x 5"
Laptop compartment: Yes
Best Use: Everyday
Price: $$$$
If you don't plan on carrying the world on your shoulders, you won't need more than this Katmai Diaper/Day bag, that does way more than carry dirty depends.
With laptop sleeves and fully padded handles, this bag can bear a serious load in style. The unique top-grain leather gives this small bag some serious boost and offers a wide range of natural color selections.
With the addition of a luggage strap, you can hold this bag any way you feel fit, and with the addition of 4 separate zippered compartments, you'll find no shortage of ways to store your baby powders or whatever you need to get through the day.
Kodiak may call it a diaper bag, but this is ready for hikes, city escapes, or for quick commutes (we love a good commuter backpack). While it's not big enough to get you through a weekend trip, the bag has exquisite features that help make your day-to-day transit easier, all wrapped up with unforgettable style.
The team loved the compact size and style of this bag, they felt it made a great day pack for city breaks or commuting to and from work. The different compartments and pockets also really came in handy for them when travelling for keeping things like city maps and journals to hand whilst keeping their laptop safe and away from wandering hands!
#4 – Best Leather Look Backpack for Photography: Original PRVKE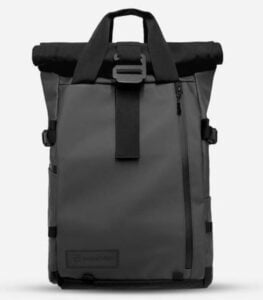 Original PRVKE is one of the best leather backpack for photography
Specs
Dimensions: 17" x 11" x 6.5"
Laptop compartment: Yes
Best Use: Photography
Price: $$$
Built by Wandrd for Wanderers, the PRVKE Camera bag is designed for modern digital nomads. It looks and feels like genuine leather but is actually made out of waterproof tarpaulin and nylon, which gives your expensive gear a water-resistant home.
This bag does loads well, but its original intention is to serve as a epic camera bag. Across the board, quirky design features make a photographer's life a bit easier.
With three quick access points to your gear, you'll never miss another shot. Thanks to the myriad of compartments and pockets, you'll find space for everything you need for your next day hike or photoshoot, with plenty of room to spare.
The tiny details are where products get to stand out, and the Original PRVKE is way ahead of the curve when it comes to adding on extras.
Heavy loaders can make use of the roll-top opening to create an extra five liters of space, and everyone will enjoy the added on rainfly and waist straps that make hiking through adverse weather a breeze.
For me personally, this has been my go-to camera bag for the last 18 months and I've got no plans to change to a different pack any time soon. I just love the organisational features that allow me to have access to my camera whilst being able to keep my other accessories in the upper section. The secret pocket is also perfect for travelling for keeping my passport and wallet super safe.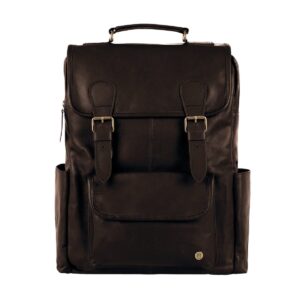 The City Backpack from MAHI.
Specs
Dimensions: 16.5" x 17" x 8.5"
Laptop compartment: Yes
Best Use: Commuting
Price: $
The Mahi City Backpack comes in a striking mahogany brown finish making it ideal for commuting in style. It's a perfect leather backpack for day-to-day use as a work backpack, book bag or travel companion on long journeys.
It can comfortably accommodate a 15″ laptop leaving enough space for an A4 pad, books and even a couple of water bottles. It's ideal for the go-to for work, school or day trips.
Every MAHI is handmade to order and comes complete with a complimentary dust cover and 30-day money-back guarantee. $1.50 from every sale is donated to FRANK Water.
In terms of the downsies, well it feels pretty heavy and not the finest quality leather. Still, it is very good for the money.
The team liked the closing feature particularly on this bag as it made them feel like their gear had an extra level of protection against the weather. The pocket on the front was also a useful feature for keeping maps or travel passes too.

Do You Want to Travel FOREVER??
Pop your email in below to get a FREE copy of 'How to Travel the World on $10 a Day!'.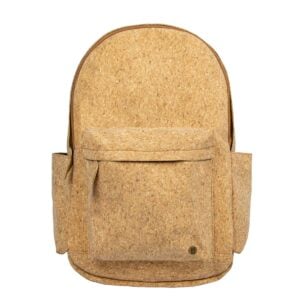 Our pick for best vegan leather backpack is MAHI Vegan Cork.
Specs
Dimensions: 17" x 14.5" x 5"
Laptop compartment: Yes
Best Use: Everyday
Price: $
Sustainability is sexy, and this vintage vegan cork backpack hammers that point home. This sleek pack is made of high-quality cork which is a cracking substitute for leather, that will feel and look properly organic.
Perfect for daily use, the pack doesn't have loads of extra features around the exterior, which gives it a clean look and feel. MAHI still found a way to sneak a few pockets into the outside of the bag, all protected from theft with zippered or magnetically sealing buttons.
The Mahi Classic Backpack now has ample space for a 15″ laptop and it's own padded laptop compartment so you can stay organised. MAHI have also added two external water bottle holders, complete with a waterproof lining and a handy leather strap on the back that slots over wheelie suitcase handles so you can give your back a rest when you're on the go.
Fashion and environmentally friendly, this vegan, eco friendly backpack looks and feels ready for anything.  Mahi also has leather and cork travel purses that fit as the perfect accompaniment to this bag to keep your passport and wallet organised and safe.
The team were big fans of having a vegan option that provided a similar level of durability, softness of material and style. Another real bonus for our team with all their various accessories is the internal pockets and organisation which were particularly useful for things like hard drives and battery packs.
Bromen Anti Theft is one of the best leather bookbag
Specs
Dimensions: 14" x 15" x 6"
Laptop compartment: No
Best Use: Everyday
Price: $$
Right away, we loved the large variety of colors available in this anti-theft schoolbag. Another great vegan option, this bag is made out of faux, water-resistant leather that will help you commute no matter the conditions.
Reinforcements have arrived across every corner, with extra stitching across the straps and dust-proof coverings on any entrances.
The anti-theft design aspects make themselves most apparent in the main zippered pocket. Instead of opening from the front or top, you access your main compartment by a back zipper.
This tiny detail makes it damn near impossible for anyone to access your hardware while the pack is on your back.
If you don't want the extra back protection, you can also sling the bag over your shoulder, thanks to its multifunctional straps.
It's stylish, sturdy, and affordable. If you're looking for a bag perfect for daily commutes, Bromen has provided the tonic to your troubles.
The team were super impressed by the feel of this "fake" leather bag and loved how durable and strong it felt. They also felt the internal space of the bag allowed them to pack in a good amount of gear and the different pockets and sections helped them keep it all organised.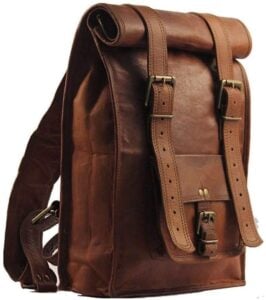 Handoledercouk Mens Leather is our pick for best commuter leather backpack
Specs
Dimensions: 13" x 19" x 3"
Laptop compartment: Two!
Best Use: Everyday
Price: $$
This shoulder and back-strapped beauty has just enough to function Monday through Friday as a great commuters accessory and a go to EDC backpack. While the leather bag doesn't tack on the support or space required to get you through a long weekend, plenty is going on inside this roll-top backpack.
The linen-style leather creaks and folds with use, fitting into your mold and becoming a unique piece of your closet. No two bags will look like each other.
A buckle locking mechanism protects one exterior pocket, and two large compartments inside can fit all your electronic devices. There are even two more zippered sections of these compartments that will hold all your paperwork.
The bag rolls seamlessly over itself to provide flexibility. You can completely unfurl it to give an extra five liters of storage space or fold the bag over itself to cut it down a size or two. 
With its two sections, this has got to be the best leather laptop backpack on the market, and our team agree. They loved the unique style of the roll top and double straps too which means the bag doesn't look out of place either in the office or wandering around Williamsburg looking for an almond milk latte!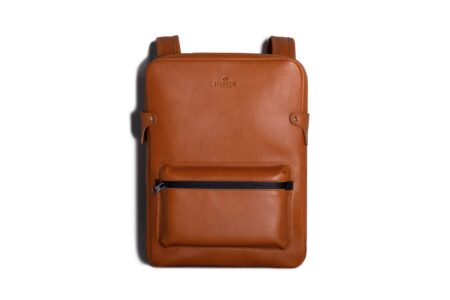 The Laptop Backpack from Harber is a thing of beauty.
Specs
Size (Large): 15.7 x 11 x 1.7
Weight: 1.1lbs
Capacity: 5 liters
Most of the backpacks included in this post are pretty spacious providing room for gym kits, sandwiches and water bottles. However, sometimes you just want a light a backpack for holds a laptop and nothing more – so if you want a laptop backpack made from leather, here you go!
This suave and elegant slim leather backpack by Harber London is perfectly sized for your laptop or device. Its spec is pretty basic offering a main laptop compartment with an internal pocket as well as front zipper pocket for cables, cards and keys.
Harber is one of the best leather backpack brands, so it's no wonder this bag made the cut to be on our exclusive list! The team loved the compact size of the bag and the squared-off shape which made it ideal for carrying things like laptops, workbooks and large journals. The built-in pockets also allowed them to keep pens and hard drives from floating around inside the main pocket.
Cons
Limited Storage
No hip belt
The best present of all… is CONVENIENCE!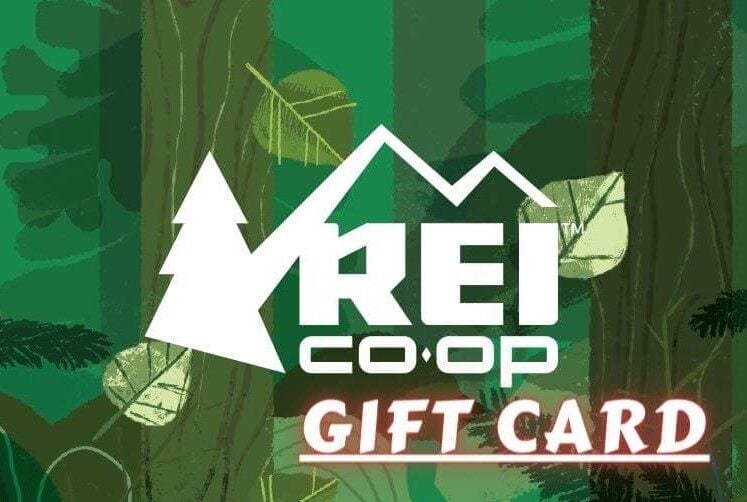 Now, you could spend a fat chunk of $$$ on the WRONG present for someone. Wrong size hiking boots, wrong fit backpack, wrong shape sleeping bag… As any adventurer will tell you, gear is a personal choice.
So give the adventurer in your life the gift of convenience: buy them an REI Co-op gift card! REI is The Broke Backpacker's retailer of choice for ALL things outdoors, and an REI gift card is the perfect present you can buy from them. And then you won't have to keep the receipt. 😉
Buy on REI!
best leather backpacks

| Name | Dimensions | Laptop Compartment | Price |
| --- | --- | --- | --- |
| Katmai Leather Backpack | 16" x 15" x 5" | Yes | $249 |
| Kobuk Leather Backpack | 21" x 13" x 11" | Yes | $299 |
| Katmai Diaper Bag | 16" x 15" x 5" | Yes | $249 |
| Original PRVKE | 17" x 11" x 6.5" | Yes | $184 |
| The City Backpack by MAHI | 16.5" x 17" x 8.5" | Yes | $200 |
| Mahi Vegan Cork Backpack | 17" x 14.5" x 5" | Yes | $190 |
| Bromen Anti Theft | 14" x 15" x 6" | No | $38.99 |
| Handoledercouk Laptop Backpack | 13" x 19" x 3" | Yes | $60 |
| Harber London | 15.7″ x 11″ x 1.7″ | Yes | $423 |
How and Where We Tested To Find The Best Leather Backpacks
To test out the top leather backpacks we got ahold of a whole bunch of them and tested them out. We gave them to various members of the team in different locations and climates across the world. They each had different needs from backpacking to commuting and weekend tripping, so we were able to see how each bag faired in different circumstances.
Packability
A backpack is designed to carry your gear, whether it's leather or not! So one of the main features we looked at was its packability, how it maximises its space and how well it allows effective packing. So, basically, we packed all the gear we wanted to carry in each style and size of the pack and analysed how well it went!
Not just that, but we looked at how easy each bag was to unpack too. I mean, it's all good having your gear in your pack but if it's a nightmare to keep getting access to, then it's not overly practical either. A good leather backpack will feel a breeze to use!
Weight and Comfort of Carrying
No one wants to be lugging around a super heavy and uncomfortable backpack, there's really no better way to ruin a trip! So on this list, we prioritised packs that are as light as possible whilst retaining comfortable features like the shoulder straps and back panel. Those that maximised carry comfort were awarded max TBB points.
Functionality
To test this out we, well, used the bag for its primary purpose … which in the case of the best leather backpacks for men or women, is a bit more broad than other specific packs. There are bags on this list that are more suited for carry-on travel, commuting or weekend breaks. So for each one, we were sure to test it against its intended use.
Aesthetics
When it comes to the best leather backpacks, let's be honest, looks are a pretty important factor! If you're shelling out for one of these bad boys you want it to be super stylish as well as practical. So we've also taken into consideration how each pack looks… call us shallow but admit it, ya'll wanna look sexy too!
Durability and Weatherproofing
The real beauty of leather is how durable and weather resistant it is, so this is an important factor when it came to picking out the absolute best.
In an ideal world, we'd have to budget to drop each pack from a plane and see how it faired up, but we both can't afford that and aren't that wasteful either. So instead we made sure to give each pack a good run out over the course of a few months, we paid particular attention to areas of wear such as straps, zips, corners and pressure points as well as the sewing and general construction quality.
Next up we looked at how waterproof each pack was by simply pouring over a pint or two of water and inspecting the insides of each bag!
FAQ about the Best Leather Backpacks
Still have some questions? No problem! We've listed and answered the most commonly asked questions below. Here's what people usually want to know:

Our GREATEST Travel Secrets…
Pop your email here & get the original Broke Backpacker Bible for FREE.
Summary – The Best Leather Backpacks
Whether you're heading to work, for a workout or a day in the woods, a leather backpack from this list will provide the boost you need to make the most of your days. Every bag on our list easily fits as carry-on luggage or in crowded subway scenarios.
Leather is a unique material, as it is always subtly shifting in shape. The bag you receive on day one won't look the same on day 3001 as the top-grain material starts to reflect where you take your bag.
Kodiak has been a leader in the leather industry for decades, so it should be no surprise to see their name pop up several times when discussing the best leather backpacks out there.
Whether you have storage needs small, medium, or large, Kodiak has you covered with the Katmai or the Kobuk.
If you don't want to shell out big bucks for your next leather backpack, Kattee's leather and canvas combination looks the part and can carry a heavy load.
No matter what backpack you choose, it's bound to help make your commutes, hikes, and adventures easier if your leather backpack comes from this list.
Let us know your favorite leather bag features in the comments below, and be sure to point out any other bags we may have missed on this leather backpack review.
---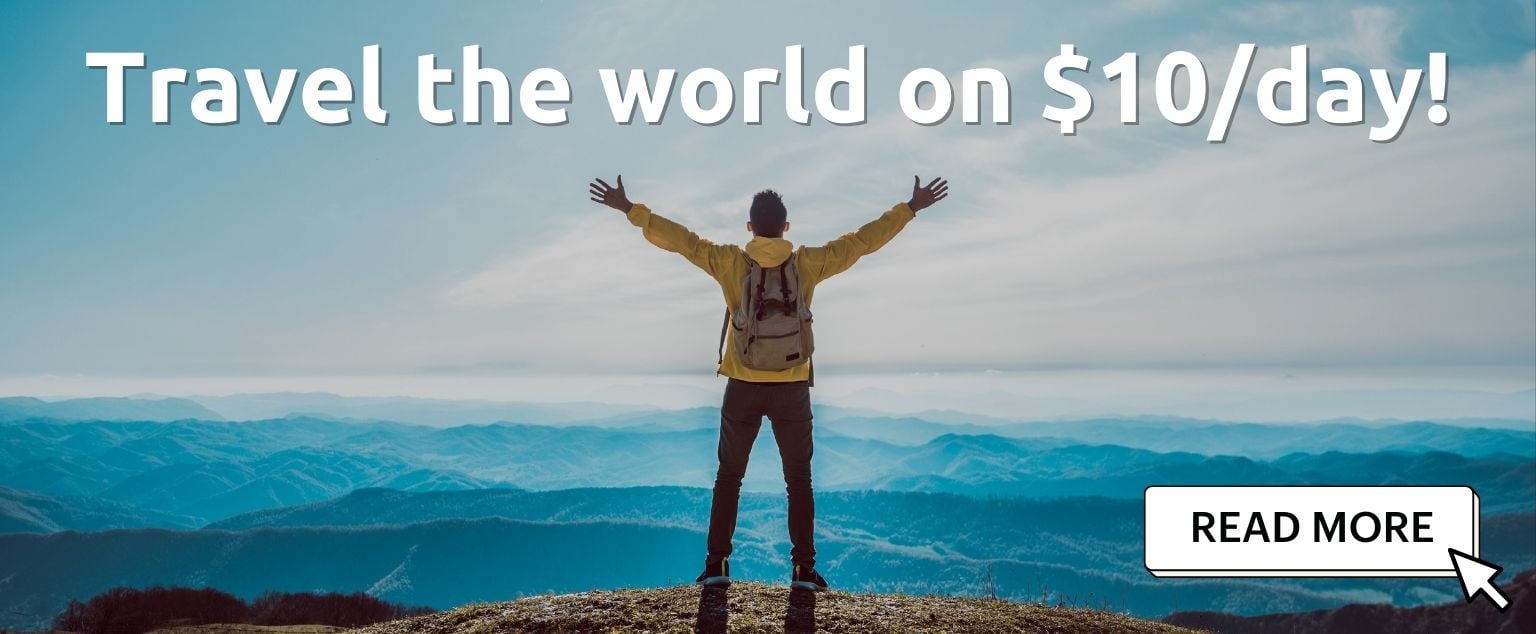 And for transparency's sake, please know that some of the links in our content are affiliate links. That means that if you book your accommodation, buy your gear, or sort your insurance through our link, we earn a small commission (at no extra cost to you). That said, we only link to the gear we trust and never recommend services we don't believe are up to scratch. Again, thank you!