The first step of budget travel is stuffing all of your bargain-basement clothes into a cheap backpack. Whether your travel day is across town or the Pacific, your bag will hold it together.
Not every trip requires icepick holders, ergonomic hidden wheels, and 17 container storage options that some high-end backpacks advertise to justify the high price. Sometimes all you need to get the job done is a hefty sack and a bus ticket. However, I want to take a moment to caution against going for the cheapest possible bag on the market.
There are loads of purchases where price is number one while traveling. Saving on street meats is worth the investment in off-brand Pepto Bismol, and a pair of fake Adidas slides will work the same in the shower as the real deal. In my humble opinion, backpacks are not one of those scenarios.
The longer you plan on being out of the house, the more you should consider spending on a backpack. When you're living out of a busted bag, it feels about the same as when the 1995 Ford Econoline you've been living in breaks down. You don't just lose your bag; you also lose hold of everything inside it.
That means you don't want to go too cheap and have your backpack give up halfway through a 5-leg layover that saves you $100. The bags we present to you aren't those bags. These cheap backpacks have proven themselves in mortal combat and can confidently carry your load for way less than some of the competition.
If you're comfortable with giving up a few convenience features and dealing with black hole main compartments, you can save hundreds without sacrificing quality. The best of the best cheap backpacks are the real deal. Let's take a closer look.
Quick Answers – These Are The Best Budget Backpacks
Best Cheap Backpacking Backpack
Best Cheap Backpacking Backpack
REI CoOp Trailbreak 60
Price (USD) > 149
Capacity (Litres) > 60
Best Use > Backcountry camping
Best Cheap Daypack
Best Cheap Daypack
Osprey Daylite
Price (USD) > 35
Capacity (Litres) > 13
Best Use > Daily Carry
Best Backpack Under $50
Best Backpack Under $50
REI CoOp Flash 18
Price (USD) > 40
Capacity (Litres) > 18
Best Use > Daily Carry
Best Cheap Womens Backpack
Best Cheap Womens Backpack
Cotopaxi Luzon 18
Price (USD) > 55
Capacity (Litres) > 18
Best Use > Daily Carry
Best Cheap Kids Backpack
Best Cheap Kids Backpack
REI Coop Tarn 18
Price (USD) > 44
Capacity (Litres) > 18
Best Use > 8-12 year old's
Best Cheap Carry On Backpack
Best Cheap Carry On Backpack
Matein Carry On
Price (USD) > 45
Capacity (Litres) > 40
Best Use > Beating security requirements
Best Cheap Leather Backpack
Best Cheap Duffel
Best Cheap Duffel
REI Coop Duffel Bag
Price (USD) > 34
Capacity (Litres) > 30
Best Use > To the gym and out of dodge
Best Cheap Branded Backpack
Best Cheap Branded Backpack
Osprey Tempest 40
Price (USD > 201
Capacity (Litres) > 40
Best Use > Backpacking
Best Cheap Hiking Backpack
Best Cheap Gym Bag
Best Cheap Gym Bag
Kuston Sports Gym Bag
Price (USD) > 24
Capacity (Litres) > 34
Best Use > Gym Tan Laundry
Cheap Backpacks For All Occasions
Much like when your uncle goes halfsies on two for one bloody mary's and then only pays for the free one, cheap is all relative. There are plenty of cheap yachts out there, nowhere near my price range. But we're broke backpackers, so without the backpacks, we'd just be broke. That means I can't afford to mess around with cheap packs that cut costs by cutting corners.  
While I am often an advocate for splurging on gear as crucial as a backpack, especially when I find a great deal on a used Osprey backpack, we tried to keep every pack on this list under $100 and even found some gems that will set you back less than $50.
With outdoor and travel gear, you get what you pay for, but this list represents the exceptions to that rule. The backpacks on our list are solid bags that can provide plenty of daily use or shorter hike versatility and still hold their own on international itineraries. 

Do You Want to Travel FOREVER??
Pop your email in below to get a FREE copy of 'How to Travel the World on $10 a Day!'.
Specs
Price (USD): 149
Capacity (Litres): 60
Best Use: Backcountry camping
Cheap gear can get very costly once the mileage starts adding up. You don't want to be 10 miles into a 20-mile trek before you realize your bag isn't up to the task. Luckily, you won't have to worry about much with this quality backpack. The Trailbreak line is one of REI's most affordable backpacking options, and they still managed to squeeze in plenty of quality. 
REI protects the pack with one of the best return policies in the business, so you can take your gear for a few test runs before you commit entirely to the purchase. Once you know the bag is for you, you can enjoy the stash pockets, comfortable carry of up to 35 lbs, and Bluesign-approved sustainable materials for years to come. 
REI has slipped a fantastic adjustable torso into most of their backpacking lines, meaning this bag can grow alongside your adventures and pass on to the next generation. While the Trailbreak might push the limits of the definition of cheap, it has everything you need to push your own outdoor boundaries while staying much lower than similarly practical bags. 
Specs
Price (USD): 35
Capacity (Litres): 13
Best Use: Daily Carry
Osprey doesn't make every pack solely for alpine summits. This incredibly affordable option from the undisputed champ of the travel bag brands market brings Osprey's signature quality into a lower tax bracket. The cheap backpack still comes with the company's signature all-mighty guarantee, which means for less than $40, you'll have a new bag for life. 
The daylite pack lacks certain features most high-performance Osprey bags incorporate, like hip pockets and beaver clips, but not every day needs such reinforcements. Plus, you'll still enjoy the Airscape backing that originally made Osprey bags breathe fresh air into the industry. 
This bag is lightweight and effective, perfect for commutes and carry-on. You'll be surprised by everything you can stuff inside the 300D recycled packcloth outer layer. Anytime you're headed out of the house for less than 12 hours, there's a good chance you can bring everything you'll need inside this beauty.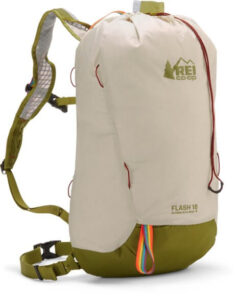 Specs
Price (USD): 40
Capacity (Litres): 18
Best Use: Daily Carry
Nobody does cheap like REI. The outdoor lifestyle mammoth has taken full advantage of its streamlined logistics system to crank out affordable hits that perform well above their price tag. 
The flash 18 takes things to a new level. They mix things up a bit over most modern bags by combining the comfortable carry of a backpack with the drawstring closures of a gym bag to help you squeeze the last few groceries in without forcing the zipper closed. 
Once you check out, sternum and hip straps help everything stay locked into place on the way home. While the bag may be a water bottle holder away from use on longer hikes, You'll find loads of clutch pockets and convenient storage options that will get you through a workday.  
Specs
Price (USD): 55
Capacity (Litres): 18
Best Use: Daily Carry
You don't have to sacrifice style to save money on your gear. Cotopaxi's lightweight pack reflects the colorful people of the region that birthed the brand with a signature palette that brightens up any ensemble. Every color on this pack del dia is made from recycled fabric to make you feel as good as it looks. 
Once you start to explore the interior, you'll quickly realize that this pack is more than just a pretty face. You'll find a boatload of storage between a large drawstring closure compartment and a stash spot perfect for the phone, wallet, and keys. There is even a sneaky space for a reservoir!
While it's got loads of quirks that take things up a notch, don't expect much more than a large sack with shoulder straps. You'll never be able to close the bag fully, which means it won't do you much good in a thunderstorm. Extreme conditions aren't what this bag is going for, and it serves an important niche as a casual, everyday carry bag.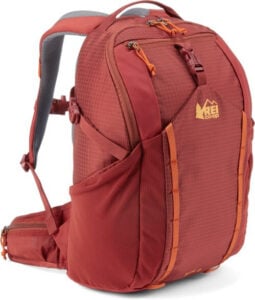 Specs
Price (USD): 44
Capacity (Litres): 18
Best Use: 8-12 year old's
Your kids will find about 100 different uses for the hip belts by the end of their first day hike. After a few nights sleeping under the stars and heading off with this bag on your life, you'll have a lifetime hiker on your hands, even if they don't quite get it yet. 
The Tarn is a perfect introductory bag for carrying your life on your shoulders, with all sorts of comfy padding that protects your kid's shoulders and plenty of space for the essentials – as long as dad still packs the tent poles. The Tarn even comes with a durable water repellant finish that will help keep whining down to a minimum in a rainstorm. 
Buying your kids the right backpacking equipment is the best way to avoid carrying their gear for them halfway through the hike. This snug-fitting, lightweight backpack will encourage any young hiker to take their wanderings up a notch. 
Best Cheap Carry On Backpack – Matein Carry On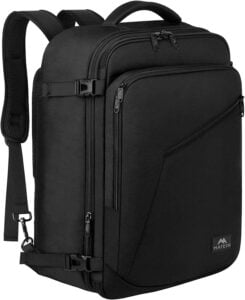 Specs
Price (USD): 45
Capacity (Litres): 40
Best Use: Beating security requirements
Broke backpackers have boiled down TSA restrictions and made packing for carry-on travel a science. Hell no, I will not be paying exorbitant checked baggage fees only for the airlines to lose all my shit. The number that travelers constantly point to as the perfect line between storability and legality is 40 Liters. 
This lux weekender bag makes the most out of every one thanks to the expandable capacity and full zip opening. The extra storage capabilities give the backpack a few essential suitcase qualities that up the ante. You can cycle between duffel, briefcase, and genuine backpack carry options to grab hold of things exactly how you feel today. 
If the Matein Carry on backpack works as advertised, it will be the best deal in the business. You'll have to approach any unknown company making big promises on Amazon with a speck of caution, but the potential of this bag and the affordable price make it more than worth the gamble. 
The best present of all… is CONVENIENCE!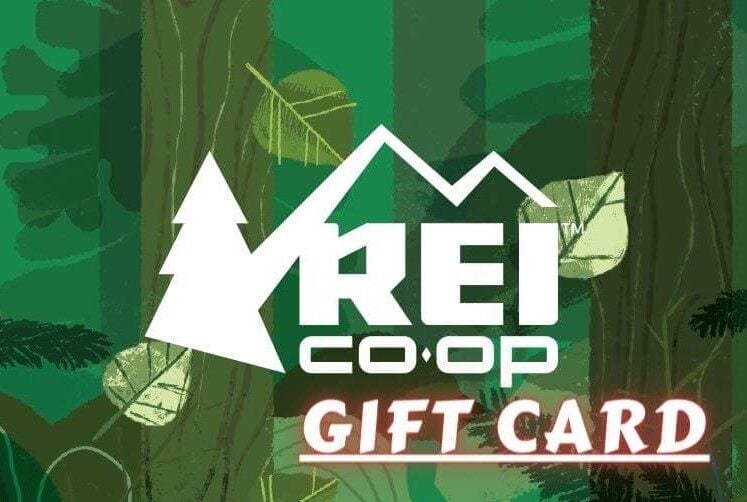 Now, you could spend a fat chunk of $$$ on the WRONG present for someone. Wrong size hiking boots, wrong fit backpack, wrong shape sleeping bag… As any adventurer will tell you, gear is a personal choice.
So give the adventurer in your life the gift of convenience: buy them an REI Co-op gift card! REI is The Broke Backpacker's retailer of choice for ALL things outdoors, and an REI gift card is the perfect present you can buy from them. And then you won't have to keep the receipt. 😉
Buy on REI!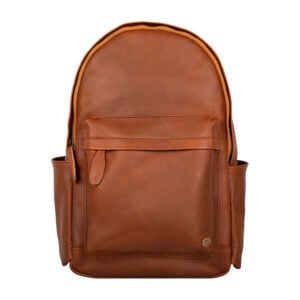 Specs
Price (USD): 200
Capacity (Litres): N/A
Best Use: Carry-on
Let me save you some time. Any leather backpack advertised for much less than this one is almost certainly not made of genuine leather. There is no way to break leather down to prices similar to the other cheap backpacks on our list. Still, in return for an extra initial investment, you'll get your hands on some of the longest-lasting natural materials on earth. 
Mahi has done a lot to keep the price down in this cheap leather backpack, all without letting go of critical features that make or break your bag. Their latest model includes a laptop compartment, fresh water bottle holders, and a strap that will help the bag quickly hook onto larger pieces of luggage. 
Their improvements came without a massive increase in cost and elevated the bag from a great carry-on option to an everyday carry option equally capable during the commute, at the gym, or on the go. 
Specs
Price (USD): 34
Capacity (Litres): 30
Best Use: To the gym and out of dodge
If you need a bag to throw a week's clothing into and need it now, go for this duffel and get packing. The lightweight, coated nylon embraces a classic duffel material and brings it to the new year. Thanks to the reinforced material, you could drag these duffels miles through the desert, even stuffed full of $7 million loads of convenient pockets and carry options. 
This ain't your daddy's boot camp duffel. The REI co-op elected to add more storage options than the typical black holes occupying this price point to make packing and carrying easier. You can hold it in briefcase style and leave the removable shoulder straps at home, while a long zippered pocket keeps the papers where you need them. 
Once you unpack, you can condense the duffel down and stow it inside yourself. It all adds up to an impressive option, especially considering the price.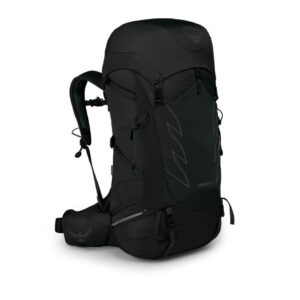 Price (USD): 201
Capacity (Litres): 40
Best Use: Backpacking
Whether it's seven days before you see a bathroom again or seven months before you see home, this Osprey bag is a safe choice. The Tempest is a backcountry bag first, evidenced by the body fitting comfort and load balance. Its median size range, storage options, and high-quality water-repellent build also make it an excellent choice for wandering through new countries.  
Main compartments of backpacking specialists this size can start to feel like black holes, but Osprey combats that through three separate zippered openings. Both sides of the large lids also serve as easy access pockets perfect for particulars. The bag's well-thought-out hip and sternum straps are the best at putting the weight exactly where you want.  
There are certainly cheaper bags on the market, but sometimes it's worth paying extra for peace of mind. At forty liters, you can fit this bag as a carry-on and still pack enough gear for a multi-day hike with some room to spare.
Specs
Price (USD): 70
Capacity (Litres): 25
Best Use: Day Trips
Here we have a bag truly built for every day. Twenty-five liters may be slightly smaller than we'd like for overnight backpacking trips, but any day spent under the sun could use the help of this reliable gear. The outstanding performance combines with a subtle style to make it a superb safe gift choice. 
Our favorite affordable hiking backpack added a splash of sustainability and avoided reinventing the industry on its way to releasing our favorite cheap hiking backpack. An earthy sandstorm finish looks good on any pair of shoulders. 
The 600D recycled polyester provides extreme durability without harming the planet, and the high fit carries your gear without harming your low back. Tallac includes a laptop compartment and front stash pocket that opens up this bag to commutes by concrete and through the jungle.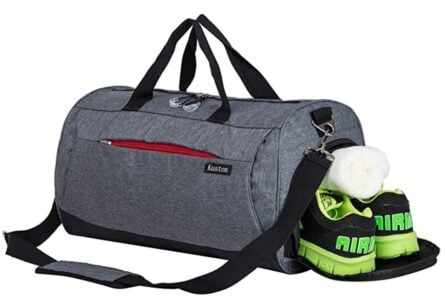 Specs
Price (USD): 24
Capacity (Litres): 34
Best Use: Gym Tan Laundry
You won't find a better ratio of capacity to price on the market. This cheap gym bag even found space for a shoe compartment without driving up costs to provide a complete daily carry option. I wouldn't expect the pack to last the decade, but it represents a great entry-level gym bag that will serve admirably as long as it holds. 
The makers of this bag clearly couldn't afford to hire an editor for their Amazon listing, but at 24 bucks, I don't really care. It's the online equivalent of browsing through Chinatown for a pair of fake ray bans. You have no idea how long it will last, but every extra day you get out of it, you'll be a bit more blown away by how cheap it was. 

Unlock the The Broke Backpacker's GREATEST Travel Secrets!
You pop your email here, and we promise to send you only travel content that's actually relevant — sounds like a pretty good deal to us!
Final Thoughts On The Best Cheap Backpacks
That's about all we've got the budget for today. As you can tell by the end of this list, the fall-off is pretty drastic. After a few stellar backpacks, the cheap backpack market starts to get funky, fast.   
Ultimately the best budget bag for you will depend on the agenda. Ideally, we'd all have a few options for different scenarios, but a few cheap backpacks will quickly cost more than an expensive one.
Shopping for an everyday carry can be a great place to cut costs, especially if you're looking for something to haul from the house to the car, to the gym, and back again. Things start getting a bit more serious when you're heading into the woods to set up shop. 
You'll need to find a bag that can spread the load out to get to camp without strain and one that doesn't pack too full. Shop with the mindset thinking that if you have space, you'll fill it. Everybody buys a 60 Liter bag thinking they'll never fill it up, but nobody makes it through an entire trip without struggling to squish in their raincoat before the flight home. 
And finally, remember that there are no rules. As long as you don't mind a bit of struggle, you can do whatever the hell you want with any one of these bags on your shoulders. 
---
Thanks for reading – that was fun! 😀
We bring you epic FREE content!
Find out how YOU can help support us.
We're a big site with a big team and this job isn't always easy. But we do it because we love it – we love providing epic and free content. We love the knowledge that our content keeps you adventuring. We don't ask for money, but if you'd like to find out how you can help the site in more organic ways, click the button below.
Thank you for your support 🙂
---
Bye for now, but not forever!
If you want MORE top-tier Broke Backpacker content like this, then sign up for our weekly newsletter below to get the latest and greatest!
And for transparency's sake, please know that some of the links in our content are affiliate links. That means that if you book your accommodation, buy your gear, or sort your insurance through our link, we earn a small commission (at no extra cost to you). That said, we only link to the gear we trust and never recommend services we don't believe are up to scratch. Again, thank you!