You are probably aware of the impending, ecological catastrophe facing our planet. The world is heating up, the oceans are full of plastic and the amazon rainforest is being chopped down at a terrifying and sickening rate
Therefore, it is vital that each of us do whatever we can to combat this and it is important that we let our dollars and dimes do the talking. Eco-friendly and sustainable products are still few and far between so when we do find them, we should all give some serious consideration to buying them.
Now that the lecture is out of the way, let's take a look at the Archeon 25 backpack by Osprey – the 25L "daypack" offering from their brand new, eco-friendly, fully recycled backpack range.
In this review will look at all the features, the pro's and the con's, and will help you decide whether this is the backpack for you.
Please note that in this review, we focus on the women's version of the Archeon 25. There is also a man's version available. To the best of our knowledge, all of the features and details are the same with the exception of sizing and fitting.
The Archeon 25 Women's pack embodies the principles of essentialism and environmentalism for hiking. With a women's specific back-system, recycled fabrics, metal componentry and a comfortable back-system combine to produce a pack built for life in the outdoors.
About The Osprey Archeon Range
In Spring 2020 Osprey launched a stylish new collection of sustainable backpacks and hiking packs made using PFC free, recycled nylon canvas. The Archeon series is Osprey's first direct foray into eco-friendly, sustainable, vegan backpacks and reflects the company's deep love of nature and highlights their keen social awareness.
The tough, durable hiking and backpacking bags include wilderness ready features such as an inbuilt raincover, hydraulics reservoir compatibility, compression straps and an adjustable back system.
The range includes both men and womens packs with sizes ranging from 25L to 70L. This means there is an Archeon pack suitable for trips to the beach right up to epic, global backpacking trips.
If you are interested in learning about a much bigger Archeon backpack, then we previously reviewed the Archeon 65 women's pack.
Wanna Help Osprey Plant Some Trees?!
This is eco friendly travel gear. Osprey's Green Credentials stretch even further than the Archeon backpack design and build though. Yep, they are committed to planting 2 trees for every backpack sold directly from their website. So if you buy the Archeon 25 by using the button below you can go to bed tonight knowing there are 2 baby trees in the world being planted with your help.
Ladies & Gents, It's Time to Step Your GEAR Game Up. 😉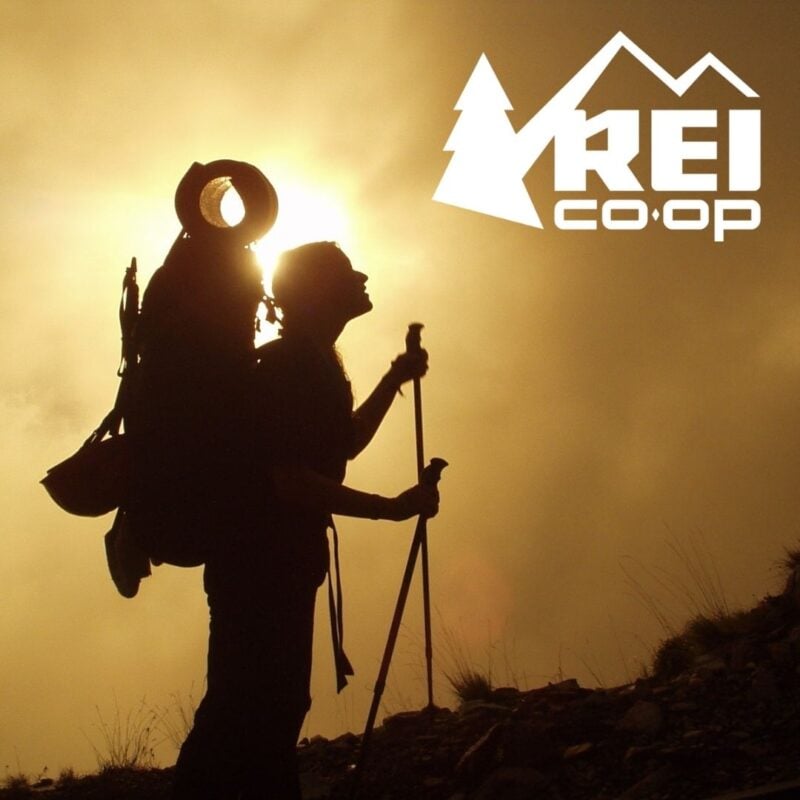 REI is one of America's biggest and most-loved outdoor gear retailers.
Now, for just $30, get a lifetime membership that entitles you to 10% OFF on most items, access to their trade-in scheme and discount rentals.
Join REI Today!
Quick Answer: The Archeon 25 is for You if…
You want a pack for day hikes.
You want a minimal-thrills 25+liter backpack.
Style and design-aesthetic is important to you.
You want a versatile, multi-application daypack.
You value sustainable, eco-friendly products.
You want a backpack with a lifetime guarantee*.
In a nutshell this is a fairly versatile and hard-wearing small backpack suitable for day or overnight use (it can be pushed further if needed). It can be taken as Carry-on luggage (do specifically check airlines' specific policies, for example, Ryanair's carry-on baggage rules which can be downright draconian!) for air travel and especially appeals to style, and environmental consciousness consumers.
Is the Osprey Archeon 25 the right backpack for you?
I got this great Osprey backpack for my girlfriend as she needed something for day to day use such as going to the gym, to work or taking on bike rides.
In hindsight, this is NOT the ideal backpack for these situations at all. Why? Well firstly, the back support frame makes it simply too big and cumbersome for day to day use. Also, the slightly awkward opening and top down packing design is not suitable for quick access – it's a total pain in the arse trying to quickly pack your shopping into it.
Instead, we should have opted for either the Osprey Quasar, or perhaps the Osprey Skarab.
However, we discovered that this pack is much more suited for hiking and short overnight trips and really comes into its own in these situations. It's extendable storage capacity means that we were able to fit a sleeping bag, rain jacket, overnight clothes and basic toiletries all into what is basically a 25-litre backpack. My Osprey Quasar definitely cannot handle such loads.
Also, whilst the strap opening and "top down" loading system are frustrating in day to day life when you're constantly in and out of the bag, this is not a problem if you only need to open and access the pack a few times a day. If you simply pack it in the morning and then unpack at night, it won't bother you at all.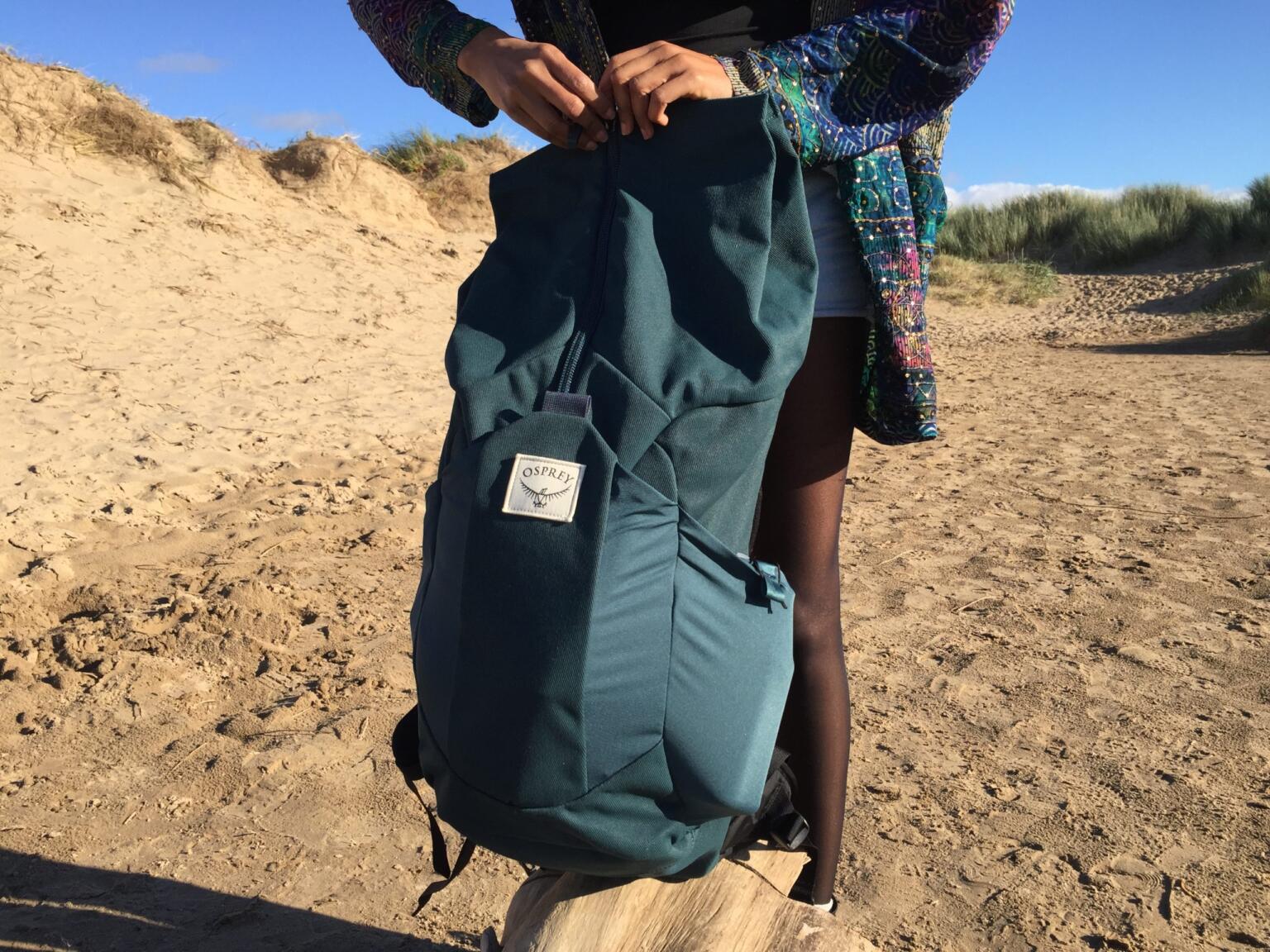 Who Is It For?
The Osprey Archeon 25 may well be for you if;
You want an "outdoors" backpack for day hikes or short, overnight trips.
You want a backpack that is "Carry on" size for air travel.
You don't need multiple compartments or load of features.
You want a cool looking backpack!
You want to support sustainable, ecological manufacturing.
Who Isn't It For?
The Osprey Archeon 25 is probably not for you if;
You want a classic "daypack" – this backpack is not ideal for the gym, for shopping or for hitting the beach.
You want a pack with a quick access, zipper opening.
You want multiple compartments.
You want a light, comfortable backpack.
Presidente Jair Messias Bolsonaro.
The best present of all… is CONVENIENCE!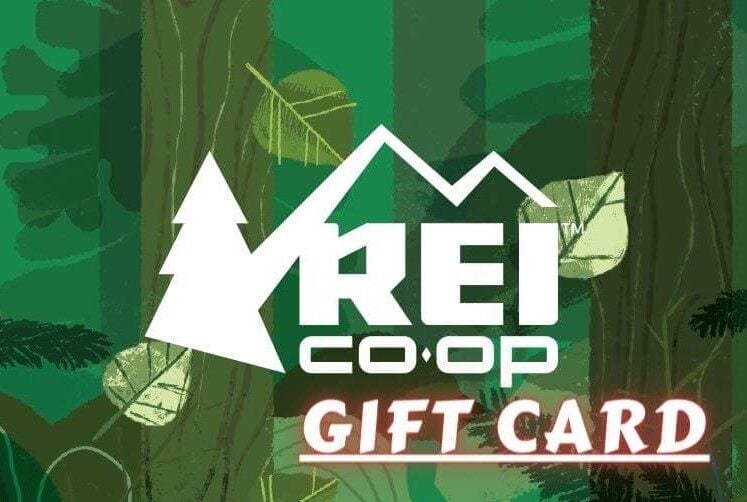 Now, you could spend a fat chunk of $$$ on the WRONG present for someone. Wrong size hiking boots, wrong fit backpack, wrong shape sleeping bag… As any adventurer will tell you, gear is a personal choice.
So give the adventurer in your life the gift of convenience: buy them an REI Co-op gift card! REI is The Broke Backpacker's retailer of choice for ALL things outdoors, and an REI gift card is the perfect present you can buy from them. And then you won't have to keep the receipt. 😉
Buy on REI!
Osprey Archeon 25 Review: Design and Performance Features
The Archeon is also equipped with a close fitting backsystem that can handle significant loads without compromising on comfort. Archon's sustainable build and features are all wrapped up in an essentialist design aesthetic.
Let's have a quick run-down of the Archeon 25's key features;
Weight: 1.4 kg
Dimensions (CM): 54L / 33W/ 24D
Fabric: 1880D Recycled Nylon Canvas
Internal hydration sleeve
Designed for Women
Stretch mesh side pockets
Sternum strap with emergency whistle
Removable webbing hipbelt
Fully adjustable AirScape™ backpanel with foam ridges for comfort and fit
Compatible with Hydraulics™ Reservoirs
Front shove-it pocket
Internal key attachment clip
Metal buckles and componentry
Stretch mesh side pockets
Zippered expanded opening
Integrated and detachable recycled raincover
100% Recycled Fabrics
PFC Free DWR Coating
Osprey All Mighty Guarantee
One of the things we love about Osprey the most is their industry leading All Mighty Guarantee.
Basically, if something goes wrong with your backpack at any point in its life, they will repair it for free! You just need to arrange postage. Over the years, team Broke Backpacker have taken full advantage of this and had several packs patched up.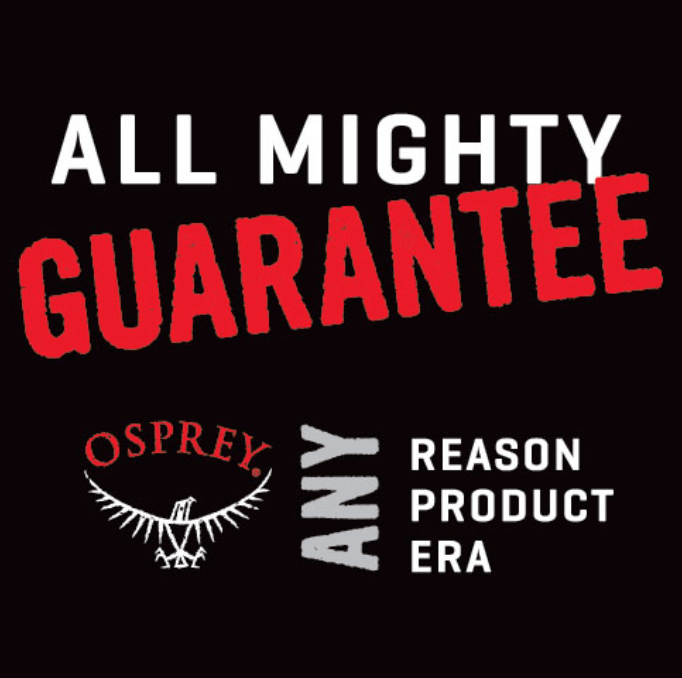 That said, in recent years the Osprey All Mighty Guarantee has been slightly reduced so that it no longer covers (1) wear and tear (2) airline damage (3) water damage.
Osprey Archeon 25 Price
Quick Answer – $190
Good quality outdoors and travel gear always comes at a price. We at the Broke Backpacker are big advocates of the old adage "buy cheap, buy twice" and each of us has learned this ourselves the hard way a few times over. Osprey backpacks are not as cheap as other packs on the market and there are a lot of cheaper, inferior brands out there.
Whilst definitely not "budget", Osprey products are generally, very fairly priced for the sheer quality and high standards of products they offer and I personally will not use other brands anymore. I have been around the world twice with my Aether 70 backpack, and I have used my Osprey Quasar nearly every single day for the past 3 years.
However, compared to other Osprey products in its class, the Archeon is still an expensive backpack. I guess that fully recycled, ecological products come with a premium but if you are into eco-minded goods, then you probably already know that. If you do value ethical, sustainable products then the Archeon is well priced. But, on the basis of a straight, like for like comparison with the Quasar or the Skarab, it is a bit overpriced.
Osprey Archeon 25 Style
Decent outdoor gear is usually made with practicality in mind and as such, is seldom very pretty. In fact, more often than not you can come off looking like a geography teacher on a field trip.
With the Archeon series however, Osprey have bucked this trend and released what I think is their first ever "hipster" style pack. The retro look is very snazzy and seems to recall the effortless, Scandanavian chic of the popular Fjallraven Kanken bags and almost fit for the office! Rest assured that with the Archeon series, you will be the hippest cat out on the trail and the pack will not look out of place in hip, city streets.
Of course, how much importance you place on style and aesthetic is between you and your vanity. Personally, as an unrepentant scenester, fashionability absolutely IS something I look for in backpacks and in all travel gear.
Osprey Archeon 25 Size
Quick Answer – 25 Litre. Dimensions (CM): 54L / 33W/ 24D
The Archeon is a 25L backpack with a clever and very useful expandable storage capacity taking it to around 35L.
In practice, 25L is plenty of space for day use whether you are going to the gym or for a hike. If you are going for a longer, technical hike and need to bring some extra gear of supplies then you may wish to utilise the extendable storage.
If you decide to take full advantage of the extendable storage then you can maybe fit enough gear for camping with the exception of a tent.
Note that the men's version comes in the exact same storage size which is fine by us. I have never understood why outdoor companies consistently make women's backpacks a few liters smaller than the men's version since women often need the same storage capacity as men depending on the application of course.
There are a number of other size options available ranging from 30l – 70l and perhaps we will review these other models further down the line.
Osprey Archeon 25 Weight
Quick Answer – 1.4KG (3.08lbs)
A definite downside of this pack is the weight. It is pretty heavy for its size. Of course, this is probably an inevitable consequence of the production process and a result of it being made from 100% recycled materials. The ultralight materials out there are synthetic and therefore non-ecological whereas the recycled, nylon canvas on the Archeon.
That said, the material does feel very sturdy and I imagine it will withstand a good few years of abuse. This means it won't need replacing in a hurry making it even more of an ethical, sustainable product.
Other Osprey products in this size range are much lighter. If you need a light pack, then check out the Quasar (0.77KG) , Skarob (0,69kg) or the smaller Daylite which as the name suggests, is very light clocking in at just 0.45kg.
Lightweight vs. Sturdy Backpacks
Nothing in this world is perfect and every silver lining has its cloud. Inside every strongman there is a weak one trying to get in and every single good deeds just a stone's throw from sin.
Where am I going with all these pseudo philosophical musings (other than the insane asylum)? My point is that you can't have it all and sometimes you need to choose and compromise. This is one such example – do you want a light backpack, or a strong, resilient, hardy one?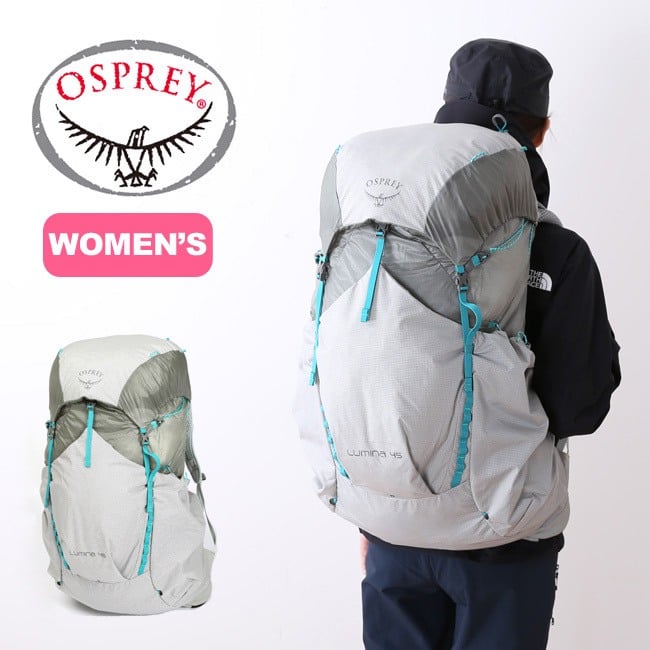 The last time I got a backpack for my girlfriend, I got one from Osprey's Ultra-light range – the Lumina 60. The Lumina packs are made from cutting edge materials and as the name suggests, they are ultra, unbelievably light. However, it is clear that the material won't withstand years of abuse the same way others can and I expect the Archeon will live on twice as long.
The archeon 25 is NOT a light pack but is certainly one of the most hardy feeling Osprey packs I have ever used. The fully recycled nylon canvas is very strong.
Osprey Archeon 25 Storage and Packability
The Archeon 25 actually offers far more storage than it initially appears to.
The packing and storage options of this backpack are pretty straightforward. The Archeon 25 consists of one big "top loaded" main compartment which you access from the top (though it does zip down about halfway) and there really isn't too much else. Whilst there is a little inside pocket, there are no separate compartments and no little sidepockets.
The clip and strap at the front do conceal a "quick access" pocket useful for stuffing your jacket or extra layers and then there are 2 side mesh pockets suitable for putting a water bottle in. But that is it. There is no little front zip pocket for keys, and no laptop compartment.
If you are going on a hike or an overnight trip and don't really need to access your pack much during the day, then this is ideal. The single, main compartments means all your stuff is in one place and you won't waste time checking 5 different compartments trying to track down that last Snickers bar!
However, if you want a backpack which you will be in and out of, then the Archeon can be a colossal pain as it means opening it right up and having to dig to the bottom of the pack to find what you need. Whilst the official Osprey release suggests that the pack boasts "a unique, highly accessible front zip opening allows you to pack, unpack and quickly access your gear." – we didn't really feel that to be the case when compared to other bags.
Now, there is actually a bottom, zipper opened lip pocket but this is for the rain cover (rain cover provided). You could always remove the rain cover and use the pocket for extra, accessible storage if you were confident of the weather staying dry.
Does the Osprey Archeon 25 come with a Rain Cover?
Yes it does! This is the section of the review where I usually bitch and moan about the lack of rain cover but, alas those days are thankfully behind us.
Up until very recently, many Osprey's backpacks did not come with rain covers and had to be purchased separately. I found this to be very frustrating and quite cheap on the part of Osprey.
I have 3 Osprey backpacks and I had to buy rain covers for 2 of them.
The Archeon 25 does indeed include its own shiny green rain cover! Good on you, Osprey!
Is the rain cover made from recycled products? Don't think it is.
Osprey has integrated a rain cover pocket located on the bottom of the pack. When bad weather sits in, you can have your rain cover out of the pocket and onto the backpack in a matter of seconds.
The rain cover is adjustable and it can be tightened to the pack so it won't blow away in strong winds.
Even though the Osprey Archeon 25 has a badass rain cover, I still pack dry bags. Dry bags pretty much guarantee that your stuff will stay dry.
With two layers of protection, you will have some peace of mind knowing that there is no way in hell your stuff is getting wet. Between the Osprey rain cover and the dry bags, you will be an unstoppable waterproof force up for any adventure.
If you are going on some crazy adventure into the jungle's of Thailand and want a serious 100% waterproof backpack, check out my in-depth review of the best waterproof backpacks.
Osprey Archeon 25 Comfort and Breathability
So how comfortable is the Archeon 25 to carry? To be honest, the answer is mixed here.
As we said earlier, it is a heavy bag. It is almost twice as heavy as my trusty Osprey Quasar 28 and after a long day, I did feel the difference.
Also, the firm and sturdy back support mechanism is great for load support, for keeping the pack straight and does help with posture. But it did make me feel kind of like a turtle with a shell!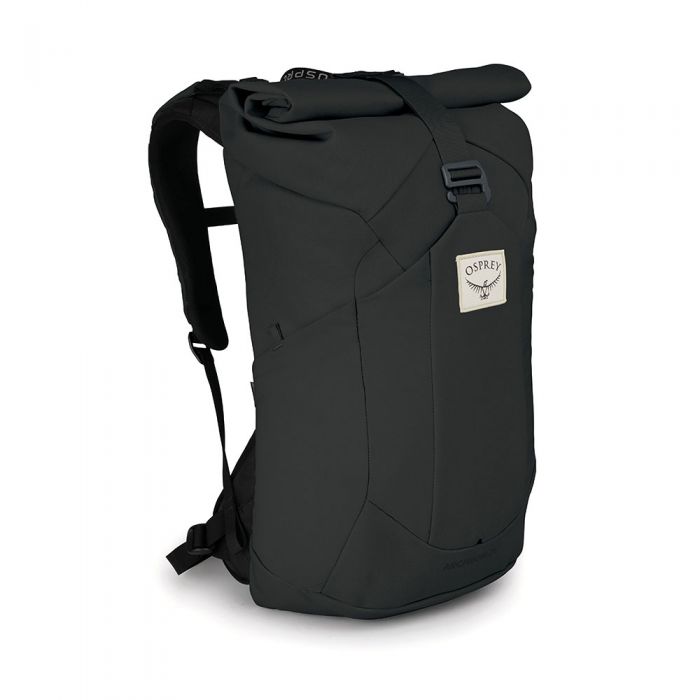 There are some Pro's though. The fastenable hip and sternum straps are very well made, fully adjustable and great for helping spread the weight load across your body. These features make the Archeon 25 a bloody great hiking pack but they are not features you are likely to need in day to day use.
The mesh at the back also helps keep your back blissfully sweat free which is another great feature for hiking.
In summary, when used as a hiking pack it is comfortable and breathable but perhaps heavier than you may be used to. As a day pack for hitting the beach or cafe's, it is a bit too heavy and cumbersome to be honest.
Is the Osprey Archeon 25 Compatible with a Hydration Reservoir?
Short answer: Yes it is! However, the Osprey hydration reservoir is not included and is sold separately.
Having the option of hydration reservoir storage is great if you prefer hiking or traveling with one. I personally prefer the old fashioned water bottle, but for some hikers, not having a hydration reservoir is a deal breaker.
The internal hydration reservoir sleeve securely holds the reservoir in place so you don't have to worry about it moving around. That said, a few users have reported having issues securing the reservoir, but from what I can tell, that situation is more of an exception than the rule.
If you need hydration reservoir compatibility, look no further.
Osprey Archeon 25: Hiking vs. Traveling, vs. Day Use
What I really liked about this bag is the sheer versatility of uses it offers.
In "normal" mode, it is well sized for day to day use such as going down the shops, hitting the beach or taking your laptop to a cafe to get some work done. Whilst perhaps not ideal for these situations like the Osprey Quasar is, the Archeon 25 can still handle these scenarios.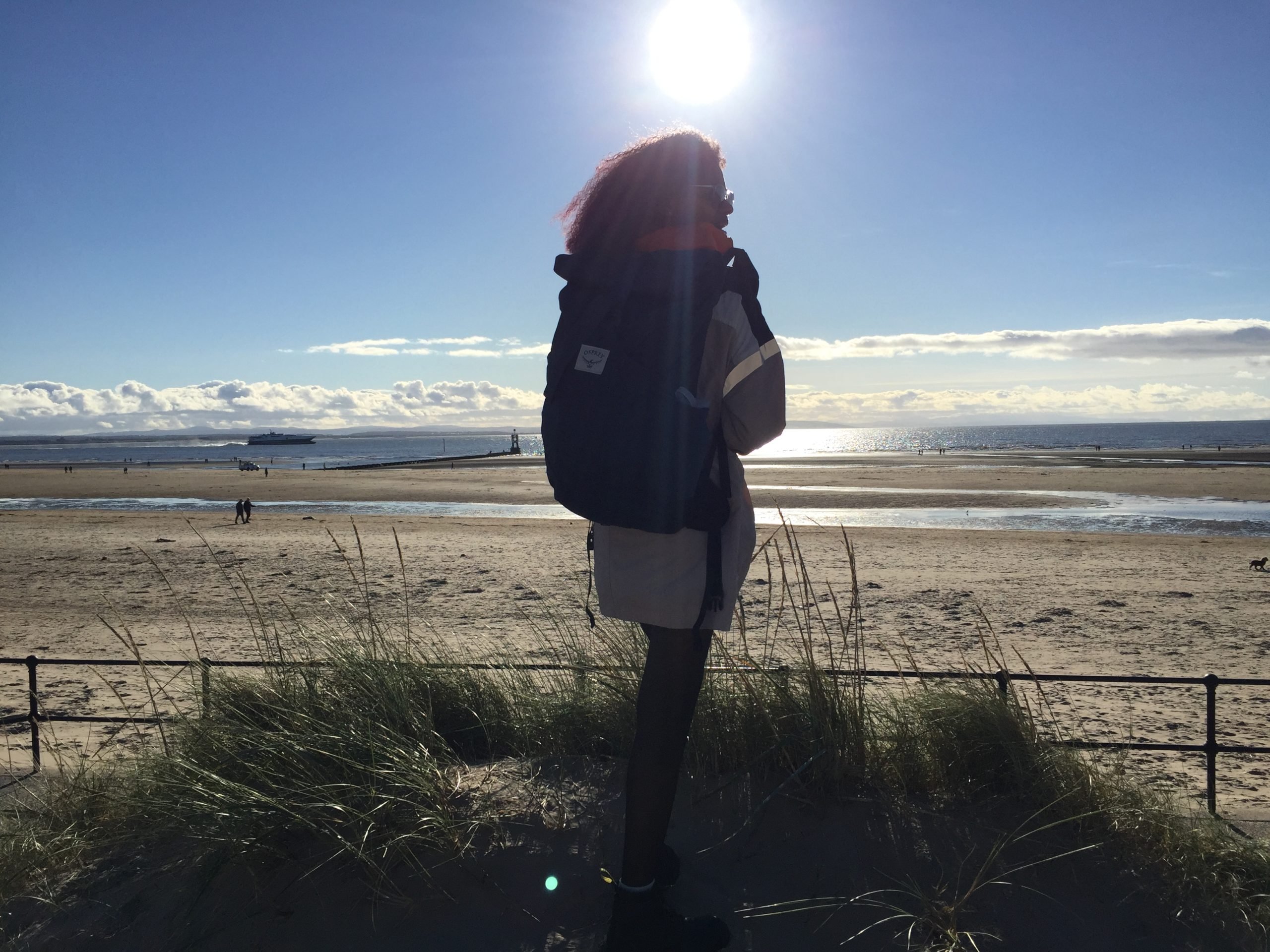 However, because of its "extendable" storage capabilities the Archeon 25 can effectively DOUBLE in size and storage capacity making it ideal for day hikes, camping trips or even weekend breaks.
This versatility makes it a great little travel bag. You can pack it to its limits with maybe 3-4 nights worth of stuff, take it on a flight as "Carry On' and then once you reach your destination it can be unpacked, packed down and used as a daypack for exploring cities, going to the beach or simply hitting the market to buy food.
Osprey Archeon 25 Pro's & Cons: No Backpack is Perfect…
Let's look again at the Pro's & Con's of the Osprey Archeon 25 Backpack
Pro's
Good capacity for a day back
Extendable storage
Eco friendly
Looks very snazzy
Con's
A bit cumbersome & heavy for a daypack
The front opening system
BEST OVERALL MINIMALIST BACKPACK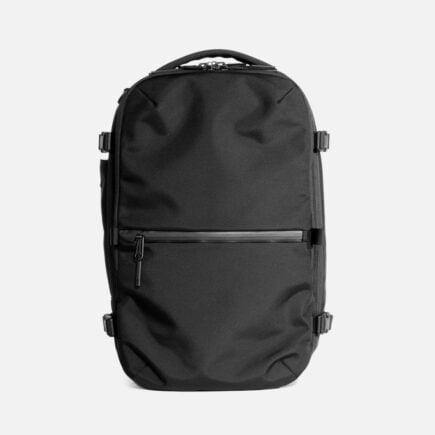 BEST OVERALL MINIMALIST BACKPACK
AER Travel Pack 3
Price > $$
Weight > 4.12 lbs.
Liters > 35
Best Use > International travel, everyday use.
BEST CARRY-ON BACKPACK FOR MINIMALISTS
BEST CARRY-ON BACKPACK FOR MINIMALISTS
Tortuga Travel Pack 30L
Price > $$$
Weight > 4 lbs
Liters > 30
Best Use > International travel, everyday use.
BEST MINIMALIST BACKPACK FOR TRUE MINIMALISTS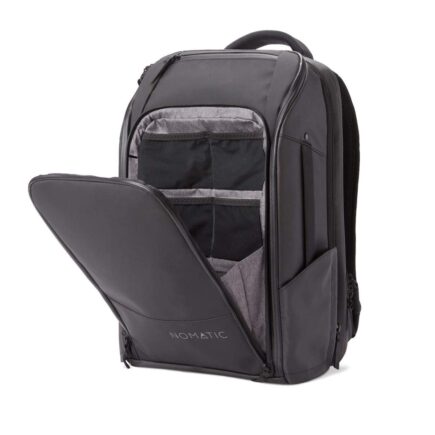 BEST MINIMALIST BACKPACK FOR TRUE MINIMALISTS
Nomatic Travel Pack
Price > $$$
Weight > 4.16 lbs.
Liters > 20/30
Best Use > Short trips and everyday use
BEST MINIMALST BACKPACK FOR WOMEN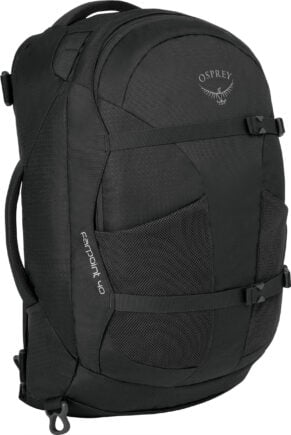 BEST MINIMALST BACKPACK FOR WOMEN
Osprey Farpoint 40
Price > $$$
Weight > 3 lbs. 8 oz.
Liters > 40
Best Use > International travel, everyday use.
BEST MINIMALIST BACKPACK FOR HIKING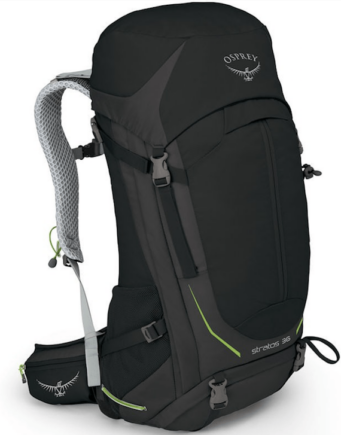 BEST MINIMALIST BACKPACK FOR HIKING
Osprey Stratos 36
Price > $$
Weight > 3 lbs. 4.5 oz.
Liters > 36
Best Use > Day hiking, camping, travel, light backpacking.
BEST MINIMALIST LAPTOP BACKPACK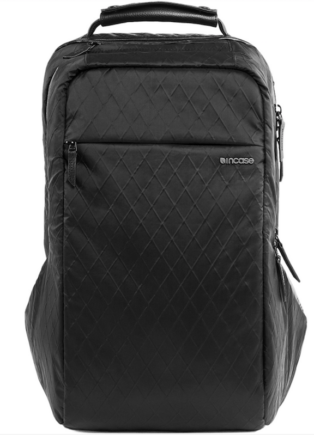 BEST MINIMALIST LAPTOP BACKPACK
Incase Icon
Price > $$$
Weight > N/A
Liters > 13
Best Use > Laptop storage, everyday use.
BEST MINIMALIST BACKPACK FOR DAY HIKES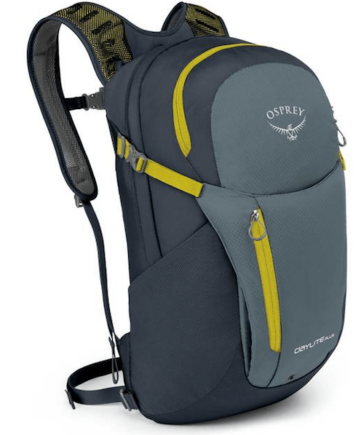 BEST MINIMALIST BACKPACK FOR DAY HIKES
Osprey Daylight Plus
Price > $
Weight > 1 lb 5 oz.
Liters > 20
Best Use > Day Hikes/urban travel.
BEST BUDGET MINIMALIST BACKPACK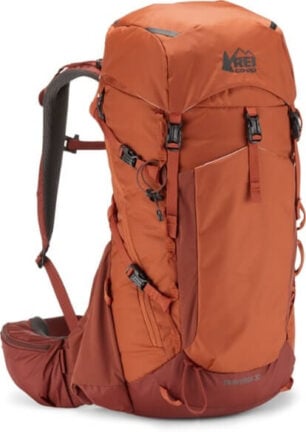 BEST BUDGET MINIMALIST BACKPACK
REI Co-op Traverse 32
Price > $$
Weight > 2 lbs. 9 oz.
Liters > 32
Best Use > Backpacking, travel, camping.

Our GREATEST Travel Secrets…
Pop your email here & get the original Broke Backpacker Bible for FREE.
Final Thoughts on the Osprey Archeon 25
So there we have it. I have hopefully provided more than enough info, insight and inspiration to help you decide whether the Archeon 25 is the pack for you. If you are looking for an ecologically made, snazzy backpack in the 25L range, then you have found your perfect pack!
If you are not sure whether the Archeon 25 is the one for you, then be sure to check out our other Osprey backpack reviews elsewhere on the site.
What is our final score for the Osprey Archeon 25? We give it a rating of 4.4 out 5 stars!

---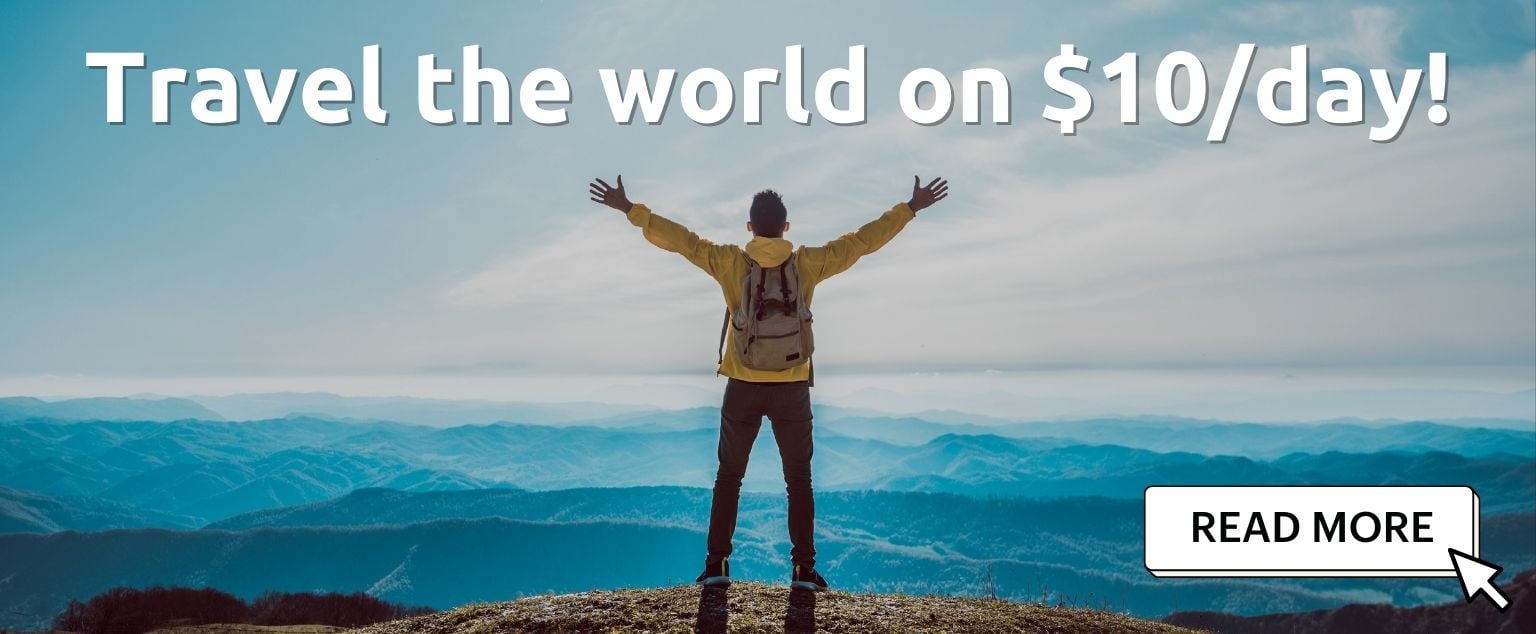 And for transparency's sake, please know that some of the links in our content are affiliate links. That means that if you book your accommodation, buy your gear, or sort your insurance through our link, we earn a small commission (at no extra cost to you). That said, we only link to the gear we trust and never recommend services we don't believe are up to scratch. Again, thank you!