Welcome to my NO-FRILLS Osprey Lumina 60 Review.
The latest installment in our extensive & comprehensive series of Osprey backpack reviews is the Lumina 60 women's pack. In this review, we will take a look at the Lumina 60 and assess its key features, strengths & its weakness, durability, and ultimately its value for money.
This review should paint a detailed picture of the Lumina's BEST uses; I discuss the specific type of trips Lumina 60 works for.
By the end of this Osprey Lumina 60 review, you should know if this bag is for you or not. If it isn't right backpack for you, I'll point you in the direction of a better-suited pack.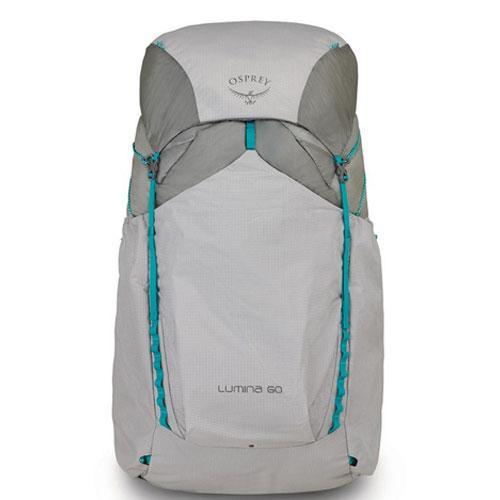 Before we get into the meat of this review, there are three important things you need to know about the Lumina 60.
One, this is a woman's pack designed specifically for women body types. If you're a dude and got lost in the reviews, check out the Osprey Volt 60, a similar light weight hiking backpack.
Secondly, at 60-liters, this pack is in the mid to large size spectrum. 60-liters is enough volume for a multi-month backpacking trip. It's also the right size for an extended hiking trip (about 3-7 days depending on how much warm clothing, food, and water – if any – you need to carry).
Finally, this might just be one of the LIGHTEST hiking backpacks on the market. While this is clearly awesome, we wanted to know what we are sacrificing for weight.
Is this pack still comfortable and functional? And most importantly, do the lightweight fiber materials sacrifice that Osprey durability we all know and love?
Why Did Osprey Design the Lumina 60?
Are you wondering, what is an Osprey Lumina 60? (I can assure you it's not a luminescent bird.)
This is one of Osprey's brand new Ultralight backpacks. The range includes the Lumina 60 as well as the 45-liter version.
Note: The men's equivalent pack is known as the Levity.
These backpacks are made from lightweight fibers so your pack's base weight – that's how much it weighs before anything is in it – is as physically light as possible.
By having the lightest load possible, this pack was designed for… "people who pack lighter, go further, and think smarter," according to Osprey.
That said, you don't need to be hiking to enjoy the Lumina 60. I used this Osprey Lumina 60 on a 10-day backpacking trip across Andalucía whilst traveling in Spain.
The pack was carried in cities, on beaches, and up mountains. It was thrown in bus baggage compartments and handles the daily abuse of international travel. And through rigorous use, I answered a few important questions about its comfort and ventilation, all of which are covered below.
Good quality Osprey backpacks aren't cheap and this one will set you back about $270 US, but remember the adage "buy cheap buy twice". Also, you're paying for the newest backpack technology.
If you are even half serious about either backpacking or hiking then you should invest in a high-quality backpack, which will save you money in the long run.
Whether you are traveling, hiking, or simply walking to the store, Osprey is amongst the best comes to the best backpacks for hiking.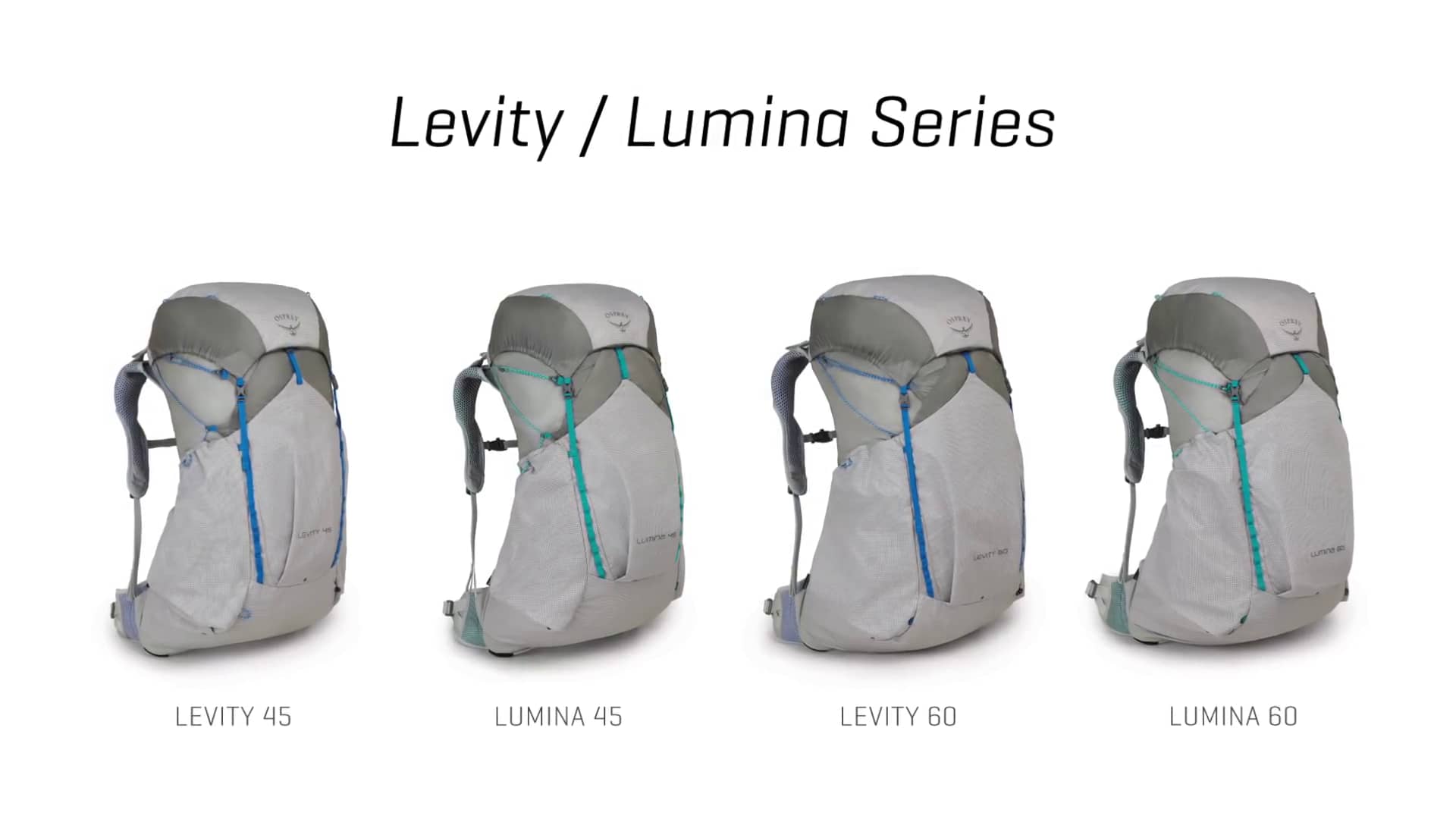 Winter is coming… WARM UP!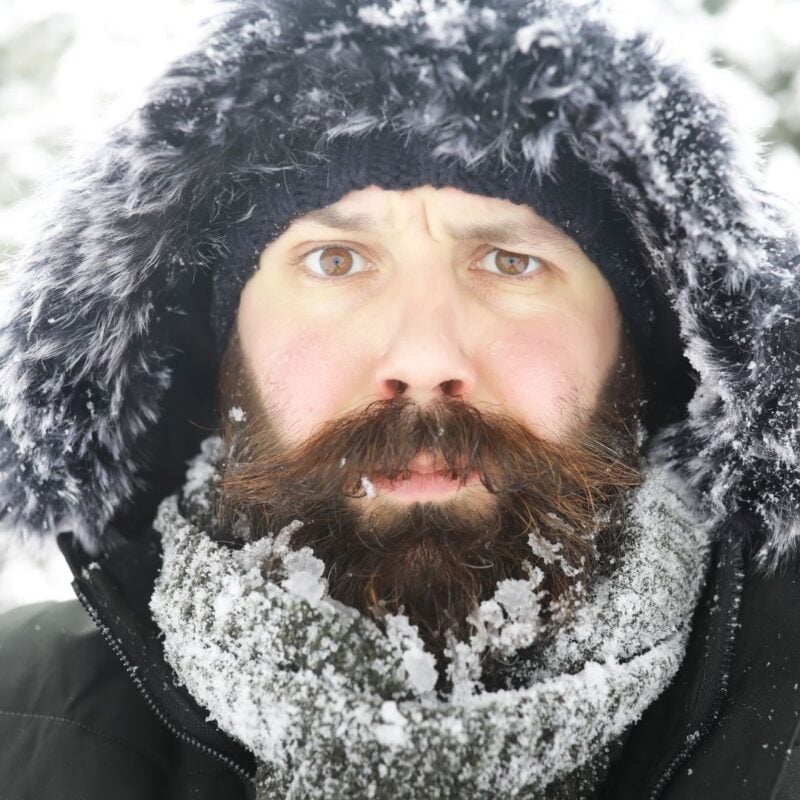 Get up to 50% OFF when shopping gear for the winter on REI.
Warm up for the holidays and SAVE on outdoor gifts all the way through Dec 18!
View on REI
The Osprey Lumina 60 Review – Quick Answers
The Osprey Lumina 60 is perfect if you are an ULTRALIGHT hiker.
The Osprey Lumina 60 was designed to be extremely comfortable for light loads.
At 60 liters, it is a pretty generous size for a week of thru-hiking or months of travel.
Osprey offers the "All Mighty Guarantee" lifetime warranty to indemnify against defects.
Is the Osprey Lumina 60 the right backpack for you?
There are so many choices when it comes to backpacks, even amongst Osprey itself, there so why should you (or anybody) choose the Lumina 60?
Well, in our extensive and considerable experience we deem it to be one of the best lightweight duty backpacks we have tried to date. It has shown itself as being one of the best backpacks for long-term travelers and trekkers alike.
The Osprey Lumina 60 is PERFECT for you if you…
…need a hiking and travel backpack.
…travel with a lot of outdoor gear.
…don't mind checking in your bag on flights – you cannot carry this on.
…are hiking or traveling with 30 pounds or less of gear, food, and water weight.
Overall, you should get the Osprey Lumina 60 if you are traveling the world or if you like to hike, camp, and trek often.
You do not need this backpack for short trips or "vacations." It is also not for you if you want to travel with a carry-on. Check out the Lumina 45 liter version of this pack instead, which is more or less identical except for its smaller volume size.
Finally, while this is not a cheap bag, the Osprey Lumina 60 is certainly a good-valued bag.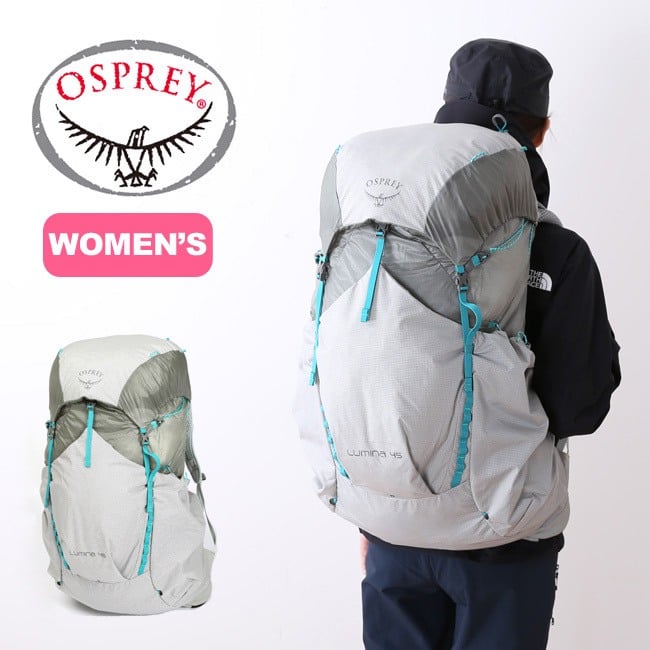 The Osprey Lumina 60 is NOT for you if you…
…want to travel with a carry-on.
…are going on a short trip.
…want something hard wearing – remember this one is Ultralight, meaning it can't handle as much weight as the Osprey Ariel.
…are tight on money. There are cheaper backpacks available.
…you mainly travel to urban destinations. Get a travel backpack instead.
Note, if you plan to pack extremely light then you won't need a 60-liter pack. Instead, go and find something in the 40 – 50-liter range, like the Osprey Porter. As mentioned, Osprey does make a Lumina 45, and the Lumina 45 may be better for your needs.
This model is Osprey's high-quality ultralight thru-hiking backpack. It has been designed and engineered to hold up to 30 pounds whilst being as light as possible. Let me repeat, 30 pounds. That's about 13.5 kg.
This pack weighs less than 2 pounds, meaning it's probably lighter than your ultralight sleeping bag. Crazy, right!?
Size, Weight & Dimensions
The pack comes in different sizes depending on your height. We do recommend taking the time to properly measure yourself (or get someone else to do it) to ensure you choose the right fit. Doing this will prevent undue back or shoulder strain.
If you buy this pack in the store, you'll be able to try on this pack for comfort. That said, I already know my Osprey size, so I don't have to try on packs anymore. Plus, the best prices are usually found online.
Osprey Lumina 60 Sizes
Women's XS: 3600 IN3 / 59 L
Women's S: 3783 IN3 / 62 L
Women's M: 3967 IN3 / 65 L
Women's L: 4150 IN3 / 68 L
To get the perfect backpack size Osprey recommends you measure your torso to find the backpack that best fits your body. To do this, just follow a couple of quick steps in the picture below.
Osprey Lumina 60 for Women Dimensions
XS: 29.53H X 15.35W X 12.6D IN.
S: 31.5H X 15.35W X 12.6D IN
M: 33.46H X 15.35W X 12.6D IN.
L: H X 15.35W X 12.6D IN.
Osprey Lumina 60 Weight
XS weighs 1.949 Kg
S weighs 0.77 Kg
M weighs 0.81 Kg
L weighs 0.85 Kgs
Those are just numbers, right? Well, to give you context, many backpacks in this size range are twice as heavy!
However, please note that the trade-off for weight is often durability. That doesn't mean this pack will fall apart, but it is not as hard-wearing as others. You can't overload it or abuse it like the Ariel and Aether series. (Keep in mind those packs can be more than 3X the weight too!)
Osprey Lumina 60 Women's Specific Backpack
As I've said quite a few times now, this is a Women's pack! Backpacks are not gender-neutral and you need to keep this in mind as it has been built and designed for a woman's body. As part of the development process, Osprey's female production managers were sent out into the field to test its fit and function.
While men can use this pack too, but Osprey's Levity series was designed specifically for dudes. All of that being said, depending on your body type and what fits YOU better, you can always cross the gender boundaries. It is 2019 after-all!
Osprey Lumina 60 Ultimate Comfort
The Osprey Lumina 60 is honestly one of the most comfortable bags I've used, especially when carrying loads of stuff through city streets and up mountain trails.
This is primarily because of its weight, but also the IsoForm5 harness and CM™ hip belt, which help to provide the user with a custom fit for added comfort. Both components are changeable so you can customize the fit to your shape and size.
All Osprey hip belts have custom heat molding and interchangeable sizes to allow for a precise, personalized fit as well. Boom!
Osprey Lumina 60 Review of Best Features
Below I have highlighted the best features included on the Osprey Lumina 60.
Weight
We'll keep talking about this pack's weight until the cows come home. This is THE lightest 60-liter backpack I've ever used. If keeping weight low is your priority, then this is the right pack for you.
This pack is less than half the weight of standard packs in this size class. Osprey advertises this range as a specialist for ultralight hikers, which is an entire tribe of hikers in of itself. These are the guys thru-hiking the AT with tarps for tents. If you don't know what I'm talking about, look it up!
Comfort
I did not expect this bag to be so comfortable, but the Superultralight Airspeed™ Back panel is incredibly comfortable! As mentioned, the ExoForm shoulder straps have plenty of cushions too.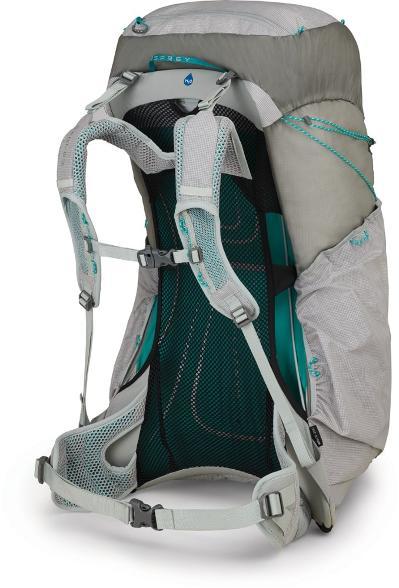 Design
The grey and turquoise colors are quite nice, but the light colors will appear dirtier quicker than darker colors!
Because this backpack is cutting weight, they've minimized the number of pockets (zippers = weight). I loved the integrated water bladder pouch, clips, drawstrings, straps, loops, and sternum.
The packs' overall shape is a bit different than Osprey's other models. It can appear a bit frumpy when it's not packed full.
Durability
Often, this is one of the most important aspects I look for when I'm choosing a pack. Is it going to LAST me? Is my investment worth the price!?
Generally, you trade durability for weight. Durable materials weigh more. So don't be alarmed – the materials seem pretty dainty at first, as with any ultralight backpacking tent. That said Osprey has reinforced the main parts of the pack with robust paneling.
This pack won't be as durable as some of the more heavy-duty packs, but you're not using this pack for winter camping or mountaineering! It will hold up for all the usual light hiking gear and your average travel trip.
Furthermore, take comfort in knowing that all Osprey packs are backed by a solid lifetime repair or replacement warranty.
Additional Main Compartment Access
This feature is very important for a travel backpack. A lot of hiking backpacks are "top-load only bags," meaning you have to pack/unpack everything from the top every time you want to retrieve something from it.
The Lumina 60 is also a top load only.
Lower Inside-Out™ Compression straps
There are a lot of compression straps on this backpack and some may find it complicated to use. However, I think the higher number of straps is useful if you are carrying heavier loads because you can ensure that the weight carries as close to your frame for utmost comfort.
If the load weight is pulling away from you then it will effectively be dragging you backward making every step you take harder.
Internal Hydration Reservoir Sleeve
The Lumina 60 is compatible with water reservoirs/camel packs that slot into the sleeve. Note that the hydration pack is not included and must be bought separately.
Also, bear in mind that carrying a bag full of water will add considerable weight which you may undermine the benefits of buying an ultralight pack.
Dual Water-bottle side pockets
Like all of Osprey's hiking backpacks, there are two side pockets made specifically for your water bottle. They're both quite sturdy and have two access points.
I have found that depending on the size of my water bottle the side access point is really useful for accessing my bottle without removing my bag! This is especially useful when you're solo!
Convertible Top-Lid Pack
The top lid can be used for additional storage and also zips off allowing it to be used as a day pack. This is useful if you only want to travel with one bag but need a smaller day pack for side quests or trips into town.
I have never used a top lid as a day pack as they are a bit geeky. Sorry! However, the pocket itself is useful on the trail and while I'm traveling. It also makes for a GREAT separate pouch to keep your valuables and head torch close to you when you're in a tent.
Moreover, there is an integrated FlapJacket™ cover for lidless use, so you can take off the top lid off to cut weight.
Is the Osprey Lumina 60 waterproof?
No, the actual pack itself isn't waterproof but it is highly water-resistant. (That is an important, technical distinction.)
You can easily protect your pack from the rain by pulling over a rain cover. I have hiked through the rain for hours with my bags and even left them on bus roofs in the rain, and everything stayed nice and dry because the rain cover was properly utilized.
Note that the Lumina 60 does not come with a rain cover and you will need to buy a rain cover separately.
Is the Osprey Lumina 60 good for hiking?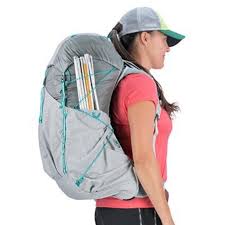 You bet it is! The Osprey Lumina 60 is primarily designed for ultralight thru-hiking and this is why they worked so hard to make it as light as possible.
Honestly, unless you're an ultralight hiker yourself, you may not appreciate this pack's weight as much.
Like all of Osprey's hiking backpacks, you can attach trekking poles and use the side water bottle pockets. The sternum even has a whistle to blow in case you get gauged by a bear or ditched by your friend!
However, you don't need to trek to use this pack. I used it for general backpacking too.
As we have already discussed, what makes this backpack a great hiking backpack its weight, handy suspension system, and harness and compression straps.
The suspension system is a tad large, but it is extremely comfortable due to its ventilation system.
The compression straps are there to make sure the weight sits center and close to your back. This helps with stability and reduces health problems further down the line.
The best present of all… is CONVENIENCE!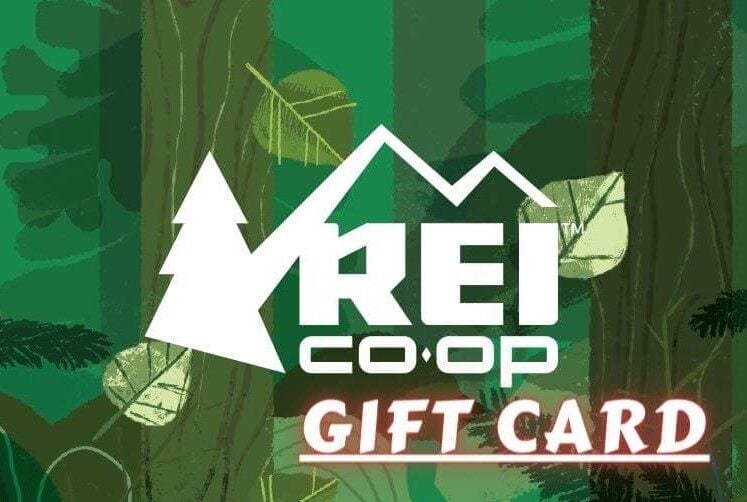 Now, you could spend a fat chunk of $$$ on the WRONG present for someone. Wrong size hiking boots, wrong fit backpack, wrong shape sleeping bag… As any adventurer will tell you, gear is a personal choice.
So give the adventurer in your life the gift of convenience: buy them an REI Co-op gift card! REI is The Broke Backpacker's retailer of choice for ALL things outdoors, and an REI gift card is the perfect present you can buy from them. And then you won't have to keep the receipt. 😉
Buy on REI!
Storage Capabilities of the Osprey Lumina 60
There is one main storage compartment for this bag that is accessed via three different points. The access points are as follows;
Top Loading Access – To access this you open up the top of the back and pack everything in. This is the best way to pack if you have a ton of gear. If you are taking this pack hiking it will have room for several days worth of provisions.
Bottom Access – This compartment is mainly used for sleeping bag storage. You can readily access this compartment by a zipper so it's handy for just sticking your hand in and grabbing things from the bottom of your bag without having to unpack everything.
Front Access – The main compartment has a lot more space than appearances would suggest and zips on the front allow great access. Again, this is handy for grabbing something out of your pack without having to unpack it from the top.
If you lay the pack on its back and open the front access then it's kind of akin to a suitcase-style opening. Note that most older backpacks don't have this feature and it is a relatively recent innovation.
Other Pockets
Top Lid Compartment – I keep things I want to constantly access in this pocket, like my camera. It's extremely roomy but be careful about too much weight at the top of your pack.
Front Mesh Compartment – This pocket is awesome for storing an extra layer out on the trails or keeping your wet clothes away from the rest of your gear.
Hipbelt Compartments – There are two hip belt compartments on each side which are easy to access. They are really useful phones, keys, and swiss-army knives.
Does Osprey Lumina 60 come with a Rain Cover?
No. The Lumina 60 does not come with a rain cover and this is a minor gripe. However, you can buy one from Osprey designed to fit this pack perfectly. I highly recommend investing in a rain cover; you will thank yourself later.
Note that many other Osprey bags do have integrated (ie built-in) rain covers.
Criticism of the Osprey Lumina 60
This wouldn't be an honest Osprey Lumina 60 review without discussing its drawbacks too. This a great backpack but it is not perfect!
1 – Lack of internal organization and pockets
This bag is primarily designed for ultralight hiking, so that means less material, zippers, etc. Many travelers like their backpack to be more compartmentalized (although this is not a problem for me, personally). Since this is a travel blog, we have to discuss this pack's use for travel.
Its better than top-loading packs, but there is no laptop sleeve, extra pockets for valuables, etc. It's an all-in type of bag. Luckily, there are multiple access points to the main compartment. This does make the bag a lot more suited for travel than some of its competitors.
2 – Not Hard Wearing
Lumina 60's biggest strength is also its greatest weakness. The Ultralight fibers used are not as durable as the ones used on other packs.
This means that you have to be very careful not to overload it and you may not get quite as many years out of it as you would with a lot of other packs. Even with the All Mighty Guarantee, you may find yourself replacing this one sooner than you would another pack.
As I've mentioned before, the Lumina 60L backpack was designed to carry loads up to 30 pounds, meaning it's designed for hikers with extremely light camping gear.
If you are hiking with a ton of gear, food, and warm layers, then you aren't hiking ultralight, and you should invest in a pack made more for hiking style.
3 – Lack of a Rain Cover
At first, I was disappointed that this backpack didn't include a rain cover. After all, they include it in many other bags these days so why not this one?
But then I remembered its primary use: ultralight hiking. Ultralight hikers rarely hike with a rain cover… too much weight in a world where EVERY ounce matters.
Including a rain cover would only add weight to the pack of someone who might not want one. Unless you're trying to PR your next thru-hike, I suggest investing in a rain cover for normal use. Keep your stuff protected!
The Osprey All Mighty Guarantee!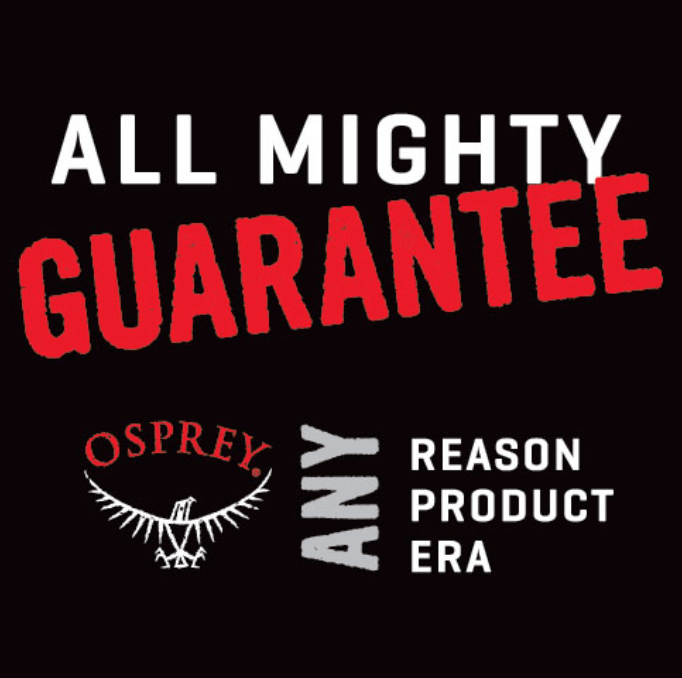 One of the best parts about Osprey's products is their lifetime warranty the legendary "All-Mighty Guarantee!"
The All-Mighty Guarantee is a lifetime warranty whereby Osprey agrees to fix many defects at any time. No matter when you bought your bag, you can mail it to Osprey and they will fix any problems free of charge.
Of course, you do need to pay the postage costs which usually cost around $20.00.
This warranty shows just how much faith Osprey have in their gear and also how much they value customers. It is for this reason (and others) that I now own 3 Osprey backpacks. If you ever have to send your pack to Osprey they turn the repairs around pretty fast and they are very easy to communicate with.
However, note that there are some exceptions to the All-Mighty Guarantee. They will not fix accidental damage, hard use, wear & tear or damp related damage. Still, imagine if Apple had so much faith in their products rather than that crappy 1-year warranty they offer…?
Due to the technical features and the weight, this backpack is best suited for 5-7 day hiking trips. You could potentially hike longer if you don't have to carry any water or many layers.
However, its storage capacity means that you can also take it camping and on long backpacking trips of several months. I took a 60-liter bag to South America for 6 months and had plenty of room for everything I needed.
This backpack is best used when you are packing a good amount of gear. Any woman seeking comfort for loads exceeding 30+ pounds will like this backpack. Plus, the multiple access points and rugged suspension system make this backpack more than capable of handling varying conditions.

Our GREATEST Travel Secrets…
Pop your email here & get the original Broke Backpacker Bible for FREE.
Final Thoughts on the Osprey Lumina 60 Review – Is this the backpack for you?
Bottom line: The Lumina 60 is one of the lightest backpacks (for its size) on the market. If you are an ultralight thru-hiker, this is the PERFECT pack for you. It's extremely lightweight, but carries 60-liters worth of gear, food, and water when you need it!
If you will be traveling for a long time, need extra space in your bag, but still want to travel with a light backpack, then this is a strong contender.
Keep in mind, however, that as a lightweight pack, this backpack may wear out faster than other Osprey backpacks.
If you carry a lot of heavy gear, I would consider a more durable option. The Osprey Ariel 65 is their most heavy-duty pack – I also own it – but it might be too heavy and durable for most. While the Lumina and Ariel are on opposite sides of the spectrum, the Osprey Aura and Osprey Eja are right in between.
If you're a minimalist traveler or have no intention of spending more than a couple days on the trail, then this may size may be too big for you, and there are plenty of smaller backpack out there.
Osprey carries packs in the 35-46 liter range with more pockets, bells, and whistles, and durability. A travel backpack may also be a better choice if you have no intention of hiking.
What is our final score for the Osprey Lumina 60? We give it a rating of 4.7 out 5 stars!

---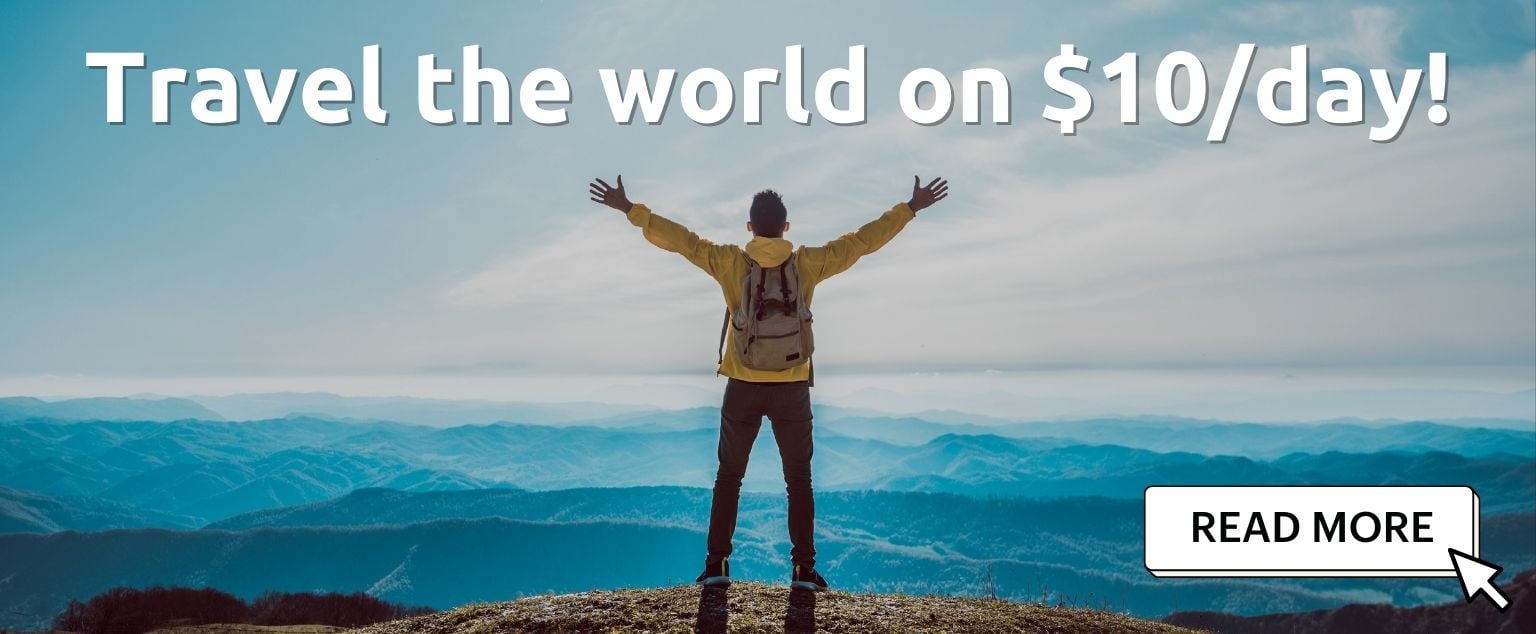 And for transparency's sake, please know that some of the links in our content are affiliate links. That means that if you book your accommodation, buy your gear, or sort your insurance through our link, we earn a small commission (at no extra cost to you). That said, we only link to the gear we trust and never recommend services we don't believe are up to scratch. Again, thank you!